Inhoud blog


| | |
| --- | --- |
| | HA 7 |
| | angkor 6 |
| | NAMASTE, hi from INDIA Iiran/Pakistan, soon VIETNAM, CHINA, LAOS...and welcome to our worldtravel site per 4x4camper |
| | copyright Luc Brandt |
| | newspaper cover in Indian daily |
| | 1st month: Turkey |
| | fabulous paragliding over blue lagoon |
| | Pammukale's white valley |
| | IRAN in 6 weeks: October and November, 2004 |
| | Persepolis of the Kings Darius & Xerxes |
| | sanddunes in desert |
| | Iranese marriage |
| | Shiraz, Isfahan, Qom, ... |
| | BAM, what remains of a World Heritage Site |
| | welcome , soon form INDIA again, to our wolrd travel site per 4x4camper into Vietnam China, Indonesia etcetera (PART S, YEAR 2) |
| | we are OFF, SouthEast Asia here we come in our Toy! |
| | even vanuit SRI LANKA |
| | elephants in river |
| | Siriyaga, ancient capital with Kings Palaces and terracegardens |
| | Galle Dutch Fort, Sri Lanka |
| | musician at temple during Puja clebration 3x/day, Kandy, Sri Lanka |
| | 2nd message 14.10 on our way back to Chennai, East India, to start procedures to ship the car to Malaysia around 25.10.5 |
| | Vellore sculptures |
| | capital at work |
| | incredible colours |
| | serene Gingee, a new old Hampi-like site |
| | amazing Gingee incredible workforce |
| | Last days in India, and per ship (car) and plane to Kuala Lumpur, Malaysia |
| | serene Gingee, a new old Hampi-like site 2 |
| | serene Gingee, a new old Hampi-like site 3 |
| | for a few rupees worth of devotion. |
| | more rupees to make your wishes come true |
| | monsoontime |
| | bamboosplicing on the street |
| | from Kuala Lumpur, waiting for the car |
| | shipping agent also filmproducer |
| | handy mouthblowing silversmith |
| | Kuala Lumpurs symbol of prosperity |
| | NAMASTE, Again? Yes, now from '˜amazing' Thailand, |
| | only 75 km from Bangkok city |
| | sunset at Wat |
| | Sawadee, (prononounce sawwadiii), or hello from Ayuttayah, |
| | beautiful historical site |
| | Wats zijn geen watjes hier |
| | Loi Krathong festival of riverlights |
| | sunset at SUKOTHAI historical Park |
| | cattle market with Thai cowboys |
| | Thailand chinese fishing nets such as in Fort Cochin (see website India, march 2005) |
| | camping at historic Khmer temple SUKOTHAI historical Park |
| | Thailand SUKOTHAI historical Park 13.11.5 |
| | Thailand Elephant 14.11.5 L Conservation Park |
| | Thailand Elephant 14.11.5 L Conservation Park (6) |
| | ricefield near Mae Hong Son |
| | The highest top in Thailand 2556m, but we also visited the most narrow point 10,6km wide in South, bordering to the West at Myanmar |
| | Longneck Karen cooking chicken with(out) flu |
| | one of the borders to Myanmar we visited |
| | teaching Thai, Birmese, English and Karenese languages to Longneck Karen |
| | Young LongNeck Karen |
| | Laos here we come |
| | Black Lihu |
| | Thailand SUKOTHAI historical Park 13.11.5 |
| | Thailand SUKOTHAI historical Park 13.11.5 |
| | little and big catfish |
| | mekong gong gong |
| | grilled frogs ready for you |
| | French biker |
| | Bonzes receiving early morning rice gifts in Mainstreet of Luang Prabang |
| | SABAI DII from Laos, North East |
| | lady in black |
| | dressed to kill |
| | colourfull NorthLaos |
| | national day |
| | more tribal dresses |
| | mother and child |
| | old and younger |
| | 7 |
| | 7 of 1 million elephants |
| | China border flagceremony 4.12.5 |
| | walking past passee |
| | local market with Saint Nicolas food |
| | Namta market |
| | local alcohol |
| | local dresses |
| | Hmong dresses |
| | Hmong ceremony dresses |
| | Hmong |
| | Hmong ceremony |
| | Again from Laos ???? unfortunately yes! |
| | local bridge |
| | boatraces |
| | Khmer templecomplex 1 |
| | Khmer temple detail 2 |
| | returning home |
| | traiteur for walking lunch |
| | earpiercing |
| | fashion |
| | oxcarting |
| | earpiercing new |
| | bamboopipe |
| | weaving hightech |

| | |
| --- | --- |
| | discovering the world by campingcar |
20-10-2005

incredible colours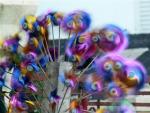 incredible colours
20-10-2005 om 00:00 geschreven door lucas

capital at work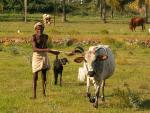 capital at work
20-10-2005 om 00:00 geschreven door lucas
18-10-2005

Vellore sculptures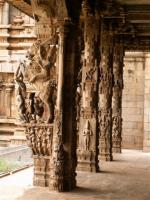 Vellore sculptures
18-10-2005 om 00:00 geschreven door lucas

16-10-2005

2nd message 14.10 on our way back to Chennai, East India, to start procedures to ship the car to Malaysia around 25.10.5
"Ayubowan",:greetngs from Sri Lanka (14.10.5, before heading off to Chennai South India)
Despite the monsoon period over the east, south and westside (a bit too early this year)
SL is a marvellous small island (rougly 400 by 150km), with very friendly people, great nature including thousands of elephants, and maybe as many monkeys as monks. Superb ancient culture from the 2nd Century BC till late 18th C allover the islands center (highland and along the main coasts, and unfortunately quite some of these destroyed by time, the jungle, and most recently the civil war (Tamils) and the Tsunami which hit the fishing villages very hard . Imagine a 10meter high wall of sea coming speedily ashore: nowhere to run for this devastating power. And the remains of buildings, houses, bridges etcetera are still proof of this catostrophy.
Roughly 1 victim every 20 to 25 metres of coastline, or totalling 80.000+! Alone in the city of Galle 100"s died, sometimes filmed live when the catastrophy coincided with the cricketplay, when this huge well entered the bus stands and tore them all back with it into the sea.
Despite massive aid, there are still a lot of tent refugeecamps and many destroyed houses; despite the money poring in SL, only a few % have been redistributed by government; despite the many political promises (it is electiontime now, so some of the people who can prove they lost all of their housing or belongings are seeing a bit of cash) misery is still palpable along the hardhit coasts in east, west and south.
Meanwhile however the country moves on, faith has not touched the population, many temples collecting pilgrimers with (fruit) gifts or cash.
And what a temples they have: the big ones in Kandy and Katagarama, the smaller convents of monks and Budhists, the many (white) Dagobas, the (sometimes huge standing, sitting, laying, coloured, golden ...) Budha and (heavily painted) Hindu statues scattered over hills and in the jungle, outside and within villages. They sometimes are worshipped by both religions Hindu and Budhism at the same time.
Its history closely linked to nearby (25km only) India - both religion and architecture- , also the Kings's Palaces in the centerland are obvious evidence of this mix and many times clashes of both inland and Indian culture.
Influence of Arabic, Portuguese, Dutch and British spicetraders are obvious in 17th century buildings: villages and forts at Galle; Matarama, even in the Dutch quarter of Colombo.
With the Civil War (mainly upnorth of Kandy, with a few if devastating bombing as far as Colombo) having ended with a ceasefire since 2003, military roadblocks and actions are still necessary: every week a few innocent villagers & children, but also tamilsoldiers are victims of deadly (old) mines, and more deadly (today's) ambushes and riots. Peacetalks however are at hand, but today (13.10) we read 2 teachers were being slaughtered, and 50km more south some 10 soldiers blown to peaces or killed in a nightly shooting.
The Blue, White, or other Green party are promising resp. the continuation and the end of the military actions against the Tamils: whoever wins the elections, the outcome is certainly NOT going to yet boost tourism, NOR will it stop bribery, big feasts and gifts allover by political leaders wanting to be (re)elected. And 10 months after the tsunami those who (recently) invested in tourism infrastructure either lost it all, or are facing near-bankrupcy. Only the capitalfeed from big hotelgroups are keeping the jobs secured of (lowpaid) waiters, gardeners, poolmen and other personnel; all hoping tourists will slowly reenter the scene.
The tourist industry is facing a drop of 80 to 90%; these few tourists only come to the few main spots IF ever, making a 1week trip and then spending the rest of the money and time relaxing at poolside and or (mostly very scenic) beaches. We travelled some 1850kms on mainly nice roads, saw hundreds of elephants, monkeys, birds, leguan and more tropical paradise. We ate crab, great fish; tried the local beer and wine, and even arrack. The cuisine can be very nice or not so western at will, the service mainly is superb.
Whereas Colombo and Kandy are busy with noise, traffic and pollution, the smaller towns and most certainly villages are not yet (over)developed. Internet is – when available- slow and unreliable, distribution of (drinking) water scarcely organised, transport slow with (very) old Tata-vehicles or even older buses, trains, tuktuks and oxcarts.
Life however goes on: in Colombo heroinefreaks are selling you anything to gain the daily shot; on the countryside (so in 99% of Sri Lanka) tody-palmalcohol is widely sold (arrack); fishermarkets are reopening, crops are harvested by hand, carpenters are still doing a (restoration) or builderjob, and ... underpaid female teapickers and workers in clothing industry (3,5 and 5$/day) continue to work long hours in not so attractive circumstances.
Allthough more clean and less of a cultureshock than its neighbour India the island is facing a plastic and garbageproblem, and screaming poverty most westerners like not too much (a meagre hut is better than no housing at all, but still; only along the coasts you'll see some people with a few more kilos, more westernised, richer ). The traditional wedding of young girls in the villages is still fruit of arranged marriage, resulting in quite a few suicides.
Fortunately schooling is very well organised, and most people speak English, are willing to work, and continue to SMILE.
Any tourist here can agree on that: abundant nature, scenic roads, beautiful sites, a nice mix of culture, extremely friendly people and (apart from monsoonseason) nice sun, beaches and potential to grow: this island has it all, and provides it at still cheap prices, despite heavy tourist taxes and expensive entrance tickets alike.
"Ayubowan": the traditional greetings merely reflect the traditional, nice people who continue daily struggle for life ... with a BIG smile, hoping many tourists will return at last..
16-10-2005 om 07:24 geschreven door lucas

14-10-2005

musician at temple during Puja clebration 3x/day, Kandy, Sri Lanka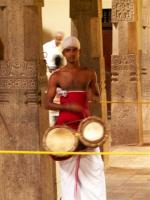 at temple during Puja clebration 3x/day, Kandy, TOOTH TEMPLE, Sri Lanka, musicians call for prayers
14-10-2005 om 00:00 geschreven door lucas
12-10-2005

Galle Dutch Fort, Sri Lanka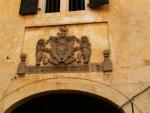 after the Portuguese the Dutch built this Fort with warehouses and houses plus Dutch Protestant Church, 17th C, here the VOC emblem on the spices warehouse (cinnamon, pepper ...)
12-10-2005 om 00:00 geschreven door lucas
10-10-2005

Siriyaga, ancient capital with Kings Palaces and terracegardens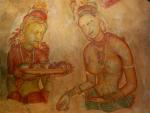 Siriyaga, ancient capital with Kings Palaces and terracegardens in centre of Sri Lanka, with a winterpalace on top of the Lions Rock, and some of the nicest frescoes of a few of the Kings 500 wives
10-10-2005 om 00:00 geschreven door lucas
06-10-2005

elephants in river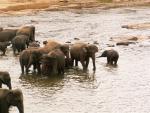 beautiful: a herd of elephants bathing in mud water and dust
06-10-2005 om 04:59 geschreven door lucas


even vanuit SRI LANKA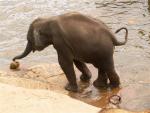 October 6, 2006
Hello from... Sri Lanka, a quick 2week trip on this island on the heeltip of India. Indeed, arriving in Chennai the weatherreports and the monsoon having started with already roads heavily being damagred, I decided to prepare everything for shipping aroudn 20.10 to Malaysia, meanwhile trekking around in a small group in minivan in Sri Lanka. Here we're agian in search for culture (great temples, nice nature and lovely beaches, and MANY elephants on roads and or in wildparks.
Also a poor island, hit hard by 80.000lives missing after the december tsunami, but recovering?
A tropical island as well, with all rain, heat, jungel and more nice nature.
And superfriendly people.
Two more weeks before shipping, we'll deicde last minute if at all we ship to SE ASIA, in view of the proliferating BIRD FLU. Should this prove a real danger, then we might as well skip all this and ship straight into South Africa.
We'll let you know, stay tuned
All the best from Sri Lanka.
06-10-2005 om 04:57 geschreven door lucas

20-09-2005

we are OFF, SouthEast Asia here we come in our Toy!
Bxl, 20.9.5
Hello allemaal, daar gaan we weer, ik vertrek vandaag naar India, en verscheep de auto naar Maleisië, waar we de wereldreis - nu in ZO Azië - verderzetten. Dan, noordwaarts cirkelend, telkens 2 à 3weken Thailand, Laos N, ZW China enja, inmiddels is het 2006 ; N en C Vietnam, Laos C en Z, Vietnam Z, Cambodia, Thailand, Maleisië, Indonesië en terug naar Maleisië voor verscheping april/mei, allicht naar Zuid-Afrika.
Ondertussen blijven we (af en toe) in contact ;
allerbeste van ons beidjes, en tot ergens mei 2006 in Bxl of in audetarnloucastel.com ??!!
ciao
J&L
Hello over there, how are you? Today I leave to Chennai, then ship the car to tour first a bit in Malaysia cause Myanmar refuses to let us in; from 1.11 onwards we tour (always around 2 to 3 weeks) upnorth Thailand N & E, Laos N, ChinaSW, Vietnam N& C, Laos C & S, Vietnam S, Cambodia, Thailand SE & S, then returning Malaysia before Indonesia's tour of the islands. We intend to ship in may 2006 to South Africa.
All the best, and keep in touch
Ciao
J&L
20-09-2005 om 09:14 geschreven door lucas

20-08-2005

welcome , soon form INDIA again, to our wolrd travel site per 4x4camper into Vietnam China, Indonesia etcetera (PART S, YEAR 2)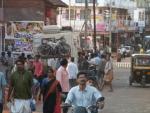 Belgium, 20.8.2005
NAMASTE= Hi and welcome , soon form INDIA again,
to our world traveling site per 4x4mobilhome,
We, Jeanne (Dutch) & Luc (Belgian) are now soon on our way AGAIN to INDIA by plane, where our car waits for us at Chennai (ex-MADRAS) on the EastCoast. We're heavily preparing all kind of permits AND alternative routes, should one or other permit not arrive in time/
This is a REAL challenge, as we only have 3 alternative routes:
a) we'd LOVE to drive upnorth INDIA via ethnic minorities / ancient tribes of Orissa state into SIKKIM State for Himalayah views and Tibetia-like monasteries (permit OK), then via Assam state (wildlife park with Indian onehorn rinos and local ethnic villages) drive into MYANMAR (ex Birma), 4weeks for one of the last Asian countries full of rich unspoiled cultures, villages, nature... but still have NO permits despite 4 months of mails, letters etcetera.; then 2weeks into South China (Yunnan) for beautiful canyons, tribes, ... and into Vietnam, then crisscrossing via Laos, Vietnam, Cambodian and Thailand regions to discover more nature, culture, temples, and the world heritage sites enroute (and avoiding malaria, Japanese encephalitis and more dengue fevers!) before heading to Malaysia, then Indonesia where we'd love to travel all the islands, and ship eventually (end MAY 2006) to South Americas: HELAS, hélas, we HAVE to wait for Myanmar lieutenant colonels' decision to let us enter by car; IF we succeed, we''l be again one of the first ever tourists by OWN car to drive in and thru Myanmar!!
b) second option, failing Myanamar's OK: idem to Sikkim, and hoping for a permit to take the NEW border with China, at Nathu La, via a mountainroad (resembling what used to be the Karakoram Highway ages ago (so : full of mud, landslides, rocks, on a real mountaintrack over +5000m height ) into China, to visit mythical TIBET, then same as above: Yunnan, Vietnam....
c) shouLD that also fail, we decide latest 20.9.5 to then ship our car in a container boat to either Malaysia (safer, less bakshish) else Jakarta (JAVA, Indonesia) to do first all islands before the monsoon hits them by November, then driving the other way to Vietnam and Yunnan, etecetera, to come back by MAY to Malaysia to ship to South Americas for next 2 years of our worldtrip.

Indeed, as our readers will know, we intend to visit as travelers (not as tourists) per 4x4 mobilhome each continent during some 2 years EACH. sEE ALL ON DATE OF 12.6.5 WHEN WE STARTED THIS BLOG

All the best, keep intouch, thumbs up for those damned permits for us and our car, and we'll update again soon!
Lucas and Jeanne
20-08-2005 om 10:41 geschreven door lucas

12-06-2005

BAM, what remains of a World Heritage Site
after the earthquake of 12/2003
12-06-2005 om 18:01 geschreven door lucas

Shiraz, Isfahan, Qom, ...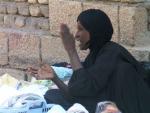 beautiful mosqs, palaces, fortresses, and people
12-06-2005 om 17:59 geschreven door lucas

Iranese marriage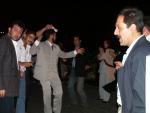 ... on the motorway
12-06-2005 om 17:58 geschreven door lucas

sanddunes in desert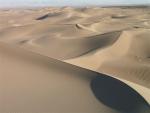 before we got caught by the police, and ... invited for tea
12-06-2005 om 17:56 geschreven door lucas

Persepolis of the Kings Darius & Xerxes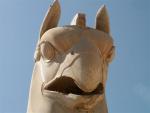 inimaginable!
12-06-2005 om 17:55 geschreven door lucas


IRAN in 6 weeks: October and November, 2004
Months 2 & 3 of 80: IRAN :
Despite many warnings from several sources, Iran proves a great and safe country to visit. SUPERfriendly people, eager to make contact (from a shy hello, to long talks without reference to politics), and more: so far the gifts include fruit, bread, free guides, offers to come and drink tea and /or take the lunch in their house…(1).
Irak may be close by, Afghanistan and Pakistan even closer (in the opinion of Europeans): Iran and its people are very open and really welcome us as friends (remark: I do stress we come from Belgium!). Some ask us to take a picture of them, very rare are those (and then only the lonely local 'touaregs') that give a 'warning' with voice or eye.
Also: a very cheap country except for dairy products or typical European food; this is however largely compensated for by the extremely cheap diesel at Rial 165/l (or 1,5 eurocent/l).
But also a chaotic country: traffic may have rules but hardly anyone follows them, not even in front of the (very) present police. Soon you adopt this free drivingstyle, pushing your way (and it helps driving a large LandCruiser : hardly anyone risks a contact with our car); but in some cities most drivers (not the taxis however) are somewhat afraid and/or that friendly that we always seem to be ahead of traffic. In smaller villages, and certainly in areas where tourists are hardly encountered, many scooters and cars stop and then come back to visit this strange car risking its way in their streets.
Thanks to the ever present police a safe country: we were stopped once in a while (pure curiosity) by traffic (or) local police, but also on several occasions after dawn had to explain what we were doing there (it must be said, with our 4X4 we liked to stop in nature or desolate streets in cities) : so far we had the pleasure to see from the inside 3 police stations, the last one with free delicious dates from Bam served with tea and sugar by the military on duty within these police stations; and were escorted several kilometers over a desert 'piste' (even when we were still +300km west of Afghanistan/Pakistan's drugs infected mafia base) with 2 soldiers armed with machineguns in the back of the Toyota HiLux pickup.
On another occasion the policeman very carefully approached our car armed with his revolver and torch, and only after I shone my torch in his face he shouted 'police'. Again two soldiers with machineguns tried to make their point: 'this is dangerous, very; guns, bandits!', and passports were requested. English was not his best language so he called in the services of a local teacher English who presented himself as the sheriff, but with continuous smiling and making jokes, the ice was soon melting also thanks to the hot tea served.
At the end of the very friendly Q&A session, the 'sheriff' explained there might be dangerous animals (previously called bandits with guns by the policeman), and kindly asked us to stay either in front of the policestation or he'd escort us to a safe spot next to a busy petrolstation.
Talking of which: the petrolstations equipped with diesel are rare, so we tanked every 2 à 300km, inspite of our 2nd tank we didn't risk it to fall without. Where in the North they always charged more than needed by simply not returning the change (if they wanted to serve us at all, they filled just 40 à 50 liters, then simply stopped the counter), south of Teheran it was back to normal. But always they were really astonished we needed diesel stead of petrol, and so also there we were the 'talk of the day'.
BTW: if ever you need money in Iran, take a few mountainbikes on the back of your car: we could have sold them easily at least already 15 times by now!
And lastly, a country of contrasts:
- apartheid is in every day use for women. The buses come with separate entrances and seats at the back. Headscarfs are necessary, and the older than 30 really sometimes burry their face. And yet: in a very local desert community a woman of +50 with a sharp and high voice explained us the way, and forgot to use her scarf. Or : 4 teenagers , seldom less than 2 together dare to talk to me, a man. When then they took a picture of the group with me, I in return took the group on my digital camera. Against their old-fashioned Yashica, my digital wondercamera with powerful 420mm zoom lens immediately could show them the result. And at the Teheran airport, a young scarfed woman even spontaneously started to talk to me, beit in Farsi. So we stopped after a few 'na' and yes and flight and delay's talk.
- pollution: litter everywhere, especially 'plastik' handbags; streams are not for bathing in; hot-springs are spoiled by garbage all over the place; the air in Teheran is smog, hence the occasional mouth mask. The stinking oil refineries next to the seacoast in the Persian Gulf, the thick clouds of smog of any industry in the country. And yet, beautiful nature, +5000m high snow covered mountains… But the desert clearly shows an ever present dust clouds propelled by the wind.
- car mechanics seems to be the profession for the coming years: more and more motorbikes (from Iranian make to freshly imported Yamaha and Honda 125cc) are being sold; the bulk of the car park consists of either local brand SAIPA, else imported or co-manufactured Peugeot. Add to that the ages old R5s, Mercedes 180s and old Chevys and Buicks occasionally able to function (still), it is a pure need that each entrance to a city or town large or (very) small has a line up of small, poorly equipped 'garages' for servicing. Lots of goodwill and great improvisation are the best tools here. Taxis of the still produced Sapehs of the early 70models tend to give up once fully loaded, and the poor taximan developing muscles to get his bloody 'machine' out of the zooming traffic chaos.
- water is scarce, but well used; famous are the 'qanats', a century old system of handdug underwater irrigation channels 5 to 10 meter underground, just wide enough for 1 small (well paid) guy to dig or service the canal. Every 15 à 20 meters the 'mole' surfaces to evacuate the ground. Equally famous: the cisterns built in each village, still well maintained even now there is more water via huge dams; the cisterns in the southern part of the country are often cooled by windtowers, also used in larger ancient palaces to cool the air for the inhabitants; and yet, unfortunately, it leaks everywhere. Still, when cleaning the car, a tradesman stopped by and said that 'ab' is for drinking, not to clean the car. And yet: 2 meters further local taxis and buses also were cleaning with 'ab'. In the same context one must see the free water available in the street of (older) villages: old jars with a tap and a mug for those thirsty 'en route'.
The same ab is essential for the Islamic washing of hands-,feet etc before entering the mosque for praying. In Esfehan you could watch the Islamic school training those who will be unable for a longer period to assist praying: here they learn to perfect all handlings, essential at least once a month for cleaning ritually before praying at the mosque. After all Mohammed had more of these ideas to prevent diseases spreading: hence the 'no porkmeat', or else: the hamman for those ages before modern freezers respectably baths invaded the homes.
- Apart from hello and bye, the occasional guy knows also 'I love you'. Youngsters often approach and want to shake hands, or invite over for a talk 'sharpening the few words they know, some with more success than others. One soldier doing his service at the park police in Teheran's ChitigarPark pops in occasionally to talk in real good English. Also the occasional engineer having studied in the USA stops by to chat. Most people seem to recognize not Belgium, but Belgique or Belgiquia.
- Iranians seem to be happy and content with their rapidly developing nation. In smaller villages and in the desert areas or mountains, especially where tourists seem to be rare, and the road indications but in Farsi (read from the right, try to recognize the first letter, and chances are you find it), time stood still. Our LandCruiser alias mobilhome really is rare in the outback, so it IS difficult to get by without gaining the looks of all , kids and women included. In 1 village at the desert, half of the male population was present to show us their 'BAM': the old village of Keshit include palaces, fortresses and mosques devastated by earthquakes and time. A very interesting tour, I took some 100 pictures. At the end of the 90+ minutes sightseeing they invited over for dinner; and refused any payment. Better, they all jumped on a motorbike or two-three, halted the available pickup and, escorted by male and females of the entire village we were put in the right direction of the piste. No wonder the police at the next town were really astonished we came their way. It took a half hour or so in the policestation to friendly state we were tourists, not being drugdealers, nor gun-salesmen. But they instead escorted us with machineguns to the next big town, of course 'for your safety :it is our pleasure.'
- As opposed to some African countries, poor as they are, villagers never seemed hostile, kids never threw stones. On the contrary, young and old waved, smiled, and shouted 'hello how are you'. Only once a mad guy managed to scare us off at night, and whilst returning on the tarmac, he slung a stone almost right into our sidewindow. This could have ended worse than the 3 scars on the car! But so far, it was the only incident.
- 6.800kms on Irans good roads (except local roads in mountains) led us from Zorroastrian and Firetemples; Rocky village and Abeyabad 's mud village and beautiful desert dunes to ancient Unesco-sponsored Persepolis (destroyed by/during Alexander the Great's visit), and Darius' basreliefs. Plenty of splendid mosques, palaces, mausoleums and bazaars, fortresses and caravanserails invite for great pictures…
- Everything for everyones taste: from any exotic fruit you can imagine to sweet biscuits and specialities at Qom, else Isfehan or more sweets at Shiraz; abundant history, culture, nature, people, and most of all: colors. From fantastic blue or turquoise tiles and all kind of mosaic covering mosques, to dresses of local villagers such as in Abeyabad or desertvillages; spices or silk scarfs in the many authentic bazaars; the fascinating green/blue boiling water around, in and under the old watermills at Shustar, or the green/yellow/brown fine green dust that greets you in the Dickinsonian work conditions at the henna-mills in Yazd; the dark-brown camels in the light-beige desert against the green of palm tree covered oasis, against the light or darker or more reddish brown mud-bricks of the old villages; the harsh grey sculpted griffins and beautiful statues and sculptures at Persepolis; the finest carpets in silk with age old patterns and motives, or the simple yet bright warm colored coats made for imams from sheep or camel/sheep hair and which only a handful of craftsmen can weave in Nain; and rock coloured bas-reliefs or Kings's tombs of the time of Xerxes; the orange sunset in the Lut-desert against the fading greencoloured tamaris; the bronze sculptured doors when you enter the cave of the Zorroastrian Fire Temple at ChekChek; the fresh white of the sugar cones that are showpieces in simplicity, and the colorful sweet (honey) desserts; bright panels and fascinating paintings, and warm colored glass windows of old palaces; the glowing red yellow white black orange 'rocky' mountains, the illuminated caves at Ali Sadr or the blue sea of the Persian Gulf against the dunes and palm trees or the autumn leaves against snow; the all-reflecting 1001 mirrors in ceiling, walls, floor at Daniel's and others' tombs; and (most of the time) this warm bright sun creating deep shadows (we're in November with temperatures ranging from 12 to 29°C) and happy faces allover.
- Wat voelt/ziet de toerist niet :een volk en land gedomineerd door olie, arabieren, geloof, vrouwen of …? nomaden vinden het beschamend dat ze nooit naar school kunnen, met de vinger worden gewezen, niet met vrouwen mogen spreken op straat, achtervolgd worden door milities en in elkaar worden geslagen of in de gevangenis belanden; de Armeense minderheid in de Jolfa-wijk in Esfehan krijgt daarentegen privileges die de gewone man vrouw afgunstig zouden moeten stemmen: zij mogen dansen, in het openbaar kussen, Kerstdag vieren, maar hun prachtige, met fresco's overladen Vank kathedraal moet het zonder subsidies stellen; volgens de ene is de huidige regering volledig arabisch getint, en enkel belust op macht en geld (een der ayatollahs zou het met maar liefst tien vrouwen stellen), en hun voorzitter enkel met de mond spreken over vooruitgang maar weinig concreets (kunnen) doen; volgens anderen zijn het de vrouwen die de broek aanhebben, en onmisbaar zijn, en die weinigen die de lange studies aankunnen, op behoorlijke posities geraken en allicht iets kunnen doen voor de vrouw; anderzijds, in de steden rijden veel jonge vrouwen met de auto of volgen rijles, terwijl op het platteland de vrouw overal meehelpt, in de bouw van het huis, op het veld, …; ondertussen worden af en toe jongelui van school gehaald of van het werk, al dan niet met betaling, om het televisienieuws te stofferen voor een Hitelerjugendachtige mars met opruiende donderpreken: met vaandels, haarbanden en vlaggen met leuzen domineren ze het straatbeeld, om de wereld kond te doen dat het hele volk hen graag als martelaar/krijgsvlees zou offeren mocht het nodig zijn; terwijl aan de andere kant van de stad, enkele uren vroeger of later, een amateur-artist in het rijke artiestenteahouse (met grootbeeld HIFI DVD uitgerust, smaakvolle decoratie en design-meubels) enthousiast live pianomuziek speelt, van Chopin tot eigen composities. De toerist met artistieke interesse kan hier terecht voor heerlijke chocoladecake en koffie of tee, of heerlijke fruitmilkshakes en andere rozenwater'likeur': de jonge initiatiefnemers hopen dat ze het mogen kunnen volhouden. De leerkracht die voor zijn 30-urige week amper 200$ per maand opstrijkt, waarvan minstens de helft naar huishuur van een 50m²-flatje, laat het niet aan zijn hart komen: een paar maal per week komen ze samen na de lesuren om met een groepje van tien te gaan joggen, of voor een heerlijke barbq in een park. Na 30 jaar werk krijgen ze , net als andere gepensioneerden – hun zelfde salaris uitbetaald tot de laatste dag. Andere sociale voorzieningen zijn er echter nauwelijks.
.
Waterpipes and tea; girls and boys:
- in particular in the first half of our time, due to Ramazan (Ramadan in Persian) we were limited to our own cooking and tea-making ceremony. After the last prayers occasionally we ate in Iranian restaurants, sitting on wooden banks with thick carpets and cushions. Later on we made up for this feastingperiod at the picturesque teahouses in the old hammams of Kashan, where the apple or orange taste of waterpipes creates pictures you can keep dreaming of.
- Some remarks we noted from Iranian: 'in ChitgarPark, (only) there it is allowed for girls to bike'(a young computerfreak); 'at home, we can forget about the scarf'(a young female teacher English); 'it is a shame that young men of 30+ or women of same agegroup are still not able to marry' (a 32 year old nomad); 'european women think of love completely differently than Iranian young men' (a young nomad in Isfahan);
-
Time is needed to visit it all. We also included a quick tour to the Persian Gulf where the old aged wooden ships are still handmade; the picturesque markets, the coastline spoiled by either military bases or petrol refineries that occupy the beaches and dunes). And on the way the very old bridges, and the scenic watermills in the mountains.
Additional remarks:
(1) imagine 1 wheel risking to come off the car at 120km/h: you really stop and try to find asap any garage for help. At last it was on the evening of the 'free' Friday, the garage of the brothers Moshen and Nasser at the very heart of Teheran offered spontaneously free assistance and tea; on top, even the parts were NOT to be paid for: "Jean, when I invite you for dinner, will you accept? you are our friends and we are really happy to invite for dinner at our home". When Jean insisted he should ask me, he then businesslike matter: and when I ask Lucas and he accepts, you will accept, too? Please?"
But this turned out not to be all: after a delicious meal with their sisters, mother, mother in law…and after more tea and nice 'golmura-fruits' we were invited to stay the night in their (big) house as well. "Use the showerroom; please stay overnight and then we'll have breakfast together".
Despite their well meant "Don't you dare to refuse: this is bad behaviour and in our culture not done." ; of course we had to refuse, our own 'kunei' (house) was waiting for us. But top of the bill: presents were handed out to us : some jewelry (ring, arm and handmade artificial flowers). That much that we were ashamed to have to accept all of these gifts.
But worse was to come: unfortunately the repairs to the wheelbolts had but a very short effect, and luckily for us it was at a very quiet place at 5km/h all bolts decided to leave us at the same time, crippling the car. Next morning at a decent time we decided to call for assistance on this free day off to the same brothers. We managed to phone the personal mobile, and got help and assistance 'sur place' again repairing the all broken bolts by new ones. With the promise we should pass by next morning again to check all.
Payment of any kind was pertinently refused: our meager bottle of wine w s not up to their gifts, but as Nasser put it: ' when helping out someone, a friend, later Allah will repay hundredfold'
12-06-2005 om 17:54 geschreven door lucas


Pammukale's white valley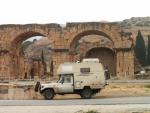 grandioos mooi die witkalken plateaus, en dat vlak bij een historische site
12-06-2005 om 17:33 geschreven door lucas

fabulous paragliding over blue lagoon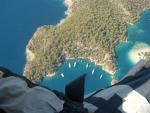 fantastisch!
12-06-2005 om 17:31 geschreven door lucas


1st month: Turkey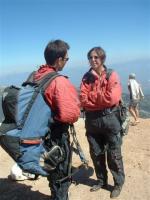 TURKEY

October2004
80MONTHSWW.COM : 1st travelinfo per 16.11.4
Period: Mid September - October - November 2004
1. Months 1 & 2 of 80: Turkey : after 2.500 kms via Yugoslavia and entering from Bulgaria via Romania, gradually you see the economy and local situation deteriorating as our Toyota made its way via the southern coast to Antalya. The trip leads us close to Syria, and up northeast to lake Van where the first rain since weeks drove us quickly to sunny Iran.
a) Highpoints included:
- several beautiful creeks, mostly deserted in spite of a glorious sun
- a fantastic tandemskydive from +1800m to the Blue Lagoon in Ölüdeniz
- splendid historical sites (Efese, Aphrodiasis, Olympus (eternal fire), Letoon temples, Atos …)
- magnificent Pamukkale's white 'waterfalls'
b) some impressions:
- great nature and history, in combination with very friendly people, and prices preparing us for even cheaper Iran.
Total kms: 4.500km
12-06-2005 om 17:30 geschreven door lucas


| | |
| --- | --- |
| | |

Gastenboek


Druk op onderstaande knop om een berichtje achter te laten in mijn gastenboek