Inhoud blog


| | |
| --- | --- |
| | HA 7 |
| | angkor 6 |
| | NAMASTE, hi from INDIA Iiran/Pakistan, soon VIETNAM, CHINA, LAOS...and welcome to our worldtravel site per 4x4camper |
| | copyright Luc Brandt |
| | newspaper cover in Indian daily |
| | 1st month: Turkey |
| | fabulous paragliding over blue lagoon |
| | Pammukale's white valley |
| | IRAN in 6 weeks: October and November, 2004 |
| | Persepolis of the Kings Darius & Xerxes |
| | sanddunes in desert |
| | Iranese marriage |
| | Shiraz, Isfahan, Qom, ... |
| | BAM, what remains of a World Heritage Site |
| | welcome , soon form INDIA again, to our wolrd travel site per 4x4camper into Vietnam China, Indonesia etcetera (PART S, YEAR 2) |
| | we are OFF, SouthEast Asia here we come in our Toy! |
| | even vanuit SRI LANKA |
| | elephants in river |
| | Siriyaga, ancient capital with Kings Palaces and terracegardens |
| | Galle Dutch Fort, Sri Lanka |
| | musician at temple during Puja clebration 3x/day, Kandy, Sri Lanka |
| | 2nd message 14.10 on our way back to Chennai, East India, to start procedures to ship the car to Malaysia around 25.10.5 |
| | Vellore sculptures |
| | capital at work |
| | incredible colours |
| | serene Gingee, a new old Hampi-like site |
| | amazing Gingee incredible workforce |
| | Last days in India, and per ship (car) and plane to Kuala Lumpur, Malaysia |
| | serene Gingee, a new old Hampi-like site 2 |
| | serene Gingee, a new old Hampi-like site 3 |
| | for a few rupees worth of devotion. |
| | more rupees to make your wishes come true |
| | monsoontime |
| | bamboosplicing on the street |
| | from Kuala Lumpur, waiting for the car |
| | shipping agent also filmproducer |
| | handy mouthblowing silversmith |
| | Kuala Lumpurs symbol of prosperity |
| | NAMASTE, Again? Yes, now from '˜amazing' Thailand, |
| | only 75 km from Bangkok city |
| | sunset at Wat |
| | Sawadee, (prononounce sawwadiii), or hello from Ayuttayah, |
| | beautiful historical site |
| | Wats zijn geen watjes hier |
| | Loi Krathong festival of riverlights |
| | sunset at SUKOTHAI historical Park |
| | cattle market with Thai cowboys |
| | Thailand chinese fishing nets such as in Fort Cochin (see website India, march 2005) |
| | camping at historic Khmer temple SUKOTHAI historical Park |
| | Thailand SUKOTHAI historical Park 13.11.5 |
| | Thailand Elephant 14.11.5 L Conservation Park |
| | Thailand Elephant 14.11.5 L Conservation Park (6) |
| | ricefield near Mae Hong Son |
| | The highest top in Thailand 2556m, but we also visited the most narrow point 10,6km wide in South, bordering to the West at Myanmar |
| | Longneck Karen cooking chicken with(out) flu |
| | one of the borders to Myanmar we visited |
| | teaching Thai, Birmese, English and Karenese languages to Longneck Karen |
| | Young LongNeck Karen |
| | Laos here we come |
| | Black Lihu |
| | Thailand SUKOTHAI historical Park 13.11.5 |
| | Thailand SUKOTHAI historical Park 13.11.5 |
| | little and big catfish |
| | mekong gong gong |
| | grilled frogs ready for you |
| | French biker |
| | Bonzes receiving early morning rice gifts in Mainstreet of Luang Prabang |
| | SABAI DII from Laos, North East |
| | lady in black |
| | dressed to kill |
| | colourfull NorthLaos |
| | national day |
| | more tribal dresses |
| | mother and child |
| | old and younger |
| | 7 |
| | 7 of 1 million elephants |
| | China border flagceremony 4.12.5 |
| | walking past passee |
| | local market with Saint Nicolas food |
| | Namta market |
| | local alcohol |
| | local dresses |
| | Hmong dresses |
| | Hmong ceremony dresses |
| | Hmong |
| | Hmong ceremony |
| | Again from Laos ???? unfortunately yes! |
| | local bridge |
| | boatraces |
| | Khmer templecomplex 1 |
| | Khmer temple detail 2 |
| | returning home |
| | traiteur for walking lunch |
| | earpiercing |
| | fashion |
| | oxcarting |
| | earpiercing new |
| | bamboopipe |
| | weaving hightech |

| | |
| --- | --- |
| | discovering the world by campingcar |

27-10-2005

from Kuala Lumpur, waiting for the car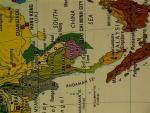 Selamat Datang, or welcome in Malaysia
the ship should arrive .... with a very unfortunate delay sunday morning at KL's Port Klang. Cause of the Weekend and next holidayweek we might not get the car free from customs before Wednesday!
Time to stroll in KL/s Chinatown, Little India etcetra, and looking for car insurance, meetings with the shipping agent and in out taxis. Meanwhile got invitation for drink by the Belgian Friends on Friday, where the actual denguefever outbreak in both Malaysia (1300 victims, only 5 deaths so far) AND even in clean SINGAPORE (+10deaths already) will be discussed, I'm sure, as well as the risks of birdflu. If the mosquitos stay clear of us (we hope), we'll do likewise of the birds and chicken (promised).
Finally got the nicest pictures of KL's Petronastowers which we missed in 2002 due to fog. Now the skies were bright, and I got EVEN accepted in the very first visit at 10am cause the receptionist had met with the belgian Ambassador, so she kind of liked Belgians I guess, and cause I insisted I needed nice sunny pictures to show our daughters back home!
In awaiting these pictures, here are some more: the countries scheduled this etappe, and the sidebusiness of our Indian shipping agent.
Next update AFTER we reception the car, so long from KL





27-10-2005 om 06:09 geschreven door lucas

24-10-2005

bamboosplicing on the street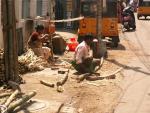 bamboosplicing on the street

24-10-2005 om 00:00 geschreven door lucas
23-10-2005

monsoontime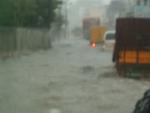 monsoontime
23-10-2005 om 00:00 geschreven door lucas
22-10-2005

more rupees to make your wishes come true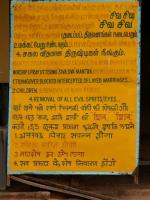 more rupees to make your wish
22-10-2005 om 06:41 geschreven door lucas

for a few rupees worth of devotion.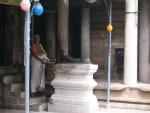 for a few rupees worth of devotion.
22-10-2005 om 06:37 geschreven door lucas

serene Gingee, a new old Hampi-like site 3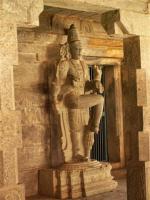 serene Gingee, a new old Hampi-like site 3rd picture
22-10-2005 om 06:35 geschreven door lucas

serene Gingee, a new old Hampi-like site 2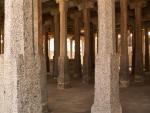 serene Gingee, a new old Hampi-like site 2nd picture
22-10-2005 om 06:35 geschreven door lucas


Last days in India, and per ship (car) and plane to Kuala Lumpur, Malaysia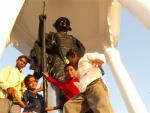 Leaving Incredible India might have been "Incredible" indeed: Customs follow the letter of the (many) rules making me phone, fax, mail, visit again and again resp. Toyota, the shipping agent, customs and all of its many officials. But at last, the Chief Commissioner wil sign my papers so was promised today.
When/if so, I'll drive the car on its rented openrooftop container, cover it with a huge tarpaulin, and trust it will be safely boarded by crane onto Malaysian MS Bunga Teraseka heading to KL, so I'm told, on Saturday 22.10.5.
In between I continued discovering the Tamil Nadu State, from the misery rich quarters next to Indias longest and widest Marina beach at Chennai, the old Pallava and Chola-styled temple in Kachipuram, via a really amazing (but smaller) site à la Hampi (see previously) at GINGEE: a real beauty not yet discovered (helas or maybe as well) by tourism. Also Vellore does not (yet) get too much attention, but its Fort temple is a real example of extremely fine sculpturing. And we could not leave this amazing country without a real monsoonshower, could we? Torrential rains make roads grow in no time into small rivers with kneedeep water and visibility nihil, a nice experience when driving your own (lefthand driven) car.
Time for a short recap of 5 months+ of this India anno 2005:
- this country still struggles with so many impactful negatives: from malaria (2 million new cases each year), high rates of childdeaths, rural analphabetism, electricity (still 78 yes seventy-eight million HOUSES have no single lightbulb !!), ever growing watershortage, internal struggle of several separatist substates with killings, abductions and more 'nice' attacks, terrible tolls to be paid for pollution (air, land, waste, rivers, water...), traffic, natural disaster (monsoons killing tens of thousands per year, not to mention last year's traumatic and devastating tsunami of which the restoration is hardly starting up!), and bureaucracy with corruption/bribery: a waste of efficiency and effectiveness to more rapid growth;
- on the other hand, a country full of opportunities, religions, ethnic groups, and closer ties to earlier ennemy Pakistan; huge capacities in manpower and intellect, and still very low wages making it a worldpower close to neighbour China's blitzgrowth
- and finally, an incredible diversity for visitors from abroad: from extraordinary nature, architecture, history, temples, palaces, beaches, indian curries, and (improving hotel facilities and even a ew kilometres of real motorways) ... when willing to close sometimes eyes, ears, and noses for smells, traffic, noise and garbage; and notwithstanding real poverty and dying people on the streets, many homeless children and elderly without family (read no income so real poverty and famine).
- Can you do this "Incredible India" by your own car/camper? Yes, provided you do not mind chaotic traffic (1000 times worse than Paris, Rome and Madrid combined!); long driving hours, and more kilometers (we arrived at Chennai port with 33.000kms from Belgium); learn yourself some basic mechanics, cross your fingers, keep smiling and ....fill up for petrol (cheap in Iran) to discover it all by yourself: it IS really Incredible, and fascinating from day 1 till your return, or continuation as is our case.
We leave this country with some regret, for it is so rich in culture, fabulous friendly smiling and hospitable people, rich in resources, nature .... and a promise to return to discover later on the north (Sikkim) and other Himalayan borders such as Kashmir without the todays earthquakes, daily assasinations and monsoon. And providing the authorities will let us enter once more.
But now our compass reads South East Asia, and all is set to continue our 2nd part of this worldtrip, bringing us via SW China to Vietnam, Cambodia, Laos, Thailand, Malaysia and if the birdflu will not have been too nasty, also Indonesia. Let's keep into contact folks!
Hence, our last "Namaste" from India.
P.S. Our site calls 80months, not a coincidence: in this year 2005 it is 100years ago Jules Verne died. It is he who originated the concept of travelstories 'avant la lettre': no less than 2 books per year in his famous "Voyages Extraordinaires" featuring one of his most read books 'In 80 days around the world".
X years after Fog we do the same, following our dream, but by car, and in 80 months. Or at least, that is the plan.
Exhibitions on Jules Vernes' life and dreams can be attended in Nantes (his native place) and the city where he exchanged his dreams for ethernal life, at Amiens.
22-10-2005 om 06:32 geschreven door lucas

21-10-2005

amazing Gingee incredible workforce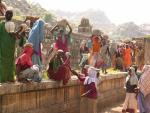 incredible workforce
21-10-2005 om 00:00 geschreven door lucas

serene Gingee, a new old Hampi-like site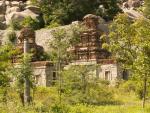 serene Gingee, a new old Hampi-like site
21-10-2005 om 00:00 geschreven door lucas
20-10-2005

incredible colours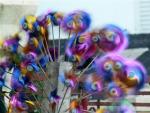 incredible colours
20-10-2005 om 00:00 geschreven door lucas

capital at work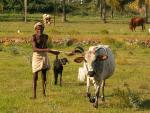 capital at work
20-10-2005 om 00:00 geschreven door lucas
18-10-2005

Vellore sculptures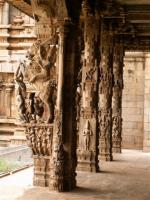 Vellore sculptures
18-10-2005 om 00:00 geschreven door lucas

16-10-2005

2nd message 14.10 on our way back to Chennai, East India, to start procedures to ship the car to Malaysia around 25.10.5
"Ayubowan",:greetngs from Sri Lanka (14.10.5, before heading off to Chennai South India)
Despite the monsoon period over the east, south and westside (a bit too early this year)
SL is a marvellous small island (rougly 400 by 150km), with very friendly people, great nature including thousands of elephants, and maybe as many monkeys as monks. Superb ancient culture from the 2nd Century BC till late 18th C allover the islands center (highland and along the main coasts, and unfortunately quite some of these destroyed by time, the jungle, and most recently the civil war (Tamils) and the Tsunami which hit the fishing villages very hard . Imagine a 10meter high wall of sea coming speedily ashore: nowhere to run for this devastating power. And the remains of buildings, houses, bridges etcetera are still proof of this catostrophy.
Roughly 1 victim every 20 to 25 metres of coastline, or totalling 80.000+! Alone in the city of Galle 100"s died, sometimes filmed live when the catastrophy coincided with the cricketplay, when this huge well entered the bus stands and tore them all back with it into the sea.
Despite massive aid, there are still a lot of tent refugeecamps and many destroyed houses; despite the money poring in SL, only a few % have been redistributed by government; despite the many political promises (it is electiontime now, so some of the people who can prove they lost all of their housing or belongings are seeing a bit of cash) misery is still palpable along the hardhit coasts in east, west and south.
Meanwhile however the country moves on, faith has not touched the population, many temples collecting pilgrimers with (fruit) gifts or cash.
And what a temples they have: the big ones in Kandy and Katagarama, the smaller convents of monks and Budhists, the many (white) Dagobas, the (sometimes huge standing, sitting, laying, coloured, golden ...) Budha and (heavily painted) Hindu statues scattered over hills and in the jungle, outside and within villages. They sometimes are worshipped by both religions Hindu and Budhism at the same time.
Its history closely linked to nearby (25km only) India - both religion and architecture- , also the Kings's Palaces in the centerland are obvious evidence of this mix and many times clashes of both inland and Indian culture.
Influence of Arabic, Portuguese, Dutch and British spicetraders are obvious in 17th century buildings: villages and forts at Galle; Matarama, even in the Dutch quarter of Colombo.
With the Civil War (mainly upnorth of Kandy, with a few if devastating bombing as far as Colombo) having ended with a ceasefire since 2003, military roadblocks and actions are still necessary: every week a few innocent villagers & children, but also tamilsoldiers are victims of deadly (old) mines, and more deadly (today's) ambushes and riots. Peacetalks however are at hand, but today (13.10) we read 2 teachers were being slaughtered, and 50km more south some 10 soldiers blown to peaces or killed in a nightly shooting.
The Blue, White, or other Green party are promising resp. the continuation and the end of the military actions against the Tamils: whoever wins the elections, the outcome is certainly NOT going to yet boost tourism, NOR will it stop bribery, big feasts and gifts allover by political leaders wanting to be (re)elected. And 10 months after the tsunami those who (recently) invested in tourism infrastructure either lost it all, or are facing near-bankrupcy. Only the capitalfeed from big hotelgroups are keeping the jobs secured of (lowpaid) waiters, gardeners, poolmen and other personnel; all hoping tourists will slowly reenter the scene.
The tourist industry is facing a drop of 80 to 90%; these few tourists only come to the few main spots IF ever, making a 1week trip and then spending the rest of the money and time relaxing at poolside and or (mostly very scenic) beaches. We travelled some 1850kms on mainly nice roads, saw hundreds of elephants, monkeys, birds, leguan and more tropical paradise. We ate crab, great fish; tried the local beer and wine, and even arrack. The cuisine can be very nice or not so western at will, the service mainly is superb.
Whereas Colombo and Kandy are busy with noise, traffic and pollution, the smaller towns and most certainly villages are not yet (over)developed. Internet is – when available- slow and unreliable, distribution of (drinking) water scarcely organised, transport slow with (very) old Tata-vehicles or even older buses, trains, tuktuks and oxcarts.
Life however goes on: in Colombo heroinefreaks are selling you anything to gain the daily shot; on the countryside (so in 99% of Sri Lanka) tody-palmalcohol is widely sold (arrack); fishermarkets are reopening, crops are harvested by hand, carpenters are still doing a (restoration) or builderjob, and ... underpaid female teapickers and workers in clothing industry (3,5 and 5$/day) continue to work long hours in not so attractive circumstances.
Allthough more clean and less of a cultureshock than its neighbour India the island is facing a plastic and garbageproblem, and screaming poverty most westerners like not too much (a meagre hut is better than no housing at all, but still; only along the coasts you'll see some people with a few more kilos, more westernised, richer ). The traditional wedding of young girls in the villages is still fruit of arranged marriage, resulting in quite a few suicides.
Fortunately schooling is very well organised, and most people speak English, are willing to work, and continue to SMILE.
Any tourist here can agree on that: abundant nature, scenic roads, beautiful sites, a nice mix of culture, extremely friendly people and (apart from monsoonseason) nice sun, beaches and potential to grow: this island has it all, and provides it at still cheap prices, despite heavy tourist taxes and expensive entrance tickets alike.
"Ayubowan": the traditional greetings merely reflect the traditional, nice people who continue daily struggle for life ... with a BIG smile, hoping many tourists will return at last..
16-10-2005 om 07:24 geschreven door lucas

14-10-2005

musician at temple during Puja clebration 3x/day, Kandy, Sri Lanka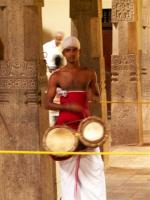 at temple during Puja clebration 3x/day, Kandy, TOOTH TEMPLE, Sri Lanka, musicians call for prayers
14-10-2005 om 00:00 geschreven door lucas
12-10-2005

Galle Dutch Fort, Sri Lanka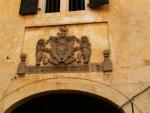 after the Portuguese the Dutch built this Fort with warehouses and houses plus Dutch Protestant Church, 17th C, here the VOC emblem on the spices warehouse (cinnamon, pepper ...)
12-10-2005 om 00:00 geschreven door lucas
10-10-2005

Siriyaga, ancient capital with Kings Palaces and terracegardens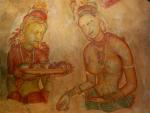 Siriyaga, ancient capital with Kings Palaces and terracegardens in centre of Sri Lanka, with a winterpalace on top of the Lions Rock, and some of the nicest frescoes of a few of the Kings 500 wives
10-10-2005 om 00:00 geschreven door lucas
06-10-2005

elephants in river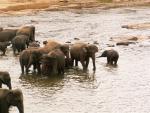 beautiful: a herd of elephants bathing in mud water and dust
06-10-2005 om 04:59 geschreven door lucas


even vanuit SRI LANKA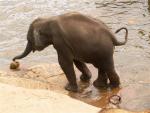 October 6, 2006
Hello from... Sri Lanka, a quick 2week trip on this island on the heeltip of India. Indeed, arriving in Chennai the weatherreports and the monsoon having started with already roads heavily being damagred, I decided to prepare everything for shipping aroudn 20.10 to Malaysia, meanwhile trekking around in a small group in minivan in Sri Lanka. Here we're agian in search for culture (great temples, nice nature and lovely beaches, and MANY elephants on roads and or in wildparks.
Also a poor island, hit hard by 80.000lives missing after the december tsunami, but recovering?
A tropical island as well, with all rain, heat, jungel and more nice nature.
And superfriendly people.
Two more weeks before shipping, we'll deicde last minute if at all we ship to SE ASIA, in view of the proliferating BIRD FLU. Should this prove a real danger, then we might as well skip all this and ship straight into South Africa.
We'll let you know, stay tuned
All the best from Sri Lanka.
06-10-2005 om 04:57 geschreven door lucas

20-09-2005

we are OFF, SouthEast Asia here we come in our Toy!
Bxl, 20.9.5
Hello allemaal, daar gaan we weer, ik vertrek vandaag naar India, en verscheep de auto naar Maleisië, waar we de wereldreis - nu in ZO Azië - verderzetten. Dan, noordwaarts cirkelend, telkens 2 à 3weken Thailand, Laos N, ZW China enja, inmiddels is het 2006 ; N en C Vietnam, Laos C en Z, Vietnam Z, Cambodia, Thailand, Maleisië, Indonesië en terug naar Maleisië voor verscheping april/mei, allicht naar Zuid-Afrika.
Ondertussen blijven we (af en toe) in contact ;
allerbeste van ons beidjes, en tot ergens mei 2006 in Bxl of in audetarnloucastel.com ??!!
ciao
J&L
Hello over there, how are you? Today I leave to Chennai, then ship the car to tour first a bit in Malaysia cause Myanmar refuses to let us in; from 1.11 onwards we tour (always around 2 to 3 weeks) upnorth Thailand N & E, Laos N, ChinaSW, Vietnam N& C, Laos C & S, Vietnam S, Cambodia, Thailand SE & S, then returning Malaysia before Indonesia's tour of the islands. We intend to ship in may 2006 to South Africa.
All the best, and keep in touch
Ciao
J&L
20-09-2005 om 09:14 geschreven door lucas


| | |
| --- | --- |
| | |

Gastenboek


Druk op onderstaande knop om een berichtje achter te laten in mijn gastenboek