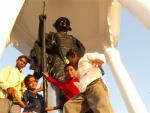 Leaving Incredible India might have been "Incredible" indeed: Customs follow the letter of the (many) rules making me phone, fax, mail, visit again and again resp. Toyota, the shipping agent, customs and all of its many officials. But at last, the Chief Commissioner wil sign my papers so was promised today.
When/if so, I'll drive the car on its rented openrooftop container, cover it with a huge tarpaulin, and trust it will be safely boarded by crane onto Malaysian MS Bunga Teraseka heading to KL, so I'm told, on Saturday 22.10.5.
In between I continued discovering the Tamil Nadu State, from the misery rich quarters next to Indias longest and widest Marina beach at Chennai, the old Pallava and Chola-styled temple in Kachipuram, via a really amazing (but smaller) site à la Hampi (see previously) at GINGEE: a real beauty not yet discovered (helas or maybe as well) by tourism. Also Vellore does not (yet) get too much attention, but its Fort temple is a real example of extremely fine sculpturing. And we could not leave this amazing country without a real monsoonshower, could we? Torrential rains make roads grow in no time into small rivers with kneedeep water and visibility nihil, a nice experience when driving your own (lefthand driven) car.
Time for a short recap of 5 months+ of this India anno 2005:
- this country still struggles with so many impactful negatives: from malaria (2 million new cases each year), high rates of childdeaths, rural analphabetism, electricity (still 78 yes seventy-eight million HOUSES have no single lightbulb !!), ever growing watershortage, internal struggle of several separatist substates with killings, abductions and more 'nice' attacks, terrible tolls to be paid for pollution (air, land, waste, rivers, water...), traffic, natural disaster (monsoons killing tens of thousands per year, not to mention last year's traumatic and devastating tsunami of which the restoration is hardly starting up!), and bureaucracy with corruption/bribery: a waste of efficiency and effectiveness to more rapid growth;
- on the other hand, a country full of opportunities, religions, ethnic groups, and closer ties to earlier ennemy Pakistan; huge capacities in manpower and intellect, and still very low wages making it a worldpower close to neighbour China's blitzgrowth
- and finally, an incredible diversity for visitors from abroad: from extraordinary nature, architecture, history, temples, palaces, beaches, indian curries, and (improving hotel facilities and even a ew kilometres of real motorways) ... when willing to close sometimes eyes, ears, and noses for smells, traffic, noise and garbage; and notwithstanding real poverty and dying people on the streets, many homeless children and elderly without family (read no income so real poverty and famine).
- Can you do this "Incredible India" by your own car/camper? Yes, provided you do not mind chaotic traffic (1000 times worse than Paris, Rome and Madrid combined!); long driving hours, and more kilometers (we arrived at Chennai port with 33.000kms from Belgium); learn yourself some basic mechanics, cross your fingers, keep smiling and ....fill up for petrol (cheap in Iran) to discover it all by yourself: it IS really Incredible, and fascinating from day 1 till your return, or continuation as is our case.
We leave this country with some regret, for it is so rich in culture, fabulous friendly smiling and hospitable people, rich in resources, nature .... and a promise to return to discover later on the north (Sikkim) and other Himalayan borders such as Kashmir without the todays earthquakes, daily assasinations and monsoon. And providing the authorities will let us enter once more.
But now our compass reads South East Asia, and all is set to continue our 2nd part of this worldtrip, bringing us via SW China to Vietnam, Cambodia, Laos, Thailand, Malaysia and if the birdflu will not have been too nasty, also Indonesia. Let's keep into contact folks!
Hence, our last "Namaste" from India.
P.S. Our site calls 80months, not a coincidence: in this year 2005 it is 100years ago Jules Verne died. It is he who originated the concept of travelstories 'avant la lettre': no less than 2 books per year in his famous "Voyages Extraordinaires" featuring one of his most read books 'In 80 days around the world".
X years after Fog we do the same, following our dream, but by car, and in 80 months. Or at least, that is the plan.
Exhibitions on Jules Vernes' life and dreams can be attended in Nantes (his native place) and the city where he exchanged his dreams for ethernal life, at Amiens.
22-10-2005 om 06:32 geschreven door lucas