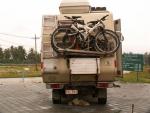 NAMASTE,
Again? Yes, now from 'amazing' Thailand,
in the rain and a bit of sun, along nice and not so nice beaches, but always with not so curious, friendly Thai.
Passing the border on 2.11
- after our long customs hassle on 31.10 with paperwork to clear and enter the car from the boat in Port Klang ( but we managed after exactly 12 hours, minus a broken ladder and a broken lock on the side entrance due to careless handling out the container); and a quick visit to Kuala Lumpur and then Georgetown to enquire about our carferry in February to Indonesia- ,
was very easy and fast: no checking whatsoever, even changing to my second passport was no problem at all for those friendly customs officers.
We slept 2x along a beach on the Eastcoast, tonight close to a small village where we found chinese food and fast internetcafe. Our first 2 days in Thailand showed us our first WATs, very nice temples of which a 1000+year old one.
Tomorrow we'll drive in hectic Bangkok, to arrange for our visa into Vietnam and pay our guides and insurance for SW China which we'll reach around 3.12, after 3 weeks Laos and 1 week more in NorthEast of Thailand.
But not without having been, today, at least at the very border with this Myanmar where we have been trying for several months in vain, unfortunately, to enter and drive thru.
Pics will be updated in Bangkok where we'll stay 2 days.
Till then, ciao
06-11-2005 om 05:19 geschreven door lucas