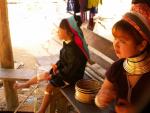 Laos here we come
After some 3500km of amazing Thailand we're closing in to Laos. We have to, cause our meeting at the Laotian/Chinese border is fixed for December 3, one of the few deadlines we've set ourselves. Unfortunately as per today we do not yet have the official OK, so please keep your fingers crossed for us, will you??
After the main historical ancient capitals (see previously) and the Elephant Conservation Centre with hospital, in the Northwestern hills we came across some of the local minorities (Lisu, Shan, Karen, Longneck Karen etc) who live –quite adapted to the Thai way of live even when most are refugees from Myanmar, or even inbound from Laos or China) close at the border with Myanmar. The Longneck Karen village we visited is open to paying tourists (250Baht or 5 Euros each) after a few kilometers of roughroads and a passage of a river so with our 4x4 in the waterflow. They sell handmade artcraft.
Our aim was for the school. The 10 teachers serve 109 children in the age 6 to 16. Some 20% of the girls are wearing those special coppercoloured necklace (weighing up to 6 kg in the case of adult ladies). They learn the usual geography etc., but also Karenese, Burmese, Thai and English. Thus, the young vendors really speak quite well and can go beyond the hello and thank you very much.
Part of the entrance fee goes to general equipment, school, and the rest is divided amongst the 250 villagers. Many of them have TVs, some a scooter or motorbike, paid for with the income of the artcraft sales.
Later in the afternoon, (after having taken our first medication against the deadly malaria-strain which seems to invade NW and NE Thailand, but also part of Laos and Cambodia not to speak of an equally lethal dengue fever also induced by mosquito), we bumped in a Lisu village into a group of children who were preparing the Loy Kratong festival (see also previous text written from Ayuttaya). After they'd put their flowerpieces afloat in the river it was time for a bath: and up they went into the water, the girls fully dressed.
At Pai we learned we become famous: a couple stopped us on the road, and told us they know all about us! So we parked the car and had dinner with them in a restaurant at the riverside. It seems a Dutch-Swiss couple has learnt about our trip from the Swiss Fredy and Monika we met at Agonda Beach (see our WEBsite March, India). Or so again we notice it is a small world!
This Swissbased couple, Brian and Madeleine travelling as backpackers now in Northern Thailand, had met the Dutch-Swiss again in Laos and had traveled with them in their campervan. So they knew about our itinerary, and had stopped us 'cause if this is a Toyota 4X4 camper, Belgian, then these must be the Dutch-Belgian couple they had heard about"!
Again at this riverside local villagers and tourists alike came to put in flowerpieces with candlelights in the river, or to lighten up fireworks and crackers, or to put into the sky real small hotairballoons fuelled by a central candleligth; amazing! Also amazing: at Bangkok city the Police counted 1.250.000 of these flowerpieces set afloat in the capital itself
From there next morning we continued east to Chiang Mai (New city, also called the Rose of the North) with over 300 Wat. We visited just the major Wat Phra Sing, with 750 year old frescoes a must for visitors. It used to be the temple which hosted the original Emeraud Buddha, transferred now to the Wat Phra Kaew in Bangkok, and which yesterday received its new dress from HRH the crownprince himself (3 times per year, at the change of season).
And now again via mountains to the east, making the loop south towards Loei, before Udon Thani where we'll shop for food, essential stuff and have the car greased.
Tomorrow we're passing the Vientiane border, will we be lucky again to pass this border smoothly as well??
18-11-2005 om 14:59 geschreven door lucas