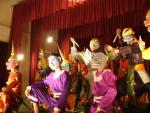 SABAI DII from xml:namespace prefix = st1 ns = "urn:schemas-microsoft-com:office:smarttags" />Laos, North East
First of all; a very HAPPY anniversary Mother, and many more years to come !
After the capital Vientiane where we fixed some minor things on the car, and got a good tip to still try to make our China trip come true, we headed off to the North. Vang Vieng is set amidst a typical landscape of high mountainhills giving it the name of the Halong Bay of Laos. Here we met again a French, individual biker: Laos seems to be enjoying a nice tourism boom of backpackers and bikers alike (even women safely travelling alone cause in Asia no macho misbehaviour (yet)). But also of campers: we know now of 5 cars travelling around in Laos and Vietnam 2 French, 2 Swiss, and ours. One of the French we met today, in Luang Prabang. They came in via ex USSR, Mongolia and China, and continue to Cambodia to...start up a new guesthouse.
Next Monday we hope to know if we can go into China to drive in Yunnan province on our way to Vietnam. In between we'll go to the very northeastern corner of this 'Country of One Million Elephants' (of which maybe a few hundreds are still alive), to try and visit very remote local minorities: a tip from a German couple we met on a dirtroad (actually almost a 4X4 road) in the east, above the impressive Plane of Jars. Amidst of the US bombcraters of the 1960-70 there are still some hundreds of big jars (some weighing up to 6 tons, with or without a lid) of longforgotten kings, destined it seems as funeral jars and/or sarcophagusses.
In these remote areas you'll come accross the weirdest vehicles: tractor driven buses, lorries of Chinese make (Lanjian, Dong Fehu and other mysterious names), and very old Russian trucks and - can you believe it- "modern" Volga and Lada. The Isuzu, Hino, Nissan but moreover the ever present Toyota pickups seem in better shape. Whereas the womendresses (with wollen sweaters cause of the aftermonsoon mild for us, cool for them temperatures in the hills (1500m+)) are most colourful, as are the landscapes beautiful, with lots of rivers and waterfalls, and the caves enroute.
In the Unesco World Heritage village of Luang Prabang the Mekong meets the river Nam Khan, thus making it an ideal spot for beautiful Wats, the ancient Royal Palace (in use by the last 4 Kings before the Revolution, and now Museum) and of course backpacking tourists. The (ex-) Royal Ballet is not so royal any longer, but entrance fees are! The classical tales of e.g. the Ramayana are played in colourful costumes with Monkey Kings and beautiful princesses to be rescued, but in slow motion, accompanied by classical gamallan instruments and Lao singers, so don't fall asleep. Internet however is a bit faster, so here are some more pictures. Enjoy, we're now on our way to local tribes in the very northern point of Laos.
J+L
PS. a HAPPY anniversary Mother !
28-11-2005 om 00:00 geschreven door lucas