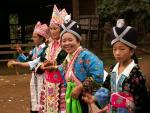 Ever heard of bureaucracy, the Chinese wardrobe to the Chinese wall, standing on your stripes, finding excuses, and more excuses and more till finally, ... you have to give up and forget it all? After 2 days personal struggling with the Chinese customs, and this after 4 months communicated with VERY expensive travel agencies; having paid for expensive visa, having interrogated the Royal Automobile Club and the Swiss International Autoclub Association, ànd our Belgian Embassady in Beijing who all said 'no problem to enter China with your car', the Chinese customs apparently are deaf and blind to international regulations.
And so, even when we had the chance to go and walk accross the border to eat in delicious Chinese 'restaurants' at the bordervillage of Mohan/Boten, we returned on Laos roads, due south, till Vientiane where we'll have executed some minor repairs at the car before heading to the very south of this country.
In between we've travelled to Luang Namta, in the NorthEast, for a boatride thru Hmong and Lakhu villages; next day ceremony dresses came into view of our camera at the occasion of the NewYear festivities of the Hmong (red, white, blue, black...) in the vicinity of Luang Prabang. Here also the beautifull Kwang Xi waterfalls were paid a visit, a local attraction to paying tourists who can also observe some (orphans) Black Asian bears and one of very rare Indochinese tigers.
So we drove again some 750km on the famous 'higway number 13' till Vientiane, the capital, and heading for the 2000 isles in the deep south at the border with Cambodia (or Kampuchea) this 13 will remain our main roadnumber. When we find a decent internetcafe in Savanakhet or in Pakse, we come back to you with more.
10-12-2005 om 02:49 geschreven door lucas