Inhoud blog


| | |
| --- | --- |
| | HA 7 |
| | angkor 6 |
| | NAMASTE, hi from INDIA Iiran/Pakistan, soon VIETNAM, CHINA, LAOS...and welcome to our worldtravel site per 4x4camper |
| | copyright Luc Brandt |
| | newspaper cover in Indian daily |
| | 1st month: Turkey |
| | fabulous paragliding over blue lagoon |
| | Pammukale's white valley |
| | IRAN in 6 weeks: October and November, 2004 |
| | Persepolis of the Kings Darius & Xerxes |
| | sanddunes in desert |
| | Iranese marriage |
| | Shiraz, Isfahan, Qom, ... |
| | BAM, what remains of a World Heritage Site |
| | welcome , soon form INDIA again, to our wolrd travel site per 4x4camper into Vietnam China, Indonesia etcetera (PART S, YEAR 2) |
| | we are OFF, SouthEast Asia here we come in our Toy! |
| | even vanuit SRI LANKA |
| | elephants in river |
| | Siriyaga, ancient capital with Kings Palaces and terracegardens |
| | Galle Dutch Fort, Sri Lanka |
| | musician at temple during Puja clebration 3x/day, Kandy, Sri Lanka |
| | 2nd message 14.10 on our way back to Chennai, East India, to start procedures to ship the car to Malaysia around 25.10.5 |
| | Vellore sculptures |
| | capital at work |
| | incredible colours |
| | serene Gingee, a new old Hampi-like site |
| | amazing Gingee incredible workforce |
| | Last days in India, and per ship (car) and plane to Kuala Lumpur, Malaysia |
| | serene Gingee, a new old Hampi-like site 2 |
| | serene Gingee, a new old Hampi-like site 3 |
| | for a few rupees worth of devotion. |
| | more rupees to make your wishes come true |
| | monsoontime |
| | bamboosplicing on the street |
| | from Kuala Lumpur, waiting for the car |
| | shipping agent also filmproducer |
| | handy mouthblowing silversmith |
| | Kuala Lumpurs symbol of prosperity |
| | NAMASTE, Again? Yes, now from '˜amazing' Thailand, |
| | only 75 km from Bangkok city |
| | sunset at Wat |
| | Sawadee, (prononounce sawwadiii), or hello from Ayuttayah, |
| | beautiful historical site |
| | Wats zijn geen watjes hier |
| | Loi Krathong festival of riverlights |
| | sunset at SUKOTHAI historical Park |
| | cattle market with Thai cowboys |
| | Thailand chinese fishing nets such as in Fort Cochin (see website India, march 2005) |
| | camping at historic Khmer temple SUKOTHAI historical Park |
| | Thailand SUKOTHAI historical Park 13.11.5 |
| | Thailand Elephant 14.11.5 L Conservation Park |
| | Thailand Elephant 14.11.5 L Conservation Park (6) |
| | ricefield near Mae Hong Son |
| | The highest top in Thailand 2556m, but we also visited the most narrow point 10,6km wide in South, bordering to the West at Myanmar |
| | Longneck Karen cooking chicken with(out) flu |
| | one of the borders to Myanmar we visited |
| | teaching Thai, Birmese, English and Karenese languages to Longneck Karen |
| | Young LongNeck Karen |
| | Laos here we come |
| | Black Lihu |
| | Thailand SUKOTHAI historical Park 13.11.5 |
| | Thailand SUKOTHAI historical Park 13.11.5 |
| | little and big catfish |
| | mekong gong gong |
| | grilled frogs ready for you |
| | French biker |
| | Bonzes receiving early morning rice gifts in Mainstreet of Luang Prabang |
| | SABAI DII from Laos, North East |
| | lady in black |
| | dressed to kill |
| | colourfull NorthLaos |
| | national day |
| | more tribal dresses |
| | mother and child |
| | old and younger |
| | 7 |
| | 7 of 1 million elephants |
| | China border flagceremony 4.12.5 |
| | walking past passee |
| | local market with Saint Nicolas food |
| | Namta market |
| | local alcohol |
| | local dresses |
| | Hmong dresses |
| | Hmong ceremony dresses |
| | Hmong |
| | Hmong ceremony |
| | Again from Laos ???? unfortunately yes! |
| | local bridge |
| | boatraces |
| | Khmer templecomplex 1 |
| | Khmer temple detail 2 |
| | returning home |
| | traiteur for walking lunch |
| | earpiercing |
| | fashion |
| | oxcarting |
| | earpiercing new |
| | bamboopipe |
| | weaving hightech |

| | |
| --- | --- |
| | discovering the world by campingcar |
30-11-2005

lady in black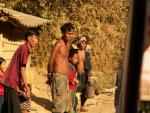 30-11-2005 om 00:00 geschreven door lucas

28-11-2005

SABAI DII from Laos, North East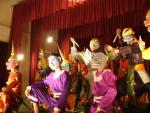 SABAI DII from xml:namespace prefix = st1 ns = "urn:schemas-microsoft-com:office:smarttags" />Laos, North East
First of all; a very HAPPY anniversary Mother, and many more years to come !
After the capital Vientiane where we fixed some minor things on the car, and got a good tip to still try to make our China trip come true, we headed off to the North. Vang Vieng is set amidst a typical landscape of high mountainhills giving it the name of the Halong Bay of Laos. Here we met again a French, individual biker: Laos seems to be enjoying a nice tourism boom of backpackers and bikers alike (even women safely travelling alone cause in Asia no macho misbehaviour (yet)). But also of campers: we know now of 5 cars travelling around in Laos and Vietnam 2 French, 2 Swiss, and ours. One of the French we met today, in Luang Prabang. They came in via ex USSR, Mongolia and China, and continue to Cambodia to...start up a new guesthouse.
Next Monday we hope to know if we can go into China to drive in Yunnan province on our way to Vietnam. In between we'll go to the very northeastern corner of this 'Country of One Million Elephants' (of which maybe a few hundreds are still alive), to try and visit very remote local minorities: a tip from a German couple we met on a dirtroad (actually almost a 4X4 road) in the east, above the impressive Plane of Jars. Amidst of the US bombcraters of the 1960-70 there are still some hundreds of big jars (some weighing up to 6 tons, with or without a lid) of longforgotten kings, destined it seems as funeral jars and/or sarcophagusses.
In these remote areas you'll come accross the weirdest vehicles: tractor driven buses, lorries of Chinese make (Lanjian, Dong Fehu and other mysterious names), and very old Russian trucks and - can you believe it- "modern" Volga and Lada. The Isuzu, Hino, Nissan but moreover the ever present Toyota pickups seem in better shape. Whereas the womendresses (with wollen sweaters cause of the aftermonsoon mild for us, cool for them temperatures in the hills (1500m+)) are most colourful, as are the landscapes beautiful, with lots of rivers and waterfalls, and the caves enroute.
In the Unesco World Heritage village of Luang Prabang the Mekong meets the river Nam Khan, thus making it an ideal spot for beautiful Wats, the ancient Royal Palace (in use by the last 4 Kings before the Revolution, and now Museum) and of course backpacking tourists. The (ex-) Royal Ballet is not so royal any longer, but entrance fees are! The classical tales of e.g. the Ramayana are played in colourful costumes with Monkey Kings and beautiful princesses to be rescued, but in slow motion, accompanied by classical gamallan instruments and Lao singers, so don't fall asleep. Internet however is a bit faster, so here are some more pictures. Enjoy, we're now on our way to local tribes in the very northern point of Laos.
J+L
PS. a HAPPY anniversary Mother !
28-11-2005 om 00:00 geschreven door lucas

27-11-2005

Bonzes receiving early morning rice gifts in Mainstreet of Luang Prabang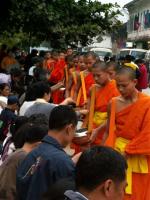 27-11-2005 om 11:16 geschreven door lucas
26-11-2005

French biker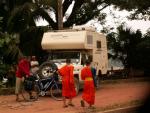 26-11-2005 om 00:00 geschreven door lucas
25-11-2005

grilled frogs ready for you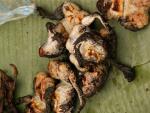 25-11-2005 om 00:00 geschreven door lucas
24-11-2005

mekong gong gong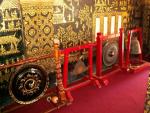 24-11-2005 om 00:00 geschreven door lucas
23-11-2005

little and big catfish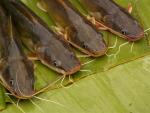 23-11-2005 om 00:00 geschreven door lucas
18-11-2005

Thailand SUKOTHAI historical Park 13.11.5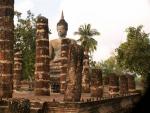 18-11-2005 om 15:18 geschreven door lucas

Thailand SUKOTHAI historical Park 13.11.5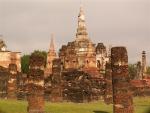 18-11-2005 om 15:16 geschreven door lucas

Black Lihu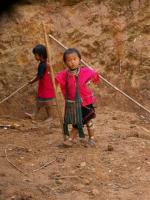 18-11-2005 om 15:00 geschreven door lucas


Laos here we come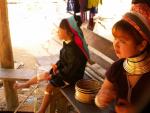 Laos here we come
After some 3500km of amazing Thailand we're closing in to Laos. We have to, cause our meeting at the Laotian/Chinese border is fixed for December 3, one of the few deadlines we've set ourselves. Unfortunately as per today we do not yet have the official OK, so please keep your fingers crossed for us, will you??
After the main historical ancient capitals (see previously) and the Elephant Conservation Centre with hospital, in the Northwestern hills we came across some of the local minorities (Lisu, Shan, Karen, Longneck Karen etc) who live –quite adapted to the Thai way of live even when most are refugees from Myanmar, or even inbound from Laos or China) close at the border with Myanmar. The Longneck Karen village we visited is open to paying tourists (250Baht or 5 Euros each) after a few kilometers of roughroads and a passage of a river so with our 4x4 in the waterflow. They sell handmade artcraft.
Our aim was for the school. The 10 teachers serve 109 children in the age 6 to 16. Some 20% of the girls are wearing those special coppercoloured necklace (weighing up to 6 kg in the case of adult ladies). They learn the usual geography etc., but also Karenese, Burmese, Thai and English. Thus, the young vendors really speak quite well and can go beyond the hello and thank you very much.
Part of the entrance fee goes to general equipment, school, and the rest is divided amongst the 250 villagers. Many of them have TVs, some a scooter or motorbike, paid for with the income of the artcraft sales.
Later in the afternoon, (after having taken our first medication against the deadly malaria-strain which seems to invade NW and NE Thailand, but also part of Laos and Cambodia not to speak of an equally lethal dengue fever also induced by mosquito), we bumped in a Lisu village into a group of children who were preparing the Loy Kratong festival (see also previous text written from Ayuttaya). After they'd put their flowerpieces afloat in the river it was time for a bath: and up they went into the water, the girls fully dressed.
At Pai we learned we become famous: a couple stopped us on the road, and told us they know all about us! So we parked the car and had dinner with them in a restaurant at the riverside. It seems a Dutch-Swiss couple has learnt about our trip from the Swiss Fredy and Monika we met at Agonda Beach (see our WEBsite March, India). Or so again we notice it is a small world!
This Swissbased couple, Brian and Madeleine travelling as backpackers now in Northern Thailand, had met the Dutch-Swiss again in Laos and had traveled with them in their campervan. So they knew about our itinerary, and had stopped us 'cause if this is a Toyota 4X4 camper, Belgian, then these must be the Dutch-Belgian couple they had heard about"!
Again at this riverside local villagers and tourists alike came to put in flowerpieces with candlelights in the river, or to lighten up fireworks and crackers, or to put into the sky real small hotairballoons fuelled by a central candleligth; amazing! Also amazing: at Bangkok city the Police counted 1.250.000 of these flowerpieces set afloat in the capital itself
From there next morning we continued east to Chiang Mai (New city, also called the Rose of the North) with over 300 Wat. We visited just the major Wat Phra Sing, with 750 year old frescoes a must for visitors. It used to be the temple which hosted the original Emeraud Buddha, transferred now to the Wat Phra Kaew in Bangkok, and which yesterday received its new dress from HRH the crownprince himself (3 times per year, at the change of season).
And now again via mountains to the east, making the loop south towards Loei, before Udon Thani where we'll shop for food, essential stuff and have the car greased.
Tomorrow we're passing the Vientiane border, will we be lucky again to pass this border smoothly as well??
18-11-2005 om 14:59 geschreven door lucas

16-11-2005

Young LongNeck Karen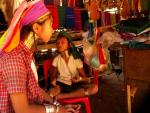 16-11-2005 om 00:00 geschreven door lucas

teaching Thai, Birmese, English and Karenese languages to Longneck Karen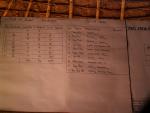 16-11-2005 om 00:00 geschreven door lucas

one of the borders to Myanmar we visited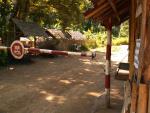 16-11-2005 om 00:00 geschreven door lucas

Longneck Karen cooking chicken with(out) flu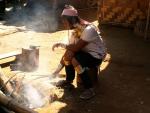 16-11-2005 om 00:00 geschreven door lucas
15-11-2005

The highest top in Thailand 2556m, but we also visited the most narrow point 10,6km wide in South, bordering to the West at Myanmar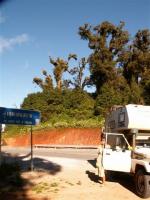 15-11-2005 om 00:00 geschreven door lucas
14-11-2005

ricefield near Mae Hong Son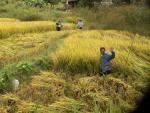 14-11-2005 om 00:00 geschreven door lucas

Thailand Elephant 14.11.5 L Conservation Park (6)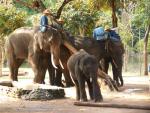 14-11-2005 om 00:00 geschreven door lucas

Thailand Elephant 14.11.5 L Conservation Park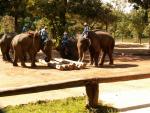 14-11-2005 om 00:00 geschreven door lucas
13-11-2005

Thailand SUKOTHAI historical Park 13.11.5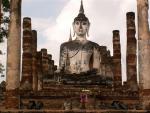 13-11-2005 om 00:00 geschreven door lucas

camping at historic Khmer temple SUKOTHAI historical Park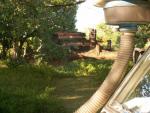 13-11-2005 om 00:00 geschreven door lucas
12-11-2005

Thailand chinese fishing nets such as in Fort Cochin (see website India, march 2005)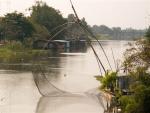 12-11-2005 om 00:00 geschreven door lucas

cattle market with Thai cowboys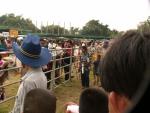 12-11-2005 om 00:00 geschreven door lucas

sunset at SUKOTHAI historical Park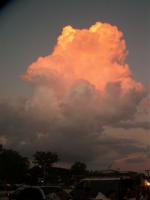 12-11-2005 om 00:00 geschreven door lucas
10-11-2005

Loi Krathong festival of riverlights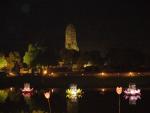 10-11-2005 om 15:41 geschreven door lucas

Wats zijn geen watjes hier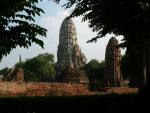 10-11-2005 om 15:39 geschreven door lucas

beautiful historical site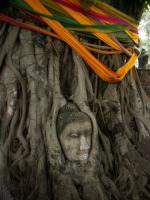 10-11-2005 om 15:38 geschreven door lucas


Sawadee, (prononounce sawwadiii), or hello from Ayuttayah,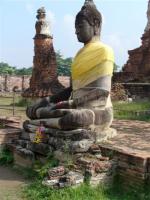 Sawadee, (prononounce sawwadiii), or hello from Ayuttayah, ancient capital (13th to 17th century) 75 km North of Bangkok; an amazing few km² full of brikstone palaces, temples, pagodas covered once with cementplaster and surrounded by the river, forming a nearly invincible power until the Burmese captured it to take away hundreds of kg of gold and other jewels. What remains is still impressive, and is a must in Thailand. Till 16.11 (full moon) the Thai festival of Loy Krathong is an occasion to bless the river goddess: on that day, but already every evening now in Ayuttayah, there are free appetizers and ancient art demonstrations for Thai and foreign tourists (farang) and they too are invited to make with their assistance a small flowerboat with candlelight and put it out in the river.
In Bangkok we mainly made use of small tjuktjuk from our central hotel to the Wat Phrae, Royal Palaces and Vietnamese Embassy (where we need to return on Friday 11.11 to collect our 6months multiple entry visa). The car was parked up and down the road for not annoying too much the shopkeepers whose shops were no longer visible once the Toy was parked in front of them.
As in Malaysia Thai people are not really indifferent to our visit, but are polite and absentlooking to our car. Once and a while someone asks the usual questions, but they all seem to know Belgium and that it is FAR away. When they learn we have a King and Queen, too, the big smiles appear once more.
In between our cultural visits we
'
re arrangeing for our China entry. By next week we
'
ll know if we succeed, and then we can plan our trip more thoroughly to be on time at the Laos/China border to meet our compulsory guide.
10-11-2005 om 15:37 geschreven door lucas

09-11-2005

sunset at Wat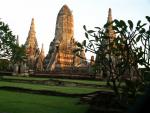 09-11-2005 om 00:00 geschreven door lucas
08-11-2005

only 75 km from Bangkok city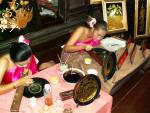 08-11-2005 om 00:00 geschreven door lucas

06-11-2005

NAMASTE, Again? Yes, now from '˜amazing' Thailand,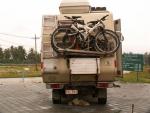 NAMASTE,
Again? Yes, now from 'amazing' Thailand,
in the rain and a bit of sun, along nice and not so nice beaches, but always with not so curious, friendly Thai.
Passing the border on 2.11
- after our long customs hassle on 31.10 with paperwork to clear and enter the car from the boat in Port Klang ( but we managed after exactly 12 hours, minus a broken ladder and a broken lock on the side entrance due to careless handling out the container); and a quick visit to Kuala Lumpur and then Georgetown to enquire about our carferry in February to Indonesia- ,
was very easy and fast: no checking whatsoever, even changing to my second passport was no problem at all for those friendly customs officers.
We slept 2x along a beach on the Eastcoast, tonight close to a small village where we found chinese food and fast internetcafe. Our first 2 days in Thailand showed us our first WATs, very nice temples of which a 1000+year old one.
Tomorrow we'll drive in hectic Bangkok, to arrange for our visa into Vietnam and pay our guides and insurance for SW China which we'll reach around 3.12, after 3 weeks Laos and 1 week more in NorthEast of Thailand.
But not without having been, today, at least at the very border with this Myanmar where we have been trying for several months in vain, unfortunately, to enter and drive thru.
Pics will be updated in Bangkok where we'll stay 2 days.
Till then, ciao
06-11-2005 om 05:19 geschreven door lucas

01-11-2005

Kuala Lumpurs symbol of prosperity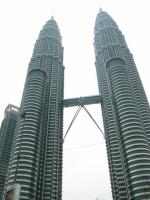 01-11-2005 om 00:00 geschreven door lucas

Gastenboek


Druk op onderstaande knop om een berichtje achter te laten in mijn gastenboek