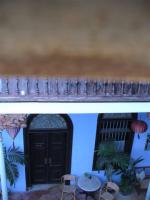 Penang Island, Malaysia, waiting for the cargoboat to SUMATRA There are worse things than sunbathing on an almost deserted beach on this island, but still: it is enerving not to know if, and if so when your car can be shipped to Sumatra. Last news it may or may not be on Tuesday, so in 5 days from now, which gives us just 5 weeks for Sumatra, Java, Bali.
And even than, we're not so sure yet if we are allowed in with the car, despite the valid carnet for the car for Indonesia, and our 60days visa: even when we already applied in August last year, then again in December and again in February, now via the Indonesian Automobile Association to intervene for our permit... But the consulate here in Georgetown tells us: no problem for car. So whom to believe??
Ah, nice administration in these countries.
Anyway, gives us some time for a quick overview from our starting point Belgium till now:
- on this same beach we crossed the line of the first 12 months of traveltime (out of a total 80 planned for), hit the 56.000km marker (projected 240.000km), and accumulated over 30 Gigabite of images from Turkey till Penang island.
- remarkable that we only hit, so far: 1 chicken presumed death somewhere in Laos, 1 soldier's truck resulting in the loss of our sunscreen in Rajasthan, 1 motorbike in Vietnam's Ho Chi Minh and idem in Mui Né (still both very much alive and kicking, despite some scratches on the bikes), and 1 small stone resulting in a nice small star on the lower lefthandcorner of the Toy's windscreen. Add to that an old Honda Civic just 10 minutes ago bumping into our backside, no damages to us, but a few big scratches on his motorhood.
- we had some 10 times of (minor) and 1 bigger troubleshooting at hand: mainly some welding to the sidemirror or the superstructure for the bikes on the back; and flat tires, but we still have memories of our broken gearbox and the broken wheellbolts resp. close to Agra, and Teheran.
- we never had securityproblems, and only had a total of 10 meetings with some or other (always polite and nice) policeforce on duty, and some more equally pleasant ones with officers off duty.
- we've seen the most important cultural sites and scenic spots enroute, had the nicest encounters with locals, and no real nasty moments. Equally we met a lot of enthousiasm from Europeans stopping us or just informing how difficult it might be for them to do a likewise trip. Our answer: Just do it, but be prepared (car, papers, budget, medically...)
- we cross our fingers, and pray that (more) adverse stories will be equally non-existing during the next 12 months of our traveltime which will bring us from South Africa all the way upnorth to the Mediterranean for the second leg of our worldtrip.
But then ...we are not yet shipping from Indonesia (if we succeed ...) to Durban (scheduled around 15-30 of April), so : keep your fingers crossed as well?!
09-03-2006 om 06:06 geschreven door lucas