Inhoud blog


| | |
| --- | --- |
| | HA 7 |
| | angkor 6 |
| | NAMASTE, hi from INDIA Iiran/Pakistan, soon VIETNAM, CHINA, LAOS...and welcome to our worldtravel site per 4x4camper |
| | copyright Luc Brandt |
| | newspaper cover in Indian daily |
| | 1st month: Turkey |
| | fabulous paragliding over blue lagoon |
| | Pammukale's white valley |
| | IRAN in 6 weeks: October and November, 2004 |
| | Persepolis of the Kings Darius & Xerxes |
| | sanddunes in desert |
| | Iranese marriage |
| | Shiraz, Isfahan, Qom, ... |
| | BAM, what remains of a World Heritage Site |
| | welcome , soon form INDIA again, to our wolrd travel site per 4x4camper into Vietnam China, Indonesia etcetera (PART S, YEAR 2) |
| | we are OFF, SouthEast Asia here we come in our Toy! |
| | even vanuit SRI LANKA |
| | elephants in river |
| | Siriyaga, ancient capital with Kings Palaces and terracegardens |
| | Galle Dutch Fort, Sri Lanka |
| | musician at temple during Puja clebration 3x/day, Kandy, Sri Lanka |
| | 2nd message 14.10 on our way back to Chennai, East India, to start procedures to ship the car to Malaysia around 25.10.5 |
| | Vellore sculptures |
| | capital at work |
| | incredible colours |
| | serene Gingee, a new old Hampi-like site |
| | amazing Gingee incredible workforce |
| | Last days in India, and per ship (car) and plane to Kuala Lumpur, Malaysia |
| | serene Gingee, a new old Hampi-like site 2 |
| | serene Gingee, a new old Hampi-like site 3 |
| | for a few rupees worth of devotion. |
| | more rupees to make your wishes come true |
| | monsoontime |
| | bamboosplicing on the street |
| | from Kuala Lumpur, waiting for the car |
| | shipping agent also filmproducer |
| | handy mouthblowing silversmith |
| | Kuala Lumpurs symbol of prosperity |
| | NAMASTE, Again? Yes, now from '˜amazing' Thailand, |
| | only 75 km from Bangkok city |
| | sunset at Wat |
| | Sawadee, (prononounce sawwadiii), or hello from Ayuttayah, |
| | beautiful historical site |
| | Wats zijn geen watjes hier |
| | Loi Krathong festival of riverlights |
| | sunset at SUKOTHAI historical Park |
| | cattle market with Thai cowboys |
| | Thailand chinese fishing nets such as in Fort Cochin (see website India, march 2005) |
| | camping at historic Khmer temple SUKOTHAI historical Park |
| | Thailand SUKOTHAI historical Park 13.11.5 |
| | Thailand Elephant 14.11.5 L Conservation Park |
| | Thailand Elephant 14.11.5 L Conservation Park (6) |
| | ricefield near Mae Hong Son |
| | The highest top in Thailand 2556m, but we also visited the most narrow point 10,6km wide in South, bordering to the West at Myanmar |
| | Longneck Karen cooking chicken with(out) flu |
| | one of the borders to Myanmar we visited |
| | teaching Thai, Birmese, English and Karenese languages to Longneck Karen |
| | Young LongNeck Karen |
| | Laos here we come |
| | Black Lihu |
| | Thailand SUKOTHAI historical Park 13.11.5 |
| | Thailand SUKOTHAI historical Park 13.11.5 |
| | little and big catfish |
| | mekong gong gong |
| | grilled frogs ready for you |
| | French biker |
| | Bonzes receiving early morning rice gifts in Mainstreet of Luang Prabang |
| | SABAI DII from Laos, North East |
| | lady in black |
| | dressed to kill |
| | colourfull NorthLaos |
| | national day |
| | more tribal dresses |
| | mother and child |
| | old and younger |
| | 7 |
| | 7 of 1 million elephants |
| | China border flagceremony 4.12.5 |
| | walking past passee |
| | local market with Saint Nicolas food |
| | Namta market |
| | local alcohol |
| | local dresses |
| | Hmong dresses |
| | Hmong ceremony dresses |
| | Hmong |
| | Hmong ceremony |
| | Again from Laos ???? unfortunately yes! |
| | local bridge |
| | boatraces |
| | Khmer templecomplex 1 |
| | Khmer temple detail 2 |
| | returning home |
| | traiteur for walking lunch |
| | earpiercing |
| | fashion |
| | oxcarting |
| | earpiercing new |
| | bamboopipe |
| | weaving hightech |

| | |
| --- | --- |
| | discovering the world by campingcar |
27-11-2008

with the new President-Elect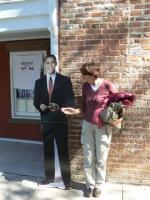 27-11-2008 om 00:00 geschreven door lucas

blog 4: Swinging New Orleans
The weather is fine, thanks, no snow, no rain, just +19 degrees sun and cooler nights.
After Miami's art deco district, Cape Canaveral's spacecenter that just 24 hour before our arrival launched Endeavour we headed for New Orleans, to find out if the jazz and blues is still ok. Yes thanks, indeed!
And so are the food, and the drinks
With hardly any tourist not even on teh famous paddleboats we can relax and enjoy the scene.
Today some rain to fill more bayou swamps here in Baton Rouge
Now on our way to Texas and the San Pedro islands: never heard of you say? nor did we, but it seems they are fantastico, as is San Antonio.
Happy Thanksgiving on 27.11, and happy Anniversary dear Mother!

27-11-2008 om 00:00 geschreven door lucas


blog 3 Miami here we come
Via Hemingway's Cats …to xml:namespace prefix = st1 ns = "urn:schemas-microsoft-com:office:smarttags" />Cape Canaveral
November 5: some of Florida's caucasians find it a shock that an Afro-American becomes President-Elect. Even here in Republican Florida the Democrats win thanks to the (rich) retired whites, and the poor(er) blacks and Hispanos! But We The People will ALL support the President-Elect, God Bless Him and Us.
And God being worshipped everywhere, in a new-to-come Gospel Hall (big business for Reverend X) or in all and any evangelican-baptist-catholic-protestant-episcopal-etcetera-you name it they got it-religions: who are we to doubt?
Over here it is a mix of mansions, estates and minor villas along canals, the Intracoastal or preferably on and even better up the beach. From quartz-white kilometerlong marvellous beaches to mangrove-lined canals and the ever wet Everglades and other lakes, springs and sounds: you name it they got it, even small shacks more or presumably less hurricane-resistant line the water. In between they build and build and never stop building: wider roads, complete marinas-cum-houses-with-private docks, newer and of course bigger shopping malls, countryclubs and other fenced-in compounds for the rich and wealthy, of which quite a few are occupied but in the wintermonths for their owners keep their cool summerdwellings upnorth.
And all this 415 years after the Spanish Juan de Ponce conquered the territory, destroying the native Indians almost completely for the Spanish King/Queen and God. The British and or French also interested to build a fort or two on these mosquito-infested marshes in an attempt to conquer the rich Silver/Gold transport from the South Americas finally got rid of the Spanish, fought amongst themselves, then against one another and/or the many pirates, to leave the country in the end to American settlers who, by means of exception, were the first to not kill the black slaves escaped from Georgian cottonfields. Their freedom attracted more and more refugees, later on Cubans, Mexicans and other Hispanos to find – they hope- their ElDorado.
From then on the sky is the limit, and when Flagler (traintracks linking NY to Miami) and other Rockefellers started to invest, booming Florida attracted more and more retired and other wealthy sunseekers. Luckily the local Statesmen kept an eye open to not spoil it all, and so quite a lot of Nature State Parks protect heritage: a few 100s manatees, a few 10s panters, some 10000s alligators-pelicans-anhinga and a few miles of pristine corals in the subtropical Keys! To the delight of mojito-drinker par excellence Hemingway, the millions of American and Canadian tourists, and even the 25,000 French, the 40,000 German and 35,000 British who come to adore the breathtaking sunsets, the Art Deco of Miami, the pristine Destin (and not anylonger pristine Daytona) beaches, and/or invest in todays cheap (thank you George W) hurricane resistant houses (with pool, full airco and expensive monthly maintenance).
November 6: on day 25 before the end of hurricane season radio ads give a 50 percent discount on all Obama T-shirts-pins-mugs etcetera, whereas others announce the start of the next sales-period for clothes, furniture and cars, boats, RVs and … houses.
No discounts however for tourists: pricy still is gorgeous, subtropical colonial-style high-key Key West where some of the descendants of Hemingway's cats have been trained by a French guy to perform circus acts in front of a relaxed audience whilst on the background the most beautiful sunset pictures are ruined by passing sailingboats.
Upnorth from Key West (which was some 1200 miles for Truman or Bush's Little White House to his real White House) low-key campingsites include sunsetbreaker Bahia Honda: tropical palms on the (very) small white beach against one of Flagler's oldest trainbridges make for better shots. The mojitos however have to be fixed by yourself.
Downsouth it is either 88 miles to Cuba, else some 23 to the southernmost US State Park set on tropical islands around one of the biggest old fortresses, Fort Jefferson.
Whilst our Katamarano did not fit in the fast catamaran to this paradise, we did. Time for sympathizing with the tropical fish (snorkeling), the late pirates (touring the outskirts of the fort) or todays vendors of conches, T-shirts and other indispensables, before we pass over some of the many Spanish galleons that lost their loads of silver and gold to the hurricanes and/or pirates.
Last solution: rent a boat for a 100+miles, or cruise to Jamaica and other Barbados. Or why not, fly from Miami to Curacao or the other isles of the Netherlands Antilles.
On our way now to find out if the financial crisis also impacts Disney and Cape Canaveral: Miami here we come.
27-11-2008 om 00:00 geschreven door lucas

26-11-2008

blog 2 : already / still in USA
It's a long way to …
Not yet heard this song, cause everywhere it is elections and more elections, in the xml:namespace prefix = st1 ns = "urn:schemas-microsoft-com:office:smarttags" />USA and in Canada (federal also). Songs and billboards acclaim the next winner. And the markets? They keep losing, all the way down and further down! Temperatures also went lower, from +18 at 1000, Pennsylvania Avenue to – 1C in Quebec (during?/because of? the Summit of the Francophone countries with Sarko himself).
No Indians but Indian Summer, all the way along the coasts from Rhode Island via Acadia NP, Gaspesie, along the St Lawrence river via the Niagara and Amish, and back to Baltimore in 3 weeks.
No (polar)bears except for 2 dead ones hanging out the windows for the sake of photographing Japanese cruisertourists in Quebec.
Lots of dear deer-moose hunters on quads in all sizes and colors, but no snowmobiles yet, for Northamericans are suntanning on their yachts and (smaller) boats in lakes and oceans, motorbiking on Harley Davidsons, or RV-ing in the national parks and the colorful woods.
Lots of water, but hardly any rain yet, we are lucky. No hamburgers for us yet, although we fancy the occasional lobster in Provincetown/CapeCod, lapin in Quebec, Bratwurst (Montreal) and calamares and T-bonesteak in Baltimore: it is from this harbour that we started this transamericana welcoming our Katamaranocruiser from Antwerp.
Along the coasts, from the Chesapeake bay till Acadia NP via beautiful Bar Harbor, Philadelphia, Boston, Cape Cod and Rhode Island and then after 2500 km into Canada. Taking in the Indian Summer we discovered easygoing Quebec (1608-2008), Montreal, Ottawa to return in the USA after 2000 km. Making use of Garmin's GPS router (mainly in cities) and the famous RandMcNally roadatlas to discover small villages, nice locks and lakes in nature and some of ''the originals'' such as Liberty Bell, Starbuck, Macy, Walmart, some of the nicer covert bridges, black squirrels, local 'fjards', Indian local history…, but also French-style cottages, Rockefeller-like mansions, British-looking Victorian houses, the Fetes de la Francophonie (12-19.10), Thanksgiving in Canada (on 13.10 way ahead of the USA), and the federal elections (again they beat the USA by two weeks).
But do they beat them also for the Halloween parties? Back in the USA it is Halloween allover, except in Amish county where electricity and telephone is allowed provided one is not hooked on the network (so generators, portable cellphones and even solarpanel are in use, and 60+ percent of all households have at least 1 car plus several buggies and other horsedriven machinery). But from Niagara Falls down and east it is Halloween allover: houses are decorated with goastlike figures and pumpkins, spiderwebs, spiders and other spooky figures; masks and costumes are on sale on every corner and every store, and local police give advice to parents how to make sure nothing will happen with their kids (from obvious advice to farfetched tips such as 'treats should not be eaten unless sampled by the parents'). The real Halloweentest is in Virginia Beach, on a huge campsite: contests for the best costume, the best decorated campsite, the Vampire Blood Drive and other Haunted Harley Ball or Horror Movie to keep small and adults haunted.
Meanwhile we witnessed some of the historic battlefields such as Gettysburg or Yorktown, visited some old (German) cloister and Jefferson's mansion (the 3rd President, responsible for the Declaration of Independance), dined on one long table with American families in an Amish restaurant, studied some deer in a couple of National Parks, and always tank cheaper diesel thanks to the crisis.
Funny though that in each state diesel prices differ, sometimes as much as 10 percent. So we love Georgia where statetax is lowest.
Has this anything to do with the easy laidback southern atmosphere as in Charleston or Savannah? People are extremely friendly, the small towns and the historic (read from 1670 onwards) well preserved quarters of large cities are inviting for walks and photography. Or because the huge 18th century plantations and ditto mansions have already brought in enough tax? They were busy, with gold rice, green tea, black coffee, blue indigo and of course white cotton plantations, gaining land on these marshy, flat land nearby the Atlantic coasts where in between the harvest, the buying of slaves and the selling of both of them there was time for rivalry, and wars: the French against the English, both against the American settlers, the Americans amongst themselves South and North.. resulting in hundreds of thousands of deaths on each side, and losses of capital, harvests and housing.
However what is going up though is the price of campsites, from a mere 20 we now pay over 45 dollar for 1 night, and more to come in Florida?? Then we better stay on the parking of Walmart for free, or else at the cheapest inns or motels which advertise at less for a room: even when it is dirty we just use it for safe overnight parking and hooking in electricity or water…
Read more after the USA elections (4.11) in mid November when we leave Florida's warm beaches for equally exciting cities as New Orleans and Sand Diego, and more of these awfully nice coasts.
26-11-2008 om 00:00 geschreven door lucas

25-11-2008

on the move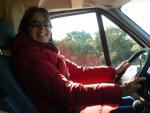 25-11-2008 om 00:13 geschreven door lucas


blog 1: Y ahora la Ruta Transamericana !.
YES to the road we call TRANSAMERICANA
(in the period 2008-2011, from months 32 thru +-53 of our intended 80 months worldwide by car)
It has been some exciting months to make sure we can continue our worldwide tour.
First, the decision to buy a new mobilhome : a bit more space, a bit more comfort.
But also personalizing it with water treatment system, larger freshwatertanks, a generator and airco etcetra, then testdriving it in xml:namespace prefix = st1 ns = "urn:schemas-microsoft-com:office:smarttags" />France to make sure it works fine.
Next, to start in the South, or in the North? After a lot of considerations, a lot of discussing prices for the shipment of the car, and finding a suitable all risk insurance directly in the USA (at 1/3 of the price other European mobilhomes normally pay via a European insurance agent)), we will definitely start from the North.
From Antwerp our mobilhome should board a weekly rollon/rolloff vessel to NE of the USA to Baltimore harbour nearby Washington (at ½ the price other European mobilhomes normally pay sailing from Hamburg).
We had to bring the car 2 days earlier, forcing us to work day and night to install all of our personal belonging in the car. At the last minute phoning our car should be empty, we however planned it differently, and did not want to remove what had taken us a lot of planning, measuring, custom-building to store over 200 kg of personal items such as clothing, equipment, spare parts etcetera for this trip of 3 years.
After some more exciting hours and repeated promises they would call us back with a solution, only the following day did we get confirmation all was ok for our transport! Since then we followed the boat on internet to track it till Baltimore!
Should we then get the RV (campingcar in US language) easily out of the Baltimore customs, then here is our planning for this transamericana, year 2008-2009 :
We hope it arrives Thursday October 2, when we land by plane in Dulles international Airport, Washington. We'll rent a car to visit THE Capital, and continue to our small hotel in Baltimore to check the port authorities and customs next morning to release our RV. Then we drive South in almost 3 months, onto Mexico in several stages each taking some 3 weeks.
However, depending on the weather forecast we first hit … North ! Along the coastline via NY to Cape Cod and Boston, then -again weather permitting- our katamaranocruiser will take us via Quebec into the Gaspesie till Halifax. So apart from NY (just 2 days) this means nature allover for some 3 weeks. Should it become too cold and or rainy, we stop moving north and return to the Chesapeake area.
Stage 2 will take us west via Toronto maybe till Chicago, then via Lake Erie down into Amish country via Philadelphia going for the Indian Summer south of Washington.
By then we and you will know who will be the next USA President.
Stage 3 brings us to the warmer coasts of Florida, for the obvious Miami, Cape Canaveral, and the beautiful Keys and Everglades, then heading to New Orleans and Baton Rouge. Hopefully all hurricanes will have left the area by then.
Stage 4 moves us towards Arizona in order to be on time in Phoenix for our plane into cold Belgium end of December.
After some 4 weeks in Europe we return to katamaranocruise into Mexico. Touring the major sites along the Gulf of Mexico all the way to Cancun before returning into the USA by mid April, to visit in Springtime the National Parks east of Los Angeles/San Francisco.
Time permitting our intention is to move north to Seattle, where a short seatrip will bring us to Vancouver Island, then Vancouver. If the weatherforecast is ok and roads are snowfree we might continue north into Alaska.
By May 2009 we fly home once more, to care for family and friends, and our B&B in South France.
Year 2 of this transamericana brings us from Alaska via the Midwest, Mexico, Belize, Guatemala, Costa Rica etc into Panama, so that we can visit South America in year 3 from early 2010 till mid 2011.
By then, however, lots of water will have come down and into the sea, and lots of things can happen in the meantime. InchAllah, we cross our fingers, continue preparing the trip and look forward to this exciting transamericana.
25-11-2008 om 00:01 geschreven door lucas


| | |
| --- | --- |
| | |

Gastenboek


Druk op onderstaande knop om een berichtje achter te laten in mijn gastenboek