| | |
| --- | --- |
| | Boinging all over the world |
16-10-2006

Mowbray is the new gaffer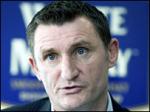 Okay the new bloke is in!
Tony Mobraw has exchanged Hibernian for our beloved West Bromwich Albion. He starts the job on wednesday after the clash with Crystal Palace. If this game can be won than it is possible to be in second position, of course this is depending on other results. His way seems to be paved. Interim-manager Pearson has got the players roaring, scoring and teamspirit is high. The first away win is in the pocket. Ipswich were sent to their dressingroom with a 1-5 loss and were totally overclassed by the Baggies. Kevin Philips scored three.
Mobraw's assistant at Hibernian, Mark Venus, is said to be following him as assistant-mannager an will so be reunited together. Hopefully the pair will bear in mind that their first to games are against Wolves and Birmingham City and that emotions will be flying high. Especially Venus will have to watch his steps as he is an ex-Wolves man.
Anyway you put it: Win both games and the fans will walk away with you, loose and the talks will start. As for Pearson, he has let everybody see that with the same team in hand he is capable of bringing attractive football which was a relief to the sort of game Robson used to play.
16-10-2006 om 12:40 geschreven door Baggiabroad
0 1 2 3 4 5 - Gemiddelde waardering: 0/5 - (0 Stemmen)

06-10-2006

Season 2006 - 2007 is on it's way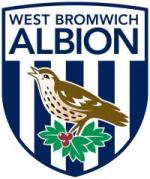 A new season has come. A season in the Championship in which the main thing to do, will be to keep the key players at the Hawthorns. Several teams have been said to have made a bid for our players. All of them have been woven away by Jeremy Peace.

After the season was on it's way and the results weren't what they were supposed to be, the manager got sacked. Bryan Robson got his marching orders. Actually his record wasn't really that bad - the team was unbeaten at home- but before things got worse the chairman swung the axe just in case.
Several mangers have been said to have applied for the job. According to people who are considered to have knowledge in such cases it is to be believed that the Baggies have the best squad of the Championship. On the other hand, that says really nothing. How often does, what seems to be the best team, loose a match only because the weaker team seems to be able to score one goal more?

Oh yeah, one thing more... Jase the Ace is back! All seems forgiven and forgotten and the fans seem to have took him back to the heart again, but it seemed to be that his time was definitely over at West Brom. During his loanspell at Cardiff he expected to be able to get a transfer at the beginning of the season. When that didn't come around (Cardiff couldn't or wasn't able to pay the transfersum), he even went on strike and got well fined for it. He was then offered a new contract at West Brom. For once in his life he pulled his socks up and besided to make the best of his career and accepted the contract and he got a warm welcome at his first start at the Hawthorns. It's all up to Jason now, we all know what he can mean for a team. No one in the team can take a free kick like him! I wish to see a lot of those, Jase, if you please. Cheers, mate.
06-10-2006 om 15:51 geschreven door Baggiabroad
0 1 2 3 4 5 - Gemiddelde waardering: 0/5 - (0 Stemmen)

07-04-2006

Villa vs West Brom
My goodness, what a time to start a blog!
The match against the neighbours in claret and blue is knocking on our door.
The outcome of this match and the results of the others in the relagation zone will be very important for the near future of the club.
As the situation is at this moment it looks as if it's down to Brum, Pompey and the Baggies to fight for survival for the remaining place in top flight football in what's named Premiership.
Sunderland are already dead and buried for relagation and two more have to join them!
It's really close at the moment- three clubs with only one point between them and six point between them and the club above them (which is Aston Villa).
A bad year for West Midlands football with at least two of them in deep trouble. But those of Villa around....don't count youselves lucky. Your lot have still to face Brum as well as West Brom! Loose both of those matches and you are right down here with us.
West Brom MUST win this match to keep the fire going for them 'cause Brum are one point ahead and Portsmouth have a game in hand. Yes, I know that only the points on the table count, but I'd rather have that game played the sooner the better!
Anyway....sunday night we will know more. Let's hope for a much better situation. Something like...ehhh... Albion winning and Pompey and Brum both losing theirs?

keep the faith!

Boing, boing.
07-04-2006 om 11:30 geschreven door Baggiabroad
0 1 2 3 4 5 - Gemiddelde waardering: 0/5 - (0 Stemmen)


We're on our way
Ah well...we've finally got on our way.
Baggies abroad kan now get information from this blog.
It's a bit difficult to figure out whether to start writing in English or in Flemish/Dutch.
I suppose that's something only time will tell.

Well let's get started!!

07-04-2006 om 11:11 geschreven door Baggiabroad
0 1 2 3 4 5 - Gemiddelde waardering: 0/5 - (0 Stemmen)

E-mail mij
Druk op onderstaande knop om mij te e-mailen.
Gastenboek
Druk op onderstaande knop om een berichtje achter te laten in mijn gastenboek