E-mail mij


Druk op onderstaande knop om mij te e-mailen.


Romenu


Google


Georg Trakl

Georg Trakl werd op 3 februari 1887 in het conducteurshuis aan de Waagplatz 2 in Salzburg geboren. Zijn vader, Tobias Trakl, was een handelaar in ijzerwaren en zijn moeder, die ook psychische problemen had, was Maria Catharina Trakl, (meisjesnaam Halik). Voorts had hij nog drie broers en drie zussen. Margarethe (doorgaans Grethe genoemd) stond hem het naast, zelfs zodanig dat sommigen een incestueuze verhouding vermoeden. Zijn jeugd bracht hij door in Salzburg. Vervolgens bezocht hij van 1897 tot 1905 het humanistische gymnasium. Om toch een academische opleiding te kunnen volgen, werkte hij tot 1908 in de praktijk bij een apotheker. Sommigen vermoedden dat hij dit vooral deed om zichzelf opiaten te kunnen verschaffen. Bij het uitbreken van WO I werd Trakl als medicus naar het front in Galicië (heden ten dage in Oekraïne en Polen) gestuurd. Zijn gemoedsschommelingen leidden tot geregelde uitbraken van depressie, die verergerd werden door de afschuw die hij voelde voor de verzorging van de ernstig verwonde soldaten. De spanning en druk dreven hem ertoe een suïcidepoging te ondernemen, welke zijn kameraden nochtans verhinderden. Hij werd in een militair ziekenhuis opgenomen in Kraków, alwaar hij onder strikt toezicht geplaatst werd.Trakl verzonk daar in nog zwaardere depressies en schreef Ficker om advies. Ficker overtuigde hem ervan dat hij contact moest opnemen met Wittgenstein, die inderdaad op weg ging na Trakls bericht te hebben ontvangen. Op 4 november 1914, drie dagen voordat Wittgenstein aan zou komen, overleed hij echter aan een overdosis cocaïne


Paul Celan

Paul Celan werd onder de naam Paul Antschel op 23 november 1920 geboren in Czernowitz, toentertijd de hoofdstad van de Roemeense Boekovina, nu behorend bij de Oekraïne. Paul Celans ouders waren Duitssprekende joden die hun zoon joods opvoedden en hem naar Duitse christelijke scholen stuurden. In 1942 werden Celans ouders door de Duitse bezetter naar een werkkamp gedeporteerd en daar vermoord. Hijzelf wist aanvankelijk onder te duiken, maar moest vanaf juli 1942 in een werkkamp dwangarbeid verrichten. Celan overleefde de oorlog. Via Boekarest en Wenen vestigde Celan zich in 1948 in Parijs. Daar was hij werkzaam als dichter, vertaler en doceerde hij aan de prestigieuze Ecole Normale Supérieure. Vermoedelijk op 20 april 1970 beëindigde hij zijn leven zelf door in de Seine te springen.


Gerard Reve

Gerard Reve over: Medearbeiders "God is in de mensen, de dieren, de planten en alle dingen - in de schepping, die verlost moet worden of waaruit God verlost moet worden, door onze arbeid, aangezien wij medearbeiders van God zijn." Openbaring "Tja, waar berust elk godsbegrip op, elke vorm van religie? Op een openbaring, dat wil zeggen op een psychische ervaring van zulk een dwingende en onverbiddelijke kracht, dat de betrokkene het gevoel heeft, niet dat hij een gedachte of een visioen heeft, maar dat een gedachte gedachte of visioen hem bezit en overweldigt."


Simon Vestdijk
Simon Vestdijk (Harlingen, 17 oktober 1898 – Utrecht, 23 maart 1971) was een Nederlands romancier, dichter, essayist en vertaler. Zijn jeugd te Harlingen en Leeuwarden beschreef hij later in de Anton Wachter-cyclus. Van jongs af aan logeerde hij regelmatig bij zijn grootouders in Amsterdam, waar hij zich in 1917 aan de Universiteit van Amsterdam inschrijft als student in de medicijnen. Tijdens zijn studie die van 1917 tot 1927 duurde, leerde hij Jan Slauerhoff kennen.Tot 1932 is hij als arts in praktijken door heel Nederland werkzaam. In 1932 volgt zijn officiële schrijversdebuut met de uitgave van de bundel Verzen in De Vrije Bladen. Doorslaggevend voor Vestdijks uiteindelijke keuze voor de literatuur is zijn ontmoeting in 1932 met Eddy Du Perron en Menno ter Braak. Deze ontmoeting had tot resultaat dat hij redactielid werd van het tijdschrift Forum Kort daarop, in 1933, wordt zijn eerste novelle, De oubliette, uitgegeven. In hetzelfde jaar schrijft hij Kind tussen vier vrouwen, dat, eerst geweigerd door de uitgever, later de basis zal vormen voor de eerste drie delen van de Anton Wachter-romans. In 1951 ontvangt Vestdijk de P.C. Hooftprijs voor zijn in 1947 verschenen roman De vuuraanbidders. In 1957 wordt hij voor het eerst door het PEN-centrum voor Nederland voorgedragen voor de Nobelprijs voor de Literatuur, die hij echter nooit zal krijgen. Op 20 maart 1971 wordt hem de Prijs der Nederlandse Letteren toegekend, maar voor hij deze kan ontvangen overlijdt hij op 23 maart te Utrecht op 72-jarige leeftijd. Vestdijk was auteur van ca. 200 boeken. Vanwege deze enorme productie noemde de dichter Adriaan Roland Holst hem 'de man die sneller schrijft dan God kan lezen'. Andere belangrijke boeken van Simon Vestdijk zijn: "Kind van stad en land" (1936), "Meneer Visser's hellevaart" (1936), "Ierse nachten" (1946), "De toekomst de religie" (1947), "Pastorale 1943" (1948), "De koperen tuin" (1950), "Ivoren wachters" (1951), "Essays in duodecimo" (1952) en "Het genadeschot" (1964).


K.P. Kavafis

K.P. Kavafis werd als kind van Griekse ouders, afkomstig uit Konstantinopel, geboren in 1863 in Alexandrië (tot vandaag een Griekse enclave) waar hij ook het grootste deel van zijn leven woonde en werkte. Twee jaar na de dood van zijn vader verhuist het gezin in 1872 naar Engeland om na een verblijf van vijf jaar naar Alexandrië terug te keren. Vanwege ongeregeldheden in Egypte vlucht het gezin in 1882 naar Konstantinopel, om na drie jaar opnieuw naar Alexandrië terug te gaan. In de jaren die volgen maakt Kavafis reizen naar Parijs, Londen en in 1901 zijn eerste reis naar Griekenland, in latere jaren gevolgd door nog enkele bezoeken. Op de dag van zijn zeventigste verjaardag, in 1933 sterft Kavafis in Alexandrië. De roem kwam voor Kavafis pas na zijn dood, dus postuum. Deels is dat toe te schrijven aan zijn eigen handelswijze. Hij was uiterst terughoudend met de publicatie van zijn gedichten, liet af en toe een enkel gedicht afdrukken in een literair tijdschrift, gaf in eigen beheer enkele bundels met een stuk of twintig gedichten uit en het merendeel van zijn poëzie schonk hij op losse bladen aan zijn beste vrienden.


Thomas Mann


Thomas Mann, de jongere broer van Heinrich Mann, werd geboren op 6 juni 1875 in Lübeck. Hij was de tweede zoon van de graankoopman Thomas Johann Heinrich Mann welke later één van de senatoren van Lübreck werd. Zijn moeder Julia (geboren da Silva-Bruhns) was Duits-Braziliaans van Portugees Kreoolse afkomst. In 1894 debuteerde Thomas Mann met de novelle "Gefallen". Toen Thomas Mann met 21 jaar eindelijk volwassen was en hem dus geld van zijn vaders erfenis toestond - hij kreeg ongeveer 160 tot 180 goldmark per jaar - besloot hij dat hij genoeg had van al die scholen en instituties en werd onafhankelijk schrijver. Kenmerkend voor zijn stijl zijn de ironie, de fenomenale taalbeheersing en de minutieuze detailschildering. Manns reputatie in Duitsland was sterk wisselend. Met zijn eerste roman, Buddenbrooks (1901), had hij een enorm succes, maar door zijn sceptische houding tegenover Duitsland na de Eerste Wereldoorlog veranderde dit volledig. Stelde hij zich tot aan de jaren twintig apolitiek op (Betrachtungen eines Unpolitischen, 1918), meer en meer raakte hij bij het Politiek gebeuren betrokken. Zijn afkeer van het nationaal socialisme groeide, zijn waarschuwingen werden veelvuldiger en heftiger. In 1944 accepteerde hij het Amerikaanse staatsburgerschap. Tussen 1943 en 1947 schreef Mann Doktor Faustus (zie Faust), de roman van de 'Duitse ziel' in de gecamoufleerd geschilderde omstandigheden van de 20ste eeuw. In 1947 bezocht hij voor het eerst sinds de Oorlog Europa, twee jaar later pas Duitsland. In 1952 vertrok hij naar Zwitserland. Op 12 augustus 1955 stierf hij in Zürich. Twintig jaar na zijn dood, in aug. 1975, is zijn literaire nalatenschap geopend: dagboekaantekeningen van 15 maart 1933 tot 29 juli 1955, alsmede notities uit de jaren 1918 tot en met 1921.Belangrijke werken zijn: Der Zauberberg, Der Tod in Venedig, Dokter Faustus , Joseph und seine Brüder en Die Bekenntnisse des Hochstaplers Felix Krull.


Rainer Maria Rilke

Rilke werd op 4 december 1875 geboren in Praag. Hij had al naam gemaakt als dichter met zijn bundels Das Stundenbuch en Das Buch der Bilder, toen hij de literaire wereld versteld deed staan en wereldfaam verwierf met de publicatie van zijn twee delen Neue Gedichte in 1907 en 1908. Hij verzamelde daarin het beste werk uit een van zijn vruchtbaarste periodes, die hij grotendeels doorbracht in Parijs. Rilke was daar diep onder de indruk gekomen van Rodin, bij wie hij een tijdlang in dienst was als particulier secretaris. Rodin, zei hij later, had hem leren kijken. Dit kijken kwam neer op intense concentratie, om het mysterie te kunnen zien 'achter de schijnbare werkelijkheid'. Latere en rijpere werken als Duineser Elegien (1912-1923) en het ronduit schitterende Die Sonette an Orfeus (1924) illustreren Rilkes metafysische visie op het onzegbare, dat haar verwoording vindt in een hermetische muzikale taal. Op 29 december 1926 overlijdt Rilke in het sanatorium in Val-Mont aan de gevolgen van leukemie. Enkele dagen later wordt hij, overeenkomstig zijn wens, begraven op het kerkhof van Raron.


* * * * * * * * * * * * * * * *

| | |
| --- | --- |
| | Over literatuur, gedichten, kunst en cultuur |

17-05-2017

Lars Gustafsson, Peter Høeg, Gary Paulsen, Henri Barbusse, Virginie Loveling, Dennis Potter, Cor Bruijn, Dorothy Richardson, Mischa Andriessen
De Zweedse dichter en schrijver Lars Gustafsson werd geboren in Västeras, op 17 mei 1936. Zie ook alle tags voor Lars Gustafsson op dit blog.
(over alles wat nog zweeft)
Mijn graf valt nog nergens te bekennen.
En dus zweef ook ik:
rust ook ik, onwetend van mijzelf,
in een luchtzee.
Zwevend met de zwevenden,
levend met de levenden,
rustend met de rustenden,
en, wellicht ook, zonder het te weten,
dood met de doden.
Hiervoor bestaat geen woord:
het is een manier van zweven.
"In de luchtzee"zoals ballonvaarders van weleer,
en die luchtzee ben je zelf.

Een keer, in Texas, zes uur 's morgens,
zwemmend in het kristalheldere water
van een heel diep zwembad
eigenlijk bestemd voor duikers,
werd het zwemmen voor mij plotseling zweven.
Door de venstertjes van mijn duikbril neerkijkend
op de zwarte en witte tegels van de schone bodem,
vanuit precies zo'n hoogte die men in een vrije val
niet overleeft, kon ik een ogenblik bevroeden:
steeds verder te vallen, al vallend
toch te zweven, door iets onzichtbaars gedragen.
Glimlachend doorzien wij de klassieke schilders
en hun kinderlijke toverkunst
om een paar vogels veraf in het beeld te plaatsen,
heel klein, zwevend als bewusteloze tekens
tussen aarde en lucht, tussen licht en donker,
tussen water en land, kortweg:
iets dat zich tussen de verschillen bevindt,
schemerachtige dingen, die de diepte verschaffen
die het centrale perspectief alleen ons niet biedt.
Zo zweeft al wat dodelijk is in het binnenste
van zijn eigen beeld, ergens in de schemering,
en voor dit zweven bestaat geen naam

Zo zweven ook tekens boven witte vellen papier,
de sleuven boven de sneeuw, het goede boven de slechte tijd.
Zo zweeft alles. Het staat, zoals de engelen staan,
in ongekende beweging.
En voor de gang van de wereld bestaat geen naam.

Vertaald door J. Bernlef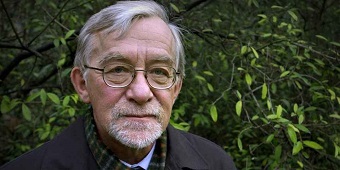 Lars Gustafsson (17 mei 1936 - 3 april 2016)
De Deense schrijver Peter Høeg werd geboren in Kopenhagen op 17 mei 1957. Zie ook alle tags voor Peter Høeg op dit blog.
Uit:Borderliners (Vertaald door Barbara Haveland)
"She asked me to give it some thought.
"Is there any way of asking August," she said, "about what it's like for him, whether there is a plain, or what?"
When I was sitting on the floor facing the child and she asked me about tomorrow, I realised that she was still on the plain, but that she was on the point of stepping into the tunnels where time is to be found. I so much wanted to understand her, I tried to see whether time showed in her face. But there was nothing I could say to her; no answer I could give her. When I myself did not know where tomorrow was. "I don't know," I said. Then I saw that she did not need an answer, that it was not important. What was important was that I had sat on the floor and listened to her. She stayed where she was. I had the feeling that, whatever I said to her, it would never be that important, that she would never evaluate it or pay too much attention to it. That you could afford to be slow, or inaccurate or downright ignorant without being punished; that still she would stay for a moment, and not walk away.
I asked August how he remembered. This was one night, a week after I had last been in his room. They looked in on him a few times before lights out, it had taken me a week to work out their schedule. It had proved to be strictly regulated. Flakkedam and the new superintendent took it in turns; they came once every hour, around the hour. That was how I was able to steer clear of them — because they were so regular. I came just after he had been given his medicine at 21.00, which meant we had until 21.30 when Flakkedam did his round to put out the lights. He lay on his back looking at the ceiling. "They've increased the dosage to three Mogadon," he said; "if you've got something to say you'd better hurry." There was nothing I had to say. I just stood there, looking at him. His skin had a papery look. At the Christian Foundation there had been a reception centre for abandoned babies. They had had incubator babies there — tinier than all the others, but like old men. Very small and yet very old. That was how he looked. I had taped the two outer fingers together — it hurt least that way. I suppose my little finger should have been in a cast, but then they would have grown suspicious. "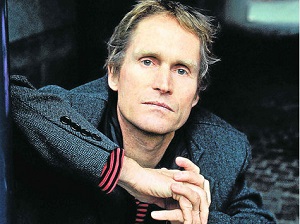 Peter Høeg (Kopenhagen, 17 mei 1957)
De Amerikaanse schrijver Gary Paulsen werd geboren op 17 mei 1939 in Minneapolis, Minnesota. Zie ook alle tags voor Gary Paulsen op dit blog.
Uit:Brian's Return
"To his left rear he heard a beaver slap the water with its tail and dive—a warning at the intruder, at the strange smoking log holding the
person. Brian smiled. He had come to know beaver for what they truly were—engineers, family-oriented home builders. He'd read that most of the
cities in Europe were founded by beaver. That beaver had first felled the trees along the rivers and dammed them up. The rising water killed more
trees and when the food was gone and the beaver had no more bark to chew they left. The dams eventually broke apart, and the water drained and left
large clearings along the rivers where the beaver had cut down all the trees. Early man came along and started cities where the clearings lay.
Cities like London and Paris were founded and settled first by beaver.
In front and to the right he heard the heavier footsteps of a deer moving through the hazel brush. Probably a buck because he heard no smaller
footsteps of a fawn. A buck with its antlers in velvet, more than likely, moving away from the smell of smoke from the canoe.
A frog jumped from a lily pad six feet away and had barely entered the water when a northern pike took it with a slashing strike that tore the
surface of the lake and flipped lily pads over to show their pale undersides."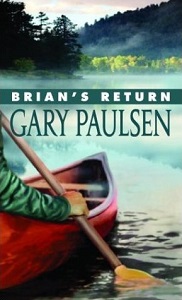 Gary Paulsen (Minneapolis, 17 mei 1939)
Cover
De Franse dichter en schrijver Henri Barbusse werd geboren op 17 mei 1873 in Asnières-sur-Seine. Zie ook alle tags voor Henri Barbusse op dit blog.
Uit:Le Feu
« Tout à l'heure, Paradis a dû vaincre une certaine timidité pour s'approcher d'un groupe de gâteaux luxueusement logés, les toucher et en manger; et on est obligé à chaque instant de stationner au milieu du trottoir pour attendre Blaire, attiré et retenu par les étalages où sont exposés des vareuses et des képis de fantaisie, des cravates de coutil bleu tendre, des brodequins rouges et brillants comme de l'acajou. Blaire a atteint le point culminant de sa transformation. Lui qui détenait le record de la négligence et de la noirceur, il est certainement le plus soigné de nous tous, surtout depuis la complication de son râtelier cassé dans l'attaque et refait. Il affecte une allure dégagée.
(...)
A côté des deux personnages gît un fusil emprunté à quelque panoplie d'une boutique de jouets. Un écriteau indique le titre de la composition animée. "Kamarad !"
— Ah ! ben zut, alors !...
Devant cette construction puérile, la seule chose rappelant ici l'immense guerre qui sévit quelque part sous le ciel, nous haussons les épaules, nous commençons à rire jaune, offusqués et blessés à vif dans nos souvenirs frais; Tirette se recueille et se prépare à lancer quelque insultant sarcasme; mais cette protestation tarde à éclore dans son esprit à cause de notre transplantation totale, et de l'étonnement d'être ailleurs.
Or, une dame très élégante, qui froufroute, rayonne de soie violette et noire, et est enveloppée de parfums, avise notre groupe et, avançant sa petite main gantée, elle touche la manche de Volpatte puis l'épaule de Blaire. Ceux-ci s'immobilisent instantanément, médusés par le contact direct de cette fée."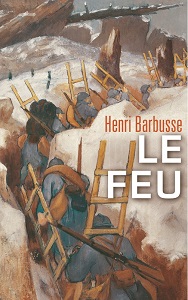 Henri Barbusse (17 mei 1873 –30 augustus 1936)
Cover
De Vlaamse dichteres en schrijfster Virginie Loveling werd geboren in Nevele op 17 mei 1836. Zie ook alle tags voor Virginie Loveling op dit blog.
Uit:Oorlogsdagboeken
"Maandag 2 Augustus.
Mijn buren zijn voor eenige dagen uit de stad. De hond is alleen thuis, buiten aan zijn kot geketend. Een werkvrouw brengt hem eten. Die hond, een schapershond, anderhalf jaar oud, aan gezelligheid gewend en van een ras, dat geen afzondering verdraagt, jankt luid zijn klachten uit.
Zoo iets is treurig, het is vervelend om hooren gewis, zoolang de klaarte duurt; maar 's avonds, wanneer de duisternis is ingetreden, die eerste duisternis na lange dagen, bij somber weer of na heeten zomerzonneschijn, die altijd melancolisch aandoet, werkt nu in oorlogsnood nog dieper in.
Dat huilen, dat akelig huilen van dien hond! De nacht is zwart, de maan treedt heden haar laatste kwartier in en is nog niet opgestaan. Elk gerucht is uitgestorven, enkel dat jammerjanken gaat voort, ophoudend en na een korte poos opnieuw en luider inzettend, verscheurt de doodsche stilte.
Voor 't geprikkeld zenuwstelsel en de ontredderde verbeelding wordt het een symbool: zijn dat niet de schrijnende kreten der gewonden, der gevallenen? Is dat weegehuil niet de samenvatting van al het geleden lijden in dezen naren tijd? Zijn het de dooden niet, de jeugdig weggemaaiden, die uit hun graven opstaan om wraak te roepen over de beschikkers van hun akelig lot?
Ze liggen hier en daar en overal in België en elders begraven. Is dat enkel materie, zijn dat niets dan vergane dingen? Komen+ hun schimmen op het uur der spoken nooit eens te voorschijn, daar ter streke, waar ze in de aarde zijn neergelegd en toegedekt?...
De geest dommelt in, de beelden der fantazij schuiven over elkander, vallen uiteen, de gedachten verwarren en de sluimering omhult u zachtweldadig geheel in gevoelloosheid van bestaan.
Maar de hond, die een wijle gezwegen, misschien zelf geslapen heeft, barst los in nieuw noodgeschrei, voorgoed, voor heel den nacht, als met een zweep van onmeedoogendheid alle verdere rust verdrijvend."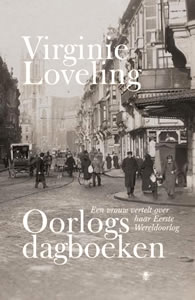 Virginie Loveling (17 mei 1836 – 1 december 1923)
Cover
De Britse schrijver Dennis Potter werd geboren op 17 mei 1935 in Forest of Dean, Gloucestershire. Zie ook alle tags voor Dennis Potter op dit blog.
Uit: Vote, vote, vote for Nigel Barton
« JACK: (to camera) My office! (indicates mess) I'm sorry about all this, but we in the Labour Party link drabness with idealism, see. I'm a paid agent of the party, but whenever I need to know anything I have to ring up Conservative Central Office. It's a very plush place, that - carpets plucking at your bleeding ankles. You see, they link drabness with idealism, too.
NIGEL: I don't regard clever as a dirty word.
JACK: Rule one, it's never clever to appear to be clever. Long words actually hurt people, you know that? Rule two, speak slowly and clearly as though to a group of malignant kids. Rule three, keep it short. Very short. Half-truths take less time than whole ones, old mate. Oh and I see you've let your locks sprout a bit. Get 'em cut, there's a good chap. Rolling stones gather no votes.
JACK: You'll have to compromise, smile, concern yourself with your public image, measure your words as carefully as possible... and turn yourself into a dutiful party hack! [chuckles] Never mind, NIGEL: never mind.
JACK: A potential Cabinet Minister if ever I saw one. Dishonest in a way which seems embarrassingly frank. Upright when creeping. And dignified when at his most stupid.
NIGEL: Why the cheap jokes?
JACK: Cheap? When I was a kid, we were made to stay away from school on Empire Days so we wouldn't have to wave one of those little Union Jacks. We were the richest country in the world then, or so I'm told, and my old man bow-legged from malnutrition. Us kids nearly died laughing.
NIGEL: And?
JACK: Well, I've been laughing ever since, haven't I? Put a few smiles between yourself and the world, Nigel. You don't bruise so easy that way."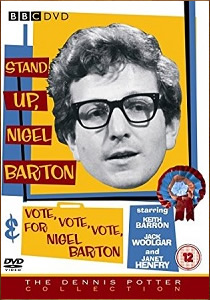 Dennis Potter (17 mei 1935 – 7 juni 1994)
Cover DVD
De Nederlandse schrijver Cor Bruijn werd geboren in Wormerveer op 17 mei 1883. Zie ook alle tags voor Cor Bruijn op dit blog.
Uit:Sil de strandjutter
"Ik heb wel eens gedacht: het komt door de zee, door de ruimte, die we hebben. Maar dan denk ik ook weer, het zit hem er misschien wel niet in, dat we eilanders zijn, maar daarin dat we Nederlanders zijn. Honderden jaren geleden hebben we de lui op hun huid gezeten, die ons te na wilden komen. De vrijheid zit ons in het bloed, Sil van Peit, ons en onze kinderen. Slaan we onze hors. Sil? We zouden ons diep schamen! Vloeken en schelden we tegen onze hors! Man, we spreken er immers schande van, als er eens een enkele is, die het doet! Nee, we zeggen: Kom Grauw! Vort Grauw! En we klakken eens met de toch en we hebben nooit moeite. Zijn je kinderen minder dan je hors, Sil? Je moet eens wat meer met je toch proberen te klakken. Ik denk zo wel eens: God heeft ons in het leven de kennis gegeven van de goede weg en van de kwade weg, dit is vooruit en dit is achteruit, maar Hij laat ons zelf lopen. Hij houdt ons niet aan een touwtje. Ik dacht zo, zulke grote kinderen als je nu hebt, Sil, dat moest je zo ook doen. Laat ze zien: dit is vooruit, dit is achteruit, maar sta er niet met de zweep bij, want dan beginnen ze te trappen. Hoe groter een kind wordt, hoe meer moet je het loslaten! Anders krijg je geen vrije mensen, maar slaven. En alleen een vrij mens kan God dienen, naar de geest en in waarheid. Jij en ik, Sil, en wij allemaal hier, we zouden toch immers liever dood willen gaan dan onze vrijheid verliezen. Buk jij, Sil? Buk ik soms? De Heere beware ons voor die schande! Er is er maar En, Sil, voor Wien we ons buigen, en Die dwingt ons daar niet toe. Ane zwijgt. Hij kijkt Sil gespannen aan. Zijn mond tussen zijn dunne, krachtige lippen is tot een smalle spleet getrokken, die van ontroering in de hoeken licht trilt. Sil echter ontwijkt zijn ogen. De strijd van zijn gevoelens tekent zich op zijn gelaat af. Er is een vreemde stilte tussen hen beiden. In de vochtige warmte van de stal zuchten zwaar een paar koeien. Dan wendt Sil met een ruk het hoofd naar Ane en ziet hem met stekende ogen aan. - Een beul is er niks bij! bijt hij hem hees toe. - Een zweep, een zweep? Een slavendrijver, bedoel je dat soms? En anders, zo waar als ik hier sta, ik zal de zweep nemen! Hij wendt zich boos af en verwijdert zich driftig."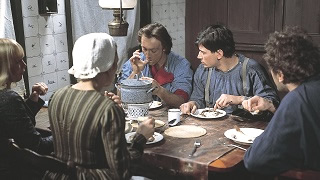 Cor Bruijn (17 mei 1883 - 6 november 1978)
Scene uit de televisieserie "Sil de strandjutter" uit 1976
De Engelse schrijfster Dorothy Miller Richardson werd geboren op 17 mei 1873 in Abington, Oxfordshire. Zie ook alle tags voor Dorothy Richardson op dit
Uit: Pointed Roofs
"She stirred the fire. The windows were quite dark. The flames shot up and shadows darted.
That summer, which still seemed near to her, was going to fade and desert her, leaving nothing behind. To-morrow it would belong to a world which would go on without her, taking no heed. There would still be blissful days. But she would not be in them.
There would be no more silent sunny mornings with all the day ahead and nothing to do and no end anywhere to anything; no more sitting at the open window in the dining-room, reading Lecky and Darwin and bound "Contemporary Reviews" with roses waiting in the garden to be worn in the afternoon, and Eve and Harriett somewhere about, washing blouses or copying waltzes from the library packet. . . no more Harriett looking in at the end of the morning, rushing her off to the new grand piano to play the "Mikado" and the "Holy Family" duets. The tennis-club would go on, but she would not be there. It would begin in May. Again there would be a white twinkling figure coming quickly along the pathway between the rows of holly-hocks every Saturday afternoon.
Why had he come to tea every Sunday--never missing a single Sunday--all the winter? Why did he say, "Play 'Abide with me,'" "Play 'Abide with me'" yesterday, if he didn't care? What was the good of being so quiet and saying nothing? Why didn't he say "Don't go" or "When are you coming back?" Eve said he looked perfectly miserable.
There was nothing to look forward to now but governessing and old age. Perhaps Miss Gilkes was right. . . . Get rid of men and muddles and have things just ordinary and be happy. "Make up your mind to be happy. You can be _perfectly_ happy without anyone to think about. . . ." Wearing that large cameo brooch--long, white, flat-fingered hands and that quiet little laugh. . . . The piano-organ had reached its last tune. In the midst of the final flourish of notes the door flew open. Miriam got quickly to her feet and felt for matches."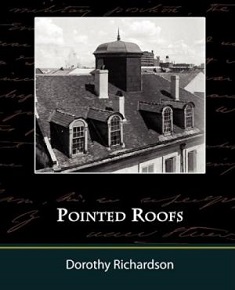 Dorothy Richardson (17 mei 1873 - 17 juni 1957)
Cover
Onafhankelijk van geboortedata:
De Nederlandse dichter Mischa Andriessen werd geboren in Apeldoorn in 1970. Zie ook alle tags voor Mischa Andriessen op dit blog.
De vogelkoning
Het zijn normaal jonge jongens.
In de lente verlaten ze hun huizen
halsoverkop, alsof iemand hen riep.
Wie overleeft, herinnert zich niet
wat het was – het zachte wieken
van wijd uitgestrekte vleugels
een stille roep, zoals stenen zingen
in de hoofden van krankzinnigen.
Van sommigen zijn de vaders
eerder gegaan, er is geen kaart
een richting, geen route; soms
komt er een aan, keert terug
naar waar hij eens vertrok
vertelt het na, vervormd, gehavend
kleren tot op de draad kapot
de blik spreekt louter waanzin:
Een arendsnest op de rotsen
weggedraaide ogen, paarse lippen
heel het gastpad afgedwaald
om weer hier te zijn.
De mare wil dat ze luisteren.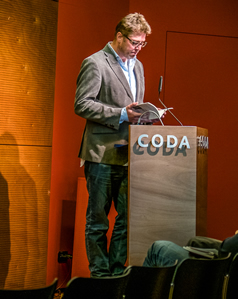 Mischa Andriessen (Apeldoorn, 1970)
Zie voor nog meer schrijvers van de 17e mei ook mijn blog van 17 mei 2015 deel 2.
17-05-2017 om 18:15 geschreven door Romenu

Tags:Lars Gustafsson, Peter Høeg, Gary Paulsen, Henri Barbusse, Virginie Loveling, Dennis Potter, Cor Bruijn, Dorothy Richardson, Mischa Andriessen, Romenu


16-05-2017

Adrienne Rich, Paul Gellings, Friedrich Rückert, Jakob van Hoddis, Juan Rulfo, Olga Berggolts, Lothar Baier, Rens van der Knoop, Naomi Rebekka Boekwijt, Olaf J. de Landell
De Nederlandse dichter en vertaler Paul Johann Gellings werd geboren in Amsterdam op 16 mei 1953. Zie ook alle tags voor Paul Gellings op dit blog.
Prinsenhof
Septembermiddag, weet het nu zeker: tijd
bestaat niet, nee, ieder moment kan zich
achter ruitjes een ganzeveer vertonen.

Hoog in de toren tintelt stil kristal
van brons zijn kil moment;
dan wordt het koel.

Resten licht nog op de zonnewijzer en
van de hagen valt de schaduw langer
als een bladzij uit een andere eeuw.

Weet het nu zeker, mijn pen
krast over perkament.
In een herfstig hotel
Voor Joost
In een herfstig hotel ben ik mijn ziel
op het spoor gekomen
een gestorven blad onder mijn bed
in een kamer aan een marktpleintje
zonder bomen
en zonder markt – achteraffer kon het niet
toch verdwenen
juist hier de scheuren
in mijn voering
verdampte het verdriet
nooit geweten dat het er zo uitzag
wat ik hier zou vinden
een blaadje van een verre boomtak
losgeraakt tussen
twee oktobervlagen
zomaar dus onder mijn bed
het beeld gezien
van wat men ziel noemt
het kwam van nergens
en ging nergens heen
om de wereld door te geven
haar boeken en haar bouwsels
ons onbegrijpelijke leven
in een herfstig hotel waar
ik maar één nacht ben gebleven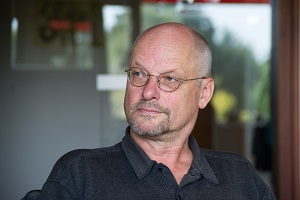 Paul Gellings (Amsterdam, 16 mei 1953)
De Amerikaanse dichteres Adrienne Rich werd 16 mei 1929 geboren te Baltimore. Zie ook alle tags voor Adrienne Rich op dit blog.
Dream Wood
In the old, scratched, cheap wood of the typing stand
there is a landscape, veined, which only a child can see
or the child's older self, a poet,
a woman dreaming when she should be typing
the last report of the day. If this were a map,
she thinks, a map laid down to memorize
because she might be walking it, it shows
ridge upon ridge fading into hazed desert
here and there a sign of aquifers
and one possible watering-hole. If this were a map
it would be the map of the last age of her life,
not a map of choices but a map of variations
on the one great choice. It would be the map by which
she could see the end of touristic choices,
of distances blued and purpled by romance,
by which she would recognize that poetry
isn't revolution but a way of knowing
why it must come. If this cheap, mass-produced
wooden stand from the Brooklyn Union Gas Co.,
mass-produced yet durable, being here now,
is what it is yet a dream-map
so obdurate, so plain,
she thinks, the material and the dream can join
and that is the poem and that is the late report.
What Kind of Times Are These
There's a place between two stands of trees where the grass grows uphill
and the old revolutionary road breaks off into shadows
near a meeting-house abandoned by the persecuted
who disappeared into those shadows.
I've walked there picking mushrooms at the edge of dread, but don't be fooled
this isn't a Russian poem, this is not somewhere else but here,
our country moving closer to its own truth and dread,
its own ways of making people disappear.
I won't tell you where the place is, the dark mesh of the woods
meeting the unmarked strip of light—
ghost-ridden crossroads, leafmold paradise:
I know already who wants to buy it, sell it, make it disappear.
And I won't tell you where it is, so why do I tell you
anything? Because you still listen, because in times like these
to have you listen at all, it's necessary
to talk about trees.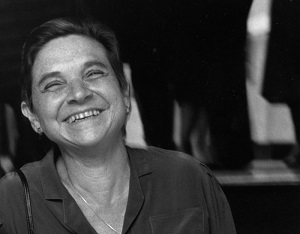 Adrienne Rich (16 mei 1929 – 27 maart 2012)
De Duitse dichter Johann Michael Friedrich Rückert werd geboren in Schweinfurt op 16 mei 1788. Zie ook alle tags voor Friedrich Rückert op dit blog.
Uit: Kindertotenlieder
In meine häuslichen Lieder
In meine häuslichen Lieder,
Das Tagebuch meiner Lust,
Schrieb ich mit Freuden bewußt
Nur Freudengewinnste nieder,
Nie schrieb ich einen Verlust
In meine häuslichen Lieder.
In meine häuslichen Lieder
Schreib' ich nun euern Verlust.
So hat sich schließen gemußt
Die Rechnung! und wohl nicht wieder
Schreib' ich sobald eine Lust
In meine häuslichen Lieder
Was an dir des Tods Unbilden
Was an dir des Tods Unbilden
Frevelten, hat mit dem milden
Zauberstab gerochen
Poesie, die soviel Leben
Dir bemüht ist zuzugeben,
Als das Schicksal dir hat abgebrochen.
Armer Stab! ihm, der so wichtig
Sich geberdend, ist so nichtig,
Sei der Stab gebrochen!
Frommen dir die Zauberweisen,
Die dich in den Himmel preisen,
Da der Tod dich hat ins Grab gesprochen?
Doch sie sollen dir nicht frommen,
Sondern uns zu Gute kommen,
Übers Grab gesprochen;
Dir nicht sollen sie dein Leben,
Sondern uns zurück es geben,
Denn nur uns, nicht dir wards abgebrochen.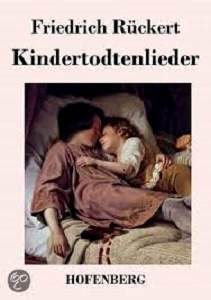 Friedrich Rückert (16 mei 1788 - 31 januari 1866)
Cover
De Duitse dichter Jakob van Hoddis (pseudoniem van Hans Davidsohn) werd geboren in Berlijn op 16 mei 1887. Zie ook alle tags voor Jakob von Hoddis op dit blog.
Varieté
I
Loge
Ein Walzer rumpelt; geile Geigen kreischen;
Die Luft ist weiss vom Dunst der Zigaretten;
Es riecht nach Moschus, Schminke, Wein, nach fetten
Indianern und entblössten Weiberfleischen.
Ah! Schwimmen in der dicken Luft die vielen
Dämlichen Köpfe, die ins Helle glotzen?
Drei Weiber lässt man auf der Bühne spielen,
Die süsslich mit gemeinen Gesten protzen.

II
Der Athlet

Und der Athlet tritt auf und staunen kannst de,
Wie er ein Brett mit seiner Faust zerhaut.
Er geht einher mit ungeheurem Wanste
Und feistem Arm und Nacken, schweissbetaut.
Und kurze Hosen schlottern um die Beinchen,
Die sind zu dünnen Stöckchen deformiert.
Prunkende Seide seine Füsschen ziert.
Ach! sind die niedlich! Wie zwei rosa Schweinchen.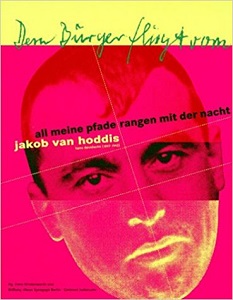 Jakob van Hoddis (16 mei 1887 – mei/juni ? 1942)
Cover van een tentoonstellingscatalogus
De Mexicaanse schrijver Juan Rulfo werd geboren op 16 mei 1917 in Sayula. Zie ook alle tags voor Juan Rulfo op dit blog.
Uit: Pedro Páramo (Vertaald door Dagmar Ploetz)
""Ich war bei Los Encuentros auf ihn gestoßen. Dort, wo sich mehrere Wege kreuzen, hatte ich gewartet, bis endlich dieser Mann auftauchte.
»Wohin gehen Sie?« fragte ich ihn.
»Dort hinunter, Señor.«
»Kennen Sie einen Ort namens Comala?«
»Genau da will ich hin.«
Und ich folgte ihm. Ich ging hinter ihm her, versuchte ihn einzuholen, bis er anscheinend merkte, dass ich ihm folgte, und er seinen Schritt verlangsamte. Dann gingen
wir so nah nebeneinander, dass sich fast unsere Schultern berührten.
»Auch ich bin ein Sohn von Pedro Páramo«, sagte er.
Eine Schar Raben kam vorbeigeflogen, kreuzte den leeren Himmel und machte kra, kra, kra.
Nachdem wir die Berge hinabgestiegen waren, ging es immer weiter hinunter. Wir hatten den heißen Wind dort oben gelassen und tauchten nun in die reine Hitze, ohne Wind. Es war so, als warteten alle Dinge auf irgend etwas.
»Es ist heiß hier«, sagte ich.
»Ja, und das ist noch gar nichts«, antwortete mir der andere. »Warten Sie nur ab. Sie werden die Hitze noch stärker spüren, wenn wir nach Comala kommen. Das liegt auf glühender Erde, geradewegs am Eingang zur Hölle. Wenn ich Ihnen sage, dass von denen, die dort sterben, viele aus der Hölle noch mal zurückkehren, um sich eine Decke zu holen.«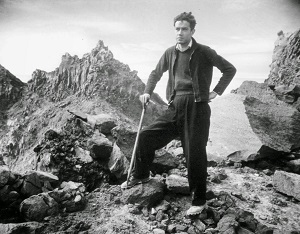 Juan Rulfo (16 mei 1917 - 8 januari 1986)
De Russische dichteres en schrijfster Olga Fyodorovna Berggolts werd geboren op 16 mei 1910 in Sint Petersburg. Zie ook alle tags voor Olga Berggolts op dit blog.
Not till the silver...
Not till the silver nor the golden wed
I will proceed to live with you, my friend.
But we have had the iron one before -
It'd gone through flames of the ferocious war.
This love I hold all golden weds above:
Like in the iron, I am still in love.
Don't even try
Don't even try your looking back
At this gloom dark, at this gloom ice;
There someone waits on your feet's track,
You can't stop answering his eyes.
Today I looked back and… at once
I see: he looks at me, my friend,
With his alive eyes from the ice -
My single one until my end.
And I'd not known that 'tis thus.
I'd thought another is my light.
But, oh, my plight, dream, paradise,
I live only when I'm your sight!
Only your look makes right my life,
I'm faithful only to your glance:
For all who lives - I am his wife,
Your widow - for both of us.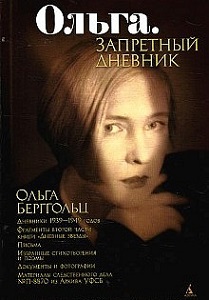 Olga Berggolts (16 mei 1910 – 13 november 1975)
Cover
De Duitse schrijver, vertaler en essayist Lothar Baier werd geboren in Karlsruhe op 16 mei 1942. Zie ook alle tags voor Lothar Baier op dit blog.
Uit: Eine Art schattenloser Existenz
"Was denkst du jetzt? Was soll ich schon denken, sagte Jörn, ich versuche so etwas wie ein Netz zu knüpfen, aber immer hängen ein paar Enden ins Leere hinein".
Wenn der pensionierte Westdeutsche Jörn mit Einheimischen seines Alters wie dem respektvoll porträtierten märkischen Schmied und Gastwirt Demuth spricht, fällt ihm zwar die Fremdheit auf, die Jahrzehnte nach Westen und Osten getrennter Erfahrungen hinterließen, doch wenn die Versuchung sich regt, die Fremdheit durch reporterhaftes Ausfragen des Ostdeutschen zu überwinden, fürchtet er gleich das unwillkürliche Einmischen eines Zwischentons, "der nach Mitleid, Vorhaltungen, besserem Wissen klingt", und lässt es bleiben. Verständigung wird jedoch möglich, wenn Erinnerungen an Pimpfenzeit und kalte Kriegswinter, an Drahtfunknachrichten und ans Wachspapier alter Militärkarten ausgetauscht werden, und bei diesem Austauschen beginnt der Westdeutsche sich zu fragen, was ihn denn zum Westdeutschen hatte werden lassen, der der "Ostzone" früh den Rücken kehrte und jahrzehntelang nicht hatte wissen wollen, was jenseits der Grenze vor sich ging. Eine politische Entscheidung, für Demokratie nach westlichem Muster? Nein, das war es wahrscheinlich nicht, gibt Jörn zu verstehen, es hatte viel mehr mit der in Westdeutschland gebotenen Möglichkeit zu tun, eine Art schattenloser Existenz zu führen, die vor der Behelligung durch die eigene, dazu geographisch nach Osten gerückte Vergangenheit schützte. "Mit dem Rücken zum Gestern dachte er viele Jahre lang, die Jahre der Kindheit und des Krieges verlassen zu haben wie ein Land, in das man nicht mehr zurückkehrt, nicht einmal in der Erinnerung, und mit Heimweh schon gar nicht."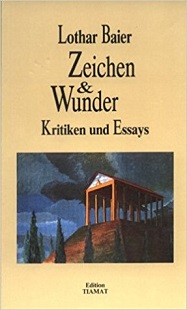 Lothar Baier (16 mei 1942 – 11 juli 2004)
Cover
Onafhankelijk van geboortedata
De Nederlandse dichter Rens van der Knoop werd geboren in Engeland in 1987. Zie ook alle tags voor Rens van der Knoop op dit blog.
Het is stil tussen de wandkleden en het tapijt

fijn geweven gezichten vinden hun blik
op steeds dezelfde plek

in diepe banken zit een aantal mensen weggezakt
te drinken van hun mokken thee
de handen eromheen gevouwen
alsof het een kind is dat ze beschermen willen
of een deel van henzelf
een rest liefde
die dreigt te vervluchtigen

een vrouw met een beige regenjas kijkt op
verbaasd, omdat er nergens een klok tikt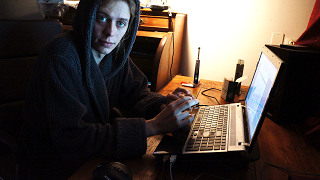 Rens van der Knoop (Engeland, 1987)
De Nederlandse schrijfster Naomi Rebekka Boekwijt werd geboren in 1990. Zie ook alle tags voor Naomi Rebekka Boekwijt op dit blog.
Uit:Hoogvlakte
`Meenemen of hier opeten?' grapte Wyss. Wat moet ik daarmee?' vroeg ik. 'Die krijg ik er nooit onder.' Jawel.' Hij verzette een voet, iets verder van de kop weg. 'Het zal alleen werken zijn.' De boeg en de voorpoten waren indrukwekkend breed. Daaronder klompen van hoeven. Een kleur had het beest niet echt. Het woord dat in me opkwam was 'grauw'. Heel even kreeg ik voor ogen waar dit type een eeuw geleden voor gefokt was: voor het zwoegen op de akker, in tuig, in vol ornaat. `Het heeft maar één ijzer,' merkte ik op. `Verder is de hoefsmid nog niet gekomen.' `Dat belooft veel goeds.' `Ik zou het proberen,' kwam Agnes ertussen. Ze keek mij aan. Naar Wyss keek zij niet. Hij was voor haar bestaan verantwoordelijk, meer niet. `Heeft Moser hierom gevraagd?' vroeg ik. `Hij wou een werkpaard,' zei Wyss. 'Net zo één als vroeger, zoiets zei-ie. Nou, dat kan-ie natuurlijk krijgen ook.' Dit is toch nauwelijks een paard te noemen.' `Bekijk dat beest eens goed. Wat zit er aan die poot? Juist, één teen.' Geërgerd griste ik het touw uit de dikke hand. Het beest zette zich in beweging. Wyss lachte, smerig, luid. Hij lachte uit leedvermaak, ook al was het mijn zaak niet. Het was iets tussen Moser en hem. Naast mij kwam een zwaar been naar voren, het ijzer klonk op het beton. Ik leidde het paard naar de veldweg. Na een paar meter keek ik achterom. Wyss stond breed, de armen van het lijf, handen op de heupen. Wyss werd niet geplaagd door een geweten. Hij was een tevreden man. Hij wist dat hij het beest misschien terug moest nemen, maar voorlopig was hij ervanaf. Iets verder stond Agnes. Zij hief kort haar hand bij wijze van groet."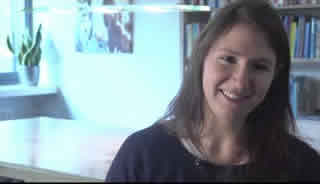 Naomi Rebekka Boekwijt (Nederland, 1990)
Zie voor onderstaande schrijver ook mijn blog van 16 mei 2016.
De Nederlandse schrijver Olaf J. de Landell werd geboren in Cirebon op Java in Nederlands-Indië op 16 mei 1911. Zie ook alle tags voor Olaf J. de Landell op dit blog.
16-05-2017 om 00:00 geschreven door Romenu

Tags:Adrienne Rich, Paul Gellings, Friedrich Rückert, Jakob van Hoddis, Juan Rulfo, Olga Berggolts, Lothar Baier, Rens van der Knoop, Naomi Rebekka Boekwijt, Olaf J. de Landell, Romenu


15-05-2017

Albert Verwey, Arthur Schnitzler, Pem Sluijter, W.J.M. Bronzwaer, Frits van Oostrom, Michael Lentz, Max Frisch, Judith Hermann, Peter Shaffer
De Nederlandse dichter, essayist en letterkundige Albert Verwey werd geboren in Amsterdam op 15 mei 1865. Zie ook alle tags voor Albert Verwey op dit blog.
Blauw en rood
Al liepen alle vrouwen nou
Op straat in blauwe japonnen,
Al liepen hun mannen ertussendoor
In rode pantalonnen:

Ik zag ze niet door 't luchteblauw,
Dat hemelse blauwe wonder;
Ik zag ze niet door 't pannenrood,
Waar 't stadsvolk wonet onder.

Met luchteblauw en pannenrood,
Was de wereld schoon beschilderd;
Maar door onze zonden zijn hier en daar
Die kleuren verweerd en verwilderd.
Van de liefde die vriendschap heet
10
Moeder van Smarten, zie mij aan, ik lijd...
Gij zaagt Hém hangen aan het hout, uw zoon,
Met bleek, bebloed gelaat en doornenkroon,
Die langzaam stierf in ongedeelden strijd.

En stil bleeft gij daar staan, alsof ge áltijd
Weer dacht dat Hij Góds Zoon was, en te schoon
Voor éengen dood, – en Hij hing dáar ten toon:
Uw kind, die Moeder veler smarten zijt.

Moeder van Smarten, zie mij aan, ik lijd...
Hef stil uw ogen op, van waar gij staat:
Ook ik, ik staar op 't kruis, waar Eén aan sterft!

En ik, Moeder van Smarte! ook ik belijd
Hém als Gods Zoon, en ook mijn ziel vergaat
Van liefde, als de uwe, en lijdt als zij Hem derft.
De deizende sterren
De deizende sterren, zij tink'len
Hun vesper mij na, waar ik rijs,
Tot die tonen mijn voeten besprink'len
Op de trappen van 't zonnepaleis.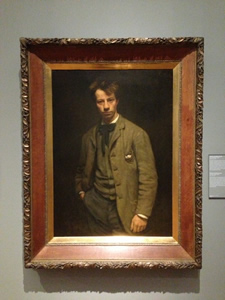 Albert Verwey (15 mei 1865 - 8 maart 1937)
Portret door Jan Veth (1885) in het Rijksmuseum
De Oostenrijkse schrijver en arts Arthur Schnitzler werd geboren in Wenen op 15 mei 1862. Zie ook alle tags voor Arthur Schnitzler op dit blog.
Uit: Leutnant Gustl
"Bravo, bravo! Jetzt wird's doch bald aus sein? – Ja, jetzt steht die ganze G'sellschaft da droben auf... sieht sehr gut aus – imposant! – Orgel auch?... Orgel hab' ich sehr gern... So, das laß' ich mir g'fall'n – sehr schön! Es ist wirklich wahr, man sollt' öfter in Konzerte gehen... Wunderschön ist's g'wesen, werd' ich dem Kopetzky sagen... Werd' ich ihn heut' im Kaffeehaus treffen? – Ah, ich hab' gar keine Lust, ins Kaffeehaus zu geh'n; hab' mich gestern so gegiftet! Hundertsechzig Gulden auf einem Sitz verspielt – zu dumm! Und wer hat alles gewonnen? Der Ballert, grad' der, der's nicht notwendig hat... Der Ballert ist eigentlich schuld, daß ich in das blöde Konzert hab' geh'n müssen... Na ja, sonst hätt' ich heut' wieder spielen können, vielleicht doch was zurückgewonnen. Aber es ist ganz gut, daß ich mir selber das Ehrenwort gegeben hab', einen Monat lang keine Karte anzurühren... Die Mama wird wieder ein G'sicht machen, wenn sie meinen Brief bekommt! –
Ah, sie soll zum Onkel geh'n, der hat Geld wie Mist; auf die paar hundert Gulden kommt's ihm nicht an. Wenn ich's nur durchsetzen könnt', daß er mir eine regelmäßige Sustentation gibt... aber nein, um jeden Kreuzer muß man extra betteln. Dann heißt's wieder: Im vorigen Jahr war die Ernte schlecht!... Ob ich heuer im Sommer wieder zum Onkel fahren soll auf vierzehn Tag'? Eigentlich langweilt man sich dort zum Sterben... Wenn ich die... wie hat sie nur geheißen?... Es ist merkwürdig, ich kann mir keinen Namen merken!... Ah, ja: Etelka!... Kein Wort deutsch hat sie verstanden, aber das war auch nicht notwendig... hab' gar nichts zu reden brauchen!... Ja, es wird ganz gut sein, vierzehn Tage Landluft und vierzehn Nächt' Etelka oder sonstwer... Aber acht Tag' sollt' ich doch auch wieder beim Papa und bei der Mama sein... Schlecht hat sie ausg'seh'n heuer zu Weihnachten... Na, jetzt wird die Kränkung schon überwunden sein. Ich an ihrer Stelle wär' froh, daß der Papa in Pension gegangen ist. – Und die Klara wird schon noch einen Mann kriegen... Der Onkel kann schon was hergeben... Achtundzwanzig Jahr', das ist doch nicht so alt... Die Steffi ist sicher nicht jünger... Aber es ist merkwürdig: die Frauenzimmer erhalten sich länger jung. Wenn man so bedenkt: die Maretti neulich in der ›Madame Sans-Gêne‹ – siebenunddreißig Jahr' ist sie sicher, und sieht aus... Na, ich hätt' nicht Nein g'sagt! – Schad', daß sie mich nicht g'fragt hat..."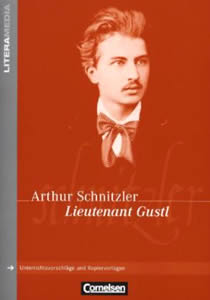 Arthur Schnitzler (15 mei 1862 - 21 oktober 1931)
Cover
De Nederlandse dichteres en schrijfster Pem Sluijter werd geboren in Middelburg op 15 mei 1939. Zie ook alle tags voor Pem Sluijter op dit blog.
De binding
Ze hadden hem de explosieven-
gordel omgegespt. Voelden zich
geroepen brachten hem weg.
Halverwege zei hij ik wil niet dood.
Bleef daarbij. Zij keerden
op de weg die ze gekomen
waren. Ismaël die zichzelf
en Izaäk spaarde.
Zijn ouders zagen hem ontzet terug
van zijn gang naar de top van de berg.
Moria, lieten hem niet uit hun ogen.
Wachten tot de God van Abraham
in een offer voorziet.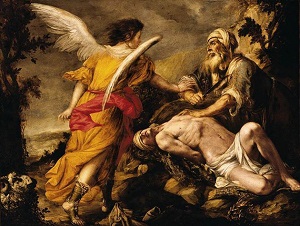 Pem Sluijter (15 mei 1939 - 18 december 2007)
Het offeren van Izaäk door Juan de Valdés Leal, 1657-59
De Nederlandse letterkundige, essayist en criticus W.J.M. Bronzwaer werd geboren op 15 mei 1936 in Heerlen. Zie ook alle tags voor W. J. M. Bronzwaer op dit blog
Uit:Lessen in Lyriek
"Men kan dit sonnet lezen als een vervulling van een opdracht, gesteld door een opdrachtgever aan de dichter, om hem met een zomerdag te vergelijken. De pragmatische situatie is dan overduidelijk; alleen is de instructie, net als bij Andreas Bumier, in de tekst van het gedicht opgenomen. Een tweede wezenskenmerk van de poëzie dat zich aan het voorbeeld uit Samuel laat aflezen is dat de poëzie een in taal uitgedrukte en tegelijk door de talige vorm beheerste emotie is. Zij is' uitdrukking en beheersing tegelijk van een emotionele impuls. In ons voorbeeld is de uitgedrukte emotie verre van enkelvoudig. Zij + BREMS, 133 behelst vreugde over het gunstige verloop van een veldslag tegen de vijandige Filistijnen, maar ook teleurstelling over het feit dat de gunstige uitslag niet aan de koning (Saul) maar aan de legeraanvoerder (David) te danken is, gepaard aan het besef dat Saul daardoor een slechte koning is. De complexiteit van deze emotie vindt haar weerspiegeling in de talige vorm van de poëtische uitdrukking, die als gevolg daarvan niet anders dan complex kán wezen. Het voorbeeld vertoont een voor het poëtisch taalgebruik uiterst karakteristieke tweeslag', waarvoor doorgaans de technische term parallellisme wordt gebruikt. De poëtische tekst valt in twee' delen uiteen, die in hun vormgeving parallel zijn aan elkaar en bovendien elkaars + paraiieiiisme betekenis medebepalen. Het eerste lid, 'Saul sloeg ze bij duizenden neer', zou op zichzelf niet als poëtisch herkenbaar zijn en het tweede lid, 'David sloeg ze bij tienduizenden neer', evenmin. Het effect dat ons hier van poëzie doet spreken komt pas tot stand als de twee leden tot elkaar in een relatie komen te staan, het moment waarop de 'tweeslag' wordt herkend. Op dat moment blijkt ook, dat de betekenis van de twee leden in hun relatie tot elkaar méér is dan de optelsom van de betekenis van de twee leden afzonderlijk. Dat blijkt als we ons realiseren dat het telwoord 'duizenden', waaraan we op zich de betekenis 'zeer veel' hechten, hier de betekenis 'zeer veel, maar minder dan mogelijk' krijgt en het krijgt die extra betekenis door de parallelstelling met 'tienduizenden'. Het woord 'duizenden' is dankzij de parallellistische vormgeving van de uitdrukking hier dus verrijkt met een surplus aan betekenis: het betekent niet meer alleen enthousiasme over een grote hoeveelheid, maar ook frustratie over een te kleine hoeveelheid. De complexiteit van de tot uitdrukking gebrachte emotie weerspiegelt zich met grote precisie in de voor de uitdrukking gebruikte taalvorm. Maar bovendien - en dat is misschien wel de best haalbare formulering waarin we het wezen van de poëzie kunnen verwoorden - krijgen de woorden in de poëzie een andere of een rijkere of een complexere betekenis dan die welke zij 'van huis uit', in de niet-poëtische of praktische taal, bezitten."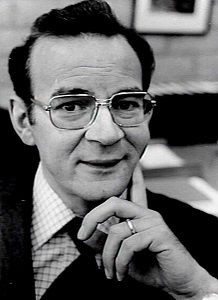 W.J.M. Bronzwaer (15 mei 1936 – 20 januari 1999)
De Nederlandse historisch letterkundige Frits van Oostrom werd geboren in Utrecht op 15 mei 1953. Zie ook alle tags voor Frits van Oostrom op dit blog.
Uit Mozes en de doortocht door de polder (Lezing)

"Maar het model van Philips is bepaald on-Nederlands. Zo'n schetterig "follow the leader" is veel meer iets Amerikaans, waarvan ons land heus wel een tik heeft meegekregen - en in de laatste decennia in toenemende mate - maar in wezen blijven wij het land van leiders zoals Drees en Zijlstra, regeerders in een rijtjeshuis, aartsvaders van consensuele evolutie. Het is heden ten dage mode – niet in de laatste plaats onder jonge mensen - om over dergelijk leiderschap te schamperen, waarmee vaak in dezelfde moeite door het hele poldermodel verketterd wordt. Maar het is wel onze diepste traditie, heeft ons gebracht waar we nu staan – en is misschien ook wel een heel erg goed concept.
En aangezien een Nederlander zoiets nooit van een landgenoot zal aannemen, ben ik zo vrij als kroongetuige hier twee gezaghebbende Amerikaanse stemmen op te voeren. In haar essay Mankind's better moments (1980) behandelt Pulitzer Prize-winnares Barbara Tuchman drie fenomenen in de wereldgeschiedenis waarin de mensheid zich waarachtig groots betoonde. Tuchmans derde voorbeeld is de stichting van Amerika – hoe zou het ook anders kunnen, in een verhaal dat oorspronkelijk diende als Jefferson Lecture in Washington D.C.. Het tweede voorbeeld is: middeleeuwse kathedralen – en wie zich ooit rekenschap heeft gegeven van wat daar met beperkte technische middelen voor groots verricht werd, kan Barbara Tuchman alleen maar gelijk geven. En haar eerste voorbeeld uit de wereldgeschiedenis van de mensheid op haar best?"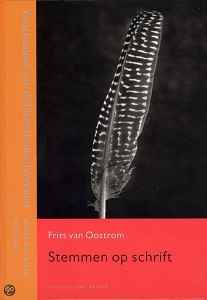 Frits van Oostrom (Utrecht, 15 mei 1953)
Cover
De Duitse dichter, schrijver, literatuurwetenschapper en musicus Michael Lentz werd geboren in Düren op 15 mei 1964. Zie ook alle tags voor Michael Lentz op dit blog.
fast unverändert
Die Energiequelle des Hammerwerkes ist die Wasserkraft.
Ein oberschlächtiges Wasserrad überträgt
die Kraft auf riesige Hammerwelle.
Auf dieser sitzt ein Nockenring
der das Schwanzende des Hammerstieles nach unten drückt.
Dadurch wird der am anderen Ende
des Stieles aufgekeilte Hammerbär ausgehoben.
Der Hammerschwanz stößt an eine Stahlplatte
die ihn augenblicklich zurückfedern läßt
so daß der Kopf des Hammers auf den Amboß schlägt.
Dieser Vorgang wiederholt sich.
ich bin dein eingeschriebener text
und du sagst mich auf
und du veranderst mich
du schüttest mich aus ver
wackelst mich
verweigerst mich
ich bin wie du sagst
du reißt mich auf
und auseinander
und überfliegst mich
da kommt wenig
noch vor
ich bin andrang
der sich entwickelt
unter deinem blick
und verfliegt
ich bin staub und stempel
aber du bestäubst mich nicht
ich bin deine kennung
die vorkommene schrift
aber du liest mich nicht mehr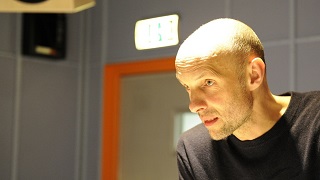 Michael Lentz (Düren, 15 mei 1964)
De Zwitserse schrijver en architect Max Frisch werd geboren in Zürich op 15 mei 1911. Zie ook alle tags voor Max Frisch op dit blog.
Uit: Stiller
"Ich sitze in meiner Zelle, Blick gegen die Mauer, und sehe die Wüste. Beispielsweise die Wüste von Chihuahua. Ich sehe ihre grosse Öde voll blühender Farben, wo sonst nichts anderes mehr blüht, Farben des glühenden Mittags, Farben der Dämmerung, Farben der unsäglichen Nacht. Ich liebe die Wüste. Kein Vogel in der Luft, kein Wasser, das rinnt, kein Insekt, ringsum nichts als Stille, ringsum nichts als Sand und Sand und wieder Sand, der nicht glatt ist, sondern vom Winde gekämmt und gewellt, in der Sonne wie mattes Gold oder auch wie Knochenmehl, Mulden voll Schatten dazwischen, die bläulich sind wie diese Tinte, ja wie mit Tinte gefüllt, und nie eine Wolke, nie auch nur ein Dunst, nie das Geräusch eines fliehenden Tiers, nur da und dort die vereinzelten Kakteen, senkrecht, etwas wie Orgelpfeifen oder siebenarmige Leuchter, aber haushoch, Pflanzen, aber starr und reglos wie Architektur, nicht eigentlich grün, eher bräunlich wie Bernstein, solange die Sonne scheint, und schwarz wie Scherenschnitte vor blauer Nacht - all dies sehe ich mit offenen Augen, wenn ich es auch nie werde schildern können, traumlos und wach und wie jedesmal, wenn ich es sehe, betroffen von der Unwahrscheinlichkeit unseres Daseins. Wieviel Wüste es gibt auf diesem Gestirn, dessen Gäste wir sind, ich habe es nie vorher gewusst, nur gelesen; nie erfahren, wie sehr doch alles, wovon wir leben, Geschenk einer schmalen Oase ist, unwahrscheinlich wie die Gnade. Einmal, irgendwo unter der mörderischen Glut eines Mittags ohne jeglichen Wind, hielten wir an; es war die erste Zisterne seit Tagen, die erste Oase auf jener Fahrt. Ein paar Indianer kamen heran, um unser Vehikel zu besichtigen, wortlos und schüchtern. Wieder Kakteen, dazu ein paar verdörrte Agaven, ein paar serbelnde Palmen, das war die Oase."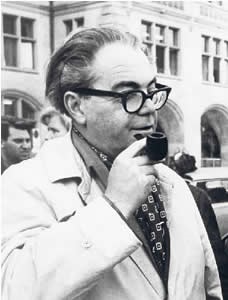 Max Frisch (15 mei 1911 - 4 april 1991)
De Duitse schrijfster Judith Hermann werd geboren op 15 mei 1970 in Berlijn-Tempelhof. Zie ook alle tags voor Judith Hermann op dit blog.
Uit: Aller Liebe Anfang
"Sie sagt, ich habe Flugangst, ich ertrage das Fliegen nicht gut, kann ich neben Ihnen sitzen, könnte ich bitte einfach neben Ihnen sitzen bleiben.
Das ist die Wahrheit. Jasons Gesichtsausdruck verändert sich, er wird nicht unbedingt weich, aber er verändert sich. Er sagt, Sie brauchen keine Flugangst zu haben. Setzen Sie sich hin. Ich heiße Jason. Setzen Sie sich.
Das Flugzeug rollt über die Startbahn, beschleunigt, hebt ab und fliegt. Das Flugzeug fliegt hoch in den blassen, fernen Himmel, es bricht durch die Wolken, unter ihnen bleiben das Land, ein anderes, früheres Leben zurück. Jasons Hände sind dreckig und voller Farbe. Er dreht die rechte um und hält Stella seine offene Handfläche hin. Stella legt ihre linke Hand in seine, seine Hand ist rau und warm. Er zieht ihre Hand zu sich rüber, legt sie in seinen Schoß, schließt die Augen, dann schläft er ein. Später wird das ein Vorzeichen sein. Stella hätte damals schon verstehen können – sie hat Angst, und Jason schläft. Schläft, obwohl sie Angst hat. Aber er würde sagen, er habe geschlafen, damit sie sehen konnte, dass es unsinnig war, Angst zu haben. Sie hat das damals nicht verstanden.
Als das Flugzeug landet, macht er die Augen auf und lächelt. So sehr dunkle Augen, fast schwarz und im Ausdruck eigentlich abwesend. Aber er lächelt. Er sagt, sieh an, Stella, Sie haben es geschafft. Er nimmt jetzt ihre Hand in seine beiden Hände, und dann küsst er ihre Hand, den Handrücken, fest und sicher. Wollen wir uns wiedersehen, sagt Stella. Sehen wir uns wieder. Ja, sagt Jason, er sagt das, ohne nachzudenken — ja. Stella schreibt ihre Telefonnummer auf seine Bordkarte. Dann steht sie auf und flüchtet, sie steigt aus dem Flugzeug über die Metalltreppe zurück auf die Erde, ohne sich noch einmal umzusehen. Es ist kühl, es regnet. Unmöglich zu wissen, wie es weitergehen wird. Jason ruft drei Wochen später an. Stella fragt ihn nie, was er in diesen drei Wochen gemacht, worüber er eigentlich so lange nachgedacht hat, zu welchem Schluss er dann gekommen ist."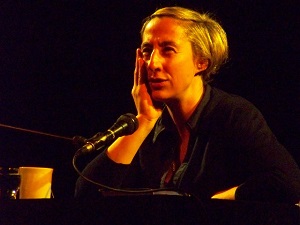 Judith Hermann (Berlijn-Tempelhof, 15 mei 1970)
De Britse toneelschrijver Peter Shaffer werd geboren op 15 mei 1926 in Liverpool. Zie ook alle tags voor Peter Schaffer op dit blog.
Uit: Equus
"DYSART Me?
HESTHER I mean, to hospital.
DYSART Now look, Hesther. Before you say anything else, I can take no more patients at the moment. I can't even cope with the ones I have.
HESTHER You must.
DYSART Why?
HESTHER Because most people ar going t be disgusted by the whole thing. Including doctors.
DYSART May I remind you I share this room wit tw highly competent psychiatrists?
HESTHER Bennett and Thoroughgood. They'll be as shocked as the public.
DYSART That's an absolutely unwarrantable statement.
HESTHER Oh, they'll be cool and exact. And underneath they'll be revolted, and immovably English. Just like my bench.
DYSART Well, what am I? Polynesian?
HESTHER You know exactly what I mean! ... (pause) Please, Martin. It's vital. You're this boy's only chance.
DYSART Why? What's he done? Dosed some little girl's Pepsi with Spanish Fly? What could possibly throw your bench into two-hour convulsions?
HESTHER He blinded six horses with a metal spike."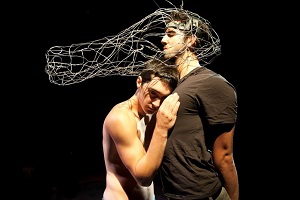 Peter Shaffer (Liverpool 15, mei 1926)
Scene uit een opvoering in West Hartford Connecticut, 2010
Zie voor nog meer schrijvers van de 15e mei ook mijn blog van 15 mei 2016 deel 2 en eveneens deel 3.
15-05-2017 om 18:34 geschreven door Romenu

Tags:Albert Verwey, Arthur Schnitzler, Pem Sluijter, W.J.M. Bronzwaer, Frits van Oostrom, Michael Lentz, Max Frisch, Judith Hermann, Peter Shaffer, Romenu



Mary Wortley Montagu
Rectificatie
De Engelse schrijfster Lady Mary Wortley Montagu werd geboren in Thoresby Hall, Nottinghamshire, op 15 mei 1689 en gedoopt op 26 mei 1689. Zie ook alle tags voor Mary Wortley Montagu op dit blog.
A Hymn To The Moon
Written in July, in an arbour
Thou silver deity of secret night,
Direct my footsteps through the woodland shade;
Thou conscious witness of unknown delight,
The Lover's guardian, and the Muse's aid!
By thy pale beams I solitary rove,
To thee my tender grief confide;
Serenely sweet you gild the silent grove,
My friend, my goddess, and my guide.
E'en thee, fair queen, from thy amazing height,
The charms of young Endymion drew;
Veil'd with the mantle of concealing night;
With all thy greatness and thy coldness too.
Advice
Cease, fond shepherd -- cease desiring
What you never must enjoy;
She derides your vain aspiring,
She to all your sex is coy.
Cunning Damon once pursu'd her,
Yet she never would incline;
Strephon too as vainly woo'd her,
Though his flocks are more than thine.
At Diana's shrine aloud,
By the zone around her waist,
Thrice she bow'd, and thrice she vow'd
Like the Goddess to be chaste.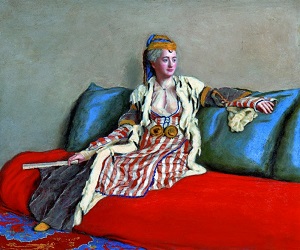 Mary Wortley Montagu (15 mei 1689 – 21 augustus 1762)
Lady Montagu in Turkse kleding door Jean-Étienne Liotard, ca. 1756
15-05-2017 om 00:00 geschreven door Romenu

Tags:Mary Wortley Montagu, Romenu


14-05-2017

Moeder (Gerrit Achterberg)
Bij Moederdag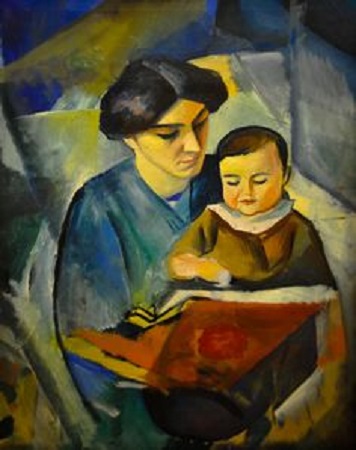 Elisabeth und kleiner Walter door August Macke, 1912
Moeder
Mijn moeder is een grijze vrijdagmorgen:
zij moet de kamer doen; stof beeft;
dan dweilen, voor het eten zorgen,
zien wat van gisteren overbleef.
Ik ben in haar liefde geborgen,
die elk verraad der wereld overleefd:
wie ik ook werd, wij eten overmorgen
de koek die zij gebakken heeft.
Wanneer de zondagmorgen is ontloken
staat heel haar wezen in de blijde bloei,
waarin mijn wezen moet zijn aangebroken,
omdat ik dan niet meer gevoel
hoe door de dood is aangestoken,
wat bij een andere vrouw begon.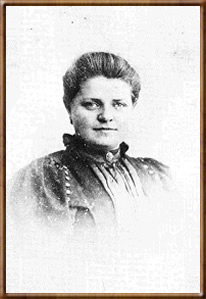 Gerrit Achterberg (20 mei 1905 - 17 januari 1962)
Achterbergs moeder Pietje Achterberg - van de Meent
Zie voor de schrijvers van de 14e mei ook mijn vorige twee blogs van vandaag.
14-05-2017 om 12:18 geschreven door Romenu

Tags:Moederdag, Gerrit Achterberg, Romenu



Jo Gisekin, Karl-Markus Gauß, Eoin Colfer, Gaby Hauptmann, Wilma Vermaat, Frans Bastiaanse
De Vlaamse dichteres Jo Gisekin werd geboren in Gent op 14 mei 1942. Zie ook alle tags voor Jo Gisekin op dit blog.
Ik zou je
Ik zou je als zaligheid
bestempelen
soms ben je hard

Ik zou je met lauweren
omhangen
je ogen spuien licht

Ik zou je met goed fatsoen
roerloos naast een ander leggen
het is vergeefse moeite

Bijna was ik doorgegaan
met wolken op je
hoofd te stapelen
van je lichaam
een vindplaats te maken
vol goud en zilverlingen
maar ook dat is vals bericht

Je bent het breviarium
van mijn langste dag
de gastheer aan mijn tafel
het transparante
in dit gedicht.
Wierook van vandaag
Als jij niet meer komt
ga ik je tegen
al moet het dan met huiver
van volslagen manke benen
ruimten vullen we op
met tijd die we hebben
verspeeld
de leegte van gisteren
met wierook van vandaag

terwijl de kievit in mijn
droom danst op de vijver
dragen ranonkels op
stijve stelen de stilte
uit het huis

hetgeen nog komen moet
hangt als een klepel
in mijn schaarse boom.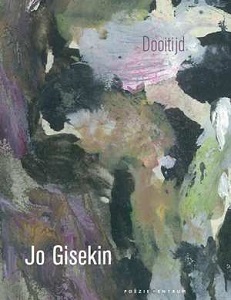 Jo Gisekin (Gent, 14 mei 1942)
Cover
De Oostenrijkse schrijver, essayist en uitgever Karl-Markus Gauß werd geboren op 14 mei 1954 in Salzburg. Zie ook alle tags voor Karl-Markus Gauß op dit blog.
Uit: Der Alltag der Welt
"Ich blättere durch das Album und hole ein zweites, ein drittes hervor, und ich entdecke nach dem Kind, das bereits mit seinem Hochmut zu experimentieren scheint, einen Jugendlichen, dessen Trotz etwas Abschätziges hat, und endlich den Erwachsenen in seiner Pose freundlicher Überlegenheit. Die drei, die sich sonst seltsam wenig ähneln, denn das Kind ist blond und kräftig, der Jugendliche schwarz gelockt und mager, und den Erwachsenen kann man geradezu dabei beobachten, wie er zulegt und frühzeitig ergraut – diese drei, die einander sonst nicht gleichen, sind unverkennbar ein- und derselbe in der Manier, wie sie sich erhobenen Hauptes zu präsentieren bemühen. Diese Haltung haben sie stets wie von selbst eingenommen, sie hat ihnen gutgetan, mir aber die Halswirbel abgeplattet und die verdammte cervikuläre Cephalea, den vom Nacken zur Schläfe schießenden Kopfschmerz, eingetragen (so geht diese Sprache, die jetzt die meine wird).
Mai 2011, 57. Geburtstag: Nicht mehr zurückschauen, dorthin, wo unablässig die Welt verschwindet, aus der ich gekommen bin, und in der großen Mühle gleichermaßen zermahlen wird, wofür wir uns begeistert haben und wogegen wir uns empörten? Gerade weil es anders kam, darf ich nicht vergessen, wovon ich geträumt habe, und erst recht nicht vergessen, wovon ich überzeugt war, dass ich mich niemals mit ihm abfinden werde.
Ich war eingenickt, zu Mittag, und als ich aus dem Dämmer erwachte, umschloss mich ein geradezu räumliches Gefühl der Glückseligkeit. Es hatte mit der Musik zu tun, die aus dem Radio kam und von der mir bewusst wurde, dass sie mich schon seit einigen Minuten durch den Halbschlaf geleitete. Ich lauschte den Tönen, einem tief und sordin gestimmten Streichinstrument, auf dem in einem leicht hallenden Raum Akkord auf Akkord gestrichen wurde, kein Cello und keine Bassgeige."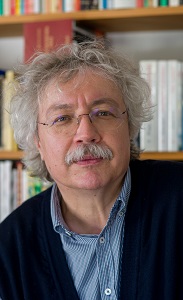 Karl-Markus Gauß (Salzburg, 14 mei 1954)

De Ierse schrijver Eoin Colfer (zijn voornaam wordt uitgesproken als Owen) werd geboren in Wexford op 14 mei 1965. Zie ook alle tags voor Eoin Colfer op dit blog.
Uit:Artemis Fowl
"By midnight, Artemis had successfully fed his findings into the Macintosh. All he had to do now was press Decode. He did so. What emerged was a long, intricate string of meaningless gibberish.
A normal child would have abandoned the task long since. The average adult would probably have been reduced to slapping the keyboard. But not Artemis. This book was testing him, and he would not allow it to win.
The letters were right, he was certain of it. It was just the order that was wrong. Rubbing the sleep from his eyes, Artemis glared at the pages again. Each segment was bordered by a solid line. This could represent paragraphs or chapters, but they were not meant to be read in the usual left to right, top to bottom fashion.
Artemis experimented. He tried the Arabic right to left and the Chinese columns. Nothing worked. Then he noticed that each page had one thing in common - a central section. The other pictograms were arranged around this pivotal area. So, a central starting point, perhaps. But where to go from there? Artemis scanned the pages for some other common factor. After several minutes he found it. There was on each page a tiny spearhead in the corner of one section. Could this be an arrow? A direction? Go this way? So the theory would be, start in the middle then follow the arrow. Reading in spirals.
The computer program wasn't built to handle something like this, so Artemis had to improvise. With a craft knife and ruler, he dissected the first page of the Book and reassembled it in the traditional Western languages order - left to right, parallel rows. Then he rescanned the page and fed it through the modified Egyptian translator.
The computer hummed and whirred, converting all the information to binary."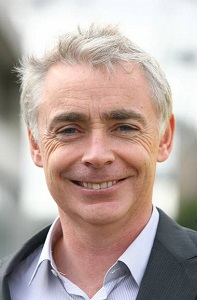 Eoin Colfer (Wexford, 14 mei 1965)
De Duitse schrijfster Gaby Hauptmann werd geboren op 14 mei 1957 in Trossingen. Zie ook alle tags voor Gaby Hauptmann op dit blog.
Uit: Yachtfieber
"Marc drehte sich um. Das hätte er sich denken können, seine Tochter Kim und deren Freundin Alissa standen hinter ihm.
»Laß doch!« Kim warf ihm einen typischen Tochter-Vater­Blick zu: »Sei doch kein Spielverderber.«
Alissa blinzelte verschlafen zu dem Boot hinüber. »Gibt's 'ne Party?«
»Verschon mich bitte damit«, sagte Marc und drehte sich hilfesuchend nach Pia um. Sie hatte sich ein weißes Herren­hemd übergeworfen und kam heran.
»Das ist eine Überraschung«, sagte sie indifferent und reichte Franco ihre Hand, die er übersah.
Statt dessen zog er sie gleich in seine Arme, küßte sie rechts und links auf die Wange und grinste dabei Marc an. »Habt ihr wirklich geglaubt, ihr könntet euch vor der Welt ver­stecken?«
»Och ...« Marc tat unschuldig. »Und jetzt willst du dich mit deiner Bande hier bei uns einnisten?«
Franco lachte. »Ich wollte mal meinen Mädchen hier den berühmten Modedesigner aus Deutschland vorstellen«, sagte er laut, und leise fügte er mit Verschwörermiene hinzu: »Ein bißchen mit dir angeben, versteht sich ...«
»Das fehlt mir noch!« Marc schaute zu dem Rennboot, eine feuerrote Zigarre mit weißer Lederinnenausstattung. »Ein wenig dezenter hätte dir das Ding nicht gefallen?« fragte er rhetorisch.
»In meinem Alter doch nicht.« Franco zwinkerte ihm zu und machte eine Handbewegung zum Boot hin. Es war schon klar, was er meinte. Die beiden Mädchen, die er dabei­hatte, waren bildhübsch und Anfang Zwanzig, jede von ihnen sicherlich dreißig Jahre jünger als er selbst. Er fuhr sich mit seiner rechten Hand kurz durch sein gewelltes braunes Haar, das er aus der Stirn nach hinten gekämmt und nackenlang trug. »Die haben Spaß«, sagte er dazu, »und ich auch!«
In diesem Moment setzte die Musik wieder ein. Ein jun­ger Mann, der aus der Kajüte aufgetaucht war, hatte auf den Knopf gedrückt.
»Ich nicht.« Marc wandte sich ab. »Aber wenn du jetzt schon mal da bist, dann laß uns was trinken. Vielleicht finden wir ja ein lärmgeschütztes Eckchen ..."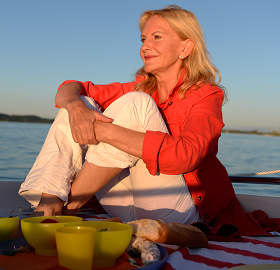 Gaby Hauptmann (Trossingen, 14 mei 1957)
De Nederlandse schrijfster Willemina (Wilma) Vermaat werd geboren in Zetten op 14 mei 1873. Zie ook alle tags voor Wilma Vermaat op dit blog.
Uit: Moeder Stieneke
"De dokter wachtte hen.... het was hoog tijd. Het leven was nog niet gevloden, maar het doodszweet parelde den arme op het voorhoofd; het sterke roepen was gesmoord in het eindelijke breken van de laatste krachten; de dood zelf had mededoogen en draalde nog op den drempel eer hij door de poort ging met zijn droeven last.
De Dominé knielde bij den divan, waarop men den man in haast had neergelegd.
Stieneke hield zich op den achtergrond om niet te storen door haar vreemde tegenwoordigheid. Maar ze bad mee.... o, hoe ze meebad en onder 't bidden voelde, hoe de dood zijn mantel van stilte begon uit te plooien, om er dien eenzaam vertrekkenden mensch in te hullen. Het was een groot gebed in weinig woorden, zooals past bij een, voor wien de reistijd aangebroken is; en het werd nagestameld, maar zóó zwak, dat alleen God het nog kon verstaan.
Toen stond de Dominé op en legde zijn hand op het kille voorhoofd. 'Nu kom Heere Jezus,' zei hij zacht, 'want bij U is vergeving.'
De oogen van den vertrekkende schenen zich vast te hechten in de zijne, voor een oogenblik,.... toen dekten de zware oogleden langzaam het gebroken licht.... hij was voorbij. -
Stil in de verbijstering van dit plotselinge gebeuren stonden ze een tijdlang bij den doode.
Edel was zijn voorhoofd, om den zwakken mond scheen een glimlach zijn lichte spel te spelen.... Stieneke bukte zich iets over den divan.... 'Vader,' zei ze haastig.... De dokter schudde het hoofd. Toen keerde Stieneke zich van het bed; die glimlach dreigde alles in haar te doen breken in wilde tranen. Om haar zelfbeheersching te herkrijgen keek ze de kamer rond, een ordelijke werkkamer, nu ontredderd door de komst van dien haastig-geroepen dood."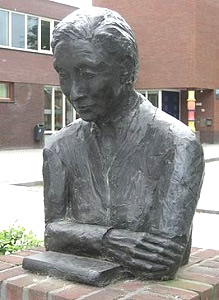 Wilma Vermaat (14 mei 1873 - 20 maart 1967)
Borstbeeld in Beekbergen
De Nederlandse dichter Wilhelm Ange François (Frans) Bastiaanse werd geboren in Utrecht op 14 mei 1868. Zie ook alle tags voor Frans Bastiaanse op dit blog.
Het kind
"Het schoonst geluk, dat gij mij ooit kunt geven
Zal wezen als eenmaal een nieuw gelaat,
Uit u en mij geboren bloeien gaat,
Maar toch het meest heeft van uw stralend leven;

En, zoals naar het gouden pracht-sieraad
Een kleiner wordt in fijner goud gedreven,
Zal 't flonkrend blond zijn voorhoofd-blank omgeven
Als 't graan, dat in de zon te gloeien staat."

Toen kuste ik om dat schone woord mijn lief,
Die om mijn hals de strelende armen hief
En 'k sprak: "ja! dat zal groot en heerlijk wezen,

Als ik u zien zal in hetzelfde kind,
Waarin gij mij opnieuw geboren vindt:
Twee-eenheid in één enig beeld te lezen."
Koekoek
Als de vroege koekoek roept
En de lijster, onder 't fluiten
Van de rode bessen snoept,
Loop ik ook mijn woning uit en
Fluit in zonnige' ochtend buiten,
Waar ik zoeter luiden zoek
Dan de lijsters kunnen fluiten,
Dan de koekoek roept: Koekóék!

Koekoek vroeg in 't koele bos,
Lijster in de groene struiken,
Roep de blauwe blinden los
Die een venster hóóg beluiken,
Waar de wingerd-ranken sluiken
Bleek van blaren, teer van tros,
Lijster in de groene struiken,
Koekoek roep de blinden los!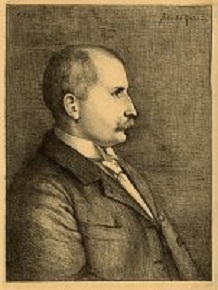 Frans Bastiaanse (14 mei 1868 - 12 juni 1947)
Zie voor nog meer schrijvers van de 14e mei ook mijn vorige blog van vandaag.
14-05-2017 om 12:17 geschreven door Romenu

Tags:Jo Gisekin, Karl-Markus Gauß, Eoin Colfer, Gaby Hauptmann, Wilma Vermaat, Frans Bastiaanse, Romenu



Dante Alighieri, Krister Axel, Jens Sparschuh, Evelyn Sanders, Kasper Peters, Walter E. Richartz, Karin Struck
De Italiaanse dichter Dante Alighieri werd tussen 14 mei en 13 juni 1265 (volgens hemzelf in de Divina Comedia in de Goede Week en in het teken van de Tweelingen) in Florence geboren. Zie ook alle tags voor Dante Alighieri op dit blog.
Uit: Divina Comedia Canto I (Fragment)
Are aim'd at by this bow; but even those,
That have intelligence and love, are pierced.
That Providence, who so well orders all,
With her own light makes ever calm the Heaven,
In which the substance, that hath greatest speed,
Is turn'd: and thither now, as to our seat
Predestined, we are carried by the force
Of that strong cord, that never looses dart
But at fair aim and glad. Yet is it true,
That as, oft-times, but ill accords the form
To the design of art, through sluggishness
Or unreplying matter; so this course
Is sometimes quitted by the creature, who
Hath power, directed thus, to bend elsewhere;
As from a cloud the fire is seen to fall,
From its original impulse warp'd, to earth,
By vitious fondness. Thou no more admire
Thy soaring (if I rightly deem) that lapse
Of torrent downward from a mountain's height.
There would in thee for wonder be more cause,
If, free of hindrance, thou hadst stay'd below,
As living fire unmoved upon the earth."
So said, she turn'd toward the Heaven her face.
ALL ye, who in small bark have following sail'd,
Eager to listen, on the adventurous track
Of my proud keel, that singing cuts her way,
Backward return with speed, and your own shores
Revisit; nor put out to open sea,
Where losing me, perchance ye may remain
Bewilder'd in deep maze. The way I pass,
Ne'er yet was run: Minerva breathes the gale;
Apollo guides me; and another Nine,
To my rapt sight, the arctic beams reveal.
Vertaald door H. F. Cary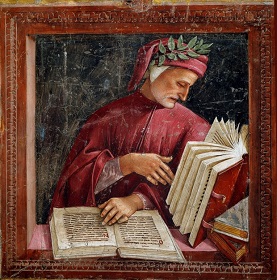 Dante Alighieri (14 mei/13 juni 1265 - 13/14 september 1321)
Portret in de kathedraal van Orvieto
De Amerikaanse dichter en musicus Krister Axel werd geboren op 14 mei 1974 in Parijs.Zie ook alle tags voor Krister Alex op dit blog.
Holland Park Road
I don't know what's missing
but I'll see if I can find it
climbing up the hill it starts to rain
I still feel like walking
I'm not so good with talking
and I just ran out of pretty things to say
I'm thinking of the city
with it's arms around the river
with no end and no beginning
just like a chain of stars
and it's trying to tell me something
about the light between two lovers
the light that's on your face
all you have to do is
shine on for me
if you can't afford to sleep
I'll be the push that brings you back
it's Saturday and there's something in the air
I don't believe that we are lost
honey keep them coming
because I'm drinking through the morning
I got a million miles to go inside my head
and I hear a voice calling
from the other side of the ocean
and I swear I left my heart in her Venice bed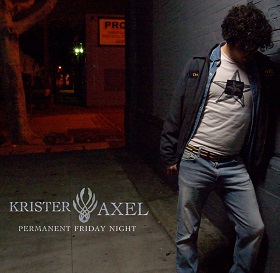 Krister Axel (Parijs, 14 mei 1974)
Cover
De Duitse schrijver Jens Sparschuh werd geboren op 14 mei 1955 in Karl-Marx-Stadt en groeide op in Oost-Berlijn Zie ook alle tags voor Jens Sparschuh op dit blog.
Uit: Stinkstiefel
"Vier Marzipanhasen sitzen da - darunter ist übrigens ein etwas angestaubter Vorjahreshase, der sich ein ganzes Jahr lang erfolgreich hinter dem Flurschrank versteckt gehalten hatte. Drum herum liegen dreiundzwanzig kleine Ostereier in allen Farben und fünf große Schokoladenkugeln.
Außerdem hat Herr Dinkhübel noch gefunden: eine zerknickte Ansichtskarte aus Rom von Tante Paula; den blauen Socken, den er schon seit Weihnachten vermisste und der erstaunlicherweise ungewaschen im Fotobildband Die Welt ist schön als Lesezeichen steckte; drei entwertete Fahrscheine; eine Hand voll Staubflusen; ein angebissenes, steinhartes Stück Streuselkuchen.
Und dann noch etwas, und zwar hinter dem Kühlschrank: eine tote Maus. Ganz schöne Ausbeute diesmal!, denkt Herr Dinkhübel zufrieden. Und da er alleine wohnt, sagt ihm nun auch niemand: Iss doch nicht alles auf einmal, Felix!"
Also isst er alles auf einmal.
Er kann zwar schon nicht mehr, aber da sitzt noch ein Osterhase ziemlich kopflos herum... Nein, das sieht gar nicht schön aus. Also weg damit! Ordnung muss sein. Und mit einem tiefen Seufzer - oder ist das sein Bauch, der seufzt? - stopft sich Herr Dinkhübel den letzten Osterhasen hinein. Zwei Schokoladenkugeln kullern hinterher.
Sie plumpsen dumpf im Bauch auf, genauso wie die restlichen Ostereier... Bis alles alle ist.
Die graue Maus hat er natürlich nicht angerührt! Die liegt noch auf dem Tisch. Mucksmäuschenstill.
Er packt sie am Schwanz und lässt sie kopfschüttelnd in eine Tüte fallen. Ja, kleine Maus, für dich ist Ostern heute schon vorbei!
Morgen, wenn er seinen Osterspaziergang macht, wird er sie begraben. Im Hof. Beim Blumenbeet hinter den Mülltonnen.
Und was soll mit dem harten Kuchenstück geschehen? Hätte er doch einen Dackel! Oder wenigstens eine Frau."

Jens Sparschuh (Karl-Marx-Stadt, 14 mei 1955)
Cover
De Duitse schrijfster Evelyn Sanders werd geboren op 14 mei 1934 in Berlijn. Zie ook alle tags voor Evelyn Sanders op dit blog.
Uit: Schuld war nur die Badewanne
"Zwischendrin quäkt Katja: »Nun geh doch endlich ran, ich weiß ja, dass du da bist!« Kann sie überhaupt nicht! Sie hat jetzt im Hörsaal zu sein und sich mit den Werken von Pestalozzi und Frau Montessori herumzuschlagen. Angehende Lehrer müssen auch das lernen, was dank unzähliger Schulreformen und neuer psychologischer Erkenntnisse längst überholt ist. Endlich habe ich den Hörer in der Hand. »Wieso bist du nicht in der Uni?« »Weil die letzte Vorlesung mal wieder ausgefallen ist. Sitzt du?« Nein, ich sitze nicht. Den einzigen erreichbaren Stuhl hat Hund Otto belegt, der meine Aufforderung, den Platz zu räumen, stoisch ignoriert. Nicht umsonst ist er ein gebürtiger Bayer. Wahrscheinlich hat er es uns nie verziehen, dass er in einen preußischen Haushalt geraten ist. Notgedrungen lehne ich mich also gegen den Esstisch. »Ich bin darauf trainiert, Katastrophenmeldungen auch stehend entgegenzunehmen. Raus mit der Sprache, was ist passiert?« »Sei nicht immer so destruktiv«, kichert Katja, »freu dich lieber! Du wirst nämlich Oma!« »Bei wem? Etwa bei dir?« Katja ist Studentin im siebten Semester und sollte eigentlich hinreichend aufgeklärt sein. Außerdem nimmt sie die Pille. Sie wiegelt auch sofort ab. »Im Augenblick reichen mir die Kids, mit denen ich mich im Praktikum herumärgern muss. Nein, Vicky ist schwanger.« »Woher weißt du das?« »Sie hat es Steffi erzählt, und die hat mich gerade angerufen.« Die Kommunikation innerhalb unserer Familie klappt immer noch hervorragend. »Konnte sie sich das nicht früher überlegen?«, jammert Katja. »Ich habe doch meine Weihnachtsgeschenke schon alle zusammen. Was meinst du, ob ich ihr einen Gutschein für fünf Packungen Pampers schenke? Den brauche ich erst im Herbst einzulösen. Momentan bin ich nämlich total pleite.« Das ist sie meistens und nicht nur zwei Wochen vor Weihnachten. »Wann soll denn das Baby kommen?« »Na ja, September oder so. Ich nehme doch an, dass auch Engländerinnen die gleiche Tragezeit haben wie normale Frauen. Oder glaubst du, dass die später werfen?« »Vicky ist kein Elefant!« »Noch nicht«, gluckst Katja. »Ach ja, noch etwas: Du weißt natürlich nichts von dem Familienzuwachs. Vicky hat es Stefanie unter dem Siegel der Verschwiegenheit erzählt.« »Und deshalb hat sie dich auch gleich angerufen?«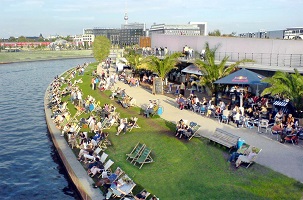 Evelyn Sanders (Berlijn, 14 mei 1934)
Berlijn. Aan de oever van de Spree in de Tiergarten
Onafhankelijk van geboortedata:
De Nederlandse dichter, schrijver, dramaturg en toneelspeler Kasper Peters werd geboren in Doetinchem in 1973. Zie ook alle tags voor Kasper Peters op dit blog.
een plein is een kamer
een plein is een kamer
zonder deuren
tussen het gevelbehang
openen zich straten
met mensen die je kent
het gaat niet om gebouwen
maar om de leegte
de plekken er tussenin
door tijd groeit ruimte
kamer wordt plein
plein wordt wijk
wijk wordt stad
ga op een dag naar buiten
kijk in een weiland
naar de stad waar je begon
trek de uren die je telde
van herinneringen af
en merk dat er veel overblijft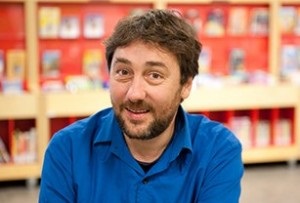 Kasper Peters (Doetinchem, 1973)
Zie voor onderstaande schrijvers ook mijn blog van 14 mei 2016.
De Duitse schrijver en chemicus Walter E. Richartz werd op 14 mei 1927 in Hamburg geboren. Zie ook alle tags voor Walter E. Richartz op dit blog.
De Duitse schrijfster Karin Struck werd geboren op 14 mei 1947 in Schlagtow. Zie ook alle tags voor Karin Struck op dit blog.
14-05-2017 om 12:17 geschreven door Romenu

Tags:Dante Alighieri, Krister Axel, Jens Sparschuh, Evelyn Sanders, Walter E. Richartz, Kasper Peters, Karin Struck, Romenu


13-05-2017

Jan Lauwereyns, Reinout Verbeke, Bruce Chatwin, Daphne du Maurier, Kathleen Jamie, Armistead Maupin, Alphonse Daudet, Kōji Suzuki
De Vlaamse dichter Jan Lauwereyns werd geboren op 13 mei 1969 in Antwerpen. Zie ook alle tags voor Jan Lauwereyns op dit blog.
Lectori salutem
Je fronst je lippen bij het lezen van de achterflap.
Je tandenknarst en spreidt je neusvleugels -
de onderlip kon wat meer nadruk hebben.
Het haar helt over je wenkbrauwen, valt dan
in pieken naar beneden.

Zo gaat het in een handomdraai pijpen-
stelen regenen op hardhorige tortelduiven
en zachtjes fluisterende pantervrouwen,
en alles wat in spiegelschrift geschreven
wordt, verdrinkt dan in de plas.
Zeer persoonlijke muggen en hun tijd
Het gieren van golven,
de versterkte luchtstroom.
'Iets coronaals, dat je net hebt gehoord
als je het hoorde.'
Ze verscheen als een kleine zwarte stip
die zich traag maar zeker over de
zonneschijf voortbewoog.
De gedachte liet zich weer denken
dat automorfe functies toch wel
noodzakelijk waren.
'Het kan zijn dat er iemand is.'
Aldus het nagelaten bloed.
Hebben we bewijs van spijt?
(Rommelige ingewikkelde grafieken.)
(Niets nieuws vergeleken bij vorig jaar.)
Fragmenten galopperen
Het labyrint, aandacht,
is niets dan een weg om het lichaam
van dit woord naar het volgende te voeren.
Hoe de hiel zich licht!
Hoe de enkel scharniert!
Das Fragment an sich, da capo con malinconia.
Askleurig stromend
laat de rivier dwars door goud
de tijger drinken.
Muze, vernietig ons integraal.
Handen, krabbelen maar.
The flight to Seoul [uitgesproken als ziel]
is now ready for boarding.
Lippen, doe jullie ding.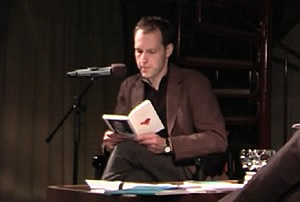 Jan Lauwereyns (Antwerpen, 13 mei 1969)
De Vlaamse dichter Reinout Verbeke werd geboren op 13 mei 1981 in Roeselare. Zie ook alle tags voor Reinout Verbeke op dit blog.
Vader Staat
Geland in het Land van de makke cadans
van bakken vallend glas in vuilniswagens,
intussen het blussen van mailboxen, het aanblazen
van smeulende vrienden. Hier tikt de beige chauffage
waarnaast we op woensdagen
vrijend tot stilstand komen
Dit is het dan, ontheemd wonen in Hem
die het systeem vader bedacht
de draaideur, het rattenrad
waarin de verleden vaders
zich voorzichtig
leerden vermenigvuldigen
tot de vaders van vandaag
Dit is het Vaderland, dat na de daad
de drift van teen tot hals begraaft, aanstampt,
en het hoofd voor de vorm
de vluchtwegen uitstippelt
Dit zondagse gedicht dat Hij
voorzag
Vlek
Ergens bij de lidwoorden zit een lek in de taal
waarlangs een blauwe, hete stof
op mijn schedel drupt
tot mijn kop smelt en een en al
het blauwe spul wordt
en smeltend
overloopt in nek en schouders
in borstkas en buik
in lies
in knie
in voet
in een vlek
Er is op verzoek geen beter beeld
dan dat waarin ik verdwijnend
jou nooit genoeg zal zijn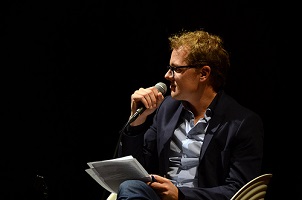 Reinout Verbeke (Roeselare, 13 mei 1981)
De Engelse schrijver Bruce Chatwin werd op 13 mei 1940 in Sheffield geboren. Zie ook alle tags voor Bruce Chatwin op dit blog.
Uit: De gezongen aarde (Vertaald door Peter van Oers)
"Tijdens zijn werk als onderwijzer hoorde Arkady over het labyrint van onzichtbare paden die zich door heel Australië slingeren en door Eu-ropeanen `Droomwegen' of 'Zangsporen' worden genoemd en door de Aboriginals <de voetstappen van de voorouders' of `de weg van de wet'. De scheppingsmythen van de Aboriginals verhalen van legendarische totemische wezens die in de Droomtijd over het continent hadden ge-zworven, terwijl deze de naam zongen van alles wat ze op hun weg von-den — vogels, dieren, planten, rotsen, waterplaatsen — en zo de wereld tot leven zongen."
(...)
"... De eerste reizigers meldden dat de Aboriginals geen verband legden tussen seks en voortplanting: een bewijs, als dat al nodig was, van hun hopeloos 'primitieve' manier van denken. Dit was natuurlijk onzin. Ie-mand wist best wie zijn vader was. Maar daarnaast was er nog een soort parallelvaderschap dat zijn ziel verbond met een bepaald punt in het landschap. Elke voorouder zou, terwijl hij zich een weg door het land zong, een spoor van levenscellen' of 'geesteskinderen' hebben uitgezaaid langs de baan van zijn voetstappen. `Een soort muzikaal sperma', zei Arkady, waar iedereen om moest la-chen, zelfs Flynn ditmaal. Het idee was dat het lied zich over de grond uitstrekte in een ononder-broken aaneenschakeling van coupletten: een couplet per paar voetaf-drukken van de voorouder, bestaande uit de namen die hij onder het lopen 'uitzaaide'. `Een naam naar rechts en een naam naar links?' `Ja,' zei Flynn. Zo moet je je een zwangere vrouw voorstellen die rondscharrelde op haar dagelijkse fouragetocht. Opeens stapt ze op een couplet, het 'gees-teskind' springt op, via haar teennagel naar haar vagina of in een eelt-kloof in haar voet, zoekt zijn weg naar haar baarmoeder en bevrucht de foetus met gezang. `De eerste schop van de baby,' zei hij, 'valt samen met de "geestesbevruchting".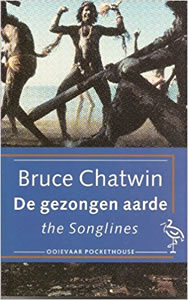 Bruce Chatwin (13 mei 1940 – 18 januari 1989)
Cover
De Britse schrijfster Daphne du Maurier werd geboren in Londen op 13 mei 1907. Zie ook alle tags voor Daphne du Maurier op dit blog.
Uit: Jamaica Inn
"This was a lashing, pitiless rain that stung the windows of the coach, and it soaked into a hard and barren soil. No trees here, save one or two that stretched bare branches to the four winds, bent and twisted from centuries of storm, and so blackened were they by time and tempest that, even if spring did breathe on such a place, no buds would dare to come to leaf for fear that the late frost should kill them. It was a scrubby land, without hedgerow or meadow; a country of stones, black heather, and stunted broom.
There would never be a gentle season here, thought Mary; either grim winter as it was today, or else the dry and parching heat of midsummer, with never a valley to give shade or shelter, but grass that turned yellow-brown before May was passed. The country had gone grey with the weather. Even the people on the road and in the villages changed in harmony with their background. At Helston, where she had taken the first coach, she had trodden familiar ground. So many childish memories clung about Helston. The weekly drive to market with her father in the vanished days, and, when he was taken from them, the fortitude with which her mother held his place, driving backwards and forwards, winter and summer, as he had done, with her hens and her eggs and her butter at the back of the cart, while Mary sat at her side, clutching a basket as big as herself, her small chin resting on the handle. Folk were friendly in Helston; the name of Yellan was known and respected in the town, for the widow had had a hard fight against life when her husband died, and there were not many women who would have lived alone as she did with one child and a farm to tend, with never a thought of taking another man. There was a farmer at Manaccan who would have asked her had he dared, and another up the river at Gweek, but they could tell from her eyes she would have neither of them, but belonged in body and mind to the man who had gone. It was the hard work of the farm that told upon her in the end, for she would not spare herself, and, though she had driven and flogged her energy for the seventeen years of her widowhood, she could not stand up to the strain when the last test came, and her heart went from her."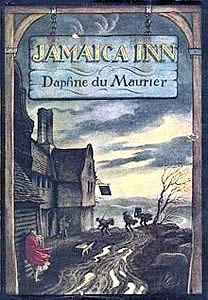 Daphne du Maurier (13 mei 1907 – 19 april 1989)
Cover
De Schotse dichteres Kathleen Jamie werd geboren op 13 mei 1962 in Currie, Edinburgh. Zie ook alle tags voor Kathleen Jamie op dit blog.
Before The Wind
If I'm to happen upon the hill
where cherries grow wild
it better be soon, or the yellow-
eyed birds will come squabbling
claiming the fruit for their own.
Wild means stones barely
clothed in flesh, but that's rich
coming from me. A mouth
contains a cherry, a cherry
a stone, a stone
the flowering branch
I must find before the wind
scatters all trace of its blossom,
and the fruit comes, and yellow-eyed birds.
The Dipper
It was winter, near freezing,
I'd walked through a forest of firs
when I saw issue out of the waterfall
a solitary bird.
It lit on a damp rock,
and, as water swept stupidly on,
wrung from its own throat
supple, undammable song.
It isn't mine to give.
I can't coax this bird to my hand
that knows the depth of the river
yet sings of it on land.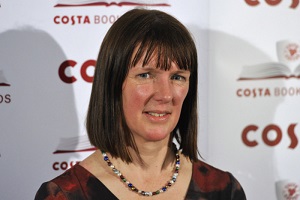 Kathleen Jamie (Currie, 13 mei 1962)
De Amerikaanse schrijver Armistead Jones Maupin Jr. werd geboren op 13 mei 1944 in Washington. Zie ook alle tags voor Armistead Maupin op dit blog.
Uit: Mary Ann in Autumn
"As soon as she caught sight of the lych-gate at Number 28, a flock of wild parrots swooped low over the lane, cackling like crones. Those birds—or ones just like them—had been here when she was here, long before they became global celebrities in a popular documentary. She remembered how proud she had felt when she saw that film in Darien, and how utterly irrational that feeling had been, as if she were claiming intimacy with someone she had known slightly in high school who had grown up to be famous.
Those birds did not belong to her anymore.
The lych-gate was the same, only new. The redwood shingles on its roof had been crumbly with dry rot when she moved to the East Coast in the late eighties. Now they were made of slate—or a good imitation thereof. The gate itself, once creaky but welcoming, had been fitted with a lock and a buzzer and something under the eaves that looked like a security camera. So much for a quick snoop around the garden.
She peered through a hole in the lattice at what she could see of the house. The shingle siding had been replaced, and fairly recently. The trim around the windows was painted a hard, glossy black. There were now French doors opening onto the courtyard in roughly the spot where Mrs. Madrigal's front door had been. (Had anyone even thought to save that door with its wonderful stained-glass panels?) Most of the outside stairways, she noticed with a shiver, had been removed or modified to serve the transformation of an apartment house into—what was the official term?—a Single-Family Dwelling.
We had been a family, she thought. Even in our separate dwellings.
From this angle, of course, she couldn't see the little house on the roof, the funky matchbox studio Mrs. Madrigal's tenants had referred to as "the pentshack." Her guess was it no longer existed, given the extensive nature of this remodeling. It had probably been replaced by a deck—or another floor entirely—and she wasn't sure how to feel about that. Her memories of the place held both dread and delight."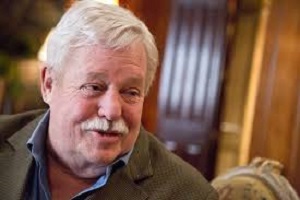 Armistead Maupin ( Washington, 13 mei 1944)
De Franse dichter en schrijver Alphonse Daudet werd geboren in Nîmes op 13 mei 1840. Zie ook alle tags voor Alphonse Daudet op dit blog.
Trois jours de vendanges
Je l'ai rencontrée un jour de vendange,
La jupe troussée et le pied mignon ;
Point de guimpe jaune et point de chignon :
L'air d'une bacchante et les yeux d'un ange.
Suspendue au bras d'un doux compagnon,
Je l'ai rencontrée aux champs d'Avignon,
Un jour de vendange.
* * *
Je l'ai rencontrée un jour de vendange.
La plaine était morne et le ciel brûlant ;
Elle marchait seule et d'un pas tremblant,
Son regard brillait d'une flamme étrange.
Je frisonne encore en me rappelant
Comme je te vis, cher fantôme blanc,
Un jour de vendange.
* * *
Je l'ai rencontrée un jour de vendange,
Et j'en rêve encore presque tous les jours.
Le cercueil était couvert en velours,
Le drap noir avait une double frange.
Les sœurs d'Avignon pleuraient tout autour…
La vigne avait trop de raisins ; l'amour
A fait la vendange.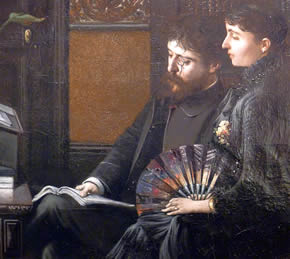 Alphonse Daudet (13 mei 1840 - 17 december 1897)
Alphonse Daudet dans son cabinet de travail avec son épouse (détail) door Louis Montegut, ca. 1880
De Japanse schrijver Koji Suzuki werd geboren op 13 mei 1957 in Hamamatsu.Zie ook alle tags voor Kōji Suzuki op dit blog.
Uit:Ring (Vertaald door Robert B. Rohmer en Glynne Walley)
"She looked at the clock. Almost eleven. She thought of watching the day's baseball wrap-up on TV. Maybe she'd catch a glimpse of her parents in the infield seats. But Tomoko, who wanted in the worst way to get into college, was worried about the test. All she had to do was get into college. It didn't matter where, as long as it was a college. Even then, what an unfulfilling summer vacation it had been! The foul weather had kept her from having any real fun, while the oppressive humidity had kept her from getting any work done.
Man, it was my last summer in high school. I wanted to go out with a bang and now it's all over. The end.
Her mind strayed to a meatier target than the weather to vent her bad mood on.
And what's with Mom and Dad anyway? Leaving their daughter all alone studying like this, covered in sweat, while they go gallivanting out to a ball game. Why don't they think about my feelings for a change?
Someone at work had unexpectedly given her father a pair of tickets to the Giants game, and so her parents had gone to Tokyo Dome. By now it was almost time for them to be getting home, unless they'd gone out somewhere after the game. For the moment Tomoko was home alone in their brand-new house.
It was strangely humid, considering that it hadn't rained in several days. In addition to the perspiration that oozed from her body, a dampness seemed to hang in the air. Tomoko unconsciously slapped at her thigh. But when she moved her hand away she could find no trace of the mosquito. An itch began to develop just above her knee, but maybe it was just her imagination. She heard a buzzing sound. Tomoko waved her hands over her head. A fly. It flew suddenly upwards to escape the draft from the fan and disappeared from view. How had a fly gotten into the room? The door was closed. Tomoko checked the window screens, but nowhere could she find a hole big enough to admit a fly. She suddenly realized she was thirsty. She also needed to pee."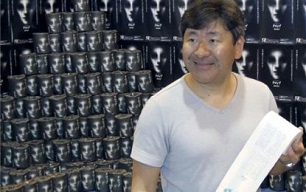 Kōji Suzuki (Hamamatsu, 13 mei 1957)
Zie voor nog meer schrijvers van de 13 mei ook mijn vorige blog van vandaag.
13-05-2017 om 10:47 geschreven door Romenu

Tags:Jan Lauwereyns, Reinout Verbeke, Bruce Chatwin, Daphne du Maurier, Kathleen Jamie, Armistead Maupin, Alphonse Daudet, Kō,ji Suzuki, Romenu



Gregor von Rezzori, Theo van Baaren, Reinhold Schneider, Jacob Haafner, Adolf Muschg, Roch Carrier, Franz Michael Felder
De Oostenrijkse schrijver en acteur Gregor von Rezzori werd geboren op 13 mei 1914 in Czernowitz. Zie ook alle tags voor Gregor von Rezzori op dit blog.
Uit: Mir auf der Spur
"Es war einmal ein Tag, da wollte ich einen Blick in die Zukunft tun. Einen winzigen nur, allerdings. Nach einigen vorangegangenen Einblicken in das, was doch demnächst Vergangenheit sein sollte, bin ich nicht mehr neugierig auf morgen. Das Kommende kommt, habe ich gelernt. Das Geschehende geschieht. Es geschieht mit mir über mich hinweg. Es läßt mir kaum Entscheidung über den nächsten Augenblick. Ich weiß: Dieser nächste Augenblick – jedernächste Augenblick - birst vor Fatalität. Was immer ich nach Gutdünken wähle, wird Folgen haben, deren Wendungen ich nicht voraussehe. Sie werden mitbestimmt von der Zeit. Sie verlaufen darin, wie alles sich in der Zeit verläuft. Daß es gewesen ist, davon zeugt allein, was sich davon erzählen läßt. Die Welt ist ein ungeheuerlicher Speicher von erzähltem Wiedererzählbarem. Alles Gewesene ist gewesen wie die Saurier. Es war einmal.
An jenem fernen Tag war ich bedrängt von einem Wunsch und mußte wissen, ob er in Erfüllung gehen würde. Es war der Wunsch, einen Schritt aus Deutschland hinauszutun. Nach Deutschland war ich geraten wie in eine Falle. Das Zeitgeschehen hatte mich hingeschwemmt. Gestrandet war ich in Hamburg an der Elbe. Dort gehörte ich nicht hin. Ich war's nicht, der dort unter meinem Namen, mit meiner Nase, meinem blauen Blick, meinen besonderen unvermerkten Merkmalen und in meinen Kleidern herumlief; und war doch erst recht auf mich festgelegt. Mir war nicht wohl in meiner Haut. Ich verspürte das Bedürfnis, aus mir heraus zu mir zurückzufinden. Es lag aber nicht in meiner Macht, anderswohin zu gehen und wieder in meine alte Haut zu schlüpfen. Sie war mir abhanden gekommen. Später habe ich versucht, mir einige ihr ähnliche umzulegen. Es waren Verkleidungen. Das Kostüm paßte nicht zur Epoche. Damals erst recht nicht."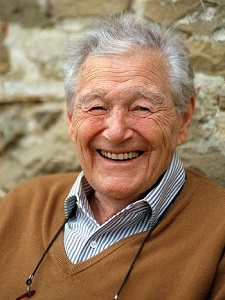 Gregor von Rezzori (13 mei 1914 – 23 april 1998)
De Nederlandse dichter, vertaler en godsdiensthistoricus Theo van Baaren werd op 13 mei 1912 geboren in Utrecht. Zie ook alle tags voor Theo van Baaren op dit blog.
God, werp mij niet...
God, werp mij niet als een verrotte vrucht
bij mest en slijk in Uw verbolgenheid,
aanhoor nog eenmaal, wat ik biddend zucht:
Ik wil, maar kan niet! ach, Uw heiligheid
is veel te groot voor mij, Uw kleinste zoon,
en wat ik doe, spreekt, wat ik wilde, hoon.
Ik kan niet zelf. Wijkt Gij geheel van mij,
spoel 'k dra aan land met winden en getij.
In duizend dingen..
In duizend dingen zag ik U verschijnen,
om duizend hoeken Uwe schim verdwijnen,
in duizend nachten hoorde ik Uw stem,
maar nu ik eenzaam door de branding zwem
van 't hete leven tussen scherpe klippen
voel ik mij alle zekerheid ontglippen
en weet mij ver van Uw Jerusalem.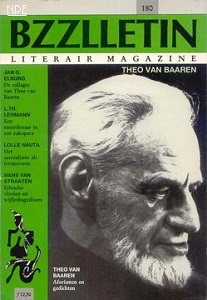 Theo van Baaren (13 mei 1912 - 4 mei 1989)
Cover
De Duitse dichter Reinhold Schneider werd op 13 mei 1903 geboren in Baden-Baden. Zie ook alle tags voor Reinhold Schneider op dit blog.
Nun baut der Wahn die tönernen Paläste
Nun baut der Wahn die tönernen Paläste
Und läßt sein Zeichen in die Straßen rammen;
Er treibt das blindverirrte Volk zusammen
Von Lärm zum Lärm und vom Fest zum Feste.
Schon reißt der höllische Schwarm verruchter Gäste
Die letzten mit, die bessrer Art entstammen,
Und tanzend in des Hasses grellen Flammen,
Entweihn sie noch der Toten arme Reste.
Jetzt ist die Zeit das Kreuz des Herrn zu lieben
Und auszufüllen jeden unsrer Tage
Mit Opfer und Verzicht und heißen Bitten.
Es wird das Wahnreich über Nacht zerstieben
Und furchtbar treffen uns des Richters Frage,
Ob Stund um Stunde wir Sein Reich erstritten.
Den Technikern
Ihr fasst die Dinge nüchtern in die Augen,
So wie sie sind, nicht größer, nicht geringer.
Ihr seid des Lebens rechnende Bezwinger
Und habt das Recht, es völlig auszulaugen!
Wie alle Dinge euren Zwecken taugen
Und jedem Druck sich fügen eure Finger!
Wie sie im Dienst der Heil- und Segenbringer
Sich finden, formen, hämmern, wählen, saugen!
Phantasien, die ihr seid! In euch entsprang
Die karge Welt, die ihr bestätigt findet!
Fort rollt von Untergang zu Untergang
Das Rad, und keiner greift ihm in die Felgen!
Ihr träumt die Nüchternheit! Ihr träumt und schwindet. –
Ich lieb's, im Reich der Wirklichkeit zu schwelgen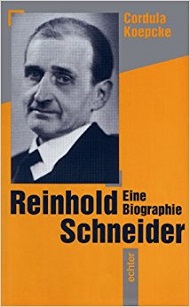 Reinhold Schneider (13 mei 1903 – 6 april 1958)
Cover
De Duits-Nederlandse schrijver Jacob Gottfried Haafner werd geboren op 13 mei (volgens anderen op 13 maart) 1754 in Halle an der Saale. Zie ook alle tags voor Jacob Haafner op dit blog.
Uit: Lotgevallen op eene reize van Madras over Tranquebaar naar het eiland Ceilon
"Eindelijk na verbazend sukkelen kwamen wij op de Nagapatnamsche reede. Het volgende geval was oorzaak, dat ik 'er aan den wal werd bescheiden.
Onze kapitein, (Koelbier was de naam van dezen tijger,) had, geduurende onze reize, het scheepsvolk, en zelfs verscheidene onder- en opper- Officieren, op eene schandelijke en allerbeestachtigste manier behandeld. Dit was zijne gewoonte, zoo had hij altijd geleefd op alle de schepen die hij kommandeerde.
Onder andere mishandelingen, liet hij, om eene geringe oorzaak, twee Lascars, zoo vreezelijk met touwen, anders gezegd endjes, slaan, dat zij het beide, nog dien zelfden dag, bestierven.
Ik had heimelijk eene verklaaring opgemaakt, waarin dit afschuwelijk feit op eene krachtige en aandoenelijke wijze was voorgesteld; zij was door mij, den Dominé of Ziekentrooster, den tweeden Derdewaak, (die hij beide in den kuil had geschopt), den Schieman, den Konstapel, en eenige andere onder- Offiçieren, en sommige van het scheepsvolk, onderderteekend, en met deze voorzien, ging de Serang(*) der Lascars aan land, om den kapitein van den moord aan zijn volk gepleegd, te beschuldigen, en aanteklaagen.
Eenige dagen daarna kwam een Peon(†), van den Fiskaal aan boord; ik moest met de andere nog onverhoorde getuigen terstond aan den wal en op het Stadhuis komen, waar de Raad van Justitie reeds vergaderd was.
Wij wierden ondervraagd, onze getuigenissen opgeschreeven of aangeteekend; toen dit alles gedaan was, wilde men weeten wie de opstelder der verklaaring was.
Mijne medegetuigen weezen op mij. Het was jammer, zeide toen de Sekretaris, dat ik op een schip bleef; ik had eene goede hand, eenen redelijken stijl, 'er was van mij wel iets te maaken; zoo ik genegenheid had om aan den wal te blijven, wilde hij mij op zijn kantoor plaatsen."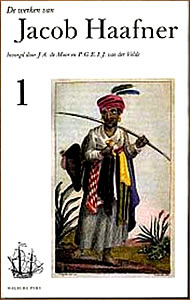 Jacob Haafner (13 mei 1754 – 4 september 1809)
Cover
De Zwitserse schrijver en literatuurwetenschapper Adolf Muschg werd geboren op 13 mei 1934 in Zollikon, kanton Zürich. Zie ook alle tags voor Adolf Muschg op dit blog.
Uit:Im Erlebensfall
"Rainer Maria Rilke sucht in Grimms Wörterbuch nach einem bündigen Ausdruck für «das Innere der Hand». Er wird nicht fündig – «Handfläche» oder «Handteller» (er war ein Dichter und haßte das Ungefähre) treffen es nicht. Ich habe es ihm über dreißig Spalten des großen Wörterbuchs nachgetan, mit gleichem Mißerfolg. Das Deutsche hat kein Äquivalent zu «palma», es vermag die Hand nicht als strahlenförmiges Gebilde, als Palmblatt zu sehen. Wir haben Schulterblätter – Handblätter kennen wir nicht.
Aber wie man Rilke kennt, ging es ihm hier nicht um eine passende Metapher, sondern – in Umkehrung der üblichen Semantik – um das im Wort verborgene Ding. Was er «Dinggedichte» nennt, sind durchweg kunstvolle Offenbarungen jenes besonderen Anteils, den Dinge an dem haben, was er später «Weltinnenraum» nennen wird und wozu e in der Neunten Duineser Elegie eine hermetische Kosmologie entwirft – mit einem Erlösungsauftrag an den Dichter.
Sind wir vielleicht hier, um zu sagen: Haus, / Brücke, Brunnen, Tor, Krug, Obstbaum, Fenster, – / Höchstens: Säule, Turm ... aber zu sagen, verstehs, / oh zu sagen, wie selber die Dinge niemals / innig meinten zu sein.
Wie aber wären die Dinge «innig» zu bezeichnen? Die Antwort darauf, am Schluß der Elegie, ist eine rhetorische Frage, hymnisch getönt: Erde, ist es nicht dies, was du willst: unsichtbar / in uns erstehn? – Ist es dein Traum nicht, / einmal unsichtbar zu sein? – Erde! Unsichtbar!
Hier singt ein Orpheus der Verführung, der das offenbare Geheimnis der Welt in ihrem Beruf zur Verwandlung erblickt. In der Alchemie der Dichtung erscheint sie in ihrer innigsten Metamorphose, derjenigen des Gesangs, gewissermaßen aufgelöst zu sich selbst. Novalis: Dann fliegt vor einem geheimen Wort / Das ganze verkehrte Wesen fort.
Das verkehrte Wesen, die verkehrte Welt ist, ohne den frommen Hintergrund des Barock, die Materie der Existenz, welche die Kunst, sie allein, «ins Offene» wenden kann, in jene Richtung also, in welche die Kreatur «mit allen Augen» blickt."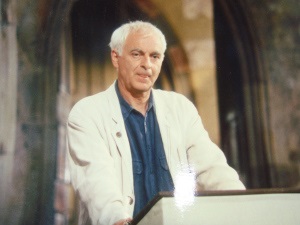 Adolf Muschg (Zollikon, 13 mei 1934)
De Canadese schrijver Roch Carrier werd geboren op 13 mei 1937 in Sainte-Justine, Quebec. Zie ook alle tags voor Roch Carrier op dit blog.
Uit: The Hockey Sweater
"My mother did not like the order forms included in the catalogue. They were written in English and she did not understand a single word of it. To order my hockey sweater, she did what she always did. She took out her writing pad and wrote in her fine schoolteacher's hand, "Dear Monsieur Eaton, Would you be so kind as to send me a Canadiens' hockey sweater for my son Roch who is ten years old and a little bit Please send me the change if there is any. I hope your packing will be better than it was last time."
Monsieur Eaton answered my mother's letter promptly. Two weeks later, we received the sweater.
That day I had one of the greatest disappointments of my life! Instead of the red, white, and blue Montréal Canadiens sweater, Monsieur Eaton had sent the blue-and-white sweater of the Toronto Maple Leafs. I had always worn the red, white, and blue sweater of the Montréal Canadiens. All my friends wore the red, white, and blue sweater. Never had anyone in my village worn the Toronto sweater. Besides, the Toronto team was always being beaten by the Canadiens.
With tears in my eyes, I found the strength to say: "I'll never wear that uniform."
"My boy," said my mother. "first you're going to try it on! If you make up your mind about something before you try it, you won't go very far in this life."
My mother had pulled the blue and white Toronto Maple Leafs sweater over my head and put my arms into the sleeves. She pulled the sweater down and carefully smoothed the maple leaf right in the middle of my chest.
I was crying: "I can't wear that."
"Why not? This sweater is a perfect fit."
"Maurice Richard would never wear it."
"You're not Maurice Richard! Besides, it's not what you put on your back that matters. It's what you put inside your head."
tall for his age? Docteur Robitaille thinks he is a little too thin. I'm sending you three dollars.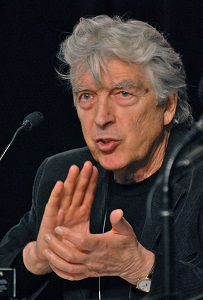 Roch Carrier (Sainte-Justine, 13 mei 1937)
De Oostenrijkse schrijver Franz Michael Felder werd geboren op 13 mei 1839 in Schoppernau. Zie ook alle tags voor Franz Michael Felder op dit blog.
Uit: Reich und arm
"Weiter draußen, dort, wo die äußersten Tannenwipfel des Waldes ins rötlichblaue Licht hineinragten, trugen goldige Engelchen mit Feuerflügeln der scheidenden Sonne den Strahlenmantel[27] nach und winkten dabei mit weiß und rötlich schimmernden Händen ihre letzten Grüße zurück ins Tal. »Viel schöner doch und so, daß man dabei auch etwas empfindet, ist die Art, wie die Natur ihr Auferstehungsfest feiert«, begannen jetzt auf einmal mehrere. Gleich fielen auch andere ein: »Das Osterlied der Vögel im weihrauchduftenden Walde draußen – hört, hört! Und droben in den Bergen das Wiedergeben der angeschwollenen, tosenden Ach – oh, das geht einem durch Leib und Seele, ganz, ganz anders noch als das lateinische Osterlied, welches der Kaplan bis von Innsbruck heraus hat kommen lassen.«
Ganze Minuten lang schlug man jetzt überall Feuer, doch der Zunder wollte gar nicht recht »empfangen«. Die krummrohrigen Tiroler Pfeifen blieben kalt, wie gewöhnlich vor der glücklichen Zeit der Zündhölzchen, wenn es einmal etwas zu sehen und auszukopfen gab.
Noch hatten viele nicht eingeheizt, als das Mathisle, ein ärmlich gekleidetes Bäuerlein, welches den Wolkengestalten nicht nachblicken mochte, bis es sich die scharfen grauen Augen verdarb, auf einmal ausrief: »Sehet dort! Jetzt kommt der Bot' und geht ins Kronenwirtshaus. Was er wohl alles drin hat in der großen Tasche, daß er gar so eilt?«
»Nun, der bringt ja jeden Samstag Zeitungen für die Wirtin oder die, welche vornehm und reich genug sind, ins Herrenstüble.«
»Es wäre doch nun ganz in der Ordnung«, begann das Mathisle nach einer Weile wieder, »wenn endlich Hansjörg, der Soldat, ein Briefchen schickte. Ist's doch schon mehr als ein halbes Jahr seit dem letzten, und es wäre die einzige Freude, die er mir machen könnte. Nun, eine Frag' ist wohl jedem erlaubt«, fügte er, das Kopfschütteln der Umstehenden bemerkend, bei und eilte dem Wirtshause zu."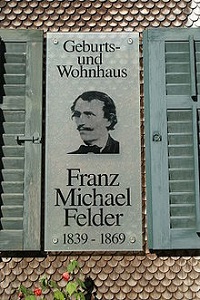 Franz Michael Felder (13 mei 1839 – 26 april 1869)
Gedenkplaat aan zijn geboortehuis
13-05-2017 om 10:36 geschreven door Romenu

Tags:Gregor von Rezzori, Theo van Baaren, Reinhold Schneider, Jacob Haafner, Adolf Muschg, Roch Carrier, Franz Michael Felder, Romenu


12-05-2017

Hagar Peeters, Bertus Aafjes, August Vermeylen, Andrej Voznesensky, Sabine Imhof, Dante Gabriel Rossetti, Nicolaas Anslijn, Eva Demski, Farley Mowat
De Nederlandse dichteres en schrijfster Hagar Peeters werd geboren in Amsterdam op 12 mei 1972. Zie ook alle tags voor Hagar Peeters op dit blog.
Uit: Malva
"Halverwege zijn langdurige reis naar het dodenrijk besloot ik mijn stroefstramme vader te begeleiden. Ik pakte de hand waarmee hij al zowat zijn hele leven had geschreven, en zo zweefden wij een eindje samen op boven de daken van een smeulend Santiago. Het presidentiële paleis, het park, het stadion, de krottenwijken met de arbeiders en de rivier de Mapocho waren alle ver beneden ons. Mijn vader zag niet alleen hoe zijn vrienden werden doodgemarteld maar ook hoe in de diepte beneden hem de begrafenisstoet voortging die hem naar zijn stenen rustplaats begeleidde en die nu als een levende menselijke aftakking van de Mapocho door de straten vloeide terwijl in de rivier zelf talloze lijken dreven.
Van heel ver hoorden we vanuit die richting strijdkreten, de Internationale, de yell van de communistische jeugd en half verwaaid maar nog net te onderscheiden: '¡Camarada Pablo Neruda! ¡Presente! ¡Ahora y siempre!'
En overal zagen we schimmen uit de gebouwen en het stadion en vanaf de velden en de haven opstijgen, die zoals wij het lege luchtruim kozen.
Ik geloof trouwens niet dat mijn vader mij aan zijn zijde heeft opgemerkt, hoewel ik al die tijd zijn hand vasthield.
Hij bleef strak omlaag kijken als probeerde hij zich de menselijke tragedie in te prenten die daar in al haar bedrijven werd opgevoerd. Nu en altijd. De wind, gesteldheid van zijn koortsdroom, leek hem meer in zijn greep te hebben dan mij; hij bewoog zich sneller omhoog. Toen heb ik hem maar losgelaten, hem nog een tijdje nastarend tot hij uit mijn blikveld was verdwenen.
Nergens zag ik Federico, noch Salvador, Miguel of Víctor.
Niemand van de uitbundige, almaar aanzwellende, nooit uitdunnende, allengs hele werelddelen omvattende, ja, ten slotte zelfs de hele aarde omspannende coterie die hem altijd en overal had omgeven, zelfs niet één van zijn meest toegedane lezers was postuum komen opdagen om mijn vaders overgang tot het hiernamaals bij te wonen. Ik vroeg mij aldoor af waarom juist ik van alle doden die hem hadden gekend, hem uitgeleide mocht doen."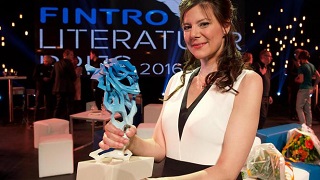 Hagar Peeters (Amsterdam, 12 mei 1972)
De Nederlandse schrijver en dichter Bertus Aafjes (pseudoniem Jan Oranje) werd geboren in Amsterdam op 12 mei 1914. Zie ook alle tags voor Bertus Aafjes op dit blog.
Franciscus
Eerst krabben, want de vlooien in habijt,
Een lendekoord om 't middel, zijn ontelbaar;
Zij springen niet, zij spranklen in de vacht,
De warme moedervacht der Moederkerk.
Eerst schuren aan het rotsblok der vertwijfling
En met de poot achter het oor, het kniesoor,
De jeuk, de boze droom, de doem verdrijven.

O poverello, pover is de waarheid
En moedernaakt verscheurd onder de doornen,
Een lelie niet, maar luizig als een hond.
De waarheid is een dorre wintertak
Die langs een dorre wintertak gestreken,
O dulce mio, eerst miauwt en - lach dan,
Lach dan pagliaccio want het volk betaalt.
Twee kale wintertakken! Laat ons lachen!
Twee naakte leugens arm in arm de waarheid?
Het naakte Niet gered tot een geloof?

Silentio! Hij speelt, de barrevoeter,
De bedelaar, de bard, de luizenbroeder:
Twee dode houten die hij flitsend kruist;
Het kruis het wordt een eeuwige beweging
De duif in de laurierboom zwijgt betoverd;
De mus verslikt zich in een scherf geluid.
Het rotsblok ook begint verrukt te wenen:
Hij die de stroom belet bezield te stromen,
Slikt tranen weg achter zijn stenen masker;
Doofste onder de doven, hij verstaat.
De waarheid hoort hij, in een helder Hooglied,
De waarheid hoort hij is een groot geloof.

En op de barre rotsgrond staat Franciscus,
Het muizenhoofd gebogen over stokjes,
Het spitse oor gericht naar de muziekjes,
Die stijgen uit de afgrond van het hout;
Hij rilt niet op de top van zijn vervoering.
De zephir sloeg een mantel rond zijn schaamte,
- Want hij is naakt, naakt als de waarheid zelve -
Rond zijn verkleurde tepels, witte rozen,
Rond het gewei der beide schouderbladen,
Rond stengelbleke armen, bleke benen:
Uitlopers aan een ingeteerd karkas.

En nu: muziek! Om de muziek te smoren!
Kerkorgels, koren. Méér kerkorgels, koren.
De marmren grafzerk van een basiliek.
Lach dan pagliaccio voor 't betaald publiek.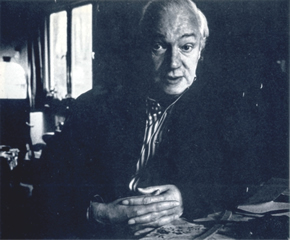 Bertus Aafjes (12 mei 1914 - 22 april 1993)
De Vlaamse schrijver, dichter, kunsthistoricus en politicus August Vermeylen werd geboren in Brussel, op 12 mei 1872. Zie ook alle tags voor August Vermeylen op dit blog.
De Zucht naar Onwetendheid
III
Wij wilden weten! - het geheim der dingen
in 't net der cijfers en der wetten dwingen,
en 't kernewezen vatten, - als een God!

De laatste Goden sleurden we uit de luchten,
- en spuwden naar hun raadsel onzen spot,
omdat we lang vóór hunne grootheid duchtten.

Wij wilden doden in den dood dier Goôn
het bang Oneindige dat wij ontvloôn...
Maar achter alles, achter 't ijl gewemel

van ons gebaren, in der hersens scheem,
en door de ruimte van dien lêgen hemel,
bleef schriklijk leven 't eeuwig Oer-Probleem.
IV
'De Mens alleen is God. - O Adam, kantel
die outers om, en scheur u enen mantel
in 't purperkleed van dien verwurgden God!

Beklim zijn troon, en ruk van zijne slapen
de kroon af, - nu, ge, trots het hoog verbod,
wat schrale en wrange kennis kondet rapen!'

Hij heeft nu kroon en troon en mantel. Maar
dien koningssleep, belachlijk lang en zwaar,
tracht hij met moede schouders voort te sjouwen.

De nare duisternis rond zijnen troon
wordt nog verdiept door 't laaien der flambouwen,
en op zijn voorhoofd bloedt de Doornenkroon.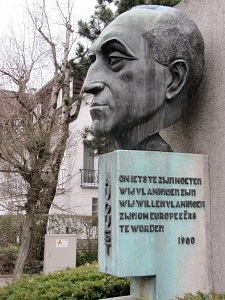 August Vermeylen (12 mei 1872 – 10 januari 1945)
Borstbeeld in Sint-Pieters-Woluwe
De Russische dichter Andrej Andreyevich Voznesensky werd geboren in Moskou op 12 mei 1933. Zie ook alle tags voor Andrej Voznesensky op dit blog.
Hunting A Hare (Fragment)
to Yuri Kazakov
Then, suddenly, it got up,
Stood upright: suddenly,
Over the forest, over the dark river,
The air was shivered
By a human cry,
Pure, ultrasonic, wild
Like the cry of a child.
I knew that hares moan, but not like this:
This was the note of life, the wail
Of a woman in travail,
The cry of leafless copses
And bushes hitherto dumb,
The unearthly cry of a life
Which death was about to succumb,
Nature is all wonder, all silence:
Forest and lake and field and hill
Are permitted to listen and feel,
But denied utterance.
Alpha and Omega, the first and the last
Word of Life as it ebbs away fast,
As, escaping the snare, it flies
Up to the skies.
For a second only, but while
It lasted we were turned to stone
Like actors in a movie-still.
The boot of the running cab-driver hung in mid-air,
And four black pellets halted, it seemed,
Just short of their target:
Above the horizontal muscles,
The blood-clotted fur of the neck,
A face flashed out.
With slanting eyes set wide apart, a face
As in frescoes of Dionysus,
Staring at us in astonishment and anger,
It hovered there, made one with its cry,
Suspended in space,
The contorted transfigured face
Of an angel or a singer.
Like a long-legged archangel a golden mist
Swam through the forest.
"Shit!" spat the cabdriver, "The little faking freak!"
A tear rolled down on the boy's cheek.
Late at night we returned,
The wind scouring our faces: they burned
Like traffic lights as, without remark,
We hurtled through the dark.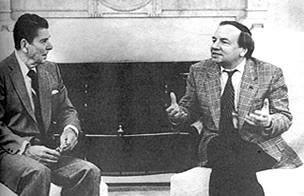 Andrej Voznesensky (12 mei 1933 – 1 juni 2010)
Hier met Ronald Reagan (links)
De Zwitserse dichteres Sabine Imhof werd geboren in Brig in 1976. Zie ook alle tags voor Sabine Imhof op dit blog.
straße ohne namen
der kleine lebte für das geräusch
abfahrender züge
im tunnel eines frisch gewaschenen
lieblingspullovers
hielt er sich beweise an die wange
trug fahrpläne vor sich her
von der verbotenen tür bis zu den stimmen
der gezählten erbsen
mutter pflückt sie aus dem grünen schoß
und für jeden erträumten fehlgriff
schob man die haut unter die fingernägel
seltsames kind, und ließ es
an den wänden tanzen, nachts.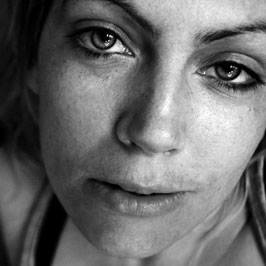 Sabine Imhof (Brig, 12 mei 1976)
De Engelse schilder en dichter Dante Gabriel Rossetti werd op 12 mei 1828 inLonden geboren. Zie ook alle tags voor Dante Gabriel Rossetti op dit blog.
Autumn Song
Know'st thou not at the fall of the leaf
How the heart feels a languid grief
Laid on it for a covering,
And how sleep seems a goodly thing
In Autumn at the fall of the leaf?
And how the swift beat of the brain
Falters because it is in vain,
In Autumn at the fall of the leaf
Knowest thou not? and how the chief
Of joys seems—not to suffer pain?
Know'st thou not at the fall of the leaf
How the soul feels like a dried sheaf
Bound up at length for harvesting,
And how death seems a comely thing
In Autumn at the fall of the leaf?
Aspecta Medusa (for a Drawing)
Andromeda, by Perseus sav'd and wed,
Hanker'd each day to see the Gorgon's head:
Till o'er a fount he held it, bade her lean,
And mirror'd in the wave was safely seen
That death she liv'd by.
Let not thine eyes know
Any forbidden thing itself, although
It once should save as well as kill: but be
Its shadow upon life enough for thee.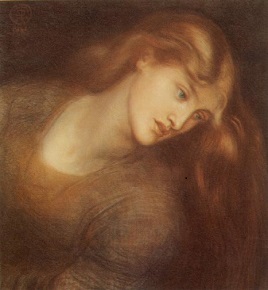 Dante Gabriel Rossetti (12 mei 1828 - 9 april 1882)
Aspecta Medusa door Dante Gabriel Rossetti, 1867
De Nederlandse schrijver Nicolaas Anslijn werd op 12 mei 1777 geboren in Leiden. Zie ook alle tags voor Nicolaas Anslijn op dit blog.
Uit: De brave Hendrik
"Des avonds zit Hendrik met zijne broertjes en met zijn zusje bij zijne ouders. De vader vertelt hun dan veel goeds, en leert hun, hoe zij handelen moeten om brave menschen te worden.
De kinderen zitten dan met open mond te luisteren, want zij willen gaarne braaf worden.
De vader spreekt dan dikwijls van God. Hij zegt zijnen kinderen, hoe goed God is, en hoe veel wij Hem te danken hebben.
Eer Hendrik naar bed gaat, dankt hij altijd God voor zijne goedheid, en bidt, dat Hij hem ook des nachts wil bewaren.
Somtijds zingt de vader met zijne kinderen een avondlied. Dan denken zij allen aan God, en verheugen zich, omdat Hij zoo goed is.
O! zingend aan God te denken, maakt ons regt verheugd.
Avond-lied

De dag verdwijnt,
De nacht verschijnt,
'k Zie 't uur van rust genaken.
Ik leg mij neer:
Wil, Hemelheer!
Mij in deez' nacht bewaken.

Laat na deez' nacht,
Met nieuwe kracht,
Mij vrolijk weer ontwaken.
'k Vertrouw mijn lot
Aan U, o God!
Die alles wel zal maken."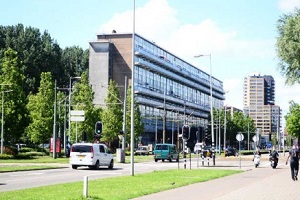 Nicolaas Anslijn (12 mei 1777 — 18 september 1838)
Nicolaas Anslijnstraat, Amsterdam
De Duitse schrijfster Eva Demski werd geboren op 12 mei 1944 in Regensburg. Zie ook alle tags voor Eva Demski op dit blog.
Uit: Gartengeschichten
"Nicht einmal die Trauer über alles Verlorene konnte ihr Erstaunen über das, was in jedem Frühjahr aus unscheinbaren Samenkörnchen wurde, mindern. Sie hatte sich in ihrem letzten Winter schon Jiffy-Pots und vielversprechende Tütchen für den März zurechtgelegt.
Der Garten meiner Eltern war ein Sechzigerjahregarten auf zwei Ebenen, mit Pool in der oberen, am Haus. Das Grundstück war, als sie es kauften, eine bezaubernde Wildnis aus Flieder- und Brombeerbüschen, alten Obstbäumen und jeder Menge Kanadischer Goldruten gewesen, der Lieblingsplatz aller Kinder der Umgebung. Die haßten jetzt meine Eltern, die Käufer.
Reihenweise verschwanden damals die Kinderwildnisse – Brachen, Trümmergrundstücke, anarchische Traum- und Sündenorte, wunderbares, erwachsenenfreies Land, wo man rauchen und sich in der Liebe versuchen konnte. Die Erwachsenen holten es sich zurück und machten Besitz daraus. Ich fühlte mit den Vertriebenen, denn mir war es wenige Jahre zuvor genauso gegangen. Auf meinem Kinderkontinent am Frankfurter Alleenring wurden die Erweiterungsbauten des Hessischen Rundfunks errichtet. Kurz danach war ich dann erwachsen. So ging es den erbitterten Kindern aus unserer neuen Nachbarschaft auch, und später kamen sie zu uns zum Schwimmen.
Während der obere Teil des Gartens nach und nach völlig in elterliche Gewalt – gelegentlich auch in ihre widerstreitende Macht – geriet, hielt sich im unteren Teil immer ein wenig von der vergangenen glücklichen Wildnis. Die alten Obstbäume hatten alle stehenbleiben dürfen und standen auch noch, als die drei Trauerweiden, auf die mein Vater beim Einzug bestanden hatte, ihr ungestümes Gastspiel längst hatten beenden müssen. Der Wunsch, im Wasser badende Weidenzweige betrachten zu können, war mit drei derart besitzergreifenden Monstern im Garten offenbar zu teuer bezahlt.
Weiden gehören an Bäche und Tannen in den Wald, wer es anders haben will, wird das bereuen. In kurzer Zeit hatten die Trauerweiden vom oberen Gartenteil Besitz ergriffen, unter ihnen war Wüste, neben ihnen kein Leben, und so wurden sie abgeholzt. Ein breiter Baumstumpf blieb übrig.
Meine Mutter stellte einen Korb Geranien drauf. Manchmal streckte der Stumpf ein paar Zweige aus, nur mal so, um zu probieren, ob man es vielleicht wieder mit dem Wachsen wagen könnte? Aber die Gartenbesitzer waren gewarnt und paßten auf."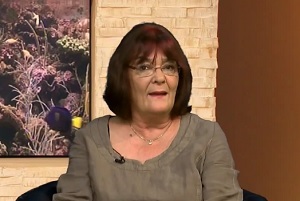 Eva Demski (Regensburg, 12 mei 1944)
De Canadese schrijver Farley Mowat werd geboren in Belleville, Ontario, op 12 mei 1921. Zie ook alle tags voor Farley Mowat op dit blog.
Uit: Lost in the Barrens
"Jamie was nine when his parents died, and Angus Macnair had become his guardian, for he was the boy's only close relative. It was Angus who had picked the boarding school in Toronto, and it was a good one too, for Angus wanted only the best for his nephew. For seven years Angus had run his trap line with furious energy in order to meet the cost of the school. But in the past two years the fur market had dropped almost out of sight, and the money was nearly at an end.
Angus had explained it in his letter.
"And so you see, Jamie," he wrote. "I can no longer keep you at the school. You could maybe stay on in Toronto and get a job, but you're too young for that, and anyhow I hoped you'd rather come with me. It's long past time we got to know each other. So I took the chance you'd want it this way. Your ticket is in the envelope along with enough money for the trip. And I'll be waiting, lad, and hoping that you'll come."
Angus need have had no doubts. For years past Jamie had loved to read about the north and for years Angus Macnair had been his idol.
In the last week of June, Jamie found himself bundled aboard the Trans-Canada train with the farewells of his school friends still ringing in his ears. For two days the train rolled westward, then it turned abruptly north through the province of Manitoba. The dark jack-pine forests began to swallow up the prairie farmlands and the train rolled on, more slowly now, over the rough roadbed leading to the frontier country.
Five hundred miles and two days north from Winnipeg, the train drew up by a rough wooden platform. Jamie climbed uncertainly down to stand staring at the rough shanties and the nearby forests that threatened to sweep in and engulf the little settlement of The Pas."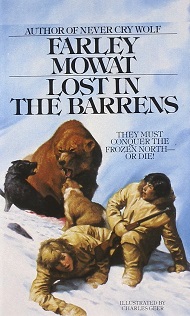 Farley Mowat (Belleville, 12 mei 1921)
Cover
Zie voor nog meer schrijvers van de 12e mei ook mijn blog van 12 mei 2013 deel 1 en eveneens deel 2 en ook deel 3.
12-05-2017 om 18:43 geschreven door Romenu

Tags:Hagar Peeters, Bertus Aafjes, August Vermeylen, Andrej Voznesensky, Sabine Imhof, Dante Gabriel Rossetti, Nicolaas Anslijn, Eva Demski, Farley Mowat, Romenu


11-05-2017

J. H. Leopold, Ida Gerhardt, Eugen O. Chirovici, Andre Rudolph, Rubem Fonseca, Henning Boëtius, Camilo José Cela, Rachel Billington, Carl Hauptmann
De Nederlandse dichter en classicus Jan Hendrik Leopold werd geboren in 's-Hertogenbosch op 11 mei 1865. Zie ook alle tags voor J. H. Leopold op dit blog.
O dood vlies van de torengracht
O dood vlies van de torengracht
en wreed gewekte kreet der zwanen,
de angst vloeit klam toe door de lanen
en stolt rondom de pijlerschacht.

O krimpend hart, dat uit de sprong
der wurgende belagers hoog naar boven
omhoog zich worstelde sloven
aamechtig sinds het zich ontwrong,

walmende lamp, die opgetild
met floersen roet het smeulend gele
verduisterde en wuft het ele
leven des luchters had omhuld.
Idylle
En is het daarbuiten ook donker en koud
En droevige wintertijd,
Mijn lief, 't is lente om mij heen,
Nu ge in mijne armen zijt.

En schijnt ook geen ster door de grauwe mist
En huilt ook de storm door de nacht -
Ik schuif de armstoel bij het vuur,
De zetel van 't voorgeslacht.

Blond meisje met uw rozenmond,
Kom, zet u op mijn knie,
Vertel mij van al de liefde, zo zoet,
Die ik in uwe ogen zie.

Stil, stil, dat ons de wind niet hoort
En met onze woorden spot,
Gij buigt u over tot mijn gezicht,
En ik beef van stil genot.

Ik voel uw zoete adem gaan
En uw boezem zo warm en zacht,
En langs mijne wangen dartelt stout
Uwe blonde lokkenpracht.

Schoon kind, gij zijt mij als de zon
In de klare, blauwe lucht,
En het is mij of ik de leeuwerik waar
Die juichend tot u ontvlucht.

Ja, ik wil zingen te uwer eer,
O, gouden zon van mijn ziel,
Van vreugde dronken over uw licht,
Dat er in mijn harte viel.

En is het daarbuiten ook donker en koud
En droevige wintertijd,
Mijn lief, 't is lente om mij heen,
Nu ge in mijn armen zijt.

J. H. Leopold (11 mei 1865 - 21 juni 1925)
Portret door Martin van Andringa, 1886
De Nederlandse dichteres Ida Gerhardt werd geboren in Gorinchem op 11 mei 1905. Zie ook alle tags voor Ida Gerhardt op dit blog.
Vergeef mij dat de schoonste nachten...

Vergeef mij dat de schoonste nachten
niet immer van ons beiden zijn.
Mijn vriend, het zijn zo groten machten
waardoor wij soms gescheiden zijn.

Wanneer ik in de hof mag dwalen
waar s hemels roos mij open gaat,
dan ducht ik zelfs Uw ademhalen,
Uw hart dat in het donker slaat.

Laat mij in eenzaamheid de uren
dat ik mijn diepste wet aanvaard.
Hun pracht die onverwelkt zal duren,
zij wordt alleen voor U vergaard.
ANNO DOMINI 1972
Er is te Heiligerlee een klok gegoten
en het was in de inzet van zijn stem:
of aarde en hemel samen vrede sloten;
hij zong - de wil des makers wekte hem.
En met de macht van zijn metalen mond
riep hij mij aan met name waar ik stond.
En stemmeloos heb ik het uitgestoten:
'Géén, Holland, heeft als gìj mijn hart doorwond.'
Schlüszli
Het dorp ligt wit
-wàt een sneeuw! -
Ik klim naar boven met twee
verse broden onder mijn arm.
Ze luiden, het is acht uur.
Het begint weer, witte
vlokken en witte
woorden, het daalt zò maar.
O zie, het is woord geworden! -
op mijn donkere mouw
het kristal.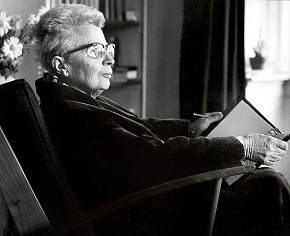 Ida Gerhardt (11 mei 1905 – 15 augustus 1997)
De Roemeense schrijver Eugen O. Chirovici werd op 11 mei 1964 geboren in Făgăraș, Transsylvanië. Zie ook alle tags voor Eugen O. Chirovici op dit blog.
Uit: The Book of Mirrors
"For the first time in many years I fell asleep without taking a pill first, and the next day, after telling the people at the agency that I'd be off sick for the next two weeks, I continued to write.
The details of those months in '87 came back to my mind with such force and clarity that they quickly became more vivid and powerful than anything else in my present life. It was as if I'd woken up from a deep sleep, during which my mind had silently been preparing itself for the moment when I'd begin to write about the events whose protagonists were Laura Baines, Professor Joseph Wieder and me.
Of course, given its tragic outcome, the story found its way into the newspapers at the time, at least in part. I myself got harassed by police detectives and reporters for quite a while. That was one of the reasons that led me to leave Princeton and finish my MA at Cornell, living for two long and dusty years in Ithaca. But nobody ever found out the truth about the whole story, which changed my live forever.
As I said, I chanced upon the truth three months ago, and I realised that I had to share it with others, even though the anger and frustration that I felt, and still feel, were overwhelming. But sometimes hatred and pain can be a fuel just as strong as love. The result of that intention is the manuscript I recently completed, after an effort that left me physically and mentally exhausted. I attach a sample, in accordance with the instructions I found on your website. The manuscript is complete and ready for submission. If you'd be interested in reading the whole thing, I'll send it to you immediately. The working title I've chosen is The Book of Mirrors.
I'll stop here, because on the screen of my laptop I can see that I've already exceeded the 500-word limit for a query. Anyhow, there's not much else to say about me. I was born and raised in Brooklyn, I've never been married, nor had children, partly, I believe, because I've never truly forgotten Laura. I have a brother, Eddie, who lives in Philadelphia and whom I see very rarely. My career in advertising has been uneventful, with neither outstanding achievements nor unpleasant incident – a dazzling grey life, hidden among the shadows of Babel. Today, as I gradually reach the end of my working life, I'm a senior copywriter at a middling agency based in Manhattan, quite close to Chelsea, where I've lived for more than two decades. I don't drive a Porsche and I don't book five-star hotels, but nor do I have to worry about what the next day will bring, at least not when it comes to money.
Thank you for your time and please let me know whether you'd like to read the full manuscript. You'll find my address and phone number below.
Yours sincerely,
Richard Flynn"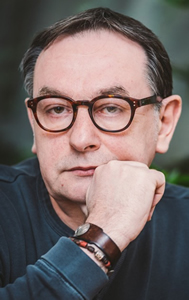 Eugen O. Chirovici (Făgăraș, 11 mei 1964)
De Duitse dichter en schrijver Andre Rudolph werd geboren in Warschau op 11 mei 1975 en groeide op in Leipzig. Zie ook alle tags voor Andre Rudolph op dit blog.
nocturne für jesse thoor
ich hatte kontakt zu einem heiligen
in hohen, fettglänzenden
schuhn
er ließ sich von seinen füßen tragen
in würde, er entleerte sich
in der früh in würde
so war er.
die toten amseln fielen von seinen
schultern, wenn er
sich zuckte
er rieb seinen schwanz an den mauern
der häuser, wenn es
ihn juckte
und roch nach frischem sperma
und rosmarin, wie
ein könig
so war er.
die zahmen häuser peitschten
seinen scheitel auf, bis
er lachte
die schenkel der triangeln glühten,
wenn er es ihnen
machte
so war er.
rasend schnell, und schlaflos, und
expressiv, als er mich
im vorübereilen
segnete und sagte: "iss deine
pizza, herzchen
und stirb!"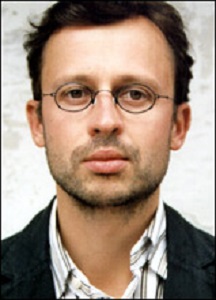 Andre Rudolph (Warschau, 11 mei 1975)

De Braziliaanse schrijver José Rubem Fonseca werd geboren op 11 mei 1925 in Juiz de Fora. Zie ook alle tags voor Rubem Fonseca op dit blog.
Uit:Vast Emotions and Imperfect Thoughts (Vertaald door Clifford E.Landers)
`What now what?'
`Now.'
`Now what?'
`Now.'
We were standing on the sidewalk.
`Good night,' I said.
She held me by the arm. `I have a rubber; you don't have to be afraid.'
`It's not that. I'm tired.'
When I got home I sat in an armchair and stared at the ceiling. Ruth's diary was still on the floor. The disorder of things seemed to have increased.
I went back to working on the script. I had to decide what to reply to Dietrich; he'd only given me a week.
I rewrote the scene, starting with the moment Dolguchov is found by Liutov and Grishchuck lying against a tree. His legs are spread and extended, his boots dirty and torn; his belly is ripped open and his guts are visible, as well as his beating heart. Dolguchov asks Liutov to kill him: `The Poles are coming back to do their dirty work. Here are my papers. You'll write and tell my mother how it happened.' But Liutov doesn't have the courage to kill him and, spurring his horse, rides off. Dolguchov stretches out, after first examining the bluish palm of his hand. `All right then, run away, you pig.' Then Afonka arrives and asks what's going on.
My text went like this: Afonka comes up to Dolguchov. He dismounts. The two men talk, the one on foot, covered with dust, radiating strength, and the dying man lying on the ground. Liutov, watching from a distance, can't hear what they're saying. Dolguchov gives Afonka his papers. Afonka puts them in his bag. He goes at once to his horse and withdraws the rifle from the saddlebow. Then, with slow but firm steps, he returns to Dolguchov, the light of the setting sun behind him. Dolguchov, supporting himself on his elbows, raises his head slightly and looks at Afonka. Afonka places the rifle barrel in Dolguchov's acquiescent mouth and shoots."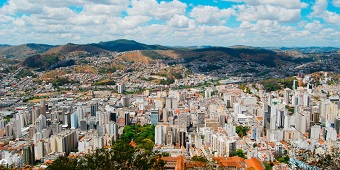 Rubem Fonseca (Juiz de Fora, 11 mei 1925)
Juiz de Fora
De Duitse schrijver Henning Boëtius werd geboren op 11 mei 1939 in Langen, Hessen. Zie ook alle tags voor Henning Boëtius op dit blog.
Uit: Phönix aus der Asche
"Dann scheidet für dich wahrscheinlich auch die vierte Theorie aus: Funkenflug und Feuer durch unvorsichtiges Verhalten, zum Beispiel Rauchen eines Passagiers oder eines Besatzungsmitgliedes ."
"Ja. Sie macht keinen Sinn."
"Bleibt die Sabotagetheorie. Da gibt es zwei Möglichkeiten: ein Schuss von außen oder eine Höllenmaschine im Inneren. Wir haben die erste Alternative untersucht. Es gibt keinerlei Anzeichen, dass auf das Schiff geschossen wurde."
"Es hätten wie gesagt auch schon Phosphorgeschosse sein müssen. Und Alternative zwei hat es ebenfalls schwer. Die Sicherheitskontrollen waren diesmal extrem. Keiner der Passagiere kommt in Frage, auch dieser dubiose Artist nicht, den du verdächtigst. Außerdem gibt es kein Bekennerschreiben. Für die Mannschaft lege ich meine Hand ins Feuer. Kein Luftschiffer würde je seine Kameraden in den Tod schicken, egal zu welcher politischen Couleur er gehört. Nein, das scheidet völlig aus. Du weißt vielleicht nicht, was das deutsche Wort Kameradschaft für einen schwergewichtigen Inhalt hat!"
"Und was bleibt dann noch als Ursache übrig? Welche sechste Theorie?"
Eckener füllte sein Glas erneut, nippte daran und sagte: "Very strange. Very strange."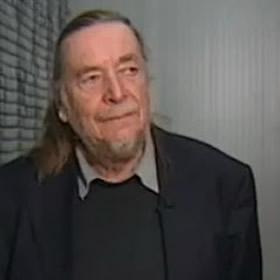 Henning Boëtius (Langen, 11 mei 1939)
De Spaanse schrijver Camilo José Cela werd geboren op 11 mei 1916 in Iria Flavia. Zie ook alle tags voor Camilo José Cela op dit blog.
Uit:The Family of Pascual Duarte (Vertaald door Anthony Kerrigan)
"No one in Almendralejo knew or cared that I had been fishing, that at that moment I was watching the lights in their houses come on, that I was guessing what they said and imagining in my mind the subjects of their conversations. The inhabitants of cities live with their backs to the truth, and oftentimes they are not even aware that only a couple of leagues away, in the middle of the plain, a country man may be think­ing about them while he packs up his gear, folds his fishing rod and picks up his little wicker basket with its six or seven eels inside.
Still and all I never thought fishing much of an oc­cupation for men, and I always preferred to devote my spare time to hunting. I had a certain fame in the vil­lage for being not altogether a bad hand at it, and, modesty apart, I must say in all sincerity that the man who started the rumor was not mistaken. I had a setter bitch called Chispa, half mongrel and half wild; the two of us got along well together. I used to go with her often of a morning to the pond, a league and a half from the village, toward the Portuguese border. We never came home empty-handed. On the way back, the bitch used to run on ahead and wait for me at the crossroads, There was a round flat rock at that spot, like a low seat, and I remember it as fondly as I remember any person, or really, more fondly than many persons I have known. It was broad and hollowed out, and when I sat down there I could fit my arse (begging your pardon) nicely into the groove, and I felt so comfortable that I hated to leave. I would sit there at the crossroads for a long time, whistling to myself, my gun between my knees, looking at whatever there was to look at and smoking cigarettes. The bitch would sit in front of me, back on her haunches, and gaze at me with her head to one side, from a pair of wide-awake brown eyes. I would talk to her, and she would prick up her ears, as if she were trying to get the full meaning of every word. When I fell silent, she took ad­vantage of the lull to run around chasing grasshoppers, or maybe she would just shift her position a bit. When it was time to leave and I had to start off, for some reason I would always glance back over my shoulder at the stone, as if to bid it goodbye."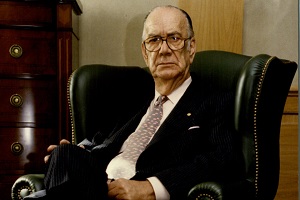 Camilo José Cela (11 mei 1916 – 17 januari 2002)
De Britse schrijfster Rachel Billington werd geboren op 11 mei 1942 in Londen. Zie ook alle tags voor Rachel Billington op dit blog.
Uit: The Missing Boy
"His backpack was beginning to feel heavy so he unhitched the strap from each shoulder and let it fall to the ground. In a moment of glee, he thought there was no one to tell him where to put it or ask him what was inside it. In fact, he could hardly remember what he'd put into it. His leaving had been so sudden and had so disturbed him that his exit from the flat had been carried out in an emotional haze, noises too, strange vibrations in his head as he dashed about the house grabbing whatever seemed like a good idea. He did remember throwing in a large jar of Marmite because he'd heard explorers in the Himalayas took it for its vitamins. Once again, the boy advanced on the car. He had to trample down an army of nettles, which he did with some relish, before he could reach the door handle, which had a kind of push-in button. He pressed it without much hope of anything happening but, to his surprise, it swung slowly open, creakily, and only halfway, but still enough for him to peer in. Not too bad. It smelt of damp, and a shiny trail of some animal or other, slug or snail, he supposed, criss-crossed the seat. It would clean up. He put his head in further and was beginning to form a plan when there was suddenly an enormous bellowing, which gave him such a fright that he came out too quickly, cracking himself painfully on the head. He stood upright, rubbing the place. He'd also been stung on his hand, a cluster of red bumps. The noise wasn't repeated but he wasn't crazy enough to have imagined it. He moved cautiously round the car and saw, on the other side of a hedge, a whole gang of cows or bullocks. Anyway, the sort of animal that could moo in a bellowing sort of way. So this wasn't such a forgotten corner after all. Someone must look after them. Of course, nowhere in southern England was remote, he knew that, but the abandoned car and the derelict shed beyond had given the impression that no one ever came to this little bit of the world."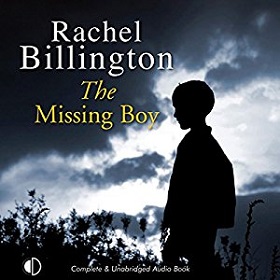 Rachel Billington (Londen, 11 mei 1942)
Cover audio-cd
De Duitse dichter en schrijver Carl Ferdinand Max Hauptmann werd geboren op 11 mei 1858 in Obersalzbrunn. Zie ook alle tags voor Carl Hauptmann op dit blog.
März
Braune Scholle am Märzentag,
Kahles Gehügel und dürrer Hag.
Raget im blassen Sonnenschein
Einsam ein Pflug am Ackerrain.
Fern am Berge leuchtet die Stadt.
Wasser rauschen noch trüb und matt – –
Huschet leise, fast nicht zu sehn,
Rosiger Schimmer, duftiges Wehn.
Und im zerwühlten Ackergrund
Dränget Geheimnis in weiter Rund,
Strecket verstohlen Finger ans Licht,
Tastet und tastet zum Sonnenlicht.
Will aus der frischen Erde blühn,
Will mit Blüten die Welt durchziehn,
Frühling will werden mit Sang und Tanz,
Seelen und Bäume umblühet der Kranz,
Jubel und Jauchzen durchhallet den Hain,
Klinget und knospet in buntem Gedeihn –
Sauge den Odem, fühle es wehn,
Lausche, wie heimlichem Liebesgetön – –
Sitz auf dem Pfluge am Ackerrain,
Träume und träume vom Frühlingsein.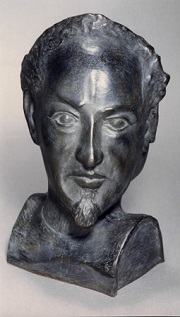 Carl Hauptmann (11 mei 1858 – 4 februari 1921)
Borstbeeld door Thomas Reimann, 2001
Zie voor nog meer schrijvers van de 11e mei ook mijn blog van 11 mei 2015 deel 2.
11-05-2017 om 19:01 geschreven door Romenu

Tags:J. H. Leopold, Ida Gerhardt, Eugen O. Chirovici, Andre Rudolph, Rubem Fonseca, Henning Boëtius, Camilo José Cela, Rachel Billington, Carl Hauptmann, Romenu



Eva Menasse
De Oostenrijkse schrijfster Eva Menasse werd geboren op 11 mei 1970 in Wenen. Zij is de halfzus van schrijver Robert Menasse en dochter van voetballer Hans Menasse. Na haar studie germanistiek en geschiedenis werkte ze als redacteur, o.a. voor het Weense tijdschrift Profil en later voor het feuilleton van de Frankfurter Allgemeine Zeitung. Haar eerste boekpublicatie "Der Holocaust vor Gericht" verscheen in 2000. De band bevatte verslagen over het proces van de holocaust-ontkenner David Irving, dat in april 2000 in Londen werd afgesloten. In 2005 verscheen Menasse's eerste roman "Vienna". In tal van anekdotes vertelt zij het fictieve verhaal van haar deel katholieke, deel Joodse familie. De destijds in de Frankfurter Allgemeine Zeitung voorgepubliceerde roman werd in de Duitse media overwegend positief beoordeeld, in de Oostenrijkse daarentegen nogal kritisch. In de herfst van 2005 stond hij op de bestseller lijsten in Duitsland en Oostenrijk. Menasse ontving de Rolf-Heyne debuutprijs voor "Vienna", die al in het Nederlands, Engels, Italiaans, Hebreeuws, Sloveens en Tsjechisch is verschenen. In 2009 verscheen haar verhalenbundel "Lässliche Todsünden", in 2013 de roman "Quasikristalle"
Uit:Quasikristalle
"Sommerferien. Seit Wochen hatte Judith das Grundstück ihrer Eltern kaum verlassen, den verwilderten Garten, das riesige, baufällige Haus, das ihre kleine Schwester in einer Mischung aus Dreistigkeit und Unschuld unsere Villa nannte. Als Mädchen hatte Judiths Mutter von einem Schlösschen geträumt, und Judiths Vater, der sich gerade mit Verve von seinen Eltern losgesagt hatte, weil sie Nazis gewesen waren und es dennoch wagten, seine junge Frau abzulehnen, war so verliebt und kopflos gewesen, mit geliehenem Geld diese Ruine zu kaufen. Weil sie theoretisch Jugendstil war. Aber seither, seit über vierzehn Jahren, wuchs ihm die Renovierung in hinterhältigen Schritten über den Kopf, als wüsste das Haus genau, dass er sich niemals geschlagen geben würde, und verurteilte ihn, den autodidaktischen Bauarbeiter, daher zu lebenslang.
Die Gewissheit, dass es jemals Schule gegeben hatte, löste sich in der Hitze auf. Die hektischen Überlebenskämpfe kurz vor dem Zeugnis nahmen sich von hier, in der Tiefe des Zeitgrabs, genauso schemenhaft aus wie die Aussicht auf den unvermeidlichen Wiederbeginn im Herbst, für dessen kleine Änderungen (Altgriechisch als neues Fach, die schwangere Mathelehrerin und vielleicht als Sensation ein neuer, gewiss wieder verhaltensgestörter Schüler) Judith nur mühsam Interesse hätte heucheln können. Aber es war ohnehin keiner da.
Xane war, anders als sonst, gleich nach Schulschluss nach Frankreich geschickt worden. Und Claudia verbrachte wie jedes Jahr fast die ganzen Ferien bei ihren Großeltern in einem fernen, westlichen Dorf. Judith und Xane wussten genau, dass ihre Briefe über Langeweile und Sehnsucht verschämte Lügen waren, denn Claudia war die geborene Bäuerin, das sah man schon an ihrem Gesicht. Bei jeder längeren Trennung steigerten sich Judith und Xane in eine Claudia-Verachtung hinein, die es eine Weile unmöglich erscheinen ließ, zu Schulbeginn wieder in die alten Gewohnheiten zu schlüpfen, das heißt, Claudia zum anhaltenden Erstaunen von Lehrern und Mitschülern als gutmütigen, dienstbaren Satelliten mit sich herumzuschleppen. Xane und Judith waren ein Amazonenduo, das sich zu blasiert für den Umgang mit dem Fußvolk gab. Keiner wagte es, sich mit ihnen anzulegen. Was Claudia erwarten würde, wenn sie sie fallen ließen, war nicht ganz klar. Aber vermutlich nichts Angenehmes.
Ein guter Kerl, hatte Xanes Mutter einmal über Claudia gesagt, und seither begannen Xane und Judith ihre kurzen, vergifteten Duette oft mit der Frage: Wie es wohl unserem guten Kerl geht?
Heute war ich mit der Oma in den Schwammerln, würde zum Beispiel die andere piepsig antworten, eine Ansichtskarte von Claudia aus Volksschulzeiten zitierend. Aber da sie älter und boshafter wurden, sagte inzwischen die Erste, wahrscheinlich mistet sie den Stall aus, und die Zweite spann weiter, und wäscht sich nachher die Haare mit Kernseife, woraufhin die eine ergänzte, du meinst, die Schamhaare, und die andere, schon unter gepresstem Gelächter, antwortete, hoffentlich wäscht sie nicht ihrem Opa die Schamhaare mit Kernseife, denn die beiden hatten vor Kurzem, nur auf Basis eines Fotos, befunden, Claudias Großvater sehe aus wie ein Kinderschänder."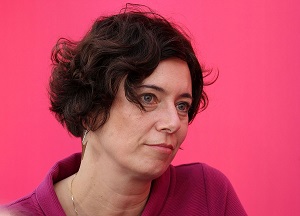 Eva Menasse (Wenen, 11 mei 1970)
11-05-2017 om 00:00 geschreven door Romenu

Tags:Eva Menasse, Romenu


10-05-2017

J.C. Bloem, Herman Leenders, Didi de Paris, Ralf Rothmann, Jeremy Gable, Petra Hammesfahr, Roberto Cotroneo, Antonine Maillet, Johann Peter Hebel
De Nederlandse dichter J. C. Bloem werd geboren op 10 mei 1887 in Oudshoorn. Zie ook alle tags voor J. C. Bloem op dit blog en ook mijn blog van 10 mei 2013 en ook deze tags voor J. C. Bloem.
Aan een verloren vriend
Forlorn, the very word is like a bell.(Keats).
Gij zult me in 't vreemde land wel nooit gedenken,
Ook mij was schier ontgaan uw verre beeld.
Hoe komt dit nu uit jarenschemers wenken,
Zoo wazig als een droom een droom doorspeelt?
Toen 'k nog uw oogen zien, uw stemklank hooren
Vermocht, in 't stille stadje, ons beider woon,
Gingt gij mij reeds, hoe ik ook bad, verloren,
Want elk vond in dit leven ander schoon.
U joeg een wilde drang naar wereldsteden,
Waar 't leven krampt als in een snikkend hart,
En koortsdoorschroeid elk vliedt voor zijn verleden,
Maar in de strikken van het nu verward.
Mij liet het leven stil en peinzend achter
Voor altijd in gedroomde vlucht gestuit.
En 'k tuur, als op een berg een eenzaam wachter,
Over de dalen van 't verleden uit.
Wel kende ook ik dat einderwijd verlangen
Naar tochten over aardes breed gebied,
Als niet één dak onze onrust kan omvangen,
En iedre dageraad ons verder ziet.
Maar ik wist dit: slechts weingen is gegeven,
Weingen van ons, dien iedre schijn verleidt,
Het leven naar zijn schoonsten wil te leven:
De velen raken nooit tot zaligheid.
U beulden de onverzoenlijk-wreede vlagen
Van 's levens bitterheid en barren nood;
Toch zult ge nu zelfs niet uw keus beklagen:
Gij mocht niet anders, waar de droom gebood.
Maar mij zijt gij verloren. Lange stoeten
Van uren zijn sinds 't scheidingsuur vergaan.
En 'k wensch geen weerzien: als we elkaar ontmoetten
Zouden we, een vreemde naast een vreemde, staan. —
Hoe eindloos teer klinkt mij dit woord in de ooren,
Teer als aan middaglucht een ijle maan,
Die broze luiding van geluid: verloren.....
Is heel dit leven niet verloren gaan?
Weet dan, verslagene maar immer strevende,
Dat steeds mijn hart de erinnering bewaart:
Mijn vriendschap is U nog als voor een levende,
Mijn weemoed om U of ge een doode waart.
Feestavond
Roode lantarens hangen in het loover
Der boomenrijen langs de gracht en over
Het water liggen plekken rooden schijn,
Als uitgestorte, vurig-lichte wijn.
Onder de boomen gaan gearmde paren;
Zacht klinkt hun spreken als 't geruisch der blaren,
Zacht is hun lachen — de avond is zoo zwoel. —
Heel in de verte juicht kermisgejoel.
Ik loop alleen langs die geluk' ge menschen,
Verlangend, maar ik weet niet wat te wenschen...
Ach ja: óok lachend en gearmd te gaan
Door de avondstilte in deze luwe laan.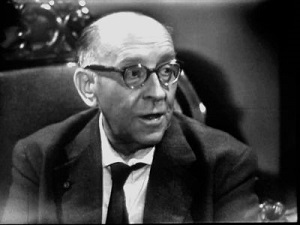 J.C. Bloem (10 mei 1887 – 10 augustus 1966)
De Vlaamse dichter en schrijver Herman Leenders werd geboren te Brugge op 10 mei 1960. Zie ook alle tags voor Herman Leenders op dit blog.
Ora pro nobis
Je kunt niet op twee oren
Tegelijk slapen
Er is geen dode zo stil
Dat ik niet wakker word
's Nachts komt zij
Waken aan mijn bed
Als het geld verdiend is en geteld
Het kleine verdriet verteerd
De liefde slaapt, uitgeput
Het huis leeg en bekoeld Dan, oreert zij,
Is het beter te bidden
Dan te spreken tegen muren en leeg papier
Te wachten tot de krant valt
Te luisteren naar radiatoren, winterbanden
De ingewanden van de matras
Het is beter te bidden
Dan te bedwateren
De buitenwacht
Gelukkig de huizen
Waar de liefde woont
En de auto's buiten slapen
Waar het naar hutsepot ruikt
Man en vrouw in de nacht
Vernesteld raken
's Morgens krabt zij
Het ijs van zijn ruiten
Asemt een wak
Staat hem uit te wuiven
Op het trottoir, de bedkruiken
Wiegend onder haar kamerjas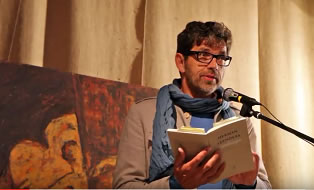 Herman Leenders (Brugge, 10 mei 1960)
De Vlaamse dichter en schrijver Didi de Paris werd geboren op 10 mei 1957 in Leuven. Zie ook alle tags voor Didi de Paris op dit blog.
Ook wolkte ooit uit
Ook wolkte ooit uit
de percolator
in het kielzog
van de maandag
slierten
Popol Vuh
in het kielzog
van een Herzog
Ook wolkte
in het kielzog
van de percolator
geurende
Music for the funeral
of Queen Mary
in het kielzog
van haar maandag
Ook
Bach
en een hoop herrie
uit de prairie
wolkten
in de maandag
van het kielzog
uit de percolator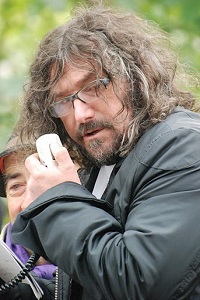 Didi de Paris (Leuven, 10 mei 1957)
De Duitse dichter en schrijver Ralf Rothmann werd op 10 mei 1953 geboren in Schleswig. Zie ook alle tags voor Ralf Rothmann op dit blog.
Uit: Im Frühling sterben
"Das Schweigen, das tiefe Verschweigen, besonders wenn es Tote meint, ist letztlich ein Vakuum, das das Leben irgendwann von selbst mit Wahrheit füllt. —Sprach ich meinen Vater früher auf sein starkes Haar an, sagte er, das komme vom Krieg. Man habe sich täglich frischen Birkensaft in die Kopfhaut gerieben, es gebe nichts Besseres; er half zwar nicht gegen die Läu-se, roch aber gut. Und auch wenn Birkensaft und Krieg für ein Kind kaum zusammenzubringen sind — ich fragte nicht weiter nach, hätte wohl auch wie so oft, ging es um die Zeit, keine genauere Antwort bekom-men. Die stellte sich erst ein, als ich Jahrzehnte später Fotos von Soldatengräbern in der Hand hielt und sah, dass viele, wenn nicht die meisten Kreuze hinter der Front aus jungen Birkenstämmen gemacht waren. Mein Vater hatte selten einmal gelächelt, ohne deswegen unfreundlich zu wirken. Der Ausdruck in seinem blassen, von starken Wangenknochen und grünen Au-gen dominierten Gesicht war unterlegt von Melancho-lie und Müdigkeit. Das zurückgekämmte dunkelblon-de Haar, scharf ausrasiert im Nacken, wurde von Brisk in Form gehalten, das Kinn mit der leichten Einker-bung war immer glatt, und die vornehme Sinnlichkeit seiner Lippen schien nicht wenige Frauen beunruhigt zu haben; es gab da Geschichten. Seine etwas zu kurze Nase hatte einen kaum merklichen Stups, so dass er im Profil etwas jünger wirkte, und der Blick ließ in ent-spannten Momenten eine schalkhafte Menschlichkeit und eine kluge Empathie erkennen. Aber seine Schön-heit war ihm selbst kaum bewusst, und falls sie ihm denn einmal aufgefallen wäre, hätte er ihr vermutlich nicht geglaubt. Alle Nachbarn mochten ihn, den immer Hilfsbereiten, das Wort hochanständig fiel oft, wenn von ihm die Rede war; seine Kumpel in der Zeche nannten ihn anerken-nend Wühler, und kaum einer stritt je mit ihm. Er trug gewöhnlich Hosen aus Cord, deren samtiges Schim-mern sich schon nach der ersten Wäsche verlor, sowie Jacken von C&A. Doch die Farben waren stets ausgesucht, ließen ein kurzes Innehalten bei der Wahl erken-nen, eine Freude an der geschmackvollen Kombination, und niemals hätte er Sneakers oder ungeputzte Schu-he, Frotteesocken oder karierte Hemden angezogen."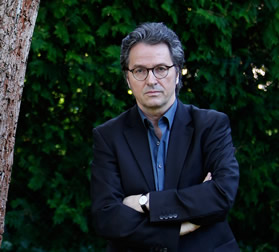 Ralf Rothmann (Schleswig, 10 mei 1953)
De Amerikaanse toneelschrijver Jeremy Gable werd geboren op 10 mei 1982 in Lakenheath, Suffolk, in Engeland. Zie ook alle tags voor Jeremy Gable op dit blog.
Uit: American Way
"TIME: Autumn morning, present year.
PLACE: A near-empty cafe.
AT RISE: Two support columns stand on either side of the stage, holding up the roof of the cafe. In between the columns, a table sits C, with a steaming cup of tea, a tall glass of water, and four chairs. CRESCENT WONDER enters, holding a beer. He wears a mask with cut-out eyeholes, a cape, and a spandex suit with a crescent moon on his chest. He is a retired superhero. He raises his glass and shouts:
CRESCENT: I'd like to propose a.. (He stops and looks around Spotting no one, he sits in one of the chairs and sighs) Here's to retirement (He lifts his glass, clinks with an imaginary glass, and takes a swig. Pause. He stares into his beer and starts SINGING his theme song) When the day turns to night/Evildoers run in fright/ For they know that if they/Make the slightest blunder/By the power of the moon/He will be approaching soon/For he's the greatest!/He's the Crescent Wonder! (He raises his beer in triumph on the last part °Ate song. Pause. He looks at his beer and quietly repeats:) To retirement.
(As CRESCENT takes another drink FIREBANG bright orange tights, boots, thick rubber gloves, an undershirt. His entrance is frenzied and abrup imply.)
ENTERS, wearing a mask but with his name would imply.)"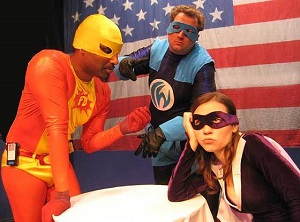 Jeremy Gable (Lakenheath, 10 mei 1982)
Scene uit een opvoering in Fullerton, California, 2006
De Duitse schrijfster Petra Hammesfahr werd geboren in Immerrath op 10 mei 1951. Zie ook alle tags voor Petra Hammesfahr op dit blog.
Uit: Die Mutter
"Anne und ihr Freund Patrick Urban diskutierten eifrig, ob es sich lohnte, für einen bestimmten Film nach Köln zu fahren, obwohl er garantiert in spätestens drei oder vier Wochen auch in «unserem» Kino gespielt wurde. Dann das Hufgetrappel in der Einfahrt. Jürgen öffnete die Augen, grinste und sagte: «Die Hunnen kommen.» Mutter griff eilig nach der Zuckerdose. Damit es nicht gar so auffällig war, nahm sie auch das Sahnekännchen mit in die Küche. Sie verschwand durch die Tür, gerade als Rena hoch zu Ross um die Hausecke bog.
«Dachte ich mir, dass ihr draußen sitzt. Ist noch ein Stück Torte da?» Ihre Augen schweiften über den Tisch, sie stieg ab und sprang mit zwei Sätzen zu uns herauf.
«Musst du das Tier nicht anbinden?», erkundigte sich Mutter durch die offene Küchentür. Das Pferd stand einfach da.
Es war eine Fuchsstute; ein schönes Tier, soweit ich das beurteilen kann. Ich habe nicht viel Ahnung von Pferden, für mich sind sie nur groß. Rena warf der Stute einen Blick über die Schulter zu.
«Schön stehen bleiben und nicht den Rasen anfressen. Wenn du brav bist, gibt's was Feines.»
Sie stürmte in die Küche. Ich hörte Mutters Protest: «Aber doch nicht mit den Fingern.»
Jürgen grinste immer noch. Vater kam aus dem Garten zurück und tätschelte der Stute den Hals. «Du bist ein braves Mädchen, Tanita. Ja, du bist ein braves Mädchen.»
Rena erschien wieder auf der Terrasse, einen Sahneklecks am Kinn, in einer Hand ein angebissenes, zerbröselndes Tortenstück, in der anderen ein paar Zuckerwürfel. Sie hielt der Stute die offene Hand mit den Würfeln hin, stopfte sich den Rest der Torte in den Mund, wischte sich die Hände an der Hose ab, schwang sich kauend in den Sattel und verschwand, wie sie gekommen war. «Bis später, Leute.»
Es gibt Momente, die gaukeln einem vor, man sei unverwundbar. Der Sonntagnachmittag im Mai war so einer."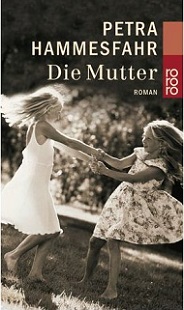 Petra Hammesfahr (Immerrath, 10 mei 1951)
Cover
De Italiaanse schrijver Roberto Cotroneo werd op 10 mei 1961 geboren in Alessandria. Zie ook alle tags voor Roberto Cotroneo op dit blog.
Uit:Letters to my son on the love of books (Vertaald door N. S. Thompson)
"Jim is suddenly startled by the vice-like grip. It will frighten you, Francesco, as it frightened me. Then it becomes worse, because at Jim's refusal ("Sir ... upon my word I dare not"), Pew becomes terrifying and responds: "`Oh,' he sneered, `that's it! Take me in straight, or I'll break your arm.'/And he gave it, as he spoke, a wrench that made me cry out./`Sir,' I said, `it is for yourself I mean. The captain is not what he used to be. He sits with a drawn cutlass. Another gentleman—'/ `Come, now, march,' interrupted he; and I never heard a voice so cruel and cold, and ugly as that blind man's."
Let's pause a moment here, Francesco. Pew is a terrifying pirate who lost his sight when taking a ship in a boarding, the very same in which Long John Silver lost a leg. They were sailing with Flint, a name which inspired fear even many years after the pirate's demise. Now Pew and his companions want to get the pirate's gold back and will go to any lengths to get it. Like Black Dog, the pirate with two fingers missing on his left hand, Pew has squandered everything he earned as a pirate and is now living as a beggar. Being a young boy, Jim has never encountered such shady characters as these. They are real pirates, Francesco, and not like Captain Hook. Boarding ships has left them mutilated, with deep scars often going deeper than the soul. Pew delivers the black spot as a kind of warning or ultimatum to the captain who turns pale when he sees it and collapses heavily to the floor, dead. He dies not only from rum, but from fear. From that moment on, the adventure begins. Jim has only one choice if he wishes to grow: he must go to the island of treasure, become acquainted with Long John Silver, learn what duplicity is, and return home again, with the sound of the sea surf in his ears; but first he must rummage through the captain's sea-chest, after shutting the bolt of the inn door. He has to undertake this with a fear that clutches you by the throat in order to understand that the fear of those shady characters was almost unjustified. Jim and his mother are counting out the money that the captain owed them until, "When we were half-way through, I suddenly put my hand upon her arm; for I had heard in the silent, frosty air a sound that brought my heart into my mouth—the tap-tapping of the blind man's stick upon the frozen road."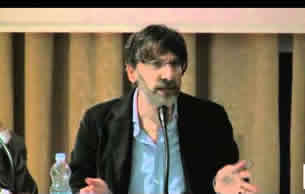 Roberto Cotroneo (Alessandria, 10 mei 1961)
De Canadese schrijfster Antonine Maillet werd geboren op 10 mei1929 in Bouctouche, New Brunswick. Zie ook alle tags voor Antonine Maillet op dit blog.
Uit: Bearsaga (L'Oursiade, vertaald door david L. Koral)
"Raised at the edge of the woods, beyond the reach of the parish, a bastard child of an unknown father and an unworthy mother, he was orphaned at birth, and had grown up on the margins. Even beyond the four or five villages that dotted the River. He made his home (though such a word rang false in the ears of a homeless man) high up, near the headwaters, where the river is still called a stream–namely, River's Stream. It was there that Simon had dug in the foundation beams of his cabin. It was there that he had grown up. At fifteen, he was six feet tall, his full size. He would grow no more. He'd achieved his autonomy and freedom as well. He broke out in a wide-faced, ear-to-ear grin whenever Ozite had told him so. His wild, independent streak took root during his days in diapers, practically. As for his freedom, well, he'd conquered that bit by bit, like a stretch of land. But Halfbreed's land was the woods.
In the woods, freedom loses its meaning. Too many ties. Too much ivy, too much bramble, too many wild animals, great and small, the masters of the forest. He who enters their territory is the true savage. On their own terrain, in the middle of the forest, all animals are tame. He was young when he made this discovery, and he was so overwhelmed by the feeling that he could not keep it to himself. Yet neither the hunters from the coves and bays, nor those from the hills, could ever understand. Loup-Joseph simply laughed. With a rifle on his shoulder, a hunting cap over his forehead, and chewing tobacco in his cheek, a hunter who enters the woods knows how to distinguish the wild from the tame, and knows his rights. He knows that moose and deer keep their hooves sharp. Even a half-ton male bear? Well, let's say five or six hundred pounds. Before his rifle was confiscated, Loup-Joseph had bagged one for himself. Then there was Full Gallop. Zéphire, too. What's there to say? A hunter's a hunter. Simon had nothing against that. He simply claimed that the bear was at home in his woods, just as Zéphire was at home on his own land, where the covered bridge reigned. That the hunt began the very moment either man or beast crossed into the other's territory. Loup-Joseph laughed even louder. At the rate things were going, they'd soon be seeing the bear adjusting his rifle, taking aim at a four-legged Simon, with his tail in the air and his fur standing on end."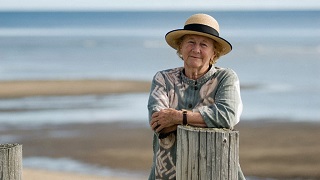 Antonine Maillet (Bouctouche, 10 mei 1929)
De Duitse dichter,schrijver, pedagoog en theoloog Johann Peter Hebel werd geboren op 10 mei 1760 in Basel. Zie ook alle tags voor Johann Peter Hebel op dit blog.
Uit: Kannitverstan
"Schon standen ganze Reihen von Kisten und Ballen auf- und nebeneinander am Lande. Noch immer wurden mehrere herausgewälzt und Fässer voll Zucker und Kaffee, voll Reis und Pfeffer und salveni Mausdreck darunter. Als er aber lange zugesehen hatte, fragte er endlich einen, der eben eine Kiste auf der Achsel heraustrug, wie der glückliche Mann heiße, dem das Meer alle diese Waren an das Land bringe. »Kannitverstan«, war die Antwort. Da dacht er: Haha, schaut's da heraus? Kein Wunder, wem das Meer solche Reichtümer an das Land schwemmt, der hat gut solche Häuser in die Welt stellen und solcherlei Tulipanen vor die Fenster in vergoldeten Scherben. Jetzt ging er wieder zurück und stellte eine recht traurige Betrachtung bei sich selbst an, was er für ein armer Teufel sei unter so viel reichen Leuten in der Welt. Aber als er eben dachte: Wenn ich's doch nur auch einmal so gut bekäme, wie dieser Herr Kannitverstan es hat, kam er um eine Ecke und erblickte einen großen Leichenzug. Vier schwarz vermummte Pferde zogen einen ebenfalls schwarz überzogenen Leichenwagen langsam und traurig, als ob sie wüßten, daß sie einen Toten in seine Ruhe führten. Ein langer Zug von Freunden und Bekannten des Verstorbenen folgte nach, Paar und Paar, verhüllt in schwarze Mäntel und stumm. In der Ferne läutete ein einsames Glöcklein. Jetzt ergriff unsern Fremdling ein wehmütiges Gefühl, das an keinem guten Menschen vorübergeht, wenn er eine Leiche sieht, und blieb mit dem Hut in den Händen andächtig stehen, bis alles vorüber war."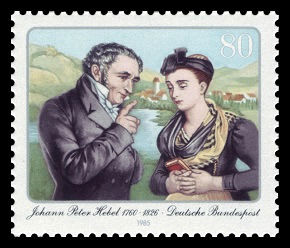 Johann Peter Hebel (10 mei 1760 – 22 september 1826)
Postzegel bij zijn 225e geboortedag in 1985
Zie voor nog meer schrijvers van de 10e mei ook mijn blog van 10 mei 2015 deel 2 en eveneens deel 3.
10-05-2017 om 18:31 geschreven door Romenu

Tags:J.C. Bloem, Herman Leenders, Didi de Paris, Ralf Rothmann, Jeremy Gable, Petra Hammesfahr, Roberto Cotroneo, Antonine Maillet, Johann Peter Hebel, Romenu


09-05-2017

Pieter Boskma, Charles Simic, Jotie T'Hooft, Jan Drees, Leopold Andrian, Alan Bennett, Lucian Blaga, Richard Adams, James Barrie
De Nederlandse dichter en schrijver Pieter Boskma werd geboren in Leeuwarden op 9 mei 1956. Zie ook alle tags voor Pieter Boskma op dit blog.
Wenteling
Het jaar begon toen koud. Zelfs de duinen wit
van de tot kant gestolde mist. Het weer
van weinig mensen, die kropen binnen
op elkaar voor een geboortegolf.
In de politieke smidse was de waakvlam al gedoofd.
Het Kamerdebat over netelige kwesties lag huiverend
op straat. Daar warmde bij een vuurtje in een oliedrum
de allerlaatste motie zijn magere motief.
Zo groeide de kloof tussen de enthousiaste burger,
copulerend op het vloerkleed voor de open haard,
en het gezag dat buiten naar zijn eigen adem staart.
Het was gewoon te laat, zelfs het opgefokt klimaat krabde
zichzelf achter de wolken. Maar de dichters stonden klaar,
'Barre Omstandigheden' was hun geuzennaam,
het krassen van hun pen dreef het landsbestuur al in het nauw,
en zie: daar werd een van hen op de troon gehesen
waarna de koersen kelderden en vaak de stroom uitviel,
en dat met die bittere koude. Niks te vreten, nog geen dreumes
van de revolutie, zo die er al was. Er verrezen de partijen
die het vers hadden afgeschaft. Massamars, omwenteling,
en toch maar weer het geld.
De morgen
Het waren de dagen dat de poëzie zich schuilhield.
Voor het staaroog van de grijsaard als een eindeloze dageraad.
Voor het kinderbrein als een voorgoed geschrapt verouderen.
Voor het zwarte als een pirouette van primaire kleuren.
De wegstervende echo van het geïnspireerde woord
werd nog af en toe gehoord door wie de stekkers
uit elk toestel trok, maar de online geblevenen
viel het niet eens op dat ze nooit meer neurieden.
En niemand die nog pleitte voor afschaffing van het parlement,
die hol keffende achterhoede van de samenleving,
of voor het hangen van zes manen aan een stapelwolk
of het oplossen van de frontlijn in een pornografisch hologram.
Er waren geen woorden voor het lang verwachte andere.
Men sprak er op gelijke wijze niet eens schande van.
Men sprak algauw in het geheel nog slechts fragmenten.
En daar ging ook de klank als een ontsnapte heliumballon.
Weinigen bemerkten dat nieuwslezers hard vloekten
bij de aankondiging van elk uiterst schaars bericht.
Nondeju die klotesport en nondeju dat kutweer.
En elk meisje dat wel kussen wilde werd door tachtig man verkracht.
Het waren de dagen die wij heden morgen noemen
of de morgen dat wij reeds ach en heden zuchten.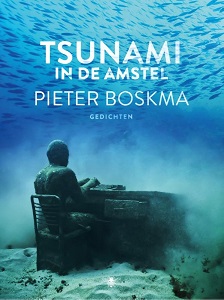 Pieter Boskma (Leeuwarden, 9 mei 1956)
Cover
De Amerikaanse dichter Charles Simic werd geboren in Belgrado op 9 mei 1938. Zie ook alle tags voor Charles Simic op dit blog.
To The One Upstairs
Boss of all bosses of the universe.
Mr. know-it-all, wheeler-dealer, wire-puller,
And whatever else you're good at.
Go ahead, shuffle your zeros tonight.
Dip in ink the comets' tails.
Staple the night with starlight.
You'd be better off reading coffee dregs,
Thumbing the pages of the Farmer's Almanac.
But no! You love to put on airs,
And cultivate your famous serenity
While you sit behind your big desk
With zilch in your in-tray, zilch
In your out-tray,
And all of eternity spread around you.
Doesn't it give you the creeps
To hear them begging you on their knees,
Sputtering endearments,
As if you were an inflatable, life-size doll?
Tell them to button up and go to bed.
Stop pretending you're too busy to take notice.
Your hands are empty and so are your eyes.
There's nothing to put your signature to,
Even if you knew your own name,
Or believed the ones I keep inventing,
As I scribble this note to you in the dark.
Late September
The mail truck goes down the coast
Carrying a single letter.
At the end of a long pier
The bored seagull lifts a leg now and then
And forgets to put it down.
There is a menace in the air
Of tragedies in the making.
Last night you thought you heard television
In the house next door.
You were sure it was some new
Horror they were reporting,
So you went out to find out.
Barefoot, wearing just shorts.
It was only the sea sounding weary
After so many lifetimes
Of pretending to be rushing off somewhere
And never getting anywhere.
This morning, it felt like Sunday.
The heavens did their part
By casting no shadow along the boardwalk
Or the row of vacant cottages,
Among them a small church
With a dozen gray tombstones huddled close
As if they, too, had the shivers.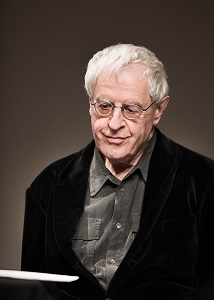 Charles Simic (Belgrado, 9 mei 1938)
De Vlaamse dichter en schrijver Jotie T'Hooft werd geboren in Oudenaarde op 9 mei 1956. Zie ook alle tags voor Jotie T'Hooft op dit blog.
Eenhoorn
Here, zonder naam en zonder gezicht
Zie vanuit den hoge
Op uw droeve eenhoorn neer
Die danig hunkert naar uw licht,

Die sierlijk door de wouden dwaalt
Maar bladeren geen voedsel vindt,
Die voor de poort der doden draalt,
Allen bladeren op uw wind.

Here, zonder handen zonder stem
Snij de lichtlans van zijn voorhoofd
En vang hem in uw stalen klem
Voor de wereld hem de glans ontrooft,

Lok hem langs de stapsteen sterven
Niet als anderen domweg gedoofd
Maar rein, vrij van bederven
Langs de kruisweg waar hij in gelooft.
Sweet/Sixteen
Ik heb een hoog voorhoofd
waarachter niet veel meer gebeurt.
Ik stel me schaamteloos tentoon.
Er is niemand die me opbeurt,
sweet sixteen

Van sommige namen herinner ik me de geur
en er zijn ogen die ik al meer gezien heb,
bijgezet in de galerijen van de sleur
Er is niets dat mij ontlast,
sweet sixteen

Ik ben bang om je aan te raken
en ik kan me al niet meer afkeren
zonder je pijn te doen. Luister,
dan hoor je mijn bevroren kraken,
sweet sixteen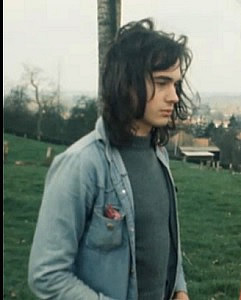 Jotie T'Hooft (9 mei 1956 – 6 oktober 1977)
In 1977
De Duitse schrijver Jan Drees werd geboren op 9 mei 1979 in Haan. Zie ook alle tags voor Jan Drees op dit blog.
Uit: Eins
"Wir beobachteten irritiert glücklich sirrende Fledermäuse, die aus Tannenwaldgrotten flappten, unseren Hügel (über der schimmernden Stadt) umrundeten, die kleine Öllaterne, im Sommer: Gänsehautarme, Benjamin-Biolay-Chansons, und während schwüler Augustabende manchmal stilles Gewitterblitzen am fernen Horizont.
Später, um Viertel nach drei, duschten Nebil und ich Nachthitze aus unseren verliebt erwärmten Teeniekörpern, siriusgeleitet, während Sonnenwindfeuer, Elfen, Kobolde vor dem Bleiglas-Badfenster tanzten. Danach lagen wir perlschaumweinsüchtig erschöpft, verschwitzt, im moskitonetzgefälschten Himmelbett. Über uns funkelten angeklebte Plastiksterne mit Phosphorschimmer.
Inzwischen geht alles vorbei, im Junimond. Wenn Mond ist und keine Regenwolken durch die kühlkalten Nächte ziehen und unsere Sternenbilder verhängen, wenn Schauer schon morgens auf das Giebeldach schlagen und Wasser durch die Holzdecke in unsere Zimmer tropft, von Ziegeln gewaschenen Ruß über eilig aufgestellte Suppenterrinen, Putzeimer, Bonbonnieren spült.
Wir verleben (abschließend) Tage, die wie ein Schlüssellochbild an uns vorübernebeln. João Gilberto singt "The Girl from Ipanema".
Während sporadischer Off-Theater-Besuche wird deutlich, daß ein zeitgeistiges Bühnenkreischen eher Edvard-Munch-Pop sein will (im Gegensatz zu klassischen Pornographiefilmschreien). - Wenn wir uns streiten, werde ich Großstadt-Actrice und imitiere moderne René-Pollesch-Szenen."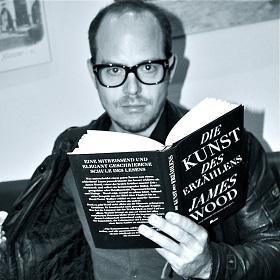 Jan Drees (Haan, 9 mei 1979)
In 2014
De Oostenrijkse dichter, schrijver en diplomaat Leopold Andrian werd op 9 mei 1875 in Berlijn geboren. Zie ook alle tags voor Leopold Andrian op dit blog.
Sahst Du im Spiegel des verträumten Wien
Der eigenen Seele nie gehauchte Klagen
Sahst Du den blassen Duft entfliehen,
Den Duft von unsern ersten Tagen.
Der ersten unerklärten Liebe Reiz
Die noch das Wort, die fast den Blick verschmähte
Mir ists als ob Dein müdes Angesicht
Todkrank um jene Stimmung flehte
So krank wie weißer Flieder, den
Das heiße Gas zu lang umwehte
Der rührend, rein und wunderschön
Schon trunken um Erlösung flehte
Da's ihn im Dunst der Freudennacht
Durchbebt, zu der sie ihn erkoren
Daß in der sinnentrunknen Pracht
Sein keuscher Duft auf immerdar verloren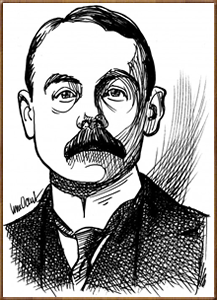 Leopold Andrian (9 mei 1875 – 19 november 1951)
De Britse schrijver en acteur Alan Bennett werd geboren op 9 mei 1934 in Armley in Leeds, Yorkshire. Zie ook alle tags voor Alan Bennett op dit blog.
Uit:The Uncommon Reader

'She's not a popular author, ma'am.'
'Why, I wonder? I made her a dame.'
Mr Hutchings refrained from saying that this wasn't necessarily the road to the public's heart.
The Queen looked at the photograph on the back of the jacket. 'Yes. I remember that hair, a roll like a pie-crust that went right round her head.' She smiled and Mr Hutchings knew that the visit was over. 'Goodbye.'
He inclined his head as they had told him at the library to do should this eventuality ever arise, and the Queen went off in the direction of the garden with the dogs madly barking again, while Norman, bearing his Cecil Beaton, skirted a chef lounging outside by the bins having a cigarette and went back to the kitchens.
Shutting up the van and driving away, Mr Hutchings reflected that a novel by Ivy Compton-Burnett would take some reading. He had never got very far with her himself and thought, rightly, that borrowing the book had just been a polite gesture. Still, it was one that he appreciated and as more than a courtesy. The council was always threatening to cut back on the library, and the patronage of so distinguished a borrower (or customer, as the council preferred to call it) would do him no harm.
'We have a travelling library,' the Queen said to her husband that evening. 'Comes every Wednesday.'
'Jolly good. Wonders never cease.'
'You remember Oklahoma!?'
'Yes. We saw it when we were engaged.' Extraordinary to think of it, the dashing blond boy he had been.
'Was that Cecil Beaton?'
'No idea. Never liked the fellow. Green shoes.'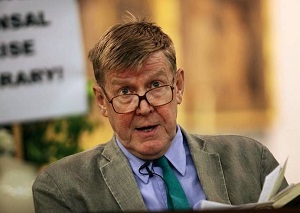 Alan Bennett (Armley, 9 mei 1934)
De Roemeense dichter, schrijver en filosoof Lucian Blaga werd geboren op 9 mei 1895 in Lancrăm, bij Alba Iulia. Zie ook alle tags voor Lucian Blaga op dit blog.
Lot (Fragment)

I have seen many and sin-breeding deeds
profaning the light and the wind,
and misunderstood customs, and fire games in the city.
Naked people have I seen in rusty-copper green lakes
kissing silvery swans.

I have seen, fear-stricken, in front of the gate,
girls dancing their whiteness off
for long nailed voivodes -
and I have seen priests in linen clothes intoxicating
the beggars with the wine the dead have been washed with.

I have seen women setting their seed on fire,
their mission cast between two eternities like an insult,
their breasts-ripe fruit with no milk, no milk within,
their breath killing bees and herbs.

I have seen transparent guests on the shore of blood:
children who will be delivered but are not desired
(if you stop your ears up
you can hear through spheres their bitter thirst,
their dumb murmur at the world's windows,
and their song of relief
when they find entrance in trees, dogs, and in birds).

Vertaald door Liliana Mihalachi
Die Quelle der Nacht

Du Schöne,
so schwarz sind deine Augen,daß mir abends,
wenn ich den Kopf in deinen Schoß gebettet hab,
so ist,
als seien deine tiefen Augen eine Quelle,
aus der die Nacht geheimnisvoll hervorquillt
und über Berge,Täler,Fluren strömt,
um in ein Meer von Finsternis
die Erde einzutauchen.
So schwarz sind deine Augen,du,
mein Licht.


Vertaald door Ruth Herrfurth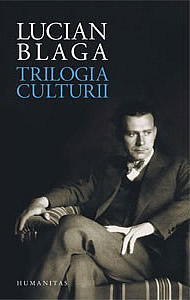 Lucian Blaga (9 mei 1895 – 6 mei 1961)
Cover
De Engelse schrijver Richard Adams werd geboren in Newbury op 9 mei 1920. Zie ook alle tags voor Richard Adams op dit blog.
Uit Watership Down
'I don't know what it is,' answered Fiver wretchedly. 'There isn't any danger here, at this moment. But it's coming – it's coming. Oh, Hazel, look! The field! It's covered with blood!'
'Don't be silly, it's only the light of the sunset. Fiver, come on, don't talk like this, you're frightening me!'
Fiver sat trembling and crying among the nettles as Hazel tried to reassure him and to find out what it could be that had suddenly driven him beside himself. If he was terrified, why did he not run for safety, as any sensible rabbit would? But Fiver could not explain and only grew more and more distressed. At last Hazel said,
'Fiver, you can't sit crying here. Anyway, it's getting dark. We'd better go back to the burrow.'
'Back to the burrow?' whimpered Fiver. 'It'll come there – don't think it won't! I tell you, the field's full of blood –'
'Now stop it,' said Hazel firmly. 'Just let me look after you for a bit. Whatever the trouble is, it's time we got back.'
He ran down the field and over the brook to the cattle-wade. Here there was a delay, for Fiver – surrounded on all sides by the quiet summer evening – became helpless and almost paralysed with fear. When at last Hazel had got him back to the ditch, he refused at first to go underground and Hazel had almost to push him down the hole.
The sun set behind the opposite slope. The wind turned colder, with a scatter of rain, and in less than an hour it was dark. All colour had faded from the sky: and although the big board by the gate creaked slightly in the night wind (as though to insist that it had not disappeared in the darkness, but was still firmly where it had been put), there was no passer-by to read the sharp, hard letters that cut straight as black knives across its white surface. They said:
THIS IDEALLY SITUATED ESTATE, COMPRISING SIX ACRES OF EXCELLENT BUILDING LAND, IS TO BE DEVELOPED WITH HIGH CLASS MODERN RESIDENCES BY SUTCH AND MARTIN, LIMITED, OF NEWBURY BERKS."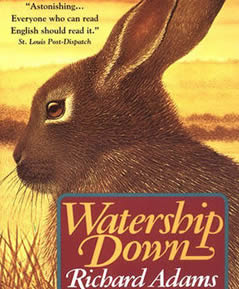 Richard Adams (Newbury, 9 mei 1920)
Cover
De Schotse schrijver James Barrie werd op 9 mei 1860 in Kirriemuir nabij Dundee geborenZie ook alle tags voor James Barrie op dit blog.
Uit:The Adventures of Peter Pan
"She is dead," he said uncomfortably. "Perhaps she is frightened at being dead."
He thought of hopping off in a comic sort of way till he was out of sight of her, and then never going near the spot any more. They would all have been glad to follow if he had done this.
But there was the arrow. He took it from her heart and faced his band.
"Whose arrow?" he demanded sternly.
"Mine, Peter," said Tootles on his knees.
"Oh, dastard hand," Peter said, and he raised the arrow to use it as a dagger.
Tootles did not flinch. He bared his breast. "Strike, Peter," he said firmly, "strike true."
Twice did Peter raise the arrow, and twice did his hand fall. "I cannot strike," he said with awe, "there is something stays my hand."
All looked at him in wonder, save Nibs, who fortunately looked at Wendy.
"It is she," he cried, "the Wendy lady, see, her arm!"
Wonderful to relate [tell], Wendy had raised her arm. Nibs bent over her and listened reverently. "I think she said, 'Poor Tootles,'" he whispered.
"She lives," Peter said briefly.
Slightly cried instantly, "The Wendy lady lives."
Then Peter knelt beside her and found his button. You remember she had put it on a chain that she wore round her neck.
"See," he said, "the arrow struck against this. It is the kiss I gave her. It has saved her life."
"I remember kisses," Slightly interposed quickly, "let me see it. Ay, that's a kiss."
Peter did not hear him. He was begging Wendy to get better quickly, so that he could show her the mermaids. Of course she could not answer yet, being still in a frightful faint; but from overhead came a wailing note."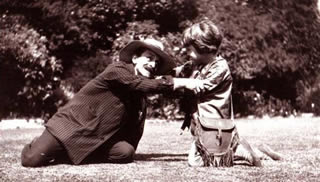 James Barrie (9 mei 1860 – 19 juni 1937)
J.M. Barrie speelt kapitein Haak en Michael Llewelyn Davies speelt Peter Pan. (1906) Michael was het 4e zoontje van Arthur and Sylvia Llewelyn Davies, een bevriend echtpaar, en stond mede model voor Peter Pan.
Zie voor nog meer schrijvers van de 9e mei ook mijn blog van 9 mei 2015 deel 2.
09-05-2017 om 18:16 geschreven door Romenu

Tags:Pieter Boskma, Charles Simic, Jotie T'Hooft, Jan Drees, Leopold Andrian, Alan Bennett, Lucian Blaga, Richard Adams, James Barrie, Romenu



Libris Literatuur Prijs 2017 voor Alfred Birney
Libris Literatuur Prijs 2017 voor Alfred Birney
De Libris Literatuur Prijs 2017 is toegekend aan Alfred Birney voor zijn roman De tolk van Java. Maandagavond kreeg de Haagse schrijver de prijs van 50 duizend euro en een door Irma Boom ontworpen bronzen legpenning uitgereikt. Het boek gaat over de vader van de auteur die tegen wisselende vijanden vocht tijdens de onafhankelijkheidsoorlog in het voormalige Nederlands-Indië. Alfred Alexander Birney werd geboren in Den Haag op 20 augustus 1951. Zie ook alle tags voor Alfred Birney op dit blog.
Uit:De tolk van Java
"Als jongeman zag mijn vader in Soerabaja de 'vliegende sigaren' van de Japanse luchtmacht zijn ouderlijk huis aan puin bombarderen, hij zag Japanse soldaten burgers onthoofden, hij werd gemarteld wegens sabotage in dienst van het zogenoemde Vernielingskorps en in een ijzeren kist onder de brandende zon te smoren gelegd, hij zag Japanse soldaten Australische krijgsgevangenen in open bamboekisten aan de haaien voeren, hij zag Punjabisoldaten in Engelse dienst Japanse soldaten besluipen en ze de strot doorsnijden, hij hoorde over de dood van een neef aan de Birmaspoorlijn, hij hoorde hoe zijn lievelingsoom door Japanse soldaten was doodgemarteld op het landgoed van zijn vaders familie, hij verraadde de Japanse vriend van zijn zuster, die als animeermeisje aan de kost kwam, hij wees de geallieerden de weg in de hitte van de Javaanse Oosthoek, waar opstandige Indonesiërs ondersteboven hangend aan de enkels werden verhoord terwijl hij optrad als tolk en de schrijfmachine hanteerde, hij hielp de geallieerden met het platbranden van desa's, hij zag brandende opstandige jongelingen schreeuwend van de pijn hun eenvoudige huisjes uit rennen en overhoopgeschoten worden, hij leerde schieten en doorzeefde op een treinstation een vrouw en zuigeling achter wie een Javaanse vrijheidsstrijder zich had verscholen, hij kreeg als hoofd van de afdeling Verhoor van Gevangenen in Djember de hardnekkigste zwijgers aan het praten, hij reed met een pantserwagen op een landmijn en stortte tachtig meter een ravijn in, hij kreeg het bevel van een Hollandse adjudant om het transport te begeleiden van honderd gevangenen van de stadsgevangenis van Djember naar het station Wonokromo en mocht aan het einde van de veertien uur durende rit zesenveertig lijken van gestikte mensen uit de goederentrein slepen, hij vond een Indo-vriend* terug die zichzelf voor de kop had geschoten nadat hij had ontdekt dat zijn meisje met een Hollandse soldaat het bed had gedeeld, hij maakte tijdens de Bersiap* jongens af met wie hij nog een appeltje te schillen had, maar het ergst van alles vond hij dat tijdens de Eerste Politionele Actie de hals van zijn gitaar brak.
Of ben je dat laatste vergeten, Pa, omdat je het misschien verzonnen had?
Het gebeurde tijdens het passeren van twee elkaar tegemoetkomende konvooien. Iemand hield de loop van zijn mitrailleur niet binnenboord en jij de hals van je gitaar niet. De mitrailleur was van onbekende makelij, je gitaar een originele Amerikaanse Gibson, de droom van elke Indo, een instrument waar alle grootheden op speelden, een juweel waarvoor je zelfs het mooiste meisje van de krokodillenstad zou inruilen."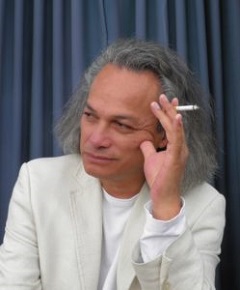 Alfred Birney (Den Haag, 20 augustus 1951)
09-05-2017 om 09:06 geschreven door Romenu

Tags:Libris Literatuur Prijs, Alfred Birney, Romenu



Jorie Graham
De Amerikaanse dichteres Jorie Graham werd geboren op 9 mei 1950 in New York geboren als dochter van Curtis Bill Pepper, een oorlogscorrespondent en het hoofd van het bureau Rome voor Newsweek en de beeldhouwester Beverly Stoll Pepper. Zij groeide op in Rome. Graham studeerde filosofie aan de Sorbonne, maar werd er weggestuurd omdat zij deelnam aan de studentenprotesten. Zij voltooide haar bacheloropleiding aan de Universiteit van New York en raakte in die tijd geïnteresseerd in poëzie. Nadat ze als secretaresse gewerkt had behaalde zij haar Master of Fine Arts in de beroemde Iowa Writers Workshop aan de Universiteit van Iowa. Graham werkte jarenlang bij de Iowa Writers Workshop en kreeg in 1999 een aanstelling aan Harvard University. Graham volgde Nobelprijswinnaar en dichter Seamus Heaney op als Boylston hoogleraar aan de afdeling Engels en Amerikaanse letterkunde en taal van Harvard. Zij was de eerste vrouw die deze positie veroverde. Graham is tweemaal gescheiden en trouwde in 2000 voor de derde keer, ditmaal met dichter en schilder Peter M. Sacks, een collega in Harvard. Jorie Graham publiceerde talrijke poëziebundels, waaronder "The End of Beauty", "The Dream of the Unified Field: Selected Poems 1974-1994" en "PLAC E". Zij heeft ook twee anthologieën, "Earth Took of Earth: 100 Great Poems of the English Language" (1996) en "The Best American Poetry" (1990) gepubliceerd. Graham ontving veel prijzen zoals de Whiting Award (1985), de John D. en Catherine T. MacArthur Fellowship, een Ingram Merrill Fellowship, en The Morton Dauwen Zabel Award van The American Academy and Institute of Arts and Letters. "The Dream of the Unified Field: Selected Poems 1974-1994" won de Pulitzerprijs voor Poëzie 1996. Voor haar bundel "P L A C E" ontving zij in 2012 Forward Poetry Prize. Zij was de eerste Amerikaanse vrouw die deze zeer prestigieuze Britse poëzieprijs won.
Prayer
Over a dock railing, I watch the minnows, thousands, swirl
themselves, each a minuscule muscle, but also, without the
way to create current, making of their unison (turning, re-
infolding,
entering and exiting their own unison in unison) making of themselves a
visual current, one that cannot freight or sway by
minutest fractions the water's downdrafts and upswirls, the
dockside cycles of finally-arriving boat-wakes, there where
they hit deeper resistance, water that seems to burst into
itself (it has those layers), a real current though mostly
invisible sending into the visible (minnows) arrowing
motion that forces change—
this is freedom. This is the force of faith. Nobody gets
what they want. Never again are you the same. The longing
is to be pure. What you get is to be changed. More and more by
each glistening minute, through which infinity threads itself,
also oblivion, of course, the aftershocks of something
at sea. Here, hands full of sand, letting it sift through
in the wind, I look in and say take this, this is
what I have saved, take this, hurry. And if I listen
now? Listen, I was not saying anything. It was only
something I did. I could not choose words. I am free to go.
I cannot of course come back. Not to this. Never.
It is a ghost posed on my lips. Here: never.
Over and Over Stitch
Late in the season the world digs in, the fat blossoms
hold still for just a moment longer.
Nothing looks satisfied,
but there is no real reason to move on much further:
this isn't a bad place;
why not pretend
we wished for it?
The bushes have learned to live with their haunches.
The hydrangea is resigned
to its pale and inconclusive utterances.
Towards the end of the season
it is not bad
to have the body. To have experienced joy
as the mere lifting of hunger
is not to have known it
less. The tobacco leaves
don't mind being removed
to the long racks—all uses are astounding
to the used.
There are moments in our lives which, threaded, give us heaven—
noon, for instance, or all the single victories
of gravity, or the kudzu vine,
most delicate of manias,
which has pressed its luck
this far this season.
It shines a gloating green.
Its edges darken with impatience, a kind of wind.
Nothing again will ever be this easy, lives
being snatched up like dropped stitches, the dry stalks of daylilies
marking a stillness we can't keep.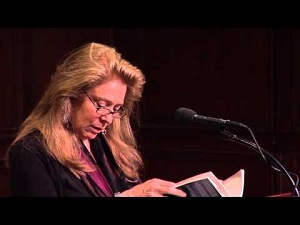 Jorie Graham (New York, 9 mei 1950)
09-05-2017 om 00:00 geschreven door Romenu

Tags:Jorie Graham, Romenu



Luuk Wojcik
De Nederlandse dichter Luuk Wojcik werd geboren in Roermond op 9 mei 1993. Zie ook alle tags voor Luuk Wojcik op dit blog.
Dit klinkt als muziek

In stoeltjes waar geen hoofd in past zitten we, luisteren we.
Niemand wilde hiernaartoe maar het meisje mocht kiezen.

De poortjes van onze huizen staan open alsof er nog iemand thuiskomt.
Iedereen hoort dit: hoe zacht een vlag wapperen kan.
De struiken bewegen niet, wind is een verre herinnering.
Deze straten hebben andere namen dan we gewend zijn.

Een orkest speelt,
iets van een moderne componist, laat van zich horen,
trompetten adagio, dan komen de klarinetten en basgitaren.
Pauken, hoorns zwellen aan, de dirigent dirigeert.

In onze huizen is er een vader wiens mopperen in de hart en nieren van iedere soldaat zit,
wiens mopperen de adem van de oorlog is, een conflict gaande houdt.
Een impasse in stand houdt.
Een moeder wiens zonen haar allang voorbij zijn, een moeder die haar nagellak deelt met
vriendinnetjes.

Als de hoorns en trombones en trompetten galmen, schateren,
laat de dirigent zijn stokje vallen. Zijn haar komt voor zijn ogen te hangen.

Als een laatste borrelnootje barst op rokerskiezen, met drop erachter, aan gruzelementen ligt op een
mentholtong,
buigt hij,door dacht dat het verder kon.

Ik klap tot ik mezelf als laatste hoor.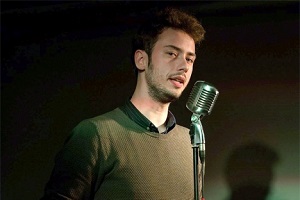 Luuk Wojcik (Roermond, 9 mei 1993)
09-05-2017 om 00:00 geschreven door Romenu

Tags:Luuk Wojcik, Romenu


08-05-2017

Roddy Doyle, Thomas Pynchon, Pat Barker, Gary Snyder, Gertrud Fussenegger, Edmund Wilson, Romain Gary, Alain-René Lesage, Sophus Schandorph
De Ierse schrijver Roddy Doyle werd geboren in Dublin op 8 mei 1958. Zie ook alle tags voor Roddy Doyle op dit blog.
Uit:Brilliant
"Gloria Kelly lay in bed. She was wide awake. She knew her brother, Raymond, was too. She could tell by the way he was breathing. It was awake breath. He was lying there, thinking and listening. Sleep breath was different. It was longer and lighter, less in and out.
'Rayzer?' she whispered,
Raymond didn't answer. But she didn't care.
She liked sharing the bedroom. Although she knew Raymond didn't. She didn't care about that either. She could like it in secret. She didn't have to tell him.
She'd been moved into Raymond's room when their Uncle Ben had come to live with them. For a while. That was what her mam and dad had said. Uncle Ben would be staying 'for a while'. At first her mother had called it 'a little while'. But the 'little' had disappeared when Uncle Ben kept staying, and Gloria began to think that her bedroom wasn't hers any more. And Raymond, she supposed, began to think the same thing. His room had become their room.
She looked into her room sometimes, when her Uncle Ben wasn't in there. He hadn't done anything to it. He hadn't touched her pictures or her other stuff. It was still pink, nearly everything in it. The only really new thing in the room was her Uncle Ben's smell. It was kind of an adult smell. A mixture of soap and sweatiness. There were none of his clothes lying around, and just one book that wasn't hers. She'd looked at the cover but it had looked boring, about a war or something. Except for the fact that she didn't sleep or play in there any more, it was still Gloria's room. So maybe her Uncle Ben really was only staying for a while – but the while was a bit longer than they'd expected.
Maybe.
'Rayzer?'
He still wouldn't answer.
She didn't like her bed. It wasn't a real bed. It was just a mattress on the floor. She'd liked it at first. It had been fun, nearly like camping. But not now. Her face was sometimes right against the wall, low down, at the skirting board, nearly where it joined the floor. It was cold there. Always – even when the rest of the room was warm. And she could hear things sometimes – she thought she could. Behind the skirting board."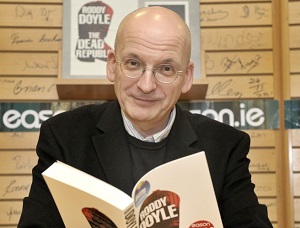 Roddy Doyle (Dublin, 8 mei 1958)
De Amerikaanse schrijver Thomas Pynchon werd op 8 mei 1937 geboren in Glen Cove, Long Island, New York. Zie ook alle tags voor Thomas Pynchon op dit blog.
Uit: Inherent Vice
"Okay, Doc. He's married."
"Some…; money situation."
She shook back hair that wasn't there and raised her eyebrows so what.
Groovy with Doc. "And the wife—she knows about you?"
Shasta nodded. "But she's seeing somebody too. Only it isn't just the usual—they're working together on some creepy little scheme."
"To make off with hubby's fortune, yeah, I think I heard of that happenin once or twice around L.A. And…; you want me to do what, exactly?" He found the paper bag he'd brought his supper home in and got busy pretending to scribble notes on it, because straight–chick uniform, makeup supposed to look like no makeup or whatever, here came that old well–known hardon Shasta was always good for sooner or later. Does it ever end, he wondered. Of course it does. It did.
They went in the front room and Doc laid down on the couch and Shasta stayed on her feet and sort of drifted around the place.
"Is, they want me in on it," she said. "They think I'm the one who can reach him when he's vulnerable, or as much as he ever gets."
"Bareass and asleep."
"I knew you'd understand."
"You're still trying to figure out if it's right or wrong, Shasta?"
"Worse than that." She drilled him with that gaze he remembered so well. When he remembered. "How much loyalty I owe him."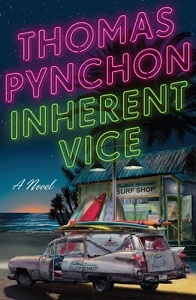 Thomas Pynchon (Glen Cove, 8 mei 1937)
Cover
De Engelse schrijfster Pat Barker werd geboren in Thornaby-on-Tees op 8 mei 1943. Zie ook alle tags voor Pat Barker op dit blog.
Uit: The Ghost Road
"She was scrabbling in her handbag, dislodging bus tickets, comb, purse, producing, finally, a packet of Woodbines. She let the cigarette dangle wetly from her lower lip while she groped for the matches. Her lips were plump, a pale salmon pink at the centre, darkening to brownish red at the edges. She glanced up, caught him looking at her, and flushed, not with pleasure — his lust was too blatant to be flattering— but drawn by it, nevertheless, into the memory of her unencumbered girlhood.
Her mother was helping the little boy step into his drawers, his hand a dimpled starfish on her broad shoulder. The flare of the match caught her attention. Tor God's sake, Louie,' she snapped. 'If you could only see how common you look…'
Louie's gaze hadn't moved. Her mother turned and squinted up into the sun, seeing the characteristic silhouette that said 'officer'. 'Look for the thin knees,' German snipers were told, but where they saw prey this woman saw a predator. If he'd been a private she'd have asked him what the bloody hell he thought he was gawping at. As it was, she said, 'Nice weather we're having, sir.'
Prior smiled, amused, recognizing his mother's speech, the accent of working-class gentility. 'Let's hope it lasts.'
He touched his cap and withdrew, thinking, as he strolled off, that the girl was neither a widow nor married. The way the mother's voice had cracked with panic over that word 'common' said it all.
Louie's knees were by no means glued together, even after the child. And her mother was absolutely right, with that fag stuck in her mouth she did look common. Gloriously, devastatingly, fuckably common.
He ought to be getting back to barracks. He had his medical in less than an hour, and it certainly wouldn't do to arrive gasping. He had no business to be drifting along the front looking at girls. But he looked anyway, hoarding golden fuzz on a bare arm, the bluish shadow between breasts thrust together by stays, breathing in lavender sharpened by sweat."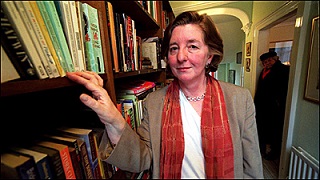 Pat Barker (Thornaby-on-Tees, 8 mei 1943)

De Amerikaanse dichter Gary Snyder werd geboren op 8 mei 1930 in San Francisco. Zie ook alle tags voor Gary Snyder op dit blog.
Beneath My Hand And Eye The Dis­tant Hills, Your Body
What my hand fol­lows on your body
Is the line. A stream of love
of heat, of light, what my
eye las­civ­i­ous
licks
over watch­ing
far snow-dappled Uin­tah moun­tains
Is that stream
Of power. what my
hand curves over, fol­low­ing the line.
"hip" and "groin"
Where "I"
fol­low by hand and eye
the swim­ming limit of your body.
As when vision idly dal­lies on the hills
Lov­ing what it feeds on.
soft cin­der cones and craters;
-Drum Hadley in the Pinacate
took ten min­utes more to look again-
A leap of power unfurl­ing:
left, right-right-
My heart beat faster look­ing
at the snowy Uin­tah Moun­tains.
What "is" within not know
but feel it
sink­ing with a breath
pusht ruth­less, surely, down.
Beneath this long caress of hand and eye
"we" learn the flow­er­ing burn­ing,
out­ward, from "below".
A Dent in a Bucket
Hammering a dent out of a bucket
a woodpecker
answers from the woods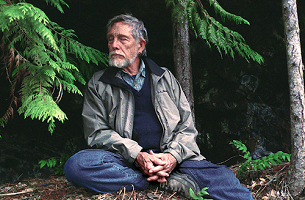 Gary Snyder (San Francisco, 8 mei 1930)

De Oostenrijkse schrijfster Gertrud Fussenegger werd geboren op 8 mei 1912 in Pilsen. Zie ook alle tags voor Gertrud Fussenegger op dit blog.
Uit: Das verschüttete Antlitz
"Er hätte nicht lügen, vielmehr, er hätte besser lügen sollen. Er war zu verwirrt, ihm kam die Nachricht zu plötzlich, ein niederschmettender Schlag.( Dabei stand sie seit dem Morgen in allen Zeitungen). So wußte er nichts,als er auf das Gericht kam und sie ihn fragten. " Ich kennne sie nicht, Ihre Tote", hatte er gesagt. "Kenne keine Helena Jacubowska,"( Und war´s nicht auch so)" was soll ich mit ihr zu schaffen haben?"
Aber sie war es,konnte niemand anderes sein. Es stand alles so elend genau in der Beschreibung: der grüne Sweater, der schwarze Rock, die Pelzjacke mit den kahlgescheuerten Knöpfen und dem abgestoßenem Saum. Arme, erniedrigte, vom Leben zerdrückte Kreatur! Und doch hatte sie sich gewehrt- in Zemans Herz glühte etwas auf wie Genugtuung. Sie hatte sich gewehrt gegen das Äußerste, Letzte, Infamste; hatte sich gewehrt, verzweifelt, unter Einsatz des Lebens, um den Preis des Lebens.
Niemand braucht zu wissen, wer sie war: das hatte sie sich verdient, wie sie dort lag. Er, Zeman,würde sie morgen sehen; sie hatten ihn noch einmal vorgeladen. Er wollte sich wappnen gegen diesen Anblick. Warum hatte er Angst davor? Es war ihm schon so viel Schlimmes unter die Augen gekommen, ihr Anblick würde das Ärgste nicht sein. Er würde sich nicht ergeben; würde wiederholen: "Ich kenne sie nicht". Gegen eine Aussage, die sich gleichbleibt, kommt kein Augenschein auf. Laut schrie er, gegen den Wind ankämpfend: "Ich kenne sie nicht".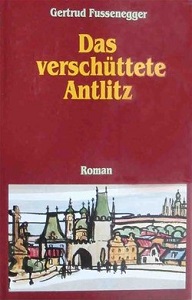 Gertrud Fussenegger (8 mei 1912 – 19 maart 2009)
Cover
De Amerikaanse schrijver en criticus Edmund Wilson werd geboren op 8 mei 1895 in Red Bank, New Jersey. Zie ook alle tags voor Edmund Wilson op dit blog.
Uit:The Sixties
"I have decided that the best thing to travel with -- New York last winter and Israel last spring -- is a volume of Balzac. You sink into the familiar Balzac world with the familiar Balzac characters. In the end, you may become disgusted by his sketchy and implausible inventions -- which must have been written when he had become too tired -- and repelled by his inveterate habit of having the good people undone or destroyed by the bad. But I was reading a particularly good one, "La Rabouilleuse." Wellfleet, Spring 1969
My 74th birthday. I spent the day in sloth and the doldrums. Champagne at lunch -- Svetlana [ Alliluyeva, Stalin's daughter ] insisted on making the cork pop to the ceiling. My not being able to make love, not being able to swim or take much exercise and now, with my lower teeth gone, not being able to eat anything but the softest food is getting me down and making me feel frustrated. Had some drinks and went to sleep very early, but had bad dreams and woke up feeling horrible -- partly from worrying about Svetlana and how to write about her. But read Macaulay and somewhat regained my equanimity and my inspiration to live. Talcottville, Spring 1969
It sometimes seems to me strange that I am still alive and writing this diary.
At moments, especially when reading in bed, I have a brief comfortable feeling of renewal of something in the past -- through a book, a passing contact with some old phase of life, something I recognize, a reassurance cropping up in my now infirm self. New York, Autumn 1969
In New York, working on proofs, I found myself quite comfortable and competent again and began to put together in my mind a new volume of literary essays. This gave me satisfaction -- something solid and real in my mind that I shall gradually bring into being. New York, Spring 1970."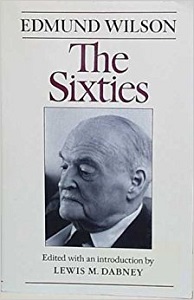 Edmund Wilson (8 mei 1895 – 14 juni 1972)
Cover
De Franse schrijver Alain-René Lesage werd geboren op 8 mei 1668 in Sarzeau. Zie ook alle tags voor Alain-René Lesage op dit blog.
Uit: Histoire de Gil Blas de Santillane
« Il ne pouvait rien me proposer qui me fût plus agréable car je mourais d'envie de voir le pays. Cependant j'eus assez de force sur moi pour cacher ma joie ; et lorsqu'il fallut partir, ne paraissant sensible qu'à la douleur de quitter un oncle à qui j'avais tant d'obligation, j'attendris le bonhomme, qui me donna plus d'argent qu'il ne m'en aurait donné qu'il eût pu lire au fond de mon âme. Avant mon départ j'allai embrasser mon père et ma mère, qui ne m'épargnèrent pas les remontrances. Ils m'exhortèrent à prier Dieu pour mon oncle, à vivre en honnête homme, à ne me point engager dans de mauvaises affaires, et, sur toutes choses, à ne pas prendre le bien d'autrui. Après qu'ils m'eurent très longtemps harangué, ils me firent présent de leur bénédiction, qui était le seul bien que j'attendais d'eux. Aussitôt je montai sur ma mule, et sortis de la ville.
Me voilà donc hors d'Oviédo, sur le chemin de Peñaflor, au milieu de la campagne, maître de mes actions, d'une mauvaise mule et de quarante bons ducats, sans compter quelques réaux que j'avais volés à mon très honoré oncle. La première chose que je fis fut de laisser ma mule aller à discrétion, c'est-à-dire au petit pas. Je lui mis la bride sur le cou, et, tirant de ma poche mes ducats, je commençai à les compter et recompter dans mon chapeau. Je n'étais pas maître de ma joie. Je n'avais jamais vu autant d'argent. Je ne pouvais me lasser de le regarder et de le manier. Je le comptais peut-être pour la vingtième fois, quand tout à coup ma mule, levant la tête et les oreilles, s'arrêta au milieu du grand chemin. Je jugeai que quelque chose l'effrayait ; je regardai ce que ce pouvait être : j'aperçus sur la terre un chapeau renversé sur lequel il y avait un rosaire à gros grains, et en même temps j'entendis une voix lamentable qui prononça ces paroles : Seigneur passant, ayez pitié, de grâce, d'un pauvre soldat estropié ; jetez, s'il vous plaît, quelques pièces d'argent dans ce chapeau ; vous en serez récompensé dans l'autre monde. Je tournai aussitôt les yeux du côté que partait la voix ; je vis au pied d'un buisson, à vingt ou trente pas de moi, une espèce de soldat qui, sur deux bâtons croisés, appuyait le bout d'une escopette qui me parut plus longue qu'une pique, et avec laquelle il me couchait en joue. »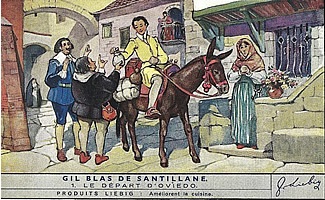 Alain-René Lesage (8 mei 1668 – 17 november 1747)
Illustratie uit Gil Blas
De Deense schrijver Sophus Schandorph werd geboren op 8 mei 1836 in Ringstedt. Zie ook alle tags voor Sophus Schandorph op dit blog.
Uit: Stina Becomes a Farmer's Wife (vertaald door Sally Ryan)
"No; if only we don't have to buy fodder for the cattle before winter is over."
"That might be bad enough," said Stina sullenly, and turned away from the man. Perhaps this discouraged him from further attempts at conversation. He turned toward her several times, clearing his throat and mumbling, "Well, well, begosh! Ye-e-es." –What was there to be said to that?–Then, as he did not receive the least response, he fell into a silence, perhaps into a reverie. He bent forward, placed his whip between his legs, the handle leaning against his right thigh, and left the two sorrels to do as they pleased. At their present pace it was out of the question for them to cover four miles an hour, and yet the perspiration formed big flakes of foam on their loins and backs.
No sound was heard except the heavy, monotonous creaking of the axles and a slight rattling of the harness when the horses shook themselves to get rid of the "blind flies" that buzzed around the carriage and sometimes, with a short, faintly snapping sound, hit the leather cover which protected the travelers.
The owner of the spring-cart was roused from his drowsiness by a motion of the girl beside him. Again he glanced sideways at her, and saw her untie the knot in the red and white dotted cotton kerchief which was covering the bundle in her lap. Inside was a parcel wrapped in a newspaper. She opened it, took out a big round of rye bread covered with smoked sausage, and broke the bread in two parts. With a nod she offered her host one of these, without, however, looking at him.
"Thanks to him who offers," murmured the farmer. Each devoured his half of the round with due composure. It was succeeded by an other covered with green cheese. This slice was also broken in two by its proprietress who then repeated her silent invitation."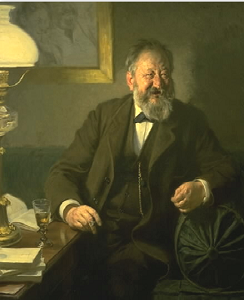 Sophus Schandorph (8 mei 1836 - 1 januari 1901)
Portret door P.S. Krøyer, 1895
De Franse schrijver, vertaler regisseur en diplomaat Romain Gary werd geboren op 8 mei 1914 in Vilnius, Litouwen. Zie ook alle tags voor Romain Gary op dit blog.
Uit: La promesse de l'aube
« Nous restâmes là une heure, deux heures sans nous parler. Puis elle me demanda d'aller tirer les rideaux. Je tirai les rideaux. J'hésitai un moment et puis je levai les yeux au ciel, pour lui éviter d'avoir à me le demander. Je demeurai ainsi un bon coup, les yeux levés à la lumière. C'était à peu près tout ce que je pouvais faire pour elle. On resta là, tous les trois, en silence. Je n'avais même pas besoin de me tourner vers elle pour savoir qu'elle pleurait. Et je n'étais même pas sûr que c'était de moi qu'il s'agissait. Puis j'allai m'asseoir dans le fauteuil en face du lit. J'ai vécu dans ce fauteuil quarante-huit heures. Je gardai presque tout le temps ma casquette et mon cuir et mon mégot: j'avais besoin d'amitié. A un moment, elle me demanda si j'avais des nouvelles de ma Hongroise, Ilona. Je lui dis que non.
– Il te faut une femme à côté de toi, dit-elle, avec conviction.
Je lui dis que tous les hommes en étaient là.
– Ce sera plus difficile pour toi que pour les autres, dit-elle.
Nous jouâmes un peu à la belote. Elle fumait toujours autant, mais elle me dit que les médecins ne le lui défendaient plus. Ce n'était évidemment plus la peine de se gêner. Elle fumait, en m'observant attentivement, et je sentais bien qu'elle faisait des plans. Mais j'étais très loin de me douter de ce qu'elle était en train de combiner. Car je suis convaincu que ce fut à ce moment-là qu'elle eut, pour la première fois, sa petite idée. Je surprenais bien, dans son regard, une expression de ruse, et je savais bien qu'elle avait une idée en tête, mais je ne pouvais vraiment pas deviner, même la connaissant comme je la connaissais, qu'elle pouvait aller aussi loin. Je parlai un peu au médecin: il était rassurant. Elle pouvait tenir encore le coup pendant quelques années. «Le diabète, vous savez…», me dit-il, d'un air entendu. Le troisième jour, au soir, j'allai dîner au Masséna et j'y tombai sur un mynheer hollandais, lequel se rendait par avion en Afrique du Sud pour «se mettre à l'abri de l'invasion allemande qui se préparait». Sans aucune provocation de ma part, se fiant sans doute à mon uniforme d'aviateur, il me demanda si je pouvais lui présenter une femme. Quand j'y pense, le nombre de gens qui m'ont fait la même requête, dans ma vie, est assez inquiétant. J'avais pourtant toujours cru que j'avais l'air distingué. Je lui dis que je n'étais pas en forme, ce soir-là. Il m'annonça que toute sa fortune se trouvait déjà en Afrique du Sud et nous allâmes célébrer cette bonne nouvelle au «Chat Noir»."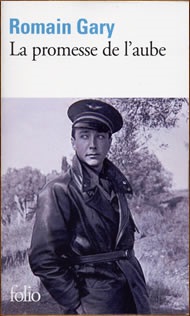 Romain Gary (9 mei 1914 – 2 december 1980)
Cover
Zie voor nog meer schrijvers van de 8e mei ook mijn blog van 8 mei 2016 deel 2.
08-05-2017 om 18:35 geschreven door Romenu

Tags:Roddy Doyle, Thomas Pynchon, Pat Barker, Gary Snyder, Gertrud Fussenegger, Edmund Wilson, Romain Gary, Alain-René Lesage, Sophus Schandorph, Romenu


07-05-2017

Willem Elsschot, Almudena Grandes, Christoph Marzi, Edgar Cairo, Volker Braun, Robert Browning, Peter Carey, Archibald MacLeish, Rabindranath Tagore
De Vlaamse schrijver en dichter Willem Elsschot werd in Antwerpen geboren op 7 mei 1882. Zie ook alle tags voor Willem Elschot op dit blog.
Uit: Lijmen / Het been
"Ook de notaris scheen in te zien dat het nu uit was en nam zijn hamer in de hand. Driehonderd vijftig éénmaal, driehonderd vijftig andermaal.
Boorman was recht gestaan en had een arm opgestoken als een eerste Mussolini.
– Acht duizend vijfhonderd frank, sprak zijn zware basstem.
Het vrouwtje staarde hem aan met oogen die uitpuilden van verstomming, verslikte zich, hoestte geweldig, probeerde tevergeefs een opwellend gegichel te smooren en bevrijdde zich eindelijk in een onweerstaanbaren schaterlach die de heele zaal meesleepte, en de ruiten daveren deed.
Het publiek was opgesprongen.
– Huu, huu! jouwde een stem.
– Bui-ten, bui-ten, bui-ten, scandeerden de papiermenschen, zichzelf begeleidend met rhythmisch getrappel.
De notaris hamerde geweldig en toen even een windstilte intrad kon hij zich verstaanbaar maken.
– Mijnheer, riep hij, ik verzoek u dringend de orde niet te storen. Hetis hier geen kermistent.
De agent van politie had zich losgemaakt van den wand en slenterde in onze richting.
– Acht duizend vijfhonderd andermaal, brulde Boorman, of hoor jij niet goed? Toewijzen zeg ik!
– Eén millioen achthonderd vijftig duizend frank, schreeuwde opeens een mannetje met een bolhoed dat op een stoel was gesprongen.
Dat bod werd onthaald op een ontzaglijk hoera.
Wat Boorman toen riep was niet meer te verstaan, maar ik zag dat de radelooze notaris met zijn hamer een teeken gaf en de agent pakte Boorman bij den arm.
– Vooruit, beval hij verbeten.
Boorman was niet groot, maar sterk, want het borstbeeld van Leopold ii, een massief marmeren blok
dat voor mij geen vin wilde verroeren, had hij eens opgepakt en alleen van 't Museum van Inlandsche en Uitheemsche voortbrengselen tot in de gang gedragen, bij gelegenheid van een schoonmaak."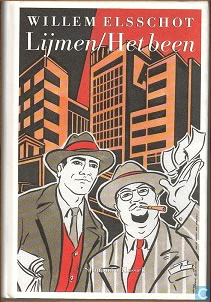 Willem Elsschot (7 mei 1882 – 31 mei 1960)
De Spaanse schrijfster Almudena Grandes Hernández werd geboren op 7 mei 1960 in Madrid. Zie ook alle tags voor Almudena Grandes op dit blog.
Uit: De vijand van mijn vader (Vertaald door Mia Buursma)
"Het ijs bedekte de binnenplaats met een wittig, groezelig gaas, als een oud verband om de armetierige boomstammen aan weerszijden van de put, en in het nog vage licht van de dageraad verleende het een mysterieuze betekenis aan elke kiezelsteen, scherpe contouren die afstaken tegen de door de kou omhooggekrulde, stijf geworden grond. En ook aan mijn neus, die eerder dan ikzelf als een bevroren aanhangsel wakker werd in mijn gezicht, haast alsof hij van iemand anders was. Dan stak ik een hand uit om hem aan te raken, alsof ik verbaasd was dat hij daar was, tussen mijn ogen en mijn mond, en het verschil in temperatuur deed tegelijk pijn aan mijn neus en aan mijn vingers. Om dat niet te hoeven voelen, stopte ik mijn hoofd helemaal tussen de warme zachte lakens en viel weer in slaap, en deze keer was beter dan de eerste, maar zoals bijna alles in dit leven wat beter is, was die rust maar van korte duur. De deur van de kamer die ik met mijn zusjes deelde, was in het midden, aan de andere kant van het groene gordijn, maar het raam hoorde bij mij en daarom maakte mijn moeder mij altijd als eerste wakker. Het licht kwam gelijk met haar stem, kom, Nino, opstaan, het is de hoogste tijd, en even later de snelle vluchtige kus op mijn voorhoofd, het onvermijdelijke begin van elke ochtend.
Elke dag begon op dezelfde manier, dezelfde voetstappen, dezelfde woorden, het kleine geluidje van haar vingers die de luiken openmaakten en ook die kleine kus, de huid van mijn moeder die amper mijn huid aanraakte, een zachtheid die voortkwam uit haast en die in niets leek op de luidruchtige, herhaalde druk van haar lippen die me welterusten wensten alsof ze hun afdruk voorgoed op mijn wangen wilden achterlaten. Elke dag begon op dezelfde manier, maar met de eerste vorst veranderde alles zonder dat er iets veranderde. In andere huizen in het dorp werd met gefronste blikken naar de bergen gekeken, één enkele bezorgde uitdrukking op heel veel verschillende gezichten. In mijn huis, dat geen huis was maar drie kamers in de kazerne van Fuensanta de Martos, gedroegen wij ons beter, want we wisten dat zodra de winter begon mijn moeder geen zin meer had in grapjes.
'Hoe heb ik het ooit in mijn hoofd kunnen halen om met hem hier te trouwen, hè, hoe heb ik dat ooit kunnen doen, en dat terwijl ik het zo goed had in mijn dorp ...'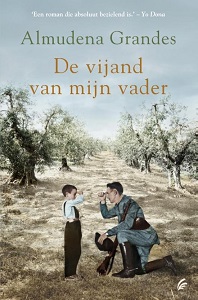 Almudena Grandes (Madrid, 7 mei 1960 )
De Duitse schrijver Christoph Marzi werd geboren op 7 mei 1970 in Mayen. Zie ook alle tags voor Christoph Marzi op dit blog.
Uit: Der letzte Film des Abraham Tenenbaum
"Geschichten wie diese kennt man aus dem Kino. Aber diese Geschichte ist wirklich passiert. Und das Verrückte daran ist, dass sie mir passiert ist. Es war im letzten September, und wenn ich an den Tag, an dem alles anfing, zurückdenke, sind auch die kleinsten Erinnerungen wie Bilder aus einem alten Film: die Stadt ein einziges Panorama aus Herbst, in schillernden Farben und Cinemascope, und ich mittendrin. Das Leben ist manchmal wirklich wie im Kino — nur anders, viel echter. Der Tag, an dem sich mein Leben ändern sollte, begann unspektakulär mit einem Wecker, den ich nicht hörte. Das allein war nichts Ungewöhnliches. Zu verschlafen war meine Spezialität und es war nicht das erste Mal, dass ich knapp eine halbe Stunde, bevor die Schicht im Thunderbird begann, aufwachte. Es war auch nicht das erste Mal, dass ich mir Quentins Vespa ausleihen musste, wenn ich es noch einigermaßen pünktlich bis rauf in die Montague Street schaffen wollte. Quentin Klein hatte die Wohnung gegenüber gemietet, er studierte irgendwas mit Wirtschaft an der Columbia, doch die meiste Zeit saß er einfach rum, hörte Modern Jazz und lernte jede Menge Mädchen kennen. »Hi, ich bin Tom«, stellte ich mich einer hübschen Unbekannten vor, die mir die Tür zu Quentins Bude öffnete. »Ist Quentin da? Ich meine, äh, ich brauche die Vespa.« Müde Augen starrten mich verständnislos an. »Den Roller«, drängelte ich und schaute über ihre Schulter ins Halbdunkel der Wohnung. Das Mädchen trug nur ein T-Shirt mit einem grimmigen Hulk darauf. Ich kannte das T-Shirt, es gehörte Quentin. »Ich wohne gegenüber«, erklärte ich ihr (irgendwo da drüben stand sogar mein Name auf dem Klingelschild: Tom Balfour). »Der Nachbar«, fügte ich hinzu, weil sie verwirrt wirkte. Der Schlüssel für die Vespa hing jedenfalls an dem Rüssel eines ziemlich hässlichen Porzellanelefanten, den Quentin aus irgendeinem Grund liebte. »Quentin leiht mir öfter seine Vespa.« Ihr Blick wurde klarer und gleichzeitig verwirrter. »Quentin hat eine Vespa?« »Nimm dir den Schlüssel!«, rief Quentin irgendwo aus dem Halbdunkel. »Und mach den Tank voll, wenn du sie zurückbringst.« Ich lächelte die Unbekannte höflich an, dann machte sie Platz und ich schob mich an ihr vorbei in die Wohnung. »Da ist er ja!« Der hässliche Porzellanelefant war pink und dick, aber der Schlüssel hing genau da, wo er hingehörte. Ich schnappte ihn mir und schlüpfte schnell wieder nach draußen. »Bin schon weg«, flüsterte ich entschuldigend."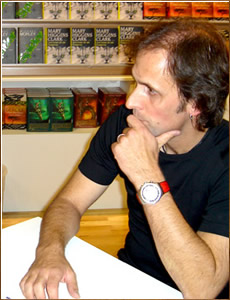 Christoph Marzi (Mayen, 7 mei 1970)
De Surinaamse schrijver Edgar Eduard Cairo werd geboren in Paramaribo op 7 mei 1948. Zie ook alle tags voor Edgar Cairo op dit blog.
Uit:De Negerhaan
"Aangezien wij arm waren, maar niet werkelijk straatarm, kwamen de buren gedurig, behalve suiker, zout, peper, brokjes cacao, blauwsel, soda en andere huishoudelijke luxe, schoon en helder kraanwater bij ons lenen: 'Me schat, me schat! Ik ben nie gebaad vandaag, ma' ik moet bij dokter gaan. Dankje danke, leen me een beetje water, no?' Vader mopperde zich een ongeluk, maar moeder kon nu eenmaal dat soort dingen niet weigeren en dus kan men de permanente staat van oorlog tussen vader en de buren wel vermoeden. Het was dan ook altijd eerst een kwestie van schichtig loeren van zo'n buurvrouw, desnoods met een compagnon op de uitkijk, hoegenaamd kleren met de maïskolf borstelend: zodra mijn vader z'n voet het huis uittrok... rrrttts... als 'n rat naar binnen gerend bij ons met: 'Buurvrouw! Buurvrouw...!'
Zulks nog afgezien van het feit dat men geleend water of suiker nooit terugkrijgt, tenzij er een wonderbare vermenigvuldiging optreedt. Dan praat ik niet over de mensen die, eenmaal iets geleend hebbend, het voorwerp, een kam of bezem, liefst tegen betaling aan hun over-overburen verder leenden. Totdat je iets wat je zelf leende, als je oorspronkelijke eigendom herkende. Ruzie geblazen, zeg ik je, desnoods met vechtpartij tot bloedens toe! Negerhuis-leven? 't Was me wat!
Bij ons op het erf had je helemaal aan de voorzijde, aan de straat, een grote woning op - hoe kon het anders - heel hoge stenen stutten, met een hoge en vooral brede, tegelijk stenen stoep in de vorm van een halve cirkel. Aha: de eigenaarswoning, groot en machtig boven alle krotverdenkingen uittorenend. Zo'n woning aan de voorkant, overal in de stad volgens de oudkoloniale bouwstijl nog te vinden, heette maar al te bloemrijk bakra-oso, letterlijk: de blankenwoning (vroeger dus de woning van de blanke slavenmeester). De halfcirkelige hoge stoep die ik zojuist beschreef stond aan de erfzijde van het grote huis. Maar aan de straatzijde was er een nog grotere, compleet met een groen geverfd, gietijzeren hek met zoet Hollands motiefje."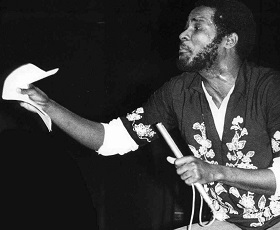 Edgar Cairo (7 mei 1948 – 16 november 2000)
De Duitse dichter en schrijver Volker Braun werd geboren op 7 mei 1939 in Dresden. Zie ook alle tags voor Volker Braun op dit blog.
Uit: Der Weststrand
V
Frühstück, "Herr Ober, die Staukarte bitte"
. . .
Sie hocken im Modder wie komische Vögel
Die Krallen abwärtsgerichtet
Plastikbeutel als schwarze
Wehende Kröpfe, Muschelsucher
In La Tranche-sur-Mer. Einsame lüsterne Arbeit
Der Dichter,
für eine rohe Mahlzeit.
Was zählt
Das Ende der Geschichte
In diesem alltäglichen Schlick
Wo oben unten ist und Tod Leben.
. . . Und er benutzte die Zeit, darüber nachzudenken
Wie paradox es ist
Daß uns Stöße Genuß bereiten
"Ein Stochern im Leib. . . dankbar aufgenommen".
Im Gesicht einer Frau
Liest er, öffnet sich was sich öffnen läßt
Mund und Auge, mehr
Liest er im Gesicht einer Frau.
Siedendes Wasser. Sie schlürfen die Muscheln
Eine Nacht nach der andern
Betäubt mit Zitronen
Und ich hoffte wieder, mich der Dinge
Die mich treffen
Ein Erwählter
Würdig zu zeigen.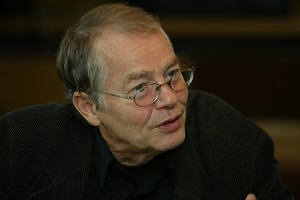 Volker Braun (Dresden, 7 mei 1939)
De Engelse dichter en schrijver Robert Browning werd geboren op 7 mei 1812 in Londen. Zie ook alle tags voor Robert Browning op dit blog.
Childe Roland To The Dark Tower Came
IV
For, what with my whole world-wide wandering,
What with my search drawn out thro' years, my hope
Dwindled into a ghost not fit to cope
With that obstreperous joy success would bring,—
I hardly tried now to rebuke the spring
My heart made, finding failure in its scope.
V
As when a sick man very near to death
Seems dead indeed, and feels begin and end
The tears and takes the farewell of each friend,
And hears one bid the other go, draw breath
Freelier outside, ("since all is o'er," he saith,
"And the blow fallen no grieving can amend;")
VI
While some discuss if near the other graves
Be room enough for this, and when a day
Suits best for carrying the corpse away,
With care about the banners, scarves and staves,
And still the man hears all, and only craves
He may not shame such tender love and stay.
VII
Thus, I had so long suffer'd, in this quest,
Heard failure prophesied so oft, been writ
So many times among "The Band"—to wit,
The knights who to the Dark Tower's search address'd
Their steps—that just to fail as they, seem'd best.
And all the doubt was now—should I be fit?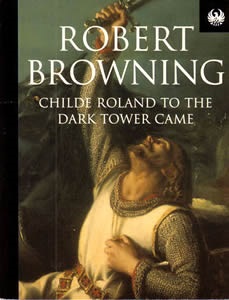 Robert Browning (7 mei 1812 – 12 december 1889)
De Australische schrijver Peter Carey werd geboren in Bacchus Marsh, Victoria, op 7 februari 1943. Zie ook Zie ook alle tags voor Peter Carey op dit blog.
Uit: Amnesia
"I had published several books, fifty features, a thousand columns, mainly concerned with the traumatic injury done to my country by our American allies in 1975. While my colleagues leapt to the conclusion that the hacker was concerned simply with freeing boat people from Australian custody, I took the same view as our American allies, that this was an attack on the United States. It was clear to me, straight away, that the events of 1975 had been a first act in this tragedy and that the Angel Worm was a retaliation. If Washington was right, this was the story I had spent my life preparing for. If the "events of 1975" seem confusing or enigmatic to you, then that is exactly my point. They are all part of "The Great Amnesia." More TC.
In court, I listened as my publisher got a belting from the judge and I saw his face when he finally understood he could not even sell my book as remaindered.
"Pulp?" he said.
"Including that copy in your hand."
Damages were awarded against me for $120,000. Was I insured or not insured? I did not know.
The crowd outside the court was as happy as a hanging day.
"Feels, Feels," the News International guy shouted. "Look this way. Felix."
That was Kev Dawson, a cautious little prick who made his living rewriting press releases.
"Look this way Feels."
"What do you think about the verdict, Feels?"
What I thought was: our sole remaining left-wing journalist had been pissed on from a mighty height. And what was my crime? Repeating press releases? No, I had reported a rumour. In the world of grown-ups a rumour is as much a "fact" as smoke. To omit the smoke is to fail to communicate the threat in the landscape."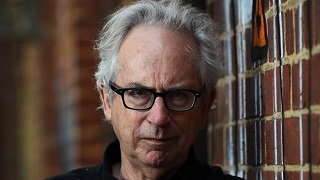 Peter Carey (Bacchus Marsh, 7 mei 1943)
De Amerikaanse dichter en politicus Archibald MacLeish werd geboren op 7 mei 1892 in Glencoe, Illinois. Zie ook alle tags voor Archibald MacLeish op dit blog.
The Young Dead Soldiers Do Not Speak
The young dead soldiers do not speak.
Nevertheless, they are heard in the still houses:
who has not heard them?
They have a silence that speaks for them at night
and when the clock counts.
They say: We were young. We have died.
Remember us.
They say: We have done what we could
but until it is finished it is not done.
They say: We have given our lives but until it is finished
no one can know what our lives gave.
They say: Our deaths are not ours: they are yours,
they will mean what you make them.
They say: Whether our lives and our deaths were for
peace and a new hope or for nothing we cannot say,
it is you who must say this.
We leave you our deaths. Give them their meaning.
We were young, they say. We have died; remember us.
The Snowflake Which Is Now And Hence Forever
Will it last? he says.
Is it a masterpiece?
Will generation after generation
Turn with reverence to the page?
Birdseye scholar of the frozen fish,
What would he make of the sole, clean, clear
Leap of the salmon that has disappeared?
To be, yes!--whether they like it or not!
But not to last when leap and water are forgotten,
A plank of standard pinkness in the dish.
They also live
Who swerve and vanish in the river.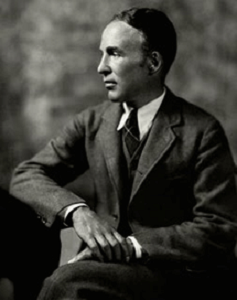 Archibald MacLeish (7 mei 1892 – 20 april 1982)
Rond 1925
De Bengaalse dichter en schrijver Rabindranath Tagore werd op 7 mei 1861 in Calcutta (tegenwoordig: Kolkata) geboren. Zie ook alle tags voor Rabindranath Tagore op dit blog.
Clouds And Waves
Mother, the folk who live up in the clouds call out to me-
"We play from the time we wake till the day ends.
We play with the golden dawn, we play with the silver moon."
I ask, "But how am I to get up to you ?"
They answer, "Come to the edge of the earth, lift up your
hands to the sky, and you will be taken up into the clouds."
"My mother is waiting for me at home, "I say, "How can I leave
her and come?"
Then they smile and float away.
But I know a nicer game than that, mother.
I shall be the cloud and you the moon.
I shall cover you with both my hands, and our house-top will
be the blue sky.
The folk who live in the waves call out to me-
"We sing from morning till night; on and on we travel and know
not where we pass."
I ask, "But how am I to join you?"
They tell me, "Come to the edge of the shore and stand with
your eyes tight shut, and you will be carried out upon the waves."
I say, "My mother always wants me at home in the everything-
how can I leave her and go?"
They smile, dance and pass by.
But I know a better game than that.
I will be the waves and you will be a strange shore.
I shall roll on and on and on, and break upon your lap with
laughter.
And no one in the world will know where we both are.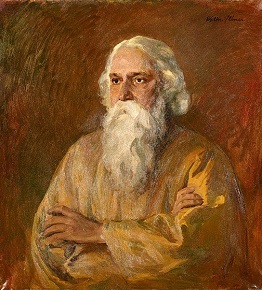 Rabindranath Tagore (7 mei 1861 – 7 augustus 1941)
Portret door Walther Illner, ca.1930
Zie voor nog meer schrijvers van de 7e mei ook mijn vorige blog van vandaag.
07-05-2017 om 12:16 geschreven door Romenu

Tags:Willem Elsschot, Almudena Grandes, Christoph Marzi, Edgar Cairo, Volker Braun, Robert Browning, Peter Carey, Archibald MacLeish, Rabindranath Tagore, Romenu



Horst Bienek, Joseph Joubert, Stanisław Przybyszewski, Karl Gustav Vollmõller, A. E. W. Mason, Therese Huber, Dorit Zinn, Angela Carter, André du Bouchet
De Duitse dichter en schrijver Horst Bienek werd geboren op 7 mei 1930 in Gleiwitz. Zie ook alle tags voor Horst Bienek op dit blog.
Berlin, Chausseestrasse 125
Man muß die Schuhe abstreifen,
noch einmal, bevor man eintreten darf.
Der strenge Blick der Aufseherin,
die auch in Bautzen
Dienst tun könnte. Wer fünf Minuten
später kommt, wird nicht mehr eingelassen.
Überhaupt, nur Gruppenführungen. Im Kollektiv.
Dann: die Räume,
aus denen die Zeit entflohen ist. Hier
also hat er gelebt. Hier also
soll er geschrieben haben. Briefe.
Die Bearbeitung des Coriolan. Nichts
Neues mehr. Die Elegien in Buckow, draußen,
unter Sandkiefern.
Dämmerlicht, von einem Raum zum andern,
− Wo er doch die Klarheit liebte
Der wuchtige Schreibtisch, leer,
kahl, abweisend. Das Holz ist das einzige,
was hier noch atmet.
Leben des Galilei schrieb er auf den Knien
in engen, stickigen Hotelzimmern .
Früher ging der Blick auf den
Dorotheenstädtischen Friedhof. Hegels Grab.
Fichtes Gedenkstein. Früher.
Jetzt verwehrt das eine dicke graue Gardine.
Aus konservatorischen Gründen, sagt die
Aufseherin. Aus was?
Nichts erinnert an ihn. Nicht einmal
die amerikanischen Krimis, oben im Regal,
die er gelesen haben soll.
Nur im Schlafzimmer seine Mütze, die schwarze,
verschwitzte, am Haken, hinter der Tür,
beweist, daß er einmal hier gewesen ist.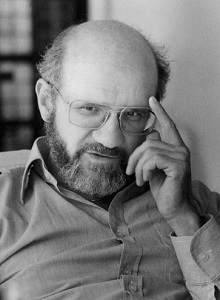 Horst Bienek (7 mei 1930 – 7 december 1990)

De Franse schrijver en essayist Joseph Joubert werd geboren in Montignac op 7 mei 1754. Zie ook alle tags voor Joseph Joubert op dit blog.
Uit: Pensées
« J'ai donné mes fleurs et mon fruit : je ne suis plus qu'un tronc retentissant ; mais quiconque s'assied à mon ombre et m'entend, devient plus sage.
Je ressemble en beaucoup de choses au papillon : comme lui j'aime la lumière ; comme lui j'y brûle ma vie ; comme lui j'ai besoin, pour déployer mes ailes, que dans la société il fasse beau autour de moi, et que mon esprit s'y sente environné et comme pénétré d'une douce température, celle de l'indulgence ; j'ai l'esprit et le caractère frileux.
J'ai besoin que les regards de la faveur luisent sur moi. C'est de moi qu'il est vrai de dire : « Qui plaît est roi, qui ne plaît plus n'est rien. » Je vais où l'on me désire pour le moins aussi volontiers qu'où je me plais.
J'ai de la peine à quitter Paris, parce qu'il faut me séparer de mes amis, et de la peine à quitter la campagne, parce qu'il faut me séparer de moi.
J'ai la tête fort aimante et le cœur têtu. Tout ce que j'admire m'est cher, et tout ce qui m'est cher ne peut me devenir indifférent.
Philanthropie et repentir est ma devise.
J'aime peu la prudence si elle n'est morale. J'ai mauvaise opinion du lion depuis que je sais que son pas est oblique.
Quand mes amis sont borgnes, je les regarde de profil."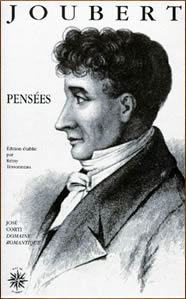 Joseph Joubert (7 mei 1754 - 4 mei 1824)
Cover
De Poolse dichter en schrijver Stanisław Przybyszewski werd geboren op 7 mei 1868 in Łojewo. Zie ook alle tags voor Stanisław Przybyszewski op dit blog.
Uit: De Profundis
"Das Surrogat dieses unsichtbaren Seelenlebens: das logische Gehirnleben, kennen wir nun zur Genüge. Das ganze Fazit aller seiner wissenschaftlichen und philosophischen Spekulationen ist ein Ignoramus und Ignorabimus, also eine gänzliche Bankerotterklärung all' seiner verzweifelten Bestrebungen. Das künstlerische Fazit – risum teneatis amici – ist der Naturalismus, die seelenlose, brutale Kunst für das Volk, die Bürgerkunst par excellence, die biblia pauperum für das schwache »normale« Gehirn, das denkfaule, feige, plebejische Gehirn, das Alles erklärt, Alles zurechtgelegt haben will, das jede Tiefe, jedes Geheimnis verhöhnt und verspottet und für Verrücktheit erklärt, weil es die Seele haßt, nur weil es sie nicht begreifen kann. Ja! das rohe, stupide Bürgergehirn – die famose vox populi – haßt Alles, was es nicht verstehen kann, vielleicht auch, weil es die bekannte Plebejerangst hat, düpiert zu werden.
Nun ja: man überlasse dem Plebejer, was des Plebejers ist, mit Vergnügen sogar einige Herren, die durchaus »Großgehirnaristokraten« genannt werden wollen.
Ich meine hier also eine andere Kunst. Die Kunst, die sich in der Malerei nicht mit der banalen Außenwelt, ein paar alten, stupiden Invaliden in Amsterdam zum Beispiel, beschäftigt, sondern der Welt, wie sie sich in der Seele in seltenen Stunden, den Stunden der Halluzination und der Ekstase widerspiegelt. Ich denke auch nicht an die famosen Leoncavallos und die zahllosen Mascagnis, sondern etwa an die Fis-moll-Polonaise von Chopin, diesen gräßlichen, nackten Seelenschrei. Ich meine hier auch nicht den feudalen Reinhold Begas, sondern Vigeland. Ja, ich denke jetzt an eine andere Kunst, die Kunst, die das Tageblatt-Bürgertum für verrückt, blödsinnig, impotent u. s. w., u. s. w. erklärt hatte.
In der Literatur hat diese Kunstgattung im orientalischen Altertum und namentlich im Mittelalter ungemein reiche Blüten getrieben. Ja, namentlich im germanischen Mittelalter. Keine Rasse hat so viele Mystiker, also Menschen, die des reinen visionären Seelenlebens teilhaftig wurden, hervorgebracht, wie gerade die germanische.
Für die moderne deutsche Künstlergeneration dieser Art, also Künstler, die sich mit den Phänomenen des Seelenlebens beschäftigen, scheint mir Amadeus Hoffmann der Urahn zu sein. Freilich hat Hoffmann an die seelischen Phänomene als solche kaum geglaubt. Er suchte sie rationalistisch zu analysieren, etwa wie ein anderer Herr den Übergang der Juden über das rote Meer durch eine kolossale Ebbe erklären wollte; vielleicht suchte Hoffmann das Rätselhafte der Seele dem fetten Bürgergehirn, auf das er nun einmal aus buchhändlerischen Rücksichten angewiesen war, gegen bessere Überzeugung verständlich zu machen."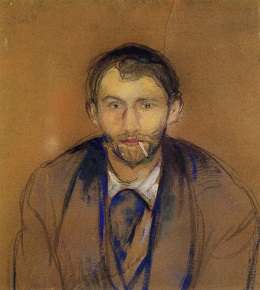 Stanisław Przybyszewski (7 mei 1868 – 23 november 1927)
Portret door Edward Munch, 1895
De Duitse schrijver Karl Gustav Vollmõller werd geboren op 7 mei 1878 in Stuttgart. . Zie ook alle tags voor Karl Gustav Vollmöller op dit blog.
Uit:Turandot, Princess of China (Vertaald door Jethro Bithell)
"BRIGELLA. (Behind the scenes.) Halt! Present arms!
TRUFFALDINO. (Behind the scenes.)
Halt! Slope swords! Open the gate! At ease! Quick march!
(The gate is thrown open. TRUFFALDINO, leading the eunuchs; then, between PANTALONE
and TARTAGLIA, the PRINCE OF SAMARKAND; behind them, at the head of his pages, BRIGELLA. The whole procession halts in front of the gate, they all draw up in one line, and gaze upwards at the bloody heads.)
PANTALONE. (Stepping in front of the footlights.)
My name is Pantalone, and I am a native of Venice. At the moment I am the Prime Minister of the
Chinese Empire. Eh, what d'ye say? What I'm doing here in Pekin? H'm. (Puts his hand in front of his mouth.) Venice got too hot for me. An indindelicate affair. My wife of course, you guess my meaning. (To the PRINCE.) This, your Royal Highness, is the place you have heard so much of. Have a good look at it, please. Make yourself quite_at home. Yes, quite right, up there, please! (To TARTAGLIA.) I say, my dear Lord Chancellor. Be so good as to show his Royal Highness the elevated position he will occupy in the near future. You have the information, I presume.
(TARTAGLIA turns towards the PRINCE, PANTALONE _pulls his sleeve.)
Don't forget, my dear Lord Chancellor.
TARTAGLIA.(Stepping in front of the footlights.) My name is Tat-Tra-Tartaglia (stammers). From Naples. My mother always maintained that she was the daughter of a Spanish grandee, but I fear she
was a fisherman's daughter from Po-Po-Pozzuoli. My father, on the other hand (stops short and
looks round)—"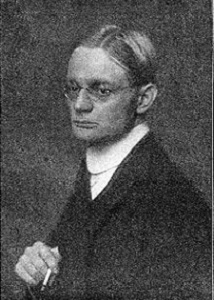 Karl Gustav Vollmõller (7 mei 1878 – 18 okrober 1948)
De Britse schrijver Alfred Edward Woodley Mason werd geboren op 7 mei 1865 in Londen. Zie ook alle tags voor A. E. W. Mason op dit blog en ook voor A. Mason.
Uit: The Four Feathers
"He remembered a season in London to which he had come fresh from the China station; and he was curious to see Harry Feversham. He did not admit that it was more than the natural curiosity of a man who, disabled in comparative youth, had made a hobby out of the study of human nature. He was interested to see whether the lad took after his mother or his father—that was all.
So that night Harry Feversham took a place at the dinner-table and listened to the stories which his elders told, while Lieutenant Sutch watched him. The stories were all of that dark winter in the Crimea, and a fresh story was always in the telling before its predecessor was ended. They were stories of death, of hazardous exploits, of the pinch of famine, and the chill of snow. But they were told in clipped words and with a matter-of-fact tone, as though the men who related them were only conscious of them as far-off things; and there was seldom a comment more pronounced than a mere "That's curious," or an exclamation more significant than a laugh.
But Harry Feversham sat listening as though the incidents thus carelessly narrated were happening actually at that moment and within the walls of that room. His dark eyes—the eyes of his mother—turned with each story from speaker to speaker, and waited, wide open and fixed, until the last word was spoken. He listened fascinated and enthralled. And so vividly did the changes of expression shoot and quiver across his face, that it seemed to Sutch the lad must actually hear the drone of bullets in the air, actually resist the stunning shock of a charge, actually ride down in the thick of a squadron to where guns screeched out a tongue of flame from a fog. Once a major of artillery spoke of the suspense of the hours between the parading of the troops before a battle and the first command to advance; and Harry's shoulders worked under the intolerable strain of those lagging minutes.
But he did more than work his shoulders. He threw a single furtive, wavering glance backwards; and Lieutenant Sutch was startled, and indeed more than startled—he was pained. For this after all was Muriel Graham's boy.
The look was too familiar a one to Sutch. He had seen it on the faces of recruits during their first experience of a battle too often for him to misunderstand it. And one picture in particular rose before his mind: an advancing square at Inkermann, and a tall big soldier rushing forward from the line in the eagerness of his attack, and then stopping suddenly as though he suddenly understood that he was alone, and had to meet alone the charge of a mounted Cossack."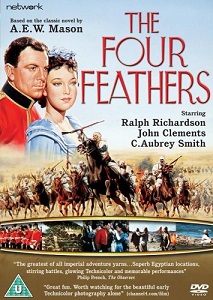 A. E. W. Mason (7 mei 1865 – 22 november 1948)
Affiche voor de gelijknamige film uit 1931
De Duitse schrijfster Therese Huber werd geboren als Marie Therese Heyne op 7 mei 1764 in Göttingen. Zie ook alle tags voor Therese Huber op dit blog.
Uit:Alte Zeit und neue Zeit
"Ich habe dir versprochen, ohne Hehl die Eindrücke zu schildern, welche nach einer Abwesenheit von zwanzig Jahren die Menschen und Gegenstände in meiner Heimat auf mich machen würden. Dinge, von denen ich dir so oft mit Jugendglut der Erinnerung sprach! – und nachdem dir meine ersten beiden Briefe die Freude des Wiedersehens, die Wehmut, so manche Stätte leer, so manches Haupt ergraut gefunden zu haben, schilderten, will ich dir auch die Wahrnehmungen nicht verhehlen, zu denen ein längerer Aufenthalt in meiner Vaterstadt mir Anlaß gibt.
Ich verließ sie in der Fülle jugendlichen Gefühls, und kehre, ein Vierziger, zu ihr zurück; schwärmte ich damals, – wahrlich, so bin ich nun ruhig; daß ich nicht kalt ward, mein guter Hartmann, danke ich dir und deiner lieben Frau, da ihr mir durch den Zutritt in euer Haus Vaterland und Familie ersetztet, und endlich, nachdem ihr den Jüngling reifen saht, den Mann durch eure geliebte Schwester beglücktet. Möge Gott meine Amalie in dieser Stunde und in jeder des Lebens erfreuen! – Ich schreibe ihr, daß sie von dir diese Details erhalten wird, über die wir, so vertraut mein mutiges Herz, nächsten Winter schon wieder um unsern Kamin versammelt, schwatzen werden.
Lieber Hartmann, entweder bin ich anders geworden, oder meine Landsleute, oder beides. Ich erzählte dir ja wohl oft in den ersten Jahren meiner Niederlassung in Philadelphia von unserm gesellschaftlichen Leben in **, wie die Frauen den ganzen Morgen ihren Geschäften oblägen, im Haushalt, der Kinderstube, am Nähtisch, dann mittags der Gatte, aus den Hörsälen, der Session gekommen, sich des Wohlseins seiner Lieben freute, die Knaben nach ihren Schulzeugnissen fragte, der Mädchen ihre Schreibbücher ansah, oder vor ihrem Nähzeug mit einem freundlichen Scherz zurückfuhr, weil ihre Kunst ihm unbegreiflich blieb – dann arbeitete wieder ein jeder in seinem Beruf; die Hausfrau mußte wohl irgendeinen Höflichkeitsbesuch machen oder nahm deren an, des Abends gingen die Eltern auch wohl in Gesellschaft, dann ward meinen Schwestern ein froher Zeitvertreib gegeben, oder ein Buch, oder eine junge Freundin besuchte sie – aber meistens versammelten sich die Kinder um die Mutter, der Vater kam, er las ihr vor, wir hörten zu, oder trieben allerlei stille und laute Künste im Nebenzimmer."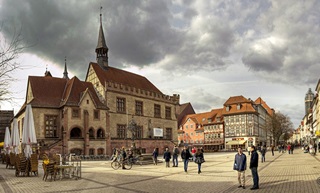 Therese Huber (7 mei 1764 – 15 juni 1829)
<Göttingen
De Duitse schrijfster Dorit Zinn werd geboren in Dessau op 7 mei 1940, Zie ook alle tags voor Dorit Zinn op dit blog.
Uit: Mein Sohn liebt Männer
"Wie geht es Alex? Gut. Ich strahle sie an und verbessere mich: blendend! Er lebt nach wie vor in Berlin, arbeitet als Journalist und Wissenschaft-ler und ist immer noch mit demselben Mann zusam-men. Frau H. strahlt zurück. Unser Felix, sagt sie, ist auch mit seinem Freund in Berlin, er hat einen Job an der Humboldt-Universität, irgendein spannendes For-schungsprojekt. Wissen Sie noch, wie wir uns gesorgt und aufgeregt haben - und heute ist alles so leicht und selbstverständlich geworden. Vergnügt packt sie mich am Arm. Letzte Woche war ich bei den Kindern in Ber-lin, unsere Tochter hat doch ein Baby bekommen, wenn Sie wüssten, wie vernarrt Felix in seine kleine Nichte ist. Und bei uns, verkündet Konrad stolz, kommt in weni-gen Monaten das dritte Enkelkind zur Welt. Max wird zum dritten Mal Vater, erkläre ich, aber Alex sieht die Kinder seines Bruders leider selten, sie wohnen zu weit auseinander, und ich denke: Wenn Max noch in Berlin wohnte, ob sie dann mehr Kontakt hätten? Sie mögen sich, aber sie leben in verschiedenen Welten. Übrigens habe ich Alex kürzlich im Fernsehen gesehen, sagt Frau H., viel Prominenz war anwesend, neugierig schaut sie uns an, ich glaube, Wowereit war auch dabei. Gut möglich, sage ich, und Konrad erzählt, dass Alex einen Preis der Bundesregierung für zwei Schwulenprojekte entgegengenommen hat.
Wenige Meter von uns entfernt teilen Hände das Sonnenblumendickicht, ein junges Pärchen taucht auf, zerzaust und mit hochroten Köpfen. Wohlwollend lächeln wir ihnen zu. Wenn ich mir vorstelle, überlege ich, dass einer unserer Jungs mit seinem Liebsten aus dem Feld herausgestolpert käme ... Wo ist das Problem? Frau H. lacht und wir lachen mit. Allerdings, sagt sie, für viele Leute wäre es sicher ein Problem. Leider, ich stimme ihr zu, zwar würde man über unsere Jungs nicht mehr offen lästern wie früher, aber angelächelt wie dieses Hetero-pärchen würden sie nicht."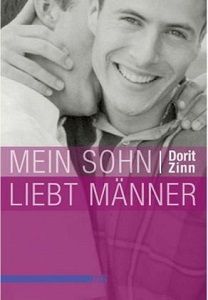 Dorit Zinn (Dessau, 7 mei 1940)
Cover
De Britse schrijfster en journaliste Angela Carter werd geboren in Eastbourne op 7 mei 1940. Zie ook alle tags voor Angela Carter op dit blog.
Uit: The Company of Wolves
"She stands and moved within the invisible pentacle of her own virginity. She is an unbroken egg; she is a sealed vessel; she has inside her a magic space the entrance to which is shut tight with a plug of membrane; she is a closed system; she does not known how to shiver. She has her knife and she is afraid of nothing.
Her father might forbid her, if he were home, but he is away in the forest, gathering wood, and her mother cannot deny her.
The forest is closed upon her like a pair of jaws.
There is always something to look at in the forest, even in the middle of winter - the huddled mounds of birds, succumbed to the lethargy o f the season, heaped on the creaking boughs and too forlorn to sing; the bright frills of the winter fungi on the blotched trunks of trees; the cuneiform slots of rabbits and deer, the herringbone tracks of the birds, a hare as lean as a rasher of bacon streaking across the path where the thin sunlight dapples the russet brakes of last year's bracken.
When she heard the freezing howl of a distant wolf, her practiced hand sprang to the handle of the knife, but she saw no sign of a wolf at all, nor of a naked man, neither, but then she heard a clattering among the brushwood and there sprang onto the path a fully clothed one, a very handsome one, in the green coat and wide-awake hat of a hunter, laden with the caresses of game birds. She had her hand on the knife at the first rustle of twigs, but he laughed with a flash of white teeth when he saw her and mad her a comic yet flattering little bow; she'd never seen such a fine fellow before, not among the rustic clowns of her native village. So on they went together, through the thickening light of the afternoon.
Soon they were laughing and joking like old friends. When he offered to carry her basket, she gave it to him although her knife was in it because he told her his rifle would protect them. As the day darkened, it began to snow again; she felt the first flakes settle on her dark eyelashes, but now there was only half a mile to go and there would be fire, and hot tea, and a welcome, a warm one, surely, for this dashing huntsman as well as herself."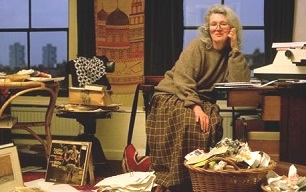 Angela Carter (7 mei 1940 - 16 februari 1992)
De Franse dichter André du Bouchet werd op 7 mei 1924 geboren in Parijs. Zie ook alle tags voor André du Bouchet op dit blog.
Cession
Le vent,
dans les terres sans eau de l'été, nous
quitte sur une lame,

ce qui subsiste du ciel.

En plusieurs fractures, la terre se précise. La terre
demeure stable dans le souffle qui nous dénude.

Ici, dans le monde immobile et bleu, j'ai presque atteint
ce mur. Le fond du jour est encore devant nous. Le
fond embrasé de la terre. Le fond
et la surface du front,
aplani par le même souffle,

ce froid.

Je me recompose au pied de la façade comme l'air
bleu au pied des labours.

- Rien ne désaltère mon pas.

André du Bouchet (7 mei 1924 – 19 april 2001)
07-05-2017 om 12:15 geschreven door Romenu

Tags:Horst Bienek, Joseph Joubert, Stanisł,aw Przybyszewski, Karl Gustav Vollmõller, A. E. W. Mason, Therese Huber, Dorit Zinn, Angela Carter, André du Bouchet, Romenu



| | |
| --- | --- |
| | |



Inhoud blog


| | |
| --- | --- |
| | Richard Powers, Marije Langelaar, Raymond Radiguet, Geoffrey Hill, Bert Schierbeek, Aster Berkhof, Karin Fellner, Mirjam Pressler, Ivan Gontsjarov |
| | Voor vader (Hans Lodeizen) |
| | Das Senfkorn (Meister Eckhart) |
| | Peter Rosei, Kamel Daoud, Gail Jones, Ron Padgett, Ward Ruyslinck, Adriaan van der Hoop jr, Hanna Johansen, Max Dendermonde, Tom Hofland |
| | Hanna Johansen, James Weldon Johnson, Henry Lawson, Ferdinand Freiligrath, Henrik Wergeland, John Hersey, Felix Hartlaub, Ossip Schubin |
| | Birthdays (Robert W. Service) |
| | Joël Dicker, August Willemsen, Theo Thijssen, Ronelda Kamfer, Frans Roumen |
| | Maria Dermoût, Christian Bauman, Silke Scheuermann, Hugo Borst, Ramon Lopez Velarde, Roland Dorgelès, François-Xavier Garneau, Emma Cline, Hannah van Wieringen |
| | Alex Boogers, Lieve Joris, Allard Schröder, John van Ierland, Peter O. Chotjewitz, Harriet Beecher Stowe, Hermann Kant, Jerzy Kosiński, Thomas Graftdijk |
| | Fernando Pessoa, Thomas Heerma van Voss, Willem Brakman, Virginie Despentes, William Butler Yeats, Tristane Banon, Marcel Theroux, Lode Zielens, Dorothy L. Sayers |
| | Christoph Meckel, Wolfgang Herrndorf, Anne Frank, Renan Demirkan, Djuna Barnes, Sandro Penna, Johanna Spyri H. C. Artmann, Günter Nehm |
| | William Styron, Sophie van der Stap, N. P. van Wyk Louw, Renée Vivien, Jean-Pierre Chabrol, Ben Jonson, Yasunari Kawabata, Athol Fugard, Nnimmo Bassey |
| | Magdalene—The Seven Devils (Marie Howe) |
| | Louis Couperus, D. Hooijer, Jacques Perk, James Salter, Mensje van Keulen, Jan Brokken |
| | Saul Bellow, Ion Creanga, Oktay Rifat, Peter Kurzeck, Antun Mihanović, Tijl Nuyts |
| | Maarten Doorman, Paul Beatty, Xander Michiel Beute, Anton Roothaert, Mirko Bonné, Curzio Malaparte, Jian Ghomeshi, Charles Webb, Rudolf Borchardt |
| | Willy Roggeman, Jurij Brězan, José Antonio Ramos Sucre, Akaki Zereteli, John Gillespie Magee jr., Bertha von Suttner |
| | Marguerite Yourcenar, Nino Haratischwili, Lutz Seiler, Ulf Stolterfoht, Péter Gárdos, Gwen Harwood, H. J. Friedericy, Udo Kawasser, Frank Keizer |
| | Marie Howe |
| | Het leven in juni (Marjoleine de Vos) |
| | Orhan Pamuk, Monika Mann, Nikki Giovanni, Harry Crews, Louise Erdrich, Mascha Kaléko, Jan Engelman, Gwendolyn Brooks, Elizabeth Bowen |
| | Thomas Mann, Aleksandr Poesjkin, Sarah Dessen, Jean Cayrol, Pierre Corneille, Hendrik van Teylingen, V. C. Andrews, Frank Gericke |
| | Dolce far niente, Groen-grijs gebied (Jesse Laport) |
| | Federico García Lorca, Adriaan Morriën, Ken Follett, Paul Farley, Geoff Dyer |
| | Ralf Thenior, Marie Ndiaye, Erasmus Schöfer, Buddy Wakefield, Yaak Karsunke, Charles Dickinson, Dana Bönisch, Elizabeth Jolley, Apollon Maykov |
| | Het laatste avondmaal (Nicolaas Beets) |
| | Allen Ginsberg, Philippe Djian, Maarten van Buuren, Solomonica de Winter, Monika Maron, Larry McMurtry, Norbert Gstrein, Wolfgang Cordan, Gerhard Zwerenz |
| | Carlo Michelstaedter, Kathleen E. Woodiwiss, Eugène Van Oye, Pedro Mir, Detlev von Liliencron, Friederike Brun, Otto Erich Hartleben, Philippe Quinault |
| | Jim Knipfel, Marcel Reich-Ranicki, Sibylle Berg, Carol Shields, Jean Nelissen, Thomas Hardy |
| | Markies De Sade, Dorothy West, Max Aub, Karl Gjellerup, Barbara Pym |
| | Patrick Besson, John Masefield, Ferdinand Raimund, Peter de Mendelssohn, Petra Morsbach, Colleen McCullough, Macedonio Fernández, Wilfred Campbell, Vicky Francken |
| | C. Buddingh'-prijs voor Radna Fabias |
| | Love's Choice (Malcolm Guite) |
| | Mariae Heimsuchung (Rainer Maria Rilke) |
| | Walt Whitman, Frank Goosen, Gabriel Barylli, Konstantin Paustovski, Svetlana Alexievich, Ludwig Tieck, Gerd Hergen Lübben, Saint-John Perse, T. T. Cloete |
| | Summer Storm (Bliss Carman) |
| | Elizabeth Alexander, Oscar van den Boogaard, Countee Cullen, Emmanuel Hiel, Martin Jankowski, Alfred Austin, Eddy Bruma, Henri François Rikken, Jan Geerts |
| | Summer in the City, 1949 (Ernest Farrés) |
| | André Brink, Eduard Escoffet, G. K. Chesterton, Bernard Clavel, T. H. White, Hans Weigel, Alfonsina Storni, Max Brand, Joel Benton |
| | Ein Sommergedicht (Thomas Gsella) |
| | Ad Zuiderent, Leo Pleysier, Adriaan Bontebal, Guntram Vesper, Frank Schätzing, Maeve Binchy, Ian Fleming, Sjoerd Leiker, Vladislav Chodasevitsj |
| | Dolores Dorantes |
| | St. Matthew (D. H. Lawrence) |
| | Niels 't Hooft, Jan Blokker, Linda Pastan, Louis-Ferdinand Céline, Georges Eekhoud, Said, John Cheever, John Barth |
| | Max Brod, Kaur Kender, Adriaan Venema, Arnold Bennett, Richard Schaukal, Ferdynand Ossendowski, M. A. von Thümmel, Herman Wouk, Dashiell Hammett |
| | Alan Hollinghurst, Radwa Ashour, Hugo Raes, Vítězslav Nezval, Ivan O. Godfroid, Maxwell Bodenheim, Isabella Nadolny, Edmond De Goncourt |
| | Egyd Gstättner, Madeleine Thien, Claire Castillon, Friedrich Dieckmann, Eve Ensler, Raymond Carver, Jamaica Kincaid, Robert Ludlum, Theodore Roethke |
| | Joseph Brodsky, Michael Chabon, Bob Dylan, Henri Michaux, William Trevor, Tobias Falberg, Arnold Wesker, Rainald Goetz, Louis Fürnberg |
| | Adriaan Roland Holst, Maarten Biesheuvel, Lydia Rood, Jane Kenyon, Susan Cooper, Michaël Vandebril, Jack McCarthy, Mitchell Albom, Pär Fabian Lagerkvist |
| | In Memoriam Philip Roth |