De Russische schrijver Ivan Sergejevitsj Toergenjev werd geboren op 9 november 1818 in Orjol, in de Oekraïne. Zie ook mijn blog van 9 november 2010 en eveneens alle tags voor Ivan Toergenjev op dit blog.
Uit: Faust (Vertaald door Dorothea Trottenberg)
"Von Pavel Aleksandrovič B… an
Semjon Nikolaevič V…
Landgut M., 6.Juni 1850
Vor drei Tagen bin ich hier angekommen, lieber Freund, und wie versprochen, greife ich zur Feder und schreibe Dir. Seit dem Morgen geht ein leichter Sprühregen nieder: Man kann nicht nach draußen; außerdem will ich mit Dir plaudern. Da bin ich nun wieder in meinem alten Nest, wo ich – ich getraue mich kaum, es zu sagen – neun ganze Jahre nicht gewesen bin. Was ist nicht alles geschehen in diesen neun Jahren! Wahrhaftig, wenn man so überlegt, ist es, als sei ich ein anderer Mensch geworden. Und tatsächlich, ich bin ein anderer: Erinnerst Du Dich noch an den kleinen, angelaufenen Spiegel meiner Urgroßmutter im Salon, den mit den seltsamen Schnörkeln in den Ecken– Du hast immer überlegt, was er wohl vor hundert Jahren gesehen haben mag – ; gleich nach meiner Ankunft stellte ich mich davor und war unwillkürlich betroffen. Plötzlich sah ich, wie alt ich geworden bin und wie ich mich in letzter Zeit verändert habe. Im übrigen bin nicht nur ich älter geworden. Mein Häuschen, schon lange baufällig, steht gerade eben noch, es ist krumm und schief und in den Boden eingesunken. Meine gute Vasiljevna, die Beschließerin (Du hast sie sicher nicht vergessen: Sie hat Dich immer mit so feiner Konfitüre bewirtet), ist ganz mager geworden und hat einen krummen Rücken bekommen; als sie mich sah, konnte sie nicht einmal rufen oder weinen, sondern sie ächzte und hustete nur, setzte sich erschöpft auf einen Stuhl und winkte ab. Der alte Terentij ist noch ganz munter, er hält sich gerade, wie früher, und stellt beim Gehen die Füße nach außen, die Beine noch immer in die gleichen gelblichen NankingHosen gekleidet, die Füße noch immer in den gleichen knarzenden Ziegenlederschuhen mit dem hohen Spann und den Schleifen, über die Du oftmals ganz gerührt warst… Aber mein Gott! Wie diese Hosen jetzt um seine mageren Beine schlottern! Wie weiß sein Haar geworden ist! Und sein Gesicht ist auf Faustgröße zusammengeschrumpft; aber als er anfing, mit mir zu sprechen, als er anfing, im Nachbarzimmer Anweisungen und Befehle zugeben, da mußte ich über ihn lachen, und gleichzeitig tat er mir leid. Alle Zähne sind ihm ausgefallen, und er nuschelt pfeifend und zischend vor sich hin. Dafür ist der Garten wunderschön geworden: Die kleinen bescheidenen Sträucher, der Flieder, die Akazien, das Geißblatt (weißt Du noch, wir haben sie zusammen gepflanzt) sind zu prachtvollen, dichten Büschen herangewachsen; die Birken, die Ahornbäume – sie alle sind in die Höhe geschossen und in die Breite gegangen; die Lindenalleen sind besonders schön geworden."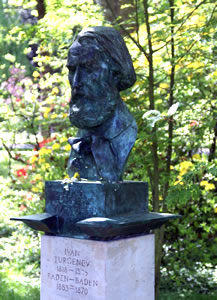 Ivan Toergenjev (9 november 1818 – 3 september 1883)
Borstbeeld in Baden-Baden
De Duitse schrijfster Erika Mann werd geboren op 9 november 1905 in München als oudste dochter van de Duitse schrijver Thomas Mann. Zie ook mijn blog van 9 november 2010 en eveneens alle tags voor Erika Mann op dit blog.
Uit: Erika Mann (Biografie door Irmela von der Lühe)
"Über die erste Begegnung zwischen Thomas Mann und Katia Pringsheim, über das alltägliche Leben im Hause der Thomas-Mann-Familie, über Kindheitserlebnisse und jugendliche Abenteuer im München der Weltkriegsjahre haben nicht nur die Thomas-Mann-Biographen viel und häufig ähnlich geschrieben. Klaus Manns Autobiographien, zahlreiche Interviews Erika Manns aus späteren Jahren und auch Katia Manns Ungeschriebene Memoiren haben ein Bild vom Leben in der Poschingerstraße und in Bad Tölz entstehen lassen, das harmonisierende, verklärende Züge trägt; gerade dann, wenn von extravaganten Streichen und verrückten Unternehmungen der Geschwister Erika und Klaus die Rede ist.
Die Biographin steht vor der Schwierigkeit, all diese Geschichten, die Kennern der Mann-Familie bis zum Überdruss geläufig sein mögen, noch einmal zu erzählen. Zur fehlenden Originalität gesellt sich ein zweiter Mangel: Verlässliche Quellen, Aufzeichnungen gar oder zuverlässige mündliche Mitteilungen darüber, wie es im Hause des häufig schweigsamen, stets auf Etikette und bürgerliches Wohlleben bedachten Vaters denn wirklich zuging, finden sich nur selten. Einiges ist den 1931 einsetzenden Tagebüchern Klaus Manns zu entnehmen, der selbst indes durch seine in wissenschaftlichen und populären Darstellungen immer wieder ausgeschriebene Autobiographie Kind dieser Zeit (1932) nicht unerheblich zur Legendenbildung beigetragen hat. Es fällt nicht schwer, sich auch die Gegenseite der im Folgenden wiederholten Schilderungen vorzustellen: familiäre Zwänge, autoritäre Reaktionen, kränkende Erlebnisse und wohl auch bedrückend öde Tage, die vom vornehmen Desinteresse des Vaters an seiner Familie bestimmt waren.
Als «Audienz» hat Hans Sahl einen Besuch im Hause Thomas Manns während des Exils in der Schweiz empfunden und hinzugefügt:
«Es schien mir, als ob Thomas Mann Wert darauf legte, sogar ein Gespräch mit seiner Familie wie eine Buchseite zu komponieren. Da wurde nicht durcheinandergeredet, jeder kam an die Reihe zu gegebener Zeit.»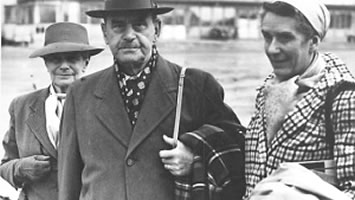 Erika Mann (9 november 1905 - 27 augustus 1969)
Katia, Thomas en Erika Mann in Stockholm
De Duitse schrijver Jan Decker werd geboren op 9 november 1977 in Kassel. Zie ook mijn blog van 9 november 2010
Der Abdecker
Sie fanden den Abdecker nach drei Tagen. An einem Ort, der als der naheliegendste und zugleich entfernteste erschien: in der Grube bei den Tieren. Die Lage seines Körpers, so der Gastwirt, eingebettet in einen Stoß Gemsen, von einer Tanne bedeckt, habe ein früheres Auffinden ungleich erschwert.
Ich hatte den Abdecker nur flüchtig gekannt: flüchtig, was Anzahl und Inhalt unserer Gespräche zukam. In letzteren erwähnte er stets das Wort Verwesungsprozess – er sprach genauer von einem geistigen Prozess der Verwesung, in dessen Verlauf sich der Mensch unweigerlich dem Tier zusenke. Dem Tier, das ihm ja von Natur aus das Nächste sei.
Einmal zeigte er mir in seinem Haus, was er als sein Lebenswerk bezeichnete: Dunkel beschriebene Manuskriptseiten in loser Ordnung, die, so der Abdecker, nichts weniger als die Summe aller Philosophie darstellten, indem sein Lebenswerk gleichsam die Geschichte, schlicht die Notwendigkeit jeder Philosophie verneine.
Es dürfe mich nicht verwundern, fügte er an, dass gerade er, der Abdecker, sich mit den höchstgeistigsten Dingen beschäftige, hätten doch diese Dinge ihre natürliche Entsprechung in seinem täglichen Tun, dem Schächten und Verwerten von Kadavern. Es seien schließlich beide nur Ausfällungen der geistigen wie körperlichen Verwesung, und von daher nichts als nichtig.
Am vierten Tag hoben sie den Abdecker aus der Grube. Wie der Gastwirt schilderte, habe der Frost eine schnelle Grablegung des Leichnams vereitelt. Selbst die Schusswaffe konnte erst nach Stunden
der Lagerung im Totenhaus aus der Hand des Abdeckers befreit werden. Dennoch, so der Gastwirt, haben sich Totenschau und Grablegung noch am selben Tag abwickeln lassen können."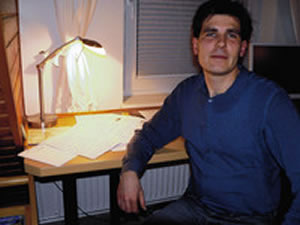 Jan Decker (Kassel, 9 november 1977)

De Russische dichter en schrijver Velemir Chlebnikov werd geboren op 9 november 1885 in Tundotovo. Zie ook mijn blog van 9 november 2010 en eveneens alle tags voor Velemir Chlebnikov op dit blog.
Die Wolkichtigen zogen und weinten
Die Wolkichtigen zogen und weinten
Über den hohen Fernen der Weiten.
Den Wolkichtigen Schatten enteilten
Über den traurigen Fernen der Weiten.
Die Wolkichtigen Schatten verstreuten
Über den traurigen Fernen der Weiten.
Die Wolkichtigen zogen und weinten
Über den hohen Fernen der Weiten.
Finsteres
Ich werfe zu Zeiten der inneren Öde
Mich in die glänzende goldene Sonne.
Mein Flügeln mischt rauschend in lichter Höhe
Hiesigen Hohn mit heiliger Wonne.
Ich starb, ich starb, in reißendem Strome
Bedeckte die Rüstung mein blutiger Schrecken.
Manchmal dann, wenn ich erneut zu mir komme,
Mustert euch kritisch das Auge des Recken.
Und ich schallte gemein mit meiner Schalmei
Und ich schallte gemein mit meiner Schalmei
Und holte die Welt in mein Hotel.
Mir gehorsam zogen Sterne im ruhigen Kreis.
Ich schallte gemein mit meiner Schalmei, zu erfüllen das Schicksal der Welt.

Vertaald door Eric Boerner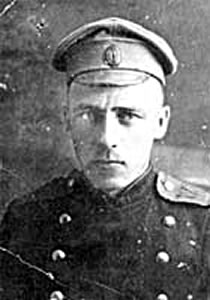 Velemir Chlebnikov (9 november 1885 - 28 juni 1922)
De Engelse dichteres en schrijfster Anne Sexton werd geboren op 9 november 1928 in Newton, Massachusetts. Zie ook mijn blog van 9 november 2008 en ook mijn blog van 9 november 2009 en ook mijn blog van 9 november 2010
Courage
It is in the small things we see it.
The child's first step,
as awesome as an earthquake.
The first time you rode a bike,
wallowing up the sidewalk.
The first spanking when your heart
went on a journey all alone.
When they called you crybaby
or poor or fatty or crazy
and made you into an alien,
you drank their acid
and concealed it.
Later,
if you faced the death of bombs and bullets
you did not do it with a banner,
you did it with only a hat to
cover your heart.
You did not fondle the weakness inside you
though it was there.
Your courage was a small coal
that you kept swallowing.
If your buddy saved you
and died himself in so doing,
then his courage was not courage,
it was love; love as simple as shaving soap.
Later,
if you have endured a great despair,
then you did it alone,
getting a transfusion from the fire,
picking the scabs off your heart,
then wringing it out like a sock.
Next, my kinsman, you powdered your sorrow,
you gave it a back rub
and then you covered it with a blanket
and after it had slept a while
it woke to the wings of the roses
and was transformed.
Later,
when you face old age and its natural conclusion
your courage will still be shown in the little ways,
each spring will be a sword you'll sharpen,
those you love will live in a fever of love,
and you'll bargain with the calendar
and at the last moment
when death opens the back door
you'll put on your carpet slippers
and stride out.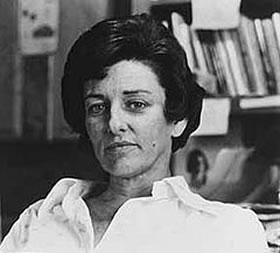 Anne Sexton (9 november 1928 – 4 oktober 1974)
Gefotografeerd rond 1970 door
Elsa Dorfman
Zie voor nog meer schrijvers van de 9e november ook
mijn vorige blog van vandaag
.
09-11-2011 om 18:56 geschreven door Romenu

Tags:Ivan Toergenjev, Erika Mann, Thomas Mann, Jan Decker, Velemir Chlebnikov, Anne Sexton, Karin Kiwus, Romenu