E-mail mij


Druk op onderstaande knop om mij te e-mailen.


Romenu


Romenu is een blog over gedichten, literatuur en kunst Maar Romenu is ook een professionele freelance vertaler
Du-Ne en Ne-Du http://www.romenu.nl.


Huur eens een (vakantie)huis in een natuurgebied, dichtbij het centrum van Nijmegen


Google


Georg Trakl

Georg Trakl werd op 3 februari 1887 in het conducteurshuis aan de Waagplatz 2 in Salzburg geboren. Zijn vader, Tobias Trakl, was een handelaar in ijzerwaren en zijn moeder, die ook psychische problemen had, was Maria Catharina Trakl, (meisjesnaam Halik). Voorts had hij nog drie broers en drie zussen. Margarethe (doorgaans Grethe genoemd) stond hem het naast, zelfs zodanig dat sommigen een incestueuze verhouding vermoeden. Zijn jeugd bracht hij door in Salzburg. Vervolgens bezocht hij van 1897 tot 1905 het humanistische gymnasium. Om toch een academische opleiding te kunnen volgen, werkte hij tot 1908 in de praktijk bij een apotheker. Sommigen vermoedden dat hij dit vooral deed om zichzelf opiaten te kunnen verschaffen. Bij het uitbreken van WO I werd Trakl als medicus naar het front in Galicië (heden ten dage in Oekraïne en Polen) gestuurd. Zijn gemoedsschommelingen leidden tot geregelde uitbraken van depressie, die verergerd werden door de afschuw die hij voelde voor de verzorging van de ernstig verwonde soldaten. De spanning en druk dreven hem ertoe een suïcidepoging te ondernemen, welke zijn kameraden nochtans verhinderden. Hij werd in een militair ziekenhuis opgenomen in Kraków, alwaar hij onder strikt toezicht geplaatst werd.Trakl verzonk daar in nog zwaardere depressies en schreef Ficker om advies. Ficker overtuigde hem ervan dat hij contact moest opnemen met Wittgenstein, die inderdaad op weg ging na Trakls bericht te hebben ontvangen. Op 4 november 1914, drie dagen voordat Wittgenstein aan zou komen, overleed hij echter aan een overdosis cocaïne


Paul Celan

Paul Celan werd onder de naam Paul Antschel op 23 november 1920 geboren in Czernowitz, toentertijd de hoofdstad van de Roemeense Boekovina, nu behorend bij de Oekraïne. Paul Celans ouders waren Duitssprekende joden die hun zoon joods opvoedden en hem naar Duitse christelijke scholen stuurden. In 1942 werden Celans ouders door de Duitse bezetter naar een werkkamp gedeporteerd en daar vermoord. Hijzelf wist aanvankelijk onder te duiken, maar moest vanaf juli 1942 in een werkkamp dwangarbeid verrichten. Celan overleefde de oorlog. Via Boekarest en Wenen vestigde Celan zich in 1948 in Parijs. Daar was hij werkzaam als dichter, vertaler en doceerde hij aan de prestigieuze Ecole Normale Supérieure. Vermoedelijk op 20 april 1970 beëindigde hij zijn leven zelf door in de Seine te springen.


Gerard Reve

Gerard Reve over: Medearbeiders "God is in de mensen, de dieren, de planten en alle dingen - in de schepping, die verlost moet worden of waaruit God verlost moet worden, door onze arbeid, aangezien wij medearbeiders van God zijn." Openbaring "Tja, waar berust elk godsbegrip op, elke vorm van religie? Op een openbaring, dat wil zeggen op een psychische ervaring van zulk een dwingende en onverbiddelijke kracht, dat de betrokkene het gevoel heeft, niet dat hij een gedachte of een visioen heeft, maar dat een gedachte gedachte of visioen hem bezit en overweldigt."


Simon Vestdijk
Simon Vestdijk (Harlingen, 17 oktober 1898 – Utrecht, 23 maart 1971) was een Nederlands romancier, dichter, essayist en vertaler. Zijn jeugd te Harlingen en Leeuwarden beschreef hij later in de Anton Wachter-cyclus. Van jongs af aan logeerde hij regelmatig bij zijn grootouders in Amsterdam, waar hij zich in 1917 aan de Universiteit van Amsterdam inschrijft als student in de medicijnen. Tijdens zijn studie die van 1917 tot 1927 duurde, leerde hij Jan Slauerhoff kennen.Tot 1932 is hij als arts in praktijken door heel Nederland werkzaam. In 1932 volgt zijn officiële schrijversdebuut met de uitgave van de bundel Verzen in De Vrije Bladen. Doorslaggevend voor Vestdijks uiteindelijke keuze voor de literatuur is zijn ontmoeting in 1932 met Eddy Du Perron en Menno ter Braak. Deze ontmoeting had tot resultaat dat hij redactielid werd van het tijdschrift Forum Kort daarop, in 1933, wordt zijn eerste novelle, De oubliette, uitgegeven. In hetzelfde jaar schrijft hij Kind tussen vier vrouwen, dat, eerst geweigerd door de uitgever, later de basis zal vormen voor de eerste drie delen van de Anton Wachter-romans. In 1951 ontvangt Vestdijk de P.C. Hooftprijs voor zijn in 1947 verschenen roman De vuuraanbidders. In 1957 wordt hij voor het eerst door het PEN-centrum voor Nederland voorgedragen voor de Nobelprijs voor de Literatuur, die hij echter nooit zal krijgen. Op 20 maart 1971 wordt hem de Prijs der Nederlandse Letteren toegekend, maar voor hij deze kan ontvangen overlijdt hij op 23 maart te Utrecht op 72-jarige leeftijd. Vestdijk was auteur van ca. 200 boeken. Vanwege deze enorme productie noemde de dichter Adriaan Roland Holst hem 'de man die sneller schrijft dan God kan lezen'. Andere belangrijke boeken van Simon Vestdijk zijn: "Kind van stad en land" (1936), "Meneer Visser's hellevaart" (1936), "Ierse nachten" (1946), "De toekomst de religie" (1947), "Pastorale 1943" (1948), "De koperen tuin" (1950), "Ivoren wachters" (1951), "Essays in duodecimo" (1952) en "Het genadeschot" (1964).


K.P. Kavafis

K.P. Kavafis werd als kind van Griekse ouders, afkomstig uit Konstantinopel, geboren in 1863 in Alexandrië (tot vandaag een Griekse enclave) waar hij ook het grootste deel van zijn leven woonde en werkte. Twee jaar na de dood van zijn vader verhuist het gezin in 1872 naar Engeland om na een verblijf van vijf jaar naar Alexandrië terug te keren. Vanwege ongeregeldheden in Egypte vlucht het gezin in 1882 naar Konstantinopel, om na drie jaar opnieuw naar Alexandrië terug te gaan. In de jaren die volgen maakt Kavafis reizen naar Parijs, Londen en in 1901 zijn eerste reis naar Griekenland, in latere jaren gevolgd door nog enkele bezoeken. Op de dag van zijn zeventigste verjaardag, in 1933 sterft Kavafis in Alexandrië. De roem kwam voor Kavafis pas na zijn dood, dus postuum. Deels is dat toe te schrijven aan zijn eigen handelswijze. Hij was uiterst terughoudend met de publicatie van zijn gedichten, liet af en toe een enkel gedicht afdrukken in een literair tijdschrift, gaf in eigen beheer enkele bundels met een stuk of twintig gedichten uit en het merendeel van zijn poëzie schonk hij op losse bladen aan zijn beste vrienden.


Thomas Mann


Thomas Mann, de jongere broer van Heinrich Mann, werd geboren op 6 juni 1875 in Lübeck. Hij was de tweede zoon van de graankoopman Thomas Johann Heinrich Mann welke later één van de senatoren van Lübreck werd. Zijn moeder Julia (geboren da Silva-Bruhns) was Duits-Braziliaans van Portugees Kreoolse afkomst. In 1894 debuteerde Thomas Mann met de novelle "Gefallen". Toen Thomas Mann met 21 jaar eindelijk volwassen was en hem dus geld van zijn vaders erfenis toestond - hij kreeg ongeveer 160 tot 180 goldmark per jaar - besloot hij dat hij genoeg had van al die scholen en instituties en werd onafhankelijk schrijver. Kenmerkend voor zijn stijl zijn de ironie, de fenomenale taalbeheersing en de minutieuze detailschildering. Manns reputatie in Duitsland was sterk wisselend. Met zijn eerste roman, Buddenbrooks (1901), had hij een enorm succes, maar door zijn sceptische houding tegenover Duitsland na de Eerste Wereldoorlog veranderde dit volledig. Stelde hij zich tot aan de jaren twintig apolitiek op (Betrachtungen eines Unpolitischen, 1918), meer en meer raakte hij bij het Politiek gebeuren betrokken. Zijn afkeer van het nationaal socialisme groeide, zijn waarschuwingen werden veelvuldiger en heftiger. In 1944 accepteerde hij het Amerikaanse staatsburgerschap. Tussen 1943 en 1947 schreef Mann Doktor Faustus (zie Faust), de roman van de 'Duitse ziel' in de gecamoufleerd geschilderde omstandigheden van de 20ste eeuw. In 1947 bezocht hij voor het eerst sinds de Oorlog Europa, twee jaar later pas Duitsland. In 1952 vertrok hij naar Zwitserland. Op 12 augustus 1955 stierf hij in Zürich. Twintig jaar na zijn dood, in aug. 1975, is zijn literaire nalatenschap geopend: dagboekaantekeningen van 15 maart 1933 tot 29 juli 1955, alsmede notities uit de jaren 1918 tot en met 1921.Belangrijke werken zijn: Der Zauberberg, Der Tod in Venedig, Dokter Faustus , Joseph und seine Brüder en Die Bekenntnisse des Hochstaplers Felix Krull.


Rainer Maria Rilke

Rilke werd op 4 december 1875 geboren in Praag. Hij had al naam gemaakt als dichter met zijn bundels Das Stundenbuch en Das Buch der Bilder, toen hij de literaire wereld versteld deed staan en wereldfaam verwierf met de publicatie van zijn twee delen Neue Gedichte in 1907 en 1908. Hij verzamelde daarin het beste werk uit een van zijn vruchtbaarste periodes, die hij grotendeels doorbracht in Parijs. Rilke was daar diep onder de indruk gekomen van Rodin, bij wie hij een tijdlang in dienst was als particulier secretaris. Rodin, zei hij later, had hem leren kijken. Dit kijken kwam neer op intense concentratie, om het mysterie te kunnen zien 'achter de schijnbare werkelijkheid'. Latere en rijpere werken als Duineser Elegien (1912-1923) en het ronduit schitterende Die Sonette an Orfeus (1924) illustreren Rilkes metafysische visie op het onzegbare, dat haar verwoording vindt in een hermetische muzikale taal. Op 29 december 1926 overlijdt Rilke in het sanatorium in Val-Mont aan de gevolgen van leukemie. Enkele dagen later wordt hij, overeenkomstig zijn wens, begraven op het kerkhof van Raron.


* * * * * * * * * * * * * * * *

| | |
| --- | --- |
| | Over literatuur, gedichten, kunst en cultuur |

18-12-2011

Mazarine Pingeot, A. M. Homes, Viktor Rydberg, Annette von Droste-Hülshoff
De Franse schrijfster Mazarine Pingeot werd geboren in Avignon op 18 december 1974. Zie ook mijn blog van 18 december 2008 en ook mijn blog van 18 december 2009 en ook mijn blog van 18 december 2010.
Uit: Pour Mémoire
"Mes parents ont été arrêtés devant mes yeux. Je m'étais éloigné de la route, avec mon frère, sur le chemin de la Croix-aux-filles, pour ramasser des fraises sauvages. Une voiture a vrombi, au loin, de plus en plus proche, puis elle a ralenti. Nous nous sommes tus. J'ai entendu mes parents crier. Je n'ai pas compris leurs mots, mais ils étaient à notre intention, une intention secrète.
Ces derniers mois nous avions élaboré des messages codés (« éloignez-vous », « nous sommes pris », se traduisaient par « Attention mon chapeau » et « Doucement, vous me faîtes mal » ou n'importe quelle variante qui se serait ajustée à la situation). On avait jugé inutile ou irréaliste d'ajouter « J'ai perdu ma chaussure » pour « Je vous aime mes enfants chéris, pensez à moi, ne vous inquiétez, pas notre amour survivra », et toutes ces phrases tristes que je me répétais d'avance dans mes nuits de silence en tenant la main de ma mère. Elle, elle gardait sa peur pour elle, mais ses lèvres se mettaient à trembler dès que des pas résonnaient dans la cage d'escalier et nous tachions de ne pas bouger. Nous attendions, nous attendions que les choses changent, ou peut-être nous attendions notre arrestation.
Ma mère a crié et je n'ai pas saisi ses mots, ce que j'ai saisi c'est : « Restez là où vous êtes, cachés derrière les arbres. » Peut-être y avait-il aussi un adieu dans ses cris, « Je vous aime, pensez à moi lorsque vous serez grands », mais ses cris ont été recouverts par ceux de mon père : « Ne touchez pas à ma femme, laissez-la, elle n'est pas vraiment juive. » C'est la dernière parole que j'ai entendue. Pas vraiment juive. Toujours ce souci d'exactitude chez lui."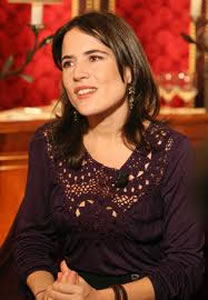 Mazarine Pingeot (Avignon, 18 december 1974)
De Amerikaanse schrijfster Amy Michael Homes werd geboren op 16 december 1961 in Washington DC. Zie ook mijn blog van 18 december 2010.
Uit: Jack
""Be careful," my father said before I'd even taken my foot off of the brake.
"We don't have to do this," I said. "I can wait and get my license when I'm thirty—no problem. I can get Vernon, my driving teacher, to give me extra lessons."
"This time cut the wheel the other way before you ease up on the pedal."
I turned the steering wheel as far as I could. The old blue Volvo didn't believe in power steering.
"More," my father said.
I thought I was going to die. I thought I might have a heart attack. I thought if I ever had to drive that car, I'd end up looking like Arnold Schwarzenegger.
"I think I'm having a heart attack," I said.
"What?"
"Never mind."
I saw him in the rearview mirror. I could see him in the mirror attached to the door. I turned my head around so I could look out the back window. He was standing there, leaning on one leg. His thumbs were hooked through the loops of his jeans. His hair was long and needed cutting. He stood there, not really looking like my father. He looked younger. He looked like a guy, just standing there, waiting. I stepped down on the gas, hard, and felt the car fly backward. I felt the steering wheel unwind in my hands. It was like the burn you get from flying a kite and letting out the string too fast.
My father jumped out of the way, his fingers unhooked from his belt loops. The wheels went up and over the curb. The rear bumper smashed into a tree, and then the car rolled a little bit forward, catching on the curb."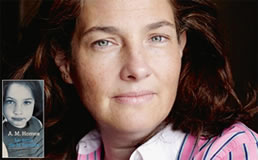 A. M. Homes (Washington DC, 16 december 1961)
De Zweedse schrijver Viktor Rydberg werd geboren op 18 december 1828 in Jönköping, Zweden. Zie ook alle tags voor Viktor Rydberg op dit blog.
Uit: Tomten (Fragment)
Il va dans les maisons et les ateliers,
il connait toutes leurs serrures.
Les vaches rèvent sous la lumière de la lune,
des rêves d'été surtout,
oublieux du harnais, du fouet et de la bride,
Pålle dans l'étable aussi a un rêve,
il est penché sur sa mangeoire,
pleine de trêfle parfumé.
Il va dans la prairie pour les agneaux et les moutons,
il voit, comme ils dorment dedans,
il va jusqu'aux poules, là le coq est dressé
fier sur son plus haut perchoir;
Karo dans la niche où la paille est bonne,
se réveille et remue un peu la queue,
Karo connais son Tomte,
Ils sont de bons amis.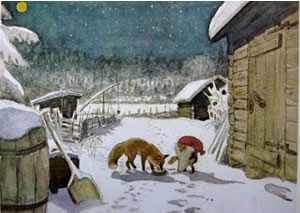 Illustratie bij Tomten door
Harald Wiberg
Le Tomte se faufile pour voir en dernier
le fermiers qu'il aime,
depuis longtemps il a bien remarqué qu'il
garde avec diligence son honneur
des chambres des enfants ensuite, sur la pointe des pieds,
il s'approche pour voir les tendres petits,
personne ne peut en penser du mal :
c'est son plus grand bonheur.
Ainsi il les a vu, le père et le fils,
purs de leurs fatigues
dormant comme des enfants, mais d'où
sont ils donc venu ici-bas ?
les générations suivent les générations,
fleurissantes, flétrissantes, passées... mais pour où ?
L'énigme, qui ne se laisse pas
résoudre, revint une fois de plus!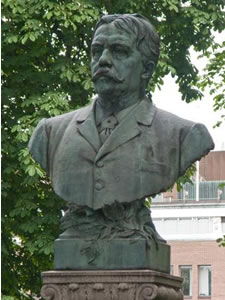 Viktor Rydberg (18 december 1828 – 21 september 1895)
Buste in Jönköping
Onafhankelijk van geboortedata (Bij de vierde zondag van de Advent):
De Duitse dichteres en schrijfster Annette von Droste-Hülshoff werd op 10 januari 1797 op het slot Hülshoff in Westfalen geboren. Zie ook alle tags voot Anette von Droste-Hülshoff op dit blog.
Am vierten Sonntage im Advent
Vom Zeugnisse Johannes. Johannes 1. »Sie fragten, wer bist du? Und er bekannte und leugnete nicht: ich bin eine Stimme des Rufenden in der Wüste - ich taufe euch mit Wasser, aber er steht mitten unter euch, den ihr nicht kennt.«



Fragst du mich, wer ich bin? Ich berg' es nicht:
Ein Wesen bin ich sonder Farb' und Licht.
Schau' mich nicht an, dann wendet sich dein Sinn;
Doch höre, höre, höre! denn ich bin
Des Rufers in der Wüste Stimme.

In Nächten voller Pein kam mir das Wort
Von ihm, der Balsam sät an Sumpfes Bord,
Im Skorpion der Heilung Öl gelegt,
Dem auch der wilde Dorn die Rose trägt,
Das faule Holz entzündet sein Geglimme.

So senke deine Augen und vernimm
Von seinem Herold deines Herren Grimm,
Und seine Gnade sei dir auch bekannt,
Der Wunde Heil, so wie der schwarze Brand,
Wenn seiner Wunden Bluten hemmt der Schlimme.

Merk auf! Ich weiß es, daß in härtster Brust
Doch schlummert das Gewissen unbewußt;
Merk auf, wenn es erwacht, und seinen Schrei
Ersticke nicht, wie Mütter sonder Treu
Des Bastards Wimmern und sein matt Gekrümme!

Ich weiß es auch, daß in der ganzen Welt
Dem Feinde die Altäre sind gestellt,
Daß mancher kniet demütig nicht gebeugt,
Und überm Sumpfe engelgleich und leicht
Der weiße Lotos wie ein Kindlein schwimme.

Es tobt des tollen Strudels Ungestüm,
Und zitternd fliehen wir das Ungetüm;
Still liegt der Sumpf und lauert wie ein Dieb:
Wir pflücken Blumen und es ist uns lieb
Zu schaun des Irrlichts tanzendes Geflimme.

Drum nicht vor dem Verruchten sei gewarnt;
Doch wenn dich süßer Unschuld Schein umgarnt,
Dann lächelt der Vampir, dann fahr zurück
Und senke tief, o tief in dich den Blick,
Ob leise quellend die Verwesung klimme!

Ja, wo dein Aug' sich schaudernd wenden mag,
Da bist du sicher mindstens diesen Tag;
Doch gift'ger öfters ist ein Druck der Hand,
Die weiche Träne und der stille Brand,
Den Lorbeer treibend aus Vulkanes Grimme.

Ich bin ein Hauch nur; achtet nicht wie Tand
Mein schwaches Wehn, um des, der mich gesandt:
Erwacht, erwacht! Ihr steht in seinem Reich;
Denn sehet, er ist mitten unter euch,
Den ihr verkennt, und ich bin seine Stimme!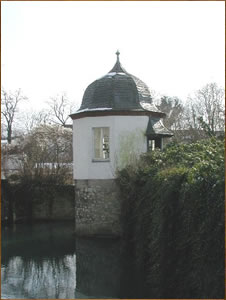 Annette von Droste-Hülshoff (10 januari 1797 – 24 mei 1848)
Het "Annettentempelchen" op de Mallinckrodthof in Borchen.
Droste-Hülshoff zou hier een deel van "Die Judenbuche" geschreven hebben.
Zie voor nog meer schrijvers van de 18e december ook
mijn vorige blog van vandaag
en eveneens
mijn eerste blog van vandaag
en eveneens het
In Memoriam

Václav Havel
op dit blog.
18-12-2011 om 16:32 geschreven door Romenu

Tags:Mazarine Pingeot, A. M. Homes, Viktor Rydberg, Annette von Droste-Hülshoff, Romenu



Miles Marshall Lewis, Christopher Fry, Thomas Strittmatter
De Amerikaanse schrijver Miles Marshall Lewis werd geboren op 18 december 1970 in The Bronx, New York. Zie ook alle tags voor Miles Marshall Lewis op dit blog.
Uit: Bronx Noir
"The all-night Baychester Diner harbored the same two wisecracking women in kempt hairweaves found at the counter every weekend past midnight. Each sported something slightly outré signaling her street profession. One wore a bright Wonder Woman bodice with deep cleavage on display, the other scarlet, fi shnets with a spiked leather dominatrix collar. Both brandished fi ve-inch stilettos. At the far corner banquette a young couple argued in Creole patois.
"Si ou pa vlé bébé-an, ale vous an," hissed the pregnant teen in the pink Von Dutch cap.
Kingston and Lacey found an isolated booth and ordered breakfast from a homely waitress. Rain broke the August humidity, slicking the asphalt of Boston Road, while Kingston explained all about the Hernández brothers pushing their numbers turf further down Washington Heights into Harlem, their violent efforts to force him out, and his contingency fl ight plan to New Orleans.
"King. You gonna up and leave just like that?" Lacey asked. She craved a Newport.
"They ain't runnin' me out," he bluffed. "I done made plenty these past fi fteen years. I don't mind it. Business ain't like it used to be nohow. Playin' the numbers is old school, kiddo. More white folks is movin' into Harlem now and they don't know nothin' about me. They play Lotto."
Lacey laughed.
"You never talked about retiring to New Orleans before."
Not to me, she thought.
"I done told you 'bout the house. We ain't never been together, but it's down there. Since 2000. My cousin look after it, she over in Baton Rouge."
"When are you talking about going?"
"I ain't right decided yet. Could be two weeks."
"Two weeks? That's enough time for you to wrap up everything?"
"We gon' see."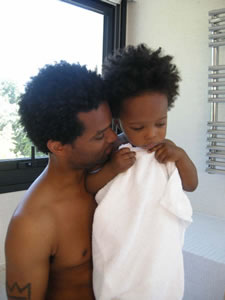 Miles Marshall Lewis (New York, 18 december 1970)
De Britse toneelschrijver Christopher Fry, pseudoniem van Christopher Harris, werd geboren in Bristol op 18 december 1907. Zie ook alle tags voor Christopher Fry op dit blog.
Uit: The Lady's Not for Burning
"ACT I
THOMAS: (Off)
Soul!
RICHARD:
... and the plasterer, that's fifteen pence ...
THOMAS:
Hey, soul!
RICHARD:
... for stopping the draught in the privy ...
THOMAS: (Appearing)
Body!
You calculating piece of clay.
RICHARD:
Damnation!
THOMAS:
Don't mention it. I've never seen a world
So festering with damnation. I have left
Rings of beer on every alehouse table
From the salt sea coast across half a dozen counties,
But each time I thought I was on the way
To a faintly festive hiccup
The sight of the damn world sobered me up again.
Where is the Mayor? I've business with His Worship.
RICHARD:
Where have you come from?
THOMAS:
Straight from your alehouse.
Damnation's pretty active there this afternoon,
Licking her lips over gossip of murder and witchcraft.
There's mischief brewing for someone. Where's the Mayor?
RICHARD:
I'm the Mayor's clerk.
THOMAS:
How are you?
RICHARD:
Can I have your name?
THOMAS:
It's yours.
RICHARD:
Now, look...
THOMAS:
It's no earthly
Use to me. I travel light; as light,
That is, as a man can travel who will
Still carry his body around because
Of its sentimental value. Flesh
Weighs like a thousand years, and every morning
Wakes heavier for an intake of uproariously
Comical dreams which smell of henbane,
Guts, humors, ventricles, nerves, fibres,
And fat ... the arterial labyrinth, body's hell.
Still it was the first thing my mother gave me,
God rest her soul. What were you saying?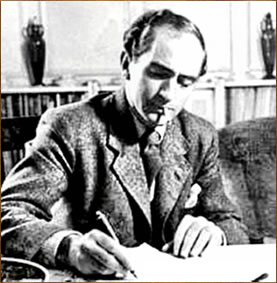 Christopher Fry (18 december 1907 - 30 juni 2005)
De Duitse schrijver Thomas Strittmatter werd geboren op 18 december 1961 in St. Georgen in het Zwarte Woud. Zie ook mijn blog van 18 december 2010.
Uit: Raabe Baikal
"Raabe war nicht groß, seine Augen dunkel, seine Brust war trotz der langen, schweren Arbeit schmal geblieben. Anfangs hatte er gedacht, er könne die bevorstehende Zeit mit dem Steinmetzen nicht durchstehen. Der hatte auch am ersten Tag keinerlei Rücksicht auf Raabes offensichtliche, körperliche Schwäche genommen. Er hatte seine Anweisungen gegeben, wie es Menschen eigen ist, die ihr Leben in eine Arbeit einbringen, deren Leben von ihrer Arbeit abzuhängen scheint. Solche Anweisungen waren Befehle, die Raabe entweder ausführen mußte, oder er aber unweigerlich das Gefühl bekommen hätte, er verlöre jegliche Berechtigung, in der Nähe dieses leidenschaftlich arbeitenden Menschen zu sein. Raabe hätte sich selbst verachtet, wenn er gegangen wäre, und abgesehen davon hätte er nicht gewußt, wohin er ohne sein willentliches Zutun gekommen wäre. Vier Tage arbeitete der Steinmetz mit wenigen Unterbrechungen weiter. Auch Raabe fand keine Zeit und keine Ruhe mehr zu schlafen, und immer, wenn er es versuchte, hielten ihn der Lärm und seine dahinrasenden Gedanken davon ab. Sein schmächtiger Körper entfaltete viel Kraft, die auch den Steinmetzen erstaunt hätte, wäre er noch in der Lage gewesen, etwas wahrzunehmen, was sich nicht in dem kleinen Lichtkreis um seinen Stein befand. Sobald Raabe seine Augen schloß, krochen Heere von Mistkäfern oder tanzten schwebende Steintrümmer an ihm vorbei."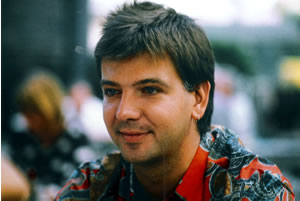 Thomas Strittmatter (18 december 1961 - 29 augustus 1995)
18-12-2011 om 16:07 geschreven door Romenu

Tags:Miles Marshall Lewis, Christopher Fry, Thomas Strittmatter, Romenu



Saki, Gatien Lapointe, Heinrich Smidt
De Birmees - Britse schrijver Saki (pseudoniem van Hector Hugh Munro, een naam gekozen uit de Rubaiyat van Omar Khayyam) werd geboren op 18 december 1870 in Akyab, Birma. Zie ook mijn blog van 18 december 2008 en ook mijn blog van 18 december 2009 en ook mijn blog van 18 december 2010.
Uit: The toys of peace
"There is primitive instinct to be taken into consideration, you know," said Henry doubtfully, "and hereditary tendencies as well. One of their great-uncles fought in the most intolerant fashion at Inkerman -- he was specially mentioned in dispatches, I believe -- and their great-grandfather smashed all his Whig neighbours' hot houses when the great Reform Bill was passed. Still, as you say, they are at an impressionable age. I will do my best."
On Easter Saturday Harvey Bope unpacked a large, promising-looking red cardboard box under the expectant eyes of his nephews. "Your uncle has brought you the newest thing in toys," Eleanor had said impressively, and youthful anticipation had been anxiously divided between Albanian soldiery and a Somali camel-corps. Eric was hotly in favour of the latter contingency. "There would be Arabs on horseback," he whispered; "the Albanians have got jolly uniforms, and they fight all day long, and all night, too, when there's a moon, but the country's rocky, so they've got no cavalry."
A quantity of crinkly paper shavings was the first thing that met the view when the lid was removed; the most exiting toys always began like that. Harvey pushed back the top layer and drew forth a square, rather featureless building.
"It's a fort!" exclaimed Bertie.
"It isn't, it's the palace of the Mpret of Albania," said Eric, immensely proud of his knowledge of the exotic title; "it's got no windows, you see, so that passers-by can't fire in at the Royal Family."
"It's a municipal dust-bin," said Harvey hurriedly; "you see all the refuse and litter of a town is collected there, instead of lying about and injuring the health of the citizens."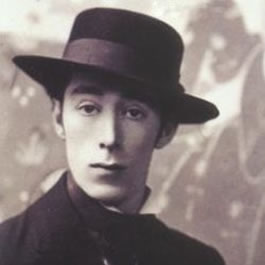 Saki (18 december 1870 – 14 november 1916)
De Canadese dichter en schrijver Gatien Lapointe werd geboren op 18 december 1931 in Québec. Zie ook mijn blog van 18 december 2008 en ook mijn blog van 18 december 2009 en ook mijn blog van 18 december 2010.
Ode au Saint-Laurent (Fragment)

Et je situerai l'homme où naît mon harmonie

Ma langue est d'Amérique
Je suis né de ce paysage
J'ai pris souffle dans le limon du fleuve
Je suis la terre et je suis la parole
Le soleil se lève à la plante de mes pieds
Le soleil s'endort sous ma tête
Mes bras sont deux océans le long de mon corps
Le monde entier vient frapper à mes flancs

J'entends le monde battre dans mon sang

Je creuse des images dans la terre
Je cherche une ressemblance première
Mon enfance est celle d'un arbre
Neiges et pluies pénètrent mes épaules
Humus et germes montent dans mes veines
Je suis mémoire je suis avenir
J'ai arraché au ciel la clarté de mes yeux
J'ai ouvert mes paumes aux quatre vents
Je prends règne sur les saisons
Mes sens sont des lampes perçant la nuit

Je surprendrai debout le jour naissant

Une hirondelle s'agrippe à ma tempe gauche
Je pressai dans ma main le clair présage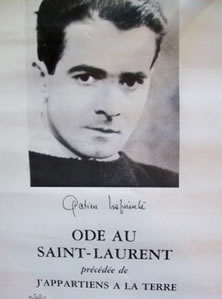 Gatien Lapointe (18 décember 1931 – 15 september 1983)
Affiche
De Duitse schrijver Heinrich Smidt werd geboren op 18 december 1798 in Altona. Zie ook mijn blog van 18 december 2010.
Uit: Das Pestschiff
"Er wurde dem Kapitän des Gartens lieb und beide besuchten sich öfters. Mit den Vätern kamen auch die Kinder zusammen, und Jerta hatte stets einige Blumen oder Beeren in ihrem Körbchen, die Osrick auf seiner kahlen Klippe sonst nicht zu sehen bekam. So fanden sich die Kinder in unschuldiger Neigung zusammen und diese wuchs mit den Jahren zur innigsten Liebe.
Jertas Vater war hinübergeschlummert und hatte ihr die an fremden Küsten erworbenen Schätze hinterlassen. Der Quarantänevogt blieb vereinsamt auf seinem Sarge. Osrick, der schnell heranwuchs, wurde von einer unbezwinglichen Begier auf die See hinausgetrieben. Ihm war es, als müsse er das Glück aufjagen und an sich fesseln, das den armen Vater sein Lebenlang neckte und irreführte. Oft, wenn der junge Seemann, von kurzen Seereisen heimkehrend, zu dem Garten emporstieg, bat ihn Jerta mit Tränen in den Augen, sich mit dem begnügen zu lassen, was sie besäße und mit ihr nach dem reichen Süden zu ziehen, der ihre eigentliche Heimat war. Aber Osrick vermochte nicht von seinem Vater zu lassen und wollte nicht aus Jertas Händen empfangen, was er dem eigenen Verdienste zu danken hoffte, um ihrer würdig zu sein. So schieden sie stets mit kummerbelasteten Herzen.
Jetzt waren zwei Jahre vergangen, ohne daß sie den Gespielen ihrer Jugend sah. In einem Briefe hatte er es ihr angezeigt, daß er ein großes Glück gemacht habe. Er war zum ersten Offizier einer Kauffahrteibrigg emporgestiegen. Auf einer langen und gefahrvollen Reise war der Kapitän erkrankt und gestorben. Als er dem Eigner der Brigg Schiff und Ladung unversehrt übergab, fand dieser an dem jungen, frischen Seemann ein solches Gefallen, daß er ihm sofort das Kommando dieses schönen Schiffes antrug. Osrick jubelte laut auf und steuerte mit tausend rosigen Hoffnungsträumen seiner neuen Bestimmung entgegen."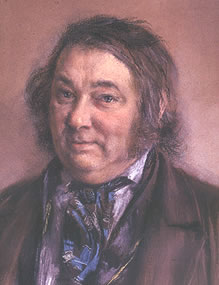 Heinrich Smidt (18 december 1798 - 3 september 1867)
18-12-2011 om 16:05 geschreven door Romenu

Tags:Saki, Gatien Lapointe, Heinrich Smidt, Romenu



In Memoriam Vaclav Havel
In Memoriam Vaclav Havel
De Tsjechische schrijver, politicus en voormalige president van Tsjechië Vaclav Havel is overleden aan complicaties bij zijn langdurige ziekbed. Havel was van oorsprong (toneel)schrijver. Tijdens het communistische regime in Tsjecho-Slowakije was hij een van de belangrijkste dissidenten. Zie ook alle tags voor Václav Havel op dit blog.
Uit: To the Castle and Back (Vertaald door Paul Wilson)
"The days I spent there were important in my life. The hippie movement was at its height. There were be-ins in Central Park. People were festooned with beads. It was the time of the musical Hair. (Joe had presented it in the Public Theater before my play opened, and because it was so successful it moved to Broadway, where I saw the premiere.) It was the time when Martin Luther King Jr. was killed, a period of huge antiwar demonstrations whose inner ethos--powerful but in no way fanatical--I admired; it was also the heyday of psychedelic art. I brought many posters home, and to this day they are hanging in Hradecek. And I brought home the first record of Lou Reed with the Velvet Underground.
My stay in the United States influenced me considerably. After I returned, my friends and I experienced a very joyful, albeit a somewhat nervous, summer, which could not have ended well; on August 21, the Soviet troops arrived. And then, seeing long-haired, bead-festooned young people waving the Czechoslovak flag in front of the Soviet tanks and singing a song that was a favorite among the hippies at the time, "Massachusetts," I had a truly strange sensation. In those circumstances it sounded a bit different from how it had sounded in Central Park, though it had essentially the same ethos: the longing for a free and colorful and poetic world without violence.
The second time I visited America--after a long and gloomy twenty-two years--I was president of my country. The former hippies were now no doubt respected senators or bosses of multinational corporations. Since then I've been here at least ten times; I've become close to three American presidents and to many American politicians (a special role among them was played by my compatriot the marvelous Madeleine Albright), as well as to important people and to many famous stars. These working or state or official visits, however, were brief and the program was always full, so that I only saw America from a speeding limousine. I sometimes found time to go for a walk or visit a rock club, but it was never easy. And so now, here I am on my second long visit almost forty years after the first one. In the meantime, I've lived through quite a bit, and perhaps precisely for that reason--paradoxically--I long for the freedom of movement I once enjoyed here when I was in my thirties."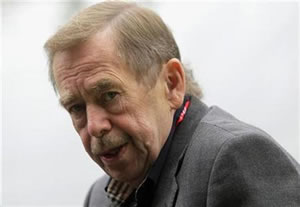 Václav Havel (5 oktober 1936 – 18 december 2011)
18-12-2011 om 13:14 geschreven door Romenu

Tags:In Memoriam, Vaclav Havel, Romenu



| | |
| --- | --- |
| | |



Inhoud blog


| | |
| --- | --- |
| | 'Unless a grain of wheat falls into the ground and dies…' (Malcolm Guite) |
| | Christa Wolf, Charlotte Roche, John Updike, Wilfred Owen, Stéphane Mallarmé, Héctor Bianciotti, Hellema, Friedrich Hebbel, Max Barry |
| | Wolfgang Bauer, Richard Condon, Walter Rheiner, Srečko Kosovel, Jean Anglade, George Plimpton, Cosmo Monkhouse, Friedrich Nicolai |
| | In Memoriam F. Starik |
| | Siegfried Lenz, Thomas Melle, Rense Sinkgraven, Hafid Aggoune, Hans Wollschläger, William Ford Gibson |
| | Patrick Hamilton, Karl Gutzkow, Urmuz, Jean Ingelow, Ebenezer Elliott, Paul Green |
| | P.C. Hooft, Bredero, Dirk von Petersdorff, Zoë Jenny, Alice Hoffman, Hooshang Golshiri, Francisco Ayala, César Vallejo, Per Leo |
| | Ben Okri, David Albahari, Louis Paul Boon, Kurt Drawert, Gerhard Seyfried, Andreas Okopenko, An Rutgers van der Loeff, Prosper van Langendonck, Paul Heyse |
| | Pam Ayres, Jochen Schimmang, Horton Foote, Volker von Törne, Olivier Delorme, Alexandru Macedonski, Albert Robida, Theodore de Banville, Wout Waanders |
| | Mahmoud Darwish, Yuri Andrukhovych, Didier Decoin, Vladimir Makanin, Yeghishe Charent, Geert van Beek, Jan H. de Groot, Kemal Tahir, Joseph Beaumont |
| | Dave Eggers, Jenny Erpenbeck, Jack Kerouac, Henrike Heiland, Naomi Shihab Nye, Carl Hiaasen, Edward Albee, De Schoolmeester, Gabriele d'Annunzio |
| | Nicodemus (Muus Jacobse) |
| | Leena Lehtolainen, Karl Krolow, Daan de Ligt, Frans Vogel, Willem Claassen, Amal Karam, Max Hermens, Eva Meijer, Helena Hoogenkamp |
| | Ernst Wichert, Douglas Adams, Torquato Tasso, Georg Maurer, Josef Martin Bauer, Maartje Smits |
| | John Rechy, Hilde Van Cauteren, Joseph von Eichendorff, Jakob Wassermann, Karel van de Woestijne, Chloé Delaume, Friedrich Schlegel |
| | Boris Vian, Manolis Anagnostakis, Peter McArthur, Samuel Ferguson, Georges Dor, Pedro Antonio de Alarcón, Otto Heinrich Kühner |
| | Koen Peeters, Peter Zantingh, Ed Hoornik, Heere Heeresma, Peter Altenberg, Vita Sackville-West, Josef Weinheber, Taras Sjevtsjenko, Umberto Saba |
| | Jeffrey Eugenides, Walter Jens, Hafid Bouazza, Cándani, A. Marja, Aslı Erdoğan, John McPhee, Mouloud Feraoun, Dominic Angeloch |
| | Bret Easton Ellis, Robert Harris, Jürgen Theobaldy, Georges Perec, Abe Kōbō, Reinhard Kaiser, Manfred Gregor, Jan Frederik Helmers, Alessandro Manzoni |
| | Patrick deWitt, Gabriel García Márquez, Jeremy Reed, Marijke Hanegraaf, Thomas Acda, Günter Kunert, Clark Accord, Elizabeth Barrett Browning, Michelangelo |
| | Pier Paolo Pasolini, Koos van Zomeren, Jurre van den Berg, Arthur van Schendel, Nelly Arcan, Jean Orizet, Leslie Marmon Silko, Frank Norris, Ennio Flaiano |
| | De tempelreiniging (Nicolaas Beets) |
| | Robert Kleindienst, Khaled Hosseini, Kristof Magnusson, Irina Ratushinskaya, Alan Sillitoe, Ryszard Kapuściński, Jean-Joseph Rabearivelo, Annette Seemann |
| | F. W. Bernstein, Giorgio Bassani, Bernardo Ashetu, Léon-Paul Fargue, Kito Lorenc, Jacques Dupin, Thomas S. Stribling |
| | Manfred Flügge, Hans Verhagen, Tjitske Jansen, James Merrill, Kola Boof, Clifton Snider, Gudrun Pausewang, Chris Kraus |
| | Josef Winkler, Heinz Knobloch, Alexandros Papadiamantis, Charles Sealsfield, William Godwin, Paul Guimard, Edmund Waller, Thomas Otway |
| | Godfried Bomans, Multatuli, Frank Albers, John Irving, Thom Wolfe, Michael Salinger, János Arany, Olivia Manning, Rinske Kegel |
| | Jan Eijkelboom, Jim Crace, Delphine de Vigan, Franz Hohler, Lytton Strachey, Robert Lowell, Myrthe van der Meer, Franzobel, Steven Barnes |
| | Peter Pessl |
| | Benedict Wells |
| | Bart Koubaa, Stephen Spender, John Montague, Josef Svatopluk Machar, Luc Dellisse, Marcel Pagnol, Bodo Morshäuser, Martin Suter, Yórgos Seféris |
| | Howard Nemerov, Daniel Handler, Dee Brown, Michel de Montaigne, Marin Sorescu, Saul Williams |
| | Cynan Jones, John Steinbeck, Ruy Belo, Lawrence Durrell, André Roy, Henry Longfellow, Elisabeth Borchers, James T. Farrell, Irwin Shaw |
| | Michel Houellebecq, Victor Hugo, Adama van Scheltema, George Barker, Ulrike Syha, Hermann Lenz, Antonin Sova, Jean Teulé, Elias Annes Borger |
| | De verheerlijking op den berg (Nicolaas Beets) |
| | Amin Maalouf, Aldo Busi, Gabriël Smit, Anthony Burgess, Robert Rius, Karl May, Lesja Oekrajinka, Karel Toman, Vittoria Colonna |
| | Franz Xaver Kroetz, Gérard Bessette, Mary Chase, Karl Wilhelm Ramler, Friedrich von Spee, Carlo Goldoni, Quirinus Kuhlmann |
| | Leon de Winter, Alain Mabanckou, George Moore, Erich Loest, Herman Maas, Luc Verbeke, Wilhelm Grimm, Friedrich Spielhagen, Jacques Presser |
| | August Derleth, Keto von Waberer, Yüksel Pazarkaya, Erich Pawlu, Irène Némirovsky, Vincent Voiture, Rosalía de Castro, Paul Alfred Kleinert, Stanisław Witkiewicz |
| | César Aira, Robert Gray, Jef Geeraerts, Bernard Cornwell, Ljoedmila Oelitskaja, Toon Kortooms, Jo Ypma, Sonya Hartnett, Maxim Februari |
| | Arnon Grunberg, Rob Schouten, Ruben van Gogh, Paul van Ostaijen, Hugo Ball, Danilo Kis, Sean O'Faolain, Ishmael Reed, Edna St. Vincent Millay |
| | J.M.A. Biesheuvelprijs voor Annelies Verbeke |
| | Herman de Coninck, Tom van Deel, Jonathan Safran Foer, Hans Andreus, David Avidan, Chuck Palahniuk, Wystan Hugh Auden, Laure Limongi, Justus van Effen |
| | P. C. Boutens, David Nolens, Ellen Gilchrist, Julia Franck, Georges Bernanos, William Carleton, Cornelis Sweerts, Johann Heinrich Voß, Pierre Boulle |
| | Michiel Stroink, Siri Hustvedt, Helen Fielding, Jaan Kross, Helene Hegemann, Björn Kuhligk, Thomas Brasch, Dmitri Lipskerov, Wolfgang Fritz |
| | De verzoeking in de woestijn (Nicolaas Beets) |
| | Nick McDonell, Robbert Welagen, Bart FM Droog, Maarten Mourik, Huub Beurskens, Gaston Burssens, Toni Morrison, Elke Erb, Charlotte Van den Broeck |
| | Níkos Kazantzákis, Jean M. Auel, Audre Lorde, Mór Jókai, Hedwig Courths-Mahler, Alexander Kielland, Wallace Stegner, Leone Battista Alberti |
| | Shahrnush Parsipur, Willem Thies, Sadegh Hedayat, Yevgeni Grishkovetz, Albert Kuyle, Jaroslav Vrchlický, Chaim Potok, Mo Yan, Frederik Hetmann |
| | Emmy Hennings, Mori Ōgai, Gustavo Bécquer, Georg Britting, Andrew Paterson, Margaret Truman, Ruth Rendell, Fjodor Sologoeb |


Gastenboek


Druk op onderstaande knop om een berichtje achter te laten in mijn gastenboek