De Franse schrijfster Mazarine Pingeot werd geboren in Avignon op 18 december 1974. Zie ook mijn blog van 18 december 2008 en ook mijn blog van 18 december 2009 en ook mijn blog van 18 december 2010.
Uit: Pour Mémoire
"Mes parents ont été arrêtés devant mes yeux. Je m'étais éloigné de la route, avec mon frère, sur le chemin de la Croix-aux-filles, pour ramasser des fraises sauvages. Une voiture a vrombi, au loin, de plus en plus proche, puis elle a ralenti. Nous nous sommes tus. J'ai entendu mes parents crier. Je n'ai pas compris leurs mots, mais ils étaient à notre intention, une intention secrète.
Ces derniers mois nous avions élaboré des messages codés (« éloignez-vous », « nous sommes pris », se traduisaient par « Attention mon chapeau » et « Doucement, vous me faîtes mal » ou n'importe quelle variante qui se serait ajustée à la situation). On avait jugé inutile ou irréaliste d'ajouter « J'ai perdu ma chaussure » pour « Je vous aime mes enfants chéris, pensez à moi, ne vous inquiétez, pas notre amour survivra », et toutes ces phrases tristes que je me répétais d'avance dans mes nuits de silence en tenant la main de ma mère. Elle, elle gardait sa peur pour elle, mais ses lèvres se mettaient à trembler dès que des pas résonnaient dans la cage d'escalier et nous tachions de ne pas bouger. Nous attendions, nous attendions que les choses changent, ou peut-être nous attendions notre arrestation.
Ma mère a crié et je n'ai pas saisi ses mots, ce que j'ai saisi c'est : « Restez là où vous êtes, cachés derrière les arbres. » Peut-être y avait-il aussi un adieu dans ses cris, « Je vous aime, pensez à moi lorsque vous serez grands », mais ses cris ont été recouverts par ceux de mon père : « Ne touchez pas à ma femme, laissez-la, elle n'est pas vraiment juive. » C'est la dernière parole que j'ai entendue. Pas vraiment juive. Toujours ce souci d'exactitude chez lui."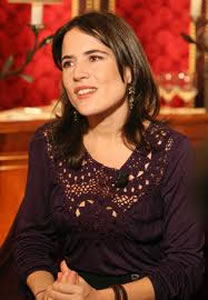 Mazarine Pingeot (Avignon, 18 december 1974)
De Amerikaanse schrijfster Amy Michael Homes werd geboren op 16 december 1961 in Washington DC. Zie ook mijn blog van 18 december 2010.
Uit: Jack
""Be careful," my father said before I'd even taken my foot off of the brake.
"We don't have to do this," I said. "I can wait and get my license when I'm thirty—no problem. I can get Vernon, my driving teacher, to give me extra lessons."
"This time cut the wheel the other way before you ease up on the pedal."
I turned the steering wheel as far as I could. The old blue Volvo didn't believe in power steering.
"More," my father said.
I thought I was going to die. I thought I might have a heart attack. I thought if I ever had to drive that car, I'd end up looking like Arnold Schwarzenegger.
"I think I'm having a heart attack," I said.
"What?"
"Never mind."
I saw him in the rearview mirror. I could see him in the mirror attached to the door. I turned my head around so I could look out the back window. He was standing there, leaning on one leg. His thumbs were hooked through the loops of his jeans. His hair was long and needed cutting. He stood there, not really looking like my father. He looked younger. He looked like a guy, just standing there, waiting. I stepped down on the gas, hard, and felt the car fly backward. I felt the steering wheel unwind in my hands. It was like the burn you get from flying a kite and letting out the string too fast.
My father jumped out of the way, his fingers unhooked from his belt loops. The wheels went up and over the curb. The rear bumper smashed into a tree, and then the car rolled a little bit forward, catching on the curb."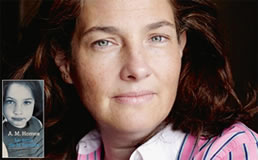 A. M. Homes (Washington DC, 16 december 1961)
De Zweedse schrijver Viktor Rydberg werd geboren op 18 december 1828 in Jönköping, Zweden. Zie ook alle tags voor Viktor Rydberg op dit blog.
Uit: Tomten (Fragment)
Il va dans les maisons et les ateliers,
il connait toutes leurs serrures.
Les vaches rèvent sous la lumière de la lune,
des rêves d'été surtout,
oublieux du harnais, du fouet et de la bride,
Pålle dans l'étable aussi a un rêve,
il est penché sur sa mangeoire,
pleine de trêfle parfumé.
Il va dans la prairie pour les agneaux et les moutons,
il voit, comme ils dorment dedans,
il va jusqu'aux poules, là le coq est dressé
fier sur son plus haut perchoir;
Karo dans la niche où la paille est bonne,
se réveille et remue un peu la queue,
Karo connais son Tomte,
Ils sont de bons amis.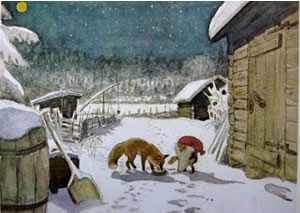 Illustratie bij Tomten door
Harald Wiberg
Le Tomte se faufile pour voir en dernier
le fermiers qu'il aime,
depuis longtemps il a bien remarqué qu'il
garde avec diligence son honneur
des chambres des enfants ensuite, sur la pointe des pieds,
il s'approche pour voir les tendres petits,
personne ne peut en penser du mal :
c'est son plus grand bonheur.
Ainsi il les a vu, le père et le fils,
purs de leurs fatigues
dormant comme des enfants, mais d'où
sont ils donc venu ici-bas ?
les générations suivent les générations,
fleurissantes, flétrissantes, passées... mais pour où ?
L'énigme, qui ne se laisse pas
résoudre, revint une fois de plus!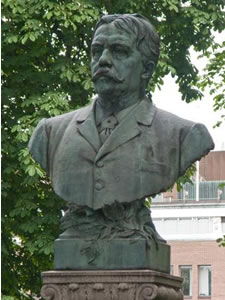 Viktor Rydberg (18 december 1828 – 21 september 1895)
Buste in Jönköping
Onafhankelijk van geboortedata (Bij de vierde zondag van de Advent):
De Duitse dichteres en schrijfster Annette von Droste-Hülshoff werd op 10 januari 1797 op het slot Hülshoff in Westfalen geboren. Zie ook alle tags voot Anette von Droste-Hülshoff op dit blog.
Am vierten Sonntage im Advent
Vom Zeugnisse Johannes. Johannes 1. »Sie fragten, wer bist du? Und er bekannte und leugnete nicht: ich bin eine Stimme des Rufenden in der Wüste - ich taufe euch mit Wasser, aber er steht mitten unter euch, den ihr nicht kennt.«



Fragst du mich, wer ich bin? Ich berg' es nicht:
Ein Wesen bin ich sonder Farb' und Licht.
Schau' mich nicht an, dann wendet sich dein Sinn;
Doch höre, höre, höre! denn ich bin
Des Rufers in der Wüste Stimme.

In Nächten voller Pein kam mir das Wort
Von ihm, der Balsam sät an Sumpfes Bord,
Im Skorpion der Heilung Öl gelegt,
Dem auch der wilde Dorn die Rose trägt,
Das faule Holz entzündet sein Geglimme.

So senke deine Augen und vernimm
Von seinem Herold deines Herren Grimm,
Und seine Gnade sei dir auch bekannt,
Der Wunde Heil, so wie der schwarze Brand,
Wenn seiner Wunden Bluten hemmt der Schlimme.

Merk auf! Ich weiß es, daß in härtster Brust
Doch schlummert das Gewissen unbewußt;
Merk auf, wenn es erwacht, und seinen Schrei
Ersticke nicht, wie Mütter sonder Treu
Des Bastards Wimmern und sein matt Gekrümme!

Ich weiß es auch, daß in der ganzen Welt
Dem Feinde die Altäre sind gestellt,
Daß mancher kniet demütig nicht gebeugt,
Und überm Sumpfe engelgleich und leicht
Der weiße Lotos wie ein Kindlein schwimme.

Es tobt des tollen Strudels Ungestüm,
Und zitternd fliehen wir das Ungetüm;
Still liegt der Sumpf und lauert wie ein Dieb:
Wir pflücken Blumen und es ist uns lieb
Zu schaun des Irrlichts tanzendes Geflimme.

Drum nicht vor dem Verruchten sei gewarnt;
Doch wenn dich süßer Unschuld Schein umgarnt,
Dann lächelt der Vampir, dann fahr zurück
Und senke tief, o tief in dich den Blick,
Ob leise quellend die Verwesung klimme!

Ja, wo dein Aug' sich schaudernd wenden mag,
Da bist du sicher mindstens diesen Tag;
Doch gift'ger öfters ist ein Druck der Hand,
Die weiche Träne und der stille Brand,
Den Lorbeer treibend aus Vulkanes Grimme.

Ich bin ein Hauch nur; achtet nicht wie Tand
Mein schwaches Wehn, um des, der mich gesandt:
Erwacht, erwacht! Ihr steht in seinem Reich;
Denn sehet, er ist mitten unter euch,
Den ihr verkennt, und ich bin seine Stimme!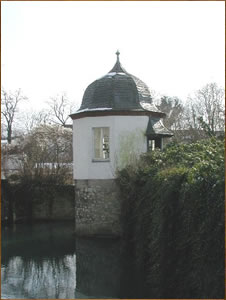 Annette von Droste-Hülshoff (10 januari 1797 – 24 mei 1848)
Het "Annettentempelchen" op de Mallinckrodthof in Borchen.
Droste-Hülshoff zou hier een deel van "Die Judenbuche" geschreven hebben.
Zie voor nog meer schrijvers van de 18e december ook
mijn vorige blog van vandaag
en eveneens
mijn eerste blog van vandaag
en eveneens het
In Memoriam

Václav Havel
op dit blog.
18-12-2011 om 16:32 geschreven door Romenu

Tags:Mazarine Pingeot, A. M. Homes, Viktor Rydberg, Annette von Droste-Hülshoff, Romenu