De Nieuwgrieks dichter Kostís Palamás werd geboren op 13 januari 1859 in Patra. Zie ook alle tags voor Kostís Palamás op dit blog.
MIA PIKRA (GRIEF)

My early unforgettable years I lived them
Close to the sea,
There by the shallow and calm sea,
There by the open and boundless sea.

And every time that my budding, early life
Comes back to me,
And I see the dreams and hear the voices
Of my early life there by the sea,

You, oh my heart, feel the same old yearning:
If I could live again,
Close to the shallow and calm sea,
There by the open and boundless sea.

Was it really my destiny, was it my fortune,
I haven't met another
A sea within me as shallow as a lake,
And like an ocean boundless and big.

And, lo! In my sleep a dream brought her
Close again to me,
The same there shallow and calm sea,
The same there boundless and open sea.

Yet, thrice be alas! A grief was poisoning me,
A powerful grief,
A grief that you did not lighten, my dream
Of my great early love, my home by the sea.

What storm, I wonder, was raging in me,
And what whirlwind,
That couldn't put it to rest, or lull it to sleep
My wonderful dream of my home by the sea.

A grief that is unspoken, an unexplained grief,
A powerful grief,
A grief not quenched even within the paradise
Of our early life close to the boundless sea.
Vertaald door Alex Moskios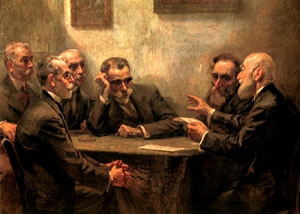 Kostís Palamás (13 januari 1859 - 27 februari 1943)
'De dichters' door Georgios Roilos, ca 1919
Dichters van de generatie 1880, in het midden, leunend op zijn hand, Palamás
De Duitse schrijver en criticus Karl August Bleibtreu werd geboren op 13 januari 1859 in Berlijn. Zie ook alle tags voor Karl Bleibtreu op dit blog.
Uit: Bismarck
»Hören Sie, junger Mann, solch« dreisten Antworten müssen Sie sich abgewöhnen. Das riecht nach vorlautem Berlinertum, in der Alma mater Göttingen ist man nicht auf solcher Höhe. Menschen und Hunde sind Ihnen nachgelaufen und dabei haben Sie noch allerlei Faxen gemacht, um Ihr provokantes Auftreten zu verschlimmern. Aus Ihrer Wohnung warfen Sie eine Flasche aus dem Fenster, so daß drunten in der Straße die Scherben herumflogen.«
»Das ging so zu: als ich hier ankam, traf ich einen oberflächlich Bekannten von Berlin her, einen Herrn v. Dronthahn, der hat mich verschleppt unter lauter Mecklenburger. Denen gab ich ein Frühstück, und da ist die Flasche man so rausgekollert.«
»Ach Gott, ist Ihnen wohl aus der Hand gerutscht? Machen Sie mir das vor? Den Tatbestand!« Der Angeklagte setzte sich in Positur und zeigte sich bereit, des Richters Wißbegier zu befriedigen, indem er ein Lineal ergriff. »Halt, halt! Wollen Sie wohl liegen lassen! Warum nicht gar das Tintenfaß! Bitte, nur die Muskelbewegung!« Dies veranschaulichte der Berliner mit entsprechendem Schwung. » Bene, Optime! Also freier Wille zum Wurf vorhanden.« Die wissenschaftliche Gründlichkeit der Untersuchung vertiefte sich. »Vorhin, junger Mann, hetzten Sie mir einen Riesenköter auf den Leib. Ich hätte das Biest passieren müssen, als ich aufstand.«
»Rief ihn doch gleich an der Schwelle zurück, das gute Tier«, verteidigte der gesegnete Besitzer sein Kleinod.
»Über die Güte läßt sich streiten, über die Bissigkeit kaum, der Maulkorb fehlt. Solche Ungesetzlichkeit pöne ich mit fünf Talern Ordnungsstrafe. Überhaupt – Sie wollen wohl Aufsehen erregen? Schmeckt nach revolutionärer Gesinnung."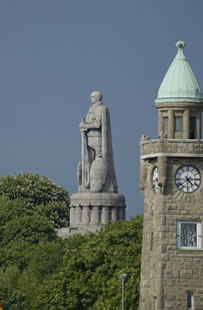 Karl Bleibtreu (13 januari 1859 – 30 januari 1928)
Bismarck monument in Hamburg
De Franse dichter en criticus Victor Richard de Laprade werd geboren op 13 januari 1812 in Montbrison. Zie ook alle tags voor Victor de Laprade op dit blog.
Dans les Roseaux
Si je brise un jour mes chaînes,
Je veux m'enfuir vers les eaux;
Mieux, que les nids sur les chênes,
Mieux que les aires hautaines,
J'aime un nid dans les roseaux.
J'aime une terre mouillée
Par un lac profond et clair;
Pour tenir l'âme éveillée,
Il faut que, sous la feuillée,
Les eaux chantent avec l'air.
S'il n'a point de rive humide,
Je fuis un site admiré,
Comme un front pur et sans ride,
Mais dont l'oeil serait aride
Et n'aurait jamais pleuré.
La colline la plus verte,
Si l'onde n'est son miroir,
Est comme une âme déserte,
A qui jamais n'est ouverte
Une autre âme pour s'y voir.
Otez les flots à la terre,
La terre sera sans yeux,
Et jamais sa face austère,
Pleine d'ombre et de mystère,
Ne réfléchira les cieux.
Dans ton coeur si quelque chose
Bat des ailes pour voler,
Désir ou douleur sans cause,
Musique ou parfum de rose
Qui demande à s'exhaler;
Si tu nourris d'une flamme
Le souvenir ou l'espoir,
Si l'image d'une femme
Pleure ou sourit dans ton âme,
Près d'un lac il faut t'asseoir.
Écoute, si le flot chante;
Si l'eau dort, regarde au fond;
Miroir où l'azur t'enchante,
Écho d'une voix touchante,
Toujours l'onde te répond.
Les plaines ont l'alouette,
La montagne a l'aigle roi,
Les jardins ont la fauvette;
Mais, ô lac, le doux poète
Et le cygne sont à toi!
Si je brise un jour mes chaînes,
Je veux m'enfuir vers les eaux;
Mieux que les nids sur les chênes,
Mieux que les aires hautaines,
J'aime un nid dans les roseaux.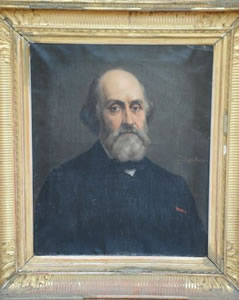 Victor de Laprade (13 januari 1812 – 13 december 1883)
Portret in het College Montbrison
De Oostenrijkse dichter en schrijver Eduard von Bauernfeld werd geboren op 13 januari 1802 in Wenen. Zie ook alle tags voor Eduard von Bauernfeld op dit blog.
An die Wintersonne
Es schläft der Strom; sollst ihm die Ruh' nicht stören,
Und ihn mit süßen Küssen nicht bethören;
Im Innern schafft und waltet er so still,
Drum laß ihn, Sonne, weil er träumen will.
Er beut mir seinen starken, schönen Rücken,
Leicht soll ihn nur das blanke Eisen drücken,
Und weit hinab, wo sonst der Nachen wallt,
Treibt mich des Eises schwellende Gewalt.
Ei komm' nur, Sonne, mit den süßen Blicken!
Du wirst mir nimmer meinen Strom berücken;
Kalt ist dein Buhlerkuß! Der Strom, ein Mann,
Schmilzt keinem Kuß, der nicht erwärmen kann.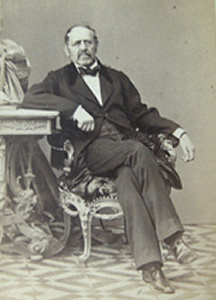 Eduard von Bauernfeld (13 januari 1802 – 9 augustus 1890)
De Duitse dichter en schilder Maler (Friedrich) Müller werd geboren op 13 januari 1749 in Kreuznach. Zie ook alle tags voor Maler Müller op dit blog.
O Vater aller Lust und Freud
O Vater aller Lust und Freud,
O Bacchus, Bacchus gieb mir heut
Und allezeit zu trinken;
Doch, Gram Verscheucher gieb auch du
Mir immer, immer Durst dazu,
Daß ich kann immer trinken.
Denn ach! wie hart ist es zu sehn,
Einen goldnen Becher blinkend stehn,
Ohn' daß ich ihn könnt' trinken. –
Der Demokrat
Demokratisch schnaubt er entgegen den Höhern, doch schnüret,
Denen, die unter ihm stehn, vollendes den Athem er ab.
Erfahrungssatz
Groß zu scheinen, ist stets der Kleinen Leidenschaft; Ansehn
Suchet gewißlich der stets, dem es am Werte gebricht.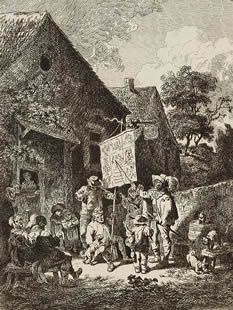 Maler Müller (13 januari 1749 - 23 april 1825)
Bänkelsäger, 1768. Ets door Maler Müller



De Schotse dichter Mark Alexander Boyd werd geboren op 13 januarri 1562. Zie ook alle tags voor Mark Alexander Boyd op dit blog.
Sonett (Cupido und Venus)
Von Strand zu Strand, von Wald zu Wäldern bin ich
gerannt, schier übermannt vom Fiebertraum;
ein Leben, welches grade fällt vom Baum,
ein Strohhalm, das es fortträgt, wird es windig.

Zwei Götter leiten mich, der eine blind;
Ein Kind macht sich vergebens auf den Weg.
Der andre: eine Frau, rein wie die See
und sie ist heiterer als ein Delphin.

Unglücklich ist der Mann, der nur versteht,
daß er die Samen in die Winde säet,
doch doppelt unglücklich wohl jene sind,
denen ein innrer Kampf zerreißt den Leib,
die durch das Feuer gehen für ein Weib;
Bleib blind und lerne leben wie ein Kind.
Vertaald door "Zaunkönig"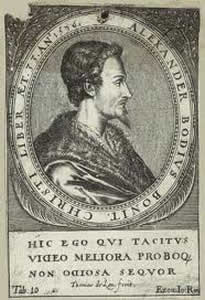 Mark Alexander Boyd (13 januari 1562 – 10 april 1601)

13-01-2013 om 18:50 geschreven door Romenu

Tags:Kostís Palamás, Karl Bleibtreu, Victor de Laprade, Eduard von Bauernfeld, Maler Müller, Mark Alexander Boyd, Romenu