E-mail mij


Druk op onderstaande knop om mij te e-mailen.


Romenu


Romenu is een blog over gedichten, literatuur en kunst Maar Romenu is ook een professionele freelance vertaler
Du-Ne en Ne-Du http://www.romenu.nl.


Huur eens een (vakantie)huis in een natuurgebied, dichtbij het centrum van Nijmegen


Google


Georg Trakl

Georg Trakl werd op 3 februari 1887 in het conducteurshuis aan de Waagplatz 2 in Salzburg geboren. Zijn vader, Tobias Trakl, was een handelaar in ijzerwaren en zijn moeder, die ook psychische problemen had, was Maria Catharina Trakl, (meisjesnaam Halik). Voorts had hij nog drie broers en drie zussen. Margarethe (doorgaans Grethe genoemd) stond hem het naast, zelfs zodanig dat sommigen een incestueuze verhouding vermoeden. Zijn jeugd bracht hij door in Salzburg. Vervolgens bezocht hij van 1897 tot 1905 het humanistische gymnasium. Om toch een academische opleiding te kunnen volgen, werkte hij tot 1908 in de praktijk bij een apotheker. Sommigen vermoedden dat hij dit vooral deed om zichzelf opiaten te kunnen verschaffen. Bij het uitbreken van WO I werd Trakl als medicus naar het front in Galicië (heden ten dage in Oekraïne en Polen) gestuurd. Zijn gemoedsschommelingen leidden tot geregelde uitbraken van depressie, die verergerd werden door de afschuw die hij voelde voor de verzorging van de ernstig verwonde soldaten. De spanning en druk dreven hem ertoe een suïcidepoging te ondernemen, welke zijn kameraden nochtans verhinderden. Hij werd in een militair ziekenhuis opgenomen in Kraków, alwaar hij onder strikt toezicht geplaatst werd.Trakl verzonk daar in nog zwaardere depressies en schreef Ficker om advies. Ficker overtuigde hem ervan dat hij contact moest opnemen met Wittgenstein, die inderdaad op weg ging na Trakls bericht te hebben ontvangen. Op 4 november 1914, drie dagen voordat Wittgenstein aan zou komen, overleed hij echter aan een overdosis cocaïne


Paul Celan

Paul Celan werd onder de naam Paul Antschel op 23 november 1920 geboren in Czernowitz, toentertijd de hoofdstad van de Roemeense Boekovina, nu behorend bij de Oekraïne. Paul Celans ouders waren Duitssprekende joden die hun zoon joods opvoedden en hem naar Duitse christelijke scholen stuurden. In 1942 werden Celans ouders door de Duitse bezetter naar een werkkamp gedeporteerd en daar vermoord. Hijzelf wist aanvankelijk onder te duiken, maar moest vanaf juli 1942 in een werkkamp dwangarbeid verrichten. Celan overleefde de oorlog. Via Boekarest en Wenen vestigde Celan zich in 1948 in Parijs. Daar was hij werkzaam als dichter, vertaler en doceerde hij aan de prestigieuze Ecole Normale Supérieure. Vermoedelijk op 20 april 1970 beëindigde hij zijn leven zelf door in de Seine te springen.


Gerard Reve

Gerard Reve over: Medearbeiders "God is in de mensen, de dieren, de planten en alle dingen - in de schepping, die verlost moet worden of waaruit God verlost moet worden, door onze arbeid, aangezien wij medearbeiders van God zijn." Openbaring "Tja, waar berust elk godsbegrip op, elke vorm van religie? Op een openbaring, dat wil zeggen op een psychische ervaring van zulk een dwingende en onverbiddelijke kracht, dat de betrokkene het gevoel heeft, niet dat hij een gedachte of een visioen heeft, maar dat een gedachte gedachte of visioen hem bezit en overweldigt."


Simon Vestdijk
Simon Vestdijk (Harlingen, 17 oktober 1898 – Utrecht, 23 maart 1971) was een Nederlands romancier, dichter, essayist en vertaler. Zijn jeugd te Harlingen en Leeuwarden beschreef hij later in de Anton Wachter-cyclus. Van jongs af aan logeerde hij regelmatig bij zijn grootouders in Amsterdam, waar hij zich in 1917 aan de Universiteit van Amsterdam inschrijft als student in de medicijnen. Tijdens zijn studie die van 1917 tot 1927 duurde, leerde hij Jan Slauerhoff kennen.Tot 1932 is hij als arts in praktijken door heel Nederland werkzaam. In 1932 volgt zijn officiële schrijversdebuut met de uitgave van de bundel Verzen in De Vrije Bladen. Doorslaggevend voor Vestdijks uiteindelijke keuze voor de literatuur is zijn ontmoeting in 1932 met Eddy Du Perron en Menno ter Braak. Deze ontmoeting had tot resultaat dat hij redactielid werd van het tijdschrift Forum Kort daarop, in 1933, wordt zijn eerste novelle, De oubliette, uitgegeven. In hetzelfde jaar schrijft hij Kind tussen vier vrouwen, dat, eerst geweigerd door de uitgever, later de basis zal vormen voor de eerste drie delen van de Anton Wachter-romans. In 1951 ontvangt Vestdijk de P.C. Hooftprijs voor zijn in 1947 verschenen roman De vuuraanbidders. In 1957 wordt hij voor het eerst door het PEN-centrum voor Nederland voorgedragen voor de Nobelprijs voor de Literatuur, die hij echter nooit zal krijgen. Op 20 maart 1971 wordt hem de Prijs der Nederlandse Letteren toegekend, maar voor hij deze kan ontvangen overlijdt hij op 23 maart te Utrecht op 72-jarige leeftijd. Vestdijk was auteur van ca. 200 boeken. Vanwege deze enorme productie noemde de dichter Adriaan Roland Holst hem 'de man die sneller schrijft dan God kan lezen'. Andere belangrijke boeken van Simon Vestdijk zijn: "Kind van stad en land" (1936), "Meneer Visser's hellevaart" (1936), "Ierse nachten" (1946), "De toekomst de religie" (1947), "Pastorale 1943" (1948), "De koperen tuin" (1950), "Ivoren wachters" (1951), "Essays in duodecimo" (1952) en "Het genadeschot" (1964).


K.P. Kavafis

K.P. Kavafis werd als kind van Griekse ouders, afkomstig uit Konstantinopel, geboren in 1863 in Alexandrië (tot vandaag een Griekse enclave) waar hij ook het grootste deel van zijn leven woonde en werkte. Twee jaar na de dood van zijn vader verhuist het gezin in 1872 naar Engeland om na een verblijf van vijf jaar naar Alexandrië terug te keren. Vanwege ongeregeldheden in Egypte vlucht het gezin in 1882 naar Konstantinopel, om na drie jaar opnieuw naar Alexandrië terug te gaan. In de jaren die volgen maakt Kavafis reizen naar Parijs, Londen en in 1901 zijn eerste reis naar Griekenland, in latere jaren gevolgd door nog enkele bezoeken. Op de dag van zijn zeventigste verjaardag, in 1933 sterft Kavafis in Alexandrië. De roem kwam voor Kavafis pas na zijn dood, dus postuum. Deels is dat toe te schrijven aan zijn eigen handelswijze. Hij was uiterst terughoudend met de publicatie van zijn gedichten, liet af en toe een enkel gedicht afdrukken in een literair tijdschrift, gaf in eigen beheer enkele bundels met een stuk of twintig gedichten uit en het merendeel van zijn poëzie schonk hij op losse bladen aan zijn beste vrienden.


Thomas Mann


Thomas Mann, de jongere broer van Heinrich Mann, werd geboren op 6 juni 1875 in Lübeck. Hij was de tweede zoon van de graankoopman Thomas Johann Heinrich Mann welke later één van de senatoren van Lübreck werd. Zijn moeder Julia (geboren da Silva-Bruhns) was Duits-Braziliaans van Portugees Kreoolse afkomst. In 1894 debuteerde Thomas Mann met de novelle "Gefallen". Toen Thomas Mann met 21 jaar eindelijk volwassen was en hem dus geld van zijn vaders erfenis toestond - hij kreeg ongeveer 160 tot 180 goldmark per jaar - besloot hij dat hij genoeg had van al die scholen en instituties en werd onafhankelijk schrijver. Kenmerkend voor zijn stijl zijn de ironie, de fenomenale taalbeheersing en de minutieuze detailschildering. Manns reputatie in Duitsland was sterk wisselend. Met zijn eerste roman, Buddenbrooks (1901), had hij een enorm succes, maar door zijn sceptische houding tegenover Duitsland na de Eerste Wereldoorlog veranderde dit volledig. Stelde hij zich tot aan de jaren twintig apolitiek op (Betrachtungen eines Unpolitischen, 1918), meer en meer raakte hij bij het Politiek gebeuren betrokken. Zijn afkeer van het nationaal socialisme groeide, zijn waarschuwingen werden veelvuldiger en heftiger. In 1944 accepteerde hij het Amerikaanse staatsburgerschap. Tussen 1943 en 1947 schreef Mann Doktor Faustus (zie Faust), de roman van de 'Duitse ziel' in de gecamoufleerd geschilderde omstandigheden van de 20ste eeuw. In 1947 bezocht hij voor het eerst sinds de Oorlog Europa, twee jaar later pas Duitsland. In 1952 vertrok hij naar Zwitserland. Op 12 augustus 1955 stierf hij in Zürich. Twintig jaar na zijn dood, in aug. 1975, is zijn literaire nalatenschap geopend: dagboekaantekeningen van 15 maart 1933 tot 29 juli 1955, alsmede notities uit de jaren 1918 tot en met 1921.Belangrijke werken zijn: Der Zauberberg, Der Tod in Venedig, Dokter Faustus , Joseph und seine Brüder en Die Bekenntnisse des Hochstaplers Felix Krull.


Rainer Maria Rilke

Rilke werd op 4 december 1875 geboren in Praag. Hij had al naam gemaakt als dichter met zijn bundels Das Stundenbuch en Das Buch der Bilder, toen hij de literaire wereld versteld deed staan en wereldfaam verwierf met de publicatie van zijn twee delen Neue Gedichte in 1907 en 1908. Hij verzamelde daarin het beste werk uit een van zijn vruchtbaarste periodes, die hij grotendeels doorbracht in Parijs. Rilke was daar diep onder de indruk gekomen van Rodin, bij wie hij een tijdlang in dienst was als particulier secretaris. Rodin, zei hij later, had hem leren kijken. Dit kijken kwam neer op intense concentratie, om het mysterie te kunnen zien 'achter de schijnbare werkelijkheid'. Latere en rijpere werken als Duineser Elegien (1912-1923) en het ronduit schitterende Die Sonette an Orfeus (1924) illustreren Rilkes metafysische visie op het onzegbare, dat haar verwoording vindt in een hermetische muzikale taal. Op 29 december 1926 overlijdt Rilke in het sanatorium in Val-Mont aan de gevolgen van leukemie. Enkele dagen later wordt hij, overeenkomstig zijn wens, begraven op het kerkhof van Raron.


* * * * * * * * * * * * * * * *

| | |
| --- | --- |
| | Over literatuur, gedichten, kunst en cultuur |

27-01-2013

Leopold von Sacher-Masoch, Benjamin von Stuckrad-Barre, James Grippando, Lewis Carroll, Alexander Stuart
De Duitse schrijver Leopold Ritter von Sacher-Masoch werd geboren op 27 januari 1836 in Lemberg. Zie ook alle tags voor Leopold von Sacher-Masoch op dit blog.
Uit: Don Juan von Kolomea
"Wir fuhren aus der Kreisstadt Kolomea auf das Land. Es war Abend und am Freitag. Der Pole sagt: »Der Freitag ist ein guter Anfang,« aber mein deutscher Kutscher, ein Colonist aus Mariahilf, behauptete, der Freitag sei ein Unglückstag, denn an diesem Tage sei unser Herr am Kreuze gestorben und habe das Christenthum angefangen.
Diesmal behielt der Deutsche Recht, denn eine halbe Stunde von Kolomea wurden wir von einer Bauernwache angehalten.
»Steh! – den Paß!«
Wir standen. Aber der Paß! – Meine Papiere waren freilich in Ordnung, aber wer hatte an meinen Schwaben gedacht. Der saß auf seinem Kutschbock, als wenn die Erfindung des Passes noch zu machen wäre, schnalzte mit der Peitsche und legte frischen Schwamm in seine kurze Pfeife. Der konnte freilich ein Verschwörer sein. Sein unverschämt behagliches Gesicht forderte meine russischen Bauern heraus. Paß hatte er keinen, das war richtig; nun zuckten sie die Achseln, das war ebenso richtig.
»Ein Verschwörer,« hieß es.
»Aber Freunde bedenkt doch!« Alles umsonst.
»Ein Verschwörer!«
Mein Schwabe rückt verlegen auf seinem Brett und maltraitirt fruchtlos die russische Sprache. Alles umsonst. Die Bauernwache kennt ihre Pflichten. Wer wagt ihr eine Banknote anzubieten? Ich nicht. So werden wir denn zusammengepackt und einige hundert Schritte weit zu der nächsten Schenke geführt.
Von weitem schien es vor derselben von Zeit zu Zeit aufzublitzen. Es war die aufwärts genagelte Sense eines Bauers, der vor der Thüre Wache hielt, und gerade über dem Rauchfang der Schenke stand der Mond und blickte auf den Bauer und seine Sense. Er blickte durch das kleine Fenster der Schenke und warf seine Lichter wie Silbermünzen hinein, und füllte die Pfützen vor dem Hause mit Silber, um den geizigen Juden zu ärgern. Ich meine den Schenkwirth, der uns auf der Schwelle empfing und seine lebhafte Freude über die vornehmen Gäste dadurch ausdrückte, daß er eine Art monotones Jammergeschrei ausstieß.
Er wackelte mit dem Körper auf und ab wie eine Ente, küßte auf meinen rechten Aermel einen Schmutzfleck, und der Symmetrie wegen auch auf den linken, und schalt dabei die Bauern, daß sie »einen solchen Herren,« »einen solchen« – er wußte keine bezeichnendere Eigenschaft an mir zu finden – »einen solchen Herren arretirt, und einen solchen durch und durch schwarzgelben Herren, einen Herren, dessen Gesicht schon ganz schwarzgelb sei und dessen Seele ganz schwarzgelb sei, das möchte er auf die Thora beschwören«, und schalt und gebärdete sich, als hätten sie ihm das ärgste Unrecht zugefügt."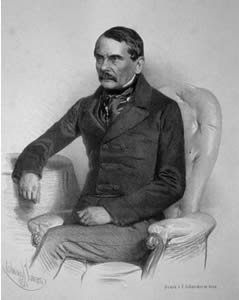 Leopold von Sacher-Masoch (27 januari 1836 – 9 maart 1895)
Lithografie door Eduard Kaiser, 1855
De Duitse schrijver Benjamin von Stuckrad-Barre werd op 27 januari 1975 in Bremen geboren. Zie ook alle tags voor Benjamin von Stuckrad-Barre op dit blog.
Uit: Was.Wir.Wissen.
"Was wir wissen sollen, wissen viele recht genau. Deshalb wird es einem auch dauernd einkaufszettelartig zusammengefasst. Aristoteles, Humboldt, Mozart, Einstein, Billy Wilder – kann man nichts gegen sagen. Sie zu kennen schadet gewiss nicht, aber der Charakter eines
Schülers zeigt und formt sich daran, was er in der Pause macht. In diesem Buch geht es nicht um die so genannte Allgemeinbildung, sondern um die allgemeine Bildung, das tatsächlich Gewusste. Natürlich nur um einen Ausschnitt daraus. Das ist ja das Schöne am Buch, die Hinsicht, in der es dem Internet überlegen ist. Dass es ein Ende hat.
Um das Gewusste zu zeigen, kann man nicht alle fragen. Ein repräsentativer Anblick des Wissens ist aber zugänglich durch die Phrasen, in denen es auftritt. Phrasen deshalb, weil sie Schlüssel sind zu den unterschiedlichsten Menschen, Orten und Bedingungen. «Die Phrase und die Sache sind eins», hat Karl Kraus gesagt, behauptet das Internet.
Was weiß ich? Dies zum Beispiel: Das Wort «wissen» geht zurück auf die indoeuropäische Wurzel ueid (gesehen, erkundet haben). Das habe ich gelesen. Im Internet. Das weiß ich jetzt."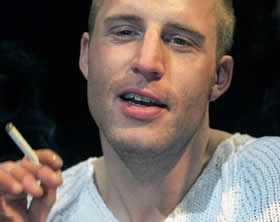 Benjamin von Stuckrad-Barre (Bremen, 27 januari 1975)
De Amerikaanse schrijver James Grippando werd geboren op 27 januari 1958 in Waukegan, Illinois. Zie ook alle tags voor James Grippando op dit blog.
Uit: Blood Money
"Mr. Swyteck, I'm calling from Judge Matthews' chambers."
Jack gripped his smartphone a little tighter. The judge's assistant was on the line. Jack was on verdict watch at his Coconut Grove law office, eating lunch with his best friend, Theo Knight.
"Is there a verdict?"
"Yes, sir. There is a verdict."
The words hit him like a 5-iron. This is it.
Criminal Case No. 2010-48-CF, State of Florida v. Sydney Louise Bennett, had spanned twentynine court days, plus two weeks of jury selection. Fifty-nine witnesses over eighteen days for the prosecution. Another forty-seven witnesses for the defense. The jury had been drawn from a pool in the Vero Beach area, a hundred miles away from the Miami Justice Building, after three years of intense pretrial publicity. The twelve selected to serve had been sequestered since day one, the week before Memorial Day. Deliberations had started on the Fourth of July, despite the holiday. The jury had been out for ten hours. Six hours longer than the jury in the O. J. Simpson trial—the trial of the other century.
"The verdict will be announced at two fifteen p.m.," the assistant said.
Jack thanked her and hung up. He wanted to speak to his client, but she was in the detention center across the street—lucky Thirteenth Street, as it was known—from the courtroom where Jack had last seen her, where Judge Matthews had released the jury at nine a.m. to begin day two of deliberations. Jack wondered if Sydney had been biting her nails again. It was a nervous habit she'd started before the trial, sometime after her twenty-fourth birthday, the third she'd spent behind bars without bail. Her chestnut hair was two feet longer than when they'd first met, her prison pallor a few shades whiter.
"Showtime?" asked Theo."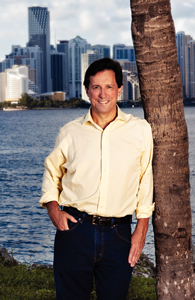 James Grippando (Waukegan, 27 januari 1958)
De Engelse dichter en schrijver Lewis Carroll werd op 27 januari 1832 in Daresbury. Zie ook alle tags voor Lewis Caroll op dit blog.
Uit: Alice in Wonderland
"There seemed to be no use in waiting by the little door, so she went back to the table, half hoping she might find another key on it, or at any rate a book of rules for shutting people up like telescopes: this time she found a little bottle on it, ("which certainly was not here before," said Alice), and tied round the neck of the bottle was a paper label, with the words "DRINK ME" beautifully printed on it in large letters. It was all very well to say "Drink me," but the wise little Alice was not going to do that in a hurry. "No, I'll look first," she said, "and see whether it's marked 'poison' or not"; for she had read several nice little stories about children who had got burnt, and eaten up by wild beasts, and other unpleasant things, all because they would not remember the simple rules their friends had taught them: such as, that a red-hot poker will burn you if you hold it too long; and that, if you cut your finger very deeply with a knife, it usually bleeds; and she had never forgotten that, if you drink much from a bottle marked "poison," it is almost certain to disagree with you, sooner or later.However, this bottle was not marked "poison," so Alice ventured to taste it, and, finding it very nice (it had, in fact, a sort of mixed flavour of cherry-tart, custard, pine-apple, roast turkey, toffy, and hot buttered toast), she very soon finished it off.
"What a curious feeling!" said Alice. "I must be shutting up like a telescope!"
And so it was indeed: she was now only ten inches high, and her face brightened up at the thought that she was now the right size for going through the little door into that lovely garden."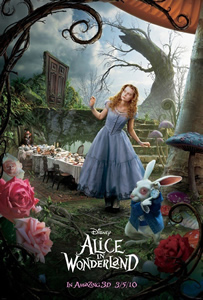 Lewis Carroll (27 januari 1832 – 14 januari 1898)
Affiche voor de 3D Disney-film uit 2010
De Brits-Amerikaanse schrijver Alexander Stuart werd geboren op 27 januari 1955 in Brighton. Zie ook alle tags voor Alexander Stuart op dit blog.
Uit: Life on Mars
"So when John Imboden apologizes down the phone that he has to pee because he has trouble controlling his bladder--and then stays on the line talking, while I hear the flow of his urine into the toilet bowl--it feels more normal than all the neon Deco, million-dollar homes and giant Jetsons signs in Florida could ever do. And when I edge into the question of death and ask how he deals with that, I hear the absolute truth and clarity and hard-earned resignation in his voice, and sense that this is one of those conversations that goes beyond any immediate or casual purpose.
"Lately I've been thinking about dying," he says, "and it's been kind of scary, because I don't want to suffer. I've had the same nurse for about four years and we've talked about it, and she said, 'I'm not going to let you suffer.' I have a plan," he goes on, even-voiced. "I thought, if I came to it I'd O.D."
He pauses and there are some muffled noises while he moves about, then he says, "I don't have a problem with death. I've had enough friends die from this disease, and you want to let them go, because you're so fucking sick. It's freedom....I have spiritual beliefs, but I'm not a Christian. My main problem is I've been having a lot of pain lately. I have a port--a tube into my chest--and they've been giving me Demerol, but I got addicted to it. The problem with all these drugs is they're addictive. They were supposed to give me this experimental drug this morning, but I was in so much pain when I woke up that I called and canceled."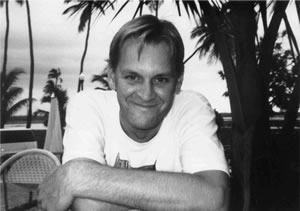 Alexander Stuart (Brighton, 27 januari 1955)
Zie voor nog meer schrijvers van de 27e januari ook mijn vorige blog van vandaag en eveneens mijn eerste blog van vandaag.

27-01-2013 om 19:45 geschreven door Romenu

Tags:Leopold von Sacher-Masoch, Benjamin von Stuckrad-Barre, James Grippando, Lewis Carroll, Alexander Stuart, Romenu



Eliette Abécassis, Mordecai Richler, Ethan Mordden, Guy Vaes, Bernd Jentzsch
De Franse schrijfster Eliette Abécassis werd geboren op 27 januari 1969 in Straatsburg. Zie ook alle tags voor Eliette Abécassis op dit blog.
Uit: La dernière tribu
"Et moi, j'étais Ary, le lion, le Messie des esséniens, et mon cœur, tel l'oiseau qui a perdu son nid, soupirait, languissait après le parvis du Temple. Je ne cessais de tourner mes prières vers Jérusalem. En ma grande prière du matin, de midi et du soir, je faisais des supplications pour le retour des exilés et la restauration de la Cité de la Paix. Mes jours de jeûne et mes jours de deuil étaient des anniversaires de nos désastres nationaux, et les services les plus solennels de notre rituel concluaient par l'invocation : l'an prochain à Jérusalem.
(…)
"Ô mes amis, vous qui me suivez, ô vous qui savez. Comment vous dire ? Comment trouver les mots pour exprimer ce que j'ai ressenti ? Je n'avais jamais connu telle force, telle intensité, telle joie, telle unité que celle-ci, il ne m'avait jamais été donné de contempler une telle beauté, une telle immensité, une telle grandeur, sublime entre toutes, réelle et irréelle, terrestre et surhumaine, antique et actuelle, évanescente et éternelle, profonde et céleste, immense et minuscule, ordinaire et extraordinaire. Comment dire ? Comment le comprendre ?"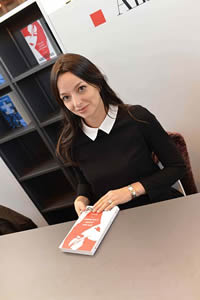 Eliette Abécassis (Straatsburg, 27 januari 1969)


De Canadese Schrijver Mordecai Richler werd geboren op 27 januari 1931 in Montreal. Zie ook alle tags voor Mordecai Richler op dit blog.
Uit: Barney's version
"Yes, carbon paper, if any of you out there are old enough to remember what that was. Why, in those days we not only used carbon paper, but when you phoned somebody you actually got an answer from a human being on the other end, not an answering machine with a ho, ho, ho message. In those olden times you didn't have to be a space scientist to manage the gadget that flicked your TV on and off, that ridiculous thingamabob that now comes with twenty push buttons, God knows what for. Doctors made house calls. Rabbis were guys. Kids were raised by their moms instead of in child-care pens like piglets. Software meant haberdashery. There wasn't a different dentist for gums, molars, fillings, and extractions — one nerd managed the lot. If a waiter spilled hot soup on your date, the manager offered to pay her cleaning bill and sent over drinks, and she didn't sue for a kazillion dollars, claiming "loss of enjoyment of life". If the restaurant was Italian it still served something called spaghetti, often with meatballs. It was not yet pasta with smoked salmon, or linguini in all the colours of the rainbow, or penne topped with a vegeterian steaming pile that looked like dog sick. I'm ranting again. Digressing. Sorry about that."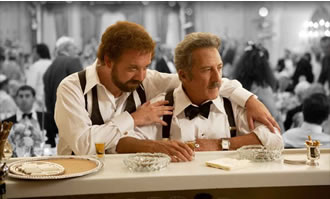 Mordecai Richler (27 januari 1931 – 3 juli 2001)
Scene uit de film " Barney's version" uit 2010 met Paul Giamatti en Dustin Hoffman,
De Amerikaanse schrijver Ethan Mordden werd geboren op 27 januari 1947 in Pennsylvania. Zie ook alle tags voor Ethan Mordden op dit blog.
Uit: Love Song. The Lives of Kurt Weill and Lotte Lenya
"She was born first, about a year and a half before him, in Vienna, on October 18, 1898. Karoline Wilhelmine Charlotte Blamauer was the daughter of a coachman, Franz Blamauer, and a laundress, the former Johanna Teuschl. If young Linnerl—a standard nickname for Karoline—was to captivate men, as her mother predicted, it may have been one of those traits acquired by imitation, for her mother was a pet of the local lads. "Frau Blamauer sees pants on a clothesline," the neighbors would carol, "and she's pregnant." But of her many gestations only five children were born alive, three girls and two boys.
The firstborn, Karoline, died at the age of four, and the future Lotte Lenya was named after her. There were as well her older brother, Franz; her younger brother, Max; and her younger sister, Maria. It was Linnerl who attracted their father's particular attention, for he had loved his dead Karoline and hated the one who replaced her. Young Linnerl lived in terror in the Blamauers' small apartment, in a five-storey block of masonry way out to the southwest of Vienna's "inner city," on the southern edge of the district of Penzing, where it borders Hietzing. The area was so distant from Vienna's core area around St. Stephen's Cathedral that from the window of the Blamauers' kitchen one could see Schönbrunn, the summer palace of Austria's royal house, the Hapsburgs.
It is an odd trick of the abusive parent to select one child in particular to destroy. The others are ignored or even favored, and Franz singled out the surviving Linnerl for intimidation with the constant and very real threat of violence. If he wanted a stein of beer from the corner tavern, it was always Linnerl who was sent to collect it and slapped if he suspected that she had spilled any of it. When he barged into the apartment after a night of carousing and demanded a song, it was Linnerl who was pulled out of bed—a wooden box with a removable cover for use as an ironing board or in preparing dough for noodles—and forced to sing for him."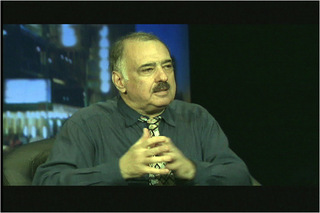 Ethan Mordden (Pennsylvania, 27 januari 1947)
De Belgische, Franstalige, schrijver Guy Vaes werd geboren op 27 januari 1927 in Antwerpen. Zie ook alle tags voor Guy Vaes op dit blog. Guy Vaes overleed op 27 februari van het afgelopen jaar op 85-jarige leeftijd.
Uit : Une descente aux Enfers. À propos de Hugo von Hofmannsthal
"L'univers des poèmes du jeune Hofmannsthal se partageait encore entre un Haut et un Bas sans compromis. Y succéda, tel l'adulte émergeant de l'adolescent, l'apprentissage de ce qui apparaît à l'écrivain comme étant le réel, autrement dit ce qui est contrainte, opacité mauvaise, objet de désarroi et de cruauté. Sans doute doit-il cette vue dont le pessimisme rejoint l'aversion, à son expérience militaire à Göding, « une morne garnison de Marovie ». L'ennui et la vulgarité qui y règnent, le souvenir des « grandes cours vides des casernes » imprègnent le Conte de la 672e nuit, ainsi que la correspondance. Le passage de Hofmannsthal à la prose, davantage en prise directe avec sa part autobiographique, toujours ébranlée de tempêtes intimes, d'antagonismes que commandent le Haut et le Bas, réclamera de lui l'enracinement en des Märchen initiatiques et des souvenirs de voyages.
Dans ces derniers on voit, par moment, comment l'éloignement suscite son contraire : la proximité. Si le temps ne nous était pas mesuré, on pourrait établir une relation entre ce phénomène et le refus d'Odilon-Jean Périer de s'approprier l'objet de son amour.
Ce que la Grèce impartira à Hofmannsthal, c'est une lumière que j'oserais appeler définitive, et qui visite également la Provence à laquelle Cézanne doit son génie. Et cette lumière pérenne ne peut que renvoyer à l'intemporel, à cet état pour concevoir cette opération, il faudra que l'amateur de tableaux que fut Hofmannsthal — n'est-ce pas leur opacité qui le détourna du miroir, abîme où se
noie le regard ? — franchisse d'abord des échelons intermédiaires."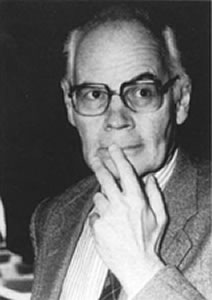 Guy Vaes (27 januari 1927 – 27 februari 2012)
De Duitse dichter en schrijver Bernd Jentzsch werd geboren op 27 januari 1940 in Plauen. Zie ook alle tags voor Bernd Jentzsch op dit blog.
Dicht am Boden
Die Frühe sprang auf die Beine wie ein Lamm
Und sah mich am Boden, auf allen vieren.
Uit: Die Neugründung des Literaturinstituts war eine Steißgeburt.
(Bernd Jentzsch im Gespräch mit André Hille)
"B. Jentzsch: Es gab einen öffentlichen Druck aus dem alten Literaturinstitut, aus, sagen wir es mal wertfrei, politisch linken Gruppen, Muschg in der Schweiz, Mayer in Tübingen, dann gab es eine Gruppe in Frankreich und so weiter. Und diese Konstellation hat dazu geführt, dass in Dresden ein Beschluss durchgegangen ist: Ja, es wird ein neues Institut geben. Aber die regierende CDU war wieder zu einem Teil dagegen, so dass das nur mit den Stimmen der Oppositions-SPD zustande kam, also das allein war schon eine knirschende Lage. Die Universität hat gesagt: Herr Gott, was sollen wir mit den Schreiberlingen? Die Kunst wurde dazwischen aufgerieben, die war für die Universität nicht interessant. Ich war im höchsten Gremium der Universität, da ging es um die Pferde der Veterinärmediziner und nicht um die Belange des Literaturinstituts. Die Neugründung des Literaturinstituts war eine Steißgeburt, ich will nicht sagen Missgeburt, das ist kein gutes Wort, aber es ist nicht das, was ich mir darunter vorgestellt habe. Es konnte auch nicht die Wiederbelebung des Becher-Instituts sein, in vieler Hinsicht nicht. Das Paradoxe ist, dass das alte Institut in der hochdurchorganisierten DDR wahrscheinlich mehr Spielraum hatte, als wir in der Nachwendezeit."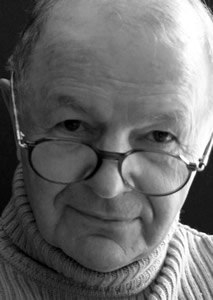 Bernd Jentzsch (Plauen, 27 januari 1940)

27-01-2013 om 19:39 geschreven door Romenu

Tags:Eliette Abécassis, Mordecai Richler, Ethan Mordden, Guy Vaes, Bernd Jentzsch, Romenu



Rudolf Geel, Ilja Ehrenburg, Mikhail Saltykov-Shchedrin, Neel Doff, Balduin Möllhausen
De Nederlandse schrijver Rudolf Geel werd geboren in Amsterdam op 27 januari 1941. Zie ook alle tags voor Rudolf Geel op dit blog.
Uit: De voeten van Petrus
"God, zegt men, na vier jaar terug in Rome op het Forum Romanum. Er is hier ook werkelijk niets veranderd.
En het lijkt zelfs of de steenmassa's nog zijn toegenomen.
Op de Palatijn blijkt dat laatste overigens niet juist: naast de Casa di Livia is een zona periculosa waar een nieuw brok oudheid zichtbaar wordt gemaakt.
Terugkeer naar de eerste waarneming: terwijl ik ouder word, theoretisch verder af moet raken van deze geschiedenis, kom ik er desondanks dichterbij. Er is wel iets veranderd. Het zal nog generaties lang dichterbij komen. Als nu een generatie x, na ons, ertoe mocht komen om ons uit te graven (want wie weet of wij niet onder steen bedolven zullen raken), zal hem dan een zelfde geluksgevoel bevangen? Een soort heimwee, een snipper van het onbereikbare in handen te hebben? De eeuwige tijd één brokstuk te slim af te zijn?
Overstekend naar het Colosseum word ik bijna door een Amerikaan overreden. Ik tik op mijn hoofd. Hij wuift. Zo gaat het, en niet anders, in Vietnam. Ook binnen de geschiedenis raakt men zijn heden niet kwijt."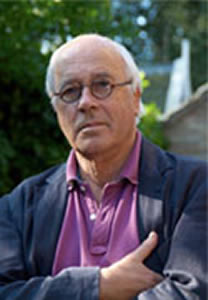 Rudolf Geel (Amsterdam, 27 januari 1941)
De Russische dichter en schrijver Ilja Ehrenburg werd geboren op 27 januari 1891 in Kiev. Zie ook alle tags voor Ilja Ehrenburg op dit blog.
Fall

It was a quite day like that of every Fall.
I could have written or not written:
Nobody, now, will care to find their way into my heart,
and the quietest of quiet, and the smoothest of peace.
The trees are naked and black
On this my eyes, on that window,
Just like my attempts at deciphering a formula,
yet it's all been deciphered long ago.
And then with a scared gust of wind,
the dead leaves flew up,
already trampled over, profaned,
but still, completely pure -- like love.
Big, yellow and red,
and even with a happy green,
they didn't finish living, didn't survive,
and now they're flying before me.
But is it possible to be so clean?
And not a word out of place.
They live, but they aren't written,
They flew up, but they are silent.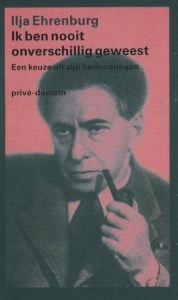 Ilja Ehrenburg (27 januari 1891 – 31 augustus 1967)
Cover
De Russische schrijver Mikhail Saltykov-Shchedrin werd geboren op 27 januari 1826 in Spas-Ugol, Tver. Zie ook alle tags voor Mikhail Saltykov-Shchedrin op dit blog.
Uit: How a Muzhik Fed Two Officials
"Well, Your Excellency, how went it? Did you find anything?"
"Nothing but an old number of the Moscow Gazette, not another thing."
The Officials lay down to sleep again, but their empty stomachs gave them no rest They were partly robbed of their sleep by the thought of who was now enjoying their pension, and partly by the recollection of the fruit, fishes, partridges, grouse and hares that they had seen during the day.
"The human pabulum in its original form flies, swims and grows on trees. Who would have thought it your Excellency?" said the one Official.
"To be sure," rejoined the other Official. "I, too, must admit that I had imagined that our breakfast rolls, came into the world just as they appear on the table."
"From which it is to be deduced that if we want to eat a pheasant, we must catch it first, kill it, pull its feathers and roast it. But how's that to be done?"
"Yes, how's that to be done?" repeated the other Official.
They turned silent and tried again to fall asleep, but their hunger scared sleep away. Before their eyes swarmed flocks of pheasants and ducks, herds of porklings, and they were all so juicy, done so tenderly and garnished so deliciously with olives, capers and pickles.
"I believe I could devour my own boots now," said the one Official.
"Gloves, are not bad either, especially if they have been born quite mellow," said the other Official."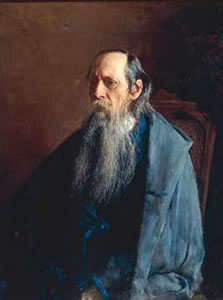 Mikhail Saltykov-Shchedrin (27 januari 1826 – 10 mei 1889)
Portret door Nikolaj Jarosjenko, 1886
De Franstalige, maar oorspronkelijk Nederlandse schrijfster Neel Doff werd geboren in Buggenum op 27 januari 1858. Zie ook alle tags voor Neel Doff op dit blog.
Uit: Keetje Tippel
"Moeder was de hele morgen bezig geweest ons te wassen en aan te kleden en had geen tijd gehad om aardappels te koken; wij aten wat brood en dronken koffie. Om twee uur kwam ouwe Dientje, een buurvrouw, ons ophalen voor de kermis op de Nieuwmarkt. Wij gingen op stap, moeder met de baby en Dientje met Naatje op de arm; de groten - twee jongens en twee meisjes - liepen hand in hand voorop.
Hoe wij naar de Nieuwmarkt kwamen, die een heel eind van ons huis lag, herinner ik mij niet meer. Zoveel weet ik nog wel, dat wij ons onverhoeds midden in de menigte bevonden; dat voor de kermistenten dames in engelenjurken boven op paarden in geborduurde stroken zijde zaten; dat een man die in de meel was rondgerold met een schorre zangstem stond te lachen; dat de draaimolens, rondom versierd met bebloemde stoffen, ronddraaiden terwijl mannen en vrouwen arm in arm hosten en zongen bij het orgel, dat door trompetjes een wijsje uitschetterde: Hopla met de benen, het zijn geen molenstenen!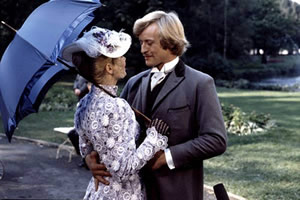 Scene uit de film "Keetje Tippel" met Monique van de Ven en Rutger Hauer, 1975
Hele troepen dienstmeisjes, met hun hoed over hun mutsje gestolpt en een omslagdoek over de schouders, liepen gearmd met werklui te zingen en te springen van 'hossen, hossen, hossen'. Wit van angst stompte moeder mij voor zich uit: 'Hier blijven lopen, lelijke meid, als je niet oppast lopen ze ons nog onder de voet!' Tenslotte deed ze zo lelijk tegen me, dat ik de hand van Hein losliet en langs een gracht wegrende. Maar opeens besefte ik in paniek dat ik daar alleen stond en de weg naar huis niet wist. Ik klampte een voorbijganger aan.
'Als je hier langs de gracht blijft lopen, kom je bij de Amstel. Daar moet je linksaf en dan vind je je straat wel.'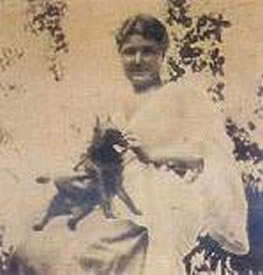 Neel Doff (27 januari 1858 – 14 juli 1942)
De Duitse schrijver Balduin Möllhausen werd geboren op 27 januari 1825 in Bonn. Zie ook alle tags voor Balduin Mölhausen op dit blog.
Uit: Der Piratenlieutenant
"Mit einem schwermüthigen Lächeln erfüllte Johannes die Bedingung, und dann schritten die beiden jungen Leute längere Zeit schweigend auf dem Sommerwege der Chaussee dahin. Sie schritten dahin ernst und sinnend, wie es wohl gerechtfertigt ist, wenn Jugendgespielen, die stets mit herzlicher Liebe an einander gehangen haben, von dem Geschick getrennt und in Sphären geschleudert werden, welche sie, der nothwendigen Trennung wegen, als ihnen feindlich zu betrachten geneigt sind; sie schritten dahin, nur von dem Gedanken an den bevorstehenden Abschied beseelt: Anna mit anmuthigen, leichten und elastischen Bewegungen, ihr Gefährte dagegen, als ob des Lebens Last ihn unendlich schwer bedrücke und er nur noch mit Mühe sich vorwärts bewege.
Erstere hatte kaum das sechszehnte Jahr erreicht, stand also in dem Alter, in welchem bei ihrer hohen natürlichen Bevorzugung holde Kindheit und schüchtern erwachende Jungfräulichkeit sich zu einem überaus lieblichen Bilde vereinigten. Ihre zarte Gestalt zeigte eben noch kindliche Formen, welchen indessen eine gewisse, das schönste Ebenmaß herstellende Fülle nicht mangelte."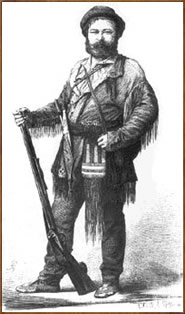 Balduin Möllhausen (27 januari 1825 – 28 mei 1905)

27-01-2013 om 19:20 geschreven door Romenu

Tags:Ilja Ehrenburg, Mikhail Saltykov-Shchedrin, Neel Doff, Rudolf Geel, Balduin Möllhausen, Romenu



| | |
| --- | --- |
| | |



Inhoud blog


| | |
| --- | --- |
| | Bernard Malamud, Vincente Alexandre, Carl-Christian Elze, Hannelies Taschau, Theun de Vries, Hertha Kräftner, Johann Uhland, Margreet van Hoorn, Leo Stilma |
| | Erik Menkveld, Ted Kooser, James Fenton, Walter de la Mare, Richard Anders, William Temple, John Keble, Ross Franklin Lockridge Jr., Leopoldo Alas |
| | Frans Coenen, Eric Bogosian, Robert Penn Warren, George Oppen, Sue Grafton, Carl Spitteler, Anthony Trollope, Michael Schaefer, Marcus Clarke |
| | William Shakespeare, Roman Helinski, Pascal Quignard, Peter Horst Neumann, Andrey Kurkov, Halldór Laxness, Christine Busta, Adelheid Duvanel, Richard Huelsenbeck |
| | The Good Shepherd (Stanley Moss) |
| | Giorgio Fontana, Jan de Hartog, Björn Kern, Vladimir Nabokov, Chetan Bhagat, Peter Weber, Jos de Haes, Thommie Bayer, Madame de Staël |
| | Ana María Shua, Louise Glück, Robert Choquette, James Philip Bailey, Henry Fielding, Michael Schulte, Cabrera Infante, Ludwig Renn |
| | The Enkindled Spring (D. H. Lawrence) |
| | Charlotte Brontë, Patrick Rambaud, John Mortimer, Charles den Tex, Ahmed Arif, Michael Mann |
| | Peter Schneider, Meira Delmar, Alistair MacLean, Gerrit Wustmann, Népomucène Lemercier |
| | Prijs der Nederlandse Letteren voor Judith Herzberg |
| | Martinus Nijhoff, Jan Cremer, Jean Pierre Rawie, Marieke Lucas Rijneveld, Sebastian Faulks, Jozef Deleu, Steve Erickson, Arto Paasilinna, Michel Leiris |
| | Martin Michael Driessen, Marjoleine de Vos, Manuel Bandeira, n. c. kaser, Veniamin Kaverin, Louis Amédée Achard, Pierre-Jean de Béranger, Gudrun Reinboth, Werner Rohner |
| | Wam de Moor, Bas Belleman, Roos van Rijswijk, Hanane Aad, Clara Eggink, Kathy Acker, Joy Davidman, Henry Kendall, Katharina Schwanbeck |
| | Antoon Coolen, Vincent Corjanus, Nick Hornby, Ida Boy-Ed, Thornton Wilder, David Wagner, R.J. Pineiro, Helen Meier, Karen Blixen |
| | Sarah Kirsch, Thomas Olde Heuvelt, Kingsley Amis, Patricia De Martelaere, Tristan Tzara, Ewald Vanvugt, Sibylle Lewitscharoff, Jan Luyken, Anatole France |
| | Emmaüs (Felix Timmermans) |
| | Tomas Tranströmer, Daniël Samkalden, Jérôme Lambert, Patrick Bernauw, Benjamin Zephaniah, Henry James, Wilhelm Busch, Ina Boudier-Bakker |
| | Bliss Carman, Beate Morgenstern, Jeffrey Archer, Bernhard Lassahn, Erich Arendt, Pol De Mont, Staf Weyts, Hans Egon Holthusen |
| | Péter Esterházy, Alexandre Jardin, Tjitse Hofman, Landolf Scherzer, Charles Lewinsky, Roman Graf |
| | Roberto Schopflocher, Martin Kessel, Gabriele Stötzer, Helene Hübener, Gerhard Rohlfs |
| | Nachoem Wijnberg, K. Michel, Alexander Münninghoff, Michel Faber, Jean-Marie Gustave Le Clézio, Samuel Beckett, Seamus Heaney, Tim Krabbé, Eudora Welty |
| | Antje Rávic Strubel, Alan Ayckbourn, Scott Turow, Tom Clancy, Agnes Sapper, Edward de Vere, José Gautier Benítez, Alexander Ostrovski, Guillaume-Thomas Raynal |
| | Leonard Nolens, Mark Strand, Silvia Avallone, Walid Soliman, Dorothy Allison, Hubert Nyssen, Rolf Schilling, Glenway Wescott, Claude Tillier |
| | Leo Vroman, Jan van Mersbergen, Paul Theroux, Claudio Magris, Bella Akhmadulina, Stefan Heym, Richard Wagner, Marcel van Maele, Eric Knight |
| | Charles Baudelaire, Jelle Brandt Corstius, Karel Jonckheere, Joolz Denby, Albert von Schirnding, Johannes Bobrowski, Bernard-Marie Koltès, Arnold Stadler, Yaël Vinckx |
| | Thomas (Jan Willem Schulte Nordholt) |
| | Herinnering aan Gerard Reve, Hanz Mirck, Christoph Hein, Judith Koelemeijer, Nnedi Okorafor, Barbara Kingsolver |
| | John Fante, Johann Christian Günther, Glendon Swarthout, Martin Grzimek, Hégésippe Moreau, Robert Askins |
| | Den Haag (Paul Rodenko) |
| | Juliana Spahr, William Wordsworth, Özcan Akyol, Gabriela Mistral |
| | Kazim Ali, Annejet van der Zijl, John Pepper Clark, Jakob Ejersbo, Günter Herburger, Uljana Wolf, Brigitte Schwaiger, Julien Torma, Nicolas Chamfort |
| | Iulian Ciocan |
| | Hugo Claus, Martin Reints, Mieke van Zonneveld, Vítězslav Hálek, Algernon Swinburne, Bora Ćosić,, Werner J. Egli, Michael Georg Conrad, Marente de Moor |
| | Maya Angelou, Hanneke Hendrix, Marko Klomp, Marcel Vaarmeijer, E. L. James, Marguerite Duras, Robert Schindel, Michiel van Kempen, Bettina von Arnim |
| | Charles Ducal, Adriaan Jaeggi, Frederik van Eeden, Bert Bakker, Peter Huchel, Arlette Cousture, Pieter Aspe, Karel N.L. Grazell, Washington Irving |
| | Die Sonne geht im Osten auf (Christian Morgenstern) |
| | Thomas Glavinic, Jay Parini, Anneke Claus, Klaus Ender, Konrad Merz, Ed Dorn, Émile Zola |
| | György Konrád, Anne Waldman, Casanova, Hans Christian Andersen, Roberto Arlt, Edgar Hilsenrath, George Fraser |
| | Hoffmann von Fallersleben, Johann Gleim, Pierre Zaccone, Pietro della Valle, Zwier van Haren, Joanna Chmielewska, Brigitte Struzyk |
| | Preis dem Todesüberwinder! (Friedrich Klopstock) |
| | Milan Kundera, Sandro Veronesi, Nikolaj Gogol, Arnold Aletrino, Max Nord, Urs Allemann, Rolf Hochhuth, John Wilmot, Deborah Feldman |
| | Maria Polydouri, Edgar Wallace, Carl Sternheim, Edmond Rostand, Armel Guerne, Friedrich Güll, Antoine Prévost, Josep de Maistre |
| | Litanie van een wachter bij het graf (Willem Jan Otten) |
| | Stefan Hertmans, Octavio Paz, Asis Aynan, Martijn Teerlinck, Marga Minco, Enrique Vila-Matas |
| | Rob Boudestein, Kornej Tsjoekovski, Andrew Lang, Nichita Stănescu, Hartmut Lange, Marge Piercy |
| | Angela Kreuz, Judith Rossner, Andrew Marvell, John Fowles, Edward FitzGerald, Robert Brasillach, Peter Motte |
| | Golgotha (Theo Thijssen) |
| | Gerrit Komrij, Paul Verlaine, Milton Acorn, Erika Mitterer, Uwe Timm, Tom Sharpe, Gert Heidenreich, Theo Breuer, Luise Hensel |
| | Gethsemane (Jacqueline van der Waals) |


Gastenboek


Druk op onderstaande knop om een berichtje achter te laten in mijn gastenboek