E-mail mij


Druk op onderstaande knop om mij te e-mailen.


Romenu


Romenu is een blog over gedichten, literatuur en kunst Maar Romenu is ook een professionele freelance vertaler
Du-Ne en Ne-Du http://www.romenu.nl.


Huur eens een (vakantie)huis in een natuurgebied, dichtbij het centrum van Nijmegen


Google


Georg Trakl

Georg Trakl werd op 3 februari 1887 in het conducteurshuis aan de Waagplatz 2 in Salzburg geboren. Zijn vader, Tobias Trakl, was een handelaar in ijzerwaren en zijn moeder, die ook psychische problemen had, was Maria Catharina Trakl, (meisjesnaam Halik). Voorts had hij nog drie broers en drie zussen. Margarethe (doorgaans Grethe genoemd) stond hem het naast, zelfs zodanig dat sommigen een incestueuze verhouding vermoeden. Zijn jeugd bracht hij door in Salzburg. Vervolgens bezocht hij van 1897 tot 1905 het humanistische gymnasium. Om toch een academische opleiding te kunnen volgen, werkte hij tot 1908 in de praktijk bij een apotheker. Sommigen vermoedden dat hij dit vooral deed om zichzelf opiaten te kunnen verschaffen. Bij het uitbreken van WO I werd Trakl als medicus naar het front in Galicië (heden ten dage in Oekraïne en Polen) gestuurd. Zijn gemoedsschommelingen leidden tot geregelde uitbraken van depressie, die verergerd werden door de afschuw die hij voelde voor de verzorging van de ernstig verwonde soldaten. De spanning en druk dreven hem ertoe een suïcidepoging te ondernemen, welke zijn kameraden nochtans verhinderden. Hij werd in een militair ziekenhuis opgenomen in Kraków, alwaar hij onder strikt toezicht geplaatst werd.Trakl verzonk daar in nog zwaardere depressies en schreef Ficker om advies. Ficker overtuigde hem ervan dat hij contact moest opnemen met Wittgenstein, die inderdaad op weg ging na Trakls bericht te hebben ontvangen. Op 4 november 1914, drie dagen voordat Wittgenstein aan zou komen, overleed hij echter aan een overdosis cocaïne


Paul Celan

Paul Celan werd onder de naam Paul Antschel op 23 november 1920 geboren in Czernowitz, toentertijd de hoofdstad van de Roemeense Boekovina, nu behorend bij de Oekraïne. Paul Celans ouders waren Duitssprekende joden die hun zoon joods opvoedden en hem naar Duitse christelijke scholen stuurden. In 1942 werden Celans ouders door de Duitse bezetter naar een werkkamp gedeporteerd en daar vermoord. Hijzelf wist aanvankelijk onder te duiken, maar moest vanaf juli 1942 in een werkkamp dwangarbeid verrichten. Celan overleefde de oorlog. Via Boekarest en Wenen vestigde Celan zich in 1948 in Parijs. Daar was hij werkzaam als dichter, vertaler en doceerde hij aan de prestigieuze Ecole Normale Supérieure. Vermoedelijk op 20 april 1970 beëindigde hij zijn leven zelf door in de Seine te springen.


Gerard Reve

Gerard Reve over: Medearbeiders "God is in de mensen, de dieren, de planten en alle dingen - in de schepping, die verlost moet worden of waaruit God verlost moet worden, door onze arbeid, aangezien wij medearbeiders van God zijn." Openbaring "Tja, waar berust elk godsbegrip op, elke vorm van religie? Op een openbaring, dat wil zeggen op een psychische ervaring van zulk een dwingende en onverbiddelijke kracht, dat de betrokkene het gevoel heeft, niet dat hij een gedachte of een visioen heeft, maar dat een gedachte gedachte of visioen hem bezit en overweldigt."


Simon Vestdijk
Simon Vestdijk (Harlingen, 17 oktober 1898 – Utrecht, 23 maart 1971) was een Nederlands romancier, dichter, essayist en vertaler. Zijn jeugd te Harlingen en Leeuwarden beschreef hij later in de Anton Wachter-cyclus. Van jongs af aan logeerde hij regelmatig bij zijn grootouders in Amsterdam, waar hij zich in 1917 aan de Universiteit van Amsterdam inschrijft als student in de medicijnen. Tijdens zijn studie die van 1917 tot 1927 duurde, leerde hij Jan Slauerhoff kennen.Tot 1932 is hij als arts in praktijken door heel Nederland werkzaam. In 1932 volgt zijn officiële schrijversdebuut met de uitgave van de bundel Verzen in De Vrije Bladen. Doorslaggevend voor Vestdijks uiteindelijke keuze voor de literatuur is zijn ontmoeting in 1932 met Eddy Du Perron en Menno ter Braak. Deze ontmoeting had tot resultaat dat hij redactielid werd van het tijdschrift Forum Kort daarop, in 1933, wordt zijn eerste novelle, De oubliette, uitgegeven. In hetzelfde jaar schrijft hij Kind tussen vier vrouwen, dat, eerst geweigerd door de uitgever, later de basis zal vormen voor de eerste drie delen van de Anton Wachter-romans. In 1951 ontvangt Vestdijk de P.C. Hooftprijs voor zijn in 1947 verschenen roman De vuuraanbidders. In 1957 wordt hij voor het eerst door het PEN-centrum voor Nederland voorgedragen voor de Nobelprijs voor de Literatuur, die hij echter nooit zal krijgen. Op 20 maart 1971 wordt hem de Prijs der Nederlandse Letteren toegekend, maar voor hij deze kan ontvangen overlijdt hij op 23 maart te Utrecht op 72-jarige leeftijd. Vestdijk was auteur van ca. 200 boeken. Vanwege deze enorme productie noemde de dichter Adriaan Roland Holst hem 'de man die sneller schrijft dan God kan lezen'. Andere belangrijke boeken van Simon Vestdijk zijn: "Kind van stad en land" (1936), "Meneer Visser's hellevaart" (1936), "Ierse nachten" (1946), "De toekomst de religie" (1947), "Pastorale 1943" (1948), "De koperen tuin" (1950), "Ivoren wachters" (1951), "Essays in duodecimo" (1952) en "Het genadeschot" (1964).


K.P. Kavafis

K.P. Kavafis werd als kind van Griekse ouders, afkomstig uit Konstantinopel, geboren in 1863 in Alexandrië (tot vandaag een Griekse enclave) waar hij ook het grootste deel van zijn leven woonde en werkte. Twee jaar na de dood van zijn vader verhuist het gezin in 1872 naar Engeland om na een verblijf van vijf jaar naar Alexandrië terug te keren. Vanwege ongeregeldheden in Egypte vlucht het gezin in 1882 naar Konstantinopel, om na drie jaar opnieuw naar Alexandrië terug te gaan. In de jaren die volgen maakt Kavafis reizen naar Parijs, Londen en in 1901 zijn eerste reis naar Griekenland, in latere jaren gevolgd door nog enkele bezoeken. Op de dag van zijn zeventigste verjaardag, in 1933 sterft Kavafis in Alexandrië. De roem kwam voor Kavafis pas na zijn dood, dus postuum. Deels is dat toe te schrijven aan zijn eigen handelswijze. Hij was uiterst terughoudend met de publicatie van zijn gedichten, liet af en toe een enkel gedicht afdrukken in een literair tijdschrift, gaf in eigen beheer enkele bundels met een stuk of twintig gedichten uit en het merendeel van zijn poëzie schonk hij op losse bladen aan zijn beste vrienden.


Thomas Mann


Thomas Mann, de jongere broer van Heinrich Mann, werd geboren op 6 juni 1875 in Lübeck. Hij was de tweede zoon van de graankoopman Thomas Johann Heinrich Mann welke later één van de senatoren van Lübreck werd. Zijn moeder Julia (geboren da Silva-Bruhns) was Duits-Braziliaans van Portugees Kreoolse afkomst. In 1894 debuteerde Thomas Mann met de novelle "Gefallen". Toen Thomas Mann met 21 jaar eindelijk volwassen was en hem dus geld van zijn vaders erfenis toestond - hij kreeg ongeveer 160 tot 180 goldmark per jaar - besloot hij dat hij genoeg had van al die scholen en instituties en werd onafhankelijk schrijver. Kenmerkend voor zijn stijl zijn de ironie, de fenomenale taalbeheersing en de minutieuze detailschildering. Manns reputatie in Duitsland was sterk wisselend. Met zijn eerste roman, Buddenbrooks (1901), had hij een enorm succes, maar door zijn sceptische houding tegenover Duitsland na de Eerste Wereldoorlog veranderde dit volledig. Stelde hij zich tot aan de jaren twintig apolitiek op (Betrachtungen eines Unpolitischen, 1918), meer en meer raakte hij bij het Politiek gebeuren betrokken. Zijn afkeer van het nationaal socialisme groeide, zijn waarschuwingen werden veelvuldiger en heftiger. In 1944 accepteerde hij het Amerikaanse staatsburgerschap. Tussen 1943 en 1947 schreef Mann Doktor Faustus (zie Faust), de roman van de 'Duitse ziel' in de gecamoufleerd geschilderde omstandigheden van de 20ste eeuw. In 1947 bezocht hij voor het eerst sinds de Oorlog Europa, twee jaar later pas Duitsland. In 1952 vertrok hij naar Zwitserland. Op 12 augustus 1955 stierf hij in Zürich. Twintig jaar na zijn dood, in aug. 1975, is zijn literaire nalatenschap geopend: dagboekaantekeningen van 15 maart 1933 tot 29 juli 1955, alsmede notities uit de jaren 1918 tot en met 1921.Belangrijke werken zijn: Der Zauberberg, Der Tod in Venedig, Dokter Faustus , Joseph und seine Brüder en Die Bekenntnisse des Hochstaplers Felix Krull.


Rainer Maria Rilke

Rilke werd op 4 december 1875 geboren in Praag. Hij had al naam gemaakt als dichter met zijn bundels Das Stundenbuch en Das Buch der Bilder, toen hij de literaire wereld versteld deed staan en wereldfaam verwierf met de publicatie van zijn twee delen Neue Gedichte in 1907 en 1908. Hij verzamelde daarin het beste werk uit een van zijn vruchtbaarste periodes, die hij grotendeels doorbracht in Parijs. Rilke was daar diep onder de indruk gekomen van Rodin, bij wie hij een tijdlang in dienst was als particulier secretaris. Rodin, zei hij later, had hem leren kijken. Dit kijken kwam neer op intense concentratie, om het mysterie te kunnen zien 'achter de schijnbare werkelijkheid'. Latere en rijpere werken als Duineser Elegien (1912-1923) en het ronduit schitterende Die Sonette an Orfeus (1924) illustreren Rilkes metafysische visie op het onzegbare, dat haar verwoording vindt in een hermetische muzikale taal. Op 29 december 1926 overlijdt Rilke in het sanatorium in Val-Mont aan de gevolgen van leukemie. Enkele dagen later wordt hij, overeenkomstig zijn wens, begraven op het kerkhof van Raron.


* * * * * * * * * * * * * * * *

| | |
| --- | --- |
| | Over literatuur, gedichten, kunst en cultuur |

17-02-2017

Shahrnush Parsipur, Willem Thies, Sadegh Hedayat, Yevgeni Grishkovetz, Albert Kuyle
De Iraanse schrijfster Shahrnush Parsipur werd geboren op 17 februari 1946 in Teheran. Zie ook alle tags voor Shahrnush Parsipur op dit blog.
Uit: Frauen ohne Männer (Vertaald door Jutta Himmelreich)
"Der Garten, von Mauern aus Lehmstroh umgeben, saftig grün, lag jenseits des Dorfes, am Fluß, der das Grundstück begrenzte. Es war ein Kirschgarten, mit sauren und süßen Kirschen.
Auf dem Grundstück stand ein Wohngebäude, halb Land-, halb Stadthaus, mit drei Zimmern. Vor dem Haus befand sich ein Wasserbecken, voller Algen und Frösche. Rings um das Bassin war Kies gestreut, und unweit standen vereinzelte Weidenbäume. Nachmittags lag das dunkle Grün des Wassers mit dem hellen Grün der sich spiegelnden Weiden immer in lautlosem Wettstreit. Mahdokhtstimmte dasjedesmaltraurig,weilsieStreiterei überhaupt nicht mochte. Einfach und unkompliziert wie sie war,wünschte sie, alle und alles sollten sich miteinander vertragen, selbst die Myriaden von Grüntönen dieser Welt. So ruhige Farben, gewiß, und doch . . ., dachte sie.
Unter einem der Bäume stand, mit zweien ihrer vier Beine auf der Einfassung des Beckenrands, eine Bank, die auf dem glitschigen Untergrund jederzeit ins Wasser rutschen konnte. Auf dieser Bank saß Mahdokht und betrachtete das Wasser, die Spiegelbilder der Weiden in ihrem Streit, und das Blau des Himmels, das sich meist nachmittags machtvoll über diesem grünen Reigen erhob und Mahdokht wie der höchste Richter vorkam.
Wenn Mahdokht im Winter strickte oder erwog, Französisch zu lernen oder die Welt zu bereisen, dann deshalb, weil man in der Kälte gesunde Luft atmen konnte. Im Sommer hingegen war's damit vorbei. Denn der Sommer war voller Rauch und Dunst und Staub, und es wimmelte von Autos und Menschen. Dazu diese großen, traurigen Fensterscheiben, die die stechende Sonne hereinließen.
Warum, zum Teufel, begreifen sie nicht, daß solche Fenster in unserem Land nichts taugen?
Das fragte sich Mahdokht und war auch deshalb schlecht gelaunt, weil sie der Einladung ihres älteren Bruders Huschang Khan notgedrungen gefolgt und hierher in den Garten gekommen war, wo ihr nun nichts anderes übrigblieb, als den Lärm der Kinder zuertragen,die den lieben langen Tag Geschrei machten, sich die Bäuche mit Kirschen vollschlugen, allabendlich Durchfall bekamen und nächtelang Joghurt aßen.
»Das ist Joghurt aus dem Dorf.«
»Ausgezeichnet, ja.«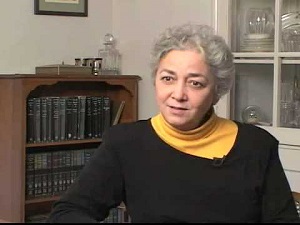 Shahrnush Parsipur (Teheran, 17 februari 1946)
De Nederlandse dichter Willem Thies werd geboren op 17 februari 1973 in Nijmegen. Zie ook alle tags voor Willem Thies op dit blog.
Cyclus
Ochtend: tegen de wind heft een vogel zijn vlucht op.

Middag: aan de voet van een praatzieke fontein
kwijt een klein dier.

Avond: de bomen op de kade dopen hun donkere
takken in het water
tot de volgende dag
de zon ze weer opdregt.
Buurtgenoten
Wat is dat voor muziek?

O, dat zijn buitenlanders. Vietnamese bootvluchtelingen.
Vader collaboreerde met de Amerikanen. Nu rookt hij
waterpijp in een rijtjeshuis, begiet plantjes
in de achtertuin, de godganse dag in zijn pyjama.

Wie had kunnen voorzien dat de Amerikanen
uitgerekend déze oorlog zouden verliezen?

De Iraniër op de hoek leert zijn
vierjarige dochter schaken. Volgens hem
is zij een wonderkind. De Iraniër, brildragend, is klein
en eigenwijs. Zijn vrouw wil al jaren van hem scheiden.

Daarnaast een oud-militair getrouwd met een alcoholiste:
beiden zijn niet opgewassen tegen het burgerbestaan.
Soms, in woede, ledigt hij haar flessen
in de gootsteen.

Tot slot, een jongen, alleen op zijn kamer,
jazzplaten draaiend.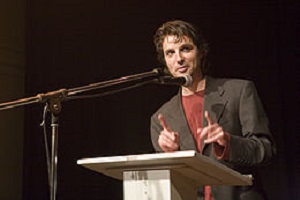 Willem Thies (Nijmegen, 17 februari 1973)
De Iraanse schrijver Sadegh Hedayat werd geboren op 17 februari 1903 in Teheran. Zie ook alle tags voor Sadegh Hedayat op dit blog.
Uit: The Silent Language of a Donkey at the Time of Death (Vertaald door Farzin Yazdanfar)
"Natural scientists do not see a big difference between themselves and us, and regard themselves as the head of the mammals. But Descartes, one of the well-known philosophers, thinks he has proven that animals are nothing but moving machines. In other words, with the advancement of technology, it is mechanically possible to build animals. In the pursuit of this vain idea, other philosophers have stood up against him. Among them Schopenhauer has defended us. He states that the basic principle of ethics is having mercy not only on our own kind but also on other animals and, to some extent, he has explained our feelings and intelligence in his book of ethics. Someone else has said that it is amusing to some mothers to see their kids cutting off a bird's head or wounding a dog or a cat in their games. This is the root of corruption and the basis of cruelty, oppression and crime. In fact, the injustice which is done to us is as a result of the unjust way some mothers educate their children.
Alas! We are speechless and this is the cause of our misery. Only Aristotle has found out the truth about our lives. He says: "Human beings are talking animals." It is because of human beings' ability to speak that we have fallen victim of the lust and capriciousness of a bunch of greedy and egotistic beasts. Why haven't people followed these philosophers? It is evident that human beings' intentions are based on their personal interests. This is especially true with mule drivers who are all followers of Descartes and treat us as if we were lifeless objects.
Having mercy on animals is essentially an idea which was developed in the Orient. Besides, all the prophets have forbidden cruelty towards animals. Learned men, wise men, writers who write about moral issues and even poets are all in agreement on the subject of animal rights. For instance, Hakim Ferdousi, may God rest his soul, says, "Don't torment an ant who bears a seed upon his back because the creature is alive and life is sweet to him."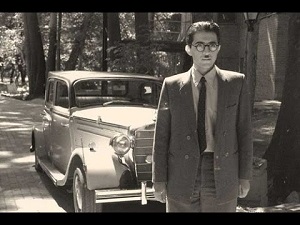 Sadegh Hedayat (17 februari 1903 – 9 april 1951)

De Russische schrijver, regisseur en acteur Yevgeni Grishkovetz werd geboren op 17 februari 1969 in Kemerovo. Zie ook alle tags voor Yevgeni Grishkovetz op dit blog.
Uit:How I Ate the Dog
"There occur such moments in life, well, for example, you arrive home a little later than you promised, meaning you promised to come at nine, but you came at 11: You didn't call, didn't warn in advance, and, well, you come in, start to apologize, well, it's no use…. And they tell you, "Oh, and of course you went drinking, you're drunk." But you weren't drinking, that is, not at all! And you say, "No way, mom (or anyone else), God be with you, I didn't have anything to drink…" and something to this effect. And suddenly you have a thought, you clearly understand that you're behaving yourself like you're drunk, that is, the more you explain yourself, the more you become indignant, the more you appear to be drunk, moreover you already understand this, but all the same you can never do anything about it. "Well, admit that you were drinking and go to bed, why get worked up," they say. "But I wasn't drinking, I wasn't…" you grumble through your teeth, wave your hand and actually go to bed, and there's nothing else to do about it. And no one to get mad at, since it's exactly as if you're drunk…
I say this so that it will be understood that I myself don't understand the reasons why I'm going to tell all of this now; it seems that there are many reasons, but as soon as you name one of them, you understand that it's not the right reason, or it's not a fundamental reason, or whatever…. That is, we'll consider that everything that I recount, I'm recounting without a reason, well, and you… you're listening for the reason that you came to listen, or simply because there already isn't anywhere else to go, or for some other reason of your own. I don't know…."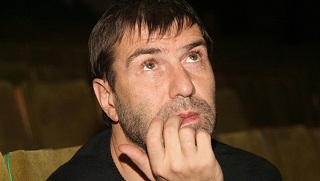 Yevgeni Grishkovetz (Kemerovo, 17 februari 1969)
De Nederlandse schrijver Albert Kuyle werd geboren in Utrecht op 17 februari 1904. Zie ook alle tags voor Albert Kuyle op dit blog.
Uit: Harten en Brood
"En daarom heb ik de dauw de dauw gelaten, en interesseerde mij het hakhout verder niet. Dauw, dauw, bij dauw hooren rozen en bij rozen gelukkige menschen. Maar als de dauw over de zwerver valt, die aan de wegberm ligt, is de dauw een natte ellende geworden en, opstaand, ziet de man rond naar een plaats waar de dauw niet komen kan. God gaf de dauw voor de kruiden, als een vochtige deken, die het moegebrande land dekt bij nacht. En hij gaf de dauw om speelsch in rond te gaan, met opgeschort kleed en met dansende voeten. Voor menschen, die begeeren hebben in spel en vroolijkheid.
Het is nu het uur, dat die keeren naar de stad. Ze zijn moegespeeld en moegekust en over de dijken gaat hun witte, lichte bewegen terug naar huis. Daar wacht het avondmaal onder de lage lampen, en in een glas tusschen de schalen zetten zij de ratelaars en de zwanenbloemen die ze meebrachten van de tocht. Het spel wordt zoeter en het groeit in de warme beslotenheid van het huis. In de oogen staat de middag nog en de warme overvloed van landen vol gras en bloemen. En zie, buiten, over de tuin die vol rozen staat, komt de dauw. Wit, wollig, een plas, een meer vol vergane zeilen, dat staag en voortdurend aanrolt over het land. Als het grint knerpt onder de jonge voeten haast zich de dauw nog dichter te komen naar het huis en de menschen. Een zee van jeugd, van nieuwheid, van parelmoer en berstend schuim. En over de haag geleund zien de blije menschen hoe land en wereld van zwevend water zijn overstroomd.
Maar er is nog een andere kant aan dit meer van witte blijdschap. En aan die andere kant liggen de kleine huisjes tegen het land. Honderd, duizend kleine huisjes, voor kleine menschen met een klein bestaan. Voor menschen die in de loop van een eeuw hun behoeften verkleind hebben tot de maat van hun huisjes, tot de kleinheid van de plaats die de wereld voor hen heeft. En dat is héél klein. Ze zitten op hun plaatsjes, onder hun duivenhokken en hun waschgoed, en ze rooken pijpen. Of ze lezen bij het laatste licht de groote letters van de krant."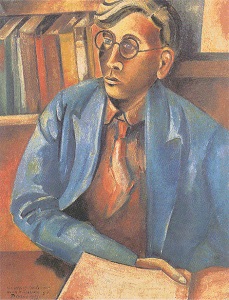 Albert Kuyle (17 februari 1904 - 4 maart 1958)
Portret door Hendrik Wiegersma, 1925
Zie voor nog meer schrijvers van de 17e februari ook mijn vorige blog van vandaag.
17-02-2017 om 18:22 geschreven door Romenu

Tags:Shahrnush Parsipur, Willem Thies, Sadegh Hedayat, Yevgeni Grishkovetz, Albert Kuyle , Romenu



Chaim Potok, Mo Yan, Frederik Hetmann, Emmy Hennings, Mori Ōgai
De Amerikaanse schrijver Chaim Potok werd geboren in New York City op 17 februari 1929. Zie ook alle tags voor Chaim Potok op dit blog.
Uit: The Chosen
"On a Sunday afternoon in early June, the fifteen members of my team met with our gym instructor in the play yard of our school. It was a warm day, and the sun was bright on the asphalt floor of the yard. The gym instructor was a short, chunky man in his early thirties who taught in the mornings in a nearby public high school and supplemented his income by teaching in our yeshiva during the afternoons. He wore a white polo shirt, white pants, and white sweater, and from the awkward way the little black skullcap sat perched on his round, balding head, it was clearly apparent that he was not accustomed to wearing it with any sort of regularity. When he talked he frequently thumped his right fist into his left palm to emphasize a point. He walked on the balls of his feet, almost in imitation of a boxer's ring stance, and he was fanatically addicted to professional baseball. He had nursed our softball team along for two years, and by a mixture of patience, luck, shrewd manipulations during some tight ball games, and hard, fist-thumping harangues calculated to shove us into a patriotic awareness of the importance of athletics and physical fitness for the war effort, he was able to mold our original team of fifteen awkward fumblers into the top team of our league. His name was Mr. Galanter, and all of us wondered why he was not off somewhere fighting in the war.
During my two years with the team, I had become quite adept at second base and had also developed a swift underhand pitch that would tempt a batter into a swing but would drop into a curve at the last moment and slide just below the flaying bat for a strike. Mr. Galanter always began a ball game by putting me at second base and would use me as a pitcher only in very tight moments, because, as he put it once, "My baseball philosophy is grounded on the defensive solidarity of the infield."
That afternoon we were scheduled to play the winning team of another neighborhood league, a team with a reputation for wild, offensive slugging and poor fielding. Mr. Galanter said he was counting upon our infield to act as a solid defensive front. Throughout the warm-up period, with only our team in the yard, he kept thumping his right fist into his left palm and shouting at us to be a solid defensive front."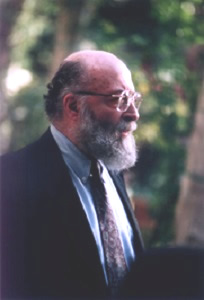 Chaim Potok (17 februari 1929 – 23 juli 2002)
De Chinese schrijver Mo Yan werd geboren op 17 februari 1955 in Gaomi in de provincie Shandong. Zie ook alle tags voor Mo Yan op dit blog.
Uit: Shifu, You'll Do Anything for a Laugh (Vertaald door Howard Goldbaltt)
« A pair of police cars stormed up to the compound, sirens blaring. This threw such a scare into Ding Shikou, whose heart was racing, that all he could think of was getting the hell out of there; too bad he couldn't get his legs to follow orders. Finding it impossible to drive through the gate, the police parked their cars outside the compound and poured out of the cars; there were seven of them in all — four fat ones and three skinny ones. Armed with batons, handcuffs, walkie-talkies, pistols, bullets, tear gas, and a battery-powered bullhorn, the seven cops took a few unhurried steps, then stopped just outside the gate to form a cordon, as if to seal off the factory gate as an escape route. A closer look showed that they probably weren't going to seal off the factory, after all. One of the cops, who was getting along in years, raised the bullhorn to his mouth and ordered the workers to disperse, which they did. Like a wolf exposed in the field when sorghum stalks are cut down, the assistant manager for supply and marketing popped into view. He was sprawled on the ground, facedown, protecting his head with his hands, his rear end sticking up in the air, looking like a frightened ostrich. The cop handed his bullhorn to the man beside him and walked up to the cowering assistant manager; he reached down and took hold of the man's collar with his thumb and two fingers, as if to lift him to his feet, but the assistant manager looked as though he was trying to dig a hole for himself. His suit coat separated itself from him, forming a little tent. Now Ding could hear what he was shouting:
"Don't blame me, good people. I've just returned from Hainan Island, and I don't know a thing. You can't blame me for this… ."
Without letting go of the man's coat, the policeman nudged his leg with the tip of his shoe. "Get up," he said, "right now!"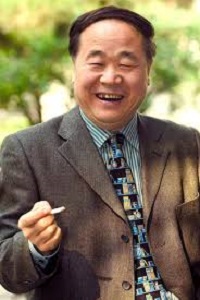 Mo Yan (Gaomi, 17 februari 1955)
De Duitse schrijver Frederik Hetmann (eig. Hans-Christian Kirsch) werd geboren op 17 februari 1934 in Breslau. Zie ook alle tags voor Frederik Hetmann op dit blog.
Uit: Traumklänge
"Nein", antwortete Izaak überrascht, "das wusste ich nicht."
Die Berührung der Hand war angenehm. Außer dem wehte eine kleine Brise eines Parfüms zu ihm herüber, das er gern roch.
"Was meinen Sie", sagte die Stimme neben ihm weiter, "gibt es menschliches Leben auf einem anderen Stern?"
"Die Frage ist mir auch schon öfter gekommen,während ich hier saß", gab Izaak zu."
Heaven's sake, endlich einmal ein Mann mit Fantasie", sagte die Stimme lebhaft.
"Aber Sie haben meine Frage noch nicht beantwortet."
Jemand in der Reihe hinter ihnen zischte: "Wenn Sie sich hier unterhalten wollen, verschwinden Sie doch nach draußen."
"Wird gemacht", sagte die weibliche Stimme resolut, und zu Izaak: "Kommen Sie!"
Die Frau neben ihm stand auf und bahnte sich an den Sitzenden vorbei den Weg zum Mittelgang. Izaak war erstaunt, aber er folgte ihr.
"Also, wie ist nun Ihre Meinung?" insistierte sie, als sie draußen im Vorraum nebeneinander her gingen. Er betrachtete jetzt, da es heller war, die Frau sorgfältig von Kopf bis Fuß. Bis auf die Brille, die sie trug, fand er nichts an ihr auszusetzen. Er schätzte sie auf Ende zwanzig, Anfang dreißig. Sie trug kein Make-up. Sie war groß, eher schlank, hatte sehr lange gerade Beine. Das Gesicht war oval. Ihr Haar war kupferrot. Ein redhead!"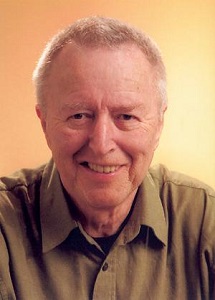 Frederik Hetmann (17 februari 1934 – 1 juni 2006)
De Duitse dichteres, schrijfster en caberetiere Emmy Hennings werd geboren op 17 februari 1885 in Flensburg. Zie ook alle tags voor Emmy Hennings op dit blog.
Twilight Song
for Hugo Ball

Octaves reel, and through the grey years -- echoes
as heaps of days collapse upon themselves.
I want only to be yours.
Within my tomb my blond hair grows;
in elderberry bushes live strange folk.
A pale curtain whispers "homicide."
Two eyes range restless through the room,
inside our cupboards spirits hide.
Little fir trees are the children's souls
and ancient oaks the souls of aged men
that whisper of miscarried lives.
The cliff-king sings an old, old tune.
I had no guard against the evil eye,
Though black men creep out of the water pail,
The picture book's Red Riding Hood
Has me in thrall for once and for all time.
Ether Stanzas

Pardon! I must jump off this ball;
in Paris a beautiful festival reigns.
Crowds collect in the Gare de l'Est
where bright silk banners wave as well.
You won't find me among them, though.
I've run off to this vast big room.
I mix myself in every dream,
a thousand looks and each I know.
A sick man lies in misery.
His last look hypnotizes me.
We long to go back to some lost summer day.
A black cross fills the room.
Vertaald door William Seaton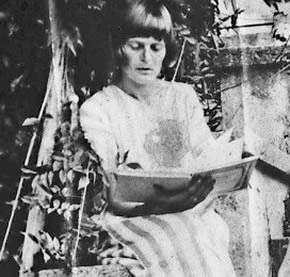 Emmy Hennings (17 februari 1885 – 10 augustus 1948)


De Japanse schrijver Mori Ōgai werd geboren op 17 februari 1862 als Mori Rintaro in het dorpTsuwano in Iwami. Zie ook alle tags voor Mori Ōgai op dit blog.
Uit: The Wild Geese (Vertaald door Kingo Ochiai en Sanford Goldstein)
"There was another route. He occasionally entered the university campus by the exit used by the patients of the hospital attached to the medical school because the Iron Gate was closed early. Going through the Red Gate, he would proceed along Hongo-dori until he came to a shop where people were standing and watching the antics of some men pounding millet. Then he would continue his walk by turning into the compound of Kanda Shrine. After crossing the Megane-bashi, which was still a novelty in those days, he would wander for a short while through a street with houses on only one side along the river. And on his way back he went into one of the narrow side streets on the western side of Onarimichi and then came up to the front of the Karatachi Temple. This was an alternate route. Okada seldom took any other.
On these trips Okada did little more than browse now and then in the second-hand bookstores. Today only two or three out of many still remain. On Onarimichi, the same shops, little changed from what they formerly were, continue to run their businesses. Yet almost all the stores on Hongo-dori have changed their locations and their proprietors.
On these walks Okada hardly ever turned right after leaving the Red Gate because most of the streets narrowed so much that it was annoying. Besides, only one second-hand bookshop could then be found along that way.
Okada stopped in such shops because, to use a term now in vogue, he had literary tastes. In those days the novels and plays of the new school had not yet been published; as for the lyric, neither the haiku of Shiki nor the waka of Tekkan had been created. So everyone read such magazines as the Kagetsu Shinshi , which printed the first translation of a Western novel. In his student days Okada read with interest the happenings of the new era written in the style of classical Chinese literature. This was the extent of his literary tastes."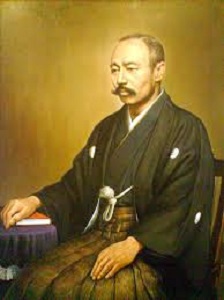 Mori Ōgai (17 februari 1862 – 9 juli 1922)
Zie voor nog meer schrijvers van de 17e februari ook mijn blog van 17 februari 2011 deel 2 en ook deel 3.
17-02-2017 om 18:21 geschreven door Romenu

Tags:Chaim Potok, Mo Yan, Frederik Hetmann, Emmy Hennings, Mori Ogai, Romenu



Jack Gilbert
De Amerikaanse dichter Jack Gilbert werd geboren in Pittsburgh op 17 februari 1925. Na de middelbare school werkte hij als colporteur, ongedierteverdelger en staalarbeider. Zijn interesse voor poëzie en schrijven ontwikkelde hij aan de Universiteit van Pittsburgh, samen met zijn klasgenoot Gerald Stern. Gilbert kreeg met zijn eerste gedichtenbundel "Views of Jeopardy" in 1962 al spoedig erkenning en hij kreeg veel aandacht van de media. Toch trok hij zich terug uit zijn eerdere activiteiten in de poëzie scene van San Francisco poetry en vertrok naar Europa. Daar reisde hij van land naar land reisde en leefde van een Guggenheim Fellowship beurs. Bijna zijn gehele carrière na de publicatie van zijn eerste bundel is gekenmerkt door een, zoals hij in interviews heeft omschreven, zelf-opgelegd isolement. Sommigen zien hierin een spirituele zoektocht en zijn vervreemding van de hoofdstroom van de Amerikaanse cultuur. Anderen doen dit af als een langdurig verblijf als "professioneel gast des huizes" op kosten van welgestelde Amerikaanse literaire bewonderaars. Na het debuut verschenen nog maar een paar andere gedichtenbundels en dat met grote tussenpozen. Gilbert bleef echter schrijven. Tussen zijn boeken door leverde hij bij gelegenheid bijdragen aan The American Poetry Review, Genesis West, The Quarterly, Poetry, Ironwood, The Kenyon Review en The New Yorker. Zijn werk werd onderscheiden met een groot aantal prijzen en nominaties. Jack Gilbert is goed bevriend met de dichteres Linda Gregg, een van zijn vroegere studenten, met wie hij 6 jaar getrouwd was. Ook was hij getrouwd met Michiko Nogami, die het onderwerp vormt van veel van zijn gedichten. Gedurende de jaren vijftig van de 20e eeuw had Gilbert in San Francisco een langdurige relatie met de Beat dichteres Laura Ulewicz. Gilbert leed zijn laatste jaren aan dementie en overleed op 87-jarige leeftijd in een verzorgingstehuis in Berkeley.
Searching For Pittsburgh
The fox pushes softly, blindly through me at night,
between the liver and the stomach. Comes to the heart
and hesitates. Considers and then goes around it.
Trying to escape the mildness of our violent world.
Goes deeper, searching for what remains of Pittsburgh
in me. The rusting mills sprawled gigantically
along three rivers. The authority of them.
The gritty alleys where we played every evening were
stained pink by the inferno always surging in the sky,
as though Christ and the Father were still fashioning the Earth.
Locomotives driving through the cold rain,
lordly and bestial in their strength. Massive water
flowing morning and night throughout a city
girded with ninety bridges. Sumptuous-shouldered,
sleek-thighed, obstinate and majestic, unquenchable.
All grip and flood, mighty sucking and deep-rooted grace.
A city of brick and tired wood. Ox and sovereign spirit.
Primitive Pittsburgh. Winter month after month telling
of death. The beauty forcing us as much as harshness.
Our spirits forged in that wilderness, our minds forged
by the heart. Making together a consequence of America.
The fox watched me build my Pittsburgh again and again.
In Paris afternoons on Buttes-Chaumont. On Greek islands
with their fields of stone. In beds with women, sometimes,
amid their gentleness. Now the fox will live in our ruined
house. My tomatoes grow ripe among weeds and the sound
of water. In this happy place my serious heart has made.
Divorce
Woke up suddenly thinking I heard crying.
Rushed through the dark house.
Stopped, remembering. Stood looking
out at bright moonlight on concrete.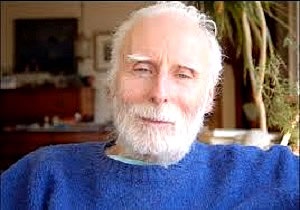 Jack Gilbert (17 februari 1925 – 13 november 2012)
17-02-2017 om 00:00 geschreven door Romenu

Tags:Jack Gilbert, Romenu



Jaroslav Vrchlický
De Tsjechische dichter en schrijver Jaroslav Vrchlický (eig. Emilius Jakob Frida) werd geboren op 17 februari 1853 in Louny, Bohemen. Hij woonde tien jaar bij zijn oom, een pastor in de buurt van Keulen. Hier volgde hij de eerste jaren van de basisschool. Hij doorliep vanaf 1862 de gymnasia in Slaný, in Praag en deed eindexamen in 1872 in Klatovy. In de voetsporen van zijn oom bezocht hij na zijn eindexamen het seminarie van de Praagse aartsbisschop, maar in 1873 stapte hij over naar de Faculteit der Letteren van de Karelsuniversiteit in Praag, waar hij geschiedenis, filosofie en Romaanse filologie studeerde. Zijn eerste literaire werk werd gedrukt door de uitgeefster Sofia Podlipská. In Praag sloot hij vriendschappen met Zikmund Winter, Josef Vaclav Sladek en Alois Jirasek. Zij vormden de groep Lumírovců. Vanaf 1875 werkte hij als secretaris en docent van de zonen van de adellijke familie Montecuccoli-Laderchi, eerst in Merano in de buurt van Modena, en later Livorno. Op voorspraak van Leopold graaf von Thun und Hohenstein werd hij in 1877 benoemd tot secretaris van de Tsjechisch Praagse Polytechnische Hogeschool. In 1901 werd hij samen met Antonin Dvorak geridderd, en de Oostenrijkse keizer Franz Joseph I benoemde hem tot lid van de Eerste Kamer van de Keizerlijke Raad in Wenen. Vrchlický verdedigde de eis van het algemeen kiesrecht. In 1893 werd hij benoemd tot hoogleraar in de Europese literatuur aan de Karelsuniversiteit. Hij was ook een lid van de Tsjechische Academie van Wetenschappen en Kunsten. Vrchlický schreef naast lyrische ook epische poëzie, toneelstukken, proza ​​en literaire essays en vertaalde op grote schaal uit diverse talen, bijv. Dante, Goethe, Shelley, Baudelaire, Poe en Whitman in het Tsjechisch. Hij was één van de belangrijkste stemmen van het tijdschrift Lumír en werd acht keer voor de Nobelprijs voor de Literatuur genomineerd.
The Tree Of Life

Walt Whitman watched Louisiana's blooming.
I in Bohemia see it – God's own verve!
The same expanse and filled with joy consuming,
same joy in hundreds of its offshoots zooming,
same yearning arms and hearts and lips observe!

The tree of life! — I bare my head in wonder
and lift my arms and hands up high in praise;
may Dawn bedeck it with her golden splendour,
may rosy morn up-flare, its glory render,
may Night with its own shade protect its gaze!

Something about it, constant, ever living,
to sing for one the dying pressing dream,
a hundred blossoms blaze for one less giving…
Oh wondrous, arcane mysteries conceiving!
A beehive in its boughs to hear you seem!

Lo, from the faded, fresh new leaves are burgeoning,
life's one incessant constant revelry!
Yours there to read in leaves e'er freshly surging,
pure life, in strands you see in weave emerging
all round carousing, graceful, orderly!

And in its shade a hundredfold embracing,
and in its branches birdsong never fails,
a hundred kissing mouths, arms interlacing,
"We're happy!" blend a thousand voices, facing,
and here a child, and there a bloom exhales!

Walt Whitman saw Louisiana's budding,
I in Bohemia see it, home, out call,
I sing my song with boughs outstretched and leading
with faith in Joy, Love, Life and Fortune's bidding…
Oh, happy tree of life, our joy, grow tall!
Vertaald door Václav Z J Pinkava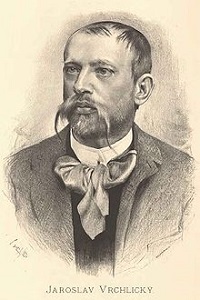 Jaroslav Vrchlický (17 februari 1853 - 9 september 1912)
Portret door Jan Vilímek
17-02-2017 om 00:00 geschreven door Romenu

Tags:Jaroslav Vrchlický, Romenu



| | |
| --- | --- |
| | |



Inhoud blog


| | |
| --- | --- |
| | Erik Menkveld, Ted Kooser, James Fenton, Walter de la Mare, Richard Anders, William Temple, John Keble, Ross Franklin Lockridge Jr., Leopoldo Alas |
| | Frans Coenen, Eric Bogosian, Robert Penn Warren, George Oppen, Sue Grafton, Carl Spitteler, Anthony Trollope, Michael Schaefer, Marcus Clarke |
| | William Shakespeare, Roman Helinski, Pascal Quignard, Peter Horst Neumann, Andrey Kurkov, Halldór Laxness, Christine Busta, Adelheid Duvanel, Richard Huelsenbeck |
| | The Good Shepherd (Stanley Moss) |
| | Giorgio Fontana, Jan de Hartog, Björn Kern, Vladimir Nabokov, Chetan Bhagat, Peter Weber, Jos de Haes, Thommie Bayer, Madame de Staël |
| | Ana María Shua, Louise Glück, Robert Choquette, James Philip Bailey, Henry Fielding, Michael Schulte, Cabrera Infante, Ludwig Renn |
| | The Enkindled Spring (D. H. Lawrence) |
| | Charlotte Brontë, Patrick Rambaud, John Mortimer, Charles den Tex, Ahmed Arif, Michael Mann |
| | Peter Schneider, Meira Delmar, Alistair MacLean, Gerrit Wustmann, Népomucène Lemercier |
| | Prijs der Nederlandse Letteren voor Judith Herzberg |
| | Martinus Nijhoff, Jan Cremer, Jean Pierre Rawie, Marieke Lucas Rijneveld, Sebastian Faulks, Jozef Deleu, Steve Erickson, Arto Paasilinna, Michel Leiris |
| | Martin Michael Driessen, Marjoleine de Vos, Manuel Bandeira, n. c. kaser, Veniamin Kaverin, Louis Amédée Achard, Pierre-Jean de Béranger, Gudrun Reinboth, Werner Rohner |
| | Wam de Moor, Bas Belleman, Roos van Rijswijk, Hanane Aad, Clara Eggink, Kathy Acker, Joy Davidman, Henry Kendall, Katharina Schwanbeck |
| | Antoon Coolen, Vincent Corjanus, Nick Hornby, Ida Boy-Ed, Thornton Wilder, David Wagner, R.J. Pineiro, Helen Meier, Karen Blixen |
| | Sarah Kirsch, Thomas Olde Heuvelt, Kingsley Amis, Patricia De Martelaere, Tristan Tzara, Ewald Vanvugt, Sibylle Lewitscharoff, Jan Luyken, Anatole France |
| | Emmaüs (Felix Timmermans) |
| | Tomas Tranströmer, Daniël Samkalden, Jérôme Lambert, Patrick Bernauw, Benjamin Zephaniah, Henry James, Wilhelm Busch, Ina Boudier-Bakker |
| | Bliss Carman, Beate Morgenstern, Jeffrey Archer, Bernhard Lassahn, Erich Arendt, Pol De Mont, Staf Weyts, Hans Egon Holthusen |
| | Péter Esterházy, Alexandre Jardin, Tjitse Hofman, Landolf Scherzer, Charles Lewinsky, Roman Graf |
| | Roberto Schopflocher, Martin Kessel, Gabriele Stötzer, Helene Hübener, Gerhard Rohlfs |
| | Nachoem Wijnberg, K. Michel, Alexander Münninghoff, Michel Faber, Jean-Marie Gustave Le Clézio, Samuel Beckett, Seamus Heaney, Tim Krabbé, Eudora Welty |
| | Antje Rávic Strubel, Alan Ayckbourn, Scott Turow, Tom Clancy, Agnes Sapper, Edward de Vere, José Gautier Benítez, Alexander Ostrovski, Guillaume-Thomas Raynal |
| | Leonard Nolens, Mark Strand, Silvia Avallone, Walid Soliman, Dorothy Allison, Hubert Nyssen, Rolf Schilling, Glenway Wescott, Claude Tillier |
| | Leo Vroman, Jan van Mersbergen, Paul Theroux, Claudio Magris, Bella Akhmadulina, Stefan Heym, Richard Wagner, Marcel van Maele, Eric Knight |
| | Charles Baudelaire, Jelle Brandt Corstius, Karel Jonckheere, Joolz Denby, Albert von Schirnding, Johannes Bobrowski, Bernard-Marie Koltès, Arnold Stadler, Yaël Vinckx |
| | Thomas (Jan Willem Schulte Nordholt) |
| | Herinnering aan Gerard Reve, Hanz Mirck, Christoph Hein, Judith Koelemeijer, Nnedi Okorafor, Barbara Kingsolver |
| | John Fante, Johann Christian Günther, Glendon Swarthout, Martin Grzimek, Hégésippe Moreau, Robert Askins |
| | Den Haag (Paul Rodenko) |
| | Juliana Spahr, William Wordsworth, Özcan Akyol, Gabriela Mistral |
| | Kazim Ali, Annejet van der Zijl, John Pepper Clark, Jakob Ejersbo, Günter Herburger, Uljana Wolf, Brigitte Schwaiger, Julien Torma, Nicolas Chamfort |
| | Iulian Ciocan |
| | Hugo Claus, Martin Reints, Mieke van Zonneveld, Vítězslav Hálek, Algernon Swinburne, Bora Ćosić,, Werner J. Egli, Michael Georg Conrad, Marente de Moor |
| | Maya Angelou, Hanneke Hendrix, Marko Klomp, Marcel Vaarmeijer, E. L. James, Marguerite Duras, Robert Schindel, Michiel van Kempen, Bettina von Arnim |
| | Charles Ducal, Adriaan Jaeggi, Frederik van Eeden, Bert Bakker, Peter Huchel, Arlette Cousture, Pieter Aspe, Karel N.L. Grazell, Washington Irving |
| | Die Sonne geht im Osten auf (Christian Morgenstern) |
| | Thomas Glavinic, Jay Parini, Anneke Claus, Klaus Ender, Konrad Merz, Ed Dorn, Émile Zola |
| | György Konrád, Anne Waldman, Casanova, Hans Christian Andersen, Roberto Arlt, Edgar Hilsenrath, George Fraser |
| | Hoffmann von Fallersleben, Johann Gleim, Pierre Zaccone, Pietro della Valle, Zwier van Haren, Joanna Chmielewska, Brigitte Struzyk |
| | Preis dem Todesüberwinder! (Friedrich Klopstock) |
| | Milan Kundera, Sandro Veronesi, Nikolaj Gogol, Arnold Aletrino, Max Nord, Urs Allemann, Rolf Hochhuth, John Wilmot, Deborah Feldman |
| | Maria Polydouri, Edgar Wallace, Carl Sternheim, Edmond Rostand, Armel Guerne, Friedrich Güll, Antoine Prévost, Josep de Maistre |
| | Litanie van een wachter bij het graf (Willem Jan Otten) |
| | Stefan Hertmans, Octavio Paz, Asis Aynan, Martijn Teerlinck, Marga Minco, Enrique Vila-Matas |
| | Rob Boudestein, Kornej Tsjoekovski, Andrew Lang, Nichita Stănescu, Hartmut Lange, Marge Piercy |
| | Angela Kreuz, Judith Rossner, Andrew Marvell, John Fowles, Edward FitzGerald, Robert Brasillach, Peter Motte |
| | Golgotha (Theo Thijssen) |
| | Gerrit Komrij, Paul Verlaine, Milton Acorn, Erika Mitterer, Uwe Timm, Tom Sharpe, Gert Heidenreich, Theo Breuer, Luise Hensel |
| | Gethsemane (Jacqueline van der Waals) |
| | Geert van Istendael, Wim Brands, Ernst Jünger, Eric Walz, Georg Klein, Yvan Goll, R. S. Thomas, Jacques Brault, Denton Welch |


Gastenboek


Druk op onderstaande knop om een berichtje achter te laten in mijn gastenboek