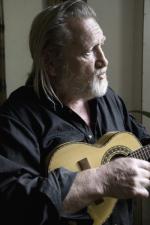 foto by Paul Rondagh
'....Sometimes I ponder and my thoughts reach the absurdities of life. The poverty, misery, the impotence of silence, the rejection of capitalism, the dirty talk of the multi-national. Children dying of hunger, insecurity, exploitation, and there are some people getting mad of grief. The're politicions whom talk is downright full of demoniacally, what makes the world sometimes completely unnatural and confused.
It's God his task? But the man upstairs looks down and let some suffer in violent disaster. Look at the movies, television, and all insanity. Madness my friends! and God is in a discussion with the devil. Who will save nature? Do we know after all why we are still here? All these facts made me composing some songs, these are my thoughts, that made me shudder now and then. Who am I?
Man of beast?
Lonesome?
Viking?
Alien?
But I also remember the good things, like pure love, my mother, and the time I was a friend of Mustangs and I rode beside Geronimo. And we are simply just not all a Shakespeare, not even a hillbilly.
Therefore I wrote this song to myself to convince me of the filth of our society. But thanks Lord there are good people.. with the heart in the middle.. So, when I feel the need, I drink to see all these pictures as an idiotic movie passing by... and than.... damned...
The World Turns Crazy Again... '
RW

THE WORLD TURNS CRAZY AGAIN:
07-06-2011 om 21:27 geschreven door Wayn
0 1 2 3 4 5 - Gemiddelde waardering: 5/5 - (2 Stemmen)