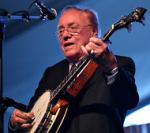 click left mouse button and slide to select/ click right to get the http:
http://www.youtube.com/watch?v=JSf3wD9ddZM&feature=fvst
Earl Scruggs, Bluegrass Pioneer, Dies at 88 Earl Scruggs, the bluegrass banjo player whose hard-driving picking style influenced generations of players and helped shape the sound of 20th-century country music with his guitar-playing partner, Lester Flatt, died on Wednesday in a Nashville hospital. He was 88.
His son Gary confirmed the death.
Earl Scruggs and Lester Flatt probably reached their widest audiences with a pair of signature songs: "Foggy Mountain Breakdown," which they recorded in 1949 with their group the Foggy Mountain Boys, and which was used as the getaway music in the 1967 film "Bonnie and Clyde"; and "The Ballad of Jed Clampett," the theme song of the 1960s television sitcom "The Beverly Hillbillies." (Earl Scruggs and Lester Flatt also appeared on the show at times.) But he also helped shape the "high, lonesome sound" of Bill Monroe, often called the father of bluegrass, and pioneered the modern banjo sound. His innovative use of three fingers rather than the claw-hammer style elevated the five-string banjo from a part of the rhythm section — or a comedian's prop — to a lead or solo instrument.
What became known as the syncopated Scruggs picking style helped popularize the banjo in almost every genre of music. Earl Scruggs, who had played banjo since the age of 4, got his big break when he joined Monroe's band, the Blue Grass Boys, in 1945. The band included Monroe, who sang and played the mandolin; Lester Flatt on guitar; Howard Watts (a k a Cedric Rainwater) on bass; and Chubby Wise on fiddle
bless you Earl, Thanks Ramblin Wayn
29-03-2012 om 21:46 geschreven door Wayn
0 1 2 3 4 5 - Gemiddelde waardering: 0/5 - (0 Stemmen)