Machupuchre, Elevation 6997 meters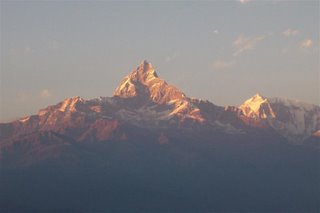 Machu means "fish", Puchre means "tail. It is the fishtail mountain.
As seen from Sarangkot in Pokhara at sundown.
Sorry for the long delay in updating this blog. Believe it or not, there really are solar powered internet cafes in the Himalaya. However, they cost a small fortune to use so we decided to wait until we got back from our trek before updating our blog and responding to e-mail.

We completed the entire Annapurna Circuit a few days ago. Since it was a very special experience, we will provide a detailed day-by-day account of this particular journey which we will post in installments over the next week or so (subject to Internet availability and power outages, of course). After that, we will try to update the blog more regularly to describe the places we have visited...

The xml:namespace prefix = st1 ns = "urn:schemas-microsoft-com:office:smarttags" />Annapurna Circuit

Day 1
Bus ride from Kathmandu to Besi Sahar (Elevation 800 meters)

Before it started leaking uncontrollably all over our hotel room floor, Katlijn enjoyed one last civilized luxury in Kathmandu: a hot bath. I have to say, in retrospect, our Kathmandu hotel is comparatively not so stinky and actually downright comfortable compared to what we will experience in the next 17 days.

We met up with our guide, Mahish, and our porter, Vishnu, in the early morning, got in a dangerously dilapidated taxi, and weaved at top speed through honking motorcycles and countless bovines before arriving at a bus station somewhere on the outskirts of the city. Mahish sat us down for a breakfast of Nepali tea and biscuits before we got into a rickety old bus painted in psychedelic pastel colours and took off for the Himalayas. This was our first experience with Nepal's public transportation system.

It takes two to three people to navigate the Nepali infrastructure by bus. There is the driver- in our case, an old man wearing a wool hat with a marijuana badge sewn on the front. Then there are one or two helpers who serve several purposes including the following:

- Calling out for passengers
- Looking out for the startling number and variety of highway obstacles
- A substitute for malfunctioning signal lights.
- Strapping baggage, furniture, and roosters to the rooftop
- Yelling Nepali profanities at slow moving vehicles and bovines

Our helper was a sixteen year old boy wearing a black "Jack Daniel's" bandanna, bandit-style, and black low-rider jeans. This wouldn't have been so bad except for the glaring fact that he was going commando. There do not appear to be actual bus stops in Nepal. Instead, the helper is constantly vigilant for potential passengers waiting in the middle of nowhere. To signal the driver to stop the bus, he would pound the side of the bus one time. After throwing whatever bizarre items the passenger may have onto a towering rooftop pile, he would pound the bus two times to signal it to start moving again.

Whenever passing another vehicle, a terrifying event which occurred with distressing regularity, he would pound the bus several times signalling there was no visible traffic, potholes, or farm animals. Our bus driver would then push the horn repeatedly and gun it- sending everyone lurching backwards, perhaps losing a few roosters behind us, as our bus hurtled past at full speed, held together only by a few rusty bolts, some rope, and the collective blind faith of those of us inside. On the narrow mountain roads, I had to hold back the urge to cry out. "Mr. Bus driver ! Are our lives really so dispensable to you !?"
Nevertheless, as our bus tempts fate just a few inches from a cliff side rounding a blind curve on the wrong side of the road, the Nepali people do not seem to notice. It was astonishing. I want to explain to them, "Our lives are in the hands of a crusty ex-hippy and a boy who wears no underpants. WE ARE IN SERIOUS TROUBLE HERE !". But yet, as I stare behind me, there are, at best, a few looks of mild concern. Our porter is sound asleep.
You may call me paranoid, but consider the following facts and figures which are all true:
1) You are 20 times more likely to be killed or injured in a bus fatality in Nepal than you are in any developed country.
2) I can see burnt carcasses of psychedelic pastel coloured buses off the cliff side that look disturbingly like the one I am riding in.
3) Riding a bus is considered the most dangerous activity you can do in Nepal. It is more dangerous than white water rafting, more dangerous than climbing Mount Everest, even more dangerous than drinking the tap water.
I can see our helper bent over in front of the bus fiddling with the dash board and mooning the passengers while he's at it. Before long, I hear a crackling noise through bus speakers and then the booming sound of Indian pop music played at full volume through an 80s cassette player system: my nightmare is complete.
Resigned to my fate, I rest my head against the grungy bus window and stare at the havoc outside. I start to feel the motion sickness pills kicking in listening to the rhythm of the music. I begin to play a game with myself: closing my eyes and opening them again then mentally remarking the foreign images in front of me.
Nepali girls with tikas wearing British school boy uniforms.
A technicolour truck with the words "push horn" painted on the back in Hindu font.
Cows parked between motorcycles.
I'm asleep.

Day 2
Besi Sahar to Bahundada (Elevation 1310 meters)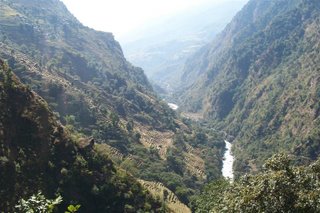 Every inch of land used. Rice is grown in the Himalays up to about 2000 meters.
Damn. I shouldn't have eaten so much chicken with my Daal Bhaat last night. I am sensing the start of a serious case of Traveller's Diarrhea. However, Katlijn is in high spirits so I try not to let on too much. This is our first day of serious trekking.
We have a Nepali guide named "Mahish" who can tell us what we are looking at and show us the way. Actually, this isn't true. Mahish also tells us when to get up, where to sleep, where to eat, where to rest, and where to go to the bathroom. In fact, we are total lemmings completely under his command. We even ride the bus when he asks this of us. We do absolutely everything he says and pay him for this privilege. Still, he is polite enough to refer to me as "sir".
I carry my own backpack, but Katlijn hired a porter named "Vishnu". After noting that we were basically paying our porter for my vacation, we also loaded him with a few extra comforts. Vishnu is not as outgoing as Mahish, but we learn to admire his quiet determination lugging his load up the mountainside. He always carries, by far, the heaviest bag and the biggest smile.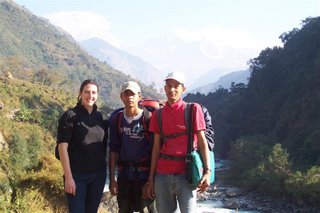 Katlijn, Vishnu, and Mahish. Vishnu's bag is loaded with Katlijn's belongings, a heavy arctic sleeping bag, 10 snickers bars, and the last installment of Harry Potter.
So far, the Himalayas are not the bitter cold, white, icy, yeti-abode I had always imagined as a child. Instead, the vegetation is sub-tropical and the green hills are terraced with rice plantations plowed by oxes. During our easy hike through the country, we pass by many small villages stopping occasionally for tea, before arriving at our lodge; "lodge" being Nepali for "spartan shack with luke-warm showers". Nevertheless, it is cozy by candlelight and the views from the patio are gorgeous at dusk.
17-12-2007 om 00:00 geschreven door andrew
0 1 2 3 4 5 - Gemiddelde waardering: 0/5 - (0 Stemmen)