geniet mee van onze avonturen
Een jaar lang op wereldreis : ikzelf (Katlijn) ben een Vlaamse Belg. Mijn vriend Andrew (een Canadees) is de schrijver van dit blog ... daardoor zal de hele blog in het Engels zijn

26-03-2008

What's cooking in the white city ?

White City Sadhus.'
Riding a rickshaw into picturesque Udaipur, we were struck by three things: the bright gleam of Rajasthan's "white city", the influx of foreign tourists, and the number of hotels advertising a seven o'clock viewing of "Octopussy". Every massive tourist draw in India seems to need a gimmick to help fleece the tourists of their money and their dignity, and Udaipur's happens to be a cheesy 80s James Bond installment which was filmed at many of the nearby attractions including the lake palace (Octopussy's secret layer where she trains an all-woman army of deadly kung fu super models) and the mountain side monsoon palace (where double-o-seven once again woos the master villain's gorgeous crony while slyly planting one of Q's ingenious tracking gadgets: the oldest trick in the James Bond mythology).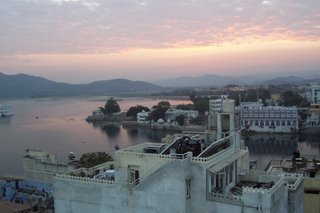 Sunset over the white city from one of its many roof-top restaurants.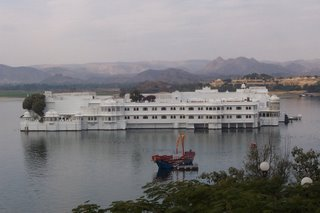 Jagniwas, the Lake Palace Hotel island, was originally built by Udaipur's Maharaja in 1754. Formerly the royal summer palace, today it is the ultimate in luxury hotels.
Often referred to as the Venice of the East, the white city is a postcard come to life with two fairy-tale castles reflecting off the water, scores of temples, cenotaphs, and havelis, and an amazing vantage point to watch it all, sipping on a banana lassi, as the sun sets over Lake Pichola. Over its 500 year history, Udaipur was the epitome of Rajasthani people: embodying patriotic fervour and an aching love of independence by fiercely resisting the Muslim might of the Mughals and never sending their maharaja into negotiation in rebuke of British hegemony. This was a Rajasthani warrior-state that made no compromises.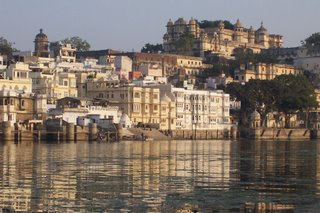 Udaipur and its 500 year old city palace.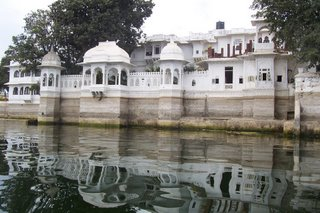 '
The white city reflecting off Lake Pichola.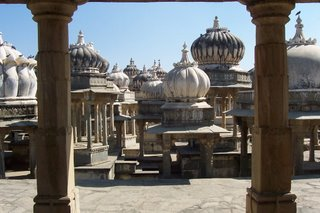 The cenotaphs of Ahar is a city of hundreds of domes built over the last 350 years commemorating Udaipurs deceased maharajas and dignitaries.
Today, Udaipur is an international destination unto itself. It spans the gamut from abject poverty to filthy rich: India's penniless smack their dirty underwear against the concrete lake-side ghats while they gaze at a majestic island palace only 20 meters away where the world's wealthiest pay five thousand dollars a night to be pampered beyond imagining.
At roughly seven o'clock, just as Roger Moore strolled into the ritual gun barrel sequence, I made the all-too-common Indian tourist blunder of ordering a hamburger out of curiosity. Sinking my teeth into the soggy no-beef patty from one of Udaipur's many budget rooftop eateries, I too gazed across the lake at the palace hotel imagining the rich and famous dining on gourmet butter chicken, drinking martinis, and watching "Octopussy".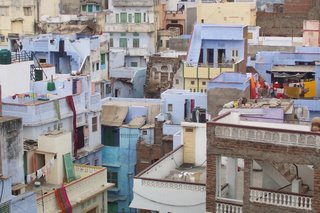 Udaipur city residences.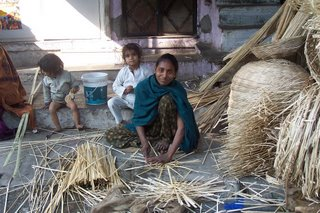 Basket weavers living in the old city.
By the next morning, whatever poisonous cow meat substitute that oozes forth from Udaipur's hamburgers began to pollute my gut. With my digestive track audibly bubbling and gurgling in protest, we began our first Indian cooking lesson under the competent tutelage of our great teacher, Shashi. While we discovered the ancient secrets to making a decent mango chutney and perfected the difficult art of creating perfectly rounded and puffed chapattis, Shashi recounted to us her story.
.Shashi was originally born in a small town of Rajasthan and was excited to move to the big city of Udaipur through an arranged marriage to work at her husband's family owned restaurant. A picture of her husband hangs over her kitchen, and their two children were often nearby, occasionally helping us to chop some coriander or crush some herbs.
Tragically, her husband died a couple of years ago. As a member of India's highest Brahmin caste, tradition forced her into a full year of mourning during which time she was not able to leave her house or work. With no income or belongings, she and her children were disowned by the husband's family- a fate that is still very common among rural Indian women and is the main reason for the begging widows which live invisibly in Indian city streets and slums. Though sadly underpaid, she made enough money to support her children as a cleaning lady working under the cover of night, and secretly doing the laundry of the region's foreign hotel guests. These arrangements were made by day through her sixteen year old son.
'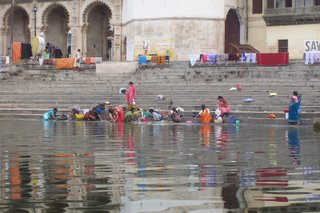 Ghat-side laundry. Shashi made 1 Rupee to wash five pairs of underwear.
About a year ago, she got the idea of using the cooking skills she learned from her mother and her husband's restaurant to teach foreigners. Despite having no knowledge of the English language whatsoever, she managed to convince a couple of Aussie tourists to pay her a handsome sum of money for a cooking lesson by mime. This was so much fun for both her and the Aussies that she has made it a full time career. As her various clients taught her the words to her mime, her English has improved to the point where only a small amount of body language is still necessary. Nowadays, she makes enough money to support her family, her children are back in school and she even has good relations with much of her husband's family again.
'Interestingly, Shashi said that one of the most difficult things for her to learn about and accept in her life was frying an egg. While she can speak stoically about her experiences locked in her dark house mourning for her husband, her little eyes suddenly become huge and she gasps loudly when describing the first time she cracked an egg over a frying pan, "disgusting !" The Brahmin caste are strict vegetarians which (in India) means they also don't eat eggs. Her mother would never have allowed it. As a restaurant worker and cooking teacher for foreigners, she had to learn to make foods with eggs. While she manages, she considers the scent of eggs cooking in her kitchen one of the most unbearable aspects of her new life.
26-03-2008 om 00:00 geschreven door andrew
0 1 2 3 4 5 - Gemiddelde waardering: 0/5 - (0 Stemmen)


18-03-2008

Bikaner express train to the blue city

Indian lentil salesman. North Indians prefer bread while south Indians prefer rice, but as in Nepal, they are united in their love for lentils. Literally hundreds of varieties of lentils exist, and some form of bhat (curried lentils) is served each meal.

The general dearth of water in the desert makes a five day trek a sweaty dirty business to say the least, so we were very happy to get back to Bikaner and finally enjoy that piping hot bucket of water and that pristine sand-less, camel-crap-less Tandoori chicken we had been dreaming about during long bouts of camel induced crotch pounding. We selected a very clean and modern restaurant that looked something like what we might find in Western Europe, though the rat scurrying around the tables combined with the unconcerned looks on the waitersí faces was a dead giveaway that we were still in Rajasthan.
Bikaner is a hopeful desert outpost town that is trying to get on the beaten tourist path, but hasnít quite made it yet. In deference to their burgeoning tourist business, we spent several days trying to make sense of their attractions: a crumbling fort, a few dilapidated havelis, and a dubious dancing camel show, before we finally gave up and found ourselves staring at the bland concrete hulk of a large, mostly empty, junk-country shopping mall. We have come across several of these ghost malls in north India and each time find ourselves lost in thought, gazing at some poor visionaryís failed business enterprise: there is nothing more depressing than a poorly executed attempt at mimicking the western excess of a massive shopping complex.
Katlijn bought a salwar in Bikaner. In addition to being attractive and more comfortable, Indians genuinely appreciated her wearing the local clothing and we were subjected to significantly less staring.

In Singapore, they have malls so herculean they have the combined excess of ten ordinary malls into one massive shopping center of mythical proportions that assault the senses with entire districts full of flashing advertising screens, exhausting supplies of expensive consumer goods, and mammoth American-style food courts. It is as though they had begun by carefully studying the very essence of western culture and then decided to quite deliberately go about reproducing it by marshaling all their greatest engineers and artisans, gathering their wisest philosophers, and focusing their tremendous Eastern assiduity to the task of constructing stunningly sophisticated consumer meccas having more Starbucks per unit volume than anywhere else in the universe: a place more western than the west could ever be.

Indian attempts at reproducing this type of western consumer excess are, thankfully, abysmal failures. Wandering around places like Bikaner always brings to mind the same questions: where is all that IT money going to anyhow? Isnít India supposed to be running the planet in a few decades ? And when they do, will there still be errant cows wandering the streets? God, I hope so.
In Delhi, they tried to get rid of the cows. Several years ago, the nation realized that Western cities donít have street cows, decided they were an embarrassment to the New Indiaís modern image, and embarked on an ambitious multi-million dollar program to rid ďsmellyĒ Delhi of its wonderfully robust bovines. What about holy cows and holy rats !? Such a shameless rebuke of centuries of Hindu heritage ! Fortunately, the government failed utterly at the task having under-estimated the monumental scale of the problem. Despite persistent effort, cows are still regularly seen obstructing traffic, strutting rebelliously down busy Delhi traffic arteries in defiance of Indian persecution. And I sincerely hope that when Indiaís IT money finally beats a path to Bikanerís swirling desert outpost to transform the sad, dusty concrete shopping complex we were staring at into a bustling modern commercial metropolis, the cows will still be there meandering serenely down the crowded ultra-modern neon-lit shopping halls of a unique Indian creation- not another western strip mall clone, but something the world has never seen before: a modern city that actually looks original, a New India with its very own futuristic vision of next-generation rickshaws, touts, and food wallahs.
With this optimistic vision in my mind, we proceeded to Bikaner's crusty train station and waited several hours for our train to arrive. When asked where the train was, the station master told us it would arrive "in time" which is as close to "on time" as you get in North India and is a good indication your train will come sometime before dark. The train broke down on us again somewhere in the middle of the desert and we tried to pass the time reading our books over the general raucous accumulating around us.
Interestingly, if you are the only person on an empty bus or train in India, Indian passengers will come and sit right beside you instead of selecting one of the many empty seats. This is especially true if you are quietly reading a book which, in my experience, results in a large crowd of men invading my personal space and breathing down my back while they read carefully over my shoulder. According to several sources we have asked, many Indians simply do not understand why someone would sit by themselves and read a book- it is just not done here. Apparantly, we look very lonely and either they want to keep us company by engaging us in conversation ("Canada !? Beautiful country. My sister....") , or they are so intensely interested in what could possibly keep us occupied that they want to grab our books from our hands and rifle through them. Trying to read the Lonely Planet Guide to India is particularly challenging as surrounding passengers want nothing more than to pass the book around the train taking turns looking things up. Our i-pod is another object of immense fascination and complete strangers see absolutely no problem with borrowing our earphones for the duration of our trip while occasionally demanding that we change the song for them. After a few weeks in India, it occurs to us that we have completely lost our privacy. Our business and our belongings have now become public property.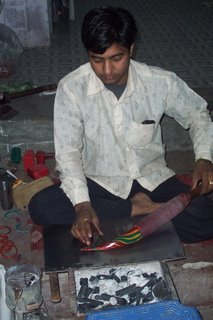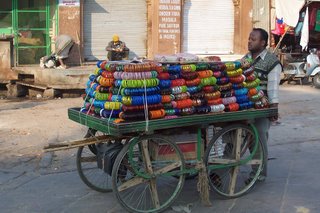 An Indian bangle maker and salesman. Bangles are worn by most Indian women, especially during pregnancy when their rustling sound can be heard and later recognized by the baby.
Another Indian train peculiarity is the male Indian cross-dressers that go up and down the hallway generally annoying the passengers and asking for money. Whenever one walks into our train car, every nearby man, woman, and child gets up to stare at us. To the general annoyance of the transvestite beggars, a man wearing a bra and pantyhose is completely uninteresting compared to a white tourist's reaction to the situation- especially if they react by sticking their noses deeply into a massive Indian guide book desperately trying to pretend the text is so absorbing they don't even notice the fake bosoms heaving above them or the growing circus of spectators.
Faced with these experiences, we were glad to finally arrive in Jodhpur, Rajasthan's "Blue City". We tugged our junk-country earphones out of a pair of hairy ears, wrested control of our thick guidebook, and hoisted our bulging backpacks off the train. It wasn't long before we found a nice family-run guesthouse with a gorgeous rooftop view of Jodhpur's looming cliff-side fortress.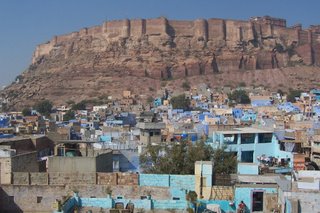 Glorious Meherangarh fort reigning over the blue city.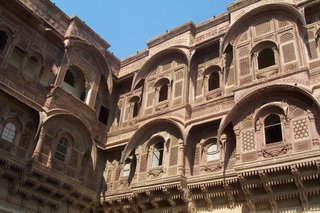 Mughal influenced architecture inside one of the fort's many palaces. These windows are specially designed so that women can surreptitiously peer down on the courtyard, while the men below are not able to see up through the windows at the women.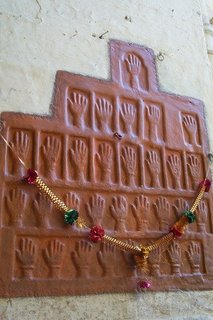 Tragic tiny hand prints of all the Maharaja's widows who performed sati (ritual self-immolation) when their husband died in 1843. Obviously, this Indian tradition is now forbidden by law though a very small number of incidents still occur each year in remote isolated villages.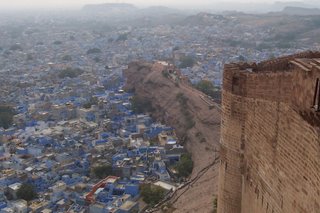 View of Jodhpur from the ramparts. Jodhpur is called the "blue city" due to the indigo hue of the rambling buildings that make up the old city. This colour represents the Brahmin caste which constitutes most of the city's population.
We met up with a nice couple, Doug and Lee, both retired teachers from Berkeley, California, who are on their own six month world trip. In the evening, they shared dinner with us as well as interesting experiences including living abroad (Malaysia and Africa), travelling, and teaching Steve Jobs' children in California. They also kept us company while we explored the impressive forts, cenotaphs, and markets in what was our favourite of Rajasthan's colourful desert cities.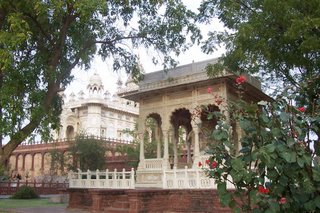 Milky white marble memorials and cenotaphs to Jodhpur's past Maharajas near Fort Meherangarh.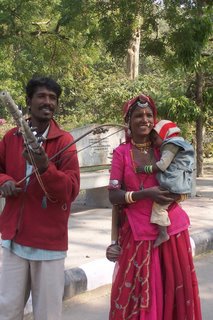 Rajasthan is considered a living study in ethno-musicology. The harsh desert climate contrasts dramatically with a sophisticated culture of music, dance, and dazzling clothing often having symbolic significance. The happy pink-and-gold combination seen here may only be worn by a woman who has borne a son.
18-03-2008 om 00:00 geschreven door andrew
0 1 2 3 4 5 - Gemiddelde waardering: 1/5 - (1 Stemmen)


10-03-2008

Rats and camels

Sunset over the Great Thar Desert.
Immediately following our hyper-dramatic Hindi film experience at the Pink City's Raj Mandir meringue inspired cinema, we caught a night train to Rajhastan's desert outpost town of Bikaner travelling, as always, in India's second lowest train class. Our usual strategy is to reserve, using India's miraculously functioning on-line ticketing service, the two top bunks allowing us to go to bed whenever we want to without disturbing the passengers below us. Unfortunately, the little-used Jaipur-Bikaner line runs an older and smaller model of train with low ceilings that force us to squeeze our bodies through a tiny crack separating the bed from the grungy ventilation fans, leaving us only just barely enough room to lie flat on our backs, occasionally being woken by the sensation of our noses rubbing against the dirty roof-top. Despite expensive ear-plugs, sleeping medication, and junk-country earphones, we are forced to endure yet another restless night when our carriage is invaded, at some ungodly hour of the morning, by a gang of yapping old Indian women.
As later explained to us by a friend of ours from Bangalore: Indians believe that it is their birth-right to make noise. It is not that they are trying to be rude; the entire concept of shutting off the light being quiet for others trying to sleep is, to them, such an abstract metaphysical paradigm as to be simply unfathomable to the sub-continent's general populace. It is not just the gangs of old Indian crones which seem to haunt the wakeful halls of every late-night sleeper train in the country, even the men running the hotels spend hours chattering in Hindi to each other into the wee hours of the morning. And what on earth are they talking about, anyway ? Where I come from, adult men just don't have that much to say to each other and certainly don't stay up all night giggling like school girls.
At times, Katlijn will be driven mad by the hotel men whose incessant gossiping simply overwhelms her specially molded high-end India-traveller's ear protection. Finally, in a fit of insanity, she will throw her ear plugs angrily at the door and storm out into the neighbouring hotel lobby to find six loitering men locked in loquacious banter, and frantically yells out to them:
"Oi ! We're trying to sleep in here !"
The hotel men stare at each other, exchanging blank looks- their brains, having been conditioned to a lifetime of whining scooters, quarrelling urban farm animals, and obnoxious horn blasts, are now no longer capable of even grasping the basic notion of noise pollution. Instead, after a brief pause, their Hindi chattering starts up again more intently as they desperately try to sort out, by group consensus, what the problem could possibly be, until finally they seem to settle on a theory, a plausible hypotheses: their best guess at what her frantic late-night fussing might be referring to. The oldest turns down the volume of the blaring Indian pop music, and asks, in his best English,
"Hot water bucket ?"
As I mentioned already, we don't get a lot of sleep in India. We finally arrived at Bikaner the next morning and groggily squeezed our way out of our claustrophobic train coffin, hauled our gigantic dusty backpacks from out beneath two loudly snoring old crones, and made our way to Vino's fabulous Bikaner Camel Safari Guest House: a sandy desert budget accommodation that seems to be managed and operated entirely by children.
After a brief visit to Bikaner's old city, we made arrangements with Vino for a five day camel safari through the Thar Desert. We were ready to go by the next morning and met up with Steve, a chatty Swiss backpacker who will keep us company the first couple of days. Steve is an economist taking several months off for long-term travel and proving, yet again, that the world's backpackers are quite an agreeable and varied people.
We started our desert trek at Kani Mata Temple, a peculiar and remote 14th century holy outpost in the middle of the sand dunes whose explicit purpose and ardent cult of followers is devoted solely to the worship of rodents. It seems that the cadre of Hindu holy animals knows no bounds: cows, monkeys, elephants, bulls, tigers and more. But, seriously, rats !? Just when we thought India's penchant for superstition could not possibly be stretched any further, we find ourselves in a temple, whose floors look alive with the scurrying of countless holy rodents, where it is considered auspicious for one to scamper over your bare feet and especially good fortune if you can spot a big, fat, fluffy, white one. We made our way carefully around the premises, together with a few barefooted devotees- their eyes peeled for white rats hoping that they might be so blessed as to feel the tickling of rat whiskers between their toes- all the while wondering if this temple was really built here for the explicit purpose of worshipping rats, or whether they simply got deified as the pragmatic solution to an ancient and uncontainable infestation.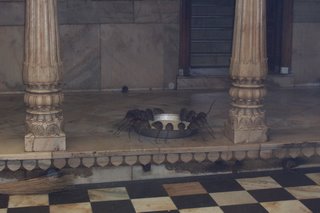 According to devotees of the affectionately titled "rat temple", the holy rats seen here (called kabas) are the reincarnation of dead storytellers brought here to deprive Yama, the Hindu god of Death, of human souls.
After visiting the rat temple, we met up with our desert guides, the camelman and the cook. Despite spending every second together for five long hot days, we had a tough time making any kind of connection with them given their tenable grasp of our language and our entire ignorance of whatever Rajasthani tongue they communicated with. In fact, we never even learned their names, having given up after making a hash with the pronunciation and finally settling on calling the camelman the "white guy" and then referring to the cook at all times relative to the camelman as simply "the other guy".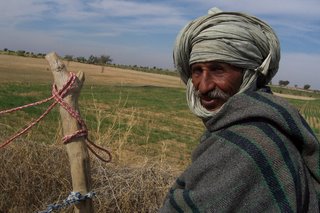 Our camelman, the white guy, so-named for his white turban and white loin cloth which he wore and washed daily.
We had three camels with us: Steve's camel, our riding camel we named "Alice", and a strapping young male camel we named "Orneel de Kameel",who carried the cart while periodically sticking its tongue out at passing lady camels who, without fail, would saunter giddily towards Orneel's manly camel stench, unable to contain their passion at such witty flirtation. All over the Great Thar Desert, camelmen would have to chase after young virgin camels who had fallen under the powerful spell of Orneel's wooful raspberries.
From the very beginning, it was obvious that sitting on a camel for five days was going to be a supremely uncomfortable experience. The camelman had Alice lie on the ground so I could get on the saddle. Before I even had a chance to sit down, Alice, upon feeling my legs brush against his side, would suddenly let out a gaping camel groan of disapproval and lurch upwards, slamming its hard backside into my unsuspecting crotch while stretching my stiff legs sideways dangerously beyond the safety zone of my admittedly limited flexibility. This would be followed by several hours of stoically enduring the graceless back-and-forth saunter of Alice slowly rocking my testes into numbness until, mercifully, it was time for me to get off and begin the long and painful process of returning circulation to the lower half of my body. Camels also do not make a smooth transition from the standing to sitting position. Instead, they sort of fold themselves up in several fast jerking motions like a collapsible lawn chair, each fold giving the rider the sensation of freefall and each time landing, inevitably, hard on his crotch. By the time we finally got off, our legs had been reduced to a senseless oblivion: two heavy weights swinging lifeless from our torsos waddling awkwardly about the desert.
The first few days we enjoyed taking turns riding the camel and lying down in the back of the cart peacefully reading a book. However, it wasn't long before we began fighting over who got to lie down in the cart and who had to receive a three hour crotch pummeling. Finally, perhaps out of compassion, the camel man let us both lie down in the camel cart while Alice, bareback and unburdened, trotted happily behind us with a smug look of victory.
During our trek, we enjoyed the quiet peacefulness of the scrubby desertís understated beauty punctuated by the occasional viper, vulture, and gazelle. We often passed secluded families living in tiny isolated mud huts, or even small mud villages sprouting sleepy rural desert communities.
.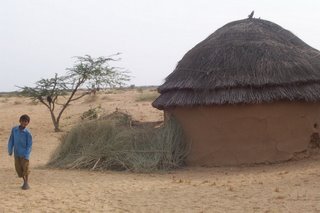 Rajasthani boy and his mud home.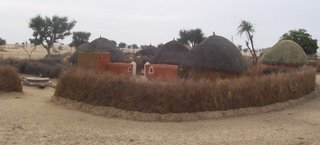 Thar Desert village.
The people of the Thar desert were exceptionally curious of us, especially the young children. While we stopped for tea or meals, small groups of brothers and sisters would huddle together and plant themselves at a safe distance to apprehensively study us in great detail like tiny fledgling scientists. Astonishingly, these profoundly patient children could go about their staring business uninterrupted for many hours in such a deep and pure state of meditation that, I must presume, it did not even occur to them to ask me for a pen. In the few cases they did ask us for something, it was never money, toys, or pens, but empty plastic water bottles of all things. In fact, empty plastic bottles were a trophy so deeply coveted by desert children, it drove them to acts of camel cart thievery that forced our poor nameless cook to be constantly vigilant and, when necessary, jump off and chase after them.
The larger Thar Desert villages each have a long trough of water for the camels. As we waited for Alice and Orneel to drink their share, the entire population of the village, often numbering in the hundreds, would emerge from their mud houses and rush down the street cheering our arrival at what felt like a royal welcome. When our camels were finished and we would continue on our way, the children would run after us into the desert for a while yelling "ta-ta !" and erupting into tearful laughter every time we responded to them.

The cook picked up pieces of valuable dried wood along the way which he would use, together with camel droppings, to make a fire. From time to time, he would also jump off the cart and disappear into a seemingly random mud hut in the middle of nowhere with an empty bottle and some supplies, then appear again sometime later behind us, running along the sandy trail in his sandals to catch up, the bottles now full of the desert goat milk he uses for our obligatory morning, afternoon, and evening chai. At some of the larger villages, he could be seen with the locals trading for supplies and, especially, flour for making his delicious chapattis. Furthermore, many of the locals supplied us with water from their personal wells. In return, our operation ran a kind of desert taxi service between the tiny villages as the camelman would allow complete strangers to ride on the cart with us along the empty roads. In many cases, our friends would join us for a hot cup of chai and even sit around the campfires at night, together with their sons and daughters, always staring at us, always smiling, while our cook and the camelman eyed our empty plastic containers nervously.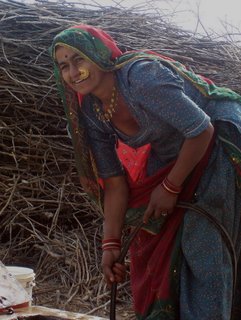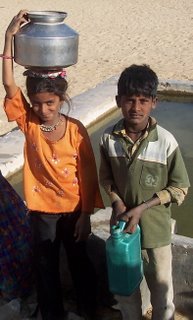 Desert characters.
Despite working in the remote seclusion of the desert, the cook produced some extraordinarily delightful Indian vegetable curries making each mealtime an experience Katlijn and I, saddle-sore, would very much look forward to. While one cannot deny his obvious culinary talents, he did not run the most sanitary of kitchens and the small number of pots and pans he carried with us often served multiple purposes including wash board and portable camel latrine. At one point, we watched in horror as he used his dirty shirt sleeve to rub a large pile of green droppings off the pan and into the fire, mix and pound the dough on the same pan, then roast his superbly shaped chapattis directly on the smouldering camel dung. Furthermore, due to the difficulties inherent in finding water in the desert, after every meal, we washed our dishes in dirt we scooped from the ground. To be fair, a sand-wash is an amazingly effective desert camping trick which I suggest you all try at home if you don't believe me, the only drawback being chewing on the little bits of sand that perennially find their way into every bite.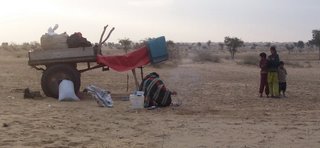 The cook concocting another one of his delicious stews while desert children nervously study our camp.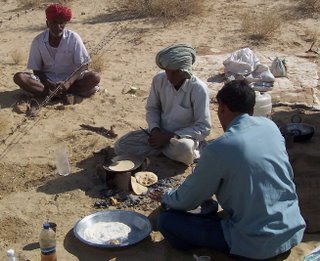 The cook pounds and shapes the dough as the camelman cooks the result on a tawa then puffs up the final chapatti directly on the coals. An old local man in a red turban enjoys a hot metal cup of chai while quietly watching them at work.
Evening in the desert is a particularly magical time as the dark blue sky transforms itself into the deep crimsons, violets, and yellows of some of the world's most spectacular sunsets. At night, we sleep in the open sand gazing at the brightly lit stars above us, while each morning the cook wakes us up with breakfast in bed. Sipping on hot chai while crunching down on our sandy toast, the Thar Desert entertains us again with another inspired sunrise, worlds away from the late night gossip of India's hotelmen.
Despite hot weather during the day, the desert temperature drops rapidly at night. Underneath two layers of blankets and our sleeping bags, while isolating ourselves from the ground with two more layers of blankets, we slept comfortably beneath the stars.
10-03-2008 om 00:00 geschreven door andrew
0 1 2 3 4 5 - Gemiddelde waardering: 1/5 - (1 Stemmen)


07-03-2008

Elephants in the Pink City

A sari shop in India. The line of male tailors on the left display a huge variety of fabrics to the women sitting on the right. The fabrics can be cut into saris or other clothing items. Shops like this are seen all over India and, by tradition, all the fabric tailors and shopkeepers are men while their clientele are all women.
After a long bus ride, we arrived in Jaipur mid-afternoon. All the hotels recommended in our guidebook were fully booked so we had to wander around the crowds with our giant tout-magnet backpacks looking around for a reasonably clean place to stay. In the end, we settled for an over-priced room, with two drab beds and a snowy television, ran by an old Indian fart and his five hapless cronies. As a word of advice: never stay at a venue in India in which the front lobby is occupied twenty four hours a day by six loitering men. As we waited an eternity for a luke-warm bucket of water, staring vacantly out our comically minuscule window, occasionally going downstairs to the lobby to check the progress of our simple cornflakes breakfast (only to find six loitering men staring vacantly at the peeling paint of our stodgy hotel), we began to wonder just how many men it takes to do absolutely nothing.
A much better alternative is to find a hotel run by an Indian woman. At Keoladio Nation Park, for example, our astute hotel lady single-handedly did everyone's laundry, cooked all our food, fixed the plumbing, and helped her kids with their homework while still finding enough time and energy to skillfully hustle us out of 50 Rupees for a pair of foggy binoculars and a crumbling bird book. You had to admire her.
Jaipur was our first stop on our tour of the province of Rajasthan. This state in North-East India, bordering Pakistan, has been doggedly controlled by the Rajput people for more than 1000 years. They are a Hindu warrior clan, constantly fighting, if not with the Muslim Mughals and the Western British, then against each other. Much of their bellicose way of life feels a bit like that of the Japanese Samurai: hierarchical while emphasizing honour and chivalry in combat- demanding ritual mass suicide by self-immolation over surrender. The practice of warfare was such a common occurrence that it became highly ritualized and enshrined in their culture: philosophy as well as an art form developed around combat with beautifully carved swords, gorgeously decorated armour, and vivid paintings. They were such a staunchly proud and recalcitrant opponent, that they managed to retain significantly more independence than the rest of India as both the Mughals and the British found it wiser to make special arrangements with the Rajputs rather than embarking on a long internecine struggle. Unfortunately, this independence ultimately proved to be the beginning of the end for these desert people. The Rajput rulers eventually became corrupt and lived a lavish life-style while the general population lived in poverty. When India finally gained its independence in 1947, Rajasthan had one of the sub-continent's lowest rates of life expectancy and literacy. It remains to this day one of the poorest states in India.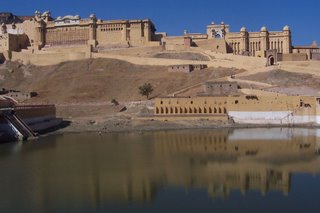 Jaipur's impressive hilltop Amber Fort. All of the major cities in Rajasthan have sprawling walled fortresses that served to protect the various city-states.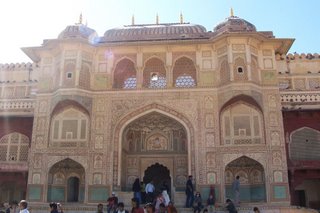 Entrance to Amber Fort's inner palace.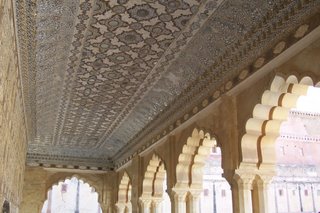 The palace architecture is a mixture of Rajput and Mughal styles.
We embarked on a long hot walking tour of a desert city that seemed to be choking under the malodorous fumes of diesel fuel, camel carts, and permanently clogged traffic arteries. The 18th century Jantar Mantar observatory provided an interesting diversion- it looks a bit like an amusement park full of mammoth experimental art sculptures. However, each construction has a specific purpose for tracking the motion of planets and stars, including a 27 meter high sundial which can be used to tell the time accurately to within 2 seconds. Unfortunately, we can't tell you what other amazing feats of mathematics and engineering were on display as our guide turned out to be completely stoned, speaking in an incoherent babble while puttering around the observatory in a kind of hashish induced slow-motion.
Upon exiting the observatory, Katlijn made the well-intentioned mistake of offering a begging boy one of our bananas. Upon grasping the fruit in his little hands, his eyes went wide, astonished at such good fortune, his whole face lighting up to assume the childlike expression of barely contained excitement normally reserved for unwrapping Christmas gifts. He quickly ran down the street screaming with glee, summoning his friends and family, who began to emerge wraith-like, previously invisible, from some secret place in between the cluttered jumble of concrete junk-peddling holes in the wall. It wasn't long before Katlijn was surrounded by street people beseeching her for free bananas. Without enough supply to meet the exponentially growing demand, we had to beat a hasty retreat into a street full of rampaging rickshaws and honking motorcycles. A lone police officer stood uselessly in the middle of the chaos, looking positively stranded, staring vacantly at the emerging traffic situation.
At what point did we start snapping at people asking for bananas ?
When was the exact moment that penniless widows abruptly vanish from our view ?
Why do children constantly ask me for pens ?
What the hell is wrong with this place !?
Through the smoggy crush of the Pink City's rush-hour vehicle hordes, the streets bursting at the seems with staring masses and Indian queue beasts, between cars and trucks, careening cycle rickshaws and high-speed scooters, slowly making its way between the fruit wallahs and stray dogs, quite suddenly, an enormous elephant smugly lumbers down the road. Above us, literally hundreds of kites fill the skies for the kite festival. Somehow, the magic of the sublimely foreign scene before us, or perhaps just the serene expression on the elephant's face, filled me with a renewed empathy for this country and made me realize how lucky we are to be travelling to a place which can only be experienced and not easily explained.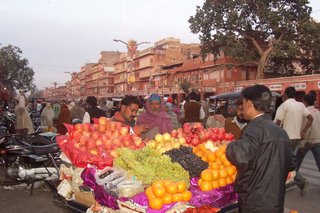 A fruit stand in Jaipur. Jaipur is nicknamed the "pink" city due to the predominantly pink colour of the buildings in its old city. The coral colors are particularly vivid just before sunset.
To celebrate my renewed faith in, or perhaps just temporarily prolonged tolerance for, the confounding process that is travelling through India, I decided to take Katlijn out for what is perhaps the world's most dubious "dinner and a movie" date: McDonald's and a Bollywood film.
While some cultures have a problem with culinary fusion, I am personally all for it. Other than tasting good, I believe there should be no rules defining whether or not different schools of gastronomy should be combined together. Despite this, I must make exception for the shameless combination of the well-respected centuries-old Indian culinary tradition with an American fast-food laboratory product designed at minimum cost for mass consumption: an ill-conceived fusion clearly demonstrated in such Frankenstein creations as the "Chicken Maharaja Mac". Certainly, the line of vegetarian potato burger products featured in Indian McDonald's, the "McAloo Tikkas", are a testament to globalization gone awry. However, to India McDonald's credit, they have exceptionally clean toilet facilities. Say what you will about their nefarious influence on global eating trends, even in a country not exactly renowned for its cleanliness, the MacDonald's bathrooms positively sparkle and may possibly harbor the sub-continents only functioning automated hand dryers.
Jaipur is home to India's number one Hindi cinema: the world-famous Raj Mandir- a massive, sublimely ugly, green and white cinema complex with bizarre architectural motifs that seem to have been inspired by marsh mellows and lemon meringue pies. Katlijn was allowed to get our tickets from the "ladies queue", as oppose to the much longer and more unruly "men's queue". She similarly helped a gang of Indian boys get tickets for the show who returned her kindness by explaining to us what was going on during the film. Ultimately, it was not as bad as we thought, and a few of the musical numbers were downright catchy. If you can't make sense of India's Bollywood film mania, it is probably you have never seen one of these films live at an actual Bollywood cinema. The raucous crowd booing the villains, cheering the heroes, and joining together in group gut-laughter magically turn the absurdity of the underlying script into a genuinely entertaining experience. Like its American counterpart, Bollywood films are full of a lot of beautiful people, classy cars, and opulence. However, it feels more artificial and jarring coming from Hindi cinema as it is so obviously at odds with the reality we had seen in North India. Where are the betel-nut stained teeth and the invisible beggars ? How come there are no dogs barking or monkeys dancing and why don't Bollywoods stars ever haggle with rickshaw touts ? Despite the dramatic music and emotionally exhausting story, culled of errant cows and lumbering elephants, Bollywood's watered-down version of India feels a bit empty compared to the real thing.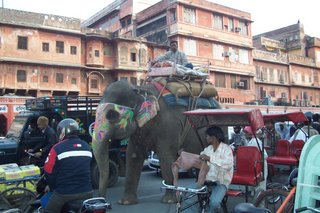 07-03-2008 om 00:00 geschreven door andrew
0 1 2 3 4 5 - Gemiddelde waardering: 0/5 - (0 Stemmen)



| | |
| --- | --- |
| | |

E-mail mij


Druk op onderstaande knop om mij te e-mailen.


Gastenboek


Druk op onderstaande knop om een berichtje achter te laten in mijn gastenboek