geniet mee van onze avonturen
Een jaar lang op wereldreis : ikzelf (Katlijn) ben een Vlaamse Belg. Mijn vriend Andrew (een Canadees) is de schrijver van dit blog ... daardoor zal de hele blog in het Engels zijn

17-08-2008

Walking to Inle Lake

A clear brisk morning. The pleasant scent of coriander chutney and naan bread roasting on an open fire. A piping hot mug of Nescafe "Turbo" 3-in-1 coffee mix. Kalaw, perched high above the cruel heat of April, seemed to us the only sane place to be at a time like this. Slowly, our dreams of Air Asia travel agents whisking us away from Myanmar to a distant discount tropical paradise were fading, and a renewed determination to understand the Burmese paradox settled into our imaginations.

The Indian family we stayed with showered us with as much conversation as they did chapattis. They had been living up here for a century. Like many of today's Burmese Indians and Chinese, they were originally brought here by the British to help develop and modernize the new colony. More experienced than the locals in the ways of the West, they became the advantaged elite fueling a deep resentment among the indigenous Burmese population. During the heady days of World War II and Burma's independence, anti-Muslim riots and institutionalized oppression forced many Indians to flee the country in a deadly mass exodus. Though the regime never fully got over its outdated anti-India propaganda machine, among the common people, this animosity has all but evaporated. Today, our hosts wouldn't dream of returning to India and insist the Burmese people are the world's friendliest, a different species entirely from the regime, living in a parallel world.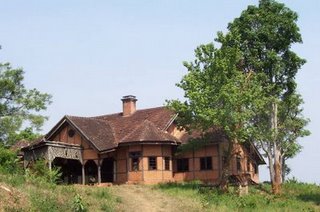 Kalaw was an old British army outpost still used by the junta's military today. Some fading colonial era buildings decay into the landscape, while others have been renovated and still serve as homes to wealthy generals.
Our various commutes on Myanmar's dodgy public transport services had left us non-plussed, and we decided to walk the rest of the way through the Shan hills to our ultimate destination at Inle Lake. Besides, what better way to keep money from the hands of the regime and, perhaps even more nefarious, the various local bus, pickup, and converted garbage truck mafias. The India family lent us the services of their son, Rambo, to guide us on our scenic trek through the Burmese hills.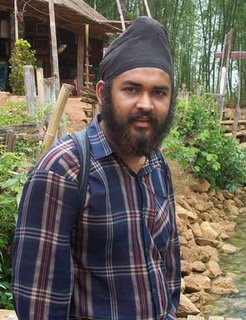 Our awesome Burmese Indian guide to the hills around Kalaw, the soft-spoken Rambo. Fluent in Hindi, English, and the local tribal languages, not to mention an Indian roti connoisseur, he was indispensable.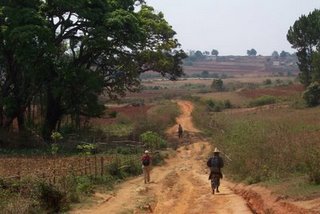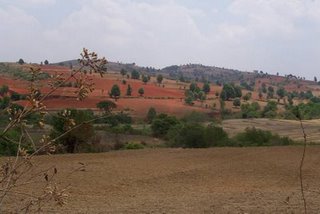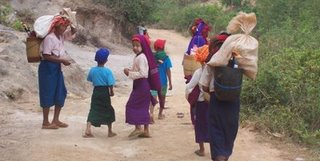 The area's rich rust-hewed volcanic soil allows a diversity of crops to grow supporting an array of colorful tribal communities.
Myanmar's hills are home to some 135 different tribal groups, each having their own distinct language, customs, dress and specializations. Some of these ethnic groups number less than one thousand people and have been living in the same semi-nomadic self-sufficient ways for centuries. As we meandered down the hills, these exotically clothed people punctuated the fertile red soil, pastoral hills and tiny thatched hut villages with brilliant colours re-creating all around us a forgotten time.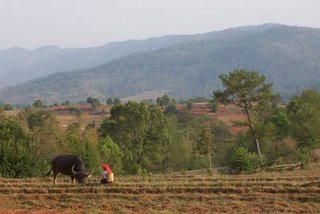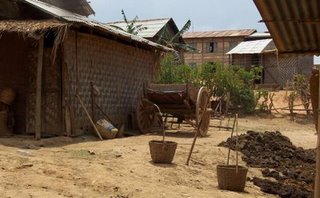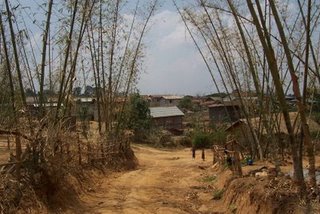 Scenes of rural village life in the Shan hills.
17-08-2008 om 00:00 geschreven door andrew
0 1 2 3 4 5 - Gemiddelde waardering: 0/5 - (0 Stemmen)


16-08-2008

Part 2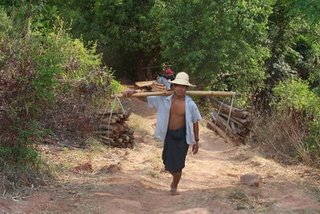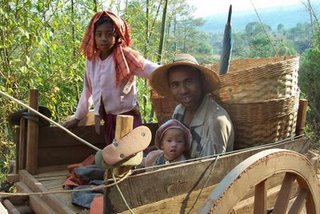 More scenes of rural village life in the Shan hills.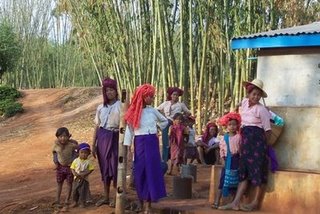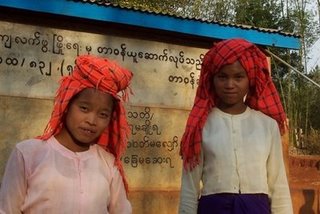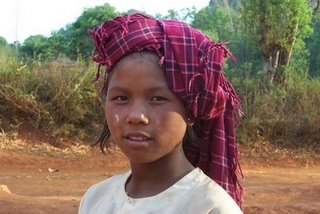 Kalaw's colorful tribal people.
As usual with Indian-led trekking campaigns, mealtimes were a highlight of the day. In Canada, a backpacker meal typically consists of a bag of freeze-dried food, often marketed by weight and volume rather than taste and style. Packages are known to contain "calories per ounce" information along with a lexicon of similar metrics presumably inspired by the cattle fodder industry. In Belgium, people actually embark on overnight treks with nothing but a giant piece of salami, a hefty wheel of Gouda cheese, and a pair of long Baguettes that stick out of their bags like bazookas. I've seen Europeans last weeks on the trail eating only this.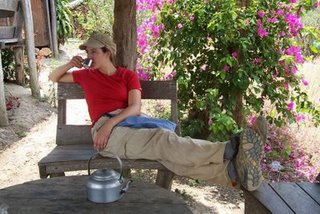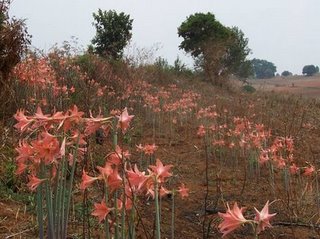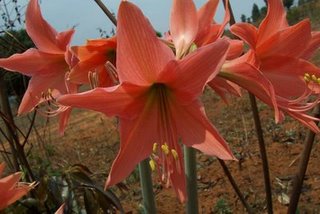 Trekking with Indians is a whole different story. A pack of rice, some dried lentils, and a few zip lock baggies full of spices is turned into a deliciously dense spicy daal within minutes of the water boiling. And while you are gobbling that down, your guide is making fresh bread on an open fire out of a Tupperware container full of flour. All this and you're only paying twelve dollars a day for the food, accommodation, a professional cook, and a translator. Quite simply, Indian backpackers are making the rest of us look bad. As I thought about my fellow countrymen eating straight out of a soggy carb-loaded bag with a hard plastic spork, and those trail-side Belgians furiously chewing stale bread while attacking flimsy chunks of sweaty cheese with a pocket knife, I couldn't help but feel a tinge of shame for Western trekking culinary traditions.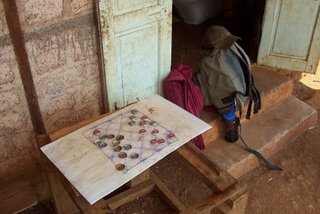 Burmese-style backpacker checker board.
16-08-2008 om 00:00 geschreven door andrew
0 1 2 3 4 5 - Gemiddelde waardering: 0/5 - (0 Stemmen)


15-08-2008

Part 3
Between bouts of sticky-fingered curry-eating gluttony, Rambo helped us chat with the locals. The cool easy-going hills of Kalaw bare little resemblance to the sweltering politically charged atmosphere of Yangon. While intensely curious of the outside world coming to visit them, the tribal people are entirely unaware and apathetic of their politics. Some are eager to exploit the tourist trade, but most live, trade, and marry within the confines of the hill communities and have limited interaction with the rest of the world. Unlike treks through remote areas of India, the tribal kids living here have not yet learned to pester foreigners for pens and candy.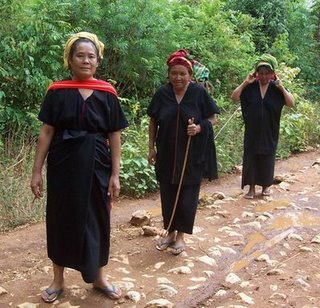 After a while, one learns to recognize most of the region's tribal groups based on their occupation or clothing. For example, the Pa-O women shown here always dress in black robes and bright head scarves.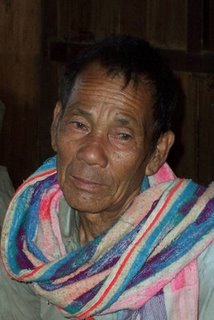 The Pulaung tribes specialize in growing tea. This old man from the Pulaung tribe invited us inside for a pot. He didn't know how old he was. Many people in the village didn't seem to keep track of their own age.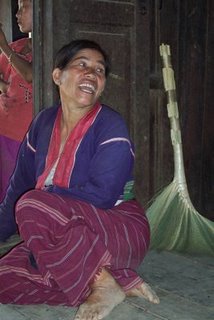 A Pulaung mother with a beautiful smile.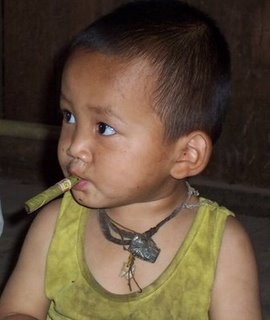 A Pulaung child borrowing one of grandpa's cherished green cheroots.
Rest and accommodation normally took place on the hard bamboo floor of a tribal hut together with a large family who all slept in the same room. On our second night, however, we had the luxury of staying at one of the village monasteries populated entirely by pint-sized monks in training and an aging abbot suffering from diabetes. Fortunately, the little ten year-old monks do the best they can to care for their teacher: massaging his feet every night while taking charge of daily business to ensure their spiritual operation is kept clean and running smoothly.

Before we went to bed, tribal people from nearby villages hiked out to the monastery and sat cross-legged together with the young monks to watch "Apocalypse Now" on what is likely the only DVD player in the area. The audience, clad in variegated tribal clothes and saffron monk robes, took everything in with a fascinated silence.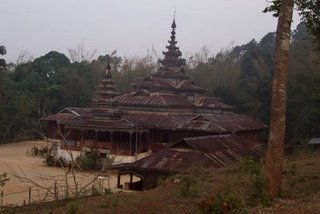 The monastery we stayed at. The architecture and corrugated tin roof are typical of Myanmar's many rural monasteries.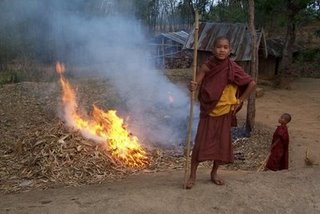 Young monk-trainees proudly doing their morning chores.
On our third day of hiking, we marched into Inle Lake and hired a boat to take us to a cozy guesthouse at a village called Nyaung Shwe. Inle Lake is one of Myanmar's main attractions: an idyllic mosaic of lake-side villages, rice paddies, and rolling hills. The region is notably wealthier than other places in Myanmar, the extra income from the tourist industry having transformed it into a kind of rural utopia complete with paved roads, a small airport, and other public facilities. Of course, this situation won't last much longer if foreign countries continue to discourage people from visiting here.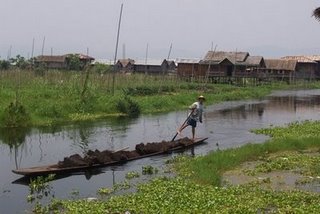 The lake supports a thriving farming community producing a wide range of vegetables and flowers cultivated on floating islands in the shallow edges of the lake. The men add to the islands by driving bamboo stakes into the lake bottom and piling up mud and lake vegetation.
Inle lake's most notable tribal folk are the Intha people, who are easily identified on the water by their novel (and apparently more efficient) paddling technique involving the ankles, legs and arms.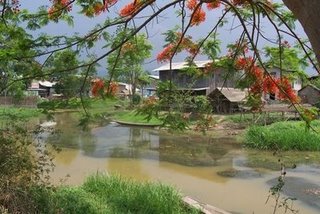 Proponents of Burmese tourism often cite Inle Lake as an example of how well-behaved the junta can be when there are foreign tourists watching and therefore argue in favor of expanding the areas accessible to visitors. Some human rights activists, however, fear that visitors plying the beaten path to areas like Inle Lake will develop huge misconception about the reality of life for most of Myanmar's rural poor. Furthermore, the impact of tourism on the Burmese tribal communities has never been studied.
Despite improvements to Inle Lake's infrastructure, not everything has been brought up to date. While indulging ourselves in some Western-style food at one of Inle Lake's many restaurants, Katlijn chipped her tooth forcing us to consider the frightening prospect of Burmese dental care. Our friendly guesthouse owner, ever trying to be helpful, recommended his dentist to us. Just before we were about to leave he asked, "You go to get your tooth pulled ?"
"No, we just want somebody to take a look at it."

"Oh," he replied confused, "if" you no want your tooth pulled, no go to Burmese dentist."

Needless to say, Katlijn decided to wait until we got back to Thailand for her dental work. However, it was somehow comforting to know that despite the inevitable encroachment of tourism, politics, and other modernizing forces into the traditional tribal way of life here, at least dental work was still done the old-fashion way.
15-08-2008 om 00:00 geschreven door andrew
0 1 2 3 4 5 - Gemiddelde waardering: 0/5 - (0 Stemmen)


14-08-2008

Breakdown to Kalaw

I sat in the shadow of the ticketing office listening to Katlijn argue with the local bus tout.
"Is it a big bus with air-conditioning ?" She asked.
"Yes," said the tout.
"Does the air-condition work ?" She asked.
"I think so," said the tout doubtfully, looking away.
Katlijn narrowed her eyes and looked penetratingly at the ticket man, then began slowly and carefully in a menacing whisper, "But will they turn it on ?"
The tout looked uncomfortable and shuffled his feet a bit, realizing she was on to him. "You'll have to ask the driver."
"Show me a picture of the bus !" Katlijn demanded.
The tout produced a glossy poster of a hotel-sized luxury vehicle filled with happy smiling passengers toasting each other with champagne flutes, marvelling at a highly improbable backdrop including the temples of Bagan reflecting off of Inle Lake surrounded by tropical birds and what appeared to be several extinct species of orang-utan. Honestly, I don't know why she bothers. This tout was going to rip us off and there was nothing we could do about it.
At long last, a dark noxious fog of belched out low-grade diesel exhaust ushered in our aging transport, clunking and sputtering its way towards us a good two hours behind schedule, an old tenth-hand rust-bucket long since discarded by its last owner in the West. Perhaps that same owner might one day visit this part of the world and feel a tinge of nostalgia and pride to see his or her faithful old rusty steed having a second-life in the orient as an integral part of the local Myanmar bus-scam. But to us, it was just another dirty van without a single functioning door or window, crammed full of betel-nut spitting crones all covered in a thick layer of Burmese road dust.
Katlijn had a small breakdown when it stopped in front of us, which began with "Is that our bus !?" and ended with a flurry of racist expletives heaped on an uncomprehending ticket salesman. All the while, the tout kept insisting it had "excellent air-suspension" as though this outright junk-heap had some deeper soulful charm hidden just beneath the surface, if only we would take the time to discover it.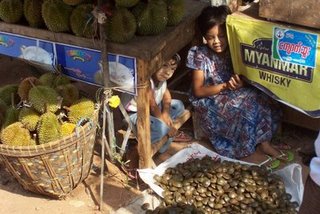 Burmese kids hiding under a table of fresh durians.
We were heading north now, en-route to Kalaw the hard way. Sane travellers take the plane at this point, but we were determined to stay on our pathetic budget and keep our money from falling into junta hands, even if it meant the occasional mental breakdown and momentary lapse of sanity. I found a small extra chair just behind the driver which had been crazy-glued to the floor, while Katlijn preferred the broken padded cushion that hung loosely at an obtuse angle from its seat back. There is never enough space on a bus like this one, so babies are passed around like carry-on baggage and it wasn't so unusual for one to end up in Katlijn's lap. They don't use diapers in the third world.
I was worried about Katlijn. She was in a miserable mood right now, secretly plotting an escape from the country. I saw her the other day checking out low-cost Air Asia flights leaving Yangon for Phuket, certainly an act of extreme desperation. The heat was really getting to both of us. During our truck's second breakdown, while the driver tinkered with the engine using a plastic pale full of rusting tools, we found ourselves sitting out under the stars along the highway. It occurred to us both that even in the middle of the night, Myanmar was still hot as hell.
With the likely prospect of our aged bus' post-retirement career in the Myanmar bus-scam business sputtering to a final ignoble conclusion, we decided to get off at a town called Taungoo and head to a private guesthouse boasting an excellent reputation among Burma's controversial guidebooks. It was indeed a lovely place, constructed from varnished teak wood, tastefully decorated, and cheerfully managed. Of course, none of this mattered to us because it no longer had air-conditioning. The friendly doctor who owned the guesthouse apologized profusely and tried to explain.
In case we weren't confused enough already, the junta had recently moved their capital to a place called "Naypyitaw", not far from here. Depending on who we talk to, the capital city of either Myanmar or Burma could be Yangon, Rangoon, or even Naypyitaw. By all accounts, Naypyitaw is a brightly lit fantasy city of modern shopping malls, six-lane highways, and twenty-four hour electricity, except that almost nobody lives there. Access to the new capital is strictly controlled, only the military top-brass and necessary government personnel are allowed inside. The city is also home to a number of five-star hotels catering to unscrupulous tourists who describe it like an empty high-tech ghost-metropolis straight out of a bad episode of the Twilight Zone.
Like most of Myanmar's population, the doctor got her news from a daily BBC Burmese radio broadcast squawked at her through an old plastic Zenith radio. The BBC has proposed a variety of disparate explanations for moving the capital to a place truly out in the sticks, including a paranoid regime trying to distance itself from politically charged activists in Yangon, a better command centre for conducting their war against nearby Karen insurgents, or even a more easily defensible location in the event of a future American pre-emptive strike. Of course, BBC really has no idea what the regime is thinking, it could have just been the whim of some flaky numerologist. Regardless, the new capital consumes most of the region's power, allotting our teak wood hotel along with the rest of Taungoo only three hours of electricity per day.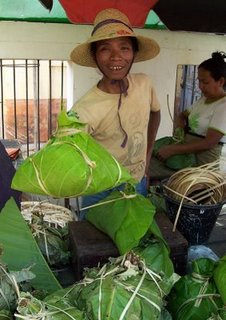 Taungoo local selling us some juicy lychees wrapped in a banana leaf.
Curiously, the only exception to the three hour electricity rule occurs whenever a British Premiere League soccer game is televised. Our hotel owner speculates that the junta provides electricity during televised soccer matches purely as a security measure. The Burmese are fanatical British soccer zealots hungry for outside information regarding the world of professional footy. They may have passively accepted a hundred years of colonial rule and fifty years of brutal oppression at the hands of a ruthless military junta, but take away their evening soccer match and they'd riot.
Though our hotel had its own generator, it didn't produce a high enough voltage to operate the air-conditioner or to provide a sufficient angular momentum for the over-head fan to be effective. As a result, it got so sweltering hot in our room that we eventually decided to sleep outside underneath a mosquito net.
Perhaps the friendly doctor felt sorry for us when she found us the next morning lying naked on her hotel patio. She put together a truly amazing breakfast made up entirely of fruit from her exotic garden. Over heaps of lychees, mangosteens, and passion fruit, Katlijn told me about a bizarre dream she had of a mysterious Burmese metropolis, somewhere not far away, populated entirely by Air Asia travel agents and empty air-conditioned hotel rooms. I'm no shrink, but this was clearly not the sign of a healthy subconscious.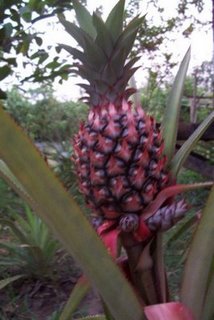 A pineapple growing in the doctor's garden.
The local Taungoo train station looked like a refugee camp. Making our way through the dense crowd of uniformed military personnel, saffron-robed monks, and gangs of children trying to pull at my leg hairs was a real challenge. We were eventually shuffled into a small office where the local train officer handed us a couple of post-it notes he had just scribbled on, and showed us to the appropriate platform. When our train finally lumbered down its narrow track two hours late, I remember voicing my worst fear, "these people aren't all getting on that are they ?", before it was realized by a chaotic surge of humanity converging on every malfunctioning orifice of the antiquated train.
We watched in stunned amazement at the spectacle. Everyone elbowed their way to the front, huge bottlenecks formed around the doors, monk bottoms and sandaled feet disappeared through the windows. Unable to physically get close enough to the train to board, we enlisted the help of an armed guard who, by some miracle, actually understood whatever was scribbled on our post-it notes. He successfully cleared the way and even scared a few old crones out of our seats for us. Every once in a while, a military junta really does come in handy.
Once inside, we were on our own. It took us ten minutes to get from the door to our seats. There were moments when I thought we'd never make it through the thick jungle of bodies inside. There wasn't enough space on my piece of bench for me to sit down and nowhere else for me to go. I ended up standing on my seat for fifteen minutes until Katlijn, uncovering a remarkable latent talent for human Tetris, barked orders at our fellow passengers until there was enough room for me to squeeze down with them.
The conditions on-board wouldn't satisfy an animal rights activist. The temperature outside pushed forty degrees, but it was several degrees warmer than that in the train. The entire cabin stank of Chinese fried noodles and body odor. There were people everywhere: crones squatting under my bench and kids lying horizontal on the baggage shelves. At each train stop, new passengers had to clamber through the windows because the door was plugged air-tight with human bodies. Before jumping in themselves, mothers would pass up their diaper-less baby through the window. The little tike was then tossed about the cabin like a hot potato until a suitable nook or cranny could be found for him. Somehow, Katlijn found herself in charge of this operation, possibly owing to her previously demonstrated Tetris genius.
As the narrow gauge train swung precariously back and forth along the bumpy tracks, we couldn't help but be impressed by the impeccably well behaved kids. While Katlijn and I had to fight back a childhood urge to throw the mother of all temper tantrums, there wasn't a single crying baby on the train. It's like they were too young to understand the whole stinking wobbling humiliation of it all.
We survived under these conditions for six long hot hours. Finally, our train swung into the town of Thazi where we saw a friendly-looking Burmese man running beside us calling out our names. Apparently, the good doctor from Taungoo had given him the heads up that a couple of white tourists were coming his way. Private hotel owners in this part of the country were now working together to make sure we didn't accidentally end up off the private hotel circuit and into a government-run facility.
Thazi turned out to be a dusty outback stuck in a Burmese time-warp. Horse and carriage were still being used to shuttle passengers into a wild west town from a fully functioning antique train station. Our inn keeper explained that not all was right in Thazi. Bad press, human rights activists, and the riot last September had destroyed the tourist trade. Now there were only two licensed hotels left in town, and not enough room for the both of them.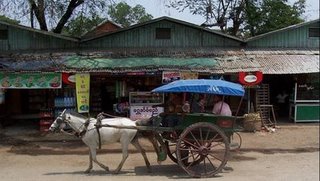 The hotel wasn't much to look at. A giant jumble of cables, industrial sized electronic parts, and large rusting metal boxes outfitted with retro wooden dials and knobs hummed ominously in the corner of the lobby. If every truck driver in Myanmar is a car mechanic, every hotel manager is an electrician. Power outages were frequent, and generators are generally of the DIY variety. While showing off his electromechanical baby, he explained how they had to pay a $760 license to cater to foreign tourists, give up ten percent of their revenue, and pay regular bribes to the corrupt police who ran the neighboring junta hotel like a gang of bandits. For his part, he fudged the tax records in the giant spell-book and showed me how he steals electricity from the train station to get by.
The local bus service finally rolled into town late the next morning: a massive steel lorry filled with passengers where the trash compactor used to be. In essence, the final leg of our journey to Kalaw was undertaken in a gigantic human garbage truck.
We adamantly refused to be stuffed into the back, choosing to pay extra for the privilege of squishing into the front seat with three others passengers over joining the eight men clinging to the roof top. The truck cruised around Thazi picking up more people until its entire volume was filled. We then drove around for another hour picking up cargo. I'm certain that if the garbage compactor was still intact, our incorrigible driver would have used it.
The passengers themselves didn't seem to care, dutifully compliant when the truck driver ordered them to squish themselves into a more efficient arrangement between steel drums of fermenting rice and large sacs of garlic. I asked a nearby passenger why we kept stopping to pick up more cargo, and he simply deadpanned "greedy" in reply.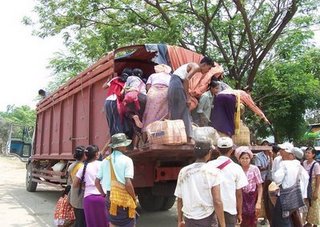 There's always room for one more on our dump truck.
It was brutally hot where we were sitting, and I didn't even want to think of the poor sods exposed in the back. Our dump truck broke down three times, leaving us to bake helplessly on the side of the road waiting for our greasy driver to emerge from beneath the engine with his pillow case full of dodgy tools. In the meantime, Katlijn's mental health grew dire, her mind being corrupted by a loathsome animosity towards the evil chauffeur. In a twisted form of psychological torture, she kept repeating "How much longer ? How much longer ? How much..." to the superstitious bus driver which absolutely infuriated him.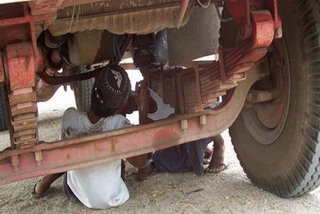 Around mid-afternoon, the driver brought our rusting junk bucket to the side of the road so he could enjoy a luxuriously long cup of coffee while the rest of us rot like garbage waiting for him. I got outside and opened the back of the truck which would have revealed a scene of people trafficking during a war-time evacuation, except that every single one of them was beaming at me with a dazzling Burmese smile. Was I going crazy ?
"Why are you smiling !?" I shouted and emphasized my words for effect, "It's more than forty degrees outside ! You are stuffed in the back of a garbage truck ! The driver is enjoying a long cup of coffee ! This really does suck ! I'm not crazy here !" Inexplicably, they kept smiling at me, joyfully oblivious to anything I was saying, somehow unable to perceive the gross unfairness of it all. I could almost hear the start of a Rod Sterling voice-over.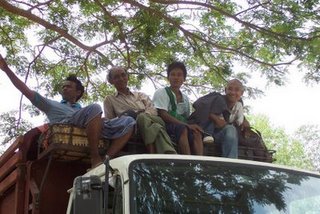 Mysteriously satisfied customers smiling down at us from the rooftop.
I stormed off to find Katlijn glaring menacingly from across the table at our selfish bus driver who was mustachioed in guilt by a Nescafe 3-in-1 instant coffee mix. "Are you done yet ? Are you done yet ? Are you..." I felt just a bit saner knowing that I wasn't the only person going mad around here.
The driver eventually finished his coffee and several hours later, having teetered clear off the edge of reason, Katlijn and I finally arrived in Kalaw. We were as happy to get rid of the bus driver as he was to get rid of us. I waved goodbye to the passengers piled on top of each other in the back of the rusty garbage truck, then watched their smiling faces disappear into the sunset.
Kalaw was a world away from Thazi: a gorgeous town, complete with paved roads and street lights, clearly benefiting from the large number of military generals living here. But none of this mattered to us. At an altitude of 1320, it had one of the most pleasant climates in the country. We felt a cool mountain breeze blow across us, cooling our minds back to a reasonable state of sanity. We wouldn't even need the air-conditioner tonight.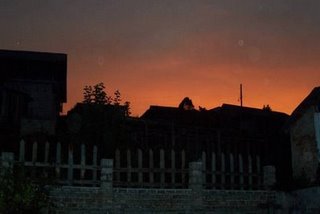 Orange sunset over Kalaw after a long day.
14-08-2008 om 00:00 geschreven door andrew
0 1 2 3 4 5 - Gemiddelde waardering: 0/5 - (0 Stemmen)


13-08-2008

Like Burmese Roller Coaster

If you aren't out throwing water at people, there are only two things to do in Myanmar during Buddhist New Year: stay home or seek refuge in a monastery. We considered the latter prospect, hoping to continue our meditation training from India. After all, Myanmar is a world center for meditation studies. While Buddhism's popularity waned in India, the original meditation techniques were painstakingly kept alive in Myanmar from teacher to pupil through an oral tradition. The government even issues special sixty-day "meditation visas" to people all over the world allowing them entry into the country for learning these techniques, and every Burmese citizen is required by law to spend time at a monastery for basic training. Unfortunately, the monasteries were completely full: wearing monk robes and sleeping in a monastery generally renders one exempt from the water throwing yahoos, making Buddhist New Year a particularly popular time for peaceful contemplation.
The festival had grown into an out-of-control multi-day extravaganza, and our options were now limited: being pelted with fire hoses or baking in the safety of our sweltering guesthouse. We were desperate to get out of Yangon and see the country. After significant research and a lot of charades with the train officers, we finally came up with a third option: a pilgrimage to Kyaiktio, the Golden Rock.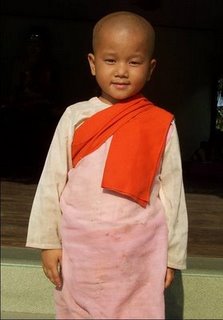 Pious Burmese head out in droves to visit the Golden Rock for Buddhist New Year. It is perhaps the holiest and most auspicious location in the country to wash away last year's sins. It was also the only location in Myanmar currently being serviced by some semblance of functioning public transportation. We wrapped our bulging backpacks in water-proof plastic sheets and set off on our quest.
A tasty Burmese snack.
Walking to the train station was a frustrating wet experience. The water fight had grown old fast: we were tired of stumbling about in wet feet and soggy underwear. In the Inye Lake area, "Happy New Year" was the usual warning sign preceding a good hosing. For some reason, the kids downtown preferred to joyfully ask us "Are you happy !?", before proceeding to throw a bucket of ice water in our faces. The other pilgrims on the train simply laughed at us when we sat down in the passenger wagon, wringing our socks out.
Myanmar's much maligned trains should only be used as a last resort. The entire system is antiquated: from the 1940s meter gauge train tracks to an unreliable ticketing system run by opportunistic coolies keeping track of things with fading pens and old bits of scrap paper hanging out of their back pockets. A valid ticket could easily look like a crumpled piece of toilet paper with somebody's signature scribbled in pencil. The train ride itself is always a harrowing experience, as the entire cabin wobbles precariously back and forth along the narrow tracks. Train derailments are disconcertingly frequent under this technology.
Fortunately, we arrived safely at the city of Bago, two hours east of Yangon. We found a crumbling hotel room shrouded in a thick layer of mildew, its malfunctioning shower facilities forcing hotel guests to make the dubious choice between being blasted across the bathroom floor by a high-pressure beam of cold water or huddling underneath a scorching hot dribble. The beetle nut chewing hotel manager admitted his rooms could use another coating of paint, but he swore on his father's grave he had the best generator in Bago, capable of delivering twenty-four hour air-conditioning. We were sold.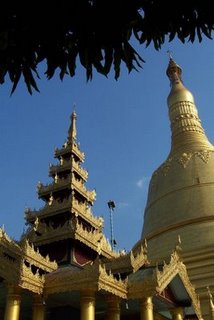 One of Bago's many golden stupas framed against the Burmese-blue sky.
Checking in at a private guesthouse requires writing your name and passport number on a giant wizard's spell book. Apparently, these over-sized records are used to ensure the regime gets its ten percent hotel tax. According to the manager, our hotel was owned by a crooked business man running an illegal gambling ring. "Not to worry," he explained between audibly juicy betel-nut mastications, "this hotel is one of his legal business fronts. We only fudge the guest lists a little bit." In true form, he also knew exactly how to visit Bago without paying the extortionate government fees.
Bago is the Disneyworld of Buddhist relics, an amusement park of stupas and giant Buddha statues. It was once the capital of the Mon province, home of the ancient and defiant Mon people who arrived here around 1500 BC. Though brutally repressed for centuries for thumbing their noses at both the Burmese and the British regimes, their impact on the region can't be understated: the Mon are responsible for introducing Buddhism to South East Asia, and they have littered the landscape with some of its most hallowed monuments, including the famous Shwedagon pagoda in Yangon and our destination, the Golden Rock.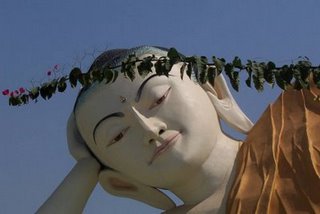 With the connivance of the local monks, our hotel manager confidently led us through various back doors into some of these monuments while telling us extraordinary tales of giant eight-meter Buddhas, a mysterious cult of Burmese numerologists who had learned to fly, and his very own pursuit of the philosopher's stone. I don't think we learned a thing from him, but his was a riveting narrative nonetheless, certainly better than a stodgy old government-approved tour.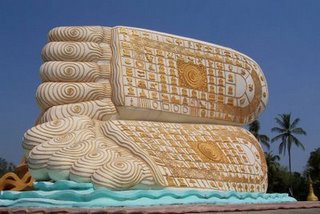 The footprint of Buddha, one of the main artistic vehicles for demonstrating the Buddha's presence in Asia. In Myanmar, his footprint has small pictures depicting all the different reincarnations of the Buddha before attaining enlightenment.
True to his word, the twenty-four hour air-conditioning was fabulous: a miracle of biblical proportions in this country. The next morning, the hotel manager got us in contact with a shady character calling himself "Mister Joe". Technically, foreigners are not allowed to spend the night near the Golden Rock, but Mister Joe insisted the police never check. He sold us expensive tickets for an "easy" three hour truck ride to Kyaiktio.
When it comes to travelling around Myanmar, our experiences so far indicated nothing is "easy". Katlijn decided to double-checked with our hotel manager, "How long will it take us to get to the Golden Rock ?"
The manager opened his mouth in alarm revealing all six of his remaining crimson teeth, "In Myanmar, you never ever ask how long it takes ! It's bad luck !" He refused to tell us and stormed off angrily. The truck driver gave us a dirty look, like we had just condemned them all to death.
The Burmese have taken carpooling to a whole new level. The pickup truck stopped every few blocks to pick up more passengers until every cubic inch of volume was filled with body parts. A close inspection would reveal that we were arranged on top of each other in four layers: a few fragile old crones curled themselves up at our feet on the floor of the truck, Katlijn and I squished together with other passengers on the benches, their kids sat on our laps, while their husbands rode on the roof. A few deadbeats hung out the back with their feet on the bumper. As our rusty old pickup lumbered down the bumpy road, the Mon people periodically hosed us down and launched water balloons at us with slingshots.

In the dark, damp wetness of the enclosed pickup, packed shoulder to shoulder with the other miserable passengers, I felt the onset of a claustrophobia-induced panic. Desperate for fresh air, I poked my head outside and saw, for the first time, a ghastly new weapon in the week long water war. We were heading straight for it.

"You'd better take a look at this," I warned Katlijn.
She poked her head the other side. "WHAT IS THAT !?" She yelled back in alarm.
The other passengers saw it too, and pretty soon murmurs of alarm spread like wild-fire through the tiny space in the back of our truck. Everyone inside grabbed each other. The deadbeats hung on for dear life. Katlijn, in a cowardly act of self-preservation, actually grabbed a monk and used him as a human shield, hoping his monk status would protect them both.

I ducked my head, shut my eyes tight, and thrust my index fingers deep into my ear canals. Barely audible now, I thought I heard someone whisper, "Are you happy ?"

Everything happened fast. A gang of Mon kids jumped in front of the truck to slow it down, while about fifteen of their buddies positioned the weapon over top of our pickup: a long, wide-diameter, corrugated plastic tube that looked alarmingly like a broken sewage pipe belching forth a geyser of polluted water and noxious filth. With considerable effort, they ran beside our truck while simultaneously turning over the gurgling tube into an upside-down brownish fountain instantly flooding our cabin in a sickly warm foul-smelling ooze.

The aftermath is still a bit of a blur. I remember bits of algae hanging from the ceiling, a few aging crones coughing and wheezing in a pool of rancid liquid, and a wisely equanimous monk giving Katlijn a long, sad, pitiful look of sympathy, certain her ignominious act had just condemned her to be reincarnated as a fish.
Six hours and one more breakdown later, our clunky pickup finally choked and sputtered into a town called "Kingpun". We were close to our goal now, at the base of the mountain home to the illustrious Golden Rock. We celebrated by devouring some fried noodles at the local Chinese restaurant and transferred to a larger pickup truck capable of making the ascent. The back of the truck contained rows of small wooden benches that seated about sixty. After waiting a long time in the heat for enough passengers to fill the benches well beyond this already inflated capacity, the driver suddenly gunned the accelerator and we set off at a break-neck speed startling everyone on board.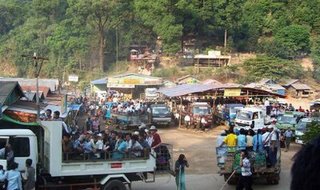 Buddhists on pilgrimage to the Golden Rock being herded like cattle into pickup trucks.
Even by third-world standards, our driver was a maniac. The giant truck roared down the serpentine mountain road, careening dangerously close to cliff edges. Each high-speed hair-pin turn sent me toppling over fellow passengers, and each bump thrusted my bruised knees painfully against the wooden boards in front of us. Kids lined the roadside, laughing uproariously at our predicament while whipping us with buckets of freezing cold pond scum.

Slowly, I felt the last traces of my pathos for this country slipping away from me. I turned to my right side and saw an elderly monk look straight into my heart with his over-size Dalai Lama spectacles. He seemed to have notice my waning empathy as well. His tiny grey sprouts of hair fluttered and whistled in the howling wind. With his wizened old hands, he slowly and deliberately demonstrated how to hold on to the shoulders of the person in front of me for support. He smiled broadly revealing a rare un-betel-nut-stained set of reasonably straight teeth, then laughed loudly and with a hoot, yelled out,
"LIKE BURMESE ROLLER COASTER !"

Everyone started doing the same. Hands on each others backs, individual passengers connected as one, we rocketed our way up the mountain until our perilous truck ride to Kyaiktio finally came to an end. In an outpouring of collective relief, we all spilled out of the back of the truck. The Golden Rock was close now. The anticipation palpable.
A steep path led up the mountain crowded with monks and families making the final push in the late-afternoon sun. For forty-five minutes, we slogged through the wet Burmese heat. We saw our old monk friend cheerfully float by us in a stretcher, still smiling and waving. The clever fellow had hired a couple of coolies to carry him up. At long last, melting into a pool of our own perspiration, we caught sight of the Golden Rock itself.
"It's a rock," stated Katlijn underwhelmed.
"But it's one of the most sacred places in all of Myanmar !" I tried to convince her the trip was worth it.

"It's not even gold," she observed pointing across the rope, "look the paint is peeling." I approached the precariously perched rock to investigate. Indeed, it needed another coating of yellow paint to maintain the illusion. Finally, I had to admit it: whoever said "it's the journey not the destination" surely must have had the Golden Rock in mind.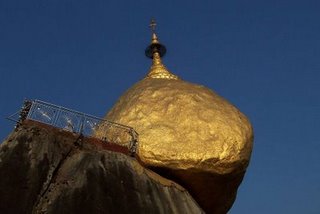 The Gold Rock is perched precariously on the mountain. Legend has it that a single hair of Buddha holds it in place.
A bit deflated from the long day and its anti-climax, we spent the evening walking around the area, by now crowded with monks and families setting up blankets and pillows for the night. We were very nervous. Tourists weren't really supposed to be out here at night and Mister Joe's promise of no police was clearly an empty sales pitch. They were everywhere.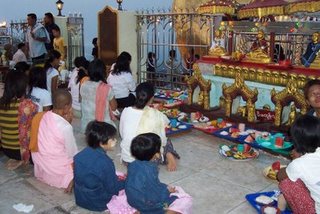 More interesting than the Golden Rock is the out-pouring of faith going on around it. Thousands of Buddhists from all over Asia gather on New Years to light incense, give offerings, and meditate together.

Some of the wealthier families slept in shelters, but nobody wanted to take us in, fearing trouble with the law. As inconspicuously as possible we crept into a nearby temple full of friendly people who smiled warmly at us. We set up our sleeping bags and exchanged food with our neighbours. Then, in a hopeless attempt to fit in, we joined the others in meditation.
Naturally, the only two white people on the mountain sitting in a lotus posture is anything but inconspicuously. When Katlijn came out of her meditative state, she was met with a room filled with huge Burmese smiles and pairs of warm beady eyes staring at us intensely. They had been watching us the entire time in respectful and curious silence. Even people from outside the temple were huddling over each other by the doorway to gaze at the two of us: hairy-legged, Teva-sandaled, sweaty white yogics in fading Nepalese trekking shirts- certainly a more profoundly bizarre spectacle than the Golden Rock.
It wasn't long before the police found us.
The Burmese police never do anything alone. There are no edgy Hollywood police mavericks here, no Burmese Dirty Harry, no Thanakha-wearing Starsky and Hutch. I remember watching the junta after the cyclone ravaged Yangon. They were a model of inefficiency. It would take twenty of them to cut a tree branch: one to saw away, one to take a picture, and eighteen to stand around and loiter. Thus, it is no surprise that an entire battalion of green-uniformed men with sparkling metal helmets marched into the scene of our dramatic arrest.
"Um..." the poor guard began bashfully, clearly terrified by the prospect of having to speak English in front of so many on-lookers, "are you happy ?"

"We're happy," I began hopefully. The growing crowd of smiling spectators murmured in approval.

"Yup," Katlijn, already condemned to life as a fish, finished my lie, "nobody here but us Buddhist pilgrims."
The police noticeably relaxed. They couldn't decipher any obvious political motivation behind our illegal infiltration of the Golden Rock. "I'm sorry to have to do this," he really was, "but I need to take you outside the premises to a government hotel."

And so ended our pilgrimage to the Golden Rock: we were charged an exhorbitant fee to stay at a dingy government hotel on the mountain, which we turned down in favor of being robbed blind by an even dingier privately-owned hotel.
Over luke-warm glass of imitation Burmese coca-cola, we toasted in the New Year.
13-08-2008 om 00:00 geschreven door andrew
0 1 2 3 4 5 - Gemiddelde waardering: 2/5 - (1 Stemmen)


06-08-2008

Two Burmese Orphanages : Part 2
One of the pythons died recently. Nu thought it was the soapy water; apparently, the orphans even shower together with the pythons. In any case, the abbot was absolutely distraught over the constrictor's demise and hasn't talked much since. I didn't believe her until they brought us to their meditation hall containing a dozen malingering monks swinging lazily in their hammocks, a few golden shrines, and one giant four-meter snake curled around a statue of Buddha. Beside the meditation hall, Nu showed us a small wooden shrine containing the dead python recently stuffed and mummified by the abbot.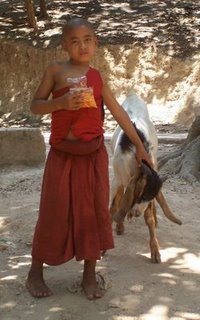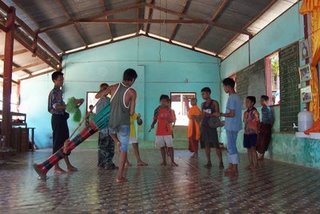 Some of the kids get courses in traditional music. They were kind enough to put on a small show for our benefit.
We donated money to the monastery together with some children's clothing we bought in Yangon. The abbot chanted us a blessing for our generosity, but the monks couldn't come up with a way to distribute the clothing fairly. After much discussion, they contrived the following: we should give the clothes as a gift to a group of teenage orphans who performed traditional music for us. The performance was excellent, but it was both sad and embarrassing having to give baby clothes to each overly-gracious teenager individually- especially since there were bound to be younger kids in the monastery who also needed them.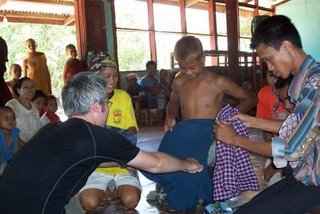 Andrew giving tiny T-shirts and shorts to the orphan teens. They were very kind about it, and some of them really made an outstanding effort to squeeze into them.
By the early afternoon, the water festival had rendered Yangon's normally unreliable public transportation completely in-operable. Nu managed to arrange a horse and carriage for us, still a principle means of transportation in many parts of Myanmar. As we trotted off down the dirt road, the children ran after us, waving, smiling, and laughing.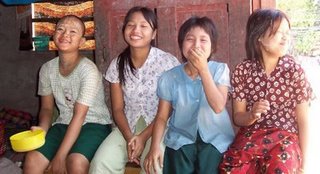 Along the way, Nu told us that she takes care of a couple of orphans at home. It turns out that adopting orphans is very common in Myanmar, nearly all the hotel and guesthouse owners we stayed with across the country had an adopted son or daughter. Obtaining an orphan in Myanmar is extremely easy: walk up to your nearest monastery, give a donation of about one hundred dollars to the overwhelmed abbot, then walk home with the child of your choice. The system is clearly open to abuse, and it's hard to imagine this happens while elsewhere, so many qualified parents are enduring agonizing years of red tape to adopt a child.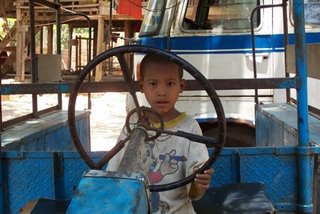 The second orphanage we visited was run by nuns- all women in pink robes. In contrast to the carefree anarchy of the monastery, the nunnery had a fussy orderliness and the staff busied themselves with military discipline. The concrete dormitories positively gleamed.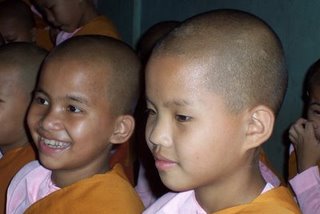 Upon our arrival, a regiment of tiny bald little girls in meticulously kept pink robes were ordered to march before us and array themselves in perfect ranks. They were clean, healthy, and impeccably well-behaved. At the head-nun's orders, the children erupted into a perfectly synchronized chant of Buddhist mantras. It was an impressive and provocative display for our benefit, but there was something oddly robotic in their empty stares and mechanical high-pitch tones- their grim faces, starched uniforms, and shaved heads resembling more a miniature boot-camp than a kindergarten. It just didn't feel like New Years in April anymore.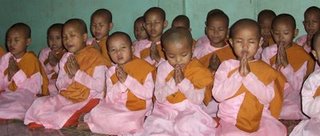 We donated money to the head nun, and she gave us a blessing in the form of a Buddhist chant. She looked thin and exhausted. Life isn't easy for a nun. Though apparently not a part of the original Buddhist teachings, women are treated as inferior to men in many Buddhist sects. They receive even less attention in the West. While the image of a monk has become an icon of unfailing wisdom and infinite serenity, their female counterparts are virtually ignored. As a result of this hierarchy, most people want to donate their money to monasteries run by monks, often leaving the nuns with very meager alms. There was no New Years banquet here.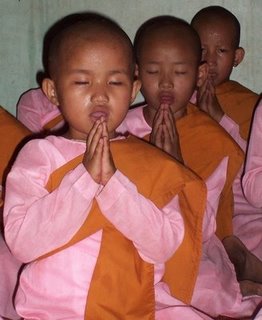 The system is far from perfect, but
Myanmar's monasteries and nunneries do a great deal of good for children who have nowhere else to go. Indeed, the entire country couldn't function without these refugees, scattered ubiquitously across the Burmese landscape. Simultaneously fallible and heroic, these orphanages provided us a true human face to the children as well as Myanmar's well-intentioned monks and nuns.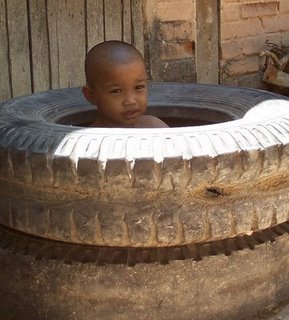 06-08-2008 om 00:00 geschreven door andrew
0 1 2 3 4 5 - Gemiddelde waardering: 0/5 - (0 Stemmen)


05-08-2008

Two Burmese Orphanages : Part 1

By the morning of the second day of the water festival, Yangon looked like a war zone. The streets were empty save for pickups carrying gangs of water-gun toting teens careening about in the ghostly wet streets. Over an egg breakfast, several backpackers cowered on a guesthouse patio showing off their hose welts and complaining about their predicament. The entire country was shut down in a water-logged state of nation-wide binge drinking. Nobody could get in or out of Yangon. In fact, nobody could leave within a few block of our guesthouse without being blasted by high-pressure ice water.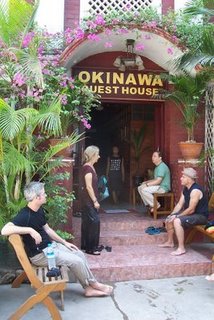 Andrew hanging out with the other stranded travellers at our Yangon guesthouse.
A long line of saffron robed monks strolled by for their morning alms. They live off the donations given to them by the rest of the community, devoting the rest of their time to meditation, study, and the sharing of Buddhist values. We were glad somebody was happy: people are particularly generous for Buddhist New Years alms, and nobody wanted the bad karma of hosing down a monk.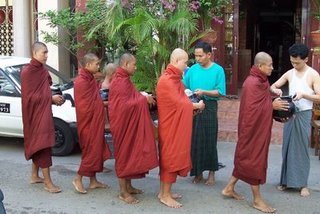 We decided to join up with our Yangon guide, Nu, to visit orphanages across the river. Trying our best to avoid any further engagements, we ran, ducked, and crept down back-alleys to a bus stop where Nu flagged down a pickup truck and pushed us on board. The passengers rolled their eyes when they clapped eyes on our white skin, knowing their dry pickup would now be targeted by every drunken Yangon yahoo with a water gun. To make matters worse, we didn't actually fit on the truck and a few previously comfortable commuters were asked to ride on the bumper and hang out the back for our sake. Clinging for dear life to the back of a truck while being fired upon with riot hoses is fine for the locals, but such activities are considered too dangerous for white tourists. The junta wants nothing to tarnish their beloved tourist industry, and the driver would stand to get into serious trouble if anything happened to us.
It wasn't long before we were spotted by the yahoos. "Here they come," muttered Katlijn.
I poked my head outside to see the approaching ambush: a couple of bucket-toting kids and some whisky-drinking Indians on hose duty. "You know the drill," I replied dryly.
We clasped our hands over are ears, shut our eyes, and ducked underneath the bench.
"Happy New Years !"
And with that, our driver hit the accelerator and we roared through the deluge. The velocity of the truck working against that of the incoming water buckets produced a loud smacking sound when the freezing water splashed against our backs. A frail old woman sitting across from us got a particularly violent slap to the face. Everyone on board remained exceptionally friendly with us, but we feared our popularity would start to wane after a few more of these incidences. We chose to step off as soon as we were close enough to the orphanage to walk the rest of the way.
The post-colonial renaming plague sweeping across Asia has also struck the country of Myanmar in a devastating wave of utter confusion. The British invented the name "Burma" after the "Burman" people who are the dominant ethnic group. However, the political situation in the country is far messier than this colonial-era name implies. Over one hundred different ethnic groups are known to live in Myanmar, and there are at least one hundred and nine different languages spoken in the country. Many of these ethnic groups have been fighting each other for centuries and are also sworn enemies of the predominantly Burmese military junta. To help pacify some of these people, the junta changed the name of the country to the more inclusive "Union of Myanmar". Americans and British do not view the military regime as the country's legal governing body with authority to change the country's name and therefore continue to use the old British name "Burma". Thus, we now have the awkward choice of selecting the imperialist name of "Burma", or recognizing a brutal military regime by using the less racy "Union of Myanmar".
Changing the name of the country and providing other political incentives was not enough to placate all the ethnic groups wanting either more autonomy or outright independence. For the last fifty years, the military junta has been battling several disparate insurgencies in various parts of the country, and there are credible reports of retaliatory killings, rapes, and other atrocities committed by the army against civilians. Most of this fighting is contained in remote mountain regions so nobody really knows what is going on. However, there is a constant stream of traumatized orphans fleeing these contested regions who, if they are lucky, may eventually find themselves in the sanctuary of a monastery. Soaking wet and fearing rejection by our fellow commuters, Nu took us to visit two of these.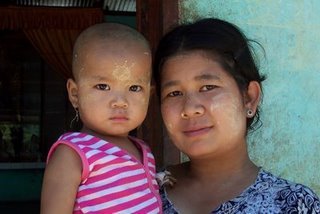 The first orphanage was run by monks- all men in saffron robes. The monks shared their food with us: a huge banquet provided by today's bloated New Year's alms. It was probably the tastiest and most glutinous feast we ever ate in Myanmar. So much for the middle road !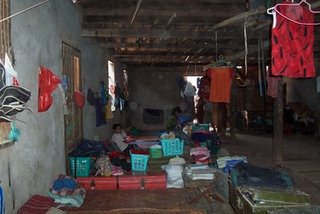 Children's dormitories. Each child has his or her own space with a bed and a metal chest containing their belongings. They sleep and do their homework here. It is possible to obtain a high school degree at the monastery, but we only met one girl who made it that far in her studies.
The orphanage was basically a ramshackle arrangement of dilapidated monasteries and concrete dormitories with corrugated tin roofs providing shade for several dozing monks. While perhaps more spiritually advanced than your average layabout, Myanmar's monks could certainly loaf about with the best of us. They had all the laid-back attitude and Eastern philosophical bent of a Berkeley hippie, but without the free-love, drugs, and poor hygiene. Otherwise, while the compound definitely lacked a woman's touch, it had a kind of fun chaotic air as the children's variegated smiles of multiple ethnic origins ran amok in celebration of Buddhist New Years. The kids went absolutely wild when we showed up, desperate to bless us with a cup of scented water, gawk at our giant white bodies, and pull my exotic arm and leg hairs- a favorite feature of mine with Burmese children guaranteed to produce squeals of glee. The monks had built them a little wooden platform on the road where they could participate in the water festival like other kids in Yangon. Fortunately for us, there was just enough discipline at the monastery to forbid the use of fire hoses.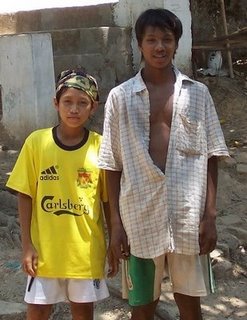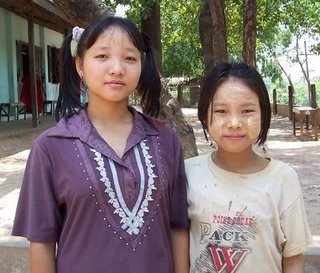 Not all was right at the monastery. Some of the little girls were covered in scabs, and another didn't speak at all but stared blankly forward in a permanently heartbreaking forlorn expression. The abbot looked positively exhausted and depressed. Nu insisted he was normally a loquacious host and provided the following bizarre explanation for his current mood: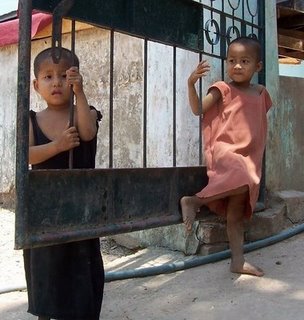 The monastery owns two giant pet pythons. The pythons slither freely around the compound and the kids are allowed to "play" with them, presumably unsupervised by the looks of the place. While that all sounded pretty scary to me, snakes are held in high esteem by Buddhists. Besides, we are told the children love them to pieces.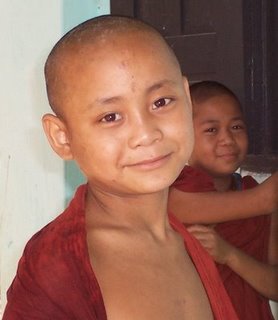 05-08-2008 om 00:00 geschreven door andrew
0 1 2 3 4 5 - Gemiddelde waardering: 1/5 - (1 Stemmen)



| | |
| --- | --- |
| | |

E-mail mij


Druk op onderstaande knop om mij te e-mailen.


Gastenboek


Druk op onderstaande knop om een berichtje achter te laten in mijn gastenboek