RAMBLIN WAYN'S OUTLAW/SONGS




this blog will be regularly updated


RAMBLIN' & STINGRAY


Arthel 'Doc' Watson


J.P STINGRAY BLUES/ROCKER


Dear reader, a small grammatical error?
My apology!!!!!!!!!!!!!!!!!



SEARCH IN BLOG



GOOGLE SEARCH


Music- Poetry- Paintings
LIVIN' IS AN ART - VIRTUAL GALERY
22-12-2011

RAMBLIN WAYN & JP STINGRAY - UP THE ROAD
WORDS/MUSIC BY WAYN new river train music (c) 2011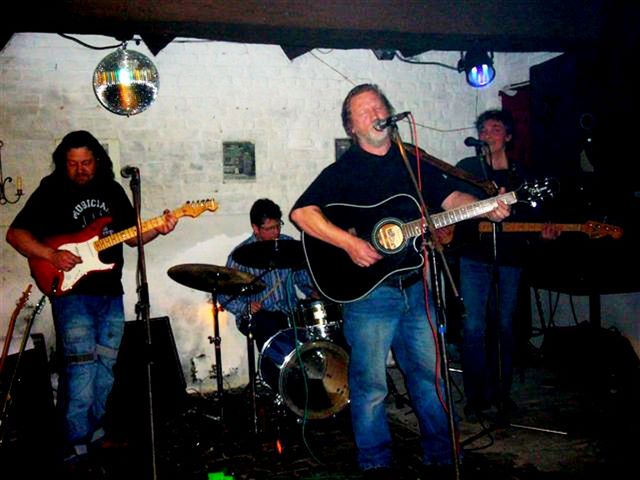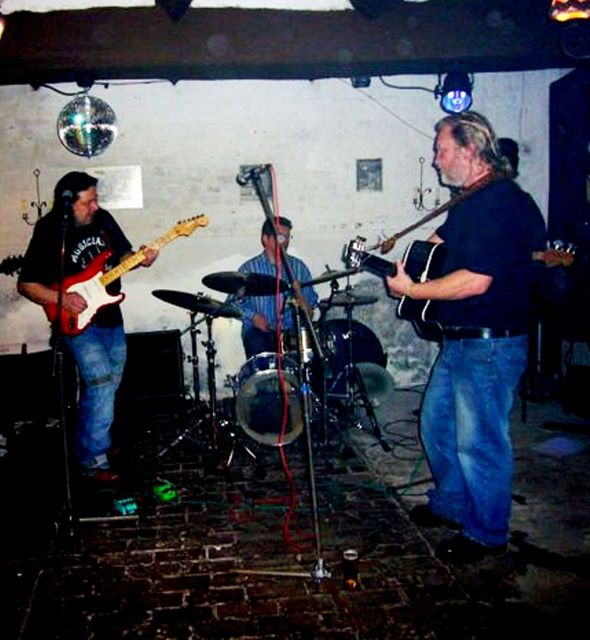 22-12-2011 om 22:24 geschreven door Wayn
0 1 2 3 4 5 - Gemiddelde waardering: 5/5 - (5 Stemmen)

26-08-2011

PIERRE-JOSEPH PROUDHON 1809-1865 -ANARCHIST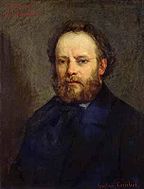 IF I WERE ASKED TO ANSWER THE FOLLOWING QUESTION: 'WHAT IS SLAVERY?' AND I SHOULD ANSWER IN ONE WORD, 'MURDER!' MY MEANING WOULD BE UNDERSTOOD AT ONCE. NO FURTHER ARGUMENT WOULD BE REQUIRED TO SHOW THAT THE POWER TO TAKE FROM A MAN HIS THOUGHT, HIS WILL, HIS PERSONALITY, IS A POWER OF LIFE AND DEATH, AND THAT TO ENSLAVE A MAN IS TO KILL HIM. WHY, THEN, TO THIS OTHER QUESTION: 'WHAT IS PROPERTY?' MAY I NOT LIKEWISE ANSWER 'THEFT'?

26-08-2011 om 22:57 geschreven door Wayn
0 1 2 3 4 5 - Gemiddelde waardering: 5/5 - (1 Stemmen)


23-08-2011

Jerry Leiber, Prolific Writer of 1950s Hits, Dies at 78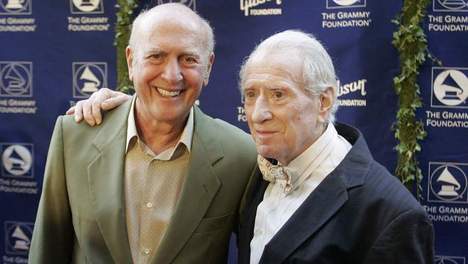 Mike Stoller and Jerry Leiber in 2008
By WILLIAM GRIMES
Published: August 22, 2011
Jerry Leiber, the lyricist who, with his partner, Mike Stoller, wrote some of the most enduring classics in the history of rock 'n' roll, including "Hound Dog," "Yakety Yak," "Stand By Me" and "On Broadway," died on Monday in Los Angeles. He was 78.
. The cause was cardio-pulmonary failure, said Randy Poe, president of Leiber & Stoller Music Publishing. The team of Leiber and Stoller was formed in 1950, when Mr. Leiber was still a student at Fairfax High in Los Angeles and Mr. Stoller, a fellow rhythm-and-blues fanatic, was a freshman at Los Angeles City College.
With Mr. Leiber contributing catchy, street-savvy lyrics and Mr. Stoller, a pianist, composing infectious, bluesy tunes, they set about writing songs with black singers and groups in mind. In 1952, they wrote "Hound Dog" for the blues singer Big Mama Thornton. The song became an enormous hit for Elvis Presley in 1956 and made Leiber and Stoller the hottest songwriting team in rock 'n' roll. They later wrote "Jailhouse Rock," "Loving You," "Don't," "Treat Me Nice," "King Creole" and other songs for Presley, despite their loathing for his interpretation of "Hound Dog." In the late 1950s, having relocated to New York and taken their place among the constellation of talents associated with the Brill Building, they emerged as perhaps the most potent songwriting team in the genre. Their hits for the Drifters remain some of the most admired songs in the rock 'n' roll canon, notably "On Broadway," written with Barry Mann and Cynthia Weil, and "Stand By Me" with Ben E. King. With Phil Spector, Mr. Leiber wrote the Drifters hit "Spanish Harlem." They wrote a series of hits for the Coasters, including "Charlie Brown," "Young Blood" with Doc Pomus, "Searchin'," "Poison Ivy" and "Yakety Yak." "Smokey Joe's Cafe," a 1954 hit written for the Robins, became the title of a Broadway musical based on the Leiber and Stoller songbook. In 1987, the partners were inducted into the Rock and Roll Hall of Fame.
from left Mike Stoller, Elvis and Jerry Leiber at MGM studios 1957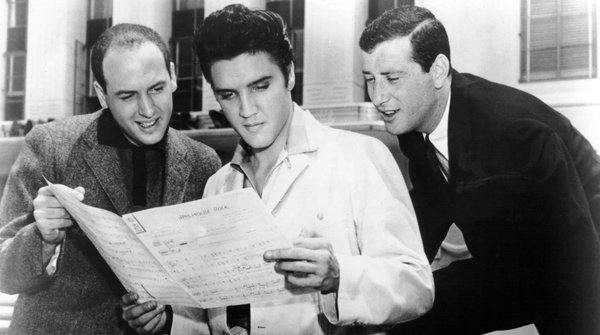 thanks, Wayn
23-08-2011 om 09:08 geschreven door Wayn
0 1 2 3 4 5 - Gemiddelde waardering: 1/5 - (1 Stemmen)


13-08-2011

BELOVED oil on canvas 2011/////
BELOVED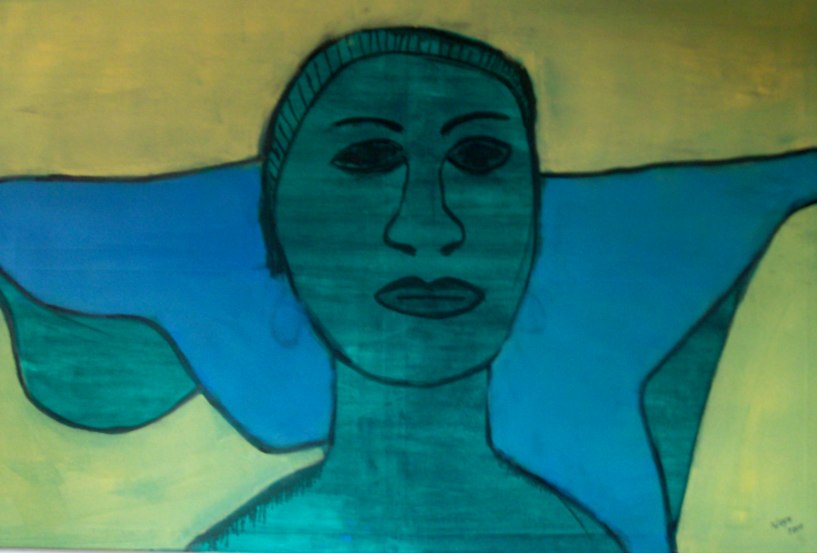 13-08-2011 om 23:30 geschreven door Wayn
0 1 2 3 4 5 - Gemiddelde waardering: 4/5 - (3 Stemmen)


UMBANDA - OIL ON CANVAS WAYN PIETERS V, RIJSSELT 2011, NETHERLANDS
UMBANDA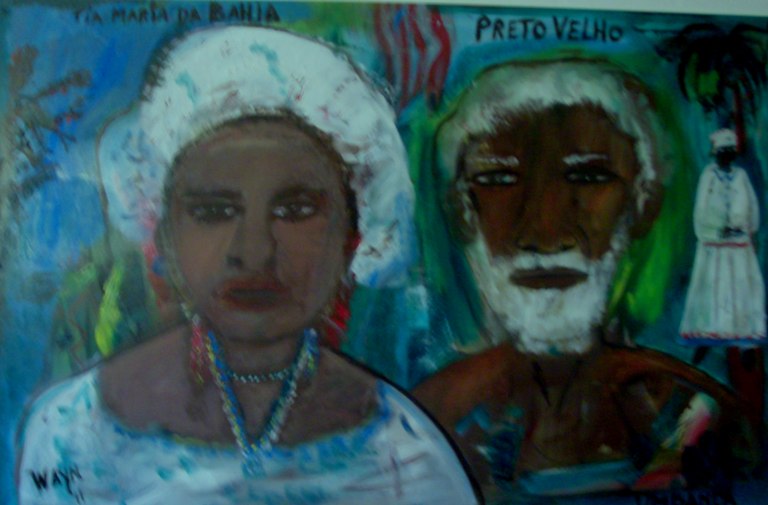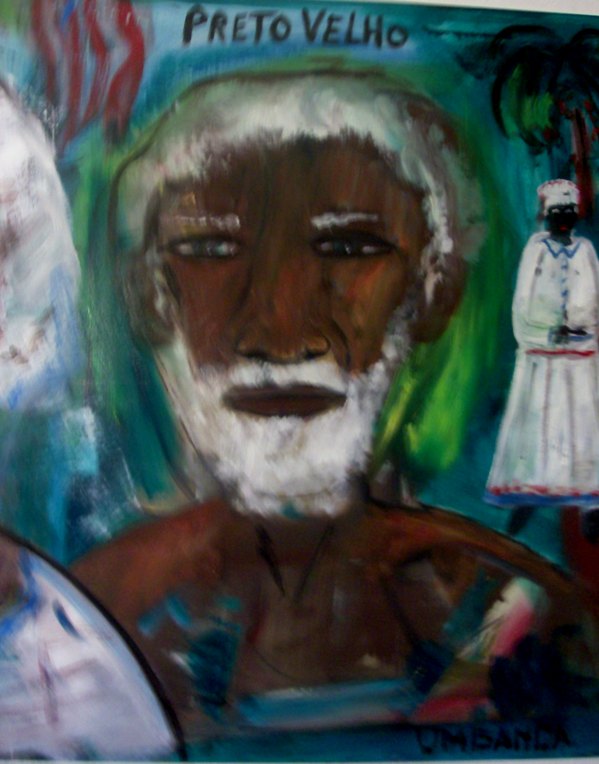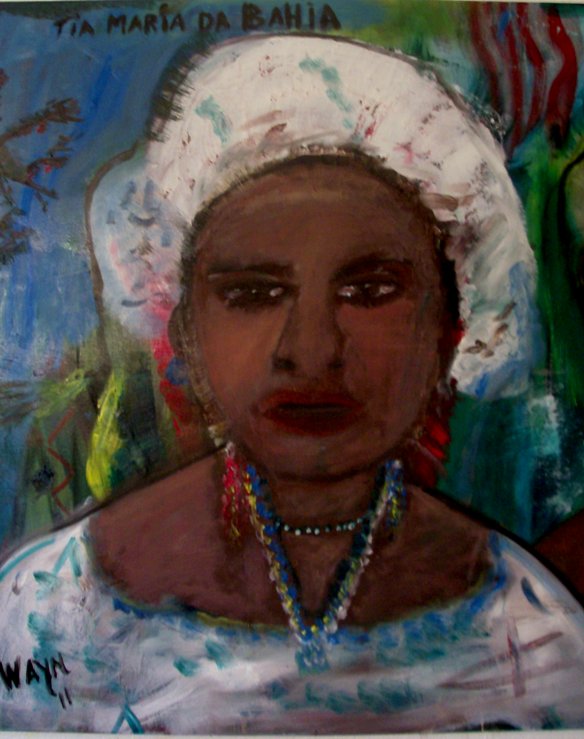 13-08-2011 om 23:24 geschreven door Wayn
0 1 2 3 4 5 - Gemiddelde waardering: 5/5 - (1 Stemmen)


Viking stone by Niteroi, RJ, Brasil - oil on wood Ramblin Wayn 2011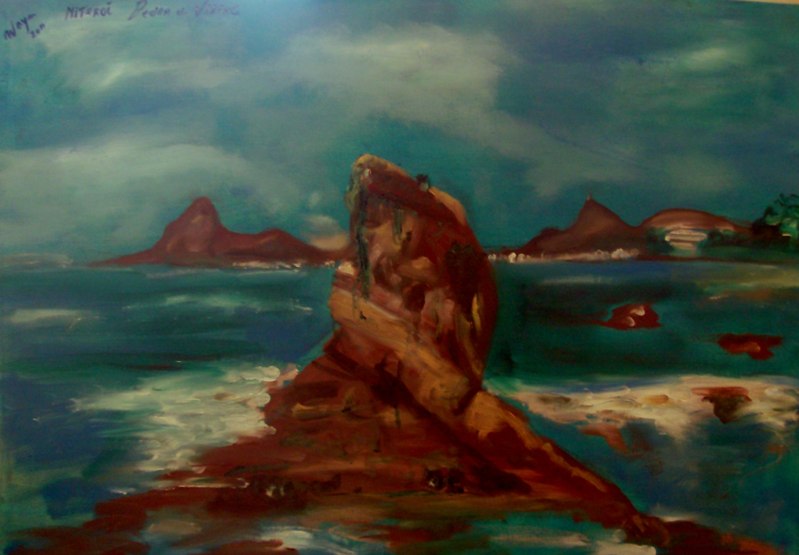 brasil project
13-08-2011 om 23:18 geschreven door Wayn
0 1 2 3 4 5 - Gemiddelde waardering: 4/5 - (4 Stemmen)


04-08-2011

Documentary Filmmaking in Rio de Janeiro Favelas
Documentary Filmmaking in Rio Favelas
By Sarah Bultema Freeman, Contributing Reporter
RIO DE JANEIRO, BRAZIL – With compelling stories unfolding against a stunning backdrop, Rio de Janeiro sets the perfect scene for many documentary filmmakers from around the world. Yet bringing a film to fruition here isn't easy, and filmmakers must patiently – and sometimes dangerously – integrate themselves into the culture before cracking the window into the world of their subjects.
Only through a steadfast commitment to the story are some foreign filmmakers able to showcase perspectives that would otherwise be unseen by the masses, and amplify the voices of those who live them everyday.
One such film is the 2009 documentary "Dancing with the Devil," which focuses on the drug wars unfolding in the Rio de Janeiro favela Coréia, as seen through the eyes of law enforcers, a pastor and the drug lords themselves.
For co-producer Tom Philips, the film was made possible through his relationship with Pastor Dione dos Santos, who worked closely with the favela's drug traffickers.
Even with one contact directly intertwined in the story, earning enough trust to film in these environments and interview the subjects came at a slow pass. "It took us several years to gain the trust of our characters and to convince them to open their lives to our cameras," Philips said.
Patricia Maresch of the Netherlands, who directed and produced "Cruzeiro," a 2008 documentary about growing up in a favela agrees: "It's not always easy to work here as a filmmaker … You can't just fly in, film for two months, [and] then go back home."
Maresch had to patiently win the faith of those involved in the film – not only from the main subjects, but from others in the community who saw the outsider with a camera. "People are afraid to be on camera," she said, noting that many Brazilians are leery of how filmmakers will portray them. "They think 'you'll just show what bad people we are.'"
Even once the hard-won trust and access are granted, the filmmakers have plenty of obstacles to overcome to complete the documentary, sometimes including Rio's notorious violence.
Maresch often had her filming put on hold during violent eruptions in the area. "There were weeks when we couldn't do anything because of the shooting," she said, noting that it was too dangerous for the film's subjects to go outside.
Philips and the "Dancing with the Devil" team found themselves thrust into violent situations, too. With cameras rolling, they endured a bloody shootout between the drug squads and drug lords that left others around them dead.
Yet through the hardships of creating real-life films in Rio de Janeiro, the finished work often offers more than simply entertainment. Manydocumentaries can bring about social awareness and change.
"If a solution is to be found, these stories need to be told, even if that makes some people uncomfortable," Philips said.
Filmmakers, like Marsech, are proud to share the lives of people who might not otherwise be noticed among the larger social issues. "We really tried to show what it was like (growing up in a favela)," she said. "It was their story to tell. I just helped them tell it."
"Cruzeiro" can be purchased at Amazon.com. For more information about "Dancing with the Devil," visit http://dancingwiththedevilthemovie.com.
thanks amigos, Wayn
04-08-2011 om 23:53 geschreven door Wayn
0 1 2 3 4 5 - Gemiddelde waardering: 5/5 - (3 Stemmen)


27-06-2011

ALEIJADINHO (THE LITTLE CRIPPLE) Collage/paper/painting/drawing RWayn 2011
Antônio Francisco Lisboa, Aleijadinho (the "little cripple"), was a Brazilian sculptor representative of the Brazilian Baroque. He was born in 1738 to a architect father, Manoel Francisco Lisboa, and his Brazilian slave, Isabel. He died in 1814, in his native state of Minas Gerais, Brazil, poor and unknown. His last outstanding work foremost , the life size rendering of 12 prophets standing on the stairway of Bom Jesus de Matosinhos Church, in the city of Congonhas do Campo, he made while suffering leprosy or syphilis, with his working tools tied to his hand and wrists.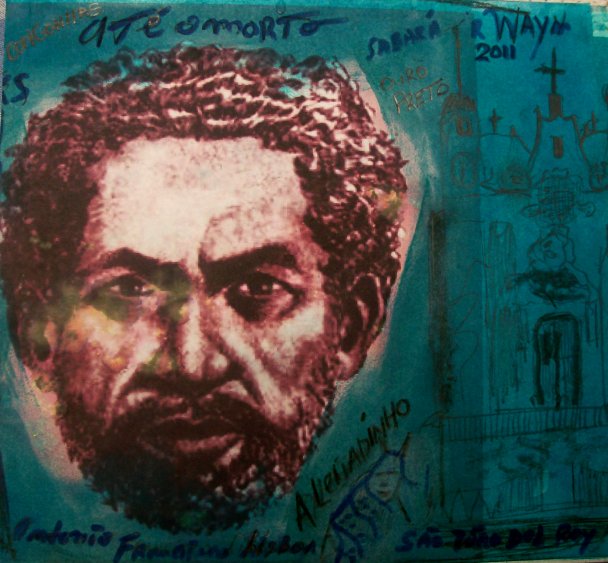 27-06-2011 om 22:39 geschreven door Wayn
0 1 2 3 4 5 - Gemiddelde waardering: 3/5 - (3 Stemmen)


19-06-2011

Saxophonist Clarence Clemons R.I.P
Clarence Clemons, Springsteen's Soulful Sideman, Dies at 69.

blow your horn way beyond, bro,

RW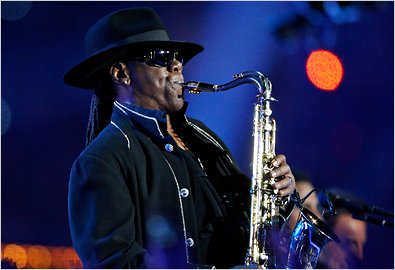 19-06-2011 om 00:00 geschreven door Wayn
0 1 2 3 4 5 - Gemiddelde waardering: 4/5 - (4 Stemmen)


07-06-2011

A DECENT STORY - THE WORLD TURNS CRAZY AGAIN - RAMBLIN WAYN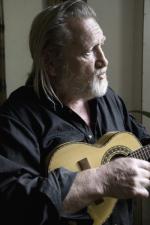 foto by Paul Rondagh
'....Sometimes I ponder and my thoughts reach the absurdities of life. The poverty, misery, the impotence of silence, the rejection of capitalism, the dirty talk of the multi-national. Children dying of hunger, insecurity, exploitation, and there are some people getting mad of grief. The're politicions whom talk is downright full of demoniacally, what makes the world sometimes completely unnatural and confused.
It's God his task? But the man upstairs looks down and let some suffer in violent disaster. Look at the movies, television, and all insanity. Madness my friends! and God is in a discussion with the devil. Who will save nature? Do we know after all why we are still here? All these facts made me composing some songs, these are my thoughts, that made me shudder now and then. Who am I?
Man of beast?
Lonesome?
Viking?
Alien?
But I also remember the good things, like pure love, my mother, and the time I was a friend of Mustangs and I rode beside Geronimo. And we are simply just not all a Shakespeare, not even a hillbilly.
Therefore I wrote this song to myself to convince me of the filth of our society. But thanks Lord there are good people.. with the heart in the middle.. So, when I feel the need, I drink to see all these pictures as an idiotic movie passing by... and than.... damned...
The World Turns Crazy Again... '
RW

THE WORLD TURNS CRAZY AGAIN:
07-06-2011 om 21:27 geschreven door Wayn
0 1 2 3 4 5 - Gemiddelde waardering: 5/5 - (2 Stemmen)


28-05-2011

two paintings by Pierre Pieters, Maastricht 1920 'JAR, CANDLES, APPLE AND ORANGE'
JAR, CANDLES, APPLE AND ORANGE
2010 ACRYLIC ON CANVAS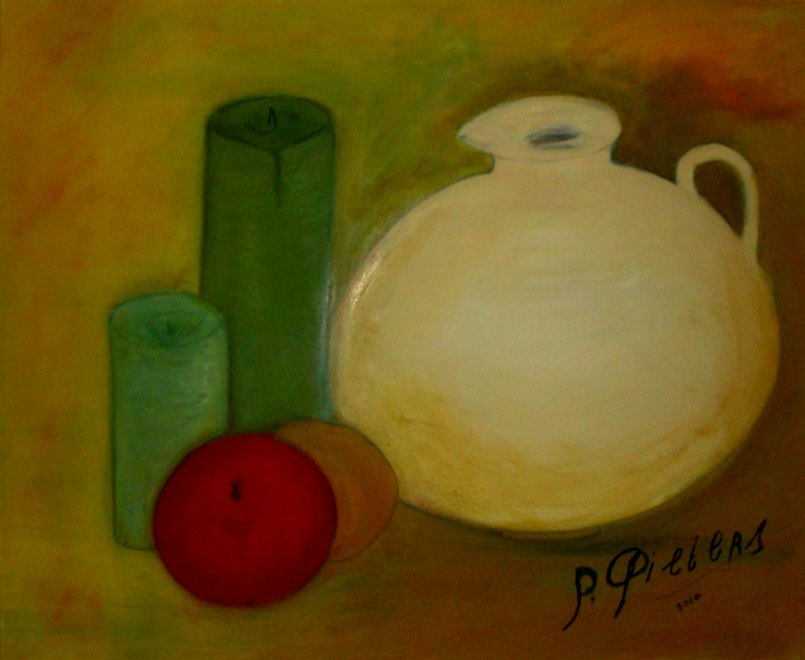 28-05-2011 om 00:00 geschreven door Wayn
0 1 2 3 4 5 - Gemiddelde waardering: 4/5 - (3 Stemmen)

19-05-2011

CABOCLO 'OXOSSY' ON HIS HORSE 'ESTRELA BRANCA' (WHITE STAR)
A GYPSIUM MADE IMAGE I OBTAINED IN THE CITY OF NITEROI, BRASIL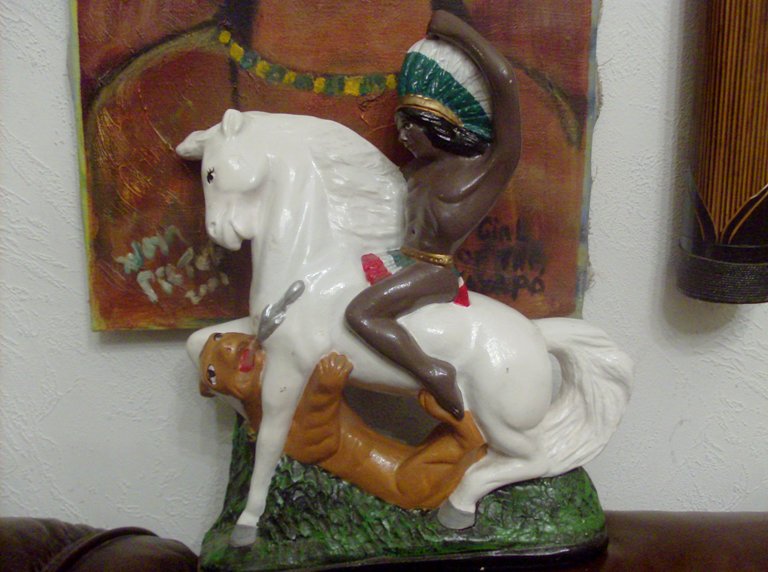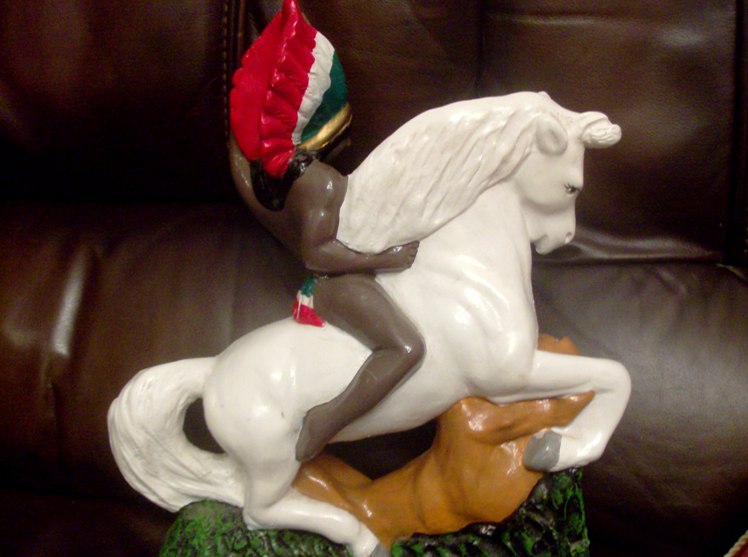 OXOSSY, GOD OF THE WOODS AND ANIMALS

THIS BRAZILIAN ART FORM WILL BE FIND AT THE ALTARS OF THE UMBANDA CULT,
WAYN
19-05-2011 om 00:00 geschreven door Wayn
0 1 2 3 4 5 - Gemiddelde waardering: 0/5 - (0 Stemmen)

26-04-2011

MORENA - RAMBLIN WAYN P - 2000 oil on canvas
MORENA
26-04-2011 om 00:00 geschreven door Wayn
0 1 2 3 4 5 - Gemiddelde waardering: 5/5 - (2 Stemmen)

25-04-2011

RAMBLIN WAYN & TAKAMINE BLACK - ITABORAI, BRASIL photo by JÂNIO METYKTIRE 2010
LISTEN TO: THE BLUES MAN
http://www.youtube.com/watch?v=xQ5iLGIX2lg&feature=channel_video_title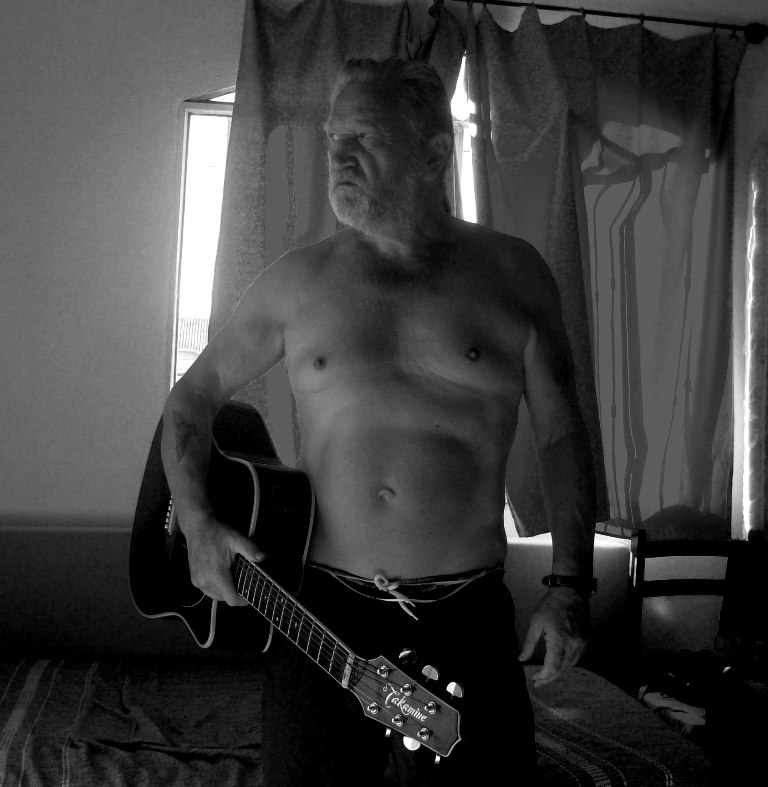 I WAS BORN WITH A SIX GUN IN MY HAND WITH A SIX GUN IN MY HAND I WILL DIE
SOMEWHER IN MEXICO OR NEAR THAT TEXAS BORDERLINE
I HAD MY DREAM I HAD MY SONG
I'VE KILLED SEVEN MEN BENEATH THE SUN

I AM NO DEVIL I AM NO GOD
I AM NO HEROE THANKS A LOT
I'M JUST A SONG - I AM JUST A GYPSY BOY RIDING ALONE
25-04-2011 om 13:18 geschreven door Wayn
0 1 2 3 4 5 - Gemiddelde waardering: 5/5 - (8 Stemmen)

19-04-2011

DANÇA - 1998 BRAZIL - RAMBLIN' WAYN oil on board
DANÇA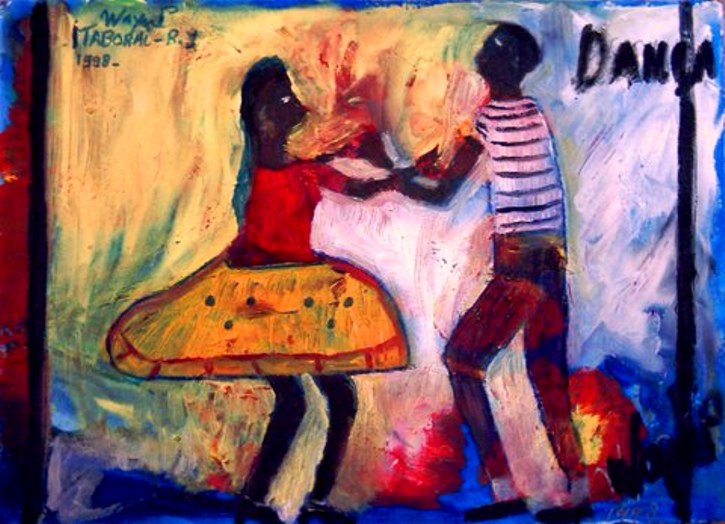 19-04-2011 om 20:20 geschreven door Wayn
0 1 2 3 4 5 - Gemiddelde waardering: 5/5 - (3 Stemmen)

17-04-2011

SINGING WOMAN - Antonius Pieters (1948), Maastricht, Netherlands, oil on paper 2006 Rio, Brazil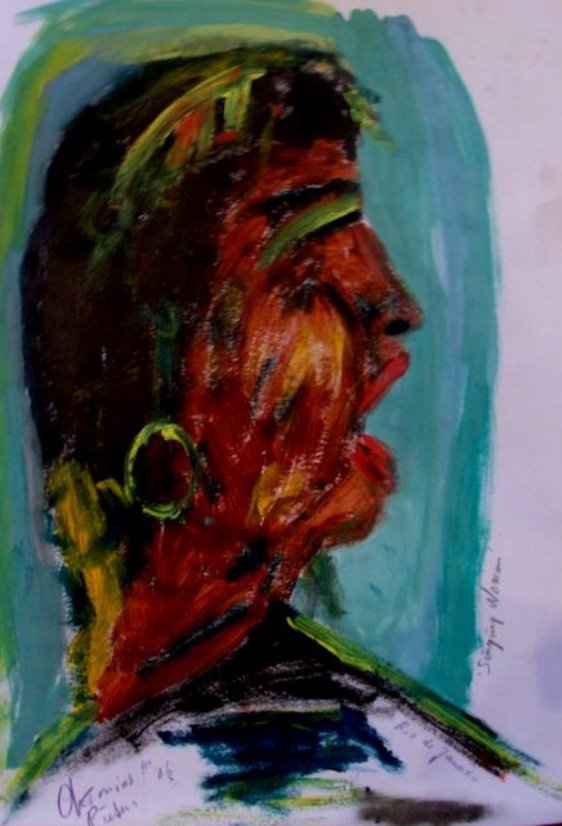 Wayn
17-04-2011 om 15:01 geschreven door Wayn
0 1 2 3 4 5 - Gemiddelde waardering: 3/5 - (2 Stemmen)

13-04-2011

BRONZE SCULPTURES BY HAN VAN WETERING 1948, MAASTRICHT, NETHERLANDS part 2
Die Tat ist alles, nicht der Ruhm ... Goethe
(The act is all, the reputatation nothing)

thanks amigo, for visiting your bronze paradise, Ramblin Wayn


My favorite work 'The Cowboy Cactus' - ---- Wayn's interpretation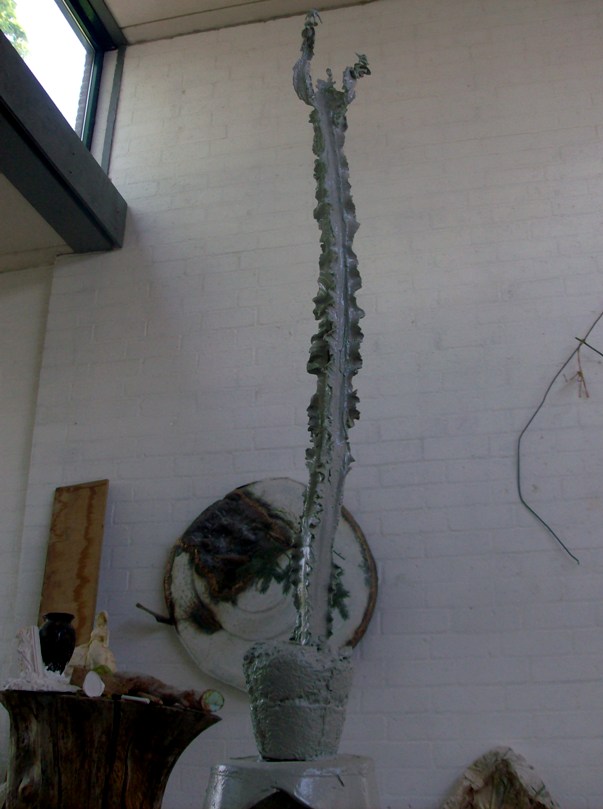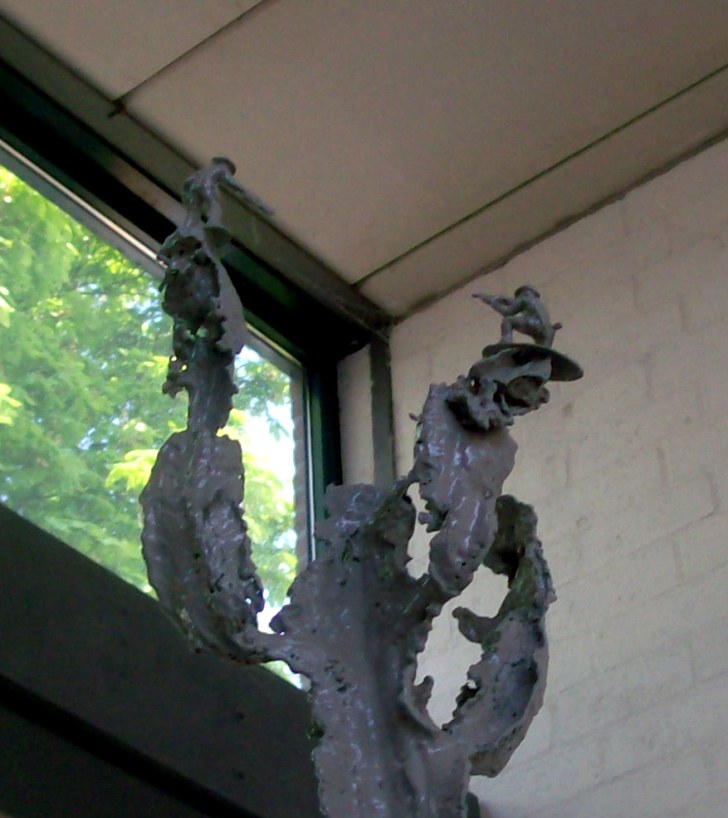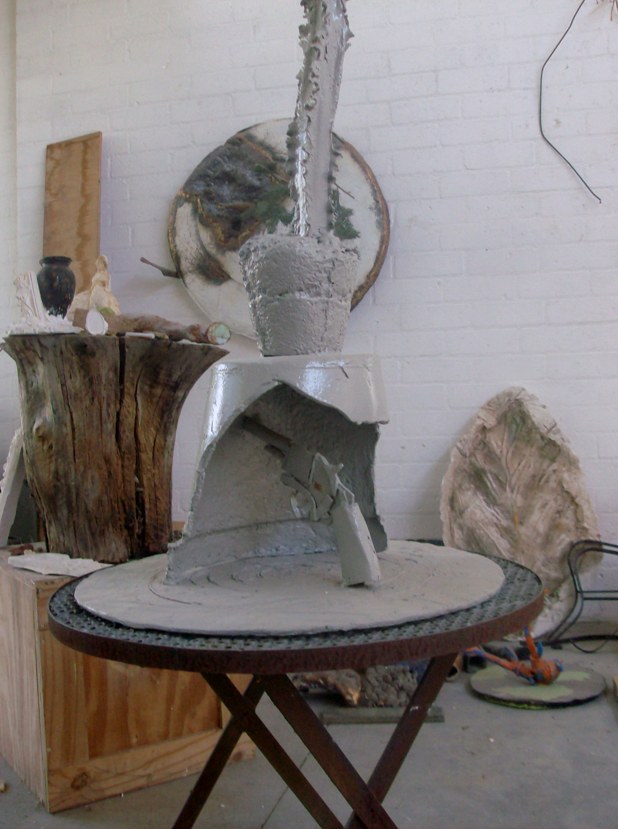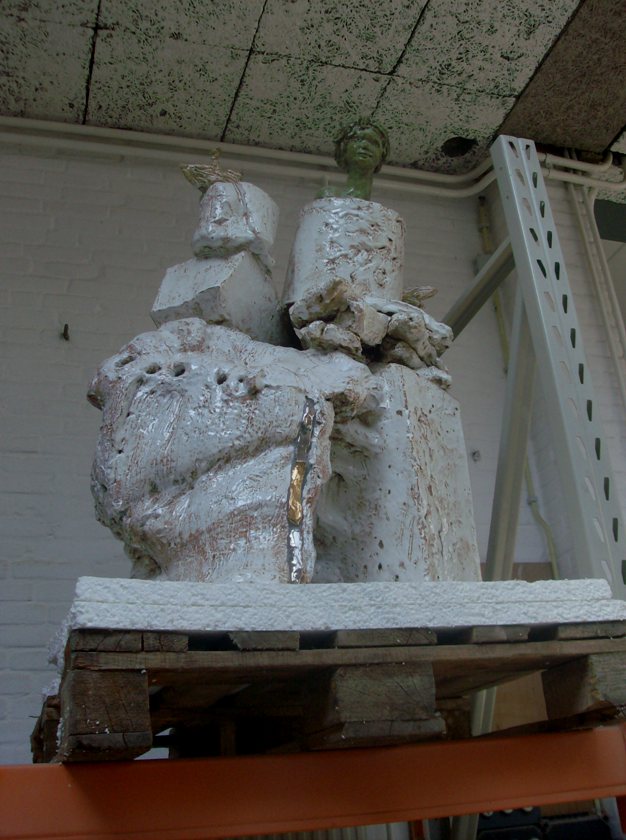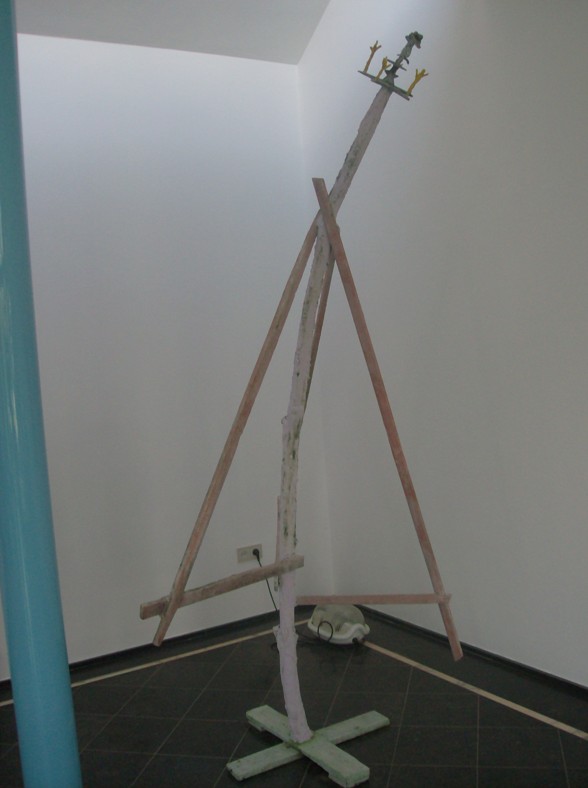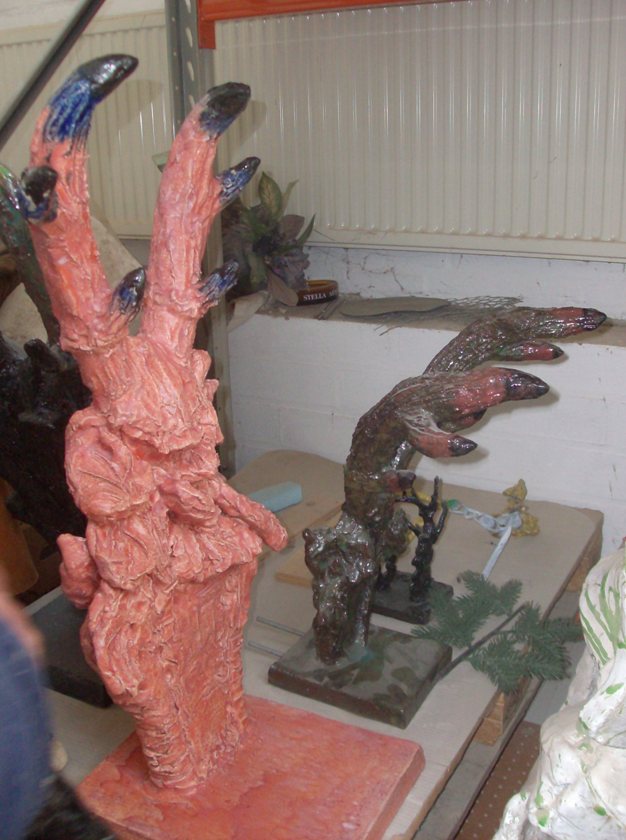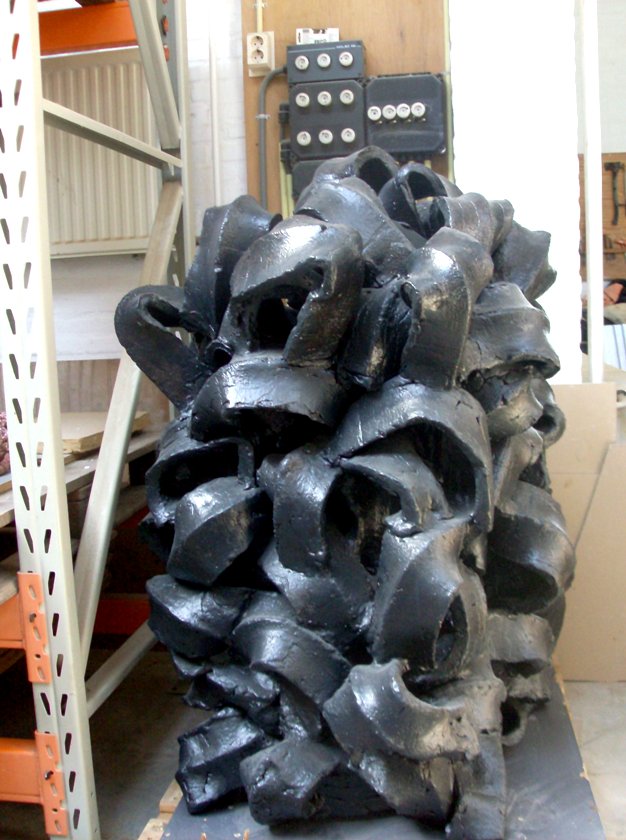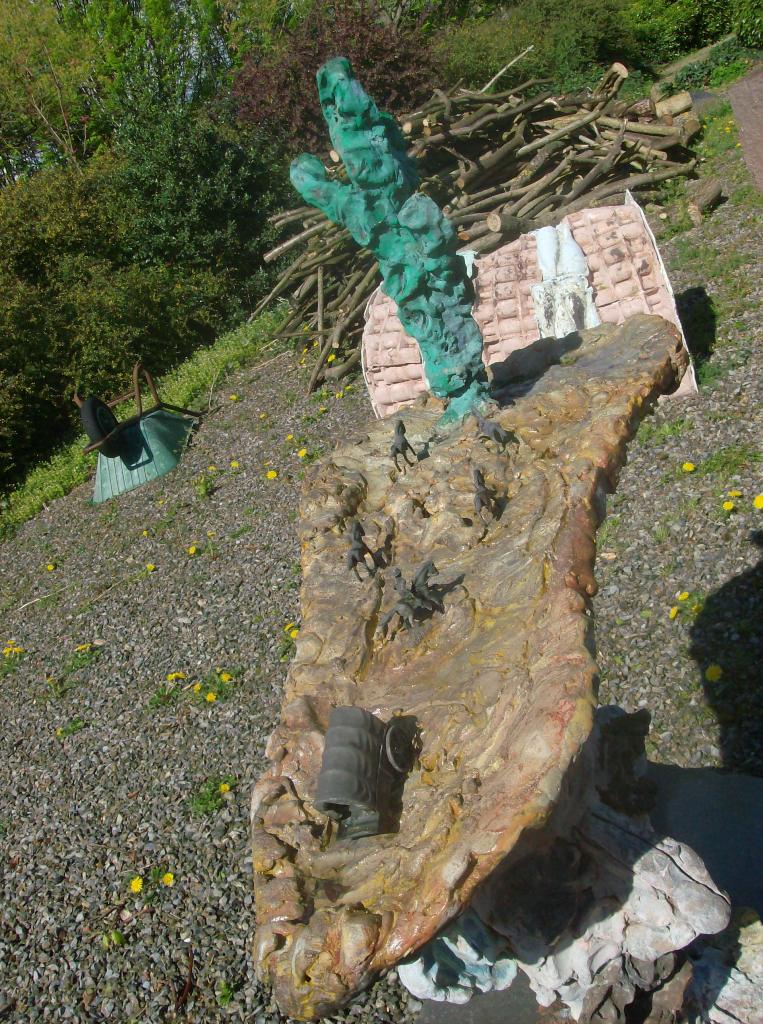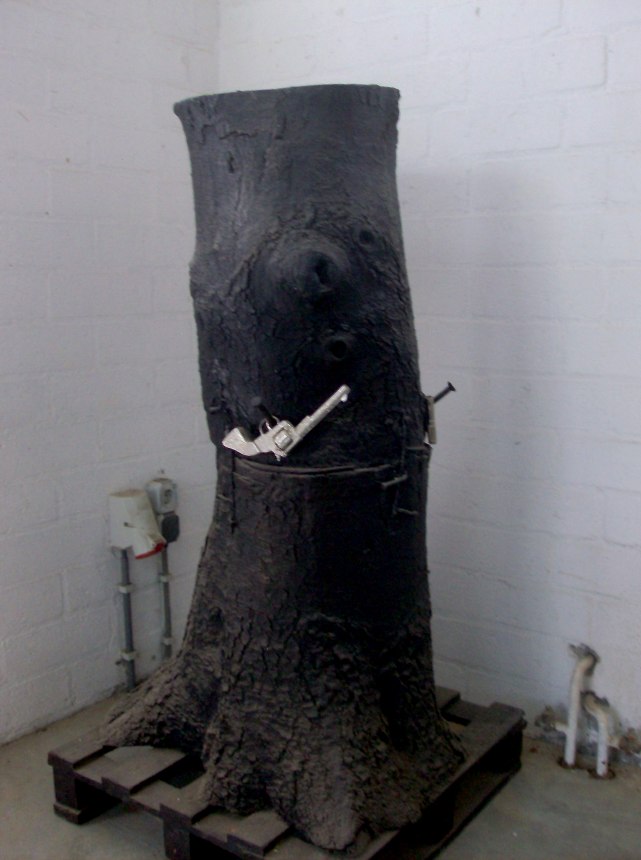 13-04-2011 om 10:32 geschreven door Wayn
0 1 2 3 4 5 - Gemiddelde waardering: 0/5 - (0 Stemmen)


12-04-2011

SCULPTURES FROM HAN VAN WETERING 1948, MAASTRICHT, NETHERLANDS PART 1
'... Han is a artist straight from the heart, his sculptures are images that do not tolerate opposition. His work is full of colors which he sets out... the indian, musicians... characters with penetrating impulsive expressions... Would man understands him?...'
Wayn Pieters

Round Han's neck hangs a wreath, a bronze cast of pre-historical lower teeth found during excavations on the main square of the old city of Maastricht, Netherlands





most of his work is made of bronze























Thanks Han,
Ramblin Wayn

Photos by Wayn
12-04-2011 om 00:00 geschreven door Wayn
0 1 2 3 4 5 - Gemiddelde waardering: 2/5 - (3 Stemmen)


04-04-2011

THE STEVIE RAY VAUGHAN CUSTOM MADE FENDER STRATO painted by PIERRE PIETERS 1920 OIL ON CANVAS - YEAR 1992
THIS PAINTING OF THE SRV FENDER STRATO WAS MADE TO SCALE BY PIERRE PIETERS (BORN 1920 IN MAASTRICHT, NL)
OIL ON CANVAS - YEAR 1992 - courtesy of JP stingray











MR. PIETERS PAINTING IN THE RETIREMENT (NURSING) HOME IN MAESTRICHT, NETHERLANDS 2011

wayn
04-04-2011 om 21:26 geschreven door Wayn
0 1 2 3 4 5 - Gemiddelde waardering: 4/5 - (6 Stemmen)


26-03-2011

One of the finest songwriters BOBBY BRADDOCK - HE STOPPED LOVING HER TODAY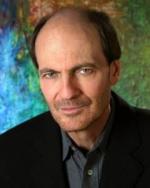 (CLIP) HE STOPPED LOVING HER TODAY : http://mykindofcountry.wordpress.com/tag/bobby-braddock/

(When asked about writing from personal experience)


"That's really an easy way to write a song. The subject matter's right before you. All you have to do is give it meter and rhyme."



"I think there's something inside you that just says 'You gotta write a song. Whether you want to or not.' I think most of the time, I start writing with a feel. As for inspiration, well, personal feelings about members of the opposite sex, I think, inspire most of the songs I write."



Favorite recordings of songs he wrote: "He Stopped Loving Her Today," George Jones 1980, "Womanhood," Tammy Wynette 1978, "Nashville Tears," John Anderson 1993

LISTEN TO A RAMBLIN' WAYN INTERPRETATION OF THE BOBBY BRADDOCK SONG 'REVELATION': http://www.youtube.com/watch?v=n5dYYYW6JwM&feature=channel_video_title
26-03-2011 om 00:00 geschreven door Wayn
0 1 2 3 4 5 - Gemiddelde waardering: 5/5 - (2 Stemmen)



| | |
| --- | --- |
| | |

sending E-mail


press button beneath


Inhoud blog


| | |
| --- | --- |
| | paintings ///// silent slideshow |
| | xavante boy ////schildery |
| | peace in the valley rec. live in Brazil 2017 |
| | Cowboy Jack Clement - A Girl I Used To Know |
| | 'Vaya Con Dios' Paintings by Ramblin Wayn |
| | Willie Nelson - Me and You |
| | Howl of The Wolf |
| | 'T IS DUUSTER ES UNNE KERKER DAO DEEP IN DIE MIJN - Ramblin Wayn (southerndutchdialect) |
| | I'VE ALWAYS BEEN CRAZY a waylon jennings song by Ramblin Wayn |
| | TATTOO'D LADY BY JP STINGRAY |
| | I Love Horses ( Te Amo Cavalos) short vid. impression brazil |
| | Doc Watson gig - the best there is (1981) |
| | BLUE SUEDE SHOES COUNTRY BOYS original |
| | WHEN THE WORD WAS THUNDERBIRD by Ramblin Wayn |
| | art or history? images found in southern Brazil 1973 by a dutch priest |
| | Ted Daffan & His Texans Chuck Keeshan & Leon Seago No Letter Today Okeh 6706, 1942 |
| | RAMONA by Ramblin Wayn |
| | caboclo of the 7 crossroads /painting expl. by ramblin wayn /music by amazone indians |
| | ramblin wayn paintings |
| | Folsom Prison Blues & Big River /Ramblin Wayn live in Maastricht, NL |
| | mr. pierre pieters (maastricht, nl 1920-2013) schilderijen |
| | RAMBLIN WAYN -- ART |
| | once upun a time in the west / great shot |
| | SLOW ROLLIN' LOW (Billy Joe Shaver) cover sung by Ramblin Wayn |
| | I Love Horses ( Te Amo Cavalos) short vid. impression brazil |
| | nashville cried the day hank williams died |
| | brazilian cantinho gig / singer/songwriter ramblin wayn and amigos / live 2015 |
| | SUNDAY MORNING COMIN' DOWN cover |
| | TRAIN |
| | THEY SAY IN TEXAS THERE ARE HORSES WHO CAN FLY |
| | SONG |
| | OUT OF MY PEN - TWO ORIG. SONGS BY RAMBLIN WAYN |
| | carmelita warren zevon cover jp stingray |
| | remember ROY |
| | ramblin wayn in brazil 2014 'the house of the rising sun' |
| | ramblin wayn sings a billy joe shaver song |
| | DEVILS RIGHT HAND - A STEVE EARL COVER BY RAMBLIN WAYN |
| | THE MYSTERIOUS OUTLAW RAMBLIN WAYN ORIGINAL CLIP |
| | woman in hilly landscape - ramblin wayn painting |
| | PIERRE - OIL ON CANVAS BY RAMBLIN WAYN 2013 |
| | GEORGE JONES DIES AT 81 |
| | RAMBLIN WAYN/ 4 ORIGINALS |
| | RWayn Paintings 'Hot january Sun' & 'Rio 1477' |
| | GOIN' DOWN ROCKIN - TONY J WHITE - RAMBLIN WAYN |
| | Willie's guitar Trigger |
| | TIM MAIA - BRAZIL ROCKER |
| | RWayn Paintings - Austin Rio, Johnny Cash, David Allen Coe, oil on wood 2012 |
| | WILLIE NELSON & WAYLON JENNINGS - oil on wood 2002 by RAMBLIN WAYN |
| | Shaver and His Maker: From Hell-bound Honky Tonk Hero to Holy Roller The Turnstyled Junkpiled Interview by Terry Roland, Staff Writer |
| | KITTY WELLS DIED |
| | FOLKMAN DOC WATSON DIED R.I.P |
| | DEDICATION TO THE APACHE INDIANS - RAMBLIN WAYN slide |
| | TRAIN - RAMBLIN WAYN & JP STINGRAY |
| | 'JAZZ MAN' TOOTS THIELEMANS MAKES 90 |
| | RAMBLIN WAYN PAINTING 'LEISURLY WAITING' oil on canvas 2012 Netherlands |
| | UFOS GETTIN' NEARER - OIL ON CNAVAS 15/15cm - RAMBLIN WAYN alias CISCO Van AUSTIN, nl |
| | EARL SCRUGGS, BLUEGRASS PIONEER DIED AT 88 |
| | RAMBLIN WAYN PAINTINGS / JP STINGRAY/GUARANI/VIEW THROUGH THE EYES OF OSCAR NIEMEYER/POMBA GIRA/ DESTRUCTION OF AMAZONAS-XINGU |
| | BUDDY HOLLY - LET'S REMEMBER |
| | JP STINGRAY GUITAR SHOP HEERLEN, NETHERLANDS |
| | ALAN LOMAX -recording man |
| | EDDY COCHRAN - SUMMERTIME BLUES |
| | 447 Years RIO? WATERCOLORS BY EDUART HILDERBRANDT 1844 AND AUGUSTO EARL 1822 |
| | O MEU DEUS! CARN ART |
| | 'GYPSY' COLLAGE BY RAMBLIN WAYN 2012 |
| | SATAN IS REAL The Ballad of the Louvin Brothers By Charlie Louvin with Benjamin Whitmer |
| | MASOESA - oil on paper -ramblin Wayn 2010 |
| | DOC WATSON - born Arthel L. Watson in Deep Gap, NC on March 3, 1923 |
| | ALAN LOMAX SELECTIONS INCLUDED ON A NEW ALBUM |
| | Mary Jose Cristerna, Mexico, 'The Vampire Woman'. photo by AFP / Leo Ramirez |
| | pictures of brazil Bertoncini, Karina – photographer 2009 |
| | GLENN CAMPBELLS'S LAST SHOW |
| | PAINTINGS BY RAMBLIN WAYN ) SPACE LOVE / SPIDER WORLD oil on paper |
| | RAMBLIN WAYN IN A LOCAL BAR IN ITABORAI, BRAZIL- KISS ME QUICK |
| | TRAIN A RAMBLIN WAYN SONG |
| | RAMBLIN WAYN & JP STINGRAY - UP THE ROAD |
| | PIERRE-JOSEPH PROUDHON 1809-1865 -ANARCHIST |
| | Jerry Leiber, Prolific Writer of 1950s Hits, Dies at 78 |
| | BELOVED oil on canvas 2011///// |
| | UMBANDA - OIL ON CANVAS WAYN PIETERS V, RIJSSELT 2011, NETHERLANDS |
| | Viking stone by Niteroi, RJ, Brasil - oil on wood Ramblin Wayn 2011 |
| | Documentary Filmmaking in Rio de Janeiro Favelas |
| | ALEIJADINHO (THE LITTLE CRIPPLE) Collage/paper/painting/drawing RWayn 2011 |
| | Saxophonist Clarence Clemons R.I.P |
| | A DECENT STORY - THE WORLD TURNS CRAZY AGAIN - RAMBLIN WAYN |
| | two paintings by Pierre Pieters, Maastricht 1920 'JAR, CANDLES, APPLE AND ORANGE' |
| | CABOCLO 'OXOSSY' ON HIS HORSE 'ESTRELA BRANCA' (WHITE STAR) |
| | MORENA - RAMBLIN WAYN P - 2000 oil on canvas |
| | RAMBLIN WAYN & TAKAMINE BLACK - ITABORAI, BRASIL photo by JÂNIO METYKTIRE 2010 |
| | DANÇA - 1998 BRAZIL - RAMBLIN' WAYN oil on board |
| | SINGING WOMAN - Antonius Pieters (1948), Maastricht, Netherlands, oil on paper 2006 Rio, Brazil |
| | BRONZE SCULPTURES BY HAN VAN WETERING 1948, MAASTRICHT, NETHERLANDS part 2 |
| | SCULPTURES FROM HAN VAN WETERING 1948, MAASTRICHT, NETHERLANDS PART 1 |
| | THE STEVIE RAY VAUGHAN CUSTOM MADE FENDER STRATO painted by PIERRE PIETERS 1920 OIL ON CANVAS - YEAR 1992 |
| | One of the finest songwriters BOBBY BRADDOCK - HE STOPPED LOVING HER TODAY |
| | PAINTINGS RAMBLIN' WAYN 'SOMEWHERE IN BAHIA' OIL ON WOOD 2003 & MACUMBA ANGEL oil on canvas 2011 |
| | BILL YOU SHAVER 'GEORGIA ON A FAST TRAIN' LIVE IN LUCKENBACH, TEXAS |
| | SURUI WOMAN - Ramblin Wayn - oil on canvas 2011 |
| | MARIA BETHANIA - A BRAZILIAN BAHIA BEAUTY SINGS 'NEGUE' |
| | Ramblin Wayn paintings 'Vida Umbanda' 2010 |
| | Discoloration paintings Van Gogh explained |
| | EDUARDO MALTA -PORTUGUESE PAINTER 'INÊS, BRAZILIAN MULATTA GIRL' |
| | NATURAL ART - XAVANTE GIRL WITH BABY |
| | WITH THE AFTER-TASTE OF WHISKEY - Column by Ramblin Wayn |
| | THIBAÚ - WOODCARVING ART - BELO HORIZONTE, BRAZIL 2010 |
| | WORK OF PAUL RONDAGS, MAASTRICHT, NETHERLANDS |
| | 4 - RAMBLIN WAYN MUSICAL CHARCOAL DRAWINGS - brasil 2010 |
| | 6 - CHARCOAL DRAWNINGS-RAMBLIN WAYN - ITABORAI, BRASIL 2010 |
| | the duTch arrive in VITORIA, BRASIL to SLAUGHTER the jesuit priest -WAYN CHARCOAL 2007 |
| | PARADISE - oil on wood, Brazil, 2010 - ramblin wayn |
| | Brazilian cow-girl Andressa Ribeiro - photo by unknown artist, anyway.... |
| | DAVID A COE SING 'RIVER' AT THE TENN. STATE PRISON |
| | CLIP ' I FEEL SORRY FOR THE FOLKS DOWN THE ROAD' RW |
| | LEZAR MONGHE, PAINTER FROM THE STATE OF MINAS GERAIS, BRAZIL - SHOWS HIS ART ALONG THE ICARAI BEACH IN NITEROI, RJ OCT. 2010 |
| | paintings Ramblin' Wayn- Brasil 2010 |
| | AMAZONIA (THE RIVER OF BLOOD) OIL ON CANVAS RAMBLIN WAYN 2010, MAASTRICHT, NETHERLANDS |
| | WAYN PIETERS- V. RIJSSELT (1948) MAASTICHT, NETHERLANDS // MAI - EVERYTHING, EVERYWHERE (Thin oil and pencil on paper) 2010 ---SELF PORTRAIT (OIL ON BOARD) 2000 |
| | DOC WATSON IN NASHVILLE - FRONT/BACK from his album (VANGUARD RECORDINGS 1968)/photos JOEL BRODSKY |
| | THE KILLER ROCKS ON |
| | ASA BRANCA (WHITE WING) two vids: LUIZ GONZAGA - RAMBLIN' WAYN |
| | MARIA ORTIZ- RAMBLIN' WAYN OIL ON BOARD (BRAZIL 20..?) |
| | PENTHOUSE MODEL WITH HENNEP &THE SHOWERING PLAYMATE by Toine van Megen |
| | TOINE Van MEGEN (1960) Eygelshoven, Netherlands - PLAYBOY PLAYMATES (oil on canvas) |
| | 3 'MARYLINS' BY TOINE van MEGEN, (1960) EYGELSHOVEN, NETHERLANDS: |
| | STEVIE RAY VAUGHAN - died 20 years ago |
| | I HATE THE MAN (VIDEO CLIP) RAMBLIN' WAYN |
| | JOHN LEE HOOKER - PAINTING BY MICHAEL FACEY (OIL ON WATERCOLOR PAPER) |
| | FRIDA KAHLO PAINTINGS |
| | FRIDA KAHLO (July 6, 1907 - July 13, 1954, Mexico) |
| | KISAKA- PAWNEE SONG - CLARIFICATION |
| | B&W RAMBLIN' WAYN FOTO SESSION by PAUL RONDAGH (MAASTRICHT, NETHERLANDS) SOMWHERE IN JUNE 2010 |
| | JP STINGRAY BLUES/ROCKER |
| | SURREAL PAINTINGS VOL. 3; MICHAEL RYAN, MADALEINE VON FOERSTER, KARL PERSSON |
| | 'SALVADOR, BAHIA' OIL ON BLADE 1999 RAMBLIN' WAYN |
| | BRAZILIAN PAINTINGS |
| | TWO PROSTITUTES ===== OIL ON CANVAS RAMBLIN W |
| | JULIA GNUSE -- TATTOO-ART |
| | E3 PAINTINGS BY EMILE NOLDE 1867-1956 GERMANY========= |
| | Dennis Hopper, 74, Hollywood Rebel, Dies |
| | THE MESSENGER --- RAMBLIN' WAYN oil on canvas 2002 |
| | ALEIJADINHO 'The LIttle Cripple' BRAZILAIN BAROQUE ARTIST -- plus short story by WAYN |
| | RAMBLIN' WAYN IN BRAZIL |
| | THE DEATH OF A BLUES SINGER IN SÂO PAULO- SHORT STORY BY RAMBLIN' WAYN part2 & end |
| | THE DEATH OF A BLUES SINGER IN SÂO PAULO - SHORT BRAZILIAN STORY BY RAMBLIN' WAYN part1 |
| | THE CIRCUS OF THE CAFUZ -SHORT BRAZILIAN STORY TOLD BY WAYN (part 2 -- end) |
| | THE CIRCUS OF THE CAFUZ -SHORT STORY TOLD BY WAYN (part 1) |
| | 'BAIANA' IVAN DE MORAES, BRAZIL OIL ON CANVAS 1973 |
| | L.P COVER OF 'GIPSY BOY' BILLY JOE SHAVER 1977 (Project 'Enduring' covers) |
| | FOTO SESSION RAMBLIN' WAYN by FRED EGGEN 2004 |
| | ART IN BELO HORIZONTE, BRAZIL NOV. 2009 |
| | ALONG THE JAPURI RIVER - OIL ON WOOD RAMBLIN' WAYN 1999 |
| | JOHNNY CASH (tHE GREATEST rOCK N' rOLL PHOTO EVER TAKEN) BY JIM MARSHALL |
| | DRAWINGS BY PAUL RUMSEY |
| | WOODY GUTHRIE (1912-1967) - THIS LAND IS MADE FOR YOU AND ME |
| | RAMBLIN' WAYN POSTER 1981 |
| | PAINTINGS RAMBLIN WAYN GIRL WITH EXOTIC BIRD + MUSIC MAN |
| | BLUE BUTTERFLY (BLAUWE VLINDER) PIERRE PIETERS, NETHERLANDS |
| | RAMBLIN' WAYN HIS TATTOO GUITAR |
| | WAYN ART -JACK DANIELS IF YOU PLEASE & WHORE LOVES WHITE HORSE |
| | Images of The bleugrass songbook by Dennis Cyporyn 1976 |
| | O BANDEIRANTE and METAMORFOSE a poem for children by Cassiano Ricardo |
| | PARAGUAÇU - WAYN Pieters, Brasil 2009 (oil on board) - Poem by Raquel Naveira |
| | NÁ, THE MYSTERIOUS INDIAN WOMAN - a short story AS TOLD by Wayn Pieters -END |
| | NÁ, THE MYSTERIOUS INDIAN WOMAN - a short story AS TOLD by Wayn Pieters PART 1 OF 2 |
| | paintings ANTONIO PARREIRAS MUSEUM PART 2 -potret and naked woman |
| | VISIT AT THE 'ANTONIO PARREIRAS' MUSEA, NITEROI, RJ BRAZIL 22 SEPT. 2009 PART1 |
| | ANTONIO PARREIRAS - BRAZILIAN PAINTER part 3 'His Atelier' (Studio) 22 september 2009 |
| | TRAVIS LOUIE -UNTITLED [; N.Y |
| | SCOTT G BROOKS - SURREAL PAINTINGS |
| | GRAFFITI IN ITABORAI, RJ, BRASIL |
| | COCA-WHORE -- nut &can [[[ WAYN - belo horizonte, Brasil |
| | I MUST BE CRUEL ONLY TO BE KIND - RAMBLIN' WAYN |
| | ANTONIO PARREIRAS - BRAZILIAN PAINTER |
| | PAUL GAUGUIN 1848-1903 |
| | RAMBLIN' BABY |
| | BRAZILIAN WOMEN - charcoal on paper WAYN 2009 |
| | DOC WATSON |
| | ROBERT CRAIG sur-real |
| | HELL, FREEDOM AND LIFE |
| | 60 JOSEFINA--- RAMBLIN' WAYN OIL ON CANVAS |
| | CHRIT JAMIN, MAASTRICHT, NETHERLANDS OIL PAINTINGS & GOUACHES |
| | INDIAN NECKLACE NORTHEAST BRAZIL & CARVING OUT OF JACARANDA WOOD BRAZIL |
| | PORQUE, MEU AMOR? (why, MY love?) 2004 Wayn oil on board |
| | SURUI GIRL oil on wood 60+60 WAYN 2009 |
| | I RECALL A GIPSY WOMAN & IANSÁ RAMBLIN' WAYN PAINTINGS |
| | TARSILA DO AMARAL BRAZIL MODERNISM - PAINTINGS |
| | CARIOCA NA CAMA -OIL ON CANVAS 70/50 CM 2000 WAYN |
| | DETAIL FROM 'PAPAGAIO' OIL ON CANVAS WAYN P 2006 |
| | WINDMOLEN (WINDMILL) OIL ON BOARD 1934 - PIERRE PIETERS (1920) MAASTRICHT, NETHERLANDS |
| | BRAZILIAN ART IN 3 DIRECTIONS |
| | BLUESMAN |
| | STORY OF THE TWO BROTHERS - TOLD BY NAVAJOS OF NEW MEXICO AND ARIZONA |
| | JOS KREBBEKS 'Ramblin' Wayn' 1983 |
| | OCTAVIO OCAMPO ++++ SURREAL-PAINTINGS |
| | CHEYENNE LIFE IN THE OLD TIME as told by CHIEF HIAMOVI (HIGH CHIEF) |
| | 'CIGARA BETWEEN ITAIPÚ BONES' - COMPILATION oil on tile/bones/insect Ramblin' Wayn 2009 |
| | The story of the first mother -- Wabanakis ( Children of the dawn-country) tribe |
| | IS EVERY HUMAN'S LIFE WRITTEN BY GOD'S FINGERS? |
| | NASHVILLE - DARK END OF THE STREET 1979 |
| | HONKY-TONK HEROES photographs by Raeanna Rubinstein 1975 |