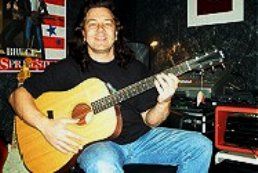 AND THE BLUES TELLS THE TRUTH

JP Stingray began playing the guitar at age 13, inspired by his older brother Ramblin' Wayn, who is also a country/rock recording artist in Holland. Soon, JP discovered the music of his first guitar hero Rory Gallagher, who would become a great influence upon him. Later, he would hear the music of the great Stevie Ray Vaughan, who would ultimately become his greatest influence. Because of Stevie Ray's music, JP would develop a great love for the Texas blues/rock style which remains with him until this day.
After stints with several blues and rock bands, JP would form the band Crossroad, who played covers from ZZ Top, Stevie Ray, Rory, Gary Moore and others. The band would become a very popular band in and around JP's home area.



In 1996, JP recorded his first solo blues CD "Blues Stringer", which contained 15 songs ranging from up tempo Texas shuffles to slow blues ballads. This CD showcased not only JP's diverse lead and bass guitar skills but also his very fine vocals and song writing. He recorded the set at his new home studio in Holland with the aid of ex-Crossroad drummer Charlie DeJong. Naturally, he dedicated his first solo effort to both Rory Gallagher and Stevie Ray and included an original song "Goodbye Hurricane", written and performed in Stevie's memory.







JP's next studio effort was the release of a CD he titled "The Other Side", on which he recorded songs inspired by his non-blues influences, mainly Southside Johnny and the Asbury Jukes, along with Bruce Springsteen, with just a dash of Bon Jovi. Again, this very fine recording was produced and engineered in JP'shome studio.




JP has released the CD "Road To Oblivion" which is another powerful set of blues/rocking JP Stingray originals.







BLESSING, BRO

RAMBLIN' WAYN



VISIT JP STINGRAY'S WEBSITE - look on THE LEFT COLUMN -

YOU'RE WELCOME
14-07-2010 om 00:00 geschreven door Wayn
0 1 2 3 4 5 - Gemiddelde waardering: 5/5 - (8 Stemmen)