Doc Watson, the guitarist and folk singer whose flat-picking style elevated the acoustic guitar to solo status in bluegrass and country music, and whose interpretations of traditional American music profoundly influenced generations of folk and rock guitarists, died on Tuesday in Winston-Salem, N.C. He was 89.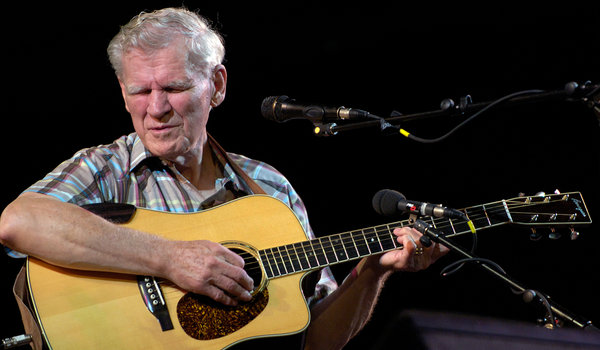 SUMMERTIME WITH MERLE
Mr. Watson, who had been blind since he was a baby, died in a hospital after recently undergoing abdominal surgery, The Associated Press quoted a hospital spokesman as saying. On Thursday his daughter, Nancy Ellen Watson, said he had been hospitalized after falling at his home in Deep Gap, N.C., adding that he did not break any bones but was very ill. Mr. Watson, who came to national attention during the folk music revival of the early 1960s, injected a note of authenticity into a movement awash in protest songs and bland renditions of traditional tunes. In a sweetly resonant, slightly husky baritone, he sang old hymns, ballads and country blues he had learned growing up in the northwestern corner of North Carolina, which has produced fiddlers, banjo pickers and folk singers for generations. His mountain music came as a revelation to the folk audience, as did his virtuoso guitar playing. Unlike most country and bluegrass musicians, who thought of the guitar as a secondary instrument for providing rhythmic backup, Mr. Watson executed the kind of flashy, rapid-fire melodies normally played by a fiddle or a banjo. His style influenced a generation of young musicians learning to play the guitar as folk music achieved national popularity. "He is single-handedly responsible for the extraordinary increase in acoustic flat-picking and fingerpicking guitar performance," said Ralph Rinzler, the folklorist who discovered Mr. Watson in 1960. "His flat-picking style has no precedent in earlier country music history." Arthel Lane Watson was born in Stoney Fork, N.C., the sixth of nine children, on March 3, 1923. His father, General Dixon Watson, was a farmer and day laborer who led the singing at the local Baptist church. His mother, Annie, sang old-time ballads while doing household chores and at night sang the children to sleep. When Mr. Watson was still an infant an eye infection left him blind, and the few years of formal schooling he received were at the Raleigh School for the Blind. His musical training, typical for the region, began in early childhood. At the age of 5 or 6 he received his first harmonica as a Christmas gift, and at 11 his father made him a fretless banjo with a head made from the skin of a family cat that had just died. Arthel dropped out of school in the seventh grade and began working for his father, who helped him get past his disability. "I would not have been worth the salt that went in my bread if my dad hadn't put me at the end of a crosscut saw to show me that there was not a reason in the world that I couldn't pull my own weight and help to do my part in some of the hard work," he told Frets magazine in 1979. By then, Arthel had moved beyond the banjo. His father, hearing him plucking chords on a borrowed guitar, promised to buy him his own guitar if he could teach himself a song by the end of the day. The boy taught himself the Carter Family's "When the Roses Bloom in Dixieland," and a week later he was the proud owner of a $12 Stella guitar. Mr. Watson initially employed a thumb-picking style, in which the thumb establishes a bass line on the lower strings while the rest of the fingers pick out a melody or chords. That soon changed. "I began listening to Jimmie Rodgers recordings seriously and I figured, 'Hey, he must be doing that with one of them straight picks,' " he told Dirty Linen magazine in 1995. "So I got me one and began to work at it. Then I began to learn the Jimmie Rodgers licks on the guitar, then all at once I began to figure out, 'Hey, I could play that Carter stuff a lot better with a flat pick.' " To pay for a new Martin guitar bought on the installment plan, Mr. Watson played for tips at a cab stand in Lenoir, N.C. Before long he was appearing at amateur contests and fiddlers' conventions. One day, as he prepared to play for a radio show being broadcast from a furniture store, the announcer decided that the young guitarist needed a snappier name and appealed to the audience for suggestions. A woman yelled out, "Doc!," and the name stuck. (Last year, a life-size statue of Mr. Watson was dedicated in Boone, N.C., at another spot where he had once played for tips to support his family. At his request the inscription read, "Just One of the People.")
In 1947 he married Rosa Lee Carlton, the daughter of a local fiddler. The couple's first child, Merle, took up the guitar and began performing with his father in 1964. Their partnership, which produced 20 albums, ended with Merle Watson's death at 36 in a tractor accident in Lenoir in 1985. Mr. Watson is survived by his wife; his daughter, Nancy Ellen; a brother, David; two grandchildren; and several great-grandchildren.
REST IN PEACE DOC, YOU WERE A INSPIRATION TO ME, RAMBLIN WAYN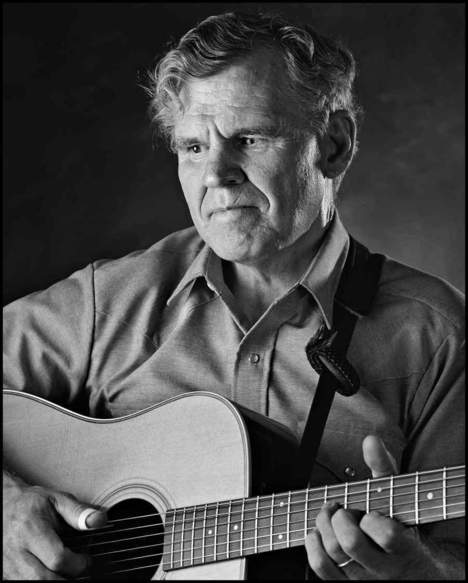 30-05-2012 om 00:00 geschreven door Wayn
0 1 2 3 4 5 - Gemiddelde waardering: 5/5 - (1 Stemmen)