RAMBLIN WAYN'S OUTLAW/SONGS




this blog will be regularly updated


RAMBLIN' & STINGRAY


Arthel 'Doc' Watson


J.P STINGRAY BLUES/ROCKER


Dear reader, a small grammatical error?
My apology!!!!!!!!!!!!!!!!!



SEARCH IN BLOG



GOOGLE SEARCH


Music- Poetry- Paintings
LIVIN' IS AN ART - VIRTUAL GALERY
27-05-2009

CHRIT JAMIN, MAASTRICHT, NETHERLANDS OIL PAINTINGS & GOUACHES
THE INDIAN OIL PAINTING



THE FLUTE PLAYER OIL PAINTING



GOUACHE



GOUACHE


thanks to Trish & Chrit, RW
Bijlagen:
illustration by Trish Flannery.jpg (44.7 KB)
http://www.teeka.nl

27-05-2009 om 21:50 geschreven door Wayn
0 1 2 3 4 5 - Gemiddelde waardering: 2/5 - (4 Stemmen)


INDIAN NECKLACE NORTHEAST BRAZIL & CARVING OUT OF JACARANDA WOOD BRAZIL
INDIAN CULTURE NECKLACE INDIOS OF THE FULNI-O TRIBE, PERNAMBUCO, BRASIL




CARVING, BRAZIL (UNKNOWN)

PROJECT INDIOS BRASILEIROS
27-05-2009 om 13:06 geschreven door Wayn
0 1 2 3 4 5 - Gemiddelde waardering: 2/5 - (4 Stemmen)


PORQUE, MEU AMOR? (why, MY love?) 2004 Wayn oil on board
DON'T LOOK SO SAD TOMORROW IT'S OVER.... (KRIS kristofferson) songline



O QUE ACONTECER... EU TE AMO, ANTONIO
27-05-2009 om 12:47 geschreven door Wayn
0 1 2 3 4 5 - Gemiddelde waardering: 1/5 - (3 Stemmen)


SURUI GIRL oil on wood 60+60 WAYN 2009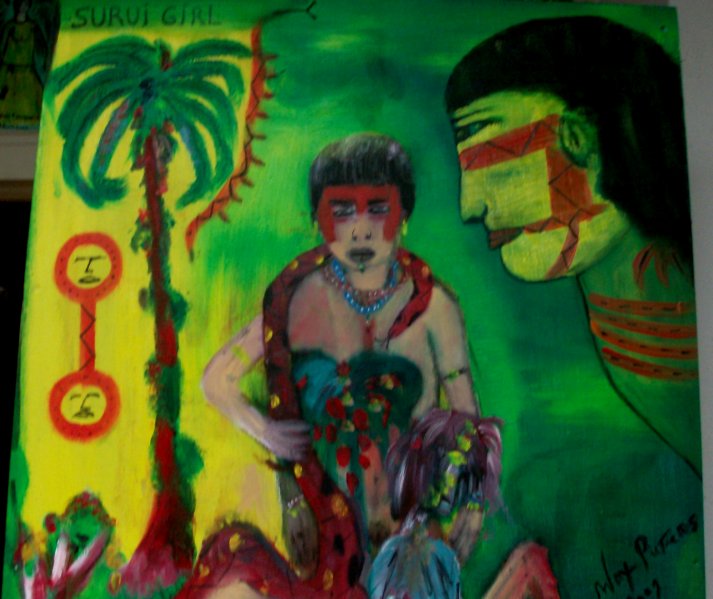 PROJECT INDIOS BRASILEIROS
27-05-2009 om 12:37 geschreven door Wayn
0 1 2 3 4 5 - Gemiddelde waardering: 3/5 - (6 Stemmen)

21-05-2009

I RECALL A GIPSY WOMAN & IANSÁ RAMBLIN' WAYN PAINTINGS
I RECALL A GIPSY WOMAN
OIL ON BOARD 2001




IANSÁ (GODINNE OF THE WIND AND RAIN) 2000 OIL ON PAPER/BOARD -PROJECT UMBANDA-

21-05-2009 om 00:00 geschreven door Wayn
0 1 2 3 4 5 - Gemiddelde waardering: 3/5 - (5 Stemmen)

13-05-2009

TARSILA DO AMARAL BRAZIL MODERNISM - PAINTINGS
TARSILA DO AMARAL 1886-1973 SÂO PAULO

OIL ON CANVAS


MORRO DA FAVELA (slumb hill)


SOL POENTE (sundown)


ANJOS (angels)


ANTROPOFAGIA (anthropophagy)


PASTORAL (rural)

ALL RIGHTS RESERVED (C) BY THE FAMILY OF TARSILA DO AMARAL

OBRIGADO, WAYN

ANNEX- PHOTO OF TARSILA
Bijlagen:
250px-Tarsila_do_Amaral%2C_ca__1925.jpg (21.9 KB)

13-05-2009 om 00:00 geschreven door Wayn
0 1 2 3 4 5 - Gemiddelde waardering: 2/5 - (10 Stemmen)

01-05-2009

CARIOCA NA CAMA -OIL ON CANVAS 70/50 CM 2000 WAYN
LOOK UP THE SKY, LOOK UP AND UP.
IN SPRING AT THE DANCING OF THE MOON, LOOK UP; YOU MAY SEE ME COMING DOWN IN MY CANOE.
LOOK UP THE SKY, LOOK ANEW, ANEW.

WAYN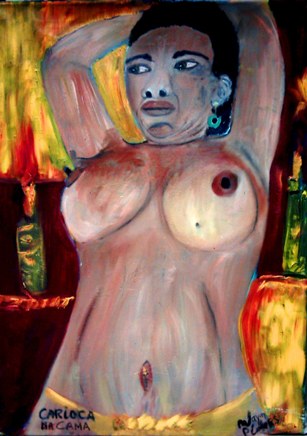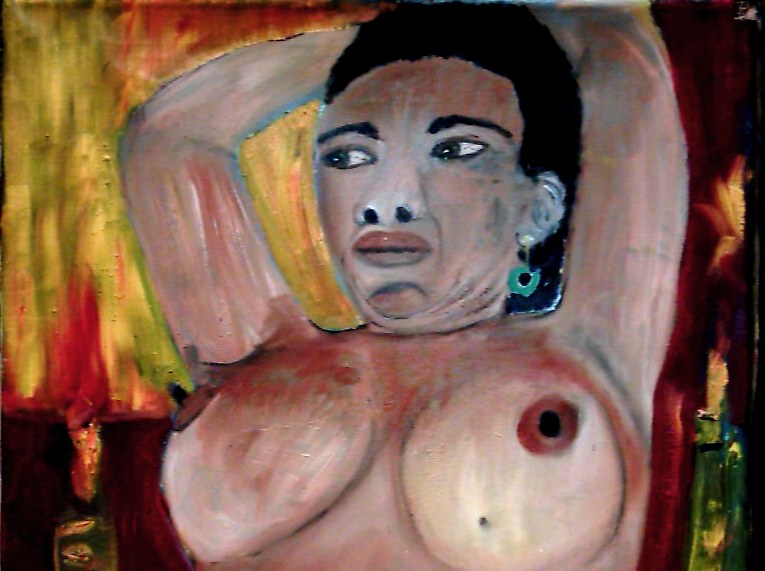 01-05-2009 om 13:18 geschreven door Wayn
0 1 2 3 4 5 - Gemiddelde waardering: 3/5 - (3 Stemmen)

28-04-2009

DETAIL FROM 'PAPAGAIO' OIL ON CANVAS WAYN P 2006
GHOSTLOVE BY WATERFALL




28-04-2009 om 23:00 geschreven door Wayn
0 1 2 3 4 5 - Gemiddelde waardering: 5/5 - (1 Stemmen)

26-04-2009

WINDMOLEN (WINDMILL) OIL ON BOARD 1934 - PIERRE PIETERS (1920) MAASTRICHT, NETHERLANDS
#WINDMILL# 1934
OIL ON BOARD 45/37 CM by PIERRE PIETERS (1920)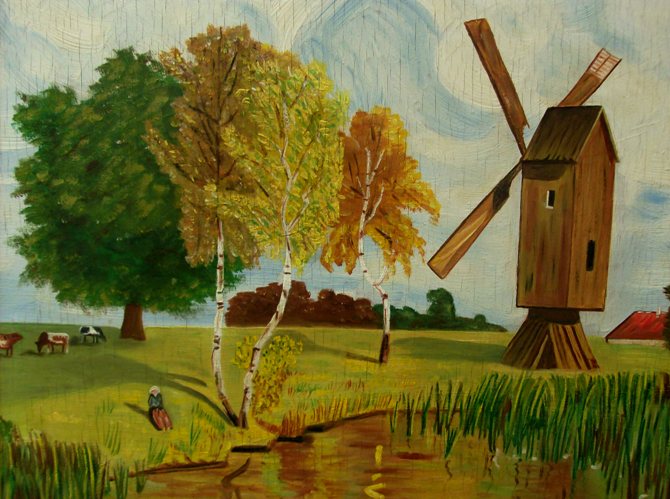 bijlage: pierre pieters

Bijlagen:
Foto's" (0 KB)
lenita foto 005.jpg (42.3 KB)

26-04-2009 om 00:00 geschreven door Wayn
0 1 2 3 4 5 - Gemiddelde waardering: 3/5 - (5 Stemmen)

10-04-2009

BRAZILIAN ART IN 3 DIRECTIONS
old WOODCARVING 'Fisherman's homecoming'
Possible from Brazilian state of BAHIA or MINAS GERAIS... That I bought on a streetmarked in Rio.
Restored by my father Pierre Pieters


+PIRACEMA+ Drawing by José Custódio Marques Meãmücü (Ticuna tribe)
(c) Musea Magüta, Benjamin Constant, Amazonas


Street-Art GRAFFITI in RIO DE JANEIRO -foto wolffystyle

10-04-2009 om 22:05 geschreven door Wayn
0 1 2 3 4 5 - Gemiddelde waardering: 3/5 - (5 Stemmen)

08-04-2009

BLUESMAN
RIDE ON, BRO... FOR THE THRILL WILL NEVER BE GONE.... SO WILL BE LUCILLE
RW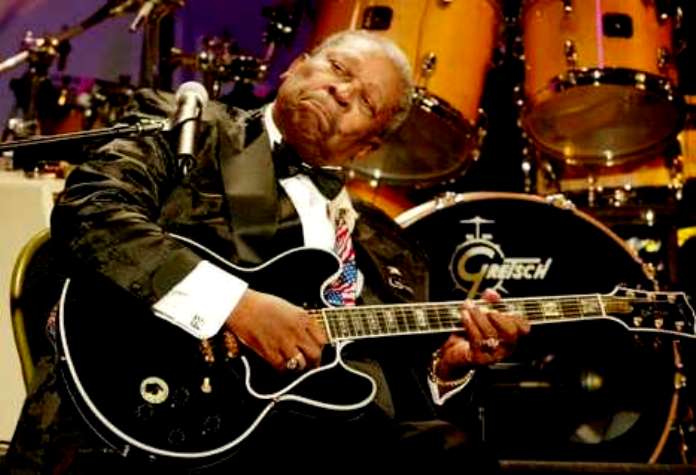 MOTHER LUCILLE ON A JACARANDA HEAVEN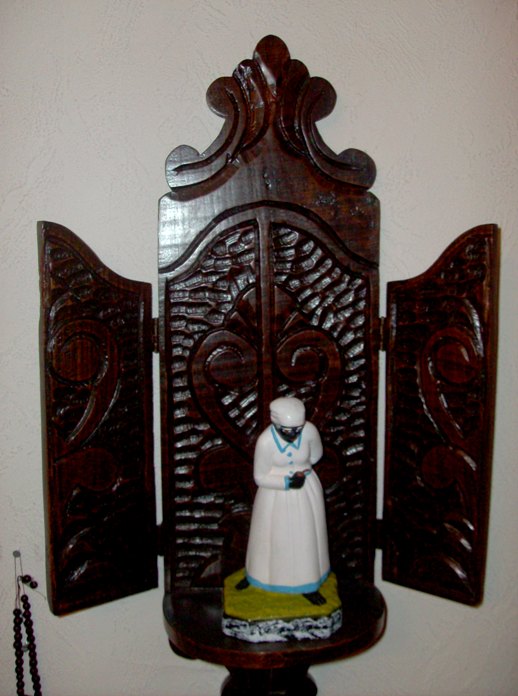 08-04-2009 om 16:52 geschreven door Wayn
0 1 2 3 4 5 - Gemiddelde waardering: 3/5 - (4 Stemmen)


07-04-2009

STORY OF THE TWO BROTHERS - TOLD BY NAVAJOS OF NEW MEXICO AND ARIZONA
Of all the Divine Ones none is more revered than Estsan-Natheli (She-Who-Changeth*). Highly honered, too, is her younger sister Yolkai-Estsan (White-Shell-Woman). Of the turquoise of the land was made She-Who-Changeth; of the white shell of the ocean was made White-Shell-Woman. Each sister bore a son; the child of She-Who-Changeth was the god Nayenezrani; the child of White-Shell-Woman was the god Tobajischini. At that time there were in the world many Anaye, they say, gods unfriendly to man, evil beings, giants, monsters, who destroyed the people.**
When the two young gods were grown, they wanted to slay the Anaye that the people might have saved. Now the brothers*** often ask of the mothers, "Who is our father?" The mothers always answered, "You have none."
At last, one day, they set out to find for themselves; they took a holy trail and journeyed on the sunbeams. It was Niltshi, the Wind, who guiden them, whispering his counsel in there ears.
There father was Johano-ai, the Sun. His beautiful house was in the east; it was made of turquoise, and stood on the shore of great waters.
There he dwelled with his wife, his daughters, and his sons, The Black Thunder and The Blue Thunder. Until the coming of the strange brothers, the wife of the Sun had not known that her husband had visited a goddess on the earth. Nor would Johano-ai believe that the two gods were his sons until he had proved it by making them undergo all kinds of trials.
But the youths came through each test unharmed, and then the Sun rejoiced that these were indeed his children, and promised to give them what they asked. The brothers told there father that they wanted weapons with which to slay the Anaye.
So Johano-ai gave them helmets, shirts, and moccasins, all of black flint; and when this armor was put on, the four lightnings flashed from the different joints. He gaven them for weapons a mighty knife of stone, and arrows of rainbow, of sunbeam, and of lightning.
So the brothers slew the Anaye, and after each victory they returned to their mothers rejoicing. Then Johano-ai came to She-Who-Changeth and begged her to make for him a home in the west, where he might rest at evening after his long day's jouney across the skies. Long he pleaded with her, until at last she yielded and said, "I will go and make a home for you, if you will give me what I ask.
You have a beautiful turquoise house in the east, they say. I must have just such a beautiful house in the west, only it must be beyond the shore and floating amid the waters; and around the house must be planted all kinds of gems, that they may grow and become many."
Johano-ai granted every wish, and now, beyond the mountains, the sun-god rest at evening in the gem-surrounded floating house of Estan-Natlehi in the west.

*The goddess is thus named because she passes through endless lives, continually changing from old to young again - it's probable that she is an apotheosis of nature or of the changing year.
** many of the Anaye are personifications of the dangers that lie in nature.
*** The two gods are called 'brothers' in aal versions of the myth. Another version make both gods twin-children of She-Who-Changeth.

07-04-2009 om 00:00 geschreven door Wayn
0 1 2 3 4 5 - Gemiddelde waardering: 3/5 - (2 Stemmen)


10-03-2009

JOS KREBBEKS 'Ramblin' Wayn' 1983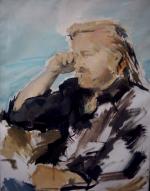 'RAMBLIN' WAYN' 1983 ---- JOS KREBBEKS, MAASTRICHT, NETHERLANDS

10-03-2009 om 00:00 geschreven door Wayn
0 1 2 3 4 5 - Gemiddelde waardering: 3/5 - (14 Stemmen)


OCTAVIO OCAMPO ++++ SURREAL-PAINTINGS
I HOPE THE ARTIST GIVE HIS PERMISSION FOR PUBLISHING HIS WORK ON THIS BLOG


OCTAVIO OCAMPO ---- ELAYA, GUANAJUATO, MEXICO 1943


FRIENDSHIP OF DON QUIXOTE




3 VISIONS OF DON QUIXOTE





FOREVER




THANKS OCTAVIO!
RAMBLIN' WAYN
10-03-2009 om 00:00 geschreven door Wayn
0 1 2 3 4 5 - Gemiddelde waardering: 3/5 - (18 Stemmen)


07-03-2009

CHEYENNE LIFE IN THE OLD TIME as told by CHIEF HIAMOVI (HIGH CHIEF)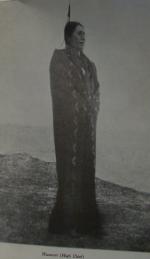 In the beginning our Father made the earth and gave to us all things. We had no so much clothes as now, nor had we any metals. We wore the skins of beasts, for the Father gave to us the buffalo and all kinds of animals to meet our wants. The bow we made ourselves, and arrows, too, pointed with sharp stone. When we had made the bow and arrow we began to hunt, and when we saw the buffalo we would creep up to him on hands and knees, softly, until within a hundred paces of him.
Then we would rise on one knee and shoot him dead. We had knives made of the ribs of the buffalo or of sharpened stones, and with these we skinned the buffalo and cut off the meat and carried it home on our backs.
The women sliced the meat and then set up long poles supported on notched sticks, and on these poles they hung the meat to dry. They dried the hides, too, and then scraped them with sharp stones until they grew soft, and of these they made shirts and leggings. We had no horses, but used big, shaggy dogs. When we journeyed we packed the dried meat in satchels of painted hide. These were carried by the dogs. The poles were bound together by a strip of hide and fastened to the neck of the dog, and the bundles were tied upon the poles. Each family had its own dogs. Sometimes on a long journey the dogs would grow tired and began to droop and flag. Then the people would call the dogs, "'Hiya, go on, go on!"
But no matter how we called, the dogs would hang there tongues and lag slower and slower.
Then some one would cry, "Buffalo ahead; fresh meat in plenty!" and then the dogs would bound forward as though they had just set out. When we came to a camping-ground the women untied the bundles and put the meat in pots to boil. These pots were made of fine earth hardened in the fire.
When any one wanted to kindle a fire he would hold a piece of dry, rotten wood against a stone, and then strike the stone with flint so that the sparks would light up upon the dry wood. Or he would take the stalk of the soapweed plant and rest one end in a socket bored stone. Then he would twirl the stalk between his hands, and twirl and twirl till at last smoke and fire came at the end. All this was long ago, before our people ever had seen the white man.
But one time a man was far away in Texas and there he saw a horse. He was frightened at first because he thought it must be a creature that would kill him men and devour them. But he caught the horse and tied him fast and patted him, and when he found the horse did not bite he was glad and tried to tame him. When he had tamed him he harnessed him with poles, like a dog, and put his children on the horse's back and seated himself on the poles behind. Afterwards the people found other horses, and these had colts. So we came to have many horses. Only the old people tell of it. My mother told me all these things. She is over a hundred years old, and she learned these stories from her grandmother.
This was the way we lived in the old, old time when all that we had was given to us by the Father or made by us ourselves.

addition: Chief Hiamovi on horseback
Bijlagen:
high chief 002.jpg (36.7 KB)

07-03-2009 om 00:00 geschreven door Wayn
0 1 2 3 4 5 - Gemiddelde waardering: 3/5 - (7 Stemmen)


23-02-2009

'CIGARA BETWEEN ITAIPÚ BONES' - COMPILATION oil on tile/bones/insect Ramblin' Wayn 2009


These little fish and bird bones were found at the dunes of the Itaipú beach near Niteroi, RJ, Brazil, they're assumed to be more than 4.000 years old
At that time Indian fishing people lived on the high sand-dunes, where they build there cabins and had a fantastic view over the sea, from where they could spot the impending enemies...

This compilation I named: "CIGARA BETWEEN ITAIPÚ BONES"
(Cigara = insect which made a hard sound when sings in the summer, mostly in trees) I found this one in Rio de Janeiro, but it already lost her wings...





Some fragments of the cigara broke off,- right wing, amongst other things - the hard noise (like a whistle), he produce with his arse...

23-02-2009 om 19:38 geschreven door Wayn
0 1 2 3 4 5 - Gemiddelde waardering: 3/5 - (2 Stemmen)


18-02-2009

The story of the first mother -- Wabanakis ( Children of the dawn-country) tribe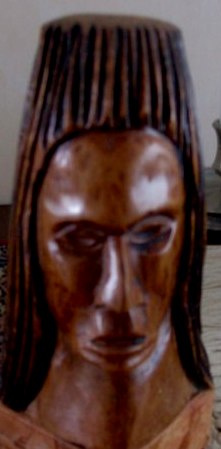 a little story which I dedicate to my mother's heart... RW
WOODEN INDIAN HEAD, CARVED OUT OF JACARANDA-WOOD, BRAZIL

Joseph Nicolar, a Penobscot indian, compiled and wrote the legends of his people, and published them himself in the year 1893, in a small volume entitled THE RED MAN.
"THE STORY OF THE FIRST MOTHER," is adapted from the book.


Long ago, when KÍoskurbeh, the great teacher, lived in the land, and there were as yet no other men, there came to him one day at noon a youth; and the youth stood before KÍoskurbeh and called him "mother's brother', and said: "I was born of the foam of the waters; for the wind blew, and the waves quickened into foam, and the sun shone on the foam and warmed it, and the warmth made life, and that life is I. See , I am young and swift, and I haven come to abide with you and be your help in all things."
Again on a day at noon there came a maiden and stood before the two and called them "my children", and the maiden said: "I haven come to abide with you, and I have brought with me love; I will give it to you, and if you will love me and grant my wish, all the world will love me well, even the very beast. Strenght is mine, and I give it to whoeoever may get me; comfort also; for though I am young my strenght shall be felt over all the earth. I was born of the beautiful plant of the earth; for the dew fell on the leaf, and the sun warmed the dew, and the warmth was life, and that life is I."
Then KÍoskurbeh, lifted up his hands towards the sun and praised the Great Spirit, and afterwards the young man and the maid were man and wife, and she became the first mother. Kioskurbeh taught their children and did great works for them, and when his works were finished he went away to live in the Northland until it should be time for him to come again. But the people increased until they were very many, and there came a famine among them; and then the first mother grew more and more sorrowfull. Every day at noon she left her husband's lodge and stayed from him until the shadows were long. And her husband that dearly loved her was sad because of her sorrow, and one day he followed her trail as far as the ford of the river, and there he waited for her to return. When she came, she sang as she began to ford the river, and as long as her feet were in the water she seemed glad, and the man saw something that trailed behind her right foot, like a long green blade. But when she came out of the water she stooped and cast off the blade and she appeared sorrowful.
The husband followed her home as the sun was going down, and he bade her come out and look at the beautiful sun. And while they stood side by side, there came seven litlle children that stood in front of them and looked into the woman's face, saying, "We are hungry, and the night will soon be there. Where is the food?"
The husband reached out his hand and wiped away her tears and said, "My wife, what can I do to make you happy?" And she ansered, "Take my life."
Then the husband went away to the Northland to take counsel with KÍoskurbeh, and with the rising of the seventh sun he came again and said, "O wife, Kioskurbeh has told me to do the thing you wish." Then the woman was glad and said, "When you have slain me, let two men lay hold of my hair and draw my body all around the field, and when they have come to the middle of the field, there let them bury my bones. Then they must come away; but when seven moons have passed let them go again to the field and gather all that they find, and eat; it's my flesh; but you must have save a part of it to put in the ground again. My bones you cannot eat, but you may burn them, and the smoke will bring peace to you and to our children."
On the morrow when the sun was rising he slew his wife; and, as she had bidden, men drew her body all about an open field, untill the flesh was worn away, and in the middle of the field they buried the bones. But when sven moons had gone by, and the husband came again to that place, he saw it all filled with beautiful tall plants; and he tasted the fruit of the plants and found it sweet, and he called it "Skar-mu-nal," corn. And on the place where her bones were buried he saw a plant with broad leaves, bitter to the taste, and he called it "Utar-Mur-wa-yeh," tobacco.
Then the people were glad in their hearts, and they came to his harvest; but when when it was all gathered in, the man did not know how they should divide it, and he sent to KÍoskurbeh for counsel.
When KÍoskurbeh came and saw the great harvest, he gave thanks to the Great Spirit and said, "Now have the first words of the first mother come to pass, for she said she was born of the leaf of the beautiful plant, and that her power should be felt over the whole world, and that all men should love her. And now that she is gone into this substance, take care that this, the second seed of the first mother, be always with you, fot it is her flesh. Her bones also have been given for your good; burn them; and the smoke will bring freshness to the mind.
And since these things came from the goodness of a woman's heart, see that you hold her always in memory; remember her when you eat, remember her when the smoke of her bones rises before you. And because you are all brothers, divide among you her flesh and her bones - let all shares be alike - for so will the love of the first mother haven been fulfilled."









18-02-2009 om 00:00 geschreven door Wayn
0 1 2 3 4 5 - Gemiddelde waardering: 4/5 - (4 Stemmen)


11-02-2009

IS EVERY HUMAN'S LIFE WRITTEN BY GOD'S FINGERS?
IS EVERY HUMAN'S LIFE A FAIRY-TALE WRITTEN BY GOD'S FINGERS?

RIO DE JANEIRO Woman who's trying to survive

11-02-2009 om 17:19 geschreven door Wayn
0 1 2 3 4 5 - Gemiddelde waardering: 2/5 - (5 Stemmen)

03-02-2009

NASHVILLE - DARK END OF THE STREET 1979

WHEN YOU HAVE NOTHING TO SAY, SAY NOTHING.... JUST LET THE STROLL TAKE IT ALL... BRO!

RW




"...STAY IN THE SADDLE AS LONG AS YOU CAN
DON'T RIDE TOO FAST, OR TOO SLOW
DON'T LOOK BEHIND YOU IF YOU CAN
FOR YOU STILL GOT A LONG WAY TO GO...."

RAMBLIN' WAYN 1980
03-02-2009 om 00:00 geschreven door Wayn
0 1 2 3 4 5 - Gemiddelde waardering: 5/5 - (2 Stemmen)

02-02-2009

HONKY-TONK HEROES photographs by Raeanna Rubinstein 1975
These peculiar pictures were taken in the early seventhies by Raeanne Rubinstein in dedication to her parents...


Kinky Friedman



Willie Nelson plus kid



Billy Joe Shaver



Conway Twitty



J.R Cash



Porter Wagoner




CANDY IS DANDY, BUT LIQUOR IS QUICKER!
02-02-2009 om 19:48 geschreven door Wayn
0 1 2 3 4 5 - Gemiddelde waardering: 2/5 - (7 Stemmen)


sending E-mail


press button beneath


Inhoud blog


| | |
| --- | --- |
| | paintings ///// silent slideshow |
| | xavante boy ////schildery |
| | peace in the valley rec. live in Brazil 2017 |
| | Cowboy Jack Clement - A Girl I Used To Know |
| | 'Vaya Con Dios' Paintings by Ramblin Wayn |
| | Willie Nelson - Me and You |
| | Howl of The Wolf |
| | 'T IS DUUSTER ES UNNE KERKER DAO DEEP IN DIE MIJN - Ramblin Wayn (southerndutchdialect) |
| | I'VE ALWAYS BEEN CRAZY a waylon jennings song by Ramblin Wayn |
| | TATTOO'D LADY BY JP STINGRAY |
| | I Love Horses ( Te Amo Cavalos) short vid. impression brazil |
| | Doc Watson gig - the best there is (1981) |
| | BLUE SUEDE SHOES COUNTRY BOYS original |
| | WHEN THE WORD WAS THUNDERBIRD by Ramblin Wayn |
| | art or history? images found in southern Brazil 1973 by a dutch priest |
| | Ted Daffan & His Texans Chuck Keeshan & Leon Seago No Letter Today Okeh 6706, 1942 |
| | RAMONA by Ramblin Wayn |
| | caboclo of the 7 crossroads /painting expl. by ramblin wayn /music by amazone indians |
| | ramblin wayn paintings |
| | Folsom Prison Blues & Big River /Ramblin Wayn live in Maastricht, NL |
| | mr. pierre pieters (maastricht, nl 1920-2013) schilderijen |
| | RAMBLIN WAYN -- ART |
| | once upun a time in the west / great shot |
| | SLOW ROLLIN' LOW (Billy Joe Shaver) cover sung by Ramblin Wayn |
| | I Love Horses ( Te Amo Cavalos) short vid. impression brazil |
| | nashville cried the day hank williams died |
| | brazilian cantinho gig / singer/songwriter ramblin wayn and amigos / live 2015 |
| | SUNDAY MORNING COMIN' DOWN cover |
| | TRAIN |
| | THEY SAY IN TEXAS THERE ARE HORSES WHO CAN FLY |
| | SONG |
| | OUT OF MY PEN - TWO ORIG. SONGS BY RAMBLIN WAYN |
| | carmelita warren zevon cover jp stingray |
| | remember ROY |
| | ramblin wayn in brazil 2014 'the house of the rising sun' |
| | ramblin wayn sings a billy joe shaver song |
| | DEVILS RIGHT HAND - A STEVE EARL COVER BY RAMBLIN WAYN |
| | THE MYSTERIOUS OUTLAW RAMBLIN WAYN ORIGINAL CLIP |
| | woman in hilly landscape - ramblin wayn painting |
| | PIERRE - OIL ON CANVAS BY RAMBLIN WAYN 2013 |
| | GEORGE JONES DIES AT 81 |
| | RAMBLIN WAYN/ 4 ORIGINALS |
| | RWayn Paintings 'Hot january Sun' & 'Rio 1477' |
| | GOIN' DOWN ROCKIN - TONY J WHITE - RAMBLIN WAYN |
| | Willie's guitar Trigger |
| | TIM MAIA - BRAZIL ROCKER |
| | RWayn Paintings - Austin Rio, Johnny Cash, David Allen Coe, oil on wood 2012 |
| | WILLIE NELSON & WAYLON JENNINGS - oil on wood 2002 by RAMBLIN WAYN |
| | Shaver and His Maker: From Hell-bound Honky Tonk Hero to Holy Roller The Turnstyled Junkpiled Interview by Terry Roland, Staff Writer |
| | KITTY WELLS DIED |
| | FOLKMAN DOC WATSON DIED R.I.P |
| | DEDICATION TO THE APACHE INDIANS - RAMBLIN WAYN slide |
| | TRAIN - RAMBLIN WAYN & JP STINGRAY |
| | 'JAZZ MAN' TOOTS THIELEMANS MAKES 90 |
| | RAMBLIN WAYN PAINTING 'LEISURLY WAITING' oil on canvas 2012 Netherlands |
| | UFOS GETTIN' NEARER - OIL ON CNAVAS 15/15cm - RAMBLIN WAYN alias CISCO Van AUSTIN, nl |
| | EARL SCRUGGS, BLUEGRASS PIONEER DIED AT 88 |
| | RAMBLIN WAYN PAINTINGS / JP STINGRAY/GUARANI/VIEW THROUGH THE EYES OF OSCAR NIEMEYER/POMBA GIRA/ DESTRUCTION OF AMAZONAS-XINGU |
| | BUDDY HOLLY - LET'S REMEMBER |
| | JP STINGRAY GUITAR SHOP HEERLEN, NETHERLANDS |
| | ALAN LOMAX -recording man |
| | EDDY COCHRAN - SUMMERTIME BLUES |
| | 447 Years RIO? WATERCOLORS BY EDUART HILDERBRANDT 1844 AND AUGUSTO EARL 1822 |
| | O MEU DEUS! CARN ART |
| | 'GYPSY' COLLAGE BY RAMBLIN WAYN 2012 |
| | SATAN IS REAL The Ballad of the Louvin Brothers By Charlie Louvin with Benjamin Whitmer |
| | MASOESA - oil on paper -ramblin Wayn 2010 |
| | DOC WATSON - born Arthel L. Watson in Deep Gap, NC on March 3, 1923 |
| | ALAN LOMAX SELECTIONS INCLUDED ON A NEW ALBUM |
| | Mary Jose Cristerna, Mexico, 'The Vampire Woman'. photo by AFP / Leo Ramirez |
| | pictures of brazil Bertoncini, Karina – photographer 2009 |
| | GLENN CAMPBELLS'S LAST SHOW |
| | PAINTINGS BY RAMBLIN WAYN ) SPACE LOVE / SPIDER WORLD oil on paper |
| | RAMBLIN WAYN IN A LOCAL BAR IN ITABORAI, BRAZIL- KISS ME QUICK |
| | TRAIN A RAMBLIN WAYN SONG |
| | RAMBLIN WAYN & JP STINGRAY - UP THE ROAD |
| | PIERRE-JOSEPH PROUDHON 1809-1865 -ANARCHIST |
| | Jerry Leiber, Prolific Writer of 1950s Hits, Dies at 78 |
| | BELOVED oil on canvas 2011///// |
| | UMBANDA - OIL ON CANVAS WAYN PIETERS V, RIJSSELT 2011, NETHERLANDS |
| | Viking stone by Niteroi, RJ, Brasil - oil on wood Ramblin Wayn 2011 |
| | Documentary Filmmaking in Rio de Janeiro Favelas |
| | ALEIJADINHO (THE LITTLE CRIPPLE) Collage/paper/painting/drawing RWayn 2011 |
| | Saxophonist Clarence Clemons R.I.P |
| | A DECENT STORY - THE WORLD TURNS CRAZY AGAIN - RAMBLIN WAYN |
| | two paintings by Pierre Pieters, Maastricht 1920 'JAR, CANDLES, APPLE AND ORANGE' |
| | CABOCLO 'OXOSSY' ON HIS HORSE 'ESTRELA BRANCA' (WHITE STAR) |
| | MORENA - RAMBLIN WAYN P - 2000 oil on canvas |
| | RAMBLIN WAYN & TAKAMINE BLACK - ITABORAI, BRASIL photo by JÂNIO METYKTIRE 2010 |
| | DANÇA - 1998 BRAZIL - RAMBLIN' WAYN oil on board |
| | SINGING WOMAN - Antonius Pieters (1948), Maastricht, Netherlands, oil on paper 2006 Rio, Brazil |
| | BRONZE SCULPTURES BY HAN VAN WETERING 1948, MAASTRICHT, NETHERLANDS part 2 |
| | SCULPTURES FROM HAN VAN WETERING 1948, MAASTRICHT, NETHERLANDS PART 1 |
| | THE STEVIE RAY VAUGHAN CUSTOM MADE FENDER STRATO painted by PIERRE PIETERS 1920 OIL ON CANVAS - YEAR 1992 |
| | One of the finest songwriters BOBBY BRADDOCK - HE STOPPED LOVING HER TODAY |
| | PAINTINGS RAMBLIN' WAYN 'SOMEWHERE IN BAHIA' OIL ON WOOD 2003 & MACUMBA ANGEL oil on canvas 2011 |
| | BILL YOU SHAVER 'GEORGIA ON A FAST TRAIN' LIVE IN LUCKENBACH, TEXAS |
| | SURUI WOMAN - Ramblin Wayn - oil on canvas 2011 |
| | MARIA BETHANIA - A BRAZILIAN BAHIA BEAUTY SINGS 'NEGUE' |
| | Ramblin Wayn paintings 'Vida Umbanda' 2010 |
| | Discoloration paintings Van Gogh explained |
| | EDUARDO MALTA -PORTUGUESE PAINTER 'INÊS, BRAZILIAN MULATTA GIRL' |
| | NATURAL ART - XAVANTE GIRL WITH BABY |
| | WITH THE AFTER-TASTE OF WHISKEY - Column by Ramblin Wayn |
| | THIBAÚ - WOODCARVING ART - BELO HORIZONTE, BRAZIL 2010 |
| | WORK OF PAUL RONDAGS, MAASTRICHT, NETHERLANDS |
| | 4 - RAMBLIN WAYN MUSICAL CHARCOAL DRAWINGS - brasil 2010 |
| | 6 - CHARCOAL DRAWNINGS-RAMBLIN WAYN - ITABORAI, BRASIL 2010 |
| | the duTch arrive in VITORIA, BRASIL to SLAUGHTER the jesuit priest -WAYN CHARCOAL 2007 |
| | PARADISE - oil on wood, Brazil, 2010 - ramblin wayn |
| | Brazilian cow-girl Andressa Ribeiro - photo by unknown artist, anyway.... |
| | DAVID A COE SING 'RIVER' AT THE TENN. STATE PRISON |
| | CLIP ' I FEEL SORRY FOR THE FOLKS DOWN THE ROAD' RW |
| | LEZAR MONGHE, PAINTER FROM THE STATE OF MINAS GERAIS, BRAZIL - SHOWS HIS ART ALONG THE ICARAI BEACH IN NITEROI, RJ OCT. 2010 |
| | paintings Ramblin' Wayn- Brasil 2010 |
| | AMAZONIA (THE RIVER OF BLOOD) OIL ON CANVAS RAMBLIN WAYN 2010, MAASTRICHT, NETHERLANDS |
| | WAYN PIETERS- V. RIJSSELT (1948) MAASTICHT, NETHERLANDS // MAI - EVERYTHING, EVERYWHERE (Thin oil and pencil on paper) 2010 ---SELF PORTRAIT (OIL ON BOARD) 2000 |
| | DOC WATSON IN NASHVILLE - FRONT/BACK from his album (VANGUARD RECORDINGS 1968)/photos JOEL BRODSKY |
| | THE KILLER ROCKS ON |
| | ASA BRANCA (WHITE WING) two vids: LUIZ GONZAGA - RAMBLIN' WAYN |
| | MARIA ORTIZ- RAMBLIN' WAYN OIL ON BOARD (BRAZIL 20..?) |
| | PENTHOUSE MODEL WITH HENNEP &THE SHOWERING PLAYMATE by Toine van Megen |
| | TOINE Van MEGEN (1960) Eygelshoven, Netherlands - PLAYBOY PLAYMATES (oil on canvas) |
| | 3 'MARYLINS' BY TOINE van MEGEN, (1960) EYGELSHOVEN, NETHERLANDS: |
| | STEVIE RAY VAUGHAN - died 20 years ago |
| | I HATE THE MAN (VIDEO CLIP) RAMBLIN' WAYN |
| | JOHN LEE HOOKER - PAINTING BY MICHAEL FACEY (OIL ON WATERCOLOR PAPER) |
| | FRIDA KAHLO PAINTINGS |
| | FRIDA KAHLO (July 6, 1907 - July 13, 1954, Mexico) |
| | KISAKA- PAWNEE SONG - CLARIFICATION |
| | B&W RAMBLIN' WAYN FOTO SESSION by PAUL RONDAGH (MAASTRICHT, NETHERLANDS) SOMWHERE IN JUNE 2010 |
| | JP STINGRAY BLUES/ROCKER |
| | SURREAL PAINTINGS VOL. 3; MICHAEL RYAN, MADALEINE VON FOERSTER, KARL PERSSON |
| | 'SALVADOR, BAHIA' OIL ON BLADE 1999 RAMBLIN' WAYN |
| | BRAZILIAN PAINTINGS |
| | TWO PROSTITUTES ===== OIL ON CANVAS RAMBLIN W |
| | JULIA GNUSE -- TATTOO-ART |
| | E3 PAINTINGS BY EMILE NOLDE 1867-1956 GERMANY========= |
| | Dennis Hopper, 74, Hollywood Rebel, Dies |
| | THE MESSENGER --- RAMBLIN' WAYN oil on canvas 2002 |
| | ALEIJADINHO 'The LIttle Cripple' BRAZILAIN BAROQUE ARTIST -- plus short story by WAYN |
| | RAMBLIN' WAYN IN BRAZIL |
| | THE DEATH OF A BLUES SINGER IN SÂO PAULO- SHORT STORY BY RAMBLIN' WAYN part2 & end |
| | THE DEATH OF A BLUES SINGER IN SÂO PAULO - SHORT BRAZILIAN STORY BY RAMBLIN' WAYN part1 |
| | THE CIRCUS OF THE CAFUZ -SHORT BRAZILIAN STORY TOLD BY WAYN (part 2 -- end) |
| | THE CIRCUS OF THE CAFUZ -SHORT STORY TOLD BY WAYN (part 1) |
| | 'BAIANA' IVAN DE MORAES, BRAZIL OIL ON CANVAS 1973 |
| | L.P COVER OF 'GIPSY BOY' BILLY JOE SHAVER 1977 (Project 'Enduring' covers) |
| | FOTO SESSION RAMBLIN' WAYN by FRED EGGEN 2004 |
| | ART IN BELO HORIZONTE, BRAZIL NOV. 2009 |
| | ALONG THE JAPURI RIVER - OIL ON WOOD RAMBLIN' WAYN 1999 |
| | JOHNNY CASH (tHE GREATEST rOCK N' rOLL PHOTO EVER TAKEN) BY JIM MARSHALL |
| | DRAWINGS BY PAUL RUMSEY |
| | WOODY GUTHRIE (1912-1967) - THIS LAND IS MADE FOR YOU AND ME |
| | RAMBLIN' WAYN POSTER 1981 |
| | PAINTINGS RAMBLIN WAYN GIRL WITH EXOTIC BIRD + MUSIC MAN |
| | BLUE BUTTERFLY (BLAUWE VLINDER) PIERRE PIETERS, NETHERLANDS |
| | RAMBLIN' WAYN HIS TATTOO GUITAR |
| | WAYN ART -JACK DANIELS IF YOU PLEASE & WHORE LOVES WHITE HORSE |
| | Images of The bleugrass songbook by Dennis Cyporyn 1976 |
| | O BANDEIRANTE and METAMORFOSE a poem for children by Cassiano Ricardo |
| | PARAGUAÇU - WAYN Pieters, Brasil 2009 (oil on board) - Poem by Raquel Naveira |
| | NÁ, THE MYSTERIOUS INDIAN WOMAN - a short story AS TOLD by Wayn Pieters -END |
| | NÁ, THE MYSTERIOUS INDIAN WOMAN - a short story AS TOLD by Wayn Pieters PART 1 OF 2 |
| | paintings ANTONIO PARREIRAS MUSEUM PART 2 -potret and naked woman |
| | VISIT AT THE 'ANTONIO PARREIRAS' MUSEA, NITEROI, RJ BRAZIL 22 SEPT. 2009 PART1 |
| | ANTONIO PARREIRAS - BRAZILIAN PAINTER part 3 'His Atelier' (Studio) 22 september 2009 |
| | TRAVIS LOUIE -UNTITLED [; N.Y |
| | SCOTT G BROOKS - SURREAL PAINTINGS |
| | GRAFFITI IN ITABORAI, RJ, BRASIL |
| | COCA-WHORE -- nut &can [[[ WAYN - belo horizonte, Brasil |
| | I MUST BE CRUEL ONLY TO BE KIND - RAMBLIN' WAYN |
| | ANTONIO PARREIRAS - BRAZILIAN PAINTER |
| | PAUL GAUGUIN 1848-1903 |
| | RAMBLIN' BABY |
| | BRAZILIAN WOMEN - charcoal on paper WAYN 2009 |
| | DOC WATSON |
| | ROBERT CRAIG sur-real |
| | HELL, FREEDOM AND LIFE |
| | 60 JOSEFINA--- RAMBLIN' WAYN OIL ON CANVAS |
| | CHRIT JAMIN, MAASTRICHT, NETHERLANDS OIL PAINTINGS & GOUACHES |
| | INDIAN NECKLACE NORTHEAST BRAZIL & CARVING OUT OF JACARANDA WOOD BRAZIL |
| | PORQUE, MEU AMOR? (why, MY love?) 2004 Wayn oil on board |
| | SURUI GIRL oil on wood 60+60 WAYN 2009 |
| | I RECALL A GIPSY WOMAN & IANSÁ RAMBLIN' WAYN PAINTINGS |
| | TARSILA DO AMARAL BRAZIL MODERNISM - PAINTINGS |
| | CARIOCA NA CAMA -OIL ON CANVAS 70/50 CM 2000 WAYN |
| | DETAIL FROM 'PAPAGAIO' OIL ON CANVAS WAYN P 2006 |
| | WINDMOLEN (WINDMILL) OIL ON BOARD 1934 - PIERRE PIETERS (1920) MAASTRICHT, NETHERLANDS |
| | BRAZILIAN ART IN 3 DIRECTIONS |
| | BLUESMAN |
| | STORY OF THE TWO BROTHERS - TOLD BY NAVAJOS OF NEW MEXICO AND ARIZONA |
| | JOS KREBBEKS 'Ramblin' Wayn' 1983 |
| | OCTAVIO OCAMPO ++++ SURREAL-PAINTINGS |
| | CHEYENNE LIFE IN THE OLD TIME as told by CHIEF HIAMOVI (HIGH CHIEF) |
| | 'CIGARA BETWEEN ITAIPÚ BONES' - COMPILATION oil on tile/bones/insect Ramblin' Wayn 2009 |
| | The story of the first mother -- Wabanakis ( Children of the dawn-country) tribe |
| | IS EVERY HUMAN'S LIFE WRITTEN BY GOD'S FINGERS? |
| | NASHVILLE - DARK END OF THE STREET 1979 |
| | HONKY-TONK HEROES photographs by Raeanna Rubinstein 1975 |