RAMBLIN WAYN'S OUTLAW/SONGS




this blog will be regularly updated


RAMBLIN' & STINGRAY


Arthel 'Doc' Watson


J.P STINGRAY BLUES/ROCKER


Dear reader, a small grammatical error?
My apology!!!!!!!!!!!!!!!!!



SEARCH IN BLOG



GOOGLE SEARCH


Music- Poetry- Paintings
LIVIN' IS AN ART - VIRTUAL GALERY
29-05-2010

THE MESSENGER --- RAMBLIN' WAYN oil on canvas 2002
THE MESSENGER
OIL ON CANVAS 120 by 80 cm
year 2002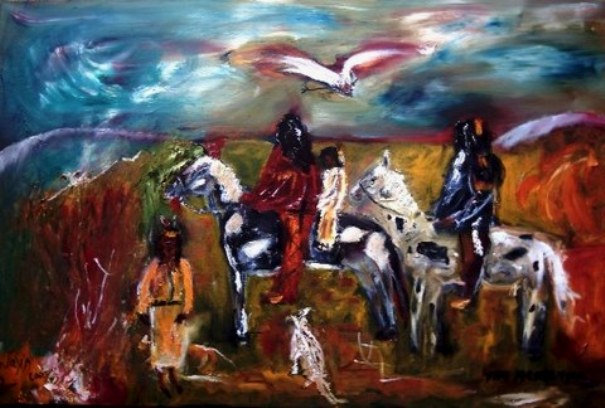 29-05-2010 om 21:19 geschreven door Wayn
0 1 2 3 4 5 - Gemiddelde waardering: 2/5 - (6 Stemmen)


27-05-2010

ALEIJADINHO 'The LIttle Cripple' BRAZILAIN BAROQUE ARTIST -- plus short story by WAYN
Antônio Francisco Lisboa,

the Aleijadinho (the "little cripple"), prominent Brazilian artist, was born in 1738 to a Portuguese architect father, Manoel Francisco Lisboa, and his Brazilian slave, Isabel. He died in 1814, in his native state of Minas Gerais, Brazil, poor and unknown. A foremost representative of the Brazilian Baroque, Aleijadinho worked under severe constraints, as he suffered grave physical deformities due to illness (possibly leprosy or syphilis), requiring that his working tools be tied to his hand. Taught mostly by his father, Aleijadinho left an impressive body of religious art: architectural designs and sculptures in churches, convents, and monasteries.

Aleijadinho lived and worked in the Brazilian state of Minas Gerais. As the name indicated, this was an extremely wealthy mining region, which, at its peak, remitted about 25,000 kilos of gold to Portugal per year. The combination of wealth, the religiosity of its inhabitants, and geographical isolation (Minas is located inland in Brazil and its colonization occurred around two centuries after the coastal area), contributed to the development of a unique sculptural and architectural style, as seen in Aleijadinho's legacy.

The main body of Aleijadinho's work concentrated in a few important mining towns of his time: Ouro Preto, São João del Rei, Sabará, and Congonhas. Combining elements of the Gothic and Renaissance into the language of the Baroque, Aleijadinho developed a powerful artistic language – sculpture and architecture blend masterfully in his work. Famous examples of his sculptural work included the life size rendering of 12 prophets, standing on the stairway of Bom Jesus de Matosinhos Church, in the city of Congonhas do Campo. The Churches of San Francis de Assis, in São João Del Rei and in Ouro Preto, well illustrated his abilities as an architect.

Aleijadinho died at 76, poor and forgotten. It was during the 1920s that his art received closer attention, in the context of the Brazilian Modern Art week. He has since been considered a master in his craft and one of the first to contribute to a genuinely Brazilian artistic language.
Sources:
Mirian Andrade Ribeiro de Oliveira, "Aleijadinho and Baroque Art in Brazil," in Art and Architecture in Brazil, from Aleijadinho to Niemeyer (Chicago: Illinois Institute of Technology, Department of Architecture, 1984; New York: United Nations Headquarters, 1983); Sunil Bald, "In Aleijadinho's Shadow: Writing National Origins in Brazilian Architecture, available at architecture.mit.edu/.../23/bald23/bald23.htm
Contributor(s):
Martins, Ana Nina
Independent Historian


One of the rare paintings of Aleijadinho



One of his prophets sculptures EZEQUIEL


painting by Henrique Bernadelli


angel


========================


short story by Wayn Pieters

Congonhas, Minas Gerais, Brazil 1800

"I must go on, even once, perhaps my last final work!" His eyes could not longer bear the daylight, the little man's body was trembling, while the old working room was lit up by torches. "Master, your are sick, you can't go on, think of your health, por favor!" said the young student Olimpio.
"Bind the tools to my wrist! I have to complete this work, mankind will be a witness, just as Our lady of Immaculate Conception!" The litlle man yelled.

Aleijadinho, 62 now, referred to this job the 12 soapstone prophets, which would shine on pilars in front of the church of "Bom Jesus de Matozinhos", and from there to see over the hills. He walked with diffuculty and his feet were dying, his legs and arms were without any feeling. His face was ravaged, his viscous skin yellow and rotten, his theeth were allready disappeared, mucus ran from his mouth and his eyes were dark, undeniable and wet, just suitable to create his last project. The people saw him as a munster, a bantling. They named the disease 'lepra' whom reveal to him at his 47th year. He was born as son of a Portugese architect and a black slave woman Isabel. Some years earlier he made his 64 wooden figures, which represented the Calvary road and the showpiece was the Savior himself in which you could see the veins in his neck throbbing. A masterpiecee.

Aleijadinho's arms were like two stumps where his tools were tied to. This way he completed his masterpiece, the pinnacle of the Minas Gerais Baroque architecture. Now he worked like a possessed one on his 12 prophets and it seemed that he putted all his anger and feelings in it. It had to be perfect, because one of the images was his own image: Isaiah, his body resemblance, a selfs-portrait, a little man, a slighly curved body and with pain chiseled on his face. At that time his meal was just a bit of rice and beans, the meal of a man who knew that the end was near. The 12 prophets were his ultimate desire, chiseled out of soapstone with the silhouettes of human shape: Jeremias, Daniel, Joel, Amos, Naum, Abdias, Baruc, Ezequiel, after they say the most pure image, and Jesaja, his spirit. And now he worked on his last prophet, Habacuc.

"If God's willing!" he screamed fanatical: "If the good LOrd is willing!" and his arm-stumps moved with craft-full rhythm. Rain was falling in Congonhas, sweat drippng from his face and tears from eyes. He tought of his youth in Ouro Preto, where he was born, his love for the region, the hills of Minas, his love for art. He cried while finishing his last prophet.

Antonio Francisco Lisboa, Aleijadinho, died on 18th November 1814, in a shack on the outskirts of Ouro Preto, like a poor hermit.
rare portrait of unknown artist

Wayn (2002 c)
27-05-2010 om 18:15 geschreven door Wayn
0 1 2 3 4 5 - Gemiddelde waardering: 5/5 - (2 Stemmen)


26-05-2010

RAMBLIN' WAYN IN BRAZIL
'R' Wayn together with a musician named Danillo in a small house concert in Tanguá, Rio de Janeiro dec. 1995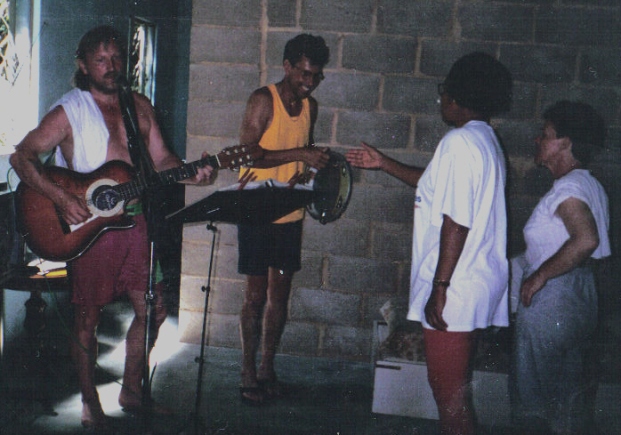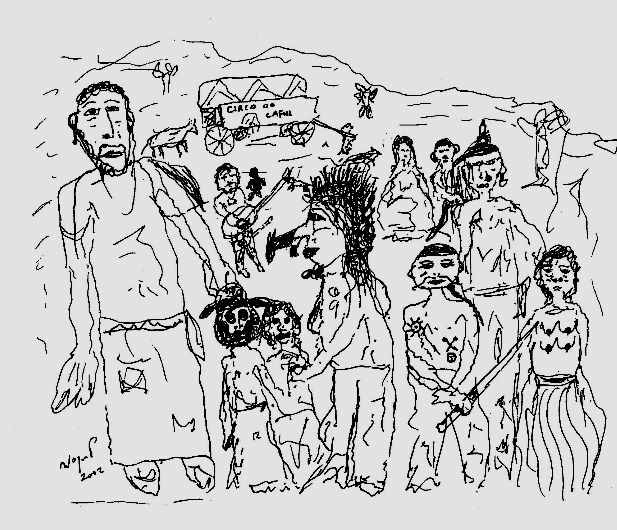 26-05-2010 om 16:45 geschreven door Wayn
0 1 2 3 4 5 - Gemiddelde waardering: 4/5 - (3 Stemmen)


25-05-2010

THE DEATH OF A BLUES SINGER IN SÂO PAULO- SHORT STORY BY RAMBLIN' WAYN part2 & end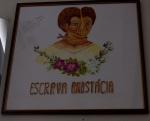 No coffee for his beloved brother Alves? Out of the question!
Begging? He hated. Steal? That was below his standarts and he never steals. It was allready eight o'clock and firmly he stepped to the grocery store of senhor Gonçalo where he bought regularly alcohol for his little stove, and the good man, after he heard Wellingtons his story, gave him a bottle on credit. He went back to his wooden hen-house and waited for the arrival of his brother Alves, whom usually would arrive around noon. Meanwhile he had given a bath to Michelangelo and tear out the thick green, full of blood sucked ticks. It was almost half past twelve when a young man appeared. He was dressed in jeans and T-shirt. "Are you Wellington," he asked. "Yes ... and who are you? " Welligton asked uncertain. "They call me 'contraband'. I am a friend of Alves," said the boy. "Alves? Where is he? Why he didn't come?"
"Your brother is sick. He sends me tell you this. He told me also that he'll urgently want to see you... He gave me some clothes... put them on and let's go... "
"Should I go to Sao Paulo?" Wellington asked anxiously. "Should... is not the real word my friend. Your brother asks for it. Please... He is seriously ill. Vamos! Let's go!"
And arrived Wellington in Sao Paulo. It was already evening when they reached the place where his brother lived in a house located near the neighborhood Bras. It was an old house, about to collapse. Alves lay on bed in a smelly gloomy room. At the foot of the bed laid his strato Fender guitar. On the ground stood some amplifiers and microphones. He was in bad shape, since the half year Wellington had not seen him. The brothers embraced and wept and Michelangelo the dog howled like a straneg wolf from another planet. The skinny Alves told Wellington that his life was come to a end, as he was infected with the aids virus. The last months his life has been a mess. Injected heroin and felt in love with Madalena a little mulata. It was an addiction and he screwed on regular base other hookers. He had lived as an excessive, a stray wandering desperate outlaw and became infected. That simple? "No!" Wellington shouted: '... Alves do not dying! I love you!"
"I'll have no way to deny brother. It is "finished", you hear, "acabo". I'm going back to the "jail" of salvation. See, it's my karma, no game-playing, nada! You see brother all was so planned for me, and will be right now, and the band will play: "Lagrimas dos Indios "
'Indian Tears". You remember ... When we were young and listened to the music of Muddy Waters? B. B. King... the blues ... Stevie Ray Vaughan... Frank Zappa...Yes ... The harmonica of ... yes, lembra? Wellington, say it ... "
"Sonny ... Terry ... "Wellington said in a broken voice. Alves: "... Yes ... Sonny Terry ... All right ... Robert Johnson ... We are all Negroes Wellington; we have the blues, Wellington, our parents and ancestors ... the blues! And I? I played the blues of Sâo Paulo ... the city of blues, misery, injustice ... Wellington? Are you listening, my brother? I've had my share in this fucking world ... but little brother ... Your life, yes, that the life I really wanted to live. Eating from the street. Wellington ... a sincere bare Jackal ... you hear me brother! No whining in your head, no obligations ... And a dog as your best friend, a good friend. Michelangelo. Your karma Wellington is sacred ... Listen, you have to do something for me ... Go to the headwaters of the Xingu river and look for the Txukahami tribe ... Give this letter to Kalia ... Give her my love and tell her that I'll be wait where the rivers meet. And you brother ... drink every week a Pinga on me and our new embrace .. See you my brother ..."
Wellington cried in his heart when he embraced Alves. Than Alves took a pistol from beneath his pillow and Wellington could not stop him. Michelangelo pricked his one ear when Alves pulled the trigger and shot a bullet through his head. The Sâo Paulo hard-core blues has ended.
WAYN
for brawabooks 2002 (c)
25-05-2010 om 00:00 geschreven door Wayn
0 1 2 3 4 5 - Gemiddelde waardering: 4/5 - (2 Stemmen)



| | |
| --- | --- |
| | |

sending E-mail


press button beneath


Inhoud blog


| | |
| --- | --- |
| | paintings ///// silent slideshow |
| | xavante boy ////schildery |
| | peace in the valley rec. live in Brazil 2017 |
| | Cowboy Jack Clement - A Girl I Used To Know |
| | 'Vaya Con Dios' Paintings by Ramblin Wayn |
| | Willie Nelson - Me and You |
| | Howl of The Wolf |
| | 'T IS DUUSTER ES UNNE KERKER DAO DEEP IN DIE MIJN - Ramblin Wayn (southerndutchdialect) |
| | I'VE ALWAYS BEEN CRAZY a waylon jennings song by Ramblin Wayn |
| | TATTOO'D LADY BY JP STINGRAY |
| | I Love Horses ( Te Amo Cavalos) short vid. impression brazil |
| | Doc Watson gig - the best there is (1981) |
| | BLUE SUEDE SHOES COUNTRY BOYS original |
| | WHEN THE WORD WAS THUNDERBIRD by Ramblin Wayn |
| | art or history? images found in southern Brazil 1973 by a dutch priest |
| | Ted Daffan & His Texans Chuck Keeshan & Leon Seago No Letter Today Okeh 6706, 1942 |
| | RAMONA by Ramblin Wayn |
| | caboclo of the 7 crossroads /painting expl. by ramblin wayn /music by amazone indians |
| | ramblin wayn paintings |
| | Folsom Prison Blues & Big River /Ramblin Wayn live in Maastricht, NL |
| | mr. pierre pieters (maastricht, nl 1920-2013) schilderijen |
| | RAMBLIN WAYN -- ART |
| | once upun a time in the west / great shot |
| | SLOW ROLLIN' LOW (Billy Joe Shaver) cover sung by Ramblin Wayn |
| | I Love Horses ( Te Amo Cavalos) short vid. impression brazil |
| | nashville cried the day hank williams died |
| | brazilian cantinho gig / singer/songwriter ramblin wayn and amigos / live 2015 |
| | SUNDAY MORNING COMIN' DOWN cover |
| | TRAIN |
| | THEY SAY IN TEXAS THERE ARE HORSES WHO CAN FLY |
| | SONG |
| | OUT OF MY PEN - TWO ORIG. SONGS BY RAMBLIN WAYN |
| | carmelita warren zevon cover jp stingray |
| | remember ROY |
| | ramblin wayn in brazil 2014 'the house of the rising sun' |
| | ramblin wayn sings a billy joe shaver song |
| | DEVILS RIGHT HAND - A STEVE EARL COVER BY RAMBLIN WAYN |
| | THE MYSTERIOUS OUTLAW RAMBLIN WAYN ORIGINAL CLIP |
| | woman in hilly landscape - ramblin wayn painting |
| | PIERRE - OIL ON CANVAS BY RAMBLIN WAYN 2013 |
| | GEORGE JONES DIES AT 81 |
| | RAMBLIN WAYN/ 4 ORIGINALS |
| | RWayn Paintings 'Hot january Sun' & 'Rio 1477' |
| | GOIN' DOWN ROCKIN - TONY J WHITE - RAMBLIN WAYN |
| | Willie's guitar Trigger |
| | TIM MAIA - BRAZIL ROCKER |
| | RWayn Paintings - Austin Rio, Johnny Cash, David Allen Coe, oil on wood 2012 |
| | WILLIE NELSON & WAYLON JENNINGS - oil on wood 2002 by RAMBLIN WAYN |
| | Shaver and His Maker: From Hell-bound Honky Tonk Hero to Holy Roller The Turnstyled Junkpiled Interview by Terry Roland, Staff Writer |
| | KITTY WELLS DIED |
| | FOLKMAN DOC WATSON DIED R.I.P |
| | DEDICATION TO THE APACHE INDIANS - RAMBLIN WAYN slide |
| | TRAIN - RAMBLIN WAYN & JP STINGRAY |
| | 'JAZZ MAN' TOOTS THIELEMANS MAKES 90 |
| | RAMBLIN WAYN PAINTING 'LEISURLY WAITING' oil on canvas 2012 Netherlands |
| | UFOS GETTIN' NEARER - OIL ON CNAVAS 15/15cm - RAMBLIN WAYN alias CISCO Van AUSTIN, nl |
| | EARL SCRUGGS, BLUEGRASS PIONEER DIED AT 88 |
| | RAMBLIN WAYN PAINTINGS / JP STINGRAY/GUARANI/VIEW THROUGH THE EYES OF OSCAR NIEMEYER/POMBA GIRA/ DESTRUCTION OF AMAZONAS-XINGU |
| | BUDDY HOLLY - LET'S REMEMBER |
| | JP STINGRAY GUITAR SHOP HEERLEN, NETHERLANDS |
| | ALAN LOMAX -recording man |
| | EDDY COCHRAN - SUMMERTIME BLUES |
| | 447 Years RIO? WATERCOLORS BY EDUART HILDERBRANDT 1844 AND AUGUSTO EARL 1822 |
| | O MEU DEUS! CARN ART |
| | 'GYPSY' COLLAGE BY RAMBLIN WAYN 2012 |
| | SATAN IS REAL The Ballad of the Louvin Brothers By Charlie Louvin with Benjamin Whitmer |
| | MASOESA - oil on paper -ramblin Wayn 2010 |
| | DOC WATSON - born Arthel L. Watson in Deep Gap, NC on March 3, 1923 |
| | ALAN LOMAX SELECTIONS INCLUDED ON A NEW ALBUM |
| | Mary Jose Cristerna, Mexico, 'The Vampire Woman'. photo by AFP / Leo Ramirez |
| | pictures of brazil Bertoncini, Karina – photographer 2009 |
| | GLENN CAMPBELLS'S LAST SHOW |
| | PAINTINGS BY RAMBLIN WAYN ) SPACE LOVE / SPIDER WORLD oil on paper |
| | RAMBLIN WAYN IN A LOCAL BAR IN ITABORAI, BRAZIL- KISS ME QUICK |
| | TRAIN A RAMBLIN WAYN SONG |
| | RAMBLIN WAYN & JP STINGRAY - UP THE ROAD |
| | PIERRE-JOSEPH PROUDHON 1809-1865 -ANARCHIST |
| | Jerry Leiber, Prolific Writer of 1950s Hits, Dies at 78 |
| | BELOVED oil on canvas 2011///// |
| | UMBANDA - OIL ON CANVAS WAYN PIETERS V, RIJSSELT 2011, NETHERLANDS |
| | Viking stone by Niteroi, RJ, Brasil - oil on wood Ramblin Wayn 2011 |
| | Documentary Filmmaking in Rio de Janeiro Favelas |
| | ALEIJADINHO (THE LITTLE CRIPPLE) Collage/paper/painting/drawing RWayn 2011 |
| | Saxophonist Clarence Clemons R.I.P |
| | A DECENT STORY - THE WORLD TURNS CRAZY AGAIN - RAMBLIN WAYN |
| | two paintings by Pierre Pieters, Maastricht 1920 'JAR, CANDLES, APPLE AND ORANGE' |
| | CABOCLO 'OXOSSY' ON HIS HORSE 'ESTRELA BRANCA' (WHITE STAR) |
| | MORENA - RAMBLIN WAYN P - 2000 oil on canvas |
| | RAMBLIN WAYN & TAKAMINE BLACK - ITABORAI, BRASIL photo by JÂNIO METYKTIRE 2010 |
| | DANÇA - 1998 BRAZIL - RAMBLIN' WAYN oil on board |
| | SINGING WOMAN - Antonius Pieters (1948), Maastricht, Netherlands, oil on paper 2006 Rio, Brazil |
| | BRONZE SCULPTURES BY HAN VAN WETERING 1948, MAASTRICHT, NETHERLANDS part 2 |
| | SCULPTURES FROM HAN VAN WETERING 1948, MAASTRICHT, NETHERLANDS PART 1 |
| | THE STEVIE RAY VAUGHAN CUSTOM MADE FENDER STRATO painted by PIERRE PIETERS 1920 OIL ON CANVAS - YEAR 1992 |
| | One of the finest songwriters BOBBY BRADDOCK - HE STOPPED LOVING HER TODAY |
| | PAINTINGS RAMBLIN' WAYN 'SOMEWHERE IN BAHIA' OIL ON WOOD 2003 & MACUMBA ANGEL oil on canvas 2011 |
| | BILL YOU SHAVER 'GEORGIA ON A FAST TRAIN' LIVE IN LUCKENBACH, TEXAS |
| | SURUI WOMAN - Ramblin Wayn - oil on canvas 2011 |
| | MARIA BETHANIA - A BRAZILIAN BAHIA BEAUTY SINGS 'NEGUE' |
| | Ramblin Wayn paintings 'Vida Umbanda' 2010 |
| | Discoloration paintings Van Gogh explained |
| | EDUARDO MALTA -PORTUGUESE PAINTER 'INÊS, BRAZILIAN MULATTA GIRL' |
| | NATURAL ART - XAVANTE GIRL WITH BABY |
| | WITH THE AFTER-TASTE OF WHISKEY - Column by Ramblin Wayn |
| | THIBAÚ - WOODCARVING ART - BELO HORIZONTE, BRAZIL 2010 |
| | WORK OF PAUL RONDAGS, MAASTRICHT, NETHERLANDS |
| | 4 - RAMBLIN WAYN MUSICAL CHARCOAL DRAWINGS - brasil 2010 |
| | 6 - CHARCOAL DRAWNINGS-RAMBLIN WAYN - ITABORAI, BRASIL 2010 |
| | the duTch arrive in VITORIA, BRASIL to SLAUGHTER the jesuit priest -WAYN CHARCOAL 2007 |
| | PARADISE - oil on wood, Brazil, 2010 - ramblin wayn |
| | Brazilian cow-girl Andressa Ribeiro - photo by unknown artist, anyway.... |
| | DAVID A COE SING 'RIVER' AT THE TENN. STATE PRISON |
| | CLIP ' I FEEL SORRY FOR THE FOLKS DOWN THE ROAD' RW |
| | LEZAR MONGHE, PAINTER FROM THE STATE OF MINAS GERAIS, BRAZIL - SHOWS HIS ART ALONG THE ICARAI BEACH IN NITEROI, RJ OCT. 2010 |
| | paintings Ramblin' Wayn- Brasil 2010 |
| | AMAZONIA (THE RIVER OF BLOOD) OIL ON CANVAS RAMBLIN WAYN 2010, MAASTRICHT, NETHERLANDS |
| | WAYN PIETERS- V. RIJSSELT (1948) MAASTICHT, NETHERLANDS // MAI - EVERYTHING, EVERYWHERE (Thin oil and pencil on paper) 2010 ---SELF PORTRAIT (OIL ON BOARD) 2000 |
| | DOC WATSON IN NASHVILLE - FRONT/BACK from his album (VANGUARD RECORDINGS 1968)/photos JOEL BRODSKY |
| | THE KILLER ROCKS ON |
| | ASA BRANCA (WHITE WING) two vids: LUIZ GONZAGA - RAMBLIN' WAYN |
| | MARIA ORTIZ- RAMBLIN' WAYN OIL ON BOARD (BRAZIL 20..?) |
| | PENTHOUSE MODEL WITH HENNEP &THE SHOWERING PLAYMATE by Toine van Megen |
| | TOINE Van MEGEN (1960) Eygelshoven, Netherlands - PLAYBOY PLAYMATES (oil on canvas) |
| | 3 'MARYLINS' BY TOINE van MEGEN, (1960) EYGELSHOVEN, NETHERLANDS: |
| | STEVIE RAY VAUGHAN - died 20 years ago |
| | I HATE THE MAN (VIDEO CLIP) RAMBLIN' WAYN |
| | JOHN LEE HOOKER - PAINTING BY MICHAEL FACEY (OIL ON WATERCOLOR PAPER) |
| | FRIDA KAHLO PAINTINGS |
| | FRIDA KAHLO (July 6, 1907 - July 13, 1954, Mexico) |
| | KISAKA- PAWNEE SONG - CLARIFICATION |
| | B&W RAMBLIN' WAYN FOTO SESSION by PAUL RONDAGH (MAASTRICHT, NETHERLANDS) SOMWHERE IN JUNE 2010 |
| | JP STINGRAY BLUES/ROCKER |
| | SURREAL PAINTINGS VOL. 3; MICHAEL RYAN, MADALEINE VON FOERSTER, KARL PERSSON |
| | 'SALVADOR, BAHIA' OIL ON BLADE 1999 RAMBLIN' WAYN |
| | BRAZILIAN PAINTINGS |
| | TWO PROSTITUTES ===== OIL ON CANVAS RAMBLIN W |
| | JULIA GNUSE -- TATTOO-ART |
| | E3 PAINTINGS BY EMILE NOLDE 1867-1956 GERMANY========= |
| | Dennis Hopper, 74, Hollywood Rebel, Dies |
| | THE MESSENGER --- RAMBLIN' WAYN oil on canvas 2002 |
| | ALEIJADINHO 'The LIttle Cripple' BRAZILAIN BAROQUE ARTIST -- plus short story by WAYN |
| | RAMBLIN' WAYN IN BRAZIL |
| | THE DEATH OF A BLUES SINGER IN SÂO PAULO- SHORT STORY BY RAMBLIN' WAYN part2 & end |
| | THE DEATH OF A BLUES SINGER IN SÂO PAULO - SHORT BRAZILIAN STORY BY RAMBLIN' WAYN part1 |
| | THE CIRCUS OF THE CAFUZ -SHORT BRAZILIAN STORY TOLD BY WAYN (part 2 -- end) |
| | THE CIRCUS OF THE CAFUZ -SHORT STORY TOLD BY WAYN (part 1) |
| | 'BAIANA' IVAN DE MORAES, BRAZIL OIL ON CANVAS 1973 |
| | L.P COVER OF 'GIPSY BOY' BILLY JOE SHAVER 1977 (Project 'Enduring' covers) |
| | FOTO SESSION RAMBLIN' WAYN by FRED EGGEN 2004 |
| | ART IN BELO HORIZONTE, BRAZIL NOV. 2009 |
| | ALONG THE JAPURI RIVER - OIL ON WOOD RAMBLIN' WAYN 1999 |
| | JOHNNY CASH (tHE GREATEST rOCK N' rOLL PHOTO EVER TAKEN) BY JIM MARSHALL |
| | DRAWINGS BY PAUL RUMSEY |
| | WOODY GUTHRIE (1912-1967) - THIS LAND IS MADE FOR YOU AND ME |
| | RAMBLIN' WAYN POSTER 1981 |
| | PAINTINGS RAMBLIN WAYN GIRL WITH EXOTIC BIRD + MUSIC MAN |
| | BLUE BUTTERFLY (BLAUWE VLINDER) PIERRE PIETERS, NETHERLANDS |
| | RAMBLIN' WAYN HIS TATTOO GUITAR |
| | WAYN ART -JACK DANIELS IF YOU PLEASE & WHORE LOVES WHITE HORSE |
| | Images of The bleugrass songbook by Dennis Cyporyn 1976 |
| | O BANDEIRANTE and METAMORFOSE a poem for children by Cassiano Ricardo |
| | PARAGUAÇU - WAYN Pieters, Brasil 2009 (oil on board) - Poem by Raquel Naveira |
| | NÁ, THE MYSTERIOUS INDIAN WOMAN - a short story AS TOLD by Wayn Pieters -END |
| | NÁ, THE MYSTERIOUS INDIAN WOMAN - a short story AS TOLD by Wayn Pieters PART 1 OF 2 |
| | paintings ANTONIO PARREIRAS MUSEUM PART 2 -potret and naked woman |
| | VISIT AT THE 'ANTONIO PARREIRAS' MUSEA, NITEROI, RJ BRAZIL 22 SEPT. 2009 PART1 |
| | ANTONIO PARREIRAS - BRAZILIAN PAINTER part 3 'His Atelier' (Studio) 22 september 2009 |
| | TRAVIS LOUIE -UNTITLED [; N.Y |
| | SCOTT G BROOKS - SURREAL PAINTINGS |
| | GRAFFITI IN ITABORAI, RJ, BRASIL |
| | COCA-WHORE -- nut &can [[[ WAYN - belo horizonte, Brasil |
| | I MUST BE CRUEL ONLY TO BE KIND - RAMBLIN' WAYN |
| | ANTONIO PARREIRAS - BRAZILIAN PAINTER |
| | PAUL GAUGUIN 1848-1903 |
| | RAMBLIN' BABY |
| | BRAZILIAN WOMEN - charcoal on paper WAYN 2009 |
| | DOC WATSON |
| | ROBERT CRAIG sur-real |
| | HELL, FREEDOM AND LIFE |
| | 60 JOSEFINA--- RAMBLIN' WAYN OIL ON CANVAS |
| | CHRIT JAMIN, MAASTRICHT, NETHERLANDS OIL PAINTINGS & GOUACHES |
| | INDIAN NECKLACE NORTHEAST BRAZIL & CARVING OUT OF JACARANDA WOOD BRAZIL |
| | PORQUE, MEU AMOR? (why, MY love?) 2004 Wayn oil on board |
| | SURUI GIRL oil on wood 60+60 WAYN 2009 |
| | I RECALL A GIPSY WOMAN & IANSÁ RAMBLIN' WAYN PAINTINGS |
| | TARSILA DO AMARAL BRAZIL MODERNISM - PAINTINGS |
| | CARIOCA NA CAMA -OIL ON CANVAS 70/50 CM 2000 WAYN |
| | DETAIL FROM 'PAPAGAIO' OIL ON CANVAS WAYN P 2006 |
| | WINDMOLEN (WINDMILL) OIL ON BOARD 1934 - PIERRE PIETERS (1920) MAASTRICHT, NETHERLANDS |
| | BRAZILIAN ART IN 3 DIRECTIONS |
| | BLUESMAN |
| | STORY OF THE TWO BROTHERS - TOLD BY NAVAJOS OF NEW MEXICO AND ARIZONA |
| | JOS KREBBEKS 'Ramblin' Wayn' 1983 |
| | OCTAVIO OCAMPO ++++ SURREAL-PAINTINGS |
| | CHEYENNE LIFE IN THE OLD TIME as told by CHIEF HIAMOVI (HIGH CHIEF) |
| | 'CIGARA BETWEEN ITAIPÚ BONES' - COMPILATION oil on tile/bones/insect Ramblin' Wayn 2009 |
| | The story of the first mother -- Wabanakis ( Children of the dawn-country) tribe |
| | IS EVERY HUMAN'S LIFE WRITTEN BY GOD'S FINGERS? |
| | NASHVILLE - DARK END OF THE STREET 1979 |
| | HONKY-TONK HEROES photographs by Raeanna Rubinstein 1975 |