RAMBLIN WAYN'S OUTLAW/SONGS




this blog will be regularly updated


RAMBLIN' & STINGRAY


Arthel 'Doc' Watson


J.P STINGRAY BLUES/ROCKER


Dear reader, a small grammatical error?
My apology!!!!!!!!!!!!!!!!!



SEARCH IN BLOG



GOOGLE SEARCH


Music- Poetry- Paintings
LIVIN' IS AN ART - VIRTUAL GALERY
28-08-2010

STEVIE RAY VAUGHAN - died 20 years ago
Blues guitar great and Oak Cliff, Texas
native Stevie Ray vaughan

died 20 years ago today in a helicopter crash in Wisconsin.

Three days later, on Aug. 30, 1990, he was buried near his father's grave at Laurel Land Cemetery in Oak Cliff.

"When you and I are gone, Stevie ray will still be there having an impact."


see clip 'TEXAS FLOOD'
http://www.youtube.com/watch?v=tWLw7nozO_U
28-08-2010 om 12:19 geschreven door Wayn
0 1 2 3 4 5 - Gemiddelde waardering: 5/5 - (4 Stemmen)


JOHN LEE HOOKER - PAINTING BY MICHAEL FACEY (OIL ON WATERCOLOR PAPER)
JOHN LEE HOOKER

AS PAINTED BY MICHAEL FACEY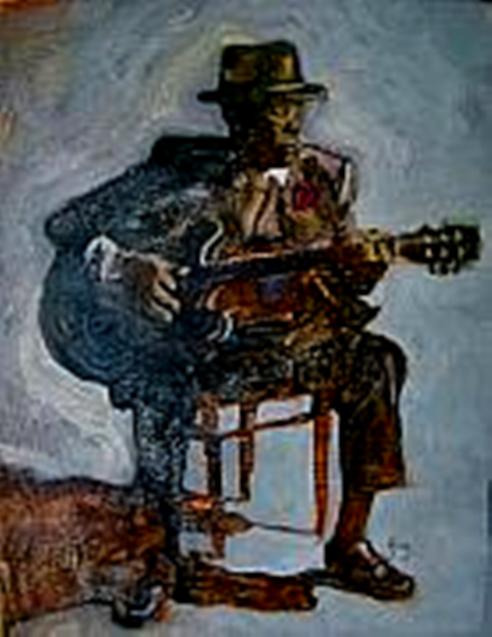 VISIT JP'S VIRTUAL GUITAR STORE ON THE LEFT BAR!

23-08-2010 om 15:14 geschreven door Wayn
0 1 2 3 4 5 - Gemiddelde waardering: 5/5 - (2 Stemmen)


sending E-mail


press button beneath


Inhoud blog


| | |
| --- | --- |
| | paintings ///// silent slideshow |
| | xavante boy ////schildery |
| | peace in the valley rec. live in Brazil 2017 |
| | Cowboy Jack Clement - A Girl I Used To Know |
| | 'Vaya Con Dios' Paintings by Ramblin Wayn |
| | Willie Nelson - Me and You |
| | Howl of The Wolf |
| | 'T IS DUUSTER ES UNNE KERKER DAO DEEP IN DIE MIJN - Ramblin Wayn (southerndutchdialect) |
| | I'VE ALWAYS BEEN CRAZY a waylon jennings song by Ramblin Wayn |
| | TATTOO'D LADY BY JP STINGRAY |
| | I Love Horses ( Te Amo Cavalos) short vid. impression brazil |
| | Doc Watson gig - the best there is (1981) |
| | BLUE SUEDE SHOES COUNTRY BOYS original |
| | WHEN THE WORD WAS THUNDERBIRD by Ramblin Wayn |
| | art or history? images found in southern Brazil 1973 by a dutch priest |
| | Ted Daffan & His Texans Chuck Keeshan & Leon Seago No Letter Today Okeh 6706, 1942 |
| | RAMONA by Ramblin Wayn |
| | caboclo of the 7 crossroads /painting expl. by ramblin wayn /music by amazone indians |
| | ramblin wayn paintings |
| | Folsom Prison Blues & Big River /Ramblin Wayn live in Maastricht, NL |
| | mr. pierre pieters (maastricht, nl 1920-2013) schilderijen |
| | RAMBLIN WAYN -- ART |
| | once upun a time in the west / great shot |
| | SLOW ROLLIN' LOW (Billy Joe Shaver) cover sung by Ramblin Wayn |
| | I Love Horses ( Te Amo Cavalos) short vid. impression brazil |
| | nashville cried the day hank williams died |
| | brazilian cantinho gig / singer/songwriter ramblin wayn and amigos / live 2015 |
| | SUNDAY MORNING COMIN' DOWN cover |
| | TRAIN |
| | THEY SAY IN TEXAS THERE ARE HORSES WHO CAN FLY |
| | SONG |
| | OUT OF MY PEN - TWO ORIG. SONGS BY RAMBLIN WAYN |
| | carmelita warren zevon cover jp stingray |
| | remember ROY |
| | ramblin wayn in brazil 2014 'the house of the rising sun' |
| | ramblin wayn sings a billy joe shaver song |
| | DEVILS RIGHT HAND - A STEVE EARL COVER BY RAMBLIN WAYN |
| | THE MYSTERIOUS OUTLAW RAMBLIN WAYN ORIGINAL CLIP |
| | woman in hilly landscape - ramblin wayn painting |
| | PIERRE - OIL ON CANVAS BY RAMBLIN WAYN 2013 |
| | GEORGE JONES DIES AT 81 |
| | RAMBLIN WAYN/ 4 ORIGINALS |
| | RWayn Paintings 'Hot january Sun' & 'Rio 1477' |
| | GOIN' DOWN ROCKIN - TONY J WHITE - RAMBLIN WAYN |
| | Willie's guitar Trigger |
| | TIM MAIA - BRAZIL ROCKER |
| | RWayn Paintings - Austin Rio, Johnny Cash, David Allen Coe, oil on wood 2012 |
| | WILLIE NELSON & WAYLON JENNINGS - oil on wood 2002 by RAMBLIN WAYN |
| | Shaver and His Maker: From Hell-bound Honky Tonk Hero to Holy Roller The Turnstyled Junkpiled Interview by Terry Roland, Staff Writer |
| | KITTY WELLS DIED |
| | FOLKMAN DOC WATSON DIED R.I.P |
| | DEDICATION TO THE APACHE INDIANS - RAMBLIN WAYN slide |
| | TRAIN - RAMBLIN WAYN & JP STINGRAY |
| | 'JAZZ MAN' TOOTS THIELEMANS MAKES 90 |
| | RAMBLIN WAYN PAINTING 'LEISURLY WAITING' oil on canvas 2012 Netherlands |
| | UFOS GETTIN' NEARER - OIL ON CNAVAS 15/15cm - RAMBLIN WAYN alias CISCO Van AUSTIN, nl |
| | EARL SCRUGGS, BLUEGRASS PIONEER DIED AT 88 |
| | RAMBLIN WAYN PAINTINGS / JP STINGRAY/GUARANI/VIEW THROUGH THE EYES OF OSCAR NIEMEYER/POMBA GIRA/ DESTRUCTION OF AMAZONAS-XINGU |
| | BUDDY HOLLY - LET'S REMEMBER |
| | JP STINGRAY GUITAR SHOP HEERLEN, NETHERLANDS |
| | ALAN LOMAX -recording man |
| | EDDY COCHRAN - SUMMERTIME BLUES |
| | 447 Years RIO? WATERCOLORS BY EDUART HILDERBRANDT 1844 AND AUGUSTO EARL 1822 |
| | O MEU DEUS! CARN ART |
| | 'GYPSY' COLLAGE BY RAMBLIN WAYN 2012 |
| | SATAN IS REAL The Ballad of the Louvin Brothers By Charlie Louvin with Benjamin Whitmer |
| | MASOESA - oil on paper -ramblin Wayn 2010 |
| | DOC WATSON - born Arthel L. Watson in Deep Gap, NC on March 3, 1923 |
| | ALAN LOMAX SELECTIONS INCLUDED ON A NEW ALBUM |
| | Mary Jose Cristerna, Mexico, 'The Vampire Woman'. photo by AFP / Leo Ramirez |
| | pictures of brazil Bertoncini, Karina – photographer 2009 |
| | GLENN CAMPBELLS'S LAST SHOW |
| | PAINTINGS BY RAMBLIN WAYN ) SPACE LOVE / SPIDER WORLD oil on paper |
| | RAMBLIN WAYN IN A LOCAL BAR IN ITABORAI, BRAZIL- KISS ME QUICK |
| | TRAIN A RAMBLIN WAYN SONG |
| | RAMBLIN WAYN & JP STINGRAY - UP THE ROAD |
| | PIERRE-JOSEPH PROUDHON 1809-1865 -ANARCHIST |
| | Jerry Leiber, Prolific Writer of 1950s Hits, Dies at 78 |
| | BELOVED oil on canvas 2011///// |
| | UMBANDA - OIL ON CANVAS WAYN PIETERS V, RIJSSELT 2011, NETHERLANDS |
| | Viking stone by Niteroi, RJ, Brasil - oil on wood Ramblin Wayn 2011 |
| | Documentary Filmmaking in Rio de Janeiro Favelas |
| | ALEIJADINHO (THE LITTLE CRIPPLE) Collage/paper/painting/drawing RWayn 2011 |
| | Saxophonist Clarence Clemons R.I.P |
| | A DECENT STORY - THE WORLD TURNS CRAZY AGAIN - RAMBLIN WAYN |
| | two paintings by Pierre Pieters, Maastricht 1920 'JAR, CANDLES, APPLE AND ORANGE' |
| | CABOCLO 'OXOSSY' ON HIS HORSE 'ESTRELA BRANCA' (WHITE STAR) |
| | MORENA - RAMBLIN WAYN P - 2000 oil on canvas |
| | RAMBLIN WAYN & TAKAMINE BLACK - ITABORAI, BRASIL photo by JÂNIO METYKTIRE 2010 |
| | DANÇA - 1998 BRAZIL - RAMBLIN' WAYN oil on board |
| | SINGING WOMAN - Antonius Pieters (1948), Maastricht, Netherlands, oil on paper 2006 Rio, Brazil |
| | BRONZE SCULPTURES BY HAN VAN WETERING 1948, MAASTRICHT, NETHERLANDS part 2 |
| | SCULPTURES FROM HAN VAN WETERING 1948, MAASTRICHT, NETHERLANDS PART 1 |
| | THE STEVIE RAY VAUGHAN CUSTOM MADE FENDER STRATO painted by PIERRE PIETERS 1920 OIL ON CANVAS - YEAR 1992 |
| | One of the finest songwriters BOBBY BRADDOCK - HE STOPPED LOVING HER TODAY |
| | PAINTINGS RAMBLIN' WAYN 'SOMEWHERE IN BAHIA' OIL ON WOOD 2003 & MACUMBA ANGEL oil on canvas 2011 |
| | BILL YOU SHAVER 'GEORGIA ON A FAST TRAIN' LIVE IN LUCKENBACH, TEXAS |
| | SURUI WOMAN - Ramblin Wayn - oil on canvas 2011 |
| | MARIA BETHANIA - A BRAZILIAN BAHIA BEAUTY SINGS 'NEGUE' |
| | Ramblin Wayn paintings 'Vida Umbanda' 2010 |
| | Discoloration paintings Van Gogh explained |
| | EDUARDO MALTA -PORTUGUESE PAINTER 'INÊS, BRAZILIAN MULATTA GIRL' |
| | NATURAL ART - XAVANTE GIRL WITH BABY |
| | WITH THE AFTER-TASTE OF WHISKEY - Column by Ramblin Wayn |
| | THIBAÚ - WOODCARVING ART - BELO HORIZONTE, BRAZIL 2010 |
| | WORK OF PAUL RONDAGS, MAASTRICHT, NETHERLANDS |
| | 4 - RAMBLIN WAYN MUSICAL CHARCOAL DRAWINGS - brasil 2010 |
| | 6 - CHARCOAL DRAWNINGS-RAMBLIN WAYN - ITABORAI, BRASIL 2010 |
| | the duTch arrive in VITORIA, BRASIL to SLAUGHTER the jesuit priest -WAYN CHARCOAL 2007 |
| | PARADISE - oil on wood, Brazil, 2010 - ramblin wayn |
| | Brazilian cow-girl Andressa Ribeiro - photo by unknown artist, anyway.... |
| | DAVID A COE SING 'RIVER' AT THE TENN. STATE PRISON |
| | CLIP ' I FEEL SORRY FOR THE FOLKS DOWN THE ROAD' RW |
| | LEZAR MONGHE, PAINTER FROM THE STATE OF MINAS GERAIS, BRAZIL - SHOWS HIS ART ALONG THE ICARAI BEACH IN NITEROI, RJ OCT. 2010 |
| | paintings Ramblin' Wayn- Brasil 2010 |
| | AMAZONIA (THE RIVER OF BLOOD) OIL ON CANVAS RAMBLIN WAYN 2010, MAASTRICHT, NETHERLANDS |
| | WAYN PIETERS- V. RIJSSELT (1948) MAASTICHT, NETHERLANDS // MAI - EVERYTHING, EVERYWHERE (Thin oil and pencil on paper) 2010 ---SELF PORTRAIT (OIL ON BOARD) 2000 |
| | DOC WATSON IN NASHVILLE - FRONT/BACK from his album (VANGUARD RECORDINGS 1968)/photos JOEL BRODSKY |
| | THE KILLER ROCKS ON |
| | ASA BRANCA (WHITE WING) two vids: LUIZ GONZAGA - RAMBLIN' WAYN |
| | MARIA ORTIZ- RAMBLIN' WAYN OIL ON BOARD (BRAZIL 20..?) |
| | PENTHOUSE MODEL WITH HENNEP &THE SHOWERING PLAYMATE by Toine van Megen |
| | TOINE Van MEGEN (1960) Eygelshoven, Netherlands - PLAYBOY PLAYMATES (oil on canvas) |
| | 3 'MARYLINS' BY TOINE van MEGEN, (1960) EYGELSHOVEN, NETHERLANDS: |
| | STEVIE RAY VAUGHAN - died 20 years ago |
| | I HATE THE MAN (VIDEO CLIP) RAMBLIN' WAYN |
| | JOHN LEE HOOKER - PAINTING BY MICHAEL FACEY (OIL ON WATERCOLOR PAPER) |
| | FRIDA KAHLO PAINTINGS |
| | FRIDA KAHLO (July 6, 1907 - July 13, 1954, Mexico) |
| | KISAKA- PAWNEE SONG - CLARIFICATION |
| | B&W RAMBLIN' WAYN FOTO SESSION by PAUL RONDAGH (MAASTRICHT, NETHERLANDS) SOMWHERE IN JUNE 2010 |
| | JP STINGRAY BLUES/ROCKER |
| | SURREAL PAINTINGS VOL. 3; MICHAEL RYAN, MADALEINE VON FOERSTER, KARL PERSSON |
| | 'SALVADOR, BAHIA' OIL ON BLADE 1999 RAMBLIN' WAYN |
| | BRAZILIAN PAINTINGS |
| | TWO PROSTITUTES ===== OIL ON CANVAS RAMBLIN W |
| | JULIA GNUSE -- TATTOO-ART |
| | E3 PAINTINGS BY EMILE NOLDE 1867-1956 GERMANY========= |
| | Dennis Hopper, 74, Hollywood Rebel, Dies |
| | THE MESSENGER --- RAMBLIN' WAYN oil on canvas 2002 |
| | ALEIJADINHO 'The LIttle Cripple' BRAZILAIN BAROQUE ARTIST -- plus short story by WAYN |
| | RAMBLIN' WAYN IN BRAZIL |
| | THE DEATH OF A BLUES SINGER IN SÂO PAULO- SHORT STORY BY RAMBLIN' WAYN part2 & end |
| | THE DEATH OF A BLUES SINGER IN SÂO PAULO - SHORT BRAZILIAN STORY BY RAMBLIN' WAYN part1 |
| | THE CIRCUS OF THE CAFUZ -SHORT BRAZILIAN STORY TOLD BY WAYN (part 2 -- end) |
| | THE CIRCUS OF THE CAFUZ -SHORT STORY TOLD BY WAYN (part 1) |
| | 'BAIANA' IVAN DE MORAES, BRAZIL OIL ON CANVAS 1973 |
| | L.P COVER OF 'GIPSY BOY' BILLY JOE SHAVER 1977 (Project 'Enduring' covers) |
| | FOTO SESSION RAMBLIN' WAYN by FRED EGGEN 2004 |
| | ART IN BELO HORIZONTE, BRAZIL NOV. 2009 |
| | ALONG THE JAPURI RIVER - OIL ON WOOD RAMBLIN' WAYN 1999 |
| | JOHNNY CASH (tHE GREATEST rOCK N' rOLL PHOTO EVER TAKEN) BY JIM MARSHALL |
| | DRAWINGS BY PAUL RUMSEY |
| | WOODY GUTHRIE (1912-1967) - THIS LAND IS MADE FOR YOU AND ME |
| | RAMBLIN' WAYN POSTER 1981 |
| | PAINTINGS RAMBLIN WAYN GIRL WITH EXOTIC BIRD + MUSIC MAN |
| | BLUE BUTTERFLY (BLAUWE VLINDER) PIERRE PIETERS, NETHERLANDS |
| | RAMBLIN' WAYN HIS TATTOO GUITAR |
| | WAYN ART -JACK DANIELS IF YOU PLEASE & WHORE LOVES WHITE HORSE |
| | Images of The bleugrass songbook by Dennis Cyporyn 1976 |
| | O BANDEIRANTE and METAMORFOSE a poem for children by Cassiano Ricardo |
| | PARAGUAÇU - WAYN Pieters, Brasil 2009 (oil on board) - Poem by Raquel Naveira |
| | NÁ, THE MYSTERIOUS INDIAN WOMAN - a short story AS TOLD by Wayn Pieters -END |
| | NÁ, THE MYSTERIOUS INDIAN WOMAN - a short story AS TOLD by Wayn Pieters PART 1 OF 2 |
| | paintings ANTONIO PARREIRAS MUSEUM PART 2 -potret and naked woman |
| | VISIT AT THE 'ANTONIO PARREIRAS' MUSEA, NITEROI, RJ BRAZIL 22 SEPT. 2009 PART1 |
| | ANTONIO PARREIRAS - BRAZILIAN PAINTER part 3 'His Atelier' (Studio) 22 september 2009 |
| | TRAVIS LOUIE -UNTITLED [; N.Y |
| | SCOTT G BROOKS - SURREAL PAINTINGS |
| | GRAFFITI IN ITABORAI, RJ, BRASIL |
| | COCA-WHORE -- nut &can [[[ WAYN - belo horizonte, Brasil |
| | I MUST BE CRUEL ONLY TO BE KIND - RAMBLIN' WAYN |
| | ANTONIO PARREIRAS - BRAZILIAN PAINTER |
| | PAUL GAUGUIN 1848-1903 |
| | RAMBLIN' BABY |
| | BRAZILIAN WOMEN - charcoal on paper WAYN 2009 |
| | DOC WATSON |
| | ROBERT CRAIG sur-real |
| | HELL, FREEDOM AND LIFE |
| | 60 JOSEFINA--- RAMBLIN' WAYN OIL ON CANVAS |
| | CHRIT JAMIN, MAASTRICHT, NETHERLANDS OIL PAINTINGS & GOUACHES |
| | INDIAN NECKLACE NORTHEAST BRAZIL & CARVING OUT OF JACARANDA WOOD BRAZIL |
| | PORQUE, MEU AMOR? (why, MY love?) 2004 Wayn oil on board |
| | SURUI GIRL oil on wood 60+60 WAYN 2009 |
| | I RECALL A GIPSY WOMAN & IANSÁ RAMBLIN' WAYN PAINTINGS |
| | TARSILA DO AMARAL BRAZIL MODERNISM - PAINTINGS |
| | CARIOCA NA CAMA -OIL ON CANVAS 70/50 CM 2000 WAYN |
| | DETAIL FROM 'PAPAGAIO' OIL ON CANVAS WAYN P 2006 |
| | WINDMOLEN (WINDMILL) OIL ON BOARD 1934 - PIERRE PIETERS (1920) MAASTRICHT, NETHERLANDS |
| | BRAZILIAN ART IN 3 DIRECTIONS |
| | BLUESMAN |
| | STORY OF THE TWO BROTHERS - TOLD BY NAVAJOS OF NEW MEXICO AND ARIZONA |
| | JOS KREBBEKS 'Ramblin' Wayn' 1983 |
| | OCTAVIO OCAMPO ++++ SURREAL-PAINTINGS |
| | CHEYENNE LIFE IN THE OLD TIME as told by CHIEF HIAMOVI (HIGH CHIEF) |
| | 'CIGARA BETWEEN ITAIPÚ BONES' - COMPILATION oil on tile/bones/insect Ramblin' Wayn 2009 |
| | The story of the first mother -- Wabanakis ( Children of the dawn-country) tribe |
| | IS EVERY HUMAN'S LIFE WRITTEN BY GOD'S FINGERS? |
| | NASHVILLE - DARK END OF THE STREET 1979 |
| | HONKY-TONK HEROES photographs by Raeanna Rubinstein 1975 |