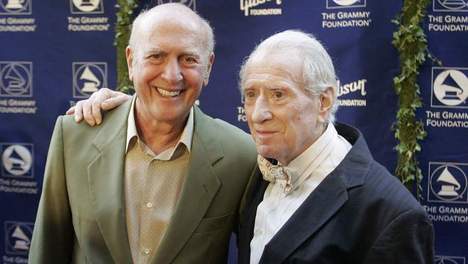 Mike Stoller and Jerry Leiber in 2008
By WILLIAM GRIMES
Published: August 22, 2011
Jerry Leiber, the lyricist who, with his partner, Mike Stoller, wrote some of the most enduring classics in the history of rock 'n' roll, including "Hound Dog," "Yakety Yak," "Stand By Me" and "On Broadway," died on Monday in Los Angeles. He was 78.
. The cause was cardio-pulmonary failure, said Randy Poe, president of Leiber & Stoller Music Publishing. The team of Leiber and Stoller was formed in 1950, when Mr. Leiber was still a student at Fairfax High in Los Angeles and Mr. Stoller, a fellow rhythm-and-blues fanatic, was a freshman at Los Angeles City College.
With Mr. Leiber contributing catchy, street-savvy lyrics and Mr. Stoller, a pianist, composing infectious, bluesy tunes, they set about writing songs with black singers and groups in mind. In 1952, they wrote "Hound Dog" for the blues singer Big Mama Thornton. The song became an enormous hit for Elvis Presley in 1956 and made Leiber and Stoller the hottest songwriting team in rock 'n' roll. They later wrote "Jailhouse Rock," "Loving You," "Don't," "Treat Me Nice," "King Creole" and other songs for Presley, despite their loathing for his interpretation of "Hound Dog." In the late 1950s, having relocated to New York and taken their place among the constellation of talents associated with the Brill Building, they emerged as perhaps the most potent songwriting team in the genre. Their hits for the Drifters remain some of the most admired songs in the rock 'n' roll canon, notably "On Broadway," written with Barry Mann and Cynthia Weil, and "Stand By Me" with Ben E. King. With Phil Spector, Mr. Leiber wrote the Drifters hit "Spanish Harlem." They wrote a series of hits for the Coasters, including "Charlie Brown," "Young Blood" with Doc Pomus, "Searchin'," "Poison Ivy" and "Yakety Yak." "Smokey Joe's Cafe," a 1954 hit written for the Robins, became the title of a Broadway musical based on the Leiber and Stoller songbook. In 1987, the partners were inducted into the Rock and Roll Hall of Fame.
from left Mike Stoller, Elvis and Jerry Leiber at MGM studios 1957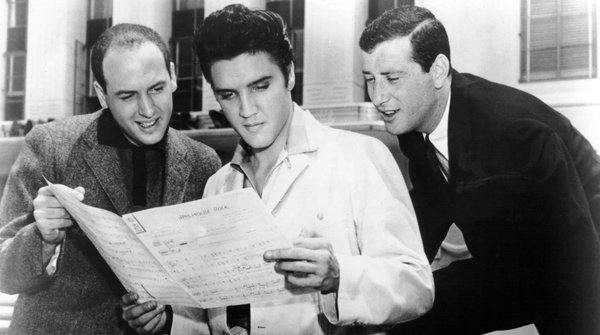 thanks, Wayn
23-08-2011 om 09:08 geschreven door Wayn
0 1 2 3 4 5 - Gemiddelde waardering: 1/5 - (1 Stemmen)