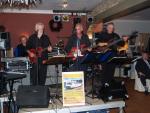 ACTUEEL. Zoals U weet spelen The Shadoogies The Shadows, Rock 'n roll, country en blues uit de jaren 1955 tot 1965 en later afgeleide.
THE YOUNG ONES was in 1962 een zeer grote hit en wij spelen dit nummer bij ieder optreden.
Onze looks zijn natuurlijk niet deze van de jonge Cliff Richard and The Shadows maar wij trachten toch deze muziek te brengen op een authentieke manier, zodat de veteranen van vandaag hieraan een houvast hebben en zich terug een beetje jong kunnen voelen.
HIERONDER THE SHADOOGIES IN LAUWE OP 6 OKTOBER 2007 IN ZAAL TER BIEST VOOR HET PERSONEELSFEEST VAN DE FIRMA PULLMAFLEX BNL. DE KARIKATUUR- TEKENAAR NESTEN WAS OOK VAN DE PARTIJ EN HIJ ZINGT ZELFS MEE.
02-08-2009 om 11:14 geschreven door sixties
0 1 2 3 4 5 - Gemiddelde waardering: 0/5 - (0 Stemmen)
Categorie:1955