E-mail mij


Druk op onderstaande knop om mij te e-mailen.


Romenu


Romenu is een blog over gedichten, literatuur en kunst Maar Romenu is ook een professionele freelance vertaler
Du-Ne en Ne-Du http://www.romenu.nl.


Huur eens een (vakantie)huis in een natuurgebied, dichtbij het centrum van Nijmegen


Google


Georg Trakl

Georg Trakl werd op 3 februari 1887 in het conducteurshuis aan de Waagplatz 2 in Salzburg geboren. Zijn vader, Tobias Trakl, was een handelaar in ijzerwaren en zijn moeder, die ook psychische problemen had, was Maria Catharina Trakl, (meisjesnaam Halik). Voorts had hij nog drie broers en drie zussen. Margarethe (doorgaans Grethe genoemd) stond hem het naast, zelfs zodanig dat sommigen een incestueuze verhouding vermoeden. Zijn jeugd bracht hij door in Salzburg. Vervolgens bezocht hij van 1897 tot 1905 het humanistische gymnasium. Om toch een academische opleiding te kunnen volgen, werkte hij tot 1908 in de praktijk bij een apotheker. Sommigen vermoedden dat hij dit vooral deed om zichzelf opiaten te kunnen verschaffen. Bij het uitbreken van WO I werd Trakl als medicus naar het front in Galicië (heden ten dage in Oekraďne en Polen) gestuurd. Zijn gemoedsschommelingen leidden tot geregelde uitbraken van depressie, die verergerd werden door de afschuw die hij voelde voor de verzorging van de ernstig verwonde soldaten. De spanning en druk dreven hem ertoe een suďcidepoging te ondernemen, welke zijn kameraden nochtans verhinderden. Hij werd in een militair ziekenhuis opgenomen in Kraków, alwaar hij onder strikt toezicht geplaatst werd.Trakl verzonk daar in nog zwaardere depressies en schreef Ficker om advies. Ficker overtuigde hem ervan dat hij contact moest opnemen met Wittgenstein, die inderdaad op weg ging na Trakls bericht te hebben ontvangen. Op 4 november 1914, drie dagen voordat Wittgenstein aan zou komen, overleed hij echter aan een overdosis cocaďne


Paul Celan

Paul Celan werd onder de naam Paul Antschel op 23 november 1920 geboren in Czernowitz, toentertijd de hoofdstad van de Roemeense Boekovina, nu behorend bij de Oekraďne. Paul Celans ouders waren Duitssprekende joden die hun zoon joods opvoedden en hem naar Duitse christelijke scholen stuurden. In 1942 werden Celans ouders door de Duitse bezetter naar een werkkamp gedeporteerd en daar vermoord. Hijzelf wist aanvankelijk onder te duiken, maar moest vanaf juli 1942 in een werkkamp dwangarbeid verrichten. Celan overleefde de oorlog. Via Boekarest en Wenen vestigde Celan zich in 1948 in Parijs. Daar was hij werkzaam als dichter, vertaler en doceerde hij aan de prestigieuze Ecole Normale Supérieure. Vermoedelijk op 20 april 1970 beëindigde hij zijn leven zelf door in de Seine te springen.


Gerard Reve

Gerard Reve over: Medearbeiders "God is in de mensen, de dieren, de planten en alle dingen - in de schepping, die verlost moet worden of waaruit God verlost moet worden, door onze arbeid, aangezien wij medearbeiders van God zijn." Openbaring "Tja, waar berust elk godsbegrip op, elke vorm van religie? Op een openbaring, dat wil zeggen op een psychische ervaring van zulk een dwingende en onverbiddelijke kracht, dat de betrokkene het gevoel heeft, niet dat hij een gedachte of een visioen heeft, maar dat een gedachte gedachte of visioen hem bezit en overweldigt."


Simon Vestdijk
Simon Vestdijk (Harlingen, 17 oktober 1898 – Utrecht, 23 maart 1971) was een Nederlands romancier, dichter, essayist en vertaler. Zijn jeugd te Harlingen en Leeuwarden beschreef hij later in de Anton Wachter-cyclus. Van jongs af aan logeerde hij regelmatig bij zijn grootouders in Amsterdam, waar hij zich in 1917 aan de Universiteit van Amsterdam inschrijft als student in de medicijnen. Tijdens zijn studie die van 1917 tot 1927 duurde, leerde hij Jan Slauerhoff kennen.Tot 1932 is hij als arts in praktijken door heel Nederland werkzaam. In 1932 volgt zijn officiële schrijversdebuut met de uitgave van de bundel Verzen in De Vrije Bladen. Doorslaggevend voor Vestdijks uiteindelijke keuze voor de literatuur is zijn ontmoeting in 1932 met Eddy Du Perron en Menno ter Braak. Deze ontmoeting had tot resultaat dat hij redactielid werd van het tijdschrift Forum Kort daarop, in 1933, wordt zijn eerste novelle, De oubliette, uitgegeven. In hetzelfde jaar schrijft hij Kind tussen vier vrouwen, dat, eerst geweigerd door de uitgever, later de basis zal vormen voor de eerste drie delen van de Anton Wachter-romans. In 1951 ontvangt Vestdijk de P.C. Hooftprijs voor zijn in 1947 verschenen roman De vuuraanbidders. In 1957 wordt hij voor het eerst door het PEN-centrum voor Nederland voorgedragen voor de Nobelprijs voor de Literatuur, die hij echter nooit zal krijgen. Op 20 maart 1971 wordt hem de Prijs der Nederlandse Letteren toegekend, maar voor hij deze kan ontvangen overlijdt hij op 23 maart te Utrecht op 72-jarige leeftijd. Vestdijk was auteur van ca. 200 boeken. Vanwege deze enorme productie noemde de dichter Adriaan Roland Holst hem 'de man die sneller schrijft dan God kan lezen'. Andere belangrijke boeken van Simon Vestdijk zijn: "Kind van stad en land" (1936), "Meneer Visser's hellevaart" (1936), "Ierse nachten" (1946), "De toekomst de religie" (1947), "Pastorale 1943" (1948), "De koperen tuin" (1950), "Ivoren wachters" (1951), "Essays in duodecimo" (1952) en "Het genadeschot" (1964).


K.P. Kavafis

K.P. Kavafis werd als kind van Griekse ouders, afkomstig uit Konstantinopel, geboren in 1863 in Alexandrië (tot vandaag een Griekse enclave) waar hij ook het grootste deel van zijn leven woonde en werkte. Twee jaar na de dood van zijn vader verhuist het gezin in 1872 naar Engeland om na een verblijf van vijf jaar naar Alexandrië terug te keren. Vanwege ongeregeldheden in Egypte vlucht het gezin in 1882 naar Konstantinopel, om na drie jaar opnieuw naar Alexandrië terug te gaan. In de jaren die volgen maakt Kavafis reizen naar Parijs, Londen en in 1901 zijn eerste reis naar Griekenland, in latere jaren gevolgd door nog enkele bezoeken. Op de dag van zijn zeventigste verjaardag, in 1933 sterft Kavafis in Alexandrië. De roem kwam voor Kavafis pas na zijn dood, dus postuum. Deels is dat toe te schrijven aan zijn eigen handelswijze. Hij was uiterst terughoudend met de publicatie van zijn gedichten, liet af en toe een enkel gedicht afdrukken in een literair tijdschrift, gaf in eigen beheer enkele bundels met een stuk of twintig gedichten uit en het merendeel van zijn poëzie schonk hij op losse bladen aan zijn beste vrienden.


Thomas Mann


Thomas Mann, de jongere broer van Heinrich Mann, werd geboren op 6 juni 1875 in Lübeck. Hij was de tweede zoon van de graankoopman Thomas Johann Heinrich Mann welke later één van de senatoren van Lübreck werd. Zijn moeder Julia (geboren da Silva-Bruhns) was Duits-Braziliaans van Portugees Kreoolse afkomst. In 1894 debuteerde Thomas Mann met de novelle "Gefallen". Toen Thomas Mann met 21 jaar eindelijk volwassen was en hem dus geld van zijn vaders erfenis toestond - hij kreeg ongeveer 160 tot 180 goldmark per jaar - besloot hij dat hij genoeg had van al die scholen en instituties en werd onafhankelijk schrijver. Kenmerkend voor zijn stijl zijn de ironie, de fenomenale taalbeheersing en de minutieuze detailschildering. Manns reputatie in Duitsland was sterk wisselend. Met zijn eerste roman, Buddenbrooks (1901), had hij een enorm succes, maar door zijn sceptische houding tegenover Duitsland na de Eerste Wereldoorlog veranderde dit volledig. Stelde hij zich tot aan de jaren twintig apolitiek op (Betrachtungen eines Unpolitischen, 1918), meer en meer raakte hij bij het Politiek gebeuren betrokken. Zijn afkeer van het nationaal socialisme groeide, zijn waarschuwingen werden veelvuldiger en heftiger. In 1944 accepteerde hij het Amerikaanse staatsburgerschap. Tussen 1943 en 1947 schreef Mann Doktor Faustus (zie Faust), de roman van de 'Duitse ziel' in de gecamoufleerd geschilderde omstandigheden van de 20ste eeuw. In 1947 bezocht hij voor het eerst sinds de Oorlog Europa, twee jaar later pas Duitsland. In 1952 vertrok hij naar Zwitserland. Op 12 augustus 1955 stierf hij in Zürich. Twintig jaar na zijn dood, in aug. 1975, is zijn literaire nalatenschap geopend: dagboekaantekeningen van 15 maart 1933 tot 29 juli 1955, alsmede notities uit de jaren 1918 tot en met 1921.Belangrijke werken zijn: Der Zauberberg, Der Tod in Venedig, Dokter Faustus , Joseph und seine Brüder en Die Bekenntnisse des Hochstaplers Felix Krull.


Rainer Maria Rilke

Rilke werd op 4 december 1875 geboren in Praag. Hij had al naam gemaakt als dichter met zijn bundels Das Stundenbuch en Das Buch der Bilder, toen hij de literaire wereld versteld deed staan en wereldfaam verwierf met de publicatie van zijn twee delen Neue Gedichte in 1907 en 1908. Hij verzamelde daarin het beste werk uit een van zijn vruchtbaarste periodes, die hij grotendeels doorbracht in Parijs. Rilke was daar diep onder de indruk gekomen van Rodin, bij wie hij een tijdlang in dienst was als particulier secretaris. Rodin, zei hij later, had hem leren kijken. Dit kijken kwam neer op intense concentratie, om het mysterie te kunnen zien 'achter de schijnbare werkelijkheid'. Latere en rijpere werken als Duineser Elegien (1912-1923) en het ronduit schitterende Die Sonette an Orfeus (1924) illustreren Rilkes metafysische visie op het onzegbare, dat haar verwoording vindt in een hermetische muzikale taal. Op 29 december 1926 overlijdt Rilke in het sanatorium in Val-Mont aan de gevolgen van leukemie. Enkele dagen later wordt hij, overeenkomstig zijn wens, begraven op het kerkhof van Raron.


* * * * * * * * * * * * * * * *

| | |
| --- | --- |
| | Over literatuur, gedichten, kunst en cultuur |

22-01-2018

Delphine Lecompte Wilhelm Genazino, Rainer Stolz, Ingrid Puganigg, Krzysztof Kamil Baczyński, Rainer Brambach, Lord Byron, August Strindberg, Gotthold Ephraim Lessing
De Vlaamse dichteres en schrijfster Delphine Lecompte werd geboren op 22 januari 1978 in Gent. Zie ook alle tags voor Delphine Lecompte op dit blog.
Karbonade in Poperinge
We rijden door het dorpje waar jij een gekweld kind bent geweest
vertederd spreek je over alle kikkers die je opblies
alle konijnen die je stroopte
nadat je vader de achterlijke konijnenkopjes had verbrijzeld
met dezelfde spade waarmee je moeder werd getemd.

We eten kalfskarbonade in het dorpje waar jij je onschuld verloor
twee keer onder en ontelbare keren op een ongedoopte bakkersdochter
ze rook nooit naar versgebakken brood
maar altijd naar bleekwater en naar oudere jongens.

We rijden terug naar de stad waar we voorwaardelijke geliefden zijn
in de auto word ik ziek
de teleurstellende karbonade spat op de voorruit
waar het de vorm aanneemt van een zieltogend kalf.
Bijten in het Frans
Ik was eens op taalkamp
Ik hoorde het werkwoord bijten in het Frans
En ik dacht dat het sterven betekende
Ik mocht mijn hand in de muil van een kalf steken
En ik voorvoelde dat seks minder intiem zou zijn; minder gezellig ook.

Ik werd verliefd op iemand van hetzelfde geslacht
Ze mocht vroeger naar huis omdat haar vader een poolreiziger was
Een kortharige monitrice zei: 'Tu as une voix forte!'
Ze haatte mij, het was een klein beetje wederzijds
Elke dag dacht ik aan de kerk van mijn geboortedorp.

Ik werd betrapt toen ik shampoo trachtte te stelen
Van het minst blozende en meest blonde kamplid
Ik kreeg een postkaart van mijn moeder
Het was een paardenrace van Degas
Ze schreef: 'Parijs is mooi. Wilfried heeft een Afrikaans masker voor mij gekocht.'

Ik was eens op taalkamp
Ik leerde dat bijten en sterven niet dezelfde woorden waren
Na de verijdelde shampoodiefstal werd ik geminacht
Elke ochtend sprak ik met God
Ik vond hem even getalenteerd als Degas, en mooier nog dan paardenbenen.

Zo prettig was het taalkamp niet
Het kalf en de postkaart waren de hoogtepunten
Terug thuis mocht ik mijn mening geven over het Afrikaanse masker; ik had er geen.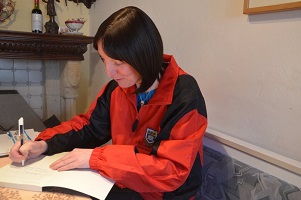 Delphine Lecompte (Gent, 22 januari 1978)
De Duitse schrijver Wilhelm Genazino werd geboren op 22 januari 1943 in Mannheim. Zie ook alle tags voor Wilhelm Genazino op dit blog.
Uit: Bei Regen im Saal
"Ich wollte schnell zum Buffet, ein Glas Wein verlangen und mich dann in eine stille Ecke des Foyers verdrücken.
Sogar hier, im Theater, fühlte ich meine Unruhe. Mein derzeit größter Wunsch war: Ich wollte einmal einen einfältigen Tag durchleben. Am liebsten wollte ich damit sofort beginnen. Der Wein kostete fünf Euro, ich reichte der Frau das Geld passend über die Theke. Ich stand in der Nähe einer hohen Glaswand und schaute auf die Straße hinunter. Obwohl ich mir die Hände gewaschen hatte, roch ich an meinen Fingern immer noch den Gummigeruch der Rolltreppenhandläufe. Der Geruch störte mich, aber ich wollte nicht noch einmal in die Toilette. Ich wollte über nichts nachdenken, machte mir aber trotzdem Gedanken, warum mir Gelassenheit manchmal gelang und manchmal nicht. Auf der Straße war kaum Verkehr. Ich war nicht sicher, ob ich nach dem Theater gleich nach Hause gehen würde. Das Theaterstück handelte von einer jungen Frau, die sich einbildete, sie sei eine Antilope geworden und werde demnächst als Antilope in einem Wald leben. Jetzt wollte die Frau ihre Freundin überreden, ebenfalls Antilope zu werden. Dann sollte die Freundin mit ihr in den Wald übersiedeln. Obwohl das Stück anregend und unterhaltsam war, empfand ich ein kleines Unbehagen. Es kam mir so vor, als hätte ich das Stück schon vor Jahren gesehen, was nicht der Fall war. Wahrscheinlich war ich mit vielen solcher Traumstücke vertraut, in denen verzweifelte Menschen das Unmögliche suchen und es nicht finden. Ich schaute immer noch auf die leere Straße hinunter und sagte mir: Man muss dort suchen, wo nichts geschieht.
Nicht weit von mir wandelte eine blonde Frau mit einem Sektglas in der Hand. Ich kannte die Frau ein wenig und wunderte mich, sie im Theater anzutreffen. Sie arbeitete in der Bankfiliale, in der ich mein Konto hatte. Die Frau behandelte mich zuvorkommend und freundlich, obgleich sie mir stets unruhig und gehetzt erschien. Wahrscheinlich ähnelte sie mir, und es war mir unangenehm, die Ähnlichkeit zu bemerken. Offenbar war auch sie im Theater, weil sie hier ungestört ihre Zeit verbringen konnte."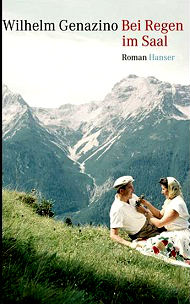 Wilhelm Genazino (Mannheim, 22 januari 1943)
Cover
De Duitse dichter en schrijver Rainer Stolz werd geboren in Hamburg op 22 januari 1966. Hij woont nu in Berlijn. Zie ook alle tags voor Rainer Stolz op dit blog.
schwingende lasten
"schwingende lasten, ganz schwierig"
sagt mein nachbar, leergut balancierend
an seinen fahrradlenkern, unterm arm
flugblätter ("wir bleiben hier!"), wieder
stoße ich mich an dem lesereflex: "geh weg!-
schäden", erlebe live, wie sie raum greift
die sanierung in mir, der ich den absprung
zum alkpunk verpasst habe - oder
gehts auch mit malzbier? rumzuhängen hier
zwischen den wertzeichen, unterwegs zu sein
mit dem flausensegel, am erkenntern
des urlaubs im detail einer ausweichspur
des leihverkehrs der luft und der lektüren
die aufgehen am rand der flucht, dem erfolg
einen tag zu stehlen und noch einen, so
dass aus restposten nistkästen werden
und aus schwankungen flügelschläge?

Haiku-Vogelporträts
Am Feinkost-Laden
zerfressene Buchstaben.
Bettelndes Tschilpen.
*
Die Flügel schlagen
die Luft, in der er verharrt -
bis sich was bewegt.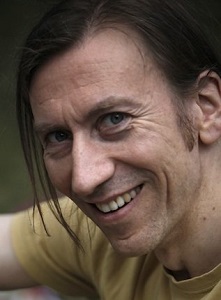 Rainer Stolz (Hamburg, 22 januari 1966)
De Oostenrijkse dichteres en schrijfster Ingrid Puganigg werd op 22 januari 1947 geboren in Gassen bij Afritz am See, Kärnten. Zie ook alle tags voor Ingrid Puganigg op dit blog.
Uit: Zwei Frauen warten auf eine Gelegenheit.(Samen met Monika Helfer)
"2 M, Wien, Am Graben. – Ich war noch nie in Südengland.
Offensichtlich liegen da die Romananfänge nur so herum.
Wie hat sich das Mädchen mit Nikotin vergiftet? Hat sie Wurzeln der Tabakpflanze oder irgendwelcher Nachtschattengewächse ausgekocht, oder hat sie sich zum Suizid geraucht – geht das überhaupt?
Bei einem Gutenachtkuss fiel mir aus der Blusentasche eine Zigarette in die Wiege meines Babys. Es hatte, als ich vor dem Zubettgehen noch einmal hineinschaute, Tabak um die Mundwinkel, und ich, in meiner Panik, fuhr, wie ich war, ins Krankenhaus. Ich schwor mir, nie mehr eine Zigarette anzurühren.
Das Baby wurde untersucht und war gesund. Mit seinen Patschhändchen versuchte es, sich aufzurichten. Es war so süß, ihm dabei zuzusehen. Erst jetzt wurde mir bewusst, dass ich in einem Herrenpyjama, zwei Nummern zu groß für mich, dastand. Kaum im Auto, das Baby in der Wiege auf dem Rücksitz, steckte ich mir eine Zigarette an. Ich war so erleichtert!
Jeans, Hemd, Schuh, Rucksack warten im Moor auf Dich, damit Du endlich mit Deiner Geschichte beginnen kannst. Ein einzelner Schuh? Pack die Dinge in Deinen ersten Satz. Warte dann, bis sich der Einsager hinter Dir aufgebaut hat, dann musst Du nur mehr schreiben, was er Dir flüstert.
3 I, Hannover, Ernst-August-Platz. – Wir müssen aufbrechen.
Immer musst Du aufbrechen, immer muss ich mir die Haare glattstreichen. Du bringst meine Wohnung durcheinander. Lüftest und lüftest. Mitten im Winter reißt Du die Balkontür auf. Ich friere!
Aber das kümmert Dich nicht. Solange Du es warm hast. Los! Mach jetzt. Zieh Deinen albernen Mantel an."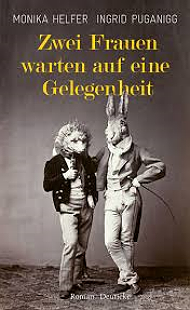 Ingrid Puganigg (Gassen, 22 januari 1947)
Cover
De Poolse dichter Krzysztof Kamil Baczyński werd op 22 januari 1921 in Warschau geboren. Zie ook alle tags voor Krzysztof Kamil Baczyński op dit blog en ook alle tags voor Baczyński.
A Melody
Who'll give me back my musings
and the shadow that left after you?
Ah, these days like animals' murmur,
like plants are they - ever younger.

And before long - such little ones,
on a nutshell standing,
we'll sail against the seasons
as if to spite water rings.

The red of blood will be dreamt childishly
as puffed-out cheeks of a cherry.

The metal of storms will be discovered again
through a foamy blow-ball's head.

While the thunder of tears like an avalanche of stones
into little green beetles will change,
thus bending down to the water by turns
we'll incautiously sail to oblivion;
left behind by us on earth
only our shadows shall cry.
Vertaald door Alex Kurczaba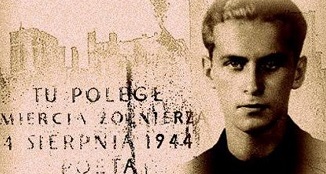 Krzysztof Kamil Baczyński (22 januari 1921 – 4 augustus 1944)
De Zwitserse dichter en schrijver Rainer Brambach werd geboren op 22 januari 1917 in Basel. Zie ook alle tags voor Rainer Brambach op dit blog.
Meine Wohnung, das Gewächshaus
Unter Palmzweigen sitzend, was sähe ich
draußen? — Gefrorenen Kompost, das leere
Gerüst der Kastanienallee, nichts Lebendiges
außer einigen Krähen.
Die zerbeulte Gießkanne, der ausgefranste Strohhut
und ein Paar schiefgetretene Stiefel
erinnern mich freundlich
an ferne tiefblaue Sommertage.
Die Heizröhre summt, Schnee fällt aufs Glasdach.
Ich bin ein glücklicher Mieter, umgeben von
meinen Freunden mit den lateinischen Namen.
Am innigsten zugetan aber bin ich den Kakteen.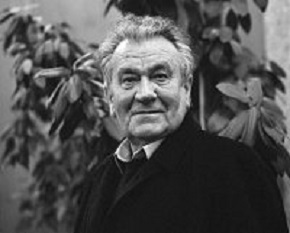 Rainer Brambach (22 januari 1917 - 14 augustus 1983)
De Engelse dichter en schrijver George Gordon Byron (beter bekend als Lord Byron) werd geboren op 22 januari 1788 in Londen. Zie ook alle tags voor Lord Byron op dit blog.
To My Son
Those flaxen locks, those eyes of blue
Bright as thy mother's in their hue;
Those rosy lips, whose dimples play
And smile to steal the heart away,
Recall a scene of former joy,
And touch thy fathers heart, my Boy!
And thou canst lisp a father's name--
Ah, William, were thine own the same,­
No self‑reproach--but, let me cease--
My care for thee shall purchase peace;
Thy mother's shade shall smile in joy,
And pardon all the past, my Boy!
Her lowly grave the turf has prest,
And thou hast known a stranger's breast;
Derision sneers upon thy birth,
And yields thee scarce a name on earth;
Yet shall not these one hops destroy,--
A Father's heart is throe, my Boy!
Why, let the world unfeeling frown,
Must I fond Nature's claim disown?
Ah, no--though moralists reprove,
I hail thee, dearest child of love,
Fair cherub, pledge of youth and joy­
A Father guards thy birth, my Boy!
Oh, 'twill be sweet in thee to trace,
Ere age has wrinkled o'er my face,
Ere half my glass of life is run,
At once a brother and a son;
And all my wane of years employ
In justice done to thee, my Boy!
Although so young thy heedless sire,
Youth will not damp parental fire;
And, wert thou still less dear to me,
While Helen's form revives in thee,
The breast which beat to former joy,
Will ne'er desert its pledge, my Boy!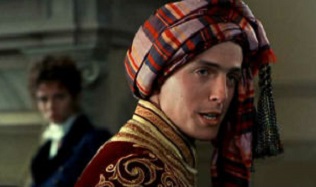 Lord Byron (22 januari 1788 – 19 april 1824)
Hugh Grant als Lord Byron in de film "Rowing with the Wind" uit 1988
De Zweedse schrijver Johan August Strindberg werd op 22 januari 1849 in Stockholm geboren. Zie ook alle tags voor August Strinberg op dit blog.
Uit: Am Offenen Meer (Vertaald door Mathilde Mann)
"Draußen auf dem Gåsstensfjord lag an einem Maiabend eins von den Segelbooten des Zollwesens und kreuzte. Die entferntest gelegenen Schären begannen zu blauen, und an dem klaren Himmel bildeten sich jetzt, wo die Sonne sank, allmählich Wolken; an den Landzungen spürte man bereits ein unruhiges Plätschern, und ein unangenehmes Rucken am Rahsegel verkündete, daß der Landwind bald auf neue Luftströmungen von oben, von außen und von hinten stoßen werde.
Am Ruder saß der Zollkontrolleur von Österskär, ein Hüne mit langem, schwarzem Vollbart, und schien hin und wieder einen Blick mit den beiden Zollbeamten auszutauschen, die im Vorsteven saßen und von denen der eine die Klostange bediente, die das große Rahsegel im Winde hielt.
Von Zeit zu Zeit warf der Mann am Ruder einen forschenden Blick auf den kleinen Herrn, der, scheinbar ängstlich und fröstelnd, am Mast saß und hin und wieder das Plaid strammer um Magen und Unterleib zog. Der Kontrolleur mußte etwas Komisches in seinem Aussehen gefunden haben, denn er wandte sich oft zur Seite, gleichsam als wolle er zugleich mit dem Priemsaft ein aufdringliches Lachen ausspucken.
Der kleine Herr trug einen biberfarbenen Sommerüberzieher, aus dem ein Paar weite Beinkleider aus moosfarbenem Trikot hervorguckten und sich unten über ein Paar Krokodillederstiefel mit schwarzen Knöpfen und Schäften aus braunem Tuch ausbreiteten. Von der untern Bekleidung sah man fast nichts; aber um den Hals hatte er ein cremefarbenes Seidentuch geschlungen, und seine Hände schützten ein Paar lachsfarbene, dreiknöpfige Glacéhandschuhe, von denen der rechte am Handgelenk von einem dicken, ziselierten Goldreif in Form einer Schlange, die sich in den Schwanz beißt, umschlossen wurde. An den Fingern der Handschuhe sah man Erhöhungen wie von Ringen. Das Gesicht – soviel man davon sehen konnte – war mager und leichenblaß, und ein kleiner, dünner Schnurrbart mit in die Höhe gewichsten Spitzen verlieh ihm einen etwas exotischen Ausdruck. Der Hut war zurückgeschoben und ließ das schwarze, geradegeschnittene Stirnhaar wie ein Stück von einem Käppchen blicken.
Was den Bootsführer am meisten zu fesseln schien, war das Armband, der Schnurrbart und das Stirnhaar."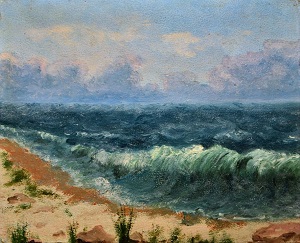 August Strindberg (22 januari 1849 – 14 mei 1912)
Strandparti door August Strindberg, 1873
De Duitse dichter en schrijver Gotthold Ephraim Lessing werd geboren op 22 januari 1729 in Braunschweig. Zie ook alle tags voor Gotthold Ephraim Lessing.
Uit: Der Freigeist
"THEOPHAN. Werden Sie es übelnehmen, Adrast, wenn ich mich endlich über den stolzen Kaltsinn beklage, den Sie nicht aufhören, gegen mich zu äußern? Schon seit Monaten sind wir in einem Hause, und warten auf einerlei Glück. Zwei liebenswürdige Schwestern sollen es uns machen. Bedenken Sie doch, Adrast! können wir noch dringender eingeladen werden, uns zu lieben, und eine Freundschaft unter uns zu stiften, wie sie unter Brüdern sein sollte? Wie oft bin ich nicht darauf bestanden? – –
ADRAST. Ebenso oft haben Sie gesehen, daß ich mich nicht einlassen will. Freundschaft? Freundschaft unter uns? – – Wissen Sie, muß ich fragen, was Freundschaft ist?
THEOPHAN. Ob ich es weiß?
ADRAST. Alle Fragen bestürzen, deren wir nicht gewärtig sind. Gut, Sie wissen es. Aber meine Art zu denken, und die Ihrige, diese kennen Sie doch auch?
THEOPHAN. Ich verstehe Sie. Also sollen wir wohl Feinde sein?
ADRAST. Sie haben mich schön verstanden! Feinde? Ist denn kein Mittel? Muß denn der Mensch eines von beiden, hassen, oder lieben? Gleichgültig wollen wir einander bleiben. Und ich weiß, eigentlich wünschen Sie dieses selbst. Lernen Sie wenigstens nur die Aufrichtigkeit von mir.
THEOPHAN. Ich bin bereit. Werden Sie mich aber diese Tugend in aller ihrer Lauterkeit lehren?
ADRAST. Erst fragen Sie sich selbst, ob sie Ihnen in aller ihrer Lauterkeit gefallen würde?
THEOPHAN. Gewiß. Und Ihnen zu zeigen, ob Ihr künftiger Schüler einige Fähigkeit dazu hat, wollen Sie mich wohl einen Versuch machen lassen?
ADRAST. Recht gern.
THEOPHAN. Wo nur mein Versuch nicht ein Meisterstück wird. Hören Sie also, Adrast – – Aber erlauben Sie mir, daß ich mit einer Schmeichelei gegen mich selbst anfange. Ich habe von jeher einigen Wert auf meine Freundschaft gelegt; ich bin vorsichtig, ich bin karg damit gewesen. Sie sind der erste, dem ich sie angeboten habe; und Sie sind der einzige, dem ich sie aufdringen will. – – Umsonst sagt mir Ihr verächtlicher Blick, daß es mir nicht gelingen solle. Gewiß, es soll mir gelingen. Ihr eigen Herz ist mir Bürge; Ihr eigen Herz, Adrast, welches unendlich besser ist, als es Ihr Witz, der sich in gewisse groß scheinende Meinungen verliebt hat, vielleicht wünschet
ADRAST. Ich hasse die Lobsprüche, Theophan, und besonders die, welche meinem Herzen auf Unkosten meines Verstandes gegeben werden. Ich weiß eigentlich nicht, was das für Schwachheiten sein müssen (Schwachheiten aber müssen es sein), derentwegen Ihnen mein Herz so wohlgefällt; das aber weiß ich, daß ich nicht eher ruhen werde, als bis ich sie, durch Hülfe meines Verstandes, daraus verdrungen habe."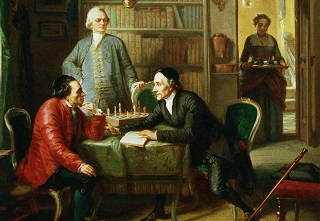 Gotthold Ephraim Lessing (22 januari 1729 - 15 februari 1781)
Lessing en Johann Caspar Lavater te gast bij Moses Mendelssohn door Moritz Daniel Oppenheim, 1856
Zie voor nog meer schrijvers ook mijn blog van 22 januari 2017 deel 1 en eveneens deel 2 en ook deel 3.
Zie voor bovenstaande schrijvers ook mijn blog van 23 januari 2007 en ook mijn blog van 23 januari 2008 en eveneens mijn blog van 22 januari 2009.
22-01-2018 om 18:21 geschreven door Romenu

Tags:Delphine Lecompte Wilhelm Genazino, Rainer Stolz, Ingrid Puganigg, Krzysztof Kamil Baczyń,ski, Rainer Brambach, Lord Byron, August Strindberg, Gotthold Ephraim Lessing, Romenu


21-01-2018

Am dritten Sonntage nach Heilige Drei Könige (Annette von Droste-Hülshoff)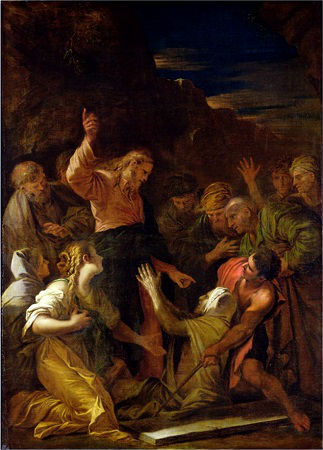 Christus geneest een melaatse door Jean-Marie Melchior Doze, 1864
Am dritten Sonntage nach Heilige Drei Könige
Ev.: Vom Aussätzigen und Hauptmann.
»Geh hin und dir gescheh' wie du geglaubt!«
Ja, wer da glaubt, dem wird sein Heil geschehen;
Was aber ihm, dem in verborgnen Wehen
Das Leben hat sein Heiliges geraubt?
Herr, sprich ein Wort, so wird dein Knecht gesund!
Herr, sprich das Wort, ich kann ja nichts als wollen;
Die Liebe kann das Herz dir freudig zollen,
Der Glaube wird ja nur als Gnade kund!
Wie kömmt es, da ich dich am Abend rief,
Da ich am Morgen ausging dich zu finden,
Daß du in Lauheit und des Zweifels Sünden
Mich sinken ließest, tiefer stets und rief.
Ist nicht mein Ruf in meiner höchsten Not
Zu dir empor geschollen aus der Tiefe?
Und war es nicht, als ob ich Felsen riefe,
Indes mein Auge stets von Tränen rot?
Verzeih, o Herr, was die Bedrängnis spricht,
Ich habe dich doch oft und süß empfunden,
Ich war ja eins mit dir zu ganzen Stunden,
Und in der Not gedacht' ich dessen nicht!
Und ist mir nun, als sei ich ganz allein
Von deinem weiten Gnadenmahl verloren,
Der ausgesperrte Bettler vor den Toren:
O Gott! die Schuld ist doch gewißlich mein!
Fühlt' ich in Demut, wie ich nimmer wert,
Daß ich dein Wort in meinem Geist empfangen,
Daß meine Seufzer an dein Ohr gelangen,
Daß meine Seele dich erkennt und ehrt?
Mein Herr, gedenke meiner Sünden nicht,
Wie oft hab' ich auf selbstgewähltem Pfade
Geschrien im Dunkel, Gott, um deine Gnade,
Wie um ein Recht, und wie um eine Pflicht!
O hätt' ich ihre Gaben nicht versäumt!
Hätt' ich sie nicht zertreten, und verachtet!
Ich stände nicht so grauenvoll umnachtet,
Daß das entflohne Licht mir wie geträumt!
Wie oft ist nicht, noch eh die Tat geschah,
Die als Gedanke lüstern mich umflogen,
In milder Warnung still vorbeigezogen
Dein Name mir, dein Bild auf Golgatha!
Und wenn ich nun mich frevelnd abgewandt,
Die Sünde die ich klar erkannt begangen,
Wie hast du dann in reuigem Verlangen
Nicht oft in meiner Seele nachgebrannt!
Ach, viel und schwere Sünden übt' ich schon,
Noch mehr der Fehle, klein in ihren Namen,
Doch groß in der Verderbnis tiefstem Samen,
Taub für des jammernden Gewissens Ton.
Nun ist mir endlich alles Licht dahin!
Und öfters deine Stimme ganz verschollen,
Doch wirf mich, o du siehst ich kann noch wollen,
Nicht zu den Toten weil ich lebend bin!
Mein Jesu, sieh, ich bin zu Tode wund,
Und kann in der Zerrüttung nicht gesunden,
Mein Jesu, denk an deine bittern Wunden,
Und sprich ein Wort, so wird dein Knecht gesund!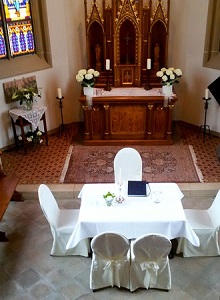 Annette von Droste-Hülshoff (10 januari 1797 – 24 mei 1848)
De kapel van Burg Hülshoff, de geboorteplaats van Annette von Droste-Hülshoff
Zie voor de schrijvers van de 21e januari ook mijn vorige blog van vandaag.
21-01-2018 om 10:50 geschreven door Romenu

Tags:Annette von Droste-Hülshoff, Romenu



Louis Menand, Ludwig Thoma, Ludwig Jacobowski, Kristín Marja Baldursdóttir, Egon Friedell, Joseph Méry, Roderich Benedix
De Amerikaanse schrijver en letterkundige Louis Menand werd geboren op 21 januari 1952 in Syracuse, New York. Zie ook alle tags voor Louis Menand op dit blog.
Uit: What It Is Like to Like. Art and taste in the age of the Internet
"The subject of Tom Vanderbilt's "You May Also Like" (Knopf) is taste, the term he uses for whatever it is that guides our preference for chocolate over vanilla, taupe over beige, "The Bourne Supremacy " over "The Bourne Ultimatum," and Artur Schnabel and Joseph Szigeti's recording of Beethoven's tenth violin sonata over Vladimir Ashkenazy and Itzhak Perlman's rendering of the same work. Vanderbilt's widely admired previous book, "Traffic," examined a dangerous and complex activity that people pay about as much attention to while they're doing it as they do to washing the dishes: driving a car. Making sense of driving was tough. Not nearly as tough, however, as taste.
Vanderbilt's premise is: "We are strangers to our tastes." He doesn't mean that we don't really like what we say we like. He means that we don't know why. Our intuition that tastes are intuitive, that they are just "our tastes," and spring from our own personal genome, has been disproved repeatedly by psychologists and market researchers. But where tastes do come from is extremely difficult to pin down. Taste is not congenital: we don't inherit it. And it's not consistent. We come to like things we thought we hated (or actually did hate), and we are very poor predictors of what we are likely to like in the future.
We have trouble articulating the reasons that we prefer the Schnabel to the Ashkenazy, or decide on the locally foraged fresh spring porcini mushrooms with roasted Sebastopol peaches, almonds, and crispy tempura—no, wait!, I'll have the gâteau of Hudson Valley Moulard duck foie gras with roasted Chioggia beets, Brooks cherries, and Sicilian pistachios served with toasted brioche (thirty-dollar supplement). Just don't ask me why.
Maybe "toasted" trumped "foraged." Likes and dislikes can be triggered by random associations and can form in a split second. We make choices before we've had time to weigh the options. Vanderbilt tells us that the median amount of time spent looking at a work of art at the Met is seventeen seconds. Shopping for clothes, we say, "Oh, I love that!" before we have the first coherent idea about what it is that makes us love it."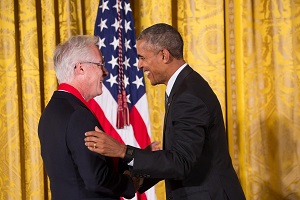 Louis Menand (Syracuse, 21 januari 1952)
Bij de uitreiking van de National Humanities Medal door president Obama in 2015
De Duitse dichter en schrijver Ludwig Thoma werd geboren op 21 januari 1867 in Oberammergau. Zie ook alle tags voor Ludwig Thoma op dit blog.
Uit: Peter Schlemihl
Trauervoller Rückblick und fröhlicher Anfang
Ihr Freunde traut und wohlgeneigt,
Ich bin schon wieder angezeigt.
Der Schreiber oder Sekretär
Nimmt einen neuen Bogen her.
Der Staatsanwalt spannt schon den Hahn
Und legt die Flinte auf mich an,
Der Richter rollt sein Augenpaar,
Es sträubt sich sein Juristenhaar;
Sie haben all auf mich gebirscht;
Die Tinte spritzt, die Feder knirscht.
Der Polizeihund fletscht den Zahn
Und knurrt mich ganz abscheulich an.
Ihr Freunde, trauert nicht so fast!
Ich sitze fröhlich auf dem Ast
Und pfeife, wie der Vogel pfeift,
Ob auch Justiz den Säbel schleift.

Deutschland und Frankreich
Hebt hoch das Glas! Wir wollen sagen:
So lieben wir dich, deutsches Land,
Wie Mutterschoß, der uns getragen;
Und Ehrfurcht heiligt unser Band.
Doch wer dich hegt in treuem Herzen,
Der will für dich kein Heldentum,
Erkauft um bitt're Mutterschmerzen,
Der wünscht dir keinen eiteln Ruhm
Nicht, was an dir die Fürsten preisen
Und Pfaffen segnen, gilt uns wert.
Sei du als Heimat uns der Weisen,
Als Land der Arbeit sei geehrt.
Es sollen dir die besten Siege
Für Freiheit noch beschieden sein,
Und reich die Hand in diesem Kriege
Der edlen Schwester überm Rhein!
Delcassé
Wir wollen Frieden. All die tausend Hände,
Die Tag für Tag in Ehren Arbeit schaffen,
Sie schleudern nicht in Hütten Feuerbrände,
Und keine greift begierig an die Waffen.
Wenn sie nicht wollen, wer kann alle zwingen,
Daß sie gleich wilden Tieren sich zerfleischen?
Wer kann sie sehend ins Verderben bringen?
Wer darf Gehorsam zu Verbrechen heischen?
In all den Tausenden lebt nur ein Wille,
Und so genügt es, ernsthaft ihn zu zeigen?
Ich frag' euch alle. Warum seid ihr stille?
Vernunft, gib Antwort! Nein! Vernunft muß schweigen.
Ein Narr darf mit dem Glück von allen spielen,
Und will's die Eitelkeit des kranken Laffen,
Die vielen Tausend mit den harten Schwielen,
Sie greifen stumpf und willig zu den Waffen.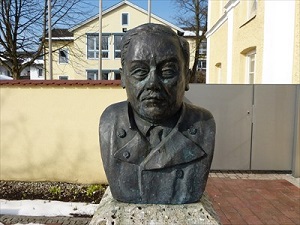 Ludwig Thoma (21 januari 1867 – 26 augustus 1921)
Borstbeeld bij het Ludwig Thoma gymnasium in Prien am Chiemsee
De Duitse dichter en schrijver Ludwig Jacobowski werd geboren op 21 januari 1868 in Strzelno (Strelno). Zie ook alle tags voor Ludwig Jacobowski op dit blog.
Meine Geburt
Die Mutter ist vor Weinen umgekommen,
Ein Wechselbalg warf ihr der Storch herein.
Sie hat mich niemals auf den Arm genommen
Und ließ im Kämmerchen mich müde schrei'n.
Das hab' ich von der Muhme oft vernommen!
Sie lügt gewiss. — Mir zittert das Gebein.
Wenn schon zu Anfang so viel Tränen kommen,
Wie kann ein Leben da noch fröhlich sein...
Warnung
Trieb dein Sehnen stundenlang
Nie in leergeblieb'nen Weiten?
Steuerst du nie mit blasser Wang',
Um dann auf und ab zu schreiten?
Hob dein widerstrebend Kinn
Keine Männerhand im Siege?
Schlichst du nie mit reinem Sinn
Einmal vor des Liebsten Stiege?
Willst du nicht wie jene sein,
Die in Schmerzen sich erlösten, —
Tröstung ist's der Seele dein,
Doch ein bitterliches Trösten!
Auf meinem Schreibtisch
Auf meinem Schreibtisch steht ein Bild,
Vor dem mein Auge überquillt;
Zehn Jahre schaut es auf mich her
Und macht mein Leben leer und schwer,
Weil sie mein Herze nie vergisst,
Wie schweigsam auch ihr Hügel ist.
Zehn Jahre sind eine lange Zeit
Für Jugend und Beständigkeit.
Ein Frauenherz ist leicht entflammt,
Ob unter Schürze, unter Samt;
Und schlug ein Herzlein froh an meins,
Stellt' ich ihr Bildnis neben deins.
O weh! Zehn Jahr' sind lange Zeit
Für Falsch und Unbeständigkeit.
Heut' steht dein Bildnis ganz allein,
So soll's für tausend Jahre sein.
Dein Bild hat Ruh', mein Herz hat Ruh'
Dein Hügel deckt mein Sehnen zu.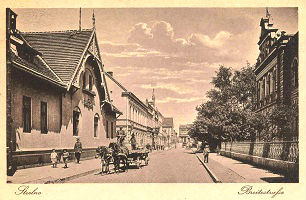 Ludwig Jacobowski (21 januari 1868 – 2 december 1900)
Strzelno op een oude ansichtkaart
De IJslandse schrijfster Kristín Marja Baldursdóttir werd geboren op 21 januari 1949 in Hafnarfjörður. Zie ook alle tags voor Kristín Marja Baldursdóttir op dit blog.
Uit: Die Eismalerin (Vertaald door Coletta Bürling)
"Aber die Magd wollte nicht mit nach Akureyri. »Ich rühr mich nicht vom Fleck, ich bin in den Westfjorden geboren, und da will ich auch sterben. Ich verlasse meine Bucht nicht, solange meine Kinder in diesem grünen Tal unter der Erde liegen und auf ihre Mutter warten.« Immer wieder kam sie darauf, was für ein verrückter Einfall es sei, mit sechs Kindern übers Hochgebirge zu ziehen. In den letzten Wintermonaten wurde deshalb im Tal kaum über etwas anderes geredet als über diesen unseligen Entschluss der Witwe, mit sechs Kindern ins Ungewisse zu ziehen. Schon bei dem Gedanken daran durchfuhr die Menschen ein Schauder. Als die Leute dann noch erfuhren, dass die gesamte Kinderschar die Schulbank drücken würde, schüttelten sie ausgiebig den Kopf und fragten sich ernsthaft, wer hier eigentlich verrückt war, die arme Magd oder Steinunn Ólafsdóttir. Und die Magd, die zuvor niemand gewollt hatte, wurde jetzt von der ganzen Gegend bemitleidet, und auf drei Höfen im Tal war man bereit, sie aufzunehmen. Der Fischer, der die Söhne der Witwe zum Fang mitgenommen hatte, war der Einzige, der sich traute zu fragen, wie sie sich als mittellose Witwe einbilden könne, sechs Kinder in der Stadt durchzubringen. »Wahrscheinlich setze ich mich einfach an meine Strickmaschine«, entgegnete sie gelassen.
Ólafur und Páll freuten sich darauf, in Akureyri auf die Schule zu gehen, und sie begannen sogleich, ihren weltlichen Besitz wie Taschenmesser und Wetzsteine zu Geld zu machen. Die Schwestern hingegen reagierten völlig anders. Karitas war wie eine Schäre bei Ebbe und Flut, entweder munter und ausgelassen wie ein Fels in der Brandung oder in tiefe Tagträume versunken."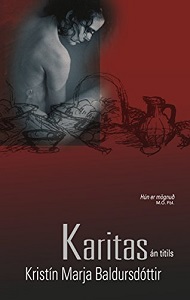 Kristín Marja Baldursdóttir (Hafnarfjörður, 21 januari 1949)
Cover IJslandse uitgave
De Oostenrijkse schrijver en kunsthistoricus Egon Friedell werd op 21 januari 1878 in Wenen geboren. Zie ook alle tags voor Egon Friedell op dit blog.
Uit: Die Reise mit der Zeitmaschine
"Mr. Anthony Transic, London
Wien, am 19. Februar 1908
Sehr geehrter Herr!
Die beiliegenden beiden Kopien informieren Sie über meinen Briefwechsel mit Mr. Wells. Dieser Korrespondenz verdanke ich auch Ihren Namen, der in dem Roman oder vielmehr dem Protokoll über die Zeitmaschine (ob absichtlich oder aus Versehen, kann ich nicht beurteilen) nicht erwähnt wird. Daß mein Brief Sie, obgleich er einer genaueren Adressenangabe entbehrt, ohne erhebliche Verzögerung erreichen wird, steht für mich außer Zweifel, denn die Londoner Post ist so findig, daß sie sogar eine Depesche ohne Namensnennung, nämlich an den Zeitreisenden, bestellte; man kann aber auch sagen: nicht bestellte. Nämlich so: sogleich nach Empfang des Briefes der Miss Hamilton schickte ich ein Telegramm an Time Traveller London und bekam es prompt zurück mit dem Vermerk »gone on a journey«. Das ist ja bei einem ›Reisenden‹ nicht weiter verwunderlich, daß er sich auf einer Reise befindet; nur was das für eine Reise sei, hätte ich gar zu gern gewußt. Ist er noch immer auf der Zeitreise? Oder schon wieder? Oder nur auf einer ganz gewöhnlichen, wie auch andere Sterbliche sie unternehmen? Aber auf solche Detailfragen pflegt die Post leider keine Auskunft zu erteilen. Immerhin ist damit nunmehr unwiderleglich bewiesen, daß der Zeitreisende existiert. Ich will damit nicht sagen, daß ich in die Angaben, die Mr. Wells mir machen ließ, irgendeinen Zweifel gesetzt hätte. Ich habe Mr. Wells immer für einen besonders honorigen Charakter gehalten und tue es jetzt erst recht. Über sein Talent denke ich allerdings seit den Enthüllungen seiner Sekretärin weniger anerkennend. Wenn er nur ein Protokoll geliefert hat, so bleibt an schriftstellerischer Leistung nichts zurück als die von ihr selbst zugegebene Farblosigkeit und Formlosigkeit. Der menschliche Gesichtskreis wird durch seinen Bericht allerdings erweitert, aber das ist nicht sein Verdienst, sondern das des Zeitreisenden. Er hat gar keinen Anlaß, Bernard Shaw so von oben herab abzutun. Denn selbst zugegeben, daß dieser Ideologie eingeschmuggelt hat, so bliebe ihm immer noch der Ruhm der Emballage. Auch ein gänzlich wertloses Medikament, das in einem delikaten Schokoladenüberzug steckt, oder ein exquisit ausgestattetes Knallbonbon, in dem sich nichts als Luft befindet, hätte noch immer einen gewissen Reiz: nennen Sie das immerhin Luxus. Nun enthält aber das, was Mr. Wells Shaws Ideologie nennt, ebenfalls einen Schatz von Wahrheiten; nur sind es keine physikalischen, sondern moralische."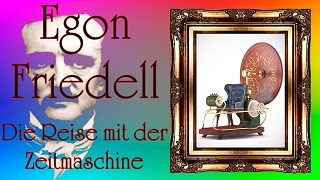 Egon Friedell (21 januari 1878 – 16 maart 1938)
Als luisterboek te zien en te horen op YouTube
De Franse dichter en schrijver Joseph Méry werd geboren op 21 januari 1797 in Marseille. Zie ook alle tags voor Joseph Méry op dit blog.
Marseille (Fragment)
ET rêveur, j'écoutais la guerrière harmonie,
Sous la tour ronde où meurt la vague d'Ionie ;
Là riaient nos soldats venus de Navarin :
Et je plongeais mes yeux vers la ville étagée,
Sur la rive du port par les mâts ombragée,
Sur notre beau ciel si serein.

ALORS, doublant ce fort qui s'asseoit sur une île,
Se glissa vers le môle une corvette agile ;
Sur sa poupe, en traits d'or, étincelait son nom ;
D'un funèbre secret messagère fidèle,
Elle entrait, saluant la haute citadelle
Avec la voix de son canon.

PAR la flottante échelle aux rampes goudronnées,
Je montai sur le pont : et mes mains étonnées
Touchaient de vieux débris gisans au pied des mâts.
O navire ! ai-je dit, quelle terre féconde
A vu ton vol ? Madras, Pondichéry, Golconde ?
Je veux visiter ces climats !

DE ton beau pèlerinage,
Que j'aime à m'entretenir ;
Sur ta carte de voyage
Tout point est un souvenir.
Corvette, ton ancre est rousse,
Ton bassin manque d'eau douce,
Ta quille est verte de mousse ;
De bien loin tu dois venir !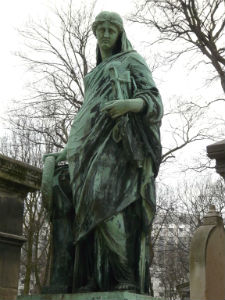 Joseph Méry (21 januari 1797 – 17 juni 1866)
Standbeeld op het graf van Joseph Méry op de begraafplaats van Montmartre
De Duitse toneelschrijver, acteur en theaterdirecteur Julius Roderich Benedix werd geboren op 21 januari 1811 in Leipzig. Zie ook alle tags voor Roderich Benedix op dit blog.
Uit:Die Lügnerin
"LANGENBERG. Und Sie beharren auf Ihrem Nein?
CONSTANZE. Ich beharre darauf.
LANGENBERG. Was aber können Sie allen meinen vernünftigen Gründen entgegensetzen?
CONSTANZE. Einen einzigen, der sie alle zu Boden schlägt: ich liebe Sie nicht.
LANGENBERG empfindlich. Sie lieben mich nicht? Wo durch bin ich Ihnen denn so unangenehm geworden, womit habe ich Ihren Haß verdient?
CONSTANZE. Wie Sie übertreiben! Wer spricht denn von Haß? Sie sind mein Vormund, haben treulich mein Vermögen verwaltet, haben mich geleitet und geschützt – für alles das bin ich Ihnen sehr dankbar, ich schätze und ehre Sie. Allein diese Dankbarkeit ist noch keine Liebe – wenigstens nicht die Liebe, die mich wünschen ließe Ihre Gattin zu werden.
LANGENBERG gereizt. Sie sprechen so klug von Liebe, kennen Sie denn die Liebe schon?
CONSTANZE wendet sich ab
LANGENBERG. Sie leben eingezogen, kommen meines Wissens mit jungen Männern nicht zusammen, kennen Sie denn die Liebe schon? Antworten Sie mir.
CONSTANZE schelmisch. Herr Vormund, Sie sind nicht alt genug um diese Frage an mich stellen zu können. Wenn Sie einmal weißes Haar haben, mögen Sie darauf Anspruch machen Herzensgeständnisse eines jungen Mädchens zu erhalten.
LANGENBERG. Sie sind meine Mündel.
CONSTANZE lachend. Allein mein Herz steht nicht unter Ihrer Vormundschaft."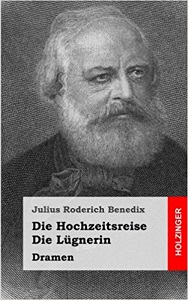 Roderich Benedix (21 januari 1811 – 26 september 1873)
Cover
Zie voor bovenstaande schrijvers ook mijn blog van 21 januari 2007 en ook mijn blog van 21 januari 2008 en eveneens mijn blog van 21 januari 2009.
21-01-2018 om 10:30 geschreven door Romenu

Tags:Louis Menand, Ludwig Thoma, Ludwig Jacobowski, Kristín Marja Baldursdóttir, Egon Friedell, Joseph Méry, Roderich Benedix, Romenu



Anna Basener
Onafhankelijk van geboortedata
De Duitse schrijfster Anna Basener werd in 1983 in Essen geboren. Basener studeerde cultuurwetenschappen en esthetiek aan de Universiteit van Hildesheim. Het collegegeld verdiende zij met het schrijven van stuiverromans voor de Bastei Verlag. In 2010 verscheen met haar "Heftromane schreiben und veröffentlichen" het eerste boek over het schrijven van stuiverromans. Zij publiceerde zelf onder verschillende pseudoniemen, maar vooral omdat Catharina Chrysander verschillende stuiverromans in het genre adel en "Heimat", en romantasy en sexwesterns. Tegenwoordig schrijft ze erotische e-books, thrillers en historische romans onder pseudoniem en in toenemende mate publiceert zij onder haar eigen naam. Haar e-book "Fürstenschund" bereikte plaats 1 op de Kindle bestseller lijst. Naast essays voor vice.de en het tijdschrift Business Punk schrijft ze ook een column over de zoektocht naar de perfecte werkplek. Haar korte verhaal "Herz aus Milch" was een van de beste van de MDR literatuur wedstrijd in 2015 en is verschenen in de bloemlezing "Schnee im August. In 2017 verscheen haar debuutroman "Als die Omma den Huren noch Taubensuppe kochte", waarvan al voor verschijnen de filmrechten verkocht waren.

Uit:Als die Omma den Huren noch Taubensuppe kochte
"Putzen. Nicht gerade Ommas Berufung. Nur weil sie gut darin ist, heißt das nicht, dass jedes feuchte Durchwischen von Herzen kommt. Sie will es halt sauber haben, hat ei-nen gewissen Anspruch und eine unerschöpfliche Menge an Reinigungsbenzin. »So ein Hotel muss schließlich was hermachen«, hat die Omma oft gesagt, den Staubwedel untern Arm geklemmt und noch einen Samtkragen gekippt. So war das an Karneval. Und an Ostern. Und selbstverständlich am Ersten Mai, und das ging dann immer so weiter durch das ganze Jahr, das kann man sich ja vorstellen. Genau genommen war das damals natürlich gar kein Hotel, sondern ein Puff. Aber das machte die Arbeit nur anspruchsvoller. »Eine einzige Komplexät mit die Damen und die Her-ren und das Geld.« Die Omma hatte so manche Weisheit parat. Sie war stolz auf dreckfreie Flächen und hatte für jeden Kleckser ein bis drei Lösungen. Aber ihr ging es immer um mehr, aufs Putzen ließ sich die Omma nie reduzieren. Immerhin war sie ja vor allem Wirtschafterin - und zwar eine flotte. Sie hatte zum Beispiel recht schnell ne Dauerwelle, noch vor den Damen im d'Amour. Natürlich war sie auch eine der Letzten, die noch Dauerwelle hatte, als die Welle längst vorüber war, aber so ist das mit der Omma nun mal. Bei der Arbeit gab's den Kittel über ihre Versandhaus-Shirts und die langen Ladyzigaretten im Mundwinkel. Sie raucht Eve, damals wie heute. Die haben so eine Blumen-borte am Ende des Filters, und die Plastikfingernägel von der Omma sind selbstverständlich immer in einer der vier Farben lackiert, die in der Blumenborte vorkommen. Rauchen kann tödlich sein - und wenn schon. Das Leben kann tödlich sein, und davon kann die Omma aber mal ein Liedchen singen. Sie hat eine tiefe Stimme, und wenn sie besoffen ist, dann stiert sie mit Schlafzimmerblick auf die Tischplatte, stemmt ihren Ellbogen auf und singt Dolly-Parton-Songs, während Eve in ihren Fingern zu Asche wird. Aber zurück zum Hotel, zurück zum Anfang. Die Omina war natürlich ein heißer junger Feger mit bunten Plastiknägeln, und sie hatte die Damen im Griff. Schon vor 1960, als alles anfing, hatte die alles im Griff. Wenn der Herbert nicht weiterwusste, dann hat er die Omma gefragt. Gut, er hat sie angebrüllt, und sie hat ihn ignoriert, aber das hat am Ende meistens geholfen. Wenn die Damen nicht weiterwussten, haben sie die Omma gefragt. Denn dem Herbert ist manchmal die Hand ausgerutscht, und da brauchte es einfach jemanden, der zurückschlägt. Da flogen dann die Ohrfeigen hin und her, dank der Omma war das keine Einbahnstraße. Wenn sie selbst nicht weiter-wusste, dann ... Nein, eigentlich wusste sie immer weiter."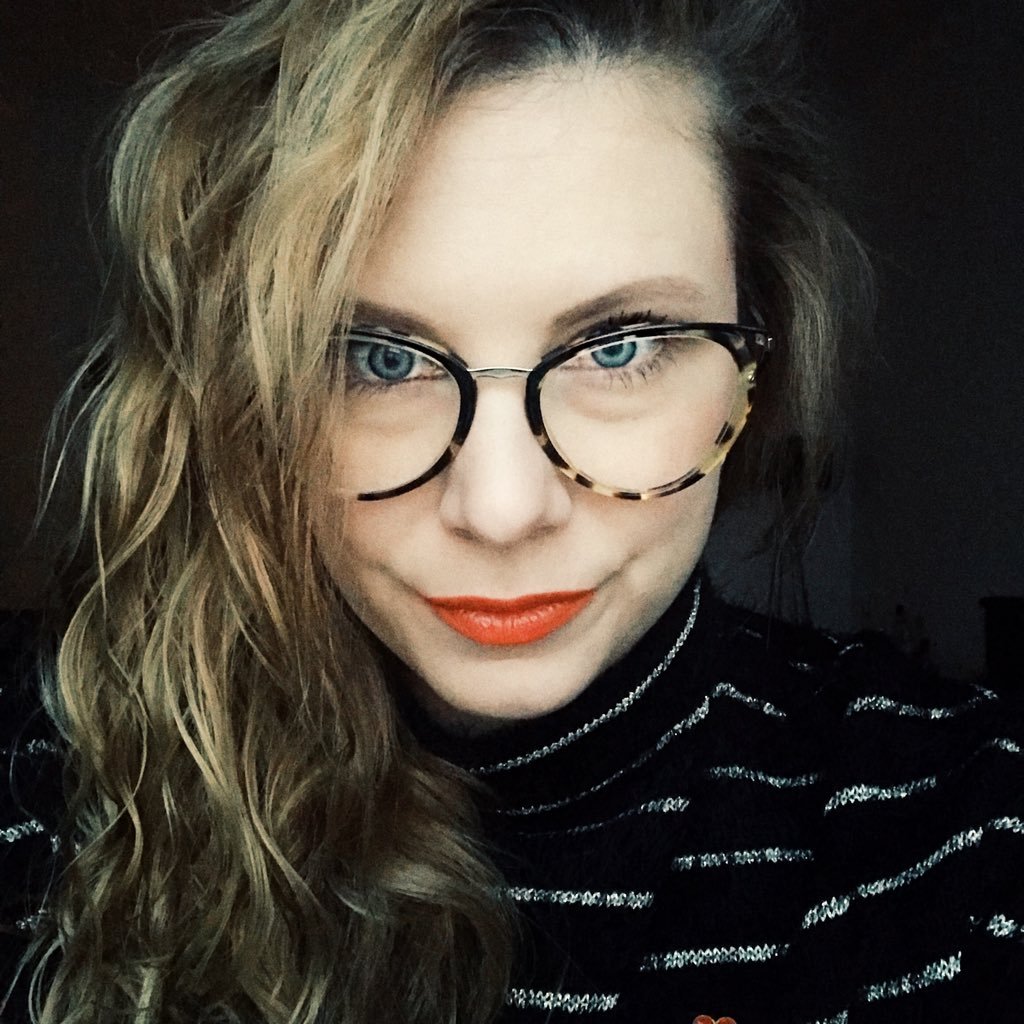 Anna Basener (Essen, 1983)
21-01-2018 om 00:00 geschreven door Romenu

Tags:Anna Basener, Romenu


20-01-2018

Stefan Popa, Edward Hirsch, Guy Helminger, André Kubiczek, Batya Gur, Nazim Hikmet, Qurratulain Hyder, Robert Olen Butler Jr.
De Nederlandsche schrijver en journalist Stefan Popa werd op 20 januari 1989 geboren in Vleuten. Zie ook alle tags voor Stefan Popa op dit blog.
Uit: De verovering van Vlaanderen
`Verder vanuit dit genadeloze dieptepunt dat zowaar het uitzichtloze heeft bereikt. En u wilt evenzeer verder, dunkt me. U wilt méér. U hebt schoon genoeg van minder. Wellicht dat u onderweg enkele geschiedkundige strapatsen mijnerzijds ten deel zullen vallen, dat durf ik op dit moment te zeggen noch te beloven. De kans bestaat dat ik bekentenissen zal doen die u niet horen te interesseren en dat toch doen. Ik overweeg zelfs om dit werk iiberhaupt niet te publiceren. Dat zou wat zijn zeg! Het Nederlands taalgebied mijzelf ontzeggen. Het jammerlijke hieraan is dat niemand zal weten dat ik gemist word. Behalve ikzelf uiteraard, hoewel ik moet oppassen met dergelijke beweringen die de ijdeltuiterij schampen. Ik houd lang niet zoveel van mezelf als u van mij zult houden aan het eind van deze reis. Deze belofte doe ik u, waarmee ik indirect het besluit heb genomen om alles te noteren wat mij kortgeleden is overkomen — zoals u, scherpzinnig als u bent, al doorzag. We bevinden ons op een pril kruispunt in mijn leven, zowel literair als secundair. Rest mij enkel nog de opmerking dat dit alles waargebeurd is en met de meest zuivere intenties nauwgezet is opgeschreven. `Luister je wel?' Niet echt, echt niet zelfs. Ik bespaar vader mijn antwoord en mijzelf een donderpreek. Hij biedt hulp, zoals altijd wanneer we elkaar de eerste vrijdag van de maand treffen in hetzelfde verdomde restaurant aan hetzelfde verdomde tafeltje met altijd hetzelfde veranderende uitzicht op diezelfde Amstel. Een baan, wat zakgeld, adviezen, een advocaat mits nodig. Maar ik heb helemaal niets nodig. `De reclamewereld is niet meer wat het was, vader', zeg ik alsof de reclamewereld ooit iets is geweest. Vader buigt zich over de tafel. Zijn voorgeknoopte das bungelt vervaarlijk boven een diep bord met kreeftsoep. Dat zelfingenomen lachje. Zijn grijze wenkbrauwen die als halfopen rolgordijnen voor zijn ogen hangen. In het knoopsgat van de linker revers steekt het oude logo van zijn eerste grootbedrijf. Op zijn zeventiende is hij begonnen in een fabriek waar opbergdoosjes werden geproduceerd en vijftig jaar later is hij ondernemer van het jaar 1996, 1997, 2004, 2006 en tevens multimiljonair, in willekeurige volgorde. Met de iets te lange nagel van zijn wijsvinger tikt hij op de opgepoetste speld: 'Het beginnen gaat je prima af, maar het volhouden lukt je steeds niet, laat staan het afmaken. Als ik iets heb geleerd, en als jij één ding van mij kunt leren, is het dat niets vanzelf gaat in het leven. Niemand schenkt je je eerste tonnetje. Dat moet je zelf verdienen.'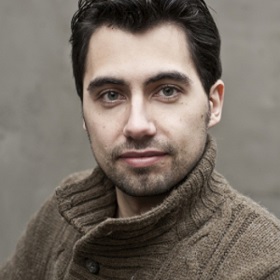 Stefan Popa (Vleuten, 20 januari 1989)
De Amerikaanse dichter en letterkundige Edward Hirsch werd geboren op 20 januari 1950 in Chicago. Zie ook alle tags voor Edward Hirsch op dit blog.
Late March
Saturday morning in late March.
I was alone and took a long walk,
though I also carried a book
of the Alone, which companioned me.
The day was clear, unnaturally clear,
like a freshly wiped pane of glass,
a window over the water,
and blue, preternaturally blue,
like the sky in a Magritte painting,
and cold, vividly cold, so that
you could clap your hands and remember
winter, which had left a few moments ago—
if you strained you could almost see it
disappearing over the hills in a black parka.
Spring was coming but hadn't arrived yet.
I walked on the edge of the park.
The wind whispered a secret to the trees,
which held their breath
and scarcely moved.
On the other side of the street,
the skyscrapers stood on tiptoe.
I walked down to the pier to watch
the launching of a passenger ship.
Ice had broken up on the river
and the water rippled smoothly in blue light.
The moon was a faint smudge
in the clouds, a brushstroke, an afterthought
in the vacant mind of the sky.
Seagulls materialized out of vapor
amidst the masts and flags.
Don't let our voices die on land,
they cawed, swooping down for fish
and then soaring back upwards.
The kiosks were opening
and couples moved slowly past them,
arm in arm, festive.
Children darted in and out of walkways,
which sprouted with vendors.
Voices greeted the air.
Kites and balloons. Handmade signs.
Voyages to unknown places.
The whole day had the drama of an expectation.
Down at the water, the queenly ship
started moving away from the pier.
Banners fluttered.
The passengers clustered at the rails on deck.
I stood with the people on shore and waved
goodbye to the travelers.
Some were jubilant;
others were broken-hearted.
I have always been both.
Suddenly, a great cry went up.
The ship set sail for the horizon
and rumbled into the future
but the cry persisted
and cut the air
like an iron bell ringing
in an empty church.
I looked around the pier
but everyone else was gone
and I was left alone
to peer into the ghostly distance.
I had no idea where that ship was going
but I felt lucky to see it off
and bereft when it disappeared.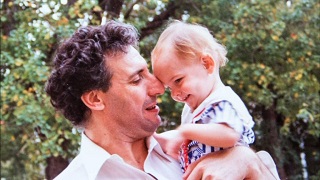 Edward Hirsch (Chicago, 20 januari 1950)
Hier met zijn zoontje Gabriel als baby
De Duitse (Luxemburgse) schrijver Guy Helminger werd geboren op 20 januari 1963 in Esch-sur-Alzette. Zie ook alle tags voor Guy Helminger op dit blog.
Uit: Rost (Der Schlaf)
"Braller schlief auf einer Parkbank ein.
Es war ein heißer Nachmittag, und Braller hatte sich mit jedem Schritt, den er getan hatte, mit jeder Armbewegung, jedem Atemzug müder und müder gefühlt. Er war durch die Straßen geschlendert, hatte an nichts gedacht, nichts bewusst wahrgenommen, und als er in den Park eingebogen war, waren ihm plötzlich die Augen zugefallen. Da hatte hinter ihm ein Bus scharf gebremst. Braller war hochgeschreckt, hatte sich geschüttelt und war anschließend noch einige hundert Meter weiterspaziert; doch sein Körper war schwerer geworden und so hatte er sich auf eine Parkbank am Rand des Waldes gesetzt und war sogleich eingeschlafen.
Als Braller aufwachte, war jemand dabei, ihn in einen Verband einzuwickeln. Braller beugte den Kopf und sah an sich hinunter. Der Mann hatte offensichtlich bereits vor geraumer Zeit mit seiner Tätigkeit begonnen, denn nicht nur Brallers Füße und Beine steckten fest im Griff des Stoffstreifens, auch seine Hüften und seine Brust, an die seine Arme kreuzweise gepresst waren, waren bis zum Hals mit dem Verband umwickelt.
Braller versuchte sich zu bewegen, seine Hände frei zu bekommen, die Schenkel voneinander zu lösen, aber die Binde saß fest.
»Was soll das?!«, sagte Braller.
Der Mann hielt einen Moment inne und legte Braller freundschaftlich die Hand auf die bandagierte Schulter. Sein Gesicht blieb dabei ernst, so als dürfe er in seiner Konzentration keinesfalls nachlassen. Dann setzte er seine Arbeit fort.
Braller bemerkte, dass dem Mann eine Braue fehlte. Über dem rechten Auge war ein nicht unbedingt als wuchernd zu beschreibender, aber doch fülliger Haarbogen zu sehen. Die linke Seite hingegen war an dieser Stelle glattrasiert. Oder die Braue war weggesengt worden; vielleicht hatte der Mann auch noch nie Haare dort gehabt. Auf seinem Kopf hingegen kräuselte sich eine wohlgeordnete Frisur, die die Ohren halb bedeckte und die Brallers Gesicht jedesmal empfindlich nahe kam, wenn der Mann den Verband umBrallers Körper zog."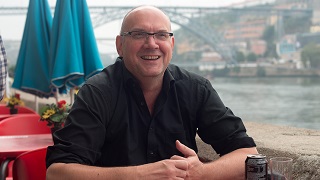 Guy Helminger (Esch-sur-Alzette, 20 januari 1963)
De Duitse schrijver André Kubiczek werd op 20 januari 1969 geboren in Potsdam. Zie ook alle tags voor André Kubiczek op dit blog.
Uit: Das fabelhafte Jahr der Anarchie
"Es war im Februar 88, als wir mit unserer Kompanie in die Braunkohle gefahren sind, vor etwas mehr als zwei Jahren.
Vielleicht kannst du dich erinnern: Im Juli 87 hatte es diese große Amnestie gegeben, die Todesstrafe war offiziell abgeschafft worden und alles. Zwanzigtausend Mann hatten sie aus den Gefängnissen entlassen. Und im Februar, oh Wunder, waren dann plötzlich nicht mehr genug Arbeitskräfte vorhanden. So kam es, dass ausgerechnet wir Dachse die Drecksarbeit der freigekommenen Sträflinge erledigen mussten.
Wir waren in der Dübener Heide stationiert, Unteroffiziersschule, was ein paar Stunden Fahrt auf der Pritsche von 'nem W50 bedeutete. Du kennst das selber aus deiner Zeit: Der Wind pfeift, und durch die Ritzen zieht's wie Hechtsuppe. Die Plane knattert, und man wird fast taub, um erst gar nicht von der Kälte anzufangen, die im Februar nun mal so herrscht.
Hundert Kilometer, immer Richtung Osten, und unser Ziel hieß –», an dieser Stelle machte Arnd eine kurze, dramatische Pause, «Schwarze Pumpe. Da befand sich das Quartier. Unsere Kompanie war also in die Produktion abkommandiert worden: einen ganzen Monat lang Einsatz in der Braunkohle, statt sinnlos in der Kaserne rumzuhängen. Die meisten von uns hat es gefreut.
Wir waren in einer kleinen Barackensiedlung untergebracht, die früher vielleicht mal ein Ferienlager gewesen war, als es da noch Wiesen gegeben hatte, Felder, Wald, was weiß ich, Natur eben."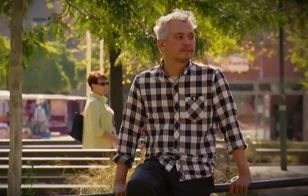 André Kubiczek (Potsdam, 20 januari 1969)
De Israëlische schrijfster, journaliste en literatuurwetenschapster Batya Gur werd geboren op 20 januari 1947 in Tel Aviv. Zie ook alle tags voor Batya Gur op dit blog.
Uit:Denn am Sabbat sollst du ruhen (Vertaald door Margalit Zibaso)
"Das alles war verschwunden. Seine Naivität, die rückhaltlose Verehrung, das Zugehörigkeitsgefühl zu einer geheimen Verbindung, der Stolz auf den ersten Patienten - alles wich dem Gefühl einer quälend-drückenden Belastung, und die nackte Angst verfolgte ihn seit jenem Sabbat, den er den "schwarzen Sabbat" nannte - jenem Sabbat, für den er sich freiwillig gemeldet hatte, um das Haus vorzubereiten für Eva Neidorf, die gerade nach einem vierwöchigen Aufenthalt bei ihrer Tochter in Chicago zurückgekehrt war und die einen Vortrag halten sollte.
An jenem Sabbat hatte er sich dem Gebäude genähert, ohne zu ahnen, daß sich sein Leben gänzlich ändern sollte. Ein Sabbat im März, mit Sonne und zwitschernden Vögeln, an dem Gold, da er vor der Begegnung mit Neidorf aufgeregt war, sein Haus frühzeitig verließ, um den Saal in Ordnung zu bringen und die Stühle aufzustellen, die zusammengeklappt im Lagerraum standen, und den großen Wasserkessel mit Wasser zu füllen. Alle, das wußte er, wollten am Sabbatmorgen eine Tasse Kaffee. Die Vorlesung sollte um halb zehn beginnen, und einige Minuten vor neun glitt sein Auto die Straße hinab.
In Jerusalem herrschte die Ruhe eines Sabbatmorgens, und das Viertel, an dem er vorbeifuhr und das auch sonst immer ruhig dalag, war jetzt in völliges Schweigen gehüllt.
Gold atmete die frische, reine Luft ein und wich aufmerksam der schwarzen Katze aus, die den Fahrdamm mit großartiger Gleichgültigkeit überquerte. Er lächelte über den Aberglauben angeblich vernünftiger Menschen, über die Furcht vor schwarzen Katzen, doch auch darüber sollte er später nicht mehr lächeln. Die bevorstehende Vorlesung ließ eine besondere, aufgeregte Erwartung in ihm aufglimmen: Er sollte seine Analytikerin nach ihrem vierwöchigen Urlaub wiedersehen."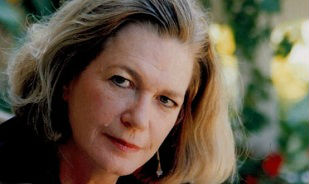 Batya Gur (20 januari 1947 – 19 mei 2005)
De Turkse schrijver Nazim Hikmet werd op 20 januari 1902 geboren in Thessaloniki. Zie ook alle tags voor Nazim Hikmet op dit blog.
Over Leven
3
Onze wereld koelt af
een ster tussen de sterren
nog wel een van de kleinste
een spikje bladgoud op blauw fluweel
die reusachtige wereld van ons. Ooit koelt deze wereld af
en zal niet eens als een ijsklomp
of een dode wolk
maar als een lege notendop wegtollen
in het eindeloze stikkedonker. Nu al daarvan de pijn te dragen
de droefenis te voelen.
Zo zeer moet je van deze aarde houden
dat je kunt zeggen:
"Ik heb geleefd".
20 september 1945
Op dit late uur
in deze herfstnacht
zit ik vol van jouw woorden,
woorden
eeuwig als tijd en materie
naakt als een oog
zwaar als een hand
en als sterren zo fonkelend.
Je woorden kwamen naar mij toe,
kwamen uit je hart, uit je hoofd, uit je vlees.
Je woorden brachten jou met zich mee
ze zijn: moeder
ze zijn: vrouw
en metgezel...
Ze zingen droevige, bittere, hoopvolle, blije, dappere tonen
je woorden zijn personen...
Vertaald door Wim van den Munkhof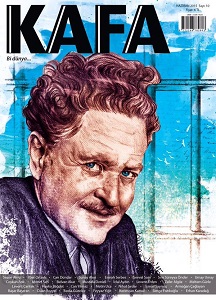 Nazim Hikmet (20 januari 1902 – 3 juni 1963)
Cover
De Indiaase schrijfster Qurratulain Hyder werd geboren op 20 januari 1927 in Aligarh, Uttar Pradesh. Zie ook alle tags voor Qurratulain Hyder op dit blog.
Uit: A Season of Betrayals (The Sound of Falling Leaves)
"This morning I was standing at my backdoor arguing with the vegetable vendor over the price of cauliflower. Upstairs, in the kitchen, rice and lentils were.boiling on the stove. The servant had left for the market. In the bathroom, standing in front of the dull mirror over the chipped sink, Viciar Sahib was admiring his face, humming a tune, and shaving. As I argued with the vendor my mind was busily planning the evening meal. just then a car stopped near us. A woman leaned out the car window, then opened the door and stepped out. I was counting my change and didn't pay her much attention. but when she came closer I raised my head and looked at her. "Oh! It's you!- she almost shrieked. I froze. Her face looked as if she had seen a ghost. The horror I saw in her eyes it that moment still haunts me. I can't forget it. I could go mad thinking about it. This woman-1 still can't recall het name, and in the morning, out 01 sheer embarrassment. Icouldn't even ask her—she :flirt I used to be stik", ts together at St. Marvls iu Delhi. That was some twenty years ago. I must have been only seventeen then. But I was a healthy gill and looked big for my years, and people were already talking of my beauty. There used to be a custom in Delhi: women with eli-gible sons or male cousins would make the rounds of all the schools, looking over the girls. If they liked one they would send a proposal to her parents. Somehow I came to know that the mother and aunts of this girl had noticed me in the assembly on Founder's Day, and were keen to make me their daughter-in-law. They lived on Nurjahan Road, and the 'boy' had recently started at the Reserve Bank of India making two hundred a month. A proposal was sent to my parents, who lived quite far from Delhi in Meerut. But my mother had loftier plans for me—also, at my age, it was too early for marriage. The proposal was immediately turned down. Later we were briefly together in college, but then she got married and left. Now, after so many years, we met again this morning in an alley behind Lahore's Mall Road. "Come upstairs and have a cup of tea," I said to her, "We'll have a good chat."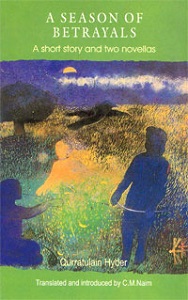 Qurratulain Hyder (20 januari 1927 – 21 augustus 2007)
Cover
De Amerikaanse schrijver Robert Olen Butler Jr. Werd geboren op 20 januari 1945 in Granite City, Illinois. Zie ook alle tags voor Robert Olen Butler Jr. en voor Robert Butler op dit blog.
Uit:Tabloid Dreams
"I work in publishing myself and so I'm not going to sue that newspaper you buy in the supermarkets. I simply don't believe in it, as a matter of principle. But I categorically deny that what has happened to me since the accident is I've turned into a nymphomaniac. If I'm supposed to be a nympho, then I want to know why nobody ever called JFK or Wilt Chamberlain or Warren Beatty a satyr. Or all the millions of guys we all rightly assume have the same impulses as these public figures but less appeal or opportunity. Are all these guys satyrs? Isn't that, in fact, exactly the way all their brains work, just like the way mine is supposed to now?
But I'm not angry at men. I want to touch them. This is a revelation to me, sure. This has been coming on me since a New York gypsy cab and I had a blind date in a crosswalk on Sixth Avenue, sure. But this is a different thing from what the people at the Real World Weekly would have you believe.
I saw their editor-in-chief on the Inside Scoop TV show last night. They were demanding that he sort out the real from the unreal. If a doomsday meteor were really hurtling toward the earth, they asked, why should the only astrophysicist who seems to know about it be unreachable at his supposed lab in Albania? And why would an Albanian be named Desi, anyway? At this the editor-in-chief turned to the camera and said that the reach of I Love Lucy has always been greatly underestimated. And then he smiled a little half smile, this editor-in-chief, and he is a man perhaps forty years old with a sharp white part in his soft, black-cat hair and the smile punched a dimple into his left cheek and my hand rose, wanting to place the tip of my forefinger into that indent. "It's real," he said, speaking of the meteor.
I don't believe it is. Who does? But if it were true, and the world were going to end tomorrow, the only thing I'd regret was not having understood earlier what I understand now. No. "Understand" is the wrong word. That suggests a rational thing. And it suggests that I know what's going on. It's neither. So why should the word offer itself up at all? Am I mad? No. Mad people talk to themselves. I've discovered a part of me that I can't talk to. Or even about. But that part seems to know something.
A few mornings ago, for example. I was in my office and I was reading a manuscript. A prominent woman Orientalist trying to write a popular history of strange Eastern customs in little two page chapters with zippy, freak-show headings and lurid illustrations."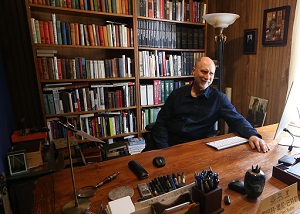 Robert Olen Butler Jr. (Granite City, 20 januari 1945)
Zie voor nog meer schrijvers van de 17e januari ook mijn vorige blog van vandaag.
Zie voor bovenstaande schrijvers ook mijn blog van 20 januari 2007 en ook mijn blog van 20 januari 2008 en eveneens mijn blog van 20 januari 2009.
20-01-2018 om 12:03 geschreven door Romenu

Tags:Stefan Popa, Edward Hirsch, Guy Helminger, André Kubiczek, Batya Gur, Nazim Hikmet, Qurratulain Hyder, Robert Olen Butler Jr., Romenu



Axel Hacke, Egon Bondy, Sawako Ariyoshi, Eugen Gomringer, Raymond Roussel, Michiel de Swaen, Edeltraud Eckert, Imre Madách
De Duitse schrijver en journalist Axel Hacke werd geboren op 20 januari 1956 in Braunschweig. Zie ook alle tags voor Axel Hacke op dit blog.
Uit:Die Tage, die ich mit Gott verbrachte
"Als ich mir selbst entgeistert hinterhersah, wie ich mit dem schnelleren Zug in der Nacht entschwand, und als ich gleichzeitig auch sehr erstaunt bemerkte, dass ich im selben Augenblick hinter mir selbst in dem langsameren Zug zurückblieb — da blieb nichts übrig, als mir selbst noch einmal mit einer kurzen Handbewegung zuzuwinken. Und in der Fensterscheibe vor mir, wo zuvor noch mein Bild gewesen war, war nur noch schwarze Nacht. Doch dauerte das nicht lange. Nach einigen Minuten tauchten draußen vor dem Fenster die ersten Lichter der Stadt auf, dann auch die zweiten und die dritten, ich erkannte meine Stadt, ich sah ihre Straßen, ich sah sie nur zu genau, denn der Zug fuhr mitten auf dem Asphalt, er fuhr die Sonnenstraße hinunter, dann die Müllerstraße, und an der Ecke, wo sich der Laden befindet, an dem ich morgens meine Zeitungen kaufe, dort, wo natürlich noch nie ein Zug gefahren war und wohl auch nie wieder einer fahren würde (nein, das ist nicht richtig, einmal wird in dieser Geschichte noch ein Zug dort fahren, so viel kann ich verraten), an dieser Ecke also bog er plötzlich in meine Straße ein, der Zug. Einige Autos warteten derweil, mehrere Passanten eilten, ohne die Bahn weiter zu beachten, den Bürgersteig entlang, ein Liebespaar küsste sich vor dem Eingang eines Lokals. Wir fuhren langsamer und hielten genau vor meinem Haus. Ich nahm meine Aktentasche, ging zur Waggontür und drückte auf den grünen Türöffner. Die Tür öffnete sich, ich stieg aus, nur ich, niemand sonst. Ich schloss die Haustür auf, da schoss mir aus dem Aufzug schon mein lieber Büro-Elefant entgegen. Ich blieb in der Eingangstür des Hauses stehen, strich dem Büro-Elefanten über den Rücken, kraulte ihm die Ohren und hörte, wie sich hinter mir leise zischend die Türen des Zuges schlossen. Ich drehte mich um und sah, wie er die Straße entlangfuhr und um die nächste Ecke bog, dort, wo das Schokoladengeschäft ist. Merkwürdig, dachte ich noch, es sind wirklich gar keine Schienen zu sehen und auch keine Oberleitung."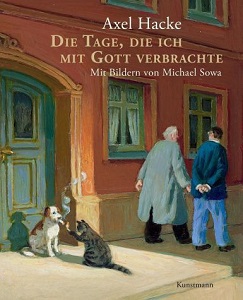 Axel Hacke (Braunschweig, 20 januari 1956)
Cover
De Tsjechische dichter, schrijver en filosoof Egon Bondy werd geboren op 20 januari 1930 in Praag. Zie ook alle tags voor Egon Bondy op dit blog.
Uit: The Consolation of Ontology (Vertaald door Benjamin B. Page)
"Whenever we begin to write all our thoughts run off and hide under tables or chairs or on top of bookcases, where they sit and make faces at us. Maybe it would be better not to write anything at all, better to just lie in bed waiting for our stomachs to growl for their next meal when hunger strikes, or the urge hits to go for a walk, to be with other people. or to sleep; better to wait until tomorrow, until the time comes to go to work, until our children come and beg us to play, or until anything else comes along "in the natural course of things." Isn't life after all only an epiphenomenon of the metabolic processes of cells, just the result of their persistent urge to express themselves, of their desire not to die by starvation or the breakdown of their biological process, or Lord knows what else? And isn't human life just the necessary concomitant phenomenon of the self-gratification of cells, which, with nothing else to think about, want only to enjoy the short time allotted them without caring a whit about the hideousness they thereby cause? Or is not human life, which with insignificant variations is pretty much the same everywhere, only a nonautonomous and completely non-independent link and means in the whole process and movement of biology (at first glance it is difficult to call this evolution) which unfolds only for its own sake, with no regard for its individual links? Maybe it is better to write something after all, to create, or at least to do something to actively fill up time, rather than be just passive clay from which—in which—all that happens plays out whether at the level of cells, of the species, or of life. By activity I can change myself from a passive bearer into an active collaborator. »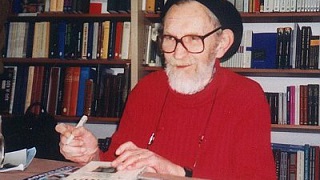 Egon Bondy (20 januari 1930 – 9 april 2007)
De Japanse schrijfster Sawako Ariyoshi werd geboren op 20 januari 1931 in Wakayama. Zie ook alle tags voor Sawako Ariyoshi op dit blog.
Uit:Les dames de Kimoto (Vertaald door Yoko Sim en Anne-Marie Soulac)
"Tenant sa petite-fille Hana par la main, Toyono gravissait l'escalier de pierre d'une démarche décidée qui surprenait chez une femme de cet âge. Elle allait avoir soixante-seize ans et, renouant avec une habitude abandonnée depuis longtemps, elle avait fait venir, trois jours auparavant, une coiffeuse de Wakayama : ses cheveux blancs gonflés sur les côtés et relevés en arrière en un volumineux chignon –arrangement un peu trop jeune pour elle –soulignaient ce que la journée avait d'exceptionnel. Sa chevelure épaisse et luisante gardait la trace de la beauté qu'elle avait eue autrefois, avant de perdre sa couleur de jais. Toyono, vêtue pour cette visite solennelle de deux kimonos superposés à petits motifs réguliers, semblait aider la jeune fille à monter les marches plutôt que s'appuyer sur elle. L'allure imposante de la Dame de Kimoto s'expliquait parce qu'en ce jour sa petite-fille quittait définitivement la demeure familiale pour se marier. Le mont Kudo était encore voilé par les brumes matinales de ce début de printemps. La main serrée dans celle de sa grand-mère, Hana franchissait les dernières marches de pierre. Elle aussi était coiffée avec recherche – une coiffure de mariée aux coques luisantes – et l'éclat rosé de son teint de jeune fille transparaissait sous l'austère maquillage blanc. Elle portait un kimono de cérémonie de crêpe de soie violet à très longues manches, et le gland de métal accroché à la pochette glissée entre les pans croisés du kimono tintait légèrement à chaque pas. Hana était si tendue qu'elle vibrait au bruit. L'étreinte de la main autour de la sienne lui rappelait que, maintenant qu'elle allait être admise comme bru dans une nouvelle famille, elle cesserait d'appartenir à celle où elle avait vécu les vingt années de son existence. Elle lui disait aussi la tristesse et le regret de sa grand-mère qui devait se résoudre à la laisser partir. Le prieur du temple Jison, averti la veille de leur visite, les attendait devant le pavillon consacré à Miroku. Il n'avait pas revêtu sa robe sacerdotale car Toyono avait précisé qu'elles ne venaient pas assister à son office. »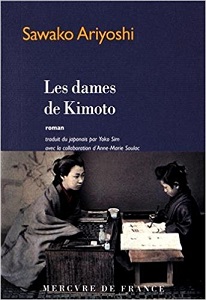 Sawako Ariyoshi (20 januari 1931 – 30 augustus 1984)
Cover
De Zwitserse dichter en schrijver Eugen Gomringer werd op 20 januari 1925 geboren in Cachuela Esperanza, Bolivia. Zie ook alle tags voor Eugen Gomringer op dit blog.
es - immer wieder gelingt es
frühling
immer wieder gelingt es
immer wieder dringt es
immer wieder treibt es
immer wieder lockt es
immer wieder berührt es
immer wieder verführt es
immer wieder schreibt es

sommer
immer wieder stockt es
immer wieder schaut es
immer wieder traut es
immer wieder greift es
immer wieder füllt es

herbst
immer wieder reift es
immer wieder hüllt es
immer wieder reicht es

winter
immer wieder gleicht es

frühling
immer wieder gelingt es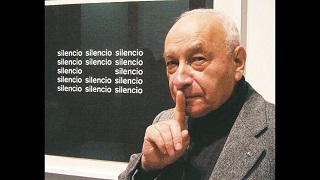 Eugen Gomringer (Cachuela Esperanza, 20 januari 1925)
De Franse dichter en schrijver Raymond Roussel werd geboren op 20 januari 1877 in Parijs. Zie ook alle tags vooor Raymond Roussel op dit blog.
Uit: Locus Solus
« C'est à la fin de sa vie, féconde en mémorables découvertes géographiques, alors qu'il eût pu à bon droit goûter dans le repos la plénitude de sa gloire, qu'Ibn Batouta avait tenté une fois encore une reconnaissance lointaine et vu l'énigmatique Tombouctou.
Durant sa lecture Echenoz avait remarqué entre tous l'épisode suivant.
Quand Ibn Batouta entra seul à Tombouctou, une silencieuse consternation pesait sur la ville.
Le trône appartenait alors à une femme, la reine Duhl-Séroul, qui, a peine âgée de vingt ans, n'avait pas encore choisi d'époux.
Duhl-Séroul souffrait parfois de terribles crises d'aménorrhée, d'où résultait une congestion qui, atteignant le cerveau, provoquait des accès de folie furieuse.
Ces troubles causaient de graves préjudices aux naturels, vu le pouvoir absolu dont disposait la reine, prompte dès lors à distribuer des ordres insensés, en multipliant sans motif les condamnations capitales.
Une révolution eût pu éclater. Mais hors ces moment d'aberration c'était avec la plus sage bonté que Duhl-Séroul gouvernait son peuple, qui rarement avait goûté règne aussi fortuné. Au lieu de se lancer dans l'inconnu en renversant la souveraine, on supportait patiemment les maux passagers compensés par de longues périodes florissantes. Parmi les médecins de la reine aucun jusqu'alors n'avait pu enrayer le mal. »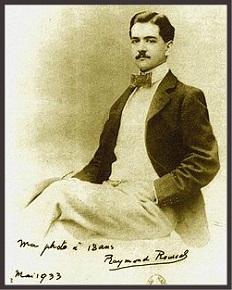 Raymond Roussel (20 januari 1877 – 14 juli 1933)
De Vlaamse dichter, rederijker en heelmeester Michiel de Swaen werd geboren in Duinkerke op 20 januari 1654. Zie ook alle tags voor Michiel de Swaen op dit blog.
Uit: Het leven en de dood van Jesus Christus
Jesus eerste wonder Werk op de Bruyloft van Cana (Fragment)
Myn liefsten Heyland, naer soo heerelyken zegen,
Door syn volstandigheyt, op 't helsch gebroed verkregen,
Komt uyt de wildernis wêer nevens de Jordaen,
Waer hy voor weynig tyd het Doopsel hadd' ontfaen.
Joannes siend' hem wêer, seyd aen die by hem stonden,
Siet, daer is Godes Lam, dat wegneemt 's werelds sonden;
't Is desen, van wien ik u korts te vooren sey,
Die lange voor my was, komt heden achter my.
Dees woorden raekten nauw syn leerelingens ooren,
Of sy verlieten hem om Jesus naer te spooren,
Hier onder was Andries, een visscher van geslacht,
Die korts ook by den Heer syn broeder Simon bracht.
De maer' begost hier op, door d'omgelegen vlecken,
Des Saligmakers komst, en achtinge t'ontdecken,
Soo dat hy eyndelyk een grooten toeloop kreeg,
Terwylen synen Naem meer door 't gerucht opsteeg.
Maer eene Bruyloft-feest volbracht in Gallileyen,
Ded' synen weerden roem in't korte meer verbreyen;
De Moeder Godts was daer: tot dit verbond van vred',
Wierd Jesus ook genood, en syn Discipels med'.
O Cana! binnen u is heden aen te merken,
Het eerste wonder stuk van mynen Heylands werken,
Wat zegen sal dit Paer op syne trouw ontfaen,
Met 't welke Jesus self hier wilt ter maeltyd gaen.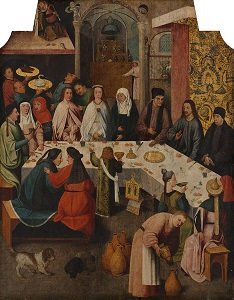 Michiel de Swaen (20 januari 1654 – 3 mei 1707)
De Bruiloft van Kana door Jheronimus Bosch, tussen 1555 en 1600
De Duitse dichteres en schrijfster Edeltraud Eckert werd geboren op 20 januari 1930 in Hindenburg. Zie ook alle tags voor Edeltraud Eckert op dit blog.
Uit:Jahr ohne Frühling
"Strafvollzugsanstalt Waldheim, Juli 1952
Ihr, meine Lieben! Habt Dank für alles ... Ich freue mich so sehr, dass mein Zimmer nun so schön wird, nur, ob ich es einmal sehen werde? Die Zeit ist so lang. Es ist schwer, immer zu warten. Man hat zu viel Zeit zum Denken, kennt sich schon zu gut und betrachtet sich manchmal wie ein fremdes Wesen neben sich. Ich bin so eingesponnen in meine Verse, Melodien und Sätze. Das gibt wohl Freude, nur ich fürchte manchmal, ich könnte mich, auf mich allein angewiesen, zu sehr in mir selbst verstricken. Ich freue mich, dass ich arbeiten kann, das lenkt etwas ab. Ich kann mir gar nicht mehr vorstellen, wie es war und wie es wohl wieder sein könnte. Ob ich mich wohl in Eurer Welt noch zurecht fände? ... Macht Euch trotz allem keine Gedanken, ich bin ja nicht allein. In Gedanken ganz bei Euch! Eure Traudl."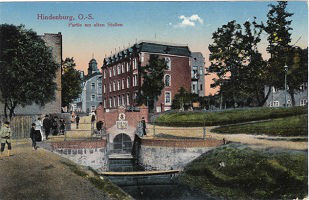 Edeltraud Eckert (20 januari 1930 – 18 april 1955)
Hindenburg (Tegenwoordig: Zabrze) op een oude ansichtkaart
De Hongaarse schrijver Imre Madách werd geboren op 20 januari 1823 in Dolná Strehová in het huidige Slowakije. Zie ook alle tags voor Imre Madách op dit blog.
Uit: Die Tragödie des Menschen
"DER HERR.
Dir ziemt nur Huldigung und nicht Kritik.
LUCIFER.
Ich kann nur geben, was mein Wesen birgt.
Auf die Engel zeigend.
Sattsam lobhudelt dies Gelichter dich.
Die können sich den Aufwand auch gestatten;
Du zeugtest sie ja, wie das Licht den Schatten,
Seit jeher aber existire ich.
DER HERR.
Wie unverschämt! Hat dich nicht Stoff erzeugt?
Wo war dein Reich, wo deine Macht vorher?
LUCIFER.
Dasselbe könnt' ich fragen auch von dir.
DER HERR.
Seit Urbeginn der Zeiten ward geplant
Und lebt' in mir, was nun geworden ist.
LUCIFER.
Empfandst du nicht die schauerliche Leere,
Die alles Werden hat gehemmt so lang,
Und immer hemmend dich zu schaffen zwang?
War dieses Hindernis nicht Lucifer,
Der Geist, der stets verneint von altersher?
Hast mich besiegt, denn mein Geschick gebeut
Im Kampf' zu unterliegen allezeit,
Doch neugekräftigt wieder zu erstehn.
Du zeugtest Stoff, und da gewann ich Spielraum,
Beim hellen Leben steht der blasse Tod,
Verstimmung folgt dem Glücke, Licht wirft Schatten,
Die Hoffnung hat den Zweifel zum Gefährten.
Du siehst, wo du bist, bin gewiß auch ich.
Und der ich so dich kenne, soll dir huld'gen?"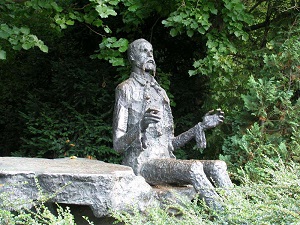 Imre Madách (20 januari 1823 – 5 oktober 1864)
Sculptuur in Boedapest
Zie voor bovenstaande schrijvers ook mijn blog van 20 januari 2007 en ook mijn blog van 20 januari 2008 en eveneens mijn blog van 20 januari 2009.
20-01-2018 om 12:00 geschreven door Romenu

Tags:Axel Hacke, Egon Bondy, Sawako Ariyoshi, Eugen Gomringer, Raymond Roussel, Michiel de Swaen, Edeltraud Eckert, Imre Madách, Romenu


19-01-2018

Julian Barnes, Bert Natter, Edgar Allen Poe, Edwidge Danticat, Patricia Highsmith, Marie Koenen, Gustav Meyrink, Eugénio de Andrade, Thomas Gsella
De Engelse schrijver Julian Barnes werd geboren op 19 januari 1946 in Leicester. Zie ook alle tags voor Julian Barnes op dit blog.
Uit: Nothing to Be Frightened Of
"The change from teeth to dentures struck my brother and me as both grave and ribald. But my grandmother's life had contained another enormous change, never alluded to in her presence. Nellie Louisa Machin, daughter of a labourer in a chemical works, had been brought up a Methodist; while the Scoltocks were Church of England. At some point in her young adulthood, my grandmother had suddenly lost her faith and, in the smooth narration of family lore, found a replacement: socialism. I have no idea how strong her religious faith had been, or what her family's politics were; all I know is that she once stood for the local council as a socialist and was defeated. By the time I knew her, in the 1950s, she had progressed to being a communist. She must have been one of the few old-age pensioners in suburban Buckinghamshire who took the Daily Worker and—so my brother and I insisted to one another—fiddled the housekeeping to send donations to the newspaper's Fighting Fund.
In the late 1950s, the Sino-Soviet Schism took place, and com-munists worldwide were obliged to choose between Moscow and Peking. For most of the European faithful, this was not a difficult decision; nor was it for the Daily Worker, which received funding as well as directives from Moscow. My grandmother, who had never been abroad in her life, who lived in genteel bungalowdom, decided for undisclosed reasons to throw in her lot with the Chinese. I welcomed this mysterious decision with blunt selfinterest, since her Worker was now supplemented by China Reconstructs, a heretical magazine posted direct from the distant continent. Grandma would save me the stamps from the biscuity envelopes. These tended to celebrate industrial achievement—bridges, hydroelectric dams, lorries rolling off production lines—or else show various breeds of dove in peaceful flight.
My brother did not compete for such offerings, because some years previously there had been a Stamp-Collecting Schism in our home. He had decided to specialize in the British Empire. I, to assert my difference, announced that I would therefore specialize in a category which I named, with what seemed like logic to me, Rest of the World. It was defined solely in terms of what my brother didn't collect. I can no longer remember if this move was aggressive, defensive, or merely pragmatic. All I know is that it led to some occasionally baffling exchanges in the school stamp club among philatelists only recently out of short trousers. "So, Barnesy, what do you collect?" "Rest of the World."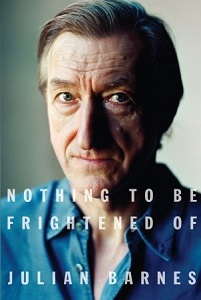 Julian Barnes (Leicester, 19 januari 1946)
Cover
De Nederlandse schrijver, uitgever en journalist Bert Natter werd geboren in Baarn op 19 januari 1968. Zie ook alle tags voor Bert Natter op dit blog.
Uit: Ze zullen denken dat we engelen zijn
"De laatste mooie dag van het jaar.
'Daar moeten we van genieten.'
Ze zet haar spullen bij een tafeltje naast dat van mij. Om ruimte te maken schuif ik mijn tas een stukje opzij.
'Jammer genoeg is hier alleen plek in de schaduw.' Op een stoel zakkend wijst de vrouw naar een terras vol loungebanken aan de overkant van het plein. 'Daar zitten ze lekker in de zon.'
En in het lawaai.
Ik knik vriendelijk en kijk de andere kant op, naar een ober en een serveerster die aan het klieren zijn bij een hoge kast waarin menukaarten, servetten, bestek en servies worden bewaard.
Ik wenk.
De vrouw wijst op de revers van mijn jasje en zegt: 'Beeldig.'
Het meisje komt en gaat tussen onze tafeltjes in staan. Uit haar schort pakt ze een apparaat. Op haar borst draagt ze een button met haar naam. Ze wil weten of we bij elkaar horen.
'Nee,' zeg ik.
De vrouw legt haar telefoon weg en zegt: 'We kennen elkaar net.' Ze stelt zich voor als Prunella. Ik weet niet of ik het goed versta.
Ik neem haar hand aan. Liever houd ik mensen op afstand, minstens een armlengte.
In de verte starend vraagt het meisje waar we zin in hebben.
'Voor mij graag een...' Wat ze wil ontgaat mij, want terwijl het meisje zich vooroverbuigt om de vrouw beter te kunnen verstaan, verandert het kabbelende gedruis van de grote stad in
een verschrikkelijk kabaal."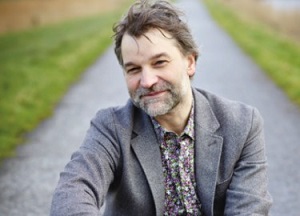 Bert Natter (Baarn, 19 januari 1968)
De Amerikaanse dichter en schrijver Edgar Allen Poe werd geboren op 19 januari 1809 in Boston. Zie ook alle tags voor Edgar Allen Poe op dit blog
Uit: The Pit and the Pendulum
"I was sick -- sick unto death with that long agony; and when they at length unbound me, and I was permitted to sit, I felt that my senses were leaving me. The sentence -- the dread sentence of death -- was the last of distinct accentuation which reached my ears. After that, the sound of the inquisitorial voices seemed merged in one dreamy indeterminate hum. It conveyed to my soul the idea of revolution -- perhaps from its association in fancy with the burr of a mill wheel. This only for a brief period; for presently I heard no more. Yet, for a while, I saw; but with how terrible an exaggeration! I saw the lips of the black-robed judges. They appeared to me white -- whiter than the sheet upon which I trace these words -- and thin even to grotesqueness; thin with the intensity of their expression of firmness -- of immoveable resolution -- of stern contempt of human torture. I saw that the decrees of what to me was Fate, were still issuing from those lips. I saw them writhe with a deadly locution. I saw them fashion the syllables of my name; and I shuddered because no sound succeeded. I saw, too, for a few moments of delirious horror, the soft and nearly imperceptible waving of the sable draperies which enwrapped the walls of the apartment. And then my vision fell upon the seven tall candles upon the table. At first they wore the aspect of charity, and seemed white and slender angels who would save me; but then, all at once, there came a most deadly nausea over my spirit, and I felt every fibre in my frame thrill as if I had touched the wire of a galvanic battery, while the angel forms became meaningless spectres, with heads of flame, and I saw that from them there would be no help. And then there stole into my fancy, like a rich musical note, the thought of what sweet rest there must be in the grave. The thought came gently and stealthily, and it seemed long before it attained full appreciation; but just as my spirit came at length properly to feel and entertain it, the figures of the judges vanished, as if magically, from before me; the tall candles sank into nothingness; their flames went out utterly; the blackness of darkness supervened; all sensations appeared swallowed up in a mad rushing descent as of the soul into Hades. Then silence, and stillness, night were the universe.
I had swooned; but still will not say that all of consciousness was lost. What of it there remained I will not attempt to define, or even to describe; yet all was not lost. In the deepest slumber -- no! In delirium -- no! In a swoon -- no! In death -- no! even in the grave all is not lost. Else there is no immortality for man. Arousing from the most profound of slumbers, we break the gossamer web of some dream."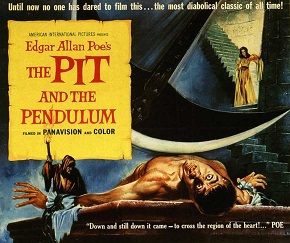 Edgar Allen Poe (19 januari 1809 – 7 oktober 1849)
Affiche voor de gelijknamige film uit 1961
De Amerikaanse dichteres en schrijfster Edwidge Danticat werd geboren in Port-au-Prince op Haïti op 19 januari 1969. Zie ook alle tags voor Edwidge Danticat op dit blog.
Uit: Krik? Krak! (Children Of The Sea)
« They say behind the mountains are more mountains. Now I know it's true. I also know there are timeless waters, endless seas, and lots of people in this world whose names don't matter to anyone but themselves. I look up at the sky and I see you there. I see you crying like a crushed snail, the way you cried when I helped you pull out your first loose tooth. Yes, I did love you then. Somehow when I looked at you, I thought of fiery red ants. I wanted you to dig your fingernails into my skin and drain out all my blood. I don't know how long we'll be at sea. There are thirty-six other deserting souls on this little boat with me. White sheets with bright red spots float as our sail. When I got on board I thought I could still smell the semen and the innocence lost to those sheets. nook up there and I think of you and all those times you resisted. Sometimes I felt like you wanted to, but I knew you wanted me to respect you. You thought I was testing your will, but all I wanted was to be near you. Maybe it's like you've always said. I imagine too much. I am afraid 1 am going to start having nightmares once we get deep at sea. I really hate having the sun in my face all day long. If you see me again, be so dark. Your father will probably marry you off now, since 1 am gone. Whatever you do, please don't marry a sol-dier. They're almost not human.
***
haiti est cottune to l'as laisse. yes, just the way you left it. bullets day and night. same hole. same everything. I'm tired of the whole mess. i get so cross and irritable. i pass the time by chasing roaches around the house. i pound my heel on their heads. they make me so mad. everything makes me mad. i am cramped inside all day. they've closed the schools since the army took over, no one is mention-ing the old president's name. papa burnt all his campaign posters and old buttons. manman buried her buttons in a hole behind the house. she thinks he might come back. she says she will unearth them when he does. no one comes out of their house. not a single person. papa wants me to throw out those tapes of your radio shows. i destroyed some music tapes, but i still have your voice. i thank god you got out when you did. all the other youth federation members have disappeared. »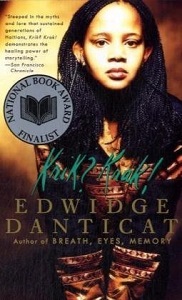 Edwidge Danticat (Port-au-Prince, 19 januari 1969)
Cover
De Amerikaanse schrijfster Patricia Highsmith werd geboren als Mary Patricia Plangman in Fort Worth (Texas) op 19 januari 1921. Zie ook alle tags voor Patricia Highsmith op dit blog.
Uit: Deep Water
"Vic didn't dance, but not for the reasons that most men who don't dance give to themselves. He didn't dance simply because his wife liked to dance. His rationalization of his attitude was a flimsy one and didn't fool him for a minute, though it crossed his mind every time he saw Melinda dancing: she was insufferably silly when she danced. She made dancing embarrassing. He was aware that Melinda twirled into his line of vision and out again, but barely aware, he thought, and it was only his familiarity with every physical detail of her that had made him realize that it was she at all. Calmly he raised his glass of Scotch and water and sipped it. He sat slouched, with a neutral expression on his face, on the upholstered bench that curved around the Mellers' newel post, staring at the changing pattern of the dancers and thinking that when he went home tonight he would take a look at his herb boxes in the garage and see if the foxgloves were up. He was growing several kinds of herbs now, repressing their growth by depriving them of half their normal sunlight and water with a view to intensifying their flavour. Every afternoon he set the boxes in the sun at one o'clock, when he came home for lunch, and put them back into the garage at three, when he returned to his printing plant. Victor Van Allen was thirty-six years old, of a little less than medium height, inclined to a general firm rotundity rather than fat, and he had thick, crisp brown eyebrows that stood out over innocent blue eyes. His brown hair was straight, closely cut, and like his eyebrows, thick and tenacious. His mouth was middle-sized, firm, and usually drawn down at the right corner with a lopsided determination or with humour, depending on how one cared to take it. It was his mouth that made his face ambiguous — for one could read a bitterness in it, too —because his blue eyes, wide, intelligent, and unsurprisable, gave no clue as to what he was thinking or feeling. In the last moments the noise had increased a decibel or so and the dancing had become more abandoned in response to the pulsing Latin music that had begun to play. The noise offended his ears, and still he sat, though he knew he could have wandered down the hall to his host's study and browsed among the books there if he had cared to."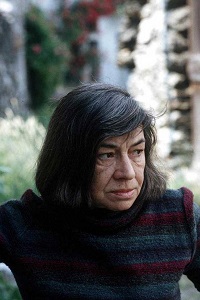 Patricia Highsmith (19 januari 1921 - 4 februari 1995)
De Nederlandse dichteres en schrijfster Marie Koenen werd geboren in 's-Hertogenbosch op 19 januari 1879. Zie ook alle tags voor Marie Koenen op dit blog.
Uit: Het hofke
"Het Zonneveld, het Hofke en een twaalftal armelijke boerenhuisjes: dat was de buurtschap 'Sinte-Barbera's hoek'. Dwars door de akkers voerde de weg uit het Het Zonneveld was een breed, nieuw gedoe; stallingen, schuren en woonhuis, uit rood baksteen opgetrokken, sloten aan drie zijden het erf af, een statige wijde poort gaf er toegang. Op dat erf was het, den dag door, een drukke bedrijvigheid van gaanden en komenden, een af- en aantrekken van koeien en schapen, karren en paarden; roepen en rollen, geklets van zweepen en gestamp van hoeven; een snaterend, kakelend krioelen van waggelende ganzen en scharrelende kippen, van heel dat bonte gewemel van kuikens en krielen en het jonge eendenbroed, met de duiven er tusschen, die neerstreken van de daken, en veel musschen, en de rozige jonge varkentjes. Ze maakten elkander het leven zuur bij de breede mestvaalten en om den drinkplas, die er als een donkere vijver in het midden lag.
Naast het Zonneveld, zoo rijk en trotsch in zijn glanzende nieuwheid, was het Hofke maar een kleine boerenhoef, heel oud, heel stil en laag gedoken onder haar zwaar strooien dak.
Hier lag rechts de akkergrond: aardappelveld en korenland, sedert vergeten tijd door de boeren van het Hofke bebouwd. Links sprongen de zijbouwen uit: de schuur en de kleine stalling, hoekig den boomgaard in.
Door dezen boomgaard en dien van het Zonneveld lag het al-oude voetpad gebaand, dat sinds menschenheugenis van den grintweg, en dwars nu door die twee boomgaarden heen, de velden-in voerde. De afgesleten houten draaiboom tusschen de haag versperde er den toegang aan niemand.
De bongerd van het Hofke, duisterig beschaduwd, lag het eerst toegankelijk, en het pad liep er in bochten langs de ruige stammen van heel oude appelaars. De bongerd van het Zonneveld was veel grooter, maar onbelommerd en leeg met zijn spichtige jonge fruitboompjes. Het pad deelde hem recht in tweeën.
Een zeer hooge heg vormde de scheiding tusschen de twee boomgaarden, een heg van rasterdraad en doornstruiken, een bitse, vrijandige scheiding. Maar 'het pad' viel niet af te sluiten, het wás er, en het bleef de ongewenschte gemeenschap tusschen die twee werelden op zich zelve: het Zonneveld en het Hofke."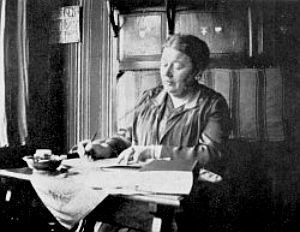 Marie Koenen (19 januari 1879 - 11 juli 1959)
De Oostenrijkse schrijver Gustav Meyrink werd op 19 januari 1868 te Wenen geboren. Zie ook alle tags voor Gustav Meyrink op dit blog.
Uit: Der weiße Dominikaner
"Solange ich denken kann, dorp er heen.
behaupten die Leute in der Stadt, ich hieße Taubenschlag.
Wenn ich als kleiner Junge mit einer langen Stange, an deren Spitze ein Docht brannte, in der Abenddämmerung von Haus zu Haus trabte und die Laternen anzündete, marschierten die Kinder der Gasse vor mir her, klatschten im Takt in die Hände und sangen: Taubenschlag, Taubenschlag, Taubenschlag, Trarara Taubenschlag.
Ich ärgerte mich nicht darüber, wenn ich auch selbst nie mitsang.
Später griffen die Erwachsenen den Namen auf und redeten mich mit ihm an, wenn sie etwas von mir wollten.
Anders steht es mit dem Namen Christopher. Er hing mir, auf einem Zettel geschrieben, am Halse, als man mich als Säugling, nackt, eines Morgens vor der Türe der Marienkirche liegen fand.
Den Zettel wird wohl meine Mutter geschrieben haben, als sie mich damals ausgesetzt.
Es ist das einzige, was sie mir mitgegeben hat. Darum habe ich von je den Namen Christopher als etwas Heiliges empfunden. Er hat sich mir in den Körper eingeprägt, und ich habe ihn wie einen Taufschein – ausgestellt im Reiche des Ewigen –, wie ein Dokument, das niemand rauben kann, durchs Leben getragen. Beständig wuchs und wuchs er wie ein Keim aus der Finsternis empor, bis er als der wieder erschien, der er von Anbeginn an gewesen, sich mit mir verschmolz und mich geleitete in die Welt der Unverweslichkeit. So, wie da geschrieben steht: es wird gesät verweslich und wird auferstehen unverweslich.
Jesus wurde als erwachsener Mensch bei vollem Bewußtsein dessen, was geschah, getauft: der Name, der sein Ich war, senkte sich auf die Erde herab; die Heutigen werden als Säuglinge getauft; wie könnte es sein, daß sie erfassen, was sich mit ihnen begeben hat! Sie irren durchs Leben dem Grabe zu wie Schwaden, die der Windhauch in den Sumpf zurücktreibt; ihre Leiber verfaulen, und an dem, der aufersteht – ihr Name –, haben sie kein Teil. Ich aber weiß, soweit ein Mensch von sich sagen darf, er wisse, daß ich Christopher heiße.
In der Stadt geht die Sage, ein Dominikanermönch, Raimund de Pennaforte, habe die Marienkirche gebaut aus Gaben, die ihm aus aller Herren Länder unbekannte Spender zugesandt."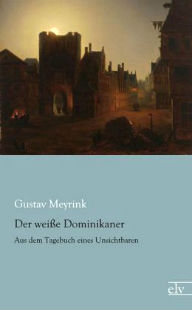 Gustav Meyrink (19 januari 1868 – 4 december 1932)
Cover
De Portugese dichter Eugénio de Andrade (eig. José Fontinhas) werd geboren op 19 januari 1923 in Póvoa de Atalaia. Zie ook alle tags voor Eugénio de Andrade op dit blog.
Wanklanken

--STEEN voor steen
zal het huis terugkeren.
Op mijn schouders voel ik de gloed
van zijn aantocht al.

--De stilte
zal met de harpen terugkeren.
De harpen met de bijen.

--In de zomer sterft men
zo traag in de schaduw van de iepen!

--Dan zal ik zeggen:
Een vriend
is de plaats op aarde
waar de bleke appelen het zoetst zijn.

--Of misschien zeg ik:
De herfst rijpt in de spiegels.
Op mijn schouders voel ik
zijn ademtocht al.
Er is geen terugkeer: alles is labyrint.
Dringend

De liefde dringt.
Een boot op zee dringt.

Het is dringend om bepaalde woorden uit te roeien,
haat, eenzaamheid en wreedheid,
enkele klachten,
vele zwaarden.

Het is dringend om blijdschap uit te vinden,
de kussen te vermenigvuldigen en graanoogst,
het is dringend rozen te ontdekken en rivieren
en klare ochtend.

Het vált, de stilte op de schouders en het onzuivere
licht, tot het pijn doet.
De liefde dringt, het is dringend
om voort te bestaan
Vertaald door Toon Cappuyns en Germain Droogenbroodt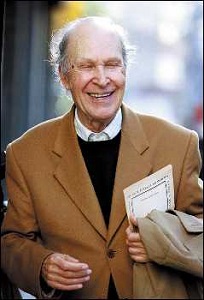 Eugénio de Andrade (19 januari 1923 – 13 juni 2005)
De Duitse dichter en satiricus Thomas Gsella werd geboren op 19 januari 1958 in Essen. Zie ook alle tags voor Thomas Gsella op dit blog.
Heute gegen Holland oder Traum eines deutschen Fußballidioten
Strafstoß. Arjen Robben schießt –
nein, er tritt haarscharf daneben.
Laut sein Fluch: "Verdammter Mist!"
Aber Gott, das soll es geben.
Wieder läuft er an, doch wieder
bleibt der Ball da, wo er ist.
Robben hockt sich langsam nieder
und flucht wieder: "So ein Mist."
Dritter Anlauf. Und vor Schreck
wird das Publikum ganz stumm:
Kurz vorm Schuß rutscht Robben weg
und fällt lauthals fluchend um.
Arjen Robben liebt den Fall nicht.
Wütend rennt er wieder los,
doch er trifft … er trifft den Ball nicht!
Imposant sein Fluchausstoß.
Aber Robben gibt nicht auf,
denn er will's noch mal versuchen.
Fünfter Anlauf, und kurz drauf
hört man ihn sehr lauthals fluchen.
Später rennt er mit Gezeter
auf den Ball zu und verfehlt
ihn um achtzig Zentimeter.
Folgen Flüche ungezählt –
dann der Anlauf Nummer sieben:
Jener Ball ist, wo er war,
auch in diesem Fall geblieben.
Robben flucht mit Haut und Haar,
flucht mit Macht und nimmt, o Graus,
nun zum Schießen seinen Linken,
läuft mit rechts an und rutscht aus,
würde gern im Platz versinken,
aber läuft doch wieder an,
trifft den Ball und hat kein Glück:
Latte, Pfosten, Latte, dann
Pfosten, Latte und zurück
an den Pfosten, wonach Neuer
ihn entgegennimmt und lacht.
Robbens Schrei ist ungeheuer.
Davon bin ich aufgewacht.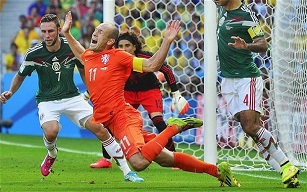 Thomas Gsella (Essen,19 januari 1958)
Arjen Robben
Zie voor nog meer schrijvers van de 19e januari ook mijn blog van 19 januari 2014 deel 1 en eveneens deel 2.
Zie voor bovenstaande schrijvers ook mijn blog van 18 januari 2007 en ook mijn blog van 19 januari 2008 en eveneens mijn blog van 19 januari 2009.
19-01-2018 om 18:32 geschreven door Romenu

Tags:Julian Barnes, Bert Natter, Edgar Allen Poe, Edwidge Danticat, Patricia Highsmith, Marie Koenen, Gustav Meyrink, Eugénio de Andrade, Thomas Gsella, Romenu


18-01-2018

Peter Stamm, Sascha Kokot, Franz Blei, Jon Stallworthy, Montesquieu, Ioan Slavici, Rubén Darío, Paul Léautaud, Alan Alexander Milne
De Zwitserse schrijver Peter Stamm werd geboren op 18 januari 1963 in Weinfelden. Zie ook alle tags voor Peter Stamm op dit blog.
Uit: Weit über das Land
"Tagsüber bemerkte man die Büsche kaum, die das Grundstück von jenen der Nachbarn trennten, sie gingen unter im allgemeinen Grün, aber wenn die Sonne sank und die Schatten länger wurden, war es, als wüchsen sie zu einer Mauer, die immer unüberwindbarer wurde, bis schließlich das letzte Licht aus dem Garten verschwunden war und die ganze quadratische Rasenfläche im Schatten lag, ein dunkles Verlies, aus dem es kein Entkommen mehr gab. Dann wurde es, jetzt, Mitte August, schnell kühl, die Kühle und die Feuchtigkeit schienen aus dem Boden zu dringen, in den sie sich während der Sonnenstunden zurückgezogen hatten, ohne jemals ganz daraus zu verschwinden.
Thomas und Astrid hatten die Kinder ins Bett gebracht, sich mit einem Glas Wein auf die Holzbank vor dem Haus gesetzt und die Sonntagszeitung geteilt. Nach einer Weile war durch das offene Fenster Konrads weinerliche Stimme zu hören gewesen und Astrid hatte ihren Teil der Zeitung mit einem Seufzer auf die Bank gelegt, hatte ihr Weinglas geleert und war wortlos hineingegangen und nicht wieder herausgekommen. Thomas hörte ein beruhigendes Murmeln und sah kurze Zeit später, wie das Licht im Wohnzimmer anging. Dann wurde das Fenster geschlossen, ein entschiedenes Zuklappen, das den Tag beschloss, das Wochenende, die Ferien. Das Licht ging wieder aus und Thomas stellte sich vor, wie Astrid sich im Flur auf den Boden kniete und den großen Koffer auspackte, den sie nach ihrer Rückkehr am späten Nachmittag dort abgestellt hatten. Es musste auch hier heiß gewesen sein während ihrer Abwesenheit, im Haus war es warm, die Luft war abgestanden und dicht, als herrsche im Inneren ein erhöhter Druck. Thomas blätterte die Post durch, die die Nachbarn auf den Tisch im Wohnzimmer gelegt hatten. Astrid stand dicht hinter ihm, ohne sie zu sehen, spürte er ihre Präsenz, ihre Aufmerksamkeit.
Nichts Wichtiges, sagte er, und setzte sich an den Tisch. Astrid öffnete die Fenster und sagte, während sie hinausging, sie werde das Abendessen machen. Sie hatten in einem Tankstellenshop ein paar Sachen gekauft, Brot, Milch und Käse und einen Beutel Mischsalat. Die Kinder waren in den oberen Stock verschwunden, Thomas hörte sie über irgendetwas streiten. Als er und Astrid sie nach dem Abendessen ins Bett gebracht hatten, war Konrad beim Zähneputzen fast eingeschlafen und Ella hatte nicht einmal gefragt, ob sie noch lesen dürfe."

.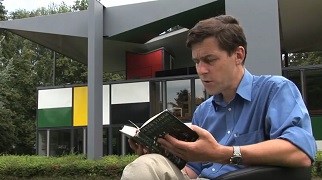 Peter Stamm (Weinfelden, 18 januari 1963)
De Duitse dichter, schrijver en fotograaf Sascha Kokot werd geboren op 18 januari 1982 in Osterburg. Zie ook alle tags voor Sascha Kokot op dit blog.
hier muss der Winter durchgegangen sein
hier muss der Winter durchgegangen sein
so ausgedünnt die Astnester
hält sich kein Wind mehr darin
zergliedert schimmern die Wohnungen dahinter
auch wenn niemand zu sehen ist
weiß ich dass es dich dort gibt
deinen Glauben an eine Behausung
dein Zaudern in den Stunden
in denen die Beleuchtung ausfällt
und dein Körper der letzte Ort ist
den die Wärme verlassen wird
bevor sich das Schweigen sammelt
oder eine Therme von Neuem anspringt

ich höre den Sturm an der Stadt zerren
ich höre den Sturm an der Stadt zerren
sich am Balkon gegenüber kahl und klar einstimmen
unter einer grauen Decke Gruben und Straßen schottern
im letzten Lichtkegel zieht er blind seine Kreise
dahinter verkriechen sich Tiere zum Dämmern
du hältst Ausschau nach dieser Brache
zwischen Riss und Rost suchst du nach Spuren
sie treiben mit dir unter dem Vorhof umher
drängen dich weiter ab vom Sprachgestrüpp
das du dir wie auf Besuch mit mir geteilt hast
dort kühlen noch Worte aus lose verstreut
neben deinem Namen für mich ganz unleserlich
auf meinen Beinen schläft im weißen Pelz
auf meinen Beinen schläft im weißen Pelz
die Unruhe am Morgen
der Hunger in den Abendstunden
die wärmende Behaglichkeit dazwischen
und außerhalb meiner Reichweite
in den Ecken der Zimmer
nur knapp unter der Decke
dämmert dein Schatten im grauen Fell
immer scheu und verschnupft
lässt er sich kaum hervodocken
höre ich ihn nur leise schnaufen
oder tief in der Nacht
spielerisch durch das Haus jagen
bist du fort
wird er zutraulich
folgt mir aufs Bett
will lange gebürstet werden
balgt sich mit der Unruhe
und dem Hunger bis wir
kleine Kratzer davontragen
und erkennen wer hier wohnt
wie falsch wir lagen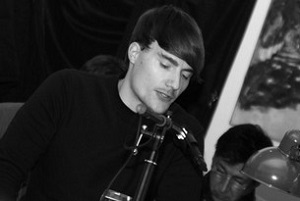 Sascha Kokot (Osterburg, 18 januari 1982)
De Oostenrijkse schrijver, vertaler en uitgever Franz Blei werd geboren op 18 januari 1871 in Wenen. Zie ook alle tags voor Franz Blei op dit blog.
Uit:Das große Bestiarium der modernen Literatur
Der Döblin.
Dieses ist der Name eines vortrefflich und stark gebauten Tieres, das fest auf seinen vier Beinen steht und schreitet. Es hat irgendwann einmal in seiner Lebenszeit, und man weiß nicht weshalb, eine immer nur kurzdauernde seltsame Gewohnheit, nämlich auf seiner linken Vorderpfote zu stehen und die Welt verkehrt durch seine Hinterbeine zu begucken, wodurch sie ihm, ob sie nun wirklich so ist oder nur wegen der Nähe eines bestimmten Organes unseres Tieres, recht dreckig erscheint. Aber unser Döblin gibt diesen Gang auf der linken Pfote bald als doch nicht seiner Art entsprechend auf, und sieht man ihn dann wieder mit Vergnügen seinen guten straffen eigensinnig geraden Weg gehen; ein starkes, ausdauerndes, vortreffliches Tier.
Die Fackelkraus.
Die Fackelkraus hat eine Anti-Natur, weil sie aus dem Kote dessen geboren ist, den sie vernichten will. Sie ist stets wutgeschwollen wegen ihrer unreinen Geburt. Ausgezeichnet ist sie durch ihre Fähigkeit, die Stimmen der Menschen nachzuahmen. Sie tut solches auf verschiedene Art. Sie ahmt die Stimmen von Propheten und Dichtern nach, um ihnen zu gleichen und mit ihnen verwechselt zu werden. Die Stimmen anderer Menschen hinwieder, um sie zu verhöhnen und zu vernichten. Bevor das Wedekind ausstarb, war die Fackelkraus dessen Freundin und stellte sich auf das erhöhte Podium, wenn das Wedekind sich begattete oder sonst sekretierte. Die Fackelkraus äußerte dann immer lauten Beifall, damit man sie höre. Sie gerät in großen Zorn und wird äußerst boshaft bis zur Giftigkeit, wenn sie meint, daß man andere höre. Um zu verhindern, daß andere gehört werden, gebraucht sie zwei Mittel: das eine ist, daß die Fackelkraus diese andern lobt, das andere, daß sie sie verhöhnt. Beides tut sie mit überschreiender Fistelstimme, damit man sie hört. Die Fackelkraus hat nämlich keine Natur, sondern sie ist nichts als Stimme und lebt infolgedessen nur so lange, als man sie hört. Da sie das weiß und den Tod fürchtet, wie jedes Lebewesen, hat sie ihre Stimme kunstvoll geübt auf Gehörtwerden. In der Wut wird die Stimme der Fackelkraus oft besonders kunstvoll, weil sie aus Angst, man würde sie sonst nicht hören, mit immer neuen Stimmen schreit. Sieht sie dann, daß man sie hört, so ist sie sehr stolz und wiederholt alles, was man über sie gesagt hat, noch einmal. Dann kann man eine Stimme bei ihr hören, die sie sonst nicht zeigt, da sie in solchen Augenblicken ihre Angst vergißt. Der Atem der Fackelkraus ist häßlich zu riechen, weil sie aus dem Kot ihrer Feinde geboren ist. Weil sie jedoch ihre Feinde zu vertilgen meint, wenn sie deren Exkrement vertilgt, so frißt sie zornig ungeheure Mengen davon. Darum ist die Fackelkraus ein nützliches Tier, wenn es auch in ihrer Nähe nur aushält, wer ohne Geruchsinn geboren ist. Hier kann der Mensch Gottes Weisheit bewundern, der den meisten Tieren nur eine Stimme gab, weil sie nur eine Natur haben. Die Fackelkraus aber hat keine Natur, sondern eine Anti-Natur, dafür hat sie aber zahllose verschiedene Stimmen. Wegen der Stimmen hören manche auf sie, und diesem Umstände, daß sie von manchen gehört wird, verdankt sie ihr Leben und kann große Mengen von dem Exkrement vertilgen, aus dem sie geboren ist.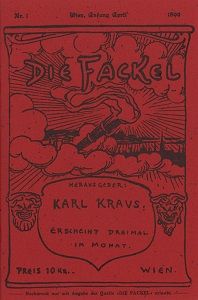 Franz Blei (18 januari 1871 – 10 juli 1942)
Cover van het het eerste nummer van het door Karl Kraus uitgegeven satirische tijdschrift "Die Fackel".
De Engelse dichter en letterkundige Jon Stallworthy werd geboren op 18 januari 1935 in Londen. Zie ook alle tags voor Jon Stallworthy op dit blog.
The Last Mystery
He knew that coastline – no man better –
Knew all its rocks and currents, like the veins
And knuckles on the brown back of his hand;
The leap-frog rollers and tall tons that batter
Boat-rib and man-rib into grains
Of indistinguishable sand:
He had known them all since he could stand.
A shanty* was his earliest lullaby,
The beach his back-yard, flotsam all his toys.
He was admitted to the mystery
Of tides; the wind's writing on the sky;
Could out-sail, out-dive, out-swim boys
Older by half; was known to save
Many from the sabre-toothed, man-eating wave.
Knowing so well the temper of the coast,
And all subaqueous hazards of the sea,
What voice, thought, impulse lugged him from his ale
(When every flag was fighting with a mast
And waves kicked bollards off the quay),
To match his Lilliputian* sail
Against the wrestling muscles of the gale?
Only the lemming* knows: his friends knew only
Boat-rib and man-rib littered the long shore
Many tides after. I declare he fell
Like a pearl-dazzled diver through the sea
To that last mystery on its floor;
Whose is the heart-beat under the swell,
The hand that turns the whirlpool and the shell?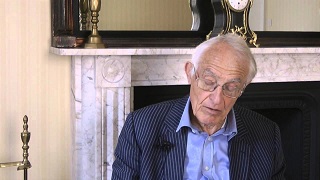 Jon Stallworthy (18 januari 1935 – 19 november 2014)

De Franse schrijver en filosoof Charles Louis de Secondat, baron de La Brède et de Montesqieu werd geboren op 18 januari 1689 op het kasteel La Brède bij Bordeaux. Zie ook alle tags voor Montesquieu op dit blog.
Uit: De l'Esprit des lois
"Les lois, dans la signification la plus étendue, sont les rapports nécessaires qui dérivent de la nature des choses; et, dans ce sens, tous les êtres ont leurs lois, la divi-nité a ses lois, le monde matériel a ses lois, les intelligences supérieures à l'homme ont leurs lois, les bêtes ont leurs lois, l'homme a ses lois.
Ceux qui ont dit qu'une fatalité aveugle a produit tous les effets que nous voyons dans le monde, ont dit une grande absurdité: car quelle plus grande absurdité qu'une fatalité aveugle qui aurait produit des êtres intelligents ?
Il y a donc une raison primitive ; et les lois sont les rapports qui se trouvent entre elle et les différents êtres, et les rapports de ces divers êtres entre eux.
Dieu a du rapport avec l'univers, comme créateur et comme conservateur: les lois selon lesquelles il a créé sont celles selon lesquelles il conserve. Il agit selon ces règles, parce qu'il les connaît; il les connaît parce qu'il les a faites; il les a faites, parce qu'elles ont du rapport avec sa sagesse et sa puissance.
Comme nous voyons que le monde, formé par le mouvement de la matière, et pri-vé d'intelligence, subsiste toujours, il faut que ses mouvements aient des lois inva-riables; et, si l'on pouvait imaginer un autre monde que celui-ci, il aurait des règles constantes, ou il serait détruit.
Ainsi la création, qui paraît être un acte arbitraire, suppose des règles aussi inva¬ria-bles que la fatalité des athées. Il serait absurde de dire que le créateur, sans ces règles, pour-rait gouverner le monde, puisque le monde ne subsisterait pas sans elles.
Ces règles sont un rapport constamment établi. Entre un corps mû et un autre corps mû, c'est suivant les rapports de la masse et de la vitesse que tous les mouve-ments sont reçus, augmentés, diminués, perdus; chaque diversité est uniformité, cha-que changement est constance."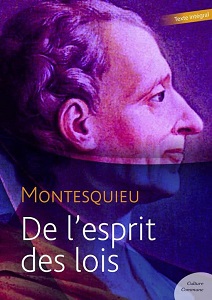 Montesquieu (18 januari 1689 – 10 februari 1755)
Cover
De Roemeense schrijver en journalist Ioan Slavici werd geboren op 18 januari 1848 in Siria. Zie ook alle tags voor Ioan Slavici op dit blog.
Uit: Popa Tanda (Vertaald door Lucy Byng)
« Saraceni? One can imagine what a village like Saraceni must have been; here a house, there a house—all alike. Hedges were superfluous, seeing there was nothing to enclose; the street was the whole village. It would have been absurd to put a chimney on the house—the smoke found its way out through the roof. There would have been no sense in putting plaster on the walls either, as that dropped off in time. Some of the buildings were made of bits of wood knocked together, a roof of straw mixed with hay, an oven of clay, an old-fashioned veranda outside, a bed with four posts built into the ground, a door made out of three boards held together by two stakes placed crosswise—quickly made and well made—whoever was not pleased with it, let him make something he liked better.
At the top of the village, that is to say on the highest point, was a sort of building which the Saracenese called the "church." It was a heap of old tree trunks piled one on the top of the other in the form of walls. In the old days—when, one does not know—these kind of walls were open to the sky; later, one does not know when, the walls had been made to converge in one place, to support what was supposed to do duty for a tower. This—owing to the fact that the supports of the façade had perished through the buffeting of a very strong wind—had fallen towards the patient earth, dragging the entire structure after it. And there it had remained ever since, for the church counted far little in Saraceni; it was superfluous.
Priest? They say there is no village without a priest. Probably whoever said this did not know about Saraceni. Saraceni was a village without a priest. That is to say, it was a village with a priest—only this priest was a priest without a village. Saraceni was unique in one way. There had never been a priest who stayed more than three days in Saraceni; he came one day, stayed the next, and left on the third. Many guilty priests passed through Saraceni; whoever had stayed there long would have expiated all his sins."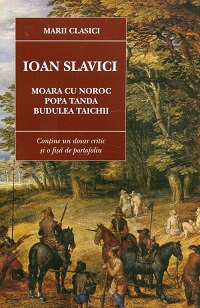 Ioan Slavici (18 januari 1848 – 17 augustus 1925)
Cover
De Nicaraguaanse schrijver Rubén Darío werd geboren in Metapa, tegenwoordig Ciudad Darío, op 18 januari 1867. Zie ook alle tags voor Rubén Darío op dit blog.
Melancholy
to Domingo Bolívar
You with the light, give me my own.
It's like I'm blind. I grope around in the darkness,
I'm stuck beneath tempests and storms,
blinded by dreams and crazy with harmony.
That's my curse, to dream. Poetry
is an iron straitjacket with thousands of spikes
that I wrap around my soul. Drops of melancholy
fall from the bloody spines.
And this is how I roam this bitter world, blind and crazy;
sometimes it seems the road is almost endless,
and sometimes that it's very short …
And in this hesitation between inspiration and agony
I'm loaded with burdens that I can hardly bear.
Don't you hear the drops of my melancholy falling?
Walk On and Forget
That is my curse: to dream.
Pilgrim who searches in vain
for a road better than your own,
why do you want me to give you my hand
if my sign is the same as your own?
You'll never arrive at your destination;
you carry death in you like a maggot
that eats away at what you have that's human …
at what you have that's human and divine!
Walk peacefully, o wayfarer!
you're still so far from that unknown
country of which you dream …
… And to dream is a curse. Walk on and forget,
for if you insist on dreaming, you insist
on fanning the flames beneath your life.
Vertaald door Stuart Cooke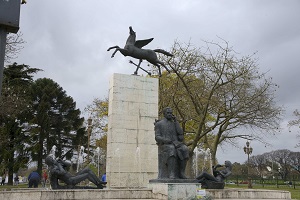 Rubén Darío (18 januari 1867 - 6 februari 1916)
Monument in Buenos Aires
De Franse schrijver Paul Léautaud werd geboren op 18 januari 1872 in Parijs. Zie ook alle tags voor Paul Léautaud op dit blog.
Uit: Journal littéraire
« 19 mai 1931
D'abord une ouverture qu'on lui pratiquera au bas de la gorge, pour qu'il puisse respirer pendant l'opération. Quatre jours après, ablation de l'excoriation qu'il a à une corde vocale. On lui enlèvera alors la garniture de l'ouverture respiration artificielle. Celle-ci se cicatrisera et se fermera peu à peu. Les prévisions sont que la corde vocale opérée repoussera. Jusque là Dumur parlera, avec à peu près aucun son. Au fur et à mesure que la corde vocale repoussera, le son reviendra. Ce sont les prévisions.
Duhamel a dit à Bernard que le cas de Dumur est très grave, mais que l'opération en question peut le prolonger longtemps. Il a dit le mot : longtemps.
Vallette, lui, trouve l'affaire très inquiétante.
Dumur a distribué ce soir quelques cartes de la clinique, avec le plan de l'endroit de Neuilly où elle se trouve, pour les gens qui voudront aller le voir.
Ce ne serait pas une petite tuile pour Vallette et pour le Mercure s'il disparaissait. Dumur lit tous les manuscrits. C'est lui qui compose le Mercure. C'est lui qui répond pour les manuscrits refusés. Il fait en même temps de la correction d'épreuves quand Mandin est trop chargé. Un très gros travail, pour lequel Vallette n'est plus du tout au courant. C'est un peu le défaut du Mercure, depuis que Vallette, il l'avait bien gagné, s'est déchargé sur l'un et l'autre de tout ce qu'il faisait presque à lui seul, ne gardant plus que la direction de la comptabilité et les affaires de traduction : à Bernard la fabrication, à Dumur la rédaction du Mercure, à moi la publicité dans la revue (...)."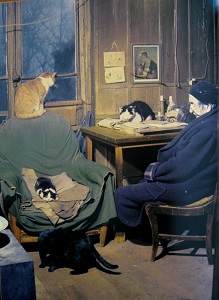 Paul Léautaud (18 januari 1872 – 22 februari 1956)
In 1954
De Britse dichter en schrijver Alan Alexander Milne werd geboren op 18 januari 1882 in Londen. Zie ook alle tags voor Alan Alexander Milne op dit blog.
The Four Friends
Ernest was an elephant, a great big fellow,
Leonard was a lion with a six foot tail,
George was a goat, and his beard was yellow,
And James was a very small snail.

Leonard had a stall, and a great big strong one,
Earnest had a manger, and its walls were thick,
George found a pen, but I think it was the wrong one,
And James sat down on a brick

Earnest started trumpeting, and cracked his manger,
Leonard started roaring, and shivered his stall,
James gave a huffle of a snail in danger
And nobody heard him at all.

Earnest started trumpeting and raised such a rumpus,
Leonard started roaring and trying to kick,
James went on a journey with the goats new compass
And he reached the end of his brick.

Ernest was an elephant and very well intentioned,
Leonard was a lion with a brave new tail,
George was a goat, as I think I have mentioned,
but James was only a snail.
The Morning Walk
When Anne and I go out a walk,
We hold each other's hand and talk
Of all the things we mean to do
When Anne and I are forty-two.

And when we've thought about a thing,
Like bowling hoops or bicycling,
Or falling down on Anne's balloon,
We do it in the afternoon.
Brownie
In a corner of the bedroom is a great big curtain,
Someone lives behind it, but I don't know who;
I think it is a Brownie, but I'm not quite certain.
(Nanny isn't certain, too.)
I looked behind the curtain, but he went so quickly -
Brownies never wait to say, "How do you do?"
They wriggle off at once because they're all so tickly
(Nanny says they're tickly too.)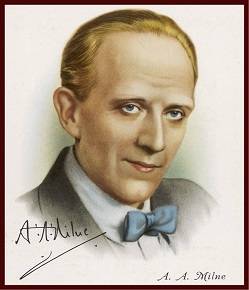 Alan Alexander Milne (18 januari 1882 - 31 januari 1956)
Zie voor nog meer schrijvers van de 17e januari ook mijn blog van 18 januari 2015 deel 1 en ook deel 2 en eveneens deel 3.
Zie voor bovenstaande schrijvers ook mijn blog van 18 januari 2007 en ook mijn blog van 18 januari 2008 en eveneens mijn blog van 18 januari 2009.
18-01-2018 om 18:23 geschreven door Romenu

Tags:Peter Stamm, Sascha Kokot, Franz Blei, Jon Stallworthy, Montesquieu, Ioan Slavici, Rubén Darío, Paul Léautaud, Alan Alexander Milne, Romenu


17-01-2018

Ilja Leonard Pfeijffer, Tom Dolby, Nanne Tepper, Jaap van den Born, Anton Valens, Diana van Hal, David Ebershoff, Gavin Extence, Roel Houwink
De Nederlandse dichter en schrijver Ilja Leonard Pfeijffer werd geboren op 17 janauari 1968 in Rijswijk. Zie ook alle tags voor Ilja Leonard Pfeijffer op dit blog.
De taal van de eilanders
er wordt vee geslacht
in de taal van de eilanders
elk woord vloekt
als een horzel een halve nap zure melk
uit een balkend scharminkel geknepen
tussen lippen gespleten van distels
wordt een verleden verzwegen
op een tong als een zinderend grintpad
verwijt men de dag met een rochel
gemolken uit brandende rotsen
er wordt met geen woord
over morgen gesproken

niemand spreekt
de taal van de eilanders
maar wie verstaat niet
wat hun doorgesneden kelen
dichtschroeit ik althans
begreep maar al te goed
wat ze mij knarsend toebeten en tandenloos
voor de voeten spogen ik wist
op de eerste boot hals over kop terug
te ontkomen het gelijk bleef zinderen
op hun kade en kiezelstranden.
Noenuur
het uur is uur van knekelbrand die sist
in de open wond van de dag als hitst de noen
van trillicht in distels hitte blind blaast loom
lekkend soezen over stoute goden en herders
in de heuvels zij vrezen dit uur zij spelen panisch
fluit in rusteloos gestruik van lommer vrezen
moerbezie en tamarinde verhitte boze bijen
vrezen bijen vrezen dromen van bijen
die zoemen als doornen vol honing
want dit is het uur dat dooft en denken smelt
in pikwit licht van zinderende heuvels

heuvels die dansen als phyllis voor ogen
kom zegt ze lieg me de lach in mijn ogen
boter mij zacht met de tong van je handen
mij mag je zingen en mij zul je smachten en smelten
dronken van phyllis en zon in de heuvels

heuvels die branden als phyllis in ogen
kom liegt ze lik me een lied in de distels
min jezelf week van gemis in je handen
mij zul je zingen en bloeden en krijten als krekels
trillend van phyllis in kreunende heuvels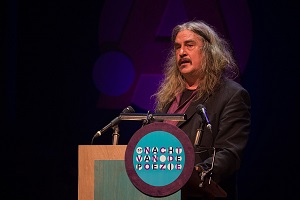 Ilja Leonard Pfeijffer (Rijswijk, 17 janauari 1968)
De Amerikaanse schrijver, filmmaker, essayist, journalist en redacteur Tom Dolby werd geboren op 17 januari 1975 in Londen. Zie ook alle tags voor Tom Dolby op dit blog.
Uit:The Trouble Boy
"I went to Yale," I admitted. "Ecch, New Haven." New Haven was a place where your car would be broken into if you left change on the dashboard, but I still hated snobbery about my college town. We gulped our drinks. "This is so weird," he said, "hanging out with so many 924 people. It's like work." "Sorry?" "Oh, God." He laughed and wiped a drop of sweat from his bony forehead. "Okay, like the digits on a phone, 429 is G-A-Y, so that backwards is 924, get it?" "You're gay?" I should have guessed by the pink shirt; no real men wore preppy pink anymore. "Yeah. Aren't you? 'Cause if you aren't, then I've just made a big fucking idiot of myself." It could be fun, posing as straight. Should I hold out a little longer? "No, I am," I finally said. It must have been my pants that gave me away. "I just didn't expect to meet anyone—" "Neither did I! When we got here, I was like, fifteen minutes, that's it! And then we get into this conversation with this guy, and before I know it, I've had four vodkas, and I'm like, shit, where did the night go? Come sit with us, we're in the bedroom. You can smoke there." He offered his hand. "I'm Jamie Weissman."
"Toby Griffin," I said, shaking his hand in an odd gesture of formality. I followed him through the living room into the bed-room.
I had spent the past four years in New Haven at that venerable university that promised light and truth to those who passed through its portals. What I had found instead was beer and boys. After a sexless four years at boarding school, I was ready to sleep with every available gay undergrad in the tristate area. It was at a Lesbian, Gay, Bisexual, and Transgender Co-op dance (a mouthful, to be sure—they figured if you could say it, you were really gay) that I got drunk on cheap rum punch and al-lowed myself to be seduced by Kent Simmons, a sophomore whose room in Davenport College was plastered with advertise-ments from fashion magazines. I learned from Kent the tech-nique I would use for the next four years: attract, anesthetize, and go in for the kill. It served him well that night, and resulted in a six-week relationship, the first of many during my college years. I had never been able to break that six-week barrier; like divine intervention, something always came between me and the object of my affection. Now that I was in New York, I was desperate to meet new people."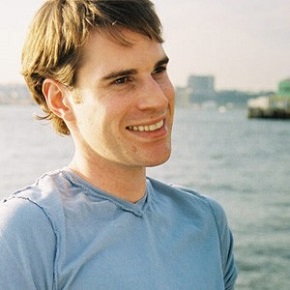 Tom Dolby (Londen, 17 januari 1975)
De Nederlandse schrijver, popjournalist en muzikant Nanne Tepper werd geboren in Hoogezand op 17 januari 1962. Zie ook alle tags voor Nanne Tepper op dit blog.
Uit: De kunst is mijn slagveld
`Maar goed, die ruzie tussen Z en R, dat was lachen, die zaten elkaar in de haren alsof het hier om gewichtige zaken ging, en Rogi Wieg, iemand waar ik ook maar niet warm voor kan lopen, speelde intermediair; al met al had ik na het aanschouwen van dit schoolkrantgedoe bijna een ander vak gekozen. Tjonge wat was dat allemaal kinderachtig, puberaal, en semi-gewichtig. J.B. Schuil, ach ja, ik heb ze hier allemaal zo onder handbereik. Het was een beetje een racist, maar dat had hij zelf ook niet helemaal in de smiezen. Literatuur vind jij eigenlijk maar bar oninteressant. Zo zo. Je muzikale voorbeelden deel ik, tenminste, de namen die je noemt doen me veel. Van George Duke, die in '73, '74 en '75 bij Zappa speelde, heb ik ontelbare briljante solo's op de band, allemaal bootlegtapes uit die jaren, wil wel eens een bandje voor je maken als je zulks behoeft. Heb hem ook nog live gezien, in Vredenburg, met Stanley Clarke, maar toen zat de klad al in de jazz-rock, de muziek waarmede ik ben opgegroeid. Ik denk niet dat de teksten die ik voor mijn orkest schreef geschikt zijn voor een soulband, maar als je het aandurft wil ik wel eens wat opsturen. Teksten over mannen met vissen in hun hoofd en zo. Iets romantisch over de liefde krijg ik niet uit mijn pen, wel een tekst — die ik niet zo snel kan vinden — over Quentin C. die zijn zusje begeerde, Drowned in the fading of honeysuckle; zal er eens naar zoeken in de bergen troep die zijn meeverhuisd. Dat ik in het laatste nummer debuteer gedenk ik met gemengde gevoelens; het is alsof ik afbraak aantrek. Namelijk. Toen ik Veendam verliet en de pleinen waarop ik tot legendetje werd (Bwana de neuker, Jimmie Dean, Brando twee, en mijn kleine Yvonne, the last northern belle; een jaren durend toneelstuk met Dylan Thomas-invloeden) sloot men prompt de school waartoe deze pleinen behoorden, de kroeg waarin wij ons en plein public aanstelden tot de barkeepers erbij neervielen brandde af, haar ouders scheidden eindelijk enzovoorts, enzoverder.`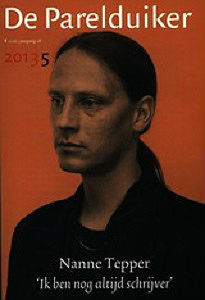 Nanne Tepper (17 januari 1962 - 10 november 2012)
Cover
De Nederlandse dichter, kunstenaar en illustrator Jaap van den Born werd geboren in Nijmegen op 17 januari 1951. Zie ook alle tags voor Jaap van den Born op dit blog.
Ik ga vanavond maar een rookkring blazen...
Ik ga vanavond maar een rookkring blazen
En mijn jeneverglas blijft ook niet droog
Ik hef het in de blauwe walm omhoog
En zal daarna eens stevig door gaan dazen
Als eerbetoon aan Simon Vinkenoog

Als dichter niet een van die houten klazen
Vol zelfbeklag en mooie spanningsboog
Ik snapte wel geen bal van zijn betoog
Maar liet me altijd blij door hem verbazen
En rook een joint op Simon Vinkenoog

Maar weinigen die ooit zijn werk herlazen
Het ging meer om de mens, de demagoog
Die met verruimde geest zijn verzen spoog
En woedend over liefde stond te razen
Vaarwel, vaarwel, o Simon Vinkenoog!

De blinde, hersenloze New-Agedwazen
Verloren hun partij-ideoloog
Maar zaterdag verschijnt een regenboog
Als regenwolken worden weggeblazen
Als eerbetoon aan Simon Vinkenoog

Dan schuiven ze hem zachtjes in de oven
-Hoe tragisch is het sterven van een kind-
Daar wordt een flink pak hasjiesj bijgeschoven
Wij blijven achter, blowing in the wind
Jubilaris
Piet is nu voor het allereerst te laat
Dat is normaal gesproken niets voor hem
En alles staat hier klaar om hem te eren
We zijn gereed om luid en goed bij stem
Ons zelfgeschreven lied te debiteren
Want hij is vijftig jaren bij de zaak
Misschien versliep hij zich,want jubileren
Dat overkomt je ook niet al te vaak
En is hij daardoor ietwat van de graat
Of hij is opgehouden onderweg
Door file, stoplicht, of door bandenpech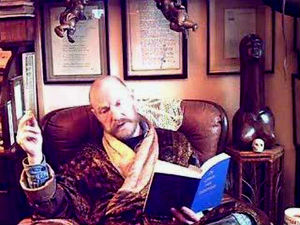 Jaap van den Born (Nijmegen, 17 januari 1951)
De Nederlandse schrijver en schilder Anton Valens werd geboren op 17 januari 1964 in Paterswolde. Zie ook alle tags voor Anton Valens op dit blog.
Uit:Het Boek Ont
'Dit is slechts een greep,' deelde hij stoïcijns mee en stortte zijn armenlast neer op de salontafel. Onder de mantel droeg hij een donker blauwgrijs kostuum, een rode stropdas en glanzend gepoetste gaatjesschoenen. Hij leek een beetje op een oudere goochelaar, vond Isebrand, er was iets ongrijpbaars aan hem. Iets glads en onechts, en tegelijk iets onhandigs, bruusks, dat weer wel echt was.
De deelnemers monsterden de nieuwkomer met een stugge gezichtsopslag en gesloten lichaamstaal, maar die liet zich daardoor geenszins uit het veld slaan, stelde zich voor als 'Cor' en schudde hun van zijn kant joviaal de hand, waarna hij neerzonk op de leren bank naast Boudewijn, zijn benen over elkaar sloeg en Isebrand verwachtingsvol aankeek. Die vroeg hem zijn post van de tafel af te halen, om ruimte te maken.
Meckering wilde direct meedoen, hoewel Isebrand hem dat ontraadde en dringend voorstelde dat hij zich tot sfeer proeven, toekijken en de procedures in zich opnemen zou beperken, omdat het de eerste keer was. Maar Meckering was eigenwijs. 'Ik hoef niet te wennen, ik wil meteen meedoen, daarom ben ik hier en niet bij m'n kinderen.' Het klonk onverschrokken.
'Zoals je wilt, Cor. Je hebt één minuut om te zeggen hoe je er vanavond bij zit.'
De organisatieadviseur stulpte de lippen, trok de wenkbrauwen op en dacht even na, een blanco, naïeve blik op zijn gezicht, als om na te gaan of zijn antwoord compleet en waarheidsgetrouw was. De toppen van de vingers van zijn l-hand en r-hand drukten tegen elkaar.
'Fantastisch. Ik zit er fantastisch bij, echt, al zeg ik het zelf, het kan niet beter. De beurs gaat goed, ik verdien geld als water. Ik heb drie prachtige, gezonde kindertjes. Ik ben zelf gezond. Ik adem. Mijn vrouw is gezond. We hebben net een bijzonder geslaagde vakantie achter de rug: tennis, boogschieten, crossfietsen, georganiseerde fietstochtjes, iedere avond show, kookles van een topkok; we hebben op zee gezeild, terwijl een rubberboot met bewaking steeds in onze buurt bleef. Ontzettend veel, heel veel eten, ongelooflijk, alles inbegrepen. Om kort te gaan, ik kan er niets anders van maken: ik zit er fantastisch bij, ja, echt waar."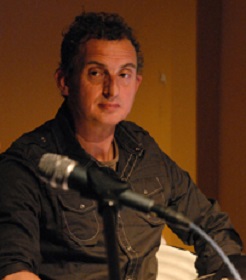 Anton Valens (Paterswolde, 17 januari 1964)
De Nederlandse schrijfster Diana van Hal (pseudoniem van Diana Ruwaard) werd op 17 januari 1980 geboren in Amsterdam. Zie ook alle tags voor Diana van Hal op dit blog.
Uit: Bloeden zal je
`Michael leunt tegen de muur in de hal aan, trillende armen van de inspanning. Zweet druppelt van zijn hoofd op zijn schouders. Of is het van de regen? Eigenlijk interesseert het hem niet zoveel waar het van komt. 'Kom op, Linds, schiet eens op: 'Ik doe mijn best, oké?' Ze beweegt de sleutel gehaast heen en weer in het slot, net zolang tot hij door de weerstand van de cilinder heen is. Met een zwaai gooit Lindsey de deur open en stapt aan de kant, zodat Michael erdoor kan. Zo voorzichtig mogelijk zet hij het zware pakket op de eet-tafel naast de computer. 'Morgen moeten we echt de huisbaas bellen. Dit is geen doen zo: Waarom ze niet de hoofdprijs betalen voor het appartement aan de Victoria Lane in Everett, begrijpt hij nu wel. Hij bekijkt de nieuwe aanwinst, het smoezelige karton en de dubbele laag plakband aan de bovenkant. Beter dan het vier jaar oude apparaat wat net stuk moest gaan nu ze hem zo hard nodig hebben. Lindsey loopt de kamer uit en komt terug met een mes, dat ze hem in de handen drukt. 'Jij installeert hem en ik ruim de rotzooi op?' Zonder op antwoord te wachten, vertrekt Lindsey naar de keuken, waar het een bende is, weet Michael. Het aanrecht staat bezaaid met vuile bekers, borden en de verpakkingen van de thuisbezorgde maaltijd. Het resultaat van tien uur lang zoeken naar een nieuwe baan. Natuurlijk ging de oude printer stuk voor ze een goede sollicitatiebrief hadden uitgeprint. Venijnig steekt hij het mes door de laag plakband, rukt het naar beneden en let daarbij niet op. Het bloed sijpelt langzaam uit de snee in zijn duim. Automatisch steekt hij hem in zijn mond. Een mengeling van ijzer en vuil bereikt zijn smaakpapillen.
'Verdomme.'
Het is dat de electronicawinkel op Harris Street de enige in de wijde omtrek is die op zaterdag koopavond heeft. Voor geen goud zet hij daar nog een stap binnen. Het excuus van de eigenaar dat er na de overname nog gerenoveerd moet worden, interesseert hem geen donder. Hij had toch op zijn minst de doos kunnen schoonmaken. Wie weet wat voor ziektes er op dit moment zijn bloedbaan binnendringen."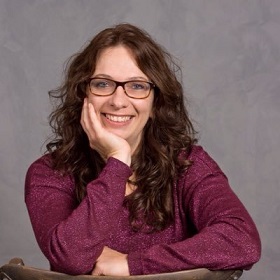 Diana van Hal (Amsterdam, 17 januari 1980)
De Amerikaanse schrijver David Ebershoff werd geboren op 17 januari 1969 in Pasadena, Californië. Zie ook alle tags voor David Ebershoff op dit blog.
Uit: The Danish Girl
"Greta?" Einar said. "What do you mean?" An oily bead of paint dropped from his brush to his boot. Edvard IV began to bark, his white head turning from Einar to Greta and back.
"Anna's canceled again," Greta said. "She has an extra rehearsal of Carmen. I need a pair of legs to finish her portrait, or I'll never get it done. And then I thought to myself, yours might do."
Greta moved toward him, the shoes in her other hand sennep-yellow with pewter buckles. She was wearing her button-front smock with the patch pockets where she tucked things she didn't want Einar to see.
"But I can't wear Anna's shoes," Einar said. Looking at them, Einar imagined that the shoes might in fact fit his feet, which were small and arched and padded softly on the heel. His toes were slender, with a few fine black hairs. He imagined the wrinkled roll of the stocking gliding over the white bone of his ankle. Over the small cushion of his calf. Clicking into the hook of a garter. Einar had to shut his eyes.
The shoes were like the ones they had seen the previous week in the window of Fonnesbech's department store, displayed on a mannequin in a midnight-blue dress. Einar and Greta had stopped to admire the window, which was trimmed with a garland of jonquils. Greta said, "Pretty, yes?" When he didn't respond, his reflection wide-eyed in the plate glass, Greta had to pull him away from Fonnesbech's window. She tugged him down the street, past the pipe shop, saying, "Einar, are you all right?"
The front room of the apartment served as their studio. Its ceiling was ribbed with thin beams and vaulted like an upside-down dory. Sea mist had warped the dormer windows, and the floor tilted imperceptibly to the west. In the afternoon, when the sun beat against the Widow House, a faint smell of herring would seep from its walls. In winter the skylights would leak, a cold drizzle bubbling the paint on the wall. Einar and Greta stood their easels beneath the twin skylights, next to the boxes of oil paint ordered from Herr Salathoff in Munich, and the racks of blank canvases. When Einar and Greta weren't painting, they protected everything beneath green tarps the sailor below had abandoned on the landing."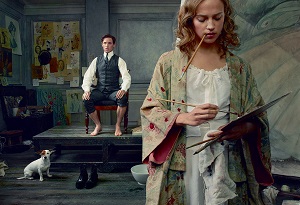 David Ebershoff (Pasadena, 17 januari 1969)
Scene uit de gelijknamige film uit 2015 met o.a. Eddie Redmayne (Einar-Lili) en Alicia Vikander (Gerda)
De Engelse schrijver Gavin Extence werd geboren op 17 januari 1982 in Swineshead, Lincolnshire. Zie ook alle tags voor Gavin Extence op dit blog.
Uit: The Empathy Problem
"It was the size of a golf ball and lodged deep in something called his anterior insular cortex. And now everything should have fallen into perspective; that was the platitude. Minor inconveniences, trivial delays, the petty irritations of day-to-day life — none of these things should have mattered any more. Traffic jams should not have mattered any more. But the reality of having a malignant brain tumour, Gabriel found, was not nearly so edifying. Petty irritations were more irritating than ever before, and being stuck in a traffic jam was a luxury he could ill afford. Under normal circumstances — circumstances before the tumour — he would have utilised this time productively. He would have checked the overnight news on his iPad, looking for anything that might affect the markets when they opened in ninety minutes' time. This was the way he had started every working day for the past ten years. Now, instead, he found himself calculating how much of his remaining life had been wasted in this line of unmoving cars. The answer was one seventeen-thousandth. According to his consultant at the clinic on Harley Street — Armstrong or Anderton, or whatever the hell his name was — Gabriel Vaughn could reasonably expect to live for six more months. And this morning he had spent an unacceptable proportion of that stuck in stationary traffic. He hadn't planned to move. In fact, he didn't know he was moving until his index finger made contact with his chauffeur's left shoulder – and once it had, it was difficult to tell who was the more surprised. In the last three years, ever since Gabriel had been given a chauffeur, the journey to work had followed an unwavering regimen of absolute silence. Every morning at six o'clock precisely, the car – a Mercedes-Benz S-Class in gunmetal grey – would be waiting outside Gabriel's apartment block. The chauffeur would open the door and utter a polite 'Good morning, sir,' and, if he was lucky, Vaughn would reciprocate with a curt nod. There had never once been physical contact. Now, it caused both men to jolt, as if by a mild electric shock. Gabriel was the first to recover. He settled back in his seat and glared at the anxious, disembodied eyes in the rear-view mirror. 'Let me out,' he said. 'Sir?' 'I want to get out.' 'Um ... here?'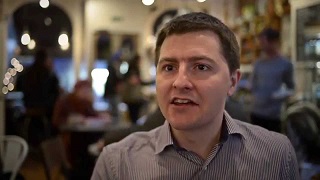 Gavin Extence (Swineshead, 17 januari 1982)
De Nederlandse dichter en schrijver Roel Houwink werd geboren op 17 januari 1899 in Breda. Zie ook alle tags voor Roel Houwink op dit blog.
Terugkeer
Waar het leven klein is en verborgen
achter een bedeesd gordijn
heeft zij zich ontsteld geborgen
en zich in den bangen kerker
andrer zorgen neergezet.

Willoos op haar moe-gewerkte handen
rust de schaduw van het licht
en de pijn van een verlangen
graaft zich bloot in haar gezicht.

Waar het leven klein is en verborgen
achter een bedeesd gordijn
heeft zij zich voorgoed geborgen
tusschen muur en lampenschijn.
Zalig de vervolgden....
Wij hebben een prijs gesteld
op uw hoofd
en uw signalement geseind
rond de aarde.
maar gij zijt in het hofje gegaan
waar de appels niet worden geraapt
en de herfstseringen verregenen.
en gij hebt u gezet op de eenigste bank
onder het blinde venster
waar de honderdjarige
zooeven
is gestorven.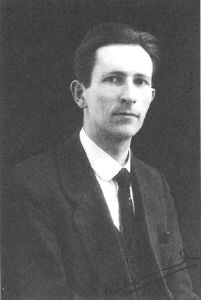 Roel Houwink (17 januari 1899 – 3 juni 1987)
In 1927
Zie voor nog meer schrijvers van de 17e januari ook mijn blog van 17 januari 2017 en ook mijn blog van 17 januari 2016 deel 1 en ook deel 2 en eveneens deel 3.
Zie voor bovenstaande schrijvers ook mijn blog van 17 januari 2007 en ook mijn blog van 17 januari 2008 en eveneens mijn blog van 17 januari 2009.
17-01-2018 om 18:36 geschreven door Romenu

Tags:Ilja Leonard Pfeijffer, Tom Dolby, Nanne Tepper, Jaap van den Born, Anton Valens, Diana van Hal, David Ebershoff, Gavin Extence, Roel Houwink, Romenu


16-01-2018

Ester Naomi Perquin, Anthony Hecht, Reinhard Jirgl, Inger Christensen, Susan Sontag, Brian Castro, José Soares, Kálmán Mikszáth, Tino Hanekamp
De Nederlandse dichteres Ester Naomi Perquin werd geboren in Utrecht op 16 januari 1980. Zie ook alle tags voor Ester Naomi Perquin op dit blog.
Een troost
Mocht het helpen: we bestaan massaal niet. Kijk naar zomers
die nooit overgaan, roestvrijstalen keukenmessen, daarnaast
bewegen we getalenteerd, feilloos in het niet-bestaan.

Er is geen sprake van, dat valt eenvoudig aan te tonen.
Wij hebben A) geen tijd en B) geen materiaal.
We leven tussen de bepaling van een plaats
en een gedachte.

De duur hiervan is puur geluk. We zijn gemaakt, we
vielen te verwachten. In deze tuin, achter de ramen,
woekert de klimplant, pikken veren driftig
beestjes van een bast, zwelt het fruit.

En wij bestaan niet, kunnen bewijzen niet te bestaan.
De boom, de zee, de roos – elk woord dat past
loopt uit, hervormt zich mettertijd.
Wat groeit, groeit roekeloos.

Wij kennen de plaats noch de gedachte, zijn
het mooiste godsbewijs: in onze ogen
zie je de lengte van dagen,
in onze kamers de afwezigheid.
Meisjes
Zo handig in hun alledaagse praten
rusten zij aan zij, een rij van jonge huid
en zachte haren in die al te hete zon.

Duingras kietelt hun benen en hoog
klinkt de pas bedachte lach die meeuwen
steeds verschrikt doet overkomen.

Van kop tot teen onaangeraakt
liggen zij, met allemaal dezelfde stem
dezelfde moeder te bespreken.

Wat ze zoal zijn telt alle eeuwigheden
in hen op. Dat stil en zonbeschenen delen
van leeftijd, lichaam, zonnebrand.

Maar over het zand lijkt een vreemd,
steeds lager grommen aan te zwellen
en jaagt een rilling door de rij.

Elke seconde komen de jongens
op onverbiddelijke brommers
in grote golven dichterbij.
Legale activiteiten 2
Op de luchtplaats laten lopen en af en toe het geluid
van een geweerschot maken. Oefenen tot je
vlak boven hun hoofden een trage duif
in zijn vlucht kunt raken en ze
die duif laten begraven.

Of er eentje op zijn rug draaien en met viltstift
omtrekken op het matras en laten opstaan
om naar zichzelf te kijken.

Vragen of ze de omtrek niet op iemand
vinden lijken. Vragen wie dat was.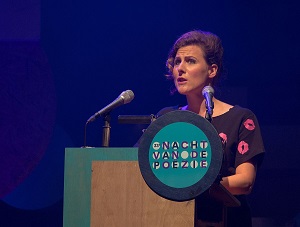 Ester Naomi Perquin (Utrecht, 16 januari 1980)
De Amerikaanse dichter Anthony Hecht werd geboren op 16 januari 1923 in New York. Zie ook alle tags voor Anthony Hecht op dit blog.
The Feast Of Stephen
III
Think of those barren places where men gather
To act in the terrible name of rectitude,
Of acned shame, punk's pride, muscle or turf,
The bully's thin superiority.
Think of the Sturm-Abteilungs Kommandant
Who loves Beethoven and collects Degas,
Or the blond boys in jeans whose narrowed eyes
Are focussed by some hard and smothered lust,
Who lounge in a studied mimicry of ease,
Flick their live butts into the standing weeds,
And comb their hair in the mirror of cracked windows
Of an abandoned warehouse where they keep
In darkened readiness for their occasion
The rope, the chains, handcuffs and gasoline.


IV
Out in the rippled heat of a neighbor's field,
In the kilowatts of noon, they've got one cornered.
The bugs are jumping, and the burly youths
Strip to the waist for the hot work ahead.
They go to arm themselves at the dry-stone wall,
Having flung down their wet and salty garments
At the feet of a young man whose name is Saul.
He watches sharply these superbly tanned
Figures with a swimmer's chest and shoulders,
A miler's thighs, with their self-conscious grace,
And in between their sleek, converging bodies,
Brilliantly oiled and burnished by the sun,
He catches a brief glimpse of bloodied hair
And hears an unintelligible prayer.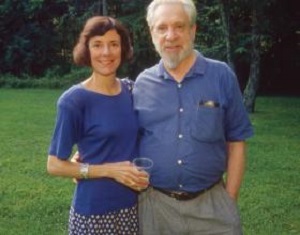 Anthony Hecht (16 januari 1923 – 20 oktober 2004)
Met echtgenote Helen in 1997
De Duitse schrijver Reinhard Jirgl werd op 16 januari 1953 in Oost-Berlijn geboren. Zie ook alle tags voor Reinhard Jirgl op dit blog.
Uit: Oben das Feuer, unten der Berg
"– Wa-bummp – Wa-bummp – Das-Schlagen meines Herzens – Wabummp – Wa-bummp– unaufhörliches Schlagen. Fürchterliches Herz.Wie es sich !wehrt, die Brusthöhle erschütternd mit seinen Hammerschlägengegen das-Aus. Unablässig zuckendes, stampfendes Herz.
Niemandem unterworfen außer dem vom-Gehirn diktierten Willen. !Wie Diekälte aus Nachtstunden ins=Fleisch 1dringt. Zugreift – Wabummp – das Fleisch wehrt sich noch. Wann wird es aufhören sich zu wehren. Sich ergeben. Fleisch an diesem Ort, wo Allesfleischliche verderben muß –Wa-bummp – – Wa-bummp – das-schlagende-Herz ist
Das Problem. Bevor du stirbst, töte dein Herz. Besser, die Menschen wären geboren ohne Herz. Noch besser, kein Mensch wäre jemals geboren. Ich hätte nicht.
Aber du hast mich zur-Welt-gebracht 1956 in dem unscheinbaren Straßendorf Kaltenfeld, 10 Kilometer südlich von hier, und mich verlassen müssen 3 Jahre später. Mutter. Vater. : MAN hat mich, die 3jährige, euch weggenommen. !Spione sollt ihr gewesen sein. Die Spione Irma und Alois Berger wurden der Spionage überführt und zu je 15 Jahren Zuchthaus verurteilt. (So las ich Vielejahre=später diese Druckzeilen über das Gericht's Urteil auf altem dünngilben Zeitungspapier mit dem penetranten Geruch nach Vergangenheit.....) Lange habe ich damals gebraucht, um !diese=Zeilen mit euch=MutterVater=in-Verbindung zu bringen. : Spione wurden beim Spionieren ertappt & bestraft: die Spinne spinnt ihr Spinnennetz, die Schlange verspritzt ihr Schlangengift – die Tautologie macht aus euch 1 naturhaften Vorgang. Und neben der Meldung euer Schwarzweiß-Foto im Überkontrast so daß ihr Beide aussaht wie von den finstren Pestflecken der Heim=Tücke verseucht. Aber auch diese beiden Fotografien, die 1zigen die ich von euch, den mir Immerfremden, jemals gesehen habe, bekam ich erst in Späterenjahren zu-Gesicht, als Alles zuspät war für euch; u: war mir Die !Großeerleichterung: Denn nun würdet ihr mich nicht mehr wegholen."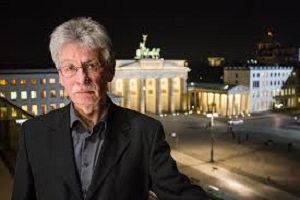 Reinhard Jirgl (Oost-Berlijn, 16 januari 1953)
De Deense dichteres, schrijfster en essayiste Inger Christensen werd geboren op 16 januari 1935 in de stad Vejle aan de oostkust van Jutland. Zie ook alle tags voor Inger Christensen op dit blog.
Uit: Alphabet (fragment)
all; in the end
the children of the wounded,
stillborn, dying,

many, continuously,
some, finally the
last ones; in my kitchen

I stand and peel
potatoes; the faucet
runs and nearly
covers the noise of the
children in the yard;

the children yell and
nearly cover the noise
of the birds in
the trees; the birds
sing and nearly

cover the murmur
of the leaves in the wind;
the leaves murmur
and nearly cover
the silence of the sky,

the sky which is light
and the light which since
then has nearly
resembled the fire
of the atom bomb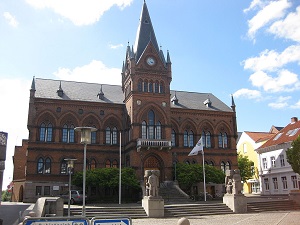 Inger Christensen (16 januari 1935 – 2 januari 2009)
Vejle, raadhuis
De Amerikaanse schrijfster en essayiste Susan Sontag werd geboren op 16 januari 1933 in New York. Zie ook alle tags voor Susan Sontag op dit blog.
Uit:Reborn: Journals and Notebooks, 1947-1963
"12/27-29/56 New York
left Dec. 27 with David—D wearing Oxford grey pants. Subway to [Boston's] South Station. 8:00 train. . . . In N.Y. 12:15. Took a cab to the Gov. Clinton [Hotel]. Checked in, washed, took cab via Empire State Bldg. to Golden Horn restaurant. Ate shish kebab. Cab to Metropolitan Museum. 3:00 -5:00 the Egyptian exhibits and the Etruscan Warrior. Rosie arrived. Bus back to hotel. Washed and changed. Left at 6:10—David clinging to TV, Rosie about to whisk him across the street to Penn Station + out to Flushing [where Rose McNulty's family lived] for the night. Took cab to Hotel Taft. Herbert & Inge [Marcuse] there, Peter + Frances arrived a few minutes later. Walked to Parisienne restaurant. Rushed, lobster dinner. Walked back to Winter Garden [Theater]. Troilus and Cressida. Afterwards, with Tommy + school chum added, went across the street to the Taft bar for beer. Tommy + chum left, then Peter + Frances to drive back to Waterbury [Connecticut]. Walked with Inge + Herbert to subway at Columbus Circle. Goodnight. Back to hotel. Asleep by 2:00."
(...)
12/31/57, "On Keeping a Journal"
Superficial to understand the journal as just a receptacle for one's private, secret thoughts—like a confidante who is deaf, dumb, and illiterate. In the journal I do not just express myself more openly than I could to any person; I create myself. The journal is a vehicle for my sense of selfhood. It represents me as emotionally and spiritually independent. Therefore (alas) it does not simply record my actual, daily life but rather—in many cases—offers an alternative to it. . . . Why is writing important? Mainly, out of egotism, I suppose. Because I want to be that persona, a writer, and not because there is something I must say."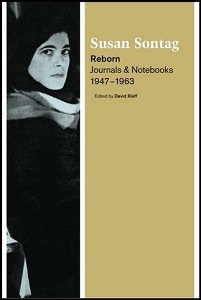 Susan Sontag (16 januari 1933 – 28 december 2004)
Cover
De Australische schrijver en essayist Brian Castro werd geboren op 16 januari 1950 in Hongkong. Zie ook alle tags voor Brian Castro op dit blog.
Uit:Blindness and Rage (Fragment)
Canto 1
All my life, thought Lucien Gracq, I'd written my disasters:
predicted them, installed them, lived them.
For example: all his life he'd written to women
in mannered courtly love
hoping they would respond, but
would not take it too far – or go any further.
It always redounded, overflowing into minor tragedies.
His heart began palpitating,
he developed high blood pressure.
Writing had consequences, not least
a sedentary posture and excess of calories.
So he turned from prose and entered a more
emphatic breath, of which he was short
or was brought up short.
And then some lesser ailments:
the neurotic episodes of embarrassment
dying into each at three in the morning,
all screaming, negotiating unpleasantness,
and it seemed nothing was enjoyable –
experience reeking of threat, regret and hurt.
Could romantic love so easily disappear
without casting around for a new desire
to enhance the redemption of illusion
in the small cell of the free, alert
to the farewell wave of chance?
All his life he wished for unemployment
in order to attain a paradise,
an Eden of inspired work and experience,
but all his life Gracq laboured as a town-­planner
in an Adelaide office unrolling ennui
and blueprints until now …
when time had already flown its coop.
I can't bring myself to act, he thought,
since that would cut short
his precious melancholy.
Instead he could feel, enact through writing,
since he was in search of lost emotion –
words which slowed the heart and
humoured the day and held
the night with chimeras.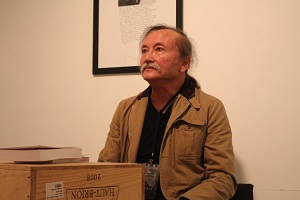 Brian Castro (Hongkong, 16 januari 1950)
De Braziliaanse schrijver, theaterproducent, talk show host, acteur, schilder en musicus José Soares werd geboren op 16 januari 1938 in Rio de Janeiro. Zie ook alle tags voor José Soares op dit blog.
Uit: Twelve Fingers: Biography of an Anarchist
"After months of fruitless treatment, Ivan Korozec moves his family to Sarajevo. Thanks to his contacts, he finds work at the print shop of a veteran anarchist, Nicolae Kulenovic. It is in the rear of that shop that, late at night, meet the adepts of the recently formed Ujedinjenje ili Smrt, "Union or Death," also known as the Black Hand, a secret terrorist society dedicated to unification of the Serbian people. To have an idea of the political climate that prevailed in Bosnia in that period, it is desirable to know something of the history of that organization and of its founder, who was to play a major role in Dimitri's future.
Union or Death, the Black Hand, was formed on May 9, 1911, by a group of ten men. Their objective: the creation of a unified Serbia that includes Bosnia and Herzegovina, free of Austro-Hungarian domination. The means for achieving those ends range from homicide to terrorism.
In merely a year, they already number over a thousand activists ready for anything. Several officers of the Serbian army belong to the group.
They use this seal (right) as their sign of identification.
The Black Hand trains its men in various methods of political sabotage and assassination. It is organized into cells of three or five members under the command of district committees, and their orders come from the Central Committee in Belgrade. To keep this hierarchy secret, its members know only what is necessary for carrying out their missions.
Upon being admitted, the initiates swear an oath at a solemn meeting: "I swear before God, on my honor and on my life, that I will obey orders and execute all missions without hesitation and without question. I also swear before God, on my honor and on my life, that I will take to the tomb the secrets of this organization.
The founder of the Ujedinjenje ili Smrt is the Serbian colonel Dragutin Dimitrijevic. Dragutin had become a specialist in coups d'état, conspiracies, and assassination. Recognizing the power of information, the fervent patriot always remained behind the scenes of power, never revealing his true position. A friend connected to the court of the king of Serbia said of him, "He was never seen anywhere, yet we knew he was behind everything that happened."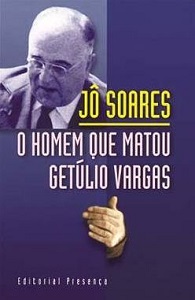 José Soares (Rio de Janeiro, 16 januari 1938)
Cover braziliaanse uitgave
De Hongaarse schrijver en journalist Kálmán Mikszáth werd op 16 januari 1847 in Szklabonya (tegenwoordig Slowakije) geboren. Zie ook alle tags voor Kálmán Mikszáth op dit blog.
Uit: St. Peter's Umbrella (Vertaald door B. W. Worswick)
"It must be down that way if I wish it," thundered out the judge.
Billeghi tried to get out of it, saying it was awkward for him, and out of his way. But it was of no use, when the judge ordered a thing, it had to be done. So one Wednesday they put the sacks of wheat into Billeghi's cart, and on the top of them a basket containing Veronica and the goose, for the latter was, of course, part of the priest's inheritance. The good folks of the village had made shortbread and biscuits for the little orphan to take with her on her journey out into the great world, and they also filled a basket with pears and plums; and as the cart drove off, many of them shed tears for the poor little waif, who had no idea where they were taking her to, but only saw that when the horses began to move, she still kept her place in the basket, and only the houses and trees seemed to move.
Not only the worthy Kapiczany had seen Glogova, the writer of these pages has also been there. It is a miserable little place in a narrow valley between bare mountains. There is not a decent road for miles around, much less a railway. Nowadays they say there is some sort of an old-fashioned engine, with a carriage or two attached, which plies between Besztercebanya and Selmeczbanya, but even that does not pass near to Glogova. It will take at least five hundred years to bring it up to that pitch of civilization other villages have reached.
The soil is poor, a sort of clay, and very little will grow there except oats and potatoes, and even these have to be coaxed from the ground. A soil like that cannot be spoken of as "Mother Earth," it is more like "Mother-in-law Earth." It is full of pebbles, and has broad cracks here and there, on the borders of which a kind of whitish weed grows, called by the peasants "orphans' hair." Is the soil too old? Why, it cannot be older than any other soil, but its strength has been used up more rapidly. Down below in the plain they have been growing nothing but grass for about a thousand years, but up here enormous oak-trees used to grow; so it is no wonder that the soil has lost its strength. Poverty and misery are to be found here, and yet a certain feeling of romance takes possession of one at the sight of it. The ugly peasant huts seem only to heighten the beauty of the enormous rocks which rise above us."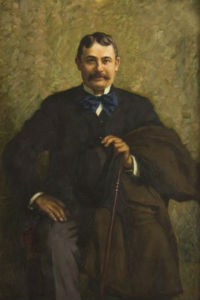 Kálmán Mikszáth (16 januari 1847 – 28 mei 1910)
Portret door Nyilasy Sándor, ca. 1890
Onafhankelijk van geboortedata:
De Duitse schrijver Tino Hanekamp werd geboren in 1979 in Wippra in Saksen-Anhalt. Zie ook alle tags voor Tino Hanekamp op dit blog.
Uit:So was von da
"Es funktioniert nicht, quasi Fluch: Es kann nur eine geben. Mathilda hat mir die Liebe versaut. Keine Ahnung, wo sie jetzt ist. Wahrscheinlich lebt sie irgendwo in Spanien am Strand mit einem berühmten Surfer, so einem tiefenentspannten Typen, für den das Leben kein Rätsel ist und der hinterm Haus ein paar Hütten errichtet hat für streunende Hunde und Katzen. Ich hoffe, die putzigen Tierchen werden zu blutrünstigen Bestien und zerfetzen seinen Pimmel, eine Monsterwelle reißt seinen Olympionikenkörper raus aufs Meer und spült Mathilda zurück zu mir, bis vor meine Haustür, wo ich sie dann sanft aus dem Rinnstein heben werde. Ich werde sie auf meine muffige Matratze legen, ihr das nasse Haar aus dem Gesicht streichen und ihr verzeihen. Hey, wir machen alle mal Fehler.
Rubble mich mit dem Bademantel ab, während im Hinterhof Herrn Müllers Husten zu einem orkanartigen Getöse anschwillt. Wer braucht das Rauschen der Wellen, wenn er das Husten des Müllers hat? Er ist der letzte Bewohner des Hauses, der älter ist als dreißig. Seit Jahren wartet der Vermieter darauf, dass der Alte endlich abtritt, damit er aus dessen Vierzimmerwohnung drei Kämmerchen machen kann, um diese dann zu Wucherpreisen an Studenten, Agenturangestellte, Clubbetreiber und Künstlertypen zu vermieten. Aber Herr Müller hält durch. Er hustet nur sehr stark — St.-Pauli-Sinfonie. Um nicht vor lauter demütigender Barmherzigkeit den Notarzt zu rufen, gehe ich ins Wohnzimmer und lege Scott Walkers Erste auf, auf dass diese Überlebenslieder die Müller'schen Rasselgeräusche wohlklingend übertönen.
Mama, do you see what I see? / On your knees and pray for me / Mathilde's come back to me.
Über Bücherberge und Dreckswäsche zum Kleiderständer. Das Hemd ist noch vorzeigbar, der Anzug sitzt wie angegossen, er ist auf mein Skelett geschneidert. Blick in den Spiegel, Armdrücken mit dem Selbsthass. Jeden Morgen eine Minute lang. Schneide ein paar Grimassen und setze mich mit dem Herrn Aurel an den Küchentisch, zu essen gibt's hier nichts."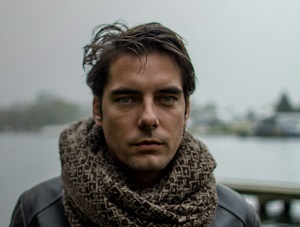 Tino Hanekamp (Wippra, 1979)
Zie voor nog meer schrijvers van de 16e januari ook mijn blog van 16 januari 2017 en ook mijn blog van 16 januari 2016 deel 2 en eveneens deel 3.
Zie voor bovenstaande schrijvers ook mijn blog van 16 januari 2007 en ook mijn blog van 16 januari 2008 en eveneens mijn blog van 16 januari 2009.
16-01-2018 om 18:27 geschreven door Romenu

Tags:Ester Naomi Perquin, Anthony Hecht, Reinhard Jirgl, Inger Christensen, Susan Sontag, Brian Castro, José Soares, Kálmán Mikszáth, Tino Hanekamp, Romenu



| | |
| --- | --- |
| | |



Inhoud blog


| | |
| --- | --- |
| | Delphine Lecompte Wilhelm Genazino, Rainer Stolz, Ingrid Puganigg, Krzysztof Kamil Baczyński, Rainer Brambach, Lord Byron, August Strindberg, Gotthold Ephraim Lessing |
| | Am dritten Sonntage nach Heilige Drei Könige (Annette von Droste-Hülshoff) |
| | Louis Menand, Ludwig Thoma, Ludwig Jacobowski, Kristín Marja Baldursdóttir, Egon Friedell, Joseph Méry, Roderich Benedix |
| | Anna Basener |
| | Stefan Popa, Edward Hirsch, Guy Helminger, André Kubiczek, Batya Gur, Nazim Hikmet, Qurratulain Hyder, Robert Olen Butler Jr. |
| | Axel Hacke, Egon Bondy, Sawako Ariyoshi, Eugen Gomringer, Raymond Roussel, Michiel de Swaen, Edeltraud Eckert, Imre Madách |
| | Julian Barnes, Bert Natter, Edgar Allen Poe, Edwidge Danticat, Patricia Highsmith, Marie Koenen, Gustav Meyrink, Eugénio de Andrade, Thomas Gsella |
| | Peter Stamm, Sascha Kokot, Franz Blei, Jon Stallworthy, Montesquieu, Ioan Slavici, Rubén Darío, Paul Léautaud, Alan Alexander Milne |
| | Ilja Leonard Pfeijffer, Tom Dolby, Nanne Tepper, Jaap van den Born, Anton Valens, Diana van Hal, David Ebershoff, Gavin Extence, Roel Houwink |
| | Ester Naomi Perquin, Anthony Hecht, Reinhard Jirgl, Inger Christensen, Susan Sontag, Brian Castro, José Soares, Kálmán Mikszáth, Tino Hanekamp |
| | Antoine Wauters, Etty Hillesum, Tsjębbe Hettinga, Maud Vanhauwaert, F. Springer, Osip Mandelstam, Mihai Eminescu, Moličre, Philip Snijder |
| | Gouden Ganzenveer 2018 voor Antjie Krog |
| | J. Bernlef, Chris de Stoop, Edward St Aubyn, Anchee Min, Yukio Mishima, Martin Auer, Andreas Steinhöfel, John Dos Passos |
| | Isaäc da Costa, Tillie Olsen, Marek Hlasko, Rudolf Hagelstange, Anatoli Rybakov, Werner Helwig, Zacharias Topelius, Ida Dehmel |
| | Edmund White, Daniel Kehlmann, Jay McInerney, Lorrie Moore, Jan de Bas, Edgardo Cozarinsky, Mohammad- Ali Jamālzādeh, Clark Ashton Smith, Michael Carroll |
| | Jurgis Kunčinas, Kostís Palamás, Karl Bleibtreu, Victor de Laprade, Eduard von Bauernfeld, Maler Müller, Mark Alexander Boyd |
| | Cees van der Pluijm, David Mitchell, Jacques Hamelink, Haruki Murakami, Kamiel Verwer, Jakob Lenz, Fatos Kongoli, Jack London, Ferenc Molnár |
| | BNG Bank Literatuurprijs 2017 voor Marjolijn van Heemstra |
| | Katharina Hacker, Jasper Fforde, W. C. Heinz, Nikos Kavvadias, Mart Smeets, Oswald de Andrade, Eduardo Mendoza, Diana Gabaldon, Slavko Janevski |
| | Antonio Muńoz Molina, Saskia Stehouwer, Annette von Droste-Hülshoff, Mies Bouhuys, Harrie Geelen, Dennis Cooper, Adrian Kasnitz, Jared Carter, Yasmina Khadra |
| | Bas Heijne, Benjamin Lebert, Wessel te Gussinklo, Nora Bossong, Theodor Holman, Danny Morrison, Brian Friel, Simone de Beauvoir, Kurt Tucholsky |
| | Juan Marsé, Waldtraut Lewin, Claudia Grehn, Leonardo Sciascia, Alfred Tomlinson, Gaston Miron, Vasyl Stus, Wilkie Collins, Roland Moed |
| | Frans Kellendonk, Reginald Gibbons, Dionne Brand, Sofi Oksanen, Henk van Zuiden, Shobhaa Dé, Marie Desplechin, Nicholson Baker |
| | Charles Péguy, Max Gallo, Roland Topor, Pierre Gripari, Thomas Hill, Zora Neale Hurston, Robert Cormier, Ludovic Massé |
| | Die heiligen drei Könige (August Wilhelm Schlegel) |
| | Hester Knibbe, Elizabeth Strout, Khalil Gibran, Romain Sardou, Carl Sandburg, Jens Johler, Philipp Friedrich Hiller, E. L. Doctorow |
| | Ivan Olbracht, Benedikt Livshits, Anja Meulenbelt, Astrid Gehlhoff-Claes, Joachim Specht, Günter Görlich, Idris Davies |
| | Umberto Eco, Joris van Casteren, Paul Ingendaay, Ngũgĩ wa Thiong'o, Xu Xiake, Luisa Futoransky, Friedrich Dürrenmatt, Forough Farokhzad, László Krasznahorkai |
| | Gao Xingjian, Emil Zopfi, David Berman, Hellmuth Karasek, Markus Seidel, Fernand Handtpoorter, Andreas Altmann, Doris Kearns Goodwin, Jacob Grimm |
| | Peter Ghyssaert, J.R.R. Tolkien, Smith Henderson, Marie Darrieussecq, Alex Wheatle, Cicero, Jean Muno, John Gould Fletcher, Jacob Balde |
| | Nyk de Vries, André Aciman, Jimmy Santiago Baca, David Shapiro, Look J. Boden, Anton van Duinkerken, Hans Herbjřrnsrud, Jean-Bernard Pouy, Luc Decaunes |
| | Simples Neujahrslied (Ludwig Eichrodt) |
| | Ernest van der Kwast, Rhidian Brook, Adonis, Jonas T. Bengtsson, Chantal van Gastel, Inge Schilperoord, J.D. Salinger, E. M. Forster, Juan Gabriel Vásquez |
| | Douglas Kennedy, Rascha Peper, Carry van Bruggen, Paul Hamilton Hayne, Rüdiger Safranski, Joe Orton, Mariano Azuela, René de Ceccatty, Sven Regener |
| | Rawi Hage |
| | A Farewell - Goodbye, old year (Alfred Austin) |
| | Anne Vegter, Arjen Duinker, Junot Díaz, Bastian Böttcher, Jacob Israël de Haan, August van Cauwelaert, Paula Dehmel |
| | Dieter Noll, Nicolas Born, Dal Stivens, Connie Willis, Giovanni Pascoli, Marie d'Agoult |
| | Nicholas Sparks, Irina Korschunow, Gottfried August Bürger, Alexander Smith, Horacio Quiroga, Stephan Krawczyk, Kingbotho |
| | Peter Buwalda, Theodor Fontane, Miklós Bánffy, Peter Lund, Joshua Clover, Paul Bowles, Rudyard Kipling, Douglas Coupland |
| | Willy Spillebeen, Norbert Hummelt, Georg von der Vring, Daniil Charms, Heinrich Hart, Betty Paoli, Maurice Bedel |
| | Stefan Brijs, Christian Kracht, Gilbert Adair, Paul Rudnick, Brigitte Kronauer, William Gaddis, Carmen Sylva, Vesna Lubina |
| | Liu Xiaobo, Burkhard Spinnen, Engelbert Obernosterer, Shen Congwen, Conrad Busken Huet, Manuel Puig, Hildegard Knef, Guy Debord, Antoine Bodar |
| | Bernard Wesseling, Édouard Nabe, Wendy Coakley-Thompson, Louis de Bourbon, Mariella Mehr, Markus Werner, Malin Schwerdtfeger, Mirza Ghalib, Carl Zuckmayer |
| | Der Weihnachtsbaum (Hoffmann von Fallersleben) |
| | David Sedaris, Elizabeth Kostova, Henry Miller, Rainer Malkowski, Mani Beckmann, Alejo Carpentier |
| | Jean Toomer, Hans Brinkmann, Willy Corsari, Alfred Huggenberger, René Bazin, Julien Benda |
| | Thomas Gray, Jean Galtier-Boissičre, Ernst Moritz Arndt, Johann Gaudenz von Salis-Seewis, E. D. E. N. Southworth, Jean-François de Saint-Lambert |
| | Nigel Cliff |
| | Weihnachten (Max Dauthendey) |


Gastenboek


Druk op onderstaande knop om een berichtje achter te laten in mijn gastenboek