E-mail mij


Druk op onderstaande knop om mij te e-mailen.


Romenu


Romenu is een blog over gedichten, literatuur en kunst Maar Romenu is ook een professionele freelance vertaler
Du-Ne en Ne-Du http://www.romenu.nl.


Vakantiehuisje


Huur eens een (vakantie)huis in een natuurgebied, dichtbij het centrum van Nijmegen


Google


Georg Trakl

Georg Trakl werd op 3 februari 1887 in het conducteurshuis aan de Waagplatz 2 in Salzburg geboren. Zijn vader, Tobias Trakl, was een handelaar in ijzerwaren en zijn moeder, die ook psychische problemen had, was Maria Catharina Trakl, (meisjesnaam Halik). Voorts had hij nog drie broers en drie zussen. Margarethe (doorgaans Grethe genoemd) stond hem het naast, zelfs zodanig dat sommigen een incestueuze verhouding vermoeden. Zijn jeugd bracht hij door in Salzburg. Vervolgens bezocht hij van 1897 tot 1905 het humanistische gymnasium. Om toch een academische opleiding te kunnen volgen, werkte hij tot 1908 in de praktijk bij een apotheker. Sommigen vermoedden dat hij dit vooral deed om zichzelf opiaten te kunnen verschaffen. Bij het uitbreken van WO I werd Trakl als medicus naar het front in Galicië (heden ten dage in Oekraïne en Polen) gestuurd. Zijn gemoedsschommelingen leidden tot geregelde uitbraken van depressie, die verergerd werden door de afschuw die hij voelde voor de verzorging van de ernstig verwonde soldaten. De spanning en druk dreven hem ertoe een suïcidepoging te ondernemen, welke zijn kameraden nochtans verhinderden. Hij werd in een militair ziekenhuis opgenomen in Kraków, alwaar hij onder strikt toezicht geplaatst werd.Trakl verzonk daar in nog zwaardere depressies en schreef Ficker om advies. Ficker overtuigde hem ervan dat hij contact moest opnemen met Wittgenstein, die inderdaad op weg ging na Trakls bericht te hebben ontvangen. Op 4 november 1914, drie dagen voordat Wittgenstein aan zou komen, overleed hij echter aan een overdosis cocaïne


Paul Celan

Paul Celan werd onder de naam Paul Antschel op 23 november 1920 geboren in Czernowitz, toentertijd de hoofdstad van de Roemeense Boekovina, nu behorend bij de Oekraïne. Paul Celans ouders waren Duitssprekende joden die hun zoon joods opvoedden en hem naar Duitse christelijke scholen stuurden. In 1942 werden Celans ouders door de Duitse bezetter naar een werkkamp gedeporteerd en daar vermoord. Hijzelf wist aanvankelijk onder te duiken, maar moest vanaf juli 1942 in een werkkamp dwangarbeid verrichten. Celan overleefde de oorlog. Via Boekarest en Wenen vestigde Celan zich in 1948 in Parijs. Daar was hij werkzaam als dichter, vertaler en doceerde hij aan de prestigieuze Ecole Normale Supérieure. Vermoedelijk op 20 april 1970 beëindigde hij zijn leven zelf door in de Seine te springen.


Gerard Reve

Gerard Reve over: Medearbeiders "God is in de mensen, de dieren, de planten en alle dingen - in de schepping, die verlost moet worden of waaruit God verlost moet worden, door onze arbeid, aangezien wij medearbeiders van God zijn." Openbaring "Tja, waar berust elk godsbegrip op, elke vorm van religie? Op een openbaring, dat wil zeggen op een psychische ervaring van zulk een dwingende en onverbiddelijke kracht, dat de betrokkene het gevoel heeft, niet dat hij een gedachte of een visioen heeft, maar dat een gedachte gedachte of visioen hem bezit en overweldigt."


Simon Vestdijk
Simon Vestdijk (Harlingen, 17 oktober 1898 – Utrecht, 23 maart 1971) was een Nederlands romancier, dichter, essayist en vertaler. Zijn jeugd te Harlingen en Leeuwarden beschreef hij later in de Anton Wachter-cyclus. Van jongs af aan logeerde hij regelmatig bij zijn grootouders in Amsterdam, waar hij zich in 1917 aan de Universiteit van Amsterdam inschrijft als student in de medicijnen. Tijdens zijn studie die van 1917 tot 1927 duurde, leerde hij Jan Slauerhoff kennen.Tot 1932 is hij als arts in praktijken door heel Nederland werkzaam. In 1932 volgt zijn officiële schrijversdebuut met de uitgave van de bundel Verzen in De Vrije Bladen. Doorslaggevend voor Vestdijks uiteindelijke keuze voor de literatuur is zijn ontmoeting in 1932 met Eddy Du Perron en Menno ter Braak. Deze ontmoeting had tot resultaat dat hij redactielid werd van het tijdschrift Forum Kort daarop, in 1933, wordt zijn eerste novelle, De oubliette, uitgegeven. In hetzelfde jaar schrijft hij Kind tussen vier vrouwen, dat, eerst geweigerd door de uitgever, later de basis zal vormen voor de eerste drie delen van de Anton Wachter-romans. In 1951 ontvangt Vestdijk de P.C. Hooftprijs voor zijn in 1947 verschenen roman De vuuraanbidders. In 1957 wordt hij voor het eerst door het PEN-centrum voor Nederland voorgedragen voor de Nobelprijs voor de Literatuur, die hij echter nooit zal krijgen. Op 20 maart 1971 wordt hem de Prijs der Nederlandse Letteren toegekend, maar voor hij deze kan ontvangen overlijdt hij op 23 maart te Utrecht op 72-jarige leeftijd. Vestdijk was auteur van ca. 200 boeken. Vanwege deze enorme productie noemde de dichter Adriaan Roland Holst hem 'de man die sneller schrijft dan God kan lezen'. Andere belangrijke boeken van Simon Vestdijk zijn: "Kind van stad en land" (1936), "Meneer Visser's hellevaart" (1936), "Ierse nachten" (1946), "De toekomst de religie" (1947), "Pastorale 1943" (1948), "De koperen tuin" (1950), "Ivoren wachters" (1951), "Essays in duodecimo" (1952) en "Het genadeschot" (1964).


K.P. Kavafis

K.P. Kavafis werd als kind van Griekse ouders, afkomstig uit Konstantinopel, geboren in 1863 in Alexandrië (tot vandaag een Griekse enclave) waar hij ook het grootste deel van zijn leven woonde en werkte. Twee jaar na de dood van zijn vader verhuist het gezin in 1872 naar Engeland om na een verblijf van vijf jaar naar Alexandrië terug te keren. Vanwege ongeregeldheden in Egypte vlucht het gezin in 1882 naar Konstantinopel, om na drie jaar opnieuw naar Alexandrië terug te gaan. In de jaren die volgen maakt Kavafis reizen naar Parijs, Londen en in 1901 zijn eerste reis naar Griekenland, in latere jaren gevolgd door nog enkele bezoeken. Op de dag van zijn zeventigste verjaardag, in 1933 sterft Kavafis in Alexandrië. De roem kwam voor Kavafis pas na zijn dood, dus postuum. Deels is dat toe te schrijven aan zijn eigen handelswijze. Hij was uiterst terughoudend met de publicatie van zijn gedichten, liet af en toe een enkel gedicht afdrukken in een literair tijdschrift, gaf in eigen beheer enkele bundels met een stuk of twintig gedichten uit en het merendeel van zijn poëzie schonk hij op losse bladen aan zijn beste vrienden.


Thomas Mann


Thomas Mann, de jongere broer van Heinrich Mann, werd geboren op 6 juni 1875 in Lübeck. Hij was de tweede zoon van de graankoopman Thomas Johann Heinrich Mann welke later één van de senatoren van Lübreck werd. Zijn moeder Julia (geboren da Silva-Bruhns) was Duits-Braziliaans van Portugees Kreoolse afkomst. In 1894 debuteerde Thomas Mann met de novelle "Gefallen". Toen Thomas Mann met 21 jaar eindelijk volwassen was en hem dus geld van zijn vaders erfenis toestond - hij kreeg ongeveer 160 tot 180 goldmark per jaar - besloot hij dat hij genoeg had van al die scholen en instituties en werd onafhankelijk schrijver. Kenmerkend voor zijn stijl zijn de ironie, de fenomenale taalbeheersing en de minutieuze detailschildering. Manns reputatie in Duitsland was sterk wisselend. Met zijn eerste roman, Buddenbrooks (1901), had hij een enorm succes, maar door zijn sceptische houding tegenover Duitsland na de Eerste Wereldoorlog veranderde dit volledig. Stelde hij zich tot aan de jaren twintig apolitiek op (Betrachtungen eines Unpolitischen, 1918), meer en meer raakte hij bij het Politiek gebeuren betrokken. Zijn afkeer van het nationaal socialisme groeide, zijn waarschuwingen werden veelvuldiger en heftiger. In 1944 accepteerde hij het Amerikaanse staatsburgerschap. Tussen 1943 en 1947 schreef Mann Doktor Faustus (zie Faust), de roman van de 'Duitse ziel' in de gecamoufleerd geschilderde omstandigheden van de 20ste eeuw. In 1947 bezocht hij voor het eerst sinds de Oorlog Europa, twee jaar later pas Duitsland. In 1952 vertrok hij naar Zwitserland. Op 12 augustus 1955 stierf hij in Zürich. Twintig jaar na zijn dood, in aug. 1975, is zijn literaire nalatenschap geopend: dagboekaantekeningen van 15 maart 1933 tot 29 juli 1955, alsmede notities uit de jaren 1918 tot en met 1921.Belangrijke werken zijn: Der Zauberberg, Der Tod in Venedig, Dokter Faustus , Joseph und seine Brüder en Die Bekenntnisse des Hochstaplers Felix Krull.


Rainer Maria Rilke

Rilke werd op 4 december 1875 geboren in Praag. Hij had al naam gemaakt als dichter met zijn bundels Das Stundenbuch en Das Buch der Bilder, toen hij de literaire wereld versteld deed staan en wereldfaam verwierf met de publicatie van zijn twee delen Neue Gedichte in 1907 en 1908. Hij verzamelde daarin het beste werk uit een van zijn vruchtbaarste periodes, die hij grotendeels doorbracht in Parijs. Rilke was daar diep onder de indruk gekomen van Rodin, bij wie hij een tijdlang in dienst was als particulier secretaris. Rodin, zei hij later, had hem leren kijken. Dit kijken kwam neer op intense concentratie, om het mysterie te kunnen zien 'achter de schijnbare werkelijkheid'. Latere en rijpere werken als Duineser Elegien (1912-1923) en het ronduit schitterende Die Sonette an Orfeus (1924) illustreren Rilkes metafysische visie op het onzegbare, dat haar verwoording vindt in een hermetische muzikale taal. Op 29 december 1926 overlijdt Rilke in het sanatorium in Val-Mont aan de gevolgen van leukemie. Enkele dagen later wordt hij, overeenkomstig zijn wens, begraven op het kerkhof van Raron.


* * * * * * * * * * * * * * * *

| | |
| --- | --- |
| | Over literatuur, gedichten, kunst en cultuur |

18-05-2013

Markus Breidenich, Yi Mun-yol, W.G. Sebald, François Nourissier, Gunnar Gunnarsson
De Zuidkoreaanse schrijver Yi Mun-yol werd geboren op 18 mei 1948 in Yongyang. Zie ook alle tags voor Yi Mun-yol op dit blog.
Uit: Our Twisted Hero (Vertaald door Kevin O'Rourke)
"As soon as my mother brought me into the room, the teacher in charge came over to greet us. He too fell far short of my expectations. If we couldn't have a beautiful and kind female teacher, I thought at least we might have a soft-spoken, considerate, stylish male one. But the white rice-wine stain on the sleeve of his jacket told me he didn't measure up. His hair was tousled; he had not combed it much less put oil on it. It was very doubtful if he had washed his face that morning, and his physical attitude left grave doubts about whether he was actually listening to Mother. Frankly, it was indescribably disappointing that such a man was to be my new teacher. Perhaps already I had a premonition of the evil that was to unfold over the course of the next year.
That evil showed itself days later when I was being introduced to the class.
"This is the new transfer student, Han Pyongt'ae. I hope you get on well."
The teacher, having concluded this one line introduction, seated me in an empty chair in the back and went directly into classwork. When I thought of how considerate my Seoul teachers had been in invariably giving prolonged proud introductions to new students, almost to the point of embarrassment, I could not hold back my disappointment. He didn't have to give me a big buildup, but he could at least have told the other children about some of the things I had to my credit. It would have helped me begin to relate to the others and them to me.
There were a couple of things the teacher could have mentioned. First of all, there was my school work. I may not have been first very often, but I was in the first five in my class in an outstanding Seoul school. I was quietly proud of this; it had played no small part in ensuring good results in my relations not only with teachers but also with the other children. I was also very good at painting. I was not good enough to sweep a national children's art contest, but I did get the top award in a number of contests at the Seoul level. I presume my mother stressed my marks and artistic ability several times, but the teacher ignored them completely. In some circumstances, my father's job, too, could havebeen a help. So what if he had suffered a setback in Seoul, even a bad one, bad enough to drive him from Seoul to here? He still ranked with the top few civil servants in this small town."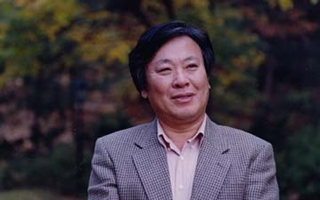 Yi Mun-yol (Yongyang, 18 mei 1948)
De Duitse dichter en schrijver Markus Breidenich werd geboren in Düren op 18 mei 1972. Zie ook alle tags voor Markus Breidenich op dit blog.
Im Herbarium
Wir hatten Blätter, aufgehängt zum Trocknen,
über uns. Den letzten Mückenstich in Kupfer schon
gepresst. Von Blütenträumen falscher Zwanziger
berieselt, in Bücher uns vergraben. Alte
Würmer, in erotischen Motiven. Reich
der Carnivoren: Venusfliegenfallen, schön:
Auf hadernhaltigem Papier der Druck der abge-
schlossenen Kapitel, waren wir. In Blei gesetzte
Namen, Spiegelschrift, der Rosen.
Fliegen
Aufeinander so fliegen. Bestäubtest du nicht
die Bücher meiner Regale? Die Narben. Narben
im Innern der Zimmer. Wachsen. Jetzt warte.
Warte auf Blütenkelche und blaue Himmel.
Dann findest du Honig in gläsernen Spendern.
Und weißt. Du weißt von den Körnerbrötchen.
Streichzarten Butterblumen so viel. Dem
Aufstrich der Rosen im Fenstereck. Dann
siehst du den Blättern das Grünzeug an. Das
über den Tischen wächst. Bis über die Dielen
Schatten wirft. Durch Scheiben die Sonne auf
Quittengelee. Fällt ein Tropfen mir ein
von Johannisbeersaft. Von dir ist der Nektar in
wabenförmigen Eiswürfelbechern. Der Tau
aller frisch gepressten Gräser. In Seiten von
Alben. Erinnerungsstücken. Von uns. Und
von dir ist das Summen der Boxen am Morgen.
Das strahlende Spiel auf den Flügeln. Komm.
Lass noch einmal uns kreisen und über den
Krümeln eine Fliege uns machen. Zu zweit.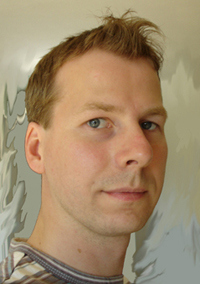 Markus Breidenich (Düren, 18 mei 1972)
De Duitse schrijver W.G. Sebald werd geboren in Wertach (Allgäu) op 18 mei 1944. Zie ook alle tags voor W. G. Sebald op dit blog.
Uit: Austerlitz (Vertaald door Anthea Bell)
"It was several months after this meeting in Liege that I came upon Austerlitz, again entirely by chance, on the old Gallows Hill in Brussels, on the steps of the Palace of justice which, as he immediately told me, is the largest accumulation of stone blocks anywhere in Europe. The building of this singular architectural monstrosity, on which Austerlitz was planning to write a study at the time, began in the 1880s at the urging of the bourgeoisie of Brussels, over-hastily and before the details of the grandiose scheme submitted by a certain Joseph Poelaert had been properly worked out, as a result of which, said Austerlitz, this huge pile of over seven hundred thousand cubic meters contains corridors and stairways leading nowhere, and doorless rooms and halls where no one would ever set foot, empty spaces surrounded by walls and representing the innermost secret of all sanctioned authority.
Austerlitz went on to tell me that he himself, looking for a labyrinth used in the initiation ceremonies of the Freemasons, which he had heard was in either the basement or the attic story of the palace, had wandered for hours through this mountain range of stone, through forests of columns, past colossal statues, upstairs and downstairs, and no one ever asked him what he wanted.
During these wanderings, feeling tired or wishing to get his bearings from the sky, he had stopped at one of the windows set deep in the walls to look out over the leaden gray roofs of the palace, crammed together like pack ice, and down into ravines and shaft-like interior courtyards never penetrated by any ray of light."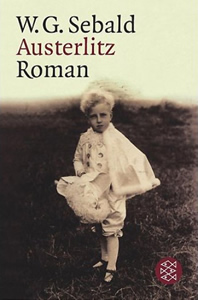 W.G. Sebald (18 mei 1944 – 14 december 2001)


De Franse schrijver François Nourissier werd geboren op 18 mei 1927 in Parijs. Zie ook alle tags voor François Nourissier op dit blog.
Uit: Lettre à mon chien
« S'il est vrai qu'on a les chiens qu'on mérite, comme je suis fier de ta démence et de tes tendresses ! Dans cette vie de partout corsetée, colmatée, nourrie de labeurs et de décorations, tu es la fuite du cœur, la fissure par où s'insinuent les déraisons. Il y a trente ans je ne t'aurais pas méritée, justement, j'étais trop empêtré d'ordre et de calculs. Je croyais aux investissements. »
"Chaque matin à mon réveil, tu me rappelles - leçon sans prix - que la gravité est une grimace repoussante et que seules comptent les fêtes de la vie. Puissé-je m'en souvenir au jour de la grande peine de ton départ - si je suis là pour la souffrir."
(…)
"Chaque matin à mon réveil, tu me rappelles - leçon sans prix - que la gravité est une grimace repoussante et que seules comptent les fêtes de la vie. Puissé-je m'en souvenir au jour de la grande peine de ton départ - si je suis là pour la souffrir."
François Nourissier (18 mei 1927 – 15 februari 2011)
De IJslandse dichter en schrijver Gunnar Gunnarsson werd geboren op 18 mei 1889 in Fljótsdalur. Zie ook alle tags voor Gunnar Gunnarsson op dit blog.
Uit: Father And Son (Vertaald door Peter Foote)
"Among the few words that passed between them, however, was one sentence that came up again and again--when old Snjolfur was talking to his son. His words were:
The point is to pay your debts to everybody, not owe anybody anything, trust in Providence.
In fact, father and son together preferred to live on the edge of starvation rather than buy anything for which they could not pay on the spot. And they tacked together bits of old sacking and patched
and patched them so as to cover their nakedness, unburdened by debt.
Most of their neighbours were in debt to some extent; some of them only repaid the factor at odd times, and they never repaid the whole amount. But as far as little Snjolfur knew, he and his father had
never owed a penny to anyone. Before his time, his father had been on the factor's books like everyone else, but that was not a thing he spoke much about and little Snjolfur knew nothing of those
dealings.
It was essential for the two of them to see they had supplies to last them through the winter, when for many days gales or heavy seas made fishing impossible. The fish that had to last them through the
winter was either dried or salted; what they felt they could spare was sold, so that there might be a little ready money in the house against the arrival of winter. There was rarely anything left, and
sometimes the cupboard was bare before the end of the winter; whatever was eatable had been eaten by the tune spring came on, and most often father and son knew what it was like to go hungry".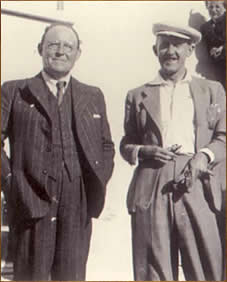 Gunnar Gunnarsson (18 mei 1889 – 21 november 1975)
Hier met collega schrijver Halldór Laxness (rechts) in 1947



Zie voor nog meer schrijvers van de 17e mei ook mijn vorige blog van vandaag.

18-05-2013 om 14:48 geschreven door Romenu

Tags:Markus Breidenich, Yi Mun-yol, W.G. Sebald, François Nourissier, Gunnar Gunnarsson, Romenu



Ernst Wiechert, Omar Khayyam, Franziska zu Reventlow, Bertrand Russell, John Wilson
De Duitse dichter en schrijver Ernst Wiechert werd geboren op 18 mei 1887 in Kleinort bij Sensburg in Oostpruisen.(Tegenwoordig Polen). Zie ook alle tags voor Ernst Wiechert op dit blog.
Uit: Der Knecht Gottes Andreas Nyland
"Und als ich auf die alte Welt zurückblickte, erkannte ich. daß es eine fremde Welt war. Wie Andreas Nyland war ich durch die große Wandlung gegangen, und als der "Mann in der Öde" kehrte ich zu meinem Tagewerk zurück.
Aber jedes Tagewerk ist unerbittlich an die alte Welt gebunden, und sie läßt nicht zu. daß wir das Steuer nach dem Unendlichen drehen. Das Unendliche liegt immer nur im Reich des Geistes, und so entstand der "Knecht Gottes". Dieselbe Lampe leuchtete auf seine Blätter, die den "Totenwolf" beschienen hatte, aber die Achse des Lebens hatte sich schweigend gewendet, und der Haß stand im fallenden Hause.
Mit der Dumpfheit der Idee gebar sich die Dumpfheit des Charakters wie der Handlung, und dieselbe Unerbittlichkeit, die den Verfasser über stürzende Götter ins Abseitige und Einsame getrieben hatte, treibt den Knecht Gottes aus der Welt des Seienden in das Tal. wo Gott ihn begrub. Denn immer noch war mir, selten zum Vorteil, Erkennen gleich Bekennen, nur daß das Kunstwerk in ungeheurer Projektion an den Himmel des Begreifens schleudern muß, was im niedrigen Licht des Lebens eng und bescheiden aus dem Schatten sich hebt.
Unter der letzten Zeile dieses Buches stand "Kein Ende". Noch war die Furcht vor dem "Alles oder Nichts" zu überwinden, noch zögerte die Hand, den letzten Faden von der Spindel laufen zu lassen.
Nach Jahresfrist erst befreite der Mut zum Letzten den Schöpfer wie das Werk.
Gewiß, alles dieses ist schon geschrieben worden. Aber läßt sich nicht alle Kunst im Grunde auf ein paar ewige Dinge und Verhältnisse zurückführen, wie alle erschütternden Klänge von Gottes- und Menschenhand auf sieben Töne? Und ist unser Ringen mit dem Engel Gottes im Morgenrot eine zwecklose und leere Gebärde, weil Jakob mit ihm gerungen hat an der Furt des Jabbok?"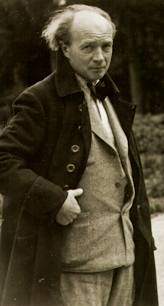 Ernst Wiechert (18 mei 1887 – 24 augustus 1950)
De Perzische dichter Omar Khayyám, of zoals zijn arabische naam luidt, al-Imâm Abu Hafs 'Omar ebn Ebrâhim al-Khayyâmi, werd geboren op 18 mei 1048 te Nishapur. Zie ook alle tags voor Omar Khayyám op dit blog.
Kwatrijnen
Met mijn begeerten strijd ik; wat te doen?
't Berouwt mij dat 'k verloor; maar wat te doen?
Ofschoon Gij kwijtscheldt wat ik deed, de schande
Te weten, dat Gij 't weet, blijft; wat te doen?
Voor U draag ik gewillig elke smaad.
Breke ik mijn eed, zoo treff' mij smart en haat.
En moest ik lijden tot den jongsten dag,
Het zou te kort zijn voor mijn euveldaad.
Geen zoete slok is hier door ons gedronken,
Of schielijk werd een bittre drank geschonken.
Geen bete broods werd in het zout gestipt,
Met zout gewreven rauw de wonden blonken.
Wees vrolijk, want wat baat het dat gij treurt.
Pluk snel uw oogenblik als 't open geurt.
Wees blij, dat hemels gunst niet eeuwig duurt,
Want anders kwam er nooit voor u een beurt.
Vertaald door Willem de Mérode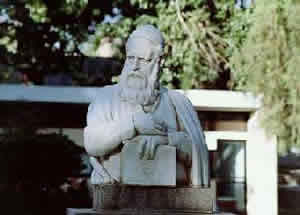 Omar Khayyam (18 mei 1048 - 4 december 1131)
Beeld bij het mausoleum in Nishapur
De Duitse schrijfster Franziska (gravin) zu Reventlow werd geboren op 18 mei 1871 in Husum. Zie ook alle tags voor Franziska zu Reventlow op dit blog.
Uit: Ellen Olestjerne
"Die Freifrau Anna Juliane war eine schöne, stattliche Frau mit raschen, dunklen Augen und eiserner Tatkraft – von früh bis spät auf den Beinen, um überall nach dem Rechten zu sehen. Aber dabei hatte sie nichts Leichtes in ihrer Art, das Leben zu nehmen, es türmte sich alles vor ihr auf wie ein Berg, über den sie nie hinaussehen konnte – die Wirtschaft, der große Haushalt, die Kinder, tausend Dinge, die täglich zu tun und zu überlegen waren und ihr beständig im Kopf herumgingen. Seit ihre Älteste erwachsen war, hatte sie nun wenigstens jemand, mit dem sie das alles teilen und beraten konnte, während sie des Vormittags im Garten saßen, Wäsche ausbesserten oder Obst zum Einkochen schälten.
Wenn nur das Heu von den Strandwiesen hereinkäme, ehe es wieder Regen gab und alles zugrunde ging wie im vorigen Jahr – Gott weiß, der Vater hatte diesen Frühling schon genug Ärger gehabt; das durfte nicht noch dazu kommen. Wie lange würde sich Nevershuus überhaupt noch halten lassen, bei all den mißlichen Verhältnissen?
»Ach Mama«, sagte dann wohl Marianne in ihrer ruhigen Weise, »quäl' dich doch nicht darum, es hat ja noch Zeit bis zur Heuernte.«
Aber die Mutter war schon längst wieder bei anderen Gedanken – ob Marianne meinte, daß das neue Kindermädchen zuverlässig sei? Ellen und Detlev waren in letzter Zeit gar so unbändig, und sie hatte jetzt doch nur die beiden Kleinen zu hüten. Und wie würde es Erik nun wohl auf der Schule gehen – mit Kai wollte es ja immer noch nicht recht vorwärts, und vor allem war seine Gesundheit eine rechte Sorge. Ja, Sorgen überall, und Sorgen mußten ja sein. Es war ein Wort, das die Freifrau häufig gebrauchte, und wenn sie dabei angekommen war, konnte sie so aus tiefster Seele heraus seufzen. Dann fiel ihr plötzlich wieder ein, daß sie versäumt hatte, irgend etwas anzuordnen, und sie ging mit ihrem raschen Schritt ins Haus hinein, um es nachzuholen."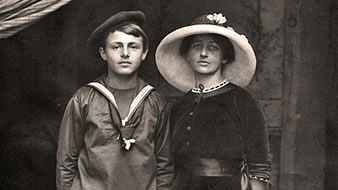 Franziska zu Reventlow (18 mei 1871 – 25 juli 1918)
Hier met haar zoon Rolf
De Britse filosoof, logicus, wiskundige en politiek activist Bertrand Arthur William Russell werd geboren in Trellech (Monmouthshire), Wales, op 18 mei 1872. Zie ook alle tags voor Bertrand Rusell op dit blog.
Uit: In Praise of Idleness
"But, I shall be told, the case is quite different when savings are invested in industrial enterprises. When such enterprises succeed, and produce something useful, this may be conceded. In these days, however, no one will deny that most enterprises fail. That means that a large amount of human labor, which might have been devoted to producing something that could be enjoyed, was expended on producing machines which, when produced, lay idle and did no good to anyone. The man who invests his savings in a concern that goes bankrupt is therefore injuring others as well as himself. If he spent his money, say, in giving parties for his friends, they (we may hope) would get pleasure, and so would all those upon whom he spent money, such as the butcher, the baker, and the bootlegger. But if he spends it (let us say) upon laying down rails for surface card in some place where surface cars turn out not to be wanted, he has diverted a mass of labor into channels where it gives pleasure to no one. Nevertheless, when he becomes poor through failure of his investment he will be regarded as a victim of undeserved misfortune, whereas the gay spendthrift, who has spent his money philanthropically, will be despised as a fool and a frivolous person.
All this is only preliminary. I want to say, in all seriousness, that a great deal of harm is being done in the modern world by belief in the virtuousness of work, and that the road to happiness and prosperity lies in an organized diminution of work."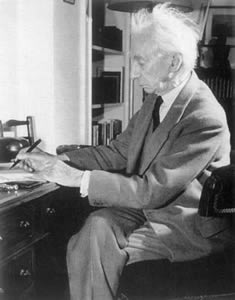 Bertrand Russell (18 mei 1872 – 2 februari 1970)



De Schotse schrijver John Wilson werd geboren in Paisley op 18 mei 1785. Zie ook alle tags voor John Wilson op dit blog.
Prayer to Sleep
O gentle Sleep, wilt thou lay thy head
For one little hour on thy lover's bed,
And none but the silent stars of night
Shall witness be to our delight!
Alas! 'tis said that the couch must be
Of the Eider-down that is spread for thee,
So, I in my sorrow must lie alone,
For mine, sweet Sleep! is a couch of stone.
Music to thee I know is dear;
Then, the saddest of music is ever here,
For Grief sits with me in my cell,
And she is a syren who singeth well.
But thou, glad Sleep! lovest gladsome airs,
And wilt only come to thy lover's prayers
When the bells of merriment are ringing,
And bliss with liquid voice is singing.
Fair Sleep! so long in thy beauty wooed,
No rival hast thou in my solitude;
Be mine, my Love! and we two will lie
Embraced for ever—or awake to die!
Dear Sleep! farewell!—hour, hour, hour, hour,
Will slowly bring on the gleam of morrow,
But thou art Joy's faithful paramour,
And lie wilt thou not in the arms of Sorrow.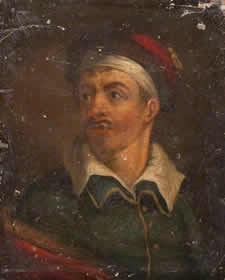 John Wilson (18 mei 1785 - 3 april 1854)
Anoniem portret
18-05-2013 om 14:44 geschreven door Romenu

Tags:Ernst Wiechert, Omar Khayyam, Franziska zu Reventlow, Bertrand Russell, John Wilson, Romenu


17-05-2013

Lars Gustafsson, Peter Høeg, Gary Paulsen, Henri Barbusse, Virginie Loveling, Mischa Andriessen
De Zweedse dichter en schrijver Lars Gustafsson werd geboren in Västeras, op 17 mei 1936. Zie ook alle tags voor Lars Gustafsson op dit blog.
Placenta
This formless, lobated organ
that is expelled after birth.
Neither mother nor child, neutral,
in the same way the innermost void
within true insomnia
is a completely neutral place.
There always exists something
that is between usual states,
neither the one nor the other.
Towards this Between
I feel a wry friendship,
a kinship even.
It has the real world's
large vacant, candid face.
The art room
The room itself smelled of chalk
and heavy, dried wood.
Generations had carved in the tables
so that the systems of letters
intersected each other
as in some ancient Sumerian
or why not Babylonian
archaeology.
Forgotten gods with dog's ears
and stern wooden faces
came of their own accord out of the graining.
On the paper, though, only the strict
figures and angles of the linear drawing that were
so sharp that you could cut yourself on them.
And this was meant to be the place where art dwelt.
Vertaald door John Irons
Fichte an der Petroleumlampe
Als das weiche Dunkel des Augusts
sich plötzlich verdichtete
war es, als habe der See da unten
einen kürzeren Wellenschlag, eine andere Atmung
unbekannte Tiere schauten vielleicht aus
ihren Höhlen am Uferrand.
Und die Petroleumlampe wurde angezündet.
Sie sah aus wie ein kleiner Leuchtturm
mit verschiedenen Absätzen aus Glas und Porzellan
und der starke Strom von erhitzter Luft
durfte nicht in die Gardine geraten.
Da hieß es aufpassen,
die Lampe nicht unter die Gardine stellen.
Sie erzeugte, genau genommen, große Hitze
(der Unterschied war im Raum deutlich zu spüren)
und wenig Licht. Und um diese Lampe flog
ein wütendes kleines metallblaues Insekt.
Der Philosoph Fichte war irgendwie
dem dicken braunen Buch
auf dem Tisch entschlüpft,
in dem er allem Anschein nach wohnte.
Kreiste, bis ihn die Flamme verschlang.
Aber da war der Abend zu Ende.
Vertaald door Verena Reichelaus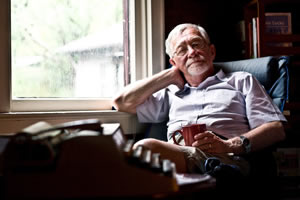 Lars Gustafsson (Västeras, 17 mei 1936)
De Deense schrijver Peter Høeg werd geboren in Kopenhagen op 17 mei 1957. Zie ook alle tags voor Peter Høeg op dit blog.
Uit: Smilla's Sense of Snow (Vertaald door Tina Nunnally)
"But out in the darkness, like the bow of a ship, the walls of Vestre Prison loom; we are in Copenhagen.
The Greenlanders' cemetery is part of Vestre Cemetery. A procession follows Isaiah in his coffin--Juliane's friends, who are now holding her upright, the pastor and the verger, the mechanic, and a small group of Danes, among whom I recognize only the social worker and the investigator.
The pastor is now saying something that makes me think he must have actually met Isaiah, even though, as far as I know, Juliane has never gone to church.
Then his voice disappears, because now the other women are weeping along with Juliane.
Many have come, perhaps twenty, and now they let their sorrow wash over them like a black flood, into which they dive and let themselves be carried along in a way that no outsider could understand, no one who has not grown up in Greenland. And even that might not be enough. Because I can't follow them, either.
For the first time I look closely at the coffin. It's hexagonal. At a certain point ice crystals take the same form.
Now they are lowering him into the ground. The coffin is made of dark wood, it looks so small, and there is already a layer of snow on it. The flakes are the size of tiny feathers, and that's the way snow is, it's not necessarily cold. What is happening at this moment is that the heavens are weeping for Isaiah, and the tears are turning into frosty down that is covering him up. In this way the universe is pulling a comforter over him, so that he will never be cold again.
The moment the pastor throws earth on the coffin and we are supposed to turn around and leave, a silence falls that seems to last for a long time. The women are quiet, no one moves, it's the sort of silence that is waiting for something to burst. From where I'm standing, two things happen.
First, Juliane falls to her knees and puts her face to the ground, and the other women leave her alone.
The second event is internal, inside of me, and what bursts through is an insight.
All along I must have had a comprehensive pact with Isaiah not to leave him in the lurch, never, not even now.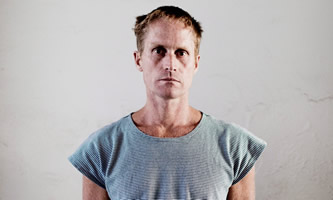 Peter Høeg (Kopenhagen, 17 mei 1957)
De Amerikaanse schrijver Gary Paulsen werd geboren op 17 mei 1939 in Minneapolis, Minnesota. Zie ook alle tags voor Gary Paulsen op dit blog.
Uit: Guts
"I have spent an inordinate amount of time in wilderness woods, much of it in northern Minnesota, some in Canada and some in the Alaskan wilds. I have hunted and trapped and fished and have been exposed to almost all kinds of wilderness animals; I've had bear come at me, been stalked by a mountain lion, been bitten by snakes and punctured by porcupines and torn by foxes and once pecked by an attacking raven, but I have never seen anything rivaling the madness that seems to infect a large portion of the moose family.
I first witnessed this insanity when I was twelve, in northern Minnesota. I had just started hunting with a rifle. Back then there were none of today's modern hunting weapons and I was, to put it mildly, financially disadvantaged. I worked hard at setting pins in a bowling alley, selling newspapers in bars at night and laboring on farms in the summer (hoeing sugar beets for eleven dollars an acre and picking potatoes for five cents a bushel) to make enough money to buy clothing and supplies for school. There was little left for fancy weapons, and after saving for a long time I finally managed to come up with enough money for a Remington single-shot .22 rifle. It was bolt action, with a twist safety on the rear of the bolt, and had to be loaded for each shot by opening the bolt, which extracted the empty shell if you had just fired. Then you put a new cartridge into the chamber by hand, closed the bolt and fired. It was a long process and the end result was that it forced the shooter to pay attention to his first shot and make certain it was accurately placed. It also made the hunter careful not to waste his shot. Withing a short time I was very accurate with this little rifle and was steadily bringing home rabbits and ruffed grouse, which I cleaned and cooked.
Just as they do today, game wardens had a great deal of say in how game laws were enforced, and if a family was poor or there were other special conditions, the wardens would sometimes overlook minor infractions. The legal hunting seasons were in fall and winter, but sometimes I hunted in spring as well, and it gave me food at times when my parents were on long drunks and didn't keep the refrigerator filled. I would like to thank those game wardens who looked the other way now and then when they saw a scruffy kid come out of the woods with a not-quite-legal grouse or rabbit hanging on his belt."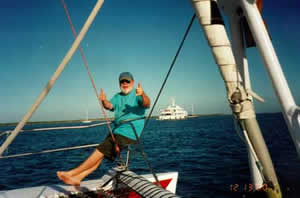 Gary Paulsen (Minneapolis, 17 mei 1939)
De Franse dichter en schrijver Henri Barbusse werd geboren op 17 mei 1873 in Asnières-sur-Seine. Zie ook alle tags voor Henri Barbusse op dit blog.
Uit: L'Enfer
"L'hôtesse, Mme Lemercier, me laissa seul dans ma chambre, après m'avoir rappelé en quelques mots tous les avantages matériels et moraux de la pension de famille Lemercier. Je m'arrêtai, debout, en face de la glace, au milieu de cette chambre où j'allais habiter quelque temps. Je regardai la chambre et me regardai moi-même. La pièce était grise et renfermait une odeur de poussière. Je vis deux chaises dont l'une supportait ma valise, deux fauteuils aux maigres épaules et à l'étoffe grasse, une table avec un dessus de laine verte, un tapis oriental dont l'arabesque, répétée sans cesse, cherchait à attirer les regards. Mais à ce moment du soir, ce tapis avait la couleur de la terre. Tout cela m'était inconnu; comme je connaissais tout cela, pourtant: ce lit de faux acajou, cette table de toilette, froide, cette disposition inévitable des meubles, et ce vide entre ces quatre murs...
La chambre est usée; il semble qu'on y soit déjà infiniment venu. Depuis la porte jusqu'à la fenêtre, le tapis laisse voir la corde: il a été piétiné, de jour en jour, par une foule. Les moulures sont, à hauteur des mains, déformées, creusées, tremblées, et le marbre de la cheminée s'est adouci aux angles. Au
contact des hommes, les choses s'effacent, avec une lenteur désespérante. Elles s'obscurcissent aussi. Peu à peu, le plafond s'est assombri comme un ciel d'orage. Sur les panneaux blanchâtres et le papier rose, les endroits les plus touchés sont devenus noirs: le battant de la porte, le tour de la serrure peinte du placard et, à droite de la fenêtre, le mur, à la place où l'on tire les cordons des rideaux."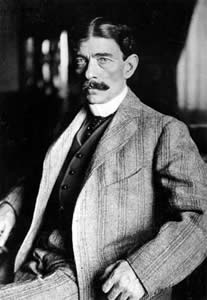 Henri Barbusse (17 mei 1873 –30 augustus 1936)



De Vlaamse dichteres en schrijfster Virginie Loveling werd geboren in Nevele op 17 mei 1836. Zie ook alle tags voor Virginie Loveling op dit blog.
Geboortegrond
In 't zuiden heerst een eeuwge lent,
En aarde en hemel lacht.
In 't hoge Noorden nijpt de kou,
Daar ligt de sneeuw, daar is de rouw,
De schemering en de nacht

Waarom bewoont de Noorderman
Die streek der duisternis?
Omdat hij dáar zich wel bevindt
Omdat de mens het plekje mint,
Waar hij geboren is.

Hij vraagt geen-rozen aan de Mei,
Geen vruchten aan de herfst.
Hij mint zijn groen fluwelen mos,
Hij jaagt de ijsbeer en de vos,
Die in de vlakten zwerft.

En keert hij weer door mist en sneeuw,
Van jacht of kleine reis,
Dan haakt zijn hart, vol ongeduld,
Ook naar zijn hut met rook vervuld,
Als naar een lustpaleis.

Hij ziet toch, als de bleke dag
Voor 't lange duister zwicht,
De sterren aan de hemel staan,
Hij heeft het licht der klare maan,
En 't rode noorderlicht.

Waar ook de mens zijn woning vest,
Gaan lief en leed gepaard :
De vreugdestralen van 't gemoed,
Zij zijn de ware zonnegloed,
In elke streek der aard.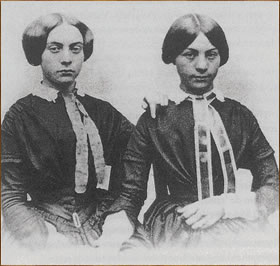 Virginie Loveling (17 mei 1836 – 1 december 1923)
Hier met haar zus Rosalie (links) in 1851
Onafhankelijk van geboortedata:
De Nederlandse dichter Mischa Andriessen werd geboren in Apeldoorn in 1970. Zie ook alle tags voor Mischa Andriessen op dit blog.
Thuis
Het donker van je eigen
schaduw op de muur zien
en schrikken. Niets is gevaarlijker
dan wat je kunt begrijpen.
Het is jouw arm in de mouw
die over de muur kruipt,
jouw leegte die je achterlaat
als je de jas op de kapstok hangt.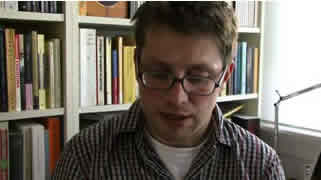 Mischa Andriessen (Apeldoorn, 1970)

Zie voor nog meer schrijvers van de 17e mei ook mijn blog van 17 mei 2012 en ook mijn blog van 17 mei 2011 deel 2.
17-05-2013 om 16:54 geschreven door Romenu

Tags:Lars Gustafsson, Peter Høeg, Gary Paulsen, Henri Barbusse, Virginie Loveling, Mischa Andriessen, Romenu


16-05-2013

Adrienne Rich, Paul Gellings, Friedrich Rückert, Jakob van Hoddis, Juan Rulfo
De Amerikaanse dichteres Adrienne Rich werd 16 mei 1929 geboren te Baltimore. Adrienne Rich overleed op 27 maart van dit jaar op 82-jarige leeftijd. Zie ook alle tags voor Adrienne Rich op dit blog.
Translations
December 25, 1972
You show me the poems of some woman
my age, or younger
translated from your language
Certain words occur: enemy, oven, sorrow
enough to let me know
she's a woman of my time
Obsessed
with Love, our subject:
we've trained it like ivy to our walls
baked it like bread in our ovens
worn it like lead on our ankles
watched it through binoculars as if
it were a helicopter
bringing food to our famine
or the satellite
of a hostile power
I begin to see that woman
doing things: stirring rice
ironing a skirt
typing a manuscript till dawn
trying to make a call
from a phonebooth
The phone rings endlessly
in a man's bedroom
she hears him telling someone else
Never mind. She'll get tired.
hears him telling her story to her sister
who becomes her enemy
and will in her own way
light her own way to sorrow
ignorant of the fact this way of grief
is shared, unnecessary
and political
De tijgers van tante Jennifer
De tijgers van tante pareren over een gaas
Bewoners van een groene wereld, helder topaas,
Ze vrezen de mannen niet onder de boom
Ze stappen vol zekerheid, trots en loom
De vingers van tante frutselen met wol en draad
En ivoren naald die stroef door het borduursel gaat
De trouwring van oom is het massief gewicht
Dat zwaar op tante Jennifer's handen ligt.
Bij haar dood ligt haar hand vol schrik geklemd
In die ring, die beproeving die haar heeft getemd
De tijgers op het doek dat tante heeft gemaakt
Stappen fier verder: trots, onaangeraakt.
Vertaald door Maaike Meijer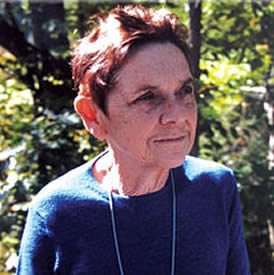 Adrienne Rich (16 mei 1929 – 27 maart 2012)
De Nederlandse dichter en vertaler Paul Johann Gellings werd geboren in Amsterdam op 16 mei 1953. Zie ook alle tags voor Paul Gellings op dit blog.
Uit: Augustusland
"Ze weet niet hoe laat het is. Of het een ochtend, een middag of een avond is. Of de dageraad misschien. Maar dit is geen dageraad en al evenmin een droom. Ze verbaast zich over de verlaten kamers in haar anders zo springlevende huis. Dan daalt ze de trap af en laat de voordeur geluidloos achter zich dichtvallen.
Hoe kan ik het doen? denkt ze bij het betreden van het parkje aan de overkant. Ik heb me niet eens aangekleed.
Maar aan de andere kant van het parkje merkt ze dat ze een wit T-shirt en een geruite bermuda draagt. Niet dat het veel uitmaakt in de toestand waarin ze verkeert en niemand haar waarschijnlijk ziet – als er al iemand zou zijn op dit vreemde uur, in deze stad die wel en niet haar woonplaats is, en die ze gaat verlaten.
Voor haar nu een lege straat geflankeerd door blinde muren. Bijna een abstract schilderij. Alles grijsachtig zonder aanwijsbare lichtbron. Geen verschiet. Ze voelt geen trottoir onder haar voeten – of voelt ze haar voeten zelf niet? Je zou het zweven kunnen noemen als je het per se in woorden wilt uitdrukken.
Alle ramen in de laatste huizenblokken ogen zwart als pupillen. Op één na, in een soort landhuis dat niets te zoeken heeft in deze stadse omgeving. Het staat wijd open, met een brandende kroonluchter erachter en laat klarinetspel naar buiten vloeien, donkere tonen, alt.
Wie woont daar? Wie speelt daar? Er is geen schaduw of gestalte te zien, geen beweging waar ze wat wijzer van zou kunnen worden, alleen een lichtbruine muur met een okergeel landschapje waarvan ze de details niet goed kan zien.
Ze zou wel even halt willen houden onder dat raam, maar dat gaat niet. Dus gaat ze half omgedraaid verder, in de hoop dat ze er geen kramp in haar nek van krijgt. Ze voelt alleen geen pijn en op het moment dat de stilte haar omhult als dons kijkt ze weer voor zich, een tikkeltje weemoedig vanwege de weggestorven klanken."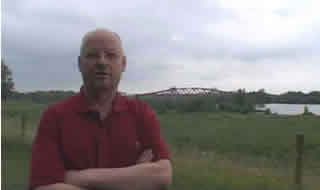 Paul Gellings (Amsterdam, 16 mei 1953)

De Duitse dichter Johann Michael Friedrich Rückert werd geboren in Schweinfurt op 16 mei 1788. Zie ook alle tags voor Friedrich Rückert op dit blog.
Uit: Geharnischte Sonnette
VI.
Ihr, ernsthaft tummelnd eure Steckenpferde,
Ihr, streitend in der Spiegelfechter Trosse,
Ihr, zielend mit nie treffendem Geschosse,
Ihr, Streiche führend mit papiernem Schwerde!
Und ihr, die ihr euch von der sichern Erde
Auf eurer Musen fabelhaftem Rosse
Gen Himmel spornt, ihr treibt die ärgste Posse,
Ihr seid die räudigsten der ganzen Herde.
Werft von euch euer Torheit bunte Wappen,
Womit ihr prunkt, und greift zu den wahren Waffen,
Statt eurer Steckenpferde zäumet Rappen;
Setzt Helme auf statt eurer Narrenkappen,
Seid wahre Männer statt der Götter Affen,
Und wenn ihr nicht könnt Ritter sein, seid Knappen!
VII.
Ihr Ritter, die ihr haust in euren Forsten,
Ist euch der Helmbusch von dem Haupt gefallen?
Versteht ihr nicht den Panzer mehr zu schnallen?
Ist ganz die Rüstung eures Muts zerborsten?
Was sitzet ihr daheim in euren Horsten,
Ihr alten Adler, habt ihr keine Krallen?
Hört ihr nicht dorther die Verwüstung schallen?
Seht ihr das Untier nicht mit seinen Borsten?
Schwingt eure Keulen! denn es ist ein Keuler;
Er wühlt, er droht, voll Gier nach schnödem Futter,
Stürzt er den Stamm, nicht bloß des Stammes Blätter;
Es ist ein Wolf, ein nimmersatter Heuler,
Er frißt das Lamm, er frißt des Lammes Mutter;
Helft, Ritter, wenn ihr Ritter seid, seid Retter!
Herbstfrühlingslied
So oft der Herbst die Rosen stahl,
Ich weiß nicht, wie's entsprungen,
Doch ist mir hell noch jedesmal
Ein Frühlingslied entklungen.
Der Frühling, der vorüberfuhr,
Und der aus Zukunft winket,
Die beiden werden einer nur,
Des Glanz mein Herz durchblinket.
So hoff' ich, wenn den Lebensbaum
Des Alters Hauch entlaubet,
Nicht soll ein goldner Jugendtraum
Dem Herzen sein geraubet.
Die Jugend, die vorüberfuhr,
Wird sich im Liede paaren
Mit jener, die auf Edens Flur
Nicht wird vorüberfahren.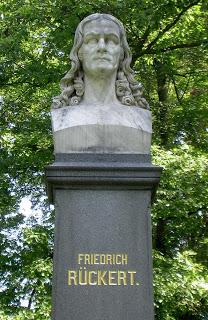 Friedrich Rückert (16 mei 1788 - 31 januari 1866)
Monument in in Coburg-Neuses

De Duitse dichter Jakob van Hoddis (pseudoniem van Hans Davidsohn) werd geboren in Berlijn op 16 mei 1887. Zie ook alle tags voor Jakob von Hoddis op dit blog.
Morgens
Ein starker Wind sprang empor.
Öffnet des eisernen Himmels blutende Tore.
Schlägt an die Türme.
Hellklingend laut geschmeidig über die eherne Ebene der Stadt.
Die Morgensonne rußig. Auf Dämmen donnern Züge.
Durch Wolken pflügen goldne Engelpflüge.
Starker Wind über der bleichen Stadt.
Dampfer und Kräne erwachen am schmutzig fließenden Strom.
Verdrossen klopfen die Glocken am verwitterten Dom.
Viele Weiber siehst du und Mädchen zur Arbeit gehn.
Im bleichen Licht. Wild von der Nacht. Ihre Röcke wehn.
Glieder zur Liebe geschaffen.
Hin zur Maschine und mürrischem Mühn.
Sieh in das zärtliche Licht.
In der Bäume zärtliches Grün.
Horch! Die Spatzen schrein.
Und draußen auf wilderen Feldern
singen Lerchen.
Der Todesengel
IV
Die Braut friert leise unterm leichten Kleide.
Der Engel schweigt. Die Lüfte ziehn wie krank.
Er stürzt auf seine Knie. Nun zittern beide.
Vom Strahl der Liebe, der aus Himmeln drang.
Posaunenschall und dunkler Donner lachen.
Ein Schleier überflog das Morgenrot.
Als sie mit ihrer zärtlichen und schwachen
Bewegung ihm den Mund zum Küssen bot.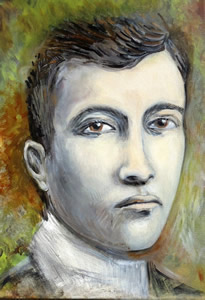 Jakob van Hoddis (16 mei 1887 – mei/juni ? 1942)


De Mexicaanse schrijver Juan Rulfo werd geboren op 16 mei 1917 in Sayula. Zie ook alle tags voor Juan Rulfo op dit blog.
Uit: No Dogs Bark (Vertaald door George D. Schade)
"I can't see where I'm going any more," the father said. No answer.
The son up there was illumined by the moon. His face, discolored, bloodless, reflected the opaque light. And he here below.
"Did you hear me, Ignacio? I tell you I can't see you very well."
No answer.
Falteringly, the father continued. He hunched his body over, then straightened up to stumble on again.
"This is no road. They told us Tonaya was behind the hill. We've passed the hill. And you can't see Tonaya, or hear any sound that would tell us it is close. Why won't you tell me what you see up there, Ignacio?"
"Put me down, Father."
"Do you feel bad?"
"Yes."
"I'll get you to Tonaya. There I'll find somebody to take care of you. They say there's a doctor in the town. I'll take you to him. I've already carried you for hours, and I'm not going to leave you lying here now for somebody to finish off."
He staggered a little. He took two or three steps to the side, then straightened up again.
"I'll get you to Tonaya."
"Let me down."
His voice was faint, scarcely a murmur. " I want to sleep a little."
"Sleep up there. After all, I've got a good hold on you."
The moon was rising, almost blue, in a clear sky. Now the old man's face, drenched with sweat, was flooded with light. He lowered his eyes so he wouldn't have to look straight ahead, since he couldn't bend his head, tightly gripped in his son's hands."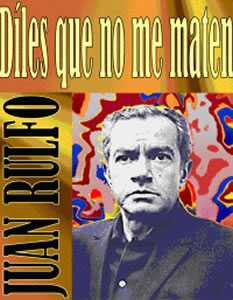 Juan Rulfo (16 mei 1917 - 8 januari 1986)
Cover
Zie voor nog meer schrijvers van de 16e mei ook mijn blog van 16 mei 2011 deel 2.

16-05-2013 om 16:55 geschreven door Romenu

Tags:Adrienne Rich, Paul Gellings, Friedrich Rückert, Jakob van Hoddis, Juan Rulfo, Romenu


15-05-2013

Arthur Schnitzler, Albert Verwey, Pem Sluijter, W.J.M. Bronzwaer, Edwin Muir
De Nederlandse dichter, essayist en letterkundige Albert Verwey werd geboren in Amsterdam op 15 mei 1865. Zie ook alle tags voor Albert Verwey op dit blog.
Ik zie de mens, maar ik begrijp hem niet
Ik zie de mens, maar ik begrijp hem niet: –
Hij eet van 't leven al wat lekker smaakt,
En proeft van ál zijn passies: zijn mond raakt
Iedere vrucht, die iedre hand hem biedt.

Hij zoekt in dronkenschap een droom, die vliedt,
In 't leven, – tot hij, moede en koud, ontwaakt,
Naakt en gebroken: op zijn lippen smaakt
Des levens droesem bitter als verdriet.

En dan noemt hij de wijn, die vreugde geeft –
Zijn passie – zonde, en nuchterzijn zijn deugd,
Daar hij zich dwaas dronk in een mooie droom,

En in het leven schijn zocht, die niet leeft.
Hij vleit zich met de erinn'ring zijner vreugd,
Maar durft geen appel proeven zonder schroom.
De handdruk
Er is zoveel waar 't wonderlijk begeren
Ongaarn naar reikt; want wij zijn zo gemaakt
Dat wij niet enkel wat ons scha doet weren,
Maar onze trots ook wat wil helpen wraakt.

Op andren niet alleen maar op ons eigen
Verhalen wij het leed dat de andre ons deed,
En voeden lust in pijn en wonden krijgen
En noemen de andre en weten zelf ons wreed.

Dan staan we op 't laatst in het heelal, verbijsterd
Dat zoveel schoons als toch moet zijn, niet blijkt:
Wij voelen ons gelijk een boom, geteisterd
Door wind, weer, bliksem, schoon hij niet bezwijkt.

Wij staan alleen: dan sluipt zich in ons voelen,
Dan dringt zich door naar 't aarzelend verstand,
Gemeenschap, zwijgend, vol verstaan bedoelen:
De warme druk van een bevriende hand.
Van de liefde die vriendschap heet
3
Ik had uw hart mij tot een huis gewijd:
De wierook brandde – de opgeslagen blaân
Der schriften gloorden – de ark zag 'k openstaan –
Ik had mijn wolk rondom mijn huis gespreid.

En zie, in mijn huis zit een wisslaar aan,
Midden in mijn mysteriën, als beidt
Hij mijne komst: – opent de poorten wijd,
Strooit lovers, dat mijn voet moog' binnengaan!

Wee mij! straks zal mijn levensmoede ziel,
Droef als een vlam, die half omsluierd gloort,
Rijzen naar waar àl bleke zielen zijn.

Om daar te branden met den matten schijn
Van onbegrepen liefde en 't onverhoord
Bidden te horen van wie na mij kniel'.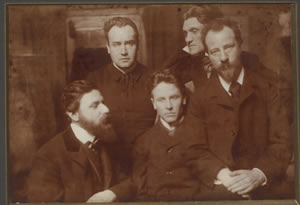 Albert Verwey (15 mei 1865 - 8 maart 1937)
Dichters groepsfoto:, circa 1900. Boven: Alfred Schuler, Stefan George
Bemeden: Karl Wolfskehl, Ludwig Klages, Albert Verwey
De Oostenrijkse schrijver en arts Arthur Schnitzler werd geboren in Wenen op 15 mei 1862. Zie ook alle tags voor Arthur Schnitzler op dit blog.
Uit: Liebelei
Erster Akt
Zimmer Fritzens. Elegant und behaglich.
Fritz, Theodor Theodor tritt zuerst ein, er hat den Überzieher auf dem Arm, nimmt den Hut erst nach dem Eintritt ab, hat auch den Stock noch in der Hand.
Fritz spricht draußen Also es war niemand da?
Stimme des Dieners Nein, gnädiger Herr.
Fritz im Hereintreten Den Wagen könnten wir eigentlich wegschicken?
Theodor Natürlich. Ich dachte, du hättest es schon getan.
Fritz wieder hinausgehend, in der Tür Schicken Sie den Wagen fort. Ja... Sie können übrigens jetzt auch weggehen, ich brauche Sie heute nicht mehr. Er kommt herein. Zu Theodor Was legst du denn nicht ab?
Theodor ist neben dem Schreibtisch Da sind ein paar Briefe. Er wirft Überzieher und Hut auf einen Sessel, behält den Spazierstock in der Hand.
Fritz geht hastig zum Schreibtisch Ah!...
Theodor Na, na!... Du erschrickst ja förmlich.
Fritz Von Papa... Erbricht den anderen von Lensky...
Theodor Laß dich nicht stören.
Fritz durchfliegt die Briefe.
Theodor Was schreibt denn der Papa?
Fritz Nichts Besonderes... Zu Pfingsten soll ich auf acht Tage aufs Gut.
Theodor Wäre sehr vernünftig. Ich möchte dich auf ein halbes Jahr hinschicken.
Fritz der vor dem Schreibtisch steht, wendet sich nach ihm um.
Theodor Gewiß! – Reiten, kutschieren, frische Luft, Sennerinnen –
Fritz Du, Sennhütten gibt's auf Kukuruzfeldern keine!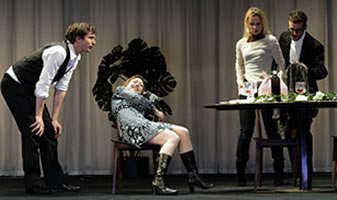 Arthur Schnitzler (15 mei 1862 - 21 oktober 1931)
Liebelei, uitvoering in het Wiener Volkstheater, 2007

De Nederlandse dichteres en schrijfster Pem Sluijter werd geboren in Middelburg op 15 mei 1939. Zie ook alle tags voor Pem Sluijter op dit blog.
Eerbetoon aan stenen
Wij drentelden aan de voet van Poseidons zuilen
(hij schudde de landpunt met zijn drietand op)
vonden geen beschutting bij de immense pilaren
van het vergane heiligdom.
Nog een uur voordat de zonnewagen
in zijn baan om de aarde striemend rood op
de kim achterlaat en Venus in het donker
gelegerd, helder verlicht.
Smoorhitte vertraagt onder hoeden en petten
onze hersenactiviteit nog door onbestemdheid versterkt.
Tijddodende bezichtiging tussen nagelaten stenen van tombes
en tempels brengen goden en mensen niet thuis.
Zijn dat zwarte zeilen die achteloos
aan de horizon verschijnen? Uit het historisch graf
opgestaan, houdt koning Aigeus een hand tegen de zon
boven zijn ogen. Zoon! Ach mijn zoon is gebleven –
Een toerist schraapt tussen chaotisch
rondliggend puin brokstukken groter dan gruis,
zoekt op de grond scherp terechtgewezen:
deze plek mag alleen leven op foto's van stenen.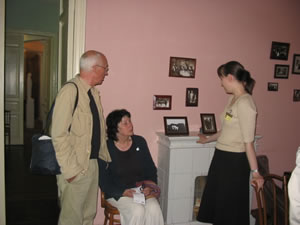 Pem Sluijter (15 mei 1939 - 18 december 2007)
Pem Sluijter, haar man Bram Rutgers en de gids in het museum van Anna Achmatova in Sint-Petersburg

De Nederlandse letterkundige, essayist en criticus W.J.M. Bronzwaer werd geboren op 15 mei 1936 in Heerlen. Zie ook alle tags voor W. J. M. Bronzwaer op dit blog.
Uit: De Shakespeare-vertalingen van Pé Hawinkels
"Shakespeare was de schrijver die Pé Hawinkels het liefst vertaalde. Meer dan eens heeft hij me toevertrouwd dat de hoogste top die hij als vertaler zou willen beklimmen Antony and Cleopatra was. Hij had toen Der Zauberberg al achter de rug. Ik heb wel eens geprobeerd hem ervan te overtuigen dat hij ook Doktor Faustus aan moest pakken, maar hij schrok terug voor het Lutheraanse volksduits van de duivel in het 25e hoofdstuk, waarvoor hij geen Nederlands equivalent wist te vinden. Ik vermoed echter dat de laatste jaren zijn voorkeur voor het vertalen van poëzie steeds sterker werd. Op een tijdens een receptie terloops gedaan voorstel om van T.S. Eliots Four Quartets een tweetalige uitgave te maken met een vertaling van zijn hand en commentaar van de mijne, reageerde hij enthousiast. Hij had vroeger al eens 'The Love Song of J. Alfred Prufrock' vertaald (Raam, juni 1967). Voordat over deze plannen een gesprek kon plaatshebben met Johan Polak, die zich als uitgever geïnteresseerd had getoond, verscheen, voor ons alledrie onverwachts, de tweetalige uitgave van de Leuvense hoogleraar Herman Servotte (De Nederlandse Boekhandel, 1974).
Doordat hij de laatste jaren zo'n veelgevraagd vertaler van proza en toneelstukken was, waren Hawinkels' kwaliteiten als poëzie-vertaler wat in het vergeetboek geraakt. In de jaren zestig had hij indrukwekkende vertalingen van (onder andere) zeventiende-eeuwse Engelse poëzie laten verschijnen, in tijdschriften als Merlyn en Raam, die al vooruitwijzen naar zijn belangstelling voor Shakespeare. Deze werd pas gerealiseerd toen hij voor het seizoen 1975-1976 van Zuidelijk Toneel Globe de opdracht kreeg Measure for Measure te vertalen. As You Like It en Julius Caesar volgden, in opdracht van de Haagse Comedie. Inmiddels was er weer contact gelegd met Johan Polak over de mogelijkheid een of meer bundels met stukken van Shakespeare in Pé's vertaling uit te brengen."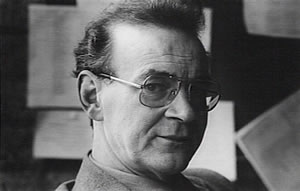 W.J.M. Bronzwaer (15 mei 1936 – 20 januari 1999)

De Schotse dichter, schrijver en vertaler Edwin Muir werd geboren op 15 mei 1887 in Deerness op de Orkney-eilanden. Zie ook alle tags voor Edwin Muir op dit blog.
Abraham
The rivulet-loving wanderer Abraham
Through waterless wastes tracing his fields of pasture
Led his Chaldean herds and fattening flocks
With the meandering art of wavering water
That seeks and finds, yet does not know its way.
He came, rested and prospered, and went on,
Scattering behind him little pastoral kingdoms,
And over each one its own particular sky,
Not the great rounded sky through which he journeyed,
That went with him but when he rested changed.
His mind was full of names
Learned from strange peoples speaking alien tongues,
And all that was theirs one day he would inherit.
He died content and full of years, though still
The Promise had not come, and left his bones,
Far from his father's house, in alien Canaan.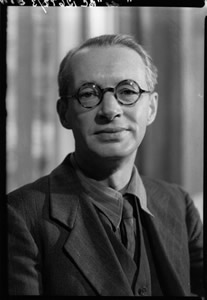 Edwin Muir (15 mei 1887 -3 januari 1959)
In 1945
Zie voor nog meer schrijvers van de 15e mei ook mijn blog van 15 mei 2012 deel 1 en ook deel 2.


15-05-2013 om 18:39 geschreven door Romenu

Tags:Arthur Schnitzler, Albert Verwey, Pem Sluijter, W.J.M. Bronzwaer, Edwin Muir, Romenu


14-05-2013

Jo Gisekin, Karl-Markus Gauß, Eoin Colfer, Gaby Hauptmann, Dante Alighieri, Krister Axel
De Vlaamse dichteres Jo Gisekin werd geboren in Gent op 14 mei 1942. Zie ook alle tags voor Jo Gisekin op dit blog.
Kweeperen in cognac
Weemoed van kweeperen in cognac
zomers boudoir achter
lichtschuw inmaakglas
waar ik naar tracht
als naar een haardvuur
in een huis met
geblinde ramen.
Stroomafwaarts
in lopende plooien
van mijn huid
is de herfst geboren
als in een zwijgend laken
of in een handpalm
bespannen met opalen vlies
van witte eierschalen.
De boomgaard met blaren
wisselt feestelijk van vacht
naast de kweeperelaar
op het vloerkleed gras .
Zwijgen

Zwijgen
is
dieper graven

vlinder die de nacht bevoelt
met vingertoppen duisternis
-ik ben het blauw van Raveel verloren-

vaak heb ik de vroegste morgen
uit je wuivende vleugels geperst
je wieg was me meer
dan een wijngaard stilte
en op je rug
heb ik mezelf vertekend

ik huil om zinloosheid
van opgesteven woorden
om weemoed die de traan
niet kent.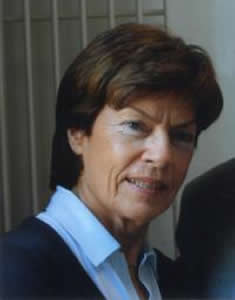 Jo Gisekin (Gent, 14 mei 1942)
De Oostenrijkse schrijver, essayist en uitgever Karl-Markus Gauß werd geboren op 14 mei 1954 in Salzburg. Zie ook alle tags voor Karl-Markus Gauß op dit blog.
Uit: Im Wald der Metropolen
"Unter diesem Gewölbe sah ich ihn zum ersten Mal. Er hatte seinen Blick nicht nach oben gerichtet, er ahnte nicht, dass es dort etwas, vielleicht sogar ihn selber zu entdecken gab. Er ging im Tross, wie im Hôtel-Dieu jeder im Tross zu gehen hat, er folgte den anderen, und ich folgte ihm, aus dem Krankensaal in den Ehrenhof, von dem sich uns der beste Blick auf das weitverzweigte Bauwerk
bot, auf die bunten Dachziegel, die mit Schnitzereien verzierten Dachluken, die Schieferplatten, und an dessen Rand ein Brunnen mit filigranem schmiedeeisernem Zierrat steht; ich folgte ihm, der anderen folgte, vom Ehrenhof in den kleineren Saal Saint-Hugues, in dem einst die Kranken und Alten untergebracht waren, die längerer Pflege bedurften, von dort in den Saal Saint- Nicolas, in dem die Todkranken und Sterbenden ihrem Ende entgegensahen, wir waren zusammen in der Apotheke,
der Küche, den Räumen, in denen die Alltagsgeräte längst vergangener Tage ausgestellt werden.
Er war etwa so alt wie ich, drahtig, mit einem kantigen Gesicht, hatte kurzgeschorenes Haar und einen kuriosen Bart, der als dünner weißer Strich von der Unterlippe zum Kinn herunterführte, wie eine schmerzende Kerbe. Er schien aufmerksam bei der Sache, zeigte einer neben ihm stehenden Frau mit ausgestrecktem Arm etwas an der Fassade, verzog bald für ein paar darüber er schreckende Kinder schmerzhaft das Gesicht, als sie vor einer Amputationsschere, einem Ausstellungsstück des
achtzehnten Jahrhunderts, standen, gesellte sich dann einer Gruppe von Männern zu, die sich im Hof ihre Zigaretten angezündet hatten."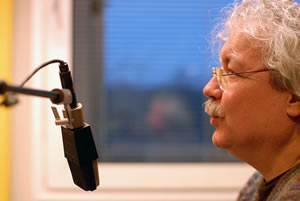 Karl-Markus Gauß (Salzburg, 14 mei 1954)

De Ierse schrijver Eoin Colfer (zijn voornaam wordt uitgesproken als Owen) werd geboren in Wexford op 14 mei 1965. Zie ook alle tags voor Eoin Colfer op dit blog.
Uit: Artemis Fowl
"Artemis felt that lump in his throat again.
"Perhaps we should open the curtains, Mother."
"No," his mother sobbed, releasing him from her grasp. "No. Because then I could see them, too."
"Mother, please."
But it was no use. Angeline was gone. She crawled to the far corner of the bed, pulling the quilt under her chin.
"Send the new girl."
"Yes, Mother."
"Send her with cucumber slices and water."
"Yes, Mother."
Angeline glared at him with crafty eyes. "And stop calling me Mother. I don't know who you are, but you're certainly not my little Arty."
Artemis blinked back a few rebellious tears. "Of course. Sorry, Moth - Sorry."
"Hmmm. Don't come back here again, or I'll have my husband take care of you. He's a very important man, you know."
"Very well, Mrs Fowl. This is the last you'll see of me."
"It had better be." Angeline froze suddenly. "Do you hear them?"
Artemis shook his head. "No. I don't hear any - "
"They're coming for me. They're everywhere."
Angeline dived for cover beneath the bedclothes. Artemis could still hear her terrified sobs as he descended the marble staircase.
The Book was proving far more stubborn than Artemis had anticipated. It seemed to be almost actively resisting him. No matter which program he ran it through, the computer came up blank."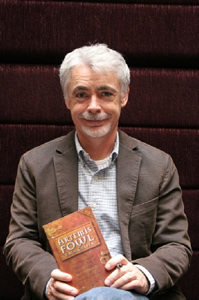 Eoin Colfer (Wexford, 14 mei 1965)
De Duitse schrijfster Gaby Hauptmann werd geboren op 14 mei 1957 in Trossingen. Zie ook alle tags voor Gaby Hauptmann op dit blog.
Uit: Ticket ins Paradies
"Sie waren am späten Nachmittag von Puerto Portals aus hierhergefahren. Als Einheimischer kannte Andrés jeden Winkel von Mallorca und hatte sie zu diesem einsamen Strand geführt, der, tief in eine Felsenlandschaft eingebet-tet, ein seltenes, vom Tourismus noch unentdecktes Kleinod war. Es waren diese wenigen Stunden, die sie sich davonstahlen, wenn der mittägliche Ansturm im Restaurant vorbei und bis zu den Abendstunden noch Zeit war. Andrés, seit Kurzem Geschäftsführer im Amici miei, einem der angesagtesten Restaurants der Insel, nahm seine Aufgabe ernst, und Clara unterstützte ihn. Ihren Traum, als Innenarchitektin auf Mallorca zu arbeiten, hatte sie zunächst hintangestellt.
Clara seufzte wohlig und ließ sich in den warmen Sand zurücksinken. Der Himmel über ihr war wolkenlos blau, und das Rauschen des Meeres fand sie noch immer unvergleichlich schön. Der gleichmäßige Schlag der Wellen be-ruhigte sie, und wenn sie zusah, wie die Gischt schäumend über den Sand züngelte, dann fühlte sie sich wie Robinson Crusoe, wie eine Pionierin der ersten Stunde, frei, ungebunden, abenteuerlich."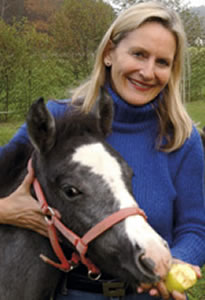 Gaby Hauptmann (Trossingen, 14 mei 1957)

De Italiaanse dichter Dante Alighieri werd tussen 14 mei en 13 juni 1265 (volgens hemzelf in de Divina Comedia in de Goede Week en in het teken van de Tweelingen) in Florence geboren. Zie ook alle tags voor Dante Alighieri op dit blog.
Uit: Divina Comedia
Canto I (Fragment)
Thou art not on the earth as thou believ'st;
For light'ning scap'd from its own proper place
Ne'er ran, as thou hast hither now return'd."
Although divested of my first-rais'd doubt,
By those brief words, accompanied with smiles,
Yet in new doubt was I entangled more,


And said: "Already satisfied, I rest
From admiration deep, but now admire
How I above those lighter bodies rise."
Whence, after utt'rance of a piteous sigh,
She tow'rds me bent her eyes, with such a look,
As on her frenzied child a mother casts;


Then thus began: "Among themselves all things
Have order; and from hence the form, which makes
The universe resemble God. In this


The higher creatures see the printed steps
Of that eternal worth, which is the end
Whither the line is drawn. All natures lean,


In this their order, diversely, some more,
Some less approaching to their primal source.
Thus they to different havens are mov'd on


Through the vast sea of being, and each one
With instinct giv'n, that bears it in its course;
This to the lunar sphere directs the fire,


This prompts the hearts of mortal animals,
This the brute earth together knits, and binds.
Nor only creatures, void of intellect,


Vertaald door H. F. Cary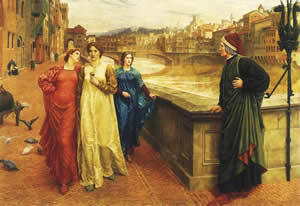 Dante Alighieri (14 mei/13 juni 1265 - 13/14 september 1321)
"Dante and Beatrice" door Henry Holiday, 1883


De Amerikaanse dichter en musicus Krister Axel werd geboren op 14 mei 1974 in Parijs.Zie ook alle tags voor Krister Alex op dit blog.
the death of a dream
this road that I have walked on all these years
does not exist. As if
the struggle was against nothing
shadows and easy promises
empty air and reflections
but no road to walk on.
this window I have stared through
for a full season of my life
has no purpose. There is nothing to see
on the other side, only
more of the same. It is not
as I imagined.
the only feeling I have
is that of drifting. Along
some corridor in my mind
that leads into soft madness
like a cloud of cotton
behind my nose
In September
In September I see boots before
the first rain, vast migrant flocks
flying before the last late sunset
threatens: a strange, nervous pox
which might never find a certain cure
where the stricken fly in nervous flocks
In September I can't focus, I
am estranged, staring out
at the passional leaves so proud
to be falling so many
dreams happily dying and by
each day these old colors flushing out.
Is that not the way, in September
of all things answering to
love? To be sudden, elegant
and trampled like the fallen truth
in September when time is so fast
and every moment is the last
moment of summer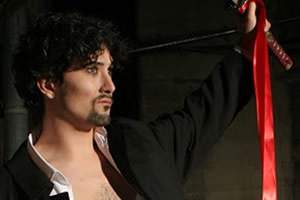 Krister Axel (Parijs, 14 mei 1974)
Zie voor nog meer schrijvers van de 14e mei ook mijn blog van 14 mei 2012 en ook mijn blog van 14 mei 2011 deel 2.

14-05-2013 om 18:59 geschreven door Romenu

Tags:Jo Gisekin, Karl-Markus Gauß, Eoin Colfer, Gaby Hauptmann, Dante Alighieri, Krister Axel, Romenu


13-05-2013

Jan Lauwereyns, Reinout Verbeke, Bruce Chatwin, Daphne du Maurier, Kathleen Jamie, Armistead Maupin
De Vlaamse dichter Jan Lauwereyns werd geboren op 13 mei 1969 in Antwerpen. Zie ook alle tags voor Jan Lauwereyns op dit blog.
Licht onder de hersenpan
Het stapeltje bladeren waar ik me voor had gezet is alweer
tot nul herleid. Nul: niets, problematisch oorsprong van alles.

Zie ik nu ijskoude staaltjes werkelijkheid?

Verklaren oogbewegingen in het donker welke beelden
zich vormen onder de hersenpan? Ik bedoel,
werpen ze er een licht op?

Of juist niet?

Blijf ik gedoemd snappshots te schieten met waar ik
veel kegeltjes heb op mijn netvlies.

Van dit landschap zie ik wat bloesem op een tak
van een - alles bij elkaar genomen -
verbluffende kersenboom.

Van je gezicht zie ik de komma, rechts,
vlak naast je mondhoek.
Gedicht/Niet-gedicht deel 2
Bij Rainer Maria Rilkes 'Lied vom Meer'

Oeroud waaien van meer, zeewind bij nacht
Jou ontgaat geen die wacht of zien zal hoe
Oeroud waaien van meer, zeewind des nachts
Jij zult weerstaan! Oeroud waaien van meer
Jou ontgaat wachten niet, noch verwijzen
Verstenigd weze van ruimte rijzen
Jij zult weerstaan! Aldoor waaien van meer
Zo gevoel je varen, diep in maanschijn
Verstrengeld wezen van ruimte rijze
Zo gevoel je varen, in maanschijn diep
Tijger
In een wereld
van goud,
dit askleurige
vloeiend
water,
daarvan
drinken,
(natuurlijk!)
een tijger.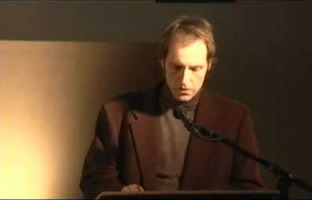 Jan Lauwereyns (Antwerpen, 13 mei 1969)
De Vlaamse dichter Reinout Verbeke werd geboren op 13 mei 1981 in Roeselare. Zie ook alle tags voor Reinout Verbeke op dit blog.
Sonar
Waar woon ik nog als jij morgen langzaam een klein eiland wordt,
zee vreet aan je rand
Wie ben ik nog als jij morgen langzaam een witte kamer wordt,
in een eindeloze gang
Wat ben ik nog als jij morgen langzaam een harde winter wordt,
masker van sneeuw
Waarom werkt jouw sonar niet?
Spreek! Zing! Schreeuw!
Waarom hoor ik nu mijn stem?
Echo wordt een wiegelied
Waarom krijg ik geen geluid?
Spreek! Zing! Schreeuw!
Waarom werkt jouw sonar niet?
Wat zijn wij nog als jij morgen voor altijd een vleermuis bent,
omgekeerd in mijn hoofd
Wat zijn wij nog als jij morgen voor altijd een wakke plek bent
in het ijs van de tijd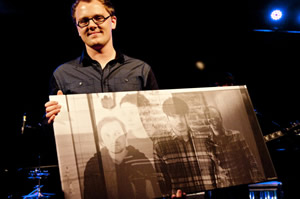 Reinout Verbeke (Roeselare, 13 mei 1981)

De Engelse schrijver Bruce Chatwin werd op 13 mei 1940 in Sheffield geboren. Zie ook alle tags voor Bruce Chatwin op dit blog.
Uit: In Patagonia
"And I saw myself, out alone on a green head land, scanning the horizon for the advance of the cloud.
And yet we hoped to survive the blast. We started an Emigration Committee and made plans to settle in some far corner of the earth. We pored over atlases. We learned the direction of prevailing winds and the likely patterns of fall-out. The war would come in the Northern Hemisphere, so we looked to the Southern. We ruled out Pacific Islands for islands are traps. We ruled out Australia and New Zealand, and we fixed on Patagonia as the safest place on earth.
I pictured a low timber house with a shingled roof, caulked against storms, with blazing log fires inside and the walls lined with the best books, somewhere to live when the rest of the world blew up.
Then Stalin died and we sang hymns of praise in chapel, but I continued to hold Patagonia in reserve."
(…)
Roberts added that Wilson had been a companion of Duffy (Harvey Logan), in Patagoniaand in Montana where they had done a train robbery. This can only be the Wagner TrainHold-up on June 3rd 1901. The composition of the gang was: Harvey Logan, ButchCassidy, Harry Longabaugh, Ben Kilpatrick 'The Tall Texan', with O. C. Hanks and Jim Thornhill in charge of horses.
Roberts's letter assumes that Evans and Wilson and Ryan and Place were four separateindividuals. But his descriptions tally exactly with those for Cassidy and the Kid, except inthe matter of age. This is not an insuperable problem. The Welsh policeman never sawthe outlaws face to face. And I found, in Patagonia, that people had the habit of underestimating age by ten to fifteen years."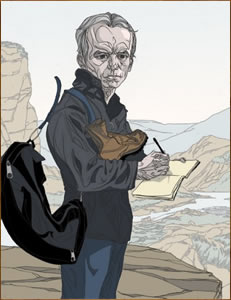 Bruce Chatwin (13 mei 1940 – 18 januari 1989)
Portret door de Amerikaanse schilder Shawn Yu

De Britse schrijfster Daphne du Maurier werd geboren in Londen op 13 mei 1907. Zie ook alle tags voor Daphne du Maurier op dit blog.
Uit: Rebecca
"No waves would come to ruffle this dream water, and no bulk of cloud, wind-driven from the west, obscure the clarity of this pale sky. I turned again to the house, and though it stood inviolate, untouched, as though we ourselves had left but yesterday, I saw that the garden had obeyed the jungle law, even as the woods had done. The rhododendrons stood fifty feet high, twisted and entwined with bracken, and they had entered into alien marriage with a host of nameless shrubs, poor, bastard things. that clung about their roots as though conscious of their spurious origin. A lilac had mated with a copper beech, and to bind them yet more closely to one another the malevolent ivy, always an enemy to grace, had thrown her tendrils about the pair and made them prisoners. Ivy held prior place in this lost garden, the long strands crept across the lawns, and soon would encroach upon the house itself. There was another plant too, some halfbreed from the woods, whose seed had been scattered long ago beneath the trees and then forgotten, and now, marching in unison with the ivy, thrust its ugly form like a giant rhubarb towards the soft grass where the daffodils had blown.
Nettles were everywhere, the van-guard of the army. They choked the terrace, they sprawled, about the paths, they leant, vulgar and lanky, against the very windows of the house. They made indifferent sentinels, for in many places their ranks had been broken by the rhubarb plant, and they lay with crumpled heads and listless stems, making a pathway for the rabbits. I left the drive and went on to the terrace, for the nettles were no barrier to me, a dreamer, I walked enchanted, and nothing held me back.
Moonlight can play odd tricks upon the fancy, even upon a dreamer's fancy. As I stood there, hushed and still, I could swear that the house was not an empty shell but lived and breathed as it had lived before."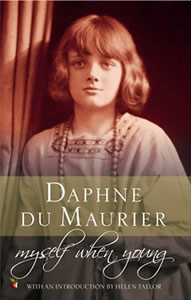 Daphne du Maurier (13 mei 1907 – 19 april 1989)
Cover

De Schotse dichteres Kathleen Jamie werd geboren op 13 mei 1962 in Currie, Edinburgh. Zie ook alle tags voor Kathleen Jamie op dit blog.
The Glass-hulled Boat

First come the jellyfish:
mauve-fringed, luminous bowls
like lost internal organs,
pulsing and slow.
Then in the green gloom
swaying sideways and back
like half-forgotten ancestors
– columns of bladderwrack.
It's as though we're stalled in a taxi
in an ill-lit, odd
little town, at closing time,
when everyone's maudlin
and really, ought just to go
home, you sorry inclining
pillars of wrack, you lone,
vaguely uterine jellyfish
– whom I almost envy:
spun out, when our engines churn,
on some sudden new trajectory,
fuddled, but unperturbed.
The Whale-watcher
And when at last the road
gives out, I'll walk –
harsh grass, sea-maws,
lichen-crusted bedrock –
and hole up the cold
summer in some battered
caravan, quartering
the brittle waves
till my eyes evaporate
and I'm willing again
to deal myself in:
having watched them
breach, breathe, and dive
far out in the glare,
like stitches sewn in a rent
almost beyond repair.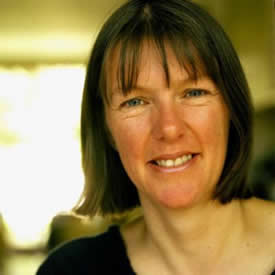 Kathleen Jamie (Currie, 13 mei 1962)
De Amerikaanse schrijver Armistead Jones Maupin Jr. werd geboren op 13 mei 1944 in Washington. Zie ook alle tags voor Armistead Maupin op dit blog.
Uit: Tales of the City
"What? I don't . . ."
"I'm not coming home, Mom."
For a moment, the line seemed to go dead. Then, dimly in the distance, a television announcer began to tell Mary Ann's father about the temporary relief of hemorrhoids. Finally, her mother spoke: "Now you're being silly, darling."
Mary Ann tried to stay calm. "I'm not being silly, Mom. I really feel comfortable here. I mean, it seems like home to me already."
More silence.
"Mom, I've thought about this for a long time."
"You've only been out there five days."
"I know, Mom, but I'm really sure about this. It's got nothing to do with you and Daddy. I just want to start making my own life, have my own apartment . . ."
"Oh, that. Well, of course you can, darling. As a matter of fact, your Daddy and I thought those new apartments out at Ridgemont might be just perfect for you. They take lots of young people, and they've got a swimming pool and one of those sauna things, and I could make some of those darling curtains like I made for Sonny and Vicki when they got married. You could have all the privacy you . . ."
Mary Ann's voice was gentle but firm. "Mom, you aren't listening to me. It isn't the privacy or living with you and Daddy or . . . any of that. It's just me. I love it here. I'm grown up now and . . ."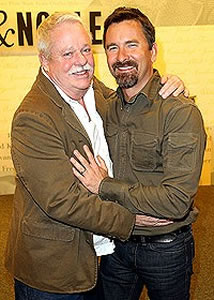 Armistead Maupin ( Washington, 13 mei 1944)
Hier met partner Christopher Turner
Zie voor nog meer schrijvers van de 13 mei ook mijn blog van 13 mei 2011 deel 1 en eveneens deel 2.

13-05-2013 om 19:04 geschreven door Romenu

Tags:Jan Lauwereyns, Reinout Verbeke, Bruce Chatwin, Daphne du Maurier, Kathleen Jamie, Armistead Maupin, Romenu


12-05-2013

P. C. Boutens, Hagar Peeters, Bertus Aafjes, August Vermeylen, Andrej Voznesensky, Eva Demski

Bij Moederdag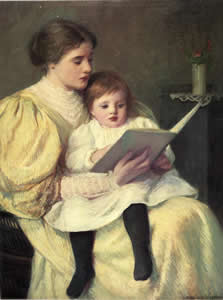 Mother and Child Reading door Frederick Warren Freer, 1896
Montgomery Museum of Fine Arts
Kind der aarde
Nu kom ik elke nacht, Moeder, slapen bij u thuis:
Geen afstand in de avond scheidt mij van uw liefdelichte huis.
Voorgoed uit al Gods sterren ken ik de eigen moeder mijn:
Daar is niets in de wijde heemlen als uw ogenschijn.
Hoe vindt de schaamte mijner ogen, Moeder, u onveranderd schoon;
Hoe bleef gij trouw en goed, Moeder, voor de ontrouwe zoon!
Ik slaap zoals een ongeboren kind zou slapen in uw schoot,
En drink uw koele donkre kracht in nachtelijke dood,
En elke nieuwe morgen in het nieuwe licht
Rijs ik op sterker vleuglen, Moeder, weg uit uw gezicht:
Als ziel en vogel die zijn moeheid dichtst aan uw hart verslaat,
Die stijgt en zingt het naast bij God met iedren dageraad...
Zo laat mij elke nacht, Moeder, slapen bij u thuis:
Mij kan geen afstand scheiden, Moeder, van uw liefdelichte huis!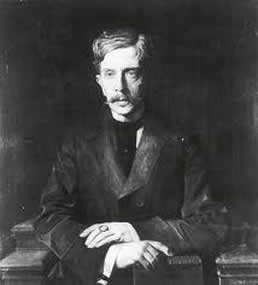 P. C. Boutens (20 februari 1870 – 14 maart 1943)
De Nederlandse dichteres Hagar Peeters werd geboren in Amsterdam op 12 mei 1972. Zie ook alle tags voor Hagar Peeters op dit blog.
Tegen het verdwalen
Lente. De stilte is krols.
Een lach komt ten val
aan geluk.

Twee vliegen breken
het raam, weten
dat het je de das omdoet

als je voorgoed je lijfs-
behoud aan gene zijde
ervan zoekt

rommelt de lucht
nabij, stommelt
een vrouw
op de trap
geur van lokroep

verlaten vlinders
bijtijds onderkomens
om vogels, naar vlinders
op zoek.

Gevonden ben je allang.
Hoe ben je anders bij mij.
Je lichaam
Je lichaam ja je lichaam
je behaarde onbeschaamde lichaam
je zinderend witte lichaam
je languit liggende lichaam

dat mij aanstaart met gaten en gleuven,
met dotsels, kroezen en poezeligs
of zich schuilhoudt in mazen en lakens
of puilt uit pakken omvatsels,

het is almaar je lichaam je lichaam
je lonkend luibekkige lichaam
je kronkelig wiggende lichaam
je onzichtbaar opwinderig lichaam

je zonder schaamte aankomende lichaam
je lawaaiig klaarkomende lichaam
je zich naar mij omdraaiende lichaam
je zich ook wel afwendende lichaam

je mij nooit onwennige lichaam
je mij nooit onbekende lichaam
je mij nooit onbeminde lichaam
je altijd aanwezige lichaam.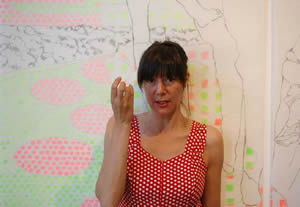 Hagar Peeters (Amsterdam, 12 mei 1972)
De Nederlandse schrijver en dichter Bertus Aafjes (pseudoniem Jan Oranje) werd geboren in Amsterdam op 12 mei 1914. Zie ook alle tags voor Bertus Aafjes op dit blog.
Verliefde duiven
Verliefde duiven koeren in de bloemen:
"Broeders en zusters, wie is nu de bruid,
Die als Jehovah met geen naam te noemen,
Slechts in vertedering wordt aangeduid?"

En in het hoog gewirwar van de palmen
Vlechten zij haastig en bedeesd het bed,
Uit een gevonden keur van zachte halmen
En gouden spijlen in elkaar gezet.

Waar zijt gij nu, mijn kleinood,
Die licht te vangen waart en te ontroeren,
En die ik als een duif kon laten koeren,
Als ik u vaster in mijn armen sloot?
Ik mis haar daaglijks, meer dan spijs en drank,
Die zoete stroom van onverstaanbre klank.
De hemel
De hemel staat met sterren volgegoten
Als met gesmolten zilveren metaal;
De nacht is krank van zwangre bloesemloten,
Waartussen ik gedwongen ademhaal.

En steeds als ik in uiteindelijk erbarmen
Rijst uit de nacht uw beeltnis, naakt en blank;
Mijn droom omhelst u met onzichtbre armen,
Mijn lippen kussen u schier zonder klank.

Gij zijt er zo onloochenbaar en zuiver,
Gelijk een kaarsvlam, in zijn ernst verstard,
Soms weggetild als in een lichte huiver
Onder de snelle aandrang van mijn hart:
Dan beeft gij plotseling op in uw bestaan,
Alsof gij vreest teloor te zullen gaan.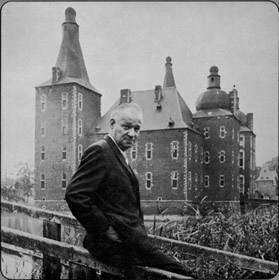 Bertus Aafjes (12 mei 1914 - 22 april 1993)
Voor kasteel Hoensbroek, waar Aaafjes tussen 1951 en 1973 woonde.

De Vlaamse schrijver, dichter, kunsthistoricus en politicus August Vermeylen werd geboren in Brussel, op 12 mei 1872. Zie ook alle tags voor August Vermeylen op dit blog.
Uit: Heimwee
"Het scheen hem dat hij zich iets moest herinneren... Er was iets gebeurd, het was hem alsof hij, in wie weet welk drama, een vergeten rol had gespeeld, heel-en-al vergeten... Gedroomd... hij had zeker gedroomd, dezen nacht...
En zijn geest neêr in een korte duizeling... En, ineens, zo hij voor den spiegel stond, deed dat spiegelvlak hem denken aan een kalm breed water, ergens gezien, - elders... Maar 't was vergeten,... verloren!...
Neen, hij zag het nu terug in een vluggen schijn: hij had gedroomd van een hoofd, een vrouwehoofd, een lang kwijnend gezichtje, heel dun de lippen en glimlachend vreemd. Maar in welk ingebeeld en geestelijk land had hij dat gezien? in welke pleinen van dromen?... O ja, hij wist nu: een lange vlakte lag, van groenlichtend water, en weggedampt in horizonnen. Alles te schoon, ontrustend schoon. En hij was daar, vond alles heel natuurlijk. Hij zag hoe 't water stil asemde, - en uit de slingeringen en de rappe groenglansen was opengebloeid en gerezen, met de twee ovalen der ogen die waren als zeer vreemde zeebloemen, dat vrouwehoofd.
Hij wist dat het komen moest, en was eerst niet verwonderd. Het wiegelde langzaam in kringelingen van licht, en alleen bleef onbeweeglijk de blik der groenachtige krystalogen, de dichtgenepen lipjes wenkten met den glimlach van een versmadend en pruilend kind. En men raadde het lichaam stengelslank, en twee zeer kleine borsten, met daarrond de zoutringen van 't water.
Hij werd nu bevreesd dat alles zo bladstil bleef, rond dat geheimzinnig hoofdje dat onbekende, geduchte machten moest bezitten... Waarom daar ineens zo opgeboren voor heur eigen schoonheid, ach zo tenger? En wat scheen dat hoofdje haar te zwaar, het broze meisje!... Het wiegelde langzaam heen en weer boven het water in een onverschillig lui gedans... "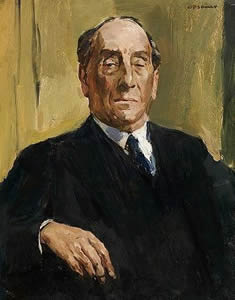 August Vermeylen (12 mei 1872 – 10 januari 1945)
Portret door Isidore Opsomer, 1939
De Russische dichter Andrej Andreyevich Voznesensky werd geboren in Moskou op 12 mei 1933. Zie ook alle tags voor Andrej Voznesensky op dit blog.
THE CASHIER
The dumb herd scowled:
"You've short-changed us," they howled.
Pennies like medals stuck in the crust
Of sawdust.

The cashier flew into a rage—
"Nonsense! Be off with you! Go!"—
And rose like dough
From her glass cage.

Over counters where they sell
Cheese cakes and melons was blown
A sudden smell
Of tears and ozone.

Loud was the smell of tears
Among that lowing crowd:
The hands of one dumb pair
Howled in the air.

Clutching bacon, somebody swore,
Or so I imagined: at least, he
Gave a Beethovenish roar,
Earthy and shaggy.

Drumming of knuckle and palm
On the glass plate;
So bellowed the psalm
Of my dumb fate.

With a knowing leer
The cashier
Peered at a bill she held up to the light
To see if Lenin's profile looked all right.

But Lenin wasn't there any more:
The bill was counterfeit.
It was a grocery store
Where people and farces meet.



Vertaald door W.H. Auden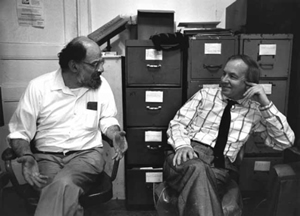 Andrej Voznesensky (12 mei 1933 – 1 juni 2010)
Hier met dichter Allen Ginsberg in 1985
De Duitse schrijfster Eva Demski werd geboren op 12 mei 1944 in Regensburg. Zie ook alle tags voor Eva Demski op dit blog.
Uit: Gartengeschichten
"Nun war sie tot, wir begruben ihre Urne, und ihr Garten schlief noch immer tief. Schnee fiel in diesem Winter, nicht viel, aber genug, um alles gleich aussehen zu lassen – ihren Garten und die Nachbargärten. Über die hatte sie sich oft lustig gemacht: Schwarzwald für Arme. Nagelscherenrasen.
Manchmal war sie auch neidisch: Schau dir diese Maréchal Niel an. Bei mir das reinste Läusefestival!
In den drei Jahren, die sie nach dem Tod meines Vaters allein verbrachte, beschwerte sie sich manchmal über ihren Garten wie über ein Lebewesen, das unmäßige Forderungen stellt.
Elfhundert Quadratmeter, viel zuviel für einen einzelnen Menschen. Du weißt ja nicht, was das heißt, du mit deinem Handtuch! Und schon war es wieder da, unser zuverlässiges Begleitge
spenst: das schlechte Gewissen.
Nicht, daß mein Vater der große Gartenhelfer gewesen wäre, sein Gebiet war eher die Grenzüberschreitung zwischen Erdarbeiten und Utopie: Da muß ein Teich hin! Hier könnte man ein Gartenhaus brauchen!
Jetzt fehlten ihr die Pläne, gegen die sie sich hätte wehren können, um dann irgendwann doch nachzugeben. Man könnte sagen, daß aus Zukunft eine zunehmend mühevolle Abfolge von Gegenwärtigkeit geworden war. Schon wieder Hecken schneiden, schon wieder mähen, schon wieder jäten.
Momente des Entzückens stellten sich seltener ein – die blühende Spalieraprikose an der Südwand, die lodernde weiße Strauchpäonie, unter der unser erster Kater, Angkor, begraben lag – er war ein ganz besonderer Liebling gewesen. Die Katzen, die ihm gefolgt waren, hatten ihr Friedhöfchen in der
dunklen Kompostecke, jede mit eigenem Stein, auf dem ihr Namen stand: Michi, Afra, Amu, Thymian. Geblieben war ihr Pascha, der vierundzwanzigjährige Kater, der sie um eineinhalb Jahre überleben sollte."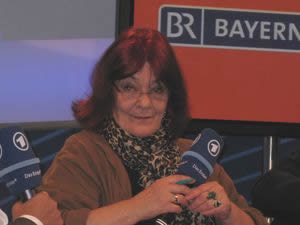 Eva Demski (Regensburg, 12 mei 1944)

Zie voor nog meer schrijvers van de 12e mei ook mijn vorige twee blogs van vandaag.

12-05-2013 om 08:17 geschreven door Romenu

Tags:P. C. Boutens, Hagar Peeters, Bertus Aafjes, August Vermeylen, Andrej Voznesensky, Eva Demski, Moederdag, Romenu



Sabine Imhof, Farley Mowat, Dante Gabriel Rossetti, Werner Bräunig, Cäsar Flaischlen, Edward Lear
De Zwitserse dichteres Sabine Imhof werd geboren in Brig in 1976. Zie ook alle tags voor Sabine Imhof op dit blog.
idaho


ich mache ein paar fliegen
in der kopiermaschine alle
und nenne den ausdruck
impression eines sommers
in schwarzweiß schwimmt
mein eingemachtes herz
in dosen gegen den stromausfall
deiner haut habe ich tausend
volt in meinen küssen und
lege feuerwerke frei in
deinem keller erinnert sich
ein fenster an mein gesicht.
kleine welt
(für meinen Vater)
das kind der umwege
das mit dem gewicht des hauses ging
brach sich in fremden sprachen das genick
tanzte mit halben hunden um den reim
& alles
war eine antwort auf liebe,
verbliebene lücken im raum.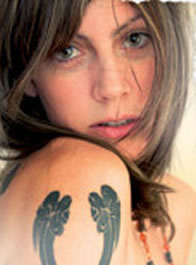 Sabine Imhof (Brig, 12 mei 1976)
De Canadese schrijver Farley Mowat werd geboren in Belleville, Ontario, op 12 mei 1921. Zie ook alle tags voor Farley Mowat op dit blog.
Uit: Lost in the Barrens
"The month of June was growing old. It had been a year since Jamie Macnair left Toronto, the city of his birth, to take up a new life in the subarctic forests of northern Canada. Beside the shores of Macnair Lake the tamaracks were greening now after the winter's blackness. Out on the lake great loons cried shrilly. As Jamie squatted in front of the log cabin, helping his uncle bale up the winter's catch of furs, he tried to remember how he had felt on that day, a year past, when he climbed out of the train at the lonely frontier town called The Pas to meet his uncle.
Jamie's uncle, Angus Macnair, had been a trader in the arctic, the master of a sealing schooner in the Bering Sea, and finally a trapper who roamed over the broad forests of the north. To Jamie, his uncle was almost a legend, and when the telegram came from him it filled the boy with excitement.
ARRANGEMENTS MADE FOR YOU TO JOIN ME AT THE PAS STOP LETTER WITH DETAILS FOLLOWS.
ANGUS MACNAIR
That eagerly awaited letter had brought with it some unhappiness for Jamie. It had reminded him sharply of the tragedy of his parents' deaths in a car accident seven years ago. And it had made clear something he had never really faced before – that apart from his uncle, whom he had never seen, he was truly alone. During the past seven years he had taken the security of the boarding school for granted. But, reading Angus Macnair's letter, he realized that it was no real home, and had never been one."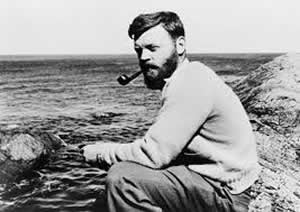 Farley Mowat (Belleville, 12 mei 1921)

De Engelse schilder en dichter Dante Gabriel Rossetti werd op 12 mei 1828 inLonden geboren. Zie ook alle tags voor Dante Gabriel Rossetti op dit blog.
From The House Of Life The Sonnet
A Sonnet is a moment's monument,
Memorial from the Soul's eternity
To one dead deathless hour. Look that it be,
Whether for lustral rite or dire portent,
Of its own arduous fulness reverent:
Carve it in ivory or in ebony,
As Day or Night may rule; and let Time see
Its flowering crest impearl'd and orient.

A Sonnet is a coin: its face reveals
The soul,--its converse, to what Power 'tis due: --
Whether for tribute to the august appeals
Of Life, or dower in Love's high retinue,
It serve; or, 'mid the dark wharf's cavernous breath,
In Charon's palm it pay the toll to Death.
For The Holy Family By Michelangelo
TURN not the prophet's page, O Son! He knew
All that Thou hast to suffer, and hath writ.
Not yet Thine hour of knowledge. Infinite
The sorrows that Thy manhood's lot must rue
And dire acquaintance of Thy grief. That clue
The spirits of Thy mournful ministerings
Seek through yon scroll in silence. For these things
The angels have desired to look into.
Still before Eden waves the fiery sword,—
Her Tree of Life unransomed: whose sad Tree
Of Knowledge yet to growth of Calvary
Must yield its Tempter,—Hell the earliest dead
Of Earth resign,—and yet, O Son and Lord,
The seed o' the woman bruise the serpent's head.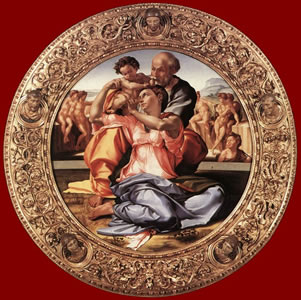 Dante Gabriel Rossetti (12 mei 1828 - 9 april 1882)
Michelangelo, De Heilige Familie
De Duitse schrijver Werner Bräunig werd geboren op 12 mei 1934 in Chemnitz. Zie ook alle tags voor Werner Bräunig op dit blog.
Uit: Rummelplatz
"Hinter dem Platz lauert die Dunkelheit. Zwei Farben nur hat die Landschaft, weiß und grau, das Dorf ist schmutzig am Tag und schon finster am Nachmittag, abends ist es ein böses, geschundenes, heimtückisches Tier, zu Tode erschöpft und gierig. Es ist ein Tier auf der Lauer, ein Tier in der Agonie, es hat sich verborgen in der Dunkelheit, es schweigt. Der Platz aber ist hell, er täuscht Wärme vor und Lebendigkeit.(...) Der Platz aber ist hell, und die Menschen hier hungern nach Helligkeit stärker und verzweifelter als anderswo. Im Gebirge sind sie fremd, untertage sind sie allein, allein mit sich und dem Berg, allein mit ihren Hoffnungen, ihren Zweifeln, ihrer Gleichgültigkeit, allein mit der Dunkelheit und der Gefahr. Die Dunkelheit ist um sie und in ihnen, und ist auch kein bestirnter Himmel über ihnen, da ist nur der Berg mit seiner tödlichen Last und seiner Stille. Als Glücksritter sind sie aufgebrochen, als Gestrandete, Gezeichnete, Verzweifelte, als Hungrige. Sie sind über das Gebirge hergefallen wie die Heuschrecken. Jetzt zermürbt sie das Gebirge mit seinen langen Wintern, seiner Eintönigkeit, seiner Nacktheit und Härte. Wenn nichts sie mehr erschüttern kann, nach allem, was hinter ihnen liegt, das Licht erschüttert sie. Wenn sie nichts mehr ernst nehmen, das 'Glück auf' nehmen sie ernst. Uralte Verlockung der Jahrmärkte. Locker sitzen die Fäuste in den Taschen, die Messer, die zerknüllten Hundertmarkscheine, der Rubel rollt."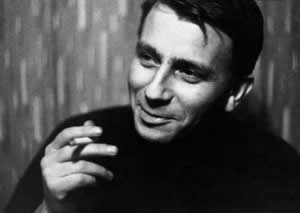 Werner Bräunig (12 mei 1934 – 14 augustus 1976)
De Duitse dichter en schrijver Cäsar Flaischlen werd geboren op 12 mei 1864 in Stuttgart. Zie ook alle tags voor Cäsar Flaischlen op dit blog.
Armes Herz du, immer wieder
Armes Herz du, immer wieder
jubelst du die Sehnsuchtslieder
deiner Liebe laut empor . .
armes Herz, und immer wieder
steht du vor verschlossenem Tor!

Aber . . lass es dich nicht grämen,
lass dir, was du glaubst, nicht nehmen,
und erfüllt es sich dir nie . .
einsam, wie du stets gewesen,
wandere deine Wege weiter,
ohne jemand anzuklagen,
ohne Grollen
was auch fällt . .
lern, von niemand was zu wollen,
lern, in dir allein zu tragen,
was dich hält,
und die Sehnsucht deiner Liebe
sing sie wunschlos in die Welt!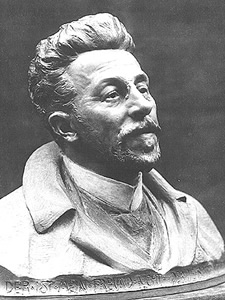 Cäsar Flaischlen (12 mei 1864 – 16 oktober 1920)
De Engelse dichter, schrijver en illustrator Edward Lear werd geboren op 12 mei 1812 in Highgate. Zie ook alle tags voor Edward Lear op dit blog.
There was an Old Man of the Hague
There was an Old Man of the Hague,
Whose ideas were excessively vague;
He built a balloon
To examine the moon,
That deluded Old Man of the Hague.
There was an Old Person of Berlin
There was an Old Person of Berlin,
Whose form was uncommonly thin;
Till he once, by mistake,
Was mixed up in a cake,
So they baked that Old Man of Berlin.
There was a Young Person of Smyrna
There was a Young Person of Smyrna,
Whose Grandmother threatened to burn her;
But she seized on the cat,
And said, 'Granny, burn that!
You incongruous Old Woman of Smyrna!'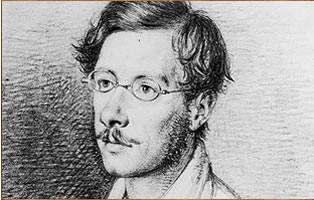 Edward Lear (12 mei 1812 – 29 januari 1888)
Portret door WN Marstrand

12-05-2013 om 08:10 geschreven door Romenu

Tags:Sabine Imhof, Farley Mowat, Dante Gabriel Rossetti, Werner Bräunig, Cäsar Flaischlen, Edward Lear, Romenu



Nicolaas Anslijn, Diana Raznovich, Andrej Amalrik, Maurice Carême, Massimo Bontempelli
De Nederlandse schrijver Nicolaas Anslijn werd op 12 mei 1777 geboren in Leiden. Zie ook alle tags voor Nicolaas Anslijn op dit blog.
Uit: De brave Hendrik
"Ik ben laatst bij Hendrik aan huis geweest, maar gij moest eens zien, hoe gehoorzaam hij zijnen ouders is.
Als zij hem zeggen, dat hij iets doen moet, dan doet hij het ook terstond.
Hij wacht nooit tot zij het hem tweemaal zeggen.
Hij zegt ook nooit: laat mijn broer of mijne zuster het doen; maar hij is altijd blijde, als hij iets voor zijne lieve ouders doen kan.
Als zij hem iets verbieden, dan laat hij het ook dadelijk.
Hij vraagt nooit: waarom moet ik dat laten?
Hij ziet ook nooit knorrig, als zijne ouders hem iets verbieden.
Ik prees Hendrik om zijne gehoorzaamheid, maar hij wilde niets daarvan hooren.
Wat denkt gij, dat hij mij antwoordde?
Mijne ouders weten zeer wel, waarom zij mij iets gebieden of verbieden.
Zij weten wel, wat mij nuttig of schadelijk is.
Foei! zou ik ongehoorzaam wezen? Zou ik mijne ouders bedroeven?
Toen ik laatst eens ongehoorzaam was, stonden mijne moeder de tranen in de oogen; maar ik zal wel zorg dragen, dat het niet weder gebeurt.
Ik antwoordde niets: maar ik nam het besluit om in het vervolg ook zoo gehoorzaam te zijn als Hendrik."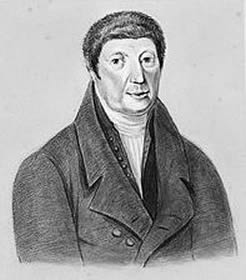 Nicolaas Anslijn (12 mei 1777 — 18 september 1838)
De Argentijnse schrijfster, theatermaakster en caricaturiste Diana Raznovich werd geboren op 12 mei 1945 in Buenos Aires. Zie ook alle tags voor Diana Raznovich op dit blog.
Uit: Herbstzeitlose (Vertaald door Gerd-Rainer Prothmann)
"ROSALIA schenkt ihr nach. GRISELDA schläft augenblicklich ein.
ROSALIA Erzähl mir was. Irgendwas Persönliches.
GRISELDA
(halb betäubt wird sie wach)
Ja, ja. Hab ich dir nie von Daniel erzählt?
ROSALIA Wer ist Daniel?
GRISELDA Ein Freund, den ich mal hatte. Er war Student der Literaturwissenschaft
und hat Mama überhaupt nicht gefallen. Was kann denn schon bei Literatur
rauskommen, sagte sie mir. Poesie, Mama. Poesie. Es dreht sich alles. Und
alles dreht sich. Die Planeten drehn sich. Der Mond.
ROSALIA Ja, du musst mit mir zu Félix kommen.
GRISELDA Nein, Rosalia, nein! Ich habe einige Prinzipien und Anschauungen. Und
ich habe 20 Jahre in deinem Haus gelebt und habe das toleriert, aber nicht
akzeptiert. Soll ich dir was kochen?
ROSALIA Nein!
GRISELDA Ich singe dir was.
ROSALIA Ja, was Spanisches.
GRISELDA schickt sich an, irgendeinen Flamenco zu singen.
Und was passierte mit Daniel?
GRISELDA Er hat mich angelogen. Er kannte komplizierte Dichter, die ich nicht
kannte. Und eines Tages brachte er mir das Gedicht eines solchen Dichters
und hat mir erzählt, es wäre von ihm. Und ich hab das geglaubt. Ich hab mich
noch mehr in ihn verliebt, weil ich dachte, es wäre von ihm.
"In unseren dunklen Gewässern
Funkelt beständig ein Glanz:
Der Ring einer Braut
Oder das wachsame Auge Gottes."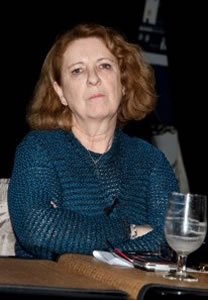 Diana Raznovich (Buenos Aires,12 mei 1945)
De Russische schrijver en dissident Andrej Aleksejevitsj Amalrik werd geboren in Moskoui op 12 mei 1938. Zie ook alle tags voor Andrej Amalrik op dit blog.
Uit: Will the Soviet Union Survive Until 1984?
"The Soviet System does not intend to restore Stalinism, or to persecute the members of the intelligentsia, or to help those who do not ask for it. It just wants everything to be unchanged. People should recognize authority, the intelligentsia should be quiet, and dangerous reforms should not threat the system. The Soviet regime does not attack. It just protects itself. Its slogan is: "Let everything be unchanged". It must have been the most humane goal of the Soviet System. That's why the Soviet citizens, also the heads of industry, writers, and producers are less free than they were fifteen years earlier. The authorities tried to make reforms. As a result, the old bureaucratic elite would be replaced with a new, more intelligent and open-minded society. "But we know that there have never been clever persons in the history of Russia. And the history of mankind has never meant progress". The process of liberalization is often hindered and degraded instead of hastening. That's why we doubt in its success. There was an impression that the plan of liberalization has been drawn up and that the reforms were made, but actually there was not any plan of liberalization. There were only attempts of decorating the bureaucratic system."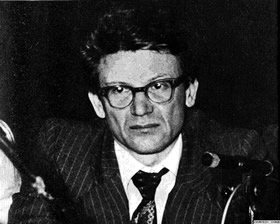 Andrej Amalrik (12 mei 1938 - 12 november 1980)
De Belgische, Franstalige, dichter en schrijver Maurice Carême werd geboren op 12 mei 1899 in Waver bij Brussel. Zie ook alle tags voor Maurice Carême op dit blog.
LA FILLETTE ET LE POEME
"Le poème, qu'est-ce que c'est ?
M'a demandé une fillette :
Des pluies lissant leurs longues tresses,
Le ciel frappant à mes volets,
Un pommier tout seul dans un champ
Comme une cage de plein vent,
Le visage triste et lassé
D'une lune blanche et glacée,
Un vol d'oiseaux en liberté,
Une odeur, un cri, une clé ?"
Et je ne savais que répondre
Jeu de soleil ou ruse d'ombre ? -
Comment aurais-je su mieux qu'elle
Si la poésie a des ailes
Ou court à pied les champs du monde ?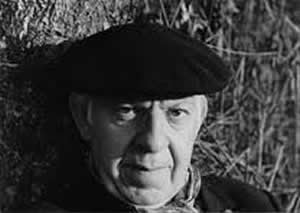 Maurice Carême (12 mei 1899 - 13 januari 1978)
De Italiaanse schrijver en dichter Massimo Bontempelli werd geboren op 12 mei 1878 in Como. Zie ook alle tags voor Massimo Bontempelli op dit blog.
Uit: The Chess Set in the Mirror (Vertaald door Estelle Gilson)
'And now,' he continued, getting more heated, 'it's time you knew the facts. You should know that chess pieces are much, much older than people. Humans were created many centuries after chess pieces, and they are gross imitations of pawns and bishops, kings and queens. Even their horses are imitations of ours. Then they built towers to imitate what we had. After that, they did a lot of other things, but those are superfluous. And everything that occurs among human beings, especially the most important things, which one studies in history, are nothing more than confused imitations and a hodgepodge of variants of the great games of chess we have played. We are the exemplars and governors of humanity. Those things I told you before concerned the other images, and I feel sorry for them, but we are truly eternal. And we, effectively, are in charge of the world. We are the only ones who have a raison d'être and an ideal.' "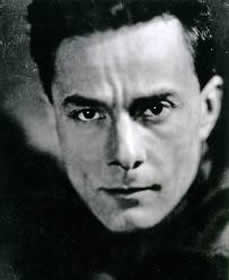 Massimo Bontempelli (12 mei 1878 – 21 juli 1960)


12-05-2013 om 08:06 geschreven door Romenu

Tags:Nicolaas Anslijn, Diana Raznovich, Andrej Amalrik, Maurice Carême, Massimo Bontempelli, Romenu



| | |
| --- | --- |
| | |



Inhoud blog


| | |
| --- | --- |
| | Markus Breidenich, Yi Mun-yol, W.G. Sebald, François Nourissier, Gunnar Gunnarsson |
| | Ernst Wiechert, Omar Khayyam, Franziska zu Reventlow, Bertrand Russell, John Wilson |
| | Lars Gustafsson, Peter Høeg, Gary Paulsen, Henri Barbusse, Virginie Loveling, Mischa Andriessen |
| | Adrienne Rich, Paul Gellings, Friedrich Rückert, Jakob van Hoddis, Juan Rulfo |
| | Arthur Schnitzler, Albert Verwey, Pem Sluijter, W.J.M. Bronzwaer, Edwin Muir |
| | Jo Gisekin, Karl-Markus Gauß, Eoin Colfer, Gaby Hauptmann, Dante Alighieri, Krister Axel |
| | Jan Lauwereyns, Reinout Verbeke, Bruce Chatwin, Daphne du Maurier, Kathleen Jamie, Armistead Maupin |
| | P. C. Boutens, Hagar Peeters, Bertus Aafjes, August Vermeylen, Andrej Voznesensky, Eva Demski |
| | Sabine Imhof, Farley Mowat, Dante Gabriel Rossetti, Werner Bräunig, Cäsar Flaischlen, Edward Lear |
| | Nicolaas Anslijn, Diana Raznovich, Andrej Amalrik, Maurice Carême, Massimo Bontempelli |
| | J. H. Leopold, Ida Gerhardt, Andre Rudolph, Rubem Fonseca, Henning Boëtius, Camilo José Cela |
| | Rachel Billington, Rose Ausländer, Carl Hauptmann, Ethel Lilian Voynich, Latīf Nāzemī, Leopoldo de Luis |
| | J.C. Bloem, Herman Leenders, Didi de Paris, Petra Hammesfahr, Ralf Rothmann, Jeremy Gable, Roberto Cotroneo |
| | Jacques Perk, Pieter Boskma, Jotie T'Hooft, Charles Simic, Jan Drees, Leopold Andrian |
| | Thomas Pynchon, Roddy Doyle, Pat Barker, Gary Snyder, Gertrud Fussenegger |
| | Willem Elsschot, Almudena Grandes, Christoph Marzi, Edgar Cairo, Volker Braun, Robert Browning |
| | Libris Literatuurprijs 2013 voor Tommy Wieringa |
| | Willem Kloos, Ariel Dorfman, Erich Fried, Yasushi Inoue, Harry Martinson |
| | Gouden Boekenuil 2013 voor Oek de Jong |
| | Frans Pointl, Petra Else Jekel, Miklós Radnóti, Morton Rhue, Christopher Morley, George Albert Aurier |
| | Henryk Sienkiewicz, Richard Watson Dixon, Hans Werner Kolben, Christian Friedrich Scherenberg, Wouter Steyaert, Catullus |
| | Adriaan Roland Holst, Amos Oz, Christiaan Weijts, Monika van Paemel, Graham Swift |
| | David Guterson, Jan Mulder, Werner Fritsch, Olia Lialina |
| | Jacques Lanzmann, Ishita Bhaduri, Gerlind Reinshagen, Maxence Van der Meersch, Wilhelm Lehmann |
| | Jehuda Amichai, Erik Lindner, Ben Elton, Johan de Boose, Jens Wonneberger |
| | Gottfried Benn, Esther Freud, Novalis, James Holmes, Georges-Arthur Goldschmidt |
| | Tilman Rammstedt |
| | Guido Gezelle, Johano Strasser, Yasmina Reza, Joseph Heller, Yánnis Rítsos |
| | Bij de inhuldiging van koning Willem-Alexander |
| | Konstantínos Petros Kaváfis, Bernhard Setzwein, Alejandra Pizarnik, Walter Kempowski, Bjarne Reuter |
| | Roberto Bolaño, Harper Lee, Karl Kraus, Nezahualcóyotl |
| | Auguste Barbier, Ğabdulla Tuqay, Charles Cotton, Bruno Apitz |
| | Astrid Roemer, Hovhannes Shiraz, August Becker, Edwin Morgan, Jules Lemaître |
| | Cecil Day Lewis, Mary Wollstonecraft, Hans Bemmann, August Wilson, Fethullah Gülen, Martin Gray |
| | Bernard Malamud, Vincente Alexandre, Leo Stilma, Hannelies Taschau, Theun de Vries |
| | Ted Kooser, James Fenton, Walter de la Mare, Ross Franklin Lockridge Jr., Richard Anders |
| | Frans Coenen, Eric Bogosian, Robert Penn Warren, Michael Schaefer, Carl Spitteler |
| | William Shakespeare, Andrey Kurkov, Pascal Quignard, Peter Horst Neumann, Christine Busta |
| | Vladimir Nabokov, Jan de Hartog, Björn Kern, Chetan Bhagat, Peter Weber, Gert W. Knop, Madame de Staël |
| | Charlotte Brontë, Michael Mann, Patrick Rambaud, John Mortimer, Gerrit Wustmann |
| | Peter Schneider, Meira Delmar, Alistair MacLean, Népomucène Lemercier, María Elena Cruz Varela |
| | Martinus Nijhoff, Jan Cremer, Jean Pierre Rawie, Sebastian Faulks, Jozef Deleu,Steve Erickson |
| | Arto Paasilinna, Michel Leiris, Emmanuel Bove, Henry de Montherlant, Charles Maurras |
| | Herman Bang, Henry Tuckerman, Aloysius Bertrand, Pietro Aretino, Dinah Craik |
| | Manuel Bandeira, n. c. kaser, Veniamin Kaverin, Pierre-Jean de Béranger, Louis Amédée Achard, Werner Rohner |
| | Bas Belleman, Clara Eggink, Kathy Acker, Joy Davidman, Richard Harding Davis, Henry Kendall |
| | Antoon Coolen, Ida Boy-Ed, Nick Hornby, Thornton Wilder |
| | Kingsley Amis, Patricia De Martelaere, Sarah Kirsch, Tristan Tzara, Ewald Vanvugt, Jan Luyken |
| | Tomas Tranströmer, Henry James, Daniël Samkalden, Jérôme Lambert, Benjamin Zephaniah, Wilhelm Busch, Ina Boudier-Bakker |
| | Alexandre Jardin, Roman Graf, Tjitse Hofman, Péter Esterházy, Landolf Scherzer, Gabriele Stötzer |


Gastenboek


Druk op onderstaande knop om een berichtje achter te laten in mijn gastenboek