E-mail mij


Druk op onderstaande knop om mij te e-mailen.


Romenu


Romenu is een blog over gedichten, literatuur en kunst Maar Romenu is ook een professionele freelance vertaler
Du-Ne en Ne-Du http://www.romenu.nl.


Huur eens een (vakantie)huis in een natuurgebied, dichtbij het centrum van Nijmegen


Google


Georg Trakl

Georg Trakl werd op 3 februari 1887 in het conducteurshuis aan de Waagplatz 2 in Salzburg geboren. Zijn vader, Tobias Trakl, was een handelaar in ijzerwaren en zijn moeder, die ook psychische problemen had, was Maria Catharina Trakl, (meisjesnaam Halik). Voorts had hij nog drie broers en drie zussen. Margarethe (doorgaans Grethe genoemd) stond hem het naast, zelfs zodanig dat sommigen een incestueuze verhouding vermoeden. Zijn jeugd bracht hij door in Salzburg. Vervolgens bezocht hij van 1897 tot 1905 het humanistische gymnasium. Om toch een academische opleiding te kunnen volgen, werkte hij tot 1908 in de praktijk bij een apotheker. Sommigen vermoedden dat hij dit vooral deed om zichzelf opiaten te kunnen verschaffen. Bij het uitbreken van WO I werd Trakl als medicus naar het front in Galicië (heden ten dage in Oekraïne en Polen) gestuurd. Zijn gemoedsschommelingen leidden tot geregelde uitbraken van depressie, die verergerd werden door de afschuw die hij voelde voor de verzorging van de ernstig verwonde soldaten. De spanning en druk dreven hem ertoe een suïcidepoging te ondernemen, welke zijn kameraden nochtans verhinderden. Hij werd in een militair ziekenhuis opgenomen in Kraków, alwaar hij onder strikt toezicht geplaatst werd.Trakl verzonk daar in nog zwaardere depressies en schreef Ficker om advies. Ficker overtuigde hem ervan dat hij contact moest opnemen met Wittgenstein, die inderdaad op weg ging na Trakls bericht te hebben ontvangen. Op 4 november 1914, drie dagen voordat Wittgenstein aan zou komen, overleed hij echter aan een overdosis cocaïne


Paul Celan

Paul Celan werd onder de naam Paul Antschel op 23 november 1920 geboren in Czernowitz, toentertijd de hoofdstad van de Roemeense Boekovina, nu behorend bij de Oekraïne. Paul Celans ouders waren Duitssprekende joden die hun zoon joods opvoedden en hem naar Duitse christelijke scholen stuurden. In 1942 werden Celans ouders door de Duitse bezetter naar een werkkamp gedeporteerd en daar vermoord. Hijzelf wist aanvankelijk onder te duiken, maar moest vanaf juli 1942 in een werkkamp dwangarbeid verrichten. Celan overleefde de oorlog. Via Boekarest en Wenen vestigde Celan zich in 1948 in Parijs. Daar was hij werkzaam als dichter, vertaler en doceerde hij aan de prestigieuze Ecole Normale Supérieure. Vermoedelijk op 20 april 1970 beëindigde hij zijn leven zelf door in de Seine te springen.


Gerard Reve

Gerard Reve over: Medearbeiders "God is in de mensen, de dieren, de planten en alle dingen - in de schepping, die verlost moet worden of waaruit God verlost moet worden, door onze arbeid, aangezien wij medearbeiders van God zijn." Openbaring "Tja, waar berust elk godsbegrip op, elke vorm van religie? Op een openbaring, dat wil zeggen op een psychische ervaring van zulk een dwingende en onverbiddelijke kracht, dat de betrokkene het gevoel heeft, niet dat hij een gedachte of een visioen heeft, maar dat een gedachte gedachte of visioen hem bezit en overweldigt."


Simon Vestdijk
Simon Vestdijk (Harlingen, 17 oktober 1898 – Utrecht, 23 maart 1971) was een Nederlands romancier, dichter, essayist en vertaler. Zijn jeugd te Harlingen en Leeuwarden beschreef hij later in de Anton Wachter-cyclus. Van jongs af aan logeerde hij regelmatig bij zijn grootouders in Amsterdam, waar hij zich in 1917 aan de Universiteit van Amsterdam inschrijft als student in de medicijnen. Tijdens zijn studie die van 1917 tot 1927 duurde, leerde hij Jan Slauerhoff kennen.Tot 1932 is hij als arts in praktijken door heel Nederland werkzaam. In 1932 volgt zijn officiële schrijversdebuut met de uitgave van de bundel Verzen in De Vrije Bladen. Doorslaggevend voor Vestdijks uiteindelijke keuze voor de literatuur is zijn ontmoeting in 1932 met Eddy Du Perron en Menno ter Braak. Deze ontmoeting had tot resultaat dat hij redactielid werd van het tijdschrift Forum Kort daarop, in 1933, wordt zijn eerste novelle, De oubliette, uitgegeven. In hetzelfde jaar schrijft hij Kind tussen vier vrouwen, dat, eerst geweigerd door de uitgever, later de basis zal vormen voor de eerste drie delen van de Anton Wachter-romans. In 1951 ontvangt Vestdijk de P.C. Hooftprijs voor zijn in 1947 verschenen roman De vuuraanbidders. In 1957 wordt hij voor het eerst door het PEN-centrum voor Nederland voorgedragen voor de Nobelprijs voor de Literatuur, die hij echter nooit zal krijgen. Op 20 maart 1971 wordt hem de Prijs der Nederlandse Letteren toegekend, maar voor hij deze kan ontvangen overlijdt hij op 23 maart te Utrecht op 72-jarige leeftijd. Vestdijk was auteur van ca. 200 boeken. Vanwege deze enorme productie noemde de dichter Adriaan Roland Holst hem 'de man die sneller schrijft dan God kan lezen'. Andere belangrijke boeken van Simon Vestdijk zijn: "Kind van stad en land" (1936), "Meneer Visser's hellevaart" (1936), "Ierse nachten" (1946), "De toekomst de religie" (1947), "Pastorale 1943" (1948), "De koperen tuin" (1950), "Ivoren wachters" (1951), "Essays in duodecimo" (1952) en "Het genadeschot" (1964).


K.P. Kavafis

K.P. Kavafis werd als kind van Griekse ouders, afkomstig uit Konstantinopel, geboren in 1863 in Alexandrië (tot vandaag een Griekse enclave) waar hij ook het grootste deel van zijn leven woonde en werkte. Twee jaar na de dood van zijn vader verhuist het gezin in 1872 naar Engeland om na een verblijf van vijf jaar naar Alexandrië terug te keren. Vanwege ongeregeldheden in Egypte vlucht het gezin in 1882 naar Konstantinopel, om na drie jaar opnieuw naar Alexandrië terug te gaan. In de jaren die volgen maakt Kavafis reizen naar Parijs, Londen en in 1901 zijn eerste reis naar Griekenland, in latere jaren gevolgd door nog enkele bezoeken. Op de dag van zijn zeventigste verjaardag, in 1933 sterft Kavafis in Alexandrië. De roem kwam voor Kavafis pas na zijn dood, dus postuum. Deels is dat toe te schrijven aan zijn eigen handelswijze. Hij was uiterst terughoudend met de publicatie van zijn gedichten, liet af en toe een enkel gedicht afdrukken in een literair tijdschrift, gaf in eigen beheer enkele bundels met een stuk of twintig gedichten uit en het merendeel van zijn poëzie schonk hij op losse bladen aan zijn beste vrienden.


Thomas Mann


Thomas Mann, de jongere broer van Heinrich Mann, werd geboren op 6 juni 1875 in Lübeck. Hij was de tweede zoon van de graankoopman Thomas Johann Heinrich Mann welke later één van de senatoren van Lübreck werd. Zijn moeder Julia (geboren da Silva-Bruhns) was Duits-Braziliaans van Portugees Kreoolse afkomst. In 1894 debuteerde Thomas Mann met de novelle "Gefallen". Toen Thomas Mann met 21 jaar eindelijk volwassen was en hem dus geld van zijn vaders erfenis toestond - hij kreeg ongeveer 160 tot 180 goldmark per jaar - besloot hij dat hij genoeg had van al die scholen en instituties en werd onafhankelijk schrijver. Kenmerkend voor zijn stijl zijn de ironie, de fenomenale taalbeheersing en de minutieuze detailschildering. Manns reputatie in Duitsland was sterk wisselend. Met zijn eerste roman, Buddenbrooks (1901), had hij een enorm succes, maar door zijn sceptische houding tegenover Duitsland na de Eerste Wereldoorlog veranderde dit volledig. Stelde hij zich tot aan de jaren twintig apolitiek op (Betrachtungen eines Unpolitischen, 1918), meer en meer raakte hij bij het Politiek gebeuren betrokken. Zijn afkeer van het nationaal socialisme groeide, zijn waarschuwingen werden veelvuldiger en heftiger. In 1944 accepteerde hij het Amerikaanse staatsburgerschap. Tussen 1943 en 1947 schreef Mann Doktor Faustus (zie Faust), de roman van de 'Duitse ziel' in de gecamoufleerd geschilderde omstandigheden van de 20ste eeuw. In 1947 bezocht hij voor het eerst sinds de Oorlog Europa, twee jaar later pas Duitsland. In 1952 vertrok hij naar Zwitserland. Op 12 augustus 1955 stierf hij in Zürich. Twintig jaar na zijn dood, in aug. 1975, is zijn literaire nalatenschap geopend: dagboekaantekeningen van 15 maart 1933 tot 29 juli 1955, alsmede notities uit de jaren 1918 tot en met 1921.Belangrijke werken zijn: Der Zauberberg, Der Tod in Venedig, Dokter Faustus , Joseph und seine Brüder en Die Bekenntnisse des Hochstaplers Felix Krull.


Rainer Maria Rilke

Rilke werd op 4 december 1875 geboren in Praag. Hij had al naam gemaakt als dichter met zijn bundels Das Stundenbuch en Das Buch der Bilder, toen hij de literaire wereld versteld deed staan en wereldfaam verwierf met de publicatie van zijn twee delen Neue Gedichte in 1907 en 1908. Hij verzamelde daarin het beste werk uit een van zijn vruchtbaarste periodes, die hij grotendeels doorbracht in Parijs. Rilke was daar diep onder de indruk gekomen van Rodin, bij wie hij een tijdlang in dienst was als particulier secretaris. Rodin, zei hij later, had hem leren kijken. Dit kijken kwam neer op intense concentratie, om het mysterie te kunnen zien 'achter de schijnbare werkelijkheid'. Latere en rijpere werken als Duineser Elegien (1912-1923) en het ronduit schitterende Die Sonette an Orfeus (1924) illustreren Rilkes metafysische visie op het onzegbare, dat haar verwoording vindt in een hermetische muzikale taal. Op 29 december 1926 overlijdt Rilke in het sanatorium in Val-Mont aan de gevolgen van leukemie. Enkele dagen later wordt hij, overeenkomstig zijn wens, begraven op het kerkhof van Raron.


* * * * * * * * * * * * * * * *

| | |
| --- | --- |
| | Over literatuur, gedichten, kunst en cultuur |

23-03-2017

Cri Stellweg, Yōko Tawada, Gary Whitehead, Mitch Cullin, Steven Saylor, Roger Martin du Gard, Madison Cawein, Nils-Aslak Valkeapää, Federica de Cesco
De Nederlandse schrijfster en columniste Margaretha Hendrika (Cri) Stellweg (alias Saartje Burgerhart) werd geboren in Nijmegen op 23 maart 1922. Zie ook alle tags voor Cri Stellweg op dit blog en ook mijn blog van 27 november 2006.
Uit: Geef mij maar een klaproosje…
"Ik gaf me er juist reken-schap van, dat geen provencaalse cigale mijn schoorsteenmantel zou sieren deze winter, toen m'n hoofd onzacht in aanraking kwam met de voorruit. "Zeg, ben je nou helemaal ...," begon ik, mijn gekwetste hoofd betastend. "Stil," fluisterde mijn man dringend, "kijk es! Kijk toch es!!" "Waar?" vroeg ik, nog scheel van de klap. "Daar." Ik keek en ja, ik zag het .... Allemaal beesten op de weg. Hopen beesten! Hele horden! Hebberig scharrelde hij de auto al uit. lk volgde, een opkomende buil betastend. Toen ik op de weg stond, kon ik de zaak pas goed overzien: het krioelde er van vreemde, grote insecten, een soort sprinkhanen en toch géén sprinkhanen. Wel 7 tot 10 cm lang en in verschillende tinten gekleurd. Met acht reusachtige gebogen poten, lange voelsprieten en puntige venijnige koppen. Ze zaten in de planten aan weerszijden van de weg, ze kropen over het asfalt en enkele ondernemenden begonnen de auto al te beklimmen. "Aaaach," zei ik verbijsterd, "wat een boel! En wat zijn 't?! Wil je er een vangen? Ik vind het wel erge griezels, vies ook ... !"
"'k Weet niet wat het zijn," zei hij, "geef me gauw een doosje." Voorzichtig over de beesten heenstappend, liep ik naar de auto terug. Toen ik er achter om heen kwam, zag ik iets, waarvan de haren me overeins gingen staan. Wij hadden met onze wielen verscheidene exemplaren ver-morzeld of geraakt, de overlevenden kropen nu belust op deze lijken en invaliden rond, knaagden eraan en vraten ze op ... ! Het malen en knar-sen van hun kaken was duidelijk hoorbaar in de zware, hete stilte van de verlaten weg. Met wijd opengesperde ogen en de rillingen over m'n kruin stond ik er doodstil naar te kijken, tot ik iets scherps op m'n voeten voelde. lk keek: er kroop er een over mijn blote tenen in de open schoen .... Ik gaf een gil en rende naar de auto. "Erin!" dacht ik, "weg van dit gespuis!" "Wat is er?" riep de jager uit het kreupelhout waar zich blijkbaar de mooiste exemplaren op-hielden. "En waar blijft die doos?" "Kom jij je doos zelf maar halen," riep ik opgewonden, "ik zet . geen stap meer hier. Die beesten vreten elkaar op en ze willen aan mijn tenen beginnen." "Doe niet zo over-spannen!", riep hij boos, "kom op met dat doosje!" "Geen sprake van. Ik ben voor m'n plezier uit. Straks klimmen ze nog in m'n boothals," gaf ik, even boos, terug. Getergd kwam hij aangestapt, dwars door en over de regimenten rondscharrelende beesten."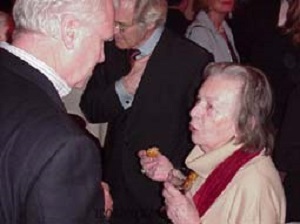 Cri Stellweg (23 maart 1922 - 26 november 2006)
Hier met Adriaan van Dis in 2003
De Japanse dichteres en schrijfster Yōko Tawada werd geboren op 23 maart 1960 in Tokyo. Zie alle tags voor Yōko Tawada op dit blog.
Uit: Celan Reads Japanese (Vertaald door Susan Bernofsky)
"The world beneath the water is behind the threshold. The 'I' in the poem sees how the 'poplar' dips down into the unfamiliar world of the water, but the 'I' remains an observer and doesn't hurry after it.

Ich eilt ihr nicht nach,
ich las nur vom Boden auf jene Krume,
die deines Auges Gestalt hat und Adel,
ich nahm dir die Kette der Sprüche vom Hals
und säumte mit ihr den Tisch, wo die Krume nun lag.
I didn't hurry after it,
I merely gathered from the ground the crumb
that has the shape of your eye and nobility
I took the chain made of proverbs from your neck
and draped it about the table where the crumb now lay.

The 'I' doesn't descend into the water but rather remains on the threshold pursuing a magical game: The stone and the circle are copied with the help of the 'crumb' and the 'chain' and so the image said to be visible beneath the water is repeated upon the table.
This magical game has the effect of a process of translation. The translator copies the image that exists beneath the water on the desk. The poplar, on the other hand, is not a translator. Its body disappears in the water.
If one were to equate the unfamiliar world beneath the water with the realm of the dead, then the magical game would be a translation of the language of the dead into writing. The translator hears the word of the dead and reads it [does he gather it up – auflesen – like ears of grain from the ground or read it – lesen – like a written character?] and places it upon the desk, i.e. he writes. The poplar on the other hand does not write. It vanishes beneath the water like a dying woman: Und sah meine Pappel nicht mehr ['And did not see my poplar again']."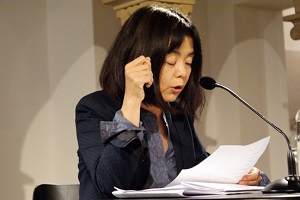 Yōko Tawada (Tokyo, 23 maart 1960)
De Amerikaanse dichter Gary Joseph Whitehead werd geboren op 23 maart 1965 in Pawtucket, Rhode Island. Zie alle tags voor Gary Whitehead op dit blog.
Uncle
Sometimes they talk with me,
these children I have not fathered,
and the things they say,
though I forget them,
seem like sentences out of books
I read once and haven't thought of since.
Today, a boy who in the absence
of his density might have been me,
the fiddlehead of his hand
in mine, followed me
through the upstairs hall,
asking something which,
if I had to guess,
I'd say had to do with destiny.
Outside, a school bus was passing,
the rev of its engine
like a bow drawn across a string,
a brief life's arc of sound
into and out of the house –
windows and walls and quiet rooms –
where I stood dumbstruck
and almost ready to answer.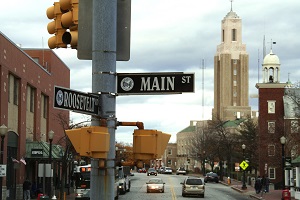 Gary Whitehead (Pawtucket, 23 maart 1965)
Pawtucket, Rhode Island
De Amerikaanse schrijver Mitch Cullin werd geboren op 23 maart 1968 in Santa Fe, New Mexico. Zie alle tags voor Mitch Cullin op dit blog.
Uit:Whompyjawed
"Harvey lifts the three fingers so Doc can get a look at them. "Feels fine, Doc," he says.
Doc brings those fingers close to his face, squints his eyes to inspect, sort of bends Harvey's fingers one way and then another.
"Hell," Harvey says, "seventy-two was laying down for me during the second quarter just so he wouldn't have to tackle Willy no more."
"Harvey," Doc says, "you're a case for the books. Peel it and shower. Let me have a see before you leave."
And Harvey nods with that mouthful of chew. Doc pats him on the stomach and moves on. He moves past several of us, sometimes swatting butts, though there ain't nothing weird about how he does it, or touching heads. Then he comes to where me and Lee Haywood, the quarterback, and my black friend Sammy are standing together as we remove our gear. "Good game," he tells us, "all of you. Everybody here okay?"
We nod our heads that we're fine, so Doc repeats himself by saying, "Hell of a good game, boys. I'm proud of you."
"We could've hung thirty more on them, Doc, if Coach hadn't wanted to ease up," says Lee. Then Lee glances at me and Sammy. "Gutting them with Willy," he says, "they was trying to man Sammy. Even I could of hit him all night."
Sammy laughs, flashes a big smile, so me and Doc start to laugh a little too. "All Lee's got to do, Doc," says Sammy, "is get' em up in the air. I'll be there when they come down."
"I tell you, Doc," says Lee, "it do make quarterbacking fun."
But before I can join in, I hear Coach Slick, our assistant football coach, call my name. So I lean forward some and see him standing outside Coach Bud's office, his thumb jerking toward the open door behind him, saying, "Hey, Willy, Coach wants to see you."
The thing about Coach Bud is that when he wants to see someone, no matter what that person is doing, he had best drop everything and go. Don't matter if he might be getting wrapped by Doc. Don't matter if he's taking a shit or is butt-naked in the shower. He ain't kept waiting by no one, especially us. That's just how it is."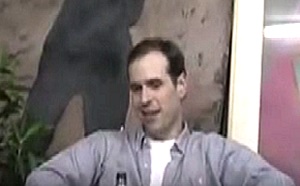 Mitch Cullin (Santa Fe, 23 maart 1968)
De Amerikaanse schrijver Steven Saylor werd geboren op 23 maart 1956 in Port Lavaca Texas. Zie alle tags voor Steven Saylor op dit blog.
Uit: Empire
"A.D. 14
Lucius woke with a start.
He had been dreaming. In his dream there was no earth, only a dark, empty sky, and beyond the sky, unimaginably vast, the crystalline firmament in which the stars shone brightly. No clouds obscured the stars, and yet there was lightning in the dream, lightning without thunder, random flashes of blinding light that illuminated great flocks of birds that suddenly filled the dark sky. There were vultures and eagles, ravens and crows, every sort of bird imaginable, soaring and flapping their wings, yet making no more sound than the silent lightning. The dream had filled him with a sense of urgency and confusion.
Awake now, Lucius heard a faint rumble of thunder in the distance.
He heard other sounds from elsewhere in the house. The slaves were up and beginning to stir, stoking the kitchen fire and opening shutters.
Lucius jumped from his bed. His room, with a small balcony looking west, was on the upper floor of the house. Below him was the slope of the Aventine Hill. The nearer houses, along the crest of the hill, were large and well made, like his family's house. Farther down the hill, humbler houses and tenements and artisans' workshops were crowded close together, and farther yet was a flat expanse with large granaries and ware houses close to the Tiber. At the river the city ended. On the far side of the Tiber, woods and meadows were divided into the private estates of the rich, which extended to the far horizon of hills and mountains.
How his mother hated this view! Born into a wealthy branch of the Cornelius family, she had grown up in a house on the other, more fashionable side of the Aventine Hill, with a view of the vast Circus Maximus below, the Capitoline Hill crowned by temples off to one side, and, directly opposite, the opulent Palatine Hill, where the emperor lived."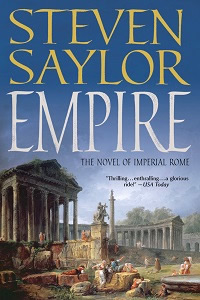 Steven Saylor (Port Lavaca, 23 maart 1956)
Cover
De Franse schrijver Roger Martin du Gard werd geboren op 23 maart 1881 in Neuilly. Zie alle tags voor Roger Martin du Gard op dit blog.
Uit:Les Thibault, I, Le pénitencier
«Antoine entra tout droit dans le cabinet de son père, qui mettait en ordre son bureau avant d'aller au lit.
— « Ah, c'est toi ! Mauvaises nouvelles ! »
— « Oui », interrompit Antoine, « M. Chasle m'a raconté. »
M. Thibault tira d'un coup sec le menton hors de son col ; il n'aimait pas qu'on sut ce qu'il s'apprêtait à dire. Antoine, pour l'instant, ne s'en souciait point ; il songeait à ce qu'il venait faire, et sentait déjà la paralysie le gagner. Il en eut conscience à temps, et fonça :
— « Moi aussi, je t'apporte de très mauvaises nouvelles : Jacques ne peut pas rester à Crouy. » Il reprit haleine, et continua d'un trait : « J'en arrive. Je l'ai vu. Je l'ai confessé. J'ai découvert des choses lamentables. Je viens en causer avec toi. Il est urgent de le sortir au plus tôt de là. »
M. Thibault demeura quelques secondes immobile. Sa stupeur ne fut perceptible que dans sa voix :
— « Tu… ? À Crouy ? Toi ? Quand ? Pourquoi faire ? Sans me prévenir ? Es-tu fou ? Explique-toi. »
Quoique soulagé d'avoir du premier bond franchi [ I-205 ] l'obstacle, Antoine était fort mal à l'aise et bien incapable de parler. Il y eut un silence étouffant. M. Thibault avait ouvert les yeux ; ils se refermèrent lentement, comme malgré lui. Alors il s'assit et posa ses poings sur le bureau.
— « Explique-toi, mon cher », reprit-il. Il martelait avec solennité chaque syllabe : « Tu dis que tu as été à Crouy ? Quand ? »
— « Aujourd'hui. »
— « Comment ? Avec qui ? »
— « Seul. »
— « Est-ce que… on t'a reçu ? »
— « Naturellement. »
— « Est-ce que… on t'a laissé voir ton frère ? »
— « J'ai passé toute la journée auprès de lui. Seul avec lui. »
Antoine avait une façon provoquante de faire sonner la fin de ses phrases, qui fouetta la colère de M. Thibault, mais l'avertit qu'il y avait lieu d'être circonspect. »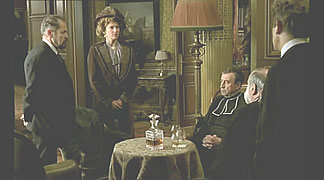 Roger Martin du Gard (23 maart 1881 – 22 augustus 1958)
Scene uit de Franse mini-serie « Les Thibault » uit 2003

De Amerikaanse dichter Madison Julius Cawein werd geboren in Louisville, Kentucky, op 23 maart 1865. Zie ook alle tags voor Madison Cawein op dit blog.
A Yellow Rose
The old gate clicks, and down the walk,
Between clove-pink and hollyhock,
Still young of face though gray of lock,
Among her garden's flowers she goes
At evening's close,
Deep in her hair a yellow rose.
The old house shows one gable-peak
Above its trees; and sage and leek
Blend with the rose their scents: the creek,
Leaf-hidden, past the garden flows,
That on it snows
Pale petals of the yellow rose.
The crickets pipe in dewy damps;
And everywhere the fireflies' lamps
Flame like the lights of Faery camps;
While, overhead, the soft sky shows
One star that glows,
As, in gray hair, a yellow rose.
There is one spot she seeks for, where
The roses make a fragrant lair,
A spot where once he kissed her hair,
And told his love, as each one knows,
Each flower that blows,
And pledged it with a yellow rose.
The years have turned her dark hair gray
Since that glad day: and still, they say,
She keeps the tryst as on that day;
And through the garden softly goes,
At evening's close,
Wearing for him that yellow rose.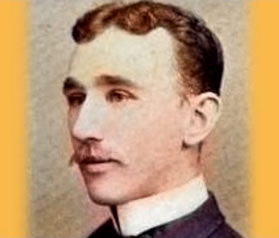 Madison Cawein (23 maart 1865 – 8 december 1914)
De Samische dichter, schilder, musicus en fotograaf Nils-Aslak Valkeapää werd geboren op 23 maart 1943 in Palonjoensuu nabij Enontekiö. Zie alle tags voor Nils-Aslak Valkeapää op dit blog.
My home is in my heart (Fragment)
Our ancestors kept fires on Allaorda
on Stuorajeaggis's tufts
in Viiddesčearru
Grandfather drowned in the fjord while fishing
Grandmother cut her shoe grass in Šelgesrohtu
Father was born in Finjubákti in burning cold
And still they ask
where is your home
They come to me
and show books
Law books
that they have written themselves
This is the law and it applies to you too
See here
But I do not see brother
I do not see sister
I cannot
I say nothing
I only show them the tundra
I see our fjelds the places we live
and hear my heart beat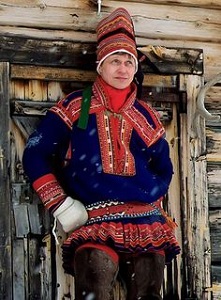 Nils-Aslak Valkeapää (23 maart 1943 – 26 november 2001)
De Zwitserse schrijfster Federica de Cesco werd geboren op 23 maart 1938 in Pordenone, Zie alle tags voor Federica de Cesco op dit blog.
Uit: Das Mondpferd
"In der Nacht war Schnee gefallen, war das drahtige Steppengras bis an den Fuß der Berge weiß überpudert. Der gefrorene Boden klirrte unter den Pferdehufen. Eine fahle Wintersonne schien über der weiten Ebene und den Felsklippen, ehe sie sich frühzeitig wieder im rötlichen Dunst zum Horizont hinabsenkte. Die Schafe und Pferde mussten für die Nacht auf den von Palisaden umzäunten Platz zusammengetrieben werden. Gleich nach dem ersten Schneefall pflegten Wölfe und Bären ihre Schlupfwinkel im Gebirge zu verlassen und in die Weidegründe einzufallen. Schon brach die Nacht herein, da entdeckte Huong, der Schäferhund, Spuren von Schafen, die sich von der Herde entfernt hatten. Mit langen, geschmeidigen Sätzen sprang er einen Berghang hinauf. Anga zögerte. Sollte sie ihm folgen? Huong müsste eigentlich allein damit fertig werden, er war gut abgerichtet und hatte Mut. Wenn sich aber unter den versprengten Schafen auch Lämmer be-fanden? Jedes Tier war wertvoll, kein einziges durfte ver-loren gehen. Schnell entschlossen setzte Anga ihr Pferd in Galopp. Weiß glänzend wie eine Silbermünze, stieg der Voll-mond langsam über die Berggipfel empor. Es war sehr kalt. Ein beißender Wind blies pfeifend von der sibiri-schen Steppe her und rüttelte an Tannen und Pappelbäu-men. Anga trug ihre Winterkleider: lederne Hosen und eine lange, pelzgefütterte Jacke, kleine, reich mit Fransen ver-zierte Stiefel mit gebogener Schnabelspitze. Wie die meis-ten Mongolenmädchen war sie groß und sehr schlank. Zwei lange, straff geflochtene Zöpfe hingen ihr bis zum Gürtel und umrahmten das bronzene, junge Gesicht. Wie weißer Nebel stand der Atem des Pferdes vor sei-nen Nüstern. Die Hufe wirbelten den trockenen Schnee auf. Huong, der Hund, glitt leise wie ein Schatten zwi-schen die Felsen. Plötzlich bellte er kurz auf und sprang schneller voran. Anga spornte das Pferd an. Hinter einer Felswand erschienen, ängstlich unter einer überhängen-den Platte zusammengeschart, einige Schafe. Knurrend umrundete Huong die Tiere. Im Halbdunkel zeigten seine Augen einen rötlichen Glanz. Die kräftigen Zähne, der lange buschige Schweif verrieten seine wölfische Her-kunft, aber nie hätte Huong die seiner Hut anvertrauten Schafe gerissen."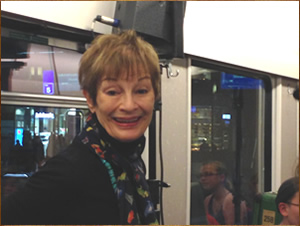 Federica de Cesco (Pordenone, 23 maart 1938)
Zie voor nog meer schrijvers van de 23e maart ook mijn blog van 23 maart 2015 deel 1 en eveneens mijn blog van 23 maart 2014 deel 1 en ook deel 2.
23-03-2017 om 17:54 geschreven door Romenu

Tags:Cri Stellweg, Yō,ko Tawada, Gary Whitehead, Mitch Cullin, Steven Saylor, Roger Martin du Gard, Madison Cawein, Nils-Aslak Valkeapää, Federica de Cesco, Romenu


22-03-2017

Billy Collins, Eveline Hasler, Érik Orsenna, Léon Deubel, Karel Poláček, Arnold Sauwen, Wolfgang Bächler, Albrecht Goes, Gabrielle Roy
De Amerikaanse dichter en schrijver Billy Collins werd geboren in New York op 22 maart 1941. Zie ook alle tags voor Billy Collins op dit blog.
On Turning Ten
The whole idea of it makes me feel
like I'm coming down with something,
something worse than any stomach ache
or the headaches I get from reading in bad light-
a kind of measles of the spirit,
a mumps of the psyche,
a disfiguring chicken pox of the soul.
You tell me it is too early to be looking back,
but that is because you have forgotten
the perfect simplicity of being one
and the beautiful complexity introduced by two.
But I can lie on my bed and remember every digit.
At four I was an Arabian wizard.
I could make myself invisible
by drinking a glass of milk a certain way.
Atseven I was a soldier, at nine a prince.
But now I am mostly at the window
watching the late afternoon light.
Back then it never fell so solemnly
against the side of my tree house,
and my bicycle never leaned against the garage
as it does today,
all the dark blue speed drained out of it.
This is the beginning of sadness, I say to myself,
as I walk through the universe in my sneakers.
It is time to say good-bye to my imaginary friends,
time to turn the first big number.
It seems only yesterday I used to believe
there was nothing under my skin but light.
If you cut me I would shine.
But now if I fall upon the sidewalks of life,
I skin my knees. I bleed.
Some Days
Some days I put the people in their places at the table,
bend their legs at the knees,
if they come with that feature,
and fix them into the tiny wooden chairs.
All afternoon they face one another,
the man in the brown suit,
the woman in the blue dress,
perfectly motionless, perfectly behaved.
But other days, I am the one
who is lifted up by the ribs,
then lowered into the dining room of a dollhouse
to sit with the others at the long table.
Very funny,
but how would you like it
if you never knew from one day to the next
if you were going to spend it
striding around like a vivid god,
your shoulders in the clouds,
or sitting down there amidst the wallpaper,
staring straight ahead with your little plastic face?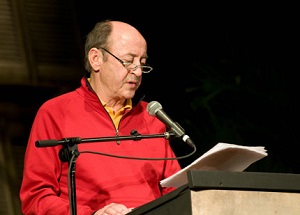 Billy Collins (New York, 22 maart 1941)

De Zwitserse schrijfster Eveline Hasler werd geboren in Glarus op 22 maart 1933. Zie ook alle tags voor Eveline Hasler op dit blog.
Uit: Stürmische Jahre
"Die Tochter der Riesers hieß eigentlich Marguerite, doch innerhalb der Familie wurde sie Mucki genannt, ein Kosename, den die Dorfkinder am Gitter des Rieserschen Tennisplatzes schnell aufgeschnappt hatten. Die Kinder fanden Mucki niedlich: dunkle, von rötlichen Lichtflecken durchsetzte Löckchen und schwarzblaue Gucklöcher, so stellten sie sich Johanna Spyris Heidi auf der Alp vor. Doch Mucki wohnte nicht beim Alpöhi, sondern beim Theaterdirektor und war, wie man im Dorf zu sagen pflegte, eins der Herrenkinder aus dem Rüschliker Villenviertel. Sie kam später als die gewöhnlichen Mädchen in die Dorfschule, war oft krank und fehlte lange, auch das gehörte, wie man dachte, zu einem feinen reichen Kind. Voriges Jahr, am Fest des achten Geburtstags, zu dem aus Prag die Großeltern und aus Wien Onkel Franz Werfel mit seiner Frau Alma Mahler angereist waren, schenkte man der Kleinen den Zunamen Alma, wohl zu Ehren der schönen Tante. Schon früh merkte sich das Kind aus der Vielfalt der Namen, dass man nicht jedem Ruf zu folgen habe.
Da die Eltern Rieser tagsüber im Schauspielhaus arbeiteten, kümmerte sich eine Bonne um Mucki. Man hatte die junge, phantasiebegabte Paulette aus Le Locle kommen lassen, damit sich das Mädchen, das mit den Eltern Hochdeutsch, mit den Dorfkindern Züritütsch sprach, beizeiten auch an die französische Sprache gewöhne.
Mucki hatte dem Pförtner eine aschfarbene kleine Hündin, die ihm zugelaufen war, abgebettelt, das Mädchen nannte sie Bellefleur. «Klingt edel», sagte die Mutter und verbiss sich ein Lächeln, «aber ich kann das hergelaufene Tier trotzdem nicht in der Villa dulden, auch Papas Katzen setzen sich zur Wehr.» Das Kind mochte Papas Katzen nicht, hochnäsige Tiere, die sich selbst genug waren, einzig die kleinste, von Papa das Zartchen genannt, ließ mit sich spielen. So versorgte die Neunjährige das Hündchen neben der Pförtnerbehausung, und die Ablehnung ihres Lieblings durch die Mutter ließ einen heimlichen Groll in ihr wachsen.
Einmal hatte Paulette eine Fabel vorgelesen von Vögeln, die ihre Eier in fremde Nester legen.
«Bin ich auch in ein fremdes Nest gelegt worden, Paulette?"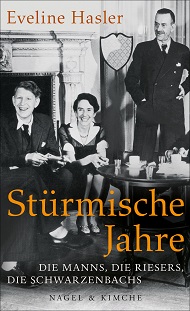 Eveline Hasler (Glarus, 22 maart 1933)
Cover
De Franse schrijver Érik Orsenna werd geboren in Parijs op 22 maart 1947 als Érik Arnoult. Zie ook alle tags voor Erik Orsenna op dit blog.
Uit:Portrait eines glücklichen Menschen (Vertaald door Annette Lallemand)
"Zur Stunde, da die Hel erschöpft wieder nach Hause geht in ihre Rue Saint-Nicaise und das Katzen-volk sich ihr an die Fersen heftet, weil sie so stark riecht nach Schweiß und Blut, da würgen die Japaner noch an ihrer Niederlage in Korea, sind in Indien die Moguln an der Macht, waren aus Moskau die Polen vertrieben und der erste Romanov soeben zum Zaren ernannt, und am Bosporus, aufgeschreckt ob des Wütens Mehmetls III., der am Tag seiner Thron-besteigung neunzehn Brüder und wohl zwanzig seiner Schwestern von taubstummen erwürgen ließ und damit alle Grenzen überschritt, war der Entschluß gefaßt worden. den Sultaninnen die Macht zu übertragen. Weiter westlich wetteifert Ragusa mit Venedig, taufen im noch ganz jungen Santa Fe Neu-Mexikos die Franziskaner Tausende von Pueblo-, Hopi-, Curac-, und Tajique-Indianern und treten an Festtagen die Flagellanten zum blutigen Wettstreit an, während rund um das brasilianische Sao Paulo mit seinen drei Millionen Seelen die Jesuiten die portugiesischen Einwanderer verfolgen und hetzen, weil sie in immer größerer Zahl den Segnungen der Zivilisation abschwören und zum heidnischen Leben im Dschungel und den so reizvollen Frauen dieser Wilden überlaufen. Frankreich, das reichste Stück Erde Europas zu dieser Zeit, liegt dennoch brach darnieder nach all den Bürgerkriegen. Man schneidet einander genüßlich die Kehle durch und nennt es Glaubensstreitigkeiten. Ludwig XIII. ist König, aber erst zwölf Jahre alt. Seine Mutter, Maria de' Medici, versieht die Regentschaft so gut sie kann und stellt die Großen durch Geldzuwendungen ruhig: ein Fünftel der Staatsfinanzen verflüssigt sich zum Schmieren von ohnehin schon reichlich beringten Händen. Keine Grenze ist sicher. Die Spanier besitzen den Norden und das Artois. die Franche-Comté und das Roussillon. Das Kaiserreich hält Elsaß und Lothringen im Griff. Nizza und auch Savoyen sind fremder Boden... Man war befriedet worden unter Heinrich IV., man war reich geworden dank Sully.' Doch Ravaillacs Messerstich zerriß die Schönwetterperiode. 1613 ähnelt wieder den vergangenen schlimmen Jahren: man kämpft sich durch die Tage wie durch Wellenkämme, überwindet einen nach dein anderen und läßt ihn schleunigst hinter sich, um wieder Mut zu fassen für all die anderen, die noch folgen werden."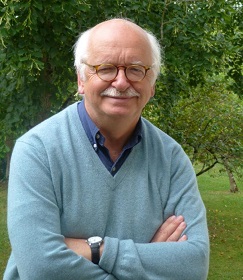 Érik Orsenna (Parijs, 22 maart 1947)
De Franse dichter Léon Deubel werd geboren op 22 maart 1879 in Belfort. Zie ook alle tags voor Léon Deubel op dit blog.
Chant pour l'Amante (Fragment)
Ô toi que je vénère à l'égal des Chimères
Qui ont armé tes doigts de leurs griffes d'acier,
Ô femme aux flancs flétris par l'œuvre de la mère
Je dépose humblement ma louange à tes pieds.

Au fond d'un bouge aveugle à la lumière d'or,
Parmi la double horreur de l'ivresse et des rides,
Un jour tu m'as tendu l'embûche de ton corps
Lové comme un serpent dans les ronces perfides.

Un jour j'ai recueilli la volupté divine
Au putride relent de ta bouche édentée ;
La vieillesse et la mort qui griffaient ta poitrine
Ont veillé mon sommeil au verger dévasté.

Et quand le désir fauve élargissant ses ondes
M'a grisé de son vin et souillé de sa lie,
Chaque fois j'ai senti de la minute immonde
Me remonter aux dents l'écume de la vie.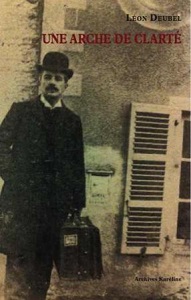 Léon Deubel (22 maart 1879 – 4 juni 1913)
Cover
De Tsjechische schrijver Karel Poláček werd geboren op 22 maart 1892 in Reichenau. Zie ook alle tags voor Karel Poláček op dit blog.
Uit: We Were a Handful (Vertaald door Mark Corner)
"There was bedlam everywhere. People were skirmishing outside in front of the church, cows and horses were doing battle there too, dogs were at each other's throats as were the birds in the trees and even the butterflies in the garden and the flies in the kitchen; in fact anything that could come to blows did so. And at the height of the fray Her Excellency the Maharani said in a high voice that no one could have missed: "What are the leading lights of the land doing, fighting like this? You leave me lost for words. I'll tell you one thing, though. This is all the fault of that lad Bajza. He's always in at the start of every scrap and he never stays out of trouble." And in a deep voice His Excellency the Maharajah said: "That's the gospel truth, let's be after him!" And all at once a great cry went up and the whole lot of them, nobles and commoners, boys and beasts, all the bigwigs and the priest and the verger and even the princess came tearing down on me as if it was all my fault and I'd done noth-ing at all and in fact I'd told the others to behave themselves. And now everything was supposed to be my fault all over again. I put up a brave fight to no avail when there were so many of them, it was all against one, so I tried to run away but there was no way I could, my legs didn't want to know, it was as if they'd gone to work for someone else, and I began to yell: "Why can't they leave me alone when I've done nothing to harm them! They started it, I was minding my own business and now I get blamed for everything!" and I shouted more and more until I noticed that Pa had his hand on my shoulder and was saying: "Stop it. That's enough now. We're here with you and there's nothing to be afraid of." I piped down when I saw it was Pa because he's the strongest one of the lot and can get the better of them all, he'd really give them what for, oh yes, you should see what he can do, and Ma said in her soft little voice: "Now then, my Petie, who's been kicking up such a fuss?" and I went on crying a bit, though only a small bit, and I said in an ac-cusing way: "You went off without a word and left me there on my own to take on all corners," and then the doctor was there as well and he said to me: "Now then, young stalwart," and I said with a scowl: "I am not your young stalwart so just leave that out!"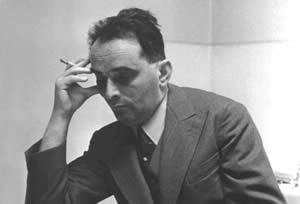 Karel Poláček (22 maart 1892 – 19 oktober 1944)
De Vlaamse dichter en schrijver Arnold Sauwen werd geboren te Stokkem op 22 maart 1857. Zie ook alle tags voor Arnold Sauwen op dit blog
Op Gods genade
Vedelspelers, orgelkramers,
drijf de nood uit muffe kamers
ons door 't land met wijf en kind;
door de zwerverszucht gedreven
gaan we blijgemoed door 't leven,
zonder zorg, door weer en wind.

Onze planken huizen trekken
wij, geduldig als de slekken,
voort langs dal en heuveltop.
Naar het noorden, naar het zuiden,
waar de kermisklokken luiden,
slaan wij onze tenten op.

Rijk aan kinderen, arm aan zegen,
gaan we langs des Heren wegen,
gaan we klagend onze nood.
Voor ons spelen, voor ons zingen
reikt men ons, verworpelingen,
gaarne toch 't genadebrood.

Wordt ons spel niet steeds geprezen;
wordt het wijf soms afgewezen
met de korf, aan deur of poort;
klinkt het bars: "God, wil u bijstaan!"
vloekend spelen we in 't voorbijgaan
toch ons klagend deuntje voort.

Herenhuizen, boerenerven
zien ons komen menigwerven,
als het feest of bruiloft is.
Licht wordt van het middageten
ons de kruimel toegesmeten,
die daar afvalt aan de dis.

Waarom ploegen, waarom zaaien?
De akker voedt de wilde kraaien;
koren wast er overal.
Beedlend langs de deuren, vragen
wij het kleed dat, afgedragen,
onze naaktheid dekken zal.

Langs de wegen, vroeg en spade,
dolen wij, op Gods genade,
dorpen in en dorpen uit,
tot ons, oud en onverdroten,
eens de slagboom wordt gesloten
die ons rustloos zwerven stuit.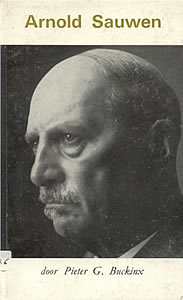 Arnold Sauwen (22 maart 1857 – 11 mei 1938)
Cover biografie
De Duitse dichter Wolfgang Bächler (een pseudoniem van Wolfgang Born) werd geboren op 22 maart 1925 in Augsburg. Zie ook alle tags voor Wolfgang Bächler op dit blog.
Die Erde bebt noch
Die Erde bebt noch von den Stiefeltritten.
Die Wiesen grünen wieder, Jahr für Jahr.
Die Qualen bleiben, die wir einst erlitten,
ins Antlitz, in das Wesen eingeschnitten.
In unsren Träumen lebt noch oft, was war.
Das Blut versickerte, das wir vergossen.
Die Narben brennen noch und sind noch rot.
Die Tränen trockneten, die um uns flössen.
In Lust und Fluch und Lächeln eingeschlossen
begleitet uns, vertraut für immer, nun der Tod.
Die Städte bröckeln noch in den Gewitternächten.
Der Wind weht Asche in den Blütenstaub
und das Geröchel der Erstickten aus den Schächten.
Doch auf den Märkten stehen schon die Selbstgerechten
und schreien unsere und ihre Ohren taub.
Die Sonne leuchtet wieder wie in Kindertagen.
Die Schatten fallen tief in uns hinein.
Sie überdunkeln unser helles Fragen.
Und auf den Hügeln, wo die Kreuze ragen,
wächst säfteschwer ein herber neuer Wein.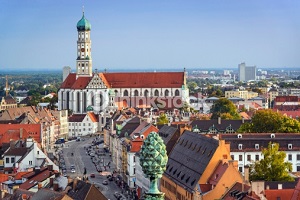 Wolfgang Bächler (22 maart 1925 – 24 mei 2007)
Augsburg
De Duitse dichter, schrijver en theoloog Albrecht Goes werd geboren op 22 maart 1908 in Langenbeutingen. Zie ook alle tags voor Albrecht Goes op dit blog.
Erste Schritte
Klein ist, mein Kind, dein erster Schritt,
Klein wird dein letzter sein.
Den ersten gehn Vater und Mutter mit,
Den letzten gehst du allein.

Seis um ein Jahr, dann gehst du, Kind,
Viel Schritte unbewacht,
Wer weiß, was das dann für Schritte sind
Im Licht und in der Nacht?

Geh kühnen Schritt, tu tapfren Tritt,
Groß ist die Welt und dein.
Wir werden, mein Kind, nach dem letzten Schritt
Wieder beisammen sein.
Das Wort
Ich liebe dich. Es ist das alte Wort -
Wer wars, ders sprach zum allerersten Mal
Das Wort der Lust, das Quellwort süßer Qual?
Und wie geschahs, daß durch die Zeiten fort
Es weiterdrang? Wer, sag, wer trugs zu dir,
Beladen von so vieler Schicksalsfracht,
Flamme des Tages und Musik der Nacht
Und Übermacht - ach! über dir und mir?
Das alte Wort. Und doch, da ich dirs jetzt
Zusage, ists, als sei es nie zuvor
Berührt von Lippen, zitternd, heiß und schwer.
Wort, neugeschaffen, rein und unverletzt
Für diesen Mund nur und für dieses Ohr:
Hör mich, o du! Ich liebe dich so sehr.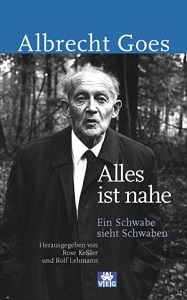 Albrecht Goes (22 maart 1908 – 23 februari 2000)
Cover
De Canadese schrijfster Gabrielle Roy werd geboren op 22 maart 1909 in Saint Boniface, Manitoba. Zie ook alle tags voor Gabrielle Roy op dit blog.
Uit: Children of My Heart (Vertaald door Alan Brown)
"Now I recognized him: an immigrant from the Abruzzi who had recently come to our town. As yet unable to find work in his own trade of upholsterer, he was doing odd jobs here and there. This was why I had seen him one day in our neighbourhood, digging up a patch of ground. I remembered that his little son has been with him, trying to help, that the two never stopped talking as they worked, no doubt spurring each other on, and that this murmur in a foreign tongue, at our fields' edge, had seemed to have a special charm. I went over to them with the very best smile I could muster. As I came near, the child cried out in terror and clung even more desperately to his father, who trembled on contact. I could see that he wouldn't be much help. On the contrary, with his caresses and soft words he did nothing but keep alive the hope that he might weaken. And in fact the father began to plead with me. Since the boy was so unhappy, wouldn't it be better to take him home just this once, and try again this afternoon or tomorrow morning, when he'd have time to explain what a school was. I saw them hanging on my decision, and took my courage in my two hands: "No, when you have to make the break, it doesn't help to wait." The father lowered his eyes, obliged to admit I was right. Even between the two of us we had trouble detaching the child; as soon as we loosened the grip of one hand it slipped away to grasp another handful of the father's clothing. The odd thing was that while he continued to cling to his father he was furious with him for taking my side, and through his tears and hiccups was calling him a heartless wretch, or words to that effect. Finally the father was free for a moment, while I was holding on to the boy for dear life. I made a sign to the father to disappear as quickly as he could."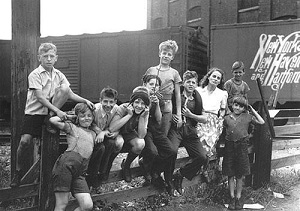 Gabrielle Roy (22 maart 1909 – 13 juli 1983)
Gabrielle Roy met de kinderen van Saint-Henri, 1945
Zie voor nog meer schrijvers van de 22e maart ook mijn blog van 22 maart 2016 en ook mijn blog van 22 maart 2014 deel 1 en eveneens deel 2.
22-03-2017 om 18:18 geschreven door Romenu

Tags:Billy Collins, Eveline Hasler, Érik Orsenna, Léon Deubel, Karel Poláč,ek, Arnold Sauwen, Wolfgang Bächler, Albrecht Goes, Gabrielle Roy, Romenu



In Memoriam Colin Dexter
In Memoriam Colin Dexter
De Britse schrijver Colin Dexter is gisteren op 86-jarige leeftijd in Oxford overleden. Colin Dexter, vooral bekend van "Inspector Morse", werd geboren op 29 september 1935 in Stamford, Lincolnshire. Zie ook alle tags voor Colin Dexter op dit blog.
Uit: Death Is Now My Neighbor
"By one of those minor coincidences (so commonplace in Morse's life) it had been just as most of the personnel from the media were preparing to leave, at almost exactly 8:30pm, that Mr. Robert Turnbull, the Senior Cancer Consultant, had passed her desk, nodded a greeting, and walked slowly to the exit, his right hand resting on the shoulder of Mr. J. C. Storrs. The two men were talking quietly together for some while -- Dawn was certain of that. But certain of little else. The look on the consultants face, as far as she could recall, had been neither that of a judge who has just condemned a man to death, nor that of one just granting a prisoner his freedom.
No obvious grimness.
No obvious joy.
And indeed there was adequate cause for such uncertainty on Dawn's part, since the scene had been partially masked from her by the continued presence of several persons: a ponytailed reporter scribbling a furious shorthand as he interviewed a nurse; the TV crew packing away its camera and tripods; the Lord Mayor speaking some congratulatory words into a Radio Oxford microphone -- all of them standing between her and the top of the three blue-carpeted stairs which led down to the double-doored exit, outside which were affixed the vertical banks of well-polished brass plates, ten on each side, the fourth from the top on the left reading:
If only Dawn Charles could have recalled a little more.
If -- that little conjunction introducing those unfulfilled conditions in past time which, as Donet reminds us, demand the pluperfect subjunctive in both clauses -- a syntactical rule which Morse himself had mastered early on in an education which had been far more fortunate than that enjoyed by the receptionist at the Harvey Clinic.
Indeed, over the next two weeks, most people in Oxford were destined to be considerably more fortunate than Dawn Charles: She received no communication from the poetry lover of Pembroke; her mother was admitted to a psychiatric ward out at Littlemore; she was twice reminded by her bank manager of the increasing problems arising from the large margin of negative equity on her small flat; and finally, on Monday morning, January 29, she was to hear on Fox FM Radio that her favorite consultant, Mr. Robert H. Turnbull, MB, ChB, FRCS, had been fatally injured in a car accident on Cumnor Hill."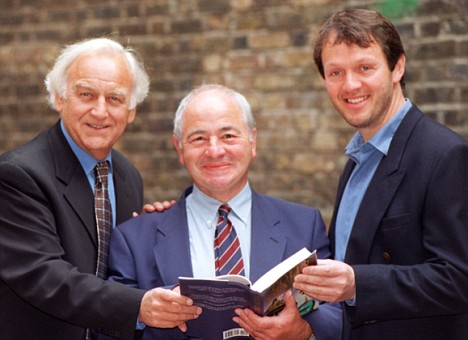 Colin Dexter (29 september 1935 – 21 maart 2017)
John Thaw (Inspecteur Morse), Colin Dexter en Kevin Whately (Detective Sergeant Lewis)
22-03-2017 om 16:48 geschreven door Romenu

Tags:In Memoriam, Colin Dexter, Romenu


21-03-2017

Willem de Mérode, Pim te Bokkel, Kees van Beijnum, Jean Paul, Hamid Skif, Hubert Fichte, Peter Hacks, Michel Bartosik, Youssef Rzouga
Dit Romenu Blog bestaat vandaag precies elf jaar. Dank weer aan alle oude en nieuwe bezoekers voor hun interesse en reacties van het afgelopen jaar. De eerste bijdrage in 2006 ging over de dichter en schrijver Willem de Mérode. Traditiegetrouw, omdat hij aan de wieg stond van dit Blog, ook nu weer een gedicht van hem. Zie ook mijn blog van 2 september 2010 en voor het overige de Willem de Mérode tags op dit blog bij Skynet.
De narcis
De wereld werd zeer zuiver en zeer groot,
Toen schemering de bleeke lucht vervulde.
En liefelijker vlamde de vergulde
Bloem in het donker hoekje bij de sloot.
Er zijn maar enkelen die haar genaken,
Zij lokt niet en zij weert niet, maar wie kwam,
Wordt priester van haar stille gouden vlam,
En blijft zijn leven lang haar schoon bewaken.
O deze aandachtige ingetogenheid,
Die niet meer om het leven lacht en schreit,
Dit enkel schóón zijn, rijk en goedertieren!
Dit prijken in een storeloos geduld,
Dit heerschen van een stille kracht vervuld,
Om 't leven als een louter feest te vieren.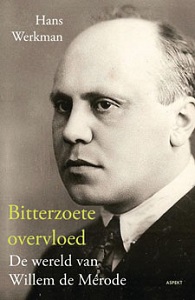 Willem de Mérode (2 september 1887 – 22 mei 1939)
Cover
De Nederlandse dichter Pim te Bokkel werd geboren in Winterswijk op 21 maart 1983. Zie ook alle tags voor Pim te Bokkel op dit blog.
Strandloopster
De zee te zijn
In deze branding de zee willen zijn
De hardloopster
Ze stempelt sporen in het zand
en weet niets meer dan
dat haar manen de dansende
duinen zijn
Daar verstuift ze
Voor wie het schouwspel
van de stofwolk volgt
Slechts een golf die zich breekt
op de rand van de zee
Liedje

Juist wanneer we altijd
samen zullen zijn ont-
breekt er iets dat ons tot
enkel jou en mij verkleint

Het paradijs is nu een
schepping die geschapen is
en jij – degene die ik mis –
bestaat volmaakt alleen en

naakt tussen de lakens
De wereld die je kamer is
is eindeloos met jou en mij

We drijven zonder bakens
uit elkaar en worden ik en jij
en afstand die verlangen is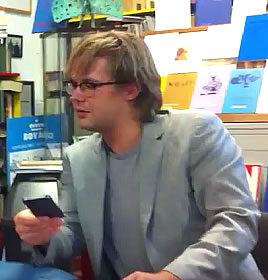 Pim te Bokkel (Winterswijk, 21 maart 1983)
De Nederlandse schrijver Kees van Beijnum werd geboren in Amsterdam op 21 maart 1954. Zie ook alle tags voor Kees van Beijnum op dit blog.
Uit: Het mooie seizoen
"Vijf maanden nadat ze voor het eerst een paar oude sportschoenen aantrok, kan het Beatrijs nog steeds verbazen dat zij het werkelijk is die over het kaarsrechte voetpad aan de rand van de stad rent. Waar de weilanden eindigen staan de oude dorpse huisjes, daarachter de flatgebouwen waar de meesten wonen. Ranke populieren, rijen straatlantaarns die als waterige penseelstreken in de verte bij de viaducten van de ringweg oplossen. Ze hijgt en blaast en zweet. Haar dijen schuren langs elkaar. Ze laat haar blik langs het hoge gras bij de sloot dwalen, op zoek naar haar kat. Sinds zijn verdwijning duikt Plato op de wonderlijkste plekken op, nu eens onder een tuinbank in de buurt van haar huis, dan weer in een fietstunnel aan de andere kant van de stad, en iedere keer is de teleurstelling groot als het niet haar wegloper blijkt te zijn. Ze kent mensen die beweren niet zonder joggen te kunnen, of, erger, dat ze tijdens het lopen in een weldadige roes geraken. Kort nadat Thomas, haar man, naar Zuid-Amerika vertrok voor wat eigenlijk hun gezamenlijke grote reis had moeten zijn, begon ze ermee, twee, drie keer per week, en ze houdt het vol, nog steeds, altijd voor ze aan het werk gaat. Inmiddels heeft ze een betere conditie en nieuwe, verende Nikes, waarmee ze, voorspelde de verkoper van de sportwinkel, haar ongemak en weerzin wel zou overwinnen. Veel plezier beleeft ze er nog steeds niet aan, maar de relatie met haar naakte spiegelbeeld in de badkamer is nog miserabeler. Onsjes, pondjes, kilo's, in haar gedachten zweeft de wijzer van de weegschaal rond haar streefgetal.
Aan de andere kant van de brug staat het busje dat er een halfuur eerder ok al stond. Even had haar het gevoel bekropen dat de wagen haar met gedimde koplampen zou volgen, maar tijdens het joggen was de verontrusting al snel opgelost in de pijnscheuten in haar flank. De lichten zijn uit nu, misschien is het toch een ander busje. De weerspiegelingen in de voorruit maken het onmogelijk om vast te stellen of er iemand in de wagen zit. Ze bereikt de straat met de hoekige, vrijstaande villa's, die de grens van de wijk markeren."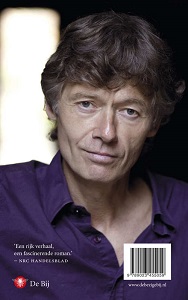 Kees van Beijnum (Amsterdam, 21 maart 1954)
Cover
De Algerijnse dichter, schrijver en journalist Hamid Skif werd geboren op 21 maart 1951 in Oran. Zie ook alle tahs voor Hamid Skif op dit blog.
Du hast gegeben
Du hast gegeben
Alles gegeben
Dir bleibt nichts mehr zu geben
Außer Deine gesprenkelten Hände
Am Ende Deiner Arme
Willst Du sie auch noch geben?
Und dann, was gäbest Du als nächstes?
Der Baum
Ich war gekommen, mich an den höchsten Ast zu knüpfen
Aber der Baum kriegte Angst
Er floh vor dem Geräusch meiner Schritte
Ich habe keinen Baum mehr
An diesem Ort, wo die Menschen nur in ihrem Schatten leben
Und die Hunde im Schatten der Menschen

Wo der Wind eine Kränkung des Himmels ist
Wo der Regen die Festtage frisst

Ich setzte mich in den Sand
Aus meiner Tasche nahm ich einen Zweig Papier
Ich pflanzte ihn in meinen Schatten
Und wurde ebenso groß

Wie der Baum, der den Horizont verdeckt
Vertaald door Andreas Münzner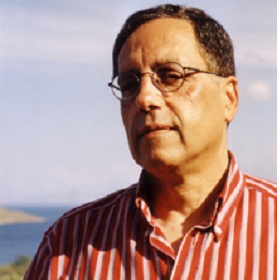 Hamid Skif (21 maart 1951 – 18 maart 2011)
De Duitse dichter en schrijver Jean Paul werd op 21 maart 1763 in Wunsiedel geboren. Zie ook alle tags voor Jean Paul op dit blog.
Uit: Flegeljahre
"Solange Haßlau eine Residenz ist, wußte man sich nicht zu erinnern, daß man darin auf etwas mit solcher Neugier gewartet hätte – die Geburt des Erbprinzen ausgenommen – als auf die Eröffnung des Van der Kabelschen Testaments. – Van der Kabel konnte der Haßlauer Krösus – und sein Leben eine Münzbelustigung heißen, oder eine Goldwäsche unter einem goldnen Regen, oder wie sonst der Witz wollte. Sieben noch lebende weitläuftige Anverwandten von sieben verstorbenen weitläuftigen Anverwandten Kabels machten sich zwar einige Hoffnung auf Plätze im Vermächtnis, weil der Krösus ihnen geschworen, ihrer da zu gedenken; aber die Hoffnungen blieben zu matt, weil man ihm nicht sonderlich trauen wollte, da er nicht nur so mürrisch-sittlich und uneigennützig überall wirtschaftete – in der Sittlichkeit aber waren die sieben Anverwandten noch Anfänger –, sondern auch immer so spöttisch dareingriff und mit einem solchen Herzen voll Streiche und Fallstricke, daß sich auf ihn nicht fußen ließ. Das fortstrahlende Lächeln um seine Schläfe und Wulstlippen und die höhnische Fistel-Stimme schwächten den guten Eindruck, den sein edel gebautes Gesicht und ein Paar große Hände, aus denen jeden Tag Neujahrsgeschenke und Benefiz-Komödien und Gratiale fielen, hätten machen können; deswegen gab das Zug-Gevögel den Mann, diesen lebendigen Vogelbeerbaum, worauf es aß und nistete, für eine heimliche Schneuß aus und konnte die sichtbaren Beere vor unsichtbaren Haarschlingen kaum sehen.
Zwischen zwei Schlagflüssen hatt' er sein Testament aufgesetzt und dem Magistrate anvertraut. Noch als er den Depositionsschein den sieben Präsumtiv-Erben halbsterbend übergab: sagt' er mit altem Tone, er wolle nicht hoffen, daß dieses Zeichen seines Ablebens gesetzte Männer niederschlage, die er sich viel lieber als lachende Erben denke denn als weinende; und nur einer davon, der kalte Ironiker, der Polizei-Inspektor Harprecht, erwiderte dem warmen: ihr sämtlicher Anteil an einem solchen Verluste stehe wohl nicht in ihrer Gewalt.
Endlich erschienen die sieben Erben mit ihrem Depositionsschein auf dem Rathause, namentlich der Kirchenrat Glanz, der Polizei-Inspektor, der Hofagent Neupeter, der Hoffiskal Knoll, der Buchhändler Paßvogel, der Frühprediger Flachs und Flitte aus Elsaß. Sie drangen bei dem Magistrate auf die vom sel. Kabel insinuierte Charte und die Öffnung des Testaments ordentlich und geziemend."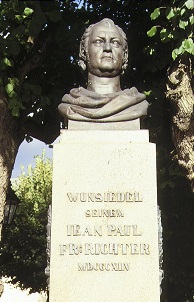 Jean Paul (21 maart 1763 – 14 november 1825)
Monument in Wunsiedel
De Duitse schrijver Hubert Fichte werd geboren op 21 maart 1935 in Perleberg, Brandenburg. Zie ook alle tags voor Hubert Fichte op dit blog.
Uit: Detlevs Imitationen "Grünspan"
"Ich vergrößere meine Augen mit Belladonna, verzeichne meine Brauen und die Haut unter den Wimpern zum Tigerlook. Über Mund und Nase ziehe ich bunte fettige Querstreifen wie auf dem Reklamefoto von »etwas Neues bei Christian Dior..«, setze mir eine blonde Perücke auf und ziehe den Paillettenhosenanzug des lesbisch gewordenen operierten Transvestiten an, stülpe den Federhelm auf mit den Papphörnern, binde mir Flamingoflügel um, behänge meinen Gürtel mit Entenfüßen und Korallenästen, werfe den Schleier über und besteige das perlenbestickte Schaukelpferd des Dichters und warte, daß die Hähne über mir geschlachtet werden und man die Daunen mit dem Blut an meinem Schleier festklebt und imitiere Detlev, der die Iphigenie auf Tauris imitiert."
(…)
"Der Architekt wählt FDP, weil er will, daß die SPD drankommt. Uli wählt CDU, weil Innensenator Schmidt ihn ins Gefängnis gebracht hat. Der Sohn aus gutem Hause glaubt, nun, da die SPD den Paragraphen 175 aufheben half, könne man wieder CDU wählen. Die Tunte aus Marrakech wählt mit all ihren Freunden NPD, um es den jungen Rüpeln zu zeigen. Loddl wählt SPD, weil er will, daß die SPD drankommt.
– Wenn ich SPD wähle, kommt die CDU dran. Vielleicht sollte ich CDU wählen, um die FDP zu stärken. Wenn man ein sozialistisches Deutschland will, ist es nur logisch, die Nazis zu wählen."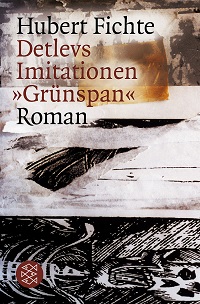 Hubert Fichte (21 maart 1935 – 8 maart 1986)
Cover
De Duitse schrijver en dichter Peter Hacks werd geboren op 21 maart 1928 in Breslau. Zie ook alle tags voor Peter Hacks op dit blog.
Uit: Die Maßgaben der Kunst
"Wollten wir wirklich annehmen, die Kunst kümmere sich um die Physik, dann kämen wir zu der Konsequenz, daß der Kampf mit der Natur ein Gegenstand für die Kunst sei. Daß er das nicht ist, ist schwerer theoretisch zu begründen, als empirisch festzustellen. Alle möglichen Leute haben versucht, die Natur als handelnden Partner in die Kunst einzuführen, und das ist nie etwas geworden. Natürlich ist ein solches Unternehmen besonders unsinnig für den Stückeschreiber, aber auch die Romanciers kommen damit nicht weit.
»Moby Dick« von Melville behandelt, äußerlich gesehen, den Kampf des Menschen mit der Natur. Aber die Natur ist doch da nichts als eine Analogie. Sie ist ein Bild für die Gesellschaft, wie sie Melville damals beschreiben konnte und wollte: nämlich als eine böse, zerstörerische, unübersichtliche und blinde Macht. Die Natur ist kunstfähig nur, wo die Gesellschaft gemeint ist, und das Verhältnis des Menschen zur Natur, wo, anläßlich dieses Verhältnisses, gesellschaftliche Haltungen gezeigt werden. Der Mensch nimmt der Natur gegenüber die gleiche Haltung ein wie der Gesellschaft gegenüber. Er fühlt sich als ihr Subjekt oder als ihr Objekt; er zieht aus ihr Nutzen oder Stimmung; er empfindet sie als vertraut oder fremd, freundlich oder feindlich. Oft projiziert er seine utopischen Vorstellungen von der Gesellschaft in die Natur. Die Natur als solche hingegen geht ihn im Grunde gar nichts an; er ist ja kein Affe mehr. Er produziert sozial, und im Sozialen liegen seine Probleme.
Ich habe hier also einen Punkt nachzutragen, der in der Diskussion noch nicht berührt worden ist. Wir haben noch nicht gesagt, was wir unter den Wissenschaften verstehen wollen, wir haben unser Gesprächsthema noch nicht genügend untersucht. Ich bin der Meinung, daß die Naturwissenschaft, als eine Wissenschaft von den Produktionsmitteln, so klassenindifferent ist wie die Produktionsmittel, und daß folglich der Schriftsteller, der sich nur mit gesellschaftlichen Fragen beschäftigt, das Recht und die Pflicht hat, sie zu vernachlässigen. Ich bin auch der Meinung, daß die Naturwissenschaft auf die Literatur keinen Einfluß hat. Über das blöde Wesen, das Maler und Schriftsteller mit Professor Einsteins Raum und Zeit machen, ist schon geredet worden; Arnold Zweig hat das angedeutet."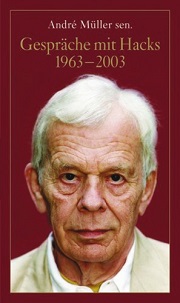 Peter Hacks (21 maart 1928 – 28 augustus 2003)
Cover
De Vlaamse dichter, dichter, essayist en docent poëzie Michel Bartosik werd geboren in Antwerpen op 21 maart 1948. Zie ook alle tags voor Michel Bartosik op dit blog.
Geen strand scheidt vandaag
onze blad aan blad gedroogde
tweespraken van de zee.
Lip aan lip
verlaten wij elkaar,
brokkelend onder
het eeuwenstof der spreeuwen,
zwijgend in het eenzame
gesprek met de zee.
Geen strand scheidt vandaag
onze blad aan blad gedroogde
tweespraken van de zee.
Reis tot Salzburg
Feestverlichting hangt
in de rivierbocht
stil, onbesteld.
Daaronderdoor
zakt water verder
af naar zijn Donau, laag
en zwart, en kruit de weerspiegeling
niet mee.
Ook wij blijven hier, de avond
is zoals alles voorgeproefde dood, eindelijk
is het hart breekrijp, schenkt morsig, gloriërend
morsig de ogen met onbegrijpelijke schaamte vol, we blijven
beginnen onze woorden
te vinden
…lui dire toute ma tendresse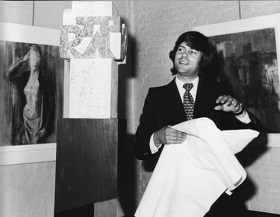 Michel Bartosik (21 maart 1948 – 1 februari 2008)
In 1976
De Tunesische dichter Youssef Rzouga werd geboren op 21 maart 1957 in Mahdia. Zie ook alle tags voor Youssef Rzouga op dit blog.
Ivre d'un peu de verdure
Je m'astreins à un jeu de gym.
Ai-je tort ?
L'ombre m'afflige
Ainsi que l'affreuse rime
De cent gouttes d'eau chaude
Suintant de mes entrecôtes.

Je n'ai plus le bâton magique
Je n'ai plus la même série d'ennemis ou d'amis d'autrefois
Une fois, seul..
Je m'astreins à m'aimer
Ce n'est qu'une gym
Pour gémir, ivre d'un peu de verdure, dans mon yoguème *
Je m'astreins à un rêve restreint :
Me venger d'un hors –jeu
Et d'un double jeu, fou d'un enfant rebelle..

Je m'astreins à penser le monde
Devant tout le monde
Et c'est là.. ma faute
Je m'astreins à gommer ma faute
En escaladant mon petit monde secrètement..
Sans gémir,
Ivre d'un peu de verdure, dans mon poème.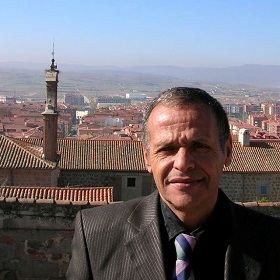 Youssef Rzouga (Mahdia 21, maart 1957)
Zie voor nog meer schrijvers van de 21e maart ook mijn blog van 21 maart 2016 deel 2 en ook Romenu's 1e lustrum pagina.
21-03-2017 om 18:37 geschreven door Romenu

Tags:Willem de Mérode, Pim te Bokkel, Kees van Beijnum, Jean Paul, Hamid Skif, Hubert Fichte, Peter Hacks, Michel Bartosik, Youssef Rzouga, Romenu


20-03-2017

David Malouf, Friedrich Hölderlin, Katharina Hartwell, Ralph Giordano, Ricus van de Coevering, Jens Petersen, Benoît Duteurtre, Gerard Malanga, Henrik Johan Ibsen
De Australische schrijver David Malouf werd geboren op 20 maart 1934 in Brisbane. Zie alle tags voor David Malouf op dit blog.
From a Plague Year
A sign first in the sky, then other tokens,
but plainer, on the flesh. June's thirty suns
flared and we were tinder. Flies appeared
and bubbled in pools, their green gaze multiplied
the dead. But we, the elected, all that term
kept house, kept shop, kept silence, knowing no harm
would come to us. We paid our taxes, served
on juries, saw men punished or reprieved
from death under the law. God's eye
was on us. Like a red-hot cautery
it pricked and burned. Who keep His just commandments
shall live. No terror can afflict the saints.

But still each week the numbers swell, the needle
glows. In a devil's covenant, through all
the colours of the rainbow, pale flesh bruises
black, then stinks and softens. We stop our noses,
the death-cloud blooms. We find its dark seeds scattered
like sunshine, everywhere.
And so we board
our houses up, burn pitch, read in the Book
and choke. By day no footfall, no wheel's creak
in the cobbled square. At night the town's aswarm
with cries, a fearful traffic. Dung-carts climb
to where, in moonlit fields, whole families meet
at the real it's edge, new nameless suburbs greet
new citizens; they seethe like privy holes.

Some say the plague's a rat, soft-bellied squeals
in the rushes underfoot, a red-eyed fever
that glares. Or blame the Jews. Or claim the air
itself turns poisonous; where warm breath clouds
a glass invisible armies spawn, one word's
enough to quell a city. It is death
we suck on now. The plague in our mouth.

No help! Gender of spiders on the tongue
that preaches, curses, pleads, God's judgment wrung
in black sweat from our limbs. Are we in Bedlam
or is it Hell that rocks us with its flame?
The sickness in this month is grown so general
no man can judge. It comes to this: we kill
our neighbours with the very prayers we sigh
to Heaven. O my Lord, spare me, spare me.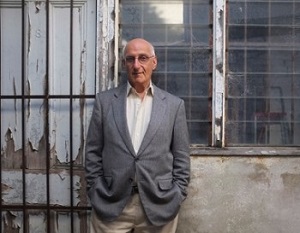 David Malouf (Brisbane, 20 maart 1934)
De Duitse dichter en schrijver Johann Christian Friedrich Hölderlin werd geboren op 20 maart 1770 in Lauffen am Neckar in het Hertogdom Württemberg. Zie ook alle tags voor Friedrich Hölderlin op dit blog
Der Herbst
Das Glänzen der Natur ist höheres Erscheinen,
Wo sich der Tag mit vielen Freuden endet,
Es ist das Jahr, das sich mit Pracht vollendet,
Wo Früchte sich mit frohem Glanz vereinen.

Das Erdenrund ist so geschmückt, und selten lärmet
Der Schall durchs offne Feld, die Sonne wärmet
Den Tag des Herbstes mild, die Felder stehen
Als eine Aussicht weit, die Lüfte wehen

Die Zweig und Äste durch mit frohem Rauschen,
Wenn schon mit Leere sich die Felder dann vertauschen,
Der ganze Sinn des hellen Bildes lebet
Als wie ein Bild, das goldne Pracht umschwebet.
Der Winter
Das Feld ist kahl, auf ferner Höhe glänzet
Der blaue Himmel nur, und wie die Pfade gehen,
Erscheinet die Natur, als Einerlei, das Wehen
Ist frisch, und die Natur von Helle nur umkränzet.

Der Erde Stund ist sichtbar von dem Himmel
Den ganzen Tag, in heller Nacht umgeben,
Wenn hoch erscheint von Sternen das Gewimmel,
Und geistiger das weit gedehnte Leben.
Menons Klagen um Diotima
1
Täglich geh' ich heraus, und such' ein Anderes immer,
Habe längst sie befragt alle die Pfade des Lands;
Droben die kühlenden Höhn, die Schatten alle besuch' ich,
Und die Quellen; hinauf irret der Geist und hinab,
Ruh' erbittend; so flieht das getroffene Wild in die Wälder,
Wo es um Mittag sonst sicher im Dunkel geruht;
Aber nimmer erquickt sein grünes Lager das Herz ihm,
Jammernd und schlummerlos treibt es der Stachel umher.
Nicht die Wärme des Lichts, und nicht die Kühle der Nacht hilft,
Und in Wogen des Stroms taucht es die Wunden umsonst.
Und wie ihm vergebens die Erd' ihr fröhliches Heilkraut
Reicht, und das gärende Blut keiner der Zephire stillt,
So, ihr Lieben! auch mir, so will es scheinen, und niemand
Kann von der Stirne mir nehmen den traurigen Traum?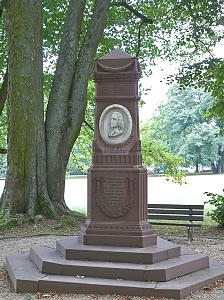 Friedrich Hölderlin (20 maart 1770 – 7 juni 1843)
Monument in Bad Homburg
De Duitse schrijfster Katharina Hartwell werd geboren op 20 maart 1984 in Keulen. Zie ook alle tags voor Katharina Hartwell op dit blog.
Uit: Das Fremde Meer
"Niemand sonst hatte einen Garten wie meine Großeltern, weitläufig und verwinkelt, und darin gab es alles, Schilf um den Teich, hohe Bäume, ein kleines Gartenhaus voller Spinnweben und einen steinigen, schmalen Weg, der hinunter zum Bach führte. Dort, am Ufer und auch im Bach selbst, spielten wir vor allem im Sommer. Wir häuften Geröll und Äste zu Inseln an, auf denen wir standen und einander zuwinkten. Unsere Vorhaben waren stets ehrgeizig und aussichtslos. Ein Boot wollten wir bauen, eine Brücke, einen Damm. Im Herbst verlegten wir unsere Spiele wieder zurück in den Garten. Unter dem Kastanienbaum errichteten wir aus Ästen, aus Laub, aus Ziegeln, die wir im Keller gefunden hatten, Burgen für die Ewigkeit. Wir spielten zu jeder Jahreszeit draußen. Auch im Winter, auch, wenn es schon früh dunkel wurde und meine Großmutter sich um uns fürchtete. Nur mein Onkel Paul konnte uns überreden, ins Haus zu kommen. Dann durften wir in sein Zimmer, wo alles besonders und anders war: Seine Steinsammlung zeigte er uns, und seine elektrische Schreibmaschine. Paul wollte uns beibringen, Schach zu spielen, aber uns wurde schnell langweilig. Mir wurde schnell langweilig, und ich gab den Ton an. Mir war nicht danach, still zu sitzen und kleine Holzfiguren vor- und zurückzuschieben. Mir war nach großen Expeditionen. Meine Pläne trug ich mit Bestimmtheit vor. Jeden Nachmittag entwarf ich einen neuen Kosmos, legte den Handlungsverlauf unserer Spiele fest, bis in jedes Detail, bis in die Unterhaltungen: Du würdest zum Haus des Jägers kommen, und ich wäre bereits dort. Du würdest fragen, und ich würde sagen. Bei anderen Spielen ging es genau darum, nichts zu planen, nichts zu wissen. Es ging darum, sich im Wald zu verlieren und aufspüren zu müssen. Es ging darum, schneller als der andere zu sein, weniger Angst zu haben. Eines unserer wilderen Spiele bestand darin, dass wir hoch in die Bäume kletterten und uns in die flachen Baumkronen fallen ließen. Wenn uns das Netz der Zweige nicht hielt, krachten wir hinunter auf den Waldboden. Ich zog mir unzählige Kratzer und blaue Flecken zu, aber anders als meine Großmutter es mir voraussagte, brach ich mir nie einen Arm oder ein Bein. Meine Großeltern waren immerzu in Sorge um mich."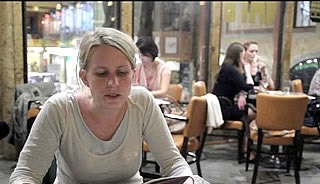 Katharina Hartwell (Keulen, 20 maart 1984)
De Duitse schrijver en journalist Ralph Giordano werd op 20 maart 1923 in Hamburg geboren. Zie ook alle tags voor Ralph Giordano op dit blog.
Uit:Die Bertinis
"Gab, nachdem der Schneidermeister ihn seiner störenden musikalischen Besessenheit wegen schließlich davongejagt hatte, ein kurzes, zähneknirschendes Intermezzo bei den Carabinieri, floh auch diese Organisation und spielte, zwanzigjährig, unaufgefordert einem großen Blasorchester vor, das Palermo etwas gönnerisch beehrte — die Herren waren Hauptstädte gewohnt. Giacomo schlich in eine Probe, unterbrach sie schrill mit seiner Trompete, blies, blies unerhört, jetzt engelhaft sanft, dann wieder mit mauersprengendem Schall, tremolierend, von schier endlosem Atem. Hielt inne, wartete, griff, als der Himmel nicht einstürzte, nach einem Cello, gab ein furioses Solo und stand nach dem letzten Ton, seiner schlotternden Glieder nicht mehr mächtig, da — Erfolg oder Untergang hatte seine Devise gelautet! Alberto Druso, ein feiner, weißhaariger Mann, hielt die ganze Zeit seinen Stab gesenkt. Sizilianer aus Messina, engagierte er den ungebetenen Gast wortlos durch ein Kopfnicken. Sie schlossen sofort Freundschaft miteinander. Das war 1890. Vier Jahre zog Giacomo mit dieser Kapelle durch die Metropolen des Mittelmeeres — Alexandrien, Athen, Marseille, Konstantinopel, Rom —, ehe sie sich zum erstenmal nach Norden wandte. Damals fand in Hamburg unter dem verheißungsvollen Titel »Venedig an der Elbe« eine Ausstellung statt, ein geschicktes Arrangement von Vergnügen und kommerziellen Interessen des Zitrus-Imports — die Leitung schrie nach einem original-italienischen Orchester. Alberto Drusos Musiker überwanden sich und die Alpen und trafen fröstelnd in Hamburg ein, wo ihr dunkler Charme sogleich grobe Verwirrung stiftete. Noch während des Debuts in der »Central-Halle« verliebte sich eine Zuhörerin aus der ersten Reihe sterblich in den Zweiten Trompeter, einen ebenso hübschen wie unbedeutenden Mann. Gleichzeitig mit ihrem vehementen Gefühl wurde auch ihr unheilvoller Plan geboren. Schon in der Pause bestrickte sie den Trompeter, wich künftig nicht mehr von seiner Seite und zählte bald zum Inventar. Zunächst noch unauffällig, begann sie, die Musiker, zwanzig zum Teil bärtige Italiener, zu beschenken, ehe sie daran ging, sie hemmungslos vor den Augen Alberto Drusos, um dessen Rücktritt es ihr ging, zu korrumpieren. Mammon und undankbares Verhalten obsiegten schließlich. Weinend und ohne verabschiedet zu werden, fuhr der vernichtete Druso nach Messina zurück, was den selbstlosen Gatten des liebestollen Frauenzimmers immerhin an die achtzigtausend Goldmark gekostet hatte."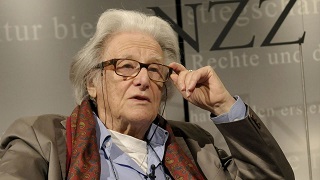 Ralph Giordano (20 maart 1923 – 10 december 2014)
De Nederlandse schrijver Ricus van de Coevering werd op 20 maart 1974 in Asten geboren. Zie ook alle tags voor Ricus van de Coevering op dit blog.
Uit: Noordgeest
"Willem hoorde het dreunen van een diesel en liep naar het raam. Een rondvaartboot schoof tussen de oude gevels voorbij. Terwijl hij naar het flitslicht keek, vroeg hij zich af op hoeveel foto's hij onbedoeld stond afgebeeld. Zeker honderden en misschien wel duizenden. Pas als die toeristen thuiskwamen en de foto's goed bekeken, ontdekten ze hem misschien, maar ze zouden niet zien wat hem zo bijzonder maakte.
Toen hij zich van het raam afwendde, sloeg de pendule op de schouw vier en voelde hij een mengeling van melancholie en spanning in hem opkomen omdat het over minder dan een week oud en nieuw was. Negentien tachtig, herhaalde hij een paar keer in gedachten – tachtig, tachtig, om er alvast aan te wennen. Terwijl hij leunend op zijn stok de gang in liep, voelde hij zich met zijn stijve knie wel zeventig jaar oud in plaats van zevenenveertig. Nadat hij zijn lange jas had aangetrokken, bekeek hij zichzelf in de spiegel: hij had duidelijk de haakneus van Ferdinand Janszoon Noordgeest, zijn beroemdste voorvader, medeoprichter van de VOC, wiens levensgrote portret achter hem aan de muur hing. Alsof hij de gelijkenis voor het eerst zag wipte hij trots met zijn hakken van de grond, toen riep hij met zware stem Thomas en Rosa, zijn kinderen.
Thomas kwam uit de achterkamer gelopen met een stripboek in zijn hand. Willem commandeerde hem zijn zus te gaan halen, waarna Thomas de trap op rende. Even later kwam hij naar beneden met een boodschappenbriefje, omdat Rosa geen zin had om mee te gaan.
'Haas,' mompelde Willem, toen hij het slordige handschrift van zijn dochter had ontcijferd, daarna opende hij de zware eikenhouten voordeur. Moeizaam, trede voor trede, met één hand aan de leuning en de andere hand stevig om zijn stok geklemd ging hij het trapje naar de gracht af. Het zout dat hij er 's ochtends gestrooid had, knisperde onder zijn zolen. 'Maar jij gaat 'm kopen Thomas, want ik zet daar geen voet binnen.'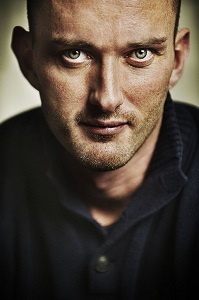 Ricus van de Coevering (Asten, 20 maart, 1974)
De Duitse schrijver en arts Jens Petersen werd geboren op 20 maart 1976 in Pinneberg. Zie alle tags voor Jens Petersen op dit blog.
Uit: Die Haushälterin
"Die HEW hatte ihn vor die Wahl gestellt, nach Japan zu gehen – nicht nach Tokio, sondern in eine kleinere Stadt an der Küste Hokkaidos, wo ein Schneller Brüter gebaut wurde – oder eine Abfindung zu akzeptieren, sechzigtausend Mark. Das erzählte er mir beim Frühstück, an einem Sonntag, einige Tage nach dem Gespräch mit Doktor Steinberg, seinem Chef. Er trug das karierte Flanellhemd mit den abgewetzten Manschetten und strich sein Brötchen mit Leberpastete, nachdem er noch einmal den Deckel der Dose geprüft, das Verfallsdatum kontrolliert und am Inhalt gerochen hatte.
»Sechzigtausend Mark«, sagte er und zupfte die Serviette auf seinem Schoß zurecht.
Ich wußte, daß ihm sein Job gefiel. Er schätzte DoktorSteinberg, und er mochte seine Kollegen. Manchmal sprach er von ihnen, als hätten sich leidenschaftliche Bienenzüchter, Schachspieler und Antiquitätennarren, Physiker allesamt, durch einen glücklichen Zufall gefunden, um die Gefahren der Nukleartechnik mit einer Leichtigkeit zu bannen, die mich an den Computerkurs der Projektwoche erinnerte. Er schwieg, wenn bei Familientreffen von Urlaubsplanung, Überstundenausgleich oder Vorgesetzten die Rede war, als wollte er die HEW vor meinen Onkels und Tanten, die ihre Jobs offenbar haßten, durch sein Schweigen schützen."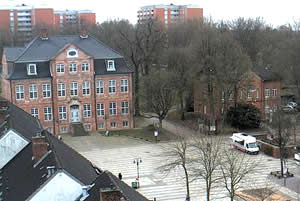 Jens Petersen (Pinneberg, 20 maart 1976)
Pinneberg met de Drostei, de zetel van de vroegere landdrosten
De Franse schrijver Benoît Duteurtre werd geboren op 20 maart 1960 in Saint-Adresse nabij le Havre. Zie alle tags voor Benoît Duteurtre op dit blog.
Uit: A nous deux, Paris !
« Préservé de cette agitation, le square Gaston-Baty formait un triangle de verdure incliné au milieu de trois rues désertes. D'un côté se dressait un petit hôtel ; de l'autre, un restaurant de fruits de mer. Le gardien coiffé d'un képi était sorti de sa guérite pour arpenter la terre battue ; un enfant jouait devant sa mère dans le bac à sable ; un homme lisait le journal et Jérôme, penché à sa fenêtre, contemplait avec ravissement ce nid de quiétude éclairé par un rayon de soleil à travers les branches. On décrit généralement ce genre d'endroit comme "un coin de province en plein Paris" ; mais, juste en dessous, près de l'immeuble, un couloir public permettait de rejoindre le grand magasin Inno, ses étalages gourmands et ses alignements de breuvages. D'un côté le square provincial, de l'autre le temple de la consommation. Où pouvait-on être mieux au monde que dans cet appartement de quarante mètres carrés équipé d'un téléphone?
- Nulle part ! s'écria Jérôme à voix haute, en se retournant vers son logis.
Surtout quand l'appartement en question était gratuit, fourni par une grand-mère désireuse d'encourager son petit-fils et de faciliter ses débuts. La complicité de cette ardente septuagénaire avait beaucoup compté dans le destin de Jérôme. Tandis que ses parents suivaient avec angoisse l'éveil de sa vocation artistique, Elisabeth Demortelle l'avait toujours discrètement soutenu - peut-être en souvenir de sa trop brève carrière de cantatrice, abandonnée pour le mariage. Elle voyait l'aîné de ses petits-enfants comme son héritier... même sans entendre grand-chose à ses passions lorsqu'il parlait de rock ou se lançait dans de longues improvisations sur son piano, très loin des mélodies de Fauré qu'elle fredonnait encore. Elle avait donc pris sa décision sans hésiter : l'appartement qu'elle possédait square Gaston-Baty constituerait une base de départ. Pour sa première année à Paris, Jérôme en disposerait pleinement. Après quoi les lois de l'équité familiale obligeraient le jeune homme à céder la place si l'un de ses cousins venait étudier à son tour. Pour l'heure, il avait carte blanche : douze mois pour partir à la conquête de la grande ville."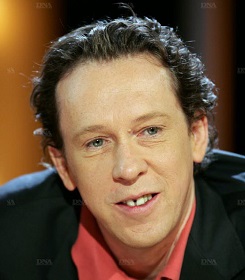 Benoît Duteurtre (Saint-Adresse, 20 maart 1960)
De Amerikaanse dichter en fotograaf Gerard Joseph Malanga werd geboren op 20 maart 1943 in New York.Zie alle tags voor Gerard Malanga op dit blog.
Cornelius ... Cornelius Gurlitt
How tired are you? How benevolent the cause
for those slim, aching moments of blinding obscurity,
and the blinds drawn and the sunlight louvered
until even the knickknacks cling to their dust as to Time
passing passing, if even that. The yearning
to be not bothered, to be passed on the street,
the rehab, the food mart, the many shoppe window reflections. So many
times, the eyes averted in fear,
so many times you remain obscure, even to your more obscured self.
A silence charting your whereabouts
at the many roundabouts,
the Tenderloins forever unnamed.
Even the sounds of the half-painted trams remain silent
in passing. Their wheels grinding yet silent. The rain
silent. The accusations even more silent,
or the "friends" who never talk back, clouded in darkness.
The landscapes drifting.
The equestrian trots drifting.
All the genres mixed up or simply misplaced.
The memories gone blank.
The mundane measured in hours, minutes, or decades, intervening, descending.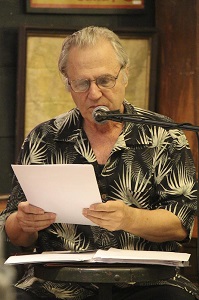 Gerard Malanga (New York, 20 maart 1943)
De Noorse toneelschrijver en dichter Henrik Johan Ibsen werd geboren op 20 maart 1828 in Skien. Zie ook alle tags voor Henrik Ibsen op dit blog.
Uit: Pillars of Society (Vertaald door R. Farquharson Sharp)
"After a moment AUNE comes in quietly through the door on the right. There is a slight interruption in the reading. MRS. BERNICK nods to him and points to the door on the left. AUNE goes quietly across, knocks softly at the door of BERNICK'S room, and after a moment's pause, knocks again. KRAP comes out of the room, with his hat in his hand and some papers under his arm.)
KRAP: Oh, it was you knocking?
AUNE: Mr. Bernick sent for me.
KRAP He did--but he cannot see you. He has deputed me to tell you--
AUNE: Deputed you? All the same, I would much rather--
KRAP: --deputed me to tell you what he wanted to say to you. You must give up these Saturday lectures of yours to the men.
AUNE: Indeed? I supposed I might use my own time--
KRAP: You must not use your own time in making the men useless in working hours. Last Saturday you were talking to them of the harm that would be done to the workmen by our new machines and the new working methods at the yard. What makes you do that?
AUNE: I do it for the good of the community.
KRAP: That's curious, because Mr. Bernick says it is disorganising the community."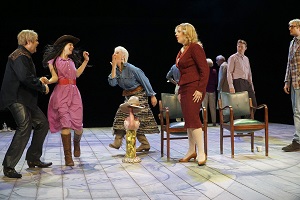 Henrik Johan Ibsen (20 maart 1828 – 23 mei 1906)
Scene uit een opvoering in Kiel, Duitsland, 2015
Zie voor nog meer schrijvers van de 20e maart ook mijn blog van 20 maart 2016 deel 1 en eveneens deel 2 en ook deel 3.
20-03-2017 om 18:54 geschreven door Romenu

Tags:David Malouf, Friedrich Hölderlin, Katharina Hartwell, Ralph Giordano, Ricus van de Coevering, Jens Petersen, Benoît Duteurtre, Gerard Malanga, Henrik Johan Ibsen, Romenu


19-03-2017

Mano Bouzamour, Hans Mayer, Philip Roth, Kirsten Boie, Lynne Sharon Schwartz, Lina Kostenko, Petar Preradović
De Nederlandse schrijver Mano Bouzamour werd geboren op 19 maart 1991 in Amsterdam. Zie ook alle tags voor Mano Bouzamour op dit blog.
Uit: Samir, genannt Sam (Vertaald door Bettina Bach)
"Mann, Maria voller Gnade, ich darf aufs Gymnasium, verdammt noch mal. Mein Bruder und ich liefen gut gelaunt zwischen rauchenden Jugendlichen die Eingangstreppe der Schule hinunter, wo ich gerade mein Kennenlerngespräch geführt hatte. Weil meine bescheuerte Grundschullehrerin mir nur eine Hauptschulempfehlung gegeben hat, obwohl ich laut Abschlusstest fürs Gymnasium geeignet bin, sollte ich mit einem Elternteil zum Gespräch kommen. Dann wollten sie entscheiden, ob ich aufs Gymnasium durfte oder nicht. Wie immer bei Schulgesprächen war mein Bruder dabei.
Eine Niederländischlehrerin nahm mich ins Kreuzverhör. Hätte nur noch gefehlt, dass sie mich an den Stuhl fesselt. Eine Dreiviertelstunde später schloss sie mit der Frage: »Versprichst du mir, dir wirklich Mühe zu geben, wenn du hier bei uns einen Platz bekommst?«
»Aber selbstverständlich.«
Sie hatte zu meinem Bruder geschaut, der neben mir saß.
»Sie haben das auch gehört? Sehr schön. Dann habe ich ja einen Zeugen. Sorgen Sie dafür, dass er Wort hält?«
»Wie ein Gefängniswärter, da können Sie ganz beruhigt sein. Die nächsten sechs Jahre gehört er mir.«
Mein Bruder legte mir seine warme Hand in den Nacken. Wir überquerten die Straße und gingen zu Soussi, dem engsten Freund meines Bruders, der auf dem Bürgersteig auf uns wartete. Er saß auf seiner eigenen Vespa, die Füße aber hatte er auf den Roller meines Bruders gestellt. Mein Bruder flüsterte: »Tu so, als wärst du ganz geknickt«, und dann rief er Soussi zu: »Nimm die Flossen von meinem Roller!«
Soussi sprang auf, als er uns sah. Er sprach platteren Amsterdamer Dialekt als der Schlagersänger André Hazes. »Hier an der Schule laufen echt klasse Weiber rum, Alter. Und? Was hat se gesagt? Wie lief's? Haste nen Platz gekriegt?«
Ich spielte mit dem Schirm meiner verkehrt herum aufgesetzten roten Lacoste-Kappe, aus der meine Tolle wie eine hohe Welle aufragte, seufzte tief und sagte: »Nee, Mann.«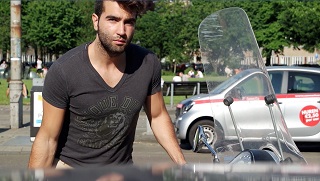 Mano Bouzamour (Amsterdam, 19 maart 1991)
De Duitse literatuurwetenschapper, schrijver, criticus, jurist en socioloog Hans Mayer werd geboren op 19 maart 1907 in Keulen. Zie ook alle tags voor Hans Mayer op dit blog.
Uit: Du störst mich nicht (Über Thomas und Heinrich Mann: Briefwechsel 1900-1949)
"Allein, die Rechnung geht so einfach nicht auf. Bei dem Manuskript nämlich, dessen Schicksale so sentimental wie kokett referiert werden, handelt es sich um die "Buddenbrooks". Dadurch werden die Briefe des jungen Thomas Mann zwar nicht erfreulicher oder "seriöser". Der Kontrast zwischen dem Schriftsteller Thomas Mann und seinem Werk wird fast überdeutlich. Paradoxer· Zustand: Kaum ein Schriftsteller unseres Jahrhunderts hat sein Werk so stark mit allem gespeist, was ihn das Leben erfahren ließ, wie Thomas Mann. Die in jenem Brief vom Jahre 1901 angedeutete Krise wurde sogleich für den "Tonio Kröger" genutzt, mehr als vierzig Jahre später auch noch für die Geschichte des deutschen Tonsetzers Adrian Leverkühn.
Andererseits ist es nahezu unmöglich, eines der wichtigeren Werke Thomas Manns vom Biographischen her zu erschließen. Man ist immer wieder verwundert darüber, daß der reale Mensch, den man nach seinen Briefen und jeweiligen Selbstaussagen beurteilen muß, ein Oeuvre produziert hat, das weit über die privaten Dimensionen hinausragt,
Wer es nicht wüßte, aus diesen Jugendbriefen Thomas Manns könnte ein unkundiger Leser kaum erraten, daß er es mit dem Verfasser der "Buddenbrooks" zu tun hat.
Der Fall des jungen Thomas Mann wird immer sonderbarer. Da ist nicht bloß die Diskrepanz zwischen der privaten und der literarisch-öffentlichen Dimension. Ein junger Mann von 25 Jahren hat diesen enormen Roman zu Ende gebracht: ein in der Literaturgeschichte wohl vergleichsloser Vorgang. Geniale Partituren, geschrieben von Halbwüchsigen: das ist nicht ungewöhnlich. Auch nicht die inkommensurable Jugendlyrik eines Goethe, Keats oder Rimbaud.
Die frühen und bitter-süßen Erzählungen Thomas Manns in französischer und russischer Tradition: sie waren adäquat dem seelischen und literarischen Habitus dieses jugendlichen Briefschreibers. Aber ein Werk von der Erfahrungsfülle, epischen Architektur und kulturkritischen Reflexion dieses deutschen Bürgerromans? Die Briefe geben dafür keine Erklärung."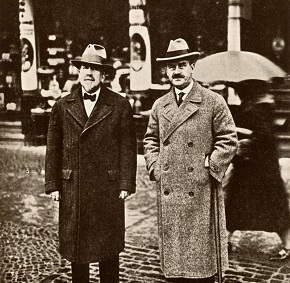 Hans Mayer (19 maart 1907 – 19 mei 2001)
Heinrich en Thomas Mann in de jaren 1930
De Amerikaanse schrijver Philip Roth werd geboren op 19 maart 1933 in Newark. Zie ook alle tags voor Philip Roth op dit blog.
Uit: American Pastoral
"It was a cheer that consisted of eight syllables, three of them his name, and it went, Bah bah-bah! Bah bah bah . . . bah-bah! and the tempo, at football games particularly, accelerated with each repetition until, at the peak of frenzied adoration, an explosion of skirt-billowing cartwheels was ecstatically discharged and the orange gym bloomers of ten sturdy little cheerleaders flickered like fireworks before our marveling eyes . . . and not for love of you or me but of the wonderful Swede. "Swede Levov! It rhymes with . . . 'The Love'! . . . Swede Levov! It rhymes with . . . 'The Love'! . . . Swede Levov! It rhymes with . . . 'The Love'!"
Yes, everywhere he looked, people were in love with him. The candy store owners we boys pestered called the rest of us "Hey-you-no!" or "Kid-cut-it-out!"; him they called, respectfully, "Swede. Parents smiled and benignly addressed him as "Seymour. The chattering girls he passed on the street would ostentatiously swoon, and the bravest would holler after him, "Come back, come back, Levov of my life!" And he let it happen, walked about the neighborhood in possession of all that love, looking as though he didn't feel a thing. Contrary to whatever daydreams the rest of us may have had about the enhancing effect on ourselves of total, uncritical, idolatrous adulation, the love thrust upon the Swede seemed actually to deprive him of feeling. In this boy embraced as a symbol of hope by so many-as the embodiment of the strength, the resolve, the emboldened valor that would prevail to return our high school's servicemen home unscathed from Midway, Salerno, Cherbourg, the Solomons, the Aleutians, Tarawa-there appeared to be not a drop of wit or irony to interfere with his golden gift for responsibility."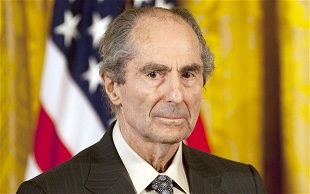 Philip Roth (Newark, 19 maart 1933)
De Duitse schrijfster Kirsten Boie werd geboren op 19 maart 1950 in Hamburg. Zie ook alle tags voor Kirsten Boie op dit blog.
Uit: Nicht Chicago. Nicht hier
Sie haben den Garten abgesucht, gebeugt, mit kleinen Schritten. Svenja hat Taschenlampen aus dem Keller ge-holt. Inzwischen sind sie auf der Straße, laufen, rufen, leuch-ten ins Gebüsch, in jeden Schatten, hinter die geparkten Autos. »Rex!«, ruft Niklas. »Rexo!« Karin bringt ihnen lacken, hängt sie dem unwilligen Niklas über die Schultern. »Ihr müsst euch doch nicht auch noch erkälten!«, sagt sie. »Wenn Rex weg ist, ist das natürlich nicht schön, aber ihr müsst euch doch nicht auch noch ...« »Karin!«, sagt Svenja. »Sei jetzt endlich mal still!« Und Karin protestiert nicht. Sagt nicht, sie verbitte sich diesen Ton. Sie geht auf die andere Straßenseite, selber ohne Jacke, und sucht mit.
»Vielleicht finden wir ihn morgen noch«, sagt Thomas tröstend. Die Helligkeit im Wohnzimmer blendet sie fast. »Wir kleben überall Zettel an die Bäume. Rex ist doch zahm! Wenn den jemand findet, kann er ihn ganz leicht einfangen. Bestimmt kriegst du ihn doch noch zurück, Niklas.«
Niklas sitzt jetzt ganz still. Er hat aufgehört zu heulen und er hat aufgehört zu schluchzen. jetzt braucht er Zeit, sich an den Gedanken zu gewöhnen. »Das ist doch Mist, Thomas!«, sagt Svenja böse. »Und das weißt du auch ganz genau! Du willst Niklas nur trösten!« Thomas zuckt die Achseln. Alle vier da im hellen Wohn-zimmer sehen jetzt, jeder für sich, die Straßen, Autos, sehen ein kleines weißes Kaninchen, sehen weg; sehen Katzen, geduckt, die Augen zu Schlitzen verengt, lau-ernd, sehen ein kleines weißes Kaninchen. Sehen weg."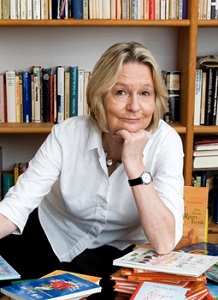 Kirsten Boie (Hamburg, 19 maart 1950)
De Amerikaanse schrijfster Lynne Sharon Schwartz werd geboren op 19 maart 1939 in New York. Zie ook alle tags voor Lynne Sharon Schwartz op dit blog.
Uit: Ruined By Reading: A Life in Books
"Among some tossed-out books of my daughter's which I rescued...was one too awful to live. I returned it to the trash, resisting the urge to say a few parting words. All day long the thought of its mingling with chicken bones and olive pits nagged at me. Half a dozen times I removed it and replaced it, like an executioner with scruples about capital punishment. Finally I put it on a high shelf where I wouldn't have to see it. Life imprisonment."
(…)
"I have managed not to finish certain books. With barely a twinge of conscience, I hurl down what bores me or doesn't give what I crave: ecstasy, transcendence, a thrill of mysterious connection. For, more than anything else, readers are thrill-seekers, though I don't read thrillers, not the kind sold under that label, anyway. They don't thrill; only language thrills."
(…)
"Reading was the stable backdrop against which my life was played. It was what I used to do through long evenings. Never mornings even to one so self-indulgent, it seems slightly sinful to wake up and immediately sit down with a book and afternoons only now and then. In daylight I would pay what I owed the world. Reading was the reward, a solitary, obscure, nocturnal reward. It was what I got everything else (living) out of the way in order to do. Now the lack was taking its toll. I was having withdrawal symptoms."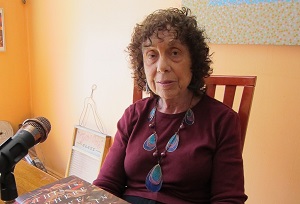 Lynne Sharon Schwartz (New York, 19 maart 1939)
De Oekraïense schrijfster en dichteres Lina Kostenko werd op 19 maart 1930 geboren in Rzhyshchiv. Zie ook alle tags voor Lina Kostenko op dit blog.
Oh, stop me, come to senses…
Oh, stop me, come to senses, halt my dreams!
Such love descends from heaven once in never.
Over my broken life like a typhoon it screams
And leaves behind horizons in its fervor.

It tears our serenity to bits,
Its fiery lips are scorching words to ashes!
Oh, stop me, stop — and help me find my wits
Before my sanity forever crashes!

While reason holds… but no, the hope is lost.
At last my hour has come to see the dawn:
For next to you my soul will turn to frost
Or next to you I will enflame and burn.
Vertaald door Slava Galperin en Alex Zeyliger
Beware the Censor in Yourself
Beware the censor that inside you dwells,
Look out for the unshaven, rustic being
That by his homely, tricky elfish spells
Your conscience seeks to strip of any meaning
Little by little, softly, day by day
Will rob you of your inner self attempt he
Your heirlooms nip and icons pick away
And leave behind a carcass heaving empty
Vertaald doorArtyom Timeyev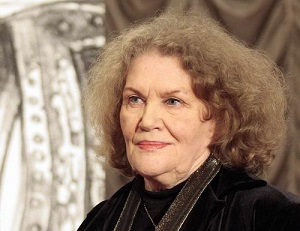 Lina Kostenko (Rzhyshchiv, 19 maart 1930)
De Kroatische dichter en schrijver Petar Preradović werd geboren op 19 maart 1818 in het dorp Grabrovnica bij Virovitica. Zie ook alle tags voor Petar Preradović op dit blog.
Traveller (Putnik, fragment)
My answer to her: "Look the dawn,
Is near, see how the rooster crows;
Until God heats the day for us,
Start up a little fire, no fuss,
So I can thaw these frozen veins!"
She thus replied: "The fire's gone out,
Firewood here I don't have any.
What little that there is inside
Is for my children who reside
So that tomorrow we can be"
I cry out: "So for me nothing?
Foreign mother I do beg you,
I know that I am not your own!"….
Suddenly the tears are flowing
Down my cheeks and falling …
She speaks: "Where are your mother's palms,
Collecting up her sons tears?
Where are the knees on which to rest,
To unload burdens from your breast.
Where is your home – where is your country?"
Vertaald door Barry Hajdinjak en Gordon Biok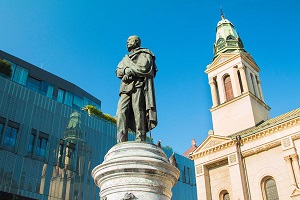 Petar Preradović (19 maart 1818 – 18 augustus 1872)
Standbeeld in Zagreb
Zie voor nog meer schrijvers van de 19e maart ook mijn vorige blog van vandaag.
19-03-2017 om 11:58 geschreven door Romenu

Tags:Mano Bouzamour, Hans Mayer, Philip Roth, Kirsten Boie, Lynne Sharon Schwartz, Lina Kostenko, Petar Preradović,, Thomas Mann, Heinrich Mann, Romenu



William Allingham, Ion Barbu, Rosalie Loveling, Tobias Smollett, Irving Wallace, Peter Abrahams
De Ierse dichter William Allingham werd geboren op 19 maart 1824 in Ballyshannon, Donegal. Zie ook alle tags voor William Allingham op dit blog.
Aeolian Harp
O pale green sea,
With long, pale, purple clouds above -
What lies in me like weight of love ?
What dies in me
With utter grief, because there comes no sign
Through the sun-raying West, or the dim sea-line ?
O salted air,
Blown round the rocky headland still,
What calls me there from cove and hill?
What calls me fair
From thee, the first-born of the youthful night,
Or in the waves is coming through the dusk twilight ?
O yellow Star,
Quivering upon the rippling tide -
Sendest so far to one that sigh'd?
Bendest thou, Star,
Above, where the shadows of the dead have rest
And constant silence, with a message from the blest?
Song. O Spirit Of The Summer-Time!
O spirit of the Summer-time!
Bring back the roses to the dells;
The swallow from her distant clime,
The honey-bee from drowsy cells.
Bring back the friendship of the sun;
The gilded evenings calm and late,
When weary children homeward run,
And peeping stars bid lovers wait.
Bring back the singing; and the scent
Of meadow-lands at dewy prime;
Oh, bring again my heart's content,
Thou Spirit of the Summer-time!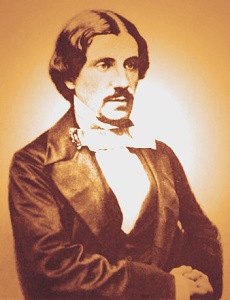 William Allingham (19 maart 1824 – 18 november 1889)
De Roemeense dichter en wiskundige Ion Barbu (eig. Dan Barbilian) werd geboren op 19 maart 1895 in Câmpulung. Zie ook alle tags voor Ion Barbu op dit blog.
The docmatic Egg (Fragment)
The Dogma: And the Spirit of GodMoved above the face of the waters
It's given to these gloomy folks
The sterile egg for daily meal,
But lively egg with seed on top
It's born in our sight as sunny seal!
As ancient world, in crystal time,
Is swimming in a thinly lime,
The new and pure egg – a gift
For wedding, a palace or a crypt.
Three sheets of silk coiled in a row,
The white sleeps in such bed of snow
So languid, and enclosed, serene,
Like loved-one tumbled in a dream.
The human seed?
From very high
From the plus pole of his own sky
Where lump of earth
Has never touched a bit.
He offers smoothly
His bursting kiss
So masculine
To the white
With its cold lips of hyaline.
Forgetful man, without return,
Behold the Holy Spirit how might turn
In forms cast just for you to see.
As in those times it's now – the same:
In every tiny world the dogma burns its flame.
Vertaald door Liviu Georgescu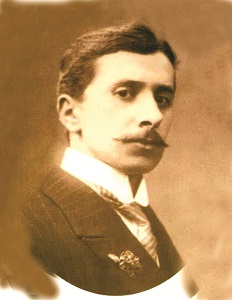 Ion Barbu (19 maart 1895 – 11 augustus 1961)
De Vlaamse schrijfster en dichteres Rosalie Loveling werd geboren op 19 maart 1834 in Nevele. Zie ook alle tags voor Rosalie Hoveling op dit blog.
Het maantje
De maan loopt door de wolken,
Zo zachtjes en zo snel;
De kindren komen buiten,
« 0, knaapje, ziet ge 't wel? »

Toen stak het kleine knaapje
Naar haar zijn armkens uit,
En wou het maantje hebben,
En weende en schreide luid.

Ik kan het u niet geven:
0, zo ge later, kind,
Ook 't levensheil woudt hebben,
Dat men op aard niet vindt,

Denk dan aan 't zilvren maantje,
Dat door de wolken loopt,
En dat hij veel moet lijden,
Die op 't onmooglijk hoopt.
In de oogst
Zij stonden op het akkerland
Zij maaiden in de zonnebrand
En zongen bij het werk
De lastige arbeid wordt een feest
Voor hen die jong en licht van geest
En moedig zijn en sterk

Daar kwam de landheer langs de beek
De schouders hoog de wangen bleek:
Hij zocht de schaduw daar.
Hij groette licht en ging voorbij
Gezang en arbeid staakten zij
En wezen hem elkaar.

Die man gevoelde zich zo fier
Hij dacht "dat zijn mijn velden hier
En ginder rijst mijn slot.
Wis knaagt de nijd u in 't gemoed
Gij die op aarde zwoegen moet
Gij vloekt gewis uw lot."

Toen zei er een met stille stem
"Wie ruilde zegt van ons met hem?"
En allen lachten. Geen
Aan wie zo 'n leven zonder vreugd
Aan wie de rijkdom zonder jeugd
Benijdenswaardig scheen.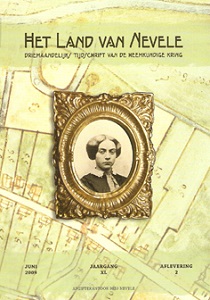 Rosalie Loveling (19 maart 1834 – 4 mei 1875)
Cover
De Schotse romanschrijver Tobias George Smollett werd geboren op 19 maart 1721 in Dalquhurn in het tegenwoordige West Dunbartonshire. Zie ook alle tags voor Tobias Smolett op dit blog.
Uit: The Expedition of Humphry Clinker
"SIR, I RECEIVED yours in course of post, and shall be glad to treat with you for the MS. which I have delivered to your friend Mr. Behn; but can by no means comply with the terms proposed. Those things are so uncertain—Writing is all a lottery—I have been a loser by the works of the greatest men of the age—I could mention particulars, and name names; but don't chuse it—The taste of the town is so changeable. Then there have been so many letters upon travels lately published—What between Smollett's, Sharp's, Derrick's, Thickness's, Baltimore's and Baretti's, together with Shandy's Sentimental Travels, the public seems to be cloyed with that kind of entertainment—Nevertheless, I will, if you please, run the risque of printing and publishing, and you shall have half the profits of the impression—You need not take the trouble to bring up your sermons on my account—No body reads sermons but Methodists and Dissenters—Besides, for my own part, I am quite a stranger to that sort of reading; and the two persons, whose judgment I depended upon in these matters, are out of the way; one is gone abroad, carpenter of a man of war; and the other has been silly enough to abscond, in order to avoid a prosecution for blasphemy—I'm a great loser by his going off—He has left a manual of devotion half finished on my hands, after having received money for the whole copy—He was the soundest divine, and had the most orthodox pen of all my people; and I never knew his judgment fail, but in flying from his bread and butter on this occasion.
By owning you was not put in bodily fear by Lismahago, you preclude yourself from the benefit of a good plea, over and above the advantage of binding him over. In the late war, I inserted in my evening paper, a paragraph that came by the post, reflecting upon the behaviour of a certain regiment in battle. An officer of said regiment came to my shop, and, in the presence of my wife and journeyman, threatened to cut off my ears—As I exhibite marks of bodily fear, more ways than one, to the conviction of the byestanders, I bound him over; my action lay, and I recovered."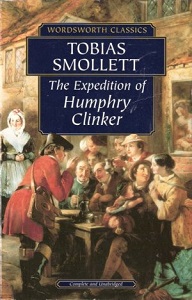 Tobias Smollett (19 maart 1721 - 17 september 1771)
Cover
De Amerikaanse schrijver Irving Wallace werd geboren op 19 maart 1916 in Chicago, Illinois. Zie ook alle tags voor Irving Wallace op dit blog.
Uit: The Seven Minutes
"By eleven o'clock in the morning the sun had come out, and now thewomen of Oakwood, most of them housewives in summer attire andmost of them at the wheels of their own cars, were converging onthe business district to do their shopping.In the suddenly thickening traffic, the green two-door Ford coupewith a nasty dent in its front fender was at last forced to slowdown.Slumped in the seat beside the driver, Otto Kellog grunted hisdispleasure, then sat up impatiently to get his bearings. Heresented delays at a time like this, when he was anxious aboutwhat he must soon do. He wanted to get it over with as quickly aspossible.There was a jarring screech as Iverson, who was driving the car,slammed on the brake, muttering, 'Goddam women drivers.''Yeah,' said Keliog. 'Wish they'd get moving.'In the rear the third occupant of the coupe, Eubank, older, moretolerant, less often exposed to the outside world than hiscompanions, seemed to be enjoying the interval. He had broughthimself forward from the back seat to peer over Iverson's shoulderthrough the windshield. 'So this is Oakwood,' he said.'Attractive. I don't know how many times I've been out this way,but I guess I never paid much attention before.''Nothing so different,' said Iverson, easing his foot off thebrake. 'It's still Los Angeles County.''Well, it just looks more prosperous and settled down,' said Eubank.
'Maybe not for long,' said Iverson. 'We're going to shake them upa little today.' He glanced at Kellog, and grinned. 'What do yousay, Otto ? Ready for action ?''Yeah,' said Kellog, 'providing we ever get there.' He squintedthrough his sunglasses. 'Third Street's the next corner. You turnright the next corner.''I know,' said Iverson.The traffic was moving again, loosening, and the green coupe movedwith it along Center Boulevard, and then swung sharply onto Third Street."
The vehicle and foot traffic was thinner here on the side street.The man at the wheel showed relief. 'There it is, middle of theblock,' he said. 'You can see the sign just after the AcmeJewelers. See it? Fremont's Book Emporium. How do you like thatfor a name? Emporium.''Looks like there's plenty of parking,' said Eubank. 'I wasworried there might not be any parking close by.''There's always enough room once you get off Center Boulevard,'said Iverson. He spun the wheels of the car toward the curb, andexpertly brought it to a halt before the jewelry shop. As hereached to turn off the ignition, he spotted a young blonde, intight sweater and shorts, stepping out in front of the car,preparing to cross the street."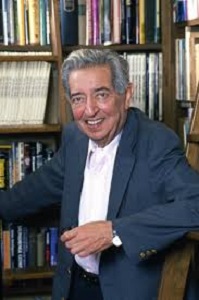 Irving Wallace (19 maart 1916 – 29 juni 1990)
De Zuid-Afrikaanse schrijver Peter Abrahams werd op 19 maart 1919 geboren in Vrededorp bij Johannesburg. Zie ook alle tags voor Peter Abrahams op dit blog.
Uit: Mine Boy
"When the whistle blew for them to stop for food, one of the men who had been filling the trucks called Xuma. 'I am Nana,' the man told him, 'you will eat with me.' They found a shaded spot and sat on the ground. Everywhere men found places for themselves and ate their food. All the men had the same kind of little tins. In each tin was a hunk of mealie meal porridge cooked into a hardened chunk, a piece of meat, and a piece of very coarse compound bread. Nana divided his food and gave Xuma half. Xuma wiped his brow and leaned against the corrugated wall of the smoky shack. To the left was a mine-dump, big and over-powering. To the right of it they had been dumping sand all morn-ing without seeing anything for it. Nana followed his eyes. 'It takes a long time,' Nana said. 'h it like this every day?' 'Every day.' 'It is a strange place.' 'It is hard when you are new, but it is not so bad. With a new one it is thus: First there is a great fear, for you work and you work and there is nothing to see for it. And you look and you look and the more you look the more there is nothing to see. This brings fear. But tomorrow you think, well, there will be nothing to look for and you do not look so much. The fear is less then. And the day after you look even less, and after that even less, and in the end you do not look at all. Then all the fear goes. It is so.' 'But the eyes of the men ...' Xuma protested. 'The eyes of the men?' 'Yes. I watched them, they are like the eyes of sheep.' Nana looked at Xuma and smiled. A smile that softened his face and made gentle creases round his mouth. 'Are we not all sheep that talk,' Nana said For a spell they ate in silence. When they had finished Nana stretched himself full-length on the ground and closed his eyes. One by one the other men did it too, till all were stretched full-length on the ground. 'Do it too,' Nana said, 'it gives your body rest.' Xuma obeyed. 'Better, hell?' 'Yes.'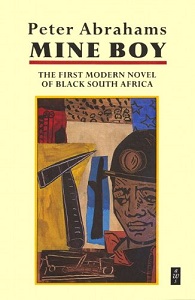 Peter Abrahams (Vrededorp, 19 maart 1919)
Cover
19-03-2017 om 11:55 geschreven door Romenu

Tags:William Allingham, Ion Barbu, Rosalie Loveling, Tobias Smollett, Irving Wallace, Peter Abrahams, Romenu



Am dritten Sonntage in der Fasten (Annette von Droste-Hülshoff)
Bij de derde zondag van de vasten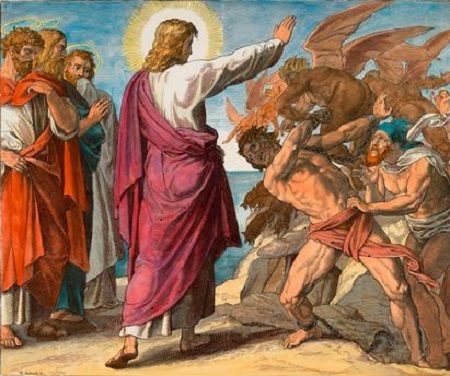 "Jesus treibet Teufel aus" door Julius Schnorr von Carolsfeld, 1860


Am dritten Sonntage in der Fasten
Evang. : Jesus treibt den Teufel aus

»Mein Nam' ist Legion, denn unserer sind Viele!«
So spricht der finstre Geist.
Sein Nam' ist Legion, weh mir, daß ich es fühle!
Daß es mich zittern heißt!

Wo kindlich dem Gemüt in Einfalt und Vertrauen
Nichts als sein Jesu kund,
Da kann der Finstre nicht die wirren Höhlen bauen
Im einfach lichten Grund.

Doch du, mein schuldvoll Herz, in deinem eitlen Wissen,
In deinem irren Tun:
Wie sind dir tausend brand'ge Stellen aufgerissen,
Worin die Nacht kann ruhn!

Und raff' ich mich empor, und will ich mich erkühnen
Zu heil'gen Namens Schall,
O, könnte nicht vielleicht mein guter Wille dienen
Zu neuem schwerem Fall!

Denn daß die Welt mich nicht, die Menschen mich nicht kennen,
Die gleißend wie das Meer,
Daß sie mich oft sogar noch hell und freudig nennen,
Das senkt unendlich schwer!

Mich kennen muß die Welt, ich muß Verachtung tragen,
Wie ich sie stets verdient;
Ich Wurm, der den, den Engel kaum zu nennen wagen
Zu preisen mich erkühnt!

Laß in Zerknirschung mich, laß mich in Furcht dich singen,
Mein Heiland und mein Gott!
Daß nicht mein Lied entrauscht, ein kunstvoll sündlich Klingen,
Ein Frevel und ein Spott.

Ach, wer so leer wie ich in Worten und in Werken,
An Sinnen so verwirrt,
Dess Lied kann nur des Herrn barmherzig Wunder stärken,
Daß es zum Segen wird.

Ist nicht mein ganzer Tag nur eine Reihe Sünden?
Muß oft in Traumeswahn,
Oft wachend die Begier nicht zahllos Wege finden,
Nur nie die Himmelsbahn?

Tönt nicht der Kampfgesang der Lust von allen Seiten?
Und bringt er nicht den Sieg?
Ist nicht mein Leben nur ein flüchtig kraftlos Streiten,
Ein schmachbedeckter Krieg?

Und mein' ich eine Zeit, daß ich den Sieg errungen,
Weil die Begierde schwand:
Da bin ich ausgeschlürft wie von Empusenzungen,
Wie eine tote Hand!

Und ist mir's eine Zeit, als will das Leben ziehen
Ins Herze gar erstarrt:
Da muß mit ihm zugleich der Übermut entglühen,
Der eines Hauchs geharrt.

Und wird mir's endlich klar, umsprüht von Leidensfunken,
Wie klein, wie Nichts ich bin;
Da bin ich ausgebrannt, zu Asche eingesunken,
Verglüht an Geist und Sinn.

Das hast du selber dir, du schuldvoll Herz, zu danken;
Mein Jesu lieb und traut,
Wärst du nur irgend treu, er würde nimmer wanken
Von der geliebten Braut.

Doch daß du schlummernd läßt durch alle Tore ziehen
Den grausen Höllenbund,
Daß überall für ihn die Siegeskränze blühen
Aus deinem eignen Grund;

Daß du dich töricht wähnst in vollem hellem Laube,
Du armer dürrer Zweig!
Daß du, indes der Feind frohlockt in deinem Raube.
Dich herrlich wähnst und reich:

Das ist warum du stirbst, daß du in Wahnes Gluten
Nicht kennst den eignen Schmerz,
O, fühltest du dich selbst aus allen Adern bluten,
Du töricht frevelnd Herz!

So schaue deine Not! Noch fielen nicht die Schranken
Der dunklen Ewigkeit.
»Sein Nam' ist Legion«, o fasse den Gedanken!
Es ist die letzte Zeit!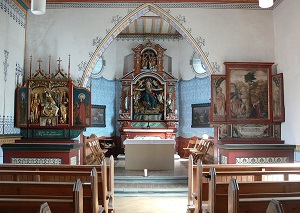 Annette von Droste-Hülshoff (10 januari 1797 – 24 mei 1848)
Friedhofskapelle Mariä Himmelfahrt in Meersburg. Annette von Droste-Hülshoff werd in Meersburg begraven
19-03-2017 om 00:00 geschreven door Romenu

Tags:Annette von Droste-Hülshoff, vasten, Romenu


18-03-2017

Christa Wolf, Charlotte Roche, John Updike, Wilfred Owen, Stéphane Mallarmé
De Duitse schrijfster Christa Wolf werd geboren op 18 maart 1929 in het huidige Poolse Gorzów Wielkopolski. Zie ook alle tags voor Christa Wolf op dit blog.
Uit: Kassandra
»Verräterisch« sagte Myrine, die zornig mit der Axt auf das kleine Gebüsch im Graben um die Zitadelle einschlug, mir nicht zuhörte, mich vielleicht gar nicht verstand, denn seit ich im Korb gefangen gesessen, sprech ich leise. Die Stimme ist es nicht, wie alle meinten, die hatte nicht gelitten. Es ist der Ton. Der Ton der Verkündigung ist dahin. Glücklicherweise dahin.
Myrine schrie. Seltsam, daß ich, selbst noch nicht alt, von beinahe jedem, den ich gekannt, in der Vergangenheitsform reden muß. Nicht von Aineias, nein. Aineias lebt.
Aber muß ein Mann, der lebt, wenn alle Männer sterben ein Feigling sein? War es mehr als Politik, daß er, anstatt die Letzten in den Tod zu führen, sich mit ihnen auf den Berg Ida, in heimatliches Gelände, zurückzog? Ein paar müssen doch übrigbleiben – Myrine bestritt es –: warum nicht zuallererst Aineias und seine Leute. Warum nicht ich, mit ihm? Die Frage stellte sich nicht. Er, der sie mir stellen wollte, hat sie zuletzt zurückgenommen.
Wie ich, leider, unterdrücken mußte, was ich ihm jetzt erst hätte sagen können. Wofür ich, um es wenigstens zu denken, am Leben blieb. Am Leben bleibe, die wenigen Stunden. Nicht nach dem Dolch verlange, den, wie ich weiß, Marpessa bei sich führt. Den sie mir vorhin, als wir die Frau, die Königin gesehen hatten, nur mit den Augen angeboten hat. Den ich, nur mit den Augen, abgelehnt. Wer kennt mich besser als Marpessa? Niemand mehr. Die Sonne hat den Mittag überschritten. Was ich begreifen werde, bis es Abend wird, das geht mit mir zugrund. Geht es zugrund?
Lebt der Gedanke, einmal in der Welt, in einem andern fort?
In unserm wackern Wagenlenker, dem wir lästig sind?
Sie lacht, hör ich die Weiber sagen, die nicht wissen, daß ich ihre Sprache sprech. Schaudernd ziehn sie sich von mir zurück, überall das gleiche. Myrine, die mich lächeln sah, als ich von Aineias sprach, schrie: Unbelehrbar, das sei ich. Ich legte meine Hand in ihren Nacken, bis sie schwieg und wir beide, von der Mauer neben dem Skäischen Tor, die Sonne ins Meer tauchen sahn. So standen wir zum letzten Mal beisammen, wir wußten es."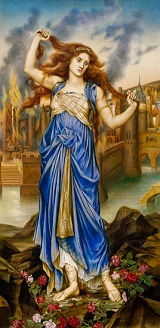 Christa Wolf (18 maart 1929 – 1 december 2011)
Cassandra door Evelyn de Morgan, 1898
De Duitse schrijfser, televisiepresentatrice, actrice en zangeres Charlotte Roche werd geboren in High Wycombe, Engeland, op 18 maart 1978. Zie ook alle tags voor Charlotte Roche op dit blog.
Uit: Wetlands (Vertaald door Tim Mohr)
"As far back as I can remember, I've had hemorrhoids. For many, many years I thought I couldn't tell anyone. After all, only grandfathers get hemorrhoids. I always thought they were very unladylike. I've been to Dr. Fiddel, my proctolo-gist, about them so many times. But he always said to leave them there as long as they didn't hurt. And they didn't. They just itched. And for that he gave me a zinc salve. For exterior itching, you squeeze a hazelnut-sized dol-lop from the tube onto your finger with the shortest nail and rub it onto your rosette. The tube's also got a pointed attach-ment with lots of holes in it that allows you to shove it up your ass and squeeze salve out to quell the itchiness inside. Before I had the salve I would scratch at my butthole in my sleep so much that I'd wake up in the morning with a brown stain in my underwear the size of the top of a cork. That's how much it itched, and that's how deep I'd stick my finger in. So yes, I'd say it's very unladylike. My hemorrhoids look strange. Over the years they've worked their way farther and farther out. All around the rosette now there almost look like the arms of a sea anemone. Dr. Fiddel calls it cauliflower. He says removing it would be strictly an aesthetic move. He'll only take it off if someone is really burdened by it. A good reason for removing it would be if my lover didn't like it, or if the cauliflower gave me anxiety during sex. But I'd never admit that. If somebody loves me or is even just hot for me, some-thing like the cauliflower shouldn't make a difference. And anyway, I've had very successful anal sex for many years—from the age of fifteen up to now, at eighteen—despite the ever-expanding cauliflower. By very successful I mean that I can come with just a cock up my ass, not being touched anywhere else. Yep, I'm proud of that. It's also a good way to test whether someone is serious about me."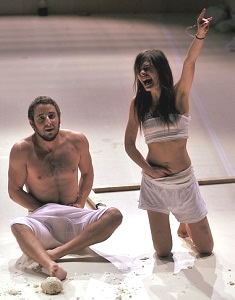 Charlotte Roche (High Wycombe, 18 maart 1978)
Scene uit een toneelbewerking in Halle in 2011
De Amerikaanse dichter en schrijver John Updike werd geboren in Shillington, Pennsylvania, op 18 maart 1932. Zie ook alle tags voor John Updike op dit blog.
Uit: Terrorist
"Relief at escaping their students unscathed for another day makes the teachers' chatter of farewell in the halls and on the parking lot too loud, like the rising excitement of drunks. The teachers revel when they are away from the school. Some have the pink lids and bad breaths and puffy bodies of those who habitually drink too much. Some get divorces; some live with others unmarried. Their lives away from the school are disorderly and wanton and self-indulgent. They are paid to instill virtue and democratic values by the state government down in Trenton, and that Satanic government farther down, in Washington, but the values they believe in are
Godless: biology and chemistry and physics. On the facts and formulas of these their false voices firmly rest, ringing out into the classroom. They say that all comes out of merciless blind atoms, which cause the cold weight of iron, the transparency of glass, the stillness of clay, the agitation of flesh. Electrons pour through copper threads and computer gates and the air itself when stirred to lightning by the interaction of water droplets. Only what we can measure and deduce from measurement is true. The rest is the passing dream that we call our selves.
Ahmad is eighteen. This is early April; again green sneaks, seed by seed, into the drab city's earthy crevices. He looks down from his new height and thinks that to the insects unseen in the grass he would be, if they had a consciousness like his, God. In the year past he has grown three inches, to six feet—more unseen materialist forces, working their will upon him. He will not grow any taller, he thinks, in this life or the next. If there is a next, an inner devil murmurs. What evidence beyond the Prophet's blazing and divinely inspired words proves that there is a next? Where would it be hidden? Who would forever stoke Hell's boilers? What infinite source of energy would maintain opulent Eden, feeding its dark-eyed houris, swelling its heavy-hanging fruits, renewing the streams and splashing fountains in which God, as described in the ninth sura of the Qur'an, takes eternal good pleasure? What of the second law of thermodynamics?"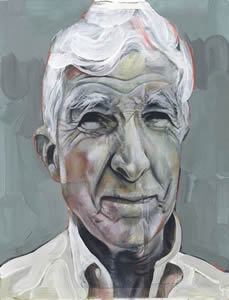 John Updike (18 maart 1932 – 27 januari 2009)
Portret door Scott Laumann, z.j.
De Engelse dichter en schrijver Wilfred Owen werd op 18 maart 1893 geboren in Oswestry in Shropshire. Zie ook alle tags voor Wilfred Owen op dit blog.
My Shy Hand
My shy hand shades a hermitage apart, -
O large enough for thee, and thy brief hours.
Life there is sweeter held than in God's heart,
Stiller than in the heavens of hollow flowers.
The wine is gladder there than in gold bowls.
And Time shall not drain thence, nor trouble spill.
Sources between my fingers feed all souls,
Where thou mayest cool thy lips, and draw thy fill.
Five cushions hath my hand, for reveries;
And one deep pillow for thy brow's fatigues;
Languor of June all winterlong, and ease
For ever from the vain untravelled leagues.
Thither your years may gather in from storm,
And Love, that sleepeth there, will keep thee warm.
Le Christianisme
So the church Christ was hit and buried
Under its rubbish and its rubble.
In cellars, packed-up saints long serried,
Well out of hearing of our trouble.
One Virgin still immaculate
Smiles on for war to flatter her.
She's halo'd with an old tin hat,
But a piece of hell will batter her.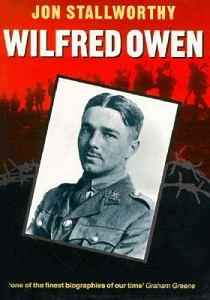 Wilfred Owen (18 maart 1893 – 4 november 1918)
Cover biografie
De Franse dichter Stéphane Mallarmé werd geboren in Parijs op 18 maart 1842. Zie ook alle tags voor Stéphane Mallarmé op dit blog.
Dans le jardin
La jeune dame qui marche sur la pelouse
Devant l'été paré de pommes et d'appas,
Quand des heures Midi comblé jette les douze,
Dans cette plénitude arrêtant ses beaux pas,

A dit un jour, tragique abandonnée - épouse -
A la Mort séduisant son Poëte : "Trépas !
Tu mens. Ô vain climat nul ! je me sais jalouse
Du faux Éden que, triste, il n'habitera pas."

Voilà pourquoi les fleurs profondes de la terre
L'aiment avec silence et savoir et mystère,
Tandis que dans leur coeur songe le pur pollen :

Et lui, lorsque la brise, ivre de ces délices,
Suspend encore un nom qui ravit les calices,
A voix faible, parfois, appelle bas : Ellen !
Le tombeau de Charles Baudelaire
Le temple enseveli divulgue par la bouche
Sépulcrale d'égout bavant boue et rubis
Abominablement quelque idole Anubis
Tout le museau flambé comme un aboi farouche

Ou que le gaz récent torde la mèche louche
Essuyeuse on le sait des opprobres subis
Il allume hagard un immortel pubis
Dont le vol selon le réverbère découche

Quel feuillage séché dans les cités sans soir
Votif pourra bénir comme elle se rasseoir
Contre le marbre vainement de Baudelaire

Au voile qui la ceint absente avec frissons
Celle son Ombre même un poison tutélaire
Toujours à respirer si nous en périssons.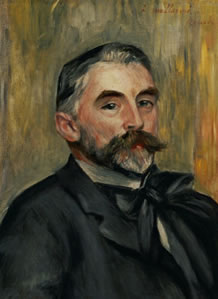 Stéphane Mallarmé (18 maart 1842 - 9 september 1898)
Portret door Auguste Renoir, 1892
Zie voor nog meer schrijvers van de 18e maart ook mijn twee vorige blogs van vandaag.
18-03-2017 om 13:20 geschreven door Romenu

Tags:Christa Wolf, Charlotte Roche, John Updike, Wilfred Owen, Stéphane Mallarmé, Romenu



Héctor Bianciotti, Hellema, Friedrich Hebbel, Max Barry, Wolfgang Bauer, Richard Condon
De Argentijnse schrijver Héctor Bianciotti werd geboren op 18 maart 1930 in Córdoba. Zie ook alle tags voor Héctor Bianciotti op dit blog.
Uit:L'amour n'est pas aimé
« J'en vins à penser avec joie que la finalité secrète de ce monde était d'ordre purement esthétique et que les horreurs qui peuplent notre histoire sont un festin destiné au poète. […] … mais je pense néanmoins que cette foi pure en la magie d'un adjectif ou d'un adverbe – toujours si méprisés -, cette certitude qu'un adverbe ou un adjectif peuvent aller là où la raison ne parvient pas et peuvent laisser entrevoir l'impossible Vérité qui jusqu'alors s'était dérobé à toute recherche, fut en fin de compte un exercice utile qui allait me servir plus tard, quand j'aurais à décrire quelque chose d'immédiat avec une sorte de rhétorique de l'urgence. "
(…)
« C'est là – ce fut un bonheur et un éblouissement – qu'il découvrit un jour qu'il savait lire. C'est là qu'il connut la réclusion, dans une cave obscure à laquelle on le condamnait parce qu'il lisait avec plaisir et que tout plaisir est un pêché – mais dans l'obscurité il se prit pour Robinson et des ombres tapies dans les coins il se forgea des interlocuteurs avec lesquels il faisait commerce (la solitude du personnage ne l'attirait pas). C'est là qu'il trouva, en la personne de l'oncle Henry, vieux marin boiteux qui profitait de la présence de l'enfant pour continuer à s'émerveiller de ses anciennes prouesses, la première des innombrables figures de héros anonymes qu'il exalterait plus tard. C'est là qu'il sut – mais qui dira son désarroi ? - douter de ce qu'on tentait de lui inculquer : l'obsession de la faute, la notion d'un enfer toujours mérité que le moindre de ses gestes appelait, d'un Très-Haut omniscient qui tenait un livre de comptes – ce qui l'amena à découvrir les avantages de la méfiance, de la dissimulation, du mensonge, toutes choses qui sont peut-être finalement, dans ce monde provisoire, des vertus esthétiques."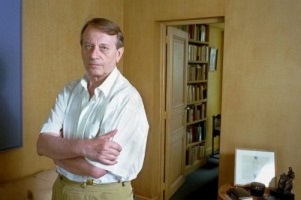 Héctor Bianciotti (18 maart 1930 – 11 juni 2012)

De Nederlandse schrijver Hellema (pseudoniem voor Alexander Bernard (Lex) van Praag) werd geboren in Amsterdam op 18 maart 1921. Zie ook alle tags voor Hellema op dit blog.
Uit: Bestekken
"Het is zaak dat wij ons nog eenmaal met het verleden bezighouden. Voor de dood - die ons toentertijd na stond als ons eigen vlees en bloed, maar van wie wij sindsdien vervreemd zijn - terugkeert en al onze tijd in beslag neemt. Misschien is er iemand die ons wil voorhouden dat wij er goed aan zouden doen ons - voor het te laat is - juist af te wenden van dat verleden; maar voor hij zich vergaloppeert, bedenkt hij dat van ons moeilijk kan worden verwacht onze gedachten te richten op wat ons aan toekomst rest. Misschien ook is er iemand die ons wil tegenwerpen dat wij ons al een leven lang - te lang - met niets anders dan juist het verleden hebben beziggehouden; maar voor hij dat uitspreekt, bedenkt hij dat dit verleden ons bezighield, ondanks ons zelf. En wij van onze kant herinneren ons de dagen waarop wij wakker werden met het voornemen ons - eindelijk - van dit verleden te ontdoen. Het was talloze malen herbeleefd, het was geheel doordacht, wij hadden gerouwd en ondervonden hoe vruchteloos de opstandigheid tegen de dood is. Kalme windstille dagen tussen de seizoenen waren het, waarop alles in de natuur elkaar ademloos in evenwicht lijkt te houden. En de avonden, voor het inslapen - gevreesd moment - waarop wij moesten toegeven dat het niet gelukt was en dat er andermaal in de coulissen van ons bewustzijn onrustige taferelen werden voorbereid voor de nacht. Wij herinneren ons de paniek toen de vraag zich opdrong of wij er wel ooit in zouden slagen onbevangen te leven als weleer. En wij herinneren ons de berusting waarmee wij inzagen dat het beter was ons met dit verleden te verstaan - een onontkoombare dialoog, een eindeloze uiteenzetting.
Wij. Want hoe verschillend onze belevenissen, hoe uiteenlopend het getal van ons verlies of het aantal van onze slachtoffers, geen die - toen de geschiedenis van Europa doormidden brak - op het breukvlak van de tijd stond, is afgezonderd."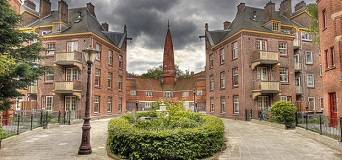 Hellema (18 maart 1921 – 19 maart 2005)
Amsterdam, Spaarndammerbuurt
De Duitse schrijver Christian Friedrich Hebbel werd geboren in Wesselburen op 18 maart 1813. Zie ook alle tags voor Friedrich Hebbel op dit blog.
Die Lerche
Ich kam in Ungarn durch ein Tal gefahren,
Von leichten Rossen schnell dahingetragen,
Und hörte über mir die Lerche schlagen,
Die durch den Äther zog, den bläulich-klaren.
Bald aber mußte ich erstaunt gewahren,
Daß sie zu mir hinabschoß in den Wagen,
Doch schien mir dies Vertraun zugleich ein Zagen
Vor einem andern Feind zu offenbaren.
Ich schaute auf und sah den Habicht hangen,
Der nicht gewohnt ist, Schwache zu verschonen,
Sie hatte Schutz gesucht auf meinen Knieen;
Ich aber dachte: daß das kleinre Bangen
Der Mensch dir einflößt, soll sich dir belohnen,
Und ließ sie ungefangen wieder ziehen!
Ein Reiseabenteuer in Deutschland
Es flog in X. mein Hut mir ab,
Natürlich über die Grenze,
Und als ich, ihn wiederzuholen, lief
Da gab's vertrackte Tänze.
Ich durfte den deutschen Nachbarstaat
Nicht ohne Paß betreten,
Und da ich bloß spazierenging,
So hatt ich mir keinen erbeten.
Das tat ich nun, auch wurde ich
In Gnaden damit versehen,
Doch war's um meinen armen Hut
Trotz alledem geschehen.
Der war schon längst im dritten Staat
Und blieb auch dort nicht liegen,
Ihn ließ der schadenfrohe Wind
Ein Dutzend noch durchfliegen.
Was half mir nun der gute Paß,
Den ich in X. genommen?
Zehn neue braucht ich in einem Tag,
Da war nicht nachzukommen.
Ich kaufte mir einen andern Hut,
Der Meister aber erwählte
Den Wiener Kongreß zum Schutzpatron,
Als ich mein Schicksal erzählte.
Vers und Prosa
Leichter wäre auf einmal der Vers, als die Prosa, geworden?
Schwerer ist er, wofern ihr ihn vortrefflich verlangt,
Denn mit jeglichem Reiz der Prosa muß er sich schmücken
Und mit dem höheren noch, den man an ihr nicht vermißt.
Wenn ihr ihm einen erlaßt, so wird's euch der Dichter nicht danken,
Denn ihr ebnet dadurch einzig dem Stümper die Bahn.
Aber, so seid ihr, ihr setzt, damit nur jeder ein Künstler
Heiße, ruhig die Kunst unter sich selbst erst herab,
Und da pfeifende Knaben das Nichts nun zu leisten vermögen,
Das ihr fordert, so denkt ihr sie euch selbst als ein Nichts!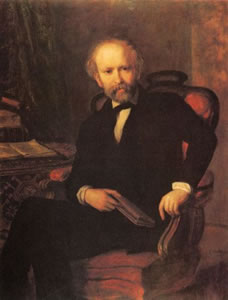 Friedrich Hebbel (18 maart 1813 - 13 december 1863)
Portret door Karl Rahl, 1855
De Australische schrijver Max Barry werd geboren op 18 maart 1973 in Melbourne. Zie ook alle tags voor Max Barry op dit blog.
Uit: Company
"Perched at the top is the word ZEPHYR and the corporate logo, which is an orange and black polygon of foggy intent. Orange and black crops up a lot at Zephyr Holdings; you can't walk down a corridor, visit the bathroom, or catch an elevator without being reminded whose turf you're on. There's a logo on each panel of the lobby's sliding glass doors, and when you're through them, logos adorn the walls at intervals of three feet. A water feature of dark stones and well-tended ferns is a small, logo-free oasis, but to make up for this, the reception desk is practically a logo with a sign-in sheet on top. Even under soft, recessed lighting, the reception desk delivers such a blast of orange to your retinas that long after you've left it behind, you can still see it when you blink.
On one side of the lobby is an arrangement of comfortable chairs and low-slung tables, where visitors browse Zephyr's marketing literature while waiting for whomever they're meeting. Sitting there with his hands in his lap is young, fresh-faced Stephen Jones. His eyes are bright. His suit glows. His sandy-brown hair contains so much styling mousse it's a fire risk, and his shoes are black mirrors. This is his first day. So far he's been shown a series of corporate induction videos, one of which contained glowing buzzwords like TEAMWORK and BEST PRACTICE rocketing at the screen, and another of which featured actors from the late 1980s talking about customer service. Now he is waiting for someone from the Training Sales department to come and collect him.
He accidentally catches the eye of the receptionist for about the fourteenth time and they both smile and look away. The receptionist is GRETEL MONADNOCK, according to her nameplate; she's quite young, has long, lustrous brown hair, and sits on the right side of the desk. On the left a nameplate says EVE JANTISS, but Eve herself is absent. He is a little disappointed about this, because while Gretel is nice, when he was here for his job interview and first saw Eve, he almost dropped his new briefcase. It would be an exaggeration to say he took a job at Zephyr because of the beauty of its receptionist, but during his interview he was very enthusiastic."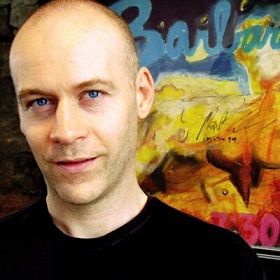 Max Barry (Melbourne, 18 maart 1973)
De Oostenrijkse schrijver en dichter Wolfgang Bauer werd geboren op 18 maart 1941 in Graz. Zie ook alle tags voor Wolfgang Bauer op dit blog.
Uit:Magic afternoon
"BIRGIT: Was tun wir jetzt am Abend? (setzt sich neu frisiert aufs Bett und raucht eine neue an)
CHARLY: Wie spät wirds jetzt sein?
BIRGIT: Was weiß ich ...?
[...] Wir können ja abends gar net so viel machen
...
CHARLY: Gar nichts [...] Glaubst, kriegst du von deiner Mutter ein Geld?
[...] BIRGIT: Da komm ma net weit.
[...] CHARLY: Baden gehen zahlt sich auch net aus
...
[...] BIRGIT: Hast du noch was zum Essen?
CHARLY: Ja ... irgendwelche Brote.
BIRGIT: Wurst ist aber keine ...
CHARLY: Irgendetwas muß noch sein ...
[...] BIRGIT: Is was im Kino? [...] Is was im Theater?
[...] CHARLY: I bleib zuhaus und schreib was [...] dann schlaf halt ... oder geh vielleicht arbeiten ...
BIRGIT: Ich kann mir gar nicht mehr vorstellen, daß ich arbeite ... unmöglich ... i fühl mi recht wohl, obwohl i zu nix Lust hab ..."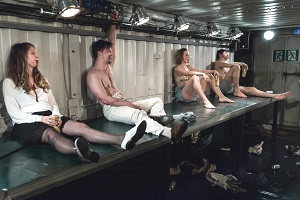 Wolfgang Bauer (18 maart 1941 – 26 augustus 2005)
Scene uit een opvoering in Keulen, 2016
De Amerikaanse romancier Richard Thomas Condon werd geboren op 18 maart 1915 in New York. Zie ook alle tags voor Richard Condon op dit blog.
Uit: The Manchurian Candidate
"He had snarled that maybe they would prefer it if he started out by asking what was the great man's hobby and what astrology sign he had been born under. It was hard to believe but that man's face had been as pocked and welted as a waffle, yet he was one of the biggest names in the business, which gives an idea what those swine will do to kid the jerky public. The actor had said, "Are you scared, kid?" Then, after that, everything seemed to go O.K. They got along like a bucket of chums. The point was, everybody had to start someplace.
Although he felt like a slob himself for doing it, he asked Mr. Mavole and the girl if they would have time to have a cup of coffee at the airport restaurant because he was a newspaperman himself and he knew that the little lady had a story to get. The little lady? That was overdoing it. He'd have to find a mirror and see if he had a wing collar on.
"You were?" the girl said. "Oh, Sergeant!" Mr. Mavole said a cup of coffee would be fine with him, so they went inside.
They sat down at a table in the coffee shop. The windows were steamy. Business was very quiet and unfortunately the waitress seemed to have nothing but time. They all ordered coffee and Raymond thought he'd like to have a piece of pie but he could not bring himself to decide what kind of pie. Did everybody have to look at him as though he were sick because he couldn't set his taste buds in advance to be able to figure which flavor he would favor before he tasted it? Did the waitress just have to start out to recite "We have peach pie, and pumpk—" and they'd just yell out Peach, peach, peach? What was the sense of eating in a place where they gabbled the menu at you, anyway? If a man were intelligent and he sorted through the memories of past tastes he not only could get exactly what he wanted sensually and with a flavor sensation, but he would probably be choosing something so chemically exact that it would benefit his entire body. But how could anyone achieve such a considerate deliberate result as that unless one were permitted to pore over a written menu?"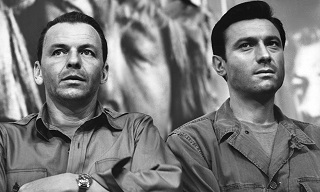 Richard Condon (18 maart 1915 – 9 april 1996)
Frank Sinatra als Bennett Marco en Laurence Harvey als Raymond Shaw in de gelijknamige film uit 1962
Zie voor nog meer schrijvers van de 18e maart ook mijn vorige blog van vandaag.
18-03-2017 om 13:19 geschreven door Romenu

Tags:Héctor Bianciotti, Hellema, Friedrich Hebbel, Max Barry, Wolfgang Bauer, Richard Condon, Romenu



| | |
| --- | --- |
| | |



Inhoud blog


| | |
| --- | --- |
| | Cri Stellweg, Yōko Tawada, Gary Whitehead, Mitch Cullin, Steven Saylor, Roger Martin du Gard, Madison Cawein, Nils-Aslak Valkeapää, Federica de Cesco |
| | Billy Collins, Eveline Hasler, Érik Orsenna, Léon Deubel, Karel Poláček, Arnold Sauwen, Wolfgang Bächler, Albrecht Goes, Gabrielle Roy |
| | In Memoriam Colin Dexter |
| | Willem de Mérode, Pim te Bokkel, Kees van Beijnum, Jean Paul, Hamid Skif, Hubert Fichte, Peter Hacks, Michel Bartosik, Youssef Rzouga |
| | David Malouf, Friedrich Hölderlin, Katharina Hartwell, Ralph Giordano, Ricus van de Coevering, Jens Petersen, Benoît Duteurtre, Gerard Malanga, Henrik Johan Ibsen |
| | Mano Bouzamour, Hans Mayer, Philip Roth, Kirsten Boie, Lynne Sharon Schwartz, Lina Kostenko, Petar Preradović |
| | William Allingham, Ion Barbu, Rosalie Loveling, Tobias Smollett, Irving Wallace, Peter Abrahams |
| | Am dritten Sonntage in der Fasten (Annette von Droste-Hülshoff) |
| | Christa Wolf, Charlotte Roche, John Updike, Wilfred Owen, Stéphane Mallarmé |
| | Héctor Bianciotti, Hellema, Friedrich Hebbel, Max Barry, Wolfgang Bauer, Richard Condon |
| | Walter Rheiner, Srečko Kosovel, Jean Anglade, George Plimpton, Cosmo Monkhouse, Friedrich Nicolai |
| | Siegfried Lenz, Thomas Melle, Hans Wollschläger, Rense Sinkgraven, Hafid Aggoune, William Gibson, Patrick Hamilton, Karl Gutzkow, Jean Ingelow |
| | In memoriam Torgny Lindgren |
| | Frühlingsglaube (Johann Ludwig Uhland) |
| | Ben Okri, David Albahari, Louis Paul Boon, Kurt Drawert, Gerhard Seyfried, Andreas Okopenko, An Rutgers van der Loeff, Prosper van Langendonck, Paul Heyse |
| | Pam Ayres, Jochen Schimmang, Volker von Törne, Horton Foote, Olivier Delorme, Alexandru Macedonski, Albert Robida, Theodore de Banville, Wout Waanders |
| | Mahmoud Darwish, Yuri Andrukhovych, Didier Decoin, Yeghishe Charents, Vladimir Makanin, Oskar Loerke, W.O. Mitchell, Hugh Walpole, Inge Müller |
| | Jenny Erpenbeck, Dave Eggers, Jack Kerouac, Naomi Shihab Nye, Carl Hiaasen, Edward Albee, De Schoolmeester, Benedict Wells |
| | Kathrin Schmidt, Henrike Heiland, M. A. Numminen, Gabriele d'Annunzio, Irving Layton, Helga Goetze, Françoise d'Eaubonne, Antony Deschamps, Sergej Michalkov |
| | Leena Lehtolainen, Karl Krolow, Daan de Ligt, Frans Vogel, Willem Claassen, Amal Karam |
| | Ernst Wichert, Douglas Adams, Torquato Tasso, Georg Maurer, Josef Martin Bauer |
| | John Rechy, Joseph von Eichendorff, Hilde Van Cauteren, Jakob Wassermann, Karel van de Woestijne, Chloé Delaume, Friedrich Schlegel, Boris Vian, Manolis Anagnostakis |
| | Peter Altenberg, Ed Hoornik, Peter Zantingh, Heere Heeresma, Vita Sackville-West, Josef Weinheber, Taras Sjevtsjenko, Umberto Saba, Agnes Miegel |
| | Jeffrey Eugenides, Walter Jens, Hafid Bouazza, A. Marja, Aslı Erdoğan, John McPhee, Mouloud Feraoun, Mechtilde Lichnowsky, Dominic Angeloch |
| | Bret Easton Ellis, Robert Harris, Jürgen Theobaldy, Georges Perec, Abe Kōbō, Reinhard Kaiser, Manfred Gregor, Jan Frederik Helmers, Alessandro Manzoni |
| | Patrick deWitt, Gabriel García Márquez, Jeremy Reed, Marijke Hanegraaf, Thomas Acda, Günter Kunert, Clark Accord, Elizabeth Barrett Browning, Michelangelo |
| | Pier Paolo Pasolini, Arthur van Schendel, Koos van Zomeren, Jurre van den Berg, Nelly Arcan, Danny King, Jean Orizet |
| | Leslie Marmon Silko, Frank Norris, Fritz Usinger, Friedrich Schnack, Ennio Flaiano, Moritz Carrière, Karl August Timotheus Kahlert |
| | Kristof Magnusson, Khaled Hosseini, Robert Kleindienst, Irina Ratushinskaya, Alan Sillitoe |
| | Ryszard Kapuściński, Jean-Joseph Rabearivelo, Annette Seemann, F. W. Bernstein, Giorgio Bassani |
| | Bernardo Ashetu, Léon-Paul Fargue, Kito Lorenc, Jacques Dupin, Thomas S. Stribling |
| | Manfred Flügge, Hans Verhagen, Tjitske Jansen, James Merrill, Kola Boof, Clifton Snider, Gudrun Pausewang, Josef Winkler, Chris Kraus |
| | Godfried Bomans, Multatuli, Frank Albers, John Irving, Thom Wolfe, Michael Salinger, János Arany, Olivia Manning, Rinske Kegel |
| | Ash Wednesday (T. S. Eliot) |
| | Jan Eijkelboom, Jim Crace, Delphine de Vigan, Franz Hohler, Lytton Strachey, Robert Lowell, Myrthe van der Meer, Franzobel, Steven Barnes |
| | Chanson pour mourir d'amour au temps de carnaval (Louis Aragon) |
| | Stephen Spender, Bart Koubaa, Luc Dellisse, John Montague, Marcel Pagnol, Bodo Morshäuser, Martin Suter, Yórgos Seféris, Howard Nemerov |
| | Josef Svatopluk Machar |
| | Carnival Evening (Linda Pastan) |
| | Cynan Jones, John Steinbeck, Lawrence Durrell, André Roy, Henry Longfellow, Elisabeth Borchers, James T. Farrell, Irwin Shaw |
| | Fastnacht (Achim von Arnim) |
| | Michel Houellebecq, Victor Hugo, Adama van Scheltema, George Barker, Hermann Lenz, Antonin Sova, Jean Teulé |
| | Ulrike Syha, Elias Annes Borger, Vercors, Pierre Mac Orlan, Janus Djurhuus, Johann Lauremberg, August Thieme |
| | Amin Maalouf, Aldo Busi, Gabriël Smit, Anthony Burgess, Robert Rius, Karl May, Lesja Oekrajinka, Vittoria Colonna |
| | Franz Xaver Kroetz, Gérard Bessette, Mary Chase, Karl Wilhelm Ramler, Friedrich von Spee, Carlo Goldoni, Quirinus Kuhlmann |
| | Karel Toman |
| | Leon de Winter, Alain Mabanckou, George Moore, Erich Loest, Herman Maas, Luc Verbeke, Wilhelm Grimm, Friedrich Spielhagen, Jacques Presser |
| | César Aira, Ljoedmila Oelitskaja, Robert Gray, Jef Geeraerts, Bernard Cornwell, Toon Kortooms, Erich Kästner, Sonya Hartnett, Maxim Februari |
| | Jo Ypma |
| | Arnon Grunberg, Rob Schouten, Ruben van Gogh, Paul van Ostaijen, Hugo Ball, Danilo Kis, Sean O'Faolain, Ishmael Reed, Edna St. Vincent Millay |


Gastenboek


Druk op onderstaande knop om een berichtje achter te laten in mijn gastenboek