E-mail mij


Druk op onderstaande knop om mij te e-mailen.


Romenu


Romenu is een blog over gedichten, literatuur en kunst Maar Romenu is ook een professionele freelance vertaler
Du-Ne en Ne-Du http://www.romenu.nl.


Huur eens een (vakantie)huis in een natuurgebied, dichtbij het centrum van Nijmegen


Google


Georg Trakl

Georg Trakl werd op 3 februari 1887 in het conducteurshuis aan de Waagplatz 2 in Salzburg geboren. Zijn vader, Tobias Trakl, was een handelaar in ijzerwaren en zijn moeder, die ook psychische problemen had, was Maria Catharina Trakl, (meisjesnaam Halik). Voorts had hij nog drie broers en drie zussen. Margarethe (doorgaans Grethe genoemd) stond hem het naast, zelfs zodanig dat sommigen een incestueuze verhouding vermoeden. Zijn jeugd bracht hij door in Salzburg. Vervolgens bezocht hij van 1897 tot 1905 het humanistische gymnasium. Om toch een academische opleiding te kunnen volgen, werkte hij tot 1908 in de praktijk bij een apotheker. Sommigen vermoedden dat hij dit vooral deed om zichzelf opiaten te kunnen verschaffen. Bij het uitbreken van WO I werd Trakl als medicus naar het front in Galicië (heden ten dage in Oekraďne en Polen) gestuurd. Zijn gemoedsschommelingen leidden tot geregelde uitbraken van depressie, die verergerd werden door de afschuw die hij voelde voor de verzorging van de ernstig verwonde soldaten. De spanning en druk dreven hem ertoe een suďcidepoging te ondernemen, welke zijn kameraden nochtans verhinderden. Hij werd in een militair ziekenhuis opgenomen in Kraków, alwaar hij onder strikt toezicht geplaatst werd.Trakl verzonk daar in nog zwaardere depressies en schreef Ficker om advies. Ficker overtuigde hem ervan dat hij contact moest opnemen met Wittgenstein, die inderdaad op weg ging na Trakls bericht te hebben ontvangen. Op 4 november 1914, drie dagen voordat Wittgenstein aan zou komen, overleed hij echter aan een overdosis cocaďne


Paul Celan

Paul Celan werd onder de naam Paul Antschel op 23 november 1920 geboren in Czernowitz, toentertijd de hoofdstad van de Roemeense Boekovina, nu behorend bij de Oekraďne. Paul Celans ouders waren Duitssprekende joden die hun zoon joods opvoedden en hem naar Duitse christelijke scholen stuurden. In 1942 werden Celans ouders door de Duitse bezetter naar een werkkamp gedeporteerd en daar vermoord. Hijzelf wist aanvankelijk onder te duiken, maar moest vanaf juli 1942 in een werkkamp dwangarbeid verrichten. Celan overleefde de oorlog. Via Boekarest en Wenen vestigde Celan zich in 1948 in Parijs. Daar was hij werkzaam als dichter, vertaler en doceerde hij aan de prestigieuze Ecole Normale Supérieure. Vermoedelijk op 20 april 1970 beëindigde hij zijn leven zelf door in de Seine te springen.


Gerard Reve

Gerard Reve over: Medearbeiders "God is in de mensen, de dieren, de planten en alle dingen - in de schepping, die verlost moet worden of waaruit God verlost moet worden, door onze arbeid, aangezien wij medearbeiders van God zijn." Openbaring "Tja, waar berust elk godsbegrip op, elke vorm van religie? Op een openbaring, dat wil zeggen op een psychische ervaring van zulk een dwingende en onverbiddelijke kracht, dat de betrokkene het gevoel heeft, niet dat hij een gedachte of een visioen heeft, maar dat een gedachte gedachte of visioen hem bezit en overweldigt."


Simon Vestdijk
Simon Vestdijk (Harlingen, 17 oktober 1898 – Utrecht, 23 maart 1971) was een Nederlands romancier, dichter, essayist en vertaler. Zijn jeugd te Harlingen en Leeuwarden beschreef hij later in de Anton Wachter-cyclus. Van jongs af aan logeerde hij regelmatig bij zijn grootouders in Amsterdam, waar hij zich in 1917 aan de Universiteit van Amsterdam inschrijft als student in de medicijnen. Tijdens zijn studie die van 1917 tot 1927 duurde, leerde hij Jan Slauerhoff kennen.Tot 1932 is hij als arts in praktijken door heel Nederland werkzaam. In 1932 volgt zijn officiële schrijversdebuut met de uitgave van de bundel Verzen in De Vrije Bladen. Doorslaggevend voor Vestdijks uiteindelijke keuze voor de literatuur is zijn ontmoeting in 1932 met Eddy Du Perron en Menno ter Braak. Deze ontmoeting had tot resultaat dat hij redactielid werd van het tijdschrift Forum Kort daarop, in 1933, wordt zijn eerste novelle, De oubliette, uitgegeven. In hetzelfde jaar schrijft hij Kind tussen vier vrouwen, dat, eerst geweigerd door de uitgever, later de basis zal vormen voor de eerste drie delen van de Anton Wachter-romans. In 1951 ontvangt Vestdijk de P.C. Hooftprijs voor zijn in 1947 verschenen roman De vuuraanbidders. In 1957 wordt hij voor het eerst door het PEN-centrum voor Nederland voorgedragen voor de Nobelprijs voor de Literatuur, die hij echter nooit zal krijgen. Op 20 maart 1971 wordt hem de Prijs der Nederlandse Letteren toegekend, maar voor hij deze kan ontvangen overlijdt hij op 23 maart te Utrecht op 72-jarige leeftijd. Vestdijk was auteur van ca. 200 boeken. Vanwege deze enorme productie noemde de dichter Adriaan Roland Holst hem 'de man die sneller schrijft dan God kan lezen'. Andere belangrijke boeken van Simon Vestdijk zijn: "Kind van stad en land" (1936), "Meneer Visser's hellevaart" (1936), "Ierse nachten" (1946), "De toekomst de religie" (1947), "Pastorale 1943" (1948), "De koperen tuin" (1950), "Ivoren wachters" (1951), "Essays in duodecimo" (1952) en "Het genadeschot" (1964).


K.P. Kavafis

K.P. Kavafis werd als kind van Griekse ouders, afkomstig uit Konstantinopel, geboren in 1863 in Alexandrië (tot vandaag een Griekse enclave) waar hij ook het grootste deel van zijn leven woonde en werkte. Twee jaar na de dood van zijn vader verhuist het gezin in 1872 naar Engeland om na een verblijf van vijf jaar naar Alexandrië terug te keren. Vanwege ongeregeldheden in Egypte vlucht het gezin in 1882 naar Konstantinopel, om na drie jaar opnieuw naar Alexandrië terug te gaan. In de jaren die volgen maakt Kavafis reizen naar Parijs, Londen en in 1901 zijn eerste reis naar Griekenland, in latere jaren gevolgd door nog enkele bezoeken. Op de dag van zijn zeventigste verjaardag, in 1933 sterft Kavafis in Alexandrië. De roem kwam voor Kavafis pas na zijn dood, dus postuum. Deels is dat toe te schrijven aan zijn eigen handelswijze. Hij was uiterst terughoudend met de publicatie van zijn gedichten, liet af en toe een enkel gedicht afdrukken in een literair tijdschrift, gaf in eigen beheer enkele bundels met een stuk of twintig gedichten uit en het merendeel van zijn poëzie schonk hij op losse bladen aan zijn beste vrienden.


Thomas Mann


Thomas Mann, de jongere broer van Heinrich Mann, werd geboren op 6 juni 1875 in Lübeck. Hij was de tweede zoon van de graankoopman Thomas Johann Heinrich Mann welke later één van de senatoren van Lübreck werd. Zijn moeder Julia (geboren da Silva-Bruhns) was Duits-Braziliaans van Portugees Kreoolse afkomst. In 1894 debuteerde Thomas Mann met de novelle "Gefallen". Toen Thomas Mann met 21 jaar eindelijk volwassen was en hem dus geld van zijn vaders erfenis toestond - hij kreeg ongeveer 160 tot 180 goldmark per jaar - besloot hij dat hij genoeg had van al die scholen en instituties en werd onafhankelijk schrijver. Kenmerkend voor zijn stijl zijn de ironie, de fenomenale taalbeheersing en de minutieuze detailschildering. Manns reputatie in Duitsland was sterk wisselend. Met zijn eerste roman, Buddenbrooks (1901), had hij een enorm succes, maar door zijn sceptische houding tegenover Duitsland na de Eerste Wereldoorlog veranderde dit volledig. Stelde hij zich tot aan de jaren twintig apolitiek op (Betrachtungen eines Unpolitischen, 1918), meer en meer raakte hij bij het Politiek gebeuren betrokken. Zijn afkeer van het nationaal socialisme groeide, zijn waarschuwingen werden veelvuldiger en heftiger. In 1944 accepteerde hij het Amerikaanse staatsburgerschap. Tussen 1943 en 1947 schreef Mann Doktor Faustus (zie Faust), de roman van de 'Duitse ziel' in de gecamoufleerd geschilderde omstandigheden van de 20ste eeuw. In 1947 bezocht hij voor het eerst sinds de Oorlog Europa, twee jaar later pas Duitsland. In 1952 vertrok hij naar Zwitserland. Op 12 augustus 1955 stierf hij in Zürich. Twintig jaar na zijn dood, in aug. 1975, is zijn literaire nalatenschap geopend: dagboekaantekeningen van 15 maart 1933 tot 29 juli 1955, alsmede notities uit de jaren 1918 tot en met 1921.Belangrijke werken zijn: Der Zauberberg, Der Tod in Venedig, Dokter Faustus , Joseph und seine Brüder en Die Bekenntnisse des Hochstaplers Felix Krull.


Rainer Maria Rilke

Rilke werd op 4 december 1875 geboren in Praag. Hij had al naam gemaakt als dichter met zijn bundels Das Stundenbuch en Das Buch der Bilder, toen hij de literaire wereld versteld deed staan en wereldfaam verwierf met de publicatie van zijn twee delen Neue Gedichte in 1907 en 1908. Hij verzamelde daarin het beste werk uit een van zijn vruchtbaarste periodes, die hij grotendeels doorbracht in Parijs. Rilke was daar diep onder de indruk gekomen van Rodin, bij wie hij een tijdlang in dienst was als particulier secretaris. Rodin, zei hij later, had hem leren kijken. Dit kijken kwam neer op intense concentratie, om het mysterie te kunnen zien 'achter de schijnbare werkelijkheid'. Latere en rijpere werken als Duineser Elegien (1912-1923) en het ronduit schitterende Die Sonette an Orfeus (1924) illustreren Rilkes metafysische visie op het onzegbare, dat haar verwoording vindt in een hermetische muzikale taal. Op 29 december 1926 overlijdt Rilke in het sanatorium in Val-Mont aan de gevolgen van leukemie. Enkele dagen later wordt hij, overeenkomstig zijn wens, begraven op het kerkhof van Raron.


* * * * * * * * * * * * * * * *

| | |
| --- | --- |
| | Over literatuur, gedichten, kunst en cultuur |

29-04-2017

Konstantínos Petros Kaváfis, Rod McKuen, Bernhard Setzwein, Monika Rinck, Alejandra Pizarnik, Walter Kempowski, Bjarne Reuter, Kurt Pinthus, Humphrey Carpenter
De Griekse dichter Konstantínos Petros Kaváfis werd geboren te Alexandrië (Egypte) op 29 april 1863. Zie ook alle tags voor Konstantínos Petros Kaváfis op dit blog.
Wroeging
Spreek over deze wroeging om die te verzachten,
edele wroeging, zeker, maar gevaarlijk eenzijdig.
Maak het verleden geen verwijt en kwel je niet zo.
Neem jezelf niet zo serieus.
Het kwaad dat je beging was kleiner
dan je denkt, veel kleiner.
Het goede dat je nu die wroeging bracht,
zat ook toen al diep in je.
Zie hoe een voorval, dat plotseling
in je geheugen weerkeert, een daad
verklaart die je fout
vond, maar nu een rechtvaardiging heeft.
Verlaat je niet helemaal op je geheugen:
je vergat heel wat – ditjes en datjes –
dat is rechtvaardiging genoeg.
En denk niet dat je je slachtoffer
zo goed kende. Hij had vast gaven waarvan je niets wist,
en misschien waren dit andere wonden
dan jij denkt (uit onwetendheid over zijn leven),
geen gevolg van jouw vreselijke klappen.
Verlaat je niet op je zwakke geheugen.
Verzacht de wroeging die altijd
eenzijdig en heel listig tegen je pleit.
Vertaald door Mario Molegraaf
In the Evening
It wouldn't have lasted long anyway—
the experience of years makes that clear.
Even so, Fate did put an end to it a bit abruptly.
It was soon over, that wonderful life.
Yet how strong the scents were,
what a magnificent bed we lay in,
what pleasure we gave our bodies.

An echo from my days given to sensuality,
an echo from those days came back to me,
something of the fire of the young life we shared:
I picked up a letter again,
and I read it over and over till the light faded away.

Then, sad, I went out on to the balcony,
went out to change my thoughts at least by seeing
something of this city I love,
a little movement in the street and the shops.

He Had Come There to Read
He had come there to read. Two or three books lie open,
books by historians, by poets.
But he read for barely ten minutes,
then gave it up, falling half asleep on the sofa.
He's completely devoted to books—
but he's twenty-three, and very good-looking;
and this afternoon Eros entered
his ideal flesh, his lips.
An erotic warmth entered
his completely lovely flesh—
with no ridiculous shame about the form the pleasure took....

Vertaald door Edmund Keeley en Philip Sherrard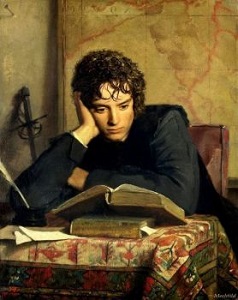 K. P. Kaváfis (29 april 1863 – 29 april 1923)
De lezer door Ferdinand Heilbuth, 1856
De Amerikaanse dichter, zanger, singer-songwriter, componist en acteur Rodney Marvin McKuen werd geboren in Oakland, Californië op 29 april 1933. Zie ook alle tags voor Rod McKuen op dit blog.
Uit: Caught In The Quiet
Three
What I've gained
from being with you
(besides a belly
and a deeper beard),
I couldn't say -
but any need for knowing
anyone but you
is what I've lost.

Four
Out of the sad mistaken belief
that as a man I must behave
as all men do.
I've turned my back
a time too often.
God,
help me keep
a resolution that I make today:
not to walk head high
even one more time
past someone I can help.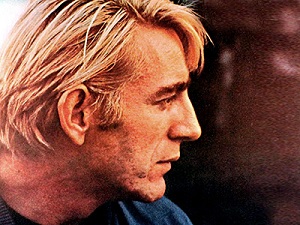 Rod McKuen (29 april 1933 – 29 januari 2015)
De Duitse dichter en schrijver Bernhard Setzwein werd geboren op 29 april 1960 in München. Zie ook alle tags voor Bernhard Setzwein op dit blog.
Uit: Der neue Ton
"Oben auf der Hügelkuppe weitete sich eine nicht sehr große Lichtung, die von einem hohen Zaun umgrenzt war. Von Spitze zu Spitze der betonierten Zaunpfähle mußte früher ein Stacheldraht gespannt gewesen sein, mittlerweile, vom Rost zerfressen, hingen nur mehr Reste davon herunter. Die Straße führte auf ein Tor im Zaun zu, seine zwei Flügel standen weit offen. Was immer hier einmal abgesperrt und abgeriegelt worden war, es hatte seine Wichtigkeit, seine staatstragende Heimlichkeit verloren.
Im Inneren des Areals standen mehrere langgestreckte, zweigeschossige Wohnbauten, ehedem mit Eternitplatten verkleidet, die ebenso zerschlagen waren wie etliche Scheiben der Sprossenfenster. Das Glas war längst erblindet, und so manche Scheibe hing zersplittert im bröckelnden Fensterkitt. Man hatte sich nicht einmal die Arbeit gemacht, die Scherben vollständig herauszuschlagen, sondern nur ein Stück Pappkarton von innen
Die Häuser standen im Karree um einen Turm herum, der dreimal so hoch wie die Häuser war und ohne Fenster. Sein walzenförmiger Baukörper war vollständig mit Blech verkleidet, er erinnerte, wenn nicht vom Material, so doch von der Gestalt her an den Bergfried einer Burg. Wie bei einem solchen befand sich auch hier der Zugang vier, fünf Meter über Bodenniveau und war über eine Treppe zu erreichen. Im Falle einer Belagerung und bei Entfernen der Treppe müßte man in diesem Turm eigentlich relativ sicher sein, allerdings auch lichtlos eingeschlossen wie in einem senkrechten Grab. Wozu nur hatte der mal gedient, früher?
Vančura steuerte auf einen der Wohnbauten zu, der durch eine Bierreklame an der Hauswand und aufgespannte Werbesonnenschirme als eine Art Gaststätte auszumachen war, außerdem standen aus unbearbeiteten Baumstämmen gezimmerte Bänke und Tische davor. Nur Gäste waren keine da, sah man von einem kleinen Rudel räudiger Hunde ab, die rund um die Tische alles abschnüffelten und aus braunen Wasserpfützen in den Mulden der festgetrampelten Lehmerde tranken."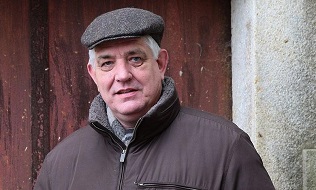 Bernhard Setzwein (München, 29 april 1960)
De Duitse dichteres en essayiste Monika Rinck werd geboren op 29 april 1969 in Zweibrücken. Zie ook alle tags voor Monika Rinck op dit blog.
tour de trance
my task, she said, was poisoning time
wie sich alles drehte, wiederholte, dehnte,
und rotierte, die wärme war a space so vast,
so katastrophisch groß, war sie arena
worin die trümmer von objekten trieben,
wilde schläge in der ferne, keiner hörte,
jeder fühlte, die wellen der erschütterung.
wo etwas fehlte, wurde alles größer,
drehte sich, rotierte, kam in's schlingern
und blieb dann in der mitte liegen.
die müdigkeit war eine kur, das gewicht
der atmosphäre, halluzinogene leere
federte, es drehte sich jetzt weniger
als wären die schläge, in dem was sie sind
gegenstand der verdünnung, als würde
die zeit, der reißende raum, präzise und
zärtlich vergiftet, in ihrem gewebe stiege
die chemische schwäche, es schäumte,
erstickte, das weiße lager der krusten,
das sich formierte, wird reicher und toxisch
verrauschten die schläge, es dreht sich,
dreht sich unmerklich, und steht.
teich
sagt er: das leid ist ein teich.
sag ich: ja, das leid ist ein teich.
weil das leid von fischen durchschossen
in einer mulde liegt und faulig riecht.
sagt er: und die schuld ist ein teich.
sag ich: ja, die schuld auch teich.
weil die schuld in einer senke schwappt
und mir bei hochgerecktem arm bereits
zur aufgedehnten achselhöhle reicht.
sagt er: die lüge ist ein teich.
sag ich: ja die lüge ebenso teich.
weil man im sommer des nachts
am ufer der lüge picknicken kann
und immer dort etwas vergißt.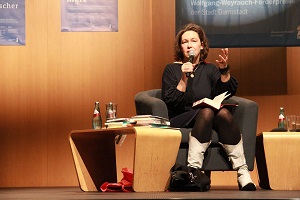 Monika Rinck (Zweibrücken, 29 april 1969)
De Argentijnse dichteres en schrijfster Alejandra Pizarnik werd geboren op 29 april 1936 in Buenos Aires. Zie ook alle tags voorAlejandra Pizarnik op dit blog.
Even if she saw me cry…
Even if she saw me cry and clutched me to hear breast, I wouldn't revive. True, I'd be able to look in her eyes like Van Gogh saw the sun and shattered it in sunflowers—Can "life" be spelled with two "i"s?
Dolls are so cruel. And why shouldn't they be, when men and beasts and even stones are cruel? In the poem, dolls and other creatures of the night are exposed. Poem, this is night. Have you met the night?
Roses are red in her fiery insatiable hands.
I call night silence. Night emerges from death. Night emerges from life. All absence lives in the night.
Then, in the morning, I cried:
My darling night, my little one, teeming with villains.
My love, call me Sasha. I'm recasting the play as a purely interior tragedy. Everything is an interior.
Wanted: Dead Or Alive
I forced myself
kicking and screaming
into language

Only Sign
Please alejandra
open your eyes,
kindle the light
of birth

Vertaald door Cole Heinowitz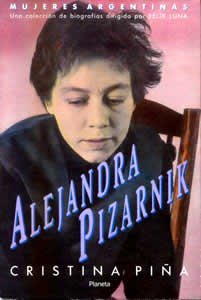 Alejandra Pizarnik (29 april 1936 – 25 september 1972)
Cover biografie
De Duitse schrijver Walter Kempowski werd geboren in Rostock op 29 april 1929. Zie ook alle tags voorWalter Kempowski op dit blog.
Uit: Im Block
"Wie Schaufensterpuppen standen die Posten an der Zentrale. Grinsende Kalfaktoren daneben, irgendwie schadenfroh, in schicken weißen Hosen und mit langen Haaren. Sie machten die Russen auf einzelne von uns aufmerksam: Guck mal den da ... Ein Blick in die fünf Stock hohe Zellenhalle. Ein gußeisernes Kloster?
Über schmale Eisentreppen ging es ganz nach oben: "Beeilung! Beeilung!" Wir kamen allesamt in eine große, leere Zelle. Die Rostocker wuschen sich den Hintern, die hatten's mit der Hygiene. Wann wir endlich was zu essen kriegten, fragten sie die Kalfaktoren. Wir hätten ja Transportverpflegung bekommen, sagten die, hier würden wir noch gar nicht geführt. "Immer langsam mit die jungen Pferde." Und dann lachten sie wieder so schadenfroh.
Dann kamen sechs, acht Russen herein, gingen zwischen uns hin und her und guckten uns an. Wo wir im Krieg gewesen seien, wollten sie wissen. Die Kalfaktoren an der Tür lachten. Plötzlich rissen sie sich die Koppel herunter und schlugen auf uns ein. Obwohl wir durcheinanderliefen, ging es sehr ruhig zu. Einen ledernen Bauern, der nicht ganz richtig im Kopf war, nahmen sie sich gesondert vor. Er lag am Boden. Im Takt droschen sie ihn wie eine Garbe aus. Einer der Posten lutschte am Finger, als er die Zelle verließ. Das war wohl der "Willkomm" gewesen, die Kalfaktoren hatten das natürlich gewusst.
In dieser großen Zelle lagen wir vierzehn Tage. Von hier oben aus hatten wir eine weite Aussicht: in der Feme die Spree mit der gesprengten Autobahnbrücke. Auf dem Hof standen schöne Kastanienbäume, Essenträger mit Holzkübeln an einer Stange kamen aus der dampfenden Küche. Jetzt traten die Spaziergänger heraus, Hunderte, in Achterreihen, alle untergehakt. Wir Neuen durften nicht Spazierengehen, wir seien in Quarantäne, sagten die Kalfaktoren. Die Rostocker repetierten Handwurzelknochen, die ändern stritten sich."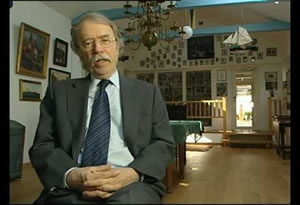 Walter Kempowski (29 april 1929 – 5 oktober 2007)

De Deense schrijver Bjarne Reuter werd geboren op 29 april 1950 in Brønshøj. Zie ook alle tags voorBjarne Reuter op dit blog.
Uit: Das dunkle Lied des Todes (Vertaald door Gabriele Haefs)
"Die Mozartschule bestand ursprünglich aus fünf Villen, die 1962 zu einer Privatschule für musisch besonders begabte Kinder umgebaut wurden. Die Schule lag im grünen Kern der Innenstadt und hatte ihr stilreines Aussehen mit hohen alten Bäumen und symmetrisch angelegten Wegen behalten. Die Wege verbanden die fünf Pavillons mit dem neuen Verwaltungsgebäude. Wenn man das Gelände betrat, hatte man das Gefühl, sich in eine Zeitnische zu begeben, der Verkehr der Großstadt war nur als fernes Summen zu hören, das sich dem Taktschlag der Metronome und den strikten Tonleitern für Klavier, Cello und Violine unterwarf. Die Schule hatte nie einen Hehl daraus gemacht, dass sie für eine kleine Elite aus den leistungsstärksten und ehrgeizigsten Schülerinnen und Schülern gedacht war, kurz gesagt, den Auserwählten.
Die mysteriöse Geschichte des verheißungsvollsten Jahrgangs der Schule beginnt an einem Nachmittag Ende Mai. Die Pavillons sind menschenleer und allein das ewige Gurren der Tauben, die einander auf dem Dachfirst den Hof machen, ist zu hören. Eine Frau überquert den Rasen zwischen Straße und Schule. Ihre hohen Absätze versinken im feuchten Gras, und als sie in den Schatten der Rosskastanie tritt, nimmt ihr weites Hemd einen fast unterseeischen Farbton an. Vor der Treppe schiebt sie sich die Sonnenbrille auf die Stirn, rafft Ordner und Ringbuch zusammen und stößt mit dem Rücken die Tür auf. Danach eilt sie durch die Aula, passiert den Wald aus Notenständern und schaut auf die Uhr, als sie die Glockenschläge der Schlosskirche hört. Im selben Moment wird die Tür am gegenüberliegenden Ende des Saals geöffnet. Die Frau lächelt und sagt sich, Pünktlichkeit sei eine Tugend, und Lars Bromsen sehe aus, wie sie sich ihn vorgestellt hatte.
Groß, dünn und energisch, erfüllt von dem oberflächlichen Selbstvertrauen des frisch examinierten Lehrers."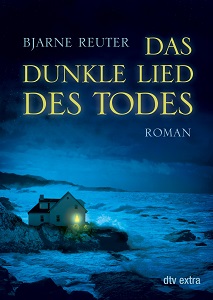 Bjarne Reuter (Brønshøj, 29 april 1950)
Cover
De Duitse schrijver en bloemlezer Kurt Pinthus werd geboren op 29 april 1886 in Erfurt. Zie ook alle tags voor Kurt Pinthus op dit blog.
Uit: Zuvor (Vorrede zur Anthologie 'Menschheitsdämmerung)
"Während im Weltkrieg der gewußte Zusammenbruch sich in der Realität ereignete, war bereits die Dichtung wiederum der Zeit vorangestürmt: Aus den Ausbrüchen der Verfluchung brachen die Schreie und Aufforderungen zur Empörung, zur Entscheidung, zur Rechenschaft, zur Erneuerung [...] Die neue Gemeinschaft wurde gefordert. Und so gemeinsam und wild aus diesen Dichtern Klage, Verzweiflung, Aufruhr aufgedonnert war, so einig und eindringlich posaunten sie in ihren Gesängen Menschlichkeit, Güte, Gerechtigkeit, Kameradschaft, Menschenliebe aller zu allen. [...]
Niemals war das Ästhetische und das L'art-pour-Part-Prinzip so mißachtet wie in dieser Dichtung, die man die 'jüngste" oder 'expressionistische" nennt, weil sie ganz Eruption, Explosion, Intensität ist - sein muß, um jene feindliche Kruste zu sprengen. Deshalb meidet sie die naturalistische Schilderung der Realität als Darstellungsmittel, so handgreiflich auch diese verkommene Realität war; sondern sie erzeugt sich mit gewaltiger und gewaltsamer Energie ihre Ausdrucksmittel aus der Bewegungskraft des Geistes . Sie entschleudert ihre Welt [...] in ekstatischem Paroxismus, in quälender Traurigkeit, in süßestem musikalischen Gesang, in der Simultanität durcheinanderstürzender Gefühle, in chaotischer Zerschmetterung der Sprache, grausigster Verhöhnung menschlichen Mißlebens, in flagellantisch schreiender, verzückter Sehnsucht nach Gott und dem Guten, nach Liebe und Brüderlichkeit. So wird auch das Soziale nicht als realistisches Detail, objektiv etwa als Elendsmalerei dargestellt , sondern es wird stets ganz ins Allgemeine, in die großen Menschheitsideen hingeführt. Und selbst der Krieg, der viele dieser Dichter zerschmetterte, wird nicht sachlich realistisch erzählt; — er ist stets als Vision da , schwelt als allgemeines Grauen, dehnt sich als unmenschlichstes Ãœbel, das nur durch den Sieg der Idee vom brüderlichen Menschen aus der Welt zu schaffen ist."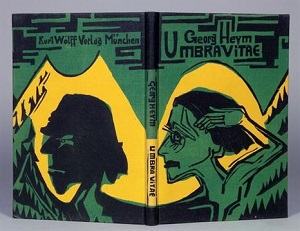 Kurt Pinthus (29 april 1886 – 11 juli 1975)
Cover van "Umbrae Vitae" van Georg Heym, ontworpen door Ernst Ludwig Kirchner. Georg Heym was een van de dichters van het Duitse Expressionisme
De Britse schrijver en biograaf Humphrey Carpenter werd geboren op 29 april 1946 in Oxford. Zie ook alle tags voor Humphrey Carpenter op dit blog.
Uit: The Brideshead Generation
"Waugh also resists the temptation of making Hetton an architectural jewel. The house, we are told, 'was entirely rebuilt in 1864 in the Gothic style' and is architecturally deplorable, though 'already it was referred to as "amusing", and a very civil young man had asked permission to photograph it for an architectural review'. Approval by Betjeman was not, in 1934, regarded as a real mark of distinction, and we are meant to assume that Hetton is a burden to Tony rather than an enviable asset. He is doing his duty to his family and its history by keeping it up. On the other hand the 'English Gothic' in which it is built (and which gives the title to the novel's second chapter) has certain moral and narrative overtones, for the rooms have been 'each named from Malory', so that Tony's wife's bedroom is 'Guinevere' — a hint that she will commit adultery later in the novel. By 1934 the Victorian passion for Arthuriana was universally regarded as absurd, but Waugh intends to remind us that chivalry, even in mock-medieval form, is still a reaching-out for permanent and altruistic values. When he discovers his wife's infidelity with John Beaver, Tony at first behaves like a passive Paul Pennyfeather, but then abruptly sets off for Guiana and Brazil in the company of an eccentric explorer, who is searching for a fabulous City supposedly built by the Incas. This quest parallels Tony's search for some evidence of permanence and certainty now that his English Gothic ideals have been smashed: 'A whole Gothic world had come to grief. There was now no armour glittering through the forest glades, no embroidered feet on the green sward; the cream and dappled unicorns had fled....' Ninety-Two Days had anticipated this search for the City. In the passage in which Waugh describes his expectations of Boa Vista, the southernmost point on his journey, where he had expected to find rest and refreshment and to be able to take a boat back to civilization, he writes: 'I had come to regard it as Middle Western Americans look on Paris, as Chekhov peasants on St Petersburg.' And when he actually saw it: 'the Boa Vista of my imagination had come to grief."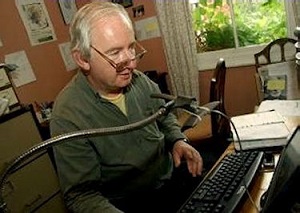 Humphrey Carpenter (29 april 1946 – 4 januari 2005)
29-04-2017 om 10:34 geschreven door Romenu

Tags:Konstantínos Petros Kaváfis, Rod McKuen, Bernhard Setzwein, Monika Rinck, Alejandra Pizarnik, Walter Kempowski, Bjarne Reuter, Kurt Pinthus, Humphrey Carpenter, Evelyn Waugh, Romenu


28-04-2017

Zia Haider Rahman, Wim Hazeu, Roberto Bolańo, Gerhard Henschel, Harper Lee, Joop Waasdorp, Karl Kraus, Ğabdulla Tuqay, Charles Cotton
De Britse schrijver Zia Haider Rahman werd in 1969 geboren op het platteland van Bangladesh in de regio Sylhet. Zie ook alle tags voor Zia Haider Rahman op dit blog.
Uit: In the Light of What We Know
"I had not heard the name of the twentieth-century Austrian-American mathematician Kurt Gödel since a July weekend in New York, in the early 1990s, when I was visiting from London for a month of induction at the head offices of an investment bank into which I had recently been recruited. In some part I owe my recruitment to the firm, of which I later became a partner, to Zafar, who was already a derivatives trader in the bank's Wall Street offices and who had quickly established a reputation as a bright though erratic financial wizard.
Like Zafar, I was a student of mathematics at Oxford, but that, to put it imprecisely, was the beginning and the end of what we had in common. Mine was a privileged background. My father was born into a well-known landed family in Pakistan, where he met and married my mother. From there, the newly-weds went to Princeton, where they had me, making me an American citizen, and where my father obtained his doctorate before moving to Oxford so that he could take up a chair in physics. I am no genius and I know that without the best English schooling, I would not have been able to make as much as I have of the opportunities that came my way.
Zafar, however, arrived at Oxford in 1987 with a peculiar education, largely cobbled together by his own efforts, having been bored, when not bullied, out of one school after another. His family moved to Britain when he was no more than five years old, but then, at the age of twelve, or ten, by the new reckoning, he returned from Britain to rural Bangladesh for an interval of some years.
To him, Oxford must have seemed, as the expression goes, a long way to come. In our first term there, as we lounged in the Junior Common Room beside windows that gave out onto the garden quad, I observed that Zafar's pronunciation of the names of various Continental mathematicians – Lebesgue, Gauss, Cauchy, Legendre, and Euler – was grotesquely inaccurate. Though my first reaction, I am a little ashamed to say, was to find this rather amusing, I soon grasped that Zafar's errors marked his learning as his own, unlike mine, which carried the imprint of excellent schoolmasters. I must confess to a certain envy at the time."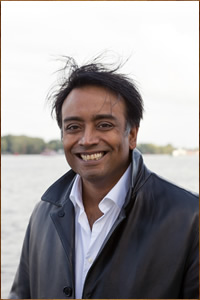 Zia Haider Rahman (Sylhet, 1969)
De Nederlands schrijver, journalist, radio- en televisieprogrammamaker, uitgever, dichter en biograaf Wim Hazeu werd geboren in Delft op 28 april 1940. Zie ook alle tags voor Wim Hazeu op dit blog.
Uit: Hermans en Vestdijk
"In augustus 1946 werd W.F. Hermans redacteur van het algemeen cultureel maandblad Criterium, om het werk van de zittende redacteur Adriaan Morriën te verlichten. Morriën schreef op 5 augustus 1946 aan zijn vriend, de leraar-criticus-dichter Frits W. van Heerikhuizen: 'Ik hoop dat het mij heel wat vervelend werk zal besparen en dat ik eindelijk eens tot behoorlijke lectuur en eigen werk kan komen.' Van Heerikhuizen had zijn bedenkingen tegen Hermans, die op 20 november 1946 door Morriën werden weersproken: 'Ik weet niet of Hermans over tien jaar straal vergeten is. Het is een hardwerkende jongen die zichzelf niet voor gemakkelijke resultaten plaatst. Ik kan mij voorstellen dat je zijn mentaliteit niet waardeert. Ook ik ben anders geaard, hoewel ik toch meer met hem deel dan jij. Jij en ik loopen nogal uiteen, is mij langzamerhand duidelijk geworden. Bij mij is veel meer twijfel, ook over andere dan literaire zaken, over de dingen van het leven zelf, die natuurlijk in de litteratuur hun weerspiegeling vinden. Er is bij mij, denk ik soms, veel meer fataliteit, onvrede, spot en onverschilligheid dan bij jou, en dat alles soms tot een levensovertuiging versmolten. Maar aan de andere kant ben ik toch weer veel naiever en blijmoediger dan de jonge Hermans.'
De 'hardwerkende jongen' Hermans merkte bij Criterium een tekort aan behoorlijke kopij op. Hij sprak met Morriën af dat hij een paar mensen zou benaderen voor een literaire bijdrage. Hij bezocht Bordewijk, die hem een reeks aanvullingen toezegde op zijn vooroorlogse boek De korenharp. In Groningen praatte hij bij Hendrik de Vries een aantal beschouwingen los over vertalingen uit het Spaans door Slauerhoff. De derde auteur die hij benaderde was Vestdijk. Vestdijk was al incidenteel medewerker geweest aan de eerste twee naoorlogse jaargangen van Criterium. Met Hermans werkte hij het idee uit om kronieken over met name de recente Engelse en Amerikaanse literatuur te schrijven, hoe moeilijk het ook was om zo kort na de oorlog aan buitenlandse boeken te komen. Vestdijk schreef Hermans op 5 oktober 1947: 'Voorloopig heb ik het nu erg druk, maar ik vermoed in de loop van November wel een kroniek te kunnen leveren, hetzij over Huxley, hetzij over Faulkner. Het zal inderdaad moeilijk zijn om aan Faulkner's boeken te komen; ik vind echter een kroniek over hem, waarin niet eens met de publicaties na '40 rekening gehouden is, wel wat overbodig.' Vestdijk publiceerde vervolgens inderdaad over Huxley en Faulkner, en ook over Graham Greene."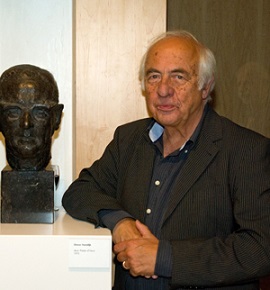 Wim Hazeu (Delft, 28 april 1940)
Hazeu bij een beeld van Vestdijk
De Chileense dichter en schrijver Roberto Bolaño werd geboren op 28 april 1953 in Santiago de Chile. Zie ook alle tags voor Roberto Bolaño op dit blog.
Uit: 2666 (Vertaald door Natasha Wimmer)
"He saw himself, as we've said, ascetic and hunched over his German dictionaries in the weak light of a single bulb, thin and dogged, as if he were pure will made flesh, bone, and muscle without an ounce of fat, fanatical and bent on success. A rather ordinary picture of a student in the capital, but it worked on him like a drug, a drug that brought him to tears, a drug that (as one sentimental Dutch poet of the nineteenth century had it) opened the floodgates of emotion, as well as the floodgates of something that at first blush resembled self-pity but wasn't (what was it, then? rage? very likely), and made him turn over and over in his mind, not in words but in painful images, the period of his youthful apprenticeship, and after a perhaps pointless long night he was forced to two conclusions: first, that his life as he had lived it so far was over; second, that a brilliant career was opening up before him, and that to maintain its glow he had to persist in his determination, in sole testament to that garret. This seemed easy enough.
* * *
Jean-Claude Pelletier was born in 1961 and by 1986 he was already a professor of German in Paris. Piero Morini was born in 1956, in a town near Naples, and although he read Benno von Archimboldi for the first time in 1976, or four years before Pelletier, it wasn't until 1988 that he translated his first novel by the German author, Bifurcaria Bifurcata, which came and went almost unnoticed in Italian bookstores.
Archimboldi's situation in Italy, it must be said, was very different from his situation in France. For one thing, Morini wasn't his first translator. As it happened, the first novel by Archimboldi to fall into Morini's hands was a translation of The Leather Mask done by someone called Colossimo for Einaudi in 1969. In Italy, The Leather Mask was followed by Rivers of Europe in 1971, Inheritance in 1973, and Railroad Perfection in 1975; earlier, in 1964, a publishing house in Rome had put out a collection of mostly war stories, titled The Berlin Underworld. So it could be said that Archimboldi wasn't a complete unknown in Italy, although one could hardly claim that he was successful, or somewhat successful, or even barely successful. In point of fact, he was an utter failure, an author whose books languished on the dustiest shelves in the stores or were remaindered or forgotten in publishers' warehouses before being pulped."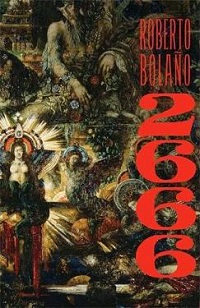 Roberto Bolaño (28 april 1953 – 15 juli 2003)
De Duitse schrijver en vertaler Gerhard Henschel werd geboren op 28 april 1962 in Hannover. Zie ook alle tags voor Gerhard Henschel op dit blog.
Uit: Kindheitsroman
"Doppelstockbett durfte Volker oben schlafen, weil er drei Jahre älter war als ich. Dafür war er drei Jahre jünger als Renate.
Zum Beten faltete Mama ihre Hände über meinen. Lieber Gott, mach mich fromm, daß ich in den Himmel komm.
»Und jetzt will ich keinen Mucks mehr hören!«
Meine Beine waren mit Bademantelgürteln an die Bettpfosten gebunden, eins links und eins rechts, damit ich die Decke nicht abstrampeln konnte.
Maikäfer, flieg!
Unten auf dem Hof machte Mama ein Foto von Volker und mir auf dem Dreirad. Volker fuhr, und ich stand hinten auf der Stange.
An den Sandkasten kam man nicht ran, der war immer besetzt.
Ein Kind hatte auch einen Ball.
Der Hof warvoller Rauhbeine, die den Mädchen hinten den Rock hochhoben: »Deckel hoch, der Kaffee kocht!«
Straßenwörter, die nicht in die Wohnung gehörten, waren Scheiße, Kacke, Arsch und Sau.
Einmal machte Renate mit ihren Freundinnen eine Puppenmuttiparade vom Hof bis zum Rheinufer, und die Puppen kriegten das Deutsche Eck gezeigt.
Ulrike Quasdorf hatte den schlechtesten Puppenwagen. Die Räder eierten und quietschten, und vorne fehlte eins.
Ihre neue Puppe Annemarie hieß so wie eine Frau aus der Tagesschau. Annemarie war b
esser als Renates alte Puppe Christine, die nur aufgemaltes Haar hatte. Annemarie hatte echtes und machte immer Bäh, wenn sie auf dem Kopf stand. Das Bäh kam aus einem Sieb am Rücken raus.
Bei der Parade wollte ich auch mal schieben, aber Renate ließ mich nicht.
Groß und Klein. Nach Groß mußte ich immer noch Mama rufen, damit sie mir den Po abwischte.
»Mama, fertig!«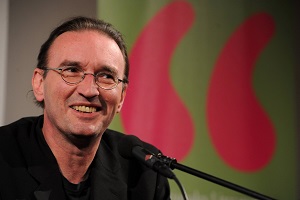 Gerhard Henschel (Hannover, 28 april 1962)
De Amerikaans schrijfster Nelle Harper Lee werd geboren in Monroeville op 28 april 1926. Zie ook alle tags voor Harper Lee op dit blog.
Uit:To Kill a Mockingbird
« The Radley Place jutted into a sharp curve beyond our house. Walking south, one faced its porch; the sidewalk turned and ran beside the lot. The house was low, was once white with a deep front porch and green shutters, but had long ago darkened to the color of the slate-gray yard around it. Rain-rotted shingles drooped over the eaves of the veranda; oak trees kept the sun away. The remains of a picket drunkenly guarded the front yard- a "swept" yard that was never swept-where johnson grass and rabbit-tobacco grew in abundance.
Inside the house lived a malevolent phantom. People said he existed, but Jem and I had never seen him. People said he went out at night when the moon was down, and peeped in windows. When people's azaleas froze in a cold snap, it was because he had breathed on them. Any stealthy small crimes committed in Maycomb were his work. Once the town was terrorized by a series of morbid nocturnal events: people's chickens and household pets were found mutilated; although the culprit was Crazy Addie, who eventually drowned himself in Barker's Eddy, people still looked at the Radley Place, unwilling to discard their initial suspicions. A Negro would not pass the Radley Place at night, he would cut across to the sidewalk opposite and whistle as he walked. The Maycomb school grounds adjoined the back of the Radley lot; from the Radley chickenyard tall pecan trees shook their fruit into the schoolyard, but the nuts lay untouched by the children: Radley pecans would kill you. A baseball hit into the Radley yard was a lost ball and no questions asked.
The misery of that house began many years before Jem and I were born. The Radleys, welcome anywhere in town, kept to themselves, a predilection unforgivable in Maycomb. They did not go to church, Maycomb's principal recreation, but worshiped at home; Mrs. Radley seldom if ever crossed the street for a mid-morning coffee break with her neighbors, and certainly never joined a missionary circle."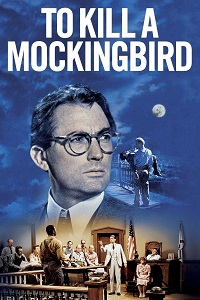 Harper Lee (Monroeville, 28 april 1926)
DVD cover voor de film uit 1962
De Nederlandse schrijver en journalist Joop Waasdorp (pseudoniem: Frans Hals) werd geboren in Amsterdam op 28 april 1917. Zie ook alle tags voor Joop Waasdorp op dit blog.
Uit: Het naakte leven
"Ben op het water geweest en heb slakjes gezameld voor visaas. Een spierwitte man in een verwaaid overhemd viel op een eenzame plek compleet met fototoestel in zee. Voordat ik een held kon zijn had hij zich, zonder camera, weer op het droge gewerkt. Heb mij verder in en uit een halfdonkere grot laten drijven en ben toen bij opstekende wind naar het haventje teruggekeerd, waar enkele mooie vrouwen in niets anders dan een zakdoek bezig waren zich aan dit leven aan te passen. Vrouwen hebben daar veel minder moeite mee dan mannen. Als het mag en moet is een vrouw na een dag een tamelijk ongedwongen meermin. Wat al deze mensen denken, nu zij elkaar uit de pakken en korsetten kunnen zien? Ik weet het niet. Uit de verte kon ik het stalletje van Liliane zien. Veel was daar niet te koop. Het komt weleens voor dat zij mij roept om te bemiddelen tussen haar en buitenlandse klanten Liliane is het officiële fotomodel van het eiland. Dat wil zeggen: zij heeft zichzelf gekroond. Je komt hier een heel eind met een beetje brutaliteit en als je ook nog mooie borsten bezit hoef je geen honger te lijden. Voor vijfendertig gulden per halfuur laat zij zich poedelnaakt in bevallige maar altijd correcte houdingen op de rotsen fotograferen. Omdat ik nu de onderhandelingen zo'n beetje vertaal ben ik haar compagnon. Desgewenst waagt zo'n klant zich met haar en mij in mijn bootje waarna wij in de richting koersen van een verlaten rotspartij, zodat niet iedereen de zitting kan gadeslaan. Niet dat er iets raars gebeurt. Ik vraag mij af waarom die mannen zoveel geld geven voor enkele onschuldige foto's. Liliane en ik hebben deze overeenkomst gesloten bij een biertje in het hotel aan de haven. Zij keek mij vanonder haar gepenseelde wenkbrauwen aan, zei dat zij mij zo'n aardige jongen vond en legde haar hand op mijn dij. Zij adverteert haar beroep in bloedrode onbeholpen letters op een stuk karton. Achter, vóór en terzijde van dit ding paradeert zij met vooruitgestoken borsten. Vermoedt zij een klant, dan doet zij ook nog een opzichtige halsketting om. Maar de laatste dagen zit er lelijk de klad in en daarom zie ik boven de rand van het stalletje alleen het vogelkopje van Sylvaine, die de wacht houdt."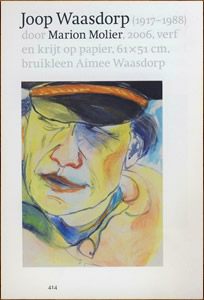 Joop Waasdorp (28 april 1917 - 3 september 1988)
Cover schrijversportret door Marion Molier
De Joods-Oostenrijkse dichter, schrijver en journalist Karl Kraus werd geboren in Jičin, Bohemen, Oostenrijk-Hongarije (thans Tsjechië) op 28 april 1874. Zie ook alle tags voorKarl Kraus op dit blog.
Sommernachtstraum
Ein wilder Zauber wob durch die Nacht:
das Unkraut wurde lebendig gemacht.
Man vergaß, daß man im Theater saß:
bis vorn an die Rampe wuchs echtes Gras.
Und nichts war von Pappe bis auf die Leute,
die nicht wußten, was ein Vers bedeute.
Man hat, wie Zauber die Sinne umflicht,
vor lauter Wald nicht gehört das Gedicht.
So war jahrhundertealtes Geisteserbe
gerettet durch Regie und Kunstgewerbe.

Aus jungen Tagen
Nie kann es anders sein.
Nun wirft mein Glaube keinen Schatten mehr.
Von deinem großen Lichte kam er her,
von des Geschlechtes rätselhaftem Schein.
Nun bin ich ganz im Licht,
das milde überglänzt mein armes Haupt.
Ich habe lange nicht an Gott geglaubt.
Nun weiß ich um sein letztes Angesicht.
Wie es den Zweifel bannt!
Wie wirst du Holde klar mir ohne Rest.
Wie halt' ich dich in deinem Himmel fest!
Wie hat die Erde deinen Werth verkannt.
Du gabst dich zum Geschenk
der Welt, ich hab es für dich aufbewahrt.
Ich habe Gott den größten Schmerz erspart.
Geliebte, bleibe deiner eingedenk!
Wie glänzt mir deine Pracht.
Dein Menschliches umarmt, der beten will.
Er heiligt es im Kuß. Wie ist sie still
von Sternen, deiner Nächte tiefste Nacht.
Nie soll es anders sein.
Ob alles Irdische zerbricht und stirbt,
nur dein Zerfall ein geistig Glück verdirbt.
Vergib dich an die Erde nicht, sei Dein!
Christentum
Seelsorger nennen sich die Pfaffen,
denn sie preisen die Presse und segnen die Waffen.
Jubilate!
Und schon dies mag auf Erden zum Trost euch
gereichen:
Giftgase tragen das Kreuzeszeichen,
und Textinserate.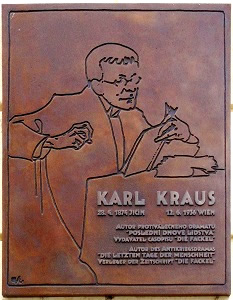 Karl Kraus (28 april 1874 - 12 juni 1936
Gedenkplaat aan zijn geboortehuis in Jičin, Bohemen
De Tataarse dichter Ğabdulla Tuqay werd geboren op 28 april 1886 in Qoşlawıç in Kazan, Rusland (tegenwoordig Tatarstan). Zie ook alle tags voor Ğabdulla Tuqay op dit blog.
Winter, Farewell
Winter go away, we're tired of the cold.
Welcome spring is here, her carriage is of gold.
Vanish, Santa Clause, keep safe your snowy beard,
Watch out for the flowers you hated and feared.
The spring does not need a rifle or a sword
Her suite of butterflies obeys her every word.
Epitaph
I feel your heartbeat in my soul; you never died,
Your warmth and grace the two of us have tied,
And if you die, death is my only choice,
But while I breathe, I'll hear your gentle voice.
You're in my mind, yes, you are in my heart,
Not even death can break us two apart.
My love for you will never be surpassed,
And memories of it until my deathbed last.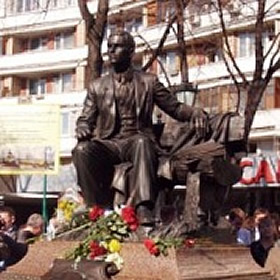 Ğabdulla Tuqay (28 april 1886 – 15 april 1913)
Monument in Moskou
De Engelse dichter en vertaler Charles Cotton werd geboren op 28 april 1630 in Beresford in Staffordshire. Zie ook alle tags voor Charles Cotton op dit blog.
Sonnet
WHat have I left to doe but dye,
Since Hope, my old Companion,
That train'd me from my Infancy,
My Friend, my Comforter is gone?
Oh fawning, false, deceiving Friend!
Accursed be thy Flatteries,
Which treacherously did intend
I should be wretched to be wise:
And so I am; for being taught
To know thy guiles, have only wrought
My greater misery and pain:
My misery is yet so great,
That, though I have found out the Cheat,
I wish for thee again in vain.
The Tempest
I.
STanding upon the margent of the Main,
Whilst the high boiling Tide came tumbling in,
I felt my fluctuating thoughts maintain
As great an Ocean, and as rude, within;
As full of Waves, of Depths, and broken Grounds,
As that which daily laves her chalky bounds.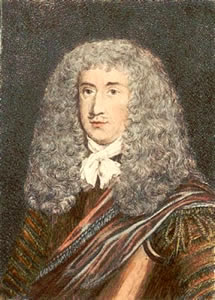 Charles Cotton (28 april 1630 – 16 februari 1687)
Portret door Alfred Holst Tourrier
Zie voor nog meer schrijvers van de 28e april ook mijn blog van 28 april 2015 en ook mijn blog van 28 april 2013 deel 2.
28-04-2017 om 18:18 geschreven door Romenu

Tags:Zia Haider Rahman, Wim Hazeu, Roberto Bolańo, Gerhard Henschel, Harper Lee, Joop Waasdorp, Karl Kraus, Ğ,abdulla Tuqay, Charles Cotton, Simon Vestdijk, W. F. Hermans, Romenu


27-04-2017

De koning had geen zin (Annie M.G. Schmidt)
Bij Koningsdag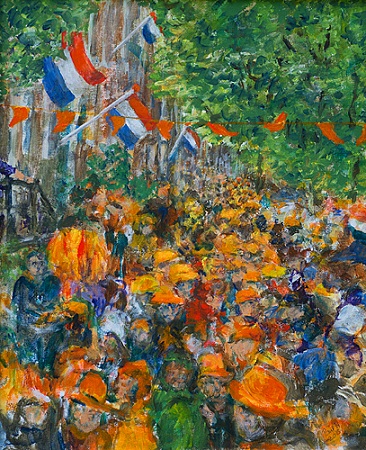 Oranjefeest door Paul Nieuwendijk, z.j.
De koning had geen zin
Als de koning wakker wordt, dan gaat hij tandenpoetsen
en zijn handen wassen en dan gaat hij naar benee.
En dan denkt hij: Zou ik van de leuning durven roetsen?
Maar dan ziet hij iemand en dan denkt de koning: Nee…
En dan komt hij binnen met zijn kroon en op zijn sokken
en dan vraagt de koningin: Hoe vaart u, mijn gemaal?
En dan zegt de koning: Bah, ik lust geen havervlokken!
En dan zegt de koningin: Wat is dat nou voor taal!
En dan wordt de koning treurig, zo treurig, zo treurig…
Dan gaat hij regeren op zijn troon, om kwart voor negen
en het regent buiten en hij heeft totaal geen zin.
De ministers komen en die zeggen heel verlegen:
Kijk, hier is de schatkist en er zit geen cent meer in!
En ze laten het hem zien en doen de schatkist open…
en dan komt het keukenmeisje haastig aangerend
om te zeggen dat de gootsteen niet meer door wil lopen
en dan komt de koningin en vraagt om dertig cent…
en dan wordt de koning zo treurig, zo treurig, zo treurig…
En dan sluipt hij stiekem, heel voorzichtig op zijn tenen,
stiekem op zijn tenen weg en niemand die het ziet…
En om twaalf uur roept de kok: De koning is verdwenen!
Iedereen gaat zoeken, maar de koning is er niet…
Uren later komt de koning plotseling weer binnen
en dan vraagt de koningin: Waar zat je toch zonet?
En dan zegt de koning: O, ik moest mij wat Bezinnen…
Ik heb zitten Werken en het Land is weer Gered!
En dan zijn ze zo blij, zo blij, zo blij…
En alleen maar ik en jij, jij en ik, wij weten
waar de koning al die tijd zo stiekem heeft gezeten.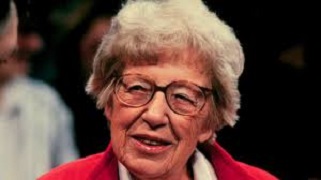 Annie M.G. Schmidt (20 mei 1911 – 21 mei 1995)
Zie voor de schrijvers van de 27e april ook mijn vorige blog van vandaag.
27-04-2017 om 12:30 geschreven door Romenu

Tags:Koningsdag,Annie M.G. Schmidt. Romenu



Astrid Roemer, Robert Anker, André Schinkel, Didier Daeninckx, Hovhannes Shiraz, August Wilson, Edwin Morgan, Jules Lemaître, Cecil Day Lewis
De Surinaamse dichteres en schrijfster Astrid Roemer werd in Paramaribo geboren op 27 april 1947. Zie ook alle tags voor Astrid Roemer op dit blog.
Uit: Lola of het lied van de lente
"In de slaapkamer spreidt ze het dekbed met het lapjesdekenmotief-overtrek zorgvuldig over het bed - ze trekt de uiteinden strak. In de kast waarvoor ze staat hangen al de kledingstukken van de reis die ze naar het pantheon van goden heeft gemaakt om hun gunsten af te smeken voor een gepast neerleggen van het ambt. In de kringen van de bonu-sma had het voornemen nogal wat deining veroorzaakt - want, wie breekt er bij leven en welzijn met zo'n machtig medium van Moeder Aarde als de apuku-geest!
Vastbesloten had zij het ceremonieel voorbereid en ontdaan van uitbundig vertoon; en elk ritueel was afgemeten.
Zonder linten en strikken en krullen waren de robes waarin ze zeven dagen en zeven nachten lang te kijk heeft gestaan, gedanst gelachen, gezongen, gehuild - en heeft geschreeuwd.
En de meer dan honderd personen die op haar uitnodiging zijn ingegaan naar de Libanonweg te komen voor een ritueelfeest, hebben kunnen bijwonen hoe de oppergoden van Lucht & Water & Aarde háár tong hebben gebruikt om instemming te betuigen met haar besluit. Het was meer dan een lichaam van een tweeënzestigjarige vrouw die ruim tachtig kilogram weegt kan verwerken - maar volgens de aanwezigen is het geworden: het boeiendste en onvergetelijkste schouwspel sinds tijden.
Ze doet de kast open en ziet de kledingstukken hangen: historische kostuums voor het carnaval van haar achter-achter-achter-kleinkinderen, ergens in Nederland - ze huivert en grijpt naar de witte doek die ze om haar schouders hadden geslagen toen het medium zich eindelijk bekend wou maken. Eerst waren de geesten gepasseerd van overledenen die zij tijdens hun leven een dienst had bewezen en toen -.
Ze slaat de doek om en gaat op het bed zitten. Ze bekijkt haarzelf in de spiegeldeur van de klerenkast. Ze weet dat ze op haar begunstigster lijkt - dat hebben de broers, de zusters en de personen die de vrouw hebben gekend allen gezegd, maar dat zij uitgerekend haar navel tot ankerplaats heeft gekozen heeft haar later in een storm van tranen gedreven.
Na de uitputtingsslag van de uitweidingsceremonie heeft ze, meteen de volgende morgen de bus genomen naar Paramaribo. Eerst heeft ze het graf van haar echtgenoot bezocht - maar het marmer was nog dodelijker dan de herinnering aan zijn dood want: welke landmeter verdrinkt in een waterput die hij zelf in kaart gebracht heeft -. Haar ouders waren vanaf het begin finaal tegen de verhouding geweest: families die op de Libanonweg blijven wonen hebben een geschiedenis tot diep in het slavenverleden en dikwijls nog verder!"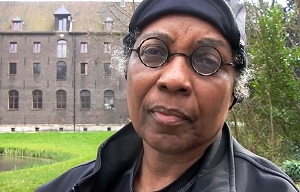 Astrid Roemer (Paramaribo, 27 april 1947)
De Nederlandse dichter, schrijver en literatuurcriticus Robert Anker werd geboren in Oostwoud op 27 april 1946. Zie ook alle tags voor Robert Anker rop dit blog.
De auto ontdekt
De auto ontdekt,
in een korte boog de brug op.
Beneden op het dek
wuift de vrouw mij naar het midden
waar een stoet van schepen onderlangs mij gaat.

Open de ramen! Boordje los!
(close-up van rechtervoet en -pols)
'All I hear is your gear'

Later kom ik bij mijzelf tot stand
aan een bosrand:
'Zon, mist en stilte', was toch mijn bestemming
'en dan voor immermeer'?
Ik kom zo nergens aan en rijd terug.

Beton, daarop de banden, de volstrekte wind:
dit is niet voorbij te komen.

's Avonds thuis, weer ingescheept,
herken ik flarden van reclame op tv:
Citroen GS X2.
Seigneur?
Dit is het laat seizoen. Mijn boom
draagt van zijn bloei de vruchten,
maar geen plof in gras die ruimte
maakt, bereikt mij achter het glas.
Ik dacht toch wel dat ik het was.

Het is voorbij. De dagen zijn op orde.
Herinnering zwerft als ziekte door het huis
(witte zeilen, blauwe zee, jij!).
Bemost is het balkon, mijn oog
komt tot de rand, keert naar binnen.
Voortaan is het zondagmiddag.
De heer ziet onze tranen niet.
Luchtreclame ronkt af en aan
met een boodschap voor de buren
die de luiken trillen doet.
Ik ga de trap af. Met mijn voet
schuif ik de folders in een hoek.
Daar zit geen reis bij die ik zoek.

Het is donker in het souterrain.
Ik sleep mijn leunstoel naar het raam.
Water ruist in buizen om mij heen.
De tuin is groen. Zo was het vroeger.
Ik oefen dus voor oude man.
De bel staat af. Ik hef mijn glas.
Adieu, ik schrijf nog wel.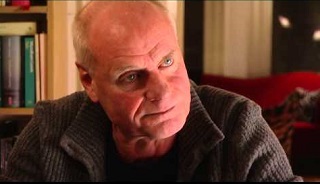 Robert Anker (27 april 1946 – 20 januari 2017)
De Duitse dichter, schrijver en archeoloog André Schinkel werd geboren op 27 april 1972 in Eilenburg. Zie ook alle tags voor André Schinkel op dit blog.
Weimar in Mai

Jenen Baum im Park an der Ilm werde ich nicht
Vergessen: wo wir so lange sorglos lagen,
Als wäre kein Gestern und Morgen, worin wir
Uns hätten längst verlaufen müssen; einer,
Denkt mir, des andern sich wählender Fels –
Und eingepasst in das Hetzen und Drängeln, das
Selbst dort, unter den Vorhängen der Bäume,
Noch rauschte – ein jambisches Rattern gegen
Die sanfte, gekalkte Idylle, wo der Meister
Sich einst von Hexametern nährte; die man das
Gartenhaus nannte, ein Ort der Erleuchtung,
Eine Pilgerstätte für Beseelte und Katzen; wo
Der zahlreich Bewunderte Daktylen und
Frauen beschlich. Und so auch wir: im handelnden
Duft eines frühen Sommers, verschwitzt und
Gefangen in uns und: unseren Versen, zu deren
Rettung wir so beredt und bedeutungsvoll
Schwiegen... – Es war der Ort, der Schweigen
Gebot und unsere Träume bestäubte, mit dem
Seltsamen Licht, das, so schien es, von den
Altern her, über das blinkende Flüßchen, blaß
Kam. Jenen Baum im Park an der Ilmwerde
Ich nicht vergessen: hier lagen wir, liegen,
Werden wir immer gelegen haben ... scharf geht
Der Wind in den Röcken einer Begehrten,
Heiß, von der Stadt her, in der das Staunen
Und Trappeln, so sagt man, das alte noch ist.
Bald rufen die Glocken das Volk in die
Museen und Grüfte, um Zeugnis zu geben vom
Drängen der Sorge ... Affchen waren wir, falb,
Lagen verstummt in den Halmen der Zeit,
Einen Moment im Einklang mit uns – bevor
Das wachsende Rauschen uns einzeln und trübe
Verschlang und der Anhauch unserer Liebe
Betäubt und unaufhaltsam ins Erinnern gerann.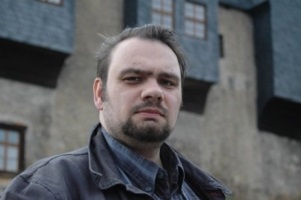 André Schinkel (Eilenburg, 27 april 1972)
De Franse schrijver Didier Daeninckx werd geboren in Saint-Denis op 27 april 1949. Zie ook alle tags voor Didier Daeninckx op dit blog.
Uit: Meurtres pour mémoire
« Roger Thiraud était fasciné, horrifié à la fois par ce qui se déroulait devant lui. Son attention restait accaparée par les corps inertes des manifestants. Un cadavre surtout, dont la tête éclatée, terrible, barrée d'une bouche d'ombre mortelle, laissait s'échapper des filets de sang pareils à des serpents liquides. En face, sur l'autre trottoir, les premiers invités du Théâtre du Gymnase se faufilaient en direction des portes vitrées que défendait une quinzaine de membres du personnel. Le directeur de la salle maudissait le sort qui entachait la soirée inaugurale de « ADIEU PRUDENCE » de Leslie Stevens adaptée par Barillet et Grédy. Jusqu'à maintenant on avait pu cacher à Sophie Desmarets les événements qui ensanglantaient la rue, afin de ménager ses nerfs, mais les « amis » qui réclamaient la loge de la comédienne ne manqueraient pas de réduire ces efforts à néant. — Ils l'ont bien cherché, lui dit un passant. Roger Thiraud le fixa. — Mais ils ont besoin d'être soignés, il faudrait les transporter à l'hôpital. Ils vont tous mourir !
— Si vous croyez qu'ils ont pitié des nôtres, là-bas. Et d'abord ce sont eux qui ont tiré les premiers. — Non, ne dites pas ça. Je suis ici depuis le début, je rentrais chez moi... Ils couraient comme des lapins, les mains nues, ils cherchaient à se cacher, se protéger quand la police a ouvert le feu. L'homme s'éloigna en l'insultant. Le directeur du théâtre descendit les marches du perron et interpella un gradé. — Venez vite, il y en a au moins cinquante qui sont entrés dans la partie technique et dans les coulisses. Notre première débute dans dix minutes, il faut que vous interveniez. L'officier constitua un détachement qu'il mit en position devant le portail du local des machinistes et, l'arme au poing, fit ouvrir les deux battants. Une vingtaine d'hommes apeurés, les mains sur la nuque sortirent à la lumière des lampadaires. Derrière eux, dans le couloir, on préparait les coupes pour fêter le succès prévisible de « ADIEU PRUDENCE ». Roger Thiraud fut à deux doigts d'intervenir mais il n'en trouva pas le courage. Il assista, impuissant, au tabassage en règle d'un automobiliste bloqué rue du Faubourg-Poissonnière qui portait secours à un blessé, essayant de le dissimuler à l'arrière de son véhicule. De l'autre côté, vers l'immeuble en rotonde des P.T.T., au coin de la rue Mazagran, on rassemblait les prisonniers. De nombreux autobus étaient arrivés et se chargeaient de centaines d'Algériens hagards qui tentaient, sans succès, d'éviter les coups de matraque distribués par les C.R.S. placés en file devant les plates-formes. Il avait suffi de quelques dizaines de minutes à la R.A.T.P. pour interrompre le service et affecter ses véhicules au regroupement des manifestants. »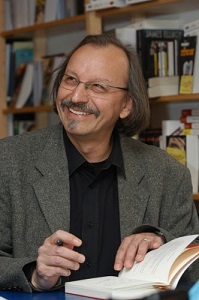 Didier Daeninckx (Saint-Denis, 27 april 1949)
De Armeense dichter Hovhannes Shiraz werd geboren op 27 april 1915 in Alexandropol in het toenmalige Russische rijk (tegenwoordig Gyumri). Zie ook alle tags voor Hovhannes Shiraz op dit blog..
Oak and Eagle
I placed my heart inside an ancient oak;
The drooping oak greened again,
Towered high, stood against the wind,
And, restored to youth, rustled in contentment.
And my lovetorn heart, so eager to soar,
I put in the breast of a dying eagle;
The dying eagle spread wing and rose high,
To prey again as in the days of its youth.
Miracle Number 2
In my dreams this time I saw my Dad
Who was revealed to me just like my Mom.
With full of fear and also joy, I fell into his arms
While he came out of his grave and began to caress me.

We wept in bitterness and also sweetly;
My Dad looked around,
Smiled to Mount Aragats* tenderly
And then said, "My son is alive indeed!"

But when my elderly father looked at Mount Ararat*,
He looked at me in suspicion,
"In what way can you call yourself my son
When our home is now left to be half empty?"

My Dad once again died due to sorrow and misery
And said to me, "My son, if you want me
And my soul to rest in peace,
Don't let my home be half empty...!"
Vertaald door Daniel Janoyan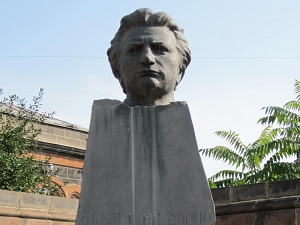 Hovhannes Shiraz (27 april 1915 – 14 maart 1984)
Monument in Jerevan
De Schotse dichter en vertaler Edwin Morgan werd geboren in Glasgow op 27 april 1920. Zie ook alle tags voor Edwin Morgan op dit blog.
Glasgow 5 March 1971
With a ragged diamond
of shattered plate-glass
a young man and his girl
are falling backwards into a shop-window.
The young man's face
is bristling with fragments of glass
and the girl's leg has caught
on the broken window
and spurts arterial blood
over her wet-look white coat.
Their arms are starfished out
braced for impact,
their faces show surprise, shock,
and the beginning of pain.
The two youths who have pushed them
are about to complete the operation
reaching into the window
to loot what they can smartly.
Their faces show no expression.
It is a sharp clear night
in Sauchiehall Street.
In the background two drivers
keep their eyes on the road.
Norwegian
I knew his name fine, but couldn't recall it.
He was Norway's answer to Robert Burns, a countryman
among the sophisticates, and their first Modernist.
Do you not know who I mean? I have no books here
to check it up, but gave a lecture on him once:
Non-Anglophone Modernist Writing.
Not Ane Gaborg, though he did translate the Odyssey
into Nynorsk, who was mainly a novelist. Was it Obstfelder
or Olaf Bull? It might have been him. Overlapped the Victorians.
You should know. I should know. No matter -
What was astonishing in the dream was
I could recite whole stanzas of his poetry off by heart.
Lines, images flew from my tongue. I remembered it all,
astonishing even myself as I slept.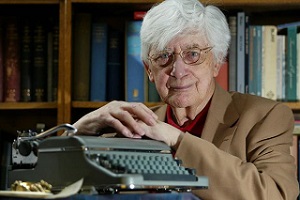 Edwin Morgan (27 april 1920 - 19 augustus 2010)
De Amerikaanse toneelschrijver August Wilson (eig. Frederick August Kittel) werd geboren op 27 april 1945 in Pittsbugh. Zie ook alle tags voor August Wilson op dit blog.
Uit: Ma Rainey's Black Bottom
"Mr. DUTTON: (As Levee) Sometimes you find that way of singing in the church. They got blues in the church.
Ms. MERRITT: (As Ma Rainey) They say I started it, but I didn't. I just helped it out a little bit, that's all. But if they want to call me the Mother of the Blues, that's all right with me. It don't hurt none.
(Soundbite of laughter)
NEARY: That was actress Theresa Merritt as Ma Rainey, from the original Broadway cast recording of August Wilson's "Ma Rainey's Black Bottom." The playwright died of liver cancer yesterday in Seattle.
(Soundbite of music)
Ms. MA RAINEY: (Singing) Oh, yeah, ...(unintelligible) I want to see the dance you call the black bottom, I want to learn that dance. Want to see the...
NEARY: This is TALK OF THE NATION from NPR News. I'm Lynn Neary.
(Soundbite of music)
Ms. RAINEY: (Singing) I want to learn that dance. Now ...(unintelligible) big black bottom ...(unintelligible). Early last morning 'bout the break of day, Grandpa told my grandma, I heard him say, `Get up and show your old man your black bottom, I want to learn that dance.' Now I'm going to show y'all my black bottom. They stay to see that dance. Wait until you see me do my big black bottom, it'll put you in a trance. »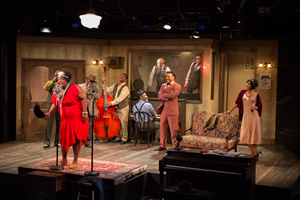 August Wilson (27 april 1945 – 2 oktober 2005)
Scene uit een opvoering in Sarasota, 2016
De Franse schrijver en dichter Jules Lemaître werd geboren op 27 april 1853 in Vennecy, Loiret. Zie ook alle tags voor Jules Lemaître op dit blog.
Uit: Stendhal
"L'excuse de Stendhal, c'est que, bien réellement, il n'écrivait son journal que pour lui et non point, comme ont fait tant d'autres, avec une arrière-pensée de publication. Et si, quelque bonne volonté qu'on apporte à cette lecture, les trois quarts de ces notes sont décidément dénuées d'intérêt, il ne faut pas oublier qu'il n'était qu'un enfant quand il commença à les écrire.
L'excuse des éditeurs, c'est que (pour parler comme M. Ferdinand Brunetière) toute cette « littérature personnelle », journaux, mémoires, souvenirs, impressions, est fort en faveur aujourd'hui. C'est, d'ailleurs, que Stendhal n'est pas seulement un des écrivains les plus originaux de ce siècle, mais qu'un certain nombre de lettrés, sincèrement ou par imitation, les uns pour paraître subtils et les autres parce qu'ils le sont en effet, considèrent Beyle comme un maître unique, comme le psychologue par excellence, et lui rendent un culte où il y a du mystère et un orgueil d'initiation. C'est qu'enfin de ces 480 pages, souvent insignifiantes et souvent ennuyeuses, on en pourrait extraire une centaine qui sont déjà d'un rare observateur, ou qui nous fournissent de précieuses lumières sur la formation du caractère et du talent de Stendhal. J'en sais d'autant plus de gré à MM. Stryienski et de Nion, que je n'ai jamais parfaitement compris, je l'avoue, cet homme singulier, et que j'ai beaucoup de peine, je ne dis pas à l'admirer, mais à me le définir à moi-même d'une façon un peu satisfaisante. Il m'a toujours paru qu'il y avait en lui « du je ne sais quoi », comme dit Retz de La Rochefoucauld.
Ce « je ne sais quoi », c'est peut-être ce que j'y sens de trop éloigné de mes goûts, de mon idéal de vie, des vertus que je préfère et que je souhaiterais le plus être capable de pratiquer, — ou tout simplement, si vous voulez, de mon tempérament. Se regarder vivre est bon ; mais, après qu'on s'est regardé, fixer sur le papier ce qu'on a vu, s'expliquer, se commenter (à moins d'y mettre l'adorable bonne grâce et le détachement de Montaigne) ; se mirer longuement chaque soir, commencer ce travail à dix-huit ans et le continuer toute sa vie… cela suppose une manie de constatation, si je puis dire, un manque de paresse, d'abandon et d'insouciance, un goût de la vie, une énergie de volonté et d'orgueil, qui me dépassent infiniment."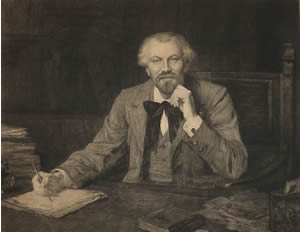 Jules Lemaître (27 april 1853 – 5 augustus 1914)
Gravure door Charles Giroux
De Brits-Ierse dichter Cecil Day Lewis werd geboren in Ballintogher, Ierland, op 27 april 1904. Zie ook alle tags voor Cecil Day Lewis op dit blog.
A Hard Frost
A frost came in the night and stole my world
And left this changeling for it - a precocious
Image of spring, too brilliant to be true:
White lilac on the window-pane, each grass-blade
Furred like a catkin, maydrift loading the hedge.
The elms behind the house are elms no longer
But blossomers in crystal, stems of the mist
That hangs yet in the valley below, amorphous
As the blind tissue whence creation formed.
The sun looks out and the fields blaze with diamonds
Mockery spring, to lend this bridal gear
For a few hours to a raw country maid,
Then leave her all disconsolate with old fairings
Of aconite and snowdrop! No, not here
Amid this flounce and filigree of death
Is the real transformation scene in progress,
But deep below where frost
Worrying the stiff clods unclenches their
Grip on the seed and lets
the future breathe.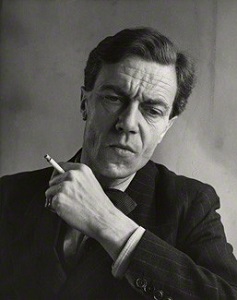 Cecil Day Lewis (27 april 1904 – 22 mei 1972)
Foto door John Gay, 1948

Zie voor nog meer schrijvers van de 27e april ook mijn blog van 27 april 2016 en ook mijn blog van 27 april 2013 deel 1 en eveneens deel 2.
27-04-2017 om 12:29 geschreven door Romenu

Tags:Astrid Roemer, Robert Anker, André Schinkel, Didier Daeninckx, Hovhannes Shiraz, August Wilson, Edwin Morgan, Jules Lemaître, Stendhal, Cecil Day Lewis, Romenu


26-04-2017

Bernard Malamud, Vincente Alexandre, Carl-Christian Elze, Hannelies Taschau, Theun de Vries, Hertha Kräftner, Johann Uhland
De Amerikaanse schrijver Bernard Malamud werd op 26 april 1914 in Brooklyn, New York, geboren. Zie ook alle tags voor Bernard Malamud op dit blog.
Uit:The Fixer
"From the small crossed window of his room above the stable in the brickyard, Yakov Bok saw people in their long overcoats running somewhere early that morning, everybody in the same direction. Vey iz mir, he thought uneasily, something bad has happened. The Russians, coming from streets around the cemetery, were hurrying, singly or in groups, in the spring snow in the direction of the caves in the ravine, some running in the middle of the slushy cobblestone streets. Yakov hastily hid the small tin can in which he saved silver rubles, then rushed down to the yard to find out what the excitement was about. He asked Proshko, the foreman, loitering near the smoky brickkilns, but Proshko spat and said nothing.Outside the yard a black-shawled, bony-faced peasant woman, thickly dressed, told him the dead body of a child had been found nearby. "Where?" Yakov asked. "How old a child?" but she said she didn't know and hurried away. The next day the Kievlyanin reported that in a damp cave in a ravine not more than a verst and a half from the brickworks, the body of a murdered Russian boy, Zhenia Golov, twelve years old, had been found by two older boys, both fifteen, Kazimir Selivanov and Ivan Shestinsky. Zhenia, dead more than a week, was covered with stab wounds, his body bled white. After the funeral in the cemetery close by the brick factory, Richter, one of the drivers, brought in a handful of leaflets accusing the Jews of the murder. They had been printed, Yakov saw when he examined one, by the Black Hundreds organizations. Their emblem, the Imperial double-headed eagle, was imprinted on the cover, and under it: SAVE RUSSIA FROM THE JEWS. In his room that night, Yakov, in fascination, read that the boy had been bled to death for religious purposes so that the Jews could collect his blood and deliver it to the synagogue for the making of Passover matzos. Though this was ridiculous he was frightened. He got up, sat down, and got up again. He went to the window, then returned hastily and continued to read the newspaper. He was worried because the brick factory where he worked was in the Lukianovsky District, one in which Jews were forbidden to live. He had been living there for months under an assumed name and without a residence certificate. And he was frightened of the pogrom threatened in the newspaper. His own father had been killed in an incident not more than a year after Yakov's birth--something less than a pogrom, and less than useless: two drunken soldiers, shot the first three Jews in their path, his father had been the second. But the son had lived through a pogrom when he was a schoolboy, a three-day Cossackraid. On the third morning when the houses were still smoldering and he was led, with a half dozen other children, out of a cellar where they had been hiding he saw a black-bearded Jew with a white sausage stuffed into his mouth, lying in the road on a pile of bloody feathers, a peasant's pig devouring his arm."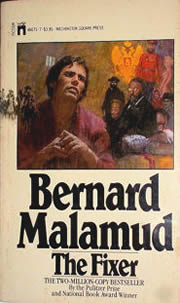 Bernard Malamud (26 april 1914 – 18 maart 1986)
Cover
De Spaanse dichter Vincente Aleixandre (eig. Vicente Pío Marcelino Cirilo Aleixandre y Merlo) werd geboren op 26 april 1898 in Sevilla. Zie ook alle tags voor Vincente Aleixandre op dit blog en eveneens alle tags voor V. Aleixandre.
Hands
Look at your hand that slowly moves,
transparent, tangible, traversed by light,
lovely, vital, all but human in the night.
With the moon's reflection, with the color of a cheek,
with the vagueness of a dream,
look at how it grows as you raise your arm,
in useless quest for a night now lost,
a wing of light in silent crossing
touches carnally that darkened vault.
Your sorrow does not phosphoresce, nor has it caught
that heated palpitation of another flight.
Persecuted, soaring hand: you form a pair.
Tender, dark, extinguished, you traverse the sky.
You are love's callings, the symbols
that in the noiseless dark call to one another.
Sky now tepid and devoid of stars offers its
ample field for all your silent flights.
The hands of lovers who have lately died,
hands with life that soaring seek their mate
and as they collide and embrace, they ignite
above man's head an instantaneous moon.
Kisses
It is you alone, continuous,
of comely grace who give yourself
and call to me today. Accept, accept
the warmth, the happiness,
the closed and cloudy dark of mouths
tight-sealed. In gentle manner
we have lived. Die, surrender.
Nothing more than kisses reign:
a waning, tepid yellow sun
that smiling, fragile, delicate,
here in the happy mouths expires,
between the stormy clouds that break,
between the radiant, joyous blues
where kisses shine, the evening's
glad delights, the dazzling summit
of this eccentric setting sun,
so very quiet now, that pulses
in the west and dies. —Die, absorb
life's fullness. —Kiss me! —Thee I kiss.
Oh glowing world thus touched with gold!
Vertaald door Hugh H. Harter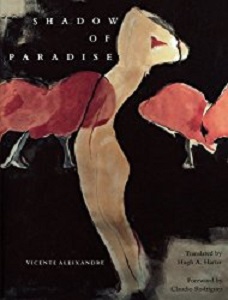 Vicente Aleixandre (26 april 1898 – 14 december 1984)
Cover
De Duitse dichter en schrijver Carl-Christian Elze werd geboren op 26 april 1974 in Berlijn. Zie ook alle tags voor Carl-Christian Elze op dit blog.
vater war
die grammatik bleibt
immer im fluss die verben
präsens muss man sich abgewöhnen
für ein gespräch unter waisen die nomen
possessivpronomen: sein auto seine frau sein hund
sein bett leben fort unverändert in allen
deklinationen konjunktiv gehäuft
tut weh: er wäre gern noch
hätte gern noch
würde
ich bin heut aufgewacht & war lebendig, einfach so.
bin nicht gestorben über nacht, bin noch ganz so
wie gestern spät, als ich das licht mit einem fingerdruck
auslöschte. weil ich so müd war & die augen fielen
wie zwei soldaten reglos ins gebüsch –
& bin doch aufgewacht, ein häufchen licht
das durch die zweige fiel & auf die umgestürzten beine.
alle zeilen wurden sanft erschreckt & durchgezählt
& ausgestreckt. jetzt steigt die herrschaft aus dem bett
wie kleine wolken. schwebt schritt vor schritt – fast mühelos.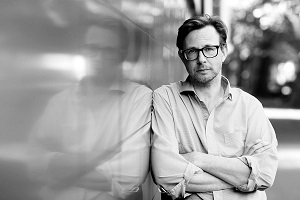 Carl-Christian Elze (Berlijn, 26 april 1974)
De Duitse dichteres en schrijfster Hannelies Taschau werd geboren op 26 april 1937 in Hamburg. Zie ook alle tags voor Hannelies Taschau op dit blog.
Parabel
Im März 1945 – ich war sieben – entkam ich der
Obhut meiner Großmutter
Ich sprang in die Donau an einer Stelle von
der ich glaubte sie sei grundlos
Ich begann zu ertrinken
und wehrte mich
Man zog mich heraus und prügelte Wasser
und Schlamm aus mir
Drei Wochen hütete ich voll Sanftmut das Bett
ohne Anzeichen irgendeiner Krankheit
dann lernte ich schwimmen an derselben
Stelle
Männerkind
Sein Köpfchen aus Lissabon die Hüften
und Beine aus Salford aus Pisa die Finger
Krabbelt Reagiert auf alles was sich bewegt
betatscht bunte Klötze und schlägt
sich auch mal die Kniemechanik auf
Kontrolliert selbstständig seinen Akku
kann sein Gleichgewicht halten hat
Sensoren einen Temperaturfühler
und ein paar gängige Reflexe
ständig wird die Software verbessert
alles wird protokolliert: Macht der Kleine
Fortschritte wird er bockig regt ich künstliche
Intelligenz im kalten Köpfchen.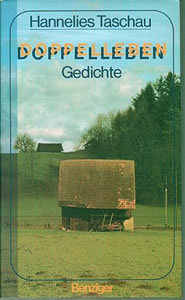 Hannelies Taschau (Hamburg, 26 april 1937)
Cover
De Nederlandse dichter en schrijver Theun de Vries werd geboren in Veenwouden op 26 april 1907. Zie ook alle tags voor Theun de Vries op dit blog.
De galeislaven zingen
Goden, die wonen waar nachtwind en sterren den hemel verheugen,
goden, wij dragen de dagen gelijk onze ketens, de zware;
eendere riemslag van knechtschap op eendere maat van verneedring
drijft ons den dood tegemoet, en de hoop op zijn kus van bevrijding.
Eens verbreken de ketens en onze leeflooze lijven
dalen in donkere zee, en de storm zingt een bandeloos lijklied,
totdat de vloeden hen spoeden naar eeuwige Okéanos grensloos.
Doch onze zielen vleugen vrijuit en landen als vogels,
goden, bij U, waar nachtwind en sterren den hemel verheugen.
Proteus
Ach, in hoeveel vluchtgestalten
ben ik niet mijzelf ontstegen,
ach, mijn leven heeft een al te
zeekre veiligheid verkregen. -
Waar mijn vorm zich voor laat doorgaan
- water, vlam of rozenheester -
nooit bereik ik een teloorgaan,
word ik mijn begrensdheid meester;
kan wel vlam, maar nimmer rook zijn
en mijzelf voorgoed verliezen,
kan wel water, nimmer wolk zijn
en het onbegrensde kiezen.
Opgejaagd en achterdochtig
bij een windvlaag of een schaduw,
vreezend als een wiekslag vluchtig
langs mij scheert, een snelle zwaluw,
kan ik mij niet meer bezinnen
wat gedaanten 'k heb doorvlogen
sinds mijn kringloop ging beginnen -
buk ik onder mijn vermogen.
En ik smeek als een genade
uit de hand der hemelingen
niets dan 't eind der ongestade
koortsige verwisselingen,
een vervliegen in het ruim
(waar geen angst mij meer zal dwingen)
rook of bloemgeur, wolk of schuim.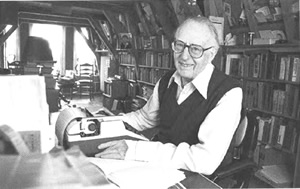 Theun de Vries (26 april 1907 – 21 januari 2005)
De Oostenrijkse dichteres en schrijfster Hertha Kräftner werd geboren op 26 april 1928 in Wenen. Zie ook alle tags voor Hertha Kräftner op dit blog.
UNTER DEM GLEICHEN MOND
sind wir traurig und einsam,
der Mann in Australien und ich.
Wenn der Mond heraufkommt,
sagt der Mann: 0 Mond,
Gewächs meiner zärtlichen Wünsche,
gepflanzt auf den Feldern
der Einsamkeit,
Planet der vergeblichen Liebe!
Warum bin ich allein
in diesen warmen Sommernächten?
Und ich sage: 0 Mond,
Gestirn der Grausamkeit und des Kalten,
Laterne der Wachenden,
die niemanden lieben!
Warum liebe ich nicht
in diesen kalten Winternächten?
Und der Mond hört uns zu,
wie wir singen und weinen,
und gleicht einer Medaille
aus billigem Gold,
wie sie die frommen Schwestern
Am Halse tragen,
wenn sie vom Wallfahren
heimkommen.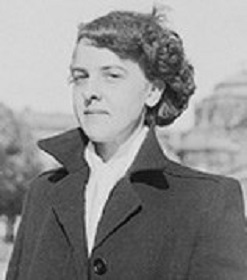 Hertha Kräftner (26 april 1928 – 13 november 1951)
De Duitse dichter, literatuurwetenschapper, jurist en politicus Johann Ludwig Uhland werd geboren in Tübingen op 26 april 1787. Zie ook alle tags voor Johann Uhland op dit blog.
Künftiger Frühling
Wohl blühet jedem Jahre
Sein Frühling, mild und licht,
Auch jener große, klare,
Getrost! er fehlt dir nicht;
Er ist dir noch beschieden
Am Ziele deiner Bahn,
Du ahnest ihn hienieden,
Und droben bricht er an.
Mailied

Wenig hab`ich noch empfunden
Von der werthen Frühlingszeit;
All die Luft und Liebigkeit
hat zu mir nicht Bahn gefunden.
Ach, was sollt`ein Herz dabei,
Das sich so zerrissen fühlet?
Jetzt empfind`ich erst den Mai,
Seit der Sturm in Blüthen wühlet.
Die Lerchen
Welch ein Schwirren, elch ein Flug?
Sei willkomennen, Lerchenzug!
Jene streift der Wiese Saum,
Diese rauschet durch den Baum.
Manche schwingt sich himmelan,
Jauchzend auf der lichten Bahn;
Eine, voll von Liebeslust,
Flattert hier in meiner Brust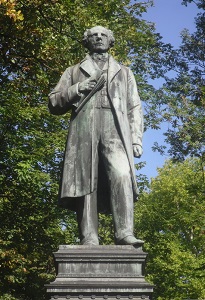 Johann Uhland (26 april 1787 – 13 november 1862)
Monument in Tübingen
Zie voor nog meer schrijvers van de 26e april ook mijn blog van 26 april 2016 en ook mijn blog van 26 april 2015 deel 1 en eveneens deel 2.
26-04-2017 om 18:31 geschreven door Romenu

Tags:Bernard Malamud, Vincente Alexandre, Carl-Christian Elze, Hannelies Taschau, Theun de Vries, Hertha Kräftner, Johann Uhland, Romenu


25-04-2017

Erik Menkveld, Ted Kooser, James Fenton, Walter de la Mare, Richard Anders, William Temple, John Keble
De Nederlandse dichter Erik Menkveld werd geboren op 25 april 1959 in Eindhoven. Zie ook alle tags voor Erik Menkveld op dit blog.
Hartegrond
Zie ons hier succesvol staan: door alle netten
gevlogen draagster van petrolblauwe rok
en lila lijfje dat haar borsten als een openstaande
bloemenkelk omhult, schijnkindermondig
in gesprek met sprankelend scherp stuk
in deux-pièce, cape'je van changéant roze-oranje organza,
verantwoord geile zijsplit, trots op haar tong -
twee kakelgrage, fraai op de kwetsbare buikzijde
uitgelichte braniekarkassen, onzelfinzichtig klaar
om tor-achtig danwel voormalig jumbolog
door te taxiën naar het gemoedelijk gekraak
van openbrekende oesterschelpen of ander gepraat.
O zelden geherbergde hartegrond! O langvervlogen
carrièrebegin met zelfverkozen damescolbert
over bureaustoel en uitzicht op kleine
door glas omgeven binnenplaats, Japanse
naaldbomen, witte keien, fonteintje...
Goede tips voor dieper zwijgen
Nuttig een maaltijd samen aan zee.
Leg de Tractatus gesloten op tafel.

Laat de intieme ovalen van jullie
longen zich enkele malen vullen

met avond en onverrichterzake
leeglopen door keel en mond.

Overdenk uitvoerig kwesties als
waarom zijn wij niet vierkant

of stom? Of: wat is, op dit
moment, de langzaamste vis?

En: moet je water dat hem bevat
maar niet kan tonen beklagen?

Beantwoord dan alle door de ander
niet gestelde vragen.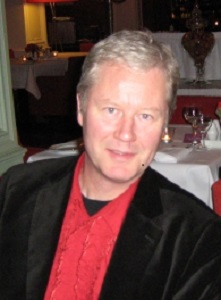 Erik Menkveld (25 april 1959 - 30 maart 2014)
De Amerikaanse dichter Ted Kooser werd geboren op 25 april 1939 in Ames, Iowa. Zie ook alle tags voor Ted Kooser op dit blog.
The China Painters
They have set aside their black tin boxes,
scratched and dented,
spattered with drops of pink and blue;
and their dried-up, rolled-up tubes
of alizarin crimson, chrome green,
zinc white, and ultramarine;
their vials half full of gold powder;
stubs of wax pencils;
frayed brushes with tooth-bitten shafts;
and have gone in fashion and with grace
into the clouds of loose, lush roses,
narcissus, pansies, columbine,
on teapots, chocolate pots,
saucers and cups, the good Haviland dishes
spread like a garden
on the white lace Sunday cloth,
as if their souls were bees
and the world had been nothing but flowers.
Turkey Vultures
Circling above us, their wingtips fanned
like fingers, it is as if they were smoothing
one of those tissue-paper sewing patterns
over the pale blue fabric of the air,
touching the heavens with leisurely pleasure,
just a word or two called back and forth,
taking all the time in the world, even though
the sun is low and red in the west, and they
have fallen behind with the making of shrouds.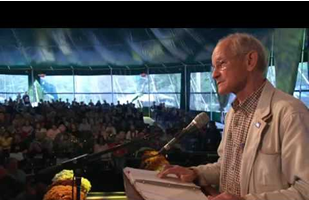 Ted Kooser (Ames, 25 april 1939)
De Engelse dichter, schrijver, criticus en letterkundige James Fenton werd geboren op 25 april 1949 in Lincoln. Zie ook alle tags voor James Fenton op dit blog.
Hinterhof
Stay near to me and I'll stay near to you -
As near as you are dear to me will do,
Near as the rainbow to the rain,
The west wind to the windowpane,
As fire to the hearth, as dawn to dew.
Stay true to me and I'll stay true to you -
As true as you are new to me will do,
New as the rainbow in the spray,
Utterly new in every way,
New in the way that what you say is true.
Stay near to me, stay true to me. I'll stay
As near, as true to you as heart could pray.
Heart never hoped that one might be
Half of the things you are to me -
The dawn, the fire, the rainbow and the day.
The Alibi
My mind was racing.
It was some years from now.
We were together again in our old flat.
You were admiring yourself adjusting your hat.
'Oh of course I was mad then,' you said with a forgiving smile,
'Something snapped in me and I was mad for a while.'

But this madness of yours disgusted me,
This alibi,
This gorgeous madness like a tinkling sleigh,
It carried you away
Snug in your fur, snug in your muff and cape.
You made your escape
Through the night, over the dry powdery snow.
I watched you go.

***
Truly the mad deserve our sympathy.
And you were driven mad you said by me.

And then you drove away,
The cushions and the furs piled high,
Snug with your madness alibi,
Injured and forgiven on your loaded sleigh.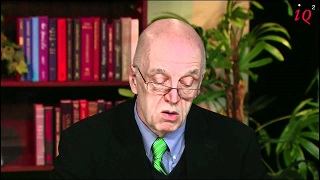 James Fenton (Lincoln, 25 april 1949)
De Engelse dichter Walter John de la Mare werd geboren op 25 april 1873 in Charlton, Kent. Zie ook alle tags voor Walter John de la Mare op dit blog.
The Seas Of England
The seas of England are our old delight:
Let the loud billow of the shingly shore
Sing freedom on her breezes evermore
To all earth's ships that sailing heave in sight!
The gaunt sea-nettle be our fortitude,
Sturdily blowing where the clear wave sips;
O, be the glory of our men and ships
Rapturous, woe unheeding hardihood!
There is great courage in a land that hath
Liberty guarded by the unearthly seas;
And ev'n to find peace at the last in these
How many a sailor hath sailed down to death!
Their names are like a splendour in an old song;
Their record shines like bays along the years;
Their jubilation is the cry man hears
Sailing sun-fronted the vast deeps among.
The seas of England are our old delight:
Let the loud billow of the shingly shore
Sing freedom on her breezes evermore
To all earth's ships that sailing heave in sight!
The Three Strangers
Far are those tranquil hills,
Dyed with fair evening's rose;
On urgent, secret errand bent,
A traveller goes.
Approach him strangers three,
Barefooted, cowled; their eyes
Scan the lone, hastening solitary
With dumb surmise.
One instant in close speech
With them he doth confer:
God-sped, he hasteneth on,
That anxious traveller….
I was that man — in a dream:
And each world's night in vain
I patient wait on sleep to unveil
Those vivid hills again.
Would that they three could know
How yet burns on in me
Love — from one lost in Paradise —
For their grave courtesy.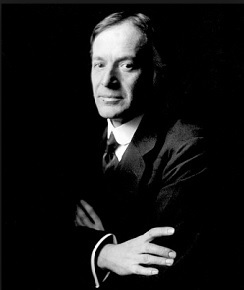 Walter John de la Mare (25 april 1873 – 22 juni 1956)

De Duitse dichter en schrijver Richard Anders werd geboren op 25 april 1928 in Ortelsburg, tegenwoordig Szczytno, Polen. Zie ook alle tags voor Richard Anders op dit blog.
Ikarus
Ikarus hob ab
0hne einen Blick zurück auf den in die Tiefe stürzenden Palast des Minos
zu werfen
Er fixierte die Sonne
Von der verschiedenartige Strahlen ausgingen
Auf deren hellsten sein Körper wie auf Schienen nach oben raste
Ein nadeldünner fuhr ihm durchs Herz das Feuer fing ohne ernsthaft zu
brennen
Andere spießten sein Gehirn auf das unter dieser plötzlichen
elektrischen Aufladung
hemmungslos zu assoziieren begann
Die Neuuonen trieben es promiskuitiv wie Karnickel
Mal formierten sich himmlische Objekte zu Truppen von Würfeln
Oktaedern Rhomboedern
Rhombendodekaedern
Mal suppte alles ins Grenzenlose
Sein Gehirn verdaute die Wirklichkeit unter Beimengungen pränataler
Phantasie
Aus dem Sonnenloch über ihm sprang eine Feuerfrau deren
Peitschenhaar seinen Kopf
Auf dem Hals wie ein Kreisel rotieren ließ
Während sie ihm aus dem tropfenden Wachs die Federn rupfte
Dampf endlich ab knallte das Haar ihm in die Ohren ohne daß er
daraus Konsequenzen zog
und seinen Kurs korrigierte
Im Gegenteil
Seine durchgeknallten Ohren schwollen zu riesigen Trichtern an um
besser die Musik der
Sphären zu hören
Seine Extase ließ ihn nicht merken daß er nach dem Wegschmelzen
der Flügel wie ein
Sack voller Steine nach unten stürzte
Als sein Schädel schließlich bei Samos aufs harte Wasser prallte
glaubte sein Hirn
In die Sonne zu tauchen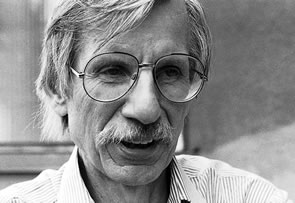 Richard Anders (25 april 1928 - 24 juni 2014)
De Engelse essayist en diplomaat Sir William Temple werd geboren in Londen op 25 april 1628. Zie ook alle tags voor Willam Temple op dit blog.
Uit: Observations upon the United Provinces of the Netherland

"HOLLAND, Zealand, Friezland, and Groninguen, are seated upon the Sea, and make the Strength and Greatness of this State: The other three, with the Conquered Towns in Brabant, Flanders, and Cleve, make only the Out-works or Frontiers, ser∣ving chiefly for safety and defence of these. No man can tell the strange and mighty Changes that may have been made in the face and bounds of Maritime Countreys, at one time or other, by furious Inundations, upon the unusual concurrence of Land-Floods, Winds and Tides; And therefore no man knows whether the Province of Holland may not have been in some past Ages, all Wood and rough une∣qual ground, as some old Traditions go; And level'd to what we see, by the Sea's breaking in and continuing long upon the Land; since recovered by its recess, and with the help of In∣dustry. For it is evident, that the Sea for some space of years, advances con∣tinually upon one Coast, retiring from the opposite; and in another Age, quite changes this course, yeilding up what it had seized, and seizing what it had yeilded up, without any reason to be given of such contrary motions. But I suppose this great change was made in Holland, when the Sea first parted England from the Continent, breaking through a neck of Land be∣tween Dover and Calais; Which may be a Tale, but I am sure is no Re∣cord. It is certain, on the contrary, that Sixteen hundred years ago, there was no usual mention or memory of any such Changes; and that the face of all these Coasts, and nature of the Soil, especially that of Holland, was much as it is now, allowing only the Improvements of Riches, Time, and In∣dustry; Which appears by the descripti∣on made in Tacitus both of the limits of the Isle of Batavia, and the nature of the Soil as well as the Climate, and the very names of Rivers still remaining."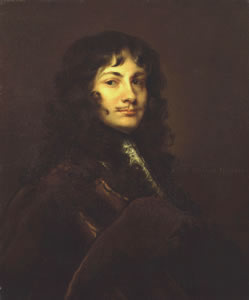 William Temple (25 april 1628 – 27 januari 1699)

De Engelse dichter en predikant John Keble werd geboren op geboren 25 april 1792 in Fairford, Gloucestershire. Zie ook alle tags voor John Keble op dit blog.
Blest Are The Pure In Heart
Blest are the pure in heart,
For they shall see our God;
The secret of the Lord is theirs;
Their soul is Christ's abode.
The Lord, Who left the heavens
Our life and peace to bring,
To dwell in lowliness with men
Their Pattern and their King.
Still to the lowly soul
He doth Himself impart;
And for His dwelling and His throne
Chooseth the pure in heart.
Lord, we Thy presence seek;
May ours this blessing be;
Give us a pure and lowly heart,
A temple meet for Thee.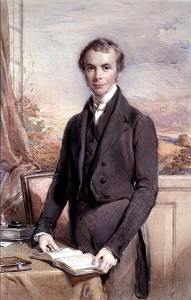 John Keble (25 april 1792 - 29 maart 1866)
Portret door George Richmond, 1845
Zie voor nog meer schrijvers van de 25e april ook mijn blog van 25 april 2016 en ook mijn blog van 25 april 2015 deel 2.
25-04-2017 om 18:49 geschreven door Romenu

Tags:Erik Menkveld, Ted Kooser, James Fenton, Walter de la Mare, Richard Anders, William Temple, John Keble, Romenu


24-04-2017

Frans Coenen, Eric Bogosian, Robert Penn Warren, George Oppen, Carl Spitteler, Anthony Trollope, Michael Schaefer
De Nederlandse schrijver, essayist en criticus Frans Coenen werd in Amsterdam geboren op 24 april 1866. Zie ook alle tags voor Frans Coenen op dit blog.
Uit: De tuin der fantasie
"..Er is zoveel. dat vertelt op het ogenblik... Kijk eens naar buiten. Luister eens naar de stilte, en luister eens naar die vogel. die daar heel ver weg in avondzang zit te fluiten... En kijk eens naar de lucht. en zeg dan maar, dat de dichter van die psalm het wel geweten heeft toen hij zong: De hemelen verkondigen Gods eer, en het uitspansel Zijner handen werk... De dag aan de dag stort overvloediglijk sprake uit, de nacht aan de nacht toont weten-schap... Geen spraak, en geen woorden zijn er. waar hun stem niet wordt gehoord..." En de stem dezer stilte. de heerlijkheid van de sterrenhemel. en de wonderen der natuur in berg en bos. — dat alles is in Indië nog weer zo anders dan hier... Er is geen stilte zo stil als die van de Indische avonden. als de hemel helder en klaar is. en niets. niets beweegt rondom ons... Als er geen geluid klinkt, geen vogel zingt. geen kikvors roept... Alleen zit daar ergens in de verte een mens. en je weet niet waar. en die maakt op zijn gamelang die heel weemoedige. wonderlijke muziek bijna zonder melodie... 0 jongens. dat is onuitsprekelijk. deze stilte van de avonden in het gebergte van Sumatra of van Java..." ..Wat is er toch verschrikkelijk veel moois in de wereld." zei Tom zacht en als in zich zelf. ,.Grootvader. zou U denken. dat ik daar nog wel eens komen kon?" ..Hóór nou eens!" zei Wil plotseling luidruchtig...Dat is er nou een. die vanmiddag nog sprak van dat apenland..." Tom gaf geen antwoord. maar Grootvader zeide: ..Ja. we ver-nordeelen het allereerst wat we het allerminst kennen... Of jij er zoudt kunnen komen. Tom? Wel. natuurlijk kan dat. Als jij inge-nieur mag worden met Gods hulp, dan zijn er zeker in Indië allerlei betrekkingen voor je open... Maar, beste jongen. zolang. vooruit moeten we maar niet praten, dunkt me....er kan nog zoveel ge-beuren..." Tom zag Grootvader aan. Dat was nu de tweede maal al, dat hij dit antwoord hoorde vandaag. Kon Grootvader daarmeè iets bedoelen. iets bijzonders?"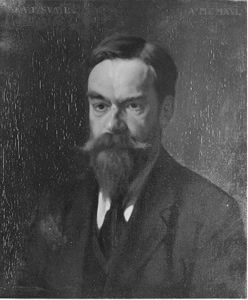 Frans Coenen (24 april 1866 - 23 juni 1936)
De Amerikaanse schrijver en acteur Eric Bogosian werd geboren op 24 april 1953 in Woburn, Massachusetts. Zie ook alle tags voor Eric Bogosian op dit blog.
Uit: Operation Nemesis
« His conscription would become a death sentence. Within months of being drafted, Ovygin, like most of the Armenians in the Ottoman army, was disarmed, then forced into a labor battalion where Christian soldiers were worked to death. All we know is that his family never saw him again. My Grandma Lucy also lost her father, Koumjian the jeweler, who once worked in the Constantinople bazaar. As far as we know, Lucy's father, like Ovygin, also died violently.
I understood from a young age that I was an "Armenian," and this meant that my family, like countless other Armenian families, had lost loved ones at the hands of the Turks. But knowing this and embracing it were two different things. Most of my freckle-faced friends in Woburn, Massachusetts, were of Irish American ancestry, blissfully unaware of their own harsh history. Though I was olive-skinned and kinky-haired and attended the Armenian (not Roman Catholic) church, I saw myself, like them, as nothing more than a carefree American kid. The horrors that had touched the lives of my grandfather's generation had not touched me. I was not an immigrant, I spoke perfect English, and I had zero interest in emphasizing anything that would exaggerate the differences between me and my classmates.
Horrible things had happened back in "the old country," but there was a disconnect between that carnage and my sweet existence as a suburban teenager. My life growing up in a Massachusetts subdivision was filled with pot-smoking teenagers in torn jeans who barely paid attention to school and in their spare time protested the Vietnam War. In another universe, a long time ago, Kurdish tribesmen armed with pistols and knives had terrorized villagers and abducted young Christian women. My grandfather's world was genuinely dangerous. The stories I had heard at his knee were so intense they seemed mythic, unreal, more like adventure stories than real life. These events had taken place in a land a million miles away, a place my grandfather called "Armenia." I loved Armenian food, I loved Armenian weddings and the strange choral music sung in our churches, but I was an American kid, not an Armenian."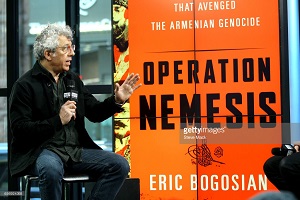 Eric Bogosian (Woburn, 24 april 1953)
De Amerikaanse dichter en schrijver Robert Penn Warren werd geboren op 24 april 1905 in Guthrie, Kentucky. Zie ook alle tags voor Robert Penn Warren op dit blog.
The Cardinal
Cardinal, lover of shade,
Rock and gold is the land in the pulsing noon.
Lover of cedar, lover of shade .. .
Blue the shadow of cedar on grey limestone
Where the lizard, devout as an ikon,
Is carved on the stone, throat pulsing on lichen.
At the hour of noon I have seen
The burst of your wings displayed,
Vision of scarlet devised in the slumberous green .. .
Lover of cedar and shade.
What if the lizard, my cardinal,
Depart like a breath its altar, summer westward fall?
For here is a bough where you can perch, and preen
Your scarlet that from its landscape shall not fade,
Lapped in the cool of the mind's undated shade,
In a whispering tree, like cedar, evergreen.
The Garden
On a fine day in early autumn
How kind, how secretly, the sun
Has blessed this garden frost has won,
And touched again, as once it used,
The furled boughs by frost bemused.
Though summered brilliance had but room
For blossom, now the leaves will bloom
Their time, and take from a milder sun
The unreviving benison.
No marbles whitely gleam among
These paths where gilt the late pear hung;
But branches interlace to frame
An avenue of stately flame
Where yonder, far more chill and pure
Than marble, gleams the sycamore,
Of argent torso and cunning shaft
Propped nobler than the sculptor's craft.
The hand that crooked upon the spade
Here plucked the peach, and thirst allayed;
Here lovers paused upon the kiss,
Instructed of what ripeness is.
Where all who came might stand to try
The grace of this green empery,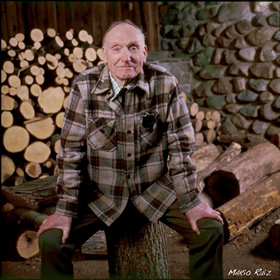 Robert Penn Warren (24 april 1905 – 15 september 1989)
De Amerikaanse dichter George Oppen (eig. George Oppenheimer) werd geboren op 24 april 1908 in New Rochelle, New York. Zie ook alle tags voor George Oppen op dit blog.
Psalm
Veritas sequitur ...
In the small beauty of the forest
The wild deer bedding down—
That they are there!
Their eyes
Effortless, the soft lips
Nuzzle and the alien small teeth
Tear at the grass
The roots of it
Dangle from their mouths
Scattering earth in the strange woods.
They who are there.
Their paths
Nibbled thru the fields, the leaves that shade them
Hang in the distances
Of sun
The small nouns
Crying faith
In this in which the wild deer
Startle, and stare out.
The Forms of Love
Parked in the fields
All night
So many years ago,
We saw
A lake beside us
When the moon rose.
I remember
Leaving that ancient car
Together. I remember
Standing in the white grass
Beside it. We groped
Our way together
Downhill in the bright
Incredible light
Beginning to wonder
Whether it could be lake
Or fog
We saw, our heads
Ringing under the stars we walked
To where it would have wet our feet
Had it been water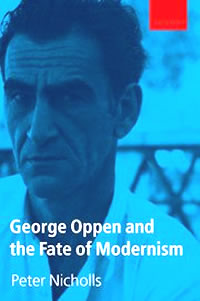 George Oppen (24 april 1908 - 7 juli 1984)
Cover
De Zwitser dichter, schrijver, essayist en criticus Carl Friedrich Georg Spitteler (eig. Carl Felix Tandem) werd geboren op 24 april 1845 in Liestal bij Basel. Zie ook alle tags voor Carl Spitteler op dit blog.
Das Gastmahl
Mir träumt, ich säß an einem langen Tisch
In meiner Heimat, oben unterm Nußbaum.
Vor meinen Augen wuchsen aus dem Anger
Traute Gestalten, reichten mir die Hand
Zum Gruß und setzten fröhlich sich zum Mahl.
Ich sprach: »Die Zahl ist voll, laßt uns beginnen.«
Da kam verspätet eine schöne Frau.
Sie suchte, zählte und errötete.
»Ist hier für mich kein Plätzchen?« »Nein«, verbot ich.
Da senkte sie die Stirn und lief geschwind
Dem Tisch entlang hinüber nach dem Nußbaum.
Dort, auf dem Acker kauernd, streute sie
Mit vollen Händen Erde auf ihr Haupt.
Und ich ging hin zu ihr und hob sie auf
Und küßt ihr weinend das entsühnte Haupt.
Der Millionär
"Hier möcht ich wohnen!" rief ein Millionär
Und brachte seine Familie her.
Ein freies Aussichtplätzchen sucht er aus
Und baute sich ein pompejanisch Haus.
Die Eingebornen wussten wohl zu schätzen
Den werten Gast; denn jeder wollt ihn pfetzen.
Der Architekt vor allem, laut Vertrag,
Stahl ihm zweihunderttausend Mark mit einem Schlag.
Dann, um den Handel etwas auszugleichen,
Liess er ihm eine Zuschlagsrechnung überreichen,
Die forderte nachträglich ungezwungen
Zweiundeinhalbmal mehr als ausbedungen.
Der Gärtner, bei der passenden Gelegenheit,
Fand sich zu jedem Dienste gern bereit,
"Verfaulter Flor? verdorrte Bäumchen? Was Sie nur befehlen,
Gnädiger Herr, Sie brauchen bloss zu wählen."
Vom Milcher bis zum Metzger schnitt
Ein jeder seinen saftigen Profit.
Die Nachbarn links und rechts indessen
Versüssten ihm das Dasein mit Prozessen.
Und als er endlich, alles wohl erwogen,
Fluchend mit Weib und Kind davon gezogen,
Nackter
als Adam vor dem Fall: "Ein schwieriger Charakter!"
Munkten die Frommen:
"Nicht auszukommen!"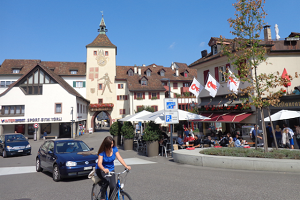 Carl Spitteler (24 april 1845 – 29 december 1924)
Liestal
De Engelse schrijver Anthony Trollope werd geboren in Londen op 24 april 1815. Zie ook alle tags voor Anthony Trollope op dit blog.
Uit: The Prime Minister
"It is certainly of service to a man to know who were his grandfathers and who were his grandmothers if he entertain an ambition to move in the upper circles of society, and also of service to be able to speak of them as of persons who were themselves somebodies in their time. No doubt we all entertain great respect for those who by their own energies have raised themselves in the world; and when we hear that the son of a washerwoman has become Lord Chancellor or Archbishop of Canterbury we do, theoretically and abstractedly, feel a higher reverence for such self-made magnate than for one who has been as it were born into forensic or ecclesiastical purple. But not the less must the offspring of the washerwoman have had very much trouble on the subject of his birth, unless he has been, when young as well as when old, a very great man indeed. After the goal has been absolutely reached, and the honour and the titles and the wealth actually won, a man may talk with some humour, even with some affection, of the maternal tub;—but while the struggle is going on, with the conviction strong upon the struggler that he cannot be altogether successful unless he be esteemed a gentleman, not to be ashamed, not to conceal the old family circumstances, not at any rate to be silent, is difficult. And the difficulty is certainly not less if fortunate circumstances rather than hard work and intrinsic merit have raised above his natural place an aspirant to high social position. Can it be expected that such a one when dining with a duchess shall speak of his father's small shop, or bring into the light of day his grandfather's cobbler's awl? And yet it is difficult to be altogether silent! It may not be necessary for any of us to be always talking of our own parentage. We may be generally reticent as to our uncles and aunts, and may drop even our brothers and sisters in our ordinary conversation. But if a man never mentions his belongings among those with whom he lives, he becomes mysterious, and almost open to suspicion. It begins to be known that nobody knows anything of such a man, and even friends become afraid. It is certainly convenient to be able to allude, if it be but once in a year, to some blood relation. »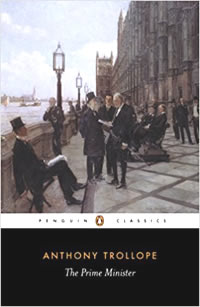 Anthony Trollope (24 april 1815 - 6 december 1882)
Cover
De Duitse schrijver Michael Schaefer werd geboren op 24 april 1976 in Bielefeld. Zie ook alle tags voor Michael Schaefer op dit blog.
Uit: Liebe auf Raten
"Doch Geschwister sind nicht so einfach zu trennen, denn Angeline Glowing liebte ihre Schwester dennoch. Sie telefonierten mindestens einmal die Woche, wenn Edward nicht im Haus war. Und schon mehrmals hat Mary Angeline angeraten, diesen "introvertierten Tyrannen" zu verlassen, doch Angeline liebte ihren Edward und ihre Arbeit im Haus. Sie konnte sich nicht von ihm trennen. Die Tradition verlangte, dass man ein Leben lang mit einem Menschen zusammenleben muss, wenn man sich einmal das Ja-Wort gegeben hatte. Sie fand immer irgendetwas, wofür sie Edward lieben konnte, auch um sich selber nicht einzugestehen, dass die wirkliche Liebe von damals schon lange erloschen war. Angeline's liebster Satz war dann immer: "Was sollen die Leute denn von mir denken, wenn ich ihn sang und klanglos verlassen würde. Nein, ich muss da durch, auch wenn er mich oft zur Weißglut bringt." Irgendwann gab Mary es dann auf und hörte sich die wöchentlichen Klageberichte ihrer Schwester an, wenn Edward mal wieder irgend etwas falsch gemacht hatte. Angeline war halt immer schon ein Dickkopf. Umso erfreuter war Mary aber darüber, dass ihr Neffe Steve sie bald besuchen kommen würde. Auch sie kannte ihn nur von Fotos, die Angeline ihr schickte. Für Steve war es ebenso eine Überraschung, dass seine Mutter ihn zu ihrer Schwester schickte. Er konnte sich noch gut dran erinnern, wie lange diese Diskussion zwischen Angeline und Edward ging, als sie ihm offenbarte, dass sie Steve gerne zu Mary schicken wollte, damit sie sich endlich mal sehen können. Irgendwie hatte Angeline den "introvertierten Tyrannen" dann tatsächlich überreden können, so dass er sein Okay gab. Nun, an diesem besagten Abend berichtete seine Mutter von ihrer Villa und was Mary für ein Mensch war. Für Steve war schnell klar, dass sie Mary trotz allem sehr vermisste. Sie sprach von ihr in den höchsten Tönen und über ihre Offenheit jedem und allen gegenüber und wie gerne sie mit Steve tauschen würde. Allein schon aus dem Herzenswunsch seiner Mutter heraus stimmte er zu, Mary die Schokokekse zu bringen und sich etwas mit Mary zu unterhalten. Er war halt auch ein neugieriger Kerl. Und der Bericht seiner Mutter unterstützte ihn noch dabei."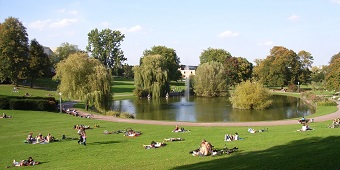 Michael Schaefer (Bielefeld, 24 april 1976)
Bielefeld, Bürgerpark
Zie voor nog meer schrijvers van de 24e april ook mijn blog van 24 april 2016 deel 2.
24-04-2017 om 18:33 geschreven door Romenu

Tags:Frans Coenen, Eric Bogosian, Robert Penn Warren, George Oppen, Carl Spitteler, Anthony Trollope, Michael Schaefer, Romenu


23-04-2017

Thomas (Nel Benschop)
Bij Beloken Pasen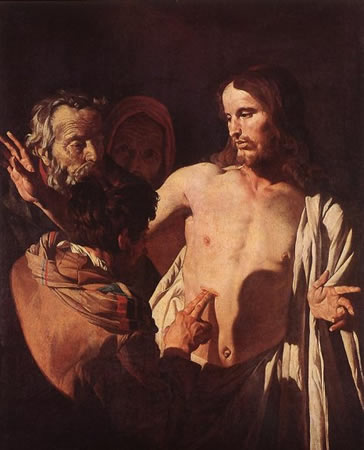 De ongelovige Thomas door Gerrit van Honthorst, 1620
Thomas
Ik was er niet, toen Jezus bij hen kwam
en hun de tekens toonde in Zijn handen,
toen Hij hun uitgedoofde vuur deed branden
en ieder uit Zijn handen 't brood aannam.
Ik wilde niet, zo volgzaam als een lam
mij bij de kudde trouwe schapen voegen
die van de herder alles maar verdroegen;
ik wilde zelf bepalen of ik kwam.
Ik wilde zien en voelen of ik niet
met dromen mij in slaap zou laten wiegen,
of mij door schone schijn laten bedriegen;
dat konden zij misschien doen, maar ik niet.
Toen zag ik Hem - en ik had geen verweer
maar kon slechts stamelen: "Mijn God, mijn Heer!"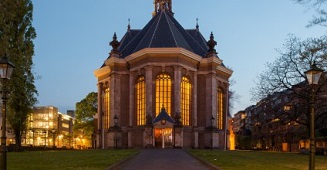 Nel Benschop (16 januari 1918 – 31 januari 2005)
De Nieuwe Kerk in Den Haag. Nel Benschop werd in Den Haag geboren.
Zie voor de schrijvers van de 23e april ook mijn vorige twee blogs van vandaag.
23-04-2017 om 11:56 geschreven door Romenu

Tags:Beloken Pasen, Pasen, Nel Benschop, Romenu



William Shakespeare, Pascal Quignard, Peter Horst Neumann, Andrey Kurkov, Halldór Laxness, Christine Busta, Adelheid Duvanel
De Engelse dichter en schrijver William Shakespeare werd geboren in Stradford-upon-Avon op, vermoedelijk, 23 april 1564. Zie ook alle tags voor William Shakespeare op dit blog.
Uit:Macbeth
"Enter MACBETH
MACBETH
How now, you secret, black, and midnight hags!
What is't you do?
ALL
A deed without a name.
MACBETH
I conjure you, by that which you profess,
Howe'er you come to know it, answer me:
Though you untie the winds and let them fight
Against the churches though the yesty waves
Confound and swallow navigation up
Though bladed corn be lodged and trees blown down
Though castles topple on their warders' heads
Though palaces and pyramids do slope
Their heads to their foundations though the treasure
Of nature's germens tumble all together,
Even till destruction sicken answer me
To what I ask you.
First Witch
Speak.
Second Witch
Demand.
Third Witch
We'll answer.
First Witch
Say, if thou'dst rather hear it from our mouths,
Or from our masters?
MACBETH
Call 'em let me see 'em.
First Witch
Pour in sow's blood, that hath eaten
Her nine farrow grease that's sweaten
From the murderer's gibbet throw
Into the flame.
ALL
Come, high or low
Thyself and office deftly show!
Thunder. First Apparition: an armed Head
MACBETH
Tell me, thou unknown power,--
First Witch
He knows thy thought:
Hear his speech, but say thou nought.
First Apparition
Macbeth! Macbeth! Macbeth! beware Macduff
Beware the thane of Fife. Dismiss me. Enough.
Descends
MACBETH
Whate'er thou art, for thy good caution, thanks
Thou hast harp'd my fear aright: but one
word more,--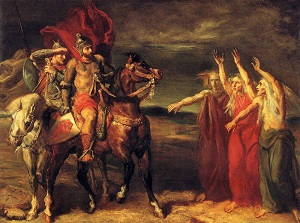 William Shakespeare (23 april 1564 – 23 april 1616)
"Macbeth en Banquo ontmoeten de drie heksen" door Théodore Chassériau, 1855
De Franse schrijver Pascal Quignard werd geboren op 23 april 1948 in Verneuil-sur-Avre. Zie ook alle tags voor Pascal Quignard op dit blog.
Uit: Mourir de penser
« L'année 699 les Frisons consentirent à se convertir au christianisme. Au mois de mars 700, le premier jour de l'année, le premier d'entre eux, Rachord, roi des Frisons, devant l'ensemble de ses tribus, se prépara à recevoir le baptême. Déjà il était tout nu, il avait mis un pied dans les fonts quand, pris de doute, hésitant à plonger l'autre pied dans l'eau qui était sainte, il demanda, avec inquiétude, au prêtre qui s'apprêtait à l'ondoyer :
— Mais où sont les miens? Pas de réponse.
Alors le roi des Frisons leva les yeux. Il regarda le prêtre chrétien. Ce dernier restait immobile. Il avait commencé à lever sa main. Il s'apprêtait à jeter le sel autour de l'homme qui allait s'immerger pour faire crever les démons.
Le roi répéta sa question :
— Où se trouve la plus grande partie de mes ancêtres?
L'homme de Dieu, toujours silencieux, obstinément silencieux, garda sa main, pleine de sel blanc, levée en l'air au-dessus du cuveau, attendant que le roi des Frisons s'y accroupisse tout entier.
Rachord, courroucé, haussa la voix. Il répéta une troisième fois sa question en la précisant. Où ses aïeux se trouvaient-ils ? Ses aïeux se trouvaient-ils en enfer ? Se trouvaient-ils au paradis?
Le prêtre finit par tourner son visage vers Rachord. Il prononça le mot enfer.
Quand il apprit que tous les rois qui l'avaient pré- cédé et que la plupart des membres de sa parenté se trouvaient en enfer, le roi Rachord retira de la cuve le pied qu'il y avait glissé. Il s'éloigna du prêtre, des moines, de la piscine baptismale. Il alla trouver ses chevaliers qui se tenaient au premier rang de l'assemblée. Il leur dit tout bas :
— C'est chose plus sainte de suivre le plus grand nombre que le plus petit."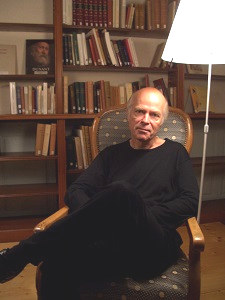 Pascal Quignard (Verneuil-sur-Avre, 23 april 1948)
De Duitse dichter, essayist en literatuurwetenschapper Peter Horst Neumann werd geboren op 23 april 1936 in Neisse. Zie ook alle tags voor Peter Horst Neumann op dit blog.
Uit:Laudatio auf Sarah Kirsch (n.a.v.de Peter-Huchel-Preis 1993)
"Erlkönigs Tochter - der Titel ist zauberhaft, in jeder Bedeutung diese Wortes. Er hat einen Zug ins Dämonisch-Verführerische und verführt auch zum Lesen. Zaubersprüche hieß ein früherer Band, und auch Titel wie Katzenleben oder Erdreich hatten die Aura des nicht ganz Geheueren. Dieser aber ist wie ein Wetterleuchten, hervorgerufen durch zwei zitierte Worte: ein poesiegeschichtlicher Horizont (dänische Volkspoesie, Herder, Goethe) leuchtet auf. Wenn man sie beim Lesen wiederfindet, sind diese zwei Worte so vollkommen ins Gedicht eingegangen, daß zwischen dem eigenen und dem Zitat kein Unterschied mehr besteht – ein Augenblick großer Poesie.
Nebel und Watt bezeichnen den düsteren Ort eines Zusammentreffens, ernsthafte Verabredung genannt, und es wird auch geritten: je ein Reiter bei Herder und Goethe; hier aber sind es zwei Reiter, die apokalyptischen, zu denen die Erlkönigstochter eine offenbar ernsthafte Beziehung unterhält. Naturmagie verbindet sich mit den biblischen Endzeitboten der Apokalypse. Der Boden ist unsicher, magischer Naturgrund, gewiß, aber er ist auch zugleich historische Landschaft des 20. Jahrhunderts, mit Bohrinsel, Seenotraketen und Colabüchsen im Schlick.
Die Stunde ist Geisterstunde: Silvestermitternacht, ausgerufen in typisch zeitgenössischem Deutsch: Happy Neujahr! Und der Junge aus Büsum, der niemals wieder gefunden wird, wo ist der wohl geblieben? Sollte der wirklich nichts mit Erlkönigs Tochter zu tun gehabt haben?
Eine solche Vergleichzeitigung gibt es nur in der Poesie, und Gedichte wie dieses gelingen nicht oft. Immer sind es welthaltige, oft wirklichkeitssatte Gedichte, und fast immer ist Magie im poetischen Spiel, Sprachmagie, Traummagie – es sind Gedichte von Erlkönigs nie ganz geheurer aufmüpfiger Tochter."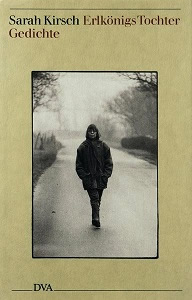 Peter Horst Neumann (23 april 1936 – 27 juli 2009)
De cover van "Erlkönigs Tochter"
De Oekraïense schrijver Andrey Kurkov werd geboren op 23 april 1961 in Leningrad. Zie ook alle tags voor Andrey Kurkov op dit blog.
Uit: Death and the Penguin (Vertaald door George Bird)
"He looked more like an aged athlete than a man of the Press. And maybe that's how it was, except that his eyes betrayed a hint of irony born more of intellect and education than lengthy sessions in a gym.
« Have a seat. Spot of cognac?" He accompanied these words with a lordly wave of the hand.
"I'd prefer coffee, if I may,"said Viktor, settling into a leather armchair facing the vast executive desk.
"Two coffees," the Editor-in-Chief said picking up the phone. "Do you know," he resumed amiably, "we'd only recently been talking about you, and yesterday in came our Assistant Arts Editor, Boris Leonardovich, with your little story. `Get an eyeful of this,' said he. I did, and it's good. And then it came to me why we'd been talking about you, and I thought we should meet."
Viktor nodded politely. Igor Lvovich paused and smiled.
"Viktor Alekseyevich," he resumed, "how about working for us?"
"Writing what?" asked Viktor, secretly alarmed at the prospect of a fresh spell of journalistic hard labour.
Igor Lvovich was on the point of explaining when the secretary came in with their coffee and a bowl of sugar on a tray, and he held his breath until she had gone.
"This is highly confidential," he said. "What we're after is a gifted obituarist, master of the succinct. Snappy, pithy, way-out stuff's the idea. You with me?" He looked hopefully at Viktor.
"Sit in an office, you mean, and wait for deaths?" Viktor asked warily, as if fearing to hear as much confirmed.
"No, of course not! Far more interesting and responsible than that! What you'd have to do is create, from scratch, an index of obelisk jobs - as we call obituaries - to include deputies and gangsters, down to the cultural scene - that sort of person - while they're still alive. But what I want is the dead written about as they've never been written about before. And your story tells me you're the man."
"What about payment?"
"You'd start at $300. Hours up to you. But keeping me informed, of course, who we've got carded. So we don't get caught on the hop by some car crash out of the blue! Oh, and one other condition: you'll need a pseudonym. In your own interest as much as anything."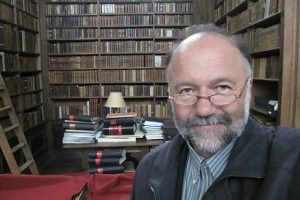 Andrey Kurkov (Leningrad, 23 april 1961)
De IJslandse schrijver Halldór Laxness (eig. Halldór Guðjónsson) werd geboren in Reykjavik op 23 april 1902. Zie ook alle tags voor Halldór Laxness op dit blog.
Uit:Paradise Reclaimed (Vertaald door Magnus Magnusson)
"He seldom had to wait very long for a lump of butter if there were any available. It was a pleasure to lay one's face against his nose, which was softer than any maiden's cheek; but Krapi never liked being caressed for long. As soon as he had got what he wanted he trotted away along the path and then broke into a sudden gallop as if something had frightened him, and did not pull up until he had rejoined the herd.
The summers in Iceland were long in those days. In the mornings and evenings the meadows were so green that they were red, and during the day the horizon was so blue that it was green. But throughout this remarkable play of colours (which no one paid any attention to or even noticed, for that matter) HlÃ?dar in SteinahlÃ?dar went on being one of those south-country farms where nothing very eventful ever happened except that the fulmar went on sweeping along the cliffs just as in great-grandfather's day. On ledges and in crevices in the cliffs grew rose root and fern, angelica, brittle bladderfern and moonwort. The boulders kept on tumbling down as if the heartless cliff-troll were shedding stone tears. A good pony can occur on a farm once in a generation, with luck; but on some farms, never in a thousand years. From the sea, beyond the sands and marshes, for a thousand years, the murmur was always the same. Late in the hay-season, when the eggs were safely hatched, the oyster-catcher would arrive in red stockings and white shirt under a black silk jacket to strut aristocratically through the new-mown meadows, whistle, and depart. For all those centuries, Snati the farm-dog was just as full of his own importance as he trotted at the shepherd's side behind the milch-ewes every morning, newly fed and with his tongue lolling out. On still summer days the sound of a scythe being hammered sharp would drift over from the neighbouring farm. There was rain on the way if the cows lay down in the meadow, particularly if they were all lying on the same side; but if there were a dry spell on the way they would bellow eleven times in a row at sunset. Always the same story."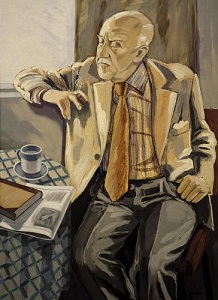 Halldór Laxness (23 april 1902 – 8 februari 1998)
Portret door Einar Hakonarson, 1984
De Oostenrijkse dichteres Christine Busta werd geboren op 23 april 1915 in Wenen. Zie ook alle tags voor Christine Busta op dit blog.
Wo holt sich die Erde die himmlischen Kleider?
Wo holt sich die Erde die himmlischen Kleider?
Beim Wettermacher, beim Wolkenschneider.
Sie braucht keine eitlen Samte und Seiden,
sie nimmt, was er hat, und trägt froh und bescheiden
das Regenschwere, das Flockenleichte,
das Schattenscheckige, Sonngebleichte,
das Mondgewobne und Sternbestickte,
das Windzerrissene, Laubgeflickte,
das Gockelrote, das Igelgraue,
das Ährengelbe, das Pflaumenblaue,
das Gräserkühle, das Nesselheiße,
das Hasenbraune, das Schwanenweiße -
und schlendert die Jahre hinauf und hinunter:
je schlichter, je lieber, je schöner; je bunter.
Stille Anweisung

Ruh dich aus,
Mir brauchst du das Gras nicht zu schneiden.
Lass es mitsamt dem unbändigen Unkraut
weiterwachsen auf meinem Hügel.

Horch lieber, ob dir nicht unter der Erde
eine schon dicht vergrünte Stimme
immer noch sagt:" Ich wachse dir zu..."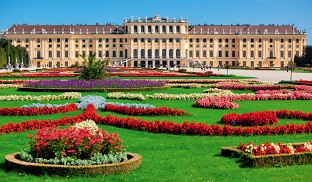 Christine Busta (23 april 1915 – 3 december 1987)
Wenen, Schloss Schönbrunn
De Zwitserse schrijfster Adelheid Duvanel werd geboren op 23 april 1936 in Basel. Zie ook alle tags voor Adelheid Duvanel op dit blog.
Uit: Inner Tumult (Vertaald door Patricia H. Stanley)
"Through the open balcony door I can see a yellow plastic lounge chair next to the banister. Wotanek, seated at the table nearby, is using the little finger of his left hand to massage his broken incisor with such fervor that you would think he anticipates some effect from this massage. I've known Wotanek for a long time; his hunched-over posture is typical for him. When he was a little kid no one wanted to play with him, because he always dropped the ball. Later, he acquired the name "Dopey Motion" from his wife Helga, a true ice princess. On their wedding day she kissed him on the tip of his nose, and it immediately froze. I've known Helga only a short time, so I don't know anything about her earlier life. She is a tall woman with hairy legs and always wears white gym shoes.
As a child Wotanek rebelled with a persistence that was astonishing. His rejection of the playing rules of our world was so effective that even his facial muscles gave up. In time he lived walled up, unrecognized, entirely in concealment. I suspect that this type of existence developed from an extraordinary sensitivity. He was an orphan and had never known his father, an apothecary, a man who, in his free time, filled lengthy strips of paper with attempts to solve a mathematical problem. Finally, taking the failure of his efforts to heart, he committed suicide. The mother had died some time before out of sorrow over this man. Because Wotanek was not able to mourn the death of his parents he secretly grieved when he saw bare branches that the wind swung about in front of the sky like pieces of a torn-up net unable to catch anything. Was there any prey besides the little Wotanek? Even the everlasting melancholy of the orphanage cat upset him, and there was no one with whom he would share his spiritual pain.
The boy's seemingly stony composure irritated his teachers. He understood their non-comprehension but regarded them blissfully as his enemies and secretly hated them. Sometimes, however, this single joy abandoned him; then he believed he was a wart that would have to be cauterized."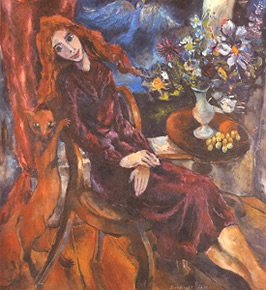 Adelheid Duvanel (23 april 1936 – 8 juli 1996)
Joe Duvanel: Adelheid mit Fuchs, 1967
Zie voor nog meer schrijvers van de 23e april ook mijn vorige blog van vandaag.
23-04-2017 om 11:55 geschreven door Romenu

Tags:William Shakespeare, Pascal Quignard, Peter Horst Neumann, Andrey Kurkov, Halldór Laxness, Christine Busta, Adelheid Duvanel, Romenu



Maurice Druon, Egon Hostovský, Richard Huelsenbeck, Marion Titze, Friedrich von Hagedorn, Max Bolliger, J. P. Donleavy
De Franse schrijver en politicus Maurice Druon werd geboren op 23 april 1918 in Parijs. Zie ook alle tags voor Maurice Druon op dit blog.
Uit: Les Rois Maudits
« — Il arrive de France ? Alors vous allez être contente, Madame. — Je souhaite l'être... si les nouvelles qu'il me porte sont bonnes. Une autre dame de parage entra vivement, le visage animé d'un grand air de joie. Elle s'appelait de naissance Jeanne de Joinville et était l'épouse de sir Roger Mortimer, l'un des premiers barons d'Angleterre. — Madame, Madame ! s'écria-t-elle, il a parlé. — Vraiment, Madame ? répondit la reine. Et qu'a-t-il dit ? — Il a frappé la table, Madame, et il a dit : « Veux ! » Une expression d'orgueil passa sur le beau visage d'Isabelle. — Conduisez-le devers moi, dit-elle. Lady Mortimer sortit, toujours courant, et revint un instant après, portant un enfant de quinze mois, rond, rose et gras, qu'elle déposa aux pieds de la reine. Il était vêtu d'une robe grenat, brodée d'or, et fort lourde pour un si petit être. — Alors, messire mon fils, vous avez dit : « Je veux », dit Isabelle en se penchant pour lui caresser la joue. J'aime que cela ait été votre premier mot : c'est parole de roi. L'enfant lui souriait, en dodelinant la tête. — Et pourquoi l'a-t-il dit ? reprit la reine. — Parce que je lui refusais un morceau de galette, répondit lady Mortimer. Isabelle eut un sourire vite effacé.
— Puisqu'il commence à parler, dit-elle, je demande qu'on ne l'encourage point à bégayer et prononcer des niaiseries, comme on fait d'ordinaire avec les enfants. Peu importe qu'il dise « papa » ou « maman », je préfère qu'il connaisse les mots de « roi » et de « reine ». Elle avait dans la voix une grande autorité naturelle. — Vous savez, ma mie, continua-t-elle, quelles raisons m'ont fait vous choisir pour gouverner mon fils. Vous êtes petite-nièce de messire Joinville le grand, qui fut à la croisade auprès de mon aïeul Monseigneur Saint Louis. Vous saurez enseigner à cet enfant qu'il est de France autant que d'Angleterre. Lady Mortimer s'inclina. À ce moment, la première dame française revint, annonçant Monseigneur le comte Robert d'Artois. La reine s'adossa, bien droite, à son siège et croisa les mains sur la poitrine, dans une attitude d'idole. Le souci d'être toujours royale ne parvenait pas à la vieillir. Un pas de deux cents livres ébranla le plancher. L'homme qui entra avait six pieds de haut, des cuisses comme des troncs de chêne, des poings comme des masses d'armes. Ses bottes rouges, de cuir cordouan, étaient soufflées d'une boue mal brossée ; le manteau qui lui pendait aux épaules était assez vaste pour couvrir un lit. Il suffisait qu'il eût une dague au côté pour avoir la mine de s'en aller en guerre."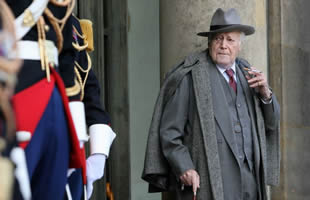 Maurice Druon (23 april 1918 – 14 april 2009)
De Tsjechische schrijver Egon Hostovský werd geboren op 23 april 1908 in Hronov. Zie ook alle tags voor Egon Hostovský op dit blog.
Uit: Siebenmal in der Hauptrolle (Vertaald door Markus Sedlaczek)
"Ich hatte Einblick in die gedanklichen und emotionalen Quellen eines geheimen Ordens aufsässiger Teufel und titanischer Aufrührer, und ich begriff, daß ihre bislang unorganisierten Brüder zu Hunderttausenden unter uns herumirren. Damals konnte ich über das, was ich gesehen und gehört hatte, nicht öffentlich sprechen, weil niemand mir geglaubt hätte und der Tod mir auf den Fersen gewesen wäre. Das ist jedoch nicht das Entscheidende, verehrter Herr Präsident und hochlöbliche Regierung. Viel schwerwiegender ist das innere Geheimnis Josef Kavalskys, des Bruders des Europas von gestern. Er wußte, auf welche Spule unsere Wege bei jeder Umdrehung der Erde aufgewickelt werden. Er wußte es, und dennoch folgte er ihnen. Er sah die Abgründe und die Flammen, die auch Sie sehen müssen, wenn Sie Brücken darüber bauen wollen. Ich beschwöre Sie nun, da Josef Kavalsky gestorben ist, ein Mensch von nirgendwo und überall her, ein Weggefährte der vergeblich Suchenden, ein Leidenschaftlicher ohne Liebe, ein Weiser ohne Wahrheiten, ein Kämpfer ohne Kraft, ein Feuer ohne Glut - ich beschwöre Sie, mein
Zeugnis anzuhören. Obwohl es mit dem politischen Geschehen nur indirekt zusammenhängt, können Sie mit seiner Hilfe einen Blick auf die Brennpunkte vergangener wie heutiger Ereignisse werfen. Der zweite Babylonische Turm ist ins Wanken geraten, nichtsdestoweniger dauert die zweite Sprachverwirrung fort. Mit denen, die unter den Trümmern übrigbleiben, wird man vielleicht in einer neuen Sprache sprechen müssen, doch entdeckt man die neuen Wörter erst nach dem Tod der alten, die bislang ohne Widerhall und Harmonie um die Welt irren, erfüllt nur vom Dröhnen ihrer Leere und stummen Vergeblichkeit."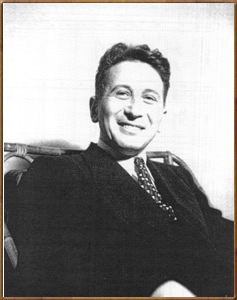 Egon Hostovský (23 april 1908 – 7 mei 1973)
De Duitse dichter, schrijver, essayist en psychoanaliticus Richard Huelsenbeck (Hülsenbeck) werd geboren op 23 april 1892 in Frankenau. Zie ook alle tags voor Richard Huelsenbeck op dit blog.
To Ludwig the cocotte
Your leg hangs over me like a crescent moon
all clear: Your breasts breathe two small animals
behind the most exquisite Brussels lace
hey garçon: Café au lait – le matin please and a glass of water
Basically you are like your sisters who with bobbing bellies
creep along the sewers anxiously listening
for the vice squad whistle and meat-eating pimps
The cattle dealer whose pants and alligator leather wallet
you stole has taught me everything about your soul
hey – old pig: you've turned fifty but the high school
kids are still dreaming of you lots
They dream: you approach silently with the elastic cane
teaching their behinds what their heart desires
hey you old lechers and white slave traders you gypsies and hotel thieves
pray pray if you like that
Or drink yourselves stinko up the houses break open the gutter
let the fire brigade thunder flush the rivers out of their sleep
old scum I walk towards you bottle in arm you crazy specter
Is it you again delicious pig has the surgeon spied
your belly yet grapnel brandished torch and chloroform
Dada! Dada! only you are alive sweet love
Vertaald door Johannes Beilharz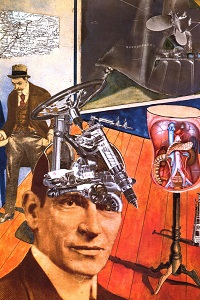 Richard Huelsenbeck (23 april 1892 - 20 april 1974)
Collage door Richard Huelsenbeck
De Duitse schrijfster Marion Titze werd geboren op 23 april 1953 in Lichtenwalde/Chemnitz. Zie ook alle tags voor Marion Titze op dit blog.
Uit: Vom Mond das fehlende Stück
»Thomas Hürlimanns ›Einsiedler Welttheater‹ führt die ganze Farce des Dilemmas vor, das Apostatentum großen Stils, da es nichts als Stillosigkeit zu gebären scheint, da es sich weder selbst erkennt noch reflektiert. Bei Hürlimann richtet sich die Volksfrömmigkeit bröckelnder Evangelien ein chaotisch makaberes Fest. Dort, wo bei Calderón Die Stimme als verkapptes Gesetz der Gnade liturgieähnlich spricht, bringt Hürlimann gebetsmühlenartig Die Standfrauen zu Gehör:
›Madönneli und Kruzifix!
Häliböck und Wanderstöck!
Das Gaffen kostet nix!
Biberfladen, Bier und Rosenkränze
Schokoladen, Cola, Grittibänze
Sündenablass, Kelche und Monstränze
Prenez, venez, chaufid gschnell
Suscht chömid ier i d Höll!‹

Zwar sind, was sie feilbieten, Devotionalien, doch wir, in Metaphern nun einigermaßen versiert, erkennen darin die ganze hyperaktive global verzückte Warenproduktion, die ihre Exponenten nicht anders betrachten als einst der Klerus die Entfremdung der vormals geweihten Reliquie: Wirkungsvoller Kitsch sei besser als wirkungslose Kunst. Unumstößlich ist die Tendenz geworden, sich die Welt so umfassend wie möglich anzubequemen. Hat das Thomas Hürlimann dazu getrieben, noch einmal die Register der comedia zu ziehen?
Man wird sehen. Und neuerlich staunen wir über die geheime geschichtliche Energie, die alle hundert Jahre den Einfall zu haben scheint, ein Großes Welttheater zu inszenieren."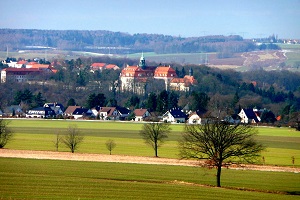 Marion Titze (Lichtenwalde, 23 april 1953)
Lichtenwalde
De Duitse dichter Friedrich von Hagedorn werd geboren op 23 april 1708 in Hamburg. Zie ook alle tags voor Friedrich von Hagedorn op dit blog.
Die Einbildung und das Glück
Die Einbildung ist in das Glück verliebt,
Das sie so oft gesucht, das ihr so oft entgangen:
Des Glückes Sprödigkeit, die ihren Fürwitz übt,
Reizt ihre Hoffnung stets, und täuscht stets ihr Verlangen.
Als sie noch jung und unerfahren war,
Ging sie ihm seufzend nach bis in das Reich der Liebe.
Doch hier entfernten es bald schlüpfrige Gefahr,
Bald leichter Wankelmuth, bald eifersücht'ge Triebe.
Die Arme wächst, die Leidenschaft nimmt zu:
Sie wagt sich an den Hof, zu den geschmückten Höhen,
Wo Pracht und Ehrgeiz rauscht. Dort fehlen Treu' und Ruh',
Und Titel lassen sich, anstatt des Glückes, sehen.
Sie eilt darauf ins Land der Ueppigkeit,
Dort mit dem Glücke sich durch Reichthum zu verbinden;
Dort war auch Ueberfluß, Gepränge, Schwelgen, Neid,
Der bürgerliche Stolz, doch nicht das Glück, zu finden.
Sie rennt zurück, und kömmt auf eine Bahn,
Die ihren müden Fuß in niedre Gründe führet.
Die stille Gegend ist der Schönen unterthan,
Die sich mit keinem Schmuck, als Zucht und Demuth, zieret.
Die Gottesfurcht hat dort ihr Heiligthum,
Der Weisheit holdes Kind, die Lust der Ewigkeiten.
Der milde Himmel kennt und schützet ihren Ruhm,
Und Wahrheit, Lieb' und Recht weicht nicht von ihren Seiten.
Die Einbildung fragt nach dem Glück allhier;
Die fromme Schöne spricht: ich will dir Rath ertheilen.
Erwart' es; such' es nicht; geselle dich zu mir:
So wird dir schon das Glück von selbst entgegeneilen.
Ihr wird gefolgt; nichts konnte besser sein.
Bald sieht man einen Glanz das Heiligthum verklären.
Es stellet sich das Glück mit offnen Armen ein,
Umfängt die Hoffende, und sättigt ihr Begehren.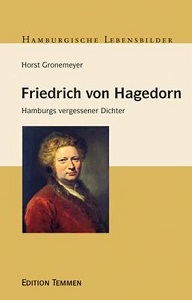 Friedrich von Hagedorn ( 23 april 1708 – 28 oktober 1754)
Cover
De Zwitserse schrijver Max Bolliger werd geboren op 23 april 1929 in Schwanden / Braunwald, Kanton Glarus. Zie ook Zie ook alle tags voor Max Bollinger op dit blog.
Uit: Sonntag
"Wie alt bist du eigentlich?"
"Hundert!", sagte Daniela.
"Nein, ehrlich...!"
"Das solltest du doch wissen. Du fragst mich jedesmal... Im Februar dreizehn."
"Dreizehn!
Hast du einen Freund?"
"Nein!", sagte Daniela.
"Das wundert mich. Du siehst hübsch aus!"
"Findest du?"
"So...erwachsen!"
Der schöne Herbstsonntag hatte unzählige Boote aufs Wasser hinausgelockt.
Der Vater war verstummt und schaute alle fünf Minuten auf seine Uhr.
"Ich habe um vier Uhr eine Verabredung."
"Also, gehen wir doch", sagte Daniela und erhob sich.
Der Vater schien erleichtert.
"Ich bringe dich nach Hause", sagte er.
"Ach, du bist schon wieder da?", sagte die Mutter.
Sie war noch immer im Morgenrock. Während der Woche arbeitete sie halbtags in einer Modeboutique."Sonntags lasse ich mich gehen", sagte sie zu ihren Freunden, "sonntags bin ich nicht zu sprechen."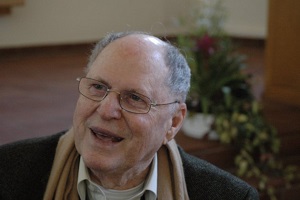 Max Bolliger (23 april 1929 – 10 februari 2013)
De Amerikaans-Ierse schrijver James Patrick Donleavy werd geboren op 23 april 1926 in New York. Zie ook Zie ook alle tags voor J. P.Donleavy op dit blog.
Uit:The Ginger Man
"I'm up to my eyes already."
"And you don't look so hot in those clothes."
O'Keefe jumped on the floor of the drawing room. Pulled open the conservatory door, pinched the leaves of a dying plant and went out into the garden. Standing on the shaggy grass he gave a shrill whistle as he looked down precipitous rocks to the swells of sea many feet below. He went round the narrow back of the house, looking in the windows. In a bedroom he saw Dangerfield on his knees chopping a large blue blanket with an axe. He rushed back into the house.
"Jesus Christ, Dangerfield, what are you doing? Have you gone Asiatic?"
"Patience."
"But that's a good blanket Give it to me if you're going to chop it up"
"Now, Kenneth, watch me. See? Put this round the neck like this, tuck in the ragged edges and presto. Fm now wearing Trinity's rowing blue. Always best to provide a flippant subtlety when using class power. Now we'll see about a little credit."
"You shrewd bastard. I must admit it looks good"
"Make a fire in the stove. I'll be back"
"Get us a chicken"
"We'll see."
Dangerfield stepped out into a deserted Balscaddoon Road.
The counter was covered with rich sides of bacon and wicker baskets of bright eggs. Assistants, white aproned, behind the long counter. Bananas, green from the Canary Isles, blooming from the ceiling. Dangerfield stopping in front of a gray haired assistant who leans forward eagerly.
"Good day, sir. Can I be of any help?"
Dangerfield hesitating with pursed lips.
"Good day, yes. I would like to open up an account with you."
"Very good, sir. Will you please come this way."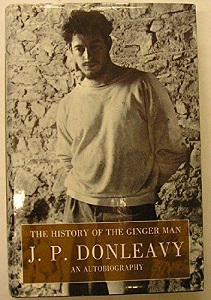 J. P.Donleavy (New York, 23 april 1926)
Cover autobiografie
23-04-2017 om 11:52 geschreven door Romenu

Tags:Maurice Druon, Egon Hostovský, Richard Huelsenbeck, Marion Titze, Friedrich von Hagedorn, Max Bolliger, J. P. Donleavy, Romenu



| | |
| --- | --- |
| | |



Inhoud blog


| | |
| --- | --- |
| | Konstantínos Petros Kaváfis, Rod McKuen, Bernhard Setzwein, Monika Rinck, Alejandra Pizarnik, Walter Kempowski, Bjarne Reuter, Kurt Pinthus, Humphrey Carpenter |
| | Zia Haider Rahman, Wim Hazeu, Roberto Bolańo, Gerhard Henschel, Harper Lee, Joop Waasdorp, Karl Kraus, Ğabdulla Tuqay, Charles Cotton |
| | De koning had geen zin (Annie M.G. Schmidt) |
| | Astrid Roemer, Robert Anker, André Schinkel, Didier Daeninckx, Hovhannes Shiraz, August Wilson, Edwin Morgan, Jules Lemaître, Cecil Day Lewis |
| | Bernard Malamud, Vincente Alexandre, Carl-Christian Elze, Hannelies Taschau, Theun de Vries, Hertha Kräftner, Johann Uhland |
| | Erik Menkveld, Ted Kooser, James Fenton, Walter de la Mare, Richard Anders, William Temple, John Keble |
| | Frans Coenen, Eric Bogosian, Robert Penn Warren, George Oppen, Carl Spitteler, Anthony Trollope, Michael Schaefer |
| | Thomas (Nel Benschop) |
| | William Shakespeare, Pascal Quignard, Peter Horst Neumann, Andrey Kurkov, Halldór Laxness, Christine Busta, Adelheid Duvanel |
| | Maurice Druon, Egon Hostovský, Richard Huelsenbeck, Marion Titze, Friedrich von Hagedorn, Max Bolliger, J. P. Donleavy |
| | Giorgio Fontana, Jan de Hartog, Björn Kern, Vladimir Nabokov, Chetan Bhagat, Peter Weber, Jos de Haes, Thommie Bayer, Madame de Staël |
| | Ana María Shua, Louise Glück, Robert Choquette, James Philip Bailey, Henry Fielding, Michael Schulte, Cabrera Infante, Ludwig Renn |
| | Charlotte Brontë, Patrick Rambaud, John Mortimer, Charles den Tex, Michael Mann, Peter Schneider, Meira Delmar, Alistair MacLean, Gerrit Wustmann |
| | Martinus Nijhoff, Jan Cremer, Jean Pierre Rawie, Sebastian Faulks, Jozef Deleu, Steve Erickson, Arto Paasilinna, Michel Leiris |
| | Martin Michael Driessen, Marjoleine de Vos, Manuel Bandeira, n. c. kaser, Veniamin Kaverin, Louis Amédée Achard, Pierre-Jean de Béranger, Gudrun Reinboth, Werner Rohner |
| | Wam de Moor, Bas Belleman, Roos van Rijswijk, Clara Eggink, Kathy Acker, Joy Davidman, Richard Harding Davis, Henry Kendall, Katharina Schwanbeck |
| | Pasen (Gabriël Smit) |
| | Antoon Coolen, Ida Boy-Ed, Nick Hornby, Vincent Corjanus, Thornton Wilder, Karen Blixen, David Wagner, R.J. Pineiro |
| | Anton Wildgans, Rolf Schneider, Cynthia Ozick, Helen Meier, Rolf Kalmuczak, Karl Henckell, Henry Vaughan, John Ford |
| | Osterwind (Hilde Domin) |
| | Sarah Kirsch, Thomas Olde Heuvelt, Kingsley Amis, Patricia De Martelaere, Tristan Tzara, Ewald Vanvugt, Sibylle Lewitscharoff |
| | Jan Luyken, Rolf-Dieter Brinkmann, Anatole France, Eberhard Panitz, Spike Milligan, John Millington Synge, Konstantin Vaginov |
| | Stille Zaterdag (Nel Benschop) |
| | Tomas Tranströmer, Daniël Samkalden, Jérôme Lambert, Patrick Bernauw, Benjamin Zephaniah, Henry James, Wilhelm Busch, Ina Boudier-Bakker |
| | Bliss Carman, Beate Morgenstern, Jeffrey Archer, Bernhard Lassahn, Erich Arendt, Pol De Mont, Staf Weyts, Hans Egon Holthusen |
| | Karfreitag (Peter Hille) |
| | Tjitse Hofman, Alexandre Jardin, Roman Graf, Péter Esterházy, Landolf Scherzer, Charles Lewinsky, Helene Hübener, Roberto Schopflocher, Gerhard Rohlfs |
| | Gethsemane und Golgatha (Friedrich Nietzsche) |
| | Nachoem Wijnberg, K. Michel, Alexander Münninghoff, Michel Faber, Jean-Marie Gustave Le Clézio, Samuel Beckett, Seamus Heaney, Tim Krabbé, Eudora Welty |
| | Antje Rávic Strubel, Alan Ayckbourn, Scott Turow, Tom Clancy, Agnes Sapper |
| | Leonard Nolens, Glenway Wescott, Mark Strand, Silvia Avallone, Walid Soliman, Dorothy Allison, Hubert Nyssen, Barbara Köhler, Rolf Schilling |
| | Leo Vroman, Jan van Mersbergen, Paul Theroux, Claudio Magris, Bella Akhmadulina, Stefan Heym, Richard Wagner, Marcel van Maele, Eric Knight |
| | Palmsonntag (Stefan Zweig) |
| | Charles Baudelaire, Jelle Brandt Corstius, Karel Jonckheere, Joolz Denby, Albert von Schirnding, Johannes Bobrowski |
| | Bernard-Marie Koltčs, Arnold Stadler, Julius Hart, Lev Kopelev, Carl Amery, Leonard Wibberley |
| | Herinnering aan Gerard Reve, Hanz Mirck, Christoph Hein, Judith Koelemeijer, Nnedi Okorafor, Barbara Kingsolver |
| | John Fante, Johann Christian Günther, Glendon Swarthout, Martin Grzimek, Hégésippe Moreau |
| | Juliana Spahr, William Wordsworth, Özcan Akyol, Gabriela Mistral, Henk Fedder, Donald Barthelme, Jens Peter Jacobsen, Hervé Bazin, Johannes Mario Simmel |
| | Kazim Ali, Annejet van der Zijl, John Pepper Clark, Jakob Ejersbo, Günter Herburger, Uljana Wolf, Brigitte Schwaiger, Julien Torma, Nicolas Chamfort |
| | Hugo Claus, Martin Reints, Vítězslav Hálek, Algernon Swinburne, Bora Ćosić, Werner J. Egli, Mieke van Zonneveld, Michael Georg Conrad, Marente de Moor |
| | Maya Angelou, Hanneke Hendrix, E. L. James, Marko Klomp, Marguerite Duras, Robert Schindel, Michiel van Kempen, Bettina von Arnim, Edith Södergran |
| | Charles Ducal, Adriaan Jaeggi, Frederik van Eeden, Bert Bakker, Peter Huchel, Arlette Cousture, Pieter Aspe, Karel N.L. Grazell, Johanna Walser |
| | Thomas Glavinic, Jay Parini, Ed Dorn, Émile Zola, György Konrád, Anneke Claus, Anne Waldman |
| | Casanova, Hans Christian Andersen, Roberto Arlt, Edgar Hilsenrath, George Fraser, H. von Fallersleben |
| | Johann Gleim, Pierre Zaccone, Pietro della Valle, Zwier van Haren, Joanna Chmielewska, Brigitte Struzyk |
| | Milan Kundera, Sandro Veronesi, Nikolaj Gogol, Arnold Aletrino, Max Nord, Urs Allemann, Rolf Hochhuth, John Wilmot, Deborah Feldman |
| | Maria Polydouri, Edgar Wallace, Carl Sternheim, Edmond Rostand, Armel Guerne, Friedrich Güll, Antoine Prévost, Josep de Maistre |
| | In Memoriam Jevgeni Jevtoesjenko |
| | Stefan Hertmans, Octavio Paz, Asis Aynan, Martijn Teerlinck, Marga Minco, Enrique Vila-Matas, Rob Boudestein, Kornej Tsjoekovski, Andrew Lang |
| | Gerrit Komrij, Paul Verlaine, Milton Acorn, Milton Acorn, Erika Mitterer, Uwe Timm, Tom Sharpe, Gert Heidenreich, Theo Breuer, Luise Hensel |


Gastenboek


Druk op onderstaande knop om een berichtje achter te laten in mijn gastenboek