E-mail mij


Druk op onderstaande knop om mij te e-mailen.


Romenu


Romenu is een blog over gedichten, literatuur en kunst Maar Romenu is ook een professionele freelance vertaler
Du-Ne en Ne-Du http://www.romenu.nl.


Huur eens een (vakantie)huis in een natuurgebied, dichtbij het centrum van Nijmegen


Google


Georg Trakl

Georg Trakl werd op 3 februari 1887 in het conducteurshuis aan de Waagplatz 2 in Salzburg geboren. Zijn vader, Tobias Trakl, was een handelaar in ijzerwaren en zijn moeder, die ook psychische problemen had, was Maria Catharina Trakl, (meisjesnaam Halik). Voorts had hij nog drie broers en drie zussen. Margarethe (doorgaans Grethe genoemd) stond hem het naast, zelfs zodanig dat sommigen een incestueuze verhouding vermoeden. Zijn jeugd bracht hij door in Salzburg. Vervolgens bezocht hij van 1897 tot 1905 het humanistische gymnasium. Om toch een academische opleiding te kunnen volgen, werkte hij tot 1908 in de praktijk bij een apotheker. Sommigen vermoedden dat hij dit vooral deed om zichzelf opiaten te kunnen verschaffen. Bij het uitbreken van WO I werd Trakl als medicus naar het front in Galicië (heden ten dage in Oekraïne en Polen) gestuurd. Zijn gemoedsschommelingen leidden tot geregelde uitbraken van depressie, die verergerd werden door de afschuw die hij voelde voor de verzorging van de ernstig verwonde soldaten. De spanning en druk dreven hem ertoe een suïcidepoging te ondernemen, welke zijn kameraden nochtans verhinderden. Hij werd in een militair ziekenhuis opgenomen in Kraków, alwaar hij onder strikt toezicht geplaatst werd.Trakl verzonk daar in nog zwaardere depressies en schreef Ficker om advies. Ficker overtuigde hem ervan dat hij contact moest opnemen met Wittgenstein, die inderdaad op weg ging na Trakls bericht te hebben ontvangen. Op 4 november 1914, drie dagen voordat Wittgenstein aan zou komen, overleed hij echter aan een overdosis cocaïne


Paul Celan

Paul Celan werd onder de naam Paul Antschel op 23 november 1920 geboren in Czernowitz, toentertijd de hoofdstad van de Roemeense Boekovina, nu behorend bij de Oekraïne. Paul Celans ouders waren Duitssprekende joden die hun zoon joods opvoedden en hem naar Duitse christelijke scholen stuurden. In 1942 werden Celans ouders door de Duitse bezetter naar een werkkamp gedeporteerd en daar vermoord. Hijzelf wist aanvankelijk onder te duiken, maar moest vanaf juli 1942 in een werkkamp dwangarbeid verrichten. Celan overleefde de oorlog. Via Boekarest en Wenen vestigde Celan zich in 1948 in Parijs. Daar was hij werkzaam als dichter, vertaler en doceerde hij aan de prestigieuze Ecole Normale Supérieure. Vermoedelijk op 20 april 1970 beëindigde hij zijn leven zelf door in de Seine te springen.


Gerard Reve

Gerard Reve over: Medearbeiders "God is in de mensen, de dieren, de planten en alle dingen - in de schepping, die verlost moet worden of waaruit God verlost moet worden, door onze arbeid, aangezien wij medearbeiders van God zijn." Openbaring "Tja, waar berust elk godsbegrip op, elke vorm van religie? Op een openbaring, dat wil zeggen op een psychische ervaring van zulk een dwingende en onverbiddelijke kracht, dat de betrokkene het gevoel heeft, niet dat hij een gedachte of een visioen heeft, maar dat een gedachte gedachte of visioen hem bezit en overweldigt."


Simon Vestdijk
Simon Vestdijk (Harlingen, 17 oktober 1898 – Utrecht, 23 maart 1971) was een Nederlands romancier, dichter, essayist en vertaler. Zijn jeugd te Harlingen en Leeuwarden beschreef hij later in de Anton Wachter-cyclus. Van jongs af aan logeerde hij regelmatig bij zijn grootouders in Amsterdam, waar hij zich in 1917 aan de Universiteit van Amsterdam inschrijft als student in de medicijnen. Tijdens zijn studie die van 1917 tot 1927 duurde, leerde hij Jan Slauerhoff kennen.Tot 1932 is hij als arts in praktijken door heel Nederland werkzaam. In 1932 volgt zijn officiële schrijversdebuut met de uitgave van de bundel Verzen in De Vrije Bladen. Doorslaggevend voor Vestdijks uiteindelijke keuze voor de literatuur is zijn ontmoeting in 1932 met Eddy Du Perron en Menno ter Braak. Deze ontmoeting had tot resultaat dat hij redactielid werd van het tijdschrift Forum Kort daarop, in 1933, wordt zijn eerste novelle, De oubliette, uitgegeven. In hetzelfde jaar schrijft hij Kind tussen vier vrouwen, dat, eerst geweigerd door de uitgever, later de basis zal vormen voor de eerste drie delen van de Anton Wachter-romans. In 1951 ontvangt Vestdijk de P.C. Hooftprijs voor zijn in 1947 verschenen roman De vuuraanbidders. In 1957 wordt hij voor het eerst door het PEN-centrum voor Nederland voorgedragen voor de Nobelprijs voor de Literatuur, die hij echter nooit zal krijgen. Op 20 maart 1971 wordt hem de Prijs der Nederlandse Letteren toegekend, maar voor hij deze kan ontvangen overlijdt hij op 23 maart te Utrecht op 72-jarige leeftijd. Vestdijk was auteur van ca. 200 boeken. Vanwege deze enorme productie noemde de dichter Adriaan Roland Holst hem 'de man die sneller schrijft dan God kan lezen'. Andere belangrijke boeken van Simon Vestdijk zijn: "Kind van stad en land" (1936), "Meneer Visser's hellevaart" (1936), "Ierse nachten" (1946), "De toekomst de religie" (1947), "Pastorale 1943" (1948), "De koperen tuin" (1950), "Ivoren wachters" (1951), "Essays in duodecimo" (1952) en "Het genadeschot" (1964).


K.P. Kavafis

K.P. Kavafis werd als kind van Griekse ouders, afkomstig uit Konstantinopel, geboren in 1863 in Alexandrië (tot vandaag een Griekse enclave) waar hij ook het grootste deel van zijn leven woonde en werkte. Twee jaar na de dood van zijn vader verhuist het gezin in 1872 naar Engeland om na een verblijf van vijf jaar naar Alexandrië terug te keren. Vanwege ongeregeldheden in Egypte vlucht het gezin in 1882 naar Konstantinopel, om na drie jaar opnieuw naar Alexandrië terug te gaan. In de jaren die volgen maakt Kavafis reizen naar Parijs, Londen en in 1901 zijn eerste reis naar Griekenland, in latere jaren gevolgd door nog enkele bezoeken. Op de dag van zijn zeventigste verjaardag, in 1933 sterft Kavafis in Alexandrië. De roem kwam voor Kavafis pas na zijn dood, dus postuum. Deels is dat toe te schrijven aan zijn eigen handelswijze. Hij was uiterst terughoudend met de publicatie van zijn gedichten, liet af en toe een enkel gedicht afdrukken in een literair tijdschrift, gaf in eigen beheer enkele bundels met een stuk of twintig gedichten uit en het merendeel van zijn poëzie schonk hij op losse bladen aan zijn beste vrienden.


Thomas Mann


Thomas Mann, de jongere broer van Heinrich Mann, werd geboren op 6 juni 1875 in Lübeck. Hij was de tweede zoon van de graankoopman Thomas Johann Heinrich Mann welke later één van de senatoren van Lübreck werd. Zijn moeder Julia (geboren da Silva-Bruhns) was Duits-Braziliaans van Portugees Kreoolse afkomst. In 1894 debuteerde Thomas Mann met de novelle "Gefallen". Toen Thomas Mann met 21 jaar eindelijk volwassen was en hem dus geld van zijn vaders erfenis toestond - hij kreeg ongeveer 160 tot 180 goldmark per jaar - besloot hij dat hij genoeg had van al die scholen en instituties en werd onafhankelijk schrijver. Kenmerkend voor zijn stijl zijn de ironie, de fenomenale taalbeheersing en de minutieuze detailschildering. Manns reputatie in Duitsland was sterk wisselend. Met zijn eerste roman, Buddenbrooks (1901), had hij een enorm succes, maar door zijn sceptische houding tegenover Duitsland na de Eerste Wereldoorlog veranderde dit volledig. Stelde hij zich tot aan de jaren twintig apolitiek op (Betrachtungen eines Unpolitischen, 1918), meer en meer raakte hij bij het Politiek gebeuren betrokken. Zijn afkeer van het nationaal socialisme groeide, zijn waarschuwingen werden veelvuldiger en heftiger. In 1944 accepteerde hij het Amerikaanse staatsburgerschap. Tussen 1943 en 1947 schreef Mann Doktor Faustus (zie Faust), de roman van de 'Duitse ziel' in de gecamoufleerd geschilderde omstandigheden van de 20ste eeuw. In 1947 bezocht hij voor het eerst sinds de Oorlog Europa, twee jaar later pas Duitsland. In 1952 vertrok hij naar Zwitserland. Op 12 augustus 1955 stierf hij in Zürich. Twintig jaar na zijn dood, in aug. 1975, is zijn literaire nalatenschap geopend: dagboekaantekeningen van 15 maart 1933 tot 29 juli 1955, alsmede notities uit de jaren 1918 tot en met 1921.Belangrijke werken zijn: Der Zauberberg, Der Tod in Venedig, Dokter Faustus , Joseph und seine Brüder en Die Bekenntnisse des Hochstaplers Felix Krull.


Rainer Maria Rilke

Rilke werd op 4 december 1875 geboren in Praag. Hij had al naam gemaakt als dichter met zijn bundels Das Stundenbuch en Das Buch der Bilder, toen hij de literaire wereld versteld deed staan en wereldfaam verwierf met de publicatie van zijn twee delen Neue Gedichte in 1907 en 1908. Hij verzamelde daarin het beste werk uit een van zijn vruchtbaarste periodes, die hij grotendeels doorbracht in Parijs. Rilke was daar diep onder de indruk gekomen van Rodin, bij wie hij een tijdlang in dienst was als particulier secretaris. Rodin, zei hij later, had hem leren kijken. Dit kijken kwam neer op intense concentratie, om het mysterie te kunnen zien 'achter de schijnbare werkelijkheid'. Latere en rijpere werken als Duineser Elegien (1912-1923) en het ronduit schitterende Die Sonette an Orfeus (1924) illustreren Rilkes metafysische visie op het onzegbare, dat haar verwoording vindt in een hermetische muzikale taal. Op 29 december 1926 overlijdt Rilke in het sanatorium in Val-Mont aan de gevolgen van leukemie. Enkele dagen later wordt hij, overeenkomstig zijn wens, begraven op het kerkhof van Raron.


* * * * * * * * * * * * * * * *

| | |
| --- | --- |
| | Over literatuur, gedichten, kunst en cultuur |

28-03-2017

Walter van den Broeck, Joost de Vries, Mario Vargas Llosa, Chrétien Breukers, Nelson Algren, Marianne Frederiksson, Russell Banks, Léon-Gontran Damas, Éric-Emmanuel Schmitt
De Vlaamse roman- en toneelschrijver Walter van den Broeck werd geboren in Olen op 28 maart 1941. Zie ook alle tags voor Walter van den Broeck op dit blog.
Uit: De vreemdelinge
`Ze zit al de hele middag bij Dries', zei Lea toen hij binnenkwam en automatisch naar de witte muur keek, waar tot zijn opluchting Poesjkin zijn oude plaats had ingenomen. Wie?' Wil je koffie of ga je onmiddellijk door naar je werkkamer?' `Melk en suiker.' Die dochter van Morris, die Tess.' `0.' Bram had niets aan Lea verklapt over haar komst. 'Is het woensdag vandaag?' Hij blikte naar de scheurkalender. Terwijl ze samen koffiedronken, hield Bram zich van den domme, maar hij probeerde er toch achter te komen wat er in Lea's hoofd omging. Die twee lijken goed met elkaar op te schieten. Amber zegt dat hij hele nachten met haar zit te chatten.' `Amber heeft al ge-sms't dat het een beeldschone, vlotte en attente meid is. Ik geloof dat die al in stilte hoopt dat het wat wordt tussen die twee. Ze wil de jongelui niet voor de voeten lopen en sleept Raf straks mee de stad in om geld uit te geven. Ze heeft ook gevraagd of ik hun vanavond te eten wil geven.' 'Ik mik het', zei Bram. 'Het geurt hier naar een galadiner.' Ze lachten elkaar toe. Lea was blij dat ze weer eens voor iemand anders kon zorgen, en Bram omdat hij hoopte dat Tess zijn oude dag zou verblijden. Om niet de ongezond nieuwsgierige te lijken die hij in dit geval weliswaar was, liep hij na zijn koffie bij Raf binnen en veinsde interesse door te vragen hoe de zaken gingen. Raf keek echter alsof er zopas iemand overleden was. Hij maakte van achter de toonbank een brede, wat lusteloze zwaai. Pas nu zag Bram dat de zaak op een studente met een rugzakje na leeg was, en dat zijn vraag weleens als leedvermaak had kunnen klinken, als een nakomend maar onuitgesproken verwijt ook. Zie je wel, ik had je toch gewaarschuwd? "t Komt door dat aanhoudende hondenweer', zei Raf.
`Zelfs bij De Keten is het de dood in de pot. Een krant, een weekblad, meer niet.' Trek het je maar niet aan, bij de eerste droge dag komen ze allemaal uit hun schuilhokken gekropen.' `Zo is dat!' Bram stak bij wijze van groet zijn hand op en liep naar buiten. Hij deed een paar passen naar rechts, alsof hij daar een of andere boodschap te doen had, maar toen keerde hij op zijn schreden terug, blikte als een spion door de glazen deur en repte zich, toen hij zag dat Raf de studente met de tas stond te gerieven, snel en ongemerkt naar het antiquariaat. Er was niemand in de winkel. Ze waren dus in het magazijn. Voorzichtig duwde hij de deur open en omvatte met een hand de klepel van het ouderwetse belletje om hen niet aan het schrikken te maken en om eventueel geluidjes op te kunnen vangen van een flirt- of vrijpartijtje, maar onthutst hoorde hij dat in het magazijn een heftige discussie gaande was."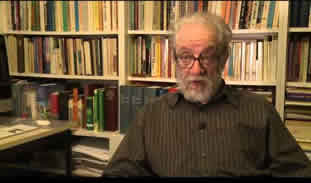 Walter van den Broeck (Olen, 28 maart 1941)
De Nederlandse schrijver Joost de Vries werd geboren op 28 maart 1983 in Alkmaar. Zie ook alle tags voor Joost de Vries op dit blog.
Uit: De republiek
"Hitler Lima was inmiddels op leeftijd, maar hij liep rechtop, zijn borst vooruit. Een trotse man. Een gaucho. Hij had nog een volle bos zilverwit haar, een dikke, rechthoekige snor. Aan zijn heup bungelde een holster die nu leeg was, maar zodra hij naar buiten ging, vertelde hij, de provincie in, stak hij zijn zesschotsrevolver bij zich. Hij leidde me door zijn huis en liet me in de tuin kennels zien waar vier dobermanns in zaten, hun vacht zwart en glanzend. Eentje liet hij naar buiten, die meteen in de houding ging zitten, oren recht overeind. Lima gooide een snoepje op de grond en de hond bewoog niet. Tien, twintig seconden gingen voorbij voordat hij een seintje gaf en de hond op het snoepje dook. Mevrouw Lima bracht ons vanuit de keuken een schotel met koffie en koekjes, die ze geroutineerd op haar rollator balanceerde. De koekjes had ze speciaal voor mijn bezoek gebakken en na één hap zei ik haar al hoe lekker ze waren.
– Eigenlijk zouden we moeten afspreken dat dit gesprek op onze voorwaarden verloopt, zei meneer Lima.
– Misschien kun je de vragen vooraf geven, zodat hij – mevrouw Lima noemde zijn naam niet – van tevoren kan bepalen waarover hij wel of niet wil praten.
– Er is geen vooraf, zei ik. Ik ben hier nu. Mevrouw Lima en haar man deelden een blik en het was niet duidelijk in wiens voordeel de dialoog was beslist, maar meneer Lima begon met praten. Hij groeide in de binnenlanden op, in een plantagedorpje tussen de uitlopers van de Garenta-rivier. Tegenwoordig was het dorpje overwoekerd door de jungle en zo goed als vergeten, behalve door een handjevol archeologen en historici dat het ossuarium bezocht dat net als in avonturenromans achter een waterval iets verderop lag verscholen. Het waren de botten, schedels en ruggengraten van Mapuche-indianen die vanaf de zestiende eeuw systematisch door conquistadores waren opgejaagd en uitgemoord. Hitlers vader nam hem daar mee naartoe, als kind al, ze klauterden twee uur voordat ze in de grot waren en in het stille donker glommen de beenderen als de maan en zijn vader zei hem dat hij nergens bang voor moest zijn, zeker niet voor de doden.
Lima was een social climber, vertelde hij. In de provincie was hij misschien de zoon van een prominent, in de stad was hij in de eerste plaats een provinciaal. Toen hij in uniform op straat in Santiago bekeuringen uitschreef, beten wildparkeerders hem toe dat hij naar de jungle moest oprotten; als zedenagent lachten junkies en hoertjes hem uit om zijn accent: 'Ik heb het meegemaakt dat pooiertjes en moordenaars me ongevraagd richtingaanwijzingen gingen geven. Het was ronduit gênant.'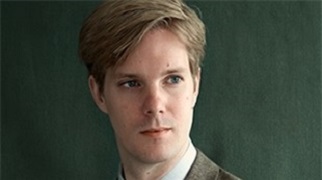 Joost de Vries (Alkmaar, 28 maart 1983)
De Peruviaanse schrijver Mario Vargas Llosa werd geboren op 28 maart 1936 in Arequipa. Zie ook alle tags voor Mario Vargas Llosa op dit blog.
Uit: Conversation in the Cathedral (Vertaald door Gregory Rabassa)
"Your old lady made her complaints to the senator's wife about the San Marcos business," he said.
"She can take her complaints to the King of Rome," Santiago said.
"If San Marcos upsets them so much, enroll at the Catholic University, what difference does it make to you?" Popeye said. "Or are they tougher at the Catholic University?"
"My folks don't give a damn about that," Santiago said. "They don't like San Marcos because there are half-breeds there and because there's a lot of politics, only for that reason."
"You've got yourself into a bind," Popeye said. "You're always against everything, you put everything down and you take things too much to heart. Don't give your life a bitter taste just for the hell of it, Skinny."
"Put your advice back in your pocket," Santiago said.
"Don't act as if you were so smart, Skinny," Popeye said. "It's all right for you to be a grind, but there's no reason for thinking that everyone else is a half-wit. Last night you treated Coco in a way that made me wonder why he didn't kill you."
"If I don't feel like going to mass I don't have to make excuses to that sexton," Santiago said.
"You're playing the atheist too now," Popeye said.
"I'm not playing the atheist," Santiago said. "The fact that I don't like priests doesn't mean that I don't believe in God."
"What do they say at home about your not going to church?" Popeye asked. "What does Teté say, for example?"
"That business about the Indian girl has got me all bitter, Freckle Face," Santiago said.
"Forget about it, don't be a fool," Popeye said. "Speaking of Teté, why didn't she come to the beach this morning?"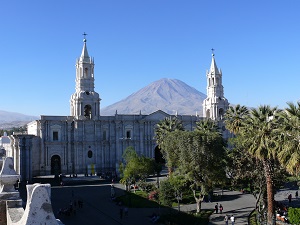 Mario Vargas Llosa (Arequipa, 28 maart 1936)
De kathedraal van Arequipa
De Nederlandse dichter en schrijver Chrétien Breukers werd geboren op 28 maart 1965 in het Limburgse Leveroy. Zie ook alle tags voor Chrétien Breukers op dit blog.
Uit: Een zoon van Limburg
"Limburg bestaat niet, Limburg is na 1830 — na de Belgische revolutie — op moeizame wijze in elkaar gezet en ten slotte, pas in 1839, ingelijfd bij Nederland. Wat nu Limburg heet, was een lappendeken van staatjes, hertogdommen en grafelijke gebieden, die vanaf de vroege middeleeuwen onder allerlei soorten van gezag hebben gestaan — van de hertog van Gelre tot de keizer van Oostenrijk. Conflicten werden om de haverklap in dit gebied uitgevochten, wat de eenheid niet ten goede kwam. De provincie die zich uitstrekt van Eijsden, dicht tegen Belgisch Limburg, tot Mook, dicht bij Gelderland, is nog steeds een fremdkörper binnen Nederland, een provincie waarover mensen, ook mensen die ik hoogacht, de meest abjecte onzin uitkramen, uit kwaadaardigheid en misplaatste superioriteitsgevoelens. Door de eeuwen heen, ondanks de woelige geschiedenis en de daaropvolgende relatief rustige inbedding bij Nederland, heeft Limburg het wantrouwen jegens 'de Hollanders' (dat zijn alle Nederlanders buiten Limburg) nooit helemaal kunnen afschudden — en dat is wederzijds. Limburg hoort niet bij Nederland, en Nederland interesseert zich niet voor Limburg; Nederland en Limburg zijn tot elkaar veroordeeld. Limburg gedraagt zich in deze verhouding als het kind dat meer en meer wil graaien in de Nederlandse subsidiepot; Nederland gedraagt zich alsof Limburg een lastig, jengelend kind is. Dat laatste klopt min of meer, maar de vraag waaróm het kind toch zo jengelt, blijft niet-gesteld.
Limburg is de gemiddelde Nederlander (`Hollander') zó vreemd, dat het mij gedurende mijn verblijf in 'Holland' regelmatig overkwam dat allerlei mensen, mensen die konden rekenen en schrijven, mensen die min of meer functioneerden in het maatschappelijk bestel, mij vroegen of 'dat nou een beetje uit te houden was, in Limburg', of ze zeiden 'ik ben er nooit geweest, maar het schijnt wel mooi te zijn, met heuvels'. Desgewenst wilden die mensen wel toegeven dat ze er 'wel eens doorheen gereden waren', op weg naar Duitsland of België. De gemiddelde Nederlander ként Limburg niet. Dat is desinteresse. Die maar al te vaak de vorm van minachting aanneemt. Zo gebruikte Jan Blokker sr. de woorden 'rooms', 'katholiek' en 'Limburger' alleen maar pejoratief. Dat is verklaarbaar uit de verzuiling, toen Blokker zijn journalistieke hoogtijdagen beleefde, maar wel erg achterhaald en bij tijd en wijle ronduit onbeschoft."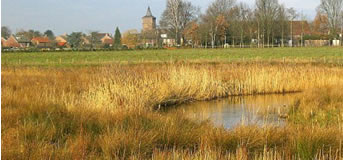 Chrétien Breukers (Leveroy, 28 maart 1965)
Leveroy
De Amerikaanse schrijver Nelson Algren werd geboren op 28 maart 1909 in Detroit. Zie ook alle tags voor Nelson Algren op dit blog.
Uit: Chicago: City on the Make
"To the east were moving waters, as far as eye could follow. To the west a sea of grass as far as wind might reach.
Waters restlessly, with every motion, slipping out of used colors for new. So that each fresh wind off the lake washed the prairie grasses with used sea-colors: the prairie moved in the light like a secondhand sea.
Till between the waters and the wind came the marked-down derelicts with the dollar signs for eyes.
Looking for any prairie portage at all that hadn't yet built a jail.
Beside any old secondhand sea.
The portage's single hotel was a barracks, its streets were pig-wallows, and all the long summer night the Pottawattomies mourned beside that river: down in the barracks the horse-dealers and horse-stealers were making a night of it again. Whiskey-and-vermilion hustlers, painting the night vermilion.
In the Indian grass the Indians listened: they too had lived by night.
And heard, in the uproar in the hotel, the first sounds of a city that was to live by night after the wilderness had passed. A city that was to roll boulevards down out of pig-wallows and roll its dark river uphill.
That was to forge, out of steel and blood-red neon, its own particular wilderness.
Yankee and voyager, the Irish and the Dutch, Indian traders and Indian agents, halfbreed and quarterbreed and no breed at all, in the final counting they were all of a single breed. They all had hustler's blood. And kept the old Sauganash in a hustler's uproar.
They hustled the land, they hustled the Indian, they hustled by night and they hustled by day. They hustled guns and furs and peltries, grog and the blood-red whiskey-dye; they hustled with dice or a deck or a derringer. And decided the Indians were wasting every good hustler's time.
Slept till noon and scolded the Indians for being lazy.
Paid the Pottawattomies off in cash in the cool of the Indian evening: and had the cash back to the dime by the break of the Indian dawn."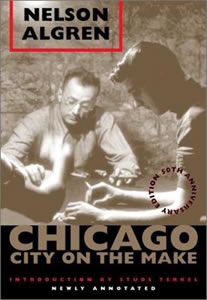 Nelson Algren (28 maart 1909 - 9 mei 1981)
Cover
De Zweedse schrijfster Marianne Fredriksson werd geboren in Göteborg op 28 maart 1927. Zie ook alle tags voor Marianne Fredriksson op dit blog en ook alle tags voor M. Fredriksson op dit blog.
Uit: According to Mary Magdalene (Vertaald door Joan Tate)
"As she was making breakfast, her curiosity overcame her and became compelling. I'll go. I'll put on my black mantle and a veil over my face. No one will recognize me.
It had gone well and no one had noticed her, a black crow among all the other black crows.
She could not sleep the night after the meeting, nor weep, although it was grief afflicting her, her heart, beating as if about to burst.
She got up and tried walking across the floor, but her legs would not carry her. For a while she tried blowing life into her old hatred of Simon and all those damned fishermen. And of Jesus himself, he who had preferred a cruel death to a life with her.
But her bitterness had gone.
Suddenly, with crystal clarity appeared the memory of her last meeting with the disciples in that dark hall in Jerusalem the man with the water jar had taken them to, the sun making its way through the high windows and weaving rays of glittering dust through the air. And the words, asking her, "Give us the words he spoke to you and which we do not know."
She could see now the men were weeping. How strange that she had forgotten their despair, she thought. Then she heard her own young voice.
"I saw the Lord in a vision and greeted him. He said: `Blessed are those who are not afraid of the sight of me. Wherever is your spirit lies the treasure.'"
She was so eager, she failed to notice the faces of the men round the table clouding over, and untiringly she went on telling them what he had said.
"'Be of good cheer, the Son of Man is within you. Follow him, he who seeks him will find him. Write no laws of this that I have revealed to you. Write no laws as the scribes do.'"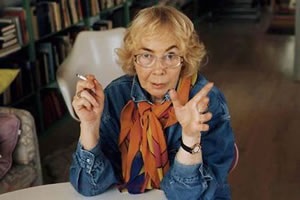 Marianne Frederiksson (28 maart 1927 – 11 februari 2007)
De Amerikaanse schrijver Russell Banks werd geboren op 28 maart 1940 in Newton, Massachusetts. Zie ook alle tags voor Russell Banks op dit blog.
Uit: Voyager
"Aman who's been married four times has a lot of explaining to do. Perhaps especially a man in his mid-seventies from northern New England who has longed since boyhood for escape, for rejuvenation, for wealth untold, for erotic and narcotic and sybaritic fresh starts, for high romance, mystery, and intrigue, and who so often has turned those longings toward the Caribbean. Why the Caribbean? Who can reliably say? Whether arriving as conquistador or castaway, as fugitive fmancier or packaged tourist or backpacking lonely planeteer, whether costumed as Ponce de Leon or Robinson Crusoe or Errol Flynn or Robert Vesco or the little-known American writer bearing the name of Russell Banks, early on I got yanked by the bright green islands and turquoise seas of the Caribbean out of myself and home into high-definition dreams that I projected onto my larger world like a hologram. And while some of my dreams were innocent enough or merely naive, like Crusoe's, and some reckless, like Flynn's, all of them got broken and re-formed by the reality of the place and the people who lived there: Ponce got slain by the natives on a south Florida beach; Crusoe, meeting Friday, learned humanity and went home a better man; Flynn, sailing to Jamaica, stepped ashore as Captain Blood; Vesco, conning Fidel, died in jail for it. And Russell Banks, that little-known writer from New England—it's still unclear what broke and re-formed him there. It's certain that something about the Caribbean draws Europeans and, especially, North Americans out of their accustomed lives. One rarely goes there solely to satisfy one's curiosity. It's not the semitropical winter climate and the white sands, either—although that's the usual explanation. That's what's advertised. And it's not the myth of long-delayed, long-desired release from puritanical inhibitions. Also much promoted. One travels to the Antilles driven by vague desires, mostly unexamined, rarely named, never advertised. One goes like a bee to a blossom, as if drawn by some powerful image of prelapsarian beauty and innocence, where life as one has grown used to it at home—polluted and corrupt and cold and erotically constricted and dark—has somehow been kept from the garden."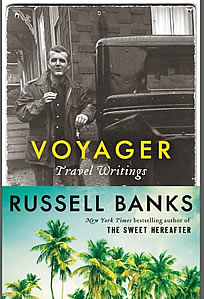 Russell Banks (Newton, 28 maart 1940)
Cover
De Franstalige dichter uit Guyana Léon-Gontran Damas werd geboren op 28 maart 1912 in Cayenne. Zie ook alle tags voor Léon-Gontran Damas op dit blog.
La complainte du nègre
Pour Robert Goffin

Ils me l'ont rendue
la vie
plus lourde et lasse

Mes aujourd'hui ont chacun sur mon jadis
de gros yeux qui roulent de rancoeur
de honte

Les jours inexorablement
tristes
jamais n'ont cessé d'être
à la mémoire
de ce que fut
ma vie tronquée

Va encore
mon hébétude
du temps jadis
de coups de corde noueux
de corps calcinés
de l'orteil au dos calcinés
de chair morte
de tisons
de fer rouge
de bras brisés
sous le fouet qui se déchaîne
sous le fouet qui fait marcher la plantation
et s'abreuver de sang de mon sang de sang la sucrerie
et la bouffarde du commandeur crâner au ciel.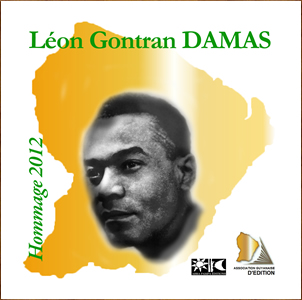 Léon-Gontran Damas (28 maart 1912 – 22 januari 1978)
Cover CD bij zijn 100e geboortedag
De Franse schrijver en dramaturg Éric-Emmanuel Schmitt werd geboren op 28 maart 1960 in Lyon. Zie ook alle tags voor Éric-Emmanuel Schmitt op dit blog.
Uit: Le visiteur
"..Ce siècle sera l'un des plus étranges que la terre ait portés. On l'appellera le siècle de l'homme, mais ce sera le siècle de toues les pestes. Il y aura la peste rouge, du côté de l'Orient, et puis ici, en Occident, la peste brune, celle qui commence à se répandre sur les murs de Vienne et dont vous ne voyez que les premiers bubons : bientôt elle couvrira le monde entier et ne rencontrera presque plus de résistance. .....
Et il y aura d'autres pestes, mais à l'origine de toues ces pestes, le même virus, celui même qui t'empêche de croire en moi : l'orgueil : Jamais l'orgueil humain n'aura été si loin. Il fut un temps où l'orgueil humain se contentait de défier Dieu ; aujourd'hui, il le remplace. Il y a une part divine en l'homme : c'est celle qui lui permet, désormais, de nier Dieu. Vous ne vous contentez pas à moins. Vous avez fait place nette : le monde n'est que le produit du hasard, un entêtement confus des molécules : Et dans l'absence de tout maître, c'est vous qui désormais légiférez. Etre le maître... ! Jamais cette folie ne vous prendra le front comme en ce siècle. Le maître de la nature : et vous souillerez la terre et noircirez les nuages : Le maître de la matière : et vous ferez trembler le monde ! Le maître de la politique : et vous créerez le totalitarisme : Le maître de la vie : et vous choisirez vos enfants sur catalogue : Le maître de votre corps : et vous craindrez tellement la maladie et la mort que vous accepterez de subsister à n'importe quel prix, pas vivre mais survivre, anesthésiés, comme des légumes en serre : Le maître de la morale : et vous penserez que ce sont les hommes qui inventent les lois, et au fond tout se vaut, donc rien ne vaut : Alors le Dieu sera l'argent, le seul qui subsiste, on lui construira des temples de partout dans les villes, et tout le monde pensera creux, désormais, dans l'absence de Dieu".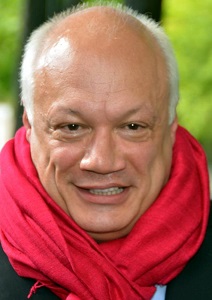 Éric-Emmanuel Schmitt (Lyon, 28 maart 1960)
Zie voor nog meer schrijvers van de 28e maart ook mijn blog van 28 maart 2016 deel 2 en eveneens deel 3.
28-03-2017 om 18:29 geschreven door Romenu

Tags:Walter van den Broeck, Joost de Vries, Mario Vargas Llosa, Chrétien Breukers, Nelson Algren, Marianne Frederiksson, Russell Banks, Léon-Gontran Damas, Éric-Emmanuel Schmitt, Romenu


27-03-2017

Heinrich Mann, Shusaku Endo, Golo Mann, Carolina Trujillo, Patrick McCabe, Bob den Uyl, Dubravka Ugresić, Francis Ponge, Marie Under
De Duitse schrijver Heinrich Mann werd geboren op 27 maart 1871 in Lübeck. Zie ook alle tags voor Heinrich Mann op dit blog.
Uit: Professor Unrat
"Unrat stampfte auf:
»Stille!... Und Sie, von Ertzum, merken Sie sich, daß Sie nicht der erste Ihres Namens sind, den ich in seiner Laufbahn – gewiß nun freilich – beträchtlich aufgehalten habe, und daß ich Ihnen auch ferner Ihr Fortkommen, wenn nicht gar unmöglich machen, so doch, wie seinerzeit Ihrem Onkel, wesentlich erschweren werde. Sie wollen Offizier werden, nicht wahr, von Ertzum? Das wollte Ihr Onkel auch. Weil er jedoch das Ziel der Klasse nie erreichte und das Reifezeugnis für den Einjährig-Freiwilligen-Dienst – aufgemerkt nun also – ihm dauernd versagt werden mußte, kam er auf eine sogenannte Presse, wo er jedoch ebenfalls gescheitert sein mag, so daß er endlich nur infolge eines besonderen Gnadenaktes seines Landesherrn – doch nun immerhin – den Zutritt zur Offizierskarriere erlangte, die er dann aber, scheint es, bald wieder unterbrechen mußte. Wohlan! Das Schicksal Ihres Onkels, von Ertzum, dürfte auch das Ihre werden oder doch dem jenes sich ähnlich gestalten. Ich wünsche Ihnen Glück dazu, von Ertzum. Mein Urteil über Ihre Familie, von Ertzum, steht seit fünfzehn Jahren fest ... Und nun –«
Hierbei schwoll Unrats Stimme unterirdisch an.
»Sie sind nicht würdig, an der erhabenen Jungfrauengestalt, zu der wir jetzt übergehen, Ihre geistlose Feder zu wetzen. Fort mit Ihnen ins Kabuff!«
Von Ertzum, langsam von Verständnis, lauschte noch immer. Vor angestrengter Aufmerksamkeit ahmte er unbewußt mit den Kiefern die Bewegungen nach, die der Professor mit den seinigen vollführte. Unrats Kinn, in dessen oberem Rand mehrere gelbe Gräten staken, rollte, während er sprach, zwischen den hölzernen Mundfalten wie auf Geleisen, und sein Speichel spritzte bis auf die vorderste Bank. Er schrie auf:
»Sie haben die Kühnheit, Bursche!... Fort, sage ich, ins Kabuff!«
Aufgescheucht drängte von Ertzum sich aus der Bank hervor. Kieselack raunte ihm zu:
»Mensch, wehr dich doch!«
Lohmann, dahinter, verhieß unterdrückt:
»Laß nur, den kriegen wir noch wieder kirre.«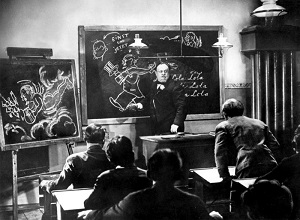 Heinrich Mann (27 maart 1871 – 12 maart 1950)
Scene uit "Der blaue Engel" (1930) met Emil Jannings als Professor Immanuel Rath. Het scenario van de film is gebaseerd op de roman "Professor Unrat"
De Japanse schrijver Shusaku Endo werd geboren in Tokio op 27 maart 1923. Zie ook alle tags voor Shusaku Endo op dit blog.
Uit: Kiku's Prayer (Vertaald door Van C. Gessel)
"Mountains covered with groves of camphor and alder trees. Farmhouses dot-ting the slopes. From the tops of the hills one can look straight down into Naga-saki harbor with its new rice lands reclaimed from the sea. Several years after the two girls were born—in 1885, to be exact—the French writer Pierre Loti, author of the famed Madame Chrysantheme, sang the praises of the verdant trees hovering over Nagasaki harbor. It was this same inlet, glimmering in the sun and lush with greenery, that Mitsu and Kiku saw every day. The little community of Magome, too, was blessed with sunlight and green-ery and yet was so astonishingly quiet. Little birds chirped in the camphor trees. At midday, as those voices tapered oft; somewhere a rooster crowed. The adults all are out working in the fields, and the children are at play. So many ways to amuse themselves. I can almost make out the small figures of Mitsu and Kiku among the children racing up and down the slopes. It was the grandmother of Mitsu and Kiku who said it "Mitsu is a spoiled little girl, and Kiku is a tomboy!" Her Granny may have called her "a spoiled little girl," but Mitsu wasn't the sort to ding like a puppy dog to her mother or her older brother. What was unique about Mitsu's personality is that she would accept unques-tioningly anything said by an older person. She believed everything she heard so implicitly that some people were left to wonder whether she was mentally deficient. For instance, when Mitsu was five, her older brother Ichijiro gave her some flower seeds. "Hey, see these? They're morning glory seeds!" Ichijiro dropped the gray seeds—one, two, three—into Mitsu's tiny hand. "Now, Mitsu, if you plant these and water them every single day, some cute little sprouts') come up!" "OK." With a nod, Mitsu set out running. Across the way, her cousin Kiku was playing jump rope with some other children. Mitsu gleefully showed her morning glory seeds to Kiku, and then with a refined gesture, like a high-class lady dropping her valuable jewels one by one into a box, she planted the gray seeds in the ground. Seated by the hearth that evening, !chip* who was ten years older than Mitsu, asked her,"Mitsu, did you plant your seeds?" "Yup," Mitsu nodded."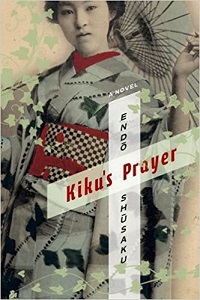 Shusaku Endo (27 maart 1923 – 29 september 1996)
Cover
De Duitse schrijver en historicus Golo Mann werd geboren in München op 27 maart 1909. Zie ook alle tags voor Golo Mann op dit blog.
Uit: Deutschland in Flammen
"Es ist ganz richtig, daß es heute fast keine Industrie gibt, die nicht irgendwie für die Kriegführung nutzbar gemacht werden könnte. Das heißt aber nicht, daß die Alliierten beabsichtigen, Deutschlands Industrien zu zerstören. Das deutsche Volk kann ohne industrielle Arbeit nicht leben. Es kann auch ohne Maschinen die Wiedergutmachungen gar nicht leisten, die von ihm gefordert werden. Zwischen Vernichtung und Überwachung ist ein großer Unterschied.
Das ist der ganze Plan von Jalta. Er ist nicht grausam, er ist auch nicht milde. Er bestimmt das, was notwendig ist. Er fordert, was gefordert werden muß, nicht mehr, nicht weniger. Die Nazi-Führer schreien: Mord! Sie haben auch ganz recht, soweit sie selber betroffen sind. Die Beschlüsse von Jalta bedeuten ihre politische Vernichtung, den Tod der schuldigen Kriegsverbrecher und Kriegsverlängerer. Aber niemand verliert gerne Macht und schönes Leben. Niemand kommt gerne vor Gericht. Die Antwort der Nazi-Bonzen auf die Beschlüsse von Jalta kann niemand überraschen. Solange aber diese Menschen den Krieg führen können, solange das deutsche Volk ihnen das erlaubt, so lange geht er weiter. Und zwar wird er leider in diesen letzten, in diesen allersinnlosesten Monaten so furchtbar werden, wie er bisher nie war.
Die Alliierten haben erklärt, daß immer gewaltigere Schläge kommen werden, von Osten und Westen, von Süden und Norden. Sie haben erklärt, daß ihre Stäbe jetzt enger zusammenarbeiten als je zuvor und daß Ort und Zeit und Ausmaß dieser Angriffe aufeinander abgestimmt sein werden wie nie zuvor. Die Alliierten tun das, was sie sagen. Sie wollen diese schlimme Sache zu Ende bringen, so oder so. Die anglo-amerikanischen Luftangriffe gegen Sachsen sind ein erstes Beispiel der neuen militärischen Zusammenarbeit zwischen Osten und Westen. Marschall Konjews Truppen stehen nur noch achtzig Kilometer von Dresden entfernt. Dresden ist der Mittelpunkt des deutschen Verteidigungssystems, des deutschen Nachschubs westlich von Schlesien. Durch Dresden führen die Straßen und Eisenbahnen, von Ost nach West, von Süd nach Nord. Dresden ist zur Frontstadt geworden, genau wie Berlin, genau wie Köln. Und genau wie diese Städte muß es behandelt werden."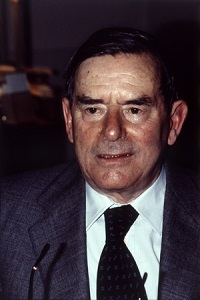 Golo Mann (27 maart 1909 - 7 april 1994)
De Uruguayaans-Nederlandse schrijfster Carolina Trujillo werd geboren in Montevideo, Uruguay, op 27 maart 1970. Zie ook alle tags voor Carolina Trujillo op dit blog.
Uit: De zangbreker
"Het kon hem niet schelen ook. Hij had bij de meeste mensen het beeld op zwart staan en communiceerde via de venstertjes waar ze in schreven. Elvis gaf graag bevelen. Rook nog een joint. Scheer je torso kaal. Schenk het glas nog een keer vol. Kijk naar mij terwijl ik me aftrek. Bliksem tikte dan altijd: Nee. Elvis drong niet aan en hij waarschuwde Bliksem altijd op tijd als hij van het geestelijke naar het fysieke over wilde gaan. Als Bliksem niet wilde kijken moest hij maar vertrekken. Meestal klikte Bliksem hem dan weg.
Ik kan me de eerste keer dat hij dat niet deed nog goed herinneren. Ik ben aan intimiteit toe, tikte Elvis. Oké, tikte Bliksem terug. Elvis' camera stond op zijn gezicht en een goed deel van zijn torso gericht. Die dag droeg hij een strak wit T-shirt waaronder je de spieren goed kon zien, vooral toen hij aan zichzelf begon te zitten. Hij veranderde de camera van positie. De tatoeages op zijn onderarmen werden zichtbaar. Even was alles in zijn venster wazig en toen kwam zijn kruis in beeld. Hij deed de knoop van zijn spijkerbroek open en de rits omlaag. Eronder droeg hij niks, alleen een half stijf geslachtsdeel. Lang en dun. Bliksem wilde hem wegklikken, iets anders gaan doen, niet deze afdaling inzetten, maar hij kon het niet. Weg, dacht hij, en hij haatte zichzelf, en hij bleef. Wat vind je ervan?' Hij schrok. Hij had niet gemerkt dat zijn speakers nog aanstonden. Bliksem antwoordde niet maar bleef kijken. Elvis begon zich langzaam af te trekken. Op de knokkels van zijn rechterhand stond AMOR. Hoeveel mensen kijken er nu naar je? tikte Bliksem. `Zeventien.' Mannen of vrouwen? `Alleen jongens.' Vind je dat leuk? Elvis kreunde. Bliksem bracht zijn hand naar de muis en klikte hem weg. Smart beheersen, misschien kwam het daarop neer, maar Bliksem kon dat niet. Hij rookte een joint en in de nevelen die hij om zichzelf heen optrok vond hij weer een weg naar Elvis' scherm. De lange dunne piemel stond overeind als een raket. Soms stopte Elvis even met trekken en tikte wat. Kennelijk was hij met iemand in gesprek. Misschien wel met meer mensen. Bliksem trok de stekker uit zijn scherm, poetste zijn tanden en ging naar bed. Toen hij de volgende dag wakker werd, was het ergens in de middag. Hij liep naar buiten en plaste tussen de planten. Op zijn beeldscherm stond het venster open waar de camera op de lege troon van Elvis was gericht."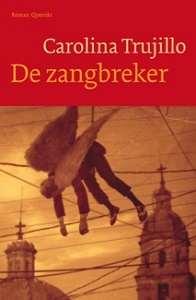 Carolina Trujillo (Montevideo, 27 maart 1970)
Cover
De Ierse schrijver Patrick Joseph McCabe werd geboren op 27 maart 1955 in Clones, Monaghan. Zie ook alle tags voor Patrick Mc Cabe op dit blog.
Uit: The Butcher Boy
"It was a pity but Mary's was shut so I had to come back and tell ma. I wanted to see if I could still get keeping the sixpence. But when I tried to open the door it wouldn't. I knocked at the window but all I could hear was the tap ssssss. Ma must be up the stairs I said whistling and rolling the tanner round in my hand wondering would I get the Flash Bars after all or maybe six cough-no-more black toffees. Then I heard a clatter I thought I'd better get in the window to see what that was I thought maybe Grouse Armstrong or someone was in stealing the sausages again but when I got into the kitchen who's there only ma standing there and a chair sideways on the table. What's that doing up there ma I says it was fuse wire belonging to da just dangling but she didn't say what it was doing there she was just stood there picking at her nail and going to say something and then not saying it. I told her Mary's was shut could I still keep the sixpence she said I could Yee ha! I said and bombed off out to the border shop to get six cough-no-mores but then when I got there I said two Flash Bars and a macaroon please. When I got back ma was doubled up in the chair by the dead fire for a minute I thought she was shivering with the cold but then she looked at me and said: You know you were only five pounds weight when you were born Francie.
It wasn't too long after that ma was took off to the garage. She says to me: I'm away off up the town now Francie I have to get the baking started for your Uncle Alo's Christmas party. Right, I says, I'll just stay here and watch the telly and off she went I didn't notice the time passing until I heard Mrs Connolly at the door with da and some other women she said ma'd been standing for two hours looking in the window of the fishing tackle shop with the bag on the ground and a tin of beans rolling round the footpath."


Patrick McCabe (Clones, 27 maart 1955)
Francie Brady (Eamonn Owens) en Joe Purcell (Alan Boyle) in de film "The Butcher Boy" uit 1997
De Nederlandse schrijver Bob den Uyl werd geboren in Rotterdam op 27 maart 1930. Zie ook alle tags voor Bob den Uyl op dit blog.
Uit: Het fietswiel
"Ik keek hem aan, zijn gezicht was onder het spreken gaan glimmen, een glimmend varken dat kon spreken. Hoe kan ik me verweren tegen zo iemand? Ik loop over die verbazend ongezellige marktterreinen in de kille wind onder het viaduct door, de vierkante blauwgrijze tegels schuiven steeds afwerender onder mijn voeten weg en hun kou kruipt door mijn zolen heen naar boven en ik weet alleen dat ik nog leef, voor zover dat betekent dat je hart klopt, en dat ik alleen ben, want dat ben ik, ik schaam mij niet dat te bekennen en ik weet het, terwijl het de bedoeling is dat je daar pas achter komt op het punt van doodgaan en je voelt hoe je hart de pas inhoudt - maar misschien gaat het anders, op dit punt ben ik zonder ervaring -, en dan ineens zie je het wonder, vlak voor je ogen, daar ligt het tussen wat stenen en afval, het wonder, de absolute opening, de enige ontsnappingsmogelijkheid uit een bestaan dat om je heen hangt als een carnavalspak, maar dat toch alles is wat je hebt, een doelloze wandeling... je valt op je knieën, het is niet te geloven, je wilt alles tegelijk omvatten, doorgronden, en dan als een schuifdeksel komt de schaduw over je van een dikke man die Szabul blijkt te heten, die er misschien alles van weet maar jou dit niet wil vertellen omdat hij niet begrijpt hoe iemand daarnaar verlangen kan, hoe kan je je daar dan tegen verweren? En niet alleen verweren maar ook voorgoed afrekenen, de zwarte schaduwen vernietigen, in de zonnewarmte komen. Alleen, wat is zonnewarmte voor een woord, het drukt niets meer uit, het maakt alleen in de kinderkamer nog indruk. Wat een verlangen naar de hitte van een kokende gasbal op een onmenselijke afstand.
Szabul, ik kijk naar je, je glorieert in je wetenschap van het uiteindelijke verdwijnpunt, je zweet van innerlijke heerlijkheid. Die verdomde zelfverzekerdheid van je is maar schijn, je hebt je holle ziel gestoken in steeds weer dikkere huiden, in stalen pantseringen als het moest, terwijl ik naakt voor je sta, naakt godverdomme, en het ellendige is dat ik er niets aan kan doen, het is vanzelf gegaan. Mijn altijd al dunne schutlagen zijn één voor één verdwenen in het niets, ik voelde ze gaan en kon ze niet tegenhouden, ik sprong ze wanhopig na om teruggevallen te ontdekken dat ik weer naakter was geworden, totdat zelfs de onderste laag was verdwenen en ik erger dan naakt, ontveld, het schaarse vlees bloot in de wind, de spieren verstijfd en verkrampt, moest lopen in de kille stad op zoek naar wat eigenlijk? de kracht missend om het enige wapen dat mijn lichaam nog zou kunnen voortbrengen, de vloek, te gebruiken, want zelfs vloeken eisen hun calorieën."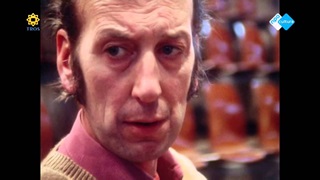 Bob den Uyl (27 maart 1930 - 14 februari 1992)
De Kroatische schrijfster Dubravka Ugrešić werd geboren op 27 maart 1949 in Kutina in Joegoslavië. Zie ook alle tags voor Dubravka Ugrešić op dit blog.
Uit: Europe in Sepia
"I was glued to reports on the recent riots in the London boroughs of Tottenham, Hackney, and Brixton, stunned by the images of seething youth smashing shop windows and making their grab for street wear and electronics. Expensive mobile phones apparently topped their consumer desires, a detail that disappointed many commentators (If only they'd stolen bread and milk, we'd understand!). I became fixated on something else though: a Waterstones' bookstore the kids passed by might as well have been an undertaker's. But they didn't miss a beat in cleaning out the backpack of another dazed and confused kid who obviously needed medical attention, leaving him bloodied and lost in the street. On our television screens, we shocked viewers saw what we were given to see. Each of us projected our own fears onto the Rorscharchian stain of the London riots.
Around the same time, the beginning of August 2011, a Serbian news portal carried a witty article about the opening of a new bridge. In Belgrade, the capital, there's an old bridge called Branko's Bridge. Although named after the Serbian poet Branko Radi-cˇevic´, it's better known for the fact that another Branko jumped from it, Branko C´opic´, a fellow writer. The author of the article noted that among terminally morose Serbian writers, the opening of the new bridge had been greeted with rare delight, and that a kind of competition was on to see who'd christen the bridge with a jump, thus winning naming rights. The bookies were already taking bets on the next writer-suicide. Among the many comments on the article, someone made an appeal that these things not be joked about; someone else observed that others might also like to think about jumping (Why only writers? What about single mothers?); a third person suggested that politicians should take a jump (Jump, Tadic´! We'll call it Boris's Bridge, for sure!); a fourth person remarked that a lot of people in Serbia seemed to unfortunately have no idea who Branko C´opic´ was; a fifth suggested that a list of candidates for pushing be prepared."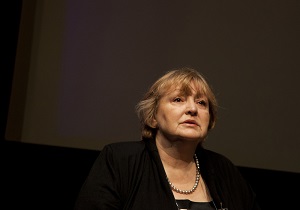 Dubravka Ugrešić (Kutina, 27 maart 1949)
De Franse dichter en schrijver Francis Ponge werd geboren op 27 maart 1899 in Montpellier. Zie ook alle tags voor Francis Ponge op dit blog.
Le Sérieux Défait
Mesdames et messieurs, l'éclairage est oblique. Si quelqu'un fait des gestes derrière moi qu'on m'avertisse. Je ne suis pas un bouffon.
Mesdames et messieurs : la face des mouches est sérieuse. Cet animal marche et vole à son affaire avec précipitation. Mais il change brusquement ses buts, la suite de son
manège est imprévue : on dit que cet insecte est dupe du hasard. 11 ne se laisse pas approcher : mais au contraire il vient, et vous touche souvent où il veut; ou bien, de moins
près, il vous pose la face seule qu'il veut. Chasssé, il fuit, mais revient mille instants par mille voies se reposer au chasseur. On rit à l'aise. On dit que c'est
comique.
En réfléchissant, on peut dire encore que les hommes regardent voler les mouches.
Ah! mesdames et messieurs, mon haleine n'incom-mode-t-elle pas ceux du premier rang? Était-ce bien ce soir que je devais parler? Assez, n'est-ce pas? vous n'en supporteriez pas davantage.
Le Jeune Arbre
Ta rose distraite et trahie
Par un entourage d'insectes
Montre depuis sa robe ouverte
Un cœur par trop empiété.
Pour cette pomme l'on te rente
Et que t'importe quelqu'enfant
Fais de toi-même agitateur
Déchoir le fruit comme la fleur.
Quoiqu'encore malentendu
Et peut-être un peu bref contre eux
Parle!
Dressé face à tes pères
Poète vêtu comme un arbre
Parle, parle contre le vent
Auteur d'un fort raisonnement.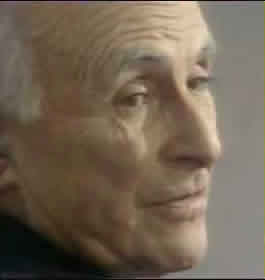 Francis Ponge (27 maart 1899 – 6 augustus 1988)
De Estlandse dichteres Marie Under werd geboren op 27 maart 1883 in Tallin. Zie ook alle tags voor Marie Under op dit blog.
Denunciation
I cry aloud with all my people's mouths,
our land is smitten by a plague of fear and lead,
our land is shadowed by the gallows tree
our land a common graveyard, huge with dead.

Who'll come to help? Right here, at present, now!
Because the patient's weak, has lost his hold.
But, like the call of birds, my shouting fades
in emptiness: the world is arrogant and cold.

The sighing of the old, the baby's cry —
do they all run to sand, illusion, fail?
Men, women groan like wounded deer
to those in power all this is just a fairy-tale.

Dark is the world's eye, its ear is deaf,
the powerful lost in madness or stupidity.
Compassion's only felt by those whom suffering breaks,
and sufferers alone have hearts like you and me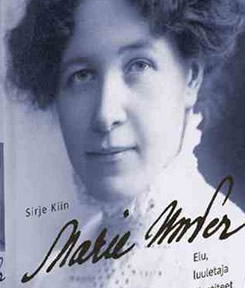 Marie Under (27 maart 1883 – 25 september 1980)
Portret door Ants Laikmaa, 1904
Zie voor nog meer schrijvers van de 27e maart ook mijn blog van 27 maart 2016 deel 2 en eveneens deel 3.
27-03-2017 om 18:51 geschreven door Romenu

Tags:Heinrich Mann, Shusaku Endo, Golo Mann, Carolina Trujillo, Patrick McCabe, Bob den Uyl, Dubravka Ugresić,, Francis Ponge, Marie Under, Romenu


26-03-2017

Tennessee Williams, Gregory Corso, Hwang Sun-won, Martin McDonagh, Robert Frost, Patrick Süskind
De Amerikaanse schrijver Tennessee Williams (eigenlijk Thomas Lanier Williams) werd geboren in Columbus, Mississippi, op 26 maart 1911. Zie ook alle tags voor Tennessee Williams op dit blog.
Uit: A Streetcar Named Desire
"STELLA : I don't want to hear any more!
STANLEY: She's not going back to teach school! In fact I am willing to bet you that she never had no idea of returning to Laurel! She didn't resign temporarily from the high school because of her nerves! No, siree, Bob! She didn't. They kicked her out of that high school before the spring term ended—and I hate to tell you the reason that step was taken! A seventeen-year-old boy—she'd gotten mixed up with!
BLANCHE: "It's a Barnum and Bailey world, Just as phony as it can be—"
[In the bathroom the water goes on loud; little breath-less cries and peals of laughter are heard as if a child were frolicking in the tub.]
STELLA : This is making me—sick!
STANLEY: The boy's dad learned about it and got in touch with the high school superintendent. Boy, oh, boy, I'd like to have been in that office when Dame Blanche was called on the carpet! I'd like to have seen her trying to squirm out of that one! But they had her on the hook good and proper that time and she knew that the jig was all up! They told her she better move on to some fresh territory. Yep, it was practickly a town ordinance passed against her! [The bathroom door is opened and Blanche thrusts her head out, holding a towel about her hair.]
BLANCHE: Stella!
STELLA [faintly]: Yes, Blanche?
BLANCHE: Give me another bath-towel to dry my hair with. I've just washed it."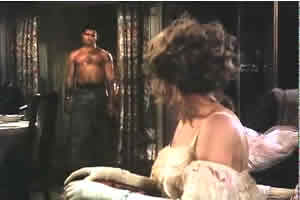 Tennessee Williams (26 maart 1911 – 25 februari 1983)
Scene uit de gelijknamige tv-film uit 1984 met o.a.Treat Williams als Stanley Kowalski
De Amerikaanse dichter Gregory Corso werd geboren in New York op 26 maart 1930. Zie ook alle tags voor Gregory Corso op dit blog.
America Politica Historia, In Spontaneity (Fragment)
O this political air so heavy with the bells
and motors of a slow night, and no place to rest
but rain to walk—How it rings the Washington streets!
The umbrella'd congressmen; the rapping tires
of big black cars, the shoulders of lobbyists
caught under canopies and in doorways,
and it rains, it will not let up,
and meanwhile lame futurists weep into Spengler's
prophecy, will the world be over before the races blend color?
All color must be one or let the world be done—
There'll be a chance, we'll all be orange!
I don't want to be orange!
Nothing about God's color to complain;
and there is a beauty in yellow, the old Lama
in his robe the color of Cathay;
in black a strong & vital beauty,
Thelonious Monk in his robe of Norman charcoal—
And if Western Civilization comes to an end
(though I doubt it, for the prophet has not
executed his prophecy) surely the Eastern child
will sit by a window, and wonder
the old statues, the ornamented doors;
the decorated banquet of the West—
Inflamed by futurists I too weep in rain at night
at the midnight of Western Civilization;
Dante's step into Hell will never be forgotten by Hell;
the Gods' adoption of Homer will never be forgotten by the Gods;
the books of France are on God's bookshelf;
no civil war will take place on the fields of God;
and I don't doubt the egg of the East its glory—
Yet it rains and the motors go
and continued when I slept by that wall in Washington
which separated the motors in the death-parlor
where Joe McCarthy lay, lean and stilled,
ten blocks from the Capitol—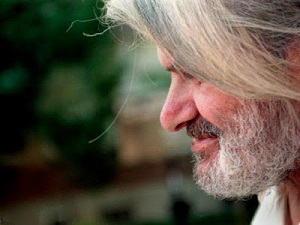 Gregory Corso (26 maart 1930 – 17 januari 2001)
In 1994
De Zuid-Koreaanse dichter en schrijver Hwang Sun-won werd geboren op 26 maart 1915 in Taedong, Zuid-Pyongan, in het hedendaagse Noord-Korea. Zie ook alle tags voor Hwang Sun-won op dit blog.
Uit:A Shower (Vertaald door broeder Anthony van Taizé)
"They reached the point where the path divided. From here the girl has to go a mile or so downhill, the boy two or three miles uphill.
The girl stopped and said, 'Have you ever been beyond that hill?'
She pointed beyond the end of the fields.
'Never.'
'Why don't we go? Down here in the country, it's so boring I can't stand it.' 'It's a long way, anyway.'
'How far do you mean by far? Up in Seoul we used walk a long way on picnics.' The girl's eyes seemed to be saying, 'Silly boy! Silly boy!'
They took a path between two paddy fields. They passed close to where the autumn harvest was under way.
A scarecrow was standing there. The boy shook its straw rope. A few sparrows go flying off. The thought comes to him that he was supposed to go home early today to scare the sparrows from their main paddy field.
'This is fun!'
The girl is holding the scarecrow's rope and is tugging at it. The scarecrow sways, seems to be dancing. A light dimple appeared on the girl's left cheek.A bit further away there is another scarecrow. The girl goes running toward it. The boy is running behind her. It's as if he's trying to forget that today he was supposed to go home early and help with the work.
He just runs on close beside the girl. Grasshoppers strike their faces and leave them stinging. The perfectly clear azure sky of autumn starts to turn before the boy's eyes. He is dizzy. It's because that eagle up there, that eagle up there, that eagle up there is turning.
Looking behind, the girl is shaking the scarecrow he has just run past. It sways better than the other one. At the place where the rice fields ended was a ditch. The girl jumped across it first.
From there as far as the foot of the hills was all fields.
They passed the top of a field where millet stalks were stacked together."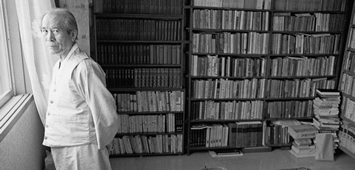 Hwang Sun-won (26 maart 1915-14 september 2000)
De Engels-Ierse schrijver en regisseur Martin McDonagh werd geboren op 26 maart 1970 in Camberwell, Londen. Zie ook alle tags voor Martin McDonagh op dit blog.
Uit: The Lieutenant of Inishmore
"DONNY And was his since he was five years old. His only friend for fifteen year. Brought him out to me when he started moving about the country bombing places and couldn't look after him as decent as he thought needed. His only friend in the world, now.
DAVEY Was he fond of him?
DONNY Of course he was fond of him.
DAVEY Oh he'll be mad.
DONNY He will be mad.
DAVEY As if he wasn't mad enough already. Padraic's mad enough for seven people. Don't they call him 'Mad Padraic'?
DONNY They do.
DAVEY Isn't it him the IRA wouldn't let in because he was too mad?
DONNY It was. And he never forgave them for it.
DAVEY Maybe he's calmed down since he's been travelling.
DONNY They tell me he's gotten worse. I can just see his face after he hears. And I can just see your face too, after he hears your fault it was. I can see him plugging holes in it with a stick.
DAVEY (dropping to his knees) Oh please, Donny, I swear to God it wasn't me. Don't be saying my name to him, now. Sure, Padraic would kill you for sweating near him, let alone this. Didn't he outright cripple the poor fella laughed at that girly scarf he used to wear, and that was when he was twelve?!
DONNY His first cousin too, that fella was, never minding twelve! And then pinched his wheelchair!
DAVEY Please now, Donny, you won't be mentioning my name to him?
Donny gets up and ambles around. Davey stands also."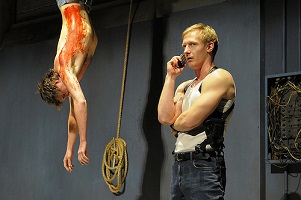 Martin McDonagh (Camberwell, 26 maart 1970)
Scene uit een opvoering in Berkeley, Californië, 2011
De Amerikaanse dichter Robert Lee Frost werd geboren op 26 maart 1874 in San Francisco. Zie ook alle tags voor Robert Frost op dit blog.
A Late Walk
When I go up through the mowing field,
The headless aftermath,
Smooth-laid like thatch with the heavy dew,
Half closes the garden path.
And when I come to the garden ground,
The whir of sober birds
Up from the tangle of withered weeds
Is sadder than any words
A tree beside the wall stands bare,
But a leaf that lingered brown,
Disturbed, I doubt not, by my thought,
Comes softly rattling down.
I end not far from my going forth
By picking the faded blue
Of the last remaining aster flower
To carry again to you.
The Birthplace
Here further up the mountain slope
Than there was every any hope,
My father built, enclosed a spring,
Strung chains of wall round everything,
Subdued the growth of earth to grass,
And brought our various lives to pass.
A dozen girls and boys we were.
The mountain seemed to like the stir,
And made of us a little while-
With always something in her smile.
Today she wouldn't know our name.
(No girl's, of course, has stayed the same.)
The mountain pushed us off her knees.
And now her lap is full of trees.

A Question
A voice said, Look me in the stars
And tell me truly, men of earth,
If all the soul-and-body scars
Were not too much to pay for birth.

Robert Frost (26 maart 1874 – 29 januari 1963)
Hier op zijn 85e verjaardag in 1959
De Duitse schrijver Patrick Süskind werd geboren in Ambach op 26 maart 1949. Zie ook alle tags voor Patrick Süskind op dit blog.
Uit: Das Parfum
"Man schaut nach, entdeckt unter einem Schwarm von Fliegen und zwischen Gekröse und abgeschlagenen Fischköpfen das Neugeborene, zerrt es heraus. Von Amts wegen wird es einer Amme gegeben, die Mutter festgenommen. Und weil sie geständig ist und ohne weiteres zugibt, dass sie das Ding bestimmt würde haben verrecken lassen, wie sie es im übrigen schon mit vier anderen getan habe, macht man ihr den Prozess, verurteilt sie wegen mehrfachen Kindermords und schlägt ihr ein paar Wochen später auf der Place de Grève den Kopf ab.
Das Kind hatte zu diesem Zeitpunkt bereits das dritte Mal die Amme gewechselt. Keine wollte es länger als ein paar Tage behalten. Es sei zu gierig, hieß es, sauge für zwei, entziehe den anderen Stillkindern die Milch und damit ihnen, den Ammen, den Lebensunterhalt, da rentables Stillen bei einem einzigen Säugling unmöglich sei. Der zuständige Polizeioffizier, ein gewisser La Fosse, war die Sache alsbald leid und wollte das Kind schon zur Sammelstelle für Findlinge und Waisen in der äußeren Rue Saint-Antoine bringen lassen, von wo aus täglich Kindertransporte ins staatliche Großfindelheim von Rouen abgingen. Da nun aber diese Transporte von Lastträgern vermittels Bastkiepen durchgeführt wurden, in welche man aus Rationalitätsgründen bis zu vier Säuglinge gleichzeitig steckte; da deshalb die Sterberate unterwegs außerordentlich hoch war; da aus diesem Grund die Kiepenträger angehalten waren, nur getaufte Säuglinge zu befördern und nur solche, die mit einem ordnungsgemäßen Transportschein versehen waren, welcher in Rouen abgestempelt werden musste; da das Kind Grenouille aber weder getauft war noch überhaupt einen Namen besaß, den man ordnungsgemäß in den Transportschein hätte eintragen können; da es ferner seitens der Polizei nicht gut angängig gewesen wäre, ein Kind anonymvor den Pforten der Sammelstelle auszusetzen, was allein die Erfüllung der übrigen Formalitäten erübrigt haben würde..."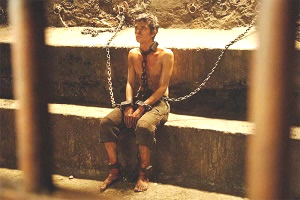 Patrick Süskind (Ambach, 26 maart 1949)
Ben Whishaw als Jean-Baptiste Grenouille in de film uit 2006
Zie voor nog meer schrijvers van de 26e maart ook mijn vorige blog van vandaag.
26-03-2017 om 12:36 geschreven door Romenu

Tags:Tennessee Williams, Gregory Corso, Hwang Sun-won, Martin McDonagh, Robert Frost, Patrick Süskind, romenu



A. E. Housman, Bettina Galvagni, Hai Zi, Erica Jong, Artur Landsberger
De Engelse dichter Alfred Edward Housman werd geboren op 26 maart 1859 in Fockbury, Worcestershire. Zie ook alle tags voor A. E. Housman op dit blog.
To An Athlete Dying Young
The time you won your town the race
We chaired you through the market-place;
Man and boy stood cheering by,
And home we brought you shoulder-high.
To-day, the road all runners come,
Shoulder-high we bring you home,
And set you at your threshold down,
Townsman of a stiller town.
Smart lad, to slip betimes away
From fields where glory does not stay
And early though the laurel grows
It withers quicker than the rose.
Eyes the shady night has shut
Cannot see the record cut,
And silence sounds no worse than cheers
After earth has stopped the ears:
Now you will not swell the rout
Of lads that wore their honours out,
Runners whom renown outran
And the name died before the man.
So set, before its echoes fade,
The fleet foot on the sill of shade,
And hold to the low lintel up
The still-defended challenge-cup.
And round that early-laurelled head
Will flock to gaze the strengthless dead,
And find unwithered on its curls
The garland briefer than a girl's.
Here Dead We Lie
Here dead we lie
Because we did not choose
To live and shame the land
From which we sprung.
Life, to be sure,
Is nothing much to lose,
But young men think it is,
And we were young.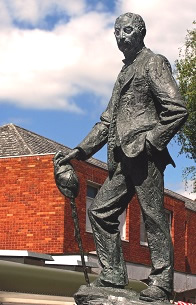 A. E. Housman (26 maart 1859 – 30 april 1936)
Standbeeld in Bromsgrove

De Italiaanse, Duitstalige, dichteres en schrijfster Bettina Galvagni werd geboren op 26 maart 1976 in Neumarkt. Zie ook alle tags voor Bettina Galvagni op dit blog.
Uit:Eine herumirrende jüdische Seele
"Ich heiße Guinevere und sehe ein wenig aus wie Anne Frank. Das heißt, manchmal sehe ich ihr wirklich ähnlich. Das sind die Tage, an denen man mich auf der Straße darauf anspricht.
Einmal bot man mir sogar an, in einer kleinen Off-Theaterproduktion in Passy Anne Frank zu spielen. Ich wollte es unbedingt tun, aber ich konnte nicht. Mit zwölf hatte ich Annes Tagebücher gelesen. Dazu sperrte ich mich ein, in einem Zimmer, wo man nur ein Fragment des Himmels sehen konnte.
Später, als ich älter war, sperrte ich mich wieder und wieder ein, und das dunkle Zimmer mit dem kleinen Himmelsausschnitt war voller Juden. Ich fing an, einmal in der Woche Sarah Kofmans Grab zu besuchen und dem Ritual gemäß ein mit einem Stein beschwertes Métroticket dort hinzulegen. An einem anderen Tag in der Woche ging ich zu meiner jüdischen Psychoanalytikerin. Sie hieß Rachel Zilberstein, und ich verehrte und liebte sie so sehr,daß ich ständig an sie dachte. Ich schloß mich ein, las Bücher jüdischer Schriftsteller und hörte Penderecki oder Górecki so laut, wie andere andere Musik laut hören. Nur De profundis und Tumbalalaika hörte ich leise. Leider hatte ich keine Katze mehr, die auf meinem Schoß gelegen wäre und die ich sanft gestreichelt hätte. Im Sommer besuchte mich oft eine Wespe und legte sich auf dem Fenstersims schlafen, das heißt, sie legte sich sterben.
In meinem Zimmer starben viele Wespen, ich hob sie alle auf und benutzte ein Medizinfläschchen als Urne. Ich empfand eine zärtliche Liebe für sie, denn sie besaßen eine wunderbare Form, und manchmal schliefen sie mit herausgestrecktem Stachel. Bevor sie sich schlafen legten, schwirrten sie ein paarmal psychotisch im Zimmer herum und pochten wie Spechte gegen die Wand. Es kam vor, daß ich dann von meinem Bett aufstand aus Angst, daß sie mich stechen könnten."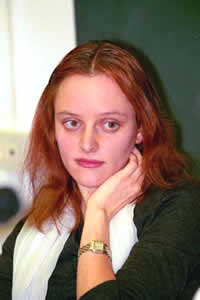 Bettina Galvagni (Neumarkt, 26 maart 1976)
De Chinese dichter Hai Zi (pseudoniem van de Chinese dichter Cha Haisheng) werd geboren op 26 maart 1964 in Huaining, een klein dorpje in de provincie Anhui. Zie ook alle tags voor Hai Zi op dit blog.
Elegy (II: picking sunflowers)
—for Van Gogh's tale: the suicidal journey
The man stealing cattle in the stormy night
Crawled through my window
On my dreaming body
Picks sunflowers
I am still slumbering
On my sleeping dreamed body
Mottled sunflowers opened
Those two hands that pluck
In the sunflower field
Are like beautiful clumsy pigeons.
The man stealing cattle in the stormy night
From mankind me
He pilfers from the body.
I am still slumbering
I am brought outside the body
Outside the sunflowers. I am in the world
The first ewe (death's empress)
I feel myself beautiful
I am still slumbering.
The man steals cattle in the stormy night
And so is very happy
The self became another mottled ewe
In my body
Running filled with joy
Vertaald door Gerald Maa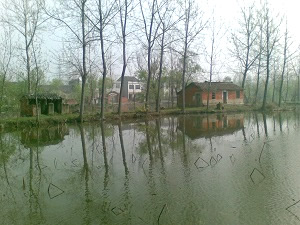 Hai Zi (26 maart 1964 – 26 maart 1989)
Huaining
De Amerikaanse dichteres en schrijfster Erica Jong werd geboren in New York op 26 maart 1942. Zie ook alle tags voor Erica Jong op dit blog.
Climbing You
I want to understand the steep thing
that climbs ladders in your throat.
I can't make sense of you.
Everywhere I look you're there--
a vast landmark, a volcano
poking its head through the clouds,
Gulliver sprawled across Lilliput.
I climb into your eyes, looking.
The pupils are black painted stage flats.
They can be pulled down like window shades.
I switch on a light in your iris.
Your brain ticks like a bomb.
In your offhand, mocking way
you've invited me into your chest.
Inside: the blur that poses as your heart.
I'm supposed to go in with a torch
or maybe hot water bottles
& defrost it by hand
as one defrosts an old refrigerator.
It will shudder & sigh
(the icebox to the insomniac).
Oh there's nothing like love between us.
You're the mountain, I am climbing you.
If I fall, you won't be all to blame,
but you'll wait years maybe
for the next doomed expedition.
The Man Giving Birth In The Dark
The man giving birth in the dark
has died
& come back
to life again,
is stretching out his arms
in the dark
as if to embrace
favorite ghosts.
His heart stops
& starts.
Once more
he has been pardoned
for nothing.
It is my father
making the darkness
into daughters.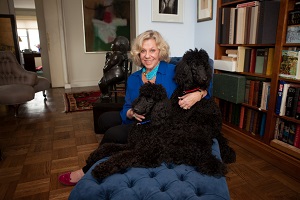 Erica Jong (New York, 26 maart 1942)
De Duitse schrijver en criticus Artur Hermann Landsberger werd geboren op 26 maart 1876 in Berlijn. Zie ook alle tags voor Artur Landsberger op dit blog.
Uit: Bankhaus Reichenbach
"Das Bankhaus der Gebrüder Reichenbach & Co. am Berliner Gendarmenmarkt war eins der angesehensten Privatinstitute der Reichshauptstadt. Im Jahre 1778 von Ferdinand Reichenbach gegründet, den König Friedrich II. mit dem Titel Hofbankier auszeichnete, sah es bald der Feier seines hundertfünzigjährigen Bestehens entgegen. Auch gesellschaftlich spielte die Familie Reichenbach bis zum Weltkriege eine Rolle. Nicht durch geräuschvolle Feste und Hervortreten bei öffentlichen Veranstaltungen. Man sah sie weder bei den Premieren im Opernhaus, noch auf den Subskriptions- und Pressebällen, weder zu den Paraden auf dem Tempelhofer Feld, noch bei den Rennen in Hoppegarten und Karlshorst. Aber es galt für einen Vorzug, bei Reichenbachs zu verkehren, selbst für die Offiziere der Gardekavallerie, die sich bekanntlich nicht gerade in die bürgerlichen Salons drängten. Die Botschafter und Gesandten der fremden Staaten gaben bei ihnen die Karten ab, und zwar zuerst, was den Neid gesellschaftlich ehrgeiziger Familien, die sich mehr dünkten, erregte. Zu alledem taten Reichenbachs nichts. Darin gerade lag ihre Stärke. Sie suchten nicht, sie ließen sich suchen. Das taten viele. Aber von den vielen unterschieden sie sich dadurch: sie taten nichts dazu, daß man sie fand.
Die Umstellung nach dem Kriege und der Revolution bot Menschen ohne Tradition, selbst wenn sie Gewissen hatten, keine Schwierigkeit. Am allerwenigsten den Angehörigen des Bankgewerbes. Gerade ihnen hatte man Generationen hindurch den Staat als das Muster eines redlichen Kaufmanns vor Augen gehalten. Warum sollten sie sich da nicht auch jetzt auf ihn als Vorbild berufen, wenn sie Dinge taten, die, über das ungeschriebene Gesetz der guten Sitten hinaus, gegen Treu und Glauben verstießen. Wer sich wie Leonard Reichenbach aber die Frage vorlegte: wie hätte dein Vater, Groß- und Urgroßvater in einem solchen Falle gehandelt, der rettete zwar seinen guten Ruf, der um das Jahr 1928 herum nicht hoch im Preise stand, verlor aber sein Vermögen.
Als Leonard Reichenbach damals, um durch den Krieg unterbrochene Geschäftsverbindungen wieder anzuknüpfen, mit den Direktoren anderer Banken nach Neuyork fuhr, erwiesen sich Tradition und Charakter für ihn als schwere Belastung. Denn während jene Direktoren, die im Interesse der von ihnen geleiteten Banken reisten, in erster Linie an die Rettung ihres eigenen Vermögens dachten, sah Reichenbach seine Hauptaufgabe darin, die ihm anvertrauten Kapitalien seiner Kunden zu retten."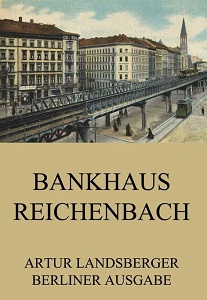 Artur Landsberger ( 26 maart 1876 – 4 oktober 1933)
Cover
26-03-2017 om 12:35 geschreven door Romenu

Tags:A. E. Housman, Bettina Galvagni, Hai Zi, Erica Jong, Artur Landsberger, Romenu



Am vierten Sonntage in der Fasten (Annette von Droste-Hülshoff)
Bij de vierde zondag van de vasten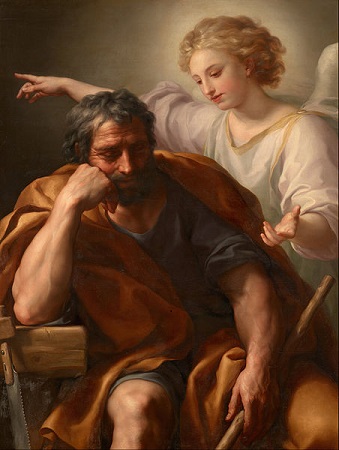 De droom van St. Jozef door Anton Raphael Mengs, ca. 1773/1774
Am vierten Sonntage in der Fasten
Josephsfest

Gegrüßt in deinem Scheine,
Du Abendsonne reine,
Du alter Lilienzweig,
Der du noch hast getragen
In deinen grauen Tagen
So mildes Blütenreich!

Je mehr es sich entfaltet,
Zum Ehrenkranz gestaltet,
Der deine Stirn umlaubt:
Je mehr hast du geneiget,
In Ehrfurcht ganz gebeuget
Dein gnadenschweres Haupt.

Wie ist zu meinem Frommen
Dein freundlich Fest gekommen
In diese ernste Zeit!
Ich war fast wie begraben;
Da kömmst du mich zu laben
Mit seltner Freudigkeit.

Zu dir will ich mich flüchten,
Mein scheues Leben richten,
O Joseph, milder Hauch!
Du hast gekannt die Fehle
In deiner starken Seele,
Und die Vergebung auch!

Was hast du nicht geduldet,
Da im Geheim verschuldet
Maria dir erschien?
Und konntest ihr nicht trauen,
Worauf die Himmel bauen,
Und hast ihr doch verziehn!

Und da du mußtest scheiden
Mit deinen lieben Beiden,
Wie groß war deine Not!
Die Wüste schien dir lange;
Doch war vom Untergange
Dein liebes Kind bedroht.

Und da Er glanzumkrönet,
Wie bist du nicht gehöhnet
Um seine Gotteskraft!
Wie mag, den Groll zu laben,
Dich nicht gelästert haben
Die arge Priesterschaft!

Und gar, wenn gottdurchdrungen
Dich grüßten fromme Zungen
Und priesen laut und weit:
Wie hast du nicht in Zagen
An deine Brust geschlagen
In deiner Sündlichkeit!

So hast du viel getragen,
Unendlich viele Plagen,
Mit freundlicher Geduld,
Und ist in all den Jahren
Manch Seufzer dir entfahren
Und manche kleine Schuld.

Du frommer Held im Glauben,
Den schrecklich dir zu rauben
Sich alle Welt verband,
Hast können nicht erhalten
Ein unbeflecktes Walten
An deines Jesu Hand.

Was soll ich denn nicht hoffen,
Da noch der Himmel offen,
Und meine Seele still?
Will sich die Gnade nahen:
Ich kann sie wohl empfahen,
So Gott mir helfen will.

Zerrissen in den Gründen
Bin ich um meine Sünden,
Und meine Reu' ist groß!
O hätt' ich nur Vertrauen,
Die Hütte mein zu bauen
In meines Jesu Schoß!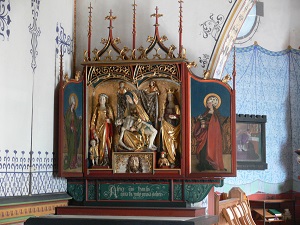 Annette von Droste-Hülshoff (10 januari 1797 – 24 mei 1848)
Friedhofskapelle Mariä Himmelfahrt in Meersburg, linker zijaltaar. Annette von Droste-Hülshoff werd in Meersburg begraven.
26-03-2017 om 12:34 geschreven door Romenu

Tags:Annette von Droste-Hülshoff, vasten, Romenu


25-03-2017

Pol Hoste, Menno Van der Beek, Flannery O'Connor, Jaime Sabines, Peter Van Straaten, Toni Cade Bambara, Antonio Fogazzaro
De Vlaamse schrijver Pol Hoste werd geboren in Lokeren op 25 maart 1947. Zie ook alle tags voor Pol Hoste op dit blog.
Uit: Tel
"- Hoe gaat het met je?
Je weet dat ik daar niet graag op antwoord, ik heb je al uitgelegd waarom.
- Is het zo erg dat ik gewoon eens vraag hoe het met je gaat, mag dat ook al niet meer?
- Het is helemaal niet erg, alleen hadden we afgesproken dat je het me niet meer zou vragen. Dat is alles. Als je me dus vraagt hoe het met me gaat herinner ik je alleen maar aan onze afspraak. Niet meer of niet minder. Dat hoef je dus helemaal niet erg te vinden.
- Dat weet ik, maar wind je niet meteen zo op, want dat is echt geen normale reactie meer, sta me toe dat ik dat zeg. Ik vraag gewoon even hoe het met je gaat en in plaats van te zeggen, zo of zo, maak je een drama alsof ik je geen ogenblik met rust laat. En het is al zo lang geleden dat we nog eens met elkaar gepraat hebben.
- Ik maak helemaal geen drama, ik herinner je alleen maar aan onze afspraak dat je me niet meer zou vragen hoe ik het maak. Want daarover gaat het en over niets anders.
- Is dat dan zo'n verschrikkelijke vraag? Straks ga ik nog denken dat ik helemaal abnormaal ben omdat ik gewoon even zeg: 'Dag, hoe maak je het?' Ik word er ziek van als ik daaraan denk. Ik begrijp helemaal niet waarom je me niet gewoon zegt, het gaat me goed of slecht of maar zo zo. Je mag het me gerust zeggen als het je slecht gaat. Misschien zit je in geldnood, sta je op het punt van ziek te worden, hoe kan ik dat weten, ik maak me alleen soms zorgen, dat is alles, dat kan toch, of mag ik dat ook niet meer? Ik kan je toch niet opbellen en dan doen alsof het helemaal niet om jou gaat? Alsof je er niet bent. Dat zou me een toestand worden. Ik ben niet gek.
- Ik ook niet.
- Kijk, als jij nu gewoon op mijn vraag had geantwoord: het gaat me zo of zo, ik verwacht daar helemaal geen uitgebreid antwoord op, denk dat maar niet, je hoeft me zeker niet alles te vertellen, helemaal niet, nee, alleen even gewoon hoe het met je gaat. Zo of zo, het zal me een zorg zijn, je beslist toch zelf wat je daarop antwoordt, ik zeg toch niet wat je me moet zeggen, integendeel, je hoeft me niet te sparen, ik bedoel, als je daar nu gewoon even kort op had geantwoord, dan hadden we er al lang over gezwegen in plaats van alweer zo tegen elkaar tekeer te gaan. Dat vind ik echt niet prettig."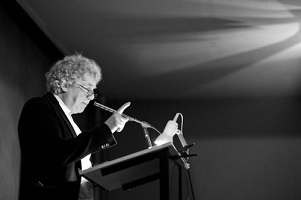 Pol Hoste (Lokeren, 25 maart 1947)
De Nederlandse dichter en vertaler Menno van der Beek werd geboren op 25 maart 1967 in Rotterdam. Zie ook alle tags voor Menno van der Beek op dit blog
De held kan niet bewegen
De held kan niet bewegen zonder zijn infuus
maar hij heeft zin in roken, dus hij stapt uit bed
en hij beweegt zijn lichaam richting het toilet:
voorlopig heeft hij een excuus. Pas bij de lift
wordt het gevaarlijk. In zijn blauwe kamerjas
heeft hij om drie uur 's nachts hier niets te zoeken
dus nu begint het avontuur. Zijn vingers tasten
met een vertrouwd gebaar al in in zijn badstof zakken
op zoek naar het bekende pakje. Maar hij is gestopt
na een slecht nieuws-gesprek, om toch iets terug te doen;
dus, dit gaat langer duren dan hij had gedacht:

hij moet op jacht. Hij rijdt met zijn infuus de lift in
en gaat omlaag. Hij wil opnieuw beginnen.
Grondhouding

Zo ver als mogelijk bij deze stad vandaan
in nat gras, met de handen in zijn zakken
gestrekt boven de grond in een net pak
midden in een weiland liggen. Een hectare

behaarde klei. Alleen van boven zichtbaar
trekt hij vertraagd zijn schouders op, verkrampt;
zijn nek verdwijnt. De tong tussen zijn tanden,
glimmende ogen in de camera,

die draaiend opstijgt: opgewekte kieviet
die steeds meer ziet. Daar schuiven aan de randen
boeren in beeld, de handen op de rug,

op zoek naar een gesprekje, maar dat wil hij niet.
Hij klopt zijn pak af met zijn natte handen
en holt het hele eind naar huis terug.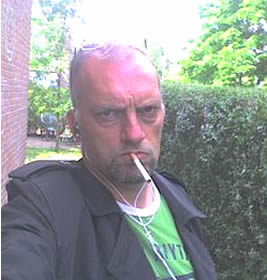 Menno Van der Beek (Rotterdam, 25 maart 1967)
De Amerikaanse schrijfster Flannery O'Connor werd geboren op 25 maart 1925 in Savannah, Georgia. Zie ook alle tags voor Flannery O'Connor op dit blog.
Uit: A Good Man Is Hard to Find and Other Stories
"The grandmother offered to hold the baby and the children's mother passed him over the front seat to her. She set him on her knee and bounced him and told him about the things they were passing. She rolled her eyes and screwed up her mouth and stuck her leathery thin face into his smooth bland one. Occasionally he gave her a faraway smile. They passed a large cotton field with five or six graves fenced in the middle of it, like a small island. "Look at the graveyard!" the grandmother said, pointing it out. "That was the old family burying ground. That belonged to the plantation."
"Where's the plantation?" John Wesley asked.
"Gone With the Wind," said the grandmother. "Ha. Ha."
When the children finished all the comic books they had brought, they opened the lunch and ate it. The grandmother ate a peanut butter sandwich and an olive and would not let the children throw the box and the paper napkins out the window. When there was nothing else to do they played a game by choosing a cloud and making the other two guess what shape it suggested. John Wesley took one the shape of a cow and June Star guessed a cow and John Wesley said, no, an automobile, and June Star said he didn't play fair, and they began to slap each other over the grandmother.
The grandmother said she would tell them a story if they would keep quiet. When she told a story, she rolled her eyes and waved her head and was very dramatic. She said once when she was a maiden lady she had been courted by a Mr. Edgar Atkins Teagarden from Jasper, Georgia. She said he was a very good-looking man and a gentleman and that he brought her a watermelon every Saturday afternoon with his initials cut in it, E. A. T. Well, one Saturday, she said, Mr. Teagarden brought the watermelon and there was nobody at home and he left it on the front porch and returned in his buggy to Jasper, but she never got the watermelon, she said, because a nigger boy ate it when he saw the initials, E. A. T.!"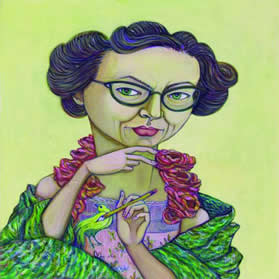 Flannery O'Connor (25 maart 1925 – 3 augustus 1964)
Portret door Katherine Sandoz
De Mexicaanse dichter en schrijver Jaime Sabines Gutiérrez werd geboren op 25 maart 1926 in Tuxtla Gutiérrez, Chiapas. Zie ook alle tags voor Jaime Sabines op dit blog.
IK WEET HET NIET ZEKER, maar ik denk het,
een vrouw en een man
worden op een dag verliefd,
langzamerhand blijven ze alleen,
iets in hun hart zegt hun dat ze alleen zijn,
alleen op aarde dringen ze in elkaar door,
beginnen ze elkaar te doden.

Alles gebeurt in stilte. Zoals
licht ontstaat in het oog.
Liefde verenigt lichamen.
In stilte vervullen ze elkaar.

Op een dag ontwaken ze, armen over elkaar;
denken dat ze alles weten.
Zien dat ze naakt zijn en alles weten.
(Ik weet het niet zeker. Ik denk het.)
Vertaald door Mariolein Sabarte Belacortu
I take pleasure in the way the rain beats its wings on the back of the floating city.
The dust comes down. The air is left clean, crossed by leaves of odour, by birds of coolness, by dreams. The sky receives the city that is being born.
Streetcars, buses, trucks, people on bicycles and on foot, carts of all colours, street-vendors, bakers, pots of tamales, grilles of baked bananas, balls flying between one child and another: the streets swell, the sounds of voices multiply in the last light of the day hung up to dry.
They come out like ants after the rain, to pick up the crumb of the sky, the little straw of eternity to take away to their dark houses, with cuttlefish hanging from the roofs, with weaving spiders under the beds, and with one familiar ghost, at least, in back of some door.
Thanks be to you, Mother of the Black Clouds, who have so whitened the face of the afternoon and have helped us to go on loving life.
Vertaald door W.S. Merwin

Jaime Sabines (25 maart 1926 – 19 maart 1999)
Affiche bij zijn 85e geboortedag in 2011
De Nederlandse cartoonist en striptekenaar Peter van Straaten werd geboren in Arnhem op 25 maart 1935. Zie ook alle tags voor Peter van Straaten op dit blog.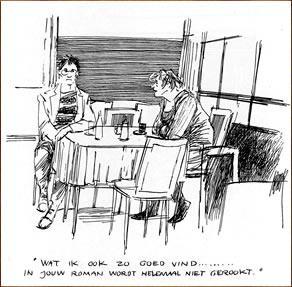 "Wat ik ook zo goed vind….
In jouw roan wordt helemaal niet gerookt"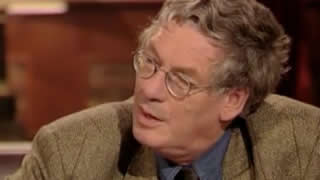 Peter Van Straaten (25 maart 1935 – 8 december 2016)
De Amerikaanse schrijfster en sociale activiste Toni Cade Bambara werd als Miltona Mirkin Cade geboren op 25 maart 1939 in New York. Zie ook alle tags voor Toni Cade Bambara op dit blog.
Uit: Gorilla, My Love
That was the year Hunca Bubba changed his name. Not a change up, but a change back, since Jefferson Winston Vale was the name in the first place. Which was news to me cause he'd been my Hunca Bubba my whole lifetime, since I couldn't manage Uncle to save my life. So far as I was concerned it was a change completely to somethin soundin very geographical weather like to me, like somethin you'd find in a almanac. Or somethin you'd run across when you sittin in the navigator seat with a wet thumb on the map crinkly in your lap, watchin the roads and signs so when Granddaddy Vale say "Which was, Scout," you got sense enough to say take the next exit or take a left or whatever it is. Not that Scout's my name. Just the name Granddaddy call whoever sittin in the navigator seat. Which is usually me cause I don't feature sittin in the back with the pecans. Now, you figure pecans all right to be sittin with. If you thinks so, that's your business. But they dusty sometime and make you cough. And they got a way of slidin around and down sudden, like maybe a rat in the buckets, So if you scary like me, you sleep with the lights on and blame it on Baby Jason and, so as not to waste good electric, you study the maps. And that's how come I'm in the navigator seat most times and get to be called Scout.
So Hunca Bubba in the back with the pecans and Baby Jason, and he in love. And we got to hear all this stuff about this woman he in love with and all. Which really ain't enough to keep the mind alive, though Baby Jason got no better sense than to give his undivided attention and keep grabbin at the photograph which is just a picture of some skinny woman in a countrified dress with her hand shot up to her face like she shame fore cameras. But there's a movie house in the background which I ax about. Cause I am a movie freak from way back, even though it do get me in trouble sometime.
Like when me and Big Brood and Baby Jason was on our own last Easter and couldn't go to the Dorset cause we'd seen all the Three Stooges they was. And the RKO Hamilton was closed readying up for the Easter Pageant that night. And the West End, the Regun and the Sunset was too far, less we had grownups with us which we didn't. So we walk up Amsterdam Avenue to the Washington and Gorilla, My Love playin, they say which suit me just fine, thought the "my love" part kinda drag Big Brood some."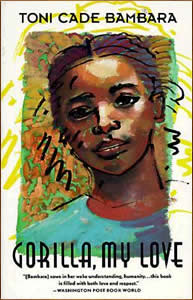 Toni Cade Bambara (25 maart 1939 – 9 december 1995)
Cover
De Italiaanse schrijver Antonio Fogazzaro werd geboren op 25 maart 1842 in Vicenza. Zie ook alle tags voor Antonio Fogazzaro op dit blog.
Uit: The Saint
"Then her thoughts dwelt on another painful passage in the letter from Italy which she had not mentioned. But, in spite of her silence, her misery was evident. Noemi pressed her lips to Jeanne's forehead, and letting them rest there in silence, touched by the secret sorrow which accepted her sympathy. Then she slowly drew away from the long embrace as if fearful of severing some delicate thread which bound their two souls together.
"Perhaps that good old man knew where—Do you think he was in communication with ——" she murmured.
Jeanne shook her head in denial. During the September following that sad July, Jeanne's unfortunate husband had died in Venice of delirium tremens. She had gone to the Villa Flores in October, and there in that same garden where the Marchesa Scremin had once laid bare her poor, suffering old heart to Don Giuseppe, had expressed a desire that Piero should be told of her husband's death, should realise that he might henceforth think of her without a shadow of guilt, if indeed he still wished to think of her at all. Don Giuseppe first gently urged her not to abandon herself to this dream, and then avowed to her in all sincerity that no tidings of Piero had reached him since the day of his disappearance.
Fearing other questions, and unwilling any longer to expose her wound to the touch of unskilled fingers, Jeanne sought to change the subject. "Tell me about your monk," she said. But just at that moment Carlino's voice was heard in the hall.
"Not now," replied Noemi. "To-night."
Carlino came in, a white silk muffler round his neck, grumbling at the Lac d'Armour, which he pronounced a huge fraud, which only filled the air with odious, poisonous, little creatures. "To be sure." said he, "love itself is no better." Noemi would not allow him to talk of love. Why should he discuss a subject which he did not understand? Carlino thanked her. He had been on the point of falling in love with her; had greatly feared such a catastrophe. Her words, coming as they did so soon after her appearance in a certain offensive hat, with an ungraceful feather, and after some rather bourgeois expressions of admiration for that poor, tiresome devil Mendelssohn, had saved him à jamais. The two sparred gaily for some time, and, in spite of his poisoned tonsils, Carlino was in such high spirits that Noemi congratulated him on the subject of his novel. "It must be making rapid progress," she said."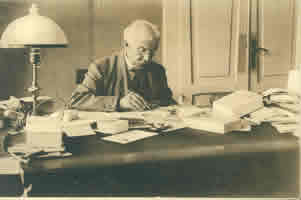 Antonio Fogazzaro (25 maart 1842 – 7 maart 1911)
Zie voor nog meer schrijvers van de 25e maart ook mijn vorige blog van vandaag.


25-03-2017 om 11:14 geschreven door Romenu

Tags:Pol Hoste, Menno Van der Beek, Flannery O'Connor, Jaime Sabines, Peter Van Straaten, Toni Cade Bambara, Antonio Fogazzaro, Romenu



Jacques Bens, Jacques Audiberti, Filip De Pillecyn, Erica Pedretti, Evliya Çelebi, Anne Fanshawe, Daniel Schiebeler, Mary Webb
De Franse dichter en schrijver Jacques Bens werd geboren op 25 maart 1931 in Cadolive (Bouches-du-Rhône). Zie ook alle tags voor Jacques Bens op dit blog.
Melancholy
So I'll once more find my old horizons,
cherished scent of winds and habitations.
Fear not if it seems I'm quitting the place.
I leave Paris just to love it better.
One tends to hurry a banal embrace.
But what's this pride worth that's past all seasons?
Try to unite the heart with its reasons.
The city, while smiling, leaves a rough trace.
I leave Paris just to love you better.
To love you better, I couldn't picture—
Now I see the present whisks us away.
To see you, I have to step back a bit.
I lock up my regrets, as will be fit,
Slipping my key under your entryway.
Nostalgia
I'll no longer haunt this lost location
Where my friends, gently, find some fixation,
Fixation I crave, though I play the stud,
For I love the smell of books most of all.
If I've swapped my pen for a plow and mud
(That is, lyric and inoculation),
If I've, I say, chosen field plantation,
I've not renounced my écriveron blood:
Still, I love the smell of books above all.
To regain that world that had me in thrall,
To meet, each day, my cousin the proofer!
To sniff the cold perfume of leather scrawl!
To relive, at last, the life I recall,
And egads! return like a proud victor!
Vertaald door Rachel Galvin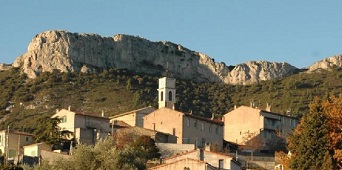 Jacques Bens (25 maart 1931 – 26 juli 2001)
Cadolive (Bouches-du-Rhône)
De Franse dichter en schrijver Jacques Audiberti werd geboren op 25 maart 1899 in Antibes. Zie ook alle tags voor Jacques Audiberti op dit blog.
Si je meurs
Si je meurs, qu'aille ma veuve
à Javel prés de Citron.
Dans un bistrot elle y trouve,
à l'enseigne du Beau Brun,

trois musicos de fortune
qui lui joueront - mi, ré, mi
l'air de la petite Tane
qui m'aurait peut-être aimé

puisqu'elle n'offrait qu'une ombre
sur le rail des violons.
Mon épouse, ô ma novembre,
sous terre les jours sont lents.
Parnasse
Mon train filait avec cette allure qu'il prend
pour fuir, nocturne, l'heure où grouille le parent.
Il traversait une forêt. Contre les baies
elle appendait un bloc de cimes recourbées,
tapisserie obscure aux dévidoirs profonds.
Quoique ganache en cerfs, sentiers, cèpes et fonts,
moi, pourtant, je savais, à trois jours de la voie,
un arbre, que jamais pour de bon je ne voie !
Il porte, sur son tronc funèbre, un chapelet
de masques ciselés à coups de pistolet
par le nègre en rupture et le bûcheron ivre.
Je me rendai pour rapporter, car il faut vivre,
à Melun, qui n'est pas un lieu phénoménal.
Là, sous une muraille, au bord de tel canal,
quelque chose s'était passé, mais quoi ? La veille
plutôt que dépouiller la presse, humble merveille,
j'avais, fruit sec du rêve et du nombre, établi
combien de tomes lus peut supporter mon lit
sans crouler aux lamas qui bêlent sous son ventre.
J'arrivai dans Melun où, tout de suite, m'entre
la ronce du mystère éclos dans tous les creux.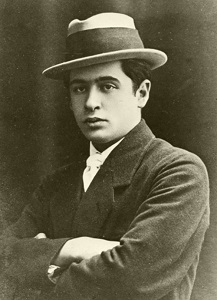 Jacques Audiberti (25 maart 1899 – 10 juli 1965)
De Vlaamse schrijver Filip De Pillecyn werd te Hamme aan de Durme geboren op 25 maart 1891. Zie ook alle tags voor Filip De Pillecyn op dit blog.
Uit: Mensen achter de dijk
"De wind strijkt vanuit de Durmevallei over het dorp. Ik hoor hem zoeven daar ik loop, geborgen onder moeders lakense kapmantel. Ik schrijd veilig en gelukkig naast haar in de warme duisternis die mij afsluit van de wereld. Moeders hand is vol rustig, innig leven en zonder te zien waar ik ga, klem ik die hand in de mijne en zie in mijn verbeelding de huizen waarlangs wij gaan. De lage werkmanshuisjes van de Kapellestraat met wat verder een boerenwoning die gaandeweg verloren staat in het dorp; en de winkels waaruit nu de lichtschijn valt over de straat. Ik hoor de stap van mensen naast mij, een winkeldeur gaat met belgerinkel open.
- Pas op, de goot, zegt moeder.
Ik trek de mantel open, op een kier om zo te zeggen. De valavond en de wind en het gerucht van de straat zijn meteen weer rondom mij. Ik stap over de goot die de straat dwarst en het dikke, flauwe licht van de lantaarn glimt in het donkere water. Ik trek de mantel weer dicht en wandel voort in mijn wereld vol warme, geheimzinnige vereenzaming.
Het is alsof de geur van de kerk nog rondom mij hangt; zware wierooklucht en die mist van verstorvenheid die ernstig en treurig maakt. Als moeder tijd heeft gaat zij naar het lof en ik ga mee; als wij terugkomen is het duister en dan ga ik aan haar hand, onder de warme, donkere mantel naar huis. Het is de maand oktober en de vrouwen gaan sterkte zoeken in de rozenkrans. Het gemurmel van hun gebed stijgt rondom mij, hun gestalten zijn zwaar en onbeweeglijk in de gele schemervlekken van kaars en lamp. En van zohaast wij in het kerkportaal zijn glijd ik onder moeders mantel Zo ga ik van de kerk naar huis, afgesloten van de mensen, en alleen de warme, weke druk van moeders hand weerhoudt mij in de werkelijkheid.
Ik stel mij voor hoe moeder stapt. Hoog opgeschoten en statig in de zware lakense mantel die tot aan de hielen reikt; edele, zwarte stof die een leven lang haar dienst doet. De satijnen muts met binders staat op haar dicht blond haar dat achter aan het hoofd in een dikke wrong is samengevlochten. Ik hoor ze soms goên avond zeggen en ik tracht, aan de klank van de stem, te raden wie haar groet. Maar de woorden komen verdoft en ver tot mij."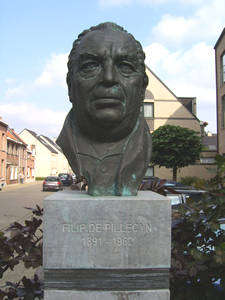 Filip De Pillecyn (25 maart 1891 – 7 augustus 1962)
Borstbeeld in Hamme
De Zwitserse schrijfster en beeldhouwster Erica Pedretti werd geboren op 25 maart 1930 in Šternberk (Tsjechië). Zie ook alle tags voor Erica Pedretti op dit blog.
Uit: Fremd genug
"Und statt der gluschtigen Fasnachtschüechli, die meine Schweizer Großmutter jeden Winter, etwa zur Zeit meines Geburtstags, also gerade jetzt, zu Hause korbweise buk, auf die ich mich gefreut hatte, wenn ich schon in die Schweiz, wo es doch noch und noch Fasnachtschüechli geben sollte, in ein Kinderheim mußte, statt Fasnachtschüechli gab es hier Griesbrei mit Zimt und Zucker, alle Tage zum Frühstück. Zuunterst am langen Tisch saß ich, immer als Letzte vor dem noch vollen Teller, und was ich morgens nicht schaffte, das bekam ich wieder zu Mittag. Seither ist mir Griesbrei zuwider, und beim Geruch von Zimt sehe und höre ich kleine, mit ihrem Besteck in den Tellern klappernde Kinder in einem holzgetäfelten Speisesaal. Wann endlich würden meine Eltern aus der Tschechoslowakei kommen und mich abholen?
Immer wieder durfte eins der Kinder abreisen, glücklich und beneidet, und das Fräulein, das sie mit der Bergbahn hinunter nach Vitznau gebracht hatte, erzählte dann von den schönen, tränenreichen Wiedersehen mit den Müttern. In Gedanken probte ich meine Abreise, wollte eine ebenso rührende Wiedersehensszene bieten. Doch damit war dann nichts: ein Kuß von der Mutter, ein Kuß vom Vater. Meine Eltern hatten gar keinen Sinn für Sentimentales.
Wieder zu Hause, wurde ich von meiner Schweizer Großmutter, die vis-à-vis wohnte, auf schweizerdeutsch begrüßt. Das hatte ich im Kinderheim mehr oder weniger gelernt und konnte es jetzt, den spöttischen ch, ch, ch der Geschwister und Eltern zum Trotz, als Geheimsprache mit der Omi verbessern.
Wie gahts? Hesch guet gschlafe, und was mache mir hüt? rief sie aus ihrem Fenster herüber.
Zu Hause durfte man sonst keinen Dialekt, auch keinen einheimischen Dialekt sprechen, nur fern des Vaters, auf der Straße, und dorthin durfte ich mit vier Jahren noch nicht. So wurde Schweizerdeutsch, wahrscheinlich das aargauische, denn meine Großmutter kam aus Aarau, mein erster Dialekt. Den ich dann leider wieder vergaß, als die Omi zügelte, zurück in die Schweiz."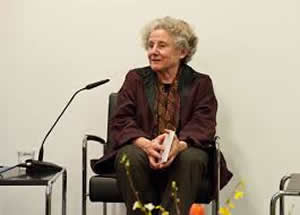 Erica Pedretti (Šternberk 25 maart 1930)
De Turkse schrijver Evliya Çelebi werd geboren op 25 maart 1611 in Istanbul. Zie ook alle tags voor Evliya Çelebi op dit blog.
Uit: Narrative of Travels in Europe, Asia, and Africa, in the Seventeenth Century (Vertaald door Joseph von Hammer)
"It was built by a Greek Princess called Modína. Here I was first enabled to perform my Friday's prayer, which I did with great devotion, and then went forth to view the town. It is the port of Brússa, and forms a safe harbour, being closed against the wind from seven points and open only to the North. The anchorage is excellent. At the head of the harbour stands the custom-house, the lease of which amounts to a million aspers. The town is built by the sea-shore,3 on a low rocky ground. Prince Orkhán, with his father Osmán's permission, conquered this town in the year 721 (1321) and destroyed the walls in several places, that it might no longer afford shelter to the infidels. It is governed by a Voivode, subordinate to Brússa, the chief seat of the Sanjak of Khodávendkiár. The judge is appointed with one hundred and fifty aspers a day. His annual revenue amounts to two thousand piastres. This appointment is sometimes given to the Mollá of Brússa as Páshmáklik (pin-money). The houses are all faced with brick. There are three mosques (jámí) and seven mesjids, three kháns, one bath, two schools for boys, and two hundred small streets; but no room for reading the Korán or tradition, because the greater number of the inhabitants are Greeks. There are fine gardens producing superior figs and grapes. From the excellence of its vinegar, it has acquired the name of Dárkhill (vinegar-house). South-east of the town we passed on horseback continuously through gardens and the cultivated field called Filehdár. The river Nílúfer, not fordable in the beginning of spring, is a clear stream, which issuing from the mountains Rúhbán, Ketelí and Castel, waters the valley of Fillehdár and disembogues into the White Sea. The main road crosses it over a handsome bridge, each arch of which resembles the arch of heaven; its name, as well as that of the river, was received from its builder the Princess Nílúfer, daughter of a Sultán (Orkhán): after continuing our journey among gardens and vineyards for two hours, we reached the town of Brússa, the emporium of silk, the ancient capital of this country (Bithynia)."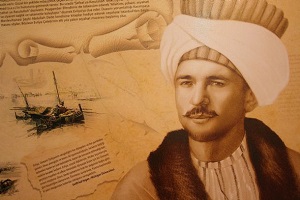 Evliya Çelebi (25 maart 1611 – na 1683 op een van zijn reizen)

De Engelse schrijfster Lady Anne Fanshawe werd geboren op 25 maart 1625 in Balls Park, bij Hertford. Zie ook alle tags voor Anne Fanshawe op dit blog.
Uit:The Memoirs of Lady Fanshawe
"Now you will expect that I should say something that may remain of us jointly, which I will do though it makes my eyes gush out with tears, and cuts me to the soul to remember, and in part express the joys I was blessed with in him. Glory be to God, we never had but one mind throughout our lives. Our souls were wrapped up in each other's; our aims and designs one, our loves one, and our resentments one. We so studied one the other, that we knew each other's mind by our looks.
Whatever was real happiness, God gave it me in him; but to commend my better half, which I want sufficient expression for, methinks is to commend myself, and so may bear a censure; but, might it be permitted, I could dwell eternally on his praise most justly; but thus without offence I do, and so you may imitate him in his patience, his prudence, his chastity, his charity, his generosity, his perfect resignation to God's will, and praise God for him as long as you live here, and with him hereafter in the Kingdom of Heaven. Amen.
Your father was born in Ware Park, in the month of June, in the year of our Lord 1608, and was the tenth child of Sir Henry Fanshawe, whose father bought Ten, in Essex, and Ware Park, in Hertfordshire. This, your great-grandfather, came out of Derbyshire from a small estate, Fanshawe-Gate, being the principal part that then this family had, which exceeded not above two hundred pounds a year, and about so much more they had in the town and parish of Dronfield, within two miles of Fanshawe-Gate, where the family had been some hundreds of years, as appears by the church of Dronfield, in the chancel of which church I have seen several grave-stones with the names of that family, many of them very ancient; and the chancel, which is very old, was and is kept wholly for a burying-place for that family."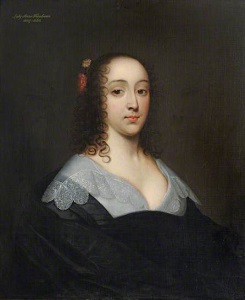 Anne Fanshawe (25 maart 1625 - 1680)
Portret door Cornelis Janssens van Ceulen, ca. 1644-1661
De Duitse dichter en schrijver Daniel Schiebeler werd geboren op 25 maart 1741 in Hamburg. Zie ook alle tags voor Daniel Schiebeler op dit blog.
Das Glockenspiel

Hörst du den feyerlichen Klang?
Empfindung füllt mein Herz,
Die es noch nie zuvor durchdrang,
Entzücken, Andacht, Schmerz!

O Daphne, dieser Augenblick
Bekrönt ein liebend Paar,
Es schwört sich seines Lebens Glück
Am heil'gen Traualtar.

Belohnt ist nun der Tage Reih,
In Seufzern hingebracht,
Und jede, der Melancholey
Geweihte, lange Nacht.

Sieh diese Thräne, welche mir
Durchs Auge zitternd bricht!
Dein Herz, o Daphne, sag' es dir,
Was diese Thräne spricht!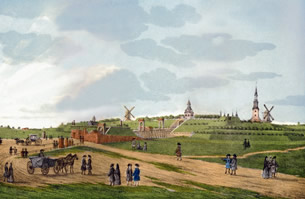 Daniel Schiebeler (25 maart 1741 – 19 augustus 1771)
Hamburg vanaf de kant van het Altonaer Tor in 1700
De Engelse dichteres en schrijfster Mary Webb werd geboren als Gladys Mary Meredith in Leighton, Shropshire op 25 maart 1881. Zie ook alle tags voor Mary Webb op dit blog.
Green Rain
Into the scented woods we'll go,
And see the blackthorn swim in snow.
High above, in the budding leaves,
A brooding dove awakes and grieves;
The glades with mingled music stir,
And wildly laughs the woodpecker.
When blackthorn petals pearl the breeze,
There are the twisted hawthorne trees
Thick-set with buds, as clear and pale
As golden water or green hail-
As if a storm of rain had stood
Enchanted in the thorny wood,
nd, hearing fairy voices call,
Hung poised, forgetting how to fall.
The Night Sky
The moon, beyond her violet bars,
From towering heights of thunder-cloud,
Sheds calm upon our scarlet wars,
To soothe a world so small, so loud.
And little clouds like feathered spray,
Like rounded waves on summer seas,
Or frosted panes on a winter day,
Float in the dark blue silences.
Within their foam, transparent, white,
Like flashing fish the stars go by
Without a sound across the night.
In quietude and secrecy
The white, soft lightnings feel their way
To the boundless dark and back again,
With less stir than a gnat makes
In its little joy, its little pain.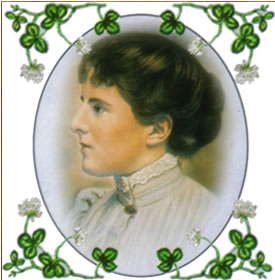 Mary Webb (25 maart 1881 – 8 oktober 1927)
25-03-2017 om 11:13 geschreven door Romenu

Tags:Jacques Bens, Jacques Audiberti, Filip De Pillecyn, Erica Pedretti, Evliya Çelebi, Anne Fanshawe, Daniel Schiebeler, Mary Webb, Romenu


24-03-2017

Peter Bichsel, Martin Walser, Dario Fo, Lawrence Ferlinghetti, Jacob van Lennep, Jeroen Mettes, Harry Prenen, Willem van Iependaal, Top Naeff
De Zwitserse schrijver Peter Bichsel werd geboren op 24 maart 1935 in Luzern. Zie ook alle tags voor Peter Bichsel op dit blog.
Uit: San Salvador
"Er hatte sich eine Füllfeder gekauft.
Nachdem er mehrmals seine Unterschrift, dann seine Initialen, seine Adresse, einige Wellenlinien, dann die Adresse seiner Eltern auf ein Blatt gezeichnet hatte, nahm er einen neuen Bogen, faltete ihn sorgfältig und schrieb: "Mir ist es hier zu kalt", dann, "ich gehe nach Südamerika", dann hielt er inne, schraubte die Kappe auf die Feder, betrachtete den Bogen und sah, wie die Tinte eintrocknete und dunkel wurde [in der Papeterie garantierte man, daß sie schwarz werde], dann nahm er seine Feder erneut zur Hand und setzte noch seinen Namen Paul darunter.
Dann saß er da.
Später räumte er die Zeitungen vom Tisch, überflog dabei die Kinoinserate, dachte an irgend etwas, schob den Aschenbecher beiseite, zerriß den Zettel mit den Wellenlinien, entleerte seine Feder und füllte sie wieder. Für die Kinovorstellung war es jetzt zu spät.
Die Probe des Kirchenchores dauerte bis neun Uhr, um halb zehn würde Hildegard zurück sein. Er wartete auf Hildegard. Zu all dem Musik aus dem Radio. Jetzt drehte er das Radio ab.
Auf dem Tisch, mitten auf dem Tisch, lag nun der gefaltete Bogen, darauf stand in blauschwarzer Schrift sein Name Paul.
"Mir ist es hier zu kalt", stand auch darauf.
Nun würde also Hildegard heimkommen, um halb zehn. Es war jetzt neun Uhr. Sie läse seine Mitteilung, erschräke dabei, glaubte wohl das mit Südamerika nicht, würde dennoch die Hemden im Kasten zählen, etwas müßte ja geschehen sein.
Sie würde in den "Löwen" telefonieren.
Der "Löwen" ist mittwochs geschlossen."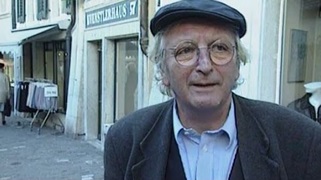 Peter Bichsel (Luzern, 24 maart 1935)
De Duitse schrijver Martin Walser werd op 24 maart 1927 geboren in Wasserburg aan de Bodensee. Zie ook alle tags voor Martin Walser op dit blog.
Uit: Ein fliehendes Pferd
"Ans Wasser wollte er Kierkegaard nicht mitnehmen. Das hatte er als Fünfzehnjähriger getan. Zarathustra hatte er auf dem Bauch liegend gelesen. Snob, der er war, hatte er die französische Übersetzung gelesen. Ainsi parlait Zarathustra.
Sabines Vergnügen an den Vorbeiströmenden hatte inzwischen ein Lächeln erzeugt, das sich nicht mehr änderte. Er genierte sich für Sabines Lächeln. Er berührte sie am Oberarm. Wahrscheinlich sollte man reden miteinander. Ein alt werdendes Paar, das stumm auf Caféstühlen sitzt und der lebendigsten Promenade zuschaut, sieht komisch aus. Oder trostlos. Besonders, wenn die Frau noch dieses schon seit längerem verstorbene Lächeln trägt. Helmut mochte es nicht, wenn die Umwelt sich über Sabine und ihn Gedanken machen konnte, die zutrafen. Egal, was die Umwelt über ihn und Sabine dachte, es sollte falsch sein. Sobald es ihm gelang, Fehlschlüsse zu befördern, fühlte er sich wohl. Inkognito war seine Lieblingsvorstellung. In Stuttgart mußte er erleben, wie in der Nachbarschaft und in der Schule - und zwar bei Kollegen und bei Schülern - die Kenntnis über ihn zunahm. An ihm war der Spitzname Bodenspecht hängengeblieben. Das zeigte ihm, daß er mit einer geradezu höheren Art von Genauigkeit erfaßt, durchschaut und bezeichnet war."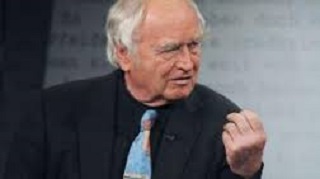 Martin Walser (Wasserburg, 24 maart 1927)
De Italiaanse regisseur, acteur en toneelschrijver Dario Fo werd geboren in Leggiuno-Sangiamo op 24 maart 1926. Zie ook alle tags voor Dario Fo op dit blog.
Uit: Mistero Buffo (Mary at the Cross, vertaald door Ed Emery)
"CHRIST: Mother, has your grief turned you mad, that you blaspheme so? That you say things without knowing what you say? Take her home, brothers, before she collapses with her grief.
MAN: Let us go, Mary. Make your son happy. Leave him in peace.
MARY: No. I shall not! Forgive me... Let me stay here close to him, and I won't say another word against his father. Or against anyone. Leave me... be so kind!
CHRIST: I have to die, mother, and it is hard. I have to let myself go, mother, and use up the breath that keeps me alive... But with you here tormenting your heart, mother, I can't... It just makes it harder...
MARY: I want to help you, my dearest one. Oh, don't make me go! Why can't we both die together, mother and son, so that they can put us, locked into an embrace, into one tomb?
SOLDIER: I told you before, lady! there is only one way to make him happy: kill him at once. If you want to hurry it up and take that lance leaning over there, we soldiers will pretend not to see, and you must run up under the cross and stick the point into him with all your strength, stick the lance right into his belly, right in, and then, in a moment, you will see Christ die. [The Madonna faints] What's the matter? Why did she faint? I never even touched her!
MAN: Lay her out... do it gently... and give her room to breathe...
WOMAN: Let's have something to cover her with... she's shivering with the cold...
OTHER MAN: I left my cloak at home...
MAN: Move aside there... Help me to lay her out...
OTHER MAN: And now be quiet and let her recover.
MARY: [As if in a dream] Who are you, up there, young man, I sem to know you. What is it that you want from me?
WOMAN: She's talking in her sleep, she's confused... she's having visions...
GABRIEL: I am Gabriel, the Anel of the Lord. I am he, oh Virgin, the herald of your solitary and delicate love."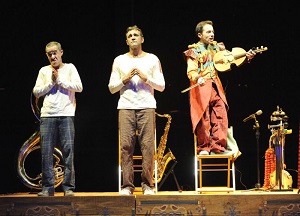 Dario Fo (Leggiuno-Sangiamo, 24 maart 1926)
Scene uit een uitvoering van "Mistero Buffo" in São Paulo, Brazilië, 2016
De Amerikaanse dichter en schrijver Lawrence Ferlinghetti werd geboren op 24 maart 1919 in Yonkers, New York. Zie ook alle tags voor Lawrence Ferlinghetti op dit blog.
I Am Waiting (Fragment)
I am waiting for the Great Divide to 'be crossed
and I am anxiously waiting
for the secret of eternal life to be discovered
by an obscure general practitioner
and I am waiting
for the storms of life
to be over
and I am waiting
to set sail for happiness
and I am waiting
for a reconstructed Mayflower
to reach America
with its picture story and tv rights
sold in advance to the natives
and I am waiting
for the lost music to sound again
in the Lost Continent
in a new rebirth of wonder

I am waiting for the day
that maketh all things clear
and I am awaiting retribution
for what America did
to Tom Sawyer
and I am waiting
for the American Boy
to take off Beauty's clothes
and get on top of her
and I am waiting
for Alice in Wonderland
to retransmit to me
her total dream of innocence
and I am waiting
for Childe Roland to come
to the final darkest tower
and I am waiting
for Aphrodite
to grow live arms
at a final disarmament conference
in a new rebirth of wonder

I am waiting
to get some intimations
of immortality
by recollecting my early childhood
and I am waiting
for the green mornings to come again
youth's dumb green fields come back again
and I am waiting
for some strains of unpremeditated art
to shake my typewriter
and I am waiting to write
the great indelible poem
and I am waiting
for the last long careless rapture
and I am perpetually waiting
for the fleeing lovers on the Grecian Urn
to catch each other up at last
and embrace
and I am waiting
perpetually and forever
a renaissance of wonder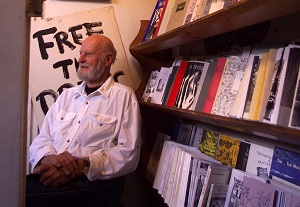 Lawrence Ferlinghetti (Yonkers, 24 maart 1919)
In 2011
De Nederlandse schrijver Jacob van Lennep werd geboren te Amsterdam op 24 maart 1802. Zie ook alle tags voor Jacob van Lennep op dit blog.
Uit: Dagboek van mijne reis (1823)
"Overal waren de schoonste huizen gesloopt, en die nog bestonden dreigden in te storten of stonden alleen, als treurden zij eenzaam op een kerkhof. Groote grasweiden, waar runddieren, paarden of schapen liepen vertoonden zich daar, waar voorheen trotsche gebouwen stonden: de magazijnen der eens zoo bloeiende Oost Indische Compagnie bestaan niet meer, slechts een huisgezin, dat nog meest te Leyden woont houdt nog koets en paarden, terwijl er in 1800 achttien waren, die zulks doen konden; de kleine visscherij* levert weinig meer op; en de groote (haring)visscherij is bijna geheel vervallen.
Vele oorzaken hebben hiertoe samengeloopen: de eerste is dat de haring visscherij niet meer zoo uitsluitend door onze natie wordt verricht als te voren, dat andere volken er zich mede bemoeid hebben en zelfs eenigzins het kaken hebben nagebootst. Daar nu hun haring veel goedkooper is, en de Russische boeren, bij welke veel consumptie van die visch is, weinig het onderscheid in smaak proeven, wordt die meer op den duur door hun gezocht dan de onze, die duurder is; ook heeft de haring zijne vorige standplaatsen verlaten; verscheidene visschers hebben dus om maar visch te huis te brengen zich onder de kusten begeven en daar hom- of kuit-zieke haring gevischt; andere verzuimden de haring welke 's avonds niet gekaakt was, over boord te werpen en kaakten dus den volgenden dag doode visch; hierdoor ontving de oude naam der Hollandsche haring een geweldigen knak; de meeste schuld echter ligt bij het aannemen van vreemde schippers, die zich het kaken slecht verstonden of min naauwgezet te werk gingen. Zoo verloren nu in het vorige jaar de reeders alles wat zij tot de uitrusting besteed hadden, 't geen ruim een ton bedroeg; de heer ABEGG, die van den koning van Pruissen geene premie voor de haringvisscherij erlangen kon, kwam in 1821 met vierentwintig buizen van Emden naar Enkhuizen, alwaar hij in triomf werd ingehaald, zoo zelfs dat de paarden van voor zijn rijtuig afgespannen werden, en hij door 't gepeupel voortgetrokken. Dan in twee jaren schoot hij ƒ 100.000 bij de visscherij in; hierom zendt hij dit jaar slechts de helft zijner buizen uit; de stad zal indien hare visscherij dit jaar even onvoordeelig uitvalt, dezelve geheel laten varen. –"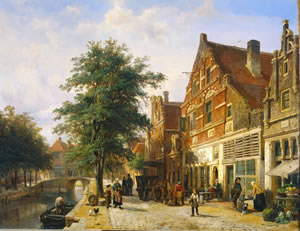 Jacob van Lennep (24 maart 1802 – 25 augustus 1868)
De Zuiderhavendijk in Enkhuizen door Cornelis Springer, 1868
De Nederlandse dichter, essayist en blogger Jeroen Mettes werd geboren in Valkenswaard op 24 maart 1978. Zie ook alle tags voor Jeroen Mettes op dit blog.
Uit: N30
"Tv kijken is óók solidair zijn. Containers razen voorbij. Er zit een krekel op mijn bureau; ik kan hem niet zien, maar ik zie de tijdschriften bewegen. Als ik een kakkerlak vermoord wikkel ik hem in keukenpapier, en voordat ik hem doorspoel zing ik de Marseillaise. Kleuters reflecteren zonlicht beter. Ze bevestigt wasknijpers aan de pijpen: mand, mond, hand, mand, enz. 'Do not wear contact lenses!'waarschuwt een e-mail. 'Trapped chemicals may cause eye damage.' Je moet de wereld niet menselijker maken dan hij is. In plaats van haar te bellen schrijf ik e-mail. De biobak leunt op zijn deksel; een open (zwarte) mond ontvangt de zon. Twee duiven zoeken brood aan weerszijden van de schaduw. Wat overblijft is metafoor. 20% gratis.
…pff weg! Een komma. Jeroen! Ik zou graag zo'n pak vlinders van je overnemen; elke dag komt mij uit; wanneer kom je? Ik lees Adorno in haar bikini. Als je je aan de wet houdt hoef je je ook niet onderdrukt te voelen. (…) Strikt semi-autobiografisch. Een vuist vol pinda's. Ik kan me niet herinneren dat we ooit een échte hut hebben gebouwd in de bossen rond Valkenswaard. Volgende week zal er bloesem hangen aan de bomen langs de hele laan, deze hele laan (Paukesven). Is dit een beetje jouw belevingswereld? Maar… Maar, maar… Hier breekt de geschiedenis af. Je zult huilen met je ogen open, je zult weten waarom, je zult naakt in het donker liggen en dan in het licht, je zult niet hoeven vragen: 'Wat moet ik doen?' In een wereld waarin winst en milieu langzaam aan elkaar gekoppeld raken, hebben multinationals ingezien dat maatschappelijk ondernemen de toekomst heeft. In mijn vroegste herinnering draagt ze een pak van lood; ze heeft een baby ('ik') in haar armen. Een tram komt uit de mist op ons af. Is het de wind of een machine? Ik wacht bij de McDonald's met zijn vriend tot hij terugkeert met de cocaïne."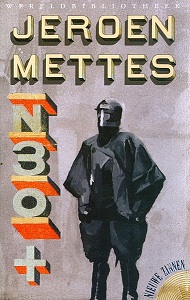 Jeroen Mettes (24 maart 1978 - 21 september 2006)
Cover
De Nederlandse (gelegenheids)dichter, historicus, geschiedenisleraar, illustrator en journalist Harry Prenen werd geboren in Schoten op 24 maart 1915. Zie ook alle tags voor Harry Prenen op dit blog.
Morinde
Goede nacht, gegroet Morinde, Morinde!
Al je vuur dat ik beminde
Doofde uit
Als een nachtkaars in de tuit
En geen vlam is meer te vinden,
Goede nacht , voorgoed Morinde,
Nee, ik laat mij niet meer vangen
Ook al heb je gouden spangen aangedaan
Wie in zulk een valstrik gaan.
Kunnen slechts den dood verlangen:
Nee, ik laat mij niet meer vangen.
Daarom, ga maar heen Morinde,
Ik zal wel een ander vinden
Die mij wacht
Want je schoonheid als de nacht
Is alleen geschikt voor blinden
Daarom, ga maar heen Morinde!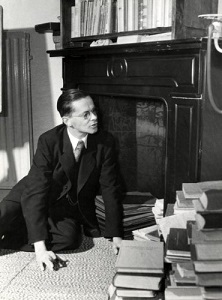 Harry Prenen (24 maart 1915 - 20 oktober 1992)
De Nederlandse dichter en schrijver Willem van Iependaal werd geboren in Rotterdam op 24 maart 1891. Zie ook alle tags voor Willem van Iependaal op dit blog.
Mijn Rotterdam
Hoe heb ik jou, mijn Rotterdam teruggevonden!
Je huizen aan puin en je havens vernield!
Ik voelde mezelf bij jouw aanblik geschonden
en vloekte; een biecht hoezeer ik van je hield!
Het krommende straatje waar ik werd geboren,
de school en m'n honk... Het is alles vergaan!
Ik zag nog alleen een geblakerde toren
in het gruis van vermorzelde jeugdjaren staan....

Er stond in een bouwput een heikar te hijgen:
weer dreunde en schalde het deel van de stad,
waar 't rossige leven van tieren en tijgen,
voor de zeeman aan wal z'n bekoringen had.
Er relden geen ruzies, er blonken geen glazen,
er deunde geen orgel, er zwierde geen rok.
Er was nog alleen maar dat bonken en razen
van de zwoegende kar en het vallende blok.

Maar ver in de haven, daar wenkten de kranen,
de boegen, de bruggen en mast achter de mast,
de Maas en de meeuwen, de vlaggen en vanen
en strekkende lijnen van takels en last!
Er zwaaiden weer bakken! Er lalden weer lieren!
De zon zette water en wimpels in vlam.
De hijgende heikar bleef halen en vieren;
de beukende hartslag van 't nieuw Rotterdam!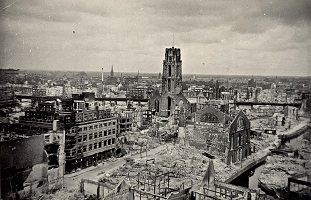 Willem van Iependaal (24 maart 1891 - 23 oktober 1970)
Rotterdam in mei 1940
De Nederlandse schrijfster Top Naeff (eig. Anthonetta van Rhijn-Naeff) werd geboren op 24 maart 1878 in Dordrecht. Zie ook alle tags voor Top Naeff op dit blog.
Uit: School-ydillen
"Jet, 'n beetje gekalmeerd in haar eerste enthousiasme voor die nieuwe schikking, hield zich groot:
'Zou mejuffrouw Henriëtte van Marle voor deze eereplaats te gunstig bekend staan?' vroeg ze waardig en dan, met 'n ondeugende flikkering in haar levendige bruine oogen zag ze Lien aan en zei plagend: 'Dan blijf ik maar op mijn oude plaats op de tweede bank, toch altijd nog beter dan jij op de eerste, en misschien valt dat nieuwe kind ook nog wel mee en laat ze me 'n beetje afkijken.' Jet was in haar hart van 't tegendeel overtuigd, maar ze kon Lien niet goed uitstaan.
Jeanne zat in den spiegel te kijken:
'Hoe heet ze?' vroeg zij.
Niemand wist 't.
'Ik weet alleen, dat haar moeder een Amerikaansche was, en al lang geleden gestorven; Adriaan vertelde 't van morgen aan 't ontbijt,' antwoordde Noes.
'Ik stel me zoo iets voor,' begon Lien weer, die er over had zitten denken waar ze Jet nu weer eens onaangenaam mee kon zijn, 'als onze Kaatje, jelui weet wel, ons loopmeisje, dat we altijd 't "brebis" noemen. Nou, zoo iets brebis-achtigs, een die voortdurend bloost, heel bedeesd praat, en haar oogen haast niet op durft slaan.'
Jet, 't slachtoffer was weer heelemaal terneergeslagen, vergat, dat 't van Lien slechts 'n bloote veronderstelling was, ging aan de piano zitten, en speelde 'home sweet home', zóó droefgeestig en gevoelvol, dat ze, puur van gevoel, er aanhoudend naast sloeg.
Lien keek zegevierend rond, tevreden over 't succes van de vergelijking met Kaatje; Noes grabbelde op den grond naar spelden; Jeanne zat met 'n zakdoek waar ze telkens aan likte haar armband op te poetsen, en allen dachten over 't nieuwe kind, dat den volgenden dag zou komen.
Jet dacht aan haar met een woede, die zich in aangrijpende accoorden luchtte, Noes met kalme nieuwsgierigheid, Lien met heimelijk pleizier, als 'n voorwerp dat Jet in den weg kon zitten, en Jeanne met 'n zekere tevredenheid in 't vooruitzicht 'n geestverwante in haar te zullen ontdekken."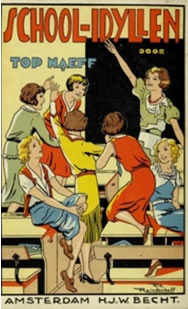 Top Naeff (24 maart 1878 – 21 april 1953)
Cover
Zie voor nog meer schrijvers van de 24e maart ook mijn blog van 24 maart 2013 deel 2.
24-03-2017 om 18:28 geschreven door Romenu

Tags:Peter Bichsel, Martin Walser, Dario Fo, Lawrence Ferlinghetti, Jacob van Lennep, Jeroen Mettes, Harry Prenen, Willem van Iependaal, Top Naeff, Romenu


23-03-2017

Cri Stellweg, Yōko Tawada, Gary Whitehead, Mitch Cullin, Steven Saylor, Roger Martin du Gard, Madison Cawein, Nils-Aslak Valkeapää, Federica de Cesco
De Nederlandse schrijfster en columniste Margaretha Hendrika (Cri) Stellweg (alias Saartje Burgerhart) werd geboren in Nijmegen op 23 maart 1922. Zie ook alle tags voor Cri Stellweg op dit blog en ook mijn blog van 27 november 2006.
Uit: Geef mij maar een klaproosje…
"Ik gaf me er juist reken-schap van, dat geen provencaalse cigale mijn schoorsteenmantel zou sieren deze winter, toen m'n hoofd onzacht in aanraking kwam met de voorruit. "Zeg, ben je nou helemaal ...," begon ik, mijn gekwetste hoofd betastend. "Stil," fluisterde mijn man dringend, "kijk es! Kijk toch es!!" "Waar?" vroeg ik, nog scheel van de klap. "Daar." Ik keek en ja, ik zag het .... Allemaal beesten op de weg. Hopen beesten! Hele horden! Hebberig scharrelde hij de auto al uit. lk volgde, een opkomende buil betastend. Toen ik op de weg stond, kon ik de zaak pas goed overzien: het krioelde er van vreemde, grote insecten, een soort sprinkhanen en toch géén sprinkhanen. Wel 7 tot 10 cm lang en in verschillende tinten gekleurd. Met acht reusachtige gebogen poten, lange voelsprieten en puntige venijnige koppen. Ze zaten in de planten aan weerszijden van de weg, ze kropen over het asfalt en enkele ondernemenden begonnen de auto al te beklimmen. "Aaaach," zei ik verbijsterd, "wat een boel! En wat zijn 't?! Wil je er een vangen? Ik vind het wel erge griezels, vies ook ... !"
"'k Weet niet wat het zijn," zei hij, "geef me gauw een doosje." Voorzichtig over de beesten heenstappend, liep ik naar de auto terug. Toen ik er achter om heen kwam, zag ik iets, waarvan de haren me overeins gingen staan. Wij hadden met onze wielen verscheidene exemplaren ver-morzeld of geraakt, de overlevenden kropen nu belust op deze lijken en invaliden rond, knaagden eraan en vraten ze op ... ! Het malen en knar-sen van hun kaken was duidelijk hoorbaar in de zware, hete stilte van de verlaten weg. Met wijd opengesperde ogen en de rillingen over m'n kruin stond ik er doodstil naar te kijken, tot ik iets scherps op m'n voeten voelde. lk keek: er kroop er een over mijn blote tenen in de open schoen .... Ik gaf een gil en rende naar de auto. "Erin!" dacht ik, "weg van dit gespuis!" "Wat is er?" riep de jager uit het kreupelhout waar zich blijkbaar de mooiste exemplaren op-hielden. "En waar blijft die doos?" "Kom jij je doos zelf maar halen," riep ik opgewonden, "ik zet . geen stap meer hier. Die beesten vreten elkaar op en ze willen aan mijn tenen beginnen." "Doe niet zo over-spannen!", riep hij boos, "kom op met dat doosje!" "Geen sprake van. Ik ben voor m'n plezier uit. Straks klimmen ze nog in m'n boothals," gaf ik, even boos, terug. Getergd kwam hij aangestapt, dwars door en over de regimenten rondscharrelende beesten."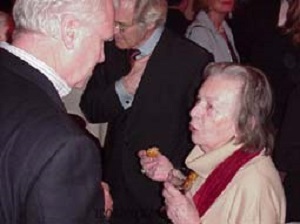 Cri Stellweg (23 maart 1922 - 26 november 2006)
Hier met Adriaan van Dis in 2003
De Japanse dichteres en schrijfster Yōko Tawada werd geboren op 23 maart 1960 in Tokyo. Zie alle tags voor Yōko Tawada op dit blog.
Uit: Celan Reads Japanese (Vertaald door Susan Bernofsky)
"The world beneath the water is behind the threshold. The 'I' in the poem sees how the 'poplar' dips down into the unfamiliar world of the water, but the 'I' remains an observer and doesn't hurry after it.

Ich eilt ihr nicht nach,
ich las nur vom Boden auf jene Krume,
die deines Auges Gestalt hat und Adel,
ich nahm dir die Kette der Sprüche vom Hals
und säumte mit ihr den Tisch, wo die Krume nun lag.
I didn't hurry after it,
I merely gathered from the ground the crumb
that has the shape of your eye and nobility
I took the chain made of proverbs from your neck
and draped it about the table where the crumb now lay.

The 'I' doesn't descend into the water but rather remains on the threshold pursuing a magical game: The stone and the circle are copied with the help of the 'crumb' and the 'chain' and so the image said to be visible beneath the water is repeated upon the table.
This magical game has the effect of a process of translation. The translator copies the image that exists beneath the water on the desk. The poplar, on the other hand, is not a translator. Its body disappears in the water.
If one were to equate the unfamiliar world beneath the water with the realm of the dead, then the magical game would be a translation of the language of the dead into writing. The translator hears the word of the dead and reads it [does he gather it up – auflesen – like ears of grain from the ground or read it – lesen – like a written character?] and places it upon the desk, i.e. he writes. The poplar on the other hand does not write. It vanishes beneath the water like a dying woman: Und sah meine Pappel nicht mehr ['And did not see my poplar again']."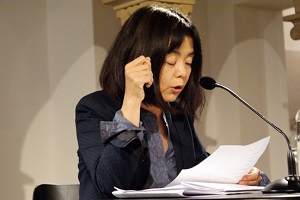 Yōko Tawada (Tokyo, 23 maart 1960)
De Amerikaanse dichter Gary Joseph Whitehead werd geboren op 23 maart 1965 in Pawtucket, Rhode Island. Zie alle tags voor Gary Whitehead op dit blog.
Uncle
Sometimes they talk with me,
these children I have not fathered,
and the things they say,
though I forget them,
seem like sentences out of books
I read once and haven't thought of since.
Today, a boy who in the absence
of his density might have been me,
the fiddlehead of his hand
in mine, followed me
through the upstairs hall,
asking something which,
if I had to guess,
I'd say had to do with destiny.
Outside, a school bus was passing,
the rev of its engine
like a bow drawn across a string,
a brief life's arc of sound
into and out of the house –
windows and walls and quiet rooms –
where I stood dumbstruck
and almost ready to answer.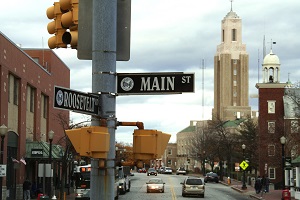 Gary Whitehead (Pawtucket, 23 maart 1965)
Pawtucket, Rhode Island
De Amerikaanse schrijver Mitch Cullin werd geboren op 23 maart 1968 in Santa Fe, New Mexico. Zie alle tags voor Mitch Cullin op dit blog.
Uit:Whompyjawed
"Harvey lifts the three fingers so Doc can get a look at them. "Feels fine, Doc," he says.
Doc brings those fingers close to his face, squints his eyes to inspect, sort of bends Harvey's fingers one way and then another.
"Hell," Harvey says, "seventy-two was laying down for me during the second quarter just so he wouldn't have to tackle Willy no more."
"Harvey," Doc says, "you're a case for the books. Peel it and shower. Let me have a see before you leave."
And Harvey nods with that mouthful of chew. Doc pats him on the stomach and moves on. He moves past several of us, sometimes swatting butts, though there ain't nothing weird about how he does it, or touching heads. Then he comes to where me and Lee Haywood, the quarterback, and my black friend Sammy are standing together as we remove our gear. "Good game," he tells us, "all of you. Everybody here okay?"
We nod our heads that we're fine, so Doc repeats himself by saying, "Hell of a good game, boys. I'm proud of you."
"We could've hung thirty more on them, Doc, if Coach hadn't wanted to ease up," says Lee. Then Lee glances at me and Sammy. "Gutting them with Willy," he says, "they was trying to man Sammy. Even I could of hit him all night."
Sammy laughs, flashes a big smile, so me and Doc start to laugh a little too. "All Lee's got to do, Doc," says Sammy, "is get' em up in the air. I'll be there when they come down."
"I tell you, Doc," says Lee, "it do make quarterbacking fun."
But before I can join in, I hear Coach Slick, our assistant football coach, call my name. So I lean forward some and see him standing outside Coach Bud's office, his thumb jerking toward the open door behind him, saying, "Hey, Willy, Coach wants to see you."
The thing about Coach Bud is that when he wants to see someone, no matter what that person is doing, he had best drop everything and go. Don't matter if he might be getting wrapped by Doc. Don't matter if he's taking a shit or is butt-naked in the shower. He ain't kept waiting by no one, especially us. That's just how it is."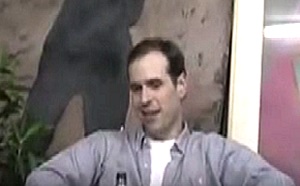 Mitch Cullin (Santa Fe, 23 maart 1968)
De Amerikaanse schrijver Steven Saylor werd geboren op 23 maart 1956 in Port Lavaca Texas. Zie alle tags voor Steven Saylor op dit blog.
Uit: Empire
"A.D. 14
Lucius woke with a start.
He had been dreaming. In his dream there was no earth, only a dark, empty sky, and beyond the sky, unimaginably vast, the crystalline firmament in which the stars shone brightly. No clouds obscured the stars, and yet there was lightning in the dream, lightning without thunder, random flashes of blinding light that illuminated great flocks of birds that suddenly filled the dark sky. There were vultures and eagles, ravens and crows, every sort of bird imaginable, soaring and flapping their wings, yet making no more sound than the silent lightning. The dream had filled him with a sense of urgency and confusion.
Awake now, Lucius heard a faint rumble of thunder in the distance.
He heard other sounds from elsewhere in the house. The slaves were up and beginning to stir, stoking the kitchen fire and opening shutters.
Lucius jumped from his bed. His room, with a small balcony looking west, was on the upper floor of the house. Below him was the slope of the Aventine Hill. The nearer houses, along the crest of the hill, were large and well made, like his family's house. Farther down the hill, humbler houses and tenements and artisans' workshops were crowded close together, and farther yet was a flat expanse with large granaries and ware houses close to the Tiber. At the river the city ended. On the far side of the Tiber, woods and meadows were divided into the private estates of the rich, which extended to the far horizon of hills and mountains.
How his mother hated this view! Born into a wealthy branch of the Cornelius family, she had grown up in a house on the other, more fashionable side of the Aventine Hill, with a view of the vast Circus Maximus below, the Capitoline Hill crowned by temples off to one side, and, directly opposite, the opulent Palatine Hill, where the emperor lived."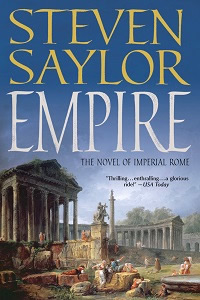 Steven Saylor (Port Lavaca, 23 maart 1956)
Cover
De Franse schrijver Roger Martin du Gard werd geboren op 23 maart 1881 in Neuilly. Zie alle tags voor Roger Martin du Gard op dit blog.
Uit:Les Thibault, I, Le pénitencier
«Antoine entra tout droit dans le cabinet de son père, qui mettait en ordre son bureau avant d'aller au lit.
— « Ah, c'est toi ! Mauvaises nouvelles ! »
— « Oui », interrompit Antoine, « M. Chasle m'a raconté. »
M. Thibault tira d'un coup sec le menton hors de son col ; il n'aimait pas qu'on sut ce qu'il s'apprêtait à dire. Antoine, pour l'instant, ne s'en souciait point ; il songeait à ce qu'il venait faire, et sentait déjà la paralysie le gagner. Il en eut conscience à temps, et fonça :
— « Moi aussi, je t'apporte de très mauvaises nouvelles : Jacques ne peut pas rester à Crouy. » Il reprit haleine, et continua d'un trait : « J'en arrive. Je l'ai vu. Je l'ai confessé. J'ai découvert des choses lamentables. Je viens en causer avec toi. Il est urgent de le sortir au plus tôt de là. »
M. Thibault demeura quelques secondes immobile. Sa stupeur ne fut perceptible que dans sa voix :
— « Tu… ? À Crouy ? Toi ? Quand ? Pourquoi faire ? Sans me prévenir ? Es-tu fou ? Explique-toi. »
Quoique soulagé d'avoir du premier bond franchi [ I-205 ] l'obstacle, Antoine était fort mal à l'aise et bien incapable de parler. Il y eut un silence étouffant. M. Thibault avait ouvert les yeux ; ils se refermèrent lentement, comme malgré lui. Alors il s'assit et posa ses poings sur le bureau.
— « Explique-toi, mon cher », reprit-il. Il martelait avec solennité chaque syllabe : « Tu dis que tu as été à Crouy ? Quand ? »
— « Aujourd'hui. »
— « Comment ? Avec qui ? »
— « Seul. »
— « Est-ce que… on t'a reçu ? »
— « Naturellement. »
— « Est-ce que… on t'a laissé voir ton frère ? »
— « J'ai passé toute la journée auprès de lui. Seul avec lui. »
Antoine avait une façon provoquante de faire sonner la fin de ses phrases, qui fouetta la colère de M. Thibault, mais l'avertit qu'il y avait lieu d'être circonspect. »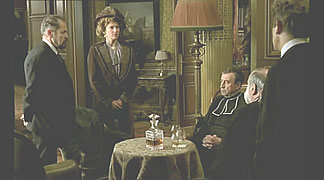 Roger Martin du Gard (23 maart 1881 – 22 augustus 1958)
Scene uit de Franse mini-serie « Les Thibault » uit 2003

De Amerikaanse dichter Madison Julius Cawein werd geboren in Louisville, Kentucky, op 23 maart 1865. Zie ook alle tags voor Madison Cawein op dit blog.
A Yellow Rose
The old gate clicks, and down the walk,
Between clove-pink and hollyhock,
Still young of face though gray of lock,
Among her garden's flowers she goes
At evening's close,
Deep in her hair a yellow rose.
The old house shows one gable-peak
Above its trees; and sage and leek
Blend with the rose their scents: the creek,
Leaf-hidden, past the garden flows,
That on it snows
Pale petals of the yellow rose.
The crickets pipe in dewy damps;
And everywhere the fireflies' lamps
Flame like the lights of Faery camps;
While, overhead, the soft sky shows
One star that glows,
As, in gray hair, a yellow rose.
There is one spot she seeks for, where
The roses make a fragrant lair,
A spot where once he kissed her hair,
And told his love, as each one knows,
Each flower that blows,
And pledged it with a yellow rose.
The years have turned her dark hair gray
Since that glad day: and still, they say,
She keeps the tryst as on that day;
And through the garden softly goes,
At evening's close,
Wearing for him that yellow rose.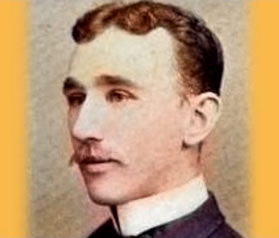 Madison Cawein (23 maart 1865 – 8 december 1914)
De Samische dichter, schilder, musicus en fotograaf Nils-Aslak Valkeapää werd geboren op 23 maart 1943 in Palonjoensuu nabij Enontekiö. Zie alle tags voor Nils-Aslak Valkeapää op dit blog.
My home is in my heart (Fragment)
Our ancestors kept fires on Allaorda
on Stuorajeaggis's tufts
in Viiddesčearru
Grandfather drowned in the fjord while fishing
Grandmother cut her shoe grass in Šelgesrohtu
Father was born in Finjubákti in burning cold
And still they ask
where is your home
They come to me
and show books
Law books
that they have written themselves
This is the law and it applies to you too
See here
But I do not see brother
I do not see sister
I cannot
I say nothing
I only show them the tundra
I see our fjelds the places we live
and hear my heart beat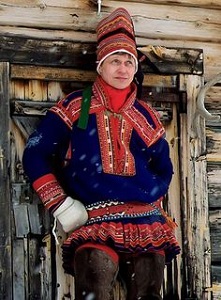 Nils-Aslak Valkeapää (23 maart 1943 – 26 november 2001)
De Zwitserse schrijfster Federica de Cesco werd geboren op 23 maart 1938 in Pordenone, Zie alle tags voor Federica de Cesco op dit blog.
Uit: Das Mondpferd
"In der Nacht war Schnee gefallen, war das drahtige Steppengras bis an den Fuß der Berge weiß überpudert. Der gefrorene Boden klirrte unter den Pferdehufen. Eine fahle Wintersonne schien über der weiten Ebene und den Felsklippen, ehe sie sich frühzeitig wieder im rötlichen Dunst zum Horizont hinabsenkte. Die Schafe und Pferde mussten für die Nacht auf den von Palisaden umzäunten Platz zusammengetrieben werden. Gleich nach dem ersten Schneefall pflegten Wölfe und Bären ihre Schlupfwinkel im Gebirge zu verlassen und in die Weidegründe einzufallen. Schon brach die Nacht herein, da entdeckte Huong, der Schäferhund, Spuren von Schafen, die sich von der Herde entfernt hatten. Mit langen, geschmeidigen Sätzen sprang er einen Berghang hinauf. Anga zögerte. Sollte sie ihm folgen? Huong müsste eigentlich allein damit fertig werden, er war gut abgerichtet und hatte Mut. Wenn sich aber unter den versprengten Schafen auch Lämmer be-fanden? Jedes Tier war wertvoll, kein einziges durfte ver-loren gehen. Schnell entschlossen setzte Anga ihr Pferd in Galopp. Weiß glänzend wie eine Silbermünze, stieg der Voll-mond langsam über die Berggipfel empor. Es war sehr kalt. Ein beißender Wind blies pfeifend von der sibiri-schen Steppe her und rüttelte an Tannen und Pappelbäu-men. Anga trug ihre Winterkleider: lederne Hosen und eine lange, pelzgefütterte Jacke, kleine, reich mit Fransen ver-zierte Stiefel mit gebogener Schnabelspitze. Wie die meis-ten Mongolenmädchen war sie groß und sehr schlank. Zwei lange, straff geflochtene Zöpfe hingen ihr bis zum Gürtel und umrahmten das bronzene, junge Gesicht. Wie weißer Nebel stand der Atem des Pferdes vor sei-nen Nüstern. Die Hufe wirbelten den trockenen Schnee auf. Huong, der Hund, glitt leise wie ein Schatten zwi-schen die Felsen. Plötzlich bellte er kurz auf und sprang schneller voran. Anga spornte das Pferd an. Hinter einer Felswand erschienen, ängstlich unter einer überhängen-den Platte zusammengeschart, einige Schafe. Knurrend umrundete Huong die Tiere. Im Halbdunkel zeigten seine Augen einen rötlichen Glanz. Die kräftigen Zähne, der lange buschige Schweif verrieten seine wölfische Her-kunft, aber nie hätte Huong die seiner Hut anvertrauten Schafe gerissen."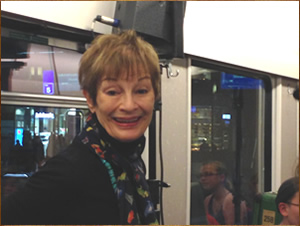 Federica de Cesco (Pordenone, 23 maart 1938)
Zie voor nog meer schrijvers van de 23e maart ook mijn blog van 23 maart 2015 deel 1 en eveneens mijn blog van 23 maart 2014 deel 1 en ook deel 2.
23-03-2017 om 17:54 geschreven door Romenu

Tags:Cri Stellweg, Yō,ko Tawada, Gary Whitehead, Mitch Cullin, Steven Saylor, Roger Martin du Gard, Madison Cawein, Nils-Aslak Valkeapää, Federica de Cesco, Romenu


22-03-2017

Billy Collins, Eveline Hasler, Érik Orsenna, Léon Deubel, Karel Poláček, Arnold Sauwen, Wolfgang Bächler, Albrecht Goes, Gabrielle Roy
De Amerikaanse dichter en schrijver Billy Collins werd geboren in New York op 22 maart 1941. Zie ook alle tags voor Billy Collins op dit blog.
On Turning Ten
The whole idea of it makes me feel
like I'm coming down with something,
something worse than any stomach ache
or the headaches I get from reading in bad light-
a kind of measles of the spirit,
a mumps of the psyche,
a disfiguring chicken pox of the soul.
You tell me it is too early to be looking back,
but that is because you have forgotten
the perfect simplicity of being one
and the beautiful complexity introduced by two.
But I can lie on my bed and remember every digit.
At four I was an Arabian wizard.
I could make myself invisible
by drinking a glass of milk a certain way.
Atseven I was a soldier, at nine a prince.
But now I am mostly at the window
watching the late afternoon light.
Back then it never fell so solemnly
against the side of my tree house,
and my bicycle never leaned against the garage
as it does today,
all the dark blue speed drained out of it.
This is the beginning of sadness, I say to myself,
as I walk through the universe in my sneakers.
It is time to say good-bye to my imaginary friends,
time to turn the first big number.
It seems only yesterday I used to believe
there was nothing under my skin but light.
If you cut me I would shine.
But now if I fall upon the sidewalks of life,
I skin my knees. I bleed.
Some Days
Some days I put the people in their places at the table,
bend their legs at the knees,
if they come with that feature,
and fix them into the tiny wooden chairs.
All afternoon they face one another,
the man in the brown suit,
the woman in the blue dress,
perfectly motionless, perfectly behaved.
But other days, I am the one
who is lifted up by the ribs,
then lowered into the dining room of a dollhouse
to sit with the others at the long table.
Very funny,
but how would you like it
if you never knew from one day to the next
if you were going to spend it
striding around like a vivid god,
your shoulders in the clouds,
or sitting down there amidst the wallpaper,
staring straight ahead with your little plastic face?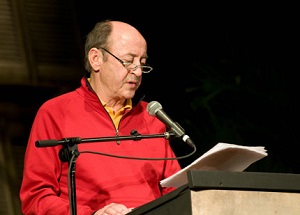 Billy Collins (New York, 22 maart 1941)

De Zwitserse schrijfster Eveline Hasler werd geboren in Glarus op 22 maart 1933. Zie ook alle tags voor Eveline Hasler op dit blog.
Uit: Stürmische Jahre
"Die Tochter der Riesers hieß eigentlich Marguerite, doch innerhalb der Familie wurde sie Mucki genannt, ein Kosename, den die Dorfkinder am Gitter des Rieserschen Tennisplatzes schnell aufgeschnappt hatten. Die Kinder fanden Mucki niedlich: dunkle, von rötlichen Lichtflecken durchsetzte Löckchen und schwarzblaue Gucklöcher, so stellten sie sich Johanna Spyris Heidi auf der Alp vor. Doch Mucki wohnte nicht beim Alpöhi, sondern beim Theaterdirektor und war, wie man im Dorf zu sagen pflegte, eins der Herrenkinder aus dem Rüschliker Villenviertel. Sie kam später als die gewöhnlichen Mädchen in die Dorfschule, war oft krank und fehlte lange, auch das gehörte, wie man dachte, zu einem feinen reichen Kind. Voriges Jahr, am Fest des achten Geburtstags, zu dem aus Prag die Großeltern und aus Wien Onkel Franz Werfel mit seiner Frau Alma Mahler angereist waren, schenkte man der Kleinen den Zunamen Alma, wohl zu Ehren der schönen Tante. Schon früh merkte sich das Kind aus der Vielfalt der Namen, dass man nicht jedem Ruf zu folgen habe.
Da die Eltern Rieser tagsüber im Schauspielhaus arbeiteten, kümmerte sich eine Bonne um Mucki. Man hatte die junge, phantasiebegabte Paulette aus Le Locle kommen lassen, damit sich das Mädchen, das mit den Eltern Hochdeutsch, mit den Dorfkindern Züritütsch sprach, beizeiten auch an die französische Sprache gewöhne.
Mucki hatte dem Pförtner eine aschfarbene kleine Hündin, die ihm zugelaufen war, abgebettelt, das Mädchen nannte sie Bellefleur. «Klingt edel», sagte die Mutter und verbiss sich ein Lächeln, «aber ich kann das hergelaufene Tier trotzdem nicht in der Villa dulden, auch Papas Katzen setzen sich zur Wehr.» Das Kind mochte Papas Katzen nicht, hochnäsige Tiere, die sich selbst genug waren, einzig die kleinste, von Papa das Zartchen genannt, ließ mit sich spielen. So versorgte die Neunjährige das Hündchen neben der Pförtnerbehausung, und die Ablehnung ihres Lieblings durch die Mutter ließ einen heimlichen Groll in ihr wachsen.
Einmal hatte Paulette eine Fabel vorgelesen von Vögeln, die ihre Eier in fremde Nester legen.
«Bin ich auch in ein fremdes Nest gelegt worden, Paulette?"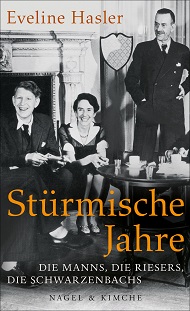 Eveline Hasler (Glarus, 22 maart 1933)
Cover
De Franse schrijver Érik Orsenna werd geboren in Parijs op 22 maart 1947 als Érik Arnoult. Zie ook alle tags voor Erik Orsenna op dit blog.
Uit:Portrait eines glücklichen Menschen (Vertaald door Annette Lallemand)
"Zur Stunde, da die Hel erschöpft wieder nach Hause geht in ihre Rue Saint-Nicaise und das Katzen-volk sich ihr an die Fersen heftet, weil sie so stark riecht nach Schweiß und Blut, da würgen die Japaner noch an ihrer Niederlage in Korea, sind in Indien die Moguln an der Macht, waren aus Moskau die Polen vertrieben und der erste Romanov soeben zum Zaren ernannt, und am Bosporus, aufgeschreckt ob des Wütens Mehmetls III., der am Tag seiner Thron-besteigung neunzehn Brüder und wohl zwanzig seiner Schwestern von taubstummen erwürgen ließ und damit alle Grenzen überschritt, war der Entschluß gefaßt worden. den Sultaninnen die Macht zu übertragen. Weiter westlich wetteifert Ragusa mit Venedig, taufen im noch ganz jungen Santa Fe Neu-Mexikos die Franziskaner Tausende von Pueblo-, Hopi-, Curac-, und Tajique-Indianern und treten an Festtagen die Flagellanten zum blutigen Wettstreit an, während rund um das brasilianische Sao Paulo mit seinen drei Millionen Seelen die Jesuiten die portugiesischen Einwanderer verfolgen und hetzen, weil sie in immer größerer Zahl den Segnungen der Zivilisation abschwören und zum heidnischen Leben im Dschungel und den so reizvollen Frauen dieser Wilden überlaufen. Frankreich, das reichste Stück Erde Europas zu dieser Zeit, liegt dennoch brach darnieder nach all den Bürgerkriegen. Man schneidet einander genüßlich die Kehle durch und nennt es Glaubensstreitigkeiten. Ludwig XIII. ist König, aber erst zwölf Jahre alt. Seine Mutter, Maria de' Medici, versieht die Regentschaft so gut sie kann und stellt die Großen durch Geldzuwendungen ruhig: ein Fünftel der Staatsfinanzen verflüssigt sich zum Schmieren von ohnehin schon reichlich beringten Händen. Keine Grenze ist sicher. Die Spanier besitzen den Norden und das Artois. die Franche-Comté und das Roussillon. Das Kaiserreich hält Elsaß und Lothringen im Griff. Nizza und auch Savoyen sind fremder Boden... Man war befriedet worden unter Heinrich IV., man war reich geworden dank Sully.' Doch Ravaillacs Messerstich zerriß die Schönwetterperiode. 1613 ähnelt wieder den vergangenen schlimmen Jahren: man kämpft sich durch die Tage wie durch Wellenkämme, überwindet einen nach dein anderen und läßt ihn schleunigst hinter sich, um wieder Mut zu fassen für all die anderen, die noch folgen werden."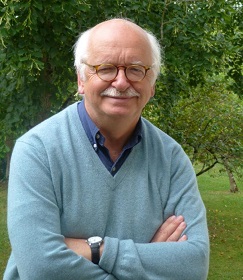 Érik Orsenna (Parijs, 22 maart 1947)
De Franse dichter Léon Deubel werd geboren op 22 maart 1879 in Belfort. Zie ook alle tags voor Léon Deubel op dit blog.
Chant pour l'Amante (Fragment)
Ô toi que je vénère à l'égal des Chimères
Qui ont armé tes doigts de leurs griffes d'acier,
Ô femme aux flancs flétris par l'œuvre de la mère
Je dépose humblement ma louange à tes pieds.

Au fond d'un bouge aveugle à la lumière d'or,
Parmi la double horreur de l'ivresse et des rides,
Un jour tu m'as tendu l'embûche de ton corps
Lové comme un serpent dans les ronces perfides.

Un jour j'ai recueilli la volupté divine
Au putride relent de ta bouche édentée ;
La vieillesse et la mort qui griffaient ta poitrine
Ont veillé mon sommeil au verger dévasté.

Et quand le désir fauve élargissant ses ondes
M'a grisé de son vin et souillé de sa lie,
Chaque fois j'ai senti de la minute immonde
Me remonter aux dents l'écume de la vie.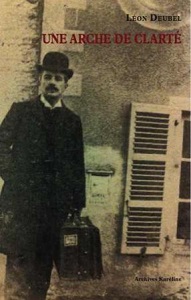 Léon Deubel (22 maart 1879 – 4 juni 1913)
Cover
De Tsjechische schrijver Karel Poláček werd geboren op 22 maart 1892 in Reichenau. Zie ook alle tags voor Karel Poláček op dit blog.
Uit: We Were a Handful (Vertaald door Mark Corner)
"There was bedlam everywhere. People were skirmishing outside in front of the church, cows and horses were doing battle there too, dogs were at each other's throats as were the birds in the trees and even the butterflies in the garden and the flies in the kitchen; in fact anything that could come to blows did so. And at the height of the fray Her Excellency the Maharani said in a high voice that no one could have missed: "What are the leading lights of the land doing, fighting like this? You leave me lost for words. I'll tell you one thing, though. This is all the fault of that lad Bajza. He's always in at the start of every scrap and he never stays out of trouble." And in a deep voice His Excellency the Maharajah said: "That's the gospel truth, let's be after him!" And all at once a great cry went up and the whole lot of them, nobles and commoners, boys and beasts, all the bigwigs and the priest and the verger and even the princess came tearing down on me as if it was all my fault and I'd done noth-ing at all and in fact I'd told the others to behave themselves. And now everything was supposed to be my fault all over again. I put up a brave fight to no avail when there were so many of them, it was all against one, so I tried to run away but there was no way I could, my legs didn't want to know, it was as if they'd gone to work for someone else, and I began to yell: "Why can't they leave me alone when I've done nothing to harm them! They started it, I was minding my own business and now I get blamed for everything!" and I shouted more and more until I noticed that Pa had his hand on my shoulder and was saying: "Stop it. That's enough now. We're here with you and there's nothing to be afraid of." I piped down when I saw it was Pa because he's the strongest one of the lot and can get the better of them all, he'd really give them what for, oh yes, you should see what he can do, and Ma said in her soft little voice: "Now then, my Petie, who's been kicking up such a fuss?" and I went on crying a bit, though only a small bit, and I said in an ac-cusing way: "You went off without a word and left me there on my own to take on all corners," and then the doctor was there as well and he said to me: "Now then, young stalwart," and I said with a scowl: "I am not your young stalwart so just leave that out!"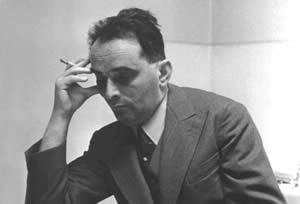 Karel Poláček (22 maart 1892 – 19 oktober 1944)
De Vlaamse dichter en schrijver Arnold Sauwen werd geboren te Stokkem op 22 maart 1857. Zie ook alle tags voor Arnold Sauwen op dit blog
Op Gods genade
Vedelspelers, orgelkramers,
drijf de nood uit muffe kamers
ons door 't land met wijf en kind;
door de zwerverszucht gedreven
gaan we blijgemoed door 't leven,
zonder zorg, door weer en wind.

Onze planken huizen trekken
wij, geduldig als de slekken,
voort langs dal en heuveltop.
Naar het noorden, naar het zuiden,
waar de kermisklokken luiden,
slaan wij onze tenten op.

Rijk aan kinderen, arm aan zegen,
gaan we langs des Heren wegen,
gaan we klagend onze nood.
Voor ons spelen, voor ons zingen
reikt men ons, verworpelingen,
gaarne toch 't genadebrood.

Wordt ons spel niet steeds geprezen;
wordt het wijf soms afgewezen
met de korf, aan deur of poort;
klinkt het bars: "God, wil u bijstaan!"
vloekend spelen we in 't voorbijgaan
toch ons klagend deuntje voort.

Herenhuizen, boerenerven
zien ons komen menigwerven,
als het feest of bruiloft is.
Licht wordt van het middageten
ons de kruimel toegesmeten,
die daar afvalt aan de dis.

Waarom ploegen, waarom zaaien?
De akker voedt de wilde kraaien;
koren wast er overal.
Beedlend langs de deuren, vragen
wij het kleed dat, afgedragen,
onze naaktheid dekken zal.

Langs de wegen, vroeg en spade,
dolen wij, op Gods genade,
dorpen in en dorpen uit,
tot ons, oud en onverdroten,
eens de slagboom wordt gesloten
die ons rustloos zwerven stuit.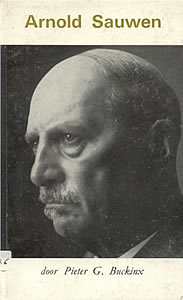 Arnold Sauwen (22 maart 1857 – 11 mei 1938)
Cover biografie
De Duitse dichter Wolfgang Bächler (een pseudoniem van Wolfgang Born) werd geboren op 22 maart 1925 in Augsburg. Zie ook alle tags voor Wolfgang Bächler op dit blog.
Die Erde bebt noch
Die Erde bebt noch von den Stiefeltritten.
Die Wiesen grünen wieder, Jahr für Jahr.
Die Qualen bleiben, die wir einst erlitten,
ins Antlitz, in das Wesen eingeschnitten.
In unsren Träumen lebt noch oft, was war.
Das Blut versickerte, das wir vergossen.
Die Narben brennen noch und sind noch rot.
Die Tränen trockneten, die um uns flössen.
In Lust und Fluch und Lächeln eingeschlossen
begleitet uns, vertraut für immer, nun der Tod.
Die Städte bröckeln noch in den Gewitternächten.
Der Wind weht Asche in den Blütenstaub
und das Geröchel der Erstickten aus den Schächten.
Doch auf den Märkten stehen schon die Selbstgerechten
und schreien unsere und ihre Ohren taub.
Die Sonne leuchtet wieder wie in Kindertagen.
Die Schatten fallen tief in uns hinein.
Sie überdunkeln unser helles Fragen.
Und auf den Hügeln, wo die Kreuze ragen,
wächst säfteschwer ein herber neuer Wein.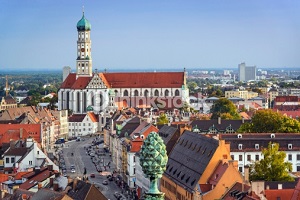 Wolfgang Bächler (22 maart 1925 – 24 mei 2007)
Augsburg
De Duitse dichter, schrijver en theoloog Albrecht Goes werd geboren op 22 maart 1908 in Langenbeutingen. Zie ook alle tags voor Albrecht Goes op dit blog.
Erste Schritte
Klein ist, mein Kind, dein erster Schritt,
Klein wird dein letzter sein.
Den ersten gehn Vater und Mutter mit,
Den letzten gehst du allein.

Seis um ein Jahr, dann gehst du, Kind,
Viel Schritte unbewacht,
Wer weiß, was das dann für Schritte sind
Im Licht und in der Nacht?

Geh kühnen Schritt, tu tapfren Tritt,
Groß ist die Welt und dein.
Wir werden, mein Kind, nach dem letzten Schritt
Wieder beisammen sein.
Das Wort
Ich liebe dich. Es ist das alte Wort -
Wer wars, ders sprach zum allerersten Mal
Das Wort der Lust, das Quellwort süßer Qual?
Und wie geschahs, daß durch die Zeiten fort
Es weiterdrang? Wer, sag, wer trugs zu dir,
Beladen von so vieler Schicksalsfracht,
Flamme des Tages und Musik der Nacht
Und Übermacht - ach! über dir und mir?
Das alte Wort. Und doch, da ich dirs jetzt
Zusage, ists, als sei es nie zuvor
Berührt von Lippen, zitternd, heiß und schwer.
Wort, neugeschaffen, rein und unverletzt
Für diesen Mund nur und für dieses Ohr:
Hör mich, o du! Ich liebe dich so sehr.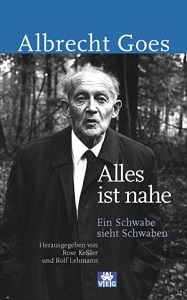 Albrecht Goes (22 maart 1908 – 23 februari 2000)
Cover
De Canadese schrijfster Gabrielle Roy werd geboren op 22 maart 1909 in Saint Boniface, Manitoba. Zie ook alle tags voor Gabrielle Roy op dit blog.
Uit: Children of My Heart (Vertaald door Alan Brown)
"Now I recognized him: an immigrant from the Abruzzi who had recently come to our town. As yet unable to find work in his own trade of upholsterer, he was doing odd jobs here and there. This was why I had seen him one day in our neighbourhood, digging up a patch of ground. I remembered that his little son has been with him, trying to help, that the two never stopped talking as they worked, no doubt spurring each other on, and that this murmur in a foreign tongue, at our fields' edge, had seemed to have a special charm. I went over to them with the very best smile I could muster. As I came near, the child cried out in terror and clung even more desperately to his father, who trembled on contact. I could see that he wouldn't be much help. On the contrary, with his caresses and soft words he did nothing but keep alive the hope that he might weaken. And in fact the father began to plead with me. Since the boy was so unhappy, wouldn't it be better to take him home just this once, and try again this afternoon or tomorrow morning, when he'd have time to explain what a school was. I saw them hanging on my decision, and took my courage in my two hands: "No, when you have to make the break, it doesn't help to wait." The father lowered his eyes, obliged to admit I was right. Even between the two of us we had trouble detaching the child; as soon as we loosened the grip of one hand it slipped away to grasp another handful of the father's clothing. The odd thing was that while he continued to cling to his father he was furious with him for taking my side, and through his tears and hiccups was calling him a heartless wretch, or words to that effect. Finally the father was free for a moment, while I was holding on to the boy for dear life. I made a sign to the father to disappear as quickly as he could."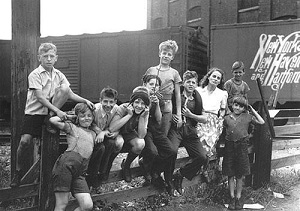 Gabrielle Roy (22 maart 1909 – 13 juli 1983)
Gabrielle Roy met de kinderen van Saint-Henri, 1945
Zie voor nog meer schrijvers van de 22e maart ook mijn blog van 22 maart 2016 en ook mijn blog van 22 maart 2014 deel 1 en eveneens deel 2.
22-03-2017 om 18:18 geschreven door Romenu

Tags:Billy Collins, Eveline Hasler, Érik Orsenna, Léon Deubel, Karel Poláč,ek, Arnold Sauwen, Wolfgang Bächler, Albrecht Goes, Gabrielle Roy, Romenu



| | |
| --- | --- |
| | |



Inhoud blog


| | |
| --- | --- |
| | Walter van den Broeck, Joost de Vries, Mario Vargas Llosa, Chrétien Breukers, Nelson Algren, Marianne Frederiksson, Russell Banks, Léon-Gontran Damas, Éric-Emmanuel Schmitt |
| | Heinrich Mann, Shusaku Endo, Golo Mann, Carolina Trujillo, Patrick McCabe, Bob den Uyl, Dubravka Ugresić, Francis Ponge, Marie Under |
| | Tennessee Williams, Gregory Corso, Hwang Sun-won, Martin McDonagh, Robert Frost, Patrick Süskind |
| | A. E. Housman, Bettina Galvagni, Hai Zi, Erica Jong, Artur Landsberger |
| | Am vierten Sonntage in der Fasten (Annette von Droste-Hülshoff) |
| | Pol Hoste, Menno Van der Beek, Flannery O'Connor, Jaime Sabines, Peter Van Straaten, Toni Cade Bambara, Antonio Fogazzaro |
| | Jacques Bens, Jacques Audiberti, Filip De Pillecyn, Erica Pedretti, Evliya Çelebi, Anne Fanshawe, Daniel Schiebeler, Mary Webb |
| | Peter Bichsel, Martin Walser, Dario Fo, Lawrence Ferlinghetti, Jacob van Lennep, Jeroen Mettes, Harry Prenen, Willem van Iependaal, Top Naeff |
| | Cri Stellweg, Yōko Tawada, Gary Whitehead, Mitch Cullin, Steven Saylor, Roger Martin du Gard, Madison Cawein, Nils-Aslak Valkeapää, Federica de Cesco |
| | Billy Collins, Eveline Hasler, Érik Orsenna, Léon Deubel, Karel Poláček, Arnold Sauwen, Wolfgang Bächler, Albrecht Goes, Gabrielle Roy |
| | In Memoriam Colin Dexter |
| | Willem de Mérode, Pim te Bokkel, Kees van Beijnum, Jean Paul, Hamid Skif, Hubert Fichte, Peter Hacks, Michel Bartosik, Youssef Rzouga |
| | David Malouf, Friedrich Hölderlin, Katharina Hartwell, Ralph Giordano, Ricus van de Coevering, Jens Petersen, Benoît Duteurtre, Gerard Malanga, Henrik Johan Ibsen |
| | Mano Bouzamour, Hans Mayer, Philip Roth, Kirsten Boie, Lynne Sharon Schwartz, Lina Kostenko, Petar Preradović |
| | William Allingham, Ion Barbu, Rosalie Loveling, Tobias Smollett, Irving Wallace, Peter Abrahams |
| | Am dritten Sonntage in der Fasten (Annette von Droste-Hülshoff) |
| | Christa Wolf, Charlotte Roche, John Updike, Wilfred Owen, Stéphane Mallarmé |
| | Héctor Bianciotti, Hellema, Friedrich Hebbel, Max Barry, Wolfgang Bauer, Richard Condon |
| | Walter Rheiner, Srečko Kosovel, Jean Anglade, George Plimpton, Cosmo Monkhouse, Friedrich Nicolai |
| | Siegfried Lenz, Thomas Melle, Hans Wollschläger, Rense Sinkgraven, Hafid Aggoune, William Gibson, Patrick Hamilton, Karl Gutzkow, Jean Ingelow |
| | In memoriam Torgny Lindgren |
| | Frühlingsglaube (Johann Ludwig Uhland) |
| | Ben Okri, David Albahari, Louis Paul Boon, Kurt Drawert, Gerhard Seyfried, Andreas Okopenko, An Rutgers van der Loeff, Prosper van Langendonck, Paul Heyse |
| | Pam Ayres, Jochen Schimmang, Volker von Törne, Horton Foote, Olivier Delorme, Alexandru Macedonski, Albert Robida, Theodore de Banville, Wout Waanders |
| | Mahmoud Darwish, Yuri Andrukhovych, Didier Decoin, Yeghishe Charents, Vladimir Makanin, Oskar Loerke, W.O. Mitchell, Hugh Walpole, Inge Müller |
| | Jenny Erpenbeck, Dave Eggers, Jack Kerouac, Naomi Shihab Nye, Carl Hiaasen, Edward Albee, De Schoolmeester, Benedict Wells |
| | Kathrin Schmidt, Henrike Heiland, M. A. Numminen, Gabriele d'Annunzio, Irving Layton, Helga Goetze, Françoise d'Eaubonne, Antony Deschamps, Sergej Michalkov |
| | Leena Lehtolainen, Karl Krolow, Daan de Ligt, Frans Vogel, Willem Claassen, Amal Karam |
| | Ernst Wichert, Douglas Adams, Torquato Tasso, Georg Maurer, Josef Martin Bauer |
| | John Rechy, Joseph von Eichendorff, Hilde Van Cauteren, Jakob Wassermann, Karel van de Woestijne, Chloé Delaume, Friedrich Schlegel, Boris Vian, Manolis Anagnostakis |
| | Peter Altenberg, Ed Hoornik, Peter Zantingh, Heere Heeresma, Vita Sackville-West, Josef Weinheber, Taras Sjevtsjenko, Umberto Saba, Agnes Miegel |
| | Jeffrey Eugenides, Walter Jens, Hafid Bouazza, A. Marja, Aslı Erdoğan, John McPhee, Mouloud Feraoun, Mechtilde Lichnowsky, Dominic Angeloch |
| | Bret Easton Ellis, Robert Harris, Jürgen Theobaldy, Georges Perec, Abe Kōbō, Reinhard Kaiser, Manfred Gregor, Jan Frederik Helmers, Alessandro Manzoni |
| | Patrick deWitt, Gabriel García Márquez, Jeremy Reed, Marijke Hanegraaf, Thomas Acda, Günter Kunert, Clark Accord, Elizabeth Barrett Browning, Michelangelo |
| | Pier Paolo Pasolini, Arthur van Schendel, Koos van Zomeren, Jurre van den Berg, Nelly Arcan, Danny King, Jean Orizet |
| | Leslie Marmon Silko, Frank Norris, Fritz Usinger, Friedrich Schnack, Ennio Flaiano, Moritz Carrière, Karl August Timotheus Kahlert |
| | Kristof Magnusson, Khaled Hosseini, Robert Kleindienst, Irina Ratushinskaya, Alan Sillitoe |
| | Ryszard Kapuściński, Jean-Joseph Rabearivelo, Annette Seemann, F. W. Bernstein, Giorgio Bassani |
| | Bernardo Ashetu, Léon-Paul Fargue, Kito Lorenc, Jacques Dupin, Thomas S. Stribling |
| | Manfred Flügge, Hans Verhagen, Tjitske Jansen, James Merrill, Kola Boof, Clifton Snider, Gudrun Pausewang, Josef Winkler, Chris Kraus |
| | Godfried Bomans, Multatuli, Frank Albers, John Irving, Thom Wolfe, Michael Salinger, János Arany, Olivia Manning, Rinske Kegel |
| | Ash Wednesday (T. S. Eliot) |
| | Jan Eijkelboom, Jim Crace, Delphine de Vigan, Franz Hohler, Lytton Strachey, Robert Lowell, Myrthe van der Meer, Franzobel, Steven Barnes |
| | Chanson pour mourir d'amour au temps de carnaval (Louis Aragon) |
| | Stephen Spender, Bart Koubaa, Luc Dellisse, John Montague, Marcel Pagnol, Bodo Morshäuser, Martin Suter, Yórgos Seféris, Howard Nemerov |
| | Josef Svatopluk Machar |
| | Carnival Evening (Linda Pastan) |
| | Cynan Jones, John Steinbeck, Lawrence Durrell, André Roy, Henry Longfellow, Elisabeth Borchers, James T. Farrell, Irwin Shaw |
| | Fastnacht (Achim von Arnim) |
| | Michel Houellebecq, Victor Hugo, Adama van Scheltema, George Barker, Hermann Lenz, Antonin Sova, Jean Teulé |


Gastenboek


Druk op onderstaande knop om een berichtje achter te laten in mijn gastenboek