E-mail mij


Druk op onderstaande knop om mij te e-mailen.


Romenu


Romenu is een blog over gedichten, literatuur en kunst Maar Romenu is ook een professionele freelance vertaler
Du-Ne en Ne-Du http://www.romenu.nl.


Vakantiehuisje


Huur eens een (vakantie)huis in een natuurgebied, dichtbij het centrum van Nijmegen


Google


Georg Trakl

Georg Trakl werd op 3 februari 1887 in het conducteurshuis aan de Waagplatz 2 in Salzburg geboren. Zijn vader, Tobias Trakl, was een handelaar in ijzerwaren en zijn moeder, die ook psychische problemen had, was Maria Catharina Trakl, (meisjesnaam Halik). Voorts had hij nog drie broers en drie zussen. Margarethe (doorgaans Grethe genoemd) stond hem het naast, zelfs zodanig dat sommigen een incestueuze verhouding vermoeden. Zijn jeugd bracht hij door in Salzburg. Vervolgens bezocht hij van 1897 tot 1905 het humanistische gymnasium. Om toch een academische opleiding te kunnen volgen, werkte hij tot 1908 in de praktijk bij een apotheker. Sommigen vermoedden dat hij dit vooral deed om zichzelf opiaten te kunnen verschaffen. Bij het uitbreken van WO I werd Trakl als medicus naar het front in Galicië (heden ten dage in Oekraïne en Polen) gestuurd. Zijn gemoedsschommelingen leidden tot geregelde uitbraken van depressie, die verergerd werden door de afschuw die hij voelde voor de verzorging van de ernstig verwonde soldaten. De spanning en druk dreven hem ertoe een suïcidepoging te ondernemen, welke zijn kameraden nochtans verhinderden. Hij werd in een militair ziekenhuis opgenomen in Kraków, alwaar hij onder strikt toezicht geplaatst werd.Trakl verzonk daar in nog zwaardere depressies en schreef Ficker om advies. Ficker overtuigde hem ervan dat hij contact moest opnemen met Wittgenstein, die inderdaad op weg ging na Trakls bericht te hebben ontvangen. Op 4 november 1914, drie dagen voordat Wittgenstein aan zou komen, overleed hij echter aan een overdosis cocaïne


Paul Celan

Paul Celan werd onder de naam Paul Antschel op 23 november 1920 geboren in Czernowitz, toentertijd de hoofdstad van de Roemeense Boekovina, nu behorend bij de Oekraïne. Paul Celans ouders waren Duitssprekende joden die hun zoon joods opvoedden en hem naar Duitse christelijke scholen stuurden. In 1942 werden Celans ouders door de Duitse bezetter naar een werkkamp gedeporteerd en daar vermoord. Hijzelf wist aanvankelijk onder te duiken, maar moest vanaf juli 1942 in een werkkamp dwangarbeid verrichten. Celan overleefde de oorlog. Via Boekarest en Wenen vestigde Celan zich in 1948 in Parijs. Daar was hij werkzaam als dichter, vertaler en doceerde hij aan de prestigieuze Ecole Normale Supérieure. Vermoedelijk op 20 april 1970 beëindigde hij zijn leven zelf door in de Seine te springen.


Gerard Reve

Gerard Reve over: Medearbeiders "God is in de mensen, de dieren, de planten en alle dingen - in de schepping, die verlost moet worden of waaruit God verlost moet worden, door onze arbeid, aangezien wij medearbeiders van God zijn." Openbaring "Tja, waar berust elk godsbegrip op, elke vorm van religie? Op een openbaring, dat wil zeggen op een psychische ervaring van zulk een dwingende en onverbiddelijke kracht, dat de betrokkene het gevoel heeft, niet dat hij een gedachte of een visioen heeft, maar dat een gedachte gedachte of visioen hem bezit en overweldigt."


Simon Vestdijk
Simon Vestdijk (Harlingen, 17 oktober 1898 – Utrecht, 23 maart 1971) was een Nederlands romancier, dichter, essayist en vertaler. Zijn jeugd te Harlingen en Leeuwarden beschreef hij later in de Anton Wachter-cyclus. Van jongs af aan logeerde hij regelmatig bij zijn grootouders in Amsterdam, waar hij zich in 1917 aan de Universiteit van Amsterdam inschrijft als student in de medicijnen. Tijdens zijn studie die van 1917 tot 1927 duurde, leerde hij Jan Slauerhoff kennen.Tot 1932 is hij als arts in praktijken door heel Nederland werkzaam. In 1932 volgt zijn officiële schrijversdebuut met de uitgave van de bundel Verzen in De Vrije Bladen. Doorslaggevend voor Vestdijks uiteindelijke keuze voor de literatuur is zijn ontmoeting in 1932 met Eddy Du Perron en Menno ter Braak. Deze ontmoeting had tot resultaat dat hij redactielid werd van het tijdschrift Forum Kort daarop, in 1933, wordt zijn eerste novelle, De oubliette, uitgegeven. In hetzelfde jaar schrijft hij Kind tussen vier vrouwen, dat, eerst geweigerd door de uitgever, later de basis zal vormen voor de eerste drie delen van de Anton Wachter-romans. In 1951 ontvangt Vestdijk de P.C. Hooftprijs voor zijn in 1947 verschenen roman De vuuraanbidders. In 1957 wordt hij voor het eerst door het PEN-centrum voor Nederland voorgedragen voor de Nobelprijs voor de Literatuur, die hij echter nooit zal krijgen. Op 20 maart 1971 wordt hem de Prijs der Nederlandse Letteren toegekend, maar voor hij deze kan ontvangen overlijdt hij op 23 maart te Utrecht op 72-jarige leeftijd. Vestdijk was auteur van ca. 200 boeken. Vanwege deze enorme productie noemde de dichter Adriaan Roland Holst hem 'de man die sneller schrijft dan God kan lezen'. Andere belangrijke boeken van Simon Vestdijk zijn: "Kind van stad en land" (1936), "Meneer Visser's hellevaart" (1936), "Ierse nachten" (1946), "De toekomst de religie" (1947), "Pastorale 1943" (1948), "De koperen tuin" (1950), "Ivoren wachters" (1951), "Essays in duodecimo" (1952) en "Het genadeschot" (1964).


K.P. Kavafis

K.P. Kavafis werd als kind van Griekse ouders, afkomstig uit Konstantinopel, geboren in 1863 in Alexandrië (tot vandaag een Griekse enclave) waar hij ook het grootste deel van zijn leven woonde en werkte. Twee jaar na de dood van zijn vader verhuist het gezin in 1872 naar Engeland om na een verblijf van vijf jaar naar Alexandrië terug te keren. Vanwege ongeregeldheden in Egypte vlucht het gezin in 1882 naar Konstantinopel, om na drie jaar opnieuw naar Alexandrië terug te gaan. In de jaren die volgen maakt Kavafis reizen naar Parijs, Londen en in 1901 zijn eerste reis naar Griekenland, in latere jaren gevolgd door nog enkele bezoeken. Op de dag van zijn zeventigste verjaardag, in 1933 sterft Kavafis in Alexandrië. De roem kwam voor Kavafis pas na zijn dood, dus postuum. Deels is dat toe te schrijven aan zijn eigen handelswijze. Hij was uiterst terughoudend met de publicatie van zijn gedichten, liet af en toe een enkel gedicht afdrukken in een literair tijdschrift, gaf in eigen beheer enkele bundels met een stuk of twintig gedichten uit en het merendeel van zijn poëzie schonk hij op losse bladen aan zijn beste vrienden.


Thomas Mann


Thomas Mann, de jongere broer van Heinrich Mann, werd geboren op 6 juni 1875 in Lübeck. Hij was de tweede zoon van de graankoopman Thomas Johann Heinrich Mann welke later één van de senatoren van Lübreck werd. Zijn moeder Julia (geboren da Silva-Bruhns) was Duits-Braziliaans van Portugees Kreoolse afkomst. In 1894 debuteerde Thomas Mann met de novelle "Gefallen". Toen Thomas Mann met 21 jaar eindelijk volwassen was en hem dus geld van zijn vaders erfenis toestond - hij kreeg ongeveer 160 tot 180 goldmark per jaar - besloot hij dat hij genoeg had van al die scholen en instituties en werd onafhankelijk schrijver. Kenmerkend voor zijn stijl zijn de ironie, de fenomenale taalbeheersing en de minutieuze detailschildering. Manns reputatie in Duitsland was sterk wisselend. Met zijn eerste roman, Buddenbrooks (1901), had hij een enorm succes, maar door zijn sceptische houding tegenover Duitsland na de Eerste Wereldoorlog veranderde dit volledig. Stelde hij zich tot aan de jaren twintig apolitiek op (Betrachtungen eines Unpolitischen, 1918), meer en meer raakte hij bij het Politiek gebeuren betrokken. Zijn afkeer van het nationaal socialisme groeide, zijn waarschuwingen werden veelvuldiger en heftiger. In 1944 accepteerde hij het Amerikaanse staatsburgerschap. Tussen 1943 en 1947 schreef Mann Doktor Faustus (zie Faust), de roman van de 'Duitse ziel' in de gecamoufleerd geschilderde omstandigheden van de 20ste eeuw. In 1947 bezocht hij voor het eerst sinds de Oorlog Europa, twee jaar later pas Duitsland. In 1952 vertrok hij naar Zwitserland. Op 12 augustus 1955 stierf hij in Zürich. Twintig jaar na zijn dood, in aug. 1975, is zijn literaire nalatenschap geopend: dagboekaantekeningen van 15 maart 1933 tot 29 juli 1955, alsmede notities uit de jaren 1918 tot en met 1921.Belangrijke werken zijn: Der Zauberberg, Der Tod in Venedig, Dokter Faustus , Joseph und seine Brüder en Die Bekenntnisse des Hochstaplers Felix Krull.


Rainer Maria Rilke

Rilke werd op 4 december 1875 geboren in Praag. Hij had al naam gemaakt als dichter met zijn bundels Das Stundenbuch en Das Buch der Bilder, toen hij de literaire wereld versteld deed staan en wereldfaam verwierf met de publicatie van zijn twee delen Neue Gedichte in 1907 en 1908. Hij verzamelde daarin het beste werk uit een van zijn vruchtbaarste periodes, die hij grotendeels doorbracht in Parijs. Rilke was daar diep onder de indruk gekomen van Rodin, bij wie hij een tijdlang in dienst was als particulier secretaris. Rodin, zei hij later, had hem leren kijken. Dit kijken kwam neer op intense concentratie, om het mysterie te kunnen zien 'achter de schijnbare werkelijkheid'. Latere en rijpere werken als Duineser Elegien (1912-1923) en het ronduit schitterende Die Sonette an Orfeus (1924) illustreren Rilkes metafysische visie op het onzegbare, dat haar verwoording vindt in een hermetische muzikale taal. Op 29 december 1926 overlijdt Rilke in het sanatorium in Val-Mont aan de gevolgen van leukemie. Enkele dagen later wordt hij, overeenkomstig zijn wens, begraven op het kerkhof van Raron.


* * * * * * * * * * * * * * * *

| | |
| --- | --- |
| | Over literatuur, gedichten, kunst en cultuur |

20-05-2013

Am Pfingstmontage (Annette von Droste-Hülshoff)

Prettige Pinksterdagen!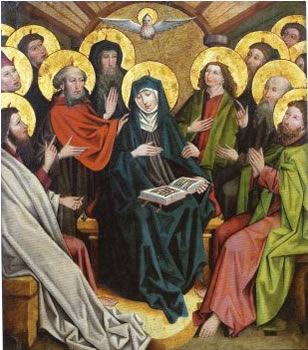 Pinksteren door de "Meister des Salemer Heiligenaltars", eind 15e eeuw
Am Pfingstmontage
"Also hat Gott die Welt geliebt, daß er ihr seinen
eingeborenen Sohn gesandt hat, damit Keiner,
der an ihn glaubt, verloren gehe. - Wer aber
nicht glaubt, der ist schon gerichtet"

Ist es der Glaube nur, dem du verheißen,
Dann bin ich tot.
O, Glaube, wie lebend'gen Blutes Kreisen,
Er tut mir not;
Ich hab' ihn nicht.
Ach, nimmst du statt des Glaubens nicht die Liebe
Und des Verlangens tränenschweren Zoll,
So weiß ich nicht, wie mir noch Hoffnung bliebe.
Gebrochen ist der Stab, das Maß ist voll
Mir zum Gericht.

Mein Heiland, der du liebst, wie Niemand liebt;
Fühlst du denn kein
Erbarmen, wenn so krank und tiefbetrübt
Auf hartem Stein
Dein Ebenbild
In seiner Angst vergehend kniet und flehet?
Ist denn der Glaube nur dein Gotteshauch?
Hast du nicht tief in unsre Brust gesäet
Mit deinem eignen Blut die Liebe auch?
O sei doch mild!

Ein hartes, schweres Wort hast du gesagt:
Daß, wer nicht glaubt,
Gerichtet ist. Ich seh' nicht, wo es tagt;
Doch so beraubt
Läßt er mich nicht,
Der hingab seinen Sohn, den eingebornen,
Für Sünder wie für Fromme allzugleich.
Zu ihm ich schau, die Ärmste der Verlornen,
Nur um ein Hoffnungswort; er ist so reich,
Mein Gnadenlicht.

Du Milder, der die Taufe der Begierde
So gnädiglich
Besiegelt selbst Sakramentes Würde:
Nicht zweifle ich,
Du hast gewiß
Den Glauben des Verlangens, Sehnens Weihe
Gesegnet auch, sonst wärst du wahrlich nicht
So groß an Milde und so stark an Treue,
Brächst du ein Zweiglein, draus die Knospe bricht
Und Frucht verhieß.

Was durch Verstandes Irren ich verbrochen,
Ich hab' es ja
Gebüßt so manchen Tag und manche Wochen;
So sei mir nah
Nach meiner Kraft,
Die freilich ich geknickt durch eigne Schulden,
Doch einmal aufzurichten nicht vermag,
Will hoffen ich, will sehnen ich, will dulden;
Dann gibst du Treuer wohl den Glauben nach,
Der Hilfe schafft.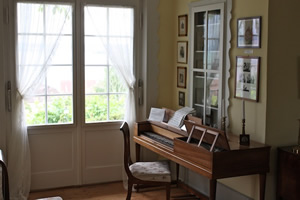 Annette von Droste-Hülshoff (10 januari 1797 – 24 mei 1848)
Drostes Pianoforte in het Fürstenhäusle in Meersburg
Zie voor de schrijvers van de 20e mei ook mijn vorige twee blogs van vandaag.

20-05-2013 om 09:48 geschreven door Romenu

Tags:Annette von Droste-Hülshoff, Pinksteren, Romenu



Ellen Deckwitz, Tommy Wieringa, Gerrit Achterberg, Annie M.G. Schmidt, William Michaelian, Wolfgang Borchert
De Nederlandse dichteres en schrijfster Ellen Deckwitz werd geboren op 20 mei 1982 in Deventer. Zie ook alle tags voor Ellen Deckwitz op dit blog.
ONZE MOEDER I

Onze moeder kan een voetstuk op (één teug),
ze drinkt al jaren onder de tafel. Van flessenbodems
schrapen we gedachtenis af. We zetten ze bij,

de vaasjes waarop blank fluiteschuim bloesemt
en soms druipt het, soms knipoogt de fles soms

kruipen er wolken voor de zin. Slokken die
de dag van het gelaat vijlen. Wat doet iemand als wij
op een plek als enfin.

Onze moeder dus
die kan een voetstuk op.
Nu hop,

straks ziet ze dat we het aankunnen. Klappen we
voor ouders die niet willen dat er over hen wordt
gedroomd,

knip zegt het glas en de kamer gaat uit.




ONZE MOEDER II

Op een dag werden we uit onze moeder gepeld
en ik vergat dat ze botten dealde.

Je raakt ook zo snel afgeleid
door de eerderen die maar om elkaar krommen
om maar in elkaar te stollen

terwijl je slonk. Er is grond
waarop ik palmen plant, getuigen
dat ik geen wortel meer schiet.
Mezelf niet als een kalenderblad
scheuren kan.

De aarde slurpt regenwormen op en ik gok
dat we allemaal lief willen worden
(gevonden), men zich op de bodem
in een midden bevindt. Dat voor ons niets
ooit aanbreekt.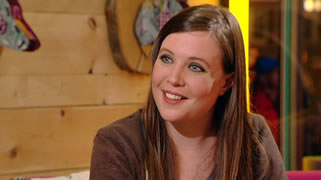 Ellen Deckwitz (Deventer, 20 mei 1982)

De Nederlandse schrijver Tommy Wieringa werd geboren in Goor op 20 mei 1967. Zie ook alle tags voor Tommy Wieringa op dit blog.
Uit: Ik was nooit in Isfahaan
"Mijn oom Sal kon 'dankuwel' zeggen in dertien talen en 'weet u waar het toilet is' in elf. Hij had beter 'waar is hier de nooduitgang?' kunnen leren in het Thais, zodat hij het brandende pand in Bangkok misschien levend verlaten had.
Zijn testament was een puinhoop. De familie leek tijdens de verdeling op een etnisch conflict op de Balkan. Een van oom Sals laatste grillen heeft mij tot curator van zijn kunstverzameling gemaakt. Nu was hij behoorlijk rijk dus het vermoeden bestond dat hij heel wat zou hebben verzameld. Mijn taak was het om het te catalogiseren. Het was allemaal opgeslagen in een loods, want oom Sal had geen huis om het neer te zetten. Hij hield van de Hopper-achtige doelloosheid van hotels. Die voorkeur had te maken met de dood. Mijn moeder zegt dat hij als jongen al paniekaanvallen kreeg bij de gedachte dat hij er op een dag niet meer zou zijn. Als hij maar in beweging zou blijven, zou de dood hem niet kunnen vinden. Dat die toch op hem wachtte in een jongensbordeel in Pat Pong, zal hem onaangenaam hebben verrast.
Ik heb oom Sal niet vaak ontmoet, maar wanneer ik hem zag, maakte hij indruk op me. Hij had zwervende ogen die zich nergens aan hechtten en kon niet stilzitten. Hij zei: 'Luister goed, ik investeer uit-slui-tend in onaffe kunst. Op een dag zal de wereld begrijpen dat een onaf kunstwerk het enige ware kunstwerk is. De hele cyclus van een kunstenaar, al zijn bloed, zweet en tranen bereiken hun hoogste betekenis in zijn Unvollendete. Elke kunstenaar met een beetje verstand van zaken heeft er tenminste één – één groot werk dat hij nooit zal afmaken omdat de dood tussenbeide komt, of door een plotseling gebrek aan inspiratie dat hem treft als een windstilte op zee. Dát is het ware. Klimts Damenbildnis en face, eeuwig onderweg naar de voltooiing die het niet zal bereiken. Gogols Dode Zielen, púúr genie – en wij kunnen alleen maar raden naar zijn overige bedoelingen.'
Ik ging naar de loods. Ik vreesde het ergste."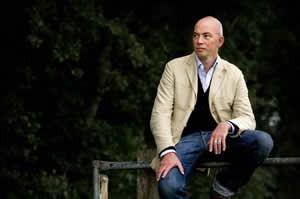 Tommy Wieringa (Goor, 20 mei 1967)

De Nederlandse dichter Gerrit Achterberg werd geboren in Nederlangbroek op 20 mei 1905. Zie ook alle tags voor Gerrit Achterberg op dit blog.
Slaapwandeling
Ik heb vannacht met u gewandeld
in de dove lanen van de slaap,
en nu het morgen is geworden
is er niets veranderd,
dan dat die twee, die in den nacht tesaam
volkomen bij elkander waren,
mij weer alleen gelaten hebben in den morgen,
en samen verder zijn gegaan.
Vervulling
Het beste van voor jaren dringt vanavond tot mij door.
Al je gewone vragen vinden weer gehoor.
Regent het. Ja het regent. Goede nacht.
Laten we nu gaan slapen, zeg je zacht.
Wij luisteren en liggen. Wind beweegt het raam.
Blijf zo maar liggen, zeg ik, en ik noem je naam.
Alles wat antwoord is gaat van mij uit.
Je wordt vervuld van de oneindigheid.
Bloemen
Bloemen, waarin wij bloeien zonder bodem,
zijn onze leden in elkaar gevouwen
en ons gelaat is niet meer te benoemen.
Wij worden koning in elkanders bloed.
Gronden, in schemering gehouden,
met wind en eenzaamheid gevoed,
vlijen zich open, horizonnen
wijken en worden afgesponnen,
er is geen landschap meer behoed
voor deze enige getrouwe
die overal zijn intocht doet.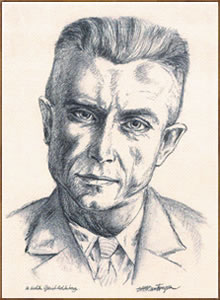 Gerrit Achterberg (20 mei 1905 - 17 januari 1962)

De Nederlandse schrijfster en dichteres Anna M G Schmidt werd op 20 mei 1911 geboren in Kapelle. Zie ook mijn blog van 20 mei 2011 en eveneens alle tags voor Annie M.G. Schmidt op dit blog.
Zondag
Geen plaats ter wereld is zo godverlaten
en zo fatsoenlijk als het Scheldeplein,
bij avond als het regent en de straten
langer en glimmender en leger zijn.

Dit is een stad met veel te weinig moorden.
Het regent gluiperig in het plantsoen.
De tramrails wijzen koppig naar het noorden
en dat is dan ook alles wat zij doen.

Die man zou het waarschijnlijk niet begrijpen,
die man daar op de hoek, wat ik bedoel,
wanneer ik plotseling zijn hand zou grijpen
en zeggen zou, hoe eenzaam ik me voel.

Ik ga naar huis. Daar wachten me twee ramen,
een beddensprei (gehaakt), en aan de muur
een plaatje van een veel te mooie dame.
En dan de wekker nog. Op zeven uur.
Als eindelijk...
De dingen die je erg graag wilt, die komen op den duur,
ze komen vroeg of laat, maar meestal laat, dat is zo zuur.
Wanneer je jong bent heb je doorgaans nooit een cent in kas
en áls je eind'lijk geld hebt voor een hele dure jas,
dan staat ie je niet meer.

Wanneer je jong bent heb je vijfenveertighonderd plannen,
je komt alleen nooit verder dan de potten en de pannen,
je wordt je hele leven al bedisseld en bedild
en als je eind'lijk tijd hebt om te doen wat je graag wilt,
dan wil je het niet meer.

Wanneer je jong bent doe je alles hopeloos verkeerd,
je hebt nog geen ervaring en je hebt nog niks geleerd.
De liefde? en de kinderen? wie doet het dadelijk goed?
En als je eindelijk wijs bent en precies weet hoe het moet,
dan hoeft het niet meer.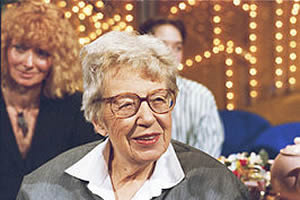 Annie M.G. Schmidt (20 mei 1911 – 21 mei 1995)
De Amerikaanse dichter en schrijver William Michaelian werd geboren op 20 mei 1956 in Dinuba, California. Zie ook alle tags voor William Michaelian op dit blog.
Pity words
Pity words,
because the right ones
fear us most.
Today, a flower
in your hair,
that truth
declare itself.
Imagine a dream
Imagine a dream that lasts a lifetime.
Then, look up at the sky.
A sigh, a cry, and gone.
The ground you stood upon.
The wind that finds your bones.
A moan, a groan, a song.
A remedy for war?
Is your dream of love?
Does it still go on?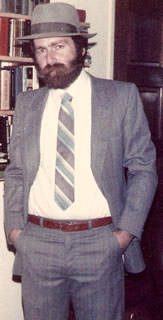 William Michaelian (Dinuba, 20 mei 1956)
In de jaren 1980
De Duitse dichter en schrijver Wolfgang Borchert werd geboren op 20 mei 1921 in Hamburg. Zie ook alle tags voor Wolfgang Borchert op dit blog.
Uit: Nachts schlafen die Ratten doch

"Das hohle Fenster in der vereinsamten Mauer gähnte blaurot voll früher Abendsonne. Staubgewölke flimmerten zwischen den steilgereckten Schornsteinresten. Die Schuttwüste döste.
Er hatte die Augen zu. Mit einmal wurde es noch dunkler. Er merkte, daß jemand gekommen war und nun vor ihm stand, dunkel, leise. Jetzt haben sie mich! Dachte er. Aber als er ein bißchen blinzelte, sah er nur zwei etwas ärmlich behoste Beine. Die standen ziemlich krumm vor ihm, daß er zwischen ihnen hindurchsehen konnte. Er riskierte ein kleines Geblinzel an den Hosenbeinen hoch und erkannte einen älteren Mann. Der hatte ein Messer und einen Korb in der Hand. Und etwas Erde an den Fingerspitzen.
Du schläfst hier wohl, was? fragte der Mann und sah von oben auf das Haargestrüpp herunter. Jürgen blinzelte zwischen den Beinen des Mannes hindurch in die Sonne und sagte: Nein, ich schlafe nicht. Ich muß hier aufpassen. Der Mann nickte: So, dafür hast du wohl den großen Stock da? Ja, antwortete Jürgen mutig und hielt den Stock fest.
Worauf paßt du denn auf?
Das kann ich nicht sagen. Er hielt die Hände fest um den Stock. Wohl auf Geld, was? Der Mann setzte den Korb ab und wischte das Messer an seinem Hosenboden hin und her.
Nein, auf Geld überhaupt nicht, sagte Jürgen verächtlich.
Auf ganz etwas anderes.
Na, was denn?
Ich kann es nicht sagen. Was anderes eben.
Na, denn nicht. Dann sage ich dir natürlich auch nicht, was ich hier im Korb habe. Der Mann stieß mit dem Fuß an den Korb und klappte das Messer zu.
Pah, kann mir denken, was in dem Korb ist, meinte Jürgen geringschätzig; Kaninchenfutter.
Donnerwetter, ja! sagte der Mann verwundert; bist ja ein fixer Kerl. Wie alt bist du denn?
Neun.
Oha, denk mal an, neun also. Dann weißt du ja auch, wieviel drei mal neun sind, wie?"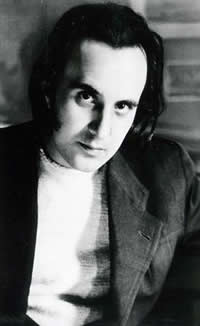 Wolfgang Borchert (20 mei 1921 - 20 november 1947)



Zie voor nog meer schrijvers van de 20e mei ook mijn vorige blog van vandaag.

20-05-2013 om 09:45 geschreven door Romenu

Tags:Ellen Deckwitz, Tommy Wieringa, Gerrit Achterberg, Annie M.G. Schmidt, William Michaelian, Wolfgang Borchert, Romenu



Ingvar Ambjørnsen, A.C. Cirino, Hanna Krall, Hector Malot, Sigrid Undset, Honoré de Balzac
De Noorse schrijver, muzikant en theatermaker Ingvar Ambjørnsen werd geboren in Tønsberg op 20 mei 1956. Zie ook alle tags voor Ingvar Ambjørnsen op dit blog.
Uit: Potes pour la vie (Vertaald door Jean-Baptiste Coursaud)
"– Quand j'étais minot, j'adorais les groseilles. Maintenant, j'peux plus les blairer.
Kjell Bjarne a prononcé cette phrase sur un ton censé me faire comprendre qu'entre-temps il s'était passé des choses. À savoir qu'il avait vécu la moitié d'une vie humaine. Et que, sur le chemin de cette vie, il n'avait plus goût aux groseilles.
Pour ma part, je n'ai absolument rien à reprocher aux baies rouges et acidulées. Les groseilles sont tout à fait à mon goût. Si le temps m'avait confisqué quoi que ce fût, c'était ma capacité à m'égayer. Je ne trouvais plus la vie très folichonne, du moins pas autant que lorsque j'étais enfant. Ce que je me gardais bien de révéler. Pareille déclaration n'aurait que perturbé Kjell Bjarne. Et c'est d'ailleurs un phénomène étrange : si on en vient à dire telle ou telle chose à voix haute, elle gagne doublement en vérité. Et perd, dans ce cas de figure, tout aussi doublement sa part de gaieté.
D'autant que je n'avais grosso modo pas à me plaindre. Vraiment pas. Je serais même plus proche de la réalité en avouant que je suis un jeune homme gâté. À l'instar de tant de jeunes hommes de ce pays. Inutile d'aller courir l'Afrique en quête de Noirs pour trouver des camarades dans de sales draps, il suffisait d'observer ne fût-ce qu'une seconde les Noirs vivant à Oslo pour se rendre compte illico que ce pays était tombé bien bas. Car ils étaient traités, si je ne me fourrais pas le doigt dans l'oeil, comme de vulgaires négros. Même par la police. Ou plutôt : tout particulièrement par la police. « Amène-toi, Bamboula, leur lançaient les forces de l'ordre. Voyons voir à quoi il ressemble, ton
faux passeport. » Toujours est-il qu'on pouvait lire jusqu'à l'écoeurement des faits similaires dans les colonnes de la presse nationale."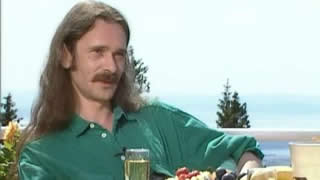 Ingvar Ambjørnsen (Tønsberg, 20 mei 1956)
In de jaren 1980

De Surinaamse schrijver A.C. Cirino werd geboren in Goede Hoop, een dorp aan de Coppenamerivier in het district Saramacca, op 20 mei 1929. Zie ook alle tags voor A.C. Cirino op dit blog.
Uit: Het meisje en de vogels
"O, wat waren de vogeltjes verdrietig. Bij honderden kwamen ze aangevlogen om haar te troosten en beterschap te wensen. Overal zaten ze op de grond, op de spanten van het kamp, op het dak, aan de rand van haar hangmat, zelfs tegen de bladerwand van het kamp. Overal. En ze piepten en floten al maar door. En ze hadden heel wat lekkernijen voor haar meegebracht, heel wat bosvruchten. Het hele vogelrijk was in de waar en in de weer gekomen.
Sommige vogeltjes stierven van verdriet, omdat zij weigerden te eten toen zij Matuwi maar zagen wegkwijnen. De vogels kwamen bij elkaar en zeiden: "Matuwi is onze koningin. Hoe kunnen wij haar helpen?" Rediborsu dacht bij zichzelf: "Matuwi wordt niet beter." En hij bracht zijn familie om de vogelkoningin te groeten en een goede reis naar het hiernamaals te wensen.
Een der kleine grijze vogels sprong op Matuwi's armen en pikte haar. Er kwam wat bloed uit dat op de vogeltjes viel.
Enkele dagen daarna was het dorp en het hele vogelrijk in rouw gedompeld. Matuwi was overleden. Bij haar begrafenis zaten duizenden vogeltjes stil op de takken van de bomen toe te kijken. De vogels hadden zo'n verdriet dat zij nooit meer grote vriendschap met de mensen hebben gesloten. Vanaf die tijd vliegen zij snel weg als je in hun buurt komt.
En jij die dit verhaal hebt gehoord, weet nu ook waarom de rediborsu rode veren en een roodachtige bek heeft."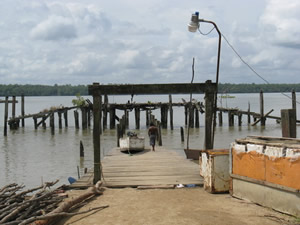 A.C. Cirino (20 mei 1929 - 6 mei 2003)
Uitzicht op de Coppenamerivier, Suriname (Geen portret beschikbaar)

De Poolse schrijfster en journaliste Hanna Krall werd geboren op 20 mei 1937 in Warschau. Zie ook alle tags voor Hanna Krall op dit blog.
Uit: Da ist kein Fluß mehr (Vertaald door Roswitha Matwin-Buschmann)
"Modernity and tradition hatte dabei herauskommen sollen, aber Radom verstand nichts von modernity. Radom verzichtete auf die Dienste des Rabbiners, und die Familie zog nach Warschau. Sie trieben jetzt Handel - en gros und en détail: Mehl, Reis, Grütze, Heringe. »Dynamische Heringseinfuhr von skandinavischen Märkten«, schrieben die Zeitungen über die Firma der »Gebrüder Zonenszajn«. Also sprach Dawid, der vom Mehl, Vater von sechs Kindern: »Meir, wann wirst du erwachsen?« Icie, von der Grütze, Vater von vier Kindern, sagte: »Meir, wann wirst du ...« Und Szlomo, der vom Reis, Vater von zwei Kindern: »Meir ...« Aron, Vater einer einzigen Tochter, der jüngsten in der Familie, der künftigen Philosophieprofessorin, Aron von den Heringen und den Fischkonserven sprach: »Meir!« Ernsthaft und erwachsen waren sie, die Brüder, aber wenn Aron, klein und etwas fade, den Salon betrat, war noch keinem froher ums Herz. Keiner wußte - ist Aron schon, oder ist er noch nicht da. Wenn Meir eintrat, hellten sich die Gesichter auf, und gleich wurde es freundlicher in der Welt. 3 Onkel Meir heiratete eine vermögende, mollige Schneiderin mit langem hellen Haar und kurzem Hals. Sie nahmen sich eine Hausgehilfin. »Ein Mädchen«, sagte man damals. Sie kam vom Dorf. Hatte wache Augen, ein zutrauliches Lächeln und eine dicke, leicht vorstehende Oberlippe. Alicja, das Mädchen vom Dorf, verliebte sich in Onkel Meir. Großer Gott. Alle waren sie in ihn verliebt, aber doch nicht wirklich. Kein Mensch nahm Onkel Meir ernst. Kein Mensch - außer diesem Mädchen vom Dorf. 4 Im Krieg erwies sich Alicja als beherzt und umsichtig. Sie besorgte falsche Papiere. Bestach die Wachen ... Durch Alicja kamen sie aus dem Ghetto - Onkel Meir, Aron, sein Bruder und ihre Familien. Meir verließ es als letzter. Er hatte Angst. Zögerte bis zum Schluß, doch er verließ es mit Façon. Er zog Breeches an, Stiefel, eine Jacke aus einer grellkarierten Decke - und sofort zerrte ihn ein Schmalzownik in den nächsten Torbogen."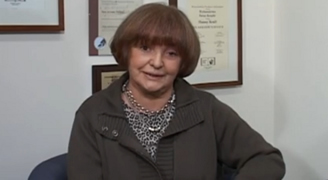 Hanna Krall (Warschau, 20 mei 1937)
De Franse schrijver Hector-Henri Malot werd geboren in La Bouille bij Rouen op 20 mei 1830. Zie ook alle tags voor Hector Malot op dit blog.
Uit: Sans famille
"Il nous fallait un licou pour conduire notre vache ; j'abandonnai les trente sous, calculant qu'il nous en resterait encore vingt.
« Où donc est votre longe ? demanda le paysan ; je vous ai vendu le licou, je ne vous ai pas vendu la longe. »
La longe nous coûta vingt sous, nos vingt derniers sous.
Et lorsqu'ils furent payés, la vache nous fut enfin livrée avec son licou et sa longe.
Nous avions une vache, mais nous n'avions plus un sou, pas un seul pour sa nourriture et pour nous nourrir nous-mêmes.
« Nous allons travailler, dit Mattia, les cafés sont pleins de monde ; en nous divisant nous pouvons jouer dans tous, nous aurons une bonne recette ce soir. »
Et, après avoir conduit notre vache dans l'écurie de notre auberge où nous l'attachâmes avec plusieurs noeuds, nous nous mîmes à travailler chacun de notre côté, et, le soir, quand nous fîmes le compte de notre recette, je trouvai que celle de Mattia était de quatre francs cinquante centimes et la mienne de trois francs.
Avec sept francs cinquante centimes nous étions riches.
Mais la joie d'avoir gagné ces sept francs cinquante était bien petite, comparée à la joie que nous éprouvions d'en avoir dépensé deux cent quatorze."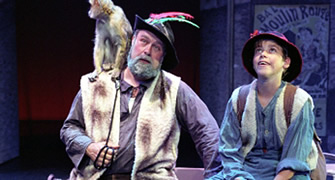 Hector Malot (20 mei 1830- 17 juli 1907)
Scene uit de musical "Alleen op de wereld" met Bert Simhoffer (Vitalis) en Scarlet Tummers (Remi)
Koninklijke Schouwburg Den Haag, 2003

De Noorse schrijfster Sigrid Undset werd geboren in Kalundborg, Denemarken, op 20 mei 1882. Zie ook alle tags voor Sigrid Undset op dit blog.
Uit: Jenny
""And the worst thing would be to share life with another person but deep inside feel just as lonely as before. Oh, no, no. To belong to a man, with all the subsequent types of intimacy, both physical and spiritual... and then one day to see that she had never known him, and he had never known her, and neither of them had ever understood a word the other person said...(...) So she had to try painting again. Presumably it would be an utter disaster, since she was walking around sick with love. She laughed. That's what was wrong with her. The object of her affection hadn't yet appeared, but the love was there."
(…)
"Where do you live?" asked the taller girl.
"At a place called the Albergo Torino, close to the station," he explained.
"He should take the Trastevere tram at San Carlo ai Catenari," said the other.
"No; better take a No. 1 at the new Corso."
"But those cars don't go to the Termini," answered the little one.
"Yes, they do. Those that have San Pietro, stazione Termini, written on them," she explained to Helge.
"Oh, that one! It runs past Capo le Case and Ludovisi and an awful long way about first - it will take an hour at least to the station with that one."
"No, dear; it goes direct - straight along Via Nazionale."
"It does not," insisted the other; "it goes to the Lateran first."
The taller girl turned to Helge: "The first turning right will take you into a sort of market. From there you go along the Cancellaria on your left to the new Corso. If I remember rightly, the tram stops at the Cancellaria."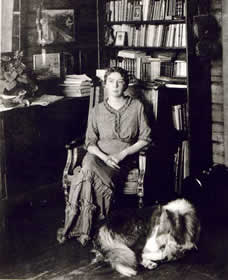 Sigrid Undset (20 mei 1882 – 10 juni 1949)
De Franse schrijver Honoré de Balzac werd geboren in Tours op 20 mei 1799. Zie ook alle tags voor Honoré de Balzac op dit blog.
Uit: The Wrong Side of Paris (Vertaald door Jordan Stump)
"One fine September evening in the year 1836, a man of about thirty stood hunched over the parapet of a quay by the Seine. Facing upstream, he could survey the riverbanks from the Jardin des Plantes to Notre-Dame; downstream, his gaze followed the water's majestic course all the way to the Louvre. There is not another such prospect in all the Capital of Ideas. Standing here on the Île de la Cité, one imagines oneself in the stern of some sea vessel grown to colossal proportions. The view summons up dreams of Paris, the Paris of the Romans and the Franks, of the Normans and the Burgundians; the Paris of the Middle Ages, the Valois, Henri IV and Louis XIV, Napoleon and Louis-Philippe. Each of these regimes has left some mark or monument hereabouts, insistently recalling its creators to the observer's mind. Sainte Geneviève watches over the Latin Quarter, spread out beneath her dome. Behind you rises the magnificent apse of the cathedral. The Hôtel de Ville speaks to you of Paris's many upheavals, the Hôtel-Dieu of her many miseries. From here you can glimpse the splendors of the Louvre; now take two steps and you will have before you that wretched huddle of houses between the Quai de la Tournelle and the Hôtel-Dieu, toward whose disappearance the city fathers are working even now.
Another edifying sight graced that wondrous tableau in those days: between the cathedral and the Parisian at his parapet, the Terrain, for such was the name of that deserted plot of land in times past, was still strewn with the ruins of the archbishop's palace. Standing where the Parisian now stood, contemplating this inspiring prospect, with Paris's past and present laid out together before your admiring gaze, you might think that Religion had chosen to settle on this island in order to reach out toward the sorrows of both banks of the Seine, from the Faubourg Saint-Antoine to the Faubourg Saint-Marceau. We can only hope that a setting so sublimely harmonious will one day be made complete by the construction of an episcopal palace in pure Gothic style, replacing the drab hovels now enclosed by the Terrain, the Rue d'Arcole, the cathedral, and the Quai de la Cité."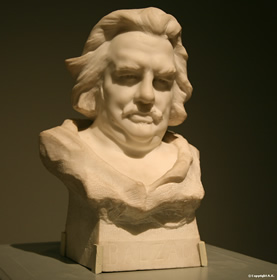 Honoré de Balzac (20 mei 1799 - 18 augustus 1850)
Borstbeeld door Jean-Joseph-Alexandre Falguière, 1899

20-05-2013 om 09:45 geschreven door Romenu

Tags:Ingvar Ambjørnsen, A.C. Cirino, Hanna Krall, Hector Malot, Sigrid Undset, Honoré de Balzac, Romenu


19-05-2013

Whitsunday (George Herbert)

Prettige Pinksterdagen!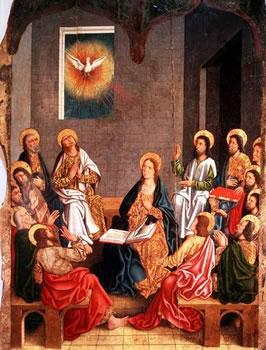 Pinksteren door Fernando Gallego, 2e helft 15e eeuw
Whitsunday
Listen sweet Dove unto my song,
And spread thy golden wings in me;
Hatching my tender heart so long,
Till it get wing, and fly away with thee.

Where is that fire which once descended
On thy Apostles? thou didst then
Keep open house, richly attended,
Feasting all comers by twelve chosen men.

Such glorious gifts thou didst bestow,
That th'earth did like a heav'n appear;
The stars were coming down to know
If they might mend their wages, and serve here.

The sun which once did shine alone,
Hung down his head, and wisht for night,
When he beheld twelve suns for one
Going about the world, and giving light.

But since those pipes of gold, which brought
That cordial water to our ground,
Were cut and martyr'd by the fault
Of those, who did themselves through their side wound,

Thou shutt'st the door, and keep'st within;
Scarce a good joy creeps through the chink:
And if the braves of conqu'ring sin
Did not excite thee, we should wholly sink.

Lord, though we change, thou art the same;
The same sweet God of love and light:
Restore this day, for thy great name,
Unto his ancient and miraculous right.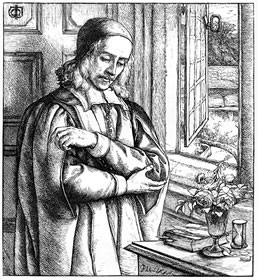 George Herbert (3 april 1593 - 1 maart 1633)
Zie voor de schrijvers van de 19e mei ook mijn twee vorige blogs van vandaag.

19-05-2013 om 09:34 geschreven door Romenu

Tags:Pinksteren, George Herbert, Romenu



Constantin Göttfert, Karel van het Reve, Gijs IJlander, Jodi Picoult, Ruskin Bond
De Oostenrijkse dichter en schrijver Constantin Göttfert werd op 19 mei 1979 in Wenen geboren. Zie ook mijn blog van 29 december 2010.
Uit: Satus Katze
"Das Plakat der Freien Bühne zeigte eine hässliche schwarze Katze, deren Fell mehrere kahle Stellen aufwies. Ich beugte mich wei-ter vor, Schweiß hatte den Rücken meines Hemdes mit der Sessellehne verklebt. Von meinem Klapptisch im gegenüberliegenden Gastgarten des Café Wortner konnte ich den Namen des Stückes nicht erkennen. Der Springbrunnen in der Mitte des Platzes warf Feuchtigkeit auf die Zeitungen der Gäste, bei jedem Windstoß segelten winzige weiße Blüten blätter aus den Kirschbaumzweigen auf meine Unterarme herab. Mit einer Hand schirmte ich die Augen gegen die tief stehende Sonne ab, aber die Buchstaben auf dem Plakat blieben unleserlich.
Es war Mitte Mai. Nach längerer Abwesenheit war ich wieder nach Wien zurückgekehrt. Durch ein Stipendium einer Kulturstiftung der Universität Oulu hatte ich einige Monate in Finnland verbracht. Per Vertrag war ich dazu verpfl ichtet, über den Fortschritt des eingereichten Arbeitsprojektes Auskunft zu geben, und seit meiner Ankunft in Wien Schwechat überlegte ich nun, wie ich der Universität klarmachen konnte, dass ich schon seit Stipendienbeginn nichts mehr geschrieben hatte.
Ich blätterte durch die Seiten meines Notizbuches, überflog einige Einträge, blätterte weiter, die Blütenblätter klebten an meinen Unterarmen. Nichts von dem, was ich in Finnland erlebt hatte, hatte ich niedergeschrieben, nicht einen Satz, nicht ein Wort, doch nun nahm ich den Stift, blickte auf das Plakat an der gegenüberliegenden Straßenseite, in die halb geschlossenen Augenlider der Katze, und mit rasender Geschwindigkeit schrieb ich die Worte:
die Katzen meiner Nachbarin nieder.
Eine Straßenbahn zog ratternd über die Wiedner Hauptstraße, gefolgt von einer Kolonne Autos, aus deren offen stehenden Seitenscheiben Musik kam.
Ich schlug das Notizbuch zu und bückte mich nach dem Stift, der über die Tischkante in den Kies gerollt war, als ich auf die Stimme einer jungen Frau aufmerksam wurde, die an einem der Nachbartische telefonierte."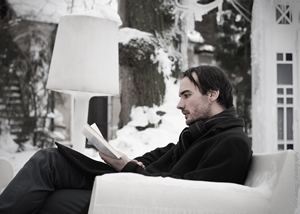 Constantin Göttfert (Wenen, 19 mei 1979)
De Nederlandse letterkundige, vertaler, essayist, schrijver en columnist Karel van het Reve werd geboren in Amsterdam op 19 mei 1921. Zie ook alle tags voor Karel van het Reve op dit blog.
Uit: Het geloof der kameraden
"De opvatting dat het denken tegelijk een produkt en een afspiegeling van de materie is gaat eigenlijk terug op de oudere opvatting dat God de mens schiep naar zijn beeld: de mens is in die opvatting tegelijk produkt en evenbeeld van God. Deze visie vinden we in enigszins gewijzigde vorm terug bij de Duitse filosoof Hegel (1770-1831), die beweerde dat de Weltgeist bezig was zichzelf te realiseren in de wereld. God is hier tot Weltgeist - whatever that may have been - geworden en in deze gestalte schept hij niet alleen de mens, maar de hele wereld naar zijn evenbeeld. Marx nu is beïnvloed door deze gedachte - en door trouwens nog wel meer gedachten - van Hegel, en daarenboven onder de indruk gekomen van een bewering van een andere Duitse filosoof, Ludwig Feuerbach (1801-1872). Deze geleerde had in de 19e eeuw bekendheid gekregen door het wat uitvoeriger herhalen van het aforisme van Lichtenberg, dat niet God de mens naar Zijn evenbeeld, maar omgekeerd de mens God naar zijn ('s mensen) evenbeeld geschapen had. Hier moeten we even vasthouden, dat hier het woord 'God' in twee verschillende betekenissen wordt gebruikt. God die de wereld schept is - bij wijze van spreken - een 'echte' God, de god die door de mensen geschapen wordt is de voorstelling van een god, een denkbeeldige god.
Marx nu was van mening, dat men die bewering van Hegel moest omdraaien, net als Feuerbach het met Genesis 1:27 had gedaan. Bij Hegel, meende Marx, stond de zaak op zijn kop. In werkelijkheid is het andersom: niet de geest heeft naar zijn evenbeeld de materie geschapen, maar de materiële wereld heeft de menselijke geest 'naar zijn beeld' voortgebracht. Zo gemakkelijk laat zich echter Hegels visie niet omdraaien. Men kan zich desnoods een god voorstellen die het plan opvat een mens of desnoods een wereld te scheppen naar zijn eigen beeld. Men kan zich ook nog een mens voorstellen die zich naar eigen evenbeeld een god schept. Maar een wereld die, blijkbaar zonder daartoe tevoren het plan te hebben opgevat, krachtens een hoogst merkwaardige coïncidentie iets gaat voortbrengen wat zijn eigen evenbeeld blijkt te zijn, namelijk het menselijk denken - dat is een vrij wilde voorstelling, die allerlei moeilijkheden met zich mee brengt en onder meer geleid heeft tot het marxistisch-leninistische dogma, dat de processen die zich in de materiële wereld afspelen hun evenbeeld vinden in de processen die zich afspelen in de menselijke hersenen."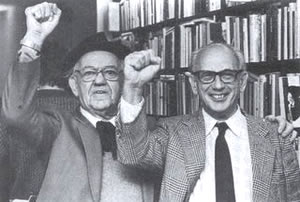 Karel van het Reve (19 mei 1921 – 4 maart 1999)
Hier met uitgever Geert van Oorschot (links)
De Nederlandse dichter en schrijver Gijs IJlander (eig. Gijs Hoetjes) werd op 19 mei 1947 in Alkmaar geboren. Zie ook alle tags voor Gijs IJslander op dit blog.
Zolang de vaarboom in de modder staat
Wat waren wij graag overstag gegaan,
Als er een zeil was geweest
En wind om op te varen.
Maar meegesleurd met de stroom
In een pieremachochel van gedachten
(Terwijl de vaarboom in de modder staat)
Biedt slechts waterpest houvast.
Nee, roepen kan niet meer,
Want daar ruist al de waterval.
God besta nou eens een keer,
Doe niet zo verrekte flauw man.
Steek een vinger in het water,
Ruk die vaarboom los,
Vang ons op
In onze val o zo sierlijk.
Maar wij gaan onder in schuim en zog
En waar de vaarboom in de modder staat,
Daar wappert nog, daar wappert nog,
Een vlaggetje van gedachten.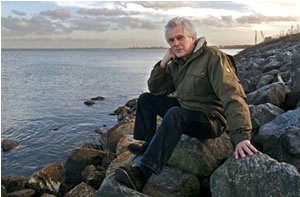 Gijs IJlander (Alkmaar, 19 mei 1947)
De Amerikaanse schrijfster Jodi Lynn Picoult werd geboren op 18 mei 1966 in Nesconset op Long Island, New York. Zie ook alle tags voor Jodi Picoult op dit blog.
Uit: Nineteen Minutes
"Alex had been a superior court judge now for thirty-four days. She'd believed that, having proved her mettle as a district court judge for the past five years, this time around the appointment might be easier. But at forty, she was still the youngest judge in the state. She still had to fight to establish herself as a fair justice -- her history as a public defender preceded her into her courtroom, and prosecutors assumed she'd side with the defense, although her district court decisions had been meticulously fair. When Alex had submitted her name years ago for the bench, it had been with the sincere desire to make sure people in this legal system were innocent until proven guilty. She just never anticipated that, as a judge, she might not be given the same benefit of the doubt.
The smell of freshly brewed coffee drew Alex into the kitchen. Josie was hunched over a steaming mug at the kitchen table, poring over a textbook. She looked exhausted – her grey eyes were bloodshot; her chestnut hair was a knotty ponytail. "Tell me you haven't been up all night," Alex said.
Her daughter didn't even glance up. "I haven't been up all night," Josie parroted.
Alex poured herself a cup of coffee and slid into the chair across from her. "Honestly?"
"You asked me to tell you something," Josie said absently. "You didn't ask for the truth."
Alex frowned. "You shouldn't be drinking coffee."
"And you shouldn't be smoking cigarettes," Josie replied.
Alex felt her face heat up. "I don't –"
"Mom," Josie sighed, "Even when you open up the bathroom windows, I can still smell it on the towels." She glanced up, as if daring Alex to challenge her other vices."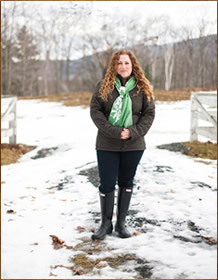 Jodi Picoult (Nesconset, 19 mei 1966)
De Indiase dichter en schrijver Ruskin Bond werd geboren op 19 mei 1934 in Kasauli. Zie ook alle tags voor Ruskin Bond op dit blog.
Lone Fox Dancing
As I walked home last night
I saw a lone fox dancing
In the cold moonlight.
I stood and watched. Then
Took the low road, knowing
The night was his by right.
Sometimes, when words ring true,
I'm like a lone fox dancing
In the morning dew.
It Isn't Time That's Passing
Remember the long ago when we lay together
In a pain of tenderness and counted
Our dreams: long summer afternoons
When the whistling-thrush released
A deep sweet secret on the trembling air;
Blackbird on the wing, bird of the forest shadows,
Black rose in the long ago summer,
This was your song:
It isn't time that's passing by,
It is you and I.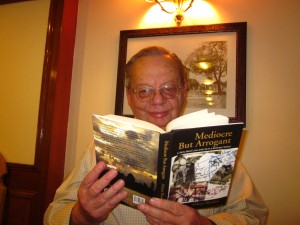 Ruskin Bond (Kasauli, 19 mei 1934)
Zie voor nog meer schrijvers van de 19e mei ook mijn vorige blog van vandaag.

19-05-2013 om 09:33 geschreven door Romenu

Tags:Constantin Göttfert, Karel van het Reve, Gijs IJlander, Jodi Picoult, Ruskin Bond, Romenu



Lorraine Hansberry, Fritz Rudolf Fries, Rahel Varnhagen, Anna Jameson
De Amerikaanse schrijfster Lorraine Hansberry werd geborenop 19 mei 1930 in Chigago. Zie ook alle tags voor Lorraine Hansberry op dit blog.
Uit: A Raisin in the Sun
"Mama: It don't sound nice for a young girl to say things like that — you wasn't brought up that way. Me and your father went to trouble to get you and Brother to church every Sunday.
Beneatha: Mama, you don't understand. It's all a matter of ideas, and God is just one idea I don't accept. It's not important. I am not going out and be immoral or commit crimes because I don't believe in God. I don't even think about it. It's just that I get tired of Him getting credit for all the things the human race achieves through its own stubborn effort. There simple is no blasted God — there is only man and it is he who makes miracles!
(MAMA absorbs this speech, studies her daughter and rises slowly and crosses to BENEATHA and slaps her powerfully across the face. After, there is only silence and the daughter drops her eyes from her mother's face, and MAMA is very tall before her)
Mama: Now — you say after me, in my mother's house there is still God. (There is a long pause and BENEATHA stares at the floor wordlessly. MAMA repeats the phrase with precision and cool emotion) In my mother's house there is still God.
Beneatha: In my mother's house there is still God. (A long pause)"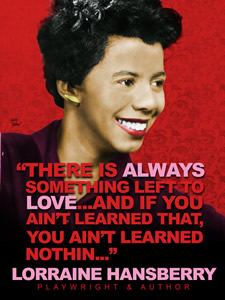 Lorraine Hansberry (19 mei 1930 – 12 januari 1965)
De Duitse schrijver en vertalerFritz Rudolf Fries werd geboren op 19 mei 1935 in Bilbao als zoon van een Duitse koopman. Zie ook alle tags voor Fritz Rudolf Fries op dit blog.
Uit: Last Exit to El Paso
"Es dunkelte schon, als das Telefon klingelte.
Der Mann in seinem Bett, seine Tage sind gezählt nach Ansicht der Ärzte, drückt die grüne Taste an seinem Mobiltelefon. Altmodisch, wie er zu sein glaubt, verweigert er sich einer eskalierenden Technik. Bevor er sich mit heiserer Altmännerstimme meldet, berührt seine Hand den warmen Leib seines Enkels Fabius. Schlaftrunken, aber aufmerksam für die Geräusche im weiten Haus wartet
das Kind auf das Märchen, das sein Großvater heute für es ausgesucht hat. Es muss ein kurzes Märchen sein, denn vor der Tür steht schon Kathleen, Großvaters Pflegeschwester, Sekretärin, Haushälterin, um das Kind ins Bett zu bringen. Während das Telefon klingelt, beobachtet
Fabius den Flug der Obstfliegen um die matt scheinende Deckenlampe, eine Art Weltkugel aus japanischem Papier. Die Fliegen jagen einander, balgen sich wie junge Katzen, retten sich auf die Verstrebungen der Lampe, die im Windhauch aus dem spaltweit geöffneten Fenster schaukelt.
Der alte Mann in seinem Bett meldet sich ein zweites Mal. Eine eilige Stimme, Mann oder Frau, fragt: Spreche ich mit Herrn Pierre Arronax, ja, herzlichen Glückwunsch, Herr Arronax! Sie haben eine Weltreise gewonnen! Wir melden uns in wenigen Minuten wieder, nehmen Sie Papier und Bleistift zur Hand, wir rufen an …!
Blödsinn, denkt der alte Mann, woher wissen sie meinen Namen, der dazu noch ein Pseudonym ist aus der Zeit, da er sich mit Jules Verne beschäftigte. Er? Eine Weltreise, in achtzig Tagen? Da er schon heute ein toter Mann ist?"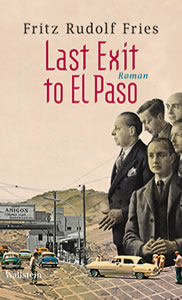 Fritz Rudolf Fries (Bilbao, 19 mei 1935)
De Duitse schrijfster Rahel Varnhagen werd geboren op 19 mei 1771 in Berlijn. Zie ook alle tags voor Rahel Varnhagen op dit blog.
Uit: Gedanken, Beobachtungen und Erinnerungen
"Mit dem Alter, mit jedem halben Tag, werd ich der Verstellung unfähiger. Und oh! wie richtig das. Mein ewiges Denken macht mir alles schneller klar als sonst, und in mir graben hat mich empfindlicher gemacht, als die freigebige Natur selbst es beabsichtigte.
Nichts ist odiöser, als sich hinter Ignoranz verstecken, weil es zärtlich gegen sich selbst und roh gegen die andern und eine ungeschickte Lüge ist, und diese Komposition die schlechteste Art von Nichtswürdigkeit ist.
An der Seele zimmert jeder ordentliche Mensch, solange er lebt.
Mit dem Schicksal bin ich nicht »ausgesöhnter«; ich denke schon länger, es gibt keins. Es gibt ein Universum, in dem entwickeln wir uns; und es ist ganz gleich, welches Schicksal wir haben, wenn wir zu Sinne gekommen sind; die Entwicklung ist unser Schicksal.
Nun hab ich auch erfunden, was ich am meisten hasse: Pedanterie; sie setzt ganz notwendig Leere voraus: und hält sich deshalb fest an Formen. Ist sie von der bessern Art, so tut sie dies im halben Gefühl dieser Leere mit Rechtschaffenheit; ist sie aber von der schlechten, so tut sie es mit Stolz und Prahlerei, nicht ahnend und zugebend, daß etwas anderes existiere.
Es kann also nichts Unleidlicheres geben, als diese Stupidität im völligen Marsch begriffen zu sehen: wie Narrheit, anmaßend und langweilig: gar nicht zum Ertragen! Was mich aber empört, ist diese Klasse, die mit Prätension sittlich!!! sind."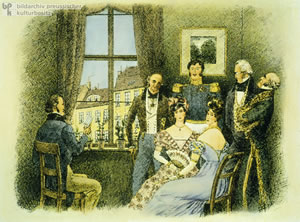 Rahel Varnhagen (19 mei 1771 – 7 maart 1833)
Geselligkeit bei Rahel Varnhagen. Gekleurde ets door Erich M. Simon, ongedateerd
De Britse schrijfster Anna Jameson werd geboren op 19 mei 1797 in Dublin. Zie ook alle tags voor Anna Jameson op dit blog.
Uit: The Diary of an Ennuyée
"July 27. — A conversation with S** always leaves me sad. Can it then be possible that he is right? No — O no! my understanding rejects the idea with indignation, my whole heart recoils from it; yet if it should be so! what then: have I been till now the dupe and the victim of factitious feelings? virtue, honour, feeling, generosity, you are then but words, signifying nothing? Yet if this vain philosophy lead to happiness, would not S** be happy? it is evident he is not. When he said that the object existed not in this world which couldlead him twenty yards out of his way, did this sound like happiness? I remember that while he spoke, instead of feeling either persuaded or convinced by his captivating eloquence, I
was perplexed and distressed; I suffereda painful compassion, and tears were in my eyes. I, who so often have pitied myself, pitied him at that moment a thousand times more; I thought, I would not buy tranquillity at such a price as he has paid for it. Yet if he should be right? that if, which every now and then suggests itself, is terrible; it shakes me in the utmost recesses of my heart.
S**, in spite of myself, and in spite of all that with most perverted pains he has made himself (so different from what he once was), can charm and interest, pain and perplex me: — not so D**, another disciple of the same school: he inspires me with the strongest antipathy I ever felt for a human being. Insignificant and disagreeable is his appearance, he looks as if all the bile under heaven had found its way into his complexion, and all the infernal irony of a Mephistopheles into his turned - up nose and insolent curled lip."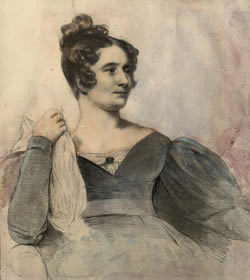 Anna Jameson (17 mei 1794 – 17 maart 1860)
Anoniem portret

19-05-2013 om 09:14 geschreven door Romenu

Tags:Lorraine Hansberry, Fritz Rudolf Fries, Rahel Varnhagen, Anna Jameson, Romenu


18-05-2013

Markus Breidenich, Yi Mun-yol, W.G. Sebald, François Nourissier, Gunnar Gunnarsson
De Zuidkoreaanse schrijver Yi Mun-yol werd geboren op 18 mei 1948 in Yongyang. Zie ook alle tags voor Yi Mun-yol op dit blog.
Uit: Our Twisted Hero (Vertaald door Kevin O'Rourke)
"As soon as my mother brought me into the room, the teacher in charge came over to greet us. He too fell far short of my expectations. If we couldn't have a beautiful and kind female teacher, I thought at least we might have a soft-spoken, considerate, stylish male one. But the white rice-wine stain on the sleeve of his jacket told me he didn't measure up. His hair was tousled; he had not combed it much less put oil on it. It was very doubtful if he had washed his face that morning, and his physical attitude left grave doubts about whether he was actually listening to Mother. Frankly, it was indescribably disappointing that such a man was to be my new teacher. Perhaps already I had a premonition of the evil that was to unfold over the course of the next year.
That evil showed itself days later when I was being introduced to the class.
"This is the new transfer student, Han Pyongt'ae. I hope you get on well."
The teacher, having concluded this one line introduction, seated me in an empty chair in the back and went directly into classwork. When I thought of how considerate my Seoul teachers had been in invariably giving prolonged proud introductions to new students, almost to the point of embarrassment, I could not hold back my disappointment. He didn't have to give me a big buildup, but he could at least have told the other children about some of the things I had to my credit. It would have helped me begin to relate to the others and them to me.
There were a couple of things the teacher could have mentioned. First of all, there was my school work. I may not have been first very often, but I was in the first five in my class in an outstanding Seoul school. I was quietly proud of this; it had played no small part in ensuring good results in my relations not only with teachers but also with the other children. I was also very good at painting. I was not good enough to sweep a national children's art contest, but I did get the top award in a number of contests at the Seoul level. I presume my mother stressed my marks and artistic ability several times, but the teacher ignored them completely. In some circumstances, my father's job, too, could havebeen a help. So what if he had suffered a setback in Seoul, even a bad one, bad enough to drive him from Seoul to here? He still ranked with the top few civil servants in this small town."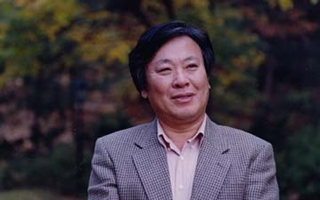 Yi Mun-yol (Yongyang, 18 mei 1948)
De Duitse dichter en schrijver Markus Breidenich werd geboren in Düren op 18 mei 1972. Zie ook alle tags voor Markus Breidenich op dit blog.
Im Herbarium
Wir hatten Blätter, aufgehängt zum Trocknen,
über uns. Den letzten Mückenstich in Kupfer schon
gepresst. Von Blütenträumen falscher Zwanziger
berieselt, in Bücher uns vergraben. Alte
Würmer, in erotischen Motiven. Reich
der Carnivoren: Venusfliegenfallen, schön:
Auf hadernhaltigem Papier der Druck der abge-
schlossenen Kapitel, waren wir. In Blei gesetzte
Namen, Spiegelschrift, der Rosen.
Fliegen
Aufeinander so fliegen. Bestäubtest du nicht
die Bücher meiner Regale? Die Narben. Narben
im Innern der Zimmer. Wachsen. Jetzt warte.
Warte auf Blütenkelche und blaue Himmel.
Dann findest du Honig in gläsernen Spendern.
Und weißt. Du weißt von den Körnerbrötchen.
Streichzarten Butterblumen so viel. Dem
Aufstrich der Rosen im Fenstereck. Dann
siehst du den Blättern das Grünzeug an. Das
über den Tischen wächst. Bis über die Dielen
Schatten wirft. Durch Scheiben die Sonne auf
Quittengelee. Fällt ein Tropfen mir ein
von Johannisbeersaft. Von dir ist der Nektar in
wabenförmigen Eiswürfelbechern. Der Tau
aller frisch gepressten Gräser. In Seiten von
Alben. Erinnerungsstücken. Von uns. Und
von dir ist das Summen der Boxen am Morgen.
Das strahlende Spiel auf den Flügeln. Komm.
Lass noch einmal uns kreisen und über den
Krümeln eine Fliege uns machen. Zu zweit.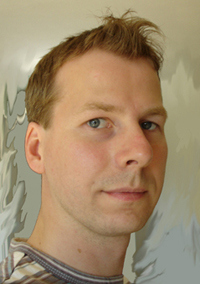 Markus Breidenich (Düren, 18 mei 1972)
De Duitse schrijver W.G. Sebald werd geboren in Wertach (Allgäu) op 18 mei 1944. Zie ook alle tags voor W. G. Sebald op dit blog.
Uit: Austerlitz (Vertaald door Anthea Bell)
"It was several months after this meeting in Liege that I came upon Austerlitz, again entirely by chance, on the old Gallows Hill in Brussels, on the steps of the Palace of justice which, as he immediately told me, is the largest accumulation of stone blocks anywhere in Europe. The building of this singular architectural monstrosity, on which Austerlitz was planning to write a study at the time, began in the 1880s at the urging of the bourgeoisie of Brussels, over-hastily and before the details of the grandiose scheme submitted by a certain Joseph Poelaert had been properly worked out, as a result of which, said Austerlitz, this huge pile of over seven hundred thousand cubic meters contains corridors and stairways leading nowhere, and doorless rooms and halls where no one would ever set foot, empty spaces surrounded by walls and representing the innermost secret of all sanctioned authority.
Austerlitz went on to tell me that he himself, looking for a labyrinth used in the initiation ceremonies of the Freemasons, which he had heard was in either the basement or the attic story of the palace, had wandered for hours through this mountain range of stone, through forests of columns, past colossal statues, upstairs and downstairs, and no one ever asked him what he wanted.
During these wanderings, feeling tired or wishing to get his bearings from the sky, he had stopped at one of the windows set deep in the walls to look out over the leaden gray roofs of the palace, crammed together like pack ice, and down into ravines and shaft-like interior courtyards never penetrated by any ray of light."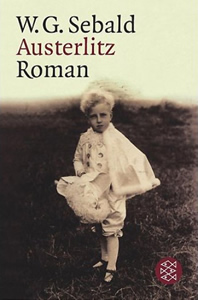 W.G. Sebald (18 mei 1944 – 14 december 2001)


De Franse schrijver François Nourissier werd geboren op 18 mei 1927 in Parijs. Zie ook alle tags voor François Nourissier op dit blog.
Uit: Lettre à mon chien
« S'il est vrai qu'on a les chiens qu'on mérite, comme je suis fier de ta démence et de tes tendresses ! Dans cette vie de partout corsetée, colmatée, nourrie de labeurs et de décorations, tu es la fuite du cœur, la fissure par où s'insinuent les déraisons. Il y a trente ans je ne t'aurais pas méritée, justement, j'étais trop empêtré d'ordre et de calculs. Je croyais aux investissements. »
"Chaque matin à mon réveil, tu me rappelles - leçon sans prix - que la gravité est une grimace repoussante et que seules comptent les fêtes de la vie. Puissé-je m'en souvenir au jour de la grande peine de ton départ - si je suis là pour la souffrir."
(…)
"Chaque matin à mon réveil, tu me rappelles - leçon sans prix - que la gravité est une grimace repoussante et que seules comptent les fêtes de la vie. Puissé-je m'en souvenir au jour de la grande peine de ton départ - si je suis là pour la souffrir."
François Nourissier (18 mei 1927 – 15 februari 2011)
De IJslandse dichter en schrijver Gunnar Gunnarsson werd geboren op 18 mei 1889 in Fljótsdalur. Zie ook alle tags voor Gunnar Gunnarsson op dit blog.
Uit: Father And Son (Vertaald door Peter Foote)
"Among the few words that passed between them, however, was one sentence that came up again and again--when old Snjolfur was talking to his son. His words were:
The point is to pay your debts to everybody, not owe anybody anything, trust in Providence.
In fact, father and son together preferred to live on the edge of starvation rather than buy anything for which they could not pay on the spot. And they tacked together bits of old sacking and patched
and patched them so as to cover their nakedness, unburdened by debt.
Most of their neighbours were in debt to some extent; some of them only repaid the factor at odd times, and they never repaid the whole amount. But as far as little Snjolfur knew, he and his father had
never owed a penny to anyone. Before his time, his father had been on the factor's books like everyone else, but that was not a thing he spoke much about and little Snjolfur knew nothing of those
dealings.
It was essential for the two of them to see they had supplies to last them through the winter, when for many days gales or heavy seas made fishing impossible. The fish that had to last them through the
winter was either dried or salted; what they felt they could spare was sold, so that there might be a little ready money in the house against the arrival of winter. There was rarely anything left, and
sometimes the cupboard was bare before the end of the winter; whatever was eatable had been eaten by the tune spring came on, and most often father and son knew what it was like to go hungry".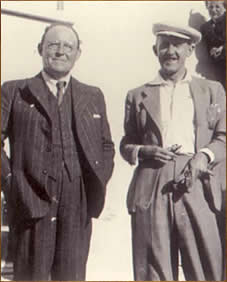 Gunnar Gunnarsson (18 mei 1889 – 21 november 1975)
Hier met collega schrijver Halldór Laxness (rechts) in 1947



Zie voor nog meer schrijvers van de 17e mei ook mijn vorige blog van vandaag.

18-05-2013 om 14:48 geschreven door Romenu

Tags:Markus Breidenich, Yi Mun-yol, W.G. Sebald, François Nourissier, Gunnar Gunnarsson, Romenu



Ernst Wiechert, Omar Khayyam, Franziska zu Reventlow, Bertrand Russell, John Wilson
De Duitse dichter en schrijver Ernst Wiechert werd geboren op 18 mei 1887 in Kleinort bij Sensburg in Oostpruisen.(Tegenwoordig Polen). Zie ook alle tags voor Ernst Wiechert op dit blog.
Uit: Der Knecht Gottes Andreas Nyland
"Und als ich auf die alte Welt zurückblickte, erkannte ich. daß es eine fremde Welt war. Wie Andreas Nyland war ich durch die große Wandlung gegangen, und als der "Mann in der Öde" kehrte ich zu meinem Tagewerk zurück.
Aber jedes Tagewerk ist unerbittlich an die alte Welt gebunden, und sie läßt nicht zu. daß wir das Steuer nach dem Unendlichen drehen. Das Unendliche liegt immer nur im Reich des Geistes, und so entstand der "Knecht Gottes". Dieselbe Lampe leuchtete auf seine Blätter, die den "Totenwolf" beschienen hatte, aber die Achse des Lebens hatte sich schweigend gewendet, und der Haß stand im fallenden Hause.
Mit der Dumpfheit der Idee gebar sich die Dumpfheit des Charakters wie der Handlung, und dieselbe Unerbittlichkeit, die den Verfasser über stürzende Götter ins Abseitige und Einsame getrieben hatte, treibt den Knecht Gottes aus der Welt des Seienden in das Tal. wo Gott ihn begrub. Denn immer noch war mir, selten zum Vorteil, Erkennen gleich Bekennen, nur daß das Kunstwerk in ungeheurer Projektion an den Himmel des Begreifens schleudern muß, was im niedrigen Licht des Lebens eng und bescheiden aus dem Schatten sich hebt.
Unter der letzten Zeile dieses Buches stand "Kein Ende". Noch war die Furcht vor dem "Alles oder Nichts" zu überwinden, noch zögerte die Hand, den letzten Faden von der Spindel laufen zu lassen.
Nach Jahresfrist erst befreite der Mut zum Letzten den Schöpfer wie das Werk.
Gewiß, alles dieses ist schon geschrieben worden. Aber läßt sich nicht alle Kunst im Grunde auf ein paar ewige Dinge und Verhältnisse zurückführen, wie alle erschütternden Klänge von Gottes- und Menschenhand auf sieben Töne? Und ist unser Ringen mit dem Engel Gottes im Morgenrot eine zwecklose und leere Gebärde, weil Jakob mit ihm gerungen hat an der Furt des Jabbok?"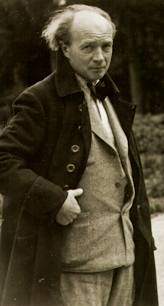 Ernst Wiechert (18 mei 1887 – 24 augustus 1950)
De Perzische dichter Omar Khayyám, of zoals zijn arabische naam luidt, al-Imâm Abu Hafs 'Omar ebn Ebrâhim al-Khayyâmi, werd geboren op 18 mei 1048 te Nishapur. Zie ook alle tags voor Omar Khayyám op dit blog.
Kwatrijnen
Met mijn begeerten strijd ik; wat te doen?
't Berouwt mij dat 'k verloor; maar wat te doen?
Ofschoon Gij kwijtscheldt wat ik deed, de schande
Te weten, dat Gij 't weet, blijft; wat te doen?
Voor U draag ik gewillig elke smaad.
Breke ik mijn eed, zoo treff' mij smart en haat.
En moest ik lijden tot den jongsten dag,
Het zou te kort zijn voor mijn euveldaad.
Geen zoete slok is hier door ons gedronken,
Of schielijk werd een bittre drank geschonken.
Geen bete broods werd in het zout gestipt,
Met zout gewreven rauw de wonden blonken.
Wees vrolijk, want wat baat het dat gij treurt.
Pluk snel uw oogenblik als 't open geurt.
Wees blij, dat hemels gunst niet eeuwig duurt,
Want anders kwam er nooit voor u een beurt.
Vertaald door Willem de Mérode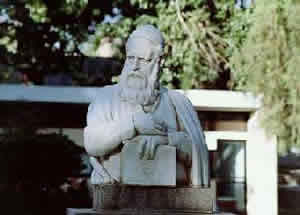 Omar Khayyam (18 mei 1048 - 4 december 1131)
Beeld bij het mausoleum in Nishapur
De Duitse schrijfster Franziska (gravin) zu Reventlow werd geboren op 18 mei 1871 in Husum. Zie ook alle tags voor Franziska zu Reventlow op dit blog.
Uit: Ellen Olestjerne
"Die Freifrau Anna Juliane war eine schöne, stattliche Frau mit raschen, dunklen Augen und eiserner Tatkraft – von früh bis spät auf den Beinen, um überall nach dem Rechten zu sehen. Aber dabei hatte sie nichts Leichtes in ihrer Art, das Leben zu nehmen, es türmte sich alles vor ihr auf wie ein Berg, über den sie nie hinaussehen konnte – die Wirtschaft, der große Haushalt, die Kinder, tausend Dinge, die täglich zu tun und zu überlegen waren und ihr beständig im Kopf herumgingen. Seit ihre Älteste erwachsen war, hatte sie nun wenigstens jemand, mit dem sie das alles teilen und beraten konnte, während sie des Vormittags im Garten saßen, Wäsche ausbesserten oder Obst zum Einkochen schälten.
Wenn nur das Heu von den Strandwiesen hereinkäme, ehe es wieder Regen gab und alles zugrunde ging wie im vorigen Jahr – Gott weiß, der Vater hatte diesen Frühling schon genug Ärger gehabt; das durfte nicht noch dazu kommen. Wie lange würde sich Nevershuus überhaupt noch halten lassen, bei all den mißlichen Verhältnissen?
»Ach Mama«, sagte dann wohl Marianne in ihrer ruhigen Weise, »quäl' dich doch nicht darum, es hat ja noch Zeit bis zur Heuernte.«
Aber die Mutter war schon längst wieder bei anderen Gedanken – ob Marianne meinte, daß das neue Kindermädchen zuverlässig sei? Ellen und Detlev waren in letzter Zeit gar so unbändig, und sie hatte jetzt doch nur die beiden Kleinen zu hüten. Und wie würde es Erik nun wohl auf der Schule gehen – mit Kai wollte es ja immer noch nicht recht vorwärts, und vor allem war seine Gesundheit eine rechte Sorge. Ja, Sorgen überall, und Sorgen mußten ja sein. Es war ein Wort, das die Freifrau häufig gebrauchte, und wenn sie dabei angekommen war, konnte sie so aus tiefster Seele heraus seufzen. Dann fiel ihr plötzlich wieder ein, daß sie versäumt hatte, irgend etwas anzuordnen, und sie ging mit ihrem raschen Schritt ins Haus hinein, um es nachzuholen."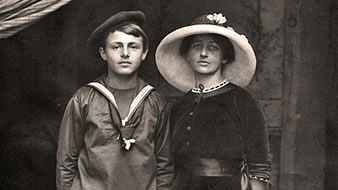 Franziska zu Reventlow (18 mei 1871 – 25 juli 1918)
Hier met haar zoon Rolf
De Britse filosoof, logicus, wiskundige en politiek activist Bertrand Arthur William Russell werd geboren in Trellech (Monmouthshire), Wales, op 18 mei 1872. Zie ook alle tags voor Bertrand Rusell op dit blog.
Uit: In Praise of Idleness
"But, I shall be told, the case is quite different when savings are invested in industrial enterprises. When such enterprises succeed, and produce something useful, this may be conceded. In these days, however, no one will deny that most enterprises fail. That means that a large amount of human labor, which might have been devoted to producing something that could be enjoyed, was expended on producing machines which, when produced, lay idle and did no good to anyone. The man who invests his savings in a concern that goes bankrupt is therefore injuring others as well as himself. If he spent his money, say, in giving parties for his friends, they (we may hope) would get pleasure, and so would all those upon whom he spent money, such as the butcher, the baker, and the bootlegger. But if he spends it (let us say) upon laying down rails for surface card in some place where surface cars turn out not to be wanted, he has diverted a mass of labor into channels where it gives pleasure to no one. Nevertheless, when he becomes poor through failure of his investment he will be regarded as a victim of undeserved misfortune, whereas the gay spendthrift, who has spent his money philanthropically, will be despised as a fool and a frivolous person.
All this is only preliminary. I want to say, in all seriousness, that a great deal of harm is being done in the modern world by belief in the virtuousness of work, and that the road to happiness and prosperity lies in an organized diminution of work."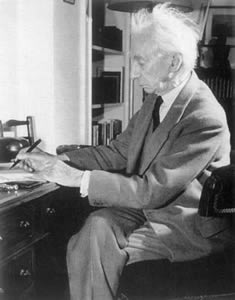 Bertrand Russell (18 mei 1872 – 2 februari 1970)



De Schotse schrijver John Wilson werd geboren in Paisley op 18 mei 1785. Zie ook alle tags voor John Wilson op dit blog.
Prayer to Sleep
O gentle Sleep, wilt thou lay thy head
For one little hour on thy lover's bed,
And none but the silent stars of night
Shall witness be to our delight!
Alas! 'tis said that the couch must be
Of the Eider-down that is spread for thee,
So, I in my sorrow must lie alone,
For mine, sweet Sleep! is a couch of stone.
Music to thee I know is dear;
Then, the saddest of music is ever here,
For Grief sits with me in my cell,
And she is a syren who singeth well.
But thou, glad Sleep! lovest gladsome airs,
And wilt only come to thy lover's prayers
When the bells of merriment are ringing,
And bliss with liquid voice is singing.
Fair Sleep! so long in thy beauty wooed,
No rival hast thou in my solitude;
Be mine, my Love! and we two will lie
Embraced for ever—or awake to die!
Dear Sleep! farewell!—hour, hour, hour, hour,
Will slowly bring on the gleam of morrow,
But thou art Joy's faithful paramour,
And lie wilt thou not in the arms of Sorrow.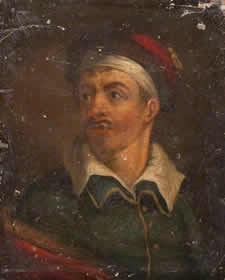 John Wilson (18 mei 1785 - 3 april 1854)
Anoniem portret
18-05-2013 om 14:44 geschreven door Romenu

Tags:Ernst Wiechert, Omar Khayyam, Franziska zu Reventlow, Bertrand Russell, John Wilson, Romenu


17-05-2013

Lars Gustafsson, Peter Høeg, Gary Paulsen, Henri Barbusse, Virginie Loveling, Mischa Andriessen
De Zweedse dichter en schrijver Lars Gustafsson werd geboren in Västeras, op 17 mei 1936. Zie ook alle tags voor Lars Gustafsson op dit blog.
Placenta
This formless, lobated organ
that is expelled after birth.
Neither mother nor child, neutral,
in the same way the innermost void
within true insomnia
is a completely neutral place.
There always exists something
that is between usual states,
neither the one nor the other.
Towards this Between
I feel a wry friendship,
a kinship even.
It has the real world's
large vacant, candid face.
The art room
The room itself smelled of chalk
and heavy, dried wood.
Generations had carved in the tables
so that the systems of letters
intersected each other
as in some ancient Sumerian
or why not Babylonian
archaeology.
Forgotten gods with dog's ears
and stern wooden faces
came of their own accord out of the graining.
On the paper, though, only the strict
figures and angles of the linear drawing that were
so sharp that you could cut yourself on them.
And this was meant to be the place where art dwelt.
Vertaald door John Irons
Fichte an der Petroleumlampe
Als das weiche Dunkel des Augusts
sich plötzlich verdichtete
war es, als habe der See da unten
einen kürzeren Wellenschlag, eine andere Atmung
unbekannte Tiere schauten vielleicht aus
ihren Höhlen am Uferrand.
Und die Petroleumlampe wurde angezündet.
Sie sah aus wie ein kleiner Leuchtturm
mit verschiedenen Absätzen aus Glas und Porzellan
und der starke Strom von erhitzter Luft
durfte nicht in die Gardine geraten.
Da hieß es aufpassen,
die Lampe nicht unter die Gardine stellen.
Sie erzeugte, genau genommen, große Hitze
(der Unterschied war im Raum deutlich zu spüren)
und wenig Licht. Und um diese Lampe flog
ein wütendes kleines metallblaues Insekt.
Der Philosoph Fichte war irgendwie
dem dicken braunen Buch
auf dem Tisch entschlüpft,
in dem er allem Anschein nach wohnte.
Kreiste, bis ihn die Flamme verschlang.
Aber da war der Abend zu Ende.
Vertaald door Verena Reichelaus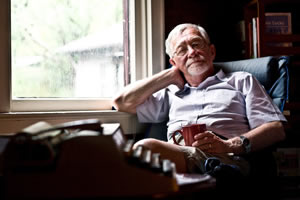 Lars Gustafsson (Västeras, 17 mei 1936)
De Deense schrijver Peter Høeg werd geboren in Kopenhagen op 17 mei 1957. Zie ook alle tags voor Peter Høeg op dit blog.
Uit: Smilla's Sense of Snow (Vertaald door Tina Nunnally)
"But out in the darkness, like the bow of a ship, the walls of Vestre Prison loom; we are in Copenhagen.
The Greenlanders' cemetery is part of Vestre Cemetery. A procession follows Isaiah in his coffin--Juliane's friends, who are now holding her upright, the pastor and the verger, the mechanic, and a small group of Danes, among whom I recognize only the social worker and the investigator.
The pastor is now saying something that makes me think he must have actually met Isaiah, even though, as far as I know, Juliane has never gone to church.
Then his voice disappears, because now the other women are weeping along with Juliane.
Many have come, perhaps twenty, and now they let their sorrow wash over them like a black flood, into which they dive and let themselves be carried along in a way that no outsider could understand, no one who has not grown up in Greenland. And even that might not be enough. Because I can't follow them, either.
For the first time I look closely at the coffin. It's hexagonal. At a certain point ice crystals take the same form.
Now they are lowering him into the ground. The coffin is made of dark wood, it looks so small, and there is already a layer of snow on it. The flakes are the size of tiny feathers, and that's the way snow is, it's not necessarily cold. What is happening at this moment is that the heavens are weeping for Isaiah, and the tears are turning into frosty down that is covering him up. In this way the universe is pulling a comforter over him, so that he will never be cold again.
The moment the pastor throws earth on the coffin and we are supposed to turn around and leave, a silence falls that seems to last for a long time. The women are quiet, no one moves, it's the sort of silence that is waiting for something to burst. From where I'm standing, two things happen.
First, Juliane falls to her knees and puts her face to the ground, and the other women leave her alone.
The second event is internal, inside of me, and what bursts through is an insight.
All along I must have had a comprehensive pact with Isaiah not to leave him in the lurch, never, not even now.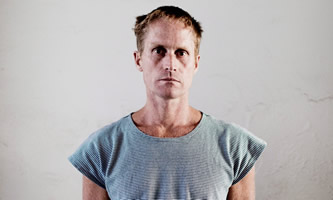 Peter Høeg (Kopenhagen, 17 mei 1957)
De Amerikaanse schrijver Gary Paulsen werd geboren op 17 mei 1939 in Minneapolis, Minnesota. Zie ook alle tags voor Gary Paulsen op dit blog.
Uit: Guts
"I have spent an inordinate amount of time in wilderness woods, much of it in northern Minnesota, some in Canada and some in the Alaskan wilds. I have hunted and trapped and fished and have been exposed to almost all kinds of wilderness animals; I've had bear come at me, been stalked by a mountain lion, been bitten by snakes and punctured by porcupines and torn by foxes and once pecked by an attacking raven, but I have never seen anything rivaling the madness that seems to infect a large portion of the moose family.
I first witnessed this insanity when I was twelve, in northern Minnesota. I had just started hunting with a rifle. Back then there were none of today's modern hunting weapons and I was, to put it mildly, financially disadvantaged. I worked hard at setting pins in a bowling alley, selling newspapers in bars at night and laboring on farms in the summer (hoeing sugar beets for eleven dollars an acre and picking potatoes for five cents a bushel) to make enough money to buy clothing and supplies for school. There was little left for fancy weapons, and after saving for a long time I finally managed to come up with enough money for a Remington single-shot .22 rifle. It was bolt action, with a twist safety on the rear of the bolt, and had to be loaded for each shot by opening the bolt, which extracted the empty shell if you had just fired. Then you put a new cartridge into the chamber by hand, closed the bolt and fired. It was a long process and the end result was that it forced the shooter to pay attention to his first shot and make certain it was accurately placed. It also made the hunter careful not to waste his shot. Withing a short time I was very accurate with this little rifle and was steadily bringing home rabbits and ruffed grouse, which I cleaned and cooked.
Just as they do today, game wardens had a great deal of say in how game laws were enforced, and if a family was poor or there were other special conditions, the wardens would sometimes overlook minor infractions. The legal hunting seasons were in fall and winter, but sometimes I hunted in spring as well, and it gave me food at times when my parents were on long drunks and didn't keep the refrigerator filled. I would like to thank those game wardens who looked the other way now and then when they saw a scruffy kid come out of the woods with a not-quite-legal grouse or rabbit hanging on his belt."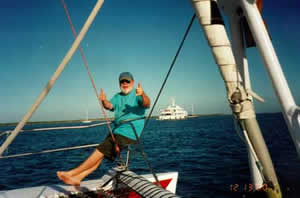 Gary Paulsen (Minneapolis, 17 mei 1939)
De Franse dichter en schrijver Henri Barbusse werd geboren op 17 mei 1873 in Asnières-sur-Seine. Zie ook alle tags voor Henri Barbusse op dit blog.
Uit: L'Enfer
"L'hôtesse, Mme Lemercier, me laissa seul dans ma chambre, après m'avoir rappelé en quelques mots tous les avantages matériels et moraux de la pension de famille Lemercier. Je m'arrêtai, debout, en face de la glace, au milieu de cette chambre où j'allais habiter quelque temps. Je regardai la chambre et me regardai moi-même. La pièce était grise et renfermait une odeur de poussière. Je vis deux chaises dont l'une supportait ma valise, deux fauteuils aux maigres épaules et à l'étoffe grasse, une table avec un dessus de laine verte, un tapis oriental dont l'arabesque, répétée sans cesse, cherchait à attirer les regards. Mais à ce moment du soir, ce tapis avait la couleur de la terre. Tout cela m'était inconnu; comme je connaissais tout cela, pourtant: ce lit de faux acajou, cette table de toilette, froide, cette disposition inévitable des meubles, et ce vide entre ces quatre murs...
La chambre est usée; il semble qu'on y soit déjà infiniment venu. Depuis la porte jusqu'à la fenêtre, le tapis laisse voir la corde: il a été piétiné, de jour en jour, par une foule. Les moulures sont, à hauteur des mains, déformées, creusées, tremblées, et le marbre de la cheminée s'est adouci aux angles. Au
contact des hommes, les choses s'effacent, avec une lenteur désespérante. Elles s'obscurcissent aussi. Peu à peu, le plafond s'est assombri comme un ciel d'orage. Sur les panneaux blanchâtres et le papier rose, les endroits les plus touchés sont devenus noirs: le battant de la porte, le tour de la serrure peinte du placard et, à droite de la fenêtre, le mur, à la place où l'on tire les cordons des rideaux."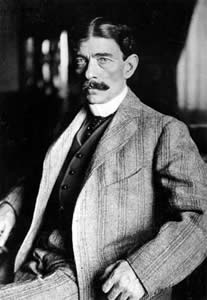 Henri Barbusse (17 mei 1873 –30 augustus 1936)



De Vlaamse dichteres en schrijfster Virginie Loveling werd geboren in Nevele op 17 mei 1836. Zie ook alle tags voor Virginie Loveling op dit blog.
Geboortegrond
In 't zuiden heerst een eeuwge lent,
En aarde en hemel lacht.
In 't hoge Noorden nijpt de kou,
Daar ligt de sneeuw, daar is de rouw,
De schemering en de nacht

Waarom bewoont de Noorderman
Die streek der duisternis?
Omdat hij dáar zich wel bevindt
Omdat de mens het plekje mint,
Waar hij geboren is.

Hij vraagt geen-rozen aan de Mei,
Geen vruchten aan de herfst.
Hij mint zijn groen fluwelen mos,
Hij jaagt de ijsbeer en de vos,
Die in de vlakten zwerft.

En keert hij weer door mist en sneeuw,
Van jacht of kleine reis,
Dan haakt zijn hart, vol ongeduld,
Ook naar zijn hut met rook vervuld,
Als naar een lustpaleis.

Hij ziet toch, als de bleke dag
Voor 't lange duister zwicht,
De sterren aan de hemel staan,
Hij heeft het licht der klare maan,
En 't rode noorderlicht.

Waar ook de mens zijn woning vest,
Gaan lief en leed gepaard :
De vreugdestralen van 't gemoed,
Zij zijn de ware zonnegloed,
In elke streek der aard.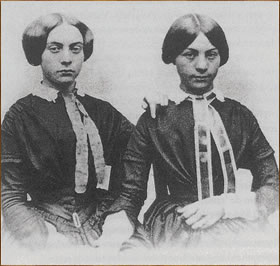 Virginie Loveling (17 mei 1836 – 1 december 1923)
Hier met haar zus Rosalie (links) in 1851
Onafhankelijk van geboortedata:
De Nederlandse dichter Mischa Andriessen werd geboren in Apeldoorn in 1970. Zie ook alle tags voor Mischa Andriessen op dit blog.
Thuis
Het donker van je eigen
schaduw op de muur zien
en schrikken. Niets is gevaarlijker
dan wat je kunt begrijpen.
Het is jouw arm in de mouw
die over de muur kruipt,
jouw leegte die je achterlaat
als je de jas op de kapstok hangt.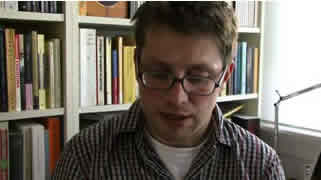 Mischa Andriessen (Apeldoorn, 1970)

Zie voor nog meer schrijvers van de 17e mei ook mijn blog van 17 mei 2012 en ook mijn blog van 17 mei 2011 deel 2.
17-05-2013 om 16:54 geschreven door Romenu

Tags:Lars Gustafsson, Peter Høeg, Gary Paulsen, Henri Barbusse, Virginie Loveling, Mischa Andriessen, Romenu


16-05-2013

Adrienne Rich, Paul Gellings, Friedrich Rückert, Jakob van Hoddis, Juan Rulfo
De Amerikaanse dichteres Adrienne Rich werd 16 mei 1929 geboren te Baltimore. Adrienne Rich overleed op 27 maart van dit jaar op 82-jarige leeftijd. Zie ook alle tags voor Adrienne Rich op dit blog.
Translations
December 25, 1972
You show me the poems of some woman
my age, or younger
translated from your language
Certain words occur: enemy, oven, sorrow
enough to let me know
she's a woman of my time
Obsessed
with Love, our subject:
we've trained it like ivy to our walls
baked it like bread in our ovens
worn it like lead on our ankles
watched it through binoculars as if
it were a helicopter
bringing food to our famine
or the satellite
of a hostile power
I begin to see that woman
doing things: stirring rice
ironing a skirt
typing a manuscript till dawn
trying to make a call
from a phonebooth
The phone rings endlessly
in a man's bedroom
she hears him telling someone else
Never mind. She'll get tired.
hears him telling her story to her sister
who becomes her enemy
and will in her own way
light her own way to sorrow
ignorant of the fact this way of grief
is shared, unnecessary
and political
De tijgers van tante Jennifer
De tijgers van tante pareren over een gaas
Bewoners van een groene wereld, helder topaas,
Ze vrezen de mannen niet onder de boom
Ze stappen vol zekerheid, trots en loom
De vingers van tante frutselen met wol en draad
En ivoren naald die stroef door het borduursel gaat
De trouwring van oom is het massief gewicht
Dat zwaar op tante Jennifer's handen ligt.
Bij haar dood ligt haar hand vol schrik geklemd
In die ring, die beproeving die haar heeft getemd
De tijgers op het doek dat tante heeft gemaakt
Stappen fier verder: trots, onaangeraakt.
Vertaald door Maaike Meijer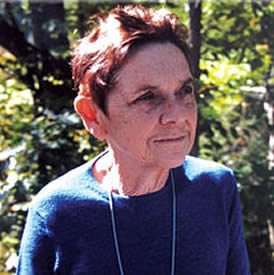 Adrienne Rich (16 mei 1929 – 27 maart 2012)
De Nederlandse dichter en vertaler Paul Johann Gellings werd geboren in Amsterdam op 16 mei 1953. Zie ook alle tags voor Paul Gellings op dit blog.
Uit: Augustusland
"Ze weet niet hoe laat het is. Of het een ochtend, een middag of een avond is. Of de dageraad misschien. Maar dit is geen dageraad en al evenmin een droom. Ze verbaast zich over de verlaten kamers in haar anders zo springlevende huis. Dan daalt ze de trap af en laat de voordeur geluidloos achter zich dichtvallen.
Hoe kan ik het doen? denkt ze bij het betreden van het parkje aan de overkant. Ik heb me niet eens aangekleed.
Maar aan de andere kant van het parkje merkt ze dat ze een wit T-shirt en een geruite bermuda draagt. Niet dat het veel uitmaakt in de toestand waarin ze verkeert en niemand haar waarschijnlijk ziet – als er al iemand zou zijn op dit vreemde uur, in deze stad die wel en niet haar woonplaats is, en die ze gaat verlaten.
Voor haar nu een lege straat geflankeerd door blinde muren. Bijna een abstract schilderij. Alles grijsachtig zonder aanwijsbare lichtbron. Geen verschiet. Ze voelt geen trottoir onder haar voeten – of voelt ze haar voeten zelf niet? Je zou het zweven kunnen noemen als je het per se in woorden wilt uitdrukken.
Alle ramen in de laatste huizenblokken ogen zwart als pupillen. Op één na, in een soort landhuis dat niets te zoeken heeft in deze stadse omgeving. Het staat wijd open, met een brandende kroonluchter erachter en laat klarinetspel naar buiten vloeien, donkere tonen, alt.
Wie woont daar? Wie speelt daar? Er is geen schaduw of gestalte te zien, geen beweging waar ze wat wijzer van zou kunnen worden, alleen een lichtbruine muur met een okergeel landschapje waarvan ze de details niet goed kan zien.
Ze zou wel even halt willen houden onder dat raam, maar dat gaat niet. Dus gaat ze half omgedraaid verder, in de hoop dat ze er geen kramp in haar nek van krijgt. Ze voelt alleen geen pijn en op het moment dat de stilte haar omhult als dons kijkt ze weer voor zich, een tikkeltje weemoedig vanwege de weggestorven klanken."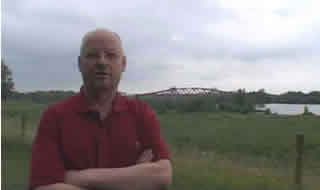 Paul Gellings (Amsterdam, 16 mei 1953)

De Duitse dichter Johann Michael Friedrich Rückert werd geboren in Schweinfurt op 16 mei 1788. Zie ook alle tags voor Friedrich Rückert op dit blog.
Uit: Geharnischte Sonnette
VI.
Ihr, ernsthaft tummelnd eure Steckenpferde,
Ihr, streitend in der Spiegelfechter Trosse,
Ihr, zielend mit nie treffendem Geschosse,
Ihr, Streiche führend mit papiernem Schwerde!
Und ihr, die ihr euch von der sichern Erde
Auf eurer Musen fabelhaftem Rosse
Gen Himmel spornt, ihr treibt die ärgste Posse,
Ihr seid die räudigsten der ganzen Herde.
Werft von euch euer Torheit bunte Wappen,
Womit ihr prunkt, und greift zu den wahren Waffen,
Statt eurer Steckenpferde zäumet Rappen;
Setzt Helme auf statt eurer Narrenkappen,
Seid wahre Männer statt der Götter Affen,
Und wenn ihr nicht könnt Ritter sein, seid Knappen!
VII.
Ihr Ritter, die ihr haust in euren Forsten,
Ist euch der Helmbusch von dem Haupt gefallen?
Versteht ihr nicht den Panzer mehr zu schnallen?
Ist ganz die Rüstung eures Muts zerborsten?
Was sitzet ihr daheim in euren Horsten,
Ihr alten Adler, habt ihr keine Krallen?
Hört ihr nicht dorther die Verwüstung schallen?
Seht ihr das Untier nicht mit seinen Borsten?
Schwingt eure Keulen! denn es ist ein Keuler;
Er wühlt, er droht, voll Gier nach schnödem Futter,
Stürzt er den Stamm, nicht bloß des Stammes Blätter;
Es ist ein Wolf, ein nimmersatter Heuler,
Er frißt das Lamm, er frißt des Lammes Mutter;
Helft, Ritter, wenn ihr Ritter seid, seid Retter!
Herbstfrühlingslied
So oft der Herbst die Rosen stahl,
Ich weiß nicht, wie's entsprungen,
Doch ist mir hell noch jedesmal
Ein Frühlingslied entklungen.
Der Frühling, der vorüberfuhr,
Und der aus Zukunft winket,
Die beiden werden einer nur,
Des Glanz mein Herz durchblinket.
So hoff' ich, wenn den Lebensbaum
Des Alters Hauch entlaubet,
Nicht soll ein goldner Jugendtraum
Dem Herzen sein geraubet.
Die Jugend, die vorüberfuhr,
Wird sich im Liede paaren
Mit jener, die auf Edens Flur
Nicht wird vorüberfahren.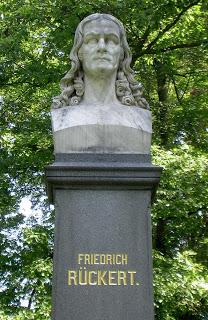 Friedrich Rückert (16 mei 1788 - 31 januari 1866)
Monument in in Coburg-Neuses

De Duitse dichter Jakob van Hoddis (pseudoniem van Hans Davidsohn) werd geboren in Berlijn op 16 mei 1887. Zie ook alle tags voor Jakob von Hoddis op dit blog.
Morgens
Ein starker Wind sprang empor.
Öffnet des eisernen Himmels blutende Tore.
Schlägt an die Türme.
Hellklingend laut geschmeidig über die eherne Ebene der Stadt.
Die Morgensonne rußig. Auf Dämmen donnern Züge.
Durch Wolken pflügen goldne Engelpflüge.
Starker Wind über der bleichen Stadt.
Dampfer und Kräne erwachen am schmutzig fließenden Strom.
Verdrossen klopfen die Glocken am verwitterten Dom.
Viele Weiber siehst du und Mädchen zur Arbeit gehn.
Im bleichen Licht. Wild von der Nacht. Ihre Röcke wehn.
Glieder zur Liebe geschaffen.
Hin zur Maschine und mürrischem Mühn.
Sieh in das zärtliche Licht.
In der Bäume zärtliches Grün.
Horch! Die Spatzen schrein.
Und draußen auf wilderen Feldern
singen Lerchen.
Der Todesengel
IV
Die Braut friert leise unterm leichten Kleide.
Der Engel schweigt. Die Lüfte ziehn wie krank.
Er stürzt auf seine Knie. Nun zittern beide.
Vom Strahl der Liebe, der aus Himmeln drang.
Posaunenschall und dunkler Donner lachen.
Ein Schleier überflog das Morgenrot.
Als sie mit ihrer zärtlichen und schwachen
Bewegung ihm den Mund zum Küssen bot.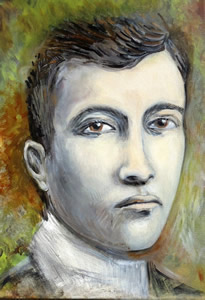 Jakob van Hoddis (16 mei 1887 – mei/juni ? 1942)


De Mexicaanse schrijver Juan Rulfo werd geboren op 16 mei 1917 in Sayula. Zie ook alle tags voor Juan Rulfo op dit blog.
Uit: No Dogs Bark (Vertaald door George D. Schade)
"I can't see where I'm going any more," the father said. No answer.
The son up there was illumined by the moon. His face, discolored, bloodless, reflected the opaque light. And he here below.
"Did you hear me, Ignacio? I tell you I can't see you very well."
No answer.
Falteringly, the father continued. He hunched his body over, then straightened up to stumble on again.
"This is no road. They told us Tonaya was behind the hill. We've passed the hill. And you can't see Tonaya, or hear any sound that would tell us it is close. Why won't you tell me what you see up there, Ignacio?"
"Put me down, Father."
"Do you feel bad?"
"Yes."
"I'll get you to Tonaya. There I'll find somebody to take care of you. They say there's a doctor in the town. I'll take you to him. I've already carried you for hours, and I'm not going to leave you lying here now for somebody to finish off."
He staggered a little. He took two or three steps to the side, then straightened up again.
"I'll get you to Tonaya."
"Let me down."
His voice was faint, scarcely a murmur. " I want to sleep a little."
"Sleep up there. After all, I've got a good hold on you."
The moon was rising, almost blue, in a clear sky. Now the old man's face, drenched with sweat, was flooded with light. He lowered his eyes so he wouldn't have to look straight ahead, since he couldn't bend his head, tightly gripped in his son's hands."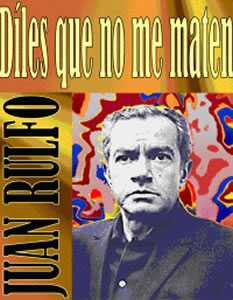 Juan Rulfo (16 mei 1917 - 8 januari 1986)
Cover
Zie voor nog meer schrijvers van de 16e mei ook mijn blog van 16 mei 2011 deel 2.

16-05-2013 om 16:55 geschreven door Romenu

Tags:Adrienne Rich, Paul Gellings, Friedrich Rückert, Jakob van Hoddis, Juan Rulfo, Romenu



| | |
| --- | --- |
| | |



Inhoud blog


| | |
| --- | --- |
| | Am Pfingstmontage (Annette von Droste-Hülshoff) |
| | Ellen Deckwitz, Tommy Wieringa, Gerrit Achterberg, Annie M.G. Schmidt, William Michaelian, Wolfgang Borchert |
| | Ingvar Ambjørnsen, A.C. Cirino, Hanna Krall, Hector Malot, Sigrid Undset, Honoré de Balzac |
| | Whitsunday (George Herbert) |
| | Constantin Göttfert, Karel van het Reve, Gijs IJlander, Jodi Picoult, Ruskin Bond |
| | Lorraine Hansberry, Fritz Rudolf Fries, Rahel Varnhagen, Anna Jameson |
| | Markus Breidenich, Yi Mun-yol, W.G. Sebald, François Nourissier, Gunnar Gunnarsson |
| | Ernst Wiechert, Omar Khayyam, Franziska zu Reventlow, Bertrand Russell, John Wilson |
| | Lars Gustafsson, Peter Høeg, Gary Paulsen, Henri Barbusse, Virginie Loveling, Mischa Andriessen |
| | Adrienne Rich, Paul Gellings, Friedrich Rückert, Jakob van Hoddis, Juan Rulfo |
| | Arthur Schnitzler, Albert Verwey, Pem Sluijter, W.J.M. Bronzwaer, Edwin Muir |
| | Jo Gisekin, Karl-Markus Gauß, Eoin Colfer, Gaby Hauptmann, Dante Alighieri, Krister Axel |
| | Jan Lauwereyns, Reinout Verbeke, Bruce Chatwin, Daphne du Maurier, Kathleen Jamie, Armistead Maupin |
| | P. C. Boutens, Hagar Peeters, Bertus Aafjes, August Vermeylen, Andrej Voznesensky, Eva Demski |
| | Sabine Imhof, Farley Mowat, Dante Gabriel Rossetti, Werner Bräunig, Cäsar Flaischlen, Edward Lear |
| | Nicolaas Anslijn, Diana Raznovich, Andrej Amalrik, Maurice Carême, Massimo Bontempelli |
| | J. H. Leopold, Ida Gerhardt, Andre Rudolph, Rubem Fonseca, Henning Boëtius, Camilo José Cela |
| | Rachel Billington, Rose Ausländer, Carl Hauptmann, Ethel Lilian Voynich, Latīf Nāzemī, Leopoldo de Luis |
| | J.C. Bloem, Herman Leenders, Didi de Paris, Petra Hammesfahr, Ralf Rothmann, Jeremy Gable, Roberto Cotroneo |
| | Jacques Perk, Pieter Boskma, Jotie T'Hooft, Charles Simic, Jan Drees, Leopold Andrian |
| | Thomas Pynchon, Roddy Doyle, Pat Barker, Gary Snyder, Gertrud Fussenegger |
| | Willem Elsschot, Almudena Grandes, Christoph Marzi, Edgar Cairo, Volker Braun, Robert Browning |
| | Libris Literatuurprijs 2013 voor Tommy Wieringa |
| | Willem Kloos, Ariel Dorfman, Erich Fried, Yasushi Inoue, Harry Martinson |
| | Gouden Boekenuil 2013 voor Oek de Jong |
| | Frans Pointl, Petra Else Jekel, Miklós Radnóti, Morton Rhue, Christopher Morley, George Albert Aurier |
| | Henryk Sienkiewicz, Richard Watson Dixon, Hans Werner Kolben, Christian Friedrich Scherenberg, Wouter Steyaert, Catullus |
| | Adriaan Roland Holst, Amos Oz, Christiaan Weijts, Monika van Paemel, Graham Swift |
| | David Guterson, Jan Mulder, Werner Fritsch, Olia Lialina |
| | Jacques Lanzmann, Ishita Bhaduri, Gerlind Reinshagen, Maxence Van der Meersch, Wilhelm Lehmann |
| | Jehuda Amichai, Erik Lindner, Ben Elton, Johan de Boose, Jens Wonneberger |
| | Gottfried Benn, Esther Freud, Novalis, James Holmes, Georges-Arthur Goldschmidt |
| | Tilman Rammstedt |
| | Guido Gezelle, Johano Strasser, Yasmina Reza, Joseph Heller, Yánnis Rítsos |
| | Bij de inhuldiging van koning Willem-Alexander |
| | Konstantínos Petros Kaváfis, Bernhard Setzwein, Alejandra Pizarnik, Walter Kempowski, Bjarne Reuter |
| | Roberto Bolaño, Harper Lee, Karl Kraus, Nezahualcóyotl |
| | Auguste Barbier, Ğabdulla Tuqay, Charles Cotton, Bruno Apitz |
| | Astrid Roemer, Hovhannes Shiraz, August Becker, Edwin Morgan, Jules Lemaître |
| | Cecil Day Lewis, Mary Wollstonecraft, Hans Bemmann, August Wilson, Fethullah Gülen, Martin Gray |
| | Bernard Malamud, Vincente Alexandre, Leo Stilma, Hannelies Taschau, Theun de Vries |
| | Ted Kooser, James Fenton, Walter de la Mare, Ross Franklin Lockridge Jr., Richard Anders |
| | Frans Coenen, Eric Bogosian, Robert Penn Warren, Michael Schaefer, Carl Spitteler |
| | William Shakespeare, Andrey Kurkov, Pascal Quignard, Peter Horst Neumann, Christine Busta |
| | Vladimir Nabokov, Jan de Hartog, Björn Kern, Chetan Bhagat, Peter Weber, Gert W. Knop, Madame de Staël |
| | Charlotte Brontë, Michael Mann, Patrick Rambaud, John Mortimer, Gerrit Wustmann |
| | Peter Schneider, Meira Delmar, Alistair MacLean, Népomucène Lemercier, María Elena Cruz Varela |
| | Martinus Nijhoff, Jan Cremer, Jean Pierre Rawie, Sebastian Faulks, Jozef Deleu,Steve Erickson |
| | Arto Paasilinna, Michel Leiris, Emmanuel Bove, Henry de Montherlant, Charles Maurras |
| | Herman Bang, Henry Tuckerman, Aloysius Bertrand, Pietro Aretino, Dinah Craik |


Gastenboek


Druk op onderstaande knop om een berichtje achter te laten in mijn gastenboek