E-mail mij


Druk op onderstaande knop om mij te e-mailen.


Romenu


Romenu is een blog over gedichten, literatuur en kunst Maar Romenu is ook een professionele freelance vertaler
Du-Ne en Ne-Du http://www.romenu.nl.


Huur eens een (vakantie)huis in een natuurgebied, dichtbij het centrum van Nijmegen


Google


Georg Trakl

Georg Trakl werd op 3 februari 1887 in het conducteurshuis aan de Waagplatz 2 in Salzburg geboren. Zijn vader, Tobias Trakl, was een handelaar in ijzerwaren en zijn moeder, die ook psychische problemen had, was Maria Catharina Trakl, (meisjesnaam Halik). Voorts had hij nog drie broers en drie zussen. Margarethe (doorgaans Grethe genoemd) stond hem het naast, zelfs zodanig dat sommigen een incestueuze verhouding vermoeden. Zijn jeugd bracht hij door in Salzburg. Vervolgens bezocht hij van 1897 tot 1905 het humanistische gymnasium. Om toch een academische opleiding te kunnen volgen, werkte hij tot 1908 in de praktijk bij een apotheker. Sommigen vermoedden dat hij dit vooral deed om zichzelf opiaten te kunnen verschaffen. Bij het uitbreken van WO I werd Trakl als medicus naar het front in Galicië (heden ten dage in Oekraïne en Polen) gestuurd. Zijn gemoedsschommelingen leidden tot geregelde uitbraken van depressie, die verergerd werden door de afschuw die hij voelde voor de verzorging van de ernstig verwonde soldaten. De spanning en druk dreven hem ertoe een suïcidepoging te ondernemen, welke zijn kameraden nochtans verhinderden. Hij werd in een militair ziekenhuis opgenomen in Kraków, alwaar hij onder strikt toezicht geplaatst werd.Trakl verzonk daar in nog zwaardere depressies en schreef Ficker om advies. Ficker overtuigde hem ervan dat hij contact moest opnemen met Wittgenstein, die inderdaad op weg ging na Trakls bericht te hebben ontvangen. Op 4 november 1914, drie dagen voordat Wittgenstein aan zou komen, overleed hij echter aan een overdosis cocaïne


Paul Celan

Paul Celan werd onder de naam Paul Antschel op 23 november 1920 geboren in Czernowitz, toentertijd de hoofdstad van de Roemeense Boekovina, nu behorend bij de Oekraïne. Paul Celans ouders waren Duitssprekende joden die hun zoon joods opvoedden en hem naar Duitse christelijke scholen stuurden. In 1942 werden Celans ouders door de Duitse bezetter naar een werkkamp gedeporteerd en daar vermoord. Hijzelf wist aanvankelijk onder te duiken, maar moest vanaf juli 1942 in een werkkamp dwangarbeid verrichten. Celan overleefde de oorlog. Via Boekarest en Wenen vestigde Celan zich in 1948 in Parijs. Daar was hij werkzaam als dichter, vertaler en doceerde hij aan de prestigieuze Ecole Normale Supérieure. Vermoedelijk op 20 april 1970 beëindigde hij zijn leven zelf door in de Seine te springen.


Gerard Reve

Gerard Reve over: Medearbeiders "God is in de mensen, de dieren, de planten en alle dingen - in de schepping, die verlost moet worden of waaruit God verlost moet worden, door onze arbeid, aangezien wij medearbeiders van God zijn." Openbaring "Tja, waar berust elk godsbegrip op, elke vorm van religie? Op een openbaring, dat wil zeggen op een psychische ervaring van zulk een dwingende en onverbiddelijke kracht, dat de betrokkene het gevoel heeft, niet dat hij een gedachte of een visioen heeft, maar dat een gedachte gedachte of visioen hem bezit en overweldigt."


Simon Vestdijk
Simon Vestdijk (Harlingen, 17 oktober 1898 – Utrecht, 23 maart 1971) was een Nederlands romancier, dichter, essayist en vertaler. Zijn jeugd te Harlingen en Leeuwarden beschreef hij later in de Anton Wachter-cyclus. Van jongs af aan logeerde hij regelmatig bij zijn grootouders in Amsterdam, waar hij zich in 1917 aan de Universiteit van Amsterdam inschrijft als student in de medicijnen. Tijdens zijn studie die van 1917 tot 1927 duurde, leerde hij Jan Slauerhoff kennen.Tot 1932 is hij als arts in praktijken door heel Nederland werkzaam. In 1932 volgt zijn officiële schrijversdebuut met de uitgave van de bundel Verzen in De Vrije Bladen. Doorslaggevend voor Vestdijks uiteindelijke keuze voor de literatuur is zijn ontmoeting in 1932 met Eddy Du Perron en Menno ter Braak. Deze ontmoeting had tot resultaat dat hij redactielid werd van het tijdschrift Forum Kort daarop, in 1933, wordt zijn eerste novelle, De oubliette, uitgegeven. In hetzelfde jaar schrijft hij Kind tussen vier vrouwen, dat, eerst geweigerd door de uitgever, later de basis zal vormen voor de eerste drie delen van de Anton Wachter-romans. In 1951 ontvangt Vestdijk de P.C. Hooftprijs voor zijn in 1947 verschenen roman De vuuraanbidders. In 1957 wordt hij voor het eerst door het PEN-centrum voor Nederland voorgedragen voor de Nobelprijs voor de Literatuur, die hij echter nooit zal krijgen. Op 20 maart 1971 wordt hem de Prijs der Nederlandse Letteren toegekend, maar voor hij deze kan ontvangen overlijdt hij op 23 maart te Utrecht op 72-jarige leeftijd. Vestdijk was auteur van ca. 200 boeken. Vanwege deze enorme productie noemde de dichter Adriaan Roland Holst hem 'de man die sneller schrijft dan God kan lezen'. Andere belangrijke boeken van Simon Vestdijk zijn: "Kind van stad en land" (1936), "Meneer Visser's hellevaart" (1936), "Ierse nachten" (1946), "De toekomst de religie" (1947), "Pastorale 1943" (1948), "De koperen tuin" (1950), "Ivoren wachters" (1951), "Essays in duodecimo" (1952) en "Het genadeschot" (1964).


K.P. Kavafis

K.P. Kavafis werd als kind van Griekse ouders, afkomstig uit Konstantinopel, geboren in 1863 in Alexandrië (tot vandaag een Griekse enclave) waar hij ook het grootste deel van zijn leven woonde en werkte. Twee jaar na de dood van zijn vader verhuist het gezin in 1872 naar Engeland om na een verblijf van vijf jaar naar Alexandrië terug te keren. Vanwege ongeregeldheden in Egypte vlucht het gezin in 1882 naar Konstantinopel, om na drie jaar opnieuw naar Alexandrië terug te gaan. In de jaren die volgen maakt Kavafis reizen naar Parijs, Londen en in 1901 zijn eerste reis naar Griekenland, in latere jaren gevolgd door nog enkele bezoeken. Op de dag van zijn zeventigste verjaardag, in 1933 sterft Kavafis in Alexandrië. De roem kwam voor Kavafis pas na zijn dood, dus postuum. Deels is dat toe te schrijven aan zijn eigen handelswijze. Hij was uiterst terughoudend met de publicatie van zijn gedichten, liet af en toe een enkel gedicht afdrukken in een literair tijdschrift, gaf in eigen beheer enkele bundels met een stuk of twintig gedichten uit en het merendeel van zijn poëzie schonk hij op losse bladen aan zijn beste vrienden.


Thomas Mann


Thomas Mann, de jongere broer van Heinrich Mann, werd geboren op 6 juni 1875 in Lübeck. Hij was de tweede zoon van de graankoopman Thomas Johann Heinrich Mann welke later één van de senatoren van Lübreck werd. Zijn moeder Julia (geboren da Silva-Bruhns) was Duits-Braziliaans van Portugees Kreoolse afkomst. In 1894 debuteerde Thomas Mann met de novelle "Gefallen". Toen Thomas Mann met 21 jaar eindelijk volwassen was en hem dus geld van zijn vaders erfenis toestond - hij kreeg ongeveer 160 tot 180 goldmark per jaar - besloot hij dat hij genoeg had van al die scholen en instituties en werd onafhankelijk schrijver. Kenmerkend voor zijn stijl zijn de ironie, de fenomenale taalbeheersing en de minutieuze detailschildering. Manns reputatie in Duitsland was sterk wisselend. Met zijn eerste roman, Buddenbrooks (1901), had hij een enorm succes, maar door zijn sceptische houding tegenover Duitsland na de Eerste Wereldoorlog veranderde dit volledig. Stelde hij zich tot aan de jaren twintig apolitiek op (Betrachtungen eines Unpolitischen, 1918), meer en meer raakte hij bij het Politiek gebeuren betrokken. Zijn afkeer van het nationaal socialisme groeide, zijn waarschuwingen werden veelvuldiger en heftiger. In 1944 accepteerde hij het Amerikaanse staatsburgerschap. Tussen 1943 en 1947 schreef Mann Doktor Faustus (zie Faust), de roman van de 'Duitse ziel' in de gecamoufleerd geschilderde omstandigheden van de 20ste eeuw. In 1947 bezocht hij voor het eerst sinds de Oorlog Europa, twee jaar later pas Duitsland. In 1952 vertrok hij naar Zwitserland. Op 12 augustus 1955 stierf hij in Zürich. Twintig jaar na zijn dood, in aug. 1975, is zijn literaire nalatenschap geopend: dagboekaantekeningen van 15 maart 1933 tot 29 juli 1955, alsmede notities uit de jaren 1918 tot en met 1921.Belangrijke werken zijn: Der Zauberberg, Der Tod in Venedig, Dokter Faustus , Joseph und seine Brüder en Die Bekenntnisse des Hochstaplers Felix Krull.


Rainer Maria Rilke

Rilke werd op 4 december 1875 geboren in Praag. Hij had al naam gemaakt als dichter met zijn bundels Das Stundenbuch en Das Buch der Bilder, toen hij de literaire wereld versteld deed staan en wereldfaam verwierf met de publicatie van zijn twee delen Neue Gedichte in 1907 en 1908. Hij verzamelde daarin het beste werk uit een van zijn vruchtbaarste periodes, die hij grotendeels doorbracht in Parijs. Rilke was daar diep onder de indruk gekomen van Rodin, bij wie hij een tijdlang in dienst was als particulier secretaris. Rodin, zei hij later, had hem leren kijken. Dit kijken kwam neer op intense concentratie, om het mysterie te kunnen zien 'achter de schijnbare werkelijkheid'. Latere en rijpere werken als Duineser Elegien (1912-1923) en het ronduit schitterende Die Sonette an Orfeus (1924) illustreren Rilkes metafysische visie op het onzegbare, dat haar verwoording vindt in een hermetische muzikale taal. Op 29 december 1926 overlijdt Rilke in het sanatorium in Val-Mont aan de gevolgen van leukemie. Enkele dagen later wordt hij, overeenkomstig zijn wens, begraven op het kerkhof van Raron.


* * * * * * * * * * * * * * * *

| | |
| --- | --- |
| | Over literatuur, gedichten, kunst en cultuur |

09-01-2011

Bas Heijne, Benjamin Lebert, Simone de Beauvoir, Theodor Holman, Danny Morrison
De Nederlandse schrijver, essayist, columnist en vertaler Bas Heijne werd geboren op 9 januari 1960 in Nijmegen. Zie ook mijn blog van 9 januari 2008 en ook mijn blog van 9 januari 2009 en ook mijn blog van 9 januari 2010.
Uit: Open brief aan Bas Heijne (Hollandse toestanden)
"Dat laatste literaire genre is anoniem; de briefschrijver zwelgt in zijn onzichtbare macht. De open brief is bij uitstek een celebrity-genre; de schrijver voelt zich te goed voor een eenvoudig stuk op de opiniepagina, of nog erger, de ingezonden-brievenrubriek; hij gaat niet met zijn mening in de rij staan wachten op zijn beurt. Net als die zelfbenoemde denktanks die in het kielzog van Fortuyn overheid en regering bestoken met nota's, aanbevelingen, opdrachten, manifesten, protocollen, gaat ook de schrijver van de open brief recht op zijn doel af - hij wil meteen de baas zelf spreken, voor minder doet hij het niet.
Ook ik een Zola!
De open brief is een vorm van engagementskitsch. De schrijver ervan waant zich een moedige buitenstaander - joodse intellectuelen in de jaren dertig! - maar hij ademt juist in alles de tijdgeest. Hij is helemaal geen bepalende kracht, hij is een symptoom.
Een symptoom waarvan? Van de hoge toon die ons land in zijn greep heeft, van de neiging om in Nederland alles persoonlijk te maken, van de Hollandse hang om reële sociale en politieke problemen te misbruiken voor persoonlijk melodrama, van de misvatting dat ons land het beste vanaf de zijlijn kan worden bestuurd, en van de inmiddels totale afkeer van de reguliere politieke en maatschappelijke instituties.
Maar vooral is de open brief een symptoom van het ontbreken van een echt debat - ogenschijnlijk gaat de schrijver direct in gesprek met de aangeschrevene, maar dat contact is schijn. Nu iedereen over elkaar heen struikelt om zijn tegenstander of vijand klein te maken door middel van een even vlammend als vernietigend persoonlijk appèl, valt op hoe ijdel het genre eigenlijk is, hoe weinig er werkelijk contact of discussie wordt gezocht. De schrijver van de open brief staat uiteindelijk altijd voor de spiegel."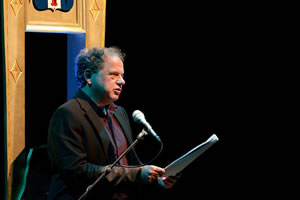 Bas Heijne (Nijmegen, 9 januari 1960)
De Duitse schrijver Benjamin Lebert werd geboren op 9 januari 1982 in Freiburg im Breisgau. Zie ook mijn blog van 9 januari 2008 en ook mijn blog van 9 januari 2009 en ook mijn blog van 9 januari 2010.
Uit: Der Vogel ist ein Rabe
"Das Abitur machte ich in München. Danach, mit zwanzig, zog ich nach Berlin, um Ethnologie zu studieren. Ich wohnte dort in einer Wohngemeinschaft in Schöneberg, zusammen mit zwei weiteren Studenten. Ein Junge namens Randall. Und ein Mädchen namens Sofia. Ich verbrachte kaum Zeit mit studieren. Mir war alles eigentlich ziemlich egal. Ich lief durch die Stadt. Ich ging in Cafés und Clubs. Ich begegnete Leuten, die das Gleiche taten. Die meisten von ihnen waren auch von irgendwoher nach Berlin gekommen. Eigentlich alle. Und alle wollten hier von irgendetwas gefunden werden. Natürlich wussten sie, dass sie auch selbst suchen gehen mussten. Und das taten sie teilweise. Aber sie wollten vor allem gefunden werden.
Es ist Freitagabend, 22:26 Uhr, der vierte Janu-ar. Ich stehe am Gleis 18 des Münchener Haupt- bahnhofs. Neben mir auf dem Boden: meine grüne Reisetasche. Es ist bitterkalt. Der Wind rasiert einem die Wangen. Vereinzelte Tauben flattern durch die Gegend, eine davon landet auf den Schienen. Die Bahnhofshalle ist hell erleuch- tet. Es sind nicht viele Leute da. Ein paar Meter
von mir entfernt steht eine ältere Frau in einem schwarzen Mantel, sie trägt einen weißen Hut mit Ohrenklappen. Sie läuft hin und her, den linken Arm vor der Brust angewinkelt, in der rechten Hand ein Telefon, auf dessen Tasten sie mit dem Daumen herumdrückt."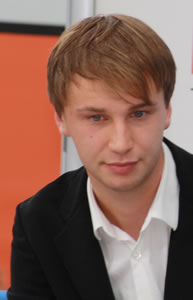 Benjamin Lebert (Freiburg im Breisgau, 9 januari 1982)

De Franse schrijfster Simone de Beauvoir werd geboren op 9 januari 1908 in Parijs. Zie ook mijn blog van 9 januari 2007 en ook mijn blog van 9 januari 2008 en ook mijn blog van 9 januari 2009 en ook mijn blog van 9 januari 2010.
Uit: Le Deuxième Sexe
"La femme se perd. Où sont les femmes ? Les femmes d'aujourd'hui ne sont pas des femmes » ; on a vue quel était le sens de ces mystérieux slogans. Aux yeux des hommes – et de la légion de femmes qui voient par ces yeux – il ne suffit pas d'avoir un corps de femme ni d'assumer comme amante, comme mère, la fonction de femelle pour être une « vraie femme » ; à travers la sexualité et la maternité, le sujet peut revendiquer son autonomie ; la « vraie femme » est celle qui s'accepte comme Autre. Il y a dans l'attitude des hommes d'aujourd'hui une duplicité qui crée chez la femme un déchirement douloureux ; ils acceptent dans une assez grande mesure que la femme soit une semblable, une égale ; et cependant ils continuent à exiger qu'elle demeure l'inessentiel ; pour elle, ces deux destins ne sont pas conciliables ; elle hésite entre l'un et l'autre sans être exactement adaptée à aucun et c'est de là que vient son manque d'équilibre."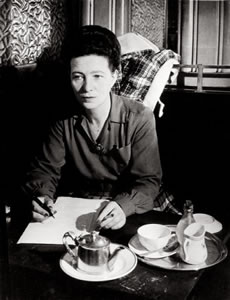 Simone de Beauvoir (9 januari 1908 – 14 april 1986)
Foto door Brassaï

De Nederlandse schrijver, columnist, scenarioschrijver en radiopresentator Theodor Holman werd geboren in Amsterdam op 9 januari 1953. Zie ook mijn blog van 9 januari 2009 en ook mijn blog van 9 januari 2010.
Uit: Theo, Theo - Een Vriendschap in sonnetten
Maar toch: ik zag het nieuwe Amsterdam.
Veelkleurig – dat was mooi. Maar ook 'islam'.
Gewoon een rare godsdienst volgens ons.
'En zoiets krijgt hier toch nauw'lijks respons.'

We dachten zo: die jongens willen meisjes.
En allen kijken dolgraag MTV.
Snel luisteren ze dan naar onze wijsjes;
normale jeugd in puberharmonie.

Want heb je hier een pot islam, en daar
een pot met sex, dan wil je met elkaar
toch zonder dommig schuldgevoel naar bed?

Maar religieuze kracht blijkt groot en stom.
Schijnheiligheid het nieuwe heldendom.
Correcte politiek werd zomaar wet.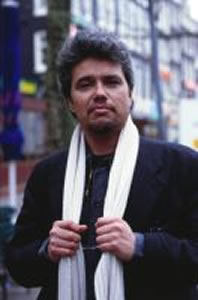 Theodor Holman (Amsterdam, 9 januari 1953)
De Noordierse schrijver en journalist Danny Morrison werd geboren op 9 januari 1953 in Belfast. Zie ook mijn blog van 9 januari 2009 en ook mijn blog van 9 januari 2010.
Uit: Quiet Quarter
"The four of us, Leslie, Chrissie, Richard and myself, packed my car with an army tent, sleeping bags, spare clothes, food and drink, and headed off on a camping holiday, to be out of the North and away from everything. In some ways I was trying to retrace the summer of 1971 when my friend Noel and I hitched around the west of Ireland. It was four weeks before the introduction of internment and the opening of a 'temporary' prison camp called Long Kesh. It was very difficult being eighteen against the backdrop of increasing conflict; it was very difficult remaining neutral.
But away we went - Noel in search of the source of traditional Irish music, I, angst-ridden and serious as usual, in search of answers to the bewilderment of life. I insisted we take no tent, so we slept out in the open - on benches in Galway, in a bog just outside Oughterard where the countryside was bare and lonely and the wind was high in the sky and whistling; and, later, when Noel found more companionable drinking partners in Bundoran I wandered alone around the town after midnight before making my way up the cliff path beside the golf course and bedding down in a small shelter.
That next morning I rose at dawn, hungry and thirsty and shivering, and walked to the top of the cliff and looked out over the Atlantic. I became detached yet I thought, why am I always here, and a unique contentment came over me as I sat at the edge of the world and watched a lone beam break through the clouds and travel to the water. I was so happy and I cried to God for allowing me experience the thrill of life.
When I returned seventeen years later my youth had long disappeared and I was far from innocent."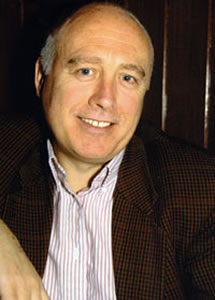 Danny Morrison (Belfast, 9 januari 1953)



Zie voor nog meer schrijvers van de 9e januari ook
mijn vorige blog van vandaag
en eveneens
mijn tweede blog
en
mijn eerste blog van vandaag.
09-01-2011 om 19:37 geschreven door Romenu

Tags:Bas Heijne, Benjamin Lebert, Simone de Beauvoir, Theodor Holman, Danny Morrison, Romenu



Pierre Guyotat, Heiner Müller, Pierre Combescot, Gisbert Haefs, Karel Čapek, Klaus Schlesinger
De Franse schrijver Pierre Guyotat werd geboren op 9 januari 1940 in Bourg-Argental. Zie ook mijn blog van 9 januari 2009 en ook mijn blog van 9 januari 2010.
Uit: Eden, éden, éden
''Les soldats, casqués, jambes ouvertes, foulent, muscles retenus, les nouveaux-nés emmaillotés dans les châles écarlates, violets : les bébés roulent hors des bras des femmes accroupies sur les tôles mitraillées des G.M.C. ; le chauffeur repousse avec son poing libre une chèvre projetée dans la cabine ; / au col Ferkous, une section du RIMA traverse la piste ; les soldats sautent hors des camions ; ceux du RIMA se couchent sur la caillasse, la tête appuyée contre les pneus criblés de silex, d'épines, dénudent le haut de leur corps ombragé par le garde-boue ; les femmes bercent les bébés contre leurs seins : le mouvement de bercée remue renforcés par la sueur de l'incendie les parfums dont leurs haillons, leurs poils, leurs chairs sont imprégnés : huile, girofle, henné, beurre, indigo, soufre d'antimoine - au bas du Ferkous, sous l'éperon chargé de cèdres calcinés, orge, blé, ruchers, tombes, buvette, école, gaddous, figuiers, mechtas, murets tapissés d'écoulements de cervelle, vergers rubescents, palmiers, dilatés par le feu, éclatent : fleurs, pollen, épis, brins, papiers, étoffes maculées de lait, de merde, de sang, écorces, plumes, soulevés, ondulent, rejetés de brasier à brasier par le vent qui arrache le feu, de terre ; les soldats assoupis se redressent, hument les pans de la bâche, appuient leurs joues marquées de pleurs séchés contre les ridelles surchauffées, frottent leur sexe aux pneus empoussiérés ; creusant leurs joues, salivent sur le bois peint ; ceux des camions, descendus dans un gué sec, coupent des lauriers-roses, le lait des tiges se mêle sur les lames de leurs couteaux au sang des adolescents éventrés par eux contre la paroi centrale de la carrière
d'onyx …"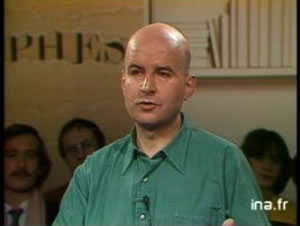 Pierre Guyotat (Bourg-Argental, 9 januari 1940)
In 1984 in het Franse tv-programma "apostophe"
LEERE ZEIT
Meinen Schatten von gestern
Hat die Sonne verbrannt
In einem müden April
Staub auf den Büchern
In der Nacht
Gehn die Uhren schneller
Kein Wind vom Meer
Warten auf nichts
PROJEKTION 1975
Wo ist der Morgen den wir gestern sahn
Der frühe Vogel singt die ganze Nacht
Im roten Mantel geht der Morgen durch
Den Tau der scheint von seinem Gang wie Blut
Ich lese, was ich vor drei, fünf, zwanzig Jahren geschrieben habe, wie den Text eines toten Autors, aus einer Zeit, als ein Tod noch in den Vers paßte. Die Mörder haben aufgehört, ihre Opfer zu skandieren. Ich erinnere mich an meinen ersten Versuch, ein Stück zu schreiben. Der Text ist in den Nachkriegswirren verlorengegangen. Es begann damit, daß der (jugendliche) Held vor dem Spiegel stand und herauszufinden versuchte, welche Straßen die Würmer durch sein Fleisch gehen würden. Am Ende stand er im Keller und schnitt seinen Vater auf. Im Jahrhundert des Orest und der Elektra, das heraufkommt, wird Ödipus eine Komödie sein.

Heiner Müller (9 januari 1929 – 30 december 1995)
Voor een buste van Bertolt Brecht
De Duitse schrijver en vertaler Gisbert Haefs werd geboren op 9 januari 1950 in Wachtendonk, Nordrhein-Westfalen. Zie ook mijn blog van 9 januari 2009 en ook mijn blog van 9 januari 2010.
Uit: Die Mörder von Karthago
"[228 v. Chr.] Als Bomilkar die Wachstube neben dem Tynes-Tor betrat, sah sein Stellvertreter auf, grunzte und ließ den Blick wieder auf den Halm sinken, den er eben in Tinte getaucht hatte.
»Du könntest auch lächeln«, sagte Bomilkar. »Die Götter mögen dir einen Tag der Wonne und des Entzükkens gewähren.«
Autolykos kritzelte auf dem Papyros herum. »Bah.
Sie tun nichts dergleichen.«
Bomilkar legte die Umhängetasche auf die Bank an der Wand zum hinteren Raum. Leise pfeifend, ging er zum Tisch, stützte die Fäuste auf die Platte und versuchte, die Zeichen zu enträtseln. »Dichtung oder Wahrheit?«
Autolykos steckte den Halm ins Tintentöpfchen.
»Dichtung«, sagte er. »Der Rat will eine Rechtfertigung dafür, daß wir über unseren üppigen Sold hinaus Geld ausgeben.«
»Und weil du ohnehin einen weit besseren Überblick hast als ich …«
Autolykos deutete neben sich auf den Boden. Dort stand eine Kiste, bis unter den Rand gefüllt mit abgerissenen Papyrosfetzen. »Du kannst das doch alles gar nicht lesen«, sagte er mit künstlich matter Stimme. »Und mir hilft es, nicht an anderes zu denken.«
»An was, zum Beispiel?«
»Daran, daß ich jetzt irgendwo hinter Capua geruhsam zwei Ochsen und einen Pflug lenken könnte. Wenn ich nicht Lesen und Schreiben gelernt hätte.«
»Du vergißt etwas.« Bomilkar ging zu dem kleinen Eisenofen, auf dem ein Topf mit Kräutersud, Fruchtstückchen und ein wenig Wein stand. Er goß einen Becher halb voll und trank.
»Was vergesse ich?« Bomilkar wandte sich wieder dem grauhaarigen kampanischen Hellenen zu. »Vor vierundzwanzig Jahren …«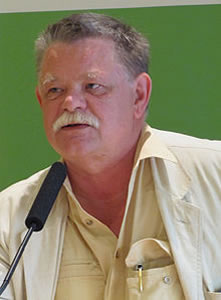 Gisbert Haefs (Wachtendonk, 9 januari 1950)
De Franse schrijver en journalist Pierre Combescot werd geboren op 9 januari 1940 in Limoges. Zie ook mijn blog van 9 januari 2009 en ook mijn blog van 9 januari 2010.
Uit: Ce soir on soupe chez Pétrone
« Déjà alors j'avais découvert qu'il avait l'art de dénicher ce genre de moutons à cinq pattes qui le divertissaient infiniment. Il possédait ce coup d'œil qui lui permettait dans l'instant de décortiquer le pékin. Aussi est-il probable que bien des traits comiques de ces époustouflantes baudruches qu'étaient Fluvius et Perlette passèrent dans certains des personnages de La Vie aventureuse d'Encolpe et de Giton. Il faut bien avouer qu'à eux deux, ils étaient un conservatoire de cuirs. Pétrone avait une curiosité sans mesure à l'endroit de la nature humaine, toujours à l'affût du moindre événement insolite, du personnage haut en couleur, du fait divers qui fait mouche dans un récit. Il y avait chez lui de l'entomologiste. Rien ne le mettait plus en joie que la bêtise humaine et, dans ce cas précis de Fluvius et de Perlette, quand celle-ci se doublait de prétentions. Il aimait aussi en nourrir sa vision drolatique, cynique et désespérée du monde. Il fallait voir l'expression de bonheur qui envahissait son visage quand, au hasard d'une promenade, il tombait sur un de ces oiseaux rares. Ses lèvres étaient prises de mouvements semblables à ceux du nourrisson qui demande la tétée. »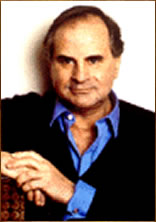 Pierre Combescot (Limoges, 9 januari 1940)
Uit: Das Jahr des Gärtners (Vertaald door Grete Ebner-Eschenhayn)
"Als ich noch ein entfernter und zerstreuter Zuschauer der fertigen Gartenkünste war, hielt ich Gärtner für Menschen mit einem besonders poetischen und feinfühligen Geist. Ich dachte, sie züchten den Blumenduft und lauschen dem Vogelzwitschern. Wenn ich die Dinge jetzt näher betrachte, stelle ich fest, dass ein echter Gärtner nicht die Pflanzen züchtet, sondern den Boden pflegt. Er ist ein Mensch, der in der Erde buddelt, und all das, was sich darüber befindet, überlässt er uns, den zusehenden Statisten. Er lebt wie in der Erde versunken. Er baut sich ein Denkmal in einem Komposthaufen. Wenn er den Garten Eden beträte, würde er wie benommen die Luft einziehen und sagen: »Mein lieber Mann, hier gibt es Humus!« Ich glaube, er würde gar vergessen, die Früchte vom Baume der guten oder der schlechten Erkenntnis zu essen. Viel eher würde er schauen, wie er dem Herrn den einen oder anderen Schubkarren dieser Paradiesischen Erde wegschaffen könnte. Oder er würde feststellen, dass der Baum der guten und der schlechten Erkenntnis kein schönes muldenförmiges Beet um seinen Stamm herum hat und würde anfangen, in der Erde zu wühlen, ohne zu wissen, was da eigentlich über seinem Kopf hängt. »Adam, wo bist du?«, würde der Herr nach ihm rufen. »Gleich«, würde der Gärtner über die Schulter antworten, »ich habe gerade keine Zeit.« Und er würde weiter an seinem Beet arbeiten."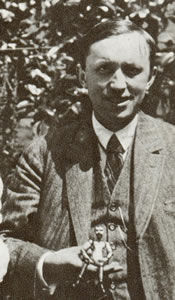 Karel Čapek (9 januari 1890 – 25 december 1938)
De Duitse schrijver en journalist Klaus Schlesinger werd geboren op 9 januari 1937 in Berlijn. Zie ook mijn blog van 9 januari 2009 en ook mijn blog van 9 januari 2010.
Uit: Die Seele der Männer

"André blieb aus, den ganzen Frühling über. Auf seine Nachfragen im Vorraum des Männerklosetts erhielt Brehm unterschiedliche Antworten. Die einen vermuteten, er sei Richtung Westen gemacht, die anderen wußten etwas von einer Frau mit einem Haus in der Nähe von Leipzig, zu der er möglicherweise gezogen sei, aber alles blieb im Vagen, und die meisten zuckten ohnehin die Achseln.
Statt der muskulösen Erscheinung André Szyparskis schob sich die jugendliche, selbst im Kittel noch elegante des Herbert Obst genannt Archibald in sein Blickfeld. Seit der Zeit der großen Feste hatte er nichts von seiner Wirkung auf die Frauen eingebüßt; sobald er einen Raum betrat, zog er ihre Blicke auf sich, und sein Schritt wurde noch federnder, das Blau seiner Hans-Albers-Augen noch strahlenSder. Auch loderten immer wieder Gerüchte über kurzzeitige Liebschaften auf, konnten aber nie bestätigt werden. Unumstritten war nur, dass er zu Ilona Kreutziger aus dem Prüffeld besondere Beziehungen unterhielt, zweimal waren sie in den vergangenen Wochen nach Feierabend zusammen gesehen worden, und zur Maidemonstration kamen sie sogar untergehakt.
Jetzt lief Archie immer öfter an Brehms Fenster vorbei, verschwand bei den Glimmerfrauen, deren freudigen Jubel Brehm durch das geöffnete Fenster hören konnte, kam nach einer kurzen Weile heraus, leicht gerötet im Gesicht und in lässiger Haltung, winkte ihm mit einer lockern Handbewegung zu und verschwand Richtung Lackkammer. Einmal aber, er war gerade mit einer Viskositätsmessung beschäftigt, blieb Archie vor dem halb geöffneten Fenster stehen und blickte ihn an, als wolle er ihn abschätzen. Brehm drückte auf die Stoppuhr, als der Faden des braunen Lacks abriß, notierte die Zeit und drehte die Sitzfläche des Schemels zum Fenster. Archie trug einen zartgelben Binder zu einem taubenblauen Hemd.
Sag mal, täusche ich mich oder hast du nicht bald Geburtstag?"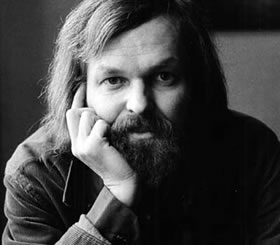 Klaus Schlesinger (9 januari 1937 – 11 mei 2001)
Midden jaren 1970

09-01-2011 om 19:29 geschreven door Romenu

Tags:Pierre Guyotat, Heiner Müller, Pierre Combescot, Gisbert Haefs, Karel Č,apek, Klaus Schlesinger, Romenu



Wilbur Smith, Kurt Tucholsky, Brian Friel, August Gailit, Chaim Nachman Bialik
De Zuid-Afrikaanse schrijver Wilbur Addison Smith werd geboren in Broken Hill in Zimbabwe (Rhodesië) op 9 januari 1933. Zie ook mijn blog van 9 januari 2009 en ook mijn blog van 9 januari 2010.
Uit: Assegai
"AUGUST 9, 1906, was the fourth anniversary of the coronation of Edward VII, King of the United Kingdom and the British Dominions, and Emperor of India. Coincidentally it was also the nineteenth birthday of one of His Majesty's loyal subjects, Second Lieutenant Leon Courtney of C Company, 3rd Battalion 1st Regiment, The King's African Rifles, or the KAR, as it was more familiarly known. Leon was spending his birthday hunting Nandi rebels along the escarpment of the Great Rift Valley in the far interior of that jewel of the Empire, British East Africa.
The Nandi were a belligerent people much given to insurrection against authority. They had been in sporadic rebellion for the last ten years, ever since their paramount witch doctor and diviner had prophesied that a great black snake would wind through their tribal lands belching fire and smoke and bringing death and disaster to the tribe. When the British colonial administration began laying the tracks for the railway, which was planned to reach from the port of Mombasa on the Indian Ocean to the shores of Lake Victoria almost six hundred miles inland, the Nandi saw the dread prophecy being fulfilled and the coals of smouldering insurrection flared up again. They burned brighter as the head of the railway reached Nairobi, then started westwards through the Rift Valley and the Nandi tribal lands down towards Lake Victoria. When Colonel Penrod Ballantyne, the officer commanding the KAR regiment, received the despatch from the governor of the colony informing him that the tribe had risen again and were attacking isolated government outposts along the proposed route of the railway he remarked, with exasperation, 'Well, I suppose we shall just have to give them another good drubbing.'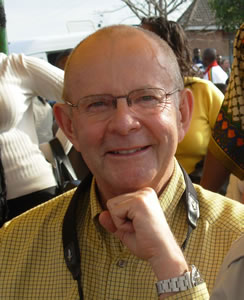 Wilbur Smith (Broken Hill, 9 januari 1933)
De Duitse dichter, schrijver, columnist en journalist Kurt Tucholsky werd geboren in Berlijn op 9 januari 1890. Zie ook mijn blog van 9 januari 2009 en ook mijn blog van 9 januari 2010.
Versunkenes Träumen
Lieblich ruht der Busen, auf dem Tisch,
jener Jungfrau, welche rosig ist und frisch.

Ach, er ist so kugelig und gerundet,
daß er mir schon in Gedanken mundet.

Heil und Sieg dereinst dem feinen Knaben,
dem es freisteht, sich daran zu laben.

Jener wird erst stöhnen und sich recken;
aber nachher bleibt er sicher stecken. nanana!

Heirat, Kinder und ein häusliches Frangssäh
nichts von Liebesnacht und jenem Kanapee...

Ich hingegen sitz bei ihren Brüsten,
und - gedanklich - dient sie meinen Lüsten.

Doch dann steh ich auf und schlenkre froh mein Bein,
schiebe ab,
bin frei -
und lasse Jungfer Jungfer sein!
Gute Nacht!
Ich geh mit meinen Wanzen schlafen,
rotbraun und platt.
Quartiert bin ich bei einem Grafen,
der viele hat.
Des Nachts, wenn alle Sterne funkeln,
dann ziehen still
die fleißigen Scharen hin im Dunkeln
wie Gott es will.
Sie kommen aus den schmalen Ritzen,
aus dem Parkett;
die feinern aber fastend sitzen
des Tags im Bett.
Sie pieken mich. Es schwillt zu riesigen
Fleischklümpchen an, was sie gepackt;
das macht die Beißekunst der Hiesigen -
die sind exakt.
Sie pieken mich. Es juckt. Zum Glück
ist morgen alles wieder rein.
Und wenn ich eine sanft zerdrücke,
gedenk ich dein.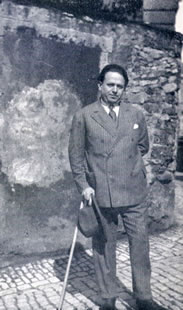 Kurt Tucholsky (9 januari 1890 - 21 december 1935)
In Parijs, 1928
De Ierse schrijver Brian Friel werd geboren op 9 januari 1929 geboren in Omagh, Noord-Ierland, in een katholiek onderwijzersgezin. Zie ook mijn blog van 9 januari 2009 en ook mijn blog van 9 januari 2010.
Uit: Dancing at Lughnasa: A Play
"And when I cast my mind back to that summer of 1936, these two memories — of our first wireless and of Father Jack's return — are always linked. So that when I recall my first shock at Jack's appearance, shrunken and jaundiced with malaria, at the same time I remember my first delight, indeed my awe, at the sheer magic of that radio. And when I remember the kitchen throbbing with the beat of the Irish dance music beamed to us all the way from Dublin, and my mother and her sisters suddenly catching hands and dancing a spontaneous step-dance and laughing — screaming! — like excited schoolgirls, at the same time I see that forlorn figure of Father Jack's shuffling from room to room as if he were searching for something but couldn't remember what. And even though I was only a child of seven at the time I know I had a sense of unease, some awareness of a widening breach between what seemed to be and what was, of things changing too quickly before my eyes, of becoming what they ought not to be. That may have been because Uncle Jack hadn't turned out at all like the resplendent figure in my head. Or maybe because I had witnessed Marconi's voodoo derange those kind, sensible women and transform them into shrieking strangers. Or maybe it was because during those Lughnasa weeks of 1936 we were visited on two occasions by my father, Gerry Evans, and for the first time in my life I had a chance to observe him."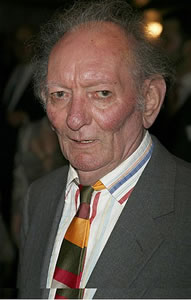 Brian Friel (Omagh, 9 januari 1929)
De Estlandse schrijver August Gailit werd geboren op 9 januari 1891 in Kuiksilla, Sangaste. Zie ook mijn blog van 9 januari 2009 en ook mijn blog van 9 januari 2010.
Uit: Toomas Nipernaadi
"I remember something that once happened in town.
One winter's morning a large company of friends was returning from a night out. We were wearing top hats and white gloves, and we had fine ladies with us as well. Everybody was tipsy, but not too much so, we were frolicking around, laughing, throwing snow at one another. Just as we were crossing Peetri marketplace, I saw a young girl holding a huge basket. The child was blue with cold, her thin fingers like small snakes curled around the handle of her basket. She was shivering in her thin cotton frock, her toes were sticking out from her worn shoes. She was picking horse droppings, used as pig feed by poor people in the slums. I felt sorry for the poor child, and without meaning anything bad, I snatched her basket and began doing her work for her. Many people had already turned up at the market, and quite a few of them stopped to marvel at the unusual sight: a gentleman in a top hat and white gloves picking horse droppings in the street. I was so busy that I failed to hear the first sniggers, the first insults. Within moments, I was surrounded by an angry circle of people. There were apprentices and street sweepers, factory workers and chauffeurs, chimney-sweeps and fruit sellers - they all stood around me and yelled. Somebody pushed me, I fell to the cobblestones, the basket turned over and in an instant I found myself trampled on. Everybody thought it his duty to kick me at least once, as if I were the vilest of the vile. Some time later, when the crowd had dispersed, I saw the same girl standing by the wall. She shook her little fists at me and swore horribly, using words I had never heard before, because I had broken her basket.
You see how the best intentions may turn into the ugliest deeds if you're out of luck."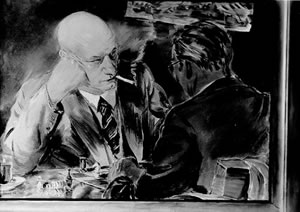 August Gailit (9 januari 1891 – 5 november 1960)
Portret door Eduard Ole, 1932
De Hebreeuwse dichter, schrijver en vertaler Chaim Nachman Bialik werd geboren in Radi, Oekraïne, op 9 januari 1873. Zie ook mijn blog van 9 januari 2009 en ook mijn blog van 9 januari 2010.
On a Summer's Day
When high noon on a summer's day
makes the sky a fiery furnace
and the heart seeks a quiet corner for dreams,
then come to me, my weary friend.
A shady carob grows in my garden –
green, remote from the city's crowds –
whose foliage whispers secrets of God.
Good my brother, let's take refuge.
Pleasure and tenderness let us share
in the sweet hidden prime of noon,
and the mystery golden rays reveal
when sunlight pierces the rich shade.
When the black cold of a winter's night
bruises you with its icy pinch
and frost sticks knives in your shivering flesh,
then come to me, blessed of God.
My dwelling is modest, lacking splendour,
but warm and bright and open to strangers.
A fire's in the grate, on the table a candle –
my lost brother, stay and get warm.
When we hear a cry in the howling storm
we will think of the destitute starving outside.
We will weep for them – honest pitiful tears.
Good friend, my brother, let us embrace.
But when autumn approaches with rain and cloud
and the roof leaks and there's moth in the heart
and the desolate world sinks, sullen, in mire,
then merciful brother, leave me alone.
I would be alone in the barren time
when the heart withers in slow decay.
Unseen. Unknown. No stranger understands.
Let me grieve alone in my silent pain.
Vertaald door Ruth Nevo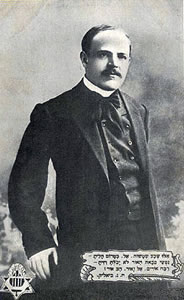 Chaim Nachman Bialik (9 januari 1873 – 4 juli 1934)

09-01-2011 om 19:22 geschreven door Romenu

Tags:Wilbur Smith, Brian Friel, August Gailit, Kurt Tucholsky, Chaim Nachman Bialik, Romenu



Anne Rivers Siddons, Giovanni Papini, Lascelles Abercrombie, Pierre Garnier, Thomas Warton
De Amerikaanse schrijfster Anne Rivers Siddons werd geboren op 9 januari 1936 in Atlanta, Georgia. Zie ook mijn blog van 9 januari 2010.
Uit: Low Country
"I think I'll go over to the island for a few days," I said to my husband at breakfast, and then, when he did not respond, I said, "The light's beautiful. It can't last. I hate to waste it. We won't get this pure gold again until this time next year."
Clay smiled, but he did not put down his newspaper, and he did not speak. The smile made my stomach dip and rise again, as it has for the past twenty-five years. Clay's smile is wonderful, slow and unstinting and a bit crooked, and gains much of its power from the surrounding austerity of his sharp, thin face. Over the years I have seen it disarm a legion of people, from two-year-olds in mid-tantrum to Arab sheiks in same. Even though I knew that this smile was little more than a twitch, and with no more perception behind it, I felt my own mouth smiling back. I wondered, as I often do, how he could do that, smile as though you had absolutely delighted him when he had not heard a word you said.
"There is a rabid armadillo approaching you from behind," I said. "It's so close I can see the froth. It's not a pretty sight."
"I heard you," he said. "You want to go over to the island because the light's good. It can't last."
I waited, but he did not speak again, or raise his eyes.
Finally I said, "So? Is that okay with you?"
This time he did look up.
"Why do you ask? You don't need my permission to go over to the island. When did I ever stop you?"
His voice was level and reasonable; it is seldom anything else. I knew that he did not like me to go over to the island alone, though, for a number of reasons that we had discussed and one that we had not, yet."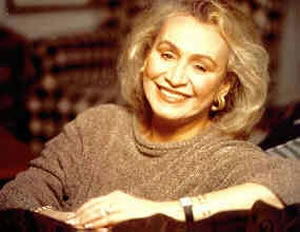 Anne Rivers Siddons (Atlanta, 9 januari 1936)
De Italiaanse schrijver Giovanni Papini werd geboren op 9 januari 1881 in Florence. Zie ook mijn blog van 9 januari 2010.
Uit: Der Spiegel auf der Flucht, Eine völlig absurde Geschichte (Vertaald door Angelika Hocke-Asam)
»Dieses Buch«, sagte er, indem er mit den großen, in rostrot geblümtes Papier eingebundenen Band vors Gesicht hielt, »enthält eine imaginäre Geschichte, die ich erfunden, verfaßt und niedergeschrieben habe. Ich habe in meinem ganzen Leben nur diese eine Geschichte geschrieben, und ich erlaube mir anzunehmen, daß sie Ihnen nicht mißfallen wird. Bis jetzt waren Sie mir nur aufgrund Ihres Rufs bekannt, und erst vor wenigen Tagen sagte mir eine Frau, die Sie liebt, daß Sie einer der wenigen Menschen sind, die es verstehen, nicht vor sich selbst zu erschrecken, und der einzige, der den Mut aufbrachte, vielen seinesgleichen den Tod anzuraten. Aus all diesen Gründen dachte ich, Ihnen meine Geschichte vorzulesen.
Sie erzählt das Leben eines phantastischen Menschen, der in die einzigartigsten und ungewöhnlichsten Abenteuer verwickelt wird. Wenn Sie meine Geschichte angehört haben, werden Sie mir sagen, was ich tun soll. Wenn sie Ihnen gefällt, werden Sie mir versprechen, mich binnen eines Jahres berühmt zu machen. Wenn sie Ihnen nicht gefällt, werde ich mich binnen eines Tages töten. Sagen Sie mir, ob Sie diese Bedingungen akzeptieren und ich beginne.«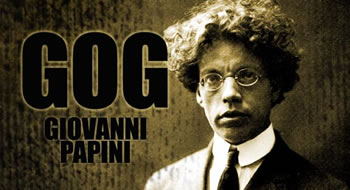 Giovanni Papini (9 januari 1881 - 8 juli 1956)
Portret door Giovanni Costetti
De Engelse dichter en criticus Lascelles Abercrombie werd geboren op 9 januari 1881 in Ashton upon Mersey. Zie ook mijn blog van 9 januari 2009 en ook mijn blog van 9 januari 2010.
Margaret's Song
Too soothe and mild your lowland airs
for one whose hope is gone:
I'm think of the little tarn,
Brown, very lone.
Would now the tall swift mists could lay
their wet grasp on my hair,
and the great natures of the hills
round me friendly were.
In vain! - for taking hills your plains
have spoilt my soul I think,
But would my feet were going down
Towards the brown tarn's brink.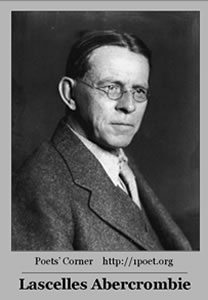 Lascelles Abercrombie (9 januari 1881 – 27 oktober 1938)
De Franse dichter Pierre Garnier werd geboren op 9 januari 1928 in Amiens. Zie ook mijn blog van 9 januari 2009 en ook mijn blog van 9 januari 2010.
Seconde géographie
I
Tu es jeune. Tu as des ailes ordinaires.
Bien sûr tu retomberas. Accident heureux.
Darios, danios, barbus de Sumatra, scalaires
Dans l'aquarium tissé d'éclairs bleus.
Nageoire, aile, rayon, parole, flair,
Tu t'allumes – t'éteins, tu es, tu gonfles creux.
Tu tombes le long du rocher de l'univers.
Si seulement en haut pouvait habiter Dieu !
Tu es jeune. Tu as les ailes grand'ouvertes.
Bien sûr tu retomberas. Yeux clos, jambes vertes.
En bas la bouche molle de la vase.
Tu pourriras. Qui saura que tu as été ?
Immobile, comble de surprise et muet
Dieu même t'oubliera, vase parmi la vase.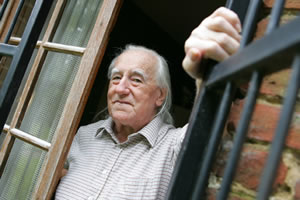 Pierre Garnier (Amiens, 9 januari 1928)
De Engels dichter en literair criticus Thomas Warton werd geboren in Basingstoke, Hampshire, op 9 januari 1728. Zie ook mijn blog van 9 januari 2009 en ook mijn blog van 9 januari 2010.
While Summer Suns O'er the Gay Prospect Play'd
While summer suns o'er the gay prospect play'd,
Through Surrey's verdant scenes, where Epsom spread
'Mid intermingling elms her flowery meads,
And Hascombe's hill, in towering groves array'd,
Rear'd its romantic steep, with mind serene,
I journey'd blithe. Full pensive I return'd;
For now my breast with hopeless passion burn'd,
Wet with hoar mists appear'd the gaudy scene,
Which late in careless indolence I pass'd;
And Autumn all around those hues had cast
Where past delight my recent grief might trace.
Sad change, that Nature a congenial gloom
Should wear, when most, my cheerless mood to chase,
I wish'd her green attire, and wonted bloom!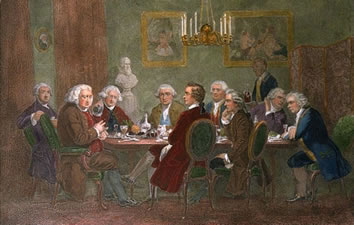 Thomas Warton (9 januari 1728 – 21 mei 1790)
'A literary party at Sir w:Joshua Reynolds's' door D. George Thompson, 1851
Thomas Warton, tweede van rechts

09-01-2011 om 19:16 geschreven door Romenu

Tags:Anne Rivers Siddons, Giovanni Papini, Lascelles Abercrombie, Pierre Garnier, Thomas Warton, Romenu



| | |
| --- | --- |
| | |



Inhoud blog


| | |
| --- | --- |
| | Martinus Nijhoff, Jan Cremer, Jean Pierre Rawie, Marieke Lucas Rijneveld, Sebastian Faulks, Jozef Deleu, Steve Erickson, Arto Paasilinna, Michel Leiris |
| | Martin Michael Driessen, Marjoleine de Vos, Manuel Bandeira, n. c. kaser, Veniamin Kaverin, Louis Amédée Achard, Pierre-Jean de Béranger, Gudrun Reinboth, Werner Rohner |
| | Wam de Moor, Bas Belleman, Roos van Rijswijk, Hanane Aad, Clara Eggink, Kathy Acker, Joy Davidman, Henry Kendall, Katharina Schwanbeck |
| | Antoon Coolen, Vincent Corjanus, Nick Hornby, Ida Boy-Ed, Thornton Wilder, David Wagner, R.J. Pineiro, Helen Meier, Karen Blixen |
| | Sarah Kirsch, Thomas Olde Heuvelt, Kingsley Amis, Patricia De Martelaere, Tristan Tzara, Ewald Vanvugt, Sibylle Lewitscharoff, Jan Luyken, Anatole France |
| | Emmaüs (Felix Timmermans) |
| | Tomas Tranströmer, Daniël Samkalden, Jérôme Lambert, Patrick Bernauw, Benjamin Zephaniah, Henry James, Wilhelm Busch, Ina Boudier-Bakker |
| | Bliss Carman, Beate Morgenstern, Jeffrey Archer, Bernhard Lassahn, Erich Arendt, Pol De Mont, Staf Weyts, Hans Egon Holthusen |
| | Péter Esterházy, Alexandre Jardin, Tjitse Hofman, Landolf Scherzer, Charles Lewinsky, Roman Graf |
| | Roberto Schopflocher, Martin Kessel, Gabriele Stötzer, Helene Hübener, Gerhard Rohlfs |
| | Nachoem Wijnberg, K. Michel, Alexander Münninghoff, Michel Faber, Jean-Marie Gustave Le Clézio, Samuel Beckett, Seamus Heaney, Tim Krabbé, Eudora Welty |
| | Antje Rávic Strubel, Alan Ayckbourn, Scott Turow, Tom Clancy, Agnes Sapper, Edward de Vere, José Gautier Benítez, Alexander Ostrovski, Guillaume-Thomas Raynal |
| | Leonard Nolens, Mark Strand, Silvia Avallone, Walid Soliman, Dorothy Allison, Hubert Nyssen, Rolf Schilling, Glenway Wescott, Claude Tillier |
| | Leo Vroman, Jan van Mersbergen, Paul Theroux, Claudio Magris, Bella Akhmadulina, Stefan Heym, Richard Wagner, Marcel van Maele, Eric Knight |
| | Charles Baudelaire, Jelle Brandt Corstius, Karel Jonckheere, Joolz Denby, Albert von Schirnding, Johannes Bobrowski, Bernard-Marie Koltès, Arnold Stadler, Yaël Vinckx |
| | Thomas (Jan Willem Schulte Nordholt) |
| | Herinnering aan Gerard Reve, Hanz Mirck, Christoph Hein, Judith Koelemeijer, Nnedi Okorafor, Barbara Kingsolver |
| | John Fante, Johann Christian Günther, Glendon Swarthout, Martin Grzimek, Hégésippe Moreau, Robert Askins |
| | Den Haag (Paul Rodenko) |
| | Juliana Spahr, William Wordsworth, Özcan Akyol, Gabriela Mistral |
| | Kazim Ali, Annejet van der Zijl, John Pepper Clark, Jakob Ejersbo, Günter Herburger, Uljana Wolf, Brigitte Schwaiger, Julien Torma, Nicolas Chamfort |
| | Iulian Ciocan |
| | Hugo Claus, Martin Reints, Mieke van Zonneveld, Vítězslav Hálek, Algernon Swinburne, Bora Ćosić,, Werner J. Egli, Michael Georg Conrad, Marente de Moor |
| | Maya Angelou, Hanneke Hendrix, Marko Klomp, Marcel Vaarmeijer, E. L. James, Marguerite Duras, Robert Schindel, Michiel van Kempen, Bettina von Arnim |
| | Charles Ducal, Adriaan Jaeggi, Frederik van Eeden, Bert Bakker, Peter Huchel, Arlette Cousture, Pieter Aspe, Karel N.L. Grazell, Washington Irving |
| | Die Sonne geht im Osten auf (Christian Morgenstern) |
| | Thomas Glavinic, Jay Parini, Anneke Claus, Klaus Ender, Konrad Merz, Ed Dorn, Émile Zola |
| | György Konrád, Anne Waldman, Casanova, Hans Christian Andersen, Roberto Arlt, Edgar Hilsenrath, George Fraser |
| | Hoffmann von Fallersleben, Johann Gleim, Pierre Zaccone, Pietro della Valle, Zwier van Haren, Joanna Chmielewska, Brigitte Struzyk |
| | Preis dem Todesüberwinder! (Friedrich Klopstock) |
| | Milan Kundera, Sandro Veronesi, Nikolaj Gogol, Arnold Aletrino, Max Nord, Urs Allemann, Rolf Hochhuth, John Wilmot, Deborah Feldman |
| | Maria Polydouri, Edgar Wallace, Carl Sternheim, Edmond Rostand, Armel Guerne, Friedrich Güll, Antoine Prévost, Josep de Maistre |
| | Litanie van een wachter bij het graf (Willem Jan Otten) |
| | Stefan Hertmans, Octavio Paz, Asis Aynan, Martijn Teerlinck, Marga Minco, Enrique Vila-Matas |
| | Rob Boudestein, Kornej Tsjoekovski, Andrew Lang, Nichita Stănescu, Hartmut Lange, Marge Piercy |
| | Angela Kreuz, Judith Rossner, Andrew Marvell, John Fowles, Edward FitzGerald, Robert Brasillach, Peter Motte |
| | Golgotha (Theo Thijssen) |
| | Gerrit Komrij, Paul Verlaine, Milton Acorn, Erika Mitterer, Uwe Timm, Tom Sharpe, Gert Heidenreich, Theo Breuer, Luise Hensel |
| | Gethsemane (Jacqueline van der Waals) |
| | Geert van Istendael, Wim Brands, Ernst Jünger, Eric Walz, Georg Klein, Yvan Goll, R. S. Thomas, Jacques Brault, Denton Welch |
| | Walter van den Broeck, Joost de Vries, Mario Vargas Llosa, Chrétien Breukers, Steye Raviez, Nelson Algren, Marianne Frederiksson, Russell Banks, Léon-Gontran Damas |
| | Heinrich Mann, Shusaku Endo, Carolina Trujillo, Golo Mann, Patrick McCabe, Bob den Uyl, Dubravka Ugresić, Francis Ponge, Alfred de Vigny |
| | Tennessee Williams, Gregory Corso, Hwang Sun-won, Martin McDonagh, Robert Frost, Patrick Süskind, A. E. Housman, Bettina Galvagni, Erica Jong |
| | Jezus intrede in Jeruzalem (Nicolaas Beets) |
| | Pol Hoste, Menno Van der Beek, Jung Chang, Paul Meeuws, Flannery O'Connor, Jaime Sabines, Peter Van Straaten, Toni Cade Bambara |
| | Antonio Fogazzaro, Jacques Bens, Jacques Audiberti, Filip De Pillecyn, Erica Pedretti, Evliya Çelebi, Anne Fanshawe, Daniel Schiebeler, Mary Webb |
| | Peter Bichsel, Joy Ladin, Martin Walser, Dario Fo, Lawrence Ferlinghetti, Jacob van Lennep, Jeroen Mettes, Harry Prenen, Willem van Iependaal |
| | Top Naeff, Robert Hamerling, Fanny Lewald, Christian Schubart, Gabriele von Baumberg, Olive Schreiner, William Morris, Richard Leising |
| | Cri Stellweg, Jonathan Ames, Yōko Tawada, Gary Whitehead, Mitch Cullin, Roger Martin du Gard, Madison Cawein, Nils-Aslak Valkeapää, Federica de Cesco |
| | Billy Collins, Theo Kars, Eveline Hasler, Érik Orsenna, Arnold Sauwen, Wolfgang Bächler, Ilse Kleberger, Léon Deubel, Karel Poláček |


Gastenboek


Druk op onderstaande knop om een berichtje achter te laten in mijn gastenboek