E-mail mij


Druk op onderstaande knop om mij te e-mailen.


Romenu


Romenu is een blog over gedichten, literatuur en kunst Maar Romenu is ook een professionele freelance vertaler
Du-Ne en Ne-Du http://www.romenu.nl.


Huur eens een (vakantie)huis in een natuurgebied, dichtbij het centrum van Nijmegen


Google


Georg Trakl

Georg Trakl werd op 3 februari 1887 in het conducteurshuis aan de Waagplatz 2 in Salzburg geboren. Zijn vader, Tobias Trakl, was een handelaar in ijzerwaren en zijn moeder, die ook psychische problemen had, was Maria Catharina Trakl, (meisjesnaam Halik). Voorts had hij nog drie broers en drie zussen. Margarethe (doorgaans Grethe genoemd) stond hem het naast, zelfs zodanig dat sommigen een incestueuze verhouding vermoeden. Zijn jeugd bracht hij door in Salzburg. Vervolgens bezocht hij van 1897 tot 1905 het humanistische gymnasium. Om toch een academische opleiding te kunnen volgen, werkte hij tot 1908 in de praktijk bij een apotheker. Sommigen vermoedden dat hij dit vooral deed om zichzelf opiaten te kunnen verschaffen. Bij het uitbreken van WO I werd Trakl als medicus naar het front in Galicië (heden ten dage in Oekraïne en Polen) gestuurd. Zijn gemoedsschommelingen leidden tot geregelde uitbraken van depressie, die verergerd werden door de afschuw die hij voelde voor de verzorging van de ernstig verwonde soldaten. De spanning en druk dreven hem ertoe een suïcidepoging te ondernemen, welke zijn kameraden nochtans verhinderden. Hij werd in een militair ziekenhuis opgenomen in Kraków, alwaar hij onder strikt toezicht geplaatst werd.Trakl verzonk daar in nog zwaardere depressies en schreef Ficker om advies. Ficker overtuigde hem ervan dat hij contact moest opnemen met Wittgenstein, die inderdaad op weg ging na Trakls bericht te hebben ontvangen. Op 4 november 1914, drie dagen voordat Wittgenstein aan zou komen, overleed hij echter aan een overdosis cocaïne


Paul Celan

Paul Celan werd onder de naam Paul Antschel op 23 november 1920 geboren in Czernowitz, toentertijd de hoofdstad van de Roemeense Boekovina, nu behorend bij de Oekraïne. Paul Celans ouders waren Duitssprekende joden die hun zoon joods opvoedden en hem naar Duitse christelijke scholen stuurden. In 1942 werden Celans ouders door de Duitse bezetter naar een werkkamp gedeporteerd en daar vermoord. Hijzelf wist aanvankelijk onder te duiken, maar moest vanaf juli 1942 in een werkkamp dwangarbeid verrichten. Celan overleefde de oorlog. Via Boekarest en Wenen vestigde Celan zich in 1948 in Parijs. Daar was hij werkzaam als dichter, vertaler en doceerde hij aan de prestigieuze Ecole Normale Supérieure. Vermoedelijk op 20 april 1970 beëindigde hij zijn leven zelf door in de Seine te springen.


Gerard Reve

Gerard Reve over: Medearbeiders "God is in de mensen, de dieren, de planten en alle dingen - in de schepping, die verlost moet worden of waaruit God verlost moet worden, door onze arbeid, aangezien wij medearbeiders van God zijn." Openbaring "Tja, waar berust elk godsbegrip op, elke vorm van religie? Op een openbaring, dat wil zeggen op een psychische ervaring van zulk een dwingende en onverbiddelijke kracht, dat de betrokkene het gevoel heeft, niet dat hij een gedachte of een visioen heeft, maar dat een gedachte gedachte of visioen hem bezit en overweldigt."


Simon Vestdijk
Simon Vestdijk (Harlingen, 17 oktober 1898 – Utrecht, 23 maart 1971) was een Nederlands romancier, dichter, essayist en vertaler. Zijn jeugd te Harlingen en Leeuwarden beschreef hij later in de Anton Wachter-cyclus. Van jongs af aan logeerde hij regelmatig bij zijn grootouders in Amsterdam, waar hij zich in 1917 aan de Universiteit van Amsterdam inschrijft als student in de medicijnen. Tijdens zijn studie die van 1917 tot 1927 duurde, leerde hij Jan Slauerhoff kennen.Tot 1932 is hij als arts in praktijken door heel Nederland werkzaam. In 1932 volgt zijn officiële schrijversdebuut met de uitgave van de bundel Verzen in De Vrije Bladen. Doorslaggevend voor Vestdijks uiteindelijke keuze voor de literatuur is zijn ontmoeting in 1932 met Eddy Du Perron en Menno ter Braak. Deze ontmoeting had tot resultaat dat hij redactielid werd van het tijdschrift Forum Kort daarop, in 1933, wordt zijn eerste novelle, De oubliette, uitgegeven. In hetzelfde jaar schrijft hij Kind tussen vier vrouwen, dat, eerst geweigerd door de uitgever, later de basis zal vormen voor de eerste drie delen van de Anton Wachter-romans. In 1951 ontvangt Vestdijk de P.C. Hooftprijs voor zijn in 1947 verschenen roman De vuuraanbidders. In 1957 wordt hij voor het eerst door het PEN-centrum voor Nederland voorgedragen voor de Nobelprijs voor de Literatuur, die hij echter nooit zal krijgen. Op 20 maart 1971 wordt hem de Prijs der Nederlandse Letteren toegekend, maar voor hij deze kan ontvangen overlijdt hij op 23 maart te Utrecht op 72-jarige leeftijd. Vestdijk was auteur van ca. 200 boeken. Vanwege deze enorme productie noemde de dichter Adriaan Roland Holst hem 'de man die sneller schrijft dan God kan lezen'. Andere belangrijke boeken van Simon Vestdijk zijn: "Kind van stad en land" (1936), "Meneer Visser's hellevaart" (1936), "Ierse nachten" (1946), "De toekomst de religie" (1947), "Pastorale 1943" (1948), "De koperen tuin" (1950), "Ivoren wachters" (1951), "Essays in duodecimo" (1952) en "Het genadeschot" (1964).


K.P. Kavafis

K.P. Kavafis werd als kind van Griekse ouders, afkomstig uit Konstantinopel, geboren in 1863 in Alexandrië (tot vandaag een Griekse enclave) waar hij ook het grootste deel van zijn leven woonde en werkte. Twee jaar na de dood van zijn vader verhuist het gezin in 1872 naar Engeland om na een verblijf van vijf jaar naar Alexandrië terug te keren. Vanwege ongeregeldheden in Egypte vlucht het gezin in 1882 naar Konstantinopel, om na drie jaar opnieuw naar Alexandrië terug te gaan. In de jaren die volgen maakt Kavafis reizen naar Parijs, Londen en in 1901 zijn eerste reis naar Griekenland, in latere jaren gevolgd door nog enkele bezoeken. Op de dag van zijn zeventigste verjaardag, in 1933 sterft Kavafis in Alexandrië. De roem kwam voor Kavafis pas na zijn dood, dus postuum. Deels is dat toe te schrijven aan zijn eigen handelswijze. Hij was uiterst terughoudend met de publicatie van zijn gedichten, liet af en toe een enkel gedicht afdrukken in een literair tijdschrift, gaf in eigen beheer enkele bundels met een stuk of twintig gedichten uit en het merendeel van zijn poëzie schonk hij op losse bladen aan zijn beste vrienden.


Thomas Mann


Thomas Mann, de jongere broer van Heinrich Mann, werd geboren op 6 juni 1875 in Lübeck. Hij was de tweede zoon van de graankoopman Thomas Johann Heinrich Mann welke later één van de senatoren van Lübreck werd. Zijn moeder Julia (geboren da Silva-Bruhns) was Duits-Braziliaans van Portugees Kreoolse afkomst. In 1894 debuteerde Thomas Mann met de novelle "Gefallen". Toen Thomas Mann met 21 jaar eindelijk volwassen was en hem dus geld van zijn vaders erfenis toestond - hij kreeg ongeveer 160 tot 180 goldmark per jaar - besloot hij dat hij genoeg had van al die scholen en instituties en werd onafhankelijk schrijver. Kenmerkend voor zijn stijl zijn de ironie, de fenomenale taalbeheersing en de minutieuze detailschildering. Manns reputatie in Duitsland was sterk wisselend. Met zijn eerste roman, Buddenbrooks (1901), had hij een enorm succes, maar door zijn sceptische houding tegenover Duitsland na de Eerste Wereldoorlog veranderde dit volledig. Stelde hij zich tot aan de jaren twintig apolitiek op (Betrachtungen eines Unpolitischen, 1918), meer en meer raakte hij bij het Politiek gebeuren betrokken. Zijn afkeer van het nationaal socialisme groeide, zijn waarschuwingen werden veelvuldiger en heftiger. In 1944 accepteerde hij het Amerikaanse staatsburgerschap. Tussen 1943 en 1947 schreef Mann Doktor Faustus (zie Faust), de roman van de 'Duitse ziel' in de gecamoufleerd geschilderde omstandigheden van de 20ste eeuw. In 1947 bezocht hij voor het eerst sinds de Oorlog Europa, twee jaar later pas Duitsland. In 1952 vertrok hij naar Zwitserland. Op 12 augustus 1955 stierf hij in Zürich. Twintig jaar na zijn dood, in aug. 1975, is zijn literaire nalatenschap geopend: dagboekaantekeningen van 15 maart 1933 tot 29 juli 1955, alsmede notities uit de jaren 1918 tot en met 1921.Belangrijke werken zijn: Der Zauberberg, Der Tod in Venedig, Dokter Faustus , Joseph und seine Brüder en Die Bekenntnisse des Hochstaplers Felix Krull.


Rainer Maria Rilke

Rilke werd op 4 december 1875 geboren in Praag. Hij had al naam gemaakt als dichter met zijn bundels Das Stundenbuch en Das Buch der Bilder, toen hij de literaire wereld versteld deed staan en wereldfaam verwierf met de publicatie van zijn twee delen Neue Gedichte in 1907 en 1908. Hij verzamelde daarin het beste werk uit een van zijn vruchtbaarste periodes, die hij grotendeels doorbracht in Parijs. Rilke was daar diep onder de indruk gekomen van Rodin, bij wie hij een tijdlang in dienst was als particulier secretaris. Rodin, zei hij later, had hem leren kijken. Dit kijken kwam neer op intense concentratie, om het mysterie te kunnen zien 'achter de schijnbare werkelijkheid'. Latere en rijpere werken als Duineser Elegien (1912-1923) en het ronduit schitterende Die Sonette an Orfeus (1924) illustreren Rilkes metafysische visie op het onzegbare, dat haar verwoording vindt in een hermetische muzikale taal. Op 29 december 1926 overlijdt Rilke in het sanatorium in Val-Mont aan de gevolgen van leukemie. Enkele dagen later wordt hij, overeenkomstig zijn wens, begraven op het kerkhof van Raron.


* * * * * * * * * * * * * * * *

| | |
| --- | --- |
| | Over literatuur, gedichten, kunst en cultuur |

25-09-2016

Niccolò Ammaniti, David Benioff, Michael Reefs, Carlos Ruiz Zafón, Andrzej Stasiuk, William Faulkner, Patricia Lasoen
De Italiaanse schrijver Niccolò Ammaniti werd geboren in Rome op 25 september 1966. Zie ook alle tags voor Niccolò Ammaniti op dit blog.
Uit: Anna (Vertaald door Etta Maris)
"Hij was drie, misschien vier jaar. Hij zat keurig op een kunstleren stoeltje, het hoofd gebogen boven een groen t-shirt met korte mouwen. De omgeslagen pijpen van de spijkerbroek op de gympen. Met een hand hield hij een houten treintje vast dat als een rozenkrans tussen zijn benen hing.
De vrouw die aan de andere kant van de kamer op het bed lag kon net zo goed dertig als veertig zijn. Haar met rode vlekken en donkere korsten bedekte arm zat vast aan een leeg infuus. Het virus had haar gereduceerd tot een hijgend skelet, bedekt met een droge, puistige huid, maar het had niet al haar schoonheid kunnen wegnemen, die nog was terug te vinden in de vorm van haar jukbeenderen en het wipneusje.
Het jongetje richtte zijn hoofd op en keek naar haar, pakte de armleuning vast, stond op uit de stoel en liep met het treintje in zijn hand naar het bed.
Zij merkte het niet. Haar ogen, diep weggezonken in twee donkere poelen, staarden naar het plafond.
De kleine begon te spelen met een knoop van het vieze kussensloop. Zijn blonde haren bedekten zijn voorhoofd en in de zon die door de witte gordijnen scheen leken ze net nylondraden.
Plotseling richtte de vrouw zich op haar ellebogen op en kromde haar rug alsof haar ziel uit haar lichaam werd weggerukt, klemde de lakens in haar vuisten en viel schokkend van het hoesten achterover. Naar adem happend strekte ze haar armen en benen uit. Toen ontspande haar gezicht, sperde ze haar mond open en stierf met open ogen.
Het jongetje pakte voorzichtig haar hand en begon aan haar wijsvinger te trekken. Met een zacht stemmetje fl uisterde hij: 'Mama? Mama?' Hij legde het treintje op haar borst en liet het over de plooien van het laken glijden. Even raakte hij de met opgedroogd bloed bedekte pleister aan die de naald van het infuus bedekte. Ten slotte liep hij de kamer uit.
De gang was nauwelijks verlicht. Ergens klonk het biep biep van een medisch apparaat.
Het jongetje liep langs het lijk van een dikke man die naast een brancard lag. Zijn voorhoofd tegen de vloer, een been op een onnatuurlijke manier gebogen. Tussen de azuurblauwe panden van zijn overhemd was zijn lijkbleke rug zichtbaar."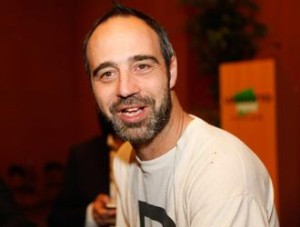 Niccolò Ammaniti (Rome, 25 september 1966)
De Amerikaanse schrijver David Benioff (pseudoniem van David Friedman) werd geboren in New York City op 25 september 1970. Zie ook alle tags voor David Benioff op dit blog en ook mijn blog van 25 september 2010.
Uit: City of Thieves
"You have never been so hungry; you have never been so cold. When we slept, if we slept, we dreamed of the feasts we had carelessly eaten seven months earlier—all that buttered bread, the potato dumplings, the sausages—eaten with disregard, swallowing without tasting, leaving great crumbs on our plates, scraps of fat. In June of 1941, before the Germans came, we thought we were poor. But June seemed like paradise by winter.
At night the wind blew so loud and long it startled you when it stopped; the shutter hinges of the burnt-out café on the corner would quit creaking for a few ominous seconds, as if a predator neared and the smaller animals hushed in terror. The shutters themselves had been torn down for firewood in November. There was no more scrap wood in Leningrad. Every wood sign, the slats of the park benches, the floorboards of shattered buildings—all gone and burning in someone's stove. The pigeons were missing, too, caught and stewed in melted ice from the Neva. No one minded slaughtering pigeons. It was the dogs and cats that caused trouble. You would hear a rumor in October that someone had roasted the family mutt and split it four ways for supper; we'd laugh and shake our heads, not believing it, and also wondering if dog tasted good with enough salt— there was still plenty of salt, even when everything else ran out we had salt. By January the rumors had become plain fact. No one but the best connected could still feed a pet, so the pets fed us.
There were two theories on the fat versus the thin. Some said those who were fat before the war stood a better chance of survival: a week without food would not transform a plump man into a skeleton. Others said skinny people were more accustomed to eating little and could better handle the shock of starvation. I stood in the latter camp, purely out of self-interest. I was a runt from birth."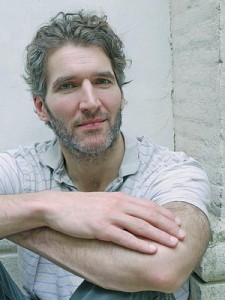 David Benioff (New York, 25 september 1970)
De Nederlandse schrijver Michael Reefs werd op 25 september 1986 geboren in Heerlen en groeide op in het Limburgse Vaals. Zie ook alle tags voor Michael Reefs op dit blog.
Uit: De Legende van de Hemelrijders
'Melanie, ik geloof je! Kom alsjeblieft terug, het is allemaal mijn fout. Het spijt me.' Er kwam niemand. De rest van het clubje was zelfs niet meer te horen. Ze waren zeker allemaal beneden op het plein en wachtten tot zij ook zou komen.
Vlak voor Luca klonk een harde klap. In een enkele seconde wist ze dat ze weg moest van deze plek, dat het hier veel te gevaarlijk was voor kinderen. Misschien zelfs te gevaarlijk voor volwassenen. Wat ze ook zeiden over die legende, het was allemaal waar. Luca twijfelde er helemaal niet meer aan. Ze wilde rennen, maar haar benen voelden zo zwaar. De ijzeren poort van het kasteel werd heel langzaam omhoog gehesen. Luca zag een zilverachtige gloed over de grond zweven, die razendsnel haar richting uitkwam. Te laat besefte ze dat dit een soort touw was, dat om haar voeten werd gebonden en haar vooruit trok. Ze schreeuwde en riep de namen van haar vrienden.
De afstand tot de poort werd steeds kleiner en Luca wist dat de tijd begon te dringen. Er schoten allerlei dingen door haar hoofd. De poort maakte opnieuw een geluid en rolde langzaam weer omlaag. Luca schoof er onderdoor en keek een laatste keer achterom. Op dat moment ging de poort voor haar neus dicht. Ze zat opgesloten in het griezelige kasteel."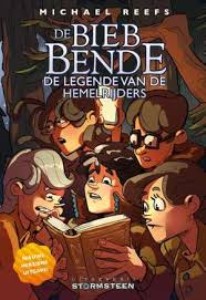 Michael Reefs (Heerlen, 25 september 1986)
Cover
De Spaanse schrijver Carlos Ruiz Zafón werd geboren op 25 september 1964 in Barcelona. Zie ook mijn blog van 25 september 2010 en eveneens alle tags voor Carlos Ruiz Zafón op dit blog.
Uit: The Angel's Game (Vertaald door Lucia Graves)
"Invariably dressed in im¬peccable silk suits and shiny Italian moccasins, Vidal had the looks and the manner of a matinee idol: fair hair always well combed, a pencil moustache, and the easy, generous smile of someone who feels comfort¬able in his own skin and at ease with the world. He belonged to a family whose forebears had made their pile in the Americas in the sugar busi¬ness and, on their return to Barcelona, had bitten off a large chunk of the city's electricity grid. His father, the patriarch of the clan, was one of the newspaper's main shareholders, and Don Pedro used its offices as a play¬ground to kill the tedium of never having worked out of necessity a sin¬gle day in his life. It mattered little to him that the newspaper was losing money as quickly as the new automobiles that were beginning to circulate around Barcelona leaked oil: with its abundance of nobility, the Vidal dynasty was now busy collecting banks and plots of land the size of small principalities in the new part of town known as the Ensanche.
Pedro Vidal was the first person to whom I had dared show rough drafts of my writing when, barely a child, I carried coffee and cigarettes round the staff room. He always had time for me: he read what I had written and gave me good advice. Eventually, he made me his assistant and would allow me to type out his drafts. It was he who told me that if I wanted to bet on the Russian roulette of literature, he was willing to help me and set me on the right path. True to his word, he had now thrown me into the clutches of Don Basilio, the newspaper's Cerberus.
"Vidal is a sentimentalist who still believes in those profoundly un-Spanish myths such as meritocracy or giving opportunities to those who deserve them rather than to the current favorite. Loaded as he is, he can allow himself to go around being a free spirit. If I had one hundredth of the cash he doesn't even need I would have devoted my life to honing sonnets and little twittering nightingales would come to eat from my hand, captivated by my kindness and charm."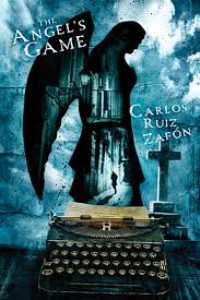 Carlos Ruiz Zafón (Barcelona, 25 september 1964)
Cover

De Poolse schrijver en letterkundige Andrzej Stasiuk werd geboren op 25 september 1960 in Warschau. Zie ook mijn blog van 25 september 2010 en eveneens alle tags voor Andrzei Stasiuk op dit blog.
Uit:On The Road To Babadag: Travels In The Other Europe (Vertaald door Michael Kandel)
"Żyrardów was red, all brick. I got off with everyone else. I was shiftless here, but whatever I did was in tribute to those who had to get up before the sun, for without them the world would have been no more than a play of color or a meteorological drama. I drank strong tea in a station bar and took the train back, to go north in a day or two, or east, without apparent purpose.
One summer I was on the road seventy-two hours nonstop. I spoke with truck drivers. As they drove, their words flowed in ponderous monologue from a vast place — the result of fatigue and lack of sleep. The landscape outside the cabin window drew close, pulled away, to freeze at last, as if time had given up. Dawn at a roadside somewhere in Puck, thin clouds stretching over the gulf. Out from under the clouds slipped the bright knife edge of the rising day, and the cold smell of the sea came woven with the screech of gulls. It's entirely possible I reached the beach itself then, it's entirely possible that after a couple of hours of sleep somewhere by the road a delivery van stopped and a guy said he was driving through the country, north to south, which was far more appealing than the tedium of tide in, tide out, so I jumped on the crate and, wrapped in a blanket, dozed beneath the fluttering tarp, and my doze was visited by landscapes of the past mixed with fantasy, as if I were looking at things as an outsider. Warsaw went by as a foreign city, and I felt no tug at my heart. Grit in my teeth: the dust raised from the floorboards. I crossed the country as one crosses an unmapped continent. Between Radom and Sandomierz, terra incognita. The sky, trees, houses, earth — all could be elsewhere. I moved through a space that had no history, nothing worth preserving. I was the first man to reach the foot of the Góry Pieprzowe, Pepper Hills, and with my presence everything began. Time began. Objects and landscapes started their aging only from the moment my eye fell on them. At Tarnobrzeg I rapped on the sheet metal of the driver's cabin; impressed by the size of a sulfur outcrop, I wanted him to stop. Giant power shovels stood at the bottom of a pit. It didn't matter where they came from. From the sky, if you like, to bite into the land, to chew their way into and through the planet and let an ocean surge up the shaft to drown everything here and turn the other side to desert. The stink of inferno rose, and I could not tear my gaze from the monstrous hole that spoke of the grave, piled corpses, the chill of hell. Nothing moved, so this could have been Sunday, assuming there was a calendar in such a place."

Andrzej Stasiuk (Warschau, 25 september 1960)
De Amerikaanse schrijver William Faulkner werd geboren op 25 september 1897 in New Albany, Mississippi. Zie ook mijn blog van 25 september 2010 en eveneens alle tags voor William Faulkner op dit blog.
Uit: As I Lay Dying
"She ought to taken those cakes anyway," Kate says.
"Well," I say, "I reckon she never had no use for them now."
"She ought to taken them," Kate says. "But those rich town ladies can change their minds. Poor folks cant."
Riches is nothing in the face of the Lord, for He can see into the heart. "Maybe I can sell them at the bazaar Saturday," I say. They turned out real well.
"You cant get two dollars a piece for them," Kate says.
"Well, it isn't like they cost me anything," I say. I saved them out and swapped a dozen of them for the sugar and flour. It isn't like the cakes cost me anything, as Mr Tull himself realises that the eggs I saved were over and beyond what we had engaged to sell, so it was like we had found the eggs or they had been given to us.
"She ought to taken those cakes when she same as gave you her word," Kate says. The Lord can see into the heart. If it is His will that some folks has different ideas of honesty from other folks, it is not my place to question His decree.
"I reckon she never had any use for them," I say. They turned out real well, too.
The quilt is drawn up to her chin, hot as it is, with only her two hands and her face outside. She is propped on the pillow, with her head raised so she can see out the window, and we can hear him every time he takes up the adze or the saw. If we were deaf we could almost watch her face and hear him, see him. Her face is wasted away so that the bones draw just under the skin in white lines. Her eyes are like two candles when you watch them gutter down into the sockets of iron candle-sticks. But the eternal and the everlasting salvation and grace is not upon her.
"They turned out real nice," I say. "But not like the cakes Addie used to bake." You can see that girl's washing and ironing in the pillow-slip, if ironed it ever was. Maybe it will reveal her blindness to her, laying there at the mercy and the ministration of four men and a tom-boy girl. "There's not a woman in this section could ever bake with Addie Bundren," I say. "First thing we know she'll be up and baking again, and then we wont have any sale for ours at all."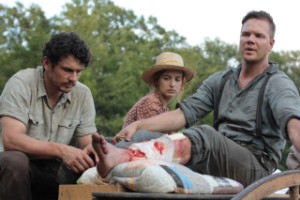 William Faulkner (25 september 1897 - 6 juli 1962)
James Franco (Darl) Ahna O'Reilly (Dewey) en Jim Parrack (Cash) in de film "As I Lay Dying" uit 2013
De Belgische dichteres en schrijfster Patricia Lasoen werd geboren op 25 september 1948 in Brugge. Zie ook mijn blog van 25 september 2010 en eveneens alle tags voor Patricia Lasoen op dit blog.
Oude man met plastic tas
Met 1 plastic tas
van het warenhuis
met de rode zon
met gebogen schouders
traag te voet
langs de bleekgroene heesters
langs het dode kanaal
over het grote lege plein.
Duidelijk het javelwater *,
de melk en het brood
in het zakje.
Keert hij tevreden terug?

Stilleven met herfstvruchten
zoals altijd bij volle maan
zelfs na een afmattend orgasme
lig ik wakker en met hoofdpijn
in ons bed naar de gedaanten
van de vetplanten te staren.

merkwaardig klein voel ik me nu
vertrappeld door verwarde paardepoten
terwijl de mooie diernaam hazelworm
plots uit het donker opduikt
en mijn hoofd gekraakt wordt

als een okkernoot tussen de deurscharnieren.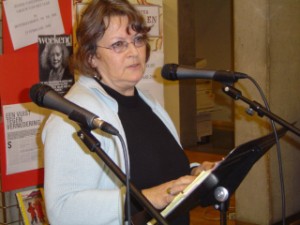 Patricia Lasoen (Brugge, 25 september 1948)



Zie voor nog meer schrijvers van de 25e september ook mijn vorige blog van vandaag.
25-09-2016 om 13:50 geschreven door Romenu

Tags:Niccolò Ammaniti, David Benioff, Michael Reefs, Carlos Ruiz Zafón, Andrzej Stasiuk, William Faulkner, Patricia Lasoen, Romenu



Rebecca Gablé, Lu Xun, Maj Sjöwall, August Kühn, Manouchehr Atashi, William Michael Rossetti, Charles Robert Maturin, Herbert Heckmann
De Duitse schrijfster Rebecca Gablé (pseudoniem van Ingrid Krane-Müschen) werd geboren op 25 september 1964 in Wickrath / Mönchengladbach. Zie ook mijn blog van 25 september 2010 en eveneens alle tags voor Rebecca Gablé op dit blog.
Uit:Der Palast der Meere

"Das Eisen ist heiß", sagte der Constable, und das Funkeln in den Augen verriet seine freudige Erwartung.
"Hier ist ein Mann, der seine wahre Bestimmung gefunden hat", murmelte Isaac.
"Halt lieber die Klappe", warnte die Marktfrau, die in der dicht gedrängten Menge neben ihm stand.
Der Constable legte die Hand um den hölzernen Griff des langen Brandeisens, das in einem Kohlebecken zu seiner Linken lag, hob es hoch und zeigte den Zuschauern das rot glühende "M". Ein beifälliges Raunen ging durch die Menge.
Die junge Frau am Pranger fing an zu schluchzen. Sie stand in unwürdiger Haltung leicht vorgebeugt, Hals und Handgelenke steckten in den dafür vorgesehenen Löchern.
Ihr ohnehin schmuddeliges Kleid war mit Flecken übersät, wo die Dreckfladen und sonstigen Wurfgeschosse der Umstehenden sie getroffen hatten, die vornehmlich auf ihr schmales Hinterteil gezielt zu haben schienen.
Der Constable trat vor die arme Sünderin und strich ihr mit der linken Hand das Haar zurück; es wirkte geradezu zärtlich. Sie hatte die Augen zugekniffen, und so sah sie nicht, wie er das Eisen hob. Ohne jedes Zögern und zielsicher drückte er es ihr mitten auf die Stirn. Das glühende Eisen zischte auf der Haut, ein dunkler Rauchkringel stieg auf, und die Verurteilte stieß einen
langgezogenen Schrei aus.
Die Schaulustigen applaudierten und johlten – weil der Gerechtigkeit Genüge getan war oder weil sie sich gut unterhalten fühlten, Isaac wusste es nicht.
"Das war's. Deine zwei Stunden sind um, Mädchen", sagte der Constable und zwickte sie augenzwinkernd in die linke Brust, ehe er den Bolzen zurückzog und die schwere hölzerne Zwinge aufklappte. "Und jetzt hör schon auf zu flennen. Wir hätten dir auch ein Ohr abschneiden können.
Verdient hättest du's allemal."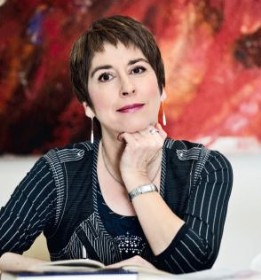 Rebecca Gablé (Wickrath, 25 september 1964)

De Chinese schrijver Lu Xun werd in 1881 in Shaoxing in de provincie Zhejiang geboren als Zhou Shuren. Zie ook alle tags voor Lu Xun op dit blog en ook mijn blog van 25 september 2009 en ook mijn blog van 25 september 2010
Uit: Kong Yiji
"Since then, I spend all day at the counter, doing my specialized job where I couldn't make any blunders. The thing that bothered me most was that the job was so monotonous and boring. The tavern keeper always glared at me with a fierce face, and the customers were not friendly either. Therefore, I couldn't slack off even a little bit, except for a few laughs that Kong Yiji brought to us every time he came to the wine tavern. That's why I can still remember him.
Kong Yiji was the only one who stood drinking while wearing a robe. He was big and tall, yet he had a wan face, often with bruises showing in his wrinkles, and had a bedraggled grizzly beard. Although he wore a robe, the robe, which was well worn out, seemed not to have been mended nor washed for a decade. He used many obscure words and archaic phrases when he spoke that his speech was unintelligible. Because of his surname Kong, someone picked a nonsensical phrase "Shang Da Ren Kong Yi Ji" from the children's practice book and used this as a nickname for him, "Kong Yiji.". Each time, the moment he stepped into the tavern, all the customers would look at him and start laughing. Someone would yell: "Kong Yiji, you got a new scar on your face!" He never answered them, he only spoke to the waiter behind the counter: 'Two bowls of wine heated and a dish of anise beans.' He then spread out 9 coppers. The customers then intentionally raised their voices: "You must have stolen something again." Kong Yiji with his eyes wide open: "How can you accuse me, an innocent person without any basis?……" "What kind of innocent person? …I saw with my own eyes that you stole the books from the Hes' and you were hung up and beaten." Kong Yiji's face turned red and the veins on his forehead protruded, while defending himself, said: "Stealing books is not a theft, stealing books…is an intellectuals' business, it's not a theft! " Following that he blurted out those archaic phrases, such as "a nobleman sticks to his principles despite poverty" so on and so forth. The crowd would burst into laughter; and the wine tavern once again became lively and rowdy."

Lu Xun (25 september 1881 – 19 oktober 1936)
De Zweedse schrijfster Maj Sjöwall werd op 25 september 1935 in Stockholm geboren.Zie ook alle tags voor Maj Sjöwall op dit blog en ook mijn blog van 25 september 2010.
Uit: Roseanna (Samen met Per Wahlöö)
"But the Civil Engineering Board found that the Shipping and Navigation Administration had control over bucket dredging machines and in desperation made and appeal to the Harbor Commission in Norrkoping which immediately returned the papers to the Shipping and Navigation Administration, which remitted them to the Civil Engineering Board at which point someone picked up the telephone and dialed an engineer who knew all about bucket dredging machines. He knew that of the five existing bucket dredgers, there was only one that could pass through the locks. The vessel was called The Pig and happened just then to be lying in the fishing harbor at Gravarne. On the morning of July 5 The Pig arrived and moored at Borenshult as the neighborhood children and a Vietnamese tourist looked on.One hour later a representative of the Canal Company went on board to discuss the project. That took the whole afternoon. The next day was Saturday and vessel remained by the breakwater while the men went home for the weekend. The crew consisted of a dredging foreman, who was also the officer in command wit the authority to take the vessel to sea, an excavating engineer, and a deck man. The latter two men were from Gothenburg and took the night train from Motala. The skipper lived in Nacka and his wife came go get him in their car. At seven o'clock on Monday morning all three were pm board again and one hour later they began to dredge. By eleven o'clock the hold was full later they began to dredge. By eleven o'clcock the hold was full and the dredger went out into the lake to dump. On the way back they had to lay off and wait while a white steamboat approached the Boren locks in a westerly direction. Foreign tourists crowded along the vessel's railing and waved excitedly at the working crew on the dredger.
The passenger boat was elevated slowly up the locks toward Motala and lake Vottern and by lunch time its top pennant had disappeared in back of the uppermost sluice gat. At one-thirty the men began to dredge again.The situation was this: the weather was warm and beautiful with mild temperature winds and idly moving summer clouds. There were some people on the breakwater and on the edge of the canal. Most of them were sunning themselves, a few were fishing, and two or three were watching the dredging activity. The dredger's bucket had just gobbled up out of the water. The excavating engineer was operating the familiar handgrips in his cabin. The dredging foreman was having a cup of coffee in the galley, and the deck man stood with his having elbows on the railing and spit in the water."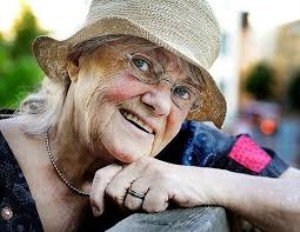 Maj Sjöwall (Stockholm, 25 september 1935)
De Duitse schrijver August Kühn (alias Helmut Munch), werd geboren op 25 sep 1936 in München. Zie ook alle tags voor August Kühn op dit blog en ook mijn blog van 25 september 2010
Uit: Zeit zum Aufstehn
"Die Sozialdemokratie wird auch dort sein, wie im vergangenen Jahre. – Ist euch schon aufgefallen, dass sich diese Maifeier, abgesehen von den Ansprachen der Referenten, in nichts von einem Familienausflug eines Kegelvereins unterscheidet?« Löffler wartete gar nicht erst ab, was die anderen dazu sagten. Er hatte seine Idee, die sollten sie gut finden, dann verging ihnen das Gerede vom Streik. »Erst wird doch gesoffen und dann gesungen, was sag ich, geplärrt, dass es eine Schande ist.«
»Arbeiterlieder!«, wagte Anderl Warz einzuwenden.
»Ja, Arbeiterlieder, doch warum werden die nicht schön gesungen, kunstvoll?« Nun bekam er keine Gegenrede mehr und konnte losziehen.
»Wenn jemand, der nicht zu uns gehört, vorbeikommt und sich das anhört, muss er uns für eine Räuberbande halten. Herwegh, Freiligrath, das waren Künstler. Ihre Lieder kann man nicht einfach so herausgrölen.«
»Mir reicht es schon, wenn alle den Text können«, rutschte es Gustl Kühn heraus und löste damit ein Gelächter aus, das Löffler mit bestimmter Handbewegung schnell wegwischte.
»Richtig singen kann man lernen! Schaut euch die Gesangvereine an.«
»Am Brunnen vor dem Tore...«, alberte Fritz und bekam dafür einen zornigen Blick des Postschaffners.
»Warum nicht? Sollen wir vielleicht auf alles verzichten, was es sonst an Liedern gibt? – Aber wenn ihr nicht wollt, ich hätte was gewusst...« – So muss man es machen, nun waren alle ganz Ohr, keine Einwände mehr. »Natürlich kann keiner erwarten, dass diese bürgerlichen Liedertafeln jetzt anfangen, unsere Lieder zu singen, nicht einmal aufnehmen würde uns so ein Verein. Gründen wir doch einen eigenen! Arbeitergesangverein München West, wie wäre das?«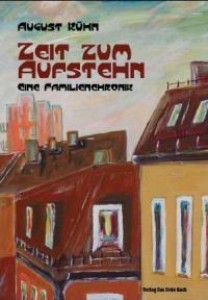 August Kühn (25 sep 1936 – 9 februari 1996)
Cover
De Iraanse dichter, schrijver en journalist Manouchehr Atashi werd geboren op 25 september 1931 in Dashtestan, in de provincie Bushehr. Zie ook alle tags voor Manouchehr Atashi op dit blog en ook mijn blog van 25 september 2010.
The Moon and the Poet
I hung myself to the moon like water,
I hung myself to the moon.
With the moon I mix through water,
And the fishes of my eyes from every direction,
And the fishes of my eyes I let swim from every direction towards him,
And twist
The green nets of my gaze around it,
(I seek the moon,
I mix with the moon from sleep
And with the rope of my sigh
I reduce its height);
But
The moon
Passes over my body,
From water I sleep at the mountain feet,
From my slumbering childhood and youth;
From moments and hours,
From days, nights and years
(From years which have passed away in darkness and frightful
Without laying any bright mark
from myself
- In their sandy plain.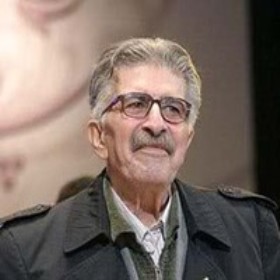 Manouchehr Atashi (25 september 1931 - 20 november 2005)
De Engelse schrijver en criticus William Michael Rossetti werd geboren in Londen op 25 september 1829. Zie ook alle tags voor William Michael Rossetti op dit blog en ook mijn blog van 25 september 2009 en ook mijn blog van 25 september 2010
Jesus Wept
Mary rose up, as one in sleep might rise,
And went to meet her brother's Friend: and they
Who tarried with her said: 'she goes to pray
And weep where her dead brother's body lies.'
So, with their wringing of hands and with sighs,
They stood before Him in the public way.
'Had'st Thou been with him, Lord, upon that day,
He had not died,' she said, drooping her eyes.
Mary and Martha with bowed faces kept
Holding His garments, one on each side.--'Where
Have ye laid him?' He asked. 'Lord, come and see.'
The sound of grieving voices heavily
And universally was round Him there,
A sound that smote His spirit. Jesus wept.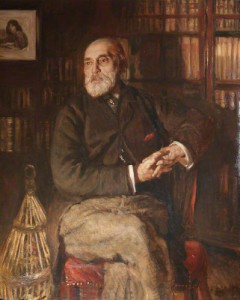 William Michael Rossetti (25 september 1829 - 5 februari 1919)
Portret door Herbert Harlakenden Gilchrist, 1899
De Ierse schrijver Charles Robert Maturin werd geboren in Dublin op 25 september 1782. Zie ook alle tags voor Charles Robert Maturin op dit blog mijn blog van 25 september 2010
Uit: Melmoth the Wanderer
"Then his college life, passed in an attic in the second square, uncheered by an invitation to the country; the gloomy summer wasted in walking up and down the deserted streets, as his uncle would not defray the expences of his journey;–the only intimation of his existence, received in quarterly epistles, containing, with the scanty but punctual remittance, complaints of the expences of his education, cautions against extravagance, and lamentations for the failure of tenants and the fall of the value of lands. All these recollections came over him, and along with them the remembrance of that last scene, where his dependence on his uncle was impressed on him by the dying lips of his father.
'John, I must leave you, my poor boy; it has pleased God to take your father from you before he could do for you what would have made this hour less painful to him. You must look up, John, to your uncle for every thing. He has oddities and infirmities, but you must learn to bear with them, and with many other things too, as you will learn too soon. And now, my poor boy, may He who is the father of the fatherless look on your desolate state, and give you favour in the eyes of your uncle.' As this scene rose to John's memory, his eyes filled fast with tears, which he hastened to wipe away as the carriage stopt to let him out at his uncle's gate.
He alighted, and with a change of linen in a handkerchief, (his only travelling equipment), he approached his uncle's gate. The lodge was in ruins, and a barefooted boy from an adjacent cabin ran to lift on its single hinge what had once been a gate, but was now a few planks so villainously put together, that they clattered like a sign in a high wind. The stubborn post of the gate, yielding at last to the united strength of John and his barefooted assistant, grated heavily through the mud and gravel stones, in which it left a deep and sloughy furrow, and the entrance lay open."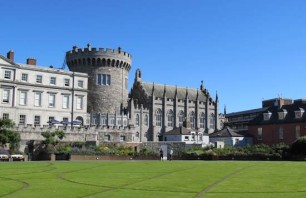 Charles Robert Maturin (25 september 1782 – 30 oktober 1824)
Dublin castle
De Duitse dichter, schrijver en literatuurwetenschapper Herbert Heckmann werd geboren op 25 september 1930 in Frankfurt am Main. Zie ook alle tags voor Herbert Heckmann op dit blog en ook mijn blog van 25 september 2009 en ook mijn blog van 25 september 2010
Uit: Die Trauer meines Großvaters
"Der Garten meiner Großmutter, der sich hinter dem Haus treppenartig bis zur Mauer an der Weidenbornstra-Re erstreckte, wurde vom Sommer bis zum Herbst vom unbeschreiblichen Blau des Rittersporns beherrscht. Onkel Peter nahm die Paraden der Stauden ab, and es kam schon einmal vor, dass er, den Blick in das Blau gerichtet, über die Einfassung eines Beetes stolperte und zwischen die Blumen sturzte. Fur die Romantiker ist die Wirklichkeit stets eine tackische Wildnis. Onkel Peter war ein unverbesserlicher Romantiker und überließ seine Gedanken einer besseren Zukunft. Vater lebte fur den Augenblick. Wenn wir zur Blutezeit des Rittersporns bei meiner Großmutter in der Oberhainer Straße zu Besuch waren, schnitt er, kurz bevor wir wieder aufbrachen, einige Rispen ab und band sie zu einem Strauß Schon in der StraßSenbahn begann der Herbst, und die Blumen rieselten zu Boden. Am nachsten Morgen war die Vase auf unserem Wohnzimmertisch von verblassten Ritterspornbluten umsaumt, und die nackten Rispen drohten wie Finger. Onkel Peter nannte meinen Vater einen Blumenmorder, was dieser Oberhaupt nicht gerne hörte. Er wehrte sich mit der Behauptung, alle Schonheit sei vergänglich und man musse sie genießen, wenn sie sich gerade frisch entfalte. ich versuchte mir vorzustellen, wie alles, was ich liebe, verging und verschwand. Es wurde mir schwindelig bei dem Gedanken."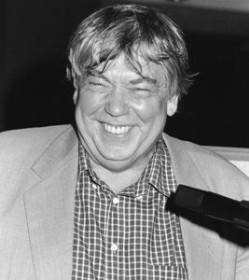 Herbert Heckmann (25 september 1930 – 18 oktober 1999)
25-09-2016 om 13:32 geschreven door Romenu

Tags:Rebecca Gablé, Lu Xun, Maj Sjöwall, August Kühn, Manouchehr Atashi, William Michael Rossetti, Charles Robert Maturin, Herbert Heckmann, Romenu



| | |
| --- | --- |
| | |



Inhoud blog


| | |
| --- | --- |
| | Martin Michael Driessen, Marjoleine de Vos, Manuel Bandeira, n. c. kaser, Veniamin Kaverin, Louis Amédée Achard, Pierre-Jean de Béranger, Gudrun Reinboth, Werner Rohner |
| | Wam de Moor, Bas Belleman, Roos van Rijswijk, Hanane Aad, Clara Eggink, Kathy Acker, Joy Davidman, Henry Kendall, Katharina Schwanbeck |
| | Antoon Coolen, Vincent Corjanus, Nick Hornby, Ida Boy-Ed, Thornton Wilder, David Wagner, R.J. Pineiro, Helen Meier, Karen Blixen |
| | Sarah Kirsch, Thomas Olde Heuvelt, Kingsley Amis, Patricia De Martelaere, Tristan Tzara, Ewald Vanvugt, Sibylle Lewitscharoff, Jan Luyken, Anatole France |
| | Emmaüs (Felix Timmermans) |
| | Tomas Tranströmer, Daniël Samkalden, Jérôme Lambert, Patrick Bernauw, Benjamin Zephaniah, Henry James, Wilhelm Busch, Ina Boudier-Bakker |
| | Bliss Carman, Beate Morgenstern, Jeffrey Archer, Bernhard Lassahn, Erich Arendt, Pol De Mont, Staf Weyts, Hans Egon Holthusen |
| | Péter Esterházy, Alexandre Jardin, Tjitse Hofman, Landolf Scherzer, Charles Lewinsky, Roman Graf |
| | Roberto Schopflocher, Martin Kessel, Gabriele Stötzer, Helene Hübener, Gerhard Rohlfs |
| | Nachoem Wijnberg, K. Michel, Alexander Münninghoff, Michel Faber, Jean-Marie Gustave Le Clézio, Samuel Beckett, Seamus Heaney, Tim Krabbé, Eudora Welty |
| | Antje Rávic Strubel, Alan Ayckbourn, Scott Turow, Tom Clancy, Agnes Sapper, Edward de Vere, José Gautier Benítez, Alexander Ostrovski, Guillaume-Thomas Raynal |
| | Leonard Nolens, Mark Strand, Silvia Avallone, Walid Soliman, Dorothy Allison, Hubert Nyssen, Rolf Schilling, Glenway Wescott, Claude Tillier |
| | Leo Vroman, Jan van Mersbergen, Paul Theroux, Claudio Magris, Bella Akhmadulina, Stefan Heym, Richard Wagner, Marcel van Maele, Eric Knight |
| | Charles Baudelaire, Jelle Brandt Corstius, Karel Jonckheere, Joolz Denby, Albert von Schirnding, Johannes Bobrowski, Bernard-Marie Koltès, Arnold Stadler, Yaël Vinckx |
| | Thomas (Jan Willem Schulte Nordholt) |
| | Herinnering aan Gerard Reve, Hanz Mirck, Christoph Hein, Judith Koelemeijer, Nnedi Okorafor, Barbara Kingsolver |
| | John Fante, Johann Christian Günther, Glendon Swarthout, Martin Grzimek, Hégésippe Moreau, Robert Askins |
| | Den Haag (Paul Rodenko) |
| | Juliana Spahr, William Wordsworth, Özcan Akyol, Gabriela Mistral |
| | Kazim Ali, Annejet van der Zijl, John Pepper Clark, Jakob Ejersbo, Günter Herburger, Uljana Wolf, Brigitte Schwaiger, Julien Torma, Nicolas Chamfort |
| | Iulian Ciocan |
| | Hugo Claus, Martin Reints, Mieke van Zonneveld, Vítězslav Hálek, Algernon Swinburne, Bora Ćosić,, Werner J. Egli, Michael Georg Conrad, Marente de Moor |
| | Maya Angelou, Hanneke Hendrix, Marko Klomp, Marcel Vaarmeijer, E. L. James, Marguerite Duras, Robert Schindel, Michiel van Kempen, Bettina von Arnim |
| | Charles Ducal, Adriaan Jaeggi, Frederik van Eeden, Bert Bakker, Peter Huchel, Arlette Cousture, Pieter Aspe, Karel N.L. Grazell, Washington Irving |
| | Die Sonne geht im Osten auf (Christian Morgenstern) |
| | Thomas Glavinic, Jay Parini, Anneke Claus, Klaus Ender, Konrad Merz, Ed Dorn, Émile Zola |
| | György Konrád, Anne Waldman, Casanova, Hans Christian Andersen, Roberto Arlt, Edgar Hilsenrath, George Fraser |
| | Hoffmann von Fallersleben, Johann Gleim, Pierre Zaccone, Pietro della Valle, Zwier van Haren, Joanna Chmielewska, Brigitte Struzyk |
| | Preis dem Todesüberwinder! (Friedrich Klopstock) |
| | Milan Kundera, Sandro Veronesi, Nikolaj Gogol, Arnold Aletrino, Max Nord, Urs Allemann, Rolf Hochhuth, John Wilmot, Deborah Feldman |
| | Maria Polydouri, Edgar Wallace, Carl Sternheim, Edmond Rostand, Armel Guerne, Friedrich Güll, Antoine Prévost, Josep de Maistre |
| | Litanie van een wachter bij het graf (Willem Jan Otten) |
| | Stefan Hertmans, Octavio Paz, Asis Aynan, Martijn Teerlinck, Marga Minco, Enrique Vila-Matas |
| | Rob Boudestein, Kornej Tsjoekovski, Andrew Lang, Nichita Stănescu, Hartmut Lange, Marge Piercy |
| | Angela Kreuz, Judith Rossner, Andrew Marvell, John Fowles, Edward FitzGerald, Robert Brasillach, Peter Motte |
| | Golgotha (Theo Thijssen) |
| | Gerrit Komrij, Paul Verlaine, Milton Acorn, Erika Mitterer, Uwe Timm, Tom Sharpe, Gert Heidenreich, Theo Breuer, Luise Hensel |
| | Gethsemane (Jacqueline van der Waals) |
| | Geert van Istendael, Wim Brands, Ernst Jünger, Eric Walz, Georg Klein, Yvan Goll, R. S. Thomas, Jacques Brault, Denton Welch |
| | Walter van den Broeck, Joost de Vries, Mario Vargas Llosa, Chrétien Breukers, Steye Raviez, Nelson Algren, Marianne Frederiksson, Russell Banks, Léon-Gontran Damas |
| | Heinrich Mann, Shusaku Endo, Carolina Trujillo, Golo Mann, Patrick McCabe, Bob den Uyl, Dubravka Ugresić, Francis Ponge, Alfred de Vigny |
| | Tennessee Williams, Gregory Corso, Hwang Sun-won, Martin McDonagh, Robert Frost, Patrick Süskind, A. E. Housman, Bettina Galvagni, Erica Jong |
| | Jezus intrede in Jeruzalem (Nicolaas Beets) |
| | Pol Hoste, Menno Van der Beek, Jung Chang, Paul Meeuws, Flannery O'Connor, Jaime Sabines, Peter Van Straaten, Toni Cade Bambara |
| | Antonio Fogazzaro, Jacques Bens, Jacques Audiberti, Filip De Pillecyn, Erica Pedretti, Evliya Çelebi, Anne Fanshawe, Daniel Schiebeler, Mary Webb |
| | Peter Bichsel, Joy Ladin, Martin Walser, Dario Fo, Lawrence Ferlinghetti, Jacob van Lennep, Jeroen Mettes, Harry Prenen, Willem van Iependaal |
| | Top Naeff, Robert Hamerling, Fanny Lewald, Christian Schubart, Gabriele von Baumberg, Olive Schreiner, William Morris, Richard Leising |
| | Cri Stellweg, Jonathan Ames, Yōko Tawada, Gary Whitehead, Mitch Cullin, Roger Martin du Gard, Madison Cawein, Nils-Aslak Valkeapää, Federica de Cesco |
| | Billy Collins, Theo Kars, Eveline Hasler, Érik Orsenna, Arnold Sauwen, Wolfgang Bächler, Ilse Kleberger, Léon Deubel, Karel Poláček |
| | Willem de Mérode, Pim te Bokkel, Kees van Beijnum, Hamid Skif, Jean Paul |


Gastenboek


Druk op onderstaande knop om een berichtje achter te laten in mijn gastenboek