E-mail mij


Druk op onderstaande knop om mij te e-mailen.


Romenu


Romenu is een blog over gedichten, literatuur en kunst Maar Romenu is ook een professionele freelance vertaler
Du-Ne en Ne-Du http://www.romenu.nl.


Huur eens een (vakantie)huis in een natuurgebied, dichtbij het centrum van Nijmegen


Google


Georg Trakl

Georg Trakl werd op 3 februari 1887 in het conducteurshuis aan de Waagplatz 2 in Salzburg geboren. Zijn vader, Tobias Trakl, was een handelaar in ijzerwaren en zijn moeder, die ook psychische problemen had, was Maria Catharina Trakl, (meisjesnaam Halik). Voorts had hij nog drie broers en drie zussen. Margarethe (doorgaans Grethe genoemd) stond hem het naast, zelfs zodanig dat sommigen een incestueuze verhouding vermoeden. Zijn jeugd bracht hij door in Salzburg. Vervolgens bezocht hij van 1897 tot 1905 het humanistische gymnasium. Om toch een academische opleiding te kunnen volgen, werkte hij tot 1908 in de praktijk bij een apotheker. Sommigen vermoedden dat hij dit vooral deed om zichzelf opiaten te kunnen verschaffen. Bij het uitbreken van WO I werd Trakl als medicus naar het front in Galicië (heden ten dage in Oekraïne en Polen) gestuurd. Zijn gemoedsschommelingen leidden tot geregelde uitbraken van depressie, die verergerd werden door de afschuw die hij voelde voor de verzorging van de ernstig verwonde soldaten. De spanning en druk dreven hem ertoe een suïcidepoging te ondernemen, welke zijn kameraden nochtans verhinderden. Hij werd in een militair ziekenhuis opgenomen in Kraków, alwaar hij onder strikt toezicht geplaatst werd.Trakl verzonk daar in nog zwaardere depressies en schreef Ficker om advies. Ficker overtuigde hem ervan dat hij contact moest opnemen met Wittgenstein, die inderdaad op weg ging na Trakls bericht te hebben ontvangen. Op 4 november 1914, drie dagen voordat Wittgenstein aan zou komen, overleed hij echter aan een overdosis cocaïne


Paul Celan

Paul Celan werd onder de naam Paul Antschel op 23 november 1920 geboren in Czernowitz, toentertijd de hoofdstad van de Roemeense Boekovina, nu behorend bij de Oekraïne. Paul Celans ouders waren Duitssprekende joden die hun zoon joods opvoedden en hem naar Duitse christelijke scholen stuurden. In 1942 werden Celans ouders door de Duitse bezetter naar een werkkamp gedeporteerd en daar vermoord. Hijzelf wist aanvankelijk onder te duiken, maar moest vanaf juli 1942 in een werkkamp dwangarbeid verrichten. Celan overleefde de oorlog. Via Boekarest en Wenen vestigde Celan zich in 1948 in Parijs. Daar was hij werkzaam als dichter, vertaler en doceerde hij aan de prestigieuze Ecole Normale Supérieure. Vermoedelijk op 20 april 1970 beëindigde hij zijn leven zelf door in de Seine te springen.


Gerard Reve

Gerard Reve over: Medearbeiders "God is in de mensen, de dieren, de planten en alle dingen - in de schepping, die verlost moet worden of waaruit God verlost moet worden, door onze arbeid, aangezien wij medearbeiders van God zijn." Openbaring "Tja, waar berust elk godsbegrip op, elke vorm van religie? Op een openbaring, dat wil zeggen op een psychische ervaring van zulk een dwingende en onverbiddelijke kracht, dat de betrokkene het gevoel heeft, niet dat hij een gedachte of een visioen heeft, maar dat een gedachte gedachte of visioen hem bezit en overweldigt."


Simon Vestdijk
Simon Vestdijk (Harlingen, 17 oktober 1898 – Utrecht, 23 maart 1971) was een Nederlands romancier, dichter, essayist en vertaler. Zijn jeugd te Harlingen en Leeuwarden beschreef hij later in de Anton Wachter-cyclus. Van jongs af aan logeerde hij regelmatig bij zijn grootouders in Amsterdam, waar hij zich in 1917 aan de Universiteit van Amsterdam inschrijft als student in de medicijnen. Tijdens zijn studie die van 1917 tot 1927 duurde, leerde hij Jan Slauerhoff kennen.Tot 1932 is hij als arts in praktijken door heel Nederland werkzaam. In 1932 volgt zijn officiële schrijversdebuut met de uitgave van de bundel Verzen in De Vrije Bladen. Doorslaggevend voor Vestdijks uiteindelijke keuze voor de literatuur is zijn ontmoeting in 1932 met Eddy Du Perron en Menno ter Braak. Deze ontmoeting had tot resultaat dat hij redactielid werd van het tijdschrift Forum Kort daarop, in 1933, wordt zijn eerste novelle, De oubliette, uitgegeven. In hetzelfde jaar schrijft hij Kind tussen vier vrouwen, dat, eerst geweigerd door de uitgever, later de basis zal vormen voor de eerste drie delen van de Anton Wachter-romans. In 1951 ontvangt Vestdijk de P.C. Hooftprijs voor zijn in 1947 verschenen roman De vuuraanbidders. In 1957 wordt hij voor het eerst door het PEN-centrum voor Nederland voorgedragen voor de Nobelprijs voor de Literatuur, die hij echter nooit zal krijgen. Op 20 maart 1971 wordt hem de Prijs der Nederlandse Letteren toegekend, maar voor hij deze kan ontvangen overlijdt hij op 23 maart te Utrecht op 72-jarige leeftijd. Vestdijk was auteur van ca. 200 boeken. Vanwege deze enorme productie noemde de dichter Adriaan Roland Holst hem 'de man die sneller schrijft dan God kan lezen'. Andere belangrijke boeken van Simon Vestdijk zijn: "Kind van stad en land" (1936), "Meneer Visser's hellevaart" (1936), "Ierse nachten" (1946), "De toekomst de religie" (1947), "Pastorale 1943" (1948), "De koperen tuin" (1950), "Ivoren wachters" (1951), "Essays in duodecimo" (1952) en "Het genadeschot" (1964).


K.P. Kavafis

K.P. Kavafis werd als kind van Griekse ouders, afkomstig uit Konstantinopel, geboren in 1863 in Alexandrië (tot vandaag een Griekse enclave) waar hij ook het grootste deel van zijn leven woonde en werkte. Twee jaar na de dood van zijn vader verhuist het gezin in 1872 naar Engeland om na een verblijf van vijf jaar naar Alexandrië terug te keren. Vanwege ongeregeldheden in Egypte vlucht het gezin in 1882 naar Konstantinopel, om na drie jaar opnieuw naar Alexandrië terug te gaan. In de jaren die volgen maakt Kavafis reizen naar Parijs, Londen en in 1901 zijn eerste reis naar Griekenland, in latere jaren gevolgd door nog enkele bezoeken. Op de dag van zijn zeventigste verjaardag, in 1933 sterft Kavafis in Alexandrië. De roem kwam voor Kavafis pas na zijn dood, dus postuum. Deels is dat toe te schrijven aan zijn eigen handelswijze. Hij was uiterst terughoudend met de publicatie van zijn gedichten, liet af en toe een enkel gedicht afdrukken in een literair tijdschrift, gaf in eigen beheer enkele bundels met een stuk of twintig gedichten uit en het merendeel van zijn poëzie schonk hij op losse bladen aan zijn beste vrienden.


Thomas Mann


Thomas Mann, de jongere broer van Heinrich Mann, werd geboren op 6 juni 1875 in Lübeck. Hij was de tweede zoon van de graankoopman Thomas Johann Heinrich Mann welke later één van de senatoren van Lübreck werd. Zijn moeder Julia (geboren da Silva-Bruhns) was Duits-Braziliaans van Portugees Kreoolse afkomst. In 1894 debuteerde Thomas Mann met de novelle "Gefallen". Toen Thomas Mann met 21 jaar eindelijk volwassen was en hem dus geld van zijn vaders erfenis toestond - hij kreeg ongeveer 160 tot 180 goldmark per jaar - besloot hij dat hij genoeg had van al die scholen en instituties en werd onafhankelijk schrijver. Kenmerkend voor zijn stijl zijn de ironie, de fenomenale taalbeheersing en de minutieuze detailschildering. Manns reputatie in Duitsland was sterk wisselend. Met zijn eerste roman, Buddenbrooks (1901), had hij een enorm succes, maar door zijn sceptische houding tegenover Duitsland na de Eerste Wereldoorlog veranderde dit volledig. Stelde hij zich tot aan de jaren twintig apolitiek op (Betrachtungen eines Unpolitischen, 1918), meer en meer raakte hij bij het Politiek gebeuren betrokken. Zijn afkeer van het nationaal socialisme groeide, zijn waarschuwingen werden veelvuldiger en heftiger. In 1944 accepteerde hij het Amerikaanse staatsburgerschap. Tussen 1943 en 1947 schreef Mann Doktor Faustus (zie Faust), de roman van de 'Duitse ziel' in de gecamoufleerd geschilderde omstandigheden van de 20ste eeuw. In 1947 bezocht hij voor het eerst sinds de Oorlog Europa, twee jaar later pas Duitsland. In 1952 vertrok hij naar Zwitserland. Op 12 augustus 1955 stierf hij in Zürich. Twintig jaar na zijn dood, in aug. 1975, is zijn literaire nalatenschap geopend: dagboekaantekeningen van 15 maart 1933 tot 29 juli 1955, alsmede notities uit de jaren 1918 tot en met 1921.Belangrijke werken zijn: Der Zauberberg, Der Tod in Venedig, Dokter Faustus , Joseph und seine Brüder en Die Bekenntnisse des Hochstaplers Felix Krull.


Rainer Maria Rilke

Rilke werd op 4 december 1875 geboren in Praag. Hij had al naam gemaakt als dichter met zijn bundels Das Stundenbuch en Das Buch der Bilder, toen hij de literaire wereld versteld deed staan en wereldfaam verwierf met de publicatie van zijn twee delen Neue Gedichte in 1907 en 1908. Hij verzamelde daarin het beste werk uit een van zijn vruchtbaarste periodes, die hij grotendeels doorbracht in Parijs. Rilke was daar diep onder de indruk gekomen van Rodin, bij wie hij een tijdlang in dienst was als particulier secretaris. Rodin, zei hij later, had hem leren kijken. Dit kijken kwam neer op intense concentratie, om het mysterie te kunnen zien 'achter de schijnbare werkelijkheid'. Latere en rijpere werken als Duineser Elegien (1912-1923) en het ronduit schitterende Die Sonette an Orfeus (1924) illustreren Rilkes metafysische visie op het onzegbare, dat haar verwoording vindt in een hermetische muzikale taal. Op 29 december 1926 overlijdt Rilke in het sanatorium in Val-Mont aan de gevolgen van leukemie. Enkele dagen later wordt hij, overeenkomstig zijn wens, begraven op het kerkhof van Raron.


* * * * * * * * * * * * * * * *

| | |
| --- | --- |
| | Over literatuur, gedichten, kunst en cultuur |

05-08-2016

Richard Preston, Conrad Aiken, Wendell Berry, Sergio Ramírez
De Amerikaanse schrijver Richard Preston werd geboren op 5 augustus 1954 in Cambridge, Massachusetts. Zie ook mijn blog van 5 augustus 2010 en eveneens alle tags voor Richard Preston op dit blog.
Uit: First Light
"There was a lull while the astronomers stared at the screen in silence. Juan Carrasco pulled one of several notebooks from his box of marinated jalapenos and made some notes in it. He felt that the only way to begin to guess what was going on inside the Big Eye was to keep track of its vital signs. He felt that the big Eye had its good nights and its bad nights. On the first day that he had reported to work on Palomar Mountain, he had written on the cover of an empty green notebook: "Love and Ambition are the wings to success. 1969."
He had been afraid that he would fail—that he would crash the telescope. His old fear still touched him once in a while. He tried not to think too hard about the glass giant, moving out there in the darkness. The green notebook showed signs of much use. He had had to repair it with packing tape, Palomar glue.
Other notebooks had followed the green notebook. While at first he had stuck to critical information ("astronomers' favorite radio station: KFAC 92.3 on the dial"), he had also wondered: "What happened at the moment of creation? How did the stars and galaxies come into being? How will the universe end?"—jotting questions for Jim Gunn, hoping that Gunn could answer them. Gunn, however, had been working fiendishly for most of his life to answer these very same questions, without ever attaining satisfactory answers, because (Juan noted) "What we have here is a fundamental problem."
On a shelf within easy reach, Juan placed a tattered dictionary, and when he heard a savory word, he looked it up to get the nuances. Some of the astronomers seemed to forget that the night assistant was taking notes. When they spoke of their fellow astronomers, he recorded what he had heard:
Goon—a man hired to terrorize or intimidate opponents
Yokel—a rude, naïve, or gullible inhabitant of a rural area or small town
Jargon—unintelligible language or words
Grandiose Conclusion
When the astronomers saw something spectacular on the video screens, he made a note of it for posterity: "Supernova!!!"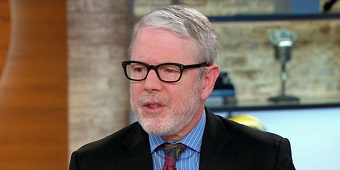 Richard Preston (Cambridge, 5 augustus 1954)
De Amerikaanse schrijver en dichter Conrad Potter Aiken werd geboren in Savannah, Georgia op 5 augustus 1889. Zie ook mijn blog van 5 augustus 2010 en eveneens alle tags voor Conrad Aitken op dit blog.
Music I Heard
Music I heard with you was more than music,
And bread I broke with you was more than bread;
Now that I am without you, all is desolate;
All that was once so beautiful is dead.
Your hands once touched this table and this silver,
And I have seen your fingers hold this glass.
These things do not remember you, beloved,
And yet your touch upon them will not pass.
For it was in my heart that you moved among them,
And blessed them with your hands and with your eyes;
And in my heart they will remember always,
—They knew you once, O beautiful and wise.
Beloved, Let Us Once More Praise The Rain
Beloved, let us once more praise the rain.
Let us discover some new alphabet,
For this, the often praised; and be ourselves,
The rain, the chickweed, and the burdock leaf,
The green-white privet flower, the spotted stone,
And all that welcomes the rain; the sparrow too,—
Who watches with a hard eye from seclusion,
Beneath the elm-tree bough, till rain is done.
There is an oriole who, upside down,
Hangs at his nest, and flicks an orange wing,—
Under a tree as dead and still as lead;
There is a single leaf, in all this heaven
Of leaves, which rain has loosened from its twig:
The stem breaks, and it falls, but it is caught
Upon a sister leaf, and thus she hangs;
There is an acorn cup, beside a mushroom
Which catches three drops from the stooping cloud.
The timid bee goes back to the hive; the fly
Under the broad leaf of the hollyhock
Perpends stupid with cold; the raindark snail
Surveys the wet world from a watery stone...
And still the syllables of water whisper:
The wheel of cloud whirs slowly: while we wait
In the dark room; and in your heart I find
One silver raindrop,—on a hawthorn leaf,—
Orion in a cobweb, and the World.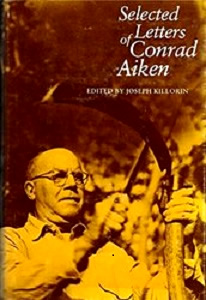 Conrad Aiken (5 augustus 1889 – 17 augustus 1973)
Cover
De Amerikaanse dichter, schrijver, essayist en criticus Wendell Berry werd geboren op 5 augustus 1934 in Henry County, Kentucky. Zie ook mijn blog van 5 augustus 2010 en eveneens alle tags voor Wendell Berry op dit blog.
Woods
I part the out thrusting branches
and come in beneath
the blessed and the blessing trees.
Though I am silent
there is singing around me.
Though I am dark
there is vision around me.
Though I am heavy
there is flight around me.

The Wish to be Generous
ALL that I serve will die, all my delights,
the flesh kindled from my flesh, garden and field,
the silent lilies standing in the woods,
the woods, the hill, the whole earth, all
will burn in man's evil, or dwindle
in its own age. Let the world bring on me
the sleep of darkness without stars, so I may know
my little light taken from me into the seed
of the beginning and the end, so I may bow
to mystery, and take my stand on the earth
like a tree in a field, passing without haste
or regret toward what will be, my life
a patient willing descent into the grass.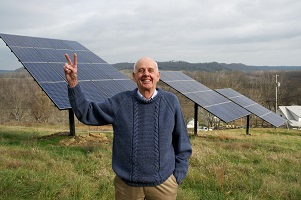 Wendell Berry (Henry County, 5 augustus 1934)
De Nicaraguaanse schrijver en politicus Sergio Ramírez Mercado werd geboren in Masatepe op 5 augustus 1942. Zie ook mijn blog van 5 augustus 2010 en eveneens alle tags voor Sergio Ramirez op dit blog.
Uit: Adios Muchachos (Vertaald door Mark Falcoff)
"It was an error that would cost much blood, because by violating the most sacred of its own promises, this sort of land reform produced the first great popular disenchantment with the Revolution. The cooperatives fell prey to attacks by the contras, determined to destroy them ab initio. But let the record show that many landless peasants went to war with them, or—determined not to be corralled into the UPEs—became their social base of support. This was even more the case with other farmers, owners of small and middle-sized plots, who were frightened from the first by the expropriations visited upon the large landowners, and then exposed to the same in their turn as the scale of reformable plots was revised every downward, particularly in the more remote areas of the republic.
When we finally changed course in an attempt to dry up the contra's based of support and decided to hand out individual property titles to the peasants, the measure was still not sufficient, because once again ideological dogmatisms prevailed and the titles themselves could neither be passed on to one's children or sold—in other words, were not fee-simple at all. The ranks of the contra continued to grow, and by then its military chiefs on the ground tended to be small farmers, many of them without any links to somocismo, indeed, in many cases pushing out the former National Guard officers who had been that movement's leaders from the start.
In 1984 I was in Jonotega, at a meeting that was held in a secondary school, when some small farmers from the town of Pantasma came looking for me, accompanied by the departmental delegate of the Junta of Government, Carlos Zamora, and the local representative of the land reform agency, Daniel Núñez.
When the meeting ended we got together in one of the classrooms. They began to read me a list of complaints for abuses and mistreatment to which dozens of peasant families in the municipality had been subject. One of them took off his shirt and showed me the scars from barbed wire with which he had been lashed to a cot for several days."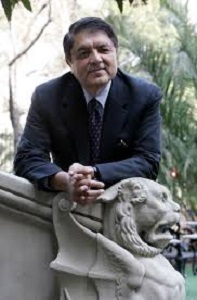 Sergio Ramírez (Masatepe, 5 augustus 1942)
Zie voor de schrijvers van de 5e augustus ook mijn vorige blog van vandaag.
05-08-2016 om 16:04 geschreven door Romenu

Tags:Richard Preston, Conrad Aiken, Wendell Berry, Sergio Ramírez, Romenu



Guy de Maupassant, Gunter Haug, Ron Silliman, Christian Wagner, René Puthaar
De Franse schrijver Guy de Maupassant werd geboren op 5 augustus 1850 in kasteel Miromesnil bij Dieppe. Zie ook mijn blog van 5 augustus 2010 en eveneens alle tags voor Guy de Maupassant op dit blog.
Uit: Bel Ami
« Quoique habillé d'un complet de soixante francs, il gardait une certaine élégance tapageuse, un peu commune, réelle cependant. Grand, bien fait, blond, d'un blond châtain vaguement roussi, avec une moustache retroussée, qui semblait mousser sur sa lèvre, des yeux bleus, clairs, troués d'une pupille toute petite, des cheveux frisés naturellement, séparés par une raie au milieu du crâne, il ressemblait bien au mauvais sujet des romans populaires.
C'était une de ces soirées d'été où l'air manque dans Paris. La ville, chaude comme une étuve, paraissait suer dans la nuit étouffante. Les égouts soufflaient par leurs bouches de granit leurs baleines empestées, et les cuisines souterraines jetaient à la rue, par leurs fenêtres basses, les miasmes infâmes des eaux de vaisselle et des vieilles sauces.
Les concierges, en manches de chemise, à cheval sur des chaises en paille, fumaient la pipe sous les portes cochères, et les passants allaient d'un pas accablé, le front nu, le chapeau àla main.
Quand Georges Duroy parvint au boulevard, il s'arrêta encore, indécis sur ce qu'il allait faire. Il avait envie maintenant de gagner les Champs-Elysées et l'avenue du Bois-de-Boulogne pour trouver un peu d'air frais sous les arbres ; mais un désir aussi le travaillait, celui d'une rencontre amoureuse.
Comment se présenterait-elle ? Il n'en savait rien, mais il l'attendait depuis trois mois, tous les jours, tous les soirs. Quelquefois cependant, grâce à sa belle mine et à sa tournure galante, il volait, par-ci par-là, un peu d'amour, mais il espérait toujours plus et mieux.
La poche vide et le sang bouillant, il s'allumait au contact des rôdeuses qui murmurent à l'angle des rues : « Venez-vous chez moi, joli garçon ? » mais il n'osait les suivre ne les pouvant payer ; et il attendait aussi autre chose, d'autres baisers moins vulgaires."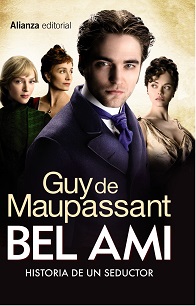 Guy de Maupassant (5 augustus 1850 – 6 juli 1893)
Affiche voor de film « Bel Ami" uit 2012
De Duitse schrijver Gunter Haug werd geboren op 5 augustus 1955 in Stuttgart. Zie ook alle tags voor Gunter Hauch op dit blog en ook mijn blog van 5 augustus 2010.
Uit: Niemands Mutter
"Ja, Anna. Wo kommst du denn her? Habt ihr heute Morgen verschlafen, deine Mutter und du?' Luise Klee, die gerade am Spülstein beschäftigt war und dabei im Stehen den letzten Schluck Malzkaffee zu sich nahm, bedachte ihre siebenjährige Nichte mit einem warmen Lächeln, als diese zu ungewohnt später Zeit in die Küche des 'Goldenen Adler' stürmte.
Doch das Mädchen hob ratlos die Achseln und schaute besorgt und bekümmert. 'Tante Luise! Komisch, die Mama schläft noch immer!' Mit den Armen beschrieb sie eine hilflose Geste. 'Ich habe sie an der Schulter gerüttelt, aber sie hat gar nicht aufstehen wollen. Sie hat noch nicht einmal die Augen aufgemacht!' Die Wirtin, die das Pflichtbewusstsein ihrer jahrzehntelangen Dienstmagd Barbara schon immer geschätzt hatte, runzelte überrascht die Stirn.'Merkwürdig, das ist doch sonst nicht ihre Art', murmelte sie beunruhigt, während sie ihre vom Abspülen nassen Hände an der schwarzen Schürze abtrocknete. 'Ich sehe mal nach, was da los ist!' Sie wandte sich um und eilte die Treppe hoch bis in das Dachgeschoss des Gasthauses, in dem sich Barbaras kleine Kammer befand, die sie nun schon seit sieben Jahren mit ihrer Tochter Anna teilte. Erschöpft verharrte Luise Klee einen Augenblick lang in dem engen Flur. Während sie so vor der Türe stand und keuchend um Atem rang, spürte sie, wie sich ihr Herzschlag mehr und mehr beschleunigte ..."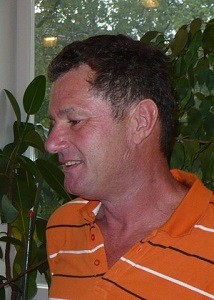 Gunter Haug (Stuttgart, 5 augustus 1955)
De Amerikaanse dichter Ron Silliman werd geboren op 5 augustus 1946 in Pasco, Washington. Zie ook alle tags voor Ron Silliman op dit blog en ook mijn blog van 5 augustus 2010
Uit: REVELATOR (Fragment)
Words torn, unseen, unseemly, scene
some far suburb's mall lot
Summer's theme: this year's humid
— to sweat is to know —
pen squeezed too tight yields
ink as blood or pus
so the phrase scraped, removed
offending thine eye: "Outsource Bush"
Against which, insource what? Who
will do it? Most terrible
predicate — high above mountains snow-capped
even in August in-flight motion
picture Eternal Sunshine of the
Spotless Mind infuriates many No
action, no funny, plot too
dense to follow, unless (unless!)
mind's eye gives attention First
blackbird signals many (synecdoche)
Bumble bee wonders am I
his flower? One hour shopping
& the vandal's fle — him
we'll know not, never confront
so recall the next day
that anger directed at complexity
as we deplaned in Seattle
old battle never won, never
gonna — sit now still beside
Dungeness River to spot quail
hopping about this untrimmed garden
as dog walkers circle back
jet trails in dawn sky
thread cloud wisps, shadows sharp
in the mountains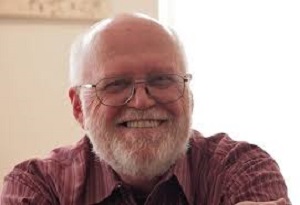 Ron Silliman (Pasco, 5 augustus 1946)
De Duitse dichter en schrijver Christian Wagner werd geboren op 5 augustus 1835 in Warmbronn. Zie ook alle tags voor Christian Wagner op dit blog en ook mijn blog van 5 augustus 2010
Uit: Eigenbrötler und Kienleute
"Das Reinigen des Getreides mit der sogenannten Putzmühle ging ihm ebenfalls viel zu rasch. Diese Hudlerei konnte er nicht mitansehen. Das Getreide warf er nun bei passendem Wind in die Tenne, siebte und siebte wieder, warf es nochmals und siebte wieder, bückte sich, bückte sich, bis er zuletzt, ganz kreuzlahm, nimmer konnte und Feierabend machen mußte. Doch das allerumständlichste für ihn war das Kleesamendreschen. Das dauerte in den Mai hinein. Wenn im ganzen Dorf das Dreschen längst beendet war, hörte es da nicht auf. Mutterseelenallein, denn niemand konnte es ihm recht machen. Und vollends das Reinigen desselben, das Putzen! Hier trieb er seine Pedanterie auf die Spitze: Da konnte er wochenlang sieben, abheben und unter den Wind nehmen. Eine Putzmühle (Putzmaschine) war ihm geradezu ein Greuel. Doch dies beständige Bücken hatte für ihn die Folge, daß er sich nicht mehr ganz aufrichten konnte und so immer gebückt daherkam.
Bei den Feldarbeiten kehrte er sich streng nach dem auf- oder abnehmenden Mond, ebenso nach den Zeichen des Tierkreises. Jede Aussaat mußte unter besonderen Zeichen vorgenommen werden. Der Flachs mußte am Georgitag gesät werden. Erbsen, Linsen, Wicken je an dem einem gewissen Heiligen bestimmten Tage. Erstere zwei bei abnehmendem Mond und, damit sie gut kochen sollen, im Zeichen des Wassermannes.
Noch ein anderer Eigenbrötler war hier, und zwar der Schmidle. Alljährlich und noch in seinem sechzigsten Lebensjahr ging er auf die Wanderschaft mit der Begründung: »Damit er sein Handwerk vollends lerne.« Desungeachtet brachte er's lebenslang nicht zum Meister. Er war Junggesell und fristete sein elendes Dasein in einem Dachstüblein bei dem früher schon erwähnten Steinhilber."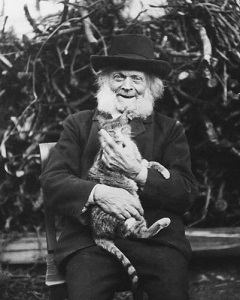 Christian Wagner (5 augustus 1835 – 15 februari 1918)
Onafhankelijk van geboortdata
De Nederlandse dichter René Puthaar werd geboren in Deventer in 1964. Zie ook alle tags voor René Puthaar op dit blog.
Onderweg
Vlees vreten, vreeseter, je vale honger
ledigen met vlees, een vleziger leegte
om kuikens te lokken met bloedmoederkoek
en zeugen met hersentjes, traanklieren!
Lal het dieet van de slacht, reutel
je asem van haat, doodvechter!
Levensdrift! Levensdrift.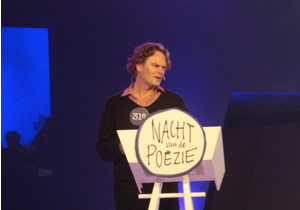 René Puthaar (Deventer, 1964)
05-08-2016 om 16:03 geschreven door Romenu

Tags:Guy de Maupassant, Gunter Haug, Ron Silliman, Christian Wagner, René Puthaar, Romenu



Martin Piekar
De Duits-Poolse dichter Martin Piekar werd geboren op 5 augustus 1990 in Bad Soden am Taunus.
Piekar begon op school al te schrijven. Hij studeerde hij filosofie en geschiedenis aan de Johann Wolfgang Goethe Universiteit in Frankfurt am Main en is lid van 'sexyunderground', de groep jonge schrijvers van het Literaturhaus Frankfurt. Veel van zijn gedichten zijn gepubliceerd in literaire tijdschriften, zoals etcetera en Federwelt. In 2012 nam hij deel aan het literatuurlaboratorium van Wolfenbüttel en won hij de prestigieuze wedstrijd open mike open literatuur Literaturwerkstatt Berlijn in de categorie poëzie.
Marché des Fétiches, Togo

Die Krokodilfirewall gegen Einbrecher
und zerkleiner die Fledermaus an der
Glaubensreibe. Glaube! Opfere

Schweine, Priester, wenn man
nicht an Science Fiction hängt,
die nicht halten kann, nie
halten wollte; nur evident
funktionieren. (wie für mich)

Im Gerippe
steckt noch so viel Macht.

Die Telemetrie eines Krötenmauls
ist ein Kissen auf dem Sitz

der Reise in Geisterbahnen.
Zwischen Remedium und Epidemie

spiritistische Links gespannt
im Delirium. Voodoo-

bedarf: Schädel, Schwänze
von Tieren, Häute,
Phalli, Gerippe und Glaube.

Verkaufsbuden: wie Chatfenster
werden Schädel behandelt, gewechselt
und begrinst. Fast wie Zombies
glauben sie im Tod
stecke ein gutes Leben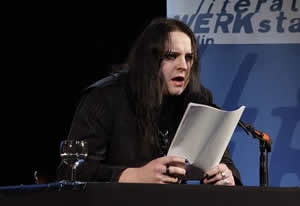 Martin Piekar (Bad Soden am Taunus, 5 augustus 1990)
05-08-2016 om 00:00 geschreven door Romenu

Tags:Martin Piekar, Romenu



| | |
| --- | --- |
| | |



Inhoud blog


| | |
| --- | --- |
| | Michael Longley, Marijke Höweler, Theodore Dreiser, Hilde Domin, Julien Gracq, Hilaire Belloc, Vladimir Korolenko, Eimear McBride, Graeme C. Simsion |
| | Arthur Japin, Gregoire Delacourt, Anne Provoost, Yves Petry, Aldous Huxley, Nicholas Evans, Chairil Anwar, George Bernard Shaw, Hanya Yanagihara |
| | Lieke Marsman, Sytze van der Zee, Elias Canetti, Max Dauthendey, Jovica Tasevski – Eternijan, Annette Pehnt, Ottokar Kernstock, Albert Knapp, Louise Boege |
| | Robert Graves, Johan Andreas der Mouw, Banana Yoshimoto, Rosemarie Schuder, Katia Mann, Junichirō Tanizaki, Frank Wedekind, Alexandre Dumas père, Betje Wolff |
| | Wilfried de Jong, Mohsin Hamid, Lauren Groff, Frans Erens, Kai Meyer, Thea Dorn, Irina Liebmann |
| | Lisa Alther, Hubert Selby jr., Raymond Chandler, Matthias Spiegel, Tim Reus |
| | Arno Geiger, Susan Hinton, Manu Joseph, Stephen Vincent Benét, Tom Robbins |
| | Maria Janitschek, Oskar Maria Graf, Emma Lazarus, Per Hojholt, Jakob Lorber |
| | Frouke Arns, Ernest Hemingway, Belcampo, Boris Dittrich , Hans Fallada, David Boerljoek |
| | Hans Lodeizen, Henk Hofland, Arie Storm, Uwe Johnson, Simin Behbahāni, Francesco Petrarca, Maurice Gilliams, Erik Axel Karlfeldt, Cormac McCarthy |
| | Otto Julius Bierbaum, Anna Enquist, Gottfried Keller, Lucas Malan, Miltos Sachtouris, Jean-Pierre Faye |
| | Simon Vinkenoog, Steffen Popp, Per Petterson, Elizabeth Gilbert, Alicia Steimberg, Jevgeni Jevtoesjenko, Aad Nuis, William M. Thackeray, Nathalie Sarraute |
| | Martin R. Dean, Rainer Kirsch, Eelke de Jong, Alie Smeding, Paul Lomami Tshibamba, James Purdy, Roger Garaudy, Clara Viebig, Lilian Loke |
| | In Memoriam Anne Golon |
| | Reinaldo Arenas, Georges Rodenbach, Tony Kushner, Anita Brookner, Jörg Fauser |
| | Dag Solstad, Bernard Dimey, Andrea Wolfmayr, Pierre Benoit, Franz Nabl |
| | Ann De Craemer, Jean Christophe Grangé, Driss Chraïbi, Iris Murdoch, Richard Russo, Jacques Rivière, Rira Abbasi |
| | Robert Wohlleben, Heinrich Peuckmann, Walter Benjamin, Clive Cussler, Jacques Derrida, Hammond Innes, Kunikida Doppo |
| | Irving Stone, Volker Kaminski, Natalia Ginzburg, Jacques de Lacretelle, Gavrila Derzjavin, Béatrix Beck, Arthur Laurents, Owen Wister, Willard Motley |
| | Boris Pasternak, Wole Soyinka, Isaak Babel |
| | Hugo von Hofmannsthal, Kees 't Hart, Carla Bogaards, Elias Khoury, Stefan George |
| | Nikolaus Lenau, Jhumpa Lahir, Jane Gardam |
| | Ann De Craemer |
| | Marcel Proust, Erik Jan Harmens, Alice Munro, J.C. Noordstar, Hermann Burger, Salvador Espriu, Gerhard L. Durlacher, Jürgen Becker, Nicolás Guillén |
| | Gerard Walschap, Hans Arnfrid Astel, June Jordan, John Heath-Stubbs, Ann Radcliffe, Mervyn Peake, Jan Neruda, Peter Märthesheimer |
| | Jean Cassou, Johanna Schopenhauer, Johann Götz, Alexis Piron, Matthew Lewis, Barbara Cartland, Robert Gratzer |
| | Thijs Zonneveld, Micha Hamel, Maria van Daalen, Peter Orlovsky, Walter Hasenclever |
| | Richard Aldington, Jean Ray, Jean de La Fontaine, Julius Mosen, Eva Roman, Hanns Johst |
| | Jan H. de Groot, Ivo Victoria, Lion Feuchtwanger, Vladimir Majakovski, Clemens Haipl |
| | Christopher Marlowe, Bodo Kirchhoff, Lucas Hirsch, William Wall, Hilary Mantel, Bernhard Schlink |
| | Felix Timmermans, Josef Haslinger, Barbara Frischmuth, Jean Cocteau, Michael Blake, Jacqueline Harpman, Jean Raspail, Tin Ujević, Marcel Achard |
| | Neil Simon, Paul de Wispelaere, Christine Lavant, Sébastien Japrisot, Walter Wippersberg, Rob van Erkelens, Robert Desnos, Nathaniel Hawthorne, Lionel Trilling |
| | Franz Kafka, Christopher Kloeble, Dorota Masłowska, Joanne Harris, Gerard den Brabander, Tom Stoppard, Andreas Burnier, David Barry, William Henry Davies |
| | Frans Budé, Hermann Hesse, Wisława Szymborska, Erik Vlaminck, Pierre H. Dubois, Axel Brauns, Friedrich Klopstock |
| | Johannes Immerzeel, Alekos Panagoulis, Ota Pavel, C. C. Bergius, Arend Fokke Simonsz |
| | Remco Ekkers, F. Starik, Wim T. Schippers, J. J. Voskuil, Carry Slee, Denis Johnson |
| | Hans Bender, George Sand, Juan Carlos Onetti, Georg Christoph Lichtenberg, Phil Bosmans, Heinrich Wiesner |
| | Czeslaw Milosz, Juli Zeh, Yaseen Anwer, José Emilio Pacheco, Assia Djebar, Jacqueline Zirkzee, Hendrik Jan Schimmel, Georges Duhamel, Thomas Lovell Beddoes |
| | Maarten Asscher, Ror Wolf, Thomas Frahm, Vasko Popa, Oriana Fallaci, Giacomo Leopardi, Antoine de Saint-Exupéry, Anton Bergmann, Willibald Alexis |
| | Florian Zeller, Ryszard Krynicki, Mark Helprin, Marlene Streeruwitz, Fritzi Harmsen van Beek, Luigi Pirandello, Jean Jacques Rousseau, Anton van Wilderode, Juan José Saer |
| | Lucille Clifton, Rafael Chirbes, Teju Cole, Frank O'Hara, Paul Laurence Dunbar, E. J. Potgieter, Kees Ouwens, Dawud Wharnsby, João Guimarães Rosa |
| | Aimé Césaire, Jacqueline van der Waals, Yves Beauchemin, Elisabeth Büchle, Laurie Lee, Pearl S. Buck, Stefan Andres, Martin Andersen-Nexø, Branwell Brontë |
| | George Orwell, Yann Martel, Rob van Essen, Michel Tremblay, Nicholas Mosley, Ingeborg Bachmann, Arseny Tarkovsky |
| | Larry Kramer, Claude Seignolle, Ariel Gore, Heinrich Seidel, Hans Marchwitza, Georges Courteline, Friederike Kempner |
| | Wilfred Smit, Ernesto Sabato, Yves Bonnefoy, Scott Oden, John Ciardi, Matthijs Kleyn |
| | Madelon Székely-Lulofs, Johannes van het Kruis, Kurt Kusenberg, Ambrose Bierce, Jean-Baptiste Boyer d'Argens, Josse Kok |
| | David Leavitt, Jo Govaerts, Rafik Shami, Aart van der Leeuw, Pascal Mercier, Franca Treur, Jean Anouilh, Anna Achmatova, Hanneke van Eijken |
| | Sommer (Ilse Kleberger), Nescio, Juliën Holtrigter, Jaap Robben |
| | Summer Solstice (Stacie Cassarino), Ed Leeflang, Thomas Blondeau, Adam Zagajewski |
| | Detlev von Liliencron, Vikram Seth, Paul Muldoon |


Gastenboek


Druk op onderstaande knop om een berichtje achter te laten in mijn gastenboek