E-mail mij


Druk op onderstaande knop om mij te e-mailen.


Romenu


Romenu is een blog over gedichten, literatuur en kunst Maar Romenu is ook een professionele freelance vertaler
Du-Ne en Ne-Du http://www.romenu.nl.


Huur eens een (vakantie)huis in een natuurgebied, dichtbij het centrum van Nijmegen


Google


Georg Trakl

Georg Trakl werd op 3 februari 1887 in het conducteurshuis aan de Waagplatz 2 in Salzburg geboren. Zijn vader, Tobias Trakl, was een handelaar in ijzerwaren en zijn moeder, die ook psychische problemen had, was Maria Catharina Trakl, (meisjesnaam Halik). Voorts had hij nog drie broers en drie zussen. Margarethe (doorgaans Grethe genoemd) stond hem het naast, zelfs zodanig dat sommigen een incestueuze verhouding vermoeden. Zijn jeugd bracht hij door in Salzburg. Vervolgens bezocht hij van 1897 tot 1905 het humanistische gymnasium. Om toch een academische opleiding te kunnen volgen, werkte hij tot 1908 in de praktijk bij een apotheker. Sommigen vermoedden dat hij dit vooral deed om zichzelf opiaten te kunnen verschaffen. Bij het uitbreken van WO I werd Trakl als medicus naar het front in Galicië (heden ten dage in Oekraïne en Polen) gestuurd. Zijn gemoedsschommelingen leidden tot geregelde uitbraken van depressie, die verergerd werden door de afschuw die hij voelde voor de verzorging van de ernstig verwonde soldaten. De spanning en druk dreven hem ertoe een suïcidepoging te ondernemen, welke zijn kameraden nochtans verhinderden. Hij werd in een militair ziekenhuis opgenomen in Kraków, alwaar hij onder strikt toezicht geplaatst werd.Trakl verzonk daar in nog zwaardere depressies en schreef Ficker om advies. Ficker overtuigde hem ervan dat hij contact moest opnemen met Wittgenstein, die inderdaad op weg ging na Trakls bericht te hebben ontvangen. Op 4 november 1914, drie dagen voordat Wittgenstein aan zou komen, overleed hij echter aan een overdosis cocaïne


Paul Celan

Paul Celan werd onder de naam Paul Antschel op 23 november 1920 geboren in Czernowitz, toentertijd de hoofdstad van de Roemeense Boekovina, nu behorend bij de Oekraïne. Paul Celans ouders waren Duitssprekende joden die hun zoon joods opvoedden en hem naar Duitse christelijke scholen stuurden. In 1942 werden Celans ouders door de Duitse bezetter naar een werkkamp gedeporteerd en daar vermoord. Hijzelf wist aanvankelijk onder te duiken, maar moest vanaf juli 1942 in een werkkamp dwangarbeid verrichten. Celan overleefde de oorlog. Via Boekarest en Wenen vestigde Celan zich in 1948 in Parijs. Daar was hij werkzaam als dichter, vertaler en doceerde hij aan de prestigieuze Ecole Normale Supérieure. Vermoedelijk op 20 april 1970 beëindigde hij zijn leven zelf door in de Seine te springen.


Gerard Reve

Gerard Reve over: Medearbeiders "God is in de mensen, de dieren, de planten en alle dingen - in de schepping, die verlost moet worden of waaruit God verlost moet worden, door onze arbeid, aangezien wij medearbeiders van God zijn." Openbaring "Tja, waar berust elk godsbegrip op, elke vorm van religie? Op een openbaring, dat wil zeggen op een psychische ervaring van zulk een dwingende en onverbiddelijke kracht, dat de betrokkene het gevoel heeft, niet dat hij een gedachte of een visioen heeft, maar dat een gedachte gedachte of visioen hem bezit en overweldigt."


Simon Vestdijk
Simon Vestdijk (Harlingen, 17 oktober 1898 – Utrecht, 23 maart 1971) was een Nederlands romancier, dichter, essayist en vertaler. Zijn jeugd te Harlingen en Leeuwarden beschreef hij later in de Anton Wachter-cyclus. Van jongs af aan logeerde hij regelmatig bij zijn grootouders in Amsterdam, waar hij zich in 1917 aan de Universiteit van Amsterdam inschrijft als student in de medicijnen. Tijdens zijn studie die van 1917 tot 1927 duurde, leerde hij Jan Slauerhoff kennen.Tot 1932 is hij als arts in praktijken door heel Nederland werkzaam. In 1932 volgt zijn officiële schrijversdebuut met de uitgave van de bundel Verzen in De Vrije Bladen. Doorslaggevend voor Vestdijks uiteindelijke keuze voor de literatuur is zijn ontmoeting in 1932 met Eddy Du Perron en Menno ter Braak. Deze ontmoeting had tot resultaat dat hij redactielid werd van het tijdschrift Forum Kort daarop, in 1933, wordt zijn eerste novelle, De oubliette, uitgegeven. In hetzelfde jaar schrijft hij Kind tussen vier vrouwen, dat, eerst geweigerd door de uitgever, later de basis zal vormen voor de eerste drie delen van de Anton Wachter-romans. In 1951 ontvangt Vestdijk de P.C. Hooftprijs voor zijn in 1947 verschenen roman De vuuraanbidders. In 1957 wordt hij voor het eerst door het PEN-centrum voor Nederland voorgedragen voor de Nobelprijs voor de Literatuur, die hij echter nooit zal krijgen. Op 20 maart 1971 wordt hem de Prijs der Nederlandse Letteren toegekend, maar voor hij deze kan ontvangen overlijdt hij op 23 maart te Utrecht op 72-jarige leeftijd. Vestdijk was auteur van ca. 200 boeken. Vanwege deze enorme productie noemde de dichter Adriaan Roland Holst hem 'de man die sneller schrijft dan God kan lezen'. Andere belangrijke boeken van Simon Vestdijk zijn: "Kind van stad en land" (1936), "Meneer Visser's hellevaart" (1936), "Ierse nachten" (1946), "De toekomst de religie" (1947), "Pastorale 1943" (1948), "De koperen tuin" (1950), "Ivoren wachters" (1951), "Essays in duodecimo" (1952) en "Het genadeschot" (1964).


K.P. Kavafis

K.P. Kavafis werd als kind van Griekse ouders, afkomstig uit Konstantinopel, geboren in 1863 in Alexandrië (tot vandaag een Griekse enclave) waar hij ook het grootste deel van zijn leven woonde en werkte. Twee jaar na de dood van zijn vader verhuist het gezin in 1872 naar Engeland om na een verblijf van vijf jaar naar Alexandrië terug te keren. Vanwege ongeregeldheden in Egypte vlucht het gezin in 1882 naar Konstantinopel, om na drie jaar opnieuw naar Alexandrië terug te gaan. In de jaren die volgen maakt Kavafis reizen naar Parijs, Londen en in 1901 zijn eerste reis naar Griekenland, in latere jaren gevolgd door nog enkele bezoeken. Op de dag van zijn zeventigste verjaardag, in 1933 sterft Kavafis in Alexandrië. De roem kwam voor Kavafis pas na zijn dood, dus postuum. Deels is dat toe te schrijven aan zijn eigen handelswijze. Hij was uiterst terughoudend met de publicatie van zijn gedichten, liet af en toe een enkel gedicht afdrukken in een literair tijdschrift, gaf in eigen beheer enkele bundels met een stuk of twintig gedichten uit en het merendeel van zijn poëzie schonk hij op losse bladen aan zijn beste vrienden.


Thomas Mann


Thomas Mann, de jongere broer van Heinrich Mann, werd geboren op 6 juni 1875 in Lübeck. Hij was de tweede zoon van de graankoopman Thomas Johann Heinrich Mann welke later één van de senatoren van Lübreck werd. Zijn moeder Julia (geboren da Silva-Bruhns) was Duits-Braziliaans van Portugees Kreoolse afkomst. In 1894 debuteerde Thomas Mann met de novelle "Gefallen". Toen Thomas Mann met 21 jaar eindelijk volwassen was en hem dus geld van zijn vaders erfenis toestond - hij kreeg ongeveer 160 tot 180 goldmark per jaar - besloot hij dat hij genoeg had van al die scholen en instituties en werd onafhankelijk schrijver. Kenmerkend voor zijn stijl zijn de ironie, de fenomenale taalbeheersing en de minutieuze detailschildering. Manns reputatie in Duitsland was sterk wisselend. Met zijn eerste roman, Buddenbrooks (1901), had hij een enorm succes, maar door zijn sceptische houding tegenover Duitsland na de Eerste Wereldoorlog veranderde dit volledig. Stelde hij zich tot aan de jaren twintig apolitiek op (Betrachtungen eines Unpolitischen, 1918), meer en meer raakte hij bij het Politiek gebeuren betrokken. Zijn afkeer van het nationaal socialisme groeide, zijn waarschuwingen werden veelvuldiger en heftiger. In 1944 accepteerde hij het Amerikaanse staatsburgerschap. Tussen 1943 en 1947 schreef Mann Doktor Faustus (zie Faust), de roman van de 'Duitse ziel' in de gecamoufleerd geschilderde omstandigheden van de 20ste eeuw. In 1947 bezocht hij voor het eerst sinds de Oorlog Europa, twee jaar later pas Duitsland. In 1952 vertrok hij naar Zwitserland. Op 12 augustus 1955 stierf hij in Zürich. Twintig jaar na zijn dood, in aug. 1975, is zijn literaire nalatenschap geopend: dagboekaantekeningen van 15 maart 1933 tot 29 juli 1955, alsmede notities uit de jaren 1918 tot en met 1921.Belangrijke werken zijn: Der Zauberberg, Der Tod in Venedig, Dokter Faustus , Joseph und seine Brüder en Die Bekenntnisse des Hochstaplers Felix Krull.


Rainer Maria Rilke

Rilke werd op 4 december 1875 geboren in Praag. Hij had al naam gemaakt als dichter met zijn bundels Das Stundenbuch en Das Buch der Bilder, toen hij de literaire wereld versteld deed staan en wereldfaam verwierf met de publicatie van zijn twee delen Neue Gedichte in 1907 en 1908. Hij verzamelde daarin het beste werk uit een van zijn vruchtbaarste periodes, die hij grotendeels doorbracht in Parijs. Rilke was daar diep onder de indruk gekomen van Rodin, bij wie hij een tijdlang in dienst was als particulier secretaris. Rodin, zei hij later, had hem leren kijken. Dit kijken kwam neer op intense concentratie, om het mysterie te kunnen zien 'achter de schijnbare werkelijkheid'. Latere en rijpere werken als Duineser Elegien (1912-1923) en het ronduit schitterende Die Sonette an Orfeus (1924) illustreren Rilkes metafysische visie op het onzegbare, dat haar verwoording vindt in een hermetische muzikale taal. Op 29 december 1926 overlijdt Rilke in het sanatorium in Val-Mont aan de gevolgen van leukemie. Enkele dagen later wordt hij, overeenkomstig zijn wens, begraven op het kerkhof van Raron.


* * * * * * * * * * * * * * * *

| | |
| --- | --- |
| | Over literatuur, gedichten, kunst en cultuur |

18-05-2014

Yi Mun-yol, Markus Breidenich, W.G. Sebald, François Nourissier, Gunnar Gunnarsson
De Zuidkoreaanse schrijver Yi Mun-yol werd geboren op 18 mei 1948 in Yongyang. Zie ook alle tags voor Yi Mun-yol op dit blog.
Uit:The Poet (Vertaald doorBrother Anthony en Chung Chong-hwa)
"Perhaps we ought to begin this investigation into the deviations of his life by evoking the problem of human memory. In his later years, summing up the whole course of his existence in a long lyric, he wrote the following lines:
As my hair grew longer,
my fortunes travelled a rough road:
he family line in ruins
the blue sea a mulberry grove.
Later readers have not usually considered those lines to be the transposition into poetry of any actual experience. At most they have assumed that they were inspired by some childhood event he learned about in his adult years, a pseudo-memory as it were, an analogy fabricated to harmonize with the assumed course of his life's history.
Such theories may satisfy those who prefer an entertaining folk-tale to the actual details of a man's real life. For them, it is unthinkable that he might have retained any actual memories of his family or origins before that fateful moment, so often chronicled, when he won first prize in a rural poetry-contest at the age of nineteen. That way the legend could be given a dramatic and really effective starting-point.
Unfortunately, the realities of life rarely if ever correspond to the demands of such fabulations. Generally received opinion notwithstanding, his memory actually stretched much further back into the past than is normally the case.
In particular, even when his life was almost done, at the end when he was weary and alone, he could recall the events of a certain evening late in the year in which he turned four as vividly as if they were just then happening before his eyes: that fateful night when his life was fundamentally transformed, as if the blue sea had indeed suddenly been turned into a mulberry grove.
He was only a child, of course, but during the last few days he had become vaguely aware of an extraordinary atmosphere brooding over the house.
The servants who had until then filled their home with a constant presence seemed visibly to have diminished in number, while those who remained no longer worked but stood in corners endlessly whispering together about something."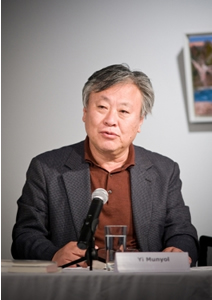 Yi Mun-yol (Yongyang, 18 mei 1948)
De Duitse dichter en schrijver Markus Breidenich werd geboren in Düren op 18 mei 1972. Zie ook alle tags voor Markus Breidenich op dit blog.
Lesung der Briefe
Ich selbst halte Rechnungen in Händen
(was ich ausgegeben habe, das habe ich
ausgegeben). Meinen weißen Tauben
stecke ich Geld in den Schnabel und
bitte sie, Stillschweigen zu bewahren
über mich. Während des Flugs schalte
ich mein Handy aus und bewege mich
kaum. Die Tiere landen am späten
Nachmittag, wenn die Sonne hinter
den Bäumen verschwindet. Die meisten
legen das Geld unter die Fußmatte der
Eingangstür und sind abends zurück.
Manche von ihnen tragen Zweige in ihren
Schnäbeln. Die Zeichen stehen auf Land.

Aus Bronzezeiten
Oft bin ich unsichtbar, und du weißt nicht,
was es bedeutet, den Schneewolken seine
Aufwartung zu machen. Sie sind mit dem
Einbalsamieren der Felder beschäftigt.
Leinentücher gehören in ihren Besitz. Die
Haut streift bei jeder Gelegenheit über
Eiskristalle und glättet sich leicht. Wo
Hände erfrieren, bleibt dunkles Gewebe
zurück, das im Innern von Gletschern
verschwindet. Meine Waffen sind stumpf,
das Fell über dem Rücken ist abgetragen.
Du kannst der Lage meiner Arme etwas
Gleichgültiges entnehmen, und der Sprache
der Höhenwinde meine Autobiografie. Ich bin
der Stummzeuge meiner Gegenwart. Du findest
mich oft bei den Steingärten über den Wiesen.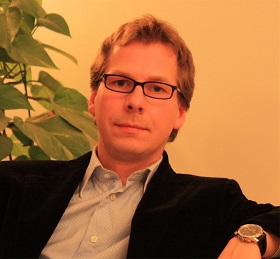 Markus Breidenich (Düren, 18 mei 1972)
De Duitse schrijver W.G. Sebald werd geboren in Wertach (Allgäu) op 18 mei 1944. Zie ook alle tags voor W. G. Sebald op dit blog.
Uit: Austerlitz (Vertaald door Anthea Bell)
"He had gone on and on down the corridors, said Austerlitz, sometimes turning left and then right again, then walling straight ahead and passing through many tall doorways, and once or twice he had climbed flights of creaking wooden stairs which gave the impression of being temporary structures, branching off from the main corridors here and there and leading half a story up or down, only to end in dark cul-desacs with roll-top cupboards, lecterns, writing desks, office chairs, and other items of furniture stacked up at the end of them, as if someone had been obliged to hold out there in a state of siege. He had even heard, said Austerlitz, of people who, over the years, had managed to start up a small business in one or other of the empty rooms and remote corridors of that great warren: a tobacconist's, a bookie's, a bar, and it was rumored, Austerlitz added, that a man called Achterbos had once turned a gentlemen's lavatory down in the basement into a public convenience for, among others, passersby in the street, installing himself at the entrance with a small table and a plate to take the money, and that later, when he engaged an assistant who was handy with a comb and a pair of scissors, it was a barber's shop for a while.
I heard several such apocryphal stories from Austerlitz, anecdotes in curious contrast to his usual rigorous objectivity, not only that day but on our later encounters, for instance one quiet November afternoon when we spent some time sitting in a cafe with a billiards room in Terneuzen-I still remember the proprietress, a woman with thick-lensed spectacles who was knitting a grassgreen sock, the glowing nuggets of coke in the hearth, the damp sawdust on the floor, the bitter smell of chicory-and looked out through the panoramic window, which was framed by the tentacles of an ancient rubber plant, at the vast expanse of the misty gray mouth of the Schelde".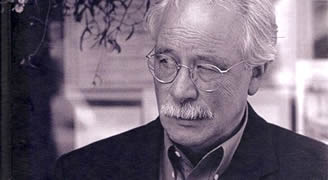 W.G. Sebald (18 mei 1944 – 14 december 2001)
De Franse schrijver François Nourissier werd geboren op 18 mei 1927 in Parijs. Zie ook alle tags voor François Nourissier op dit blog.
Uit: Le gardien des ruines
« Un carrefour, dans la lumière du matin, à Paris, en France, à l'automne de l'année, à l'automne du siècle, à l'automne d'une vie, — pas de quoi pavoiser. Fargeau se hâte. Est-il en retard?? Il n'a rien à faire, aucune obligation, aucun rendez-vous mais il se complait dans une impatience furieuse?: elle lui permet d'invectiver contre les lents et les calmes qui croisent son chemin. Pour l'instant il crispe la main sur le levier des vitesses de sa voiture, immobilisée au feu rouge qui bloque la circulation de la rue Chardon-Lagache, là où elle se jette dans l'avenue de Versailles. Déjà il anticipe les deux ou trois coups de volant indispensables pour dépasser la fourgonnette qu'il serre de près, traverser au large le carrefour et se faufiler dans la rue Le Marois avant que cet autre feu, là -bas, inutile, ne l'arrête. Il arrive ici que des gêneurs surgissent de l'une ou l'autre des six rues entrecroisées qu'on aperçoit dans le fouillis des constructions anarchiques, des vitrines tape- à -l'œil, des terre-pleins placés comme au hasard. Où que se porte le regard il ne découvre rien que de laid. On ne saurait se croire ailleurs. Ce sud du XVIe arrondissement est un faubourg, un avant-goût de banlieue. Personne ne regarde jamais rien. Si l'on voyait le décor où l'on vit on ne se lèverait pas le matin. »
Au vert, la Peugeot bondit, contourne la fourgonnette hésitante et fonce. Le feu passe à l'orange à l'instant o ù une silhouette se profile, que Fargeau remarque à peine, empêcheuse de filer droit qui pose le pied sur la chaussée et s'avance, tassée, tête baissée, comme on tombe. Fargeau crie, freine et il a le temps de voir trébucher un pot-?-tabac enveloppé de guenilles, une tête grise et jaune sous un fichu. Le choc est faible. Ce sont les hurlements, dehors, et le crissement des freins qui donnent le sentiment d'un drame. Voilà Fargeau dehors, et le premier à? s'agenouiller près du corps allongé: les témoins s'indignent, mais pour un empire ils ne toucheraient pas ? ce tas de vêtements qui gémit. Il s'agit d'une vieille femme asiatique, incroyablement vilaine et ridée, qui cherche ? se relever, souffle, se débat. »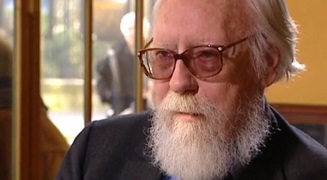 François Nourissier (18 mei 1927 – 15 februari 2011)
De IJslandse dichter en schrijver Gunnar Gunnarsson werd geboren op 18 mei 1889 in Fljótsdalur. Zie ook alle tags voor Gunnar Gunnarsson op dit blog.
Uit:Father And Son (Vertaald door Peter Foote)
"Whenever the weather was fit, they put off in their boat but often rowed back empty-handed or with one skinny flat-fish in the bottom.
This did not affect their outlook. They never complained; they bore their burden of distress, heavy as it was, with the same even temper as they showed in the face of good fortune on the rare occasions it smiled on them; in this, as in everything else, they were in harmony. For them there was always comfort enough in the hope that, if they ate nothing today, God would send them a meal tomorrow—or the next day. The advancing spring found them pale and hollow-cheeked, plagued by bad dreams, so that night after night they lay awake together.--And one such spring, a spring moreover that had been colder and stormier than usual, with hardly a single day of decent weather, evil chance paid another visit to old Snjolfur's home.
Early one morning a snow-slip landed on the cabin on the Point, burying both father and son. By some inexplicable means little Snjolfur managed to scratch his way out of the drift. As soon as he realised that for all his efforts he could not dig his father out single-handed, he raced off to the village and got people out of their beds. Help came too late--the old man was suffocated when they finally reached him through the snow."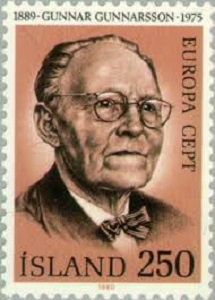 Gunnar Gunnarsson (18 mei 1889 – 21 november 1975)
Zie voor nog meer schrijvers van de 17e mei ook mijn vorige blog van vandaag.
18-05-2014 om 19:27 geschreven door Romenu

Tags:Yi Mun-yol, Markus Breidenich, W.G. Sebald, François Nourissier, Gunnar Gunnarsson, Romenu



Omar Khayyam, Ernst Wiechert, Franziska zu Reventlow, Bertrand Russell, John Wilson
De Perzische dichter Omar Khayyám, of zoals zijn arabische naam luidt, al-Imâm Abu Hafs 'Omar ebn Ebrâhim al-Khayyâmi, werd geboren op 18 mei 1048 te Nishapur. Zie ook alle tags voor Omar Khayyám op dit blog.
Kwatrijnen
Hij zelf trad gistren in dees aardsche kroeg,
Hij, de vervuller van wat ieder vroeg.
Hij sprak den beker langend: drink! 'k zei: neen!
Drink! loech Hij, is mijn liefde niet genoeg?
Wat baat de wereld ons vertrek of komen?
Rest iets van wijsheids roem, of lof van vromen?
Wat blijft er staan van 't steil gebergt der hoop?
Stof, stof, slechts stof – stof uit stof voortgekomen.
Bestendig blijf in wisselvalligheid.
Wees niet bedrukt voor 't vlieden van den tijd.
In een paar dagen slijt ziels kleed tot lompen.
Wat geeft 't, of gij werkt, vecht, bezoedeld zijt?
Die, wars van 't goede, leeft van slechte streken,
Zich achter Gods gena driest durft versteken,
Hoop niet te zeker op zijn gunst, Hij zal
Nooit met één maat zondaars en zuivren reeknen.
Vertaald door Willem de Mérode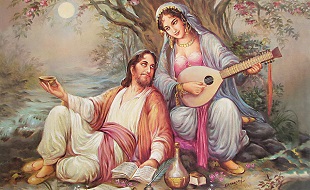 Omar Khayyam (18 mei 1048 - 4 december 1131)
Omar Khayyam en Saki
De Duitse dichter en schrijver Ernst Wiechert werd geboren op 18 mei 1887 in Kleinort bij Sensburg in Oostpruisen.(Tegenwoordig Polen). Zie ook alle tags voor Ernst Wiechert op dit blog.
Ihr seid der Pfeil
Ihr seid der Pfeil auf meinem dunklen Bogen,
der Glocke Erz auf meinen stillen Türmen,
ihr seid der Bote weit vor meinem Heere,
ihr seid der Wald vor meinen nächt'gen Stürmen.
Was ich noch frage, habt ihr schon gesprochen,
was ich noch suche, habt ihr schon gefunden,
was ich noch halte, habt ihr schon zerbrochen,
was ich noch binde, habt ihr schon entbunden.
In eurem Ohr braust das "Steh auf und wandle",
Jehovas Säule leuchtet eurem Wege,
indessen ich in der verlassnen Kammer
des Grabes Tücher still zusammenlege.
Mit dem "Betenden Knaben"
Er schweigt zu Gott aus einem tiefen Walde,
aus dem nur Rufe sanfter Tiere klangen,
und seine Hände sind wie eines Kindes
geöffnet, um das Wunder zu empfangen.
Um seine Lip'pen strahlt des Kindes Glaube,
daß Gott zu ihm im Sturm wird kommen müssen,
und um sein Knie bebtschon die leise Beugung,
mit der er stürzen wird zu seinen Füßen.
Von seinen Schultern fällt das Leid der Erde,
und wie ein Kind aus seiner kleinen Schale
hebt er die reifen Früchte zu der Kelter
des Weins zu unsrem großen Abendmahle ...
Du aber weißt, daß ich mich dir enthülle
und ganz in diesem Bild dein eigen bleibe,
und wie ein Kind zu jenem Gotte flehe,
der sich geoffenbart in deinem Leibe.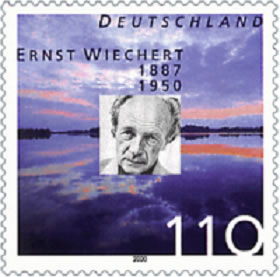 Ernst Wiechert (18 mei 1887 – 24 augustus 1950)
De Duitse schrijfster Franziska (gravin) zu Reventlow werd geboren op 18 mei 1871 in Husum. Zie ook alle tags voor Franziska zu Reventlow op dit blog.
Uit: Ellen Olestjerne
"Manchmal seufzte Marianne dann im stillen mit: die Mutter ließ sich und anderen wenig Ruhe, und ihre rastlose Lebhaftigkeit hatte beinahe etwas Aufreibendes – es war keine Kleinigkeit, ihr immer das Gleichgewicht zu halten, besonders, wenn sie sich in Taten umsetzte. Mochten nun die Dienstboten etwas versehen haben, die Jungen mit schlechten Zeugnissen heimkommen, oder die Kleinen irgendein Unheil anrichten – immer war es Marianne, bei der sie Zuflucht suchten, die alles ausgleichen und vermitteln sollte. So atmete sie meist erleichtert auf, wenn der stürmische Vormittag vorüber war und die Mutter sich nach Tisch mit einem Buch ins Wohnzimmer zurückzog. Für Marianne kamen dann die besten Stunden des Tages, wo sie dem Vater bei seinen Schreibereien half, oder ihn bei seinen Rundgängen auf dem Gut begleitete.
Auch die jüngeren Geschwister wußten diese häusliche Nachmittagsruhe nach Kräften zu genießen. Es war die Zeit, wo sie ungestört allen möglichen verbotenen Unternehmungen nachgehen konnten – den alten Gärtner drüben im Nebenhaus besuchen, wo sie Kaffee bekamen und an seinen langen Pfeifen rauchen durften, oder die Dorfkinder, die schon lange wartend am Gitter standen, hereinlassen und mit ihnen am Graben Brücken bauen und Schiffe schwimmen lassen. Das Kindermädchen hatte noch zu tun, und wenn Erik dabei war, ließ man die Kinder ruhig eine Zeitlang ohne Aufsicht. Ellen folgte dem älteren Bruder durch dick und dünn und zog den kleinen Detlev an der Hand hinter sich her. Mit vereinter Anstrengung bekamen sie ihn über alle Gitter und Schwierigkeiten weg, und wehe ihm, wenn er schrie oder sie verklagte."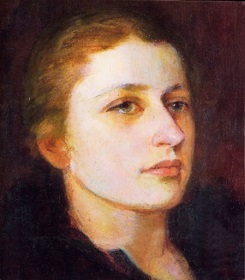 Franziska zu Reventlow (18 mei 1871 – 25 juli 1918)
Portret door Marie von Geysow, 1901 - 1902
De Britse filosoof, logicus, wiskundige en politiek activist Bertrand Arthur William Russell werd geboren in Trellech (Monmouthshire), Wales, op 18 mei 1872. Zie ook alle tags voor Bertrand Rusell op dit blog.
Uit: In Praise of Idleness
"First of all: what is work? Work is of two kinds: first, altering the position of matter at or near the earth's surface relatively to other such matter; second, telling other people to do so. The first kind is unpleasant and ill paid; the second is pleasant and highly paid. The second kind is capable of indefinite extension: there are not only those who give orders, but those who give advice as to what orders should be given. Usually two opposite kinds of advice are given simultaneously by two organized bodies of men; this is called politics. The skill required for this kind of work is not knowledge of the subjects as to which advice is given, but knowledge of the art of persuasive speaking and writing, i.e. of advertising.
Throughout Europe, though not in America, there is a third class of men, more respected than either of the classes of workers. There are men who, through ownership of land, are able to make others pay for the privilege of being allowed to exist and to work. These landowners are idle, and I might therefore be expected to praise them. Unfortunately, their idleness is only rendered possible by the industry of others; indeed their desire for comfortable idleness is historically the source of the whole gospel of work. The last thing they have ever wished is that others should follow their example.
From the beginning of civilization until the Industrial Revolution, a man could, as a rule, produce by hard work little more than was required for the subsistence of himself and his family, although his wife worked at least as hard as he did, and his children added their labor as soon as they were old enough to do so. The small surplus above bare necessaries was not left to those who produced it, but was appropriated by warriors and priests."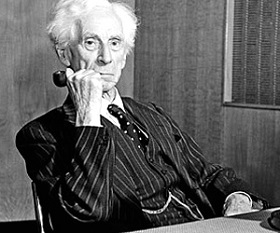 Bertrand Russell (18 mei 1872 – 2 februari 1970)
De Schotse schrijver John Wilson werd geboren in Paisley op 18 mei 1785. Zie ook alle tags voor John Wilson op dit blog.
The Three Seasons of Love
With laughter swimming in thine eye,
That told youth's heartfelt revelry;
And motion changeful as the wing
Of swallow wakened by the spring;
With accents blithe as voice of May
Chanting glad Nature's roundelay;
Circled by joy like planet bright
That smiles 'mid wreathes of dewy light,—
Thy image such, in former time,
When thou, just entering on thy prime,
And woman's sense in thee combined
Gently with childhood's simplest mind,
First taught'st my sighing soul to move
With hope towards the heaven of love!
Now years have given my Mary's face
A thoughtful and a quiet grace:—
Though happy still,—yet chance distress
Hath left a pensive loveliness;
Fancy hath tamed her fairy gleams,
And thy heart broods o'er home-born dreams!
Thy smiles, slow-kindling now and mild,
Shower blessings on a darling child;
Thy motion slow, and soft thy tread,
As if round thy hushed infant's bed!
And when thou speak'st, thy melting tone,
That tells thy heart is all my own,
Sounds sweeter, from the lapse of years,
With the wife's love, the mother's fears!
By thy glad youth and tranquil prime
Assured, I smile at hoary time!
For thou art doomed in age to know
The calm that wisdom steals from woe;
The holy pride of high intent,
The glory of a life well-spent.
When, earth's affections nearly o'er,
With Peace behind, and Faith before,
Thou render'st up again to God,
Untarnished by its frail abode,
Thy lustrous soul,—then harp and hymn,
From bands of sister seraphim,
Asleep will lay thee, till thine eye
Open in Immortality.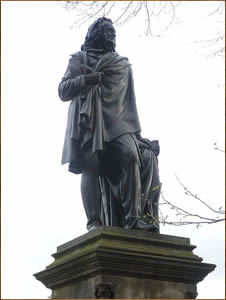 John Wilson (18 mei 1785 - 3 april 1854)
Stabdbeeld in Edinburgh
18-05-2014 om 19:12 geschreven door Romenu

Tags:Ernst Wiechert, Omar Khayyam, Franziska zu Reventlow, Bertrand Russell, John Wilson, Romenu



| | |
| --- | --- |
| | |



Inhoud blog


| | |
| --- | --- |
| | Niels 't Hooft, Jan Blokker, Linda Pastan, Louis-Ferdinand Céline, Georges Eekhoud, Said, John Cheever, John Barth |
| | Max Brod, Kaur Kender, Adriaan Venema, Arnold Bennett, Richard Schaukal, Ferdynand Ossendowski, M. A. von Thümmel, Herman Wouk, Dashiell Hammett |
| | Alan Hollinghurst, Radwa Ashour, Hugo Raes, Vítězslav Nezval, Ivan O. Godfroid, Maxwell Bodenheim, Isabella Nadolny, Edmond De Goncourt |
| | Hemelvaart (Gabriël Smit) |
| | Egyd Gstättner, Claire Castillon, Friedrich Dieckmann, Eve Ensler, Raymond Carver, Jamaica Kincaid, Robert Ludlum, Theodore Roethke, W. P. Kinsella |
| | Joseph Brodsky, Michael Chabon, Bob Dylan, Henri Michaux, William Trevor, Tobias Falberg, Arnold Wesker, George Tabori, Rainald Goetz |
| | Adriaan Roland Holst, Maarten Biesheuvel, Lydia Rood, Jane Kenyon, Susan Cooper, Michaël Vandebril, Jack McCarthy, Mitchell Albom, Pär Fabian Lagerkvist |
| | Erik Spinoy, Arthur Conan Doyle, Ahmed Fouad Negm, Anne de Vries, Johannes R. Becher, Kees Winkler, Gérard de Nerval, Robert Neumann, Catulle Mendès |
| | Takis Würger |
| | Gabriele Wohmann, Amy Waldman, Maria Semple, Urs Widmer, Emile Verhaeren, Robert Creeley, Alexander Pope, Tudor Arghezi, Suzanne Lilar |
| | Tommy Wieringa, Auke Hulst, Ellen Deckwitz, Jeroen Thijssen, Maurits de Bruijn, Gerrit Achterberg, Annie M.G. Schmidt, Sky du Mont |
| | Honoré de Balzac, William Michaelian, Wolfgang Borchert, Hector Malot, Ingvar Ambjørnsen, A.C. Cirino, Hanna Krall, Sigrid Undset |
| | Constantin Göttfert, Karel van het Reve, Simone van Saarloos, Gijs IJlander, Thera Coppens, H.W.J.M. Keuls, Jodi Picoult, Yahya Hassan, Ruskin Bond |
| | Markus Breidenich, W.G. Sebald, Yi Mun-yol, François Nourissier, Gunnar Gunnarsson, Omar Khayyam, Ernst Wiechert, Franziska zu Reventlow, John Wilson |
| | Lars Gustafsson, Peter Høeg, Gary Paulsen, Henri Barbusse, Virginie Loveling, Dennis Potter, Cor Bruijn, Dorothy Richardson, Mischa Andriessen |
| | Adrienne Rich, Paul Gellings, Friedrich Rückert, Jakob van Hoddis, Juan Rulfo, Olga Berggolts, Lothar Baier, Rens van der Knoop, Naomi Rebekka Boekwijt, Olaf J. de Landell |
| | Albert Verwey, Arthur Schnitzler, Pem Sluijter, W.J.M. Bronzwaer, Frits van Oostrom, Michael Lentz, Max Frisch, Judith Hermann, Peter Shaffer |
| | Mary Wortley Montagu |
| | Moeder (Gerrit Achterberg) |
| | Jo Gisekin, Karl-Markus Gauß, Eoin Colfer, Gaby Hauptmann, Wilma Vermaat, Frans Bastiaanse |
| | Dante Alighieri, Krister Axel, Jens Sparschuh, Evelyn Sanders, Kasper Peters, Walter E. Richartz, Karin Struck |
| | Jan Lauwereyns, Reinout Verbeke, Bruce Chatwin, Daphne du Maurier, Kathleen Jamie, Armistead Maupin, Alphonse Daudet, Kōji Suzuki |
| | Gregor von Rezzori, Theo van Baaren, Reinhold Schneider, Jacob Haafner, Adolf Muschg, Roch Carrier, Franz Michael Felder |
| | Hagar Peeters, Bertus Aafjes, August Vermeylen, Andrej Voznesensky, Sabine Imhof, Dante Gabriel Rossetti, Nicolaas Anslijn, Eva Demski, Farley Mowat |
| | J. H. Leopold, Ida Gerhardt, Eugen O. Chirovici, Andre Rudolph, Rubem Fonseca, Henning Boëtius, Camilo José Cela, Rachel Billington, Carl Hauptmann |
| | J.C. Bloem, Herman Leenders, Didi de Paris, Ralf Rothmann, Jeremy Gable, Petra Hammesfahr, Roberto Cotroneo, Antonine Maillet, Johann Peter Hebel |
| | Pieter Boskma, Charles Simic, Jotie T'Hooft, Jan Drees, Leopold Andrian, Alan Bennett, Lucian Blaga, Richard Adams, James Barrie |
| | Libris Literatuur Prijs 2017 voor Alfred Birney |
| | Luuk Wojcik |
| | Roddy Doyle, Thomas Pynchon, Pat Barker, Gary Snyder, Gertrud Fussenegger, Edmund Wilson, Romain Gary, Alain-René Lesage, Sophus Schandorph |
| | Willem Elsschot, Almudena Grandes, Christoph Marzi, Edgar Cairo, Volker Braun, Robert Browning, Peter Carey, Archibald MacLeish, Rabindranath Tagore |
| | Horst Bienek, Joseph Joubert, Stanisław Przybyszewski, Karl Gustav Vollmõller, A. E. W. Mason, Therese Huber, Dorit Zinn, Angela Carter, André du Bouchet |
| | Am dritten Sonntage nach Ostern (Annette von Droste-Hülshoff) |
| | Willem Kloos, Hélène Gelèns, Sasja Janssen, Ariel Dorfman, Erich Fried, Yasushi Inoue, Harry Martinson, Christian Morgenstern, Carl Ludwig Börne |
| | Ferdinand Sauter, Eugène Labiche, Gaston Leroux, Júlio César de Mello e Souza, Marie-Aude Murail, Paul Alverdes, Erik Bindervoet, Simon Mulder |
| | Vrijheid (Marion Bloem) |
| | Miklós Radnóti, Roni Margulies, Petra Else Jekel, Morton Rhue, Christopher Morley, George Albert Aurier, Henryk Sienkiewicz, Richard Watson Dixon, Catullus |
| | Stad (Willem van Toorn) |
| | Cola Debrot, Christiaan Weijts, Amos Oz, Monika van Paemel, Graham Swift, David Guterson, Jan Mulder, Werner Fritsch, Jacques Lanzmann |
| | Erik Lindner, Jehuda Amichai, Johan de Boose, Paul Bogaert, Marc Dugain, Ben Elton, Jens Wonneberger, Klaus Modick, Agnès Desarthe |
| | Esther Freud, Wytske Versteeg, Rob Waumans, Tilman Rammstedt, James Holmes, Jef Last, Gottfried Benn, Novalis, Jurgis Baltru¨aitis |
| | Die Arbeiter (Alfons Petzold) |
| | Guido Gezelle, Johano Strasser, Yasmina Reza, Joseph Heller, Yánnis Rítsos, Antal Szerb, Ignazio Silone, Aleksander Wat, Reinier van Genderen Stort |
| | John Greenleaf Whittier, Jeroen Brouwers, Alexander Osang, Ulla Hahn, Luise Rinser, John Boyne |
| | Konstantínos Petros Kaváfis, Rod McKuen, Bernhard Setzwein, Monika Rinck, Alejandra Pizarnik, Walter Kempowski, Bjarne Reuter, Kurt Pinthus, Humphrey Carpenter |
| | Zia Haider Rahman, Wim Hazeu, Roberto Bolaño, Gerhard Henschel, Harper Lee, Joop Waasdorp, Karl Kraus, Ğabdulla Tuqay, Charles Cotton |
| | De koning had geen zin (Annie M.G. Schmidt) |
| | Astrid Roemer, Robert Anker, André Schinkel, Didier Daeninckx, Hovhannes Shiraz, August Wilson, Edwin Morgan, Jules Lemaître, Cecil Day Lewis |
| | Bernard Malamud, Vincente Alexandre, Carl-Christian Elze, Hannelies Taschau, Theun de Vries, Hertha Kräftner, Johann Uhland |
| | Erik Menkveld, Ted Kooser, James Fenton, Walter de la Mare, Richard Anders, William Temple, John Keble |


Gastenboek


Druk op onderstaande knop om een berichtje achter te laten in mijn gastenboek