De Japanse schrijver Kazuo Ishiguro werd op 8 november 1954 geboren in Nagasaki. Zie ook mijn blog van 8 november 2006 en ook mijn blog van 8 november 2007 en ook mijn blog van 8 november 2008 en ook mijn blog van 8 november 2009.
Uit: The Unconsoled
"The taxi driver seemed embarrassed to find there was no one-not even a clerk behind the reception desk-waiting to welcome me. He wandered across the deserted lobby, perhaps hoping to discover a staff member concealed behind one of the plants or armchairs. Eventually he put my suitcases down beside the elevator doors and, mumbling some excuse, took his leave of me.
The lobby was reasonably spacious, allowing several coffee tables to be spread around it with no sense of crowding. But the ceiling was low and had a definite sag, creating a slightly claustrophobic mood, and despite the sunshine outside the light was gloomy. Only near the reception desk was there a bright streak of sun on the wall, illuminating an area of dark wood panelling and a rack of magazines in German, French and English. I could see also a small silver bell on the reception desk and was about to go over to shake it when a door opened somewhere behind me and a young man in uniform appeared.
'Good afternoon, sir,' he said tiredly and, going behind the reception desk, began the registration procedures. Although he did mumble an apology for his absence, his manner remained for a time distinctly off-hand. As soon as I mentioned my name, however, he gave a start and straightened himself.
'Mr Ryder, I'm so sorry I didn't recognise you. Mr Hoffman, the manager, he was very much wanting to welcome you personally. But just now, unfortunately, he's had to go to an important meeting.'
'That's perfectly all right. I'll look forward to meeting him later on.'
The desk clerk hurried on through the registration forms, all the while muttering about how annoyed the manager would be to have missed my arrival. He twice mentioned how the preparations for 'Thursday night' were putting the latter under unusual pressure, keeping him away from the hotel far more than was usual. I simply nodded, unable to summon the energy to enquire into the precise nature of 'Thursday night'.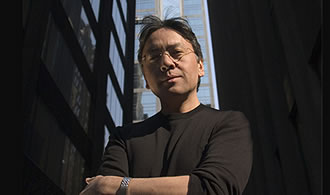 Kazuo Ishiguro (Nagasaki, 8 november 1954)
De Duitse schrijfster Elfriede Brüning werd geboren op 8 november 1910 in Berlijn. Na het verlaten van de middelbare school werkte ze als kantoorbediende en vanaf 1929 als secretaresse in een Berlijnse firma in de filmindustrie. In dezelfde tijd verscheen haar eerste journalistieke werk in diverse kranten. Zij werd lid van de KPD en begon tijdens de republiek van Weimar te werken voor de communistische pers. De machtsgreep van de nazi's voorkwam in 1933 de uitgave van haar eerste, maatschappijkritische roman "Handwerk hat goldenen Boden" (hij verscheen voor het eerst in 1970 onder de titel "Kleine Leute"). Bruning richtte zich op de ontspanningsliteratuur en publiceerde in 1934 de succesvolle roman " Und außerdem ist Sommer." In de eerste jaren van het Derde Rijk werkte Elfriede Brüning voor het communistische verzet. Tijdens de Tweede Wereldoorlog verbleef ze op het landgoed van haar schoonfamilie in de buurt van Magdeburg. Zij kwam 1946 terug in Berlijn. Ze werd opnieuw lid van de KPD en werkte voor Oost-Berlijnse kranten en tijdschriften. Sinds 1950 werkte zij als freelance schrijver in Berlijn. Ze is de auteur van romans, korte verhalen, artikelen en tv-scenario's. Elfriede Brüning ontving o.a. de Goethe-prijs van de hoofdstad van de DDR en de literaire prijs van de Demokratische Frauenbundes Deutschlands. Vandaag viert zij haar 100e verjaardag.
Uit: Kaffeefahrt ins Paradies
"Eigentlich hatte ich mir geschworen, nie mehr mitzufahren. Ich war ein gebranntes Kind.
Eine der früheren Reisen sollte uns in den frühlingshaften Spreewald bringen. Doch in dem Kaff, wo wir hielten, war im ganzen Umkreis weder ein Zipfel der Spree noch auch nur ein einziger Baum zu erspähen. Und da auch weit und breit keine Bahn oder Bus oder auch kein weiteres, etwas gemütlicheres Restaurant vorhanden war, in das man sich hätte flüchten können, blieb man in dem unwirtlichen Saal, in den man uns verfrachtet hatte, dem Werbesprecher und seinem stundenlangen Redefluß ausgeliefert, bis man sich endlich, völlig entnervt, zum Kauf einer seiner angeblich so preiswerten Lammfelldecken oder Massage- Betten entschloß, die man dann anderntags in ganz derselben Verpackung, aber um Hunderte billiger, in den Kaufhäusern liegen sah. Auch eine der so beliebten "Schnäppchen-Fahrten" zum Polenmarkt erwies sich als Flop. Denn da unser Fahrer gehalten war, sein Gefährt auf dem diesseitigen Parkplatz abzustellen, drangen wir in das polnische Nachbarland gar nicht erst vor, weil der uns empfohlenen Fußweg über die lange Brücke nach Polen für die meisten Teilnehmer viel zu beschwerlich war. Einigen gelang es gerade noch, sich bis zu dem nahen Cafe zu schleppen, wo sie die Stunden bis zur festgesetzten Rückfahrt bei Torte und Schlagsahne hinter sich brachten. Die übrigen blieben im Bus oder "lustwandelten", falls sie den unbezwinglichen Drang verspürten, ein wenig Luft zu schnappen, zwischen den zahlreichen Lastwagen, die den Parkplatz blockierten.
Doch diesmal würde ja alles ganz anders sein. Zu einem "Badischen Weinfest" wurde geladen, mit Herbst-Tombola (im Februar), einem "original badischen Winzeressen" mit Weinprobe, der Wahl einer Weinkönigin und mehreren Litern Wein "nach Ihrem Geschmack". Zusätzlich hieß es weiter", erhalten Sie, Frau B., das schmackhafte Winzerwurstpaket, insgesamt 2250 g feinster Delikatessen" – alles im Fahrpreis einbegriffen. Am Nachmittag sollte der Ausflug "mit herrlicher Landschaftsfahrt" enden."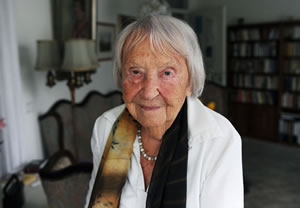 Elfriede Brüning (Berlijn, 8 november 1910)
De Duitse schrijver Detlef Opitz werd geboren op 8 november 1956 in Steinheidel-Erlabrunn. Zie ook mijn blog van 8 november 2008 en ook mijn blog van 8 november 2009.
Uit: Klio. Ein Wirbel um L.
"(...) mehr als die nüchternen Mitteilungen der Geschichtsbücher, mehr als die spröde Arithmetik historischer Prozesse, mehr als die angereicherten Spalten in heimatlichen Blättern liebe ich die Aufzählungen in den gemeinten Opera, die langen bunten Sätze der hoffnungslos antiquierten Schreiberlings, die oftmals mehrere Seiten umfassenden, ganze Kapitel andauernden, nach irgendwelchen verrotteten Pergamenten, nach Klosterakten, unförmigen Folianten gestalteten, aus den cachotigsten Archiven zusammengeholten wortreichen Illustrationen solch nebensächlicher Dinge, wie es der Festzug war, der an Rogate des Jahres '15 die Strassen der Stadt Halle passierte - was untertreibe ich?-, der die mit Fahnen und Emblemen, mit Girlanden und Heiligenbildern verzierten, die mit feiertäglich herausgepützeltem Volk, mit freigebigturpisen Puttanen, fidelvergnügten Krüppeln, glückseelsblöden Hungerleidern und absolut nervenden Bälgern, Bastarden, aber auch mit Würstchen, Gebäck, Met und Limonaden feilbietenden Marketendern gesäumten, die mit Teppichen und Rosenblüten, Panieren und den funkelnden Instrumentarien der Bürgerwehren geschmückten hallischen Strassen passierte (...)"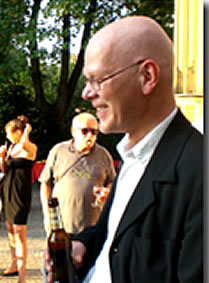 Detlef Opitz (Steinheidel-Erlabrunn, 8 november 1956)
De Russische dichteres en schrijfster Zinaida Gippius werd geboren op 8 november 1869 in Beljov in de buurt van Tula. Zie ook mijn blog van 8 november 2008 en ook mijn blog van 8 november 2009.
So It Is
1918
If light is felled – I am able to see nothing,
If a man is a beast – I hate him and scorn,
If he's worse than beasts – I kill him, laughing,
If my Russia is over – I die and I mourn.
She
In her despiteous and shameless wickedness
She is, as ashes, grey or grey as dust.
And I am perishing from just her nearness,
From bonds that solidly connected us.
She is a coarse one, she is a prickly one,
She is a cold one - she is a snake.
With her repulsive scales she had a cruel fun:
She makes me constantly be sternly baked.
If only I can feel a sharpness of the sting!
She is such clumsy, dull, such still as beef,
She is such massive thing, she is such languid thing;
I haven't access to her - she's deadly deaf.
And she inflexibly with her repulsive rings
Always caresses me and strangles at all.
And this unreal thing, this black and awful thing,
This black and monstrous thing - is just my soul!
Vertaald door Yevgeny Bonver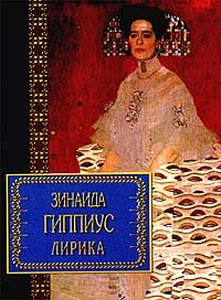 Zinaida Gippius (8 november 1869 – 9 september 1945)
Omslag biografie
Zie voor nog meer schrijvers van de 8e november ook mijn vorige blog van vandaag.

08-11-2010 om 18:13 geschreven door Romenu

Tags:Kazuo Ishiguro, Elfriede Brüning, Detlef Opitz, Zinaida Gippius, Romenu