E-mail mij


Druk op onderstaande knop om mij te e-mailen.


Romenu


Romenu is een blog over gedichten, literatuur en kunst Maar Romenu is ook een professionele freelance vertaler
Du-Ne en Ne-Du http://www.romenu.nl.


Huur eens een (vakantie)huis in een natuurgebied, dichtbij het centrum van Nijmegen


Google


Georg Trakl

Georg Trakl werd op 3 februari 1887 in het conducteurshuis aan de Waagplatz 2 in Salzburg geboren. Zijn vader, Tobias Trakl, was een handelaar in ijzerwaren en zijn moeder, die ook psychische problemen had, was Maria Catharina Trakl, (meisjesnaam Halik). Voorts had hij nog drie broers en drie zussen. Margarethe (doorgaans Grethe genoemd) stond hem het naast, zelfs zodanig dat sommigen een incestueuze verhouding vermoeden. Zijn jeugd bracht hij door in Salzburg. Vervolgens bezocht hij van 1897 tot 1905 het humanistische gymnasium. Om toch een academische opleiding te kunnen volgen, werkte hij tot 1908 in de praktijk bij een apotheker. Sommigen vermoedden dat hij dit vooral deed om zichzelf opiaten te kunnen verschaffen. Bij het uitbreken van WO I werd Trakl als medicus naar het front in Galicië (heden ten dage in Oekraïne en Polen) gestuurd. Zijn gemoedsschommelingen leidden tot geregelde uitbraken van depressie, die verergerd werden door de afschuw die hij voelde voor de verzorging van de ernstig verwonde soldaten. De spanning en druk dreven hem ertoe een suïcidepoging te ondernemen, welke zijn kameraden nochtans verhinderden. Hij werd in een militair ziekenhuis opgenomen in Kraków, alwaar hij onder strikt toezicht geplaatst werd.Trakl verzonk daar in nog zwaardere depressies en schreef Ficker om advies. Ficker overtuigde hem ervan dat hij contact moest opnemen met Wittgenstein, die inderdaad op weg ging na Trakls bericht te hebben ontvangen. Op 4 november 1914, drie dagen voordat Wittgenstein aan zou komen, overleed hij echter aan een overdosis cocaïne


Paul Celan

Paul Celan werd onder de naam Paul Antschel op 23 november 1920 geboren in Czernowitz, toentertijd de hoofdstad van de Roemeense Boekovina, nu behorend bij de Oekraïne. Paul Celans ouders waren Duitssprekende joden die hun zoon joods opvoedden en hem naar Duitse christelijke scholen stuurden. In 1942 werden Celans ouders door de Duitse bezetter naar een werkkamp gedeporteerd en daar vermoord. Hijzelf wist aanvankelijk onder te duiken, maar moest vanaf juli 1942 in een werkkamp dwangarbeid verrichten. Celan overleefde de oorlog. Via Boekarest en Wenen vestigde Celan zich in 1948 in Parijs. Daar was hij werkzaam als dichter, vertaler en doceerde hij aan de prestigieuze Ecole Normale Supérieure. Vermoedelijk op 20 april 1970 beëindigde hij zijn leven zelf door in de Seine te springen.


Gerard Reve

Gerard Reve over: Medearbeiders "God is in de mensen, de dieren, de planten en alle dingen - in de schepping, die verlost moet worden of waaruit God verlost moet worden, door onze arbeid, aangezien wij medearbeiders van God zijn." Openbaring "Tja, waar berust elk godsbegrip op, elke vorm van religie? Op een openbaring, dat wil zeggen op een psychische ervaring van zulk een dwingende en onverbiddelijke kracht, dat de betrokkene het gevoel heeft, niet dat hij een gedachte of een visioen heeft, maar dat een gedachte gedachte of visioen hem bezit en overweldigt."


Simon Vestdijk
Simon Vestdijk (Harlingen, 17 oktober 1898 – Utrecht, 23 maart 1971) was een Nederlands romancier, dichter, essayist en vertaler. Zijn jeugd te Harlingen en Leeuwarden beschreef hij later in de Anton Wachter-cyclus. Van jongs af aan logeerde hij regelmatig bij zijn grootouders in Amsterdam, waar hij zich in 1917 aan de Universiteit van Amsterdam inschrijft als student in de medicijnen. Tijdens zijn studie die van 1917 tot 1927 duurde, leerde hij Jan Slauerhoff kennen.Tot 1932 is hij als arts in praktijken door heel Nederland werkzaam. In 1932 volgt zijn officiële schrijversdebuut met de uitgave van de bundel Verzen in De Vrije Bladen. Doorslaggevend voor Vestdijks uiteindelijke keuze voor de literatuur is zijn ontmoeting in 1932 met Eddy Du Perron en Menno ter Braak. Deze ontmoeting had tot resultaat dat hij redactielid werd van het tijdschrift Forum Kort daarop, in 1933, wordt zijn eerste novelle, De oubliette, uitgegeven. In hetzelfde jaar schrijft hij Kind tussen vier vrouwen, dat, eerst geweigerd door de uitgever, later de basis zal vormen voor de eerste drie delen van de Anton Wachter-romans. In 1951 ontvangt Vestdijk de P.C. Hooftprijs voor zijn in 1947 verschenen roman De vuuraanbidders. In 1957 wordt hij voor het eerst door het PEN-centrum voor Nederland voorgedragen voor de Nobelprijs voor de Literatuur, die hij echter nooit zal krijgen. Op 20 maart 1971 wordt hem de Prijs der Nederlandse Letteren toegekend, maar voor hij deze kan ontvangen overlijdt hij op 23 maart te Utrecht op 72-jarige leeftijd. Vestdijk was auteur van ca. 200 boeken. Vanwege deze enorme productie noemde de dichter Adriaan Roland Holst hem 'de man die sneller schrijft dan God kan lezen'. Andere belangrijke boeken van Simon Vestdijk zijn: "Kind van stad en land" (1936), "Meneer Visser's hellevaart" (1936), "Ierse nachten" (1946), "De toekomst de religie" (1947), "Pastorale 1943" (1948), "De koperen tuin" (1950), "Ivoren wachters" (1951), "Essays in duodecimo" (1952) en "Het genadeschot" (1964).


K.P. Kavafis

K.P. Kavafis werd als kind van Griekse ouders, afkomstig uit Konstantinopel, geboren in 1863 in Alexandrië (tot vandaag een Griekse enclave) waar hij ook het grootste deel van zijn leven woonde en werkte. Twee jaar na de dood van zijn vader verhuist het gezin in 1872 naar Engeland om na een verblijf van vijf jaar naar Alexandrië terug te keren. Vanwege ongeregeldheden in Egypte vlucht het gezin in 1882 naar Konstantinopel, om na drie jaar opnieuw naar Alexandrië terug te gaan. In de jaren die volgen maakt Kavafis reizen naar Parijs, Londen en in 1901 zijn eerste reis naar Griekenland, in latere jaren gevolgd door nog enkele bezoeken. Op de dag van zijn zeventigste verjaardag, in 1933 sterft Kavafis in Alexandrië. De roem kwam voor Kavafis pas na zijn dood, dus postuum. Deels is dat toe te schrijven aan zijn eigen handelswijze. Hij was uiterst terughoudend met de publicatie van zijn gedichten, liet af en toe een enkel gedicht afdrukken in een literair tijdschrift, gaf in eigen beheer enkele bundels met een stuk of twintig gedichten uit en het merendeel van zijn poëzie schonk hij op losse bladen aan zijn beste vrienden.


Thomas Mann


Thomas Mann, de jongere broer van Heinrich Mann, werd geboren op 6 juni 1875 in Lübeck. Hij was de tweede zoon van de graankoopman Thomas Johann Heinrich Mann welke later één van de senatoren van Lübreck werd. Zijn moeder Julia (geboren da Silva-Bruhns) was Duits-Braziliaans van Portugees Kreoolse afkomst. In 1894 debuteerde Thomas Mann met de novelle "Gefallen". Toen Thomas Mann met 21 jaar eindelijk volwassen was en hem dus geld van zijn vaders erfenis toestond - hij kreeg ongeveer 160 tot 180 goldmark per jaar - besloot hij dat hij genoeg had van al die scholen en instituties en werd onafhankelijk schrijver. Kenmerkend voor zijn stijl zijn de ironie, de fenomenale taalbeheersing en de minutieuze detailschildering. Manns reputatie in Duitsland was sterk wisselend. Met zijn eerste roman, Buddenbrooks (1901), had hij een enorm succes, maar door zijn sceptische houding tegenover Duitsland na de Eerste Wereldoorlog veranderde dit volledig. Stelde hij zich tot aan de jaren twintig apolitiek op (Betrachtungen eines Unpolitischen, 1918), meer en meer raakte hij bij het Politiek gebeuren betrokken. Zijn afkeer van het nationaal socialisme groeide, zijn waarschuwingen werden veelvuldiger en heftiger. In 1944 accepteerde hij het Amerikaanse staatsburgerschap. Tussen 1943 en 1947 schreef Mann Doktor Faustus (zie Faust), de roman van de 'Duitse ziel' in de gecamoufleerd geschilderde omstandigheden van de 20ste eeuw. In 1947 bezocht hij voor het eerst sinds de Oorlog Europa, twee jaar later pas Duitsland. In 1952 vertrok hij naar Zwitserland. Op 12 augustus 1955 stierf hij in Zürich. Twintig jaar na zijn dood, in aug. 1975, is zijn literaire nalatenschap geopend: dagboekaantekeningen van 15 maart 1933 tot 29 juli 1955, alsmede notities uit de jaren 1918 tot en met 1921.Belangrijke werken zijn: Der Zauberberg, Der Tod in Venedig, Dokter Faustus , Joseph und seine Brüder en Die Bekenntnisse des Hochstaplers Felix Krull.


Rainer Maria Rilke

Rilke werd op 4 december 1875 geboren in Praag. Hij had al naam gemaakt als dichter met zijn bundels Das Stundenbuch en Das Buch der Bilder, toen hij de literaire wereld versteld deed staan en wereldfaam verwierf met de publicatie van zijn twee delen Neue Gedichte in 1907 en 1908. Hij verzamelde daarin het beste werk uit een van zijn vruchtbaarste periodes, die hij grotendeels doorbracht in Parijs. Rilke was daar diep onder de indruk gekomen van Rodin, bij wie hij een tijdlang in dienst was als particulier secretaris. Rodin, zei hij later, had hem leren kijken. Dit kijken kwam neer op intense concentratie, om het mysterie te kunnen zien 'achter de schijnbare werkelijkheid'. Latere en rijpere werken als Duineser Elegien (1912-1923) en het ronduit schitterende Die Sonette an Orfeus (1924) illustreren Rilkes metafysische visie op het onzegbare, dat haar verwoording vindt in een hermetische muzikale taal. Op 29 december 1926 overlijdt Rilke in het sanatorium in Val-Mont aan de gevolgen van leukemie. Enkele dagen later wordt hij, overeenkomstig zijn wens, begraven op het kerkhof van Raron.


* * * * * * * * * * * * * * * *

| | |
| --- | --- |
| | Over literatuur, gedichten, kunst en cultuur |

08-11-2010

AKO Literatuurprijs voor David Van Reybrouck
AKO Literatuurprijs voor David Van Reybrouck
De Belgische schrijver David van Reybrouck is met zijn boek "Congo" de winnaar van de AKO Literatuurprijs 2010. Dat maakte juryvoorzitter Femke Halsema vanavond bekend in het Teylers museum in Haarlem. De winnaar ontvangt een bedrag van 50.000 euro en een sculptuur van Eugène Peters. Zie ook mijn blog van 30 mei 2009 en ook mijn blog van 30 mei 2010.
Uit: Congo. Een geschiedenis
«De eerste keer dat ik naar Oost-Congo vloog, in 2007, voor een begrafenis van een vermoorde journalist dan nog, was ik er bijna geweest. Boven het vliegveld van Bukavu waren we in een onwaarschijnlijk tropisch onweer beland. De Boeing raakte maar de helft van de overstroomde landingsbaan en kon niet stoppen. Oog in oog met een ravijn die de DC-9 zeker in tweeën had gebroken, stuurde de piloot 'm dan maar een wei in: daar liepen we vast in de modder. We hadden net getankt, de fuel druppelde van de vleugels. Als je je daar dan in zeven haasten wegmaakt over de landingsbaan, onder regendruppels als marbels zo groot, en nog eens omkijkt naar dat vliegtuig met z'n wielen in de modder, dan denk je: 'Chance gehad!'»
«Eén keer ben ik aangehouden door de veiligheidsdiensten omdat ik foto's nam in de buurt van een postgebouw; er was in geen dertig jaar nog een brief verstuurd, maar het gold toch als strategisch gebouw. Daar ben ik alleen weggeraakt omdat ik er met een vriend was die journalist is en die, op zondagmiddag, de minister van Buitenlandse Zaken wist te bereiken - Congo is een enorm land, maar de lijnen met de macht zijn er korter dan hier. Hij gaf zijn gsm door aan de agent voor ons, en die hoorde ik zeggen: 'Non, mon excellence, nous ne sommes pas en train de brutaliser le blanc!' Nog mochten we niet weg; dat lukte pas toen mijn vriend de hoogste in rang daar duidelijk maakte dat hij ook het nummer van president Kabila zelf had.»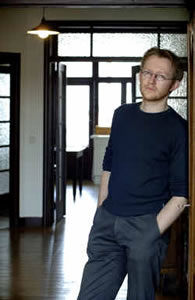 David van Reybrouck (Brugge, 11 september 1971)



Zie voor de schrijvers van de 8e november
mijn vorige blog van vandaag.
08-11-2010 om 22:38 geschreven door Romenu

Tags:AKO Literatuurprijs, David Van Reybrouck, Romenu



Kazuo Ishiguro, Elfriede Brüning, Detlef Opitz, Zinaida Gippius
De Japanse schrijver Kazuo Ishiguro werd op 8 november 1954 geboren in Nagasaki. Zie ook mijn blog van 8 november 2006 en ook mijn blog van 8 november 2007 en ook mijn blog van 8 november 2008 en ook mijn blog van 8 november 2009.
Uit: The Unconsoled
"The taxi driver seemed embarrassed to find there was no one-not even a clerk behind the reception desk-waiting to welcome me. He wandered across the deserted lobby, perhaps hoping to discover a staff member concealed behind one of the plants or armchairs. Eventually he put my suitcases down beside the elevator doors and, mumbling some excuse, took his leave of me.
The lobby was reasonably spacious, allowing several coffee tables to be spread around it with no sense of crowding. But the ceiling was low and had a definite sag, creating a slightly claustrophobic mood, and despite the sunshine outside the light was gloomy. Only near the reception desk was there a bright streak of sun on the wall, illuminating an area of dark wood panelling and a rack of magazines in German, French and English. I could see also a small silver bell on the reception desk and was about to go over to shake it when a door opened somewhere behind me and a young man in uniform appeared.
'Good afternoon, sir,' he said tiredly and, going behind the reception desk, began the registration procedures. Although he did mumble an apology for his absence, his manner remained for a time distinctly off-hand. As soon as I mentioned my name, however, he gave a start and straightened himself.
'Mr Ryder, I'm so sorry I didn't recognise you. Mr Hoffman, the manager, he was very much wanting to welcome you personally. But just now, unfortunately, he's had to go to an important meeting.'
'That's perfectly all right. I'll look forward to meeting him later on.'
The desk clerk hurried on through the registration forms, all the while muttering about how annoyed the manager would be to have missed my arrival. He twice mentioned how the preparations for 'Thursday night' were putting the latter under unusual pressure, keeping him away from the hotel far more than was usual. I simply nodded, unable to summon the energy to enquire into the precise nature of 'Thursday night'.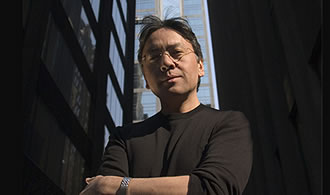 Kazuo Ishiguro (Nagasaki, 8 november 1954)
De Duitse schrijfster Elfriede Brüning werd geboren op 8 november 1910 in Berlijn. Na het verlaten van de middelbare school werkte ze als kantoorbediende en vanaf 1929 als secretaresse in een Berlijnse firma in de filmindustrie. In dezelfde tijd verscheen haar eerste journalistieke werk in diverse kranten. Zij werd lid van de KPD en begon tijdens de republiek van Weimar te werken voor de communistische pers. De machtsgreep van de nazi's voorkwam in 1933 de uitgave van haar eerste, maatschappijkritische roman "Handwerk hat goldenen Boden" (hij verscheen voor het eerst in 1970 onder de titel "Kleine Leute"). Bruning richtte zich op de ontspanningsliteratuur en publiceerde in 1934 de succesvolle roman " Und außerdem ist Sommer." In de eerste jaren van het Derde Rijk werkte Elfriede Brüning voor het communistische verzet. Tijdens de Tweede Wereldoorlog verbleef ze op het landgoed van haar schoonfamilie in de buurt van Magdeburg. Zij kwam 1946 terug in Berlijn. Ze werd opnieuw lid van de KPD en werkte voor Oost-Berlijnse kranten en tijdschriften. Sinds 1950 werkte zij als freelance schrijver in Berlijn. Ze is de auteur van romans, korte verhalen, artikelen en tv-scenario's. Elfriede Brüning ontving o.a. de Goethe-prijs van de hoofdstad van de DDR en de literaire prijs van de Demokratische Frauenbundes Deutschlands. Vandaag viert zij haar 100e verjaardag.
Uit: Kaffeefahrt ins Paradies
"Eigentlich hatte ich mir geschworen, nie mehr mitzufahren. Ich war ein gebranntes Kind.
Eine der früheren Reisen sollte uns in den frühlingshaften Spreewald bringen. Doch in dem Kaff, wo wir hielten, war im ganzen Umkreis weder ein Zipfel der Spree noch auch nur ein einziger Baum zu erspähen. Und da auch weit und breit keine Bahn oder Bus oder auch kein weiteres, etwas gemütlicheres Restaurant vorhanden war, in das man sich hätte flüchten können, blieb man in dem unwirtlichen Saal, in den man uns verfrachtet hatte, dem Werbesprecher und seinem stundenlangen Redefluß ausgeliefert, bis man sich endlich, völlig entnervt, zum Kauf einer seiner angeblich so preiswerten Lammfelldecken oder Massage- Betten entschloß, die man dann anderntags in ganz derselben Verpackung, aber um Hunderte billiger, in den Kaufhäusern liegen sah. Auch eine der so beliebten "Schnäppchen-Fahrten" zum Polenmarkt erwies sich als Flop. Denn da unser Fahrer gehalten war, sein Gefährt auf dem diesseitigen Parkplatz abzustellen, drangen wir in das polnische Nachbarland gar nicht erst vor, weil der uns empfohlenen Fußweg über die lange Brücke nach Polen für die meisten Teilnehmer viel zu beschwerlich war. Einigen gelang es gerade noch, sich bis zu dem nahen Cafe zu schleppen, wo sie die Stunden bis zur festgesetzten Rückfahrt bei Torte und Schlagsahne hinter sich brachten. Die übrigen blieben im Bus oder "lustwandelten", falls sie den unbezwinglichen Drang verspürten, ein wenig Luft zu schnappen, zwischen den zahlreichen Lastwagen, die den Parkplatz blockierten.
Doch diesmal würde ja alles ganz anders sein. Zu einem "Badischen Weinfest" wurde geladen, mit Herbst-Tombola (im Februar), einem "original badischen Winzeressen" mit Weinprobe, der Wahl einer Weinkönigin und mehreren Litern Wein "nach Ihrem Geschmack". Zusätzlich hieß es weiter", erhalten Sie, Frau B., das schmackhafte Winzerwurstpaket, insgesamt 2250 g feinster Delikatessen" – alles im Fahrpreis einbegriffen. Am Nachmittag sollte der Ausflug "mit herrlicher Landschaftsfahrt" enden."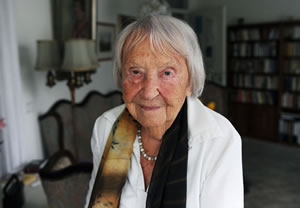 Elfriede Brüning (Berlijn, 8 november 1910)
De Duitse schrijver Detlef Opitz werd geboren op 8 november 1956 in Steinheidel-Erlabrunn. Zie ook mijn blog van 8 november 2008 en ook mijn blog van 8 november 2009.
Uit: Klio. Ein Wirbel um L.
"(...) mehr als die nüchternen Mitteilungen der Geschichtsbücher, mehr als die spröde Arithmetik historischer Prozesse, mehr als die angereicherten Spalten in heimatlichen Blättern liebe ich die Aufzählungen in den gemeinten Opera, die langen bunten Sätze der hoffnungslos antiquierten Schreiberlings, die oftmals mehrere Seiten umfassenden, ganze Kapitel andauernden, nach irgendwelchen verrotteten Pergamenten, nach Klosterakten, unförmigen Folianten gestalteten, aus den cachotigsten Archiven zusammengeholten wortreichen Illustrationen solch nebensächlicher Dinge, wie es der Festzug war, der an Rogate des Jahres '15 die Strassen der Stadt Halle passierte - was untertreibe ich?-, der die mit Fahnen und Emblemen, mit Girlanden und Heiligenbildern verzierten, die mit feiertäglich herausgepützeltem Volk, mit freigebigturpisen Puttanen, fidelvergnügten Krüppeln, glückseelsblöden Hungerleidern und absolut nervenden Bälgern, Bastarden, aber auch mit Würstchen, Gebäck, Met und Limonaden feilbietenden Marketendern gesäumten, die mit Teppichen und Rosenblüten, Panieren und den funkelnden Instrumentarien der Bürgerwehren geschmückten hallischen Strassen passierte (...)"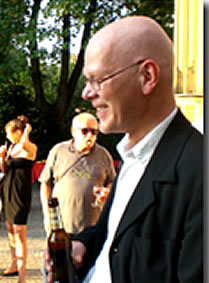 Detlef Opitz (Steinheidel-Erlabrunn, 8 november 1956)
De Russische dichteres en schrijfster Zinaida Gippius werd geboren op 8 november 1869 in Beljov in de buurt van Tula. Zie ook mijn blog van 8 november 2008 en ook mijn blog van 8 november 2009.
So It Is
1918
If light is felled – I am able to see nothing,
If a man is a beast – I hate him and scorn,
If he's worse than beasts – I kill him, laughing,
If my Russia is over – I die and I mourn.
She
In her despiteous and shameless wickedness
She is, as ashes, grey or grey as dust.
And I am perishing from just her nearness,
From bonds that solidly connected us.
She is a coarse one, she is a prickly one,
She is a cold one - she is a snake.
With her repulsive scales she had a cruel fun:
She makes me constantly be sternly baked.
If only I can feel a sharpness of the sting!
She is such clumsy, dull, such still as beef,
She is such massive thing, she is such languid thing;
I haven't access to her - she's deadly deaf.
And she inflexibly with her repulsive rings
Always caresses me and strangles at all.
And this unreal thing, this black and awful thing,
This black and monstrous thing - is just my soul!
Vertaald door Yevgeny Bonver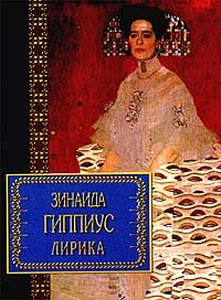 Zinaida Gippius (8 november 1869 – 9 september 1945)
Omslag biografie
Zie voor nog meer schrijvers van de 8e november ook mijn vorige blog van vandaag.

08-11-2010 om 18:13 geschreven door Romenu

Tags:Kazuo Ishiguro, Elfriede Brüning, Detlef Opitz, Zinaida Gippius, Romenu



Peter Weiss, Martha Gellhorn, Margaret Mitchell, Bram Stoker
De Duitse schrijver Peter Weiss werd geboren op 8 november 1916 in Nowawes (het tegenwoordige Neubabelsberg) bij Berlijn. Zie ook mijn blog van 8 november 2006 en ook mijn blog van 8 november 2008.
Uit: Die Ästhetik des Widerstands
"Es handelte sich nicht um die Arbeit, so wie mein Vater von ihr sprach, um die Arbeit als Vorgang der Selbstverwirklichung, sondern um Arbeit geleistet zu niedrigstem Preis und zu höchstem Profit des
Arbeitkäufers. Da nur die Arbeitenden zu sehn waren, mit ihrem ganzen Dasein den Tätigkeiten hingegeben, wurde der Eindruck erweckt, dass sie das Werk beherrschten. Sie füllten, kraftvoll skulptiert vom Schein des Feuers, den Raum aus. Beim ersten Anblick, sagte mein Vater, als wir uns im Kunstmuseum befanden, stellen sie sich in der überwältigenden Dominanz von Produktivkräften dar. Und doch bestätigen sie nur bis ins letzte die Regeln der Arbeitsteilung. Es wirkt, als handelten sie selbständig, sie existieren aber einzig in ihrer Bindung an die Maschinen und Geräte, die das Eigentum andrer sind. Diese andern waren nicht zu sehn, die Arbeitenden jedoch waren ihnen
verdingt. Auch sie, die im verdreckten Winkel kauerten, eine Welle für sich, fast wie im Besitz eines eignen Lebens, warteten nur auf das Signal, das sie wieder zurückrief. Ihre Stärke entwickelten sie allein im Handwerk, und auch dort waren die Bewegungen ihrer Arme nicht bedrohlich, es war deutlich, dass sie diese ausschließlich zur Erzeugung von Gütern verwenden würden. Die Lobpreisung der Arbeit war eine Lobpreisung der Unterordnung. Die Männer, die sich von Funken umsprüht um die glühende Eisenmasse scharten, die sich am Trog wuschen, und sie, die übermüdet vor sich hinstarrend bei ihrer Mahlzeit saßen und vor denen die junge Frau mit dem verhärmten, ängstlich aufblickenden Gesicht die leeren Becher in den Korb packte, sie alle waren machtlos. Die Tiefe der Fabrik war unbestimmbar, die Reihen der senkrechten und horizontalen Eisenträger und Rohre zogen sich als Gitterwerk ins Unendliche hin. Der sich im Rauch verlierende Bau war eine Welt, aus der es kein Entrinnen gab. Besaßen wir heute auch eine Kantine, einen Waschraum, eine Umkleidekammer und konnten mit technischen Verbeßrungen rechnen, so war der Produktionsgang doch noch der selbe, wie Menzel ihn dargestellt hatte Achtzehnhundert Fünfundsiebzig, vier Jahre nach der Zerschlagung der Commune. Ihre gesammelte Energie legten die Arbeiter in die Herstellung der eisernen Blöcke, aus denen Schienen, Lafetten, Kanonenrohre wurden. Ihre Friedfertigkeit schmolzen sie um zu einer Gewalt, die sich, von weit draußen her, gegen sie, gegen ihre Interessen richten würde."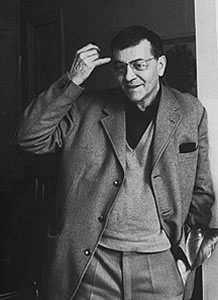 Peter Weiss (8 november 1916 - 10 mei 1982)
De Amerikaanse schrijfster en oorlogscorrespondente Martha Ellis Gellhorn werd geboren in St. Louis, Missouri op 8 november 1908. Zie ook mijn blog van 8 november 2008.
Uit: Is There a New Germany?
"Criticize, to doubt, to probe the Germans is by now not only anti-German but apparently unAmerican. In eighteen years, we have turned an astonishing emotional and intellectual somersault. Have the Germans done anything of the sort? Is there a "New Germany," or is there simply another Germany? My acquaintance with Germany began in 1924 and continued until the end of the Nürnberg Trials, though from the summer of 1936 until American troops entered Germany during the war, I watched from a distance and listened to those who had escaped the fatherland. In these post-war years, while the United States has become officially more loving every minute toward its former enemy, I have been reading of this New Germany, and wondering. Last winter I returned to West Germany to try to find what must be New Germans, those who were children or newly born at the end of the Second World War, so young then as to be untouched by the poison their people fed on for twelve years.
I had one introduction, to a Hungarian journalist established in Germany after the Hungarian revolution of 1956. My plan was to visit universities; I meant to meet Germany's future rulers. Hitler was a freak in German history in the sense that he was semiliterate; Germany is normally directed by university graduates, and the academic title Doctor has always abounded in German governmental circles. From the University of Hamburg, through those of Free Berlin, Frankfurt, Bonn, and Munich, I was passed along by students, either casually met or introduced by the student self-government in each university. We were strangers, they having no ideas about me and I no ideas about them. There was nothing official in this tour. I would wander into a student government office and chat with anyone I could find, and in turn they whistled up anyone they could find with spare time and a wish to talk; though I did try to meet all kinds, ranging from socialist to nationalist to don't-know."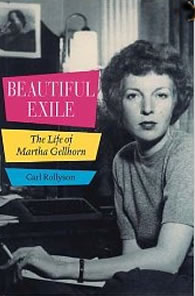 Martha Ellis Gellhorn (8 november 1908 - 16 februari 1998)
De Ameikaanse schrijfster Margaret Mitchell werd geboren op 8 november 1900 in Atlanta, Georgia. Zie ook mijn blog van 8 november 2006 en ook mijn blog van 8 november 2008.
Uit: Gone with the wind
"She began asking questions so brusquely and giving orders so decisively Pork's eyebrows went up in mystification. Miss Ellen didn't never talk so short to nobody, not even when she caught them stealing pullets and watermelons. She asked again about the fields, the gardens, the stock, and her green eyes had a hard glaze which Pork had never seen in them before.
"Yas'm, dat hawse daid, layin' dar whar Ah tie him wid his nose in de water bucket he tuhned over. No'm, de cow ain' daid. Din' you know? She done have a calf las' night. Dat why she beller so."
"A fine midwife your Prissy will make," Scarlett remarked caustically. "She said she was bellowing because she needed milking."
"Well'm, Prissy ain' fixing to be no cow midwife, Miss Scarlett," Pork said tactfully. "An' ain' no use quarrelin' wid blessin's, cause dat calf gwine ter mean a full cow an' plen'y buttermilk fer de young Misses, lak dat Yankee doctah say dey'd need."
"All right, go on. Any stock left?"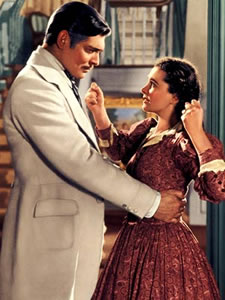 Scene uit de film 'Gone with the wind'


"No'm. Nuthin' 'cept one ole sow an' her litter. Ah driv dem inter de swamp de day de Yankees come, but de Lawd knows how we gwine get dem. She mean, dat sow."
"We'll get them all right. You and Prissy can start right now hunting for her."
Pork was amazed and indignant.
"Miss Scarlett, dat a fe'el han's bizness. Ah's allus been a house nigger."
A small fiend with a pair of hot tweezers plucked behind Scarlett's eyeballs.
"You two will catch the sow -- or get out of here, like the field hands did."
Tears trembled in Pork's hurt eyes. Oh, if only Miss Ellen were here! She understood such niceties and realized the wide gap between the duties of a field hand and those of a house nigger.
"Git out, Miss Scarlett? Whar'd Ah git out to, Miss Scarlett?"
"I don't know and I don't care. But anyone at Tara who won't work can go hunt up the Yankees. You can tell the others that too."
"Yas'm."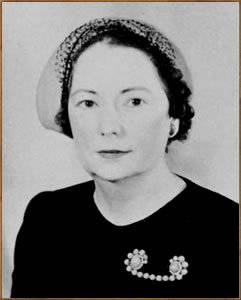 Margaret Mitchell (8 november 1900 – 16 augustus 1949)
De Ierse schrijver Bram Stoker werd geboren op 8 november 1847 in Clontarf, een wijk van Dublin in Ierland. Zie ook mijn blog van 8 november 2006 en ook mijn blog van 8 november 2008.
Uit: Dracula
"In the population of Transylvania there are four distinct nationalities: Saxons in the South, and mixed with them the Wallachs, who are the descendants of the Dacians; Magyars in the West, and Szekelys in the East and North. I am going among the latter, who claim to be descended from Attila and the Huns. This may be so, for when the Magyars conquered the country in the eleventh century they found the Huns settled in it.
I read that every known superstition in the world is gathered into the horseshoe of the Carpathians, as if it were the centre of some sort of imaginative whirlpool; if so my stay may be very interesting. (Mem., I must ask the Count all about them.)
I did not sleep well, though my bed was comfortable enough, for I had all sorts of queer dreams. There was a dog howling all night under my window, which may have had something to do with it; or it may have been the paprika, for I had to drink up all the water in my carafe, and was still thirsty. Towards morning I slept and was wakened by the continuous knocking at my door, so I guess I must have been sleeping soundly then.
I had for breakfast more paprika, and a sort of porridge of maize flour which they said was 'mamaliga', and egg-plant stuffed with forcemeat, a very excellent dish, which they call 'impletata'. (Mem., get recipe for this also.)
I had to hurry breakfast, for the train started a little before eight, or rather it ought to have done so, for after rushing to the station at 7:30 I had to sit in the carriage for more than an hour before we began to move.
It seems to me that the further east you go the more unpunctual are the trains. What ought they to be in China?
All day long we seemed to dawdle through a country which was full of beauty of every kind. Sometimes we saw little towns or castles on the top of steep hills such as we see in old missals; sometimes we ran by rivers and streams which seemed from the wide stony margin on each side of them to be subject to great floods. It takes a lot of water, and running strong, to sweep the outside edge of a river clear.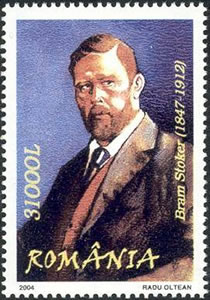 Bram Stoker (8 november 1847 – 20 april 1912)

08-11-2010 om 18:12 geschreven door Romenu

Tags:Peter Weiss, Martha Gellhorn, Margaret Mitchell, Bram Stoker, Romenu



Joshua Ferris
De Amerikaanse schrijver Joshua Ferris werd op 8 november 1974 in Danville, Illinois geboren. Ferris debuteerde in 2006 met de roman Zo kwamen we aan het eind. Ferris studeerde Engels en filosofie aan de universiteit van Iowa, werkte een aantal jaren in de reclamewereld, en behaalde daarna een Master of Fine Arts aan de UC Irvine.
Uit: The Unnamed
It was the cruelest winter. The winds were rabid off the rivers. Ice came down like poisoned darts. Four blizzards in January alone, and the snowbanks froze into gray barricades as grim and impenetrable as anything in war. Tombstones were buried across the cemetery fields and cars parked curbside were swallowed undigested. The long-term debate about changing weather was put aside for immediate concern for the elderly and the shut-ins, while the children went weeks without school. Deliveries came to a halt and the warehouses clogged up on days the planes were approved to land. There were lines at the grocery store, short tempers, a grudging toward the burden of adjustment. Some clever public services addressed the civic concerns — heat shelters, volunteer home checks. The cold was mother of invention, a vengeful mother whose lessons were delivered at the end of a lash.
The ride home was slow going because of the snow and the traffic. He usually worked by eyelet light but this evening he brought no work home and sat in one quadrant of the car without file opened or pen in hand. They were waiting for him. They didn't know they were waiting for him. The driver had on 1010 WINS, traffic and transit on the ones. Somewhere, out to sea or in the South, it might not be snowing. Here it slanted into the windshield like white ash from a starburst. The frostbite had returned to his fingers and toes. He unbuckled the seat belt and leaned over, stretching his long torso across the backseat, and what the driver thought he didn't care. The sound of the radio faded as one ear was sealed up by the distressed leather and he put a hand on the floor mat and ran his tingling fingertips over the fibertrapped pebbles. He hadn't called to tell them. He had lost his phone. They were waiting for him, but they didn't know it.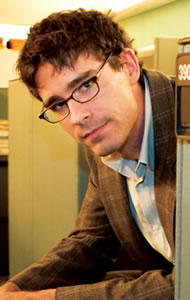 Joshua Ferris (Danville, 8 november 1974
)

08-11-2010 om 00:00 geschreven door Romenu

Tags:Joshua Ferris, Romenu



| | |
| --- | --- |
| | |



Inhoud blog


| | |
| --- | --- |
| | In Memoriam F. Starik |
| | Siegfried Lenz, Thomas Melle, Rense Sinkgraven, Hafid Aggoune, Hans Wollschläger, William Ford Gibson |
| | Patrick Hamilton, Karl Gutzkow, Urmuz, Jean Ingelow, Ebenezer Elliott, Paul Green |
| | P.C. Hooft, Bredero, Dirk von Petersdorff, Zoë Jenny, Alice Hoffman, Hooshang Golshiri, Francisco Ayala, César Vallejo, Per Leo |
| | Ben Okri, David Albahari, Louis Paul Boon, Kurt Drawert, Gerhard Seyfried, Andreas Okopenko, An Rutgers van der Loeff, Prosper van Langendonck, Paul Heyse |
| | Pam Ayres, Jochen Schimmang, Horton Foote, Volker von Törne, Olivier Delorme, Alexandru Macedonski, Albert Robida, Theodore de Banville, Wout Waanders |
| | Mahmoud Darwish, Yuri Andrukhovych, Didier Decoin, Vladimir Makanin, Yeghishe Charent, Geert van Beek, Jan H. de Groot, Kemal Tahir, Joseph Beaumont |
| | Dave Eggers, Jenny Erpenbeck, Jack Kerouac, Henrike Heiland, Naomi Shihab Nye, Carl Hiaasen, Edward Albee, De Schoolmeester, Gabriele d'Annunzio |
| | Nicodemus (Muus Jacobse) |
| | Leena Lehtolainen, Karl Krolow, Daan de Ligt, Frans Vogel, Willem Claassen, Amal Karam, Max Hermens, Eva Meijer, Helena Hoogenkamp |
| | Ernst Wichert, Douglas Adams, Torquato Tasso, Georg Maurer, Josef Martin Bauer, Maartje Smits |
| | John Rechy, Hilde Van Cauteren, Joseph von Eichendorff, Jakob Wassermann, Karel van de Woestijne, Chloé Delaume, Friedrich Schlegel |
| | Boris Vian, Manolis Anagnostakis, Peter McArthur, Samuel Ferguson, Georges Dor, Pedro Antonio de Alarcón, Otto Heinrich Kühner |
| | Koen Peeters, Peter Zantingh, Ed Hoornik, Heere Heeresma, Peter Altenberg, Vita Sackville-West, Josef Weinheber, Taras Sjevtsjenko, Umberto Saba |
| | Jeffrey Eugenides, Walter Jens, Hafid Bouazza, Cándani, A. Marja, Aslı Erdoğan, John McPhee, Mouloud Feraoun, Dominic Angeloch |
| | Bret Easton Ellis, Robert Harris, Jürgen Theobaldy, Georges Perec, Abe Kōbō, Reinhard Kaiser, Manfred Gregor, Jan Frederik Helmers, Alessandro Manzoni |
| | Patrick deWitt, Gabriel García Márquez, Jeremy Reed, Marijke Hanegraaf, Thomas Acda, Günter Kunert, Clark Accord, Elizabeth Barrett Browning, Michelangelo |
| | Pier Paolo Pasolini, Koos van Zomeren, Jurre van den Berg, Arthur van Schendel, Nelly Arcan, Jean Orizet, Leslie Marmon Silko, Frank Norris, Ennio Flaiano |
| | De tempelreiniging (Nicolaas Beets) |
| | Robert Kleindienst, Khaled Hosseini, Kristof Magnusson, Irina Ratushinskaya, Alan Sillitoe, Ryszard Kapuściński, Jean-Joseph Rabearivelo, Annette Seemann |
| | F. W. Bernstein, Giorgio Bassani, Bernardo Ashetu, Léon-Paul Fargue, Kito Lorenc, Jacques Dupin, Thomas S. Stribling |
| | Manfred Flügge, Hans Verhagen, Tjitske Jansen, James Merrill, Kola Boof, Clifton Snider, Gudrun Pausewang, Chris Kraus |
| | Josef Winkler, Heinz Knobloch, Alexandros Papadiamantis, Charles Sealsfield, William Godwin, Paul Guimard, Edmund Waller, Thomas Otway |
| | Godfried Bomans, Multatuli, Frank Albers, John Irving, Thom Wolfe, Michael Salinger, János Arany, Olivia Manning, Rinske Kegel |
| | Jan Eijkelboom, Jim Crace, Delphine de Vigan, Franz Hohler, Lytton Strachey, Robert Lowell, Myrthe van der Meer, Franzobel, Steven Barnes |
| | Peter Pessl |
| | Benedict Wells |
| | Bart Koubaa, Stephen Spender, John Montague, Josef Svatopluk Machar, Luc Dellisse, Marcel Pagnol, Bodo Morshäuser, Martin Suter, Yórgos Seféris |
| | Howard Nemerov, Daniel Handler, Dee Brown, Michel de Montaigne, Marin Sorescu, Saul Williams |
| | Cynan Jones, John Steinbeck, Ruy Belo, Lawrence Durrell, André Roy, Henry Longfellow, Elisabeth Borchers, James T. Farrell, Irwin Shaw |
| | Michel Houellebecq, Victor Hugo, Adama van Scheltema, George Barker, Ulrike Syha, Hermann Lenz, Antonin Sova, Jean Teulé, Elias Annes Borger |
| | De verheerlijking op den berg (Nicolaas Beets) |
| | Amin Maalouf, Aldo Busi, Gabriël Smit, Anthony Burgess, Robert Rius, Karl May, Lesja Oekrajinka, Karel Toman, Vittoria Colonna |
| | Franz Xaver Kroetz, Gérard Bessette, Mary Chase, Karl Wilhelm Ramler, Friedrich von Spee, Carlo Goldoni, Quirinus Kuhlmann |
| | Leon de Winter, Alain Mabanckou, George Moore, Erich Loest, Herman Maas, Luc Verbeke, Wilhelm Grimm, Friedrich Spielhagen, Jacques Presser |
| | August Derleth, Keto von Waberer, Yüksel Pazarkaya, Erich Pawlu, Irène Némirovsky, Vincent Voiture, Rosalía de Castro, Paul Alfred Kleinert, Stanisław Witkiewicz |
| | César Aira, Robert Gray, Jef Geeraerts, Bernard Cornwell, Ljoedmila Oelitskaja, Toon Kortooms, Jo Ypma, Sonya Hartnett, Maxim Februari |
| | Arnon Grunberg, Rob Schouten, Ruben van Gogh, Paul van Ostaijen, Hugo Ball, Danilo Kis, Sean O'Faolain, Ishmael Reed, Edna St. Vincent Millay |
| | J.M.A. Biesheuvelprijs voor Annelies Verbeke |
| | Herman de Coninck, Tom van Deel, Jonathan Safran Foer, Hans Andreus, David Avidan, Chuck Palahniuk, Wystan Hugh Auden, Laure Limongi, Justus van Effen |
| | P. C. Boutens, David Nolens, Ellen Gilchrist, Julia Franck, Georges Bernanos, William Carleton, Cornelis Sweerts, Johann Heinrich Voß, Pierre Boulle |
| | Michiel Stroink, Siri Hustvedt, Helen Fielding, Jaan Kross, Helene Hegemann, Björn Kuhligk, Thomas Brasch, Dmitri Lipskerov, Wolfgang Fritz |
| | De verzoeking in de woestijn (Nicolaas Beets) |
| | Nick McDonell, Robbert Welagen, Bart FM Droog, Maarten Mourik, Huub Beurskens, Gaston Burssens, Toni Morrison, Elke Erb, Charlotte Van den Broeck |
| | Níkos Kazantzákis, Jean M. Auel, Audre Lorde, Mór Jókai, Hedwig Courths-Mahler, Alexander Kielland, Wallace Stegner, Leone Battista Alberti |
| | Shahrnush Parsipur, Willem Thies, Sadegh Hedayat, Yevgeni Grishkovetz, Albert Kuyle, Jaroslav Vrchlický, Chaim Potok, Mo Yan, Frederik Hetmann |
| | Emmy Hennings, Mori Ōgai, Gustavo Bécquer, Georg Britting, Andrew Paterson, Margaret Truman, Ruth Rendell, Fjodor Sologoeb |
| | Pêr-Jakez Helias, Georg Weerth, Friedrich Klinger, Louisa Lawson, Max Schneckenburger, Maria Rossetti |
| | Ingmar Heytze, Elisabeth Eybers, Anil Ramdas, Iain Banks, Alfred Kolleritsch, Aharon Appelfeld, Iris Kammerer, Annie van Gansewinkel, Richard Ford |
| | Nederlandse Boekhandelsprijs 2018 voor Murat Isik |


Gastenboek


Druk op onderstaande knop om een berichtje achter te laten in mijn gastenboek