De Duitse dichter en schrijver Wolf Wondratschek werd geboren op 14 augustus 1943 in Rudolstadt. Zie ook mijn blog van 14 augustus 2008. en ook mijn blog van 14 augustus 2009 en ook mijn blog van 14 augustus 2010.
Uit: Mozarts Friseur
"Der Friseur, so die Legende, ist eine Mischung aus einem arabischen Findelkind und einem (gewordenen) Wiener, aufgefunden von Nomaden und von ihnen am Leben gehalten, gesäugt von Kamelen, nachts warm gehalten von ihrem Dung, bemuttert von Palmenschatten, in die man ihn während der Ruhepausen bettete. Die Hölle war es trotzdem. Mit dem Lebenswillen eines Weggeworfenen wehrte er sich gegen das Verdursten und Verhungern, gegen Fieber und das Verbrennen der Augen. Bedürfnislos wie die Tiere, die ihn trugen, kam er durch. Eine Gruppe von Matrosen, die um eine Wasserpfeife saß, nahm das verlorene kleine Bündel in Port Said an Bord ihres Frachters (mit Ziel São Paulo), in keiner Absicht. In den Wüsten, erklärten sie, sei der Sand, am Himmel die Sonne, auf See jede Welle wahnsinnig. Daran solle er sich unter Menschen bis zu seiner Todesstunde erinnern.
Der Friseur kann den Wortlaut dieser seltsam bedrohlichen, knapp und endgültig klingenden Botschaft noch heute, fast ein halbes Menschenleben später, im Schlaf aufsagen, ist aber dem Entschluß zu seiner Entschlüsselung aus Gründen, über die er erst lange nachdenken müßte, bisher immer ausgewichen. Nicht, daß ihm dazu die Zeit gefehlt hätte, natürlich nicht. Aber es klappte beim Nachdenken mit den Gedanken nicht, sie waren nie zu dressieren. Und trainiert hat er das Denken später auch nie. Er geht noch immer auf Sand oder Wasser, wenn er denkt. Es gibt keinen Grund, keinen festen Boden, er sinkt ein, das Gehen seiner Gedanken ist schwer und ermüdend. Auch deshalb erinnert er sich jener lange zurückliegenden Zeit, als er an Gedanken noch nicht einmal gedacht hatte. Das Schweigen der Männer, die ihn aufgezogen hatten, war so selbstverständlich wie ihre Befehle verständlich waren. Unterhielten sie sich, benutzten sie nicht Worte, sondern machten Musik, einige tanzten. Sie lasen keine Bücher, schrieben keine Briefe, stellten keine Fragen, auch ihm nicht. Die Sonne ging morgens auf und abends ging sie unter, kein Gedanke würde daran etwas ändern, auch der Gedanke an Profite nicht. Es war das Leben ein stummes Vorwärtskommen auf beschwerlichen Routen, ein Ausruhen zwischendurch, ein Aufbrechen zu einem Ziel, von dem aus sie nach einigen Tagen oder Wochen wieder in die Wüste zurückkehrten, wieder beladen, wieder im Kampf mit dem Auftrag, eine Ladung ins Landesinnere zu bringen, zu Oasen oder Handelsstationen, und von dort eine andere zurück zum Fluß oder zur Küste.
Da ihm Gefahren unbekannt waren, dachte er über sie auch nicht nach. Luftspiegelungen, falls er sie überhaupt wahrnahm, hielt er für wirklich. Ein Spiel war nichts, was ihm widerfuhr. Er spielte nicht, mit nichts, nicht unterwegs. Er dachte sich auch nichts bei dem Spaß, unter die Bäuche der Kamele zu kriechen, um die dort herunterhängenden Haarbüschel erst zu entflechten, um sie anschließend wieder zu kleinen Zöpfen binden zu können. Mach nur weiter so, sagten die Männer und gaben ihm Fußtritte.
Das alles änderte sich mit den Matrosen."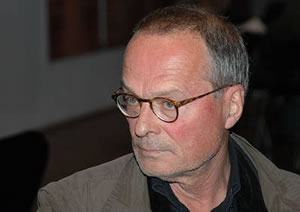 Wolf Wondratschek (Rudolstadt, 14 augustus 1943)

De Amerikaanse schrijfster Danielle Steel werd geboren in New York op 14 augustus 1947. Zie ook mijn blog van 14 augustus 2008 en ook mijn blog van 14 augustus 2009 en ook mijn blog van 14 augustus 2010.
Uit: To Love Again
"In every city there is a time of year that approaches perfection. After the summer heat, before the winter bleakness, before snow and rain are even dreamed of. A time that stands out crystal clear, as the air begins to cool; a time when the skies are still bright blue, when it feels good to wear wool again, and one walks faster than one has in months. A time to come alive again, to plan, to act, to be, as September marches into October. It is a time when women look better, men feel better, even the children look crisp again as they return to school in Paris or New York or San Francisco. And maybe even more so in Rome. Everyone is home again after the lazy months of summer spent clattering along in ancient taxis from the piazza to the Marina Piccola in Capri, or they are fresh from the baths in Ischia, the sun-swept days at San Remo, or even simply the public beach in Ostia. But in late September it is over, and autumn has arrived. A businesslike month, a beautiful month, when it feels good just to be alive.
Isabella di San Gregorio sat sedately in the backseat of the limousine. She was smiling to herself, her dark eyes dancing, her shining black hair held away from her face by two heavy tortoise shell combs as she watched passersby walking quickly through the streets. Traffic was as Roman traffic always is: terrifying. She was used to it, she had lived there all her life, except for her occasional visits to her mother's family in Paris and the one year she had spent in the States at twenty-one. The following year she had married Amadeo and become a legend of sorts, the reigning queen of Roman couture. She was by birth a princess in that realm, and by marriage something more, but her legend had been won by her talent, not only by acquiring Amadeo's name. Amadeo di San Gregorio had been the heir to the House of San Gregorio, the tabernacle of Roman couture, the pinnacle of prestige and exquisite taste in the eternal international competition between women of enormous means and aspirations."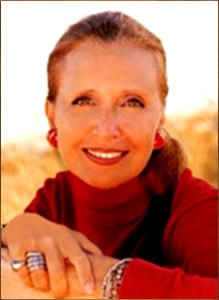 Danielle Steel (New York, 14 augustus 1947)
De Duitse schrijver Erwin Strittmatter werd geboren op 14 augustus 1912 in Spremberg. Zie ook mijn blog van 14 augustus 2008 en ook mijn blog van 14 augustus 2009 en ook mijn blog van 14 augustus 2010.
Uit: Ochsenkutscher
"Es klatscht. Lope fährt aus seinem Traum in die Wirklichkeit. Seine rechte Wange brennt. Er ist quellwach und setzt sich im Bett auf. Mutters wehende Rockfahne verschwindet bei der Tür. Das Türschloß schnappt knallend ein. - Eine Ohrfeige. Er hat eine Ohrfeige erhalten, weiter nichts. Lope kennt das. Mutter hatte ihn geweckt, er schlief wieder ein, sie wurde ärgerlich.
Trude spielt mit einem Käferchen. Ein Viereck des rotweiß gemusterten Bettbezuges ist für Trude ein Zaun. Darüber darf das Insekt nicht hinaus. Trudes dünner Zeigefinger wacht darüber. Der Nagel an Trudes Finger ist abgeknabbert und feucht. Lope lugt zum Waschkorb. Der Säugling schläft. Die Mutter hat ihn trockengelegt. Sie ist schon aufs Feld gegangen. Lope ist zufrieden. Er bewegt sich ganz leise. Die Kleine muß bis zum Mittag schlafen. Das erspart ihm das Trockenlegen. Er flüstert zu Trude hinüber: "Du bist still. Ich nehm dir sonst den Käfer weg." Trude nickt. Er läßt sich wieder zurückfallen. Einschlafen. Vielleicht findet er seinen Traum wieder.
Der Traum war so: Er saß auf der Schulbank. Es war der Platz des Klassenersten.
Sonst sitzt er auf der Läusebank. Er verhielt sich still. Der Lehrer mußte gleich eintreten. Die Klasse lärmte.
Er lispelte die Hausaufgabe vor sich hin. Er wollte den Lehrer nicht enttäuschen. Der Lehrer trat ein. Die Klasse brüllte:
"Guten Morgen!"
Der hagere Lehrer sagte schrill und drahtig: "Moan!"
Sein geschwungener, glatt angedrückter Schnurrbart zitterte..."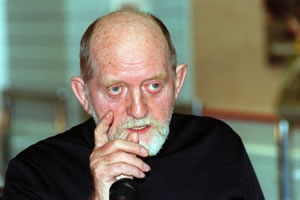 Erwin Strittmatter (14 augustus 1912 – 31 januari 1994)
De Schotse dichter en schrijver Sir Walter Scott werd geboren in Edinburgh op 14 augustus 1771. Zie ook mijn blog van 14 augustus 2008 en ook mijn blog van 14 augustus 2009 en ook mijn blog van 14 augustus 2010.
My Native Land
Breathes there the man, with soul so dead,
Who never to himself hath said,
This is my own, my native land!
Whose heart hath ne'er within him burn'd,
As home his footsteps he hath turn'd
From wandering on a foreign strand!
If such there breathe, go, mark him well;
For him no Minstrel raptures swell;
High though his titles, proud his name,
Boundless his wealth as wish can claim;
Despite those titles, power, and pelf,
The wretch, concentred all in self,
Living, shall forfeit fair renown,
And, doubly dying, shall go down
To the vile dust, from whence he sprung,
Unwept, unhonour'd, and unsung.
Harp of the North, Farewell!
Harp of the North, farewell! The hills grow dark,
On purple peaks a deeper shade descending;
In twilight copse the glow-worm lights her spark,
The deer, half-seen, are to the covert wending.
Resume thy wizard elm! the fountain lending,
And the wild breeze, thy wilder minstrelsy;
Thy numbers sweet with nature's vespers blending,
With distant echo from the fold and lea,
And herd-boy's evening pipe, and hum of housing bee.

Yet, once again, farewell, thou Minstrel Harp!
Yet, once again, forgive my feeble sway,
And little reck I of the censure sharp
May idly cavil at an idle lay.
Much have I owed thy strains on life's long way,
Through secret woes the world has never known,
When on the weary night dawned wearier day,
And bitterer was the grief devoured alone.—
That I o'erlive such woes, Enchantress! is thine own.

Hark! as my lingering footsteps slow retire,
Some spirit of the Air has waked thy string!
'Tis now a seraph bold, with touch of fire,
'Tis now the brush of Fairy's frolic wing.
Receding now, the dying numbers ring
Fainter and fainter down the rugged dell;
And now the mountain breezes scarcely bring
A wandering witch-note of the distant spell—
And now, 'tis silent all!—Enchantress, fare thee well!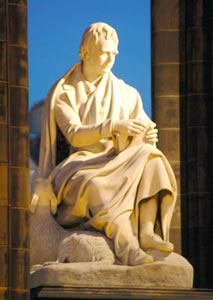 Sir Walter Scott (14 augustus 1771 - 21 september 1832)
Monument in Edinburgh
De moeder van (o.a.) de Duitse schrijvers Heinrich en Thomas Mann, Julia Mann-da Silva-Bruhns werd geboren op 14 augustus 1851 in Paraty in Brazilië. Zie ook mijn blog van 14 augustus 2008.en ook mijn blog van 14 augustus 2009 en ook mijn blog van 14 augustus 2010.
Uit: Herkunft und Lebensverhältnisse der Eltern und Großeltern der Brüder Heinrich und Thomas Mann (door Philip Hauer)
"Der Lübecker Weinhandelskaufmann Johann Ludwig Bruhn, der Großvater Thomas und Heinrich Manns mütterlicherseits, wanderte mit 19 Jahren nach Brasilien aus, wo er 1841 in Sao Paulo eine Exportfirma gründete, die florierte und sich rapide entwickelte. 1848 heiratete er Maria da Silva, die Tochter eines wohlhabenden Grundbesitzers mit portugiesischer Abstammung.
1851 kam Julia da Silva Bruhns, die Mutter der Gebrüder Mann, zur Welt. Als Maria da Silva Bruhns bei der Geburt eines weiteren Kindes stirbt, siedelte die gesamte Familie Bruhns 1856 nach Lübeck um. Johann Ludwig Bruhn fühlte sich bald sehr unwohl in der protestantischen Enge der Hansestadt und kehre nach Brasilien zurück, wobei er Julia mit ihren Schwestern in einem Lübecker Mädchenpensionat zurückließ. Nur zu gut, kann man sich den Kulturschock der 7jährigen Julia vorstellen, als sie von Brasilien in den kühlen, strengen Norden Deutschlands gebracht wird.
Obwohl sie 1869 schließlich Thomas Johann Heinrich Mann heiratete, bliebt sie für die traditionsbewusste hanseatische Kaufmannwelt, der ihr Mann angehörte, stets ein Fremdwesen. Dass sie sich nie wirklich wohl fühlte, zeigt sich, als sie nach dem Tod ihres Mannes aus Lübeck fortzog. Ihr südländisches, lebensfrohes Temperament vertrug sich nicht mit der kalten Strenge Lübecks. Ihre musische Art und ihre Leidenschaftlichkeit übertrüg sie auf ihre Kinder, Thomas und Heinrich Mann.
Thomas Mann beschrieb seine Mutter als Frau der schönen Künste: "Ihre sinnlich-praeartistische Natur äußert sich in Musikalität, geschmackvollem, bürgerlich ausgebildetem Klavierspiel und einer feinen Gesangskunst, der ich meine gute Kenntnis des deutschen Liedes verdanke."

Julia Mann - da Silva-Bruhns (14 augustus 1851 – 11 maart 1923)



Zie voor nog meer schrijvers van de 14e augustus ook
mijn vorige blog van vandaag.
14-08-2011 om 14:00 geschreven door Romenu

Tags:Wolf Wondratschek, Danielle Steel, Erwin Strittmatter, Sir Walter Scott, Julia Mann - da Silva-Bruhns, Thomas Mann, Romenu