De Nederlandse schrijver Antoon Coolen werd geboren in Wijlre in Zuid-Limburg op 17 april 1897. Zie ook mijn blog van 17 april 2007 en ook mijn blog van 17 april 2008 en ook mijn blog van 17 april 2009 en ook mijn blog van 17 april 2010.
Uit: Uitvaart
"De schaduwen van zomerwolken ijlden breed en groot over de neerbuigende halmen, de korenbloemen dansten mee, en langs de bermen en akkerzoomen vlamde, bij de rossige zuring en bij de windbewogen kamillen, het vuren rood van de klaproos.
Eens kwam Anna, de vrouw van Martien Deysselbloem thuis, toen was er een telegram voor haar gekomen. Daar hadden de anderen nieuwsgierig bijgestaan. Toen Anna het telegram gelezen had, was zij doodsbleek geworden. Zij gaf het aan Martien. Zij was naar de opkamer gegaan. Zij had zich daar aangekleed, om te vertrekken. Haar vader had een beroerte gekregen. Ze ging naar huis. Voor ze de deur open deed hoorde ze Martien zeggen:
- Gij, in jouw omstandigheden ...
De anderen zaten verlegen en met een bitteren trek op het gezicht. Anna keek haar man aan, want zij had nu duidelijk iets gevoeld. Zij sloot de oogen. Zij stond in 't open deurgebint, het zomerlicht lag warm op haar gesloten oogen. Zoo kon zij de anderen niet zien. Zij wist, dat Martien daar stond. Zij zei:
- Net op het oogenblik voor het eerst voel ik leven. Zij wachtte even. Ze zei zijn naam er nog achter:
- ... Martien.
Haar schoonzuster Nel zei:
- Hè, hè toch ja, dat is nog al een mooi zeggen, dat ge u niet schaamt!
Toen Anna op den drempel stond en de boomen zag en de velden en het koren der wereld en een windstroom door de verre populieren, voelde zij de zwaarte in zich stroomen van een zekerheid, die zij uitsprak:
- Vader komt er niet meer bovenop. Hij zal sterven. Zij hoorde Nel tegen Martien zeggen:
- Gij moet meegaan. Dat is voor alles en voor een goede regeling het beste, dat ge er maar direkt bij bent. Toen vluchtte Anna schreiend weg."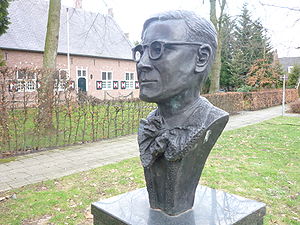 Antoon Coolen (17 april 1897 – 9 november 1961)
Borstbeeld in Deurne
De Duitse schrijfster Ida Boy-Ed werd geboren op 17 april 1852 in Bergedorf (Hamburg). Zie ook mijn blog van 17 april 2007 en ook mijn blog van 17 april 2008 en ook mijn blog van 17 april 2009 en ook mijn blog van 17 april 2010.

Uit: Vor der Ehe
"Die Tagesarbeit war abgeschlossen. Nun saß Frau Sophie an ihrem Teetisch und zögerte noch, sich mit der Post zu beschäftigen. Es tat so wohl, den Nerven eine kurze Schonung zu gönnen. Es war so notwendig, sich diesem Zustand hinzugeben, der Erschöpfung nach großer geistiger Anstrengung zu sein schien. Sophie kannte das aber wohl, wie sich gerade in dieser Ruhe die noch undeutlichen Anregungen aus den letzten Arbeitsstunden zu klaren Erkenntnissen für das Schaffen des nächsten Tages gestalten konnten.
Gerade über ihrem Kopf, im vierten Stockwerk, wußte sie ihr Atelier. Es lag nun verlassen, vom Abend des früh geendeten Novembertages erfüllt, auskältend und kahl. Es war streng eingerichtet, nur für den Arbeitszweck. Und in ihrer Phantasie sah Sophie von der Staffelei her das altersbleiche Gesicht und die klugen, milden Augen der fürstlichen Greisin, deren Bildnis sie eben malte, gleich einem blassen, schwach erkennbaren helleren Fleck im Dunkel des Raumes. Sie malte in ihren Gedanken immer noch daran weiter. Nichts störte sie in dieser rückblickenden Vertiefung. Um sie war eine so behütete Stille, daß sich die Nerven davon geliebkost fühlten. Und wie angenehm war die sanfte Beleuchtung für die Augen, die den ganzen Tag ihren Beruf, zu schauen, mit der größten Anspannung erfüllt hatten.
Sophie seufzte tief auf, in einer ganz einfachen, unbeschreiblichen Zufriedenheit. Aus allen Ecken und Winkeln des Zimmers schien die Ruhe auf sie zuzukommen und sie in ihre Arme zu nehmen. Und sie dachte: das ist nun auch einer von den Genüssen, die die Jungen und die Berufslosen nicht kennen, diese Hingegebenheit an den Augenblick, der einmal nichts von einem fordert!"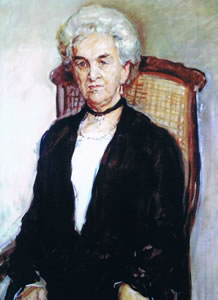 Ida Boy-Ed (17 april 1852 – 13 mei 1928)
Portret door Max Slevogt
De Engelse schrijver Nick Hornby werd geboren op 17 april 1957 in Redhill. Zie ook mijn blog van 17 april 2007 en ook mijn blog van 17 april 2008 en ook mijn blog van 17 april 2009 en ook mijn blog van 17 april 2010.

Uit: How To Be Good
"We walk out into the cold as if we were simply another pair of contented theatregoers, and I can't resist asking.
'Did you enjoy that?'
'I did. Very much'.
'Really? Very much?'
'Yes.'
'But you hate the theatre.'
'I think ... I think I thought I hated the theatre. It was, it was a prejudice I hadn't examined properly.'
'You want to be careful.'
'Why?'
'If you start examining your prejudices carefully there'll soon be nothing left of you.'
He smiles pleasantly and we walk on. We're looking for a cab, which is what we always do after a night in the West End - tube in, treat ourselves coming home - and I suddenly feel the need to see a yellow taxi light right this second, because I'm tired, and disoriented, and the thought of having to battle on escalators with a lot of Friday night drunks fills me with dread.
And then something odd happens, and it becomes clear that something odd has happened to David, that the change in him is a result of something other than introspection and self-will. What happens is this. We pass a homeless kid in a doorway huddled up in a sleeping bag and David feels in his pockets, presumably for some change. (Let me be fair to David: he always does this. He does not, miraculously, Have Views on the homeless.) He doesn't find anything, and he asks me for my purse, with many apologies, and another explanation as to why he thought he had his wallet with him when he didn't. I don't think about what I'm doing - why should I? - and give it to him, and he proceeds to give the kid everything that's in there - about eighty pounds in notes, because I went to the cashpoint today, and three or four pounds in change. As far as I know, we're left with nothing."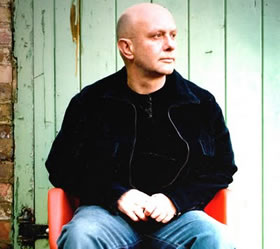 Nick Hornby (Redhill, 17 april 1957)
De Amerikaanse schrijver Thornton Niven Wilder werd geboren op 17 april 1897 in Madison, Wisconsin. Zie ook mijn blog van 17 april 2007 en ook mijn blog van 17 april 2008 en ook mijn blog van 17 april 2009 en ook mijn blog van 17 april 2010.

Uit: Our Town
"Here's the grocery store and here's Mr. Morgan's drugstore. Most everybody in town manages to look into those two stores once a day.
Public School's over yonder. High School's still farther over. Quarter of nine mornings, noontimes, and three o'clock afternoons, the hull town can hear the yelling and screaming from those schoolyards.
He approaches the table and chairs downstage right.
This is our doctor's house, -- Doc Gibbs'. This is the back door.
Two arched trellises, covered with vines and flowers, are pushed out, one by each proscenium pillar.
There's some scenery for those who think they have to have scenery.
This is Mrs. Gibbs' garden. Corn ... peas ... beans ... hollyhocks ... heliotrope ... and a lot of burdock.
Crosses the stage.
In those days our newspaper come out twice a week-the Grover's Corners Sentinel -- and this is Editor Webb's house.
And this is Mrs. Webb's garden.
Just like Mrs. Gibbs', only it's got a lot of sunflowers, too.
He looks upward, center stage.
Right here . . . 's a big butternut tree.
He returns to his place by the right proscenium pillar and looks at the audience for a minute.
Nice town, y'know what I mean?
Nobody very remarkable ever come out of it, s'far as we know.
The earliest tombstones in the cemetery up there on the mountain say 1670-1680 -- they're Grovers and Cartwrights and Gibbses and Herseys -- same names as are around here now.
Well, as I said: it's about dawn.
The only lights on in town are in a cottage over by the tracks where a Polish mother's just had twins. And in the Joe Crowell house, where Joe Junior's getting up so as to deliver the paper. And in the depot, where Shorty Hawkins is gettin' ready to flag the 5:45 for Boston."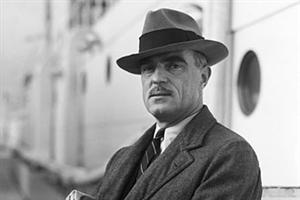 Thornton Wilder (17 april 1897 – 7 december 1975)
De Duitse schrijver David Wagner werd geboren op 17 april 1971 in Andernach. Zie ook mijn blog van 17 april 2007 en ook mijn blog van 17 april 2009 en ook mijn blog van 17 april 2010.

Uit: Was alles fehlt
"Hier war einmal Meer, Böhmen lag am Meer, man kann Versteinerungen finden, sagte sie, und die blonden Locken meiner Cousine wehten neben uns unter ihrem Sturzhelm hervor. Meine Cousine wußte, wo wir anhalten mußten, um ein Paddelboot zu mieten, wir ließen uns durch harmlose Stromschnellen und an Felsen vorbei ein Stück die Moldau hinunter treiben, von hier fließt das Wasser erst in die Elbe, dann in die Nordsee, sagte meine Cousine, auf der anderen Seite, jenseits der Wasserscheide, fließt es ins Schwarze Meer, sagte Hanna, sie zog eine Hand durchs Wasser nach und hielt nur ihren Zeichenblock, kein Paddel, in der anderen. Ihre Malsachen ließ sie auch dann nicht los, als das rote Plastikboot an einer seichten Stelle kenterte, weil sie sich zu lange an dem Ast eines Baumes festgehalten hatte, der über das Ufer hinaus ins Wasser hing. Das vollgelaufene Boot mußte ausgeschöpft werden, meine Hose triefte, vier Brustwarzen schauten mich durch nassen T-Shirt-Stoff an, die Sonne trocknete uns wie Wäsche auf der Leine. Hannas Skizzenblock war nicht naß geworden, er hatte in einer durchsichtigen Plastiktüte gesteckt. Hanna zeichnete die Hautabschürfungen auf unseren Beinen, malte kleine, weiße Wolken ins Blau, die Schaumkronen im Wasser, Baumwipfel als grüne Punkte und den Flußlauf der Moldau als Schlangenlinie über das ganze Blatt. In einem Städtchen spazierten wir durch das Schloß, tranken süßes tschechisches Bier und schliefen in einer Pension, in der nur noch ein Zimmer mit einem großen Bett frei gewesen war. Links von mir lagen die langen blonden, rechts die kürzeren schwarzen Haare, Hanna hatte den Block, meine Cousine den Reiseführer auf dem Nachttisch abgelegt. Unter dem offenen Fenster rauschte die Moldau, und ich war schon fast eingeschlafen, da sagte Hanna noch einmal, von hier fließt alles in die Nordsee, danach war ihr Murmeln nicht mehr zu verstehen. Immer wenn eine der beiden aufs Klo mußte, wachte ich auf, und irgendwann in der Nacht, als mich ihr Knie berührte, legte ich einen Arm um Hannas Bauch. Am nächsten Tag fuhren wir zurück nach Süden, Hanna hatte keine Lust zu lenken, also fuhr ich ihren Roller, sie saß die meiste Zeit hinter mir, verschränkte ihre Arme unter meinem Brustkorb und ließ mich ihre Muttermale in der rechten Unterarmbeuge sehen."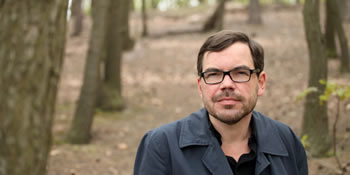 David Wagner (Andernach, 17 april 1971)


Zie voor nog meer schrijvers van de 17e april ook
mijn vorige blog van vandaag
en eveneens
mijn eerste blog van vandaag.
17-04-2011 om 19:36 geschreven door Romenu

Tags:Antoon Coolen, Ida Boy-Ed, Nick Hornby, Thornton Wilder, David Wagner, Romenu