E-mail mij


Druk op onderstaande knop om mij te e-mailen.


Romenu


Romenu is een blog over gedichten, literatuur en kunst Maar Romenu is ook een professionele freelance vertaler
Du-Ne en Ne-Du http://www.romenu.nl.


Huur eens een (vakantie)huis in een natuurgebied, dichtbij het centrum van Nijmegen


Google


Georg Trakl

Georg Trakl werd op 3 februari 1887 in het conducteurshuis aan de Waagplatz 2 in Salzburg geboren. Zijn vader, Tobias Trakl, was een handelaar in ijzerwaren en zijn moeder, die ook psychische problemen had, was Maria Catharina Trakl, (meisjesnaam Halik). Voorts had hij nog drie broers en drie zussen. Margarethe (doorgaans Grethe genoemd) stond hem het naast, zelfs zodanig dat sommigen een incestueuze verhouding vermoeden. Zijn jeugd bracht hij door in Salzburg. Vervolgens bezocht hij van 1897 tot 1905 het humanistische gymnasium. Om toch een academische opleiding te kunnen volgen, werkte hij tot 1908 in de praktijk bij een apotheker. Sommigen vermoedden dat hij dit vooral deed om zichzelf opiaten te kunnen verschaffen. Bij het uitbreken van WO I werd Trakl als medicus naar het front in Galicië (heden ten dage in Oekraďne en Polen) gestuurd. Zijn gemoedsschommelingen leidden tot geregelde uitbraken van depressie, die verergerd werden door de afschuw die hij voelde voor de verzorging van de ernstig verwonde soldaten. De spanning en druk dreven hem ertoe een suďcidepoging te ondernemen, welke zijn kameraden nochtans verhinderden. Hij werd in een militair ziekenhuis opgenomen in Kraków, alwaar hij onder strikt toezicht geplaatst werd.Trakl verzonk daar in nog zwaardere depressies en schreef Ficker om advies. Ficker overtuigde hem ervan dat hij contact moest opnemen met Wittgenstein, die inderdaad op weg ging na Trakls bericht te hebben ontvangen. Op 4 november 1914, drie dagen voordat Wittgenstein aan zou komen, overleed hij echter aan een overdosis cocaďne


Paul Celan

Paul Celan werd onder de naam Paul Antschel op 23 november 1920 geboren in Czernowitz, toentertijd de hoofdstad van de Roemeense Boekovina, nu behorend bij de Oekraďne. Paul Celans ouders waren Duitssprekende joden die hun zoon joods opvoedden en hem naar Duitse christelijke scholen stuurden. In 1942 werden Celans ouders door de Duitse bezetter naar een werkkamp gedeporteerd en daar vermoord. Hijzelf wist aanvankelijk onder te duiken, maar moest vanaf juli 1942 in een werkkamp dwangarbeid verrichten. Celan overleefde de oorlog. Via Boekarest en Wenen vestigde Celan zich in 1948 in Parijs. Daar was hij werkzaam als dichter, vertaler en doceerde hij aan de prestigieuze Ecole Normale Supérieure. Vermoedelijk op 20 april 1970 beëindigde hij zijn leven zelf door in de Seine te springen.


Gerard Reve

Gerard Reve over: Medearbeiders "God is in de mensen, de dieren, de planten en alle dingen - in de schepping, die verlost moet worden of waaruit God verlost moet worden, door onze arbeid, aangezien wij medearbeiders van God zijn." Openbaring "Tja, waar berust elk godsbegrip op, elke vorm van religie? Op een openbaring, dat wil zeggen op een psychische ervaring van zulk een dwingende en onverbiddelijke kracht, dat de betrokkene het gevoel heeft, niet dat hij een gedachte of een visioen heeft, maar dat een gedachte gedachte of visioen hem bezit en overweldigt."


Simon Vestdijk
Simon Vestdijk (Harlingen, 17 oktober 1898 – Utrecht, 23 maart 1971) was een Nederlands romancier, dichter, essayist en vertaler. Zijn jeugd te Harlingen en Leeuwarden beschreef hij later in de Anton Wachter-cyclus. Van jongs af aan logeerde hij regelmatig bij zijn grootouders in Amsterdam, waar hij zich in 1917 aan de Universiteit van Amsterdam inschrijft als student in de medicijnen. Tijdens zijn studie die van 1917 tot 1927 duurde, leerde hij Jan Slauerhoff kennen.Tot 1932 is hij als arts in praktijken door heel Nederland werkzaam. In 1932 volgt zijn officiële schrijversdebuut met de uitgave van de bundel Verzen in De Vrije Bladen. Doorslaggevend voor Vestdijks uiteindelijke keuze voor de literatuur is zijn ontmoeting in 1932 met Eddy Du Perron en Menno ter Braak. Deze ontmoeting had tot resultaat dat hij redactielid werd van het tijdschrift Forum Kort daarop, in 1933, wordt zijn eerste novelle, De oubliette, uitgegeven. In hetzelfde jaar schrijft hij Kind tussen vier vrouwen, dat, eerst geweigerd door de uitgever, later de basis zal vormen voor de eerste drie delen van de Anton Wachter-romans. In 1951 ontvangt Vestdijk de P.C. Hooftprijs voor zijn in 1947 verschenen roman De vuuraanbidders. In 1957 wordt hij voor het eerst door het PEN-centrum voor Nederland voorgedragen voor de Nobelprijs voor de Literatuur, die hij echter nooit zal krijgen. Op 20 maart 1971 wordt hem de Prijs der Nederlandse Letteren toegekend, maar voor hij deze kan ontvangen overlijdt hij op 23 maart te Utrecht op 72-jarige leeftijd. Vestdijk was auteur van ca. 200 boeken. Vanwege deze enorme productie noemde de dichter Adriaan Roland Holst hem 'de man die sneller schrijft dan God kan lezen'. Andere belangrijke boeken van Simon Vestdijk zijn: "Kind van stad en land" (1936), "Meneer Visser's hellevaart" (1936), "Ierse nachten" (1946), "De toekomst de religie" (1947), "Pastorale 1943" (1948), "De koperen tuin" (1950), "Ivoren wachters" (1951), "Essays in duodecimo" (1952) en "Het genadeschot" (1964).


K.P. Kavafis

K.P. Kavafis werd als kind van Griekse ouders, afkomstig uit Konstantinopel, geboren in 1863 in Alexandrië (tot vandaag een Griekse enclave) waar hij ook het grootste deel van zijn leven woonde en werkte. Twee jaar na de dood van zijn vader verhuist het gezin in 1872 naar Engeland om na een verblijf van vijf jaar naar Alexandrië terug te keren. Vanwege ongeregeldheden in Egypte vlucht het gezin in 1882 naar Konstantinopel, om na drie jaar opnieuw naar Alexandrië terug te gaan. In de jaren die volgen maakt Kavafis reizen naar Parijs, Londen en in 1901 zijn eerste reis naar Griekenland, in latere jaren gevolgd door nog enkele bezoeken. Op de dag van zijn zeventigste verjaardag, in 1933 sterft Kavafis in Alexandrië. De roem kwam voor Kavafis pas na zijn dood, dus postuum. Deels is dat toe te schrijven aan zijn eigen handelswijze. Hij was uiterst terughoudend met de publicatie van zijn gedichten, liet af en toe een enkel gedicht afdrukken in een literair tijdschrift, gaf in eigen beheer enkele bundels met een stuk of twintig gedichten uit en het merendeel van zijn poëzie schonk hij op losse bladen aan zijn beste vrienden.


Thomas Mann


Thomas Mann, de jongere broer van Heinrich Mann, werd geboren op 6 juni 1875 in Lübeck. Hij was de tweede zoon van de graankoopman Thomas Johann Heinrich Mann welke later één van de senatoren van Lübreck werd. Zijn moeder Julia (geboren da Silva-Bruhns) was Duits-Braziliaans van Portugees Kreoolse afkomst. In 1894 debuteerde Thomas Mann met de novelle "Gefallen". Toen Thomas Mann met 21 jaar eindelijk volwassen was en hem dus geld van zijn vaders erfenis toestond - hij kreeg ongeveer 160 tot 180 goldmark per jaar - besloot hij dat hij genoeg had van al die scholen en instituties en werd onafhankelijk schrijver. Kenmerkend voor zijn stijl zijn de ironie, de fenomenale taalbeheersing en de minutieuze detailschildering. Manns reputatie in Duitsland was sterk wisselend. Met zijn eerste roman, Buddenbrooks (1901), had hij een enorm succes, maar door zijn sceptische houding tegenover Duitsland na de Eerste Wereldoorlog veranderde dit volledig. Stelde hij zich tot aan de jaren twintig apolitiek op (Betrachtungen eines Unpolitischen, 1918), meer en meer raakte hij bij het Politiek gebeuren betrokken. Zijn afkeer van het nationaal socialisme groeide, zijn waarschuwingen werden veelvuldiger en heftiger. In 1944 accepteerde hij het Amerikaanse staatsburgerschap. Tussen 1943 en 1947 schreef Mann Doktor Faustus (zie Faust), de roman van de 'Duitse ziel' in de gecamoufleerd geschilderde omstandigheden van de 20ste eeuw. In 1947 bezocht hij voor het eerst sinds de Oorlog Europa, twee jaar later pas Duitsland. In 1952 vertrok hij naar Zwitserland. Op 12 augustus 1955 stierf hij in Zürich. Twintig jaar na zijn dood, in aug. 1975, is zijn literaire nalatenschap geopend: dagboekaantekeningen van 15 maart 1933 tot 29 juli 1955, alsmede notities uit de jaren 1918 tot en met 1921.Belangrijke werken zijn: Der Zauberberg, Der Tod in Venedig, Dokter Faustus , Joseph und seine Brüder en Die Bekenntnisse des Hochstaplers Felix Krull.


Rainer Maria Rilke

Rilke werd op 4 december 1875 geboren in Praag. Hij had al naam gemaakt als dichter met zijn bundels Das Stundenbuch en Das Buch der Bilder, toen hij de literaire wereld versteld deed staan en wereldfaam verwierf met de publicatie van zijn twee delen Neue Gedichte in 1907 en 1908. Hij verzamelde daarin het beste werk uit een van zijn vruchtbaarste periodes, die hij grotendeels doorbracht in Parijs. Rilke was daar diep onder de indruk gekomen van Rodin, bij wie hij een tijdlang in dienst was als particulier secretaris. Rodin, zei hij later, had hem leren kijken. Dit kijken kwam neer op intense concentratie, om het mysterie te kunnen zien 'achter de schijnbare werkelijkheid'. Latere en rijpere werken als Duineser Elegien (1912-1923) en het ronduit schitterende Die Sonette an Orfeus (1924) illustreren Rilkes metafysische visie op het onzegbare, dat haar verwoording vindt in een hermetische muzikale taal. Op 29 december 1926 overlijdt Rilke in het sanatorium in Val-Mont aan de gevolgen van leukemie. Enkele dagen later wordt hij, overeenkomstig zijn wens, begraven op het kerkhof van Raron.


* * * * * * * * * * * * * * * *

| | |
| --- | --- |
| | Over literatuur, gedichten, kunst en cultuur |

03-07-2016

Franz Kafka, Joanne Harris, Gerard den Brabander, Christopher Kloeble, Manfred Bieler
De Duitstalige schrijver Franz Kafka werd geboren op 3 juli 1883 in Praag, toen een stad gelegen in de dubbelmonarchie Oostenrijk-Hongarije. Zie ook alle tags voor Franz Kafka op dit blog.
Uit: Tagebücher 1910 - 1923
"Sonntag, den 19. Juli 1910, geschlafen, aufgewacht, geschlafen, aufgewacht, elendes Leben.
Variante
(…)
Der Vorwurf darüber, daß sie mir doch ein Stück von mir verdorben haben – ein gutes schönes Stück verdorben haben – im Traum erscheint es mir manchmal wie andern die tote Braut –, dieser Vorwurf, der immer auf dem Sprung ist, ein Seufzer zu werden, er soll vor allem unbeschädigt hinüberkommen, als ein ehrlicher Vorwurf, der er auch ist. So geschieht es, der große Vorwurf, dem nichts geschehen kann, nimmt den kleinen bei der Hand, geht der große, hüpft der kleine, ist aber der kleine einmal drüben, zeichnet er sich noch aus, wir haben es immer erwartet, und bläst zur Trommel die Trompete.
Oft überlege ich es und lasse den Gedanken ihren Lauf, ohne mich einzumischen, aber immer komme ich zu dem Schluß, daß mich meine Erziehung mehr verdorben hat, als ich es verstehen kann. In meinem Äußern bin ich ein Mensch wie andere, denn meine körperliche Erziehung hielt sich ebenso an das Gewöhnliche, wie auch mein Körper gewöhnlich war, und wenn ich auch ziemlich klein und etwas dick bin, gefalle ich doch vielen, auch Mädchen. Darüber ist nichts zu sagen. Noch letzthin sagte eine etwas sehr Vernünftiges: »Ach, könnte ich Sie doch einmal nackt sehn, da müssen Sie erst hübsch und zum Küssen sein.« Wenn mir aber hier die Oberlippe, dort die Ohrmuschel, hier eine Rippe, dort ein Finger fehlte, wenn ich auf dem Kopf haarlose Flecke und Pockennarben im Gesicht hätte, es wäre noch kein genügendes Gegenstück meiner innern Unvollkommenheit. Diese Unvollkommenheit ist nicht angeboren und darum um so schmerzlicher zu tragen. Denn wie jeder habe auch ich von Geburt aus meinen Schwerpunkt in mir, den auch die närrischste Erziehung nicht verrücken konnte. Diesen guten Schwerpunkt habe ich noch, aber gewissermaßen nicht mehr den zugehörigen Körper. Und ein Schwerpunkt, der nichts zu arbeiten hat, wird zu Blei und steckt im Leib wie eine Flintenkugel. Jene Unvollkommenheit ist aber auch nicht verdient, ich habe ihr Entstehn ohne mein Verschulden erlitten. Darum kann ich in mir auch nirgends Reue finden, soviel ich sie auch suche. Denn Reue wäre für mich gut, sie weint sich ja in sich selbst aus, sie nimmt den Schmerz beiseite und erledigt jede Sache allein wie einen Ehrenhandel; wir bleiben aufrecht, indem sie uns erleichtert."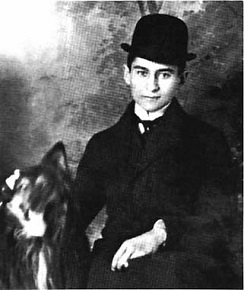 Franz Kafka (3 juli 1883 – 3 juni 1924)
De Britse schrijfster Joanne Harris werd geboren op 3 juli 1964 in Barnsley, Yorkshire. Zie ook alle tags voor Joanne Harris op dit blog.
Uit: Runemarks
"That was Maddy's fault, of course. Maddy Smith was a dreamer, a teller of tales, and worse, and as such, she was used to being blamed for anything irregular that happened in the village. If a bottle of beer fell off a shelf, if the cat got into the creamery, if Adam Scattergood threw a stone at a stray dog and hit a window instead-ten to one Maddy would get the blame.
And if she protested, folk would say that she'd always had a troublesome nature, that their ill luck had begun the day she was born, and that no good would ever come of a child with a ruinmark-that rusty sign on the Smith girl's hand- which some oldsters called the Witch's Ruin and which no amount of scrubbing would remove.
It was either that or blame the goblins-otherwise known as Good Folk or Faerie-who this summer had upped their antics from raiding cellars and stealing sheep (or occasionally painting them blue) to playing the dirtiest kind of practical jokes, like leaving horse dung on the church steps, or putting soda in the communion wine to make it fizz, or turning the vinegar to piss in all the jars of pickled onions in Joe Grocer's store.
And since hardly anyone dared to mention them, or even acknowledge that they existed at all, Maddy was left to deal with the vermin from under the Hill alone and in her own way.
No one asked her how she did it. No one watched the Smith girl at work. And no one ever called her witch-except for Adam Scattergood, her employer's son, a fine boy in some ways but prone to foul language when the mood took him."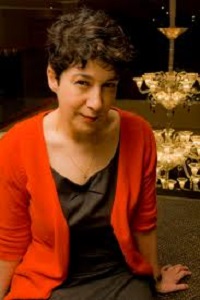 Joanne Harris (Barnsley, 3 juli 1964)
De Nederlandse dichter en vertaler Gerard den Brabander (eig. Jan Gerardus Jofriet) werd geboren in Den Haag op 3 juli 1900. Zie ook alle tags voor Gerard Den Brabander op dit blog.
Dichters moeten de minnaars uit zich weren
Dichters moeten de minnaars uit zich weren
willen zij naakt gelijk de goden zijn.
Waarom dan, hart, dit mateloos begeren
... naar alle naaktheid, geborneerd en klein,

en waarom zijn onsterflijkheid bezeren
aan deze beten van het bot venijn,
wanneer de liefde slechts dit klein creperen
de beste is achter 't bedgordijn?

Hijg dus, o hart, uw sterflijkheid te buiten,
gij, die uit de pijn het bovenaardse koos,

eens zal uw mond zich als gesteente sluiten
in d' eenzaamheid van wind en waterhoos,

maar, wie hem kust, zal er op leven stuiten:
diep in zijn barsten hurkt de wilde roos.
Aan Antwerpens haven
Wie het contact met havens heeft verloren
en zit gevangen in het binnenland,
werd niet voor de oneindigheid geboren:
hij twijfelde aan de onzichtbre hand
waaraan elk schepsel zich moet overgeven...
Loert aan den einder dan alleen de dood?
Beter dan zich in 't land te overleven
zal men de horizonten overstreven:
Over de wereld wordt men frank en groot.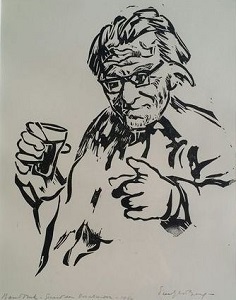 Gerard den Brabander (3 juli 1900 – 4 februari 1968)
Portret door Freek van den Berg, 1964
De Duitse schrijver Christopher Kloeble werd op 3 juli 1982 geboren in München. Zie ook alle tags voor Christopher Kloeble op dit blog.
Uit: Unter Einzelgängern
"Sie lag.
Um sie herum verstreut ruhten die Einkäufe. Eine Flasche Olivenöl hatte die Erdbeeren erwischt, rosa Flüssigkeit füllte die Ritzen im Parkett, es roch stark nach Hackfleisch. Und die Butter, ein deformierter, golden glänzender Klumpen nah an ihrem Kinn, verdeckte alles, was sich unterhalb ihrer Nasenspitze befand. Ein Stück weiter hinten tanzte die Wollmaus im Luftzug, wie ein Skelett zogen sich Haare durch ihren flaumigen, regenwolkenhaften Körper, ein Brotkrümel und ein schwarzer Fussel bildeten schielende Augen, ein unförmiges, klaffendes Loch darunter den Mund.
»Wusstest du? Zweiii Drittel aller Unfälle passieren im Haushalt.«
Sie konzentrierte sich darauf, ihre Beine zu bewegen; vor Erschöpfung liefen ihr Tränen über die Wangen.
»Kleiiin anfangen! War auch mal ein Staubkorn.«Ruhig, auf die Atmung achten, wie beim Walken, langsam. In Gedanken wanderte sie über ihren Kopf, glitt ihren Hals hinab, balancierte das Schlüsselbein entlang, rutschte über die Schulter, den Ober- und Unterarm, bremste auf dem Handrücken ab und befahl ihrem Zeigefinger, sich zu rühren. Zeigefinger, Zeigefinger, gottverdammter Zeigefinger, nur ein kleines Signal, wenigstens ein Zucken – geschah etwas?
Die Wollmaus vollführte eine Pirouette. »Sieht üüübel aus.«
Die Kinder mussten jede Minute eintreffen. Sie würden sofort herbeieilen, ihr unter die Arme greifen und vorsichtig aufhelfen.
»Tyyypisch. Immer Hoffnung, Hoffnung, Hoffnung.Selbst beiiim Verrecken.«
Etwas Eis auf den Hinterkopf, einen Schluck Rotwein und fünf Minuten Ruhe, mehr bräuchte sie nicht.
»Pass auf!« Die Wollmaus schlug einen Salto nach dem nächsten. »Hoffnung ist bloß eine Erfindung von Verliiierern.«
Hoffnung ist menschlich – so hatten stets die einleitenden Worte ihres Großvaters gelautet, wenn er ihr, gegen den Willen der Eltern, vor dem Schlafengehen noch ein Erlebnis aus zwei durchlittenen Weltkriegen geschildert hatte."

Christopher Kloeble (München, 3 juli 1982)
De Duitse schrijver Manfred Bieler werd geboren op 3 juli 1934 in Zerbst. Zie ook alle tags voor Manfred Bieler op dit blog.
Uit: Still wie die Nacht. Memoiren eines Kindes
"Wer von uns beiden ist erschöpft? Ich oder ich? Das Kind oder der Fünfzigjährige? Wem klopft das Blut in den Schläfen, ihm oder mir? Wer beugt sich über den eigenen Rand und blickt in eine ungeahnte Tiefe? Wohin gehen wir, du und ich? Was wurde uns gestohlen, dir und mir? Wer nahm die Liebe aus deinem und meinem Herzen? Wer raubte dir und mir das Glück der kleinen Freuden, die Wohltat der unbefleckten Zärtlichkeit, das Geheimnis der Tränen, die Unschuld der Spiele, die Lust am Leben? Wer von uns beiden feiert im Juli seinen vierten Geburts- tag, du oder ich? Wen laden Robert und Edith dazu ein? Den Cousin und die Cousinen? Nein. Marlene, Hans und Gretchen sind mit ihren Eltern in die Ferien gefahren, auf einen Bauernhof. Wir beide, du und ich, stehen mit den Nachbarskindern auf der Freitreppe des ehemaligen Untersuchungsgefängnisses, schwenken Hakenkreuzfähnchen und werden von der Mutter fotografiert. Gut, gut. Aber wer von uns beiden weiß eigentlich noch, was im August geschah, als wir zum zweiten Mal nach Binz fuhren? Auf mich darfst du dich nicht verlassen. Ich habe es vergessen. Sprich du!
Der Vierjährige erzählt: Onkel Willy und der Vater sind zu Hause geblieben. Deswegen hat sich Tante Erna ans Steuer gesetzt und die Mutter daneben. Unterwegs wollte mir Rosi die Trillerpfeife wegnehmen, mein Geburtstagsgeschenk von Louise, aber ich habe mich gewehrt."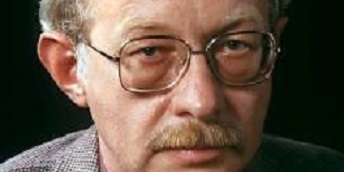 Manfred Bieler (3 juli 1934 – 23 april 2002)
Zie voor nog meer schrijvers van de 3e juli ook mijn twee vorige blogs van vandaag.
03-07-2016 om 12:03 geschreven door Romenu

Tags:Franz Kafka, Joanne Harris, Gerard den Brabander, Christopher Kloeble, Manfred Bieler, Romenu



Tom Stoppard, Andreas Burnier, David Barry, William Henry Davies, Edward Young
De Britse toneelschrijver Tom Stoppard (eig. Tomas Straussler) werd geboren inZlín op 3 juli 1937. Zie ook alle tags voor Tom Stoppard op dit blog.
Uit: Rosencrantz and Guildenstern Are Dead
"Rosencrantz: Did you ever think of yourself as actually dead, lying in a box with a lid on it?
Guildenstern: No.
Rosencrantz: Nor do I, really. It's silly to be depressed by it. I mean, one thinks of it like being alive in a box. One keeps forgetting to take into account the fact that one is dead, which should make all the difference, shouldn't it? I mean, you'd never know you were in a box, would you? It would be just like you were asleep in a box. Not that I'd like to sleep in a box, mind you. Not without any air. You'd wake up dead, for a start, and then where would you be? In a box. That's the bit I don't like, frankly. That's why I don't think of it. Because you'd be helpless, wouldn't you? Stuffed in a box like that. I mean, you'd be in there forever, even taking into account the fact that you're dead. It isn't a pleasant thought. Especially if you're dead, really. Ask yourself, if I asked you straight off, "I'm going to stuff you in this box. Now, would you rather be alive or dead?" Naturally, you'd prefer to be alive. Life in a box is better than no life at all, I expect. You'd have a chance, at least. You could lie there thinking, "Well. At least I'm not dead. In a minute somebody is going to bang on the lid, and tell me to come out." [bangs on lid] "Hey, you! What's your name? Come out of there!"
[long pause]
Guildenstern: I think I'm going to kill you."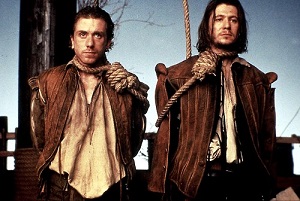 Tom Stoppard (Zlín, 3 juli 1937)
Scene uit een opvoering in Londen, 2016
De Nederlandse schrijfster Andreas Burnier werd op 3 juli 1931 in Den Haag geboren als Catharina Irma Dessaur. Zie ook alle tags voor Andreas Burnier op dit blog.
Uit: De wereld is van glas
"Amsterdam, 17 juli
Dear unknown Rabbi,
Met een Engelse aanhef richt ik mij tot u, omdat Engels het Aramees is van deze tijd: de wereldtaal van de moderne mensheid.
Voor joden was en is het klassieke Hebreeuws natuurlijk de heilige taal, zoals het Sanskriet voor Hindoes, het Latijn voor ro-meins-katholieke christenen, het klassiek-Arabisch voor moslims. Maar wij Ioden, dat hoef ik u als moré natuurlijk niet te vertellen, hebben na en naast het klassieke Hebreeuws ons in de oudheid beholpen met Aramees voor de dagelijkse omgangstaal en voor het internationale contact van ons over de wereld verspreide volk.
Vanaf de middeleeuwen communiceerden wij voor lokaal gebruik in de diaspora en voor correspondentie meestal in Europese joodse dialecten: Iiddisch voor de Asjkenaziem, Ladino voor de Sefardiem, om het nu even niet al te ingewikkeld te maken door ook nog van Iudeo-Arabisch, Iudeo-Italiaans en dat soort bijkomstigheden te reppen. Nu is het Engels de taal bij uitstek geworden voor ons internationale contact. Desondanks schrijf ik u in deze late tijd van de twintigste eeuw in de enige taal die ik werkelijk beheers - een Nederduits dialect vrees ik, als je het technisch bekijkt - met slechts een aanhef in het Engels. Misschien zal iemand die mijn moedertaal met haar mini-bereik toevallig heeft geleerd en die u toevallig kent, u op mijn poging tot toenadering tot u willen attenderen.
Laat ik beginnen, eerwaarde Rabbi, aan u die dat misschien allang weet, te vertellen dat ik rond mijn zestigste levensjaar ben begonnen mijzelf Tenach-Hebreeuws te leren lezen."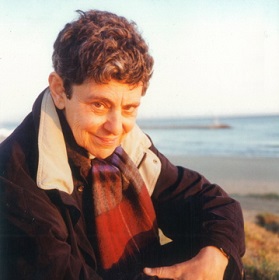 Andreas Burnier (3 juli 1931 - 18 september 2002)
De Amerikaanse humoristische schrijver, columnist en bestsellerauteur David Barry, Jr werd geboren op 3 juli 1947 in Armonk, New York. Zie ook alle tags voor David Barry op dit blog.
Uit: Live Right and Find Happiness
"Looking back, think my parents had more fun than I did.
That's not how it was supposed to be. My parents belonged to the Greatest Generation; they grew up in hard times. My mom was born in Colorado in an actual sod hut, which is the kind of structure you see in old black-and-white photographs featuring poor, gaunt, prairie-dwelling people standing in front of what is either a small house or a large cow pie, staring grimly at the camera with the look of people who are thinking that their only hope of survival might be to eat the photographer. A sod hut is basically a house made out of compressed dirt. If you were to thoroughly vacuum one, it would cease to exist.
My mom, like my dad, and millions of other members of the Greatest Generation, had to contend with real adversity: the Great Depression, the Dust Bowl, hunger, poverty, disease, World War II, extremely low-fi 78 rpm records and telephones that—incredible as it sounds today—could not even shoot video.
They managed to overcome those hardships and take America to unprecedented levels of productivity and power, which is why they truly are a great generation. But they aren't generally considered to be a fun generation. That was supposed to be their children—my generation, the Baby Boomers.
We grew We grew up in a far easier time, a time when sod was strictly for lawns. We came of age in the sixties and seventies, the era of sex, drugs and rock and roll. We were cool, we were hip, we were groovy, man. We mocked the suit-wearing Establishment squares grubbing for money in their 9-to-5 jobs. That was not for us. We did our own thing, you dig?
We raised our consciousness. We tuned in, turned on and dropped out. We lived in communes. We went to Woodstock.
We had strobe lights and lava lamps. We wore bell-bottom trousers, and we did not wear them ironically."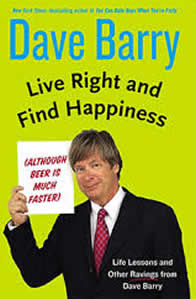 David Barry (Armonk, 3 juli 1947)
Cover
De Welshe dichter en schrijver William Henry Davies werd op 3 juli 1871 in Newport, Monmouthshire, geboren. Zie ook alle tags voor William Henry Davies op dit blog.
A Plain Life
No idle gold -- since this fine sun, my friend,
Is no mean miser, but doth freely spend.
No prescious stones -- since these green mornings show,
Without a charge, their pearls where'er I go.
No lifeless books -- since birds with their sweet tongues
Will read aloud to me their happier songs.
No painted scenes -- since clouds can change their skies
A hundred times a day to please my eyes.
No headstrong wine -- since, when I drink, the spring
Into my eager ears will softly sing.
No surplus clothes -- since every simple beast
Can teach me to be happy with the least.
Money
When I had money, money, O!
I knew no joy till I went poor;
For many a false man as a friend
Came knocking all day at my door.
Then felt I like a child that holds
A trumpet that he must not blow
Because a man is dead; I dared
Not speak to let this false world know.
Much have I thought of life, and seen
How poor men's hearts are ever light;
And how their wives do hum like bees
About their work from morn till night.
So, when I hear these poor ones laugh,
And see the rich ones coldly frown—
Poor men, think I, need not go up
So much as rich men should come down.
When I had money, money, O!
My many friends proved all untrue;
But now I have no money, O!
My friends are real, though very few.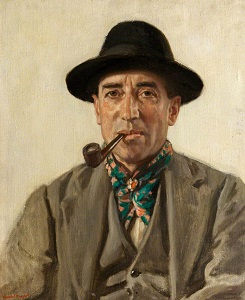 William Henry Davies (3 juli 1871 - 26 september 1940)
Portret door Harold Knight, 1916
De Engelse dichter en schrijver Edward Young werd geboren op 3 juli 1683 in Upham, Hampshire. Zie ook alle tags voor Edward Young op dit blog.
The Complaint: or Night Thoughts (fragment)
And bare existence, man, to live ordain'd,
Wrings, and oppresses with enormous weight.
And why? since time was given for use, not waste,
Enjoin'd to fly; with tempest, tide, and stars,
To keep his speed, nor ever wait for man;
Time's use was doom'd a pleasure: waste, a pain;
That man might feel his error, if unseen:
And, feeling, fly to labour for his cure;
Not, blundering, split on idleness for ease.
Life's cares are comforts; such by Heaven design'd;
He that has none, must make them, or be wretched.
Cares are employments; and without employ
The soul is on a rack; the rack of rest,
To souls most adverse; action all their joy.
Here then, the riddle, mark'd above, unfolds;
Then time turns torment, when man turns a fool.
We rave, we wrestle, with great Nature's plan;
We thwart the Deity; and 'tis decreed,
Who thwart his will shall contradict their own.
Hence our unnatural quarrels with ourselves;
Our thoughts at enmity; our bosom-broils;
We push Time from us, and we wish him back;
Lavish of lustrums, and yet fond of life;
Life we think long, and short; death seek, and shun;
Body and soul, like peevish man and wife,
United jar, and yet are loth to part.


Edward Young (3 juli 1683 – 5 april 1765)
Illustratie door William Blake, 1797
Zie voor nog meer schrijvers van de 3e juli ook mijn vorige blog van vandaag.
03-07-2016 om 12:01 geschreven door Romenu

Tags:Tom Stoppard, Andreas Burnier, David Barry, William Henry Davies, Edward Young, Romenu



Dorota Masłowska, Günter Bruno Fuchs, Ferdinand Kürnberger, Ramón Gómez de la Serna, Francis Carco
De Poolse schrijfster en journaliste Dorota Masłowska werd op 3 juli 1983 in Wejherowo geboren. Zie ook alle tags voor Dorota Masłowska op dit blog.
Uit: Snow White and Russian Red (Vertaald door Benjamin Paloff)
"Leaning over the bar like some salesgirl over the counter.
Like she wanted to sell me some crap, some chocolatey product. Arleta. Rusty water in her beer glass. Easter-egg dye. The candy she'd sell would be empty in the middle. All foil. Which she wouldn't touch with her own fingers, their nails bootleg and false. Since she herself is false, empty inside.
Smokes her cigs. Bought from the Russkies. False, bogus. Instead of nicotine there's some garbage in there, some unfamiliar drugs. Some paper, sawdust, stuff the teachers wouldn't dream of. Stuff the police wouldn't dream of. Though they should put Arleta away. The ones no one knows but she's always chatting up, straight to their faces. To her phone, to the ring tone on her phone.
Now I'm sitting and staring at her hair. Arleta in leather, and next to her Magda's hair, long bright hair, like a wall, like branches. ! stare at her hair as if it were a wall, since it's not for me. It's for others, for the Bartender, for Kisiel, for the different boys who come and go. For everybody, but all the same not for me. Others will put their hands in her hair.
Kacper arrives, sits, asks what's up. His pants too short. And his shoes are like a black mirror in which I see my reflection, the bar neon, the gambling machines, other things lying around. Here, in a clasp, you can see Magda's hair, an impenetrable wall. Fencing her off from me like brickwork, like concrete.
Beyond which there are new loves, her moist kisses. Kacper is clearly hopped up on speed; he's grinding his shoe. Which iswhy the image blurs. He drove here, is chewing mint gum. Heasks whether ! have a tissue. ! lose Magda in the crowd."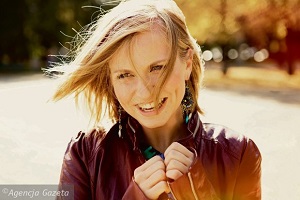 Dorota Masłowska (Wejherowo, 3 juli 1983)
De Duitse dichter, schrijver en graficus Günter Bruno Fuchs werd geboren op 3 juli 1928 in Berlijn. Zie ook alle tags voor Günter Bruno Fuchs op dit blog.
Rat des Sozialamtes
Wenn Sie
keine Arbeit finden,
dann sollten Sie
schlafen
und überwintern. Sie
haben dadurch
die seltene Möglichkeit,
einigen Tieren
näherzukommen.
Für ein Kind

Ich habe gebetet. So nimm von der Sonne und geh.
Die Bäume werden belaubt sein.
Ich habe den Blüten gesagt, sie mögen dich schmücken.

Kommst du zum Strom, da wartet ein Fährmann.
Zur Nacht läutet sein Herz übers Wasser.
Sein Boot hat goldene Planken, das trägt dich.

Die Ufer werden bewohnt sein.
Ich habe den Menschen gesagt, sie mögen dich lieben.
Es wird dir einer begegnen, der hat mich gehört.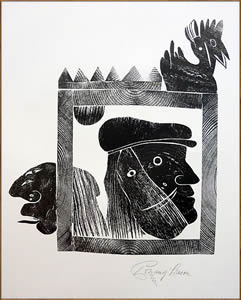 Günter Bruno Fuchs (3 juli 1928 – 19 april 1977)
Portret. Houtsnede door Wolfgang Simon, 1989
De Oostenrijkse schrijver Ferdinand Kürnberger werd op 3 juli 1821 in Wenen geboren. Zie ook alle tags voor Ferdinand Kürnberger op dit blog.
Uit: Der Amerikamüde
"Moorfeld griff wiederholt diese Melodie, aber — sie versagte.
Mit tödtlicher Verwunderung erfüllte ihn dieser Wortbruch der Musen.
Vertrauen und Mißtrauen wechselten so in gleichmäßiger Selbsttäuschung. Wie ein plötzlicher Anflug ihm ausdauernde Kraft, so schien die versagte Gabe des Augenblicks ihm bleibender, unwiederbringlicher Verlust. Er glaubte an eine Abnahme seiner Geisteskräfte. Seine Blätter überflossen von Klagen eines Unglücklichen. Die Termiten der Selbstbeobachtung fielen ihn an, und jeder Zug wurde zum Zeugnisse seines Verfalls. So finden wir die Klage verzeichnet, daß er jetzt einen Nachmittagsschlummer halte, was er sonst nur Philistern überlassen, und was ein verhaßtes Zeichen seiner ausgehenden Jugend.
Daß er in Ohio um zehn Breitegrade dem Aequator näher als in Deutschland schlief, für dieses Zeichen nahm er es nicht. Auch die Beobachtung zufälliger Vergeßlichkeit schien ihm verhängnißvoll.
Gestern — schrieb er — commandirte ich meinen Schottländer nach Neu-Lisbon, das Buch Postpapier zu holen, das ich nebst anderen Sachen in Mr. Clahane's Store eingekauft, aber in der Zerstreuung wieder liegen gelassen. Der Knecht kam zurück, das Papier hätte sich nicht gefunden, ich müsse es haben. Die Gauner haben es Euch verleugnet, aber hättet Ihr doch um Gotteswillen ein neues Buch gekauft, ich will so eben schreiben, und soll nun passen, bis Ihr noch einmal hin- und zurückreitet. So fuhr ich auf. In demselben Augenblicke aber hielt ich inne, denn ich schrieb ja wirklich an Dich. Und erst daran merkte ich, daß ich das vermißte Papier vor mir unter der Feder hatte. So steht's mit mir. Das ist der Dämon der Einsamkeit.
Wahrlich, die Klöster haben nicht verdummt, sie müssen selbst dumm gewesen sein. — Und ein anderes Mal lesen wir: Kennst Du die Tragödie von dem elektrischen Aal? Man hat lange die Bemerkung gemacht, wenn der elektrische Aal von den Gewässern Süd-Amerika's nach England verführt wird, so kam er entweder todt, oder todesmatt an, kurz, starb ab unterwegs."

Ferdinand Kürnberger (3 juli 1821 – 14 oktober 1879)
Gedenkplaat in Wenen op de plek waar Kürnbergers geboortehuis (Kaunitzgasse 35) stond.
De Spaanse schrijver Ramón Gómez de la Serna werd geboren op 3 juli 1888 in Madrid. Zie ook alle tags voor Ramón Gómez de la Serna op dit blog.
Uit: Aphorisms
"Words are the skeleton of things and for that reason last longer than things do."
"The water lily is a flower that escaped from the trees to navigate the waters."
"Capitalist: a gymnast with many telephones."
"An ironing board wears a striped undershirt."
"Octopi are the gloves of the sea."
"What does the moon do in a pond? It washes its face."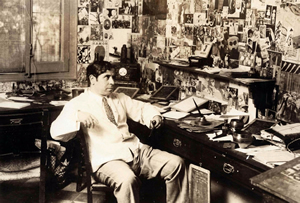 Ramón Gómez de la Serna (3 juli 1888 – 13 januari 1963)
De Franse dichter, schrijver en criticus Francis Carco werd geboren op 3 juli 1886 in Nouméa, Nieuw Caledonië. Zie ook alle tags voor Francis Carco op dit blog.
Uit: L'Homme Traqué
« Au petit jour, après qu'il avait rangé sur les rayons de la boutique ses quatre fournées de pain et les croissants encore tout chauds, Lampieur montait dans sa chambre et, la fatigue de la nuit pesant sur lui de toute sa masse, il finissait parfois par s'endormir. Mais, quand Lampieur se réveillait, aussitôt, son angoisse s'éveillait avec lui et il avait beau s'employer à la chasser, il n'y parvenait point.
L'homme, alors, rejetait les draps et les couvertures de son lit, se levait, chaussait de vieilles savates et poussait, dans le toit, une fenêtre à tabatière pour aspirer l'air du dehors. Mille bruits lui arrivaient. Il les reconnaissait, un à un, depuis celui des autobus qui ébranlaient, contre la sienne, les maisons de la rue Rambuteau, jusqu'à celui -si faible et cependant distinct - du grelot attaché sous la selle d'un lointain triporteur.
Lampieur écoutait ces bruits comme quelqu'un qui, ne sachant plus où il est, demande aux moindres choses de lui répondre.
Et elles lui répondaient. Elles le rassuraient. Elles lui laissaient entendre qu'il descendrait bientôt se mêler à leur tourbillon machinal, à leurs feux, à leurs lumières qui s'allumaient dans les vitrines et à leur incessante trépidation.
Néanmoins Lampieur n'apportait nulle hâte à sortir de sa chambre. Chaque fois qu'il en ouvrait la porte, il éprouvait presque une frayeur à l'idée qu'il y avait des gens, derrière, qui l'attendaient. . . Cela lui enlevait toute assurance. Et, cependant, il voyait que le couloir qui conduisait aux escaliers était désert et que personne ne lui en disputait l'accès.
« Allons! » se disait-il, et il se dépêchait de refermer la porte sur son passage et de gagner, tout en se surveillant, la rue où il se perdait dans la foule. »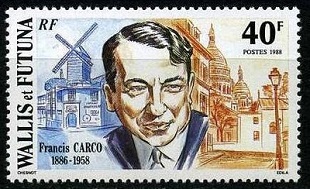 Francis Carco (3 juli 1886 – 26 mei 1958)


03-07-2016 om 12:00 geschreven door Romenu

Tags:Dorota Masł,owska, Günter Bruno Fuchs, Ferdinand Kürnberger, Ramón Gómez de la Serna, Francis Carco, Romenu



In Memoriam Elie Wiesel
In memoriam Elie Wiesel
De Amerikaans Joodse schrijver en Holocaust-overlevende Elie Wiesel is op 87-jarige leeftijd overleden. Elie Wiesel werd geboren op 30 september 1928 in Sighet (nu Sighetu Marmaţiei), Roemenië. Zie ook mijn blog van 30 september 2010 en eveneens alle tags voor Elie Wiesel op dit blog.
Uit: Night
"There are no Kabbalists in Sighet," my father would often tell me.
He wanted to drive the idea of studying Kabbalah from my mind. In vain. I succeeded on my own in finding a master for myself in the person of Moishe the Beadle.
He had watched me one day as I prayed at dusk.
"Why do you cry when you pray?" he asked, as though he knew me well.
"I don't know," I answered, troubled.
I had never asked myself that question. I cried because ... because something inside me felt the need to cry. That was all I knew.
"Why do you pray?" he asked after a moment.
Why did I pray? Strange question. Why did I live? Why did I breathe?
"I don't know," I told him, even more troubled and ill at ease. "I don't know."
From that day on, I saw him often. He explained to me, withgreat emphasis, that every question possessed a power that was lost in the answer ...
Man comes closer to God through the questions he asks Him, he liked to say. Therein lies true dialogue. Man asks and God replies. But we don't understand His replies. We cannot understand them. Because they dwell in the depths of our souls and remain there until we die. The real answers, Eliezer, you will find only within yourself.
"And why do you pray, Moishe?" I asked him.
"I pray to the God within me for the strength to ask Him the real questions."
We spoke that way almost every evening, remaining in the synagogue long after all the faithful had gone, sitting in the semidarkness where only a few half-burnt candles provided a flickering light.
One evening, I told him how unhappy I was not to be able to find in Sighet a master to teach me the Zohar, the Kabbalistic works, the secrets of Jewish mysticism. He smiled indulgently. After a long silence, he said, "There are a thousand and one gates allowing entry into the orchard of mystical truth. Every human being has his own gate. He must not err and wish to enter the orchard through a gate other than his own. That would present a danger not only for the one entering but also for those who are already inside."
And Moishe the Beadle, the poorest of the poor of Sighet, spoke to me for hours on end about the Kabbalah's revelations and its mysteries. Thus began my initiation. Together we would read, over and over again, the same page of the Zohar. Not to learn it by heart but to discover within the very essence of divinity.
And in the course of those evenings I became convinced that Moishe the Beadle would help me enter eternity, into that time when question and answer would become ONE."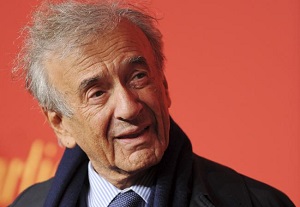 Elie Wiesel (30 september 1928 – 2 juli 2016)


03-07-2016 om 11:26 geschreven door Romenu

Tags:In Memoriam, Elie Wiesel, Romenu



| | |
| --- | --- |
| | |



Inhoud blog


| | |
| --- | --- |
| | Bernard Malamud, Vincente Alexandre, Carl-Christian Elze, Hannelies Taschau, Theun de Vries, Hertha Kräftner, Johann Uhland, Margreet van Hoorn, Leo Stilma |
| | Erik Menkveld, Ted Kooser, James Fenton, Walter de la Mare, Richard Anders, William Temple, John Keble, Ross Franklin Lockridge Jr., Leopoldo Alas |
| | Frans Coenen, Eric Bogosian, Robert Penn Warren, George Oppen, Sue Grafton, Carl Spitteler, Anthony Trollope, Michael Schaefer, Marcus Clarke |
| | William Shakespeare, Roman Helinski, Pascal Quignard, Peter Horst Neumann, Andrey Kurkov, Halldór Laxness, Christine Busta, Adelheid Duvanel, Richard Huelsenbeck |
| | The Good Shepherd (Stanley Moss) |
| | Giorgio Fontana, Jan de Hartog, Björn Kern, Vladimir Nabokov, Chetan Bhagat, Peter Weber, Jos de Haes, Thommie Bayer, Madame de Staël |
| | Ana María Shua, Louise Glück, Robert Choquette, James Philip Bailey, Henry Fielding, Michael Schulte, Cabrera Infante, Ludwig Renn |
| | The Enkindled Spring (D. H. Lawrence) |
| | Charlotte Brontë, Patrick Rambaud, John Mortimer, Charles den Tex, Ahmed Arif, Michael Mann |
| | Peter Schneider, Meira Delmar, Alistair MacLean, Gerrit Wustmann, Népomucčne Lemercier |
| | Prijs der Nederlandse Letteren voor Judith Herzberg |
| | Martinus Nijhoff, Jan Cremer, Jean Pierre Rawie, Marieke Lucas Rijneveld, Sebastian Faulks, Jozef Deleu, Steve Erickson, Arto Paasilinna, Michel Leiris |
| | Martin Michael Driessen, Marjoleine de Vos, Manuel Bandeira, n. c. kaser, Veniamin Kaverin, Louis Amédée Achard, Pierre-Jean de Béranger, Gudrun Reinboth, Werner Rohner |
| | Wam de Moor, Bas Belleman, Roos van Rijswijk, Hanane Aad, Clara Eggink, Kathy Acker, Joy Davidman, Henry Kendall, Katharina Schwanbeck |
| | Antoon Coolen, Vincent Corjanus, Nick Hornby, Ida Boy-Ed, Thornton Wilder, David Wagner, R.J. Pineiro, Helen Meier, Karen Blixen |
| | Sarah Kirsch, Thomas Olde Heuvelt, Kingsley Amis, Patricia De Martelaere, Tristan Tzara, Ewald Vanvugt, Sibylle Lewitscharoff, Jan Luyken, Anatole France |
| | Emmaüs (Felix Timmermans) |
| | Tomas Tranströmer, Daniël Samkalden, Jérôme Lambert, Patrick Bernauw, Benjamin Zephaniah, Henry James, Wilhelm Busch, Ina Boudier-Bakker |
| | Bliss Carman, Beate Morgenstern, Jeffrey Archer, Bernhard Lassahn, Erich Arendt, Pol De Mont, Staf Weyts, Hans Egon Holthusen |
| | Péter Esterházy, Alexandre Jardin, Tjitse Hofman, Landolf Scherzer, Charles Lewinsky, Roman Graf |
| | Roberto Schopflocher, Martin Kessel, Gabriele Stötzer, Helene Hübener, Gerhard Rohlfs |
| | Nachoem Wijnberg, K. Michel, Alexander Münninghoff, Michel Faber, Jean-Marie Gustave Le Clézio, Samuel Beckett, Seamus Heaney, Tim Krabbé, Eudora Welty |
| | Antje Rávic Strubel, Alan Ayckbourn, Scott Turow, Tom Clancy, Agnes Sapper, Edward de Vere, José Gautier Benítez, Alexander Ostrovski, Guillaume-Thomas Raynal |
| | Leonard Nolens, Mark Strand, Silvia Avallone, Walid Soliman, Dorothy Allison, Hubert Nyssen, Rolf Schilling, Glenway Wescott, Claude Tillier |
| | Leo Vroman, Jan van Mersbergen, Paul Theroux, Claudio Magris, Bella Akhmadulina, Stefan Heym, Richard Wagner, Marcel van Maele, Eric Knight |
| | Charles Baudelaire, Jelle Brandt Corstius, Karel Jonckheere, Joolz Denby, Albert von Schirnding, Johannes Bobrowski, Bernard-Marie Koltčs, Arnold Stadler, Yaël Vinckx |
| | Thomas (Jan Willem Schulte Nordholt) |
| | Herinnering aan Gerard Reve, Hanz Mirck, Christoph Hein, Judith Koelemeijer, Nnedi Okorafor, Barbara Kingsolver |
| | John Fante, Johann Christian Günther, Glendon Swarthout, Martin Grzimek, Hégésippe Moreau, Robert Askins |
| | Den Haag (Paul Rodenko) |
| | Juliana Spahr, William Wordsworth, Özcan Akyol, Gabriela Mistral |
| | Kazim Ali, Annejet van der Zijl, John Pepper Clark, Jakob Ejersbo, Günter Herburger, Uljana Wolf, Brigitte Schwaiger, Julien Torma, Nicolas Chamfort |
| | Iulian Ciocan |
| | Hugo Claus, Martin Reints, Mieke van Zonneveld, Vítězslav Hálek, Algernon Swinburne, Bora Ćosić,, Werner J. Egli, Michael Georg Conrad, Marente de Moor |
| | Maya Angelou, Hanneke Hendrix, Marko Klomp, Marcel Vaarmeijer, E. L. James, Marguerite Duras, Robert Schindel, Michiel van Kempen, Bettina von Arnim |
| | Charles Ducal, Adriaan Jaeggi, Frederik van Eeden, Bert Bakker, Peter Huchel, Arlette Cousture, Pieter Aspe, Karel N.L. Grazell, Washington Irving |
| | Die Sonne geht im Osten auf (Christian Morgenstern) |
| | Thomas Glavinic, Jay Parini, Anneke Claus, Klaus Ender, Konrad Merz, Ed Dorn, Émile Zola |
| | György Konrád, Anne Waldman, Casanova, Hans Christian Andersen, Roberto Arlt, Edgar Hilsenrath, George Fraser |
| | Hoffmann von Fallersleben, Johann Gleim, Pierre Zaccone, Pietro della Valle, Zwier van Haren, Joanna Chmielewska, Brigitte Struzyk |
| | Preis dem Todesüberwinder! (Friedrich Klopstock) |
| | Milan Kundera, Sandro Veronesi, Nikolaj Gogol, Arnold Aletrino, Max Nord, Urs Allemann, Rolf Hochhuth, John Wilmot, Deborah Feldman |
| | Maria Polydouri, Edgar Wallace, Carl Sternheim, Edmond Rostand, Armel Guerne, Friedrich Güll, Antoine Prévost, Josep de Maistre |
| | Litanie van een wachter bij het graf (Willem Jan Otten) |
| | Stefan Hertmans, Octavio Paz, Asis Aynan, Martijn Teerlinck, Marga Minco, Enrique Vila-Matas |
| | Rob Boudestein, Kornej Tsjoekovski, Andrew Lang, Nichita Stănescu, Hartmut Lange, Marge Piercy |
| | Angela Kreuz, Judith Rossner, Andrew Marvell, John Fowles, Edward FitzGerald, Robert Brasillach, Peter Motte |
| | Golgotha (Theo Thijssen) |
| | Gerrit Komrij, Paul Verlaine, Milton Acorn, Erika Mitterer, Uwe Timm, Tom Sharpe, Gert Heidenreich, Theo Breuer, Luise Hensel |
| | Gethsemane (Jacqueline van der Waals) |


Gastenboek


Druk op onderstaande knop om een berichtje achter te laten in mijn gastenboek