E-mail mij


Druk op onderstaande knop om mij te e-mailen.


Romenu


Romenu is een blog over gedichten, literatuur en kunst Maar Romenu is ook een professionele freelance vertaler
Du-Ne en Ne-Du http://www.romenu.nl.


Huur eens een (vakantie)huis in een natuurgebied, dichtbij het centrum van Nijmegen


Google


Georg Trakl

Georg Trakl werd op 3 februari 1887 in het conducteurshuis aan de Waagplatz 2 in Salzburg geboren. Zijn vader, Tobias Trakl, was een handelaar in ijzerwaren en zijn moeder, die ook psychische problemen had, was Maria Catharina Trakl, (meisjesnaam Halik). Voorts had hij nog drie broers en drie zussen. Margarethe (doorgaans Grethe genoemd) stond hem het naast, zelfs zodanig dat sommigen een incestueuze verhouding vermoeden. Zijn jeugd bracht hij door in Salzburg. Vervolgens bezocht hij van 1897 tot 1905 het humanistische gymnasium. Om toch een academische opleiding te kunnen volgen, werkte hij tot 1908 in de praktijk bij een apotheker. Sommigen vermoedden dat hij dit vooral deed om zichzelf opiaten te kunnen verschaffen. Bij het uitbreken van WO I werd Trakl als medicus naar het front in Galicië (heden ten dage in Oekraïne en Polen) gestuurd. Zijn gemoedsschommelingen leidden tot geregelde uitbraken van depressie, die verergerd werden door de afschuw die hij voelde voor de verzorging van de ernstig verwonde soldaten. De spanning en druk dreven hem ertoe een suïcidepoging te ondernemen, welke zijn kameraden nochtans verhinderden. Hij werd in een militair ziekenhuis opgenomen in Kraków, alwaar hij onder strikt toezicht geplaatst werd.Trakl verzonk daar in nog zwaardere depressies en schreef Ficker om advies. Ficker overtuigde hem ervan dat hij contact moest opnemen met Wittgenstein, die inderdaad op weg ging na Trakls bericht te hebben ontvangen. Op 4 november 1914, drie dagen voordat Wittgenstein aan zou komen, overleed hij echter aan een overdosis cocaïne


Paul Celan

Paul Celan werd onder de naam Paul Antschel op 23 november 1920 geboren in Czernowitz, toentertijd de hoofdstad van de Roemeense Boekovina, nu behorend bij de Oekraïne. Paul Celans ouders waren Duitssprekende joden die hun zoon joods opvoedden en hem naar Duitse christelijke scholen stuurden. In 1942 werden Celans ouders door de Duitse bezetter naar een werkkamp gedeporteerd en daar vermoord. Hijzelf wist aanvankelijk onder te duiken, maar moest vanaf juli 1942 in een werkkamp dwangarbeid verrichten. Celan overleefde de oorlog. Via Boekarest en Wenen vestigde Celan zich in 1948 in Parijs. Daar was hij werkzaam als dichter, vertaler en doceerde hij aan de prestigieuze Ecole Normale Supérieure. Vermoedelijk op 20 april 1970 beëindigde hij zijn leven zelf door in de Seine te springen.


Gerard Reve

Gerard Reve over: Medearbeiders "God is in de mensen, de dieren, de planten en alle dingen - in de schepping, die verlost moet worden of waaruit God verlost moet worden, door onze arbeid, aangezien wij medearbeiders van God zijn." Openbaring "Tja, waar berust elk godsbegrip op, elke vorm van religie? Op een openbaring, dat wil zeggen op een psychische ervaring van zulk een dwingende en onverbiddelijke kracht, dat de betrokkene het gevoel heeft, niet dat hij een gedachte of een visioen heeft, maar dat een gedachte gedachte of visioen hem bezit en overweldigt."


Simon Vestdijk
Simon Vestdijk (Harlingen, 17 oktober 1898 – Utrecht, 23 maart 1971) was een Nederlands romancier, dichter, essayist en vertaler. Zijn jeugd te Harlingen en Leeuwarden beschreef hij later in de Anton Wachter-cyclus. Van jongs af aan logeerde hij regelmatig bij zijn grootouders in Amsterdam, waar hij zich in 1917 aan de Universiteit van Amsterdam inschrijft als student in de medicijnen. Tijdens zijn studie die van 1917 tot 1927 duurde, leerde hij Jan Slauerhoff kennen.Tot 1932 is hij als arts in praktijken door heel Nederland werkzaam. In 1932 volgt zijn officiële schrijversdebuut met de uitgave van de bundel Verzen in De Vrije Bladen. Doorslaggevend voor Vestdijks uiteindelijke keuze voor de literatuur is zijn ontmoeting in 1932 met Eddy Du Perron en Menno ter Braak. Deze ontmoeting had tot resultaat dat hij redactielid werd van het tijdschrift Forum Kort daarop, in 1933, wordt zijn eerste novelle, De oubliette, uitgegeven. In hetzelfde jaar schrijft hij Kind tussen vier vrouwen, dat, eerst geweigerd door de uitgever, later de basis zal vormen voor de eerste drie delen van de Anton Wachter-romans. In 1951 ontvangt Vestdijk de P.C. Hooftprijs voor zijn in 1947 verschenen roman De vuuraanbidders. In 1957 wordt hij voor het eerst door het PEN-centrum voor Nederland voorgedragen voor de Nobelprijs voor de Literatuur, die hij echter nooit zal krijgen. Op 20 maart 1971 wordt hem de Prijs der Nederlandse Letteren toegekend, maar voor hij deze kan ontvangen overlijdt hij op 23 maart te Utrecht op 72-jarige leeftijd. Vestdijk was auteur van ca. 200 boeken. Vanwege deze enorme productie noemde de dichter Adriaan Roland Holst hem 'de man die sneller schrijft dan God kan lezen'. Andere belangrijke boeken van Simon Vestdijk zijn: "Kind van stad en land" (1936), "Meneer Visser's hellevaart" (1936), "Ierse nachten" (1946), "De toekomst de religie" (1947), "Pastorale 1943" (1948), "De koperen tuin" (1950), "Ivoren wachters" (1951), "Essays in duodecimo" (1952) en "Het genadeschot" (1964).


K.P. Kavafis

K.P. Kavafis werd als kind van Griekse ouders, afkomstig uit Konstantinopel, geboren in 1863 in Alexandrië (tot vandaag een Griekse enclave) waar hij ook het grootste deel van zijn leven woonde en werkte. Twee jaar na de dood van zijn vader verhuist het gezin in 1872 naar Engeland om na een verblijf van vijf jaar naar Alexandrië terug te keren. Vanwege ongeregeldheden in Egypte vlucht het gezin in 1882 naar Konstantinopel, om na drie jaar opnieuw naar Alexandrië terug te gaan. In de jaren die volgen maakt Kavafis reizen naar Parijs, Londen en in 1901 zijn eerste reis naar Griekenland, in latere jaren gevolgd door nog enkele bezoeken. Op de dag van zijn zeventigste verjaardag, in 1933 sterft Kavafis in Alexandrië. De roem kwam voor Kavafis pas na zijn dood, dus postuum. Deels is dat toe te schrijven aan zijn eigen handelswijze. Hij was uiterst terughoudend met de publicatie van zijn gedichten, liet af en toe een enkel gedicht afdrukken in een literair tijdschrift, gaf in eigen beheer enkele bundels met een stuk of twintig gedichten uit en het merendeel van zijn poëzie schonk hij op losse bladen aan zijn beste vrienden.


Thomas Mann


Thomas Mann, de jongere broer van Heinrich Mann, werd geboren op 6 juni 1875 in Lübeck. Hij was de tweede zoon van de graankoopman Thomas Johann Heinrich Mann welke later één van de senatoren van Lübreck werd. Zijn moeder Julia (geboren da Silva-Bruhns) was Duits-Braziliaans van Portugees Kreoolse afkomst. In 1894 debuteerde Thomas Mann met de novelle "Gefallen". Toen Thomas Mann met 21 jaar eindelijk volwassen was en hem dus geld van zijn vaders erfenis toestond - hij kreeg ongeveer 160 tot 180 goldmark per jaar - besloot hij dat hij genoeg had van al die scholen en instituties en werd onafhankelijk schrijver. Kenmerkend voor zijn stijl zijn de ironie, de fenomenale taalbeheersing en de minutieuze detailschildering. Manns reputatie in Duitsland was sterk wisselend. Met zijn eerste roman, Buddenbrooks (1901), had hij een enorm succes, maar door zijn sceptische houding tegenover Duitsland na de Eerste Wereldoorlog veranderde dit volledig. Stelde hij zich tot aan de jaren twintig apolitiek op (Betrachtungen eines Unpolitischen, 1918), meer en meer raakte hij bij het Politiek gebeuren betrokken. Zijn afkeer van het nationaal socialisme groeide, zijn waarschuwingen werden veelvuldiger en heftiger. In 1944 accepteerde hij het Amerikaanse staatsburgerschap. Tussen 1943 en 1947 schreef Mann Doktor Faustus (zie Faust), de roman van de 'Duitse ziel' in de gecamoufleerd geschilderde omstandigheden van de 20ste eeuw. In 1947 bezocht hij voor het eerst sinds de Oorlog Europa, twee jaar later pas Duitsland. In 1952 vertrok hij naar Zwitserland. Op 12 augustus 1955 stierf hij in Zürich. Twintig jaar na zijn dood, in aug. 1975, is zijn literaire nalatenschap geopend: dagboekaantekeningen van 15 maart 1933 tot 29 juli 1955, alsmede notities uit de jaren 1918 tot en met 1921.Belangrijke werken zijn: Der Zauberberg, Der Tod in Venedig, Dokter Faustus , Joseph und seine Brüder en Die Bekenntnisse des Hochstaplers Felix Krull.


Rainer Maria Rilke

Rilke werd op 4 december 1875 geboren in Praag. Hij had al naam gemaakt als dichter met zijn bundels Das Stundenbuch en Das Buch der Bilder, toen hij de literaire wereld versteld deed staan en wereldfaam verwierf met de publicatie van zijn twee delen Neue Gedichte in 1907 en 1908. Hij verzamelde daarin het beste werk uit een van zijn vruchtbaarste periodes, die hij grotendeels doorbracht in Parijs. Rilke was daar diep onder de indruk gekomen van Rodin, bij wie hij een tijdlang in dienst was als particulier secretaris. Rodin, zei hij later, had hem leren kijken. Dit kijken kwam neer op intense concentratie, om het mysterie te kunnen zien 'achter de schijnbare werkelijkheid'. Latere en rijpere werken als Duineser Elegien (1912-1923) en het ronduit schitterende Die Sonette an Orfeus (1924) illustreren Rilkes metafysische visie op het onzegbare, dat haar verwoording vindt in een hermetische muzikale taal. Op 29 december 1926 overlijdt Rilke in het sanatorium in Val-Mont aan de gevolgen van leukemie. Enkele dagen later wordt hij, overeenkomstig zijn wens, begraven op het kerkhof van Raron.


* * * * * * * * * * * * * * * *

| | |
| --- | --- |
| | Over literatuur, gedichten, kunst en cultuur |

28-02-2015

Martin Suter, Yórgos Seféris, Marin Sorescu, Howard Nemerov, Saul Williams, John Byrom
Zwitserse schrijver Martin Suter werd geboren op 29 februari 1948 in Zürich. Zie ook alle tags voor Martin Suter op dit blog.
Uit: Ein perfekter Freund
"Das wollte ich Sie fragen."
"Keine Ahnung?"
Fabio schüttelte vorsichtig den Kopf. Die Frau liess sein Handgelenk los, nahm das Krankenblatt vom Bettgestell und notierte etwas. "Sie sind in der Neurochirurgie der Uniklinik."
"Weshalb?"
"Sie haben eine Kopfverletzung." Sie überprüfte die Infusionsflasche.
"Was für eine?"
"Ein Schädel-Hirn-Trauma. Sie haben einen Schlag auf den Kopf erhalten."
"Wie das?"
Sie lächelte: "Das wollte ich Sie fragen."
Fabio schloss die Augen. "Seit wann bin ich hier?"
"Seit fünf Tagen."
Fabio schlug die Augen auf. "Ich war fünf Tage im Koma?"
"Nein, Sie sind seit drei Tagen wach."
"Ich erinnere mich nicht."
"Das hängt mit Ihrer Kopfverletzung zusammen."
"Ist sie so schlimm?"
"Es geht. Kein Schädelbruch und keine Blutung."
"Und der Verband?"
"Auf der Intensivstation hatte man Ihnen eine Hirndrucksonde eingesetzt."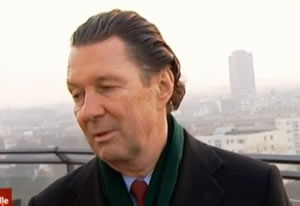 Martin Suter (Zürich 29 februari 1948)
De Griekse dichter Yórgos Seféris werd geboren in Smyrna (nu Izmir, in Turkije) op 29 februari 1900. Zie ook alle tags voor Yórgos Seféris op dit blog.
Erotikos Logos

I
Rose of fate, you looked for ways to wound us
yet you bent like the secret about to be released
and the command you chose to give us was beautiful
and your smile was like a ready sword.

The ascent of your cycle livened creation
from your thorn emerged the way's thought
our impulse dawned naked to possess you
the world was easy: a simple pulsation.


II
The secrets of the sea are forgotten on the shores
the darkness of the depths is forgotten in the surf;
the corals of memory suddenly shine purple. . .
O do not stir. . . listen to hear its light

motion. . . you touched the tree with the apples
the hand reached out, the thread points the way and guides you. . .
O dark shivering in the roots and the leaves
if it were but you who would bring the forgotten dawn!

May lilies blossom again on the meadow of separation
may days open mature, the embrace of the heavens,
may those eyes alone shine in the glare
the pure soul be outlined like the song of a flute.

Was it night that shut its eyes? Ashes remain,
as from the string of a bow a choked hum remains,
ash and dizziness on the black shore
and dense fluttering imprisoned in surmise.

Rose of the wind, you knew but took us unknowing
at a time when thought was building bridges
so that fingers would knit and two fates pass by
and spill into the low and rested light.
Vertaald door Edmund Keeley en Phillip Sherrar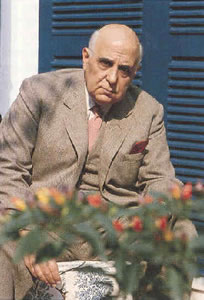 Yórgos Seféris (29 februari 1900 - 20 september 1971)




De Roemeense dichter Marin Sorescu werd geboren op 29 februari 1936 in Bulzeşti. Zie ook alle tags voor Marin Sorescu op dit blog.
Ladder To Heaven
A silk thread spun by a spider
Is hanging from the ceiling
Just above my bed.
Every day I notice it
Descending lower.
Now I am even offered
The ladder to Heaven – I say
It comes from 'up there'.
Although I had lost weight to the point
Where I am only the spectre of my former self
I believe that my body
May be too heavy
For this delicate ladder.
You, soul of mine, I think that you ought to go first.
Pitter-patter, pitter-patter!.
Vertaald door Constantin Roman
With Only One Life
Hold with both hands
The tray of every day
And pass in turn
Along this counter.
There is enough sun
For everybody.
There is enough sky,
And there is moon enough.
The earth gives off the smell
Of luck, of happiness, of glory,
Which tickles your nostrils
Temptingly.
So don't be miserly,
Live after your own heart.
The prices are derisory.
For instance, with only one life
You can acquire
The most beautiful woman,
Plus a biscuit.
Vertaald door Joana Russell-Gebbett en D.J. Enright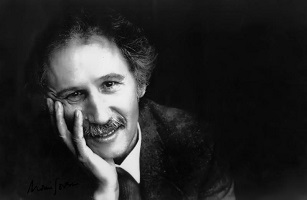 Marin Sorescu (29 februari 1936 – 8 december 1996)





De Amerikaanse dichter en literatuurdocent Howard Nemerov werd geboren op 29 februari 1920 in New York. Zie ook alle tags voor Howard Nemerov op dit blog.
Walking The Dog
Two universes mosey down the street
Connected by love and a leash and nothing else.
Mostly I look at lamplight through the leaves
While he mooches along with tail up and snout down,
Getting a secret knowledge through the nose
Almost entirely hidden from my sight.

We stand while he's enraptured by a bush
Till I can't stand our standing any more
And haul him off; for our relationship
Is patience balancing to this side tug
And that side drag; a pair of symbionts
Contented not to think each other's thoughts.

What else we have in common's what he taught,
Our interest in shit. We know its every state
From steaming fresh through stink to nature's way
Of sluicing it downstreet dissolved in rain
Or drying it to dust that blows away.
We move along the street inspecting shit.

His sense of it is keener far than mine,
And only when he finds the place precise
He signifies by sniffing urgently
And circles thrice about, and squats, and shits,
Whereon we both with dignity walk home
And just to show who's master I write the poem.
Kicks
The fishermen on Lake Michigan, sometimes,
For kicks, they spit two hunks of bait on hooks
At either end of a single length of line
And toss that up among the scavenging gulls,

Who go for it so fast that often two of them
Make the connection before it hits the water.
Hooked and hung up like that, they do a dance
That lasts only so long. The fishermen

Do that for kicks, on Lake Michigan, sometimes.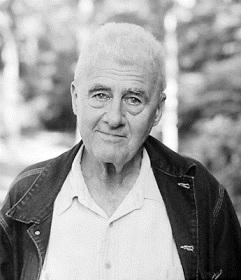 Howard Nemerov (29 februari 1920 – 5 juli 1991)




De Amerikaanse dichter, schrijver, acteur, rapper en musicus Saul Stacey Williams werd geboren in Newburgh, New York op 29 februari 1972. Zie ook alle tags voor Saul Williams op dit blog.
1987
CHAPTER 1
Acid wash Guess with the leather patches,
sportin the white Diadoras with the hoodie
that matches. I'm wearing two Swatches and
a small Gucci pouch. I could have worn the
Louis but I left it in the house.
My NGHs Duce and Wayne got gold plates
with their name, with the skyline on it and the
box link chain. I'm wearing my frames they
match my gear with their tint. And you know
Lagerfield is the scent.
My NGH Rafael just got his jeep out the shop.
Mint green sidekick. Custom made ragtop. Strictly
Business is the album that we play. "You're a
Customer," the pick of the day.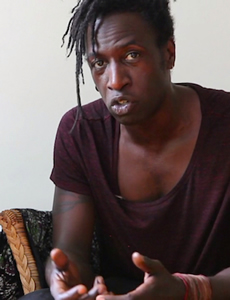 Saul Williams (Newburgh, 29 februari 1972)
De Engelse dichter John Byrom werd geboren op 29 februari 1692 in Manchester. Zie ook alle tags voor John Byrom op dit blog.
Epigram V.
Prayer and thanksgiving is the vital breath
That keeps the spirit of a man from death;
For pray'r attracts into the living soul
The life, that fills the universal whole.
Epigram VI.
To own a God, who does not speak to men,
Is first to own, and then disown again;
Of all idolatry the total sum
Is having gods, that are both deaf and dumb.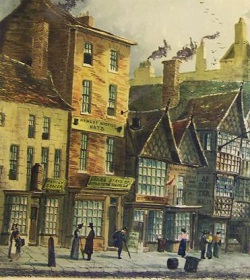 John Byrom (29 februari 1692 – 26 september 1763)
Old Market Street, Manchester door Paul Brandonm 1820
Zie voor de schrijvers van de 28e februari ook mijn vorige twee blogs van vandaag.
28-02-2015 om 14:53 geschreven door Romenu

Tags:Martin Suter, Yórgos Seféris, Marin Sorescu, Howard Nemerov, Saul Williams, John Byrom, Romenu



Stephen Spender, Bart Koubaa, Luc Dellisse, John Montague, Marcel Pagnol, Raphaële Billetdoux, Bodo Morshäuser
De Engelse dichter, essayist en schrijver Stephen Spender werd geboren op 28 februari 1909 in Londen. Zie ook alle tags voor Stephen Spender op dit blog.
A Childhood
I am glad I met you on the edge
Of your barbarous childhood

In what purity of pleasure
You danced alone like a peasant
For the stamping joy's own sake!

How, set in their sandy sockets,
Your clear, truthful, transparent eyes
Shone out of the black frozen landscape
Of those gray-clothed schoolboys!

How your shy hand offered
The total generosity
Of original unforewarned fearful trust,
In a world grown old in iron hatred!

I am glad to set down
The first and ultimate you,
Your inescapable soul. Although
It fade like a fading smile
Or light falling from faces
Which some grimmer preoccupation replaces.

This happens everywhere at every time:
Joy lacks the cause for joy,
Love the answering love,
And truth the objectless persistent loneliness,
As they grow older,
To become later what they were
In childhood earlier,
In a world of cheating compromise.

Childhood, its own flower,
Flushes from the grasses with no reason
Except the sky of that season.
But the grown desires need objects
And taste of these corrupts the tongue
And the natural need is scattered
In satisfactions which satisfy
A debased need.

Yet all prayers are on die side of
Giving strength to naturalness,
So I pray for nothing new,
I pray only, after such knowledge,
That you may have the strength to be you.

And I shall remember
You who, being younger,
Will probably forget.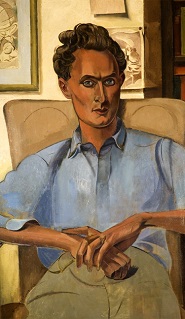 Stephen Spender (28 februari 1909 – 16 juli 1995)
Portret door Wyndham Lewis, 1938
De Vlaamse schrijver Bart Koubaa (pseudoniem van Bart van den Bossche) werd geboren op 28 februari 1968 in Eeklo. Zie ook alle tags voor Bart Koubaa op dit blog.
Uit: Maria van Barcelona
"Ik had de ontspanner ingedrukt op het moment dat Lukas' hoed van zijn hoofd afwaaide. Ik had hem zien staan in de zoeker, als een boegbeeld, lichtjes voorovergebogen, steunend op de noordenwind, daar ben ik honderd procent zeker van. Hij stond er toen ik afdrukte. En toch is op de foto alleen een zwevende hoed te zien; alsof ik het moment had vastgelegd waarop hij als een konijn in die hoed was verdwenen. Misschien betekende dat beeld zijn einde; een einde dat alleen maar door een goocheltoer verbroken kon worden.
...Ik twijfelde of ik naar de zwarte Opel Astra zou teruglopen of een café zou binnen gaan om Lukas op te wachten. Ik overtuigde mezelf ervan dat hij zou terugkomen, het leek me logisch. Ik nam het zekere voor het onzekere en ging naar de auto. Lukas had in zijn haast en verwarring de deuren niet gesloten. Als de Noordzee hem niet had tegengehouden, waren we nog altijd aan het rijden, maar daarbeneden op de promenade waar de journalisten als dwergen de zon trotseren, op nog geen honderd meter van deze kamer, had Lukas zichzelf met zeesterren, visgraten en mosselschelpen gekroond.
Ik nam zijn jas uit de kofferbak en stapte in; de sleutels zaten nog in het contact. Ik wachtte vier, vijf uur, nam af en toe een slok gin, stapte uit, liep een paar keer rond de auto, stapte weer in, zette de verwarming aan, luisterde naar de radio, viel in slaap. 's Ochtends werd ik gewekt door meeuwen die vochten om een paar glimmende haringkoppen. Verwarring, tactiek, de aanval, het toeslaan en de vlucht van de winnaar die met zijn trofee het ongeloof van de verliezer versterkt. Ik herkende dat ongeloof en voelde dat de kans dat ik Lukas in levenden lijve zou terugzien één op honderdduizend was.
Aan het licht buiten kon ik onmogelijk opmaken hoe laat het was en het klokje in de auto stond stil. Ik strekte mijn benen, masseerde mijn oogleden en zocht een sigaret; een kleine lichtstraal verblindde me. Ik deed de zonneklep naar beneden en schrok van mezelf, mijn hoofd losdraaiend als de grijze roodstaart van mijn moeder die elke dag op het balkon vanuit zijn Arabische kooi de schouder van zijn kapitein zocht."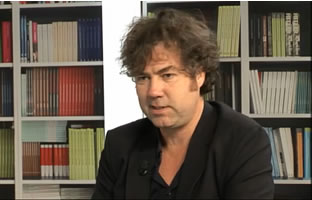 Bart Koubaa (Eeklo, 28 februari 1968)
De Belgische-Franse dichter, schrijver, essayist, dramaturg en scenarioschrijver Luc Dellisse werd geboren op 28 februari 1953 in Brussel. Zie ook alle tags voor Luc Delisse op dit blog.
Uit: Le jugement dernier
« La vérité était pourtant lisible noir sur blanc.
Il y avait place dans ma vie, non pour une passion unique, mais pour deux passions en même temps. Au grand jour et à l'insu de tous, j'ai mené les deux de front. Ecrire, qui m'a apporté l'obscurité nécessaire, qui m'a permis de n'être personne et d'aller dans des villes inconnues pour rencontrer les inconnus. Et puis, traquer quelque chose d'obsédant qui finissait toujours par venir.
Souvent, je jouais avec le feu, j'attaquais à contretemps. Par mille signes je me trahissais. Il m'est arrivé de passer à l'acte devant le mari, l'amant, les frères, les vigiles, sans que rien ne transpire. Personne ne vous croit capable d'une chose pareille, surtout personne ne m'en croyait capable ; sorti des choses de l'esprit j'ai l'air d'une cloche. Je ne sais ni conduire une voiture, ni réparer une fuite, ni voir la différence entre deux joueurs de football. Ma place à l'évidence était dans un de ces ateliers protégés qu'on appelle une bibliothèque.
Il m'est arrivé dans mes livres et mes articles de faire allusion au secret. Je racontais des aventures, sans y toucher. Sécurité parfaite. On n'est jamais lu. En tout cas, pas dans le texte. Personne n'a deviné Pindisable. Ni vu ni connu."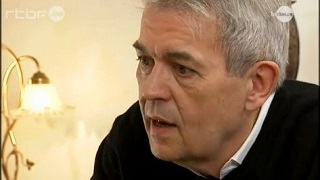 Luc Dellisse (Brussel, 28 februari 1953)
De Ierse dichter John Montague werd geboren in New York op 28 februari 1929. Zie ook alle tags voor John Montague op dit blog.
White Water
for Line McKie

The light, tarred skin
of the currach rides
and receives the current,
rolls and responds to
the harsh sea swell.

Inside the wooden ribs
a slithering frenzy; a sheen
of black-barred silver-
green and flailing mackerel:
the iridescent hoop
of a gasping sea trout.

As a fish gleams most
fiercely before it dies,
so the scales of the sea-hag
shine with a hectic
putrescent glitter:

luminous, bleached—
white water—
that light in the narrows
before a storm breaks.
All Legendary Obstacles

All legendary obstacles lay between
Us, the long imaginary plain,
The monstrous ruck of mountains
And, swinging across the night,
Flooding the Sacramento, San Joaquin,
The hissing drift of winter rain.

All day I waited, shifting
Nervously from station to bar
As I saw another train sail
By, the San Francisco Chief or
Golden Gate, water dripping
From great flanged wheels.

At midnight you came, pale
Above the negro porter's lamp.
I was too blind with rain
And doubt to speak, but
Reached from the platform
Until our chilled hands met.

You had been traveling for days
With an old lady, who marked
A neat circle on the glass
With her glove, to watch us
Move into the wet darkness
Kissing, still unable to speak.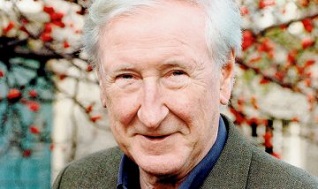 John Montague (New York, 28 februari 1929)

De Franse dichter, schrijver, dramaturg en regisseur Marcel Pagnol werd geboren op 28 februari 1895 in Aubagne, Bouches-du-Rhône. Zie ook alle tags voor Marcel Pagnol op dit blog.
Œufs de Paques
Voici venir Pâques fleuries,
Et devant les confiseries
Les petits vagabonds s'arrêtent, envieux.
Ils lèchent leurs lèvres de rose
Tout en contemplant quelque chose
Qui met de la flamme à leurs yeux.
Leurs regards avides attaquent
Les magnifiques œufs de Pâques
Qui trônent, orgueilleux, dans les grands magasins,
Magnifiques, fermes et lisses,
Et que regardent en coulisse
Les poissons d'avril, leurs voisins.
Les uns sont blancs comme la neige.
Des copeaux soyeux les protègent.
Leurs flancs sont faits de sucre. Et l'on voit, à côté,
D'autres, montrant sur leurs flancs sombres
De chocolat brillant dans l'ombre,
De tout petits anges sculptés.
Les uns sont petits et graciles,
Il semble qu'il serait facile
D'en croquer plus d'un à la fois ;
Et d'autres, prenant bien leurs aises,
Unis, simples, pansus, obèses,
S'étalent comme des bourgeois.
Tous sont noués de faveurs roses.
On sent que mille bonnes choses
Logent dans leurs flancs spacieux
L'estomac et la poche vides,
Les pauvres petits, l'œil avide,
Semblent les savourer des yeux.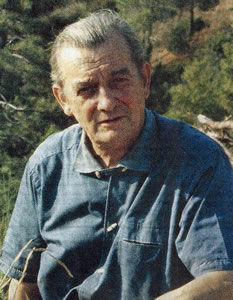 Marcel Pagnol (28 februari 1895 – 18 april 1974)

De Franse schrijfster Raphaële Billetdoux werd geboren op 28 februari 1951 in Neuilly sur Seine. Zie ook alle tags voor Raphaële Billetdoux op dit blog.
Uit: C'est fou, une fille...
« Tout, j'aime tout de toi, même ce que tu n'aimes pas de toi, je l'aime... Je désespérais de rencontrer une femme comme toi, avant toi j'étais mort, j'étais en train de mourir, c'est une femme comme... toi que je veux, avec toi tout est différent, je t'attendais, je t'aime, j'ai envie de toi, j'ai besoin de toi, j'ai besoin de toi pour toujours, c'est fou la force que tu dégages, tu rayonnes, tu rayonnes littéralement, aucune femme avant toi ne m'avait fait cet effet-là, avec toi, c'est incroyable, je m'aime, j'ai tellement de mal à croire qu'on puisse m'aimer, il y a de la lumière, de la grandeur en toi, tu me plais, tu me rends à moi-même, je n'imaginais pas que tu pouvais être aussi douce, avec toi je suis moi, avec toi, je peux être moi, j'ai toujours cru que je n'étais pas aimable, personne n'a su, comme toi, accéder à mon intimité, une seule, une fois, peut-être, mais je ne l'aimais pas, c'est une comme toi que j'espérais, je ne veux pas passer à côté d'une femme telle que toi, je ne veux jamais te perdre, je t'aime partout, je t'aime en entier et pour toujours, tu peux faire de moi ce que tu veux, tu es une grande dame, rien ne pourra entamer un amour comme celui que je ressens, je me connais, c'est la première fois que j'aime vraiment, je n'ai jamais aimé quelqu'un comme ça, je t'aime, je suis à toi. »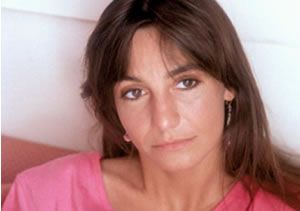 Raphaële Billetdoux (Neuilly sur Seine, 28 februari 1951)
De Duitse dichter en schrijver Bodo Morshäuser werd geboren op 28 februari 1953 in Berlijn. Zie ook alle tags voor Bodo Morshäuser op dit blog.
Uit: Und die Sonne scheint
"Ich hatte noch drei Monate Zeit, bis ich meine Wohnung, die ich längst gekündigt hatte, übergeben musste. Von nun an war ich jede Woche in meiner alten Umgebung, um den Auszug vorzubereiten und über jeden Gegenstand in der Wohnung zu entscheiden, ob ich ihn in Zukunft bei mir haben wollte oder nicht. Ich wusste, ich würde nicht nur auf meine Vergangenheit stoßen, sondern auf Vergangenheiten.
Ich würde so weit und tief auf mein gelebtes Leben zurück- und in es hineinschauen wie nie zuvor, ganz egal, ob ich wollte oder nicht. Würde Begebenheiten vor Augen haben, an die ich jahrelang nie hatte erinnert werden wollen. Ich wusste nicht, um welche Begebenheiten es sich handelte, war jedoch sicher, es gab solche. Ich stellte mich auf letztes Abschiednehmen und überraschende Wiedersehen ein, auf's Staunen und auf's Grausen. Abschied von Dingen, die ich nicht mit mir herumtragen wollte, und Wiedersehen mit Erinnerungen, die ich geflohen war.
Der Musiker, von dem es keine neuen Lieder gab, saß vor der Bäckerei und telefonierte, am Ladenschild fehlte immer noch das R. Höflich wartete der Müllmann, bis ein mit seinem Fahrrad verwachsener dicker Schauspieler und die Müttergruppe vorüber waren. Hinter zwei Fenstern wurden Dielen abgeschliffen, zwei Männer steckten ihre Köpfe in einen geöffneten Klingelkasten, der Stau in der kleinen zugeparkten Straße kam keinen Meter voran, und derWeinhändler füllte seinen Kofferraum mit Kartons."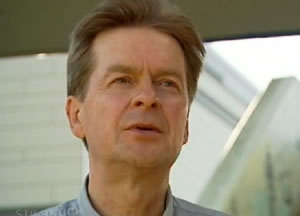 Bodo Morshäuser (Berlijn, 28 februari 1953)
Zie voor nog meer schrijvers van de 28e februari ook mijn vorige blog van vandaag.


28-02-2015 om 14:41 geschreven door Romenu

Tags:Stephen Spender, Bart Koubaa, Luc Dellisse, John Montague, Marcel Pagnol, Raphaële Billetdoux, Bodo Morshäuser, Romenu



Daniel Handler, Dee Brown, Berthold Auerbach, José Vasconcelos, Sophie Tieck, Michel de Montaigne, Ernest Renan
De Amerikaanse schrijver Daniel Handler werd geboren op 28 februari 1970 in San Francisco, Californië Zie ook alle tags Daniel Handler op dit blog.
Uit: Why We Broke Up
"So it all went into the box and the box went into my closet with some shoes on top of it I never wear. Every last souvenir of the love we had, the prizes and the debris of this relationship, like the glitter in the gutter when the parade has passed, all the everything and whatnot kicked to the curb. I'm dumping the whole box back into your life, Ed, every item of you and me. I'm dumping this box on your porch, Ed, but it is you, Ed, who is getting dumped.
The thunk, I admit it, will make me smile. A rare thing lately. Lately I've been like Aimeé Rondelé in The Sky Cries Too, a movie, French, you haven't seen. She plays an assassin and dress designer, and she only smiles twice in the whole film. Once is when the kingpin who killed her father gets thrown off the building, which is not the time I'm thinking of. It's the time at the end, when she finally has the envelope with the photographs and burns it unopened in the gorgeous ashtray and she knows it's over and lights a cigarette and stands in that perfect green of a dress watching the blackbirds swarm and flurry around the church spire.
I can see it. The world is right again, is the smile. I loved you and now here's back your stuff, out of my life like you belong, is the smile. I know you can't see it, not you, Ed, but maybe if I tell you the whole plot you'll understand it this once, because even now I want you to see it. I don't love you anymore, of course I don't, but still there's something I can show you. You know I want to be a director, but you could never truly see the movies in my head and that, Ed, is why we broke up."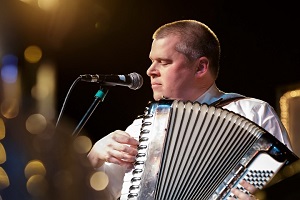 Daniel Handler (San Francisco, 28 februari 1970)
De Amerikaanse schrijver en historicus Dee Brown werd geboren op 28 februari 1908 in Alberta, Louisiana. Zie ook alle tags voor Dee Brown op dit blog.
Uit: Bury My Heart at Wounded Knee
"The decade following establishment of the "permanent Indian frontier" was a bad time for the eastern tribes. The great Cherokee nation had survived more than a hundred years of the white man's wars, diseases, and whiskey, but now it was to be blotted out. Because the Cherokees numbered several thousands, their removal to the West was planned to be in gradual stages, but the discovery of Appalachian gold within their territory brought on a clamor for their immediate wholesale exodus. During the autumn of 1838, General Winfield Scott's soldiers rounded them up and concentrated them into camps. (A few hundred escaped to the Smoky Mountains and many years later where given a small reservation in North Carolina.) From the prison camps they were started westward to Indian Territory. On the long winter trek, one of every four Cherokees died from the cold, hunger, or disease. They called the march their "trail of tears." The Choctaws, Chickasaws, Creeks, and Seminoles also gave up their homelands in the South. In the North, surviving remnants of the Shawnees, Miamis, Ottawas, Hurons, Delawares, and many other once mighty tribes walked or traveled by horseback and wagon beyond the Mississippi, carrying their shabby goods, their rusty farming tools, and bags of seed corn. All of them arrived as refugees, poor relations, in the country of the proud and free Plains Indians."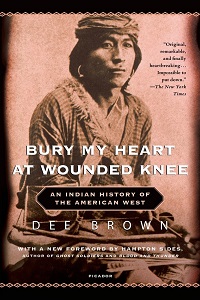 Dee Brown (28 februari 1908 – 12 december 2002)
Cover
De Duitse schrijver Berthold Auerbach (eig. Moyses Baruch) werd geboren op 28 februari 1812 in Nordstetten in het Zwarte Woud. Zie ook alle tags voor Berthold Auerbach op dit blog.
Uit: Das Landhaus am Rhein
"Nur noch Augenblicke Geduld! dort winkt ein Mann, der mitfahren will,« sagte der Ferge. Im Kahne saß ein Mann mit Frau und Tochter.
Der Mann war von kleiner Gestalt, mit grauen Haaren und röthlich funkelnder Gesichtsfarbe, blaue Augen schauten gutmüthig aber träumerisch müde drein; ein die Oberlippe ganz bedeckender struppiger Schnurrbart schien sich in dies harmlose Gesicht verirrt zu haben; er trug ein graues Sommergewand von jenem neumodischen Stoff, der überall derart weiß besprenkelt ist, als hätte sich der Träger in einem Federbett gewälzt; eine zierliche, mit blauen und rothen Perlen gestickte Bügeltasche hing an einem Riemen über der rechten Schulter.
Die Frau, groß und stattlich, mit unruhigen Augen und scharfen Zügen, die einstmals wol einnehmend gewesen waren, trug ein Kleid von mattgelber Seide; der weiße Schleier am grauen Hut war wie eine Binde am Turban um die Rundung gewunden. Sie warf den Kopf rasch zurück, sah dann vor sich nieder, als wollte sie sich nicht um den Fremden kümmern, und bohrte die Zwinge ihres großen Sonnenschirms in das Bord des Kahns.
Neben dem Manne saß eine schlanke blonde Mädchengestalt in blauem Sommergewand; den kleinen, mit einem Vogelflügel verzierten braunen Hut hielt sie am Gummiband in der Hand. Der Kopf war groß und schwer, die mächtige Stirn durch reichüberquellendes, in Flechten gelegtes Haar noch gewaltiger, und zwei dicke Locken legten sich rechts und links auf Schulter und Brust. Das Antlitz des Mädchens war heiter und unbefangen, klar wie der helle Tag, der über der Landschaft leuchtete.
Jetzt setzte sie den Hut auf, und die Mutter rückte ihr denselben noch etwas zurecht. Dann wechselte sie schnell die rauhledernen Stulpenhandschuhe mit glanzigen, die sie aus der Tasche nahm, und während sie mit Behendigkeit das Leder über die Hand zog, schaute sie nach dem Ankömmling."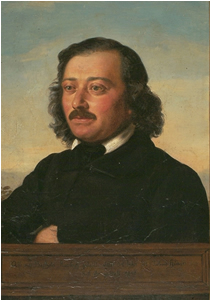 Berthold Auerbach (28 februari 1812 - 8 februari 1882)
Portret door Julius Hübner, ca. 1846
De Mexicaanse schrijver, filosoof en politicus José Vasconcelos Calderón werd geboren in Oaxaca op 28 februari 1882. Zie ook alle tags voor José Vasconcelos op dit blog.
Uit:A Brief History of Mexico (Vertaald door César Tort)
"The independence of the Latin American nations is the result of the disintegration of the Spanish empire. None of the nations of Latin America had, by a process of natural growth, reached the maturity required for emancipation. . . . . In the colonies, the men of clearer vision and greater patriotism, for example, the bishop Abad y Queipo, gave Mexico up for lost, and rightly so, after he saw that the independence was inevitable. . . .
From the beginning, the war was supposed to destroy the Spaniards, who represented the force and culture of the country, in the same way that later a fight against the criollo was developed, and today against the mestizo—all under the pretext of freeing the Indian—in order to uproot Spanish culture and replace it with American.
The two lands most imbued with Spanish influence, Mexico and Peru, resisted independence, which happened through foreign intervention. Peru was freed by Colombians and Argentines. . . .
In the United States, the independence movement was not a race war. For Morelos, for example, to be comparable to Washington, it must be assumed that Washington had decided to recruit blacks and mulattoes to kill the English. Instead, Washington disdained blacks and mulattoes and recruited the English of America, who did not commit the folly of killing their own brothers, uncles, and relatives, only because they were born in England. Quite the contrary, each participant of the American Revolution felt pride for his British ancestry and hoped for the betterment of the English. This should have been the sense of our own emancipation, to transform New Spain into an improved Spain, better than that of the peninsula but with its blood, our blood. The whole later disaster of Mexico is explained by the blind, criminal decision that emerged from the womb of Hidalgo's mobs and is expressed in the suicidal cry: "Death to the Spaniards!"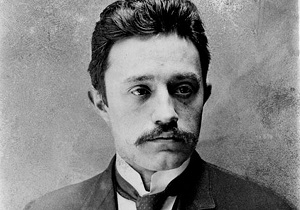 José Vasconcelos (28 februari 1882 – 30 juni 1959)
De Duitse dichteres en schrijfster Sophie Tieck werd geboren op 28 februari 1775 in Berlijn. Zie ook alle tags voor Sophie Tieck op dit blog.
Flore und Blanscheflur (Fragment)
Zu einer Zeit, wenn Sommerluft bezwungen
Den Winter, wenn die Blumen neu entspringen,
Und Gras und Kräuter aus dem Boden drungen
Und tausend Vögel aus den Lüften singen;
Die Bäche lieblich hin durch Grün geschlungen
Im Laufe über Kiesel scherzend klingen;
Wann bald April nun weicht der Lust des Maien
Wo alle Wonnen lieblich sich erneuen;
Da prangt im vollen Grün ein schöner Garten,
Dort konnte man versammelt herrlich schauen
Was man von Sommerwonne mag erwarten,
Das Laub des Waldes, und den Schmuck der Auen,
Die Glanz noch Duft noch keine Farbe sparten,
Und eine Schaar von Rittern und von Frauen,
Die so von Schönheit, Lieblichkeit umfunkelt,
Daß sie den Glanz des Gartens fast verdunkelt.
Der Sommer grünete in voller Güte,
Die Nachtigall vor allen Vögeln sang,
Es färbte sich roth, weiß, blau jede Blüte,
Die aus dem Boden, aus den Zweigen sprang,
Da lebten recht von neuem im Gemüthe
Die Wünsche derer, die die Minne zwang.
Durch Blumenglanz und holder Frauen Scherzen
Traf Liebesweh die unbewehrten Herzen.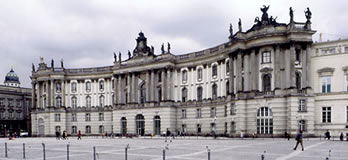 Sophie Tieck (28 februari 1775 – 1 oktober 1833)
Berlijn, Alte Bibliothek
De Franse filosoof, schrijver en politicus Michel Eyquem de Montaigne werd geboren in Bordeaux op 28 februari 1533. Zie ook alle tags voor Michel de Montaigne op dit blog.
Uit: Over vriendschap (Vertaald door F. de Graaff)
"Er is niets waarvoor de natuur ons zozeer schijnt te hebben voorbestemd als voor het sociale. Aristoteles zei al, dat de goede wetgevers meer aandacht hadden voor vriendschap dan voor rechtvaardigheid. Welnu, het sociale leven vindt zijn hoogtepunt en vervolmaking in de vriendschap. Want in het algemeen zijn alle relaties, die vanwege de sexuele aantrekkingskracht of de voordelen of omdat het voor het huiselijke of openbare leven noodzakelijk is, worden aangeknoopt en onderhouden, minder mooi en edel. Ze zijn niet zozeer als vriendschappen te bestempelen, en wel in de mate, waarin die andere motieven, doeleinden en voordelen, die met vriendschap niets te maken hebben, er een rol in spelen. Ook de vier klassieke relatietypen - familie, samenleving, gastvrijheid en sexuele relatie - kunnen nòch afzonderlijk, nòch tesamen op één lijn gesteld worden met vriendschap.
Wat een kind voor zijn vader voelt is eerder respect. Vriendschap wordt gevoed door vertrouwelijke gedachtenuitwisseling, hetgeen tussen vaders en kinderen, vanwege de te grote ongelijkheid, onmogelijk is en wellicht in botsing zou komen met hun natuurlijke familieplichten. Want het is voor vaders niet altijd mogelijk hun geheime gedachten aan hun kinderen te vertellen, om geen ongepaste mate van vertrouwelijkheid te laten ontstaan, terwijl anderzijds kinderen hun vader niet zouden kunnen vermanen en terechtwijzen, wat een van de belangrijkste vriendendiensten is. Er zijn volken bekend waar het gebruikelijk is, dat de vaders door hun kinderen worden gedood, en andere, waar de vaders hun kinderen doden, om te voorkomen dat ze mogelijkerwijze elkaar ooit in de weg staan en omdat de één volgens de wetten van de natuur afhankelijk is van de ondergang van de ander. Er zijn filosofen geweest, die deze natuurlijke band verachtten, zoals Aristippus6: als iemand hem onder ogen bracht, dat hij zijn kinderen genegenheid verschuldigd was, omdat ze uit hem voortgekomen waren, dan begon hij te spugen en zei, dat die spuug ook uit hem kwam en dat we ook luizen en wormen voortbrengen."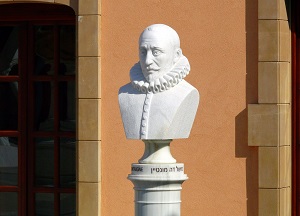 Michel de Montaigne (28 februari 1533 – 13 september 1592)
Borstbeeld in Caesarea
De Franse schrijver en filosoof Ernest Renan werd op 28 februari 1823 geboren in Tréguier in Bretagne uit een vissersfamilie. Zie ook alle tags voor Ernest Renan op dit blog.
Uit:Vie de Jésus
"Repose maintenant dans ta gloire, noble initiateur. Ton oeuvre est achevée; ta divinité est fondée. Ne crains plus de voir crouler par une faute l'édifice de tes efforts. Désormais hors des atteintes de la fragilité, tu assistera, du haut de la paix divine, aux conséquences infinies de tes actes. Au prix de quelques heures de souffrance, qui n'ont pas même atteint ta grande âme, tu as acheté la plus complète immortalité. Pour des milliers d'années, le monde va relever de toi. Drapeau de nos contradictions, tu sera le signe autour duquel se livrera la plus ardente bataille. Mille fois plus vivant, mille fois plus aimé depuis ta mort que durant les jours de ton passage ici-bas, tu deviendra à tel point la pierre angulaire de l'humanité, qu'arracher ton nom de ce monde serait l'ébranler jusqu'aux fondements. Entre toi et Dieu, on ne distinguera plus. Pleinement vainqueur de la mort, prends possession du royaume où te suivront, par la voie royale que tu as tracée, des siècles d'adorateurs. »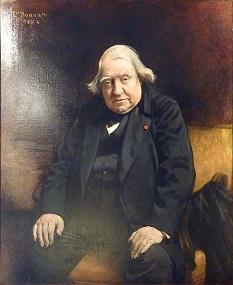 Ernest Renan (28 februari 1823 – 12 oktober 1892)
Portret in zijn geboortehuis in Tréguier
28-02-2015 om 14:29 geschreven door Romenu

Tags:Daniel Handler, Dee Brown, Berthold Auerbach, José Vasconcelos, Sophie Tieck, Michel de Montaigne, Ernest Renan, Romenu



| | |
| --- | --- |
| | |



Inhoud blog


| | |
| --- | --- |
| | William Shakespeare, Roman Helinski, Pascal Quignard, Peter Horst Neumann, Andrey Kurkov, Halldór Laxness, Christine Busta, Adelheid Duvanel, Richard Huelsenbeck |
| | The Good Shepherd (Stanley Moss) |
| | Giorgio Fontana, Jan de Hartog, Björn Kern, Vladimir Nabokov, Chetan Bhagat, Peter Weber, Jos de Haes, Thommie Bayer, Madame de Staël |
| | Ana María Shua, Louise Glück, Robert Choquette, James Philip Bailey, Henry Fielding, Michael Schulte, Cabrera Infante, Ludwig Renn |
| | The Enkindled Spring (D. H. Lawrence) |
| | Charlotte Brontë, Patrick Rambaud, John Mortimer, Charles den Tex, Ahmed Arif, Michael Mann |
| | Peter Schneider, Meira Delmar, Alistair MacLean, Gerrit Wustmann, Népomucène Lemercier |
| | Prijs der Nederlandse Letteren voor Judith Herzberg |
| | Martinus Nijhoff, Jan Cremer, Jean Pierre Rawie, Marieke Lucas Rijneveld, Sebastian Faulks, Jozef Deleu, Steve Erickson, Arto Paasilinna, Michel Leiris |
| | Martin Michael Driessen, Marjoleine de Vos, Manuel Bandeira, n. c. kaser, Veniamin Kaverin, Louis Amédée Achard, Pierre-Jean de Béranger, Gudrun Reinboth, Werner Rohner |
| | Wam de Moor, Bas Belleman, Roos van Rijswijk, Hanane Aad, Clara Eggink, Kathy Acker, Joy Davidman, Henry Kendall, Katharina Schwanbeck |
| | Antoon Coolen, Vincent Corjanus, Nick Hornby, Ida Boy-Ed, Thornton Wilder, David Wagner, R.J. Pineiro, Helen Meier, Karen Blixen |
| | Sarah Kirsch, Thomas Olde Heuvelt, Kingsley Amis, Patricia De Martelaere, Tristan Tzara, Ewald Vanvugt, Sibylle Lewitscharoff, Jan Luyken, Anatole France |
| | Emmaüs (Felix Timmermans) |
| | Tomas Tranströmer, Daniël Samkalden, Jérôme Lambert, Patrick Bernauw, Benjamin Zephaniah, Henry James, Wilhelm Busch, Ina Boudier-Bakker |
| | Bliss Carman, Beate Morgenstern, Jeffrey Archer, Bernhard Lassahn, Erich Arendt, Pol De Mont, Staf Weyts, Hans Egon Holthusen |
| | Péter Esterházy, Alexandre Jardin, Tjitse Hofman, Landolf Scherzer, Charles Lewinsky, Roman Graf |
| | Roberto Schopflocher, Martin Kessel, Gabriele Stötzer, Helene Hübener, Gerhard Rohlfs |
| | Nachoem Wijnberg, K. Michel, Alexander Münninghoff, Michel Faber, Jean-Marie Gustave Le Clézio, Samuel Beckett, Seamus Heaney, Tim Krabbé, Eudora Welty |
| | Antje Rávic Strubel, Alan Ayckbourn, Scott Turow, Tom Clancy, Agnes Sapper, Edward de Vere, José Gautier Benítez, Alexander Ostrovski, Guillaume-Thomas Raynal |
| | Leonard Nolens, Mark Strand, Silvia Avallone, Walid Soliman, Dorothy Allison, Hubert Nyssen, Rolf Schilling, Glenway Wescott, Claude Tillier |
| | Leo Vroman, Jan van Mersbergen, Paul Theroux, Claudio Magris, Bella Akhmadulina, Stefan Heym, Richard Wagner, Marcel van Maele, Eric Knight |
| | Charles Baudelaire, Jelle Brandt Corstius, Karel Jonckheere, Joolz Denby, Albert von Schirnding, Johannes Bobrowski, Bernard-Marie Koltès, Arnold Stadler, Yaël Vinckx |
| | Thomas (Jan Willem Schulte Nordholt) |
| | Herinnering aan Gerard Reve, Hanz Mirck, Christoph Hein, Judith Koelemeijer, Nnedi Okorafor, Barbara Kingsolver |
| | John Fante, Johann Christian Günther, Glendon Swarthout, Martin Grzimek, Hégésippe Moreau, Robert Askins |
| | Den Haag (Paul Rodenko) |
| | Juliana Spahr, William Wordsworth, Özcan Akyol, Gabriela Mistral |
| | Kazim Ali, Annejet van der Zijl, John Pepper Clark, Jakob Ejersbo, Günter Herburger, Uljana Wolf, Brigitte Schwaiger, Julien Torma, Nicolas Chamfort |
| | Iulian Ciocan |
| | Hugo Claus, Martin Reints, Mieke van Zonneveld, Vítězslav Hálek, Algernon Swinburne, Bora Ćosić,, Werner J. Egli, Michael Georg Conrad, Marente de Moor |
| | Maya Angelou, Hanneke Hendrix, Marko Klomp, Marcel Vaarmeijer, E. L. James, Marguerite Duras, Robert Schindel, Michiel van Kempen, Bettina von Arnim |
| | Charles Ducal, Adriaan Jaeggi, Frederik van Eeden, Bert Bakker, Peter Huchel, Arlette Cousture, Pieter Aspe, Karel N.L. Grazell, Washington Irving |
| | Die Sonne geht im Osten auf (Christian Morgenstern) |
| | Thomas Glavinic, Jay Parini, Anneke Claus, Klaus Ender, Konrad Merz, Ed Dorn, Émile Zola |
| | György Konrád, Anne Waldman, Casanova, Hans Christian Andersen, Roberto Arlt, Edgar Hilsenrath, George Fraser |
| | Hoffmann von Fallersleben, Johann Gleim, Pierre Zaccone, Pietro della Valle, Zwier van Haren, Joanna Chmielewska, Brigitte Struzyk |
| | Preis dem Todesüberwinder! (Friedrich Klopstock) |
| | Milan Kundera, Sandro Veronesi, Nikolaj Gogol, Arnold Aletrino, Max Nord, Urs Allemann, Rolf Hochhuth, John Wilmot, Deborah Feldman |
| | Maria Polydouri, Edgar Wallace, Carl Sternheim, Edmond Rostand, Armel Guerne, Friedrich Güll, Antoine Prévost, Josep de Maistre |
| | Litanie van een wachter bij het graf (Willem Jan Otten) |
| | Stefan Hertmans, Octavio Paz, Asis Aynan, Martijn Teerlinck, Marga Minco, Enrique Vila-Matas |
| | Rob Boudestein, Kornej Tsjoekovski, Andrew Lang, Nichita Stănescu, Hartmut Lange, Marge Piercy |
| | Angela Kreuz, Judith Rossner, Andrew Marvell, John Fowles, Edward FitzGerald, Robert Brasillach, Peter Motte |
| | Golgotha (Theo Thijssen) |
| | Gerrit Komrij, Paul Verlaine, Milton Acorn, Erika Mitterer, Uwe Timm, Tom Sharpe, Gert Heidenreich, Theo Breuer, Luise Hensel |
| | Gethsemane (Jacqueline van der Waals) |
| | Geert van Istendael, Wim Brands, Ernst Jünger, Eric Walz, Georg Klein, Yvan Goll, R. S. Thomas, Jacques Brault, Denton Welch |
| | Walter van den Broeck, Joost de Vries, Mario Vargas Llosa, Chrétien Breukers, Steye Raviez, Nelson Algren, Marianne Frederiksson, Russell Banks, Léon-Gontran Damas |
| | Heinrich Mann, Shusaku Endo, Carolina Trujillo, Golo Mann, Patrick McCabe, Bob den Uyl, Dubravka Ugresić, Francis Ponge, Alfred de Vigny |


Gastenboek


Druk op onderstaande knop om een berichtje achter te laten in mijn gastenboek