E-mail mij


Druk op onderstaande knop om mij te e-mailen.


Romenu


Google


Georg Trakl

Georg Trakl werd op 3 februari 1887 in het conducteurshuis aan de Waagplatz 2 in Salzburg geboren. Zijn vader, Tobias Trakl, was een handelaar in ijzerwaren en zijn moeder, die ook psychische problemen had, was Maria Catharina Trakl, (meisjesnaam Halik). Voorts had hij nog drie broers en drie zussen. Margarethe (doorgaans Grethe genoemd) stond hem het naast, zelfs zodanig dat sommigen een incestueuze verhouding vermoeden. Zijn jeugd bracht hij door in Salzburg. Vervolgens bezocht hij van 1897 tot 1905 het humanistische gymnasium. Om toch een academische opleiding te kunnen volgen, werkte hij tot 1908 in de praktijk bij een apotheker. Sommigen vermoedden dat hij dit vooral deed om zichzelf opiaten te kunnen verschaffen. Bij het uitbreken van WO I werd Trakl als medicus naar het front in Galicië (heden ten dage in Oekraïne en Polen) gestuurd. Zijn gemoedsschommelingen leidden tot geregelde uitbraken van depressie, die verergerd werden door de afschuw die hij voelde voor de verzorging van de ernstig verwonde soldaten. De spanning en druk dreven hem ertoe een suïcidepoging te ondernemen, welke zijn kameraden nochtans verhinderden. Hij werd in een militair ziekenhuis opgenomen in Kraków, alwaar hij onder strikt toezicht geplaatst werd.Trakl verzonk daar in nog zwaardere depressies en schreef Ficker om advies. Ficker overtuigde hem ervan dat hij contact moest opnemen met Wittgenstein, die inderdaad op weg ging na Trakls bericht te hebben ontvangen. Op 4 november 1914, drie dagen voordat Wittgenstein aan zou komen, overleed hij echter aan een overdosis cocaïne


Paul Celan

Paul Celan werd onder de naam Paul Antschel op 23 november 1920 geboren in Czernowitz, toentertijd de hoofdstad van de Roemeense Boekovina, nu behorend bij de Oekraïne. Paul Celans ouders waren Duitssprekende joden die hun zoon joods opvoedden en hem naar Duitse christelijke scholen stuurden. In 1942 werden Celans ouders door de Duitse bezetter naar een werkkamp gedeporteerd en daar vermoord. Hijzelf wist aanvankelijk onder te duiken, maar moest vanaf juli 1942 in een werkkamp dwangarbeid verrichten. Celan overleefde de oorlog. Via Boekarest en Wenen vestigde Celan zich in 1948 in Parijs. Daar was hij werkzaam als dichter, vertaler en doceerde hij aan de prestigieuze Ecole Normale Supérieure. Vermoedelijk op 20 april 1970 beëindigde hij zijn leven zelf door in de Seine te springen.


Gerard Reve

Gerard Reve over: Medearbeiders "God is in de mensen, de dieren, de planten en alle dingen - in de schepping, die verlost moet worden of waaruit God verlost moet worden, door onze arbeid, aangezien wij medearbeiders van God zijn." Openbaring "Tja, waar berust elk godsbegrip op, elke vorm van religie? Op een openbaring, dat wil zeggen op een psychische ervaring van zulk een dwingende en onverbiddelijke kracht, dat de betrokkene het gevoel heeft, niet dat hij een gedachte of een visioen heeft, maar dat een gedachte gedachte of visioen hem bezit en overweldigt."


Simon Vestdijk
Simon Vestdijk (Harlingen, 17 oktober 1898 – Utrecht, 23 maart 1971) was een Nederlands romancier, dichter, essayist en vertaler. Zijn jeugd te Harlingen en Leeuwarden beschreef hij later in de Anton Wachter-cyclus. Van jongs af aan logeerde hij regelmatig bij zijn grootouders in Amsterdam, waar hij zich in 1917 aan de Universiteit van Amsterdam inschrijft als student in de medicijnen. Tijdens zijn studie die van 1917 tot 1927 duurde, leerde hij Jan Slauerhoff kennen.Tot 1932 is hij als arts in praktijken door heel Nederland werkzaam. In 1932 volgt zijn officiële schrijversdebuut met de uitgave van de bundel Verzen in De Vrije Bladen. Doorslaggevend voor Vestdijks uiteindelijke keuze voor de literatuur is zijn ontmoeting in 1932 met Eddy Du Perron en Menno ter Braak. Deze ontmoeting had tot resultaat dat hij redactielid werd van het tijdschrift Forum Kort daarop, in 1933, wordt zijn eerste novelle, De oubliette, uitgegeven. In hetzelfde jaar schrijft hij Kind tussen vier vrouwen, dat, eerst geweigerd door de uitgever, later de basis zal vormen voor de eerste drie delen van de Anton Wachter-romans. In 1951 ontvangt Vestdijk de P.C. Hooftprijs voor zijn in 1947 verschenen roman De vuuraanbidders. In 1957 wordt hij voor het eerst door het PEN-centrum voor Nederland voorgedragen voor de Nobelprijs voor de Literatuur, die hij echter nooit zal krijgen. Op 20 maart 1971 wordt hem de Prijs der Nederlandse Letteren toegekend, maar voor hij deze kan ontvangen overlijdt hij op 23 maart te Utrecht op 72-jarige leeftijd. Vestdijk was auteur van ca. 200 boeken. Vanwege deze enorme productie noemde de dichter Adriaan Roland Holst hem 'de man die sneller schrijft dan God kan lezen'. Andere belangrijke boeken van Simon Vestdijk zijn: "Kind van stad en land" (1936), "Meneer Visser's hellevaart" (1936), "Ierse nachten" (1946), "De toekomst de religie" (1947), "Pastorale 1943" (1948), "De koperen tuin" (1950), "Ivoren wachters" (1951), "Essays in duodecimo" (1952) en "Het genadeschot" (1964).


K.P. Kavafis

K.P. Kavafis werd als kind van Griekse ouders, afkomstig uit Konstantinopel, geboren in 1863 in Alexandrië (tot vandaag een Griekse enclave) waar hij ook het grootste deel van zijn leven woonde en werkte. Twee jaar na de dood van zijn vader verhuist het gezin in 1872 naar Engeland om na een verblijf van vijf jaar naar Alexandrië terug te keren. Vanwege ongeregeldheden in Egypte vlucht het gezin in 1882 naar Konstantinopel, om na drie jaar opnieuw naar Alexandrië terug te gaan. In de jaren die volgen maakt Kavafis reizen naar Parijs, Londen en in 1901 zijn eerste reis naar Griekenland, in latere jaren gevolgd door nog enkele bezoeken. Op de dag van zijn zeventigste verjaardag, in 1933 sterft Kavafis in Alexandrië. De roem kwam voor Kavafis pas na zijn dood, dus postuum. Deels is dat toe te schrijven aan zijn eigen handelswijze. Hij was uiterst terughoudend met de publicatie van zijn gedichten, liet af en toe een enkel gedicht afdrukken in een literair tijdschrift, gaf in eigen beheer enkele bundels met een stuk of twintig gedichten uit en het merendeel van zijn poëzie schonk hij op losse bladen aan zijn beste vrienden.


Thomas Mann


Thomas Mann, de jongere broer van Heinrich Mann, werd geboren op 6 juni 1875 in Lübeck. Hij was de tweede zoon van de graankoopman Thomas Johann Heinrich Mann welke later één van de senatoren van Lübreck werd. Zijn moeder Julia (geboren da Silva-Bruhns) was Duits-Braziliaans van Portugees Kreoolse afkomst. In 1894 debuteerde Thomas Mann met de novelle "Gefallen". Toen Thomas Mann met 21 jaar eindelijk volwassen was en hem dus geld van zijn vaders erfenis toestond - hij kreeg ongeveer 160 tot 180 goldmark per jaar - besloot hij dat hij genoeg had van al die scholen en instituties en werd onafhankelijk schrijver. Kenmerkend voor zijn stijl zijn de ironie, de fenomenale taalbeheersing en de minutieuze detailschildering. Manns reputatie in Duitsland was sterk wisselend. Met zijn eerste roman, Buddenbrooks (1901), had hij een enorm succes, maar door zijn sceptische houding tegenover Duitsland na de Eerste Wereldoorlog veranderde dit volledig. Stelde hij zich tot aan de jaren twintig apolitiek op (Betrachtungen eines Unpolitischen, 1918), meer en meer raakte hij bij het Politiek gebeuren betrokken. Zijn afkeer van het nationaal socialisme groeide, zijn waarschuwingen werden veelvuldiger en heftiger. In 1944 accepteerde hij het Amerikaanse staatsburgerschap. Tussen 1943 en 1947 schreef Mann Doktor Faustus (zie Faust), de roman van de 'Duitse ziel' in de gecamoufleerd geschilderde omstandigheden van de 20ste eeuw. In 1947 bezocht hij voor het eerst sinds de Oorlog Europa, twee jaar later pas Duitsland. In 1952 vertrok hij naar Zwitserland. Op 12 augustus 1955 stierf hij in Zürich. Twintig jaar na zijn dood, in aug. 1975, is zijn literaire nalatenschap geopend: dagboekaantekeningen van 15 maart 1933 tot 29 juli 1955, alsmede notities uit de jaren 1918 tot en met 1921.Belangrijke werken zijn: Der Zauberberg, Der Tod in Venedig, Dokter Faustus , Joseph und seine Brüder en Die Bekenntnisse des Hochstaplers Felix Krull.


Rainer Maria Rilke

Rilke werd op 4 december 1875 geboren in Praag. Hij had al naam gemaakt als dichter met zijn bundels Das Stundenbuch en Das Buch der Bilder, toen hij de literaire wereld versteld deed staan en wereldfaam verwierf met de publicatie van zijn twee delen Neue Gedichte in 1907 en 1908. Hij verzamelde daarin het beste werk uit een van zijn vruchtbaarste periodes, die hij grotendeels doorbracht in Parijs. Rilke was daar diep onder de indruk gekomen van Rodin, bij wie hij een tijdlang in dienst was als particulier secretaris. Rodin, zei hij later, had hem leren kijken. Dit kijken kwam neer op intense concentratie, om het mysterie te kunnen zien 'achter de schijnbare werkelijkheid'. Latere en rijpere werken als Duineser Elegien (1912-1923) en het ronduit schitterende Die Sonette an Orfeus (1924) illustreren Rilkes metafysische visie op het onzegbare, dat haar verwoording vindt in een hermetische muzikale taal. Op 29 december 1926 overlijdt Rilke in het sanatorium in Val-Mont aan de gevolgen van leukemie. Enkele dagen later wordt hij, overeenkomstig zijn wens, begraven op het kerkhof van Raron.


* * * * * * * * * * * * * * * *

| | |
| --- | --- |
| | Over literatuur, gedichten, kunst en cultuur |

26-12-2016

Christmas (John Betjeman)
Aan alle bezoekers en mede-bloggers een Prettig Kerstfeest!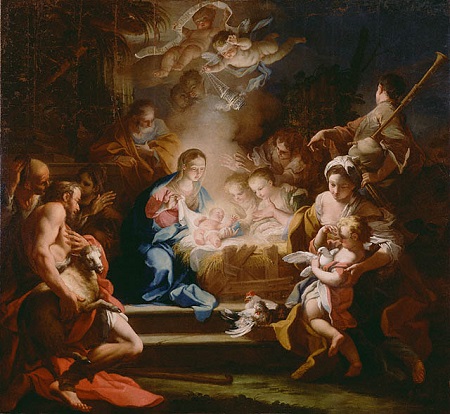 Aanbidding der herders door Sebastiano Conca, 1720
Christmas
The bells of waiting Advent ring,
The Tortoise stove is lit again
And lamp-oil light across the night
Has caught the streaks of winter rain
In many a stained-glass window sheen
From Crimson Lake to Hookers Green.
The holly in the windy hedge
And round the Manor House the yew
Will soon be stripped to deck the ledge,
The altar, font and arch and pew,
So that the villagers can say
'The church looks nice' on Christmas Day.
Provincial Public Houses blaze,
Corporation tramcars clang,
On lighted tenements I gaze,
Where paper decorations hang,
And bunting in the red Town Hall
Says 'Merry Christmas to you all'.
And London shops on Christmas Eve
Are strung with silver bells and flowers
As hurrying clerks the City leave
To pigeon-haunted classic towers,
And marbled clouds go scudding by
The many-steepled London sky.
And girls in slacks remember Dad,
And oafish louts remember Mum,
And sleepless children's hearts are glad.
And Christmas-morning bells say 'Come!'
Even to shining ones who dwell
Safe in the Dorchester Hotel.
And is it true,
This most tremendous tale of all,
Seen in a stained-glass window's hue,
A Baby in an ox's stall ?
The Maker of the stars and sea
Become a Child on earth for me ?
And is it true ? For if it is,
No loving fingers tying strings
Around those tissued fripperies,
The sweet and silly Christmas things,
Bath salts and inexpensive scent
And hideous tie so kindly meant,
No love that in a family dwells,
No carolling in frosty air,
Nor all the steeple-shaking bells
Can with this single Truth compare -
That God was man in Palestine
And lives today in Bread and Wine.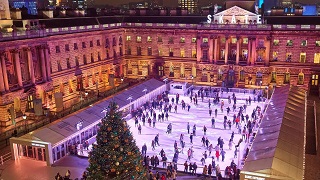 John Betjeman (28 augustus 1906 - 19 mei 1984)
Londen, Somerset House in de kersttijd. John Betjeman werd geboren in Londen.
Zie voor de schrijvers van de 26e december ook mijn drie vorige blogs van vandaag.
26-12-2016 om 09:52 geschreven door Romenu

Tags:John Betjeman, kerstmis, romenu



David Sedaris, Elizabeth Kostova, Henry Miller, Rainer Malkowski, Mani Beckmann, Alejo Carpentier
De Amerikaanse schrijver David Sedaris werd geboren in Binghamton, New York, op 26 december 1956. Zie ook alle tags voor David Sedaris op dit blog.
Uit:When You Are Engulfed in Flames
"Carry my groceries upstairs.' She sounded like a man, or, rather, a hit man, her voice coarse and low, like heavy footsteps on gravel.
'Now?' Hugh asked.
She said, 'What? You got something better to do?'
I first saw the apartment a few days later. Hugh was in the living room taking down the panelling while I sat on a paint bucket and tried to come to terms with my disappointment. For starters, there was the kitchen floor. The tiles there were brown and tan and ochre, the colours seemingly crocheted as they would be on an afghan. Then there was the size. I was wondering how two people could possibly live in such a tight space, when there was a knock at the unlocked door, and this woman I didn't know stepped uninvited onto the horrible tiles. Her hair was dyed the colour of a new penny, and she wore it pulled back into a thumb-sized ponytail. This put the focus on her taped-up glasses, and on her lower jaw, which stuck out slightly, like a drawer that hadn't quite been closed. 'Can I help you?' I asked, and her hand went to a whistle that hung from a string around her neck.
'Mess with me, and I'll stick my foot so far up your ass I'll lose my shoe.'
Someone says this, and you naturally look down, or at least I do. The woman's feet were tiny, no longer than hot-dog buns. She had on puffy sneakers, cheap ones made of air and some sort of plastic, and, considering them, I frowned.
'They might be small, but they'll still do the job, don't you worry,' she said.
Right about then, Hugh stepped out of the living room with a scrap of panelling in his hand. 'Have you met Helen?' he asked.
The woman unfurled a few thick fingers, the way you might when working an equation: 2 young men + 1 bedroom - ugly panelling = fags. 'Yeah, we met.' Her voice was heavy with disdain. 'We met, all right.'
Throughout the seven years Hugh and I lived on Thompson Street, our lives followed a simple pattern. He would get up early and leave the house no later than eight. I was working for a house-cleaning company, and though my schedule varied from day to day, I usually didn't start until 10. My only real constant was Helen, who would watch Hugh leave the building, and then cross the hall to lean on our doorbell. I would wake up, and just as I was belting my robe, the ringing would be replaced by a pounding, frantic and relentless, the way you might rail against a coffin lid if you'd accidentally been buried alive."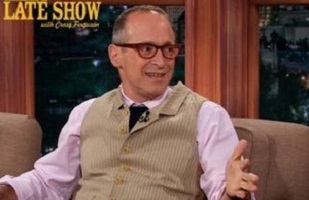 David Sedaris (Binghamton, 26 december 1956)
De Amerikaanse schrijfster Elizabeth Kostova werd geboren op 26 december 1964 in New London, Connecticut. Zie ook alle tags voor Elizabeth Kostova op dit blog.
Uit: The Swan Thieves
"I got the call about Robert Oliver in April 1999, less than a week after he'd pulled a knife in the nineteenth-century collection at the National Gallery. It was a Tuesday, one of those terrible mornings that sometimes come to the Washington area when spring has already been flowery and even hot — ruinous hail and heavy skies, with rumbles of thunder in the suddenly cold air. It was also, by coincidence, exactly a week after the massacre at Columbine High School in Littleton, Colorado; I was still thinking obsessively about that event, as I imagined every psychiatrist in the country must have been. My office seemed full of those young people with their sawed-off shotguns, their demonic resentment. How had we failed them and — even more — their innocent victims? The violent weather and the country's gloom seemed to me fused that morning.
When my phone rang, the voice on the other end was that of a friend and colleague, Dr. John Garcia. John is a fine man — and a fine psychiatrist — with whom I went to school long ago and who takes me out for lunch now and then at the restaurant of his choice, seldom allowing me to pay. He does emergency intake and inpatient care in one of Washington's biggest hospitals and, like me, also sees private patients.
John was telling me now that he wanted to transfer a patient to me, to put him in my care, and I could hear the eagerness in his voice. "This guy could be a difficult case. I don't know what you'll make of him, but I'd prefer for him to be under your care at Goldengrove. Apparently he's an artist, a successful one — he got himself arrested last week, then brought to us. He doesn't talk much and doesn't like us much, here. His name is Robert Oliver."
I've heard of him, but I don't really know his work," I admitted. "Landscapes and portraits — I think he was on the cover of ARTnews a couple of years ago. What did he do to get arrested?" I turned to the window and stood, watching hail fall like expensive white gravel over the walled back lawn and a battered magnolia. The grass was already very green, and for a second there was watery sunlight over everything, then a fresh burst of hail.
"He tried to attack a painting in the National Gallery. With a knife."
"A painting? Not a person?"
"Well, apparently there was no one else in the room at that moment, but a guard came in and saw him lunging for a painting."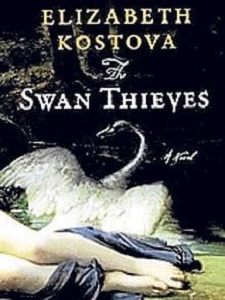 Elizabeth Kostova (New London, 26 december 1964)
Cover
De Amerikaanse schrijver Henry Miller werd geboren op 26 december 1891 In New York. Zie ook alle tags voor Henry Miller op dit blog.
Uit: Sexus
"The great joy of the artist is to become aware of a higher order of things, to recognize by the compulsive and spontaneous manipulation of his own impulses the resemblance between human creation and what is called "divine" creation. ...To be caught in a glut of dramatic episodes, to be ceaselessly participating, means among other things that one is unaware of the outlines of that bigger drama of which human activity is but a small part. ...
To ask the purpose of the game, how it is related to life, is idle. As well ask the Creator why volcanoes? why hurricanes? since obviously they contribute nothing but disaster. But since disasters are disastrous only for those who are engulfed in them, whereas they can be illuminating for those who survive and study them, so it is in the creative world. The dreamer who returns from his voyage, if he is not shipwrecked en route, may and usually does convert the collapse of his tenuous fabric into other stuff. For a child the pricking of a bubble bay offer nothing but astonishment and delight. The student of illusions and mirages may react differently. A scientist may bring to a bubble the emotional wealth of a world of thought. The same phenomenon which causes the child to scream with delight may give birth, in the mind of an earnest experimenter, to a dazzling vision of truth. In the artist these contrasting reactions seem to combine or merge, producing that ultimate one, the great catalyzer called realization. Seeing, knowing, discovering, enjoying- these faculties or powers are pale and lifeless without realization. The artist's game is to move over into reality. It is to see beyond the mere "disaster" which the picture of a lost battlefield renders to the naked eye. For, since the beginning of time the picture which the world has presented to the naked eye can hardly seem anything but a hideous battleground of lost causes. It has been so and will be so until man ceases to regard himself as the mere seat of conflict. Until he takes up the task of becoming the "I of his I."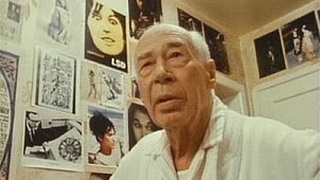 Henry Miller (26 december 1891 – 7 juni 1980)

De Duitse dichter Rainer Malkowski werd geboren op 26 december 1939 in Berlijn-Tempelhof. Zie ook alle tags voor Rainer Malkowski op dit blog.
Alles ist richtig

Das Kind sieht aus dem Zugfenster.
Zur Brücke sagt es Brücke.
Zum Schornstein sagt es Schornstein.
Manchmal sagt es einfach nur:
Da -
und stößt seinen Zeigefinger
gegen die Scheibe.
Und alles ist richtig.
Und die Adjektive in meinem Kopf
schämen sich
ihrer Entbehrlichkeit.


Die Frage

Alles Chemie.

Das Wachstum der Zellen,
ihr genaues, befristetes Leben:
alles Chemie.

Die Erfindung der Götter,
das Hohelied, das Radioteleskop:
alles Chemie.

Die Standhaftigkeit
des politischen Gefangenen,
das Glück und der Tastsinn,
freiwillige Armut,
die Rede des Chemikers
bei der Nobelpreisverleihung:
nichts als Chemie.

Nichts als Chemie
das kostbarste Erbgut:
die Frage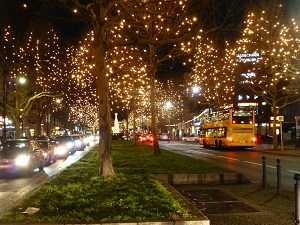 Rainer Malkowski (26 december 1939 – 1 september 2003)
Berlijn, Kurfürstenamm in de kersttijd
De Duitse schrijver Mani Beckmann (pseudoniem Tom Finnek) werd geboren op 26 december 1965 in Alstätte/Westfalen. Zie ook alle tags voor Mani Beckmann op dit blog.
Uit: Sodom und Gomera
"Bist du sicher, dass das eine gute Idee ist?«
Ich grinste nickend und meinte: »Klar! Wer weiß, vielleicht finde ich ja sogar Spaß am Detektivspielen: Martin Brandt, ein Mann für alle Fälle. Außerdem war ich noch nie auf den kanarischen Inseln. Wird mal Zeit!«
Im Moment allerdings zweifelte ich daran, ein sonderlich guter Detektiv zu sein. Nicht einmal den Taxistand konnte ich ausfindig machen.
»Du Halbdackel«, hörte ich plötzlich eine piepsende Stimme hinter mir. »Wo haschden jetscht den Bruschtbeudel gelassen?« Ich drehte mich um, da ich dachte, ich sei gemeint, und sah ein etwa achtzehnjähriges, rothaariges Mädchen, das sich an dem Rucksack eines eingeschüchterten und gleichaltrigen Jungen zu schaffen machte. Schwaben, wie der Tonfall verriet. Und um zwei Jahrzehnte verspätete Blumenkinder, wie sich unschwer der Kleidung entnehmen ließ: Ledersandalen, bunte und geblümte beziehungsweise gestreifte Pluderhosen, Batikhemd und geflochtene Armbändchen. Das Mädchen hatte das Gesuchte gefunden und schnauzte ihren Freund an: »Du bisch echt 'n Grasdackel!«
»Wisst ihr, wie ich zum Hafen komme?«, fragte ich die beiden.
»Wo willschten hin?«, fragte das Mädchen.
»Zum Hafen.« Ich war mir beinahe sicher, es gerade erst gesagt zu haben.
»Noi, wo du hinwillscht?« Das Blumenkind strich sich die mittelgescheitelten und hennagefärbten Haare hinter die Ohren.
Ich bereute bereits, die beiden angesprochen zu haben.
Kommunikation mit Süddeutschen war immer so anstrengend, sie dachten so grundsätzlich anders als ich. Ich wiederholte also: »Los Cristianos."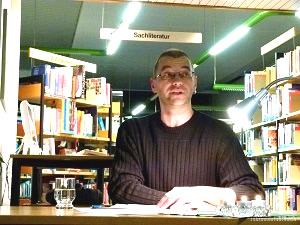 Mani Beckmann (Alstätte, 26 december 1965)
De Cubaanse schrijver, essayist en musicoloog Alejo Carpentier werd geboren in Havana op 26 december 1904. Zie ook alle tags voor Alejo Carpentier op dit blog.
Uit: The Kingdom of This World (Vertaald door Harriet de Onís)
"It had to be an American painter, the Cuban Wifredo Lam, who showed us the magic of tropical vegetation, the uncontrolled creativity of our natural formations--with all their metamorphoses and symbioses--on monumental canvases whose expression is unique in contemporary art.Faced with the disconcerting poverty of imagination of a Tanguy, for example, who for twenty-five years now has been painting the same petrified larvae under the same gray sky, I feel compelled to recite the dictum that was the pride of the first generation of Surrealists: Vous qui ne voyez pas, pensez a ceux qui voient.[You who don't see, think about those who can.]
There are still too many "adolescents who take pleasure in raping the freshly murdered cadavers of beautiful women" (Lautreamont), who do not realize that it would be more marvelous to ravish them alive. It's that so many people forget, because it costs them so little to dress up as magicians, that the marvelous begins to be marvelous in an unequivocal way when it arises from an unexpected alteration of reality (a miracle), from a privileged revelation of reality, from an unusual insight that is singularly favored by the unexpected richness of reality, or from an amplification of the scale and categories of reality, perceived with particular intensity by means of an exaltation of the spirit that leads it to a kind of "limit-state."
In the first place, the phenomenon of the marvelous presupposes a faith. Those who do not believe in saints cannot be cured by the miracles of the saints, in the same way that those who are not Quixotes cannot enter, body and soul, into the world of Amadis of Gaul or Tirant lo Blanc. (18) Certain remarks by Rutilio in Cervantes's Toils of Persiles and Sigismunda, about men being transformed into wolves, are prodigiously believable because in Cervantes's day it was believed that there were people afflicted with lupine mania. The same applies to the character's journey from Tuscany to Norway on a witch's cape."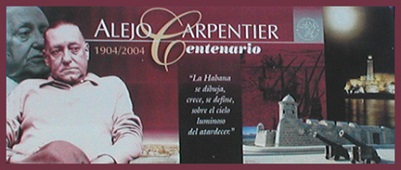 Alejo Carpentier (26 december 1904 - 24 april 1980)
Affiche bij zijn 100e geboortedag
Zie voor nog meer schrijvers van de 26e december ook mijn vorige twee blogs van vandaag.
26-12-2016 om 09:50 geschreven door Romenu

Tags:David Sedaris, Elizabeth Kostova, Henry Miller, Rainer Malkowski, Mani Beckmann, Alejo Carpentier, Romenu



Jean Toomer, Hans Brinkmann, Willy Corsari, Alfred Huggenberger, René Bazin, Julien Benda
De Amerikaanse dichter en schrijver Jean Toomer werd geboren op 26 december 1894 in Washington, D.C. Zie ook alle tags voor Jean Toomer op dit blog.
Banking Coal
Whoever it was who brought the first wood and coal
To start the Fire, did his part well;
Not all wood takes to fire from a match,
Nor coal from wood before it's burned to charcoal.
The wood and coal in question caught a flame
And flared up beautifully, touching the air
That takes a flame from anything.
Somehow the fire was furnaced,
And then the time was ripe for some to say,
"Right banking of the furnace saves the coal."
I've seen them set to work, each in his way,
Though all with shovels and with ashes,
Never resting till the fire seemed most dead;
Whereupon they'd crawl in hooded night-caps
Contentedly to bed. Sometimes the fire left alone
Would die, but like as not spiced tongues
Remaining by the hardest on till day would flicker up,
Never strong, to anyone who cared to rake for them.
But roaring fires never have been made that way.
I'd like to tell those folks that one grand flare
Transferred to memory tissues of the air
Is worth a like, or, for dull minds that turn in gold,
All money ever saved by banking coal.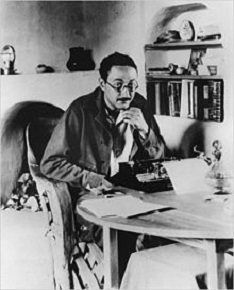 Jean Toomer (26 december 1894 – 30 maart 1967)
Rond 1920
De Duitse dichter, schrijver en criticus Hans Brinkmann werd geboren op 26 december 1956 in Freiberg in Sachsen. Zie ook alle tags voor Hans Brinkmann op dit blog.
Uit: Milchmädchen, rechne dich! Erzählungen

"Perfekte Droge

Mein kleiner Selbstverblödungsapparat. Nicht größer als eine kleine Pupille. Jeder sollte so'n Ding haben, hieß es. Und schon hatten es alle. Zuletzt wurden die auch echt billig produziert und regelrecht hinterhergeschmissen den Leuten. Man schießt sich den Chip in die Schläfe mit einer Einwegpistole, die in den Hausmüll entsorgt werden kann. Warum auf die andere Schläfe fest mit dem Daumen der freien Hand gedrückt werden muss, weiß ich auch nicht. Der Schuss geht nicht sehr tief, heißt es. In die Hirnrinde. Na egal.
Man fühlt sich, als wäre man bald am Ende. Gestorben und alles. Es müsse einen jetzt gar nichts mehr kümmern: Arbeit und Krieg und Klimawandel. Was noch alles am Arsch ist, das geht einem so dran vorbei, und das ist ja das Glück, nicht? Alt sein und alles hinter sich haben.
Jedem leuchtet ein, dass es besser ist, sich selber zu verblöden, als dass der Staat sich in den Gehirnen der Bürger breit macht. Oder die Wirtschaft. Oder die Kirche. Oder irgendwelche falschen Propheten. Da knall ich mir doch lieber selber die Birne zu, als dass ich die ran lass. Eigenverantwortung, volles Risiko, nur Mut und – buff!"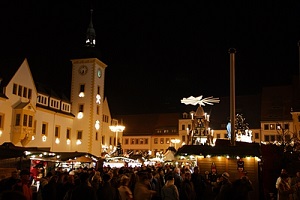 Hans Brinkmann (Freiberg, 26 december 1956)
Freiberg in de kersttijd
De Nederlandse schrijfster Willy Corsari (pseudoniem van Wilhelmina Angela Douwes-Schmidt) werd geboren in Sint-Pieters-Jette, Brussel, op 26 december 1897. Zie ook alle tags voor Willy Corsari op dit blog.
Uit:Het mysterie van de Mondscheinsonate
"Inspecteur Lund knikte bewonderend. De gave van zijn vrouw om haar aardig, rond snuitje precies zo onnozel te doen lijken als ze zelf wenste, zodra iemand haar wilde uithoren, behoorde tot een der vele dingen die hij in haar aanbad.
'We zullen naar bed gaan,' zei hij, 'het is twaalf uur. Het middernachtelijk uur, waarop óveral interessante moorden worden gepleegd, behalve in dit ellendige, nette oord. Het was een mooie dag voor de kermispret.'
'Ja, maar broeiend. Het heeft flink geregend daarstraks.'
'Heeft het?' Lund had niets gehoord, weer verdiept in zijn lectuur.
'Ja, om halfelf...'
Lund gaapte. De regen interesseerde hem niet - nòg niet. Later had hij enige reden zich ervoor te interesseren, dat het om half elf die avond regende.
Om tien over twaalf had Puck opgeruimd en wurmde Lund al aan zijn veters. Een rustige dag was ten einde.
Toen rinkelde opeens de telefoon. De slaperige stem van brigadier Harms, die dienst had, 'aan de overkant' dat wil zeggen op het politiebureau, klonk aan het oor van de inspecteur. Lund knoopte zijn moeizaam losgepeuterde veters weer dicht."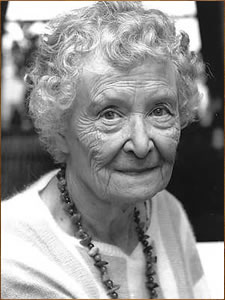 Willy Corsari (26 december 1897 – 11 mei 1998)
De Zwitserse dichter en schrijver Alfred Huggenberger werd geboren op 26 december 1867 in Bewangen nabij Bertschikon. Zie ook alle tags voor Alfred Huggenberger op dit blog.
Das Lied vom Winter
Der Winter will, der strenge Greis,
Jetzund sein Zepter schwingen.
Sein Hut ist Schnee, sein Mantel Eis,
Und dennoch soll in unserm Kreis
Sein Lob gar hell erklingen.
Ein süsser Schmeichler ist er nicht,
Der wenig hält und viel verspricht:
Gradaus vor allen Dingen!
Gradaus ! Und ob der Kaiser käm'
Sein Bart müsst' ihm gefrieren.
Und wenn ihn der beim Ärmel nähm':
«Ei, Winter, kommst mir unbequem!»
Das würd' ihn kaum genieren.
Er blies' ihm Flocken ins Gesicht
Und spräch': Mein Kaiser bist du nicht,
Glück zu! Du musst parieren.
Frau Sonne hat von alters her
Als Stiefkind ihn gehalten;
Drum liebt' er sie nicht allzu sehr,
Spannt um die Welt sein Nebelmeer,
Zum Trotz der guten Alten.
Drob fällt' das Herz ihr in die Schuh',
Sie sieht nur so von weitem zu
Und lässt ihr Reich erkalten.
Der Winter ist ein Edelmann,
Im Schenken unbescheiden,
Bringt Glück und Lust so viel er kann,
Und ist's ihm recht gelungen dann,
Wird närrisch er vor Freuden.
Darüber lacht ihn alles aus;
Er macht sich still zum Land hinaus,
Kann keinen Spott erleiden.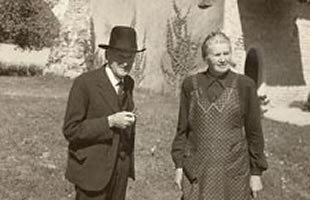 Alfred Huggenberger (26 december 1867 – 14 februari 1960)
Hier met zijn vrouw in 1953
De Franse schrijver René Bazin werd geboren op 26 december 1853 in Angers. Zie ook alle tags voor René Bazin op dit blog.
Uit: Les Noëllet
"Vous trouvez ? dit M. Laubriet, avec un sourire flatté. Comment va le métayer
La figure de Perrine Noellet s'épanouit.
- Tenez, dit-elle, en regardant vers la porte : c'est lui !
L'homme, apercevant M. Laubriet, s'était arrêté sur le seuil. Sa haute taille occupait presque toute l'ouverture de la porte. Il avait la tête forte, le visage carré et sans barbe, les lèvres minces, les yeux enfoncés sous des buissons de sourcils, une physionomie grave et un peu rude. Ses cheveux, courts sur le front, retombaient en mèches roulées sur le col de la veste. Quarante-cinq ans de service au soleil ne l'avaient ni décharné ni voûté, et rien qu'à le voir s'avancer vers son hôte, le regard droit, et lui serrer la main avec une familiarité respectueuse, on eût deviné l'honnête homme, de race ancienne et maître chez lui.
Derrière le père, les enfants entrèrent : une petite d'abord, Antoinette, coiffée d'un bonnet noir d'où sortait une mèche dorée, et qui vint tendre sa joue, d'un air innocent, à M. Laubriet ; Pierre, le cavalier de la Huasse ; Jacques, son cadet, pâle et fluet, aux grands yeux doux comme des pervenches ; enfin, l'aînée de tous, Marie, une fille brune, déjà sérieuse, qui s'en alla se ranger près de sa mère, en rabattant ses manches qu'elle avait relevées.
M. Laubriet promena ses regards autour de lui, et, les fixant sur Marie :
- Dix-sept ans, n'est-ce pas, métayer ?
- Oui, monsieur Hubert.
- Ça te vieillit, mon bonhomme.
- Ça nous vieillit tous, répondit le paysan, dont les lèvres hâlées se plissèrent d'un demi-sourire.
- Et mon filleul! reprit le châtelain en désignant Pierre, a-t-il grandi ! Quel âge a-t-il à présent ?
- Quinze ans.
- Est-ce vrai, mon garçon, ce qu'on m'a raconté ? Tu fais du latin avec l'abbé ?
La tête baissée et l'air mécontent, Pierre regardait le bout de ses sabots."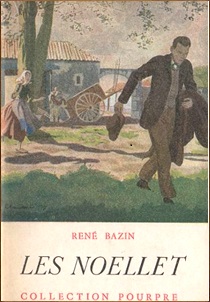 René Bazin (26 december 1853 – 19 juli 1932)
Cover
De Franse schrijver en filosoof Julien Benda werd geboren op 26 december 1867 in Parijs. Zie ook alle tags voor Julien Benda op dit blog.
Uit: The Treason of the Intellectuals (Vertaald door Richard Aldington)
"Pacifism claiming to be patriotic, by which I mean the pacifism which claims to exalt humanitarianism, to preach the abatement of the militarist spirit and of national passion, and yet not to harm the interests of the nation nor to compromise its power of resistance to foreign nations. This attitude—which is that of all Parliamentary pacifists—is the more antipathetic to upright minds in that it is inevitably accompanied by the assertion (which is also nearly always contrary to the truth) that the nation is not in the least threatened and that the malevolence of neighboring nations is a pure invention of people who want war. But that is merely an aspect of a very general fact, which is of supreme importance to the matter under discussion.
By this I mean the "clerk's" determination to put forth his principles as valid in the practical order of things, as reconcilable with the safeguarding of the sword's conquests. This determination, which has affected the Church for twenty centuries and almost all the idealists (give me the names of those since Jesus who have declared themselves incompetent in the practical order of things), is the source of all the "clerk's failures." It may be said that the "clerk's" defeat begins from the very moment when he claims to be practical. As soon as the "clerk" claims that he does not disregard the interests of the nation or of the established classes, he is inevitably beaten, for the very good reason that it is impossible to reach the spiritual and the universal without undermining the institutions whose foundations are the possession of the material and the desire to feel distinct from others."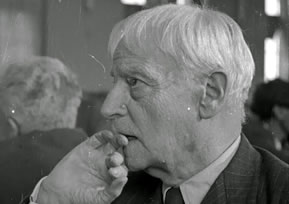 Julien Benda (26 december 1867 – 7 juni 1956)

Zie voor nog meer schrijvers van de 26e december ook mijn vorige blog van vandaag.
26-12-2016 om 09:46 geschreven door Romenu

Tags:Jean Toomer, Hans Brinkmann, Willy Corsari, Alfred Huggenberger, René Bazin, Julien Benda, Romenu



Thomas Gray Jean Galtier-Boissière, Ernst Moritz Arndt, Johann Gaudenz von Salis-Seewis, E. D. E. N. Southworth, Jean-François de Saint-Lambert
De Engelse dichter en geleerde Thomas Gray werd geboren op 26 december 1716 in Londen. Zie ook alle tags voor Thomas Gray op dit blog.
The Bard
1.3
Cold is Cadwallo's tongue,
That hush'd the stormy main:
Brave Urien sleeps upon his craggy bed:
Mountains, ye mourn in vain
Modred, whose magic song
Made huge Plinlimmon bow his cloud-top'd head.
On dreary Arvon'sÊ shore they lie,
Smear'd with gore, and ghastly pale:
Far, far aloof th' affrighted ravens sail;
The famish'd Eagle screams, and passes by.
Dear lost companions of my tuneful art,
Dear, as the light that visits these sad eyes,
Dear, as the ruddy drops that warm my heart,
Ye died amidst your country's cries--
No more I weep. They do not sleep.
On yonder cliffs, a griesly band,
I see them sit, they linger yet,
Avengers of their native land:
With me in dreadful harmony they join,
And weave with bloody hands, the tissue of thy line.'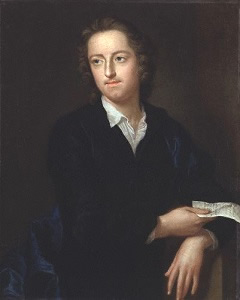 Thomas Gray (26 december 1716 – 30 juli 1771)
Portret door John Giles Eccardt, 1747-1748
De Franse schrijver, polemist en journalist Jean Galtier-Boissière werd geboren op 26 december 1891 in Parijs. Zie ook alle tags voor Jean Galtier-Boissière op dit blog.
Uit: Mémoires d'un Parisien (Nos amours de jeunesse)
« Sachant que je serai de garde dans un commissariat près des Buttes-Chaumont, j'ai prévenu ma famille pour qu'elle vienne me faire ses adieux. J'emmène mes parents et ma sœur dans une épicerie-débit, à côté du poste. Le patron avance des sièges, je commande du pinard.
– Tu vas boire du vin, comme ça !... s'écrie ma mère, outrée de ces vilaines façons. Ah ! non, merci, pas pour moi !
– Mais maman, on ne va pas te servir du thé, ici ! Ah ! vous me faites bien rigoler, tous les trois ! On dirait la famille royale à Varennes, chez l'épicier Sauce !
Tout en me comblant de recommandations variées, ma mère me passe une ceinture de cuir renfermant trente louis d'or.
– Si tu es fait prisonnier, ça te servira toujours !
Mes parents sont très émus ; mais, au bout de cinq minutes, comme dans toutes les grandes circonstances, nous ne trouvons absolument plus rien à nous dire.
Tous les quarts d'heure, des sergents de ville se glissent prestement dans la boutique.
– Alors, patron
– Oui, oui, messieurs, dit le patron, en versant un coup de blanc sur le zinc.
Les agents lèvent le coude, puis s'esquivent. C'est toujours la tournée du patron, bien entendu.
– C'est curieux, dit mon père, qui s'honore d'avoir écrit plusieurs livres de propagande antialcoolique, il a fallu une guerre franco-allemande pour me révéler l'intempérance des gardiens de la paix!"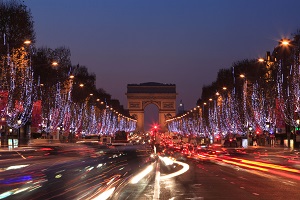 Jean Galtier-Boissière (26 december 1891 – 22 januari 1966)
Parijs, les Champs-Elysées in kerstsfeer
De Duitse dichter en schrijver Ernst Moritz Arndt werd op 26 december 1769 in Groß-Schoritz geboren op het eiland Rügen. Zie ook alle tags voor Ernst Moritz Arndt op dit blog.
Jesusgebet
Herr, du mein Licht, mein Heil, mein Leben,
Du süßer Heiland Jesus Christ!
Hilf, Herr! Hilf! Laß mich nicht entschweben
Von dir, wo Seelenfreude ist,
Wo Einfalt ist, wo Frieden ist,
Bei dir, bei dir, Herr Jesus Christ!
Hilf! Laß mich nicht im Schein verwildern
Der Welt, die tausendfarbig gleißt,
Die lockt, die Wesen durchzubildern,
Soweit das All die Bahnen kreist –
O gib mir deinen stillen Geist,
Des Namen Lieb' und Demut heißt!
O könnt' ich schaun aus deinem Bilde
Der Welten Ziel, der Menschen Sein
Mit voller Klarheit, voller Milde,
Dann wäre schon der Himmel mein,
Dann täuschte mich kein Schein vom Schein,
Das Licht der Lichter wäre mein.
O Licht der Lichter! Bild der Bilder!
Du Gottesglanz, du Liebesglanz!
Du Stiller, Treuer, Frommer, Milder,
Erleuchte mir die Seele ganz!
Dein Bild dies bilde ganz mir ein!
Und werde, bleibe ewig mein!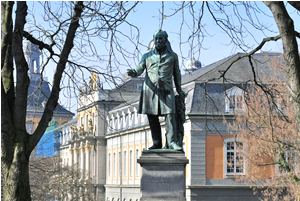 Ernst Moritz Arndt (26 december 1769 – 29 januari 1860)
Monument in Bonn
De Zwitserse dichter en schrijver Freiherr Johann Gaudenz von Salis-Seewis werd geboren op 26 december 1762 op slot Bothmar bei Malans. Zie ook alle tags voor Johann Gaudenz von Salis-Seewis op dit blog.
Morgenpsalm
Der Erdkreis feiert noch im Dämmerschein;
Still, wie die Lamp' in Tempelhallen, hängt
Der Morgenstern; es dampft vom Buchenhain,
Der, Kuppeln gleich, empor die Wipfel drängt.
Sieh', naher Felsen düstrer Zinn' entglüht
Der Rose gleich, die über Trümmern blüht.
Wem dampft das Opfer der bethauten Flur?
Ihr Duft, der hoch in Silbernebeln dringt,
Ist Weihrauch, den die ländliche Natur
Dem Herrn auf niedern Rasenstufen bringt.
Die Himmel sind ein Hochaltar des Herrn,
Ein Opferfunken nur der Morgenstern.
Im Morgenroth, das naher Gletscher Reih'n
Und ferner Meere Grenzkreis glorreich hellt,
Verdämmert seines Thrones Wiederschein,
Der mild auf Menschen, hell auf Gräber fällt
Er leuchtet Huld auf redliches Vertrau'n
Und Licht der Ewigkeit durch Todesgraun.
Noch wandeln wir, wo kaum der Aufgang tagt,
Im ersten Frühschein der Unsterblichkeit.
Der Tag, wo Unschuld nimmer irrt, noch klagt,
Glänzt hinter Gräbern auf, und ist nicht weit.
Des Wahnes Dunst, des Todes Nacht zerfleußt,
O Allmacht, dir, die mir Erlöser heißt!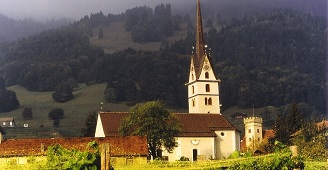 Johann Gaudenz von Salis-Seewis (26 december 1762 – 29 januari 1834)
De kerk van Malans
De Amerikaanse schrijfster Emma Dorothy Eliza Nevitte Southworth werd geboren op 26 december 1819 in Washington, D.C. Zie ook alle tags voor E. D. E. N. Southworth op dit blog.
Uit: The Hidden Hand
"It was the night of the last day of October, eighteen hundred and forty-five. The evening had closed in very dark and gloomy. About dusk the wind arose in the northwest, driving up masses of leaden-hued clouds, and in a few minutes the ground was covered deep with snow and the air was filled with driving sleet.
As this was All Hallow Eve, the dreadful inclemency of the weather did not prevent the negroes of Hurricane Hall from availing themselves of their capricious old master's permission and going off in a body to a banjo breakdown held in the negro quarters of their next neighbor.
Upon this evening, then, there was left at Hurricane Hall only Major Warfield, Mrs. Condiment, his little housekeeper, and Wool, his body servant.
Early in the evening the old hall was shut up closely to keep out as much as possible the sound of the storm that roared through the mountain chasms and cannonaded the walls of the house as if determined to force an entrance. As soon as she had seen that all was safe, Mrs. Condiment went to bed and went to sleep.
It was about ten o'clock that night that Old Hurricane, well wrapped up in his quilted flannel dressing-gown, sat in his well-padded easy-chair before a warm and bright fire, taking his comfort in his own most comfortable bedroom. This was the hour of the coziest enjoyment to the self-indulgent old Sybarite, who dearly loved his own ease. And, indeed, every means and appliance of bodily comfort was at hand. Strong oaken shutters and thick, heavy curtains at the windows kept out every draft of air, and so deadened the sound of the wind that its subdued moaning was just sufficient to remind one of the stormy weather without in contrast to the bright warmth within. Old Hurricane, as I said, sat well wrapped up in his wadded dressing-gown, and reclining in his padded easy-chair, with his head thrown back and his feet upon the fire irons, toasting his shins and sipping his punch. On his right stood a little table with a lighted candle, a stack of clay pipes, a jug of punch, lemons, sugar, Holland gin, etc., while on the hearth sat a kettle of boiling water to help replenish the jug, if needful."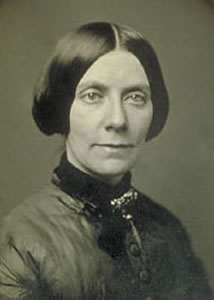 E. D. E. N. Southworth (26 december 1819 – 30 juni 1899)
De Franse dichter, schrijver en filosoof Jean-François de Saint-Lambert werd geboren op 26 december 1716 in Nancy. Zie ook alle tags voor Jean-François de Saint-Lambert op dit blog.
L'Hiver (Fragment)
C'est ainsi que d'un dieu méditant les desseins,
J'admirois ce grand tout, ouvrage de ses mains,
Et j'apprenois du moins à subir sans murmure
Ces rigueurs d'un moment qu'a pour nous la nature.
Les airs étoient sereins ; des soleils radieux
Sémoient de leurs traits d'or le bleu sombre des cieux :
Mais Borée apporta ces frimats invisibles,
Ces atomes perçants, ces dards imperceptibles
Qui font sentir du froid la mortelle âpreté.
Ils couvrent les gazons d'un duvet argenté,
Ils délivrent les airs de la vapeur humide
Qui retombe en crystal sur le limon solide.
Je le sens au matin ce limon condensé,
Résister sous mes pas dans le chemin glacé ;
Je vois l'astre du jour, dont la flamme rougeâtre
Eclate à l'orient sur l'horison bleuâtre :
Il nous lance un moment quelques traits impuissants ;
Le souffle de Borée a pénétré mes sens.
La nuit revient d'abord augmenter la froidure ;
Des chaînes de crystal vont charger la nature ;
Déja je n'entends plus la course des ruisseaux ;
La cascade muette a suspendu ses eaux :
Le berger qui la voit au lever de l'aurore,
L'observe en écoutant & croit l'entendre encore.
Les glaçons réunis sur les vastes étangs,
Renferment sous un mur leurs tristes habitants.
Le fleuve est arrêté dans sa course rapide,
Il tente de briser sa surface solide ;
Contre ses fers nouveaux vainement mutiné,
Sous le crystal vainqueur il roule emprisonné.

Jean-François de Saint-Lambert (26 december 1716 – 9 februari 1803)
Borstbeeld in Nancy
26-12-2016 om 09:41 geschreven door Romenu

Tags:Thomas Gray Jean Galtier-Boissière, Ernst Moritz Arndt, Johann Gaudenz von Salis-Seewis, E. D. E. N. Southworth, Jean-François de Saint-Lambert, Romenu



| | |
| --- | --- |
| | |



Inhoud blog


| | |
| --- | --- |
| | St. Matthew (D. H. Lawrence) |
| | Niels 't Hooft, Jan Blokker, Linda Pastan, Louis-Ferdinand Céline, Georges Eekhoud, Said, John Cheever, John Barth |
| | Max Brod, Kaur Kender, Adriaan Venema, Arnold Bennett, Richard Schaukal, Ferdynand Ossendowski, M. A. von Thümmel, Herman Wouk, Dashiell Hammett |
| | Alan Hollinghurst, Radwa Ashour, Hugo Raes, Vítězslav Nezval, Ivan O. Godfroid, Maxwell Bodenheim, Isabella Nadolny, Edmond De Goncourt |
| | Egyd Gstättner, Madeleine Thien, Claire Castillon, Friedrich Dieckmann, Eve Ensler, Raymond Carver, Jamaica Kincaid, Robert Ludlum, Theodore Roethke |
| | Joseph Brodsky, Michael Chabon, Bob Dylan, Henri Michaux, William Trevor, Tobias Falberg, Arnold Wesker, Rainald Goetz, Louis Fürnberg |
| | Adriaan Roland Holst, Maarten Biesheuvel, Lydia Rood, Jane Kenyon, Susan Cooper, Michaël Vandebril, Jack McCarthy, Mitchell Albom, Pär Fabian Lagerkvist |
| | In Memoriam Philip Roth |
| | Erik Spinoy, Arthur Conan Doyle, Ahmed Fouad Negm, Anne de Vries, Johannes R. Becher, Kees Winkler, Gérard de Nerval, Catulle Mendès, Takis Würger |
| | Pinksteren II (Willem de Mérode) |
| | Gabriele Wohmann, Amy Waldman, Maria Semple, Urs Widmer, Emile Verhaeren, Robert Creeley, Alexander Pope, Tudor Arghezi, Suzanne Lilar |
| | Pinksteren I (Willem de Mérode) |
| | Tommy Wieringa, Auke Hulst, Ellen Deckwitz, Jeroen Thijssen, Maurits de Bruijn, Gerrit Achterberg, Annie M.G. Schmidt, Sky du Mont |
| | Honoré de Balzac, William Michaelian, Wolfgang Borchert, Hector Malot, Ingvar Ambjørnsen, A.C. Cirino, Hanna Krall, Sigrid Undset |
| | Constantin Göttfert, Simone van Saarloos, Karel van het Reve, Gijs IJlander, Thera Coppens, H.W.J.M. Keuls, Jodi Picoult |
| | Ruskin Bond, Yahya Hassan, Fritz Rudolf Fries, Lorraine Hansberry, Rahel Varnhagen, Anna Jameson |
| | Yi Mun-yol, W.G. Sebald, Markus Breidenich, François Nourissier, Gunnar Gunnarsson, Omar Khayyam, Ernst Wiechert, Franziska zu Reventlow, John Wilson |
| | Lars Gustafsson, Peter Høeg, Eva Schmidt, Gary Paulsen, Henri Barbusse, Virginie Loveling, Dennis Potter, Cor Bruijn, Dorothy Richardson |
| | Paul Gellings, Adrienne Rich, Friedrich Rückert, Jakob van Hoddis, Juan Rulfo, Olaf J. de Landell, Olga Berggolts, Lothar Baier, Rens van der Knoop |
| | Mai (Johann Wolfgang von Goethe) |
| | Albert Verwey, Arthur Schnitzler, Pem Sluijter, W.J.M. Bronzwaer, Frits van Oostrom, Michael Lentz, Max Frisch, Judith Hermann, Mary Wortley Montagu |
| | In Memoriam Tom Wolfe |
| | Jo Gisekin, Karl-Markus Gauß, Eoin Colfer, Gaby Hauptmann, Wilma Vermaat, Frans Bastiaanse, Dante Alighieri, Krister Axel, Jens Sparschuh |
| | Moeder (M. Vasalis) |
| | Johannes (Willem de Mérode) |
| | Jan Lauwereyns, Reinout Verbeke, Bruce Chatwin, Daphne du Maurier, Kathleen Jamie, Armistead Maupin, Alphonse Daudet, Kōji Suzuki |
| | Theo van Baaren, Gregor von Rezzori, Reinhold Schneider, Jacob Haafner, Adolf Muschg, Roch Carrier, Franz Michael Felder |
| | Hagar Peeters, Bertus Aafjes, August Vermeylen, Andrej Voznesensky, Sabine Imhof, Dante Gabriel Rossetti |
| | Nicolaas Anslijn, Eva Demski, Farley Mowat, Werner Bräunig, Cäsar Flaischlen |
| | Edward Lear, Diana Raznovich, Andrej Amalrik, Maurice Carême, Massimo Bontempelli |
| | J. H. Leopold, Ida Gerhardt, Eva Menasse, Eugen O. Chirovici, Andre Rudolph, Rubem Fonseca, Henning Boëtius, Camilo José Cela, Rachel Billington |
| | De hemelvaart (Nicolaas Beets) |
| | J.C. Bloem, Herman Leenders, Didi de Paris, Ralf Rothmann, Jeremy Gable, Petra Hammesfahr, Roberto Cotroneo, Antonine Maillet, Johann Peter Hebel |
| | Jayne Cortez, Barbara Taylor Bradford, Benito Pérez Galdós, Ivan Cankar, Martin Boelitz, Ariel Durant, Fritz von Unruh, Leonard Buyst |
| | My Computer Ate My Homework 3, Dolce far niente, Gene Ziegler, Pieter Boskma, Jorie Graham, Luuk Wojcik |
| | Roddy Doyle, Thomas Pynchon, Pat Barker, Gary Snyder, Gertrud Fussenegger, Edmund Wilson, Alain-René Lesage, Sophus Schandorph, Romain Gary |
| | Libris Literatuurprijs 2018 voor Murat Isik |
| | Willem Elsschot, Almudena Grandes, Christoph Marzi, Edgar Cairo, Volker Braun, Robert Browning, Peter Carey, Archibald MacLeish, Rabindranath Tagore |
| | In Memoriam Renate Dorrestein |
| | Beloved, let us love one another,' says St. John (Christina Rossetti) |
| | Willem Kloos, Hélène Gelèns, Sasja Janssen, Ariel Dorfman, Erich Fried, Yasushi Inoue, Harry Martinson, Christian Morgenstern, Carl Ludwig Börne |
| | Ferdinand Sauter, Eugène Labiche, Gaston Leroux, Júlio César de Mello e Souza, Marie-Aude Murail, Paul Alverdes, Erik Bindervoet, Simon Mulder |
| | Als je de vrijheid tegenkomt (Ankie Peypers) |
| | Roni Margulies, Miklós Radnóti, Petra Else Jekel, Morton Rhue, Christopher Morley, George Albert Aurier |
| | Henryk Sienkiewicz, Richard Watson Dixon, Hans Werner Kolben, Christian Friedrich Scherenberg, Catullus |
| | Oorlog (Rutger Kopland) |
| | Christiaan Weijts, Amos Oz, J.W.F. Werumeus Buning, Cola Debrot, Graham Swift, Monika van Paemel, David Guterson, Jan Mulder, Werner Fritsch |
| | Erik Lindner, Jehuda Amichai, Johan de Boose, Paul Bogaert, Marc Dugain, Ben Elton, Klaus Modick, Agnès Desarthe, Juan Gelman |
| | Esther Freud, Wytske Versteeg, Rob Waumans, Tilman Rammstedt, James Holmes, Theo Sontrop, Jef Last, Gottfried Benn, Novalis |
| | What Work Is (Philip Levine) |


Gastenboek


Druk op onderstaande knop om een berichtje achter te laten in mijn gastenboek