E-mail mij


Druk op onderstaande knop om mij te e-mailen.


Romenu


Romenu is een blog over gedichten, literatuur en kunst Maar Romenu is ook een professionele freelance vertaler
Du-Ne en Ne-Du http://www.romenu.nl.


Huur eens een (vakantie)huis in een natuurgebied, dichtbij het centrum van Nijmegen


Google


Georg Trakl

Georg Trakl werd op 3 februari 1887 in het conducteurshuis aan de Waagplatz 2 in Salzburg geboren. Zijn vader, Tobias Trakl, was een handelaar in ijzerwaren en zijn moeder, die ook psychische problemen had, was Maria Catharina Trakl, (meisjesnaam Halik). Voorts had hij nog drie broers en drie zussen. Margarethe (doorgaans Grethe genoemd) stond hem het naast, zelfs zodanig dat sommigen een incestueuze verhouding vermoeden. Zijn jeugd bracht hij door in Salzburg. Vervolgens bezocht hij van 1897 tot 1905 het humanistische gymnasium. Om toch een academische opleiding te kunnen volgen, werkte hij tot 1908 in de praktijk bij een apotheker. Sommigen vermoedden dat hij dit vooral deed om zichzelf opiaten te kunnen verschaffen. Bij het uitbreken van WO I werd Trakl als medicus naar het front in Galicië (heden ten dage in Oekraïne en Polen) gestuurd. Zijn gemoedsschommelingen leidden tot geregelde uitbraken van depressie, die verergerd werden door de afschuw die hij voelde voor de verzorging van de ernstig verwonde soldaten. De spanning en druk dreven hem ertoe een suïcidepoging te ondernemen, welke zijn kameraden nochtans verhinderden. Hij werd in een militair ziekenhuis opgenomen in Kraków, alwaar hij onder strikt toezicht geplaatst werd.Trakl verzonk daar in nog zwaardere depressies en schreef Ficker om advies. Ficker overtuigde hem ervan dat hij contact moest opnemen met Wittgenstein, die inderdaad op weg ging na Trakls bericht te hebben ontvangen. Op 4 november 1914, drie dagen voordat Wittgenstein aan zou komen, overleed hij echter aan een overdosis cocaïne


Paul Celan

Paul Celan werd onder de naam Paul Antschel op 23 november 1920 geboren in Czernowitz, toentertijd de hoofdstad van de Roemeense Boekovina, nu behorend bij de Oekraïne. Paul Celans ouders waren Duitssprekende joden die hun zoon joods opvoedden en hem naar Duitse christelijke scholen stuurden. In 1942 werden Celans ouders door de Duitse bezetter naar een werkkamp gedeporteerd en daar vermoord. Hijzelf wist aanvankelijk onder te duiken, maar moest vanaf juli 1942 in een werkkamp dwangarbeid verrichten. Celan overleefde de oorlog. Via Boekarest en Wenen vestigde Celan zich in 1948 in Parijs. Daar was hij werkzaam als dichter, vertaler en doceerde hij aan de prestigieuze Ecole Normale Supérieure. Vermoedelijk op 20 april 1970 beëindigde hij zijn leven zelf door in de Seine te springen.


Gerard Reve

Gerard Reve over: Medearbeiders "God is in de mensen, de dieren, de planten en alle dingen - in de schepping, die verlost moet worden of waaruit God verlost moet worden, door onze arbeid, aangezien wij medearbeiders van God zijn." Openbaring "Tja, waar berust elk godsbegrip op, elke vorm van religie? Op een openbaring, dat wil zeggen op een psychische ervaring van zulk een dwingende en onverbiddelijke kracht, dat de betrokkene het gevoel heeft, niet dat hij een gedachte of een visioen heeft, maar dat een gedachte gedachte of visioen hem bezit en overweldigt."


Simon Vestdijk
Simon Vestdijk (Harlingen, 17 oktober 1898 – Utrecht, 23 maart 1971) was een Nederlands romancier, dichter, essayist en vertaler. Zijn jeugd te Harlingen en Leeuwarden beschreef hij later in de Anton Wachter-cyclus. Van jongs af aan logeerde hij regelmatig bij zijn grootouders in Amsterdam, waar hij zich in 1917 aan de Universiteit van Amsterdam inschrijft als student in de medicijnen. Tijdens zijn studie die van 1917 tot 1927 duurde, leerde hij Jan Slauerhoff kennen.Tot 1932 is hij als arts in praktijken door heel Nederland werkzaam. In 1932 volgt zijn officiële schrijversdebuut met de uitgave van de bundel Verzen in De Vrije Bladen. Doorslaggevend voor Vestdijks uiteindelijke keuze voor de literatuur is zijn ontmoeting in 1932 met Eddy Du Perron en Menno ter Braak. Deze ontmoeting had tot resultaat dat hij redactielid werd van het tijdschrift Forum Kort daarop, in 1933, wordt zijn eerste novelle, De oubliette, uitgegeven. In hetzelfde jaar schrijft hij Kind tussen vier vrouwen, dat, eerst geweigerd door de uitgever, later de basis zal vormen voor de eerste drie delen van de Anton Wachter-romans. In 1951 ontvangt Vestdijk de P.C. Hooftprijs voor zijn in 1947 verschenen roman De vuuraanbidders. In 1957 wordt hij voor het eerst door het PEN-centrum voor Nederland voorgedragen voor de Nobelprijs voor de Literatuur, die hij echter nooit zal krijgen. Op 20 maart 1971 wordt hem de Prijs der Nederlandse Letteren toegekend, maar voor hij deze kan ontvangen overlijdt hij op 23 maart te Utrecht op 72-jarige leeftijd. Vestdijk was auteur van ca. 200 boeken. Vanwege deze enorme productie noemde de dichter Adriaan Roland Holst hem 'de man die sneller schrijft dan God kan lezen'. Andere belangrijke boeken van Simon Vestdijk zijn: "Kind van stad en land" (1936), "Meneer Visser's hellevaart" (1936), "Ierse nachten" (1946), "De toekomst de religie" (1947), "Pastorale 1943" (1948), "De koperen tuin" (1950), "Ivoren wachters" (1951), "Essays in duodecimo" (1952) en "Het genadeschot" (1964).


K.P. Kavafis

K.P. Kavafis werd als kind van Griekse ouders, afkomstig uit Konstantinopel, geboren in 1863 in Alexandrië (tot vandaag een Griekse enclave) waar hij ook het grootste deel van zijn leven woonde en werkte. Twee jaar na de dood van zijn vader verhuist het gezin in 1872 naar Engeland om na een verblijf van vijf jaar naar Alexandrië terug te keren. Vanwege ongeregeldheden in Egypte vlucht het gezin in 1882 naar Konstantinopel, om na drie jaar opnieuw naar Alexandrië terug te gaan. In de jaren die volgen maakt Kavafis reizen naar Parijs, Londen en in 1901 zijn eerste reis naar Griekenland, in latere jaren gevolgd door nog enkele bezoeken. Op de dag van zijn zeventigste verjaardag, in 1933 sterft Kavafis in Alexandrië. De roem kwam voor Kavafis pas na zijn dood, dus postuum. Deels is dat toe te schrijven aan zijn eigen handelswijze. Hij was uiterst terughoudend met de publicatie van zijn gedichten, liet af en toe een enkel gedicht afdrukken in een literair tijdschrift, gaf in eigen beheer enkele bundels met een stuk of twintig gedichten uit en het merendeel van zijn poëzie schonk hij op losse bladen aan zijn beste vrienden.


Thomas Mann


Thomas Mann, de jongere broer van Heinrich Mann, werd geboren op 6 juni 1875 in Lübeck. Hij was de tweede zoon van de graankoopman Thomas Johann Heinrich Mann welke later één van de senatoren van Lübreck werd. Zijn moeder Julia (geboren da Silva-Bruhns) was Duits-Braziliaans van Portugees Kreoolse afkomst. In 1894 debuteerde Thomas Mann met de novelle "Gefallen". Toen Thomas Mann met 21 jaar eindelijk volwassen was en hem dus geld van zijn vaders erfenis toestond - hij kreeg ongeveer 160 tot 180 goldmark per jaar - besloot hij dat hij genoeg had van al die scholen en instituties en werd onafhankelijk schrijver. Kenmerkend voor zijn stijl zijn de ironie, de fenomenale taalbeheersing en de minutieuze detailschildering. Manns reputatie in Duitsland was sterk wisselend. Met zijn eerste roman, Buddenbrooks (1901), had hij een enorm succes, maar door zijn sceptische houding tegenover Duitsland na de Eerste Wereldoorlog veranderde dit volledig. Stelde hij zich tot aan de jaren twintig apolitiek op (Betrachtungen eines Unpolitischen, 1918), meer en meer raakte hij bij het Politiek gebeuren betrokken. Zijn afkeer van het nationaal socialisme groeide, zijn waarschuwingen werden veelvuldiger en heftiger. In 1944 accepteerde hij het Amerikaanse staatsburgerschap. Tussen 1943 en 1947 schreef Mann Doktor Faustus (zie Faust), de roman van de 'Duitse ziel' in de gecamoufleerd geschilderde omstandigheden van de 20ste eeuw. In 1947 bezocht hij voor het eerst sinds de Oorlog Europa, twee jaar later pas Duitsland. In 1952 vertrok hij naar Zwitserland. Op 12 augustus 1955 stierf hij in Zürich. Twintig jaar na zijn dood, in aug. 1975, is zijn literaire nalatenschap geopend: dagboekaantekeningen van 15 maart 1933 tot 29 juli 1955, alsmede notities uit de jaren 1918 tot en met 1921.Belangrijke werken zijn: Der Zauberberg, Der Tod in Venedig, Dokter Faustus , Joseph und seine Brüder en Die Bekenntnisse des Hochstaplers Felix Krull.


Rainer Maria Rilke

Rilke werd op 4 december 1875 geboren in Praag. Hij had al naam gemaakt als dichter met zijn bundels Das Stundenbuch en Das Buch der Bilder, toen hij de literaire wereld versteld deed staan en wereldfaam verwierf met de publicatie van zijn twee delen Neue Gedichte in 1907 en 1908. Hij verzamelde daarin het beste werk uit een van zijn vruchtbaarste periodes, die hij grotendeels doorbracht in Parijs. Rilke was daar diep onder de indruk gekomen van Rodin, bij wie hij een tijdlang in dienst was als particulier secretaris. Rodin, zei hij later, had hem leren kijken. Dit kijken kwam neer op intense concentratie, om het mysterie te kunnen zien 'achter de schijnbare werkelijkheid'. Latere en rijpere werken als Duineser Elegien (1912-1923) en het ronduit schitterende Die Sonette an Orfeus (1924) illustreren Rilkes metafysische visie op het onzegbare, dat haar verwoording vindt in een hermetische muzikale taal. Op 29 december 1926 overlijdt Rilke in het sanatorium in Val-Mont aan de gevolgen van leukemie. Enkele dagen later wordt hij, overeenkomstig zijn wens, begraven op het kerkhof van Raron.


* * * * * * * * * * * * * * * *

| | |
| --- | --- |
| | Over literatuur, gedichten, kunst en cultuur |

08-11-2015

Joshua Ferris, Kazuo Ishiguro, Herbert Hindringer, Elfriede Brüning, Margaret Mitchell, Detlef Opitz
De Amerikaanse schrijver Joshua Ferris werd op 8 november 1974 in Danville, Illinois geboren. Zie ook mijn blog van 8 november 2010 en eveneens alle tags voor Joshua Ferris op dit blog.
Uit: The Fragments
"Here's a question I've always wanted to ask. When you're up there, are there coördinates you have to follow, or are you free to go anywhere you like?"
"Depends on where in the city you are. If you come near any of the airports, obviously—"
"Oh, sure."
"Which you need clearance to do, anyway."
"I'm just talking about, like, say you're over midtown."
"I don't do midtown. There's another guy does midtown."
"I'm saying, what if you just happened to find yourself there?"
"Let me tell you," the second man said, laughing. "You never just find yourself inside a chopper in midtown."
He stopped eavesdropping on them when the call from Katy came in. He picked up, hoping that her deadline had been pushed back, that she'd changed her mind, that she'd be joining him after all.
"Hey," he answered.
No reply. Static. A physical thing, a trail of it. Static heading somewhere, making progress down a hallway.
"Katy?" he said.
Static crumpling and ironing itself out. A quick vacuum silence, then more jostle. "Katy," he said again. "Helloooo." He stepped out of the bar, knowing by then that his wife hadn't intended to call him. "Kaaa-teee!" he sang. Static shifting, churning, then lifting suddenly. He hollered to be heard. "Yoo-hoo, Katy!"
"… no, he thinks I'm …"
More static.
"… just wish . . . could spend the night…"
Then a man's voice. "…too bad you live …have an extra hour…"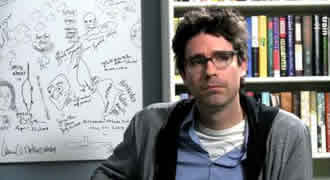 Joshua Ferris (Danville, 8 november 1974)
De Japanse schrijver Kazuo Ishiguro werd op 8 november 1954 geboren in Nagasaki. Zie ook mijn blog van 8 november 2009 en ook mijn blog van 8 november 2010 en eveneens alle tags voor Kazuo Ishiguro op dit blog.
Uit:The Buried Giant
"You would have searched a long time for the sort of winding lane or tranquil meadow for which England later became celebrated. There were instead miles of desolate, uncultivated land; here and there rough-hewn paths over craggy hills or bleak moorland. Most of the roads left by the Romans would by then have become broken or overgrown, often fading into wilderness. Icy fogs hung over rivers and marshes, serving all too well the ogres that were then still native to this land. The people who lived nearby -- one wonders what desperation led them to settle in such gloomy spots -- might well have feared these creatures, whose panting breaths could be heard long before their deformed figures emerged from the mist. But such monsters were not cause for astonishment. People then would have regarded them as everyday hazards, and in those days there was so much else to worry about. How to get food out of the hard ground; how not to run out of firewood; how to stop the sickness that could kill a dozen pigs in a single day and produce green rashes on the cheeks of children.
In any case, ogres were not so bad provided one did not provoke them. One had to accept that every so often, perhaps following some obscure dispute in their ranks, a creature would come blundering into a village in a terrible rage, and despite shouts and brandishings of weapons, rampage about injuring anyone slow to move out of its path. Or that every so often, an ogre might carry off a child into the mist. The people of the day had to be philosophical about such outrages."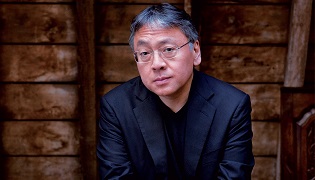 Kazuo Ishiguro (Nagasaki, 8 november 1954)
De Duitse dichter en schrijver Herbert Hindringer werd geboren op 8 november 1974 in Passau. Zie ook alle tags voor Herbert Hindringer op dit blog en ook mijn blog van 29 december 2010.
flussbett
das glück sei woanders dachte man
und rasierte sich das schamhaar zur pfeilspitze
richtung unschuld
ein langer winter endete dort
wo eines morgens regenwasser durch die dachrinnen
in den boden hinab rauschte
brauchte man nicht einmal die augen zu öffnen
um auf einem schiff wach zu werden
ein frühmorgendlicher regen war das
was man noch erwarten wollte
bevor man sich per annonce ein aktmodell suchte
das nach zu vielen sitzungen liegen blieb
sodass man beim ausziehen das bett aufgeben musste
sich ganz leise hinausschlich
nur mit sonntagen im gepäck
stand einem die neue stadt misstrauisch gegenüber
war gleich eine bäckerei
man schloss die fenster
und schraubte so lange an seinem kopf herum
bis die trockenhaube endlich passte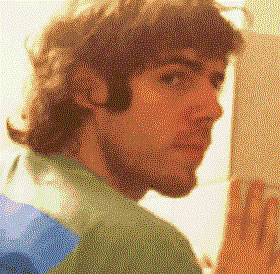 Herbert Hindringer (Passau, 8 november 1974)
De Duitse schrijfster Elfriede Brüning werd geboren op 8 november 1910 in Berlijn. Zie ook mijn blog van 8 november 2010 en eveneens alle tags voor Elfriede Brüning op dit blog.
Uit: Kaffeefahrt ins Paradies
"Ein Mitarbeiter hatte von Hannover aus eigens dazu anreisen sollen. "Wahrscheinlich steckt er noch im Stau", sagte eines der beiden Models, die sich endlich zu einer Erklärung veranlaßt sah. Doch was war zu tun? Noch langer warten? Inzwischen war Eile geboten. Unser Fahrer hupte schon ungeduldig, er wollte noch vor Mitternacht zu Hause sein. Aber sie habe ja für uns ein Ersatzgeschenk! rief die Modefrau plötzlich, und flugs zog sie aus einem Korb, den irgendwer herbei geschleppt hatte, die Überraschung hervor: für die Damen eine Keksdose (ohne Inhalt) mit dazu passendem Tablett, und die Herren erhielten etwas Undefinierbares zum Basteln, das sich später als ein aus Pappe zusammengesetzter Papierkorb entpuppte.
Damit war unser "Badisches Winzerfest" zu Ende gegangen. Ohne Weinkönigin und ohne Lotterie; beides hatte man glatt unter den Tisch fallenlassen. Auf der langen Autobahn – Rückfahrt durch die "herrliche Landschaft" der Börde hatte ich Muße, ein Resümee zu ziehen.
Wir waren geneppt, belogen und betrogen worden. Eigentlich gehörten die Veranstalter vor Gericht gestellt. Sie waren gemeine Betrüger! Aber sahen das meine Mitreisenden ebenso?
Nicht ein einziger von ihnen hatte sich verärgert gezeigt oder gar laut protestiert. Sie hatten das Ganze als willkommene Abwechslung wahrgenommen. Als wir endlich, wirklich gegen Mitternacht, dem Bus entstiegen, hatte ich den Eindruck, daß sie alle, beladen mit ihren Einkäufen, die man ihnen aufgeschwatzt hatte, zufrieden nach Hause trabten. Wieder mal hatten sie einen Tag ihres Rentnerdaseins herum gebracht. Einen Tag näher zum Tod."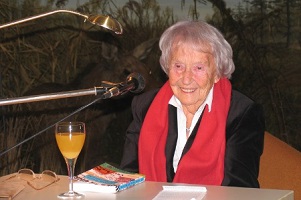 Elfriede Brüning (8 november 1910 – 5 augustus 2014)
De Ameikaanse schrijfster Margaret Mitchell werd geboren op 8 november 1900 in Atlanta, Georgia. Zie ook alle tags voor Margaret Mitchell op dit blog en ook mijn blog van 8 november 2010.
Uit: Gone with the wind
"Scarlett sat down on the column, too sick at the sight to go on. This desolation went to her heart as nothing she had ever experienced. Here was the Wilkes pride in the dust at her feet. Here was the end of the kindly, courteous house which had always welcomed her, the house where in futile dreams she had aspired to be mistress. Here she had danced and dined and flirted and here she had watched with a jealous, hurting heart how Melanie smiled up at Ashley. Here, too, in the cool shadows of the trees, Charles Hamilton had rapturously pressed her hand when she said she would marry him.
"Oh, Ashley," she thought, "I hope you are dead! I could never bear for you to see this."
Ashley had married his bride here but his son and his son's son would never bring brides to this house. There would be no more matings and births beneath the roof which she had so loved and longed to rule. The house was dead and, to Scarlett, it was as if all the Wilkeses, too, were dead in its ashes.
"I won't think of it now. I can't stand it now. I'll think of it later," she said aloud, turning her eyes away.
Seeking the garden, she limped around the ruins, by the trampled rose beds the Wilkes girls had tended so zealously, across the back yard and through the ashes of the smokehouse, barns and chicken houses. The split-rail fence around the kitchen garden had been demolished and the once orderly rows of green plants had suffered the same treatment as those at Tara. The soft earth was scarred with hoof prints and heavy wheels and the vegetables were mashed into the soil. There was nothing for her here.
She walked back across the yard and took the path down toward the silent row of whitewashed cabins in the quarters, calling "Hello!" as she went. But no voice answered her. Not even a dog barked. Evidently the Wilkes negroes had taken flight or followed the Yankees. She knew every slave had his own garden patch and as she reached the quarters, she hoped these little patches had been spared."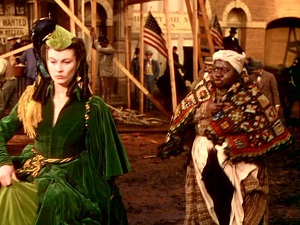 Margaret Mitchell (8 november 1900 – 16 augustus 1949)
Scene uit de film 'Gone with the wind' uit 1939
De Duitse schrijver Detlef Opitz werd geboren op 8 november 1956 in Steinheidel-Erlabrunn. Zie ook alle tags voor Detlef Opitz op dit blog en ook mijn blog van 8 november 2009 en ook mijn blog van 8 november 2010.
Uit:Faites vos jeux!
"Und wie schon die letzten beiden Sonntage: das Läuten war noch gar nicht verklungen, schon hatte Minzo eine Länge gut und spurtete die Pace; wunderbar schlecht weggekommen hingegen Transit, ein brauner Gestütshengst aus Leipzig, nach der Papierform der schärfste Widersacher des Wallachs.
Auf dem Programm der klassische Sprint. Über die doppelte Distanz am vergangenen Sonntag hatte sich Minzo noch auf dem Zielfoto geschlagen geben müssen von Rosanna, aber die Zwölfhundert heute galten als seine Spezialstrecke, zudem standen die Gewichte günstig für ihn. So der Kurier.
Der Ansager bestätigte, was Brenzig aus seiner Perspektive nicht genau zu erkennen vermochte: 2 Längen voraus Minzo, eingangs des Dahlwitzer Bogens. Und Transit ganz am Ende des Oktetts, gemeinsam mit Hakima, der Stallgefährtin des Wallachs, um die allerdings sich Brenzig nicht sorgen brauchte, er hatte ausschließlich auf Einlauf gesetzt, in 5 Kombinationen. Und Stall zahlt bekanntlich nur auf Sieg & Platz.
Aus dem Bogen in die Zielgerade, keine 400 Meter mehr. Die anfängliche Stille auf den Tribünen verlor sich mehr & mehr im Fiebergeschrei einiger 1000 - so mochte man meinen: Infizierter. Brenzig kaute sich die Kuppe des kleinen Fingers wund und bemerkte nicht den Schmerz, eine versoffene Stimme hinter ihm fluchte auf Kalmus, der Hakima ritt, und zwar erbärmlich! Von ihr abgesetzt hatte sich jetzt ganz außen der Hengst, über den im Kurier stand, er pflege seine Rennen immer erst auf der Geraden zu entscheiden. Auch der Magdeburger hielt mit, Claas, seit dem Start an 2. Position. Transit nun schon gleichauf mit ihm und vorbei. So genau lautete Brenzigs teuerste Wette: Minzo - Transit - Claas!"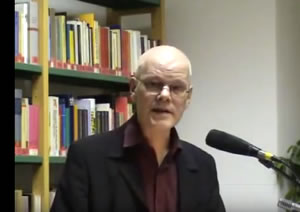 Detlef Opitz (Steinheidel-Erlabrunn, 8 november 1956)
Zie voor nog meer schrijvers van de 8e november ook mijn vorige blog van vandaag.
08-11-2015 om 11:50 geschreven door Romenu

Tags:Joshua Ferris, Kazuo Ishiguro, Herbert Hindringer, Elfriede Brüning, Margaret Mitchell, Detlef Opitz



Zinaida Gippius, Peter Weiss, Bram Stoker, Martha Gellhorn, Inge Schilperoord
De Russische dichteres en schrijfster Zinaida Gippius werd geboren op 8 november 1869 in Beljov in de buurt van Tula. Zie ook alle tags voor Zinaida Gippius op dit blog en ook mijn blog van 8 november 2009 en ook mijn blog van 8 november 2010.
The Awful
It's awful not to live but only sleep…
To see all's being ever multiplied,
To have in past so wildly many sins,
That it's a shame to look up at the sky.
When can I pray for mercy for my sins?
I'm on the last of circles' strong incline.
But most dread and shameful is the thing,
That no one loves now any one.
The Spiders
My world is like a chamber, narrow, –
It's very low, very small.
In four its corners sit four fellows –
Four spiders, diligent in all.
They are all fat, adroit, and dirty,
And always spin and spin the web…
And it is awful – their portly,
Monotonous and even step.
With four their webs, when they were ready,
They spun the immense one, at last.
I watch their fat backs' movement, steady,
In darkness of the stinking dust.
My eyes – under the webbing's level:
It's gray, and soft, and sticky, yet.
And they are glad with gladness, evil, --
Four spiders, fat.
Vertaald door Yevgeny Bonver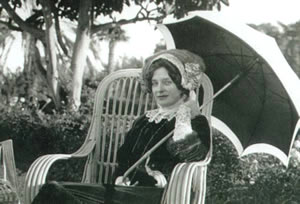 Zinaida Gippius (8 november 1869 – 9 september 1945)

De Duitse schrijver Peter Weiss werd geboren op 8 november 1916 in Nowawes (het tegenwoordige Neubabelsberg) bij Berlijn. Zie ook alle tags voor Peter Weiss op dit blog en ook mijn blog van 8 november 2010.
Uit:Die Ästhetik des Widerstands
"Es war in mancher Arbeiterküche zu finden. In größerem Format und eingerahmt kam es früher bei Gewerkschaftsfeierlichkeiten zur Verlosung, später wurde es ausgegeben von nationalsozialistischen Organisationen. Die Werkleute, von Menzel in ein Gefängnis versetzt, aus dem der Klassenkampf verbannt war, wurden von meinem Freund Coppi oft umgezeichnet, so daß in den Zangengriff strampelnde Männchen in Frack und Zylinder oder ordenbehängter Uniform gerieten. Die Reproduktion des Bilds untersuchend, waren wir auf eine weitere aufschlußreiche Einzelheit gestoßen. Beim Nachziehn des perspektivischen Musters der Komposition zeigte sich, daß die Fluchtlinien aller Rohre und Balken, der Walzgestelle und angehobnen Zangengriffe, der Werkstücke auf den Karren und der Schwergewichtsverlagrung in den Bewegungen der Gruppen in dem Punkt links im Hintergrund zusammenliefen, wo, unter der Senkrechten eines Tragpfeilers, ein Herr stand, in Hut und Gehrock, die Hände auf dem Rücken, abgewandt vom Betrieb, das Profil träumerisch dem Lichtstrahl entgegengehoben, der durch die Dämpfe hindurch auf ihn fiel. Solchermaßen beschienen und so abgesondert, müßig und zufrieden war sonst keiner. Unauffällig stand er da, verweilte auf seinem Rundgang und sann nach, vielleicht über die malerischen Reize dieses metallischen Gefüges, vielleicht über Aktienkurse oder über Auszeichnungen, die ihm von den Ministern verliehn würden, und darüber, wie wohl alles unverändert seinen Lauf nehmen könne. So hatte Menzel in dem imponierenden Vexierbild seinen Auftraggeber versteckt."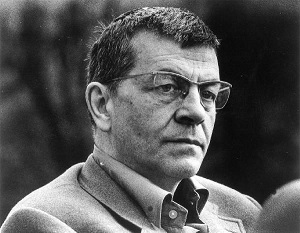 Peter Weiss (8 november 1916 - 10 mei 1982)
De Ierse schrijver Bram Stoker werd geboren op 8 november 1847 in Clontarf, een wijk van Dublin in Ierland. Zie ook alle tags voor Bram Stoker op dit blog en ook mijn blog van 8 november 2010.
Uit: Dracula
"On my saying that I did not understand, she went on:
"It is the eve of St. George's Day. Do you not know that tonight, when the clock strikes midnight, all the evil things in the world will have full sway? Do you know where you are going, and what you are going to?" She was in such evident distress that I tried to comfort her, but without effect. Finally, she went down on her knees and implored me not to go; at least to wait a day or two before starting.
It was all very ridiculous but I did not feel comfortable. However, there was business to be done, and I could allow nothing to interfere with it.
I tried to raise her up, and said, as gravely as I could, that I thanked her, but my duty was imperative, and that I must go.
She then rose and dried her eyes, and taking a crucifix from her neck offered it to me.
I did not know what to do, for, as an English Churchman, I have been taught to regard such things as in some measure idolatrous, and yet it seemed so ungracious to refuse an old lady meaning so well and in such a state of mind.
She saw, I suppose, the doubt in my face, for she put the rosary round my neck and said, "For your mother's sake," and went out of the room.
I am writing up this part of the diary whilst I am waiting for the coach, which is, of course, late; and the crucifix is still round my neck.
Whether it is the old lady's fear, or the many ghostly traditions of this place, or the crucifix itself, I do not know, but I am not feeling nearly as easy in my mind as usual.
If this book should ever reach Mina before I do, let it bring my goodbye. Here comes the coach!
5 May. The Castle.--The gray of the morning has passed, and the sun is high over the distant horizon, which seems jagged, whether with trees or hills I know not, for it is so far off that big things and little are mixed."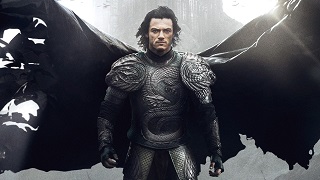 Bram Stoker (8 november 1847 – 20 april 1912)
Luke Evans als Prince Vlad in de film "Dracula Untold" uit 2014
De Amerikaanse schrijfster en oorlogscorrespondente Martha Ellis Gellhorn werd geboren in St. Louis, Missouri op 8 november 1908. Zie ook alle tags voor Martha Gelhorn op dit blog en ook mijn blog van 8 november 2010.
Uit:Is There a New Germany?
"It is worth remembering that the German national anthem is, as before, "Deutschland über Alles," and that the second and third verses, deleted by the Allies as too aggressive, were restored immediately Germany became independent, and are sung with enthusiasm. There is a German problem, and it will not be solved by denying it or acting as if the problem were a geographical one; let Germany be united, and all will be dandy. The problem is moral, and only the Germans themselves can handle it. They talk ceaselessly about democracy, but "democracy" is a virtuous slogan, without meaning. Until Germans really believe that the state is the servant of the people, and each man is responsible for his acts and his conscience, and that orders are not their own justification, Germany merely changes its leaders, not its character.
The forms of teaching in German universities are the exercise (a small study group of twelve to twenty-four students), the seminar (up to two hundred students), and the lecture in the large amphitheater (about six hundred students). The students learn by dictation from above, the unquestioned professorial word, the assigned books: they listen for thirty hours a week or more. Many students said bitterly that the only sure way to pass examinations and get the essential degree was to repeat to your professor what the professor had told you. Young Germans, throughout their schooling, are taught to memorize facts but are not guided to relate facts, experience, observation, and emotion to produce their own personal thought. »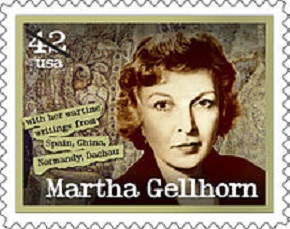 Martha Ellis Gellhorn (8 november 1908 - 16 februari 1998)
Onafhankelijk van geboortedata
De Nederlandse schrijfster Inge Schilperoord werd geboren in 1973. Zij publiceerde in NRC Handelsblad, Psychologie Magazine en Crossing Border Magazine. Ze werkt als forensisch psycholoog bij onder andere het Pieter Baan Centrum. Van haar debuut Muidhond werden deze zomer de Franse en Engelse vertaalrechten verkocht, evenals de filmrechten. Het boek won de Bronzen Uil 2015. Ook staat de roman op de shortlist van de ECI Literatuurprijs.
Uit: Muidhond
"Nu moet ik goed opletten, dacht Jonathan. Nu. Het begint nu. Hij legde zijn trillende handen in zijn schoot en wreef met de duim van zijn rechterhand langzaam over het kootje van zijn linker, in de hoop dat het hem kalm zou maken. Het was de laatste ochtend van zijn gevangenschap. Als altijd zat hij alleen in zijn cel. Zijn cel die de anderen, de bewaarders, zijn kamer noemden. Hij zat op bed, staarde naar de muur en wachtte. Hij wist niet hoe laat het was. Vroeg, het was in elk geval vroeg. De eerste streep zonlicht was net door de spleet in zijn te dunne gordijnen gedrongen. Misschien half zes, zes uur. Het maakte hem vandaag ook niet uit. Ik heb tijd, dacht hij, vanaf nu heb ik alle tijd. En: ze komen wanneer ze komen. Als hun tijd daar is komen ze, ik kan daar niks aan veranderen, ze komen niet eerder, niet later, ik merk het wel.
Tot ze kwamen zou hij kijken hoe het ochtendlicht steeds verder zijn cel binnen zou dringen en langzaam, onverstoorbaar, in zijn eigen baan door de ruimte zou trekken, zich van niemand iets zou aantrekken. Hij wist al heel lang niet meer hoe laat het precies was. De eerste nacht hier had hij de batterijen meteen uit het binnenwerk van de wandklok gepeuterd. Hij kon het getik niet verdragen. Daarbij was er op de klok niets te zien waar hij wat aan had. De dagactiviteiten waren niet verplicht en hij liet ze aan zich voorbijgaan. Rondjes lopen, onderwijs, sporten. Werk. Wie niet rookte, snoepte of dure kleding kocht, had hier geen geld nodig.
Hij keek liever naar de stand van de zon, naar de volheid van het licht, hoe het scheen langs de wolken die boven de toppen van de uitkijktorens dreven. Dat vertelde hem hoe lang het nog zou duren, hoe lang nog tot het donker werd. Hoe lang nog die herrie: de stemmen van de mannen die langs de wanden van de luchtplaats omhoog kropen, de muziek door de muren. Schaduwen over de vloer van zijn cel, over het bed en het tafeltje. Maar nu werd het anders. 'Alles wordt anders,' fluisterde hij."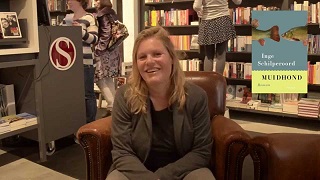 Inge Schilperoord (1973)
08-11-2015 om 11:49 geschreven door Romenu

Tags:Zinaida Gippius, Peter Weiss, Bram Stoker, Martha Gellhorn, Inge Schilperoord, Romenu



| | |
| --- | --- |
| | |



Inhoud blog


| | |
| --- | --- |
| | Dannie Abse, Lodewijk van Deyssel, Nick Cave, Fay Weldon, György Faludy, Hans Leip, Uri Zvi Greenberg, Rosamunde Pilcher, Nathan Hill |
| | Leonard Cohen, Stephen King, Frédéric Beigbeder, Xavier Roelens, Fannie Flag, H.G. Wells, Johann Peter Eckermann, Max Porter, Paul Ewen |
| | Donald Hall, Javier Marías, Cyriel Buysse, Upton Sinclair, Joseph Breitbach, Adolf Endler, Henry Arthur Jones, Stevie Smith, Hanns Cibulka |
| | Hanya Yanagihara |
| | Crauss, Patrick Marber, William Golding, Ingrid Jonker, Orlando Emanuels, Jean-Claude Carrière, Stefanie Zweig, Mika Waltari, Hartley Coleridge |
| | Michaël Zeeman, Armando, Ton Anbeek, Stephan Sarek, Omer Karel De Laey, Michael Deak, Einar Már Gudmundsson, Gerrit Borgers |
| | Nicolien Mizee |
| | H.H. ter Balkt, Piet Gerbrandy, William Carlos Williams, Ken Kesey, Abel Herzberg, Dilip Chitre, Ludwig Roman Fleischer, Albertine Sarrazin, Mary Stewart |
| | Breyten Breytenbach, Alfred Schaffer, Frans Kusters, Michael Nava, Justin Haythe |
| | James Alan McPherson, Hans Arp, Andreas Neumeister, Anna Bosboom - Toussaint, Frans Eemil Sillanpää |
| | Lucebert, Jan Slauerhoff, Sergio Esteban Vélez, Chimamanda Ngozi Adichie, Agatha Christie, Orhan Kemal, Gunnar Ekelöf, James Fenimore Cooper, Claude McKay |
| | Dolce far niente, Eugen Roth, Hans Faverey, Theodor Storm, Leo Ferrier, Corly Verlooghen, Bernard MacLaverty, Ivan Klíma |
| | Tõnu Õnnepalu, Roald Dahl, Janusz Glowacki, Jac. van Looy, Nicolaas Beets, Marie von Ebner-Eschenbach, Otokar Březina, Julian Tuwim, Muus Jacobse |
| | Michael Ondaatje, James Frey, Chris van Geel, Louis MacNeice, Hannes Meinkema, Eduard Elias, Jan Willem Schulte Nordholt, Werner Dürrson, Gust Van Brussel |
| | Constantijn Huygens-prijs 2017 voor Hans Tentije |
| | David van Reybrouck, Murat Isik, D.H. Lawrence, Eddy van Vliet, Andre Dubus III, Tomas Venclova, Merrill Moore, Barbara Bongartz, Adam Asnyk |
| | Edmund de Waal, Andreï Makine, Franz Werfel, Paweł Huelle, Mary Oliver |
| | Eddy Pinas, Jeppe Aakjær, Viktor Paskov, Hilda Doolittle, Reinhard Lettau, George Bataille |
| | C. O. Jellema, Wim Huijser, Cesare Pavese, Leo Tolstoj, Gentil Th. Antheunis, Gaston Durnez, Edward Upward, Hana Androníková, Bas Jongenelen |
| | Siegfried Sassoon, Anthonie Donker, Clemens Brentano, Wilhelm Raabe, Eduard Mörike, Franz Hellens, Frederic Mistral, Grace Metalious |
| | Merijn de Boer, Anton Haakman, Edith Sitwell, Willem Bilderdijk, Michael Guttenbrunner, Jenny Aloni, Margaret Landon, Henry Morton Robinson |
| | Christopher Brookmyre, Jennifer Egan, Aart G. Broek, Amelie Fried, Jessica Durlacher, Alice Sebold, Julien Green, Willem Brandt, Carmen Laforet |
| | 250 jaar August Wilhelm Schlegel, Marcel Möring, Herman Koch, Jos Vandeloo, Margaretha Ferguson, Ward S. Just, Heimito von Doderer, Rachid Boudjedra, Peter Winnen |
| | Helga Ruebsamen, Antonin Artaud, René de Chateaubriand, Constantijn Huygens, Richard Wright, Mary Renault, Marijn Sikken, Femke Brockhus, Dik van der Meulen |
| | In memoriam Theo Sontrop |
| | In Memoriam John Ashbery |
| | Jacq Firmin Vogelaar, Fritz J. Raddatz, Eduardo Galeano, Alison Lurie, Sergej Dovlatov, Kiran Desai, Ernst Meister, Lino Wirag, Doğan Akhanlı |
| | Willem de Mérode, Eric de Kuyper, R.A. Basart, Chris Kuzneski, Johan Daisne, Robert Habeck, Pierre Huyskens |
| | Joseph Roth, Johann Georg Jacobi, Manfred Böckl, Paul Bourget, Paul Déroulède, Giovanni Verga, Richard Voß |
| | W. F. Hermans, Hubert Lampo, Blaise Cendrars, Edgar Rice Burroughs, Sabine Scho, Peter Adolphsen, Lenrie Peters, J. J. Cremer |
| | William Saroyan, Éric Zemmour, Wolfgang Hilbig, Elizabeth von Arnim, Théophile Gautier, Raymond P. Hammond |
| | Dolce far niente, James Whitcomb Riley, Charles Reznikoff, François Cheng, Jiři Orten, Libu¨e Moníková, Mary Wollstonecraft Shelley |
| | Dolce far niente, Jennifer Grotz, Hugo Brandt Corstius, Elma van Haren, John Edward Williams, Maurice Maeterlinck, Thom Gunn |
| | Dolce far niente, Friedrich Hebbel, Johann Wolfgang von Goethe, Maria Barnas, A. Moonen, C. J. Kelk, Frederick Kesner |
| | Rainer Kirsch, Tom Lanoye, Kristien Hemmerechts, Paul Verhuyck, Jeanette Winterson |
| | Lolita Pille, David Rowbotham, Norah Lofts, Cecil Scott Forester, Lernert Engelberts |
| | Christopher Isherwood, Laura van der Haar, C. B. Vaandrager, Paula Hawkins, Joachim Helfer, Guillaume Apollinaire, Rashid Al-Daif |
| | Jules Romains, Julio Cortázar, Walter Helmut Fritz, Joachim Zelter, Jürgen Kross, Ludwig Aurbacher, Boris Pahor |
| | Martin Amis, Kees Stip, Howard Jacobson, Charles Wright, Maxim Biller, Frederick Forsyth, Jògvan Isaksen, Johann Gottfried von Herder, Thea Astley |
| | John Green, Drs. P, Marion Bloem, Pepijn Lanen, Stephen Fry, Jorge Luis Borges, A. S. Byatt, Sascha Anderson, Johan Fabricius |
| | Dolce far niente, Victor Vroomkoning, Charles Busch, Curtis Sittenfeld, Koos Dijksterhuis, Albert Alberts, Ilija Trojanow |
| | Dolce far niente, Jacob Israël de Haan, Griet Op de Beeck, Jeroen Theunissen, Annie Proulx, Krijn Peter Hesselink, Willem Arondeus |
| | Alfred Wellm |
| | Dolce far niente, Martin Bril, Rogi Wieg, X.J. Kennedy, Robert Stone, Aubrey Beardsley, Frédéric Mitterrand |
| | Dolce far niente, Tom van Deel, Anneke Brassinga, Etgar Keret, James Rollins, Clemens Meyer, Arno Surminski |
| | Maren Winter, Charles de Coster, Edgar Guest, Tarjei Vesaas, Salvatore Quasimodo, Colin MacInnes |
| | Sylvie Richterová, Ernst-Jürgen Dreyer, Boleslaw Prus, Menno Lievers, Vasili Aksjonov, Jacqueline Susann |
| | Alfred Birney |
| | Mies Bouhuys, Jonathan Coe, Li-Young Lee, Frederik Lucien De Laere, Louis Th. Lehmann, Ogden Nash, Frank McCourt |
| | Marion Pauw, John Dryden, Samuel Richardson, Jerzy Andrzejewski, James Gould Cozzens, Claude Gauvreau, Inigo de Mendoza |


Gastenboek


Druk op onderstaande knop om een berichtje achter te laten in mijn gastenboek