E-mail mij


Druk op onderstaande knop om mij te e-mailen.


Romenu


Romenu is een blog over gedichten, literatuur en kunst Maar Romenu is ook een professionele freelance vertaler
Du-Ne en Ne-Du http://www.romenu.nl.


Huur eens een (vakantie)huis in een natuurgebied, dichtbij het centrum van Nijmegen


Google


Georg Trakl

Georg Trakl werd op 3 februari 1887 in het conducteurshuis aan de Waagplatz 2 in Salzburg geboren. Zijn vader, Tobias Trakl, was een handelaar in ijzerwaren en zijn moeder, die ook psychische problemen had, was Maria Catharina Trakl, (meisjesnaam Halik). Voorts had hij nog drie broers en drie zussen. Margarethe (doorgaans Grethe genoemd) stond hem het naast, zelfs zodanig dat sommigen een incestueuze verhouding vermoeden. Zijn jeugd bracht hij door in Salzburg. Vervolgens bezocht hij van 1897 tot 1905 het humanistische gymnasium. Om toch een academische opleiding te kunnen volgen, werkte hij tot 1908 in de praktijk bij een apotheker. Sommigen vermoedden dat hij dit vooral deed om zichzelf opiaten te kunnen verschaffen. Bij het uitbreken van WO I werd Trakl als medicus naar het front in Galicië (heden ten dage in Oekraïne en Polen) gestuurd. Zijn gemoedsschommelingen leidden tot geregelde uitbraken van depressie, die verergerd werden door de afschuw die hij voelde voor de verzorging van de ernstig verwonde soldaten. De spanning en druk dreven hem ertoe een suïcidepoging te ondernemen, welke zijn kameraden nochtans verhinderden. Hij werd in een militair ziekenhuis opgenomen in Kraków, alwaar hij onder strikt toezicht geplaatst werd.Trakl verzonk daar in nog zwaardere depressies en schreef Ficker om advies. Ficker overtuigde hem ervan dat hij contact moest opnemen met Wittgenstein, die inderdaad op weg ging na Trakls bericht te hebben ontvangen. Op 4 november 1914, drie dagen voordat Wittgenstein aan zou komen, overleed hij echter aan een overdosis cocaïne


Paul Celan

Paul Celan werd onder de naam Paul Antschel op 23 november 1920 geboren in Czernowitz, toentertijd de hoofdstad van de Roemeense Boekovina, nu behorend bij de Oekraïne. Paul Celans ouders waren Duitssprekende joden die hun zoon joods opvoedden en hem naar Duitse christelijke scholen stuurden. In 1942 werden Celans ouders door de Duitse bezetter naar een werkkamp gedeporteerd en daar vermoord. Hijzelf wist aanvankelijk onder te duiken, maar moest vanaf juli 1942 in een werkkamp dwangarbeid verrichten. Celan overleefde de oorlog. Via Boekarest en Wenen vestigde Celan zich in 1948 in Parijs. Daar was hij werkzaam als dichter, vertaler en doceerde hij aan de prestigieuze Ecole Normale Supérieure. Vermoedelijk op 20 april 1970 beëindigde hij zijn leven zelf door in de Seine te springen.


Gerard Reve

Gerard Reve over: Medearbeiders "God is in de mensen, de dieren, de planten en alle dingen - in de schepping, die verlost moet worden of waaruit God verlost moet worden, door onze arbeid, aangezien wij medearbeiders van God zijn." Openbaring "Tja, waar berust elk godsbegrip op, elke vorm van religie? Op een openbaring, dat wil zeggen op een psychische ervaring van zulk een dwingende en onverbiddelijke kracht, dat de betrokkene het gevoel heeft, niet dat hij een gedachte of een visioen heeft, maar dat een gedachte gedachte of visioen hem bezit en overweldigt."


Simon Vestdijk
Simon Vestdijk (Harlingen, 17 oktober 1898 – Utrecht, 23 maart 1971) was een Nederlands romancier, dichter, essayist en vertaler. Zijn jeugd te Harlingen en Leeuwarden beschreef hij later in de Anton Wachter-cyclus. Van jongs af aan logeerde hij regelmatig bij zijn grootouders in Amsterdam, waar hij zich in 1917 aan de Universiteit van Amsterdam inschrijft als student in de medicijnen. Tijdens zijn studie die van 1917 tot 1927 duurde, leerde hij Jan Slauerhoff kennen.Tot 1932 is hij als arts in praktijken door heel Nederland werkzaam. In 1932 volgt zijn officiële schrijversdebuut met de uitgave van de bundel Verzen in De Vrije Bladen. Doorslaggevend voor Vestdijks uiteindelijke keuze voor de literatuur is zijn ontmoeting in 1932 met Eddy Du Perron en Menno ter Braak. Deze ontmoeting had tot resultaat dat hij redactielid werd van het tijdschrift Forum Kort daarop, in 1933, wordt zijn eerste novelle, De oubliette, uitgegeven. In hetzelfde jaar schrijft hij Kind tussen vier vrouwen, dat, eerst geweigerd door de uitgever, later de basis zal vormen voor de eerste drie delen van de Anton Wachter-romans. In 1951 ontvangt Vestdijk de P.C. Hooftprijs voor zijn in 1947 verschenen roman De vuuraanbidders. In 1957 wordt hij voor het eerst door het PEN-centrum voor Nederland voorgedragen voor de Nobelprijs voor de Literatuur, die hij echter nooit zal krijgen. Op 20 maart 1971 wordt hem de Prijs der Nederlandse Letteren toegekend, maar voor hij deze kan ontvangen overlijdt hij op 23 maart te Utrecht op 72-jarige leeftijd. Vestdijk was auteur van ca. 200 boeken. Vanwege deze enorme productie noemde de dichter Adriaan Roland Holst hem 'de man die sneller schrijft dan God kan lezen'. Andere belangrijke boeken van Simon Vestdijk zijn: "Kind van stad en land" (1936), "Meneer Visser's hellevaart" (1936), "Ierse nachten" (1946), "De toekomst de religie" (1947), "Pastorale 1943" (1948), "De koperen tuin" (1950), "Ivoren wachters" (1951), "Essays in duodecimo" (1952) en "Het genadeschot" (1964).


K.P. Kavafis

K.P. Kavafis werd als kind van Griekse ouders, afkomstig uit Konstantinopel, geboren in 1863 in Alexandrië (tot vandaag een Griekse enclave) waar hij ook het grootste deel van zijn leven woonde en werkte. Twee jaar na de dood van zijn vader verhuist het gezin in 1872 naar Engeland om na een verblijf van vijf jaar naar Alexandrië terug te keren. Vanwege ongeregeldheden in Egypte vlucht het gezin in 1882 naar Konstantinopel, om na drie jaar opnieuw naar Alexandrië terug te gaan. In de jaren die volgen maakt Kavafis reizen naar Parijs, Londen en in 1901 zijn eerste reis naar Griekenland, in latere jaren gevolgd door nog enkele bezoeken. Op de dag van zijn zeventigste verjaardag, in 1933 sterft Kavafis in Alexandrië. De roem kwam voor Kavafis pas na zijn dood, dus postuum. Deels is dat toe te schrijven aan zijn eigen handelswijze. Hij was uiterst terughoudend met de publicatie van zijn gedichten, liet af en toe een enkel gedicht afdrukken in een literair tijdschrift, gaf in eigen beheer enkele bundels met een stuk of twintig gedichten uit en het merendeel van zijn poëzie schonk hij op losse bladen aan zijn beste vrienden.


Thomas Mann


Thomas Mann, de jongere broer van Heinrich Mann, werd geboren op 6 juni 1875 in Lübeck. Hij was de tweede zoon van de graankoopman Thomas Johann Heinrich Mann welke later één van de senatoren van Lübreck werd. Zijn moeder Julia (geboren da Silva-Bruhns) was Duits-Braziliaans van Portugees Kreoolse afkomst. In 1894 debuteerde Thomas Mann met de novelle "Gefallen". Toen Thomas Mann met 21 jaar eindelijk volwassen was en hem dus geld van zijn vaders erfenis toestond - hij kreeg ongeveer 160 tot 180 goldmark per jaar - besloot hij dat hij genoeg had van al die scholen en instituties en werd onafhankelijk schrijver. Kenmerkend voor zijn stijl zijn de ironie, de fenomenale taalbeheersing en de minutieuze detailschildering. Manns reputatie in Duitsland was sterk wisselend. Met zijn eerste roman, Buddenbrooks (1901), had hij een enorm succes, maar door zijn sceptische houding tegenover Duitsland na de Eerste Wereldoorlog veranderde dit volledig. Stelde hij zich tot aan de jaren twintig apolitiek op (Betrachtungen eines Unpolitischen, 1918), meer en meer raakte hij bij het Politiek gebeuren betrokken. Zijn afkeer van het nationaal socialisme groeide, zijn waarschuwingen werden veelvuldiger en heftiger. In 1944 accepteerde hij het Amerikaanse staatsburgerschap. Tussen 1943 en 1947 schreef Mann Doktor Faustus (zie Faust), de roman van de 'Duitse ziel' in de gecamoufleerd geschilderde omstandigheden van de 20ste eeuw. In 1947 bezocht hij voor het eerst sinds de Oorlog Europa, twee jaar later pas Duitsland. In 1952 vertrok hij naar Zwitserland. Op 12 augustus 1955 stierf hij in Zürich. Twintig jaar na zijn dood, in aug. 1975, is zijn literaire nalatenschap geopend: dagboekaantekeningen van 15 maart 1933 tot 29 juli 1955, alsmede notities uit de jaren 1918 tot en met 1921.Belangrijke werken zijn: Der Zauberberg, Der Tod in Venedig, Dokter Faustus , Joseph und seine Brüder en Die Bekenntnisse des Hochstaplers Felix Krull.


Rainer Maria Rilke

Rilke werd op 4 december 1875 geboren in Praag. Hij had al naam gemaakt als dichter met zijn bundels Das Stundenbuch en Das Buch der Bilder, toen hij de literaire wereld versteld deed staan en wereldfaam verwierf met de publicatie van zijn twee delen Neue Gedichte in 1907 en 1908. Hij verzamelde daarin het beste werk uit een van zijn vruchtbaarste periodes, die hij grotendeels doorbracht in Parijs. Rilke was daar diep onder de indruk gekomen van Rodin, bij wie hij een tijdlang in dienst was als particulier secretaris. Rodin, zei hij later, had hem leren kijken. Dit kijken kwam neer op intense concentratie, om het mysterie te kunnen zien 'achter de schijnbare werkelijkheid'. Latere en rijpere werken als Duineser Elegien (1912-1923) en het ronduit schitterende Die Sonette an Orfeus (1924) illustreren Rilkes metafysische visie op het onzegbare, dat haar verwoording vindt in een hermetische muzikale taal. Op 29 december 1926 overlijdt Rilke in het sanatorium in Val-Mont aan de gevolgen van leukemie. Enkele dagen later wordt hij, overeenkomstig zijn wens, begraven op het kerkhof van Raron.


* * * * * * * * * * * * * * * *

| | |
| --- | --- |
| | Over literatuur, gedichten, kunst en cultuur |

10-10-2015

Menno Wigman, Ferdinand Bordewijk, Jonathan Littell, Harold Pinter, Boeli van Leeuwen, R. K. Narayan
De Nederlandse dichter en vertaler Menno Wigman werd geboren in Beverwijk op 10 oktober 1966. Zie ook mijn blog van 10 oktober 2010 en eveneens alle tags voor Menno Wigman op dit blog
Oud Verhaal
Als ik kon spreken zou je alles weten:
hoe ik een zomer lang in een vitrine
heb gelegen, tussen domme dolken lag
te geeuwen en op een vreemde feestdag
door vijf verwarde vingers werd bevrijd.

Bevrijd. En in een dekenkist verstopt.
Er waren avonden dat ik werd gestreeld.
Dan zei een stem: 'Ik heb oren, ik hoor dingen.
Hoe kan Deborah zoiets doms beginnen?'

Het is een oud verhaal van stug metaal.
Maar in de nacht van twaalf op dertien acht
vertrok ik in een vestzak met een hart

dat sloeg. Een stem. Getier. En toen, opnieuw,
die meisjesnaam. Het kwam op dienen aan.
Alles wat je wilde, het was alles
Het was de welving van een schouderblad,
het fosfor van een nieuwe dronkenschap,
de slapeloosheid van een wereldstad.

Je sliep nooit twee keer met dezelfde dag
en leven was pas leven als er 's nachts
een halo uit je glas te voorschijn brak.

Een juni en je peinst aan een vermolmd
ontbijt: ik zwierf om zoveel mensen heen,
verruilde zoveel zonlicht voor een zweem

van eeuwigheid en moet je nu eens zien:
die rouwrand rond m'n brood, dat zeepsoplicht,
die vuile handen en dat nevelhoofd.

Had ik maar minder in mijn dorst geloofd.
Gaf ik maar minder om het tegengif
voor mijn zorgvuldig bestudeerde dood.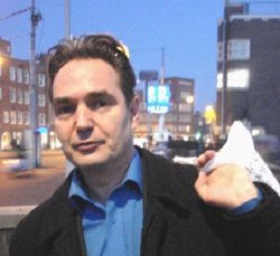 Menno Wigman (Beverwijk, 10 oktober 1966)
De Amerikaanse schrijver Jonathan Littell werd geboren in New York op 10 oktober 1967. Zie ook mijn blog van 10 oktober 2010 en eveneens alle tags voor Jonathan Littell op dit blog.
Uit:Syrian Notebooks (Vertaald door Charlotte Mandell)
"It starts, as always, with a dream, a dream of youth, liberty, and collective joy; and it ends, as all too often, in a nightmare. The nightmare still goes on and will last much longer than the dream: a vague and remote nightmare, highly cinematographic, a kaleidoscope of mass executions, orange jumpsuits, and severed heads, triumphant columns of looted American armor, beards and black masks, and a black banner all-too-reminiscent of the pirate flags of our childhoods.
Spectacular images that have served to mask, even erase, those forming the undertow: thousands of naked bodies tortured and meticulously recorded by an obscenely precise administration, barrels of explosives tossed at random on neighborhoods full of women and children, toxic gasses sending hundreds into foaming convulsions, flags, parades, posters, a tall smiling ophthalmologist and his triumphant "re-election." The medieval barbarians on one side, the pitiless dictator on the other, the only two images we retain of a reality far more complex.
But all this did not happen by chance; more importantly, all this did not have to be, that there were other paths, other possibilities, other futures. The mantra so tirelessly repeated by our solemn leaders, "There is nothing we could have done," is simply not true. Without our callous indifference, cowardice, and short-sightedness, things might have been different.
When the photographer Mani and I arrived in Homs, in mid-January 2012, the Syrian revolution was reaching the end of its first year. In the city and the surrounding towns, the people were still gathering daily to demonstrate—calling for the fall of the regime, loudly asserting their belief in democracy, in justice, and in a tolerant, open, multi-confessional society, and clamoring for help from outside, for a NATO intervention, for a no-fly zone to stop the aerial bombardments."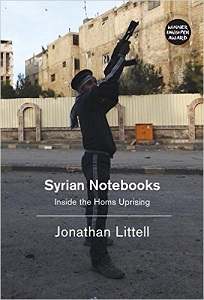 Jonathan Littell (New York, 10 oktober 1967)
Cover
De Nederlandse schrijver Ferdinand Bordewijk werd geboren op 10 oktober 1884 in Den Haag. Zie ook mijn blog van 10 oktober 2010 en eveneens alle tags voor Ferdinand Bordewijk op dit blog.
Uit: Het spookte niet
"Als vrijgezel voel ik mij thans oud genoeg - ik ben vijftig jaar - om af en toe een gedachte te wijden aan wat hem typeert. Het is dit: de vrijgezel geeft zich gaarne over aan genoegens van stoffelijke, of laten wij nuchterder zeggen zinnelijke aard. Hierin onderscheid ik me niet van mijn lotgenoten. In den beginne waren de jonge vertegenwoordigsters van het schone geslacht mijn voornaamste attractie, al moet ik er bij voegen dat ik twijfel aan de juistheid van wederkerigheid. Hoe dat zij, het is voor mij verleden geworden. Later, na de bevrijding, werd ik een liefhebber van lekker eten, - niet gourmand, wel gourmet. Ik heb een behoorlijk tractement en vooruitzicht op een pensioen dat gecombineerd met een bescheiden lijfrente mij vrijhoudt van zorg voor de oude dag. Waarom zal ik, met kind noch kraai op de wereld, iemand iets nalaten? Aan neefjes en nichtjes, bekend met mijn financiële positie? Zij negéren mijn bestaan, ik doe hetzelfde met het hunne. Zij ergeren zich, ik erger hen. Let wel op het verschil! Wie zich ergert schaadt zijn gezondheid, wie anderen ergert bevordert haar. Iedere tachtigjarige is een bron van ergernis voor zijn familie, alleen reeds omdat hij niet dood wil. En hij gaat niet dood, want hij leeft op de ergernis der anderen, en ten slotte zijn zij het die het eerst dood gaan. Ik ben er zeker van mijn neven en nichten te zullen overleven. Dat is mijn filosofie, in een notedop, en compleet.
Daar ik een bejaarde huishoudster heb die voortreffelijk kookt, me niet besteelt, noch lastig valt met trouwplannen terwille van een weduwepensioen, en die ik in gedachten allang heb ingelijst (doch daar weet ze niets van, want lof is schadelijk voor het morele peil), en daar ik mijn genoegens voorts zoek onder kennissen-lotgenoten, gaf ik hun ter gelegenheid van mijn vijfde kruisje bij mij thuis een dinertje waarop niemand aanmerking had kunnen maken. Ik houd van de Engelse gewoonte om onder port en okkernoten aan een ontredderde eettafel nog wat na te praten. In Engeland zijn dan de dames verdwenen en beginnen de heren aan dubbelzinnige grapjes. Bij mij kon het anders toegaan, naardien er geen dames behoefden te worden verwijderd. De grapjes waren onder het eten gelanceerd, en het gesprek kwam nu op occult geheten onderwerpen."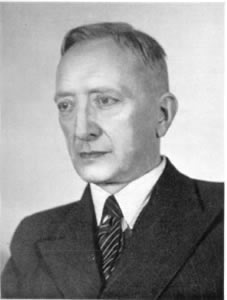 Ferdinand Bordewijk (10 oktober 1884 – 28 april 1965)
De Britse schrijver Harold Pinter werd geboren op 10 oktober 1930 in Londen. Zie ook mijn blog van 10 oktober 2010 en eveneens alle tags voor Harold Pinter op dit blog.
Uit:Old Times
"KATE. My one and only.
[Pause]
If you have only one of something you can't say it's the best of anything.
DEELEY. Because you have nothing to compare it with?
KATE. Mmmn.
[Pause]
DEELEY. [smiling] She was incomparable.
KATE. Oh, I'm sure she wasn't.
[Pause]
DEELEY. I didn't know you had so few friends.
KATE. I had none. None at all. Except her.
DEELEY. Why her?
KATE. I don't know. [Pause] She was a thief. She used to steal things.
DEELEY. Who from?
KATE. Me.
DEELEY. What things?
KATE. Bits and pieces. Underwear.
[Deeley chuckles]
DEELEY. Will you remind her?
KATE. Oh … I don't think so.
[Pause]
DEELEY. Is that what attracted you to her?
KATE. What?
DEELEY. The fact that she was a thief."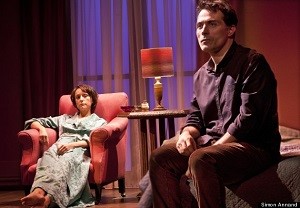 Harold Pinter (10 oktober 1930 – 24 december 2008)
Lia Williams als Kate and Rufus Sewell als Deeley in een opvoering in Londen, 2013
De Antilliaanse (Curaçaose) schrijver Willem Cornelis Jacobus (Boeli) van Leeuwen werd geboren op 10 oktober 1922 op Curaçao. Zie ook mijn blog van 10 oktober 2010 en eveneens alle tags voor Boeli van Leeuwen op dit blog.
Uit: A Stranger on Earth (Vertaald door Olga E. Roger en Joesph O. Aimone)
"He frequented the circles of the wealthy Portuguese Jews, a factor that often saved him from bankruptcy.
His boaSting about his schemes, "e bid/m aki si mi m [mi tira 1m ték" [Papiamentu : " This time I will score for sure"] , always ended up in painfiil confrontations with his friend, the bank manager, who, after addressing him in a friendly yet reproachful manner would decide, sighing, to cover with his own money the umpteenth debacle by Janchi.
After such a conversation Janchi would appear with red earlobes and clammy hands at the club, where, more boisterous and jovial than usual, he would order his whiskey soda. After the third glass, he was already convinced that he owed his narrow escape to his good connections and persuasive powers rather than to the generosity of his friend the banker.
Furthermore, in his own pompous manner, he was kind-hearted and amiable in his associations. He could be completely himself, however, only in the small tin house of his black woman; there he would converse in a soft, relaxed voice while she sat swaying in the rocking chair, legs wide apart, listening to him with half an ear. Thereafter he would lie down on the narrow bed in his underpants, his hands under his head, and contemplate the tiny flame in the small jam por under the stat- ue of Maria. The nakedness and vulnerability he bated to her, he dared not show to anyone else. The children he fathered with her, he loved in a strange way, never truly underStood by himself: from a distance and yet intimately."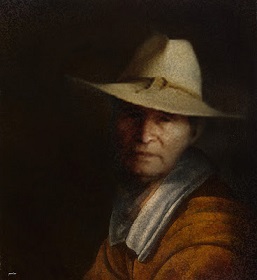 Boeli van Leeuwen (10 oktober 1922 – 28 november 2007)
Portret door Nicolaas Porter
De Indiase schrijver Rasipuran Krishnaswami Narayan werd geboren op 10 oktober 1906 in Madras. Zie ook mijn blog van 10 oktober 2009 en ook mijn blog van 10 oktober 2010 en eveneens alle tags voor R. K. Narayan op dit blog.
Uit: The Guide
'Have you caught a cold? she asked.
I said, 'No.'
'Why are you breathing so noisily?'
« I wanted to put my face close to her and whisper. 'Your dance was marvellous. You are gifted. Do it again sometime. God bless you. W'on't you be my sweetheart." But fortunately I restrained myself. Turning back, i saw that Marco had come with soft steps.
'Vhat luck?' he asked in a whisper.
'Something cattle, but it's gone. Sit down, won't you? I said, giving him the chair. He sat down, peering through the glass.
Next morning i ihund the atmosphere once again black and tense-all the vivadty of the previous evening was gone. When their room opened, only he came out, fully dressed and ready. I had made the coiTee on the charcoal store. He came over and mechanically held his hand out as if i were the man on the other side of a coffee bar. 1 poured him a cup of coffee. 'joseph has brought tiilin. W'ill you not taste it?'
'No; let us be going. l'm keen on reaching the caves.'
'What about the Iady?' I asked.
'Leave her alone,' he said petulantly. 'l can't afford to he fooling around, wasting my time.' ln the same condition as yesterday! This seemed lo he the spirit of their morning every day. How cordially he had come over and sat beside her last night on the veranda! How cordially they had gone into the hotel on that night! What exactly happened at night that made them want to tear at each other in the morning? Did they sit up in bed and light. or did she fatigue him with a curtain lecture? I wanted to cry out. 'Oh. monster. what do you do to her that makes her sulk like this on rising?"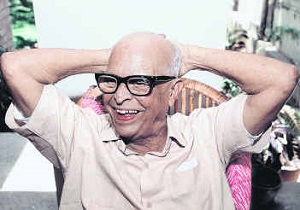 R. K. Narayan (10 oktober 1906 – 13 mei 2001)
Zie voor nog meer schrijvers van de 10e oktober ook mijn vorige twee blogs van vandaag.
10-10-2015 om 12:46 geschreven door Romenu

Tags:Menno Wigman, Jonathan Littell, Ferdinand Bordewijk, Harold Pinter, Boeli van Leeuwen, R. K. Narayan, Romenu



Eugen Egner, Mercè Rodoreda, Claude Simon, Ivan Boenin, Frederick Barthelme
De Duitse schrijver, tekenaar en musicus Eugen Egner werd geboren op 10 oktober 1951 in Ingelfingen. Zie ook alle tags voor Eugen Egner op dit blog en ook mijn blog van 10 oktober 2010 en ook mijn blog van 10 oktober 2009.
Uit:Aus dem Tagebuch eines Trinkers
"03.01.
tiefe einblicke. den beiden pastoren beim weine von "weltseele" und "gotteslob" gesprochen, unverständnis geerntet.
05.01.
wohnung neu eingerichtet, bett paßt nicht mehr hinein. bei henriette übernachtet. nüchtern geblieben, da sie nur bier im hause hatte. hätte alles lieber getrunken, selbst digitaluhren.
16.01.
früh aufgestanden. nach dem abwasch versucht, mich mit einem hausschuh zu erschlagen. sehr getrunken.
17.01.
den ganzen tag geweint, abends dann kräftig auf die pauke gehauen.
28.01.
schlafstörungen, kopfkissen in wodka getränkt. lautes nächtliches pfeifen läßt sich nicht lokalisieren. gegen morgen den heizkörper abgeschraubt, keine änderung. in der nacht wieder angst, vor dem fenster könnten aborigines auf traumtröten blasen.
30.01. unverändert schlafstörungen. gläschen zählen erfolglos. fläschen baldriantinktur (68%) ex. hätte sicher schlaf gefunden, wenn sich die nachbarskatze nicht schreiend auf meinem gesicht gewälzt hätte. hände gerungen. schwedenbitter, harndrang.
12.02.
früh zu bett, um mitternacht wegen schlaflosigkeit wieder aufgestanden. unter zuhilfenahme aller finger mindestens bis 15 gezählt, dabei manches mal die augen verdreht und den mund verzogen. nachbarskeller aufgebrochen, getrunken.
14.02.
teures mittel gegen magnesiummangel gekauft. viel von paralleluniversen gelesen, versucht hinzugelangen, häßlicher sturz. noch am boden liegend wunder erlebt: verstorbener großvater erschienen, um mir scharlachbergflasche hinzustellen. große hilfe."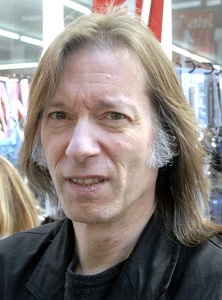 Eugen Egner (Ingelfingen, 10 oktober 1951)
De Catalaanse schrijfster Mercè Rodoreda werd geboren op 10 oktober 1908 in Barcelona. Zie ook alle tags voor Mercè Rodoreda op dit blog en ook mijn blog van 10 oktober 2010 en ook mijn blog van 10 oktober 2009.
Uit: The Salamander (Vertaald door Martha Tennent)
"The trees on the hill were already black when he came the following day, but the grass was still warm from the sun. Again, he embraced me against the willow trunk and placed his open hand over my eyes. All of a sudden I seemed to be falling asleep and the leaves were telling me things that made sense but I did not understand, things spoken more and more slowly, more and more softly. When I no longer heard them, I asked him, my tongue half-frozen in anguish: What about your wife? He responded: you are my wife, you alone. With my back I crushed the same grass that I hardly dared to step on when I combed my hair; I used to tread lightly, just enough to capture the wounded smell. You alone. Later, when I opened my eyes I saw the blonde braid hanging; she was leaning over looking at us with empty eyes. When she realized I had seen her, she grabbed me by the hair, whispering "witch." Softly. She promptly released me and seized him by his shirt collar. "Ah, ah, ah," she kept saying. She began pushing him and dragged him away.
We never returned to the pond. We met in stables, haylofts, the root forest. But ever since the day his wife took him away, people in the village have looked at me as if they weren't looking at me, some furtively making the sign of the cross when I walked by."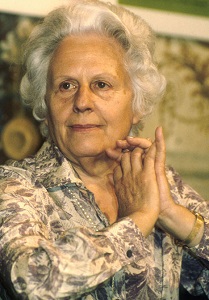 Mercè Rodoreda (10 oktober 1908 – 13 april 1983)
De Franse schrijver Claude Simon werd geboren op 10 oktober 1913 te Tananarive (Madagaskar) als zoon van een Franse legerofficier. Zie ook alle tags voor Clauder Simon op dit blog en ook mijn blog van 10 oktober 2010 en ook mijn blog van 10 oktober 2009.
Uit: L'Acacia
« La mort fut certainement instantanée. L'armée était alors en pleine retraite après la défaite de Charleroi et le corps fut abandonné sans sépulture à l'endroit même où il gisait, peut-être toujours adossé contre l'arbre, le visage caché par une nappe de sang gluant qui peu à peu s'épaississait, obstruant les orbites, s'accumulant sur la moustache, s'égouttant de plus en plus lentement sur la barbe drue et carrée, la tunique sombre. Avant de le laisser derrière eux, son ordonnance, ou celui de ses officiers à qui avait échu le commandement de la compagnie, eut cependant soin d'emporter la plaque de zinc de couleur grisâtre attachée à son poignet et portant son nom ainsi que son numéro matricule. Cette plaque fut plus tard envoyée à la veuve en même temps que les jumelles et une citation du mort à l'ordre de l'armée suivie peu après par l'attribution de la croix de la Légion d'honneur décernée à titre posthume.
Ce fut tout. Le régiment subit par la suite de telles pertes (il dut être entièrement reformé plusieurs fois au cours de la guerre) qu'il fut pratiquement impossible de retrouver et d'interroger les témoins directs de cet événement sur lequel les détails font défaut, de sorte que l'incertitude continue à subsister tant sur la nature exacte de la première blessure que sur celle de la seconde, le récit fait à la veuve et aux sœurs (ou celui qu'elles en firent pas la suite), quoique sans doute de bonne foi, enjolivant peut-être quelque peu la chose ou plutôt la théâtralisant selon un poncif imprimé dans leur imagination par les illustrations des manuels d'histoire ou les tableaux représentant la mort d'hommes de guerre plus ou moins légendaires, agonisant presque toujours à demi étendus dans l'herbe, la tête et le buste plus ou moins appuyés contre le tronc d'un arbre, entourés de chevaliers revêtus de cottes de mailles (ou tenant à la main des bicornes."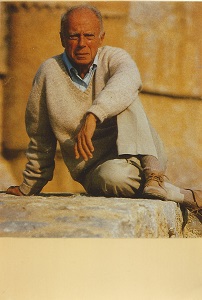 Claude Simon (10 oktober 1913 – 6 juli 2005)
In 1980
De Russische dichter en schrijver Ivan Aleksejevitsj Boenin werd geboren in Voronezj op 10 oktober 1870. Zie ook alle tags voor Ivan Boenin op dit blog en ook mijn blog van 10 oktober 2010 en ook mijn blog van 10 oktober 2009.
Youth
A whip cracks in the wood, and cattle low
And through the underbrush are heard to
Crash heavily. Leaves rustle. Snowdrops show
Their blue heads here and there. A sudden, furtive
Wind starts to blow, and ashen clouds are swept
Across the skies, a cool, fresh rain presaging…
The heart grieves and is glad that life is, strangely,
Vast like the steppe and empty like the steppe.

Circe
On a tripod the goddess sits, gazing
At herself in a mirror propped close:
Red-gold tresses, a perfect Greek nose,
Sea-green eyes like twin emeralds blazing.
Pink her cheeks are and powdered her face.
Like two drops of celestial nectar,
In the bronze disc their sparkle reflected,
Playful earrings her loveliness grace.
Says Ulysses: 'O Circe, believe me,
You are splendid! That stray lock of hair,
That while hand, that smooth elbow, that fair,
Gracious neckline - enchanted they leave me! '
Circe smiles: 'As a matter of fact,
Ifs my shoulders I'm proud of, and also
Of the orangy down that runs oh, so
Lightly, airily straight down my back! '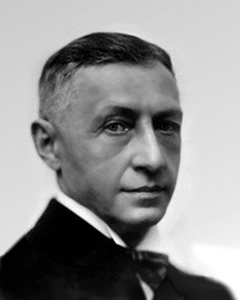 Ivan Boenin (10 oktober 1870 - 8 november 1953)
In 1933
De Amerikaanse schrijverFrederick Barthelme werd geboren op 10 oktober 1943 in Houston, Texas. Zie ook alle tags voor Frederick Barthelme op dit blog en ook mijn blog van 10 oktober 2010 en eveneens mijn blog van 10 oktober 2009.
Uit: Waveland
"Vaughn was padding around the house in gray-bottomed athletic socks that slid a little with each step on the hardwood floor, a floor where dust could be seen when hit at just the right angle by sunlight slanting in the double-hung windows of the place, which was not quite arts and crafts (more like Sears & Roebuck), but still attractive, charming, a soft place to land if you had to land somewhere. Vaughn had needed just such a place after his wife, Gail, invited him to gather his things and go. "Why don't you just move along," she had said one day a month after Katrina, giving him the most dismissive flick of the wrist, as if the gesture itself, less pronounced than the shooing of a fly, said all that needed saying about him, about her, and about them, after twenty years of marriage.
Since that time he'd done little work of any kind, holed up in a couple of dinky apartments, stayed to himself a good deal, bought a trombone, then a drum kit—a modern one, all rubber pads and pickups, wired directly into an amplifier and from there into a set of very fine headphones. He tried going to bars, restaurants, clubs—wherever there were other people—but that hadn't worked so well. Finally, in summer, he met Greta at an Escaped Women's Slave Narratives lecture at the Gulfport College for the Demented (not its real name) where he sometimes taught a course in architectural appreciation, architecture having been his lifelong interest, not to mention occupation, not to mention downfall.
He had just moved from the wooden chair at the small table where the laptop computer sat to the sofa across from the old-fashioned "big screen" TV, a rear-projection unit of about fifty inches inches he reckoned, though he'd never measured, when the phone rang. It was his ex-wife, Gail, calling."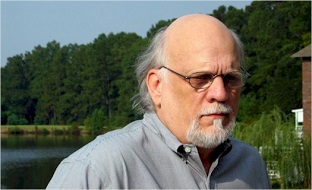 Frederick Barthelme (Houston, 10 oktober 1943)
Zie voor nog meer schrijvers van de 10e oktober ook mijn vorige blog van vandaag.
10-10-2015 om 12:43 geschreven door Romenu

Tags:Eugen Egner, Mercè Rodoreda, Claude Simon, Ivan Boenin, Frederick Barthelme, Romenu



James Clavell, Rie Cramer, Louise Mack, Aleksis Kivi, Robidé van der Aa, Kermit Roosevelt sr.
De Brits - Amerikaanse schrijver en regisseur James Clavell (pseudoniem van Charles Edmund DuMaresq de Clavelle)werd geboren op 10 oktober 1924 in Sydney. Zie ook alle tags voor James Clavell op dit blog en ook mijn blog van 10 oktober 2010 en eveneens mijn blog van 10 oktober 2009.
Uit: Shogun
"It must have been this bed that felt so soft and warm," he said aloud. "I've never slept on silk before." His weakness overcame him and he slept dreamlessly.
When he awoke there was more food in earthenware bowls and his clothes were beside him in a neat pile. They had been washed and pressed and mended with tiny, exquisite stitching.
But his knife was gone, and so were his keys.
I'd better get a knife and quickly, he thought. Or a pistol.
His eyes went to the crucifix. In spite of his dread, his excitement quickened. All his life he had heard legends told among pilots and sailormen about the incredible riches of Portugal's secret empire in the East, how they had by now converted the heathens to Catholicism and so held them in bondage, where gold was as cheap as pig iron, and emeralds, rubies, diamonds, and sapphires as plentiful as pebbles on a beach.
If the Catholic part's true, he told himself, perhaps the rest is too. About the riches. Yes. But the sooner I'm armed and back aboard Erasmus and behind her cannon, the better.
He consumed the food, dressed, and stood shakily, feeling out of his element as he always did ashore. His boots were missing. He went to the door, reeling slightly, and put out a hand to steady himself but the light, square lathes could not bear his weight and they shattered, the paper ripping apart. He righted himself. The shocked woman in the corridor was staring up at him.
"I'm sorry," he said, strangely ill at ease with his clumsiness. The purity of the room was somehow defiled.
"Where are my boots?"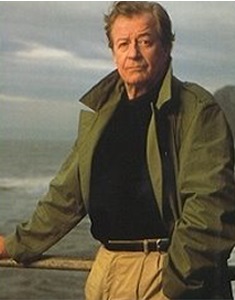 James Clavell (10 oktober 1924 – 6 september 1994)
De Nederlandse dichteres, schrijfster en illustrator Rie Cramer werd geboren in Sukabumi op Java, ndonesië op 10 oktober 1887. Zie ook alle tags voor Rie Cramer op dit blog en ook mijn blog van 10 oktober 2010 en eveneens mijn blog van 10 oktober 2009.
Uit: Winter
Vlak voor het raam brandt een groote lantaren
Vlak voor het raam brandt een groote lantaren
Iederen nacht, en dan zie ik den schijn,
Als ik tenminste niet slaap, uit m'n bedje
Net door een kier van het dichte gordijn.

Moedertje zegt wel, zoo'n baas van een jongen,
Hoeft toch in 't donker niet bang meer te zijn;
Maar, weet je, Beertje slaapt óok in m'n bedje
En Beertje is nog verschrikkelijk klein.
Muschjes, muschjes vliegen aan

Muschjes, muschjes vliegen aan,
Vechten om een brokje.
'Blijft er af, dat is van mij!'
'Ik was eerst' 'Dat jok je'!

Muschjes, kom, er is genoeg.
Maak toch niet zoo'n leven!
Als ik moesje vraag om meer
Zal ze 't immers geven!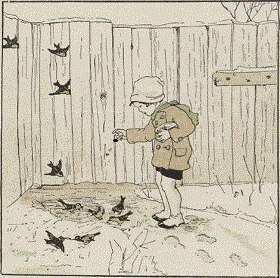 Rie Cramer (10 oktober 1887 - 18 juli 1977)
Illustratie uit Winter
De Australische dichteres en schrijfster Louise Mack werd geboren op 10 oktober 1870 in Hobart, Tasmania. Zie ook alle tags voor Louise Mack op dit blog en ook mijn blog van 10 oktober 2010 en eveneens mijn blog van 10 oktober 2009.
Uit:A Woman's Experiences in the Great War
"What do you do for mines?"
I put the question to the dear old salt at Folkestone quay, as I am waiting to go on board the boat for Belgium, this burning August night.
The dear old salt thinks hard for an answer, very hard indeed.
Then he scratches his head.
"There ain't none!" he makes reply.
All the same, in spite of the dear old salt, I feel rather creepy as the boat starts off that hot summer night, and through the pitch-black darkness we begin to plough our way to Ostend.
Over the dark waters the old English battleships send their vivid flashes unceasingly, but it is not a comfortable feeling to think you may be blown up at any minute, and I spend the hours on deck.
I notice our little fair-bearded Belgian captain is looking very sad and dejected.
"They're saying in Belgium now that our poor soldiers are getting all the brunt of it," he says despondently to a group of sympathetic War-Correspondents gathered round him on deck, chattering, and trying to pick up bits of news.
"But that will all be made up," says Mr. Martin Donohue, the Australian War-Correspondent, who is among the crowd. "All that you lose will be given back to Belgium before long."
"_But they cannot give us back our dead_," the little captain answers dully.
And no one makes reply to that.
There is no reply to make.
It is four o'clock in the morning, instead of nine at night, when we get to Ostend at last, and the first red gleams of sunrise are already flashing in the east.
We leave the boat, cross the Customs, and, after much ringing, wake up the Belgian page-boy at the Hotel. In we troop, two English nurses, twenty War-Correspondents, and an "Australian Girl in Belgium."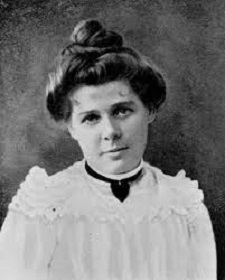 Louise Mack (10 oktober 1870 - 23 november 1935)
De Finse dichter en schrijver Aleksis Kivi werd geboren als geboren Alexis Stenvall in Palojoki op 10 oktober 1834. Zie ook alle tags voor Aleksis Kivi op dit blog en ook mijn blog van 10 oktober 2010 en eveneens mijn blog van 10 oktober 2009.
Uit:Seven Brothers (Vertaald door Richard Impola)
"JUKOLA FARM, in the south of the province of Hame, stands on the northern slope of a hill. near the village of Toukola. Around it the ground is bestrewn with boulders, but below this stony patch begin the fields, where, before the farm fell into decay, heavy-eared crops used to wave. Below the fields is a meadow, rimmed with clover and cleft by a winding ditch: and richly it had yielded hay before becoming a pasturage for straying village cattle. In addition to these, the farm owns vast forests, bogs and backwoods, most of which the founder of the farm, with admirable foresight, succeeded in adding to it at the first great settlement of boundaries in former days.
On that occasion the master of Jukola, with an eye more to the benefit of his descendants than his own best, had accepted as his share a forest ravaged by fire and by this means received seven times the area given his neighbours. But all signs of this fire had long ago disappeared from his holding and dense forests had replaced them. Such is the home of the seven brothers whose fortunes I am about to relate.
Their names, in order of age, are: Juhani, Tuomas, Aapo, Simeoni, Timo, Lauri and Eero. Tuomas and Aapo are twins, and so are Timo and Lauri. Juhani, the eldest, is twenty-five, while Eero, the youngest, is barely eighteen. In build they are sturdy and broad of shoulder: all of middling height except Eero, who is still very short. The tallest of them is Aapo, though perhaps not the strongest. The honours in this respect are with Tuomas, Who is indeed famous for the breadth of his shoulders. A peculiarity that marks them all is the brownness of their skin and the stiff, hemplike quality of their hair, the coarseness of which is especially striking in Juhani.
Their father, a passionate hunter, met a sudden death in the prime of his life while fighting an enraged bear. Both were found dead, the shaggy king of the woods and the man, lying side by side on the bloodstained ground. The man was terribly mangled, but the bear, too, displayed the marks of a knife in its throat and side, while the keen ball of a rifle had pierced its breast."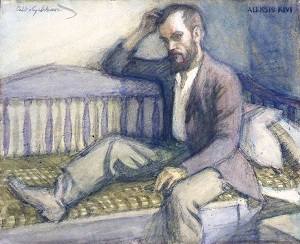 Aleksis Kivi (10 oktober 1834 - 31 december 1872)
Portret door Albert Gebhard, z.j.
De Nederlandse dichter en schrijver Robidé van der Aa (eig. Christianus Petrus Eliza van der Aa) werd geboren op 10 oktober 1791 in Oosterbeek. Zie ook alle tags voor Robidé van der Aa op dit blog en ook mijn blog van 10 oktober 2010 en eveneens mijn blog van 10 oktober 2009.
Het schrijven
Die niet op zijn voorschrift let,
Zal nooit netjes leeren schrijven:
't Zullen hanepooten blijven,
Wat men heel zijn leven zet.
Als men achtloos of verkeerd
Aan de tafel is gezeten,
Of het soms wil beter weten
Dan de meester, die ons leert,
Zal men later zich gewis
Dit verzuim vergeefs beklagen;
Wijl ook nog, in onze dagen,
't Nette schrift een sieraad is.

Het goede voornemen

Als, in 't kortste van de dagen,
Winter met zijn' grijzen baard
Sneeuw en ijs heeft aangedragen,
Kruip ik bij den warmen haard;
En bij 't koestren mijner leden,
Dank ik God, die, eindloos goed,
Mij zooveel gaf hier beneden,
Dat een ander derven moet.

Zou ik klagen, ontevreden,
Als de koude snerpend woedt,
Ik, die mij zoo warm kan kleeden,
Die zoo smaaklijk word gevoed?
Foei! dan zou 'k mijn Schepper honen;
'k Wil veeleer, in 't bar saizoen,
Mijne erkentlijkheid betoonen,
Door aan armen wél te doen.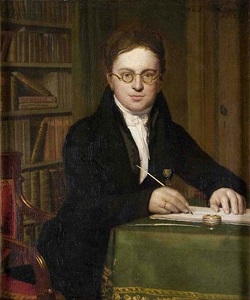 Robidé van der Aa (7 oktober 1791 – 14 mei 1851)
De Amerikaanse schrijver, zakenman en officier Kermit Roosevelt sr. Werd geboren op 10 oktober 1889 in Sagamore Hill in Oyster Bay, New York. Zie ook alle tags voor Kermit Roosevelt sr. op dit blog en ook mijn blog van 10 oktober 2010 en eveneens mijn blog van 10 oktober 2009.
Uit: War In The Garden Of Eden
"There are few things more desolate than even the best situated "rest-camps"—the long lines of tents set out with military precision, the trampled grass, and the board walks; but the one at Taranto where we awaited embarkation was peculiarly dismal even for a rest-camp. So it happened that when Admiral Mark Kerr, the commander of the Mediterranean fleet, invited me to be his guest aboard H.M.S. Queen until the transport should sail, it was in every way an opportunity to be appreciated. In the British Empire the navy is the "senior service," and I soon found that the tradition for the hospitality and cultivation of its officers was more than justified. The admiral had travelled, and read, and written, and no more pleasant evenings could be imagined than those spent in listening to his stories of the famous writers, statesmen, and artists who were numbered among his friends. He had always been a great enthusiast for the development of aerial warfare, and he was recently in Nova Scotia in command of the giant Handley-Page machine which was awaiting favorable weather conditions in order to attempt the nonstop transatlantic flight. Among his poems stands out the "Prayer of Empire," which, oddly enough, the former German Emperor greatly admired, ordering it distributed throughout the imperial navy! The Kaiser's feelings toward the admiral have suffered an abrupt change, but they would have been even more hostile had England profited by his warnings:
"There's no menace in preparedness, no threat in being strong,
If the people's brain be healthy and they think no thought of wrong."
After four or five most agreeable days aboard the Queen the word came to embark, and I was duly transferred to the Saxon, an old Union Castle liner that was to run us straight through to Busra."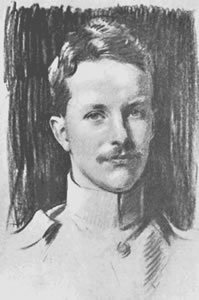 Kermit Roosevelt sr. (10 oktober 1889 – 4 juni 1943)
Portret door John Singer Sargent
10-10-2015 om 12:41 geschreven door Romenu

Tags:James Clavell, Rie Cramer, Louise Mack, Aleksis Kivi, Robidé van der Aa, Kermit Roosevelt sr., Romenu



| | |
| --- | --- |
| | |



Inhoud blog


| | |
| --- | --- |
| | Bernard Malamud, Vincente Alexandre, Carl-Christian Elze, Hannelies Taschau, Theun de Vries, Hertha Kräftner, Johann Uhland, Margreet van Hoorn, Leo Stilma |
| | Erik Menkveld, Ted Kooser, James Fenton, Walter de la Mare, Richard Anders, William Temple, John Keble, Ross Franklin Lockridge Jr., Leopoldo Alas |
| | Frans Coenen, Eric Bogosian, Robert Penn Warren, George Oppen, Sue Grafton, Carl Spitteler, Anthony Trollope, Michael Schaefer, Marcus Clarke |
| | William Shakespeare, Roman Helinski, Pascal Quignard, Peter Horst Neumann, Andrey Kurkov, Halldór Laxness, Christine Busta, Adelheid Duvanel, Richard Huelsenbeck |
| | The Good Shepherd (Stanley Moss) |
| | Giorgio Fontana, Jan de Hartog, Björn Kern, Vladimir Nabokov, Chetan Bhagat, Peter Weber, Jos de Haes, Thommie Bayer, Madame de Staël |
| | Ana María Shua, Louise Glück, Robert Choquette, James Philip Bailey, Henry Fielding, Michael Schulte, Cabrera Infante, Ludwig Renn |
| | The Enkindled Spring (D. H. Lawrence) |
| | Charlotte Brontë, Patrick Rambaud, John Mortimer, Charles den Tex, Ahmed Arif, Michael Mann |
| | Peter Schneider, Meira Delmar, Alistair MacLean, Gerrit Wustmann, Népomucène Lemercier |
| | Prijs der Nederlandse Letteren voor Judith Herzberg |
| | Martinus Nijhoff, Jan Cremer, Jean Pierre Rawie, Marieke Lucas Rijneveld, Sebastian Faulks, Jozef Deleu, Steve Erickson, Arto Paasilinna, Michel Leiris |
| | Martin Michael Driessen, Marjoleine de Vos, Manuel Bandeira, n. c. kaser, Veniamin Kaverin, Louis Amédée Achard, Pierre-Jean de Béranger, Gudrun Reinboth, Werner Rohner |
| | Wam de Moor, Bas Belleman, Roos van Rijswijk, Hanane Aad, Clara Eggink, Kathy Acker, Joy Davidman, Henry Kendall, Katharina Schwanbeck |
| | Antoon Coolen, Vincent Corjanus, Nick Hornby, Ida Boy-Ed, Thornton Wilder, David Wagner, R.J. Pineiro, Helen Meier, Karen Blixen |
| | Sarah Kirsch, Thomas Olde Heuvelt, Kingsley Amis, Patricia De Martelaere, Tristan Tzara, Ewald Vanvugt, Sibylle Lewitscharoff, Jan Luyken, Anatole France |
| | Emmaüs (Felix Timmermans) |
| | Tomas Tranströmer, Daniël Samkalden, Jérôme Lambert, Patrick Bernauw, Benjamin Zephaniah, Henry James, Wilhelm Busch, Ina Boudier-Bakker |
| | Bliss Carman, Beate Morgenstern, Jeffrey Archer, Bernhard Lassahn, Erich Arendt, Pol De Mont, Staf Weyts, Hans Egon Holthusen |
| | Péter Esterházy, Alexandre Jardin, Tjitse Hofman, Landolf Scherzer, Charles Lewinsky, Roman Graf |
| | Roberto Schopflocher, Martin Kessel, Gabriele Stötzer, Helene Hübener, Gerhard Rohlfs |
| | Nachoem Wijnberg, K. Michel, Alexander Münninghoff, Michel Faber, Jean-Marie Gustave Le Clézio, Samuel Beckett, Seamus Heaney, Tim Krabbé, Eudora Welty |
| | Antje Rávic Strubel, Alan Ayckbourn, Scott Turow, Tom Clancy, Agnes Sapper, Edward de Vere, José Gautier Benítez, Alexander Ostrovski, Guillaume-Thomas Raynal |
| | Leonard Nolens, Mark Strand, Silvia Avallone, Walid Soliman, Dorothy Allison, Hubert Nyssen, Rolf Schilling, Glenway Wescott, Claude Tillier |
| | Leo Vroman, Jan van Mersbergen, Paul Theroux, Claudio Magris, Bella Akhmadulina, Stefan Heym, Richard Wagner, Marcel van Maele, Eric Knight |
| | Charles Baudelaire, Jelle Brandt Corstius, Karel Jonckheere, Joolz Denby, Albert von Schirnding, Johannes Bobrowski, Bernard-Marie Koltès, Arnold Stadler, Yaël Vinckx |
| | Thomas (Jan Willem Schulte Nordholt) |
| | Herinnering aan Gerard Reve, Hanz Mirck, Christoph Hein, Judith Koelemeijer, Nnedi Okorafor, Barbara Kingsolver |
| | John Fante, Johann Christian Günther, Glendon Swarthout, Martin Grzimek, Hégésippe Moreau, Robert Askins |
| | Den Haag (Paul Rodenko) |
| | Juliana Spahr, William Wordsworth, Özcan Akyol, Gabriela Mistral |
| | Kazim Ali, Annejet van der Zijl, John Pepper Clark, Jakob Ejersbo, Günter Herburger, Uljana Wolf, Brigitte Schwaiger, Julien Torma, Nicolas Chamfort |
| | Iulian Ciocan |
| | Hugo Claus, Martin Reints, Mieke van Zonneveld, Vítězslav Hálek, Algernon Swinburne, Bora Ćosić,, Werner J. Egli, Michael Georg Conrad, Marente de Moor |
| | Maya Angelou, Hanneke Hendrix, Marko Klomp, Marcel Vaarmeijer, E. L. James, Marguerite Duras, Robert Schindel, Michiel van Kempen, Bettina von Arnim |
| | Charles Ducal, Adriaan Jaeggi, Frederik van Eeden, Bert Bakker, Peter Huchel, Arlette Cousture, Pieter Aspe, Karel N.L. Grazell, Washington Irving |
| | Die Sonne geht im Osten auf (Christian Morgenstern) |
| | Thomas Glavinic, Jay Parini, Anneke Claus, Klaus Ender, Konrad Merz, Ed Dorn, Émile Zola |
| | György Konrád, Anne Waldman, Casanova, Hans Christian Andersen, Roberto Arlt, Edgar Hilsenrath, George Fraser |
| | Hoffmann von Fallersleben, Johann Gleim, Pierre Zaccone, Pietro della Valle, Zwier van Haren, Joanna Chmielewska, Brigitte Struzyk |
| | Preis dem Todesüberwinder! (Friedrich Klopstock) |
| | Milan Kundera, Sandro Veronesi, Nikolaj Gogol, Arnold Aletrino, Max Nord, Urs Allemann, Rolf Hochhuth, John Wilmot, Deborah Feldman |
| | Maria Polydouri, Edgar Wallace, Carl Sternheim, Edmond Rostand, Armel Guerne, Friedrich Güll, Antoine Prévost, Josep de Maistre |
| | Litanie van een wachter bij het graf (Willem Jan Otten) |
| | Stefan Hertmans, Octavio Paz, Asis Aynan, Martijn Teerlinck, Marga Minco, Enrique Vila-Matas |
| | Rob Boudestein, Kornej Tsjoekovski, Andrew Lang, Nichita Stănescu, Hartmut Lange, Marge Piercy |
| | Angela Kreuz, Judith Rossner, Andrew Marvell, John Fowles, Edward FitzGerald, Robert Brasillach, Peter Motte |
| | Golgotha (Theo Thijssen) |
| | Gerrit Komrij, Paul Verlaine, Milton Acorn, Erika Mitterer, Uwe Timm, Tom Sharpe, Gert Heidenreich, Theo Breuer, Luise Hensel |
| | Gethsemane (Jacqueline van der Waals) |


Gastenboek


Druk op onderstaande knop om een berichtje achter te laten in mijn gastenboek