E-mail mij


Druk op onderstaande knop om mij te e-mailen.


Romenu


Romenu is een blog over gedichten, literatuur en kunst Maar Romenu is ook een professionele freelance vertaler
Du-Ne en Ne-Du http://www.romenu.nl.


Huur eens een (vakantie)huis in een natuurgebied, dichtbij het centrum van Nijmegen


Google


Georg Trakl

Georg Trakl werd op 3 februari 1887 in het conducteurshuis aan de Waagplatz 2 in Salzburg geboren. Zijn vader, Tobias Trakl, was een handelaar in ijzerwaren en zijn moeder, die ook psychische problemen had, was Maria Catharina Trakl, (meisjesnaam Halik). Voorts had hij nog drie broers en drie zussen. Margarethe (doorgaans Grethe genoemd) stond hem het naast, zelfs zodanig dat sommigen een incestueuze verhouding vermoeden. Zijn jeugd bracht hij door in Salzburg. Vervolgens bezocht hij van 1897 tot 1905 het humanistische gymnasium. Om toch een academische opleiding te kunnen volgen, werkte hij tot 1908 in de praktijk bij een apotheker. Sommigen vermoedden dat hij dit vooral deed om zichzelf opiaten te kunnen verschaffen. Bij het uitbreken van WO I werd Trakl als medicus naar het front in Galicië (heden ten dage in Oekraïne en Polen) gestuurd. Zijn gemoedsschommelingen leidden tot geregelde uitbraken van depressie, die verergerd werden door de afschuw die hij voelde voor de verzorging van de ernstig verwonde soldaten. De spanning en druk dreven hem ertoe een suïcidepoging te ondernemen, welke zijn kameraden nochtans verhinderden. Hij werd in een militair ziekenhuis opgenomen in Kraków, alwaar hij onder strikt toezicht geplaatst werd.Trakl verzonk daar in nog zwaardere depressies en schreef Ficker om advies. Ficker overtuigde hem ervan dat hij contact moest opnemen met Wittgenstein, die inderdaad op weg ging na Trakls bericht te hebben ontvangen. Op 4 november 1914, drie dagen voordat Wittgenstein aan zou komen, overleed hij echter aan een overdosis cocaïne


Paul Celan

Paul Celan werd onder de naam Paul Antschel op 23 november 1920 geboren in Czernowitz, toentertijd de hoofdstad van de Roemeense Boekovina, nu behorend bij de Oekraïne. Paul Celans ouders waren Duitssprekende joden die hun zoon joods opvoedden en hem naar Duitse christelijke scholen stuurden. In 1942 werden Celans ouders door de Duitse bezetter naar een werkkamp gedeporteerd en daar vermoord. Hijzelf wist aanvankelijk onder te duiken, maar moest vanaf juli 1942 in een werkkamp dwangarbeid verrichten. Celan overleefde de oorlog. Via Boekarest en Wenen vestigde Celan zich in 1948 in Parijs. Daar was hij werkzaam als dichter, vertaler en doceerde hij aan de prestigieuze Ecole Normale Supérieure. Vermoedelijk op 20 april 1970 beëindigde hij zijn leven zelf door in de Seine te springen.


Gerard Reve

Gerard Reve over: Medearbeiders "God is in de mensen, de dieren, de planten en alle dingen - in de schepping, die verlost moet worden of waaruit God verlost moet worden, door onze arbeid, aangezien wij medearbeiders van God zijn." Openbaring "Tja, waar berust elk godsbegrip op, elke vorm van religie? Op een openbaring, dat wil zeggen op een psychische ervaring van zulk een dwingende en onverbiddelijke kracht, dat de betrokkene het gevoel heeft, niet dat hij een gedachte of een visioen heeft, maar dat een gedachte gedachte of visioen hem bezit en overweldigt."


Simon Vestdijk
Simon Vestdijk (Harlingen, 17 oktober 1898 – Utrecht, 23 maart 1971) was een Nederlands romancier, dichter, essayist en vertaler. Zijn jeugd te Harlingen en Leeuwarden beschreef hij later in de Anton Wachter-cyclus. Van jongs af aan logeerde hij regelmatig bij zijn grootouders in Amsterdam, waar hij zich in 1917 aan de Universiteit van Amsterdam inschrijft als student in de medicijnen. Tijdens zijn studie die van 1917 tot 1927 duurde, leerde hij Jan Slauerhoff kennen.Tot 1932 is hij als arts in praktijken door heel Nederland werkzaam. In 1932 volgt zijn officiële schrijversdebuut met de uitgave van de bundel Verzen in De Vrije Bladen. Doorslaggevend voor Vestdijks uiteindelijke keuze voor de literatuur is zijn ontmoeting in 1932 met Eddy Du Perron en Menno ter Braak. Deze ontmoeting had tot resultaat dat hij redactielid werd van het tijdschrift Forum Kort daarop, in 1933, wordt zijn eerste novelle, De oubliette, uitgegeven. In hetzelfde jaar schrijft hij Kind tussen vier vrouwen, dat, eerst geweigerd door de uitgever, later de basis zal vormen voor de eerste drie delen van de Anton Wachter-romans. In 1951 ontvangt Vestdijk de P.C. Hooftprijs voor zijn in 1947 verschenen roman De vuuraanbidders. In 1957 wordt hij voor het eerst door het PEN-centrum voor Nederland voorgedragen voor de Nobelprijs voor de Literatuur, die hij echter nooit zal krijgen. Op 20 maart 1971 wordt hem de Prijs der Nederlandse Letteren toegekend, maar voor hij deze kan ontvangen overlijdt hij op 23 maart te Utrecht op 72-jarige leeftijd. Vestdijk was auteur van ca. 200 boeken. Vanwege deze enorme productie noemde de dichter Adriaan Roland Holst hem 'de man die sneller schrijft dan God kan lezen'. Andere belangrijke boeken van Simon Vestdijk zijn: "Kind van stad en land" (1936), "Meneer Visser's hellevaart" (1936), "Ierse nachten" (1946), "De toekomst de religie" (1947), "Pastorale 1943" (1948), "De koperen tuin" (1950), "Ivoren wachters" (1951), "Essays in duodecimo" (1952) en "Het genadeschot" (1964).


K.P. Kavafis

K.P. Kavafis werd als kind van Griekse ouders, afkomstig uit Konstantinopel, geboren in 1863 in Alexandrië (tot vandaag een Griekse enclave) waar hij ook het grootste deel van zijn leven woonde en werkte. Twee jaar na de dood van zijn vader verhuist het gezin in 1872 naar Engeland om na een verblijf van vijf jaar naar Alexandrië terug te keren. Vanwege ongeregeldheden in Egypte vlucht het gezin in 1882 naar Konstantinopel, om na drie jaar opnieuw naar Alexandrië terug te gaan. In de jaren die volgen maakt Kavafis reizen naar Parijs, Londen en in 1901 zijn eerste reis naar Griekenland, in latere jaren gevolgd door nog enkele bezoeken. Op de dag van zijn zeventigste verjaardag, in 1933 sterft Kavafis in Alexandrië. De roem kwam voor Kavafis pas na zijn dood, dus postuum. Deels is dat toe te schrijven aan zijn eigen handelswijze. Hij was uiterst terughoudend met de publicatie van zijn gedichten, liet af en toe een enkel gedicht afdrukken in een literair tijdschrift, gaf in eigen beheer enkele bundels met een stuk of twintig gedichten uit en het merendeel van zijn poëzie schonk hij op losse bladen aan zijn beste vrienden.


Thomas Mann


Thomas Mann, de jongere broer van Heinrich Mann, werd geboren op 6 juni 1875 in Lübeck. Hij was de tweede zoon van de graankoopman Thomas Johann Heinrich Mann welke later één van de senatoren van Lübreck werd. Zijn moeder Julia (geboren da Silva-Bruhns) was Duits-Braziliaans van Portugees Kreoolse afkomst. In 1894 debuteerde Thomas Mann met de novelle "Gefallen". Toen Thomas Mann met 21 jaar eindelijk volwassen was en hem dus geld van zijn vaders erfenis toestond - hij kreeg ongeveer 160 tot 180 goldmark per jaar - besloot hij dat hij genoeg had van al die scholen en instituties en werd onafhankelijk schrijver. Kenmerkend voor zijn stijl zijn de ironie, de fenomenale taalbeheersing en de minutieuze detailschildering. Manns reputatie in Duitsland was sterk wisselend. Met zijn eerste roman, Buddenbrooks (1901), had hij een enorm succes, maar door zijn sceptische houding tegenover Duitsland na de Eerste Wereldoorlog veranderde dit volledig. Stelde hij zich tot aan de jaren twintig apolitiek op (Betrachtungen eines Unpolitischen, 1918), meer en meer raakte hij bij het Politiek gebeuren betrokken. Zijn afkeer van het nationaal socialisme groeide, zijn waarschuwingen werden veelvuldiger en heftiger. In 1944 accepteerde hij het Amerikaanse staatsburgerschap. Tussen 1943 en 1947 schreef Mann Doktor Faustus (zie Faust), de roman van de 'Duitse ziel' in de gecamoufleerd geschilderde omstandigheden van de 20ste eeuw. In 1947 bezocht hij voor het eerst sinds de Oorlog Europa, twee jaar later pas Duitsland. In 1952 vertrok hij naar Zwitserland. Op 12 augustus 1955 stierf hij in Zürich. Twintig jaar na zijn dood, in aug. 1975, is zijn literaire nalatenschap geopend: dagboekaantekeningen van 15 maart 1933 tot 29 juli 1955, alsmede notities uit de jaren 1918 tot en met 1921.Belangrijke werken zijn: Der Zauberberg, Der Tod in Venedig, Dokter Faustus , Joseph und seine Brüder en Die Bekenntnisse des Hochstaplers Felix Krull.


Rainer Maria Rilke

Rilke werd op 4 december 1875 geboren in Praag. Hij had al naam gemaakt als dichter met zijn bundels Das Stundenbuch en Das Buch der Bilder, toen hij de literaire wereld versteld deed staan en wereldfaam verwierf met de publicatie van zijn twee delen Neue Gedichte in 1907 en 1908. Hij verzamelde daarin het beste werk uit een van zijn vruchtbaarste periodes, die hij grotendeels doorbracht in Parijs. Rilke was daar diep onder de indruk gekomen van Rodin, bij wie hij een tijdlang in dienst was als particulier secretaris. Rodin, zei hij later, had hem leren kijken. Dit kijken kwam neer op intense concentratie, om het mysterie te kunnen zien 'achter de schijnbare werkelijkheid'. Latere en rijpere werken als Duineser Elegien (1912-1923) en het ronduit schitterende Die Sonette an Orfeus (1924) illustreren Rilkes metafysische visie op het onzegbare, dat haar verwoording vindt in een hermetische muzikale taal. Op 29 december 1926 overlijdt Rilke in het sanatorium in Val-Mont aan de gevolgen van leukemie. Enkele dagen later wordt hij, overeenkomstig zijn wens, begraven op het kerkhof van Raron.


* * * * * * * * * * * * * * * *

| | |
| --- | --- |
| | Over literatuur, gedichten, kunst en cultuur |

07-02-2016

Fastnacht 1825 (Johann Wolfgang von Goethe)
Bij Carnaval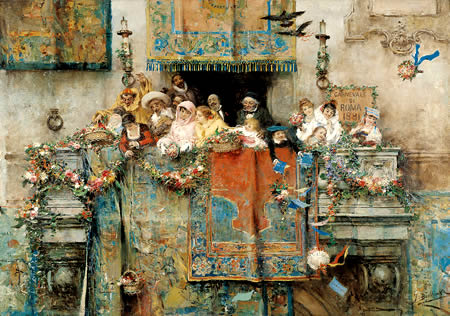 Carnaval in Rome door Jose Benlliure y Gil, 1881
Fastnacht 1825
Da das Alter, wie wir wissen,
Nicht für Torheit helfen kann,
Wär es ein gefundner Bissen
Einem heitern alten Mann,
Dass am Rhein, dem vielbeschwommnen,
Mummenschar sich zum Gefecht
Rüstet gegen angekommnen
Feind, zu sichern altes Recht.
Auch dem Weisen fügt behäglich
Sich die Torheit wohl zur Hand,
Und so ist es gar verträglich,
Wenn er sich mit euch verband.
Selbst Erasmus ging den Spuren
Der Moria scherzend nach,
Ulrich Hutten mit Obskuren
Derbe Lanzenkiele brach.
Löblich wird ein tolles Streben,
Wenn es kurz ist und mit Sinn;
Heiterkeit zum Erdeleben
Sei dem flüchtigen Rausch Gewinn.
Häufet nur an diesem Tage
Kluger Torheit Vollgewicht,
Dass mit uns die Nachwelt sage:
Jahre sind der Lieb und Pflicht.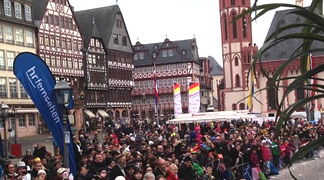 Johann Wolfgang von Goethe (28 augustus 1749 – 22 maart 1832)
Frankfurt, Carnaval 2014, Goethe werd in Frankfurt geboren.
Zie voor de schrijvers van de 7e februari ook mijn vorige drie blogs van vandaag.
07-02-2016 om 12:11 geschreven door Romenu

Tags:Carnaval, Johann Wolfgang von Goethe, Romenu



Charles Dickens, Gay Talese, Christine Angot, Pjeroo Roobjee, Emma McLaughlin, A. den Doolaard, Rhijnvis Feith
De Engelse schrijver Charles Dickens werd geboren op 7 februari 1812 in Landport. Zie ook alle tags voor Charles Dickens op dit blog.
Uit: Great Expectations
"I had heard of Miss Havisham up town,--everybody for miles round had heard of Miss Havisham up town,--as an immensely rich and grim lady who lived in a large and dismal house barricaded against robbers, and who led a life of seclusion.
"Well to be sure!" said Joe, astounded. "I wonder how she come to know Pip!"
"Noodle!" cried my sister. "Who said she knew him?"
"--Which some individual," Joe again politely hinted, "mentioned that she wanted him to go and play there."
"And couldn't she ask Uncle Pumblechook if he knew of a boy to go and play there? Isn't it just barely possible that Uncle Pumblechook may be a tenant of hers, and that he may sometimes--we won't say quarterly or half-yearly, for that would be requiring too much of you—but sometimes--go there to pay his rent? And couldn't she then ask Uncle Pumblechook if he knew of a boy to go and play there? And couldn't Uncle Pumblechook, being always considerate and thoughtful for us--though you may not think it, Joseph," in a tone of the deepest reproach, as if he were the most callous of nephews, "then mention this boy, standing Prancing here"--which I solemnly declare I was not doing--"that I have for ever been a willing slave to?"
"Good again!" cried Uncle Pumblechook. "Well put! Prettily pointed! Good indeed! Now Joseph, you know the case."
"No, Joseph," said my sister, still in a reproachful manner, while Joe apologetically drew the back of his hand across and across his nose, "you do not yet--though you may not think it--know the case. You may consider that you do, but you do not, Joseph. For you do not know that Uncle Pumblechook, being sensible that for anything we can tell, this boy's fortune may be made by his going to Miss Havisham's, has offered to take him into town to-night in his own chaise-cart, and to keep him to-night, and to take him with his own hands to Miss Havisham's to-morrow morning. And Lor-a-mussy me!" cried my sister, casting off her bonnet in sudden desperation, "here I stand talking to mere Mooncalfs, with Uncle Pumblechook waiting, and the mare catching cold at the door, and the boy grimed with crock and dirt from the hair of his head to the sole of his foot!"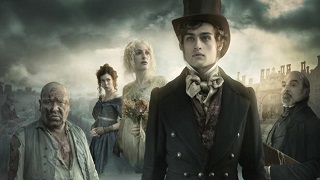 Charles Dickens (7 februari 1812 – 9 juni 1870)
Scene uit een driedelige Britse tv-serie, 2011
De Amerikaanse schrijver en journalist Gay Talese werd geboren op 7 februari 1932 in Ocean City. Zie ook alle tags voor Gay Talese op dit blog.
Uit: Frank Sinatra Has a Cold
"He occupies a plush office near Sinatra's executive suite. He is endlessly searching for literary properties that might be converted into new starring roles for Sinatra. Whenever he is among strangers with Sinatra he worries because he knows that Sinatra brings out the best and worst in people -- some men will become aggressive, some women will become seductive, others will stand around skeptically appraising him, the scene will be somehow intoxicated by his mere presence, and maybe Sinatra himself, if feeling as badly as he was tonight, might become intolerant or tense, and then: headlines. So Brad Dexter tries to anticipate danger and warn Sinatra in advance. He confesses to feeling very protective of Sinatra, admitting in a recent moment of self-revelation: "I'd kill for him."
While this statement may seem outlandishly dramatic, particularly when taken out of context, it nonetheless expresses a fierce fidelity that is quite common within Sinatra's special circle. It is a characteristic that Sinatra, without admission, seems to prefer: All the Way; All or Nothing at All. This is the Sicilian in Sinatra; he permits his friends, if they wish to remain that, none of the easy Anglo-Saxon outs. But if they remain loyal, then there is nothing Sinatra will not do in turn -- fabulous gifts, personal kindnesses, encouragement when they're down, adulation when they're up. They are wise to remember, however, one thing. He is Sinatra. The boss. Il Padrone.
I had seen something of this Sicilian side of Sinatra last summer at Jilly's saloon in New York, which was the only other time I'd gotten a close view of him prior to this night in this California club. Jilly's, which is on West Fifty-second Street in Manhattan, is where Sinatra drinks whenever he is in New York, and there is a special chair reserved for him in the back room against the wall that nobody else may use. When he is occupying it, seated behind a long table flanked by his closest New York friends -- who include the saloonkeeper, Jilly Rizzo, and Jilly's azure-haired wife, Honey, who is known as the "Blue Jew" -- a rather strange ritualistic scene develops. That night dozens of people, some of them casual friends of Sinatra's, some mere acquaintances, some neither, appeared outside of Jilly's saloon."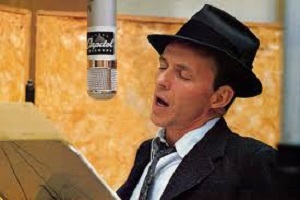 Gay Talese (Ocean City, 7 februari 1932)
Frank Sinatra

De Franse schrijfster Christine Angot werd geboren op 7 februari 1959 in Châteauroux. Zie ook alle tags voor Christine Angot op dit blog.
Uit: Les Petits
"En Martinique il vit dans sa voiture. Il connaît plein de Rastas dans toute la Caraïbe, il est à fond dans la musique. Il passe d'une île à une autre. Il réalise des disques, il fait des concerts. Il ne pense pas à Hélène qu'il vient juste de rencontrer dans un hôtel. Il passe son temps en studio. Il enregistre, il répète, il écrit des chansons. Il vit de ça. Ingénieur du son, compositeur, arrangeur, être au second rang lui convient, c'est son caractère. Au foot il est avant. Il estime que pour marquer un but sa discrétion le sert. Il reste des semaines sans penser à rien d'autre qu'à une chanson, une batterie, un haut-parleur et un micro. Il va à Sainte-Lucie, Saint-Vincent. Il découvre la Grenade, c'est une île sauvage, il n'y a pas de liaisons, il marche au bord de la route. Si quelqu'un passe avec son pick-up, il fait un signe, la fourgonnette le prend. C'est comme ça qu'il vit et qu'il veut vivre. Libre. Il ne passe pas une journée sans le dire, ou sans prononcer le mot liberté.
Quand il était petit avec ses copains, leur territoire c'était l'usine désaffectée du Lamentin. Tous avaient des parents qui y ont travaillé, c'était l'usine de transformation de la canne, sa grand-mère en est morte. Ils jouaient là, dans les entrepôts vides. Au carrefour entre la mer, les terres et l'autoroute. A la place des entrepôts un supermarché a été construit. Ils installent un marché de fruits et légumes sur le rond-point, devant le magasin. Ils posent des tréteaux, avec deux copains, et vendent des tomates, des laitues et des melons. Suivant la saison, des mangues ou des oranges, et quand il y a des grèves au port, les bananes qui n'ont pas été expédiées. La nuit ils s'organisent, à sept heures ils commencent à vendre. Ils embauchent les gosses qui traînent dans le centre commercial, donnent une bouteille d'eau congelée à chacun et un chapeau de paille. Il fait quarante degrés, il n'y a pas d'ombre, Billy reste au soleil toute la journée, devient encore plus noir. Ils dorment peu, se reposent par intermittence."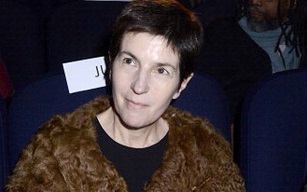 Christine Angot (Châteauroux, 7 februari 1959)
De Vlaamse schrijver, schilder, tekenaar, graficus, causeur, auteur, theatermaker, entertainer en zanger Pjeroo Roobjee (pseudoniem van Dirk De Vilder) werd geboren in Gent, op 7 februari 1945. Zie ook alle tags voor Pjeroo Roobjee op dit blog.
Uit: Heldendeugd
"ALICE (in woeste, woedende vaart binnentredend):
Hoho, ze spelen een vuil spel met ons! Ze lappen ons toeren, maar nu toch toeren!
LEON & MADELEINE:
Wie?!
ALICE:
De roden!
LEON:
Maar...
ALICE:
Ja, roem is gevaarlijk! Het enige wat nog gevaarlijker is, dat is Yperiet boven drijfzand! Wacht, ge zult direct verstaan wat dat ik wil zeggen. (Ze haalt een kaart uit haar handtas.) Kijk, dit laten ze in al de boiten van 't kiesdistrict steken. (Ze leest voor:) Burgers! Een lijst van chauvinistische zero's heeft zich de naam van korporaal Hoste toegeëigend, en deze held als lokvogel in hun nietswaardig wapenschild geplaatst. En wij zijn triestig tussen die nietwaarden de naam te zien prijken van zijn vader,
Leon Hoste. Dit volk zonder scrrupules, dat ten dienste staat van het reactionnaire conservatisme en de teruggang, probeert de nagedachtenis van een martelaar te exploiteren...
Burgers! Korporaal Edward Hoste was een socialistische held!
LEON:
Dat is een leugen. En een grove!
MADELEINE (een kruis slaand):
Mijn Edward was genen rooie socialist!
ALICE (voortlezend):
Burgers, weest waakzaam en leest aandachtig de afdruk op de achterkant van deze kaart: het is de reproductie van een brief die korporaal Hoste naar een kameraad verstuurde, toen hij achter het front met herstelverlof was!"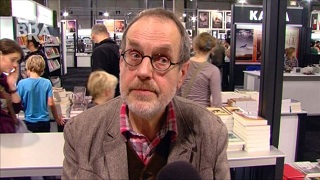 Pjeroo Roobjee (Gent, 7 februari 1945)
De Amerikaanse schrijfster Emma Lanier McLaughlin werd geboren op 7 februari 1974 in Elmira, New York. Zie ook alle tags voor Emma McLaughlin op dit blog.
Uit: Over You (samen met Nicola Kraus)
"N-no. I can't even think about--"
"Eat." Max appraises the collage-covered walls and, leaning over Bridget's desk, unlocks the window. Cool air rushes into the room, clearing the salty scent of tissues and tears.
"I c-can't--my st-stomach--I may n-never eat again. I don't understand. How do you know Shannon?" Bridget peers around Max to the closed door as if her friend might appear. "I was just talking to her after... after--" But Max knows she can't bring herself to finish the sentence, to say, "he dumped me." Not yet.
"One bar." Max places both hands on her hips. Bridget raises an eyebrow, but does as told. Max has never been met by resistance on an Hour One house call. Girls are too desperate for relief to put up a fight.
"You'll see Shannon tomorrow. Right now you just need to focus on what I'm telling you." Max watches Bridget bite into the dark chocolate intended to fill her dry mouth with sweetness. Bridget chews with hollow eyes as Max sweeps the room, stealthily dropping framed photos of the couple into her bag along with the obvious "Taylor and Bridget" mementos. She picks up Bridget's cell and reprograms Taylor's number to direct dial Max's cell. She unplugs Bridget's laptop and--
"Hey!" Bridget coughs, crumbs spurting from her mouth. "What the hell?"
"It's not safe staying here tonight. No contact with the outside world." Max slides the machine into her bag and withdraws a bottle of water just as Bridget finishes off the last bit. Max takes the wrapper and hands off the bottle. She then pulls a Limoges box from her bag. "Valerian. All-natural megadose." Bridget takes the pill and slugs it down with a sip from the bottle."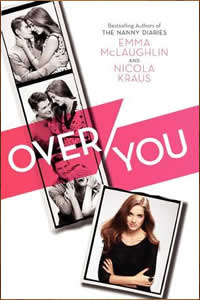 Emma McLaughlin (Elmira, 7 februari 1974)
Cover
De Nederlandse dichter en schrijver A. den Doolaard werd geboren op 7 februari 1901 in Hoenderloo. Zie ook alle tags voor A. den Doolaard op dit blog
Ballade van zon en maan
Maan, die de dunbestarnde nacht doorschrijdt
voorbij de schemering der randplaneten;
zon, die het duister schaterende splijt
met stralen, die het grenzenlooze meten;
uw kernen, hemelwijd uiteengespleten
herinnren zich den donkren paringstijd
waarin zij 't eenzaam zwerven wild vergeten,
en schaduw schuw en snel langs schaduw glijdt
tot zij hun banen saamgebogen weten.

De zonnebloem, die in mijn oogen staat
brandt feller bij het blanke voortbewegen
van schouders, die hun hunkring nog verzwegen
toen lach reeds heerschte langs mijn fel gelaat.
dan uit het donker komt Uw dans gestegen
van maanlichtschemer, die den nacht verlaat
en wolkenrand na wolkenrand verraadt
in snelle wisselstanden de aarde tegen
waar gij weerhouden lachend voor mij staat.

Vorstin, die op Uw maangebogen mond
mijn wildste kussen ving, hun siddren brekend,
de maan, die aan Uw hoofdeneinde stond
had op Uw mond en borst zijn merk geteekend.
een windvlaag, die zijn banen niet berekent
was 't zwervend kussen van Uw verre mond;
nu vindt het licht, dat ons eens samen vond
ons in gescheiden hemelstreken smeekend.
maar geen, die rust vindt op dit aarderond:
want kussend heeft mijn mond Uw borst geteekend
met 't zonmerk, dat de morgenschemer vond.
en maan en wind, die beider haar doorwond,
en springvloedbranding, langs ons waden brekend
zijn wraakgetuigen van dit bloedsverbond.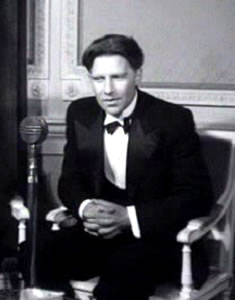 A. den Doolaard (7 februari 1901 – 26 juni 1994)
In 1946
De Nederlandse schrijver Rhijnvis Feith werd geboren in Zwolle en daar op 7 februari 1753 gedoopt. Zie ook alle tags voor Rhijnvis Feith op dit blog.
De dag breekt spoedig aan
De dag breekt spoedig aan, de grote dag der dagen,
Die dood en grafkuil uit de schepping weg zal vagen.
Dan zal de teedre gâ, voor een onsterflijk leven,
De vriend van hare ziel in de open armen zweven,
Hem drukken aan de borst, en juichen dat het graf
De toevertrouwde schat zo heerlijk wedergaf!
Dan zinkt op nieuw de vriend aan 't hart zijns vriends ter neder,
Dan vindt de moeder haar geroofde zuigling weder!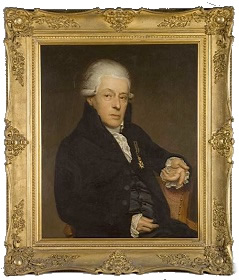 Rhijnvis Feith (7 februari 1753 - 8 februari 1824)
Portret door Willem Barteld van der Kooi
Zie voor nog meer schrijvers van de 7e februari ook mijn vorige twee blogs van vandaag.
07-02-2016 om 12:09 geschreven door Romenu

Tags:Charles Dickens, Gay Talese, Christine Angot, Pjeroo Roobjee, Emma McLaughlin, A. den Doolaard, Rhijnvis Feith, Romenu



Alban Nikolai Herbst, Anna Świrszczyńska, Harry Sinclair Lewis, Heinz Czechowski, Paul Nizan, Patricia De Landtsheer
De Duitse schrijver Alban Nikolai Herbst (pseudoniem van Alexander Michael v. Ribbentrop) werd geboren op 7 februari 1955 in Refrath. Zie ook alle tags voor Alban Nikolai Herbst op dit blog.
Uit: Roses Triumph
"Rose war seit mehr als einer Stunde vom Mittagstisch zurück. Er saß über einen Schriftsatz gebeugt, den eines der Lehrmädchen nach Diktafon getippt und dem Bürovorsteher zur Korrektur vorgelegt hatte. Während er las und mit der Mine eines Bleistiftstummels die eine und andere Verbesserung in die Zeilen ritzte, rauchte er eine dickliche Fehlfarben. Bisweilen hüstelte er. Da fuhr es in ihn. Etwas schlug erst die Stirn durch und dann in die Gedankenwatte, die sein Einverständnis vor Belästigungen schützte. Der Prozeß brauchte volle zwei Minuten, in denen der Bürovorsteher erst aufsah und dann sich auf einen Flecken jenseits der Bürowand konzentrierte, also auf einen draußen im Flur. An ihr selbst gab es nichts Irreguläres. Sie war nichts als Tapete und altgelbes Weiß. Dann war das Hindurchgebrochene zwar nicht schon Rose zu Bewußtsein gekommen, aber doch in seinem Empfinden, bei seiner großen Empfindsamkeit angelangt. Und bettete sich ein.
Roses Blick rutschte von dem Flecken weg und schlingerte den Büroschlauch entlang über schmale Jungmädchenrücken, die Papier und Schreibmaschinen beugten. Er fing sich, ermüdet, erst an der Türklinke. Doch gelang es dem Bürovorsteher nicht, die Lider zu schließen. Seine Pupillen verengten sich, selbst die Regenbogenhäute zogen sich zusammen, wahrscheinlich dem höchsten Intensitätsgrad seiner inneren, vergeblichen Abwehr korrelierend. Dann ergab sich Erwin Rose.
Schläfenabwärts rann Schweiß. Rose tupfte ihn ab. Sehr kurzfristig fror er an den Ohrläppchen. Doch führte er den sich einklopfenden Kopfschmerz darauf zurück, daß im Büro selbst hellichten Tages die Neonröhren brannten. Da konnte, wie sie nur wollte, die Sonne scheinen. Zum ersten Mal in seinem Leben beengte ihn das. Wie stickig es war! Er hüstelte wieder, drückte die Zigarre aus. Das Deckblatt splitterte, Kräuselrauch flatterte aus dem Aschenbecher. Der brenzlige, scharfe Geruch war dem Bürovorsteher sehr unangenehm. Und entgegen aller Gewohnheit ließ er eine Arbeit liegen, erhob sich, ging zum Fenster, öffnete die Schließen."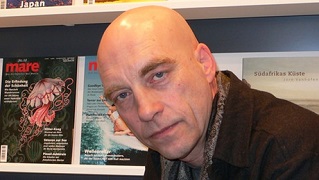 Alban Nikolai Herbst (Refrath, 7 februari 1955)
De Poolse dichteres Anna Świrszczyńska werd geboren op 7 februari 1909 in Warszawa. Zie ook alle tags voor Anna Świrszczyńska op dit blog.
I Knocked My Head Against The Wall
As a child
I put my finger in the fire
to become
a saint.
As a teenager
every day I would knock my head against the wall.
As a young girl
I went out through a window of a garret
to the roof
in order to jump.
As a woman
I had lice all over my body.
They cracked when I was ironing my sweater.
I waited sixty minutes
to be executed.
I was hungry for six years.
Then I bore a child,
they were carving me
without putting me to sleep.
Then a thunderbolt killed me
three times and I had to rise from the dead three times
without anyone's help.
Now I am resting
after three resurrections.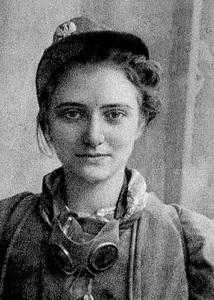 Anna Świrszczyńska (7 februari 1909 – 14 augustus 1984)
De Amerikaanse schrijver Harry Sinclair Lewis werd geboren in Sauk Centre op 7 februari 1885. Zie ook alle tags voor Harry Sinclait Lewis op dit blog.
Uit:Main Street
"Where does she get all them the'ries?" marveled Uncle Whittier Smail; while Aunt Bessie inquired, "Do you suppose there's many folks got notions like hers? My! If there are," and her tone settled the fact that there were not, "I just don't know what the world's coming to!"
Patiently — more or less — Carol awaited the exquisite day when they would announce departure. After three weeks Uncle Whittier remarked, "We kinda like Gopher Prairie. Guess maybe we'll stay here. We'd been wondering what we'd do, now we've sold the creamery and my farms. So I had a talk with Ole Jenson about his grocery, and I guess I'll buy him out and storekeep for a while."
He did.
Carol rebelled. Kennicott soothed her: "Oh, we won't see much of them. They'll have their own house."
She resolved to be so chilly that they would stay away. But she had no talent for conscious insolence. They found a house, but Carol was never safe from their appearance with a hearty, "Thought we'd drop in this evening and keep you from being lonely. Why, you ain't had them curtains washed yet!" Invariably, whenever she was touched by the realization that it was they who were lonely, they wrecked her pitying affection by comments — questions — comments — advice.
They immediately became friendly with all of their own race, with the Luke Dawsons, the Deacon Piersons, and Mrs. Bogart; and brought them along in the evening. Aunt Bessie was a bridge over whom the older women, bearing gifts of counsel and the ignorance of experience, poured into Carol's island of reserve. Aunt Bessie urged the good Widow Bogart, "Drop in and see Carrie real often. Young folks today don't understand housekeeping like we do."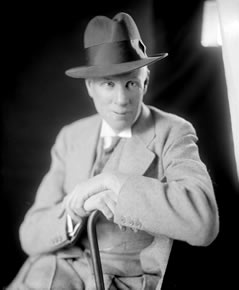 Harry Sinclair Lewis (7 februari 1885 - 10 januari 1951)


De Duitse dichter, schrijver en vertaler Heinz Czechowski werd geboren in Dresden op 7 februari 1935. Zie ook alle tags voor Heinz Czechowski op dit blog.
Engel
Die Dichter,
Steht geschrieben,
Hören den letzten
Paukenton, den Mozart
Nicht mehr aufschreiben konnte,
Den Flügelschlag
Der Engel über Paris und
Vor allem sich selbst.
Manche
Haben kein Geld,
Aber die Zeit,
Als man das komisch fand,
Ist vorbei.
Ich saß in Kleinzschachwitz,
Wir sahn an der Tanne im Zimmer vorbei
Auf den Schornstein des Holzschnitzers Dyrlich,
Aus dem sorglos der Rauch stieg.
Da sagte ich: Dyrlich
Verbrennt die mißlungenen Engel,
Doch der Dichter entgegnete: Selbst die
Macht er noch zu Geld.
Die Engel des Dichters
Sind harmlos-vergängliche Wesen.
Sie schweben wie Staub durch das Zimmer
Und entgleiten den Händen wie Geld.
Manche jedoch
Ähneln den Frauen und Mädchen,
Die sich zu des Dichters Geburtstag
im Garten verstreun. Andere wieder
Sind wirkliche Engel, aber
Auch nicht aus Holz.
Diese
Sammeln das Geld wieder ein,
Um nahrhafte Dinge zu kaufen,
Damit der Dichter
Den letzten Paukenton
Mozarts vernimmt oder
Das nächtlich knirschende Eis auf der Elbe
Und
Die Schritte der Engel
Im Schnee seines Gartens.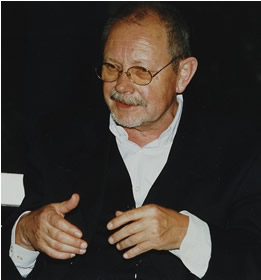 Heinz Czechowski (7 februari 1935 – 21 oktober 2009)
De Franse filosoof en schrijver Paul Nizan werd geboren op 7 februari 1905 in Tours. Zie ook alle tags voor Paul Nizan op dit blog.
Uit: Les chiens de garde
"Va-t-il falloir attendre que les hommes se trouvent complètement nus, complètement désarmés devant l'aggravation de leur destin, au point qu'ils n'aient plus rien à faire qu'à se laisser mourir, qu'à accepter les coups ? Il faudra d'ici là, patiemment si nous avons le loisir cruel de la patience, sinon, tout le temps qui nous restera, il faudra les préparer à ces menaces. Il faudra bien leur donner les armes que la bourgeoisie leur refuse, et les moyens d'y voir clair, et les moyens de savoir que les catastrophes bourgeoises annonceront la venue de leur heure, et les moyens de savoir où ils iront alors et comment ils iront. Il faudra bien les mettre en position de résister aux derniers assauts bourgeois.
Sans doute, nous sentons bien que notre colère et que notre impatience et que la vision de notre avenir ne se traduisent en mots et ne se déguisent sous des feuilles d'impression que faute de mieux. Sans doute nous serait-il plus précieux d'abattre que de réfuter, de nous battre que de persuader, de combattre que de gagner des combattants futurs, nous connaîtrions une joie plus vaste et plus virile de nous asseoir dans nos maisons un soir de victoire que d'avoir travaillé la matière du langage. Le vent de cette victoire soulèverait toute la poussière de nos réfutations et nous délivrerait de nos tas de discours et de nos tas de livreset nous nettoierait de notre rhétorique. Mais l'heure n'est pas encore venue, il n'est pas encore temps. La puissance et l'effusion de cette victoire, il nous faut les préparer et les nourrir patiemment et sordidement. Qu'il faut d'épures, de dessins bleus, de marchandages, de rendez-vous, de discussions, de persuasions et de contacts avant de voir le premier train d'une ligne nouvellement ouverte franchir un pont nouvellement lancé."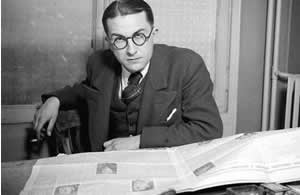 Paul Nizan (7 februari 1905 – 23 mei 1940)
De Vlaamse dichteres en schrijfster Patricia De Landtsheer werd geboren in Dendermonde op 7 februari 1952. Zie ook alle tags voor Patricia De Landtsheer op dit blog.
Uit: Doorheen de duisternis het licht (Lamentaties)
Ik heb je gevonden Mens
ik heb het gat gekrabd
tot mijn nagels pijn deden
tot ik geen nagels meer had
….
kom nu Mens
het strijden is voorbij
je mag nu rusten
er is geen pijn meer
geen angst geen droefenis
wij zijn samen nu
wij dansen op de wolken
zwemmen in de zee

waar je ook gaat Mens
zal ik je vinden
altijd en altijd weer zal ik je vinden
omdat je Mens bent
toen en nu en dan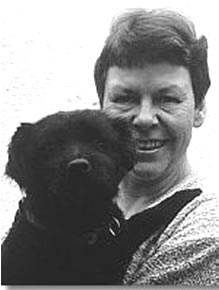 Patricia De Landtsheer (Dendermonde, 7 februari 1952)
Zie voor nog meer schrijvers van de 7e februari ook mijn vorige blog van vandaag.
07-02-2016 om 12:08 geschreven door Romenu

Tags:Alban Nikolai Herbst, Anna Ś,wirszczyń,ska, Harry Sinclair Lewis, Heinz Czechowski, Paul Nizan, Patricia De Landtsheer, Romenu



Lioba Happel, Johann Nepomuk Vogl, Ludwig Winder, Laura Ingalls Wilder, Thomas Killigrew
De Duitse dichteres, schrijfster en vertaalster Lioba Happel werd geboren op 7 februari 1957 in Aschaffenburg. Zie ook alle tags voor Lioba Happel op dit blog.
»Ist mein Fräulein traurig –
soll sie sich zum Teufel scheren!«
zwei mal zwei ist sieben fünf
acht drei mal drei alle viere
jedenfalls war ich heut nacht im
park jedenfalls gibts da wilde tiere
der erste ein herzog der zweite am geigen
der dritte ein tanzbär der vierte leibeigen
jedenfalls lieber gott vielen dank da
blühte auch einmal ein blümlein
da kannste mal sehen was übrig bleibt
bei tage im hellen mondenschein
der fünfte ein henker der sechste dort hängt
er der siebte ein schwein der achte ganz rein
jedenfalls hab ich den neunten vergessen
der neunte hat alle aufgefressen

und die blume ist schwarz und die sonne ist
rot und gold ist aus dreck und die liebe tut not
zwei augen sah ich den himmel durchqueren
»soll sie sich zum Teufel scheren!«
jedenfalls war ich heut nacht im
park jedenfalls gibts da wilde tiere
zwei mal zwei ist sieben fünf
acht drei mal drei alle viere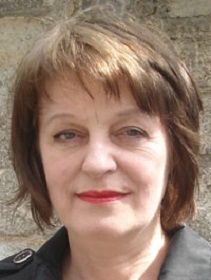 Lioba Happel (Aschaffenburg, 7 februari 1957)
De Oostenrijkse dichter en schrijver Johann Nepomuk Vogl werd geboren op 7 februari 1802 in Wenen. Zie ook alle tags voor Johann Nepomuk Vogl op dit blog
An meine Lieder
Send' euch nun, ihr kleinen Lieder,
In die weite Welt hinaus,
Sucht in Eintracht d'rum wie Brüder
Selbst euch jetzt ein heimisch Haus.
Wie ihr in verschied'nen Gleisen
Jetzo zieht nach Ost und West,
Dünkt ihr Vöglein mir auf Reisen,
Ohne Heimat, ohne Nest.
Lasst euch aber dies nicht schrecken,
Frisch nur fort aus eu'rer Haft,
Lernet selbst die Flügel strecken,
Prüft nun selbst der Schwingen Kraft.
Könnt ihr euch gleich nicht zur Sonne
Schwingen, wie's der Adler tut,
Schwelgend in des Starken Wonne
Und beseelt von Göttermut;
Seid ihr doch vielleicht den kleinen
Lerchlein gleich, die mit dem Duft
Freudig schwimmen in dem reinen
Azurblauen Meer der Luft.
Darum zieht nur immer weiter,
Aller Sorgen los und quitt,
Zieht und nehmet zum Geleiter
Eures Vaters Wünsche mit.
Möge euch, die früh entrissen
Meiner Brust durch Lust und Schmerz,
Bald als zweite Heimat grüßen
Irgendwo ein warmes Herz.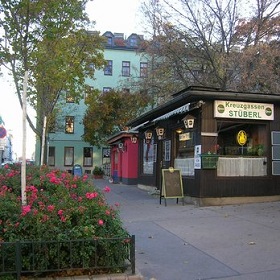 Johann Nepomuk Vogl (7 februari 1802 – 16 november 1866)
De Johann Nepomuk Vogl Markt in Wenen
De Duitstalige, Oostenrijks - Tsjechische schrijver Ludwig Winder werd geboren op 7 februari 1889 in Šafov / Mähren.Zie ook alle tags voor Ludwig Winder op dit blog.
Uit: Der Thronfolger
"Wenn der Kaiser einen seiner Briefe nicht beantwortete, schrieb der Ungeduldige, der sich vornahm, mit unendlicher Geduld und Beharrlichkeit dem Greis die Macht stückweise zu entreißen, den Brief noch einmal, ein drittes und viertes Mal; wenn alle Briefe unbeantwortet blieben, ging er in Audienz. Gewalttätig trat er in das Arbeitszimmer des Kaisers ein. Er hatte das Gesicht eines Gewalttäters, mächtig wölbte sich seine breite Brust, wie ein Berg stand der große breite Vierziger vor dem immer kleiner werdenden, zusammenschrumpfenden zarten Greis, der sich an die Platte seines Schreibtisches klammerte. Manchmal erhob der Uralte die Stimme und rief laut und zornig: 'Das dulde ich nicht!' 'Das erlaube ich nicht!' 'Das will ich nicht!' Der Thronfolger aber schrie: 'Es muss trotzdem geschehen!' Der Kaiser presste die Hand auf sein Herz und befahl seinem Herzen, ruhiger zu schlagen. Manchmal schrieb er mit fester Hand an den Rand des Schriftstücks, dass der Thronfolger ihm vorgelegt hatte: 'Abgelehnt!' Manchmal aber – immer häufiger – schrieb er mit zitternder Hand: 'Einverstanden.'"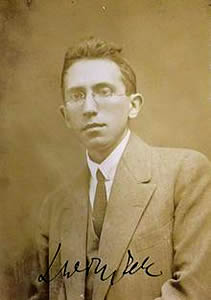 Ludwig Winder (7 februari 1889 – 16 juni 1946)
Rond 1920
De Amerikaanse schrijfster Laura Elisabeth Ingalls Wilder werd geboren in Pepin (Wisconsin) op 7 februari 1867. Zie ook alle tags voor Laura Ingalls Wilder op dit blog.
Uit: Little House on the Prairie
"Ma and Laura and Mary ate bread and molasses in the wagon, and the horses ate corn from nose-bags, while inside the store Pa traded his furs for things they would need on the journey. They could not stay long in the town, because they must cross the lake that day.
The enormous lake stretched flat and smooth and white all the way to the edge of the gray sky. Wagon tracks went away across it, so far that you could not see where they went; they ended in nothing at all.
Pa drove the wagon out onto the ice, following those wagon tracks. The horses' hoofs clop-clopped with a dull sound, the wagon wheels went crunching. The town grew smaller and smaller behind, till even the tall store was only a dot. All around the wagon there was nothing but empty and silent space. Laura didn't like it. But Pa was on the wagon-seat and Jack was under the wagon; she knew that nothing could hurt her while Pa and Jack were there.
At last the wagon was pulling up a slope of earth again, and again there were trees. There was a little log house, too, among the trees. So Laura felt better.
Nobody lived in the little house; it was a place to camp in. It was a tiny house, and strange, with a big fireplace and rough bunks against all the walls. But it was warm when Pa had built a fire in the fireplace. That night Mary and Laura and Baby Carrie slept with Ma in a bed made on the floor before the fire, while Pa slept outside in the wagon, to guard it and the horses.
In the night a strange noise wakened Laura. It sounded like a shot, but it was sharper and longer than a shot. Again and again she heard it. Mary and Carrie were asleep, but Laura couldn't sleep until Ma's voice came softly through the dark. "Go to sleep, Laura," Ma said. "It's only the ice cracking."Next morning Pa said, "It's lucky we crossed yesterday, Caroline. Wouldn't wonder if the ice broke up today. We made a late crossing, and we're lucky it didn't start breaking up while we were out in the middle of it."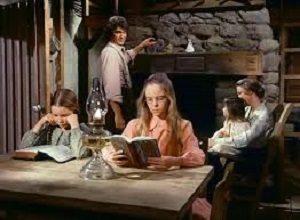 Laura Ingalls Wilder (7 februari 1867 - 10 februari 1957)
Scene uit de tv-serie
De Engelse toneelschrijver en -manager Thomas Killigrew werd geboren in Londen op 7 februari 1612. Zie ook alle tags voor Thomas Killigrew op dit blog.
Uit: The Pilgrim
"Ferdi.
Prithee talk no more of her; she is an evil the Nation ought to arm against; The sword (and that speedily bent against her) can onely prevent the ruine she and Martino threaten this State with. Prayers find too slow Remedies for such mischiefs as their power daily contrives.
Giov.
Heaven had many Crimes to punish in Millain, when she and Martino were sent our scourges; Her own Subjects despis'd and scorn'd her, and deriding her victory, say, we fought for their diseases onely.
Ferdi.
I wonder how Prince Sforza brooks this Familiarity of hers with Martino; for 'tis said, he passionately affects the Princess Fidelia, a Virgin of unquestion'd Virtue, and yet her Daughter.
Giov.
She has indeed an unspotted Fame; and when I consider it, Iam amazed to think Nature should send
such Sovereign Fruit from so poysonous a Root; yet they say Prince Sforza but ill di∣gested his Fathers Marriage with the Mother, for all his Passion for the Daughter.
Ferdi.
Can you blame him? Is it not a hard Condition to find his Enemy and his Captive become his Mother? Supplanting him in all the power and trust of his Father? yet his Piety makes him obedient, even to her weakness; and civil, even to his Fathers faults.
Giov.
O 'tis a matchless Gallantry inhabits in him; his Princely breast is all compos'd of Honour; whether Enemy or Friend, he conquers still; so faithfull in his Promise, mild in Command, and gentle in Dispute, Constant and Resolute in dangers, never absent to himself, never transported when he overcomes, nor losing himself in disorder, nor amazed when he is worsted; I have seen him win and lose a battle, but with that evenness of Soul, as fair Game∣sters use to meet their fortunes with."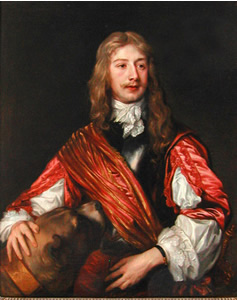 Thomas Killigrew (7 februari 1612 - 19 maart 1683)
Portret, toegeschreven aan Antoon van Dyck, 1638
07-02-2016 om 12:07 geschreven door Romenu

Tags:Lioba Happel, Johann Nepomuk Vogl, Ludwig Winder, Laura Ingalls Wilder, Thomas Killigrew, Romenu



Joachim du Bellay
Onafhankelijk van geboortedata
De Franse dichter Joachim du Bellay werd geboren in het kasteel van La Turmelière aan de oevers van de Loire, in de buurt van Liré (Angers regio) rond 1522. Daar bracht hij zijn jeugd door. Zijn beide ouders stierven toen hij nog een kind was, en hij werd overgelaten aan de zorg van zijn oudere broer, Rene du Bellay, die zijn opleiding verwaarloosde. In 1547 ging hij rechten studeren aan de Universiteit van Poitiers, waar hij bevriend raakte met Ronsard. Samen trokken zij naar Parijs en bezochten ze het Collège Coqueret, waar de Hellenistist Jean Daurat hen de auteurs van de oudheid en die van de Italiaanse poëzie liet ontdekken. Om zich heen verzamelden zij de Pleiaden, bestaande uit zeven leden, verwijzend naar het sterrenbeeld. In 1549 schreef du Bellay "Défense et Illustration de la langue française", geïnspireerd door de ideeën van de groep die het Frans wilde verdedigen tegen de overheersing van het Latijn. "L'Olive" (1549) van Joachim du Bellay, de eerste Franse verzameling van liefdessonnetten weerspiegelt perfect deze diepgaande vernieuwing van de poëzie. Van 1553 van 1557 was hij secretaris van kardinaal Jean du Bellay, een neef van zijn vader en beroemde diplomaat, met wie hij zou vertrekken naar Rome. De dichter ontdekte de mythische stad uit de oudheid, bestaande uit puin, pracht en losbandigheid. In 1557 keerde hij terug naar Frankrijk en publiceerde "Les Antiquités de Rome", "Les Divers Jeux Rustiques" en Les Regrets" ( (1558), met de beroemde sonnetten "France, mère des Arts" et "Heureux qui, comme Ulysse, a fait un beau voyage".. " Deze werken werden in hun tijd zeer gewaardeerd en zo nam Joachim du Bellay deel aan het Parijse intellectuele leven. Du Bellay stierf plotseling aan zijn bureau in de nacht van 1 januari 1560. Hij werd begraven in de Notre-Dame de Paris, maar zijn graf is nu verdwenen.
France, mère des arts, des armes et des lois
France, mère des arts, des armes et des lois,
Tu m'as nourri longtemps du lait de ta mamelle :
Ores, comme un agneau qui sa nourrice appelle,
Je remplis de ton nom les antres et les bois.

Si tu m'as pour enfant avoué quelquefois,
Que ne me réponds-tu maintenant, ô cruelle ?
France, France, réponds à ma triste querelle.
Mais nul, sinon Écho, ne répond à ma voix.

Entre les loups cruels j'erre parmi la plaine,
Je sens venir l'hiver, de qui la froide haleine
D'une tremblante horreur fait hérisser ma peau.

Las, tes autres agneaux n'ont faute de pâture,
Ils ne craignent le loup, le vent ni la froidure :
Si ne suis-je pourtant le pire du troupeau.
Heureux qui, comme Ulysse, a fait un beau voyage
Heureux qui, comme Ulysse, a fait un beau voyage,
Ou comme cestuy-là qui conquit la toison,
Et puis est retourné, plein d'usage et raison,
Vivre entre ses parents le reste de son âge !

Quand reverrai-je, hélas, de mon petit village
Fumer la cheminée, et en quelle saison
Reverrai-je le clos de ma pauvre maison,
Qui m'est une province, et beaucoup davantage ?

Plus me plaît le séjour qu'ont bâti mes aïeux,
Que des palais Romains le front audacieux,
Plus que le marbre dur me plaît l'ardoise fine :

Plus mon Loire gaulois, que le Tibre latin,
Plus mon petit Liré, que le mont Palatin,
Et plus que l'air marin la doulceur angevine.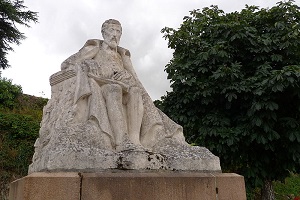 Joachim du Bellay (rond 1522 – 1 januari 1560)
Standbeeld in Liré, Maine-et-Loire
07-02-2016 om 00:00 geschreven door Romenu

Tags:Joachim du Bellay, Romenu



| | |
| --- | --- |
| | |



Inhoud blog


| | |
| --- | --- |
| | Heinrich Mann, Shusaku Endo, Golo Mann, Carolina Trujillo, Patrick McCabe, Bob den Uyl, Dubravka Ugresić, Francis Ponge, Marie Under |
| | Tennessee Williams, Gregory Corso, Hwang Sun-won, Martin McDonagh, Robert Frost, Patrick Süskind |
| | A. E. Housman, Bettina Galvagni, Hai Zi, Erica Jong, Artur Landsberger |
| | Am vierten Sonntage in der Fasten (Annette von Droste-Hülshoff) |
| | Pol Hoste, Menno Van der Beek, Flannery O'Connor, Jaime Sabines, Peter Van Straaten, Toni Cade Bambara, Antonio Fogazzaro |
| | Jacques Bens, Jacques Audiberti, Filip De Pillecyn, Erica Pedretti, Evliya Çelebi, Anne Fanshawe, Daniel Schiebeler, Mary Webb |
| | Peter Bichsel, Martin Walser, Dario Fo, Lawrence Ferlinghetti, Jacob van Lennep, Jeroen Mettes, Harry Prenen, Willem van Iependaal, Top Naeff |
| | Cri Stellweg, Yōko Tawada, Gary Whitehead, Mitch Cullin, Steven Saylor, Roger Martin du Gard, Madison Cawein, Nils-Aslak Valkeapää, Federica de Cesco |
| | Billy Collins, Eveline Hasler, Érik Orsenna, Léon Deubel, Karel Poláček, Arnold Sauwen, Wolfgang Bächler, Albrecht Goes, Gabrielle Roy |
| | In Memoriam Colin Dexter |
| | Willem de Mérode, Pim te Bokkel, Kees van Beijnum, Jean Paul, Hamid Skif, Hubert Fichte, Peter Hacks, Michel Bartosik, Youssef Rzouga |
| | David Malouf, Friedrich Hölderlin, Katharina Hartwell, Ralph Giordano, Ricus van de Coevering, Jens Petersen, Benoît Duteurtre, Gerard Malanga, Henrik Johan Ibsen |
| | Mano Bouzamour, Hans Mayer, Philip Roth, Kirsten Boie, Lynne Sharon Schwartz, Lina Kostenko, Petar Preradović |
| | William Allingham, Ion Barbu, Rosalie Loveling, Tobias Smollett, Irving Wallace, Peter Abrahams |
| | Am dritten Sonntage in der Fasten (Annette von Droste-Hülshoff) |
| | Christa Wolf, Charlotte Roche, John Updike, Wilfred Owen, Stéphane Mallarmé |
| | Héctor Bianciotti, Hellema, Friedrich Hebbel, Max Barry, Wolfgang Bauer, Richard Condon |
| | Walter Rheiner, Srečko Kosovel, Jean Anglade, George Plimpton, Cosmo Monkhouse, Friedrich Nicolai |
| | Siegfried Lenz, Thomas Melle, Hans Wollschläger, Rense Sinkgraven, Hafid Aggoune, William Gibson, Patrick Hamilton, Karl Gutzkow, Jean Ingelow |
| | In memoriam Torgny Lindgren |
| | Frühlingsglaube (Johann Ludwig Uhland) |
| | Ben Okri, David Albahari, Louis Paul Boon, Kurt Drawert, Gerhard Seyfried, Andreas Okopenko, An Rutgers van der Loeff, Prosper van Langendonck, Paul Heyse |
| | Pam Ayres, Jochen Schimmang, Volker von Törne, Horton Foote, Olivier Delorme, Alexandru Macedonski, Albert Robida, Theodore de Banville, Wout Waanders |
| | Mahmoud Darwish, Yuri Andrukhovych, Didier Decoin, Yeghishe Charents, Vladimir Makanin, Oskar Loerke, W.O. Mitchell, Hugh Walpole, Inge Müller |
| | Jenny Erpenbeck, Dave Eggers, Jack Kerouac, Naomi Shihab Nye, Carl Hiaasen, Edward Albee, De Schoolmeester, Benedict Wells |
| | Kathrin Schmidt, Henrike Heiland, M. A. Numminen, Gabriele d'Annunzio, Irving Layton, Helga Goetze, Françoise d'Eaubonne, Antony Deschamps, Sergej Michalkov |
| | Leena Lehtolainen, Karl Krolow, Daan de Ligt, Frans Vogel, Willem Claassen, Amal Karam |
| | Ernst Wichert, Douglas Adams, Torquato Tasso, Georg Maurer, Josef Martin Bauer |
| | John Rechy, Joseph von Eichendorff, Hilde Van Cauteren, Jakob Wassermann, Karel van de Woestijne, Chloé Delaume, Friedrich Schlegel, Boris Vian, Manolis Anagnostakis |
| | Peter Altenberg, Ed Hoornik, Peter Zantingh, Heere Heeresma, Vita Sackville-West, Josef Weinheber, Taras Sjevtsjenko, Umberto Saba, Agnes Miegel |
| | Jeffrey Eugenides, Walter Jens, Hafid Bouazza, A. Marja, Aslı Erdoğan, John McPhee, Mouloud Feraoun, Mechtilde Lichnowsky, Dominic Angeloch |
| | Bret Easton Ellis, Robert Harris, Jürgen Theobaldy, Georges Perec, Abe Kōbō, Reinhard Kaiser, Manfred Gregor, Jan Frederik Helmers, Alessandro Manzoni |
| | Patrick deWitt, Gabriel García Márquez, Jeremy Reed, Marijke Hanegraaf, Thomas Acda, Günter Kunert, Clark Accord, Elizabeth Barrett Browning, Michelangelo |
| | Pier Paolo Pasolini, Arthur van Schendel, Koos van Zomeren, Jurre van den Berg, Nelly Arcan, Danny King, Jean Orizet |
| | Leslie Marmon Silko, Frank Norris, Fritz Usinger, Friedrich Schnack, Ennio Flaiano, Moritz Carrière, Karl August Timotheus Kahlert |
| | Kristof Magnusson, Khaled Hosseini, Robert Kleindienst, Irina Ratushinskaya, Alan Sillitoe |
| | Ryszard Kapuściński, Jean-Joseph Rabearivelo, Annette Seemann, F. W. Bernstein, Giorgio Bassani |
| | Bernardo Ashetu, Léon-Paul Fargue, Kito Lorenc, Jacques Dupin, Thomas S. Stribling |
| | Manfred Flügge, Hans Verhagen, Tjitske Jansen, James Merrill, Kola Boof, Clifton Snider, Gudrun Pausewang, Josef Winkler, Chris Kraus |
| | Godfried Bomans, Multatuli, Frank Albers, John Irving, Thom Wolfe, Michael Salinger, János Arany, Olivia Manning, Rinske Kegel |
| | Ash Wednesday (T. S. Eliot) |
| | Jan Eijkelboom, Jim Crace, Delphine de Vigan, Franz Hohler, Lytton Strachey, Robert Lowell, Myrthe van der Meer, Franzobel, Steven Barnes |
| | Chanson pour mourir d'amour au temps de carnaval (Louis Aragon) |
| | Stephen Spender, Bart Koubaa, Luc Dellisse, John Montague, Marcel Pagnol, Bodo Morshäuser, Martin Suter, Yórgos Seféris, Howard Nemerov |
| | Josef Svatopluk Machar |
| | Carnival Evening (Linda Pastan) |
| | Cynan Jones, John Steinbeck, Lawrence Durrell, André Roy, Henry Longfellow, Elisabeth Borchers, James T. Farrell, Irwin Shaw |
| | Fastnacht (Achim von Arnim) |
| | Michel Houellebecq, Victor Hugo, Adama van Scheltema, George Barker, Hermann Lenz, Antonin Sova, Jean Teulé |
| | Ulrike Syha, Elias Annes Borger, Vercors, Pierre Mac Orlan, Janus Djurhuus, Johann Lauremberg, August Thieme |


Gastenboek


Druk op onderstaande knop om een berichtje achter te laten in mijn gastenboek