E-mail mij


Druk op onderstaande knop om mij te e-mailen.


Romenu


Google


Georg Trakl

Georg Trakl werd op 3 februari 1887 in het conducteurshuis aan de Waagplatz 2 in Salzburg geboren. Zijn vader, Tobias Trakl, was een handelaar in ijzerwaren en zijn moeder, die ook psychische problemen had, was Maria Catharina Trakl, (meisjesnaam Halik). Voorts had hij nog drie broers en drie zussen. Margarethe (doorgaans Grethe genoemd) stond hem het naast, zelfs zodanig dat sommigen een incestueuze verhouding vermoeden. Zijn jeugd bracht hij door in Salzburg. Vervolgens bezocht hij van 1897 tot 1905 het humanistische gymnasium. Om toch een academische opleiding te kunnen volgen, werkte hij tot 1908 in de praktijk bij een apotheker. Sommigen vermoedden dat hij dit vooral deed om zichzelf opiaten te kunnen verschaffen. Bij het uitbreken van WO I werd Trakl als medicus naar het front in Galicië (heden ten dage in Oekraïne en Polen) gestuurd. Zijn gemoedsschommelingen leidden tot geregelde uitbraken van depressie, die verergerd werden door de afschuw die hij voelde voor de verzorging van de ernstig verwonde soldaten. De spanning en druk dreven hem ertoe een suïcidepoging te ondernemen, welke zijn kameraden nochtans verhinderden. Hij werd in een militair ziekenhuis opgenomen in Kraków, alwaar hij onder strikt toezicht geplaatst werd.Trakl verzonk daar in nog zwaardere depressies en schreef Ficker om advies. Ficker overtuigde hem ervan dat hij contact moest opnemen met Wittgenstein, die inderdaad op weg ging na Trakls bericht te hebben ontvangen. Op 4 november 1914, drie dagen voordat Wittgenstein aan zou komen, overleed hij echter aan een overdosis cocaïne


Paul Celan

Paul Celan werd onder de naam Paul Antschel op 23 november 1920 geboren in Czernowitz, toentertijd de hoofdstad van de Roemeense Boekovina, nu behorend bij de Oekraïne. Paul Celans ouders waren Duitssprekende joden die hun zoon joods opvoedden en hem naar Duitse christelijke scholen stuurden. In 1942 werden Celans ouders door de Duitse bezetter naar een werkkamp gedeporteerd en daar vermoord. Hijzelf wist aanvankelijk onder te duiken, maar moest vanaf juli 1942 in een werkkamp dwangarbeid verrichten. Celan overleefde de oorlog. Via Boekarest en Wenen vestigde Celan zich in 1948 in Parijs. Daar was hij werkzaam als dichter, vertaler en doceerde hij aan de prestigieuze Ecole Normale Supérieure. Vermoedelijk op 20 april 1970 beëindigde hij zijn leven zelf door in de Seine te springen.


Gerard Reve

Gerard Reve over: Medearbeiders "God is in de mensen, de dieren, de planten en alle dingen - in de schepping, die verlost moet worden of waaruit God verlost moet worden, door onze arbeid, aangezien wij medearbeiders van God zijn." Openbaring "Tja, waar berust elk godsbegrip op, elke vorm van religie? Op een openbaring, dat wil zeggen op een psychische ervaring van zulk een dwingende en onverbiddelijke kracht, dat de betrokkene het gevoel heeft, niet dat hij een gedachte of een visioen heeft, maar dat een gedachte gedachte of visioen hem bezit en overweldigt."


Simon Vestdijk
Simon Vestdijk (Harlingen, 17 oktober 1898 – Utrecht, 23 maart 1971) was een Nederlands romancier, dichter, essayist en vertaler. Zijn jeugd te Harlingen en Leeuwarden beschreef hij later in de Anton Wachter-cyclus. Van jongs af aan logeerde hij regelmatig bij zijn grootouders in Amsterdam, waar hij zich in 1917 aan de Universiteit van Amsterdam inschrijft als student in de medicijnen. Tijdens zijn studie die van 1917 tot 1927 duurde, leerde hij Jan Slauerhoff kennen.Tot 1932 is hij als arts in praktijken door heel Nederland werkzaam. In 1932 volgt zijn officiële schrijversdebuut met de uitgave van de bundel Verzen in De Vrije Bladen. Doorslaggevend voor Vestdijks uiteindelijke keuze voor de literatuur is zijn ontmoeting in 1932 met Eddy Du Perron en Menno ter Braak. Deze ontmoeting had tot resultaat dat hij redactielid werd van het tijdschrift Forum Kort daarop, in 1933, wordt zijn eerste novelle, De oubliette, uitgegeven. In hetzelfde jaar schrijft hij Kind tussen vier vrouwen, dat, eerst geweigerd door de uitgever, later de basis zal vormen voor de eerste drie delen van de Anton Wachter-romans. In 1951 ontvangt Vestdijk de P.C. Hooftprijs voor zijn in 1947 verschenen roman De vuuraanbidders. In 1957 wordt hij voor het eerst door het PEN-centrum voor Nederland voorgedragen voor de Nobelprijs voor de Literatuur, die hij echter nooit zal krijgen. Op 20 maart 1971 wordt hem de Prijs der Nederlandse Letteren toegekend, maar voor hij deze kan ontvangen overlijdt hij op 23 maart te Utrecht op 72-jarige leeftijd. Vestdijk was auteur van ca. 200 boeken. Vanwege deze enorme productie noemde de dichter Adriaan Roland Holst hem 'de man die sneller schrijft dan God kan lezen'. Andere belangrijke boeken van Simon Vestdijk zijn: "Kind van stad en land" (1936), "Meneer Visser's hellevaart" (1936), "Ierse nachten" (1946), "De toekomst de religie" (1947), "Pastorale 1943" (1948), "De koperen tuin" (1950), "Ivoren wachters" (1951), "Essays in duodecimo" (1952) en "Het genadeschot" (1964).


K.P. Kavafis

K.P. Kavafis werd als kind van Griekse ouders, afkomstig uit Konstantinopel, geboren in 1863 in Alexandrië (tot vandaag een Griekse enclave) waar hij ook het grootste deel van zijn leven woonde en werkte. Twee jaar na de dood van zijn vader verhuist het gezin in 1872 naar Engeland om na een verblijf van vijf jaar naar Alexandrië terug te keren. Vanwege ongeregeldheden in Egypte vlucht het gezin in 1882 naar Konstantinopel, om na drie jaar opnieuw naar Alexandrië terug te gaan. In de jaren die volgen maakt Kavafis reizen naar Parijs, Londen en in 1901 zijn eerste reis naar Griekenland, in latere jaren gevolgd door nog enkele bezoeken. Op de dag van zijn zeventigste verjaardag, in 1933 sterft Kavafis in Alexandrië. De roem kwam voor Kavafis pas na zijn dood, dus postuum. Deels is dat toe te schrijven aan zijn eigen handelswijze. Hij was uiterst terughoudend met de publicatie van zijn gedichten, liet af en toe een enkel gedicht afdrukken in een literair tijdschrift, gaf in eigen beheer enkele bundels met een stuk of twintig gedichten uit en het merendeel van zijn poëzie schonk hij op losse bladen aan zijn beste vrienden.


Thomas Mann


Thomas Mann, de jongere broer van Heinrich Mann, werd geboren op 6 juni 1875 in Lübeck. Hij was de tweede zoon van de graankoopman Thomas Johann Heinrich Mann welke later één van de senatoren van Lübreck werd. Zijn moeder Julia (geboren da Silva-Bruhns) was Duits-Braziliaans van Portugees Kreoolse afkomst. In 1894 debuteerde Thomas Mann met de novelle "Gefallen". Toen Thomas Mann met 21 jaar eindelijk volwassen was en hem dus geld van zijn vaders erfenis toestond - hij kreeg ongeveer 160 tot 180 goldmark per jaar - besloot hij dat hij genoeg had van al die scholen en instituties en werd onafhankelijk schrijver. Kenmerkend voor zijn stijl zijn de ironie, de fenomenale taalbeheersing en de minutieuze detailschildering. Manns reputatie in Duitsland was sterk wisselend. Met zijn eerste roman, Buddenbrooks (1901), had hij een enorm succes, maar door zijn sceptische houding tegenover Duitsland na de Eerste Wereldoorlog veranderde dit volledig. Stelde hij zich tot aan de jaren twintig apolitiek op (Betrachtungen eines Unpolitischen, 1918), meer en meer raakte hij bij het Politiek gebeuren betrokken. Zijn afkeer van het nationaal socialisme groeide, zijn waarschuwingen werden veelvuldiger en heftiger. In 1944 accepteerde hij het Amerikaanse staatsburgerschap. Tussen 1943 en 1947 schreef Mann Doktor Faustus (zie Faust), de roman van de 'Duitse ziel' in de gecamoufleerd geschilderde omstandigheden van de 20ste eeuw. In 1947 bezocht hij voor het eerst sinds de Oorlog Europa, twee jaar later pas Duitsland. In 1952 vertrok hij naar Zwitserland. Op 12 augustus 1955 stierf hij in Zürich. Twintig jaar na zijn dood, in aug. 1975, is zijn literaire nalatenschap geopend: dagboekaantekeningen van 15 maart 1933 tot 29 juli 1955, alsmede notities uit de jaren 1918 tot en met 1921.Belangrijke werken zijn: Der Zauberberg, Der Tod in Venedig, Dokter Faustus , Joseph und seine Brüder en Die Bekenntnisse des Hochstaplers Felix Krull.


Rainer Maria Rilke

Rilke werd op 4 december 1875 geboren in Praag. Hij had al naam gemaakt als dichter met zijn bundels Das Stundenbuch en Das Buch der Bilder, toen hij de literaire wereld versteld deed staan en wereldfaam verwierf met de publicatie van zijn twee delen Neue Gedichte in 1907 en 1908. Hij verzamelde daarin het beste werk uit een van zijn vruchtbaarste periodes, die hij grotendeels doorbracht in Parijs. Rilke was daar diep onder de indruk gekomen van Rodin, bij wie hij een tijdlang in dienst was als particulier secretaris. Rodin, zei hij later, had hem leren kijken. Dit kijken kwam neer op intense concentratie, om het mysterie te kunnen zien 'achter de schijnbare werkelijkheid'. Latere en rijpere werken als Duineser Elegien (1912-1923) en het ronduit schitterende Die Sonette an Orfeus (1924) illustreren Rilkes metafysische visie op het onzegbare, dat haar verwoording vindt in een hermetische muzikale taal. Op 29 december 1926 overlijdt Rilke in het sanatorium in Val-Mont aan de gevolgen van leukemie. Enkele dagen later wordt hij, overeenkomstig zijn wens, begraven op het kerkhof van Raron.


* * * * * * * * * * * * * * * *

| | |
| --- | --- |
| | Over literatuur, gedichten, kunst en cultuur |

19-03-2017

Mano Bouzamour, Hans Mayer, Philip Roth, Kirsten Boie, Lynne Sharon Schwartz, Lina Kostenko, Petar Preradović
De Nederlandse schrijver Mano Bouzamour werd geboren op 19 maart 1991 in Amsterdam. Zie ook alle tags voor Mano Bouzamour op dit blog.
Uit: Samir, genannt Sam (Vertaald door Bettina Bach)
"Mann, Maria voller Gnade, ich darf aufs Gymnasium, verdammt noch mal. Mein Bruder und ich liefen gut gelaunt zwischen rauchenden Jugendlichen die Eingangstreppe der Schule hinunter, wo ich gerade mein Kennenlerngespräch geführt hatte. Weil meine bescheuerte Grundschullehrerin mir nur eine Hauptschulempfehlung gegeben hat, obwohl ich laut Abschlusstest fürs Gymnasium geeignet bin, sollte ich mit einem Elternteil zum Gespräch kommen. Dann wollten sie entscheiden, ob ich aufs Gymnasium durfte oder nicht. Wie immer bei Schulgesprächen war mein Bruder dabei.
Eine Niederländischlehrerin nahm mich ins Kreuzverhör. Hätte nur noch gefehlt, dass sie mich an den Stuhl fesselt. Eine Dreiviertelstunde später schloss sie mit der Frage: »Versprichst du mir, dir wirklich Mühe zu geben, wenn du hier bei uns einen Platz bekommst?«
»Aber selbstverständlich.«
Sie hatte zu meinem Bruder geschaut, der neben mir saß.
»Sie haben das auch gehört? Sehr schön. Dann habe ich ja einen Zeugen. Sorgen Sie dafür, dass er Wort hält?«
»Wie ein Gefängniswärter, da können Sie ganz beruhigt sein. Die nächsten sechs Jahre gehört er mir.«
Mein Bruder legte mir seine warme Hand in den Nacken. Wir überquerten die Straße und gingen zu Soussi, dem engsten Freund meines Bruders, der auf dem Bürgersteig auf uns wartete. Er saß auf seiner eigenen Vespa, die Füße aber hatte er auf den Roller meines Bruders gestellt. Mein Bruder flüsterte: »Tu so, als wärst du ganz geknickt«, und dann rief er Soussi zu: »Nimm die Flossen von meinem Roller!«
Soussi sprang auf, als er uns sah. Er sprach platteren Amsterdamer Dialekt als der Schlagersänger André Hazes. »Hier an der Schule laufen echt klasse Weiber rum, Alter. Und? Was hat se gesagt? Wie lief's? Haste nen Platz gekriegt?«
Ich spielte mit dem Schirm meiner verkehrt herum aufgesetzten roten Lacoste-Kappe, aus der meine Tolle wie eine hohe Welle aufragte, seufzte tief und sagte: »Nee, Mann.«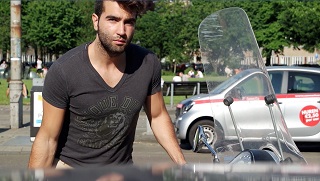 Mano Bouzamour (Amsterdam, 19 maart 1991)
De Duitse literatuurwetenschapper, schrijver, criticus, jurist en socioloog Hans Mayer werd geboren op 19 maart 1907 in Keulen. Zie ook alle tags voor Hans Mayer op dit blog.
Uit: Du störst mich nicht (Über Thomas und Heinrich Mann: Briefwechsel 1900-1949)
"Allein, die Rechnung geht so einfach nicht auf. Bei dem Manuskript nämlich, dessen Schicksale so sentimental wie kokett referiert werden, handelt es sich um die "Buddenbrooks". Dadurch werden die Briefe des jungen Thomas Mann zwar nicht erfreulicher oder "seriöser". Der Kontrast zwischen dem Schriftsteller Thomas Mann und seinem Werk wird fast überdeutlich. Paradoxer· Zustand: Kaum ein Schriftsteller unseres Jahrhunderts hat sein Werk so stark mit allem gespeist, was ihn das Leben erfahren ließ, wie Thomas Mann. Die in jenem Brief vom Jahre 1901 angedeutete Krise wurde sogleich für den "Tonio Kröger" genutzt, mehr als vierzig Jahre später auch noch für die Geschichte des deutschen Tonsetzers Adrian Leverkühn.
Andererseits ist es nahezu unmöglich, eines der wichtigeren Werke Thomas Manns vom Biographischen her zu erschließen. Man ist immer wieder verwundert darüber, daß der reale Mensch, den man nach seinen Briefen und jeweiligen Selbstaussagen beurteilen muß, ein Oeuvre produziert hat, das weit über die privaten Dimensionen hinausragt,
Wer es nicht wüßte, aus diesen Jugendbriefen Thomas Manns könnte ein unkundiger Leser kaum erraten, daß er es mit dem Verfasser der "Buddenbrooks" zu tun hat.
Der Fall des jungen Thomas Mann wird immer sonderbarer. Da ist nicht bloß die Diskrepanz zwischen der privaten und der literarisch-öffentlichen Dimension. Ein junger Mann von 25 Jahren hat diesen enormen Roman zu Ende gebracht: ein in der Literaturgeschichte wohl vergleichsloser Vorgang. Geniale Partituren, geschrieben von Halbwüchsigen: das ist nicht ungewöhnlich. Auch nicht die inkommensurable Jugendlyrik eines Goethe, Keats oder Rimbaud.
Die frühen und bitter-süßen Erzählungen Thomas Manns in französischer und russischer Tradition: sie waren adäquat dem seelischen und literarischen Habitus dieses jugendlichen Briefschreibers. Aber ein Werk von der Erfahrungsfülle, epischen Architektur und kulturkritischen Reflexion dieses deutschen Bürgerromans? Die Briefe geben dafür keine Erklärung."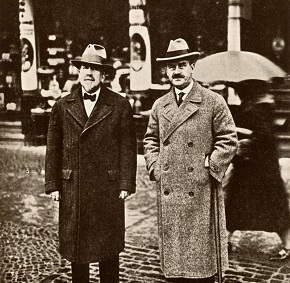 Hans Mayer (19 maart 1907 – 19 mei 2001)
Heinrich en Thomas Mann in de jaren 1930
De Amerikaanse schrijver Philip Roth werd geboren op 19 maart 1933 in Newark. Zie ook alle tags voor Philip Roth op dit blog.
Uit: American Pastoral
"It was a cheer that consisted of eight syllables, three of them his name, and it went, Bah bah-bah! Bah bah bah . . . bah-bah! and the tempo, at football games particularly, accelerated with each repetition until, at the peak of frenzied adoration, an explosion of skirt-billowing cartwheels was ecstatically discharged and the orange gym bloomers of ten sturdy little cheerleaders flickered like fireworks before our marveling eyes . . . and not for love of you or me but of the wonderful Swede. "Swede Levov! It rhymes with . . . 'The Love'! . . . Swede Levov! It rhymes with . . . 'The Love'! . . . Swede Levov! It rhymes with . . . 'The Love'!"
Yes, everywhere he looked, people were in love with him. The candy store owners we boys pestered called the rest of us "Hey-you-no!" or "Kid-cut-it-out!"; him they called, respectfully, "Swede. Parents smiled and benignly addressed him as "Seymour. The chattering girls he passed on the street would ostentatiously swoon, and the bravest would holler after him, "Come back, come back, Levov of my life!" And he let it happen, walked about the neighborhood in possession of all that love, looking as though he didn't feel a thing. Contrary to whatever daydreams the rest of us may have had about the enhancing effect on ourselves of total, uncritical, idolatrous adulation, the love thrust upon the Swede seemed actually to deprive him of feeling. In this boy embraced as a symbol of hope by so many-as the embodiment of the strength, the resolve, the emboldened valor that would prevail to return our high school's servicemen home unscathed from Midway, Salerno, Cherbourg, the Solomons, the Aleutians, Tarawa-there appeared to be not a drop of wit or irony to interfere with his golden gift for responsibility."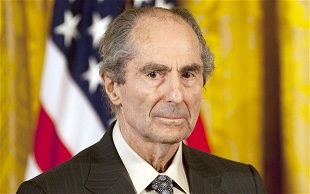 Philip Roth (Newark, 19 maart 1933)
De Duitse schrijfster Kirsten Boie werd geboren op 19 maart 1950 in Hamburg. Zie ook alle tags voor Kirsten Boie op dit blog.
Uit: Nicht Chicago. Nicht hier
Sie haben den Garten abgesucht, gebeugt, mit kleinen Schritten. Svenja hat Taschenlampen aus dem Keller ge-holt. Inzwischen sind sie auf der Straße, laufen, rufen, leuch-ten ins Gebüsch, in jeden Schatten, hinter die geparkten Autos. »Rex!«, ruft Niklas. »Rexo!« Karin bringt ihnen lacken, hängt sie dem unwilligen Niklas über die Schultern. »Ihr müsst euch doch nicht auch noch erkälten!«, sagt sie. »Wenn Rex weg ist, ist das natürlich nicht schön, aber ihr müsst euch doch nicht auch noch ...« »Karin!«, sagt Svenja. »Sei jetzt endlich mal still!« Und Karin protestiert nicht. Sagt nicht, sie verbitte sich diesen Ton. Sie geht auf die andere Straßenseite, selber ohne Jacke, und sucht mit.
»Vielleicht finden wir ihn morgen noch«, sagt Thomas tröstend. Die Helligkeit im Wohnzimmer blendet sie fast. »Wir kleben überall Zettel an die Bäume. Rex ist doch zahm! Wenn den jemand findet, kann er ihn ganz leicht einfangen. Bestimmt kriegst du ihn doch noch zurück, Niklas.«
Niklas sitzt jetzt ganz still. Er hat aufgehört zu heulen und er hat aufgehört zu schluchzen. jetzt braucht er Zeit, sich an den Gedanken zu gewöhnen. »Das ist doch Mist, Thomas!«, sagt Svenja böse. »Und das weißt du auch ganz genau! Du willst Niklas nur trösten!« Thomas zuckt die Achseln. Alle vier da im hellen Wohn-zimmer sehen jetzt, jeder für sich, die Straßen, Autos, sehen ein kleines weißes Kaninchen, sehen weg; sehen Katzen, geduckt, die Augen zu Schlitzen verengt, lau-ernd, sehen ein kleines weißes Kaninchen. Sehen weg."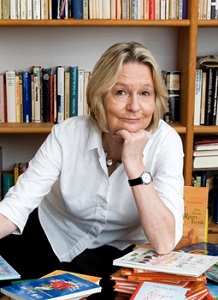 Kirsten Boie (Hamburg, 19 maart 1950)
De Amerikaanse schrijfster Lynne Sharon Schwartz werd geboren op 19 maart 1939 in New York. Zie ook alle tags voor Lynne Sharon Schwartz op dit blog.
Uit: Ruined By Reading: A Life in Books
"Among some tossed-out books of my daughter's which I rescued...was one too awful to live. I returned it to the trash, resisting the urge to say a few parting words. All day long the thought of its mingling with chicken bones and olive pits nagged at me. Half a dozen times I removed it and replaced it, like an executioner with scruples about capital punishment. Finally I put it on a high shelf where I wouldn't have to see it. Life imprisonment."
(…)
"I have managed not to finish certain books. With barely a twinge of conscience, I hurl down what bores me or doesn't give what I crave: ecstasy, transcendence, a thrill of mysterious connection. For, more than anything else, readers are thrill-seekers, though I don't read thrillers, not the kind sold under that label, anyway. They don't thrill; only language thrills."
(…)
"Reading was the stable backdrop against which my life was played. It was what I used to do through long evenings. Never mornings even to one so self-indulgent, it seems slightly sinful to wake up and immediately sit down with a book and afternoons only now and then. In daylight I would pay what I owed the world. Reading was the reward, a solitary, obscure, nocturnal reward. It was what I got everything else (living) out of the way in order to do. Now the lack was taking its toll. I was having withdrawal symptoms."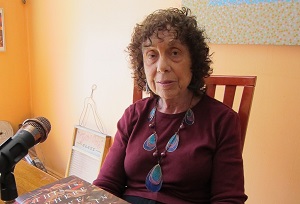 Lynne Sharon Schwartz (New York, 19 maart 1939)
De Oekraïense schrijfster en dichteres Lina Kostenko werd op 19 maart 1930 geboren in Rzhyshchiv. Zie ook alle tags voor Lina Kostenko op dit blog.
Oh, stop me, come to senses…
Oh, stop me, come to senses, halt my dreams!
Such love descends from heaven once in never.
Over my broken life like a typhoon it screams
And leaves behind horizons in its fervor.

It tears our serenity to bits,
Its fiery lips are scorching words to ashes!
Oh, stop me, stop — and help me find my wits
Before my sanity forever crashes!

While reason holds… but no, the hope is lost.
At last my hour has come to see the dawn:
For next to you my soul will turn to frost
Or next to you I will enflame and burn.
Vertaald door Slava Galperin en Alex Zeyliger
Beware the Censor in Yourself
Beware the censor that inside you dwells,
Look out for the unshaven, rustic being
That by his homely, tricky elfish spells
Your conscience seeks to strip of any meaning
Little by little, softly, day by day
Will rob you of your inner self attempt he
Your heirlooms nip and icons pick away
And leave behind a carcass heaving empty
Vertaald doorArtyom Timeyev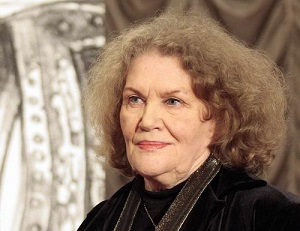 Lina Kostenko (Rzhyshchiv, 19 maart 1930)
De Kroatische dichter en schrijver Petar Preradović werd geboren op 19 maart 1818 in het dorp Grabrovnica bij Virovitica. Zie ook alle tags voor Petar Preradović op dit blog.
Traveller (Putnik, fragment)
My answer to her: "Look the dawn,
Is near, see how the rooster crows;
Until God heats the day for us,
Start up a little fire, no fuss,
So I can thaw these frozen veins!"
She thus replied: "The fire's gone out,
Firewood here I don't have any.
What little that there is inside
Is for my children who reside
So that tomorrow we can be"
I cry out: "So for me nothing?
Foreign mother I do beg you,
I know that I am not your own!"….
Suddenly the tears are flowing
Down my cheeks and falling …
She speaks: "Where are your mother's palms,
Collecting up her sons tears?
Where are the knees on which to rest,
To unload burdens from your breast.
Where is your home – where is your country?"
Vertaald door Barry Hajdinjak en Gordon Biok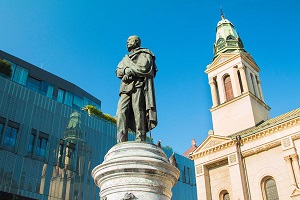 Petar Preradović (19 maart 1818 – 18 augustus 1872)
Standbeeld in Zagreb
Zie voor nog meer schrijvers van de 19e maart ook mijn vorige blog van vandaag.
19-03-2017 om 11:58 geschreven door Romenu

Tags:Mano Bouzamour, Hans Mayer, Philip Roth, Kirsten Boie, Lynne Sharon Schwartz, Lina Kostenko, Petar Preradović,, Thomas Mann, Heinrich Mann, Romenu



William Allingham, Ion Barbu, Rosalie Loveling, Tobias Smollett, Irving Wallace, Peter Abrahams
De Ierse dichter William Allingham werd geboren op 19 maart 1824 in Ballyshannon, Donegal. Zie ook alle tags voor William Allingham op dit blog.
Aeolian Harp
O pale green sea,
With long, pale, purple clouds above -
What lies in me like weight of love ?
What dies in me
With utter grief, because there comes no sign
Through the sun-raying West, or the dim sea-line ?
O salted air,
Blown round the rocky headland still,
What calls me there from cove and hill?
What calls me fair
From thee, the first-born of the youthful night,
Or in the waves is coming through the dusk twilight ?
O yellow Star,
Quivering upon the rippling tide -
Sendest so far to one that sigh'd?
Bendest thou, Star,
Above, where the shadows of the dead have rest
And constant silence, with a message from the blest?
Song. O Spirit Of The Summer-Time!
O spirit of the Summer-time!
Bring back the roses to the dells;
The swallow from her distant clime,
The honey-bee from drowsy cells.
Bring back the friendship of the sun;
The gilded evenings calm and late,
When weary children homeward run,
And peeping stars bid lovers wait.
Bring back the singing; and the scent
Of meadow-lands at dewy prime;
Oh, bring again my heart's content,
Thou Spirit of the Summer-time!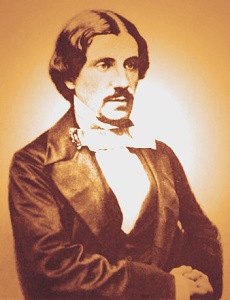 William Allingham (19 maart 1824 – 18 november 1889)
De Roemeense dichter en wiskundige Ion Barbu (eig. Dan Barbilian) werd geboren op 19 maart 1895 in Câmpulung. Zie ook alle tags voor Ion Barbu op dit blog.
The docmatic Egg (Fragment)
The Dogma: And the Spirit of GodMoved above the face of the waters
It's given to these gloomy folks
The sterile egg for daily meal,
But lively egg with seed on top
It's born in our sight as sunny seal!
As ancient world, in crystal time,
Is swimming in a thinly lime,
The new and pure egg – a gift
For wedding, a palace or a crypt.
Three sheets of silk coiled in a row,
The white sleeps in such bed of snow
So languid, and enclosed, serene,
Like loved-one tumbled in a dream.
The human seed?
From very high
From the plus pole of his own sky
Where lump of earth
Has never touched a bit.
He offers smoothly
His bursting kiss
So masculine
To the white
With its cold lips of hyaline.
Forgetful man, without return,
Behold the Holy Spirit how might turn
In forms cast just for you to see.
As in those times it's now – the same:
In every tiny world the dogma burns its flame.
Vertaald door Liviu Georgescu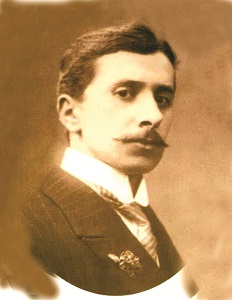 Ion Barbu (19 maart 1895 – 11 augustus 1961)
De Vlaamse schrijfster en dichteres Rosalie Loveling werd geboren op 19 maart 1834 in Nevele. Zie ook alle tags voor Rosalie Hoveling op dit blog.
Het maantje
De maan loopt door de wolken,
Zo zachtjes en zo snel;
De kindren komen buiten,
« 0, knaapje, ziet ge 't wel? »

Toen stak het kleine knaapje
Naar haar zijn armkens uit,
En wou het maantje hebben,
En weende en schreide luid.

Ik kan het u niet geven:
0, zo ge later, kind,
Ook 't levensheil woudt hebben,
Dat men op aard niet vindt,

Denk dan aan 't zilvren maantje,
Dat door de wolken loopt,
En dat hij veel moet lijden,
Die op 't onmooglijk hoopt.
In de oogst
Zij stonden op het akkerland
Zij maaiden in de zonnebrand
En zongen bij het werk
De lastige arbeid wordt een feest
Voor hen die jong en licht van geest
En moedig zijn en sterk

Daar kwam de landheer langs de beek
De schouders hoog de wangen bleek:
Hij zocht de schaduw daar.
Hij groette licht en ging voorbij
Gezang en arbeid staakten zij
En wezen hem elkaar.

Die man gevoelde zich zo fier
Hij dacht "dat zijn mijn velden hier
En ginder rijst mijn slot.
Wis knaagt de nijd u in 't gemoed
Gij die op aarde zwoegen moet
Gij vloekt gewis uw lot."

Toen zei er een met stille stem
"Wie ruilde zegt van ons met hem?"
En allen lachten. Geen
Aan wie zo 'n leven zonder vreugd
Aan wie de rijkdom zonder jeugd
Benijdenswaardig scheen.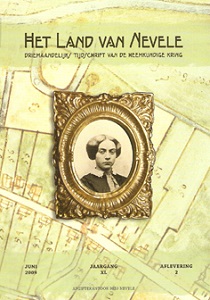 Rosalie Loveling (19 maart 1834 – 4 mei 1875)
Cover
De Schotse romanschrijver Tobias George Smollett werd geboren op 19 maart 1721 in Dalquhurn in het tegenwoordige West Dunbartonshire. Zie ook alle tags voor Tobias Smolett op dit blog.
Uit: The Expedition of Humphry Clinker
"SIR, I RECEIVED yours in course of post, and shall be glad to treat with you for the MS. which I have delivered to your friend Mr. Behn; but can by no means comply with the terms proposed. Those things are so uncertain—Writing is all a lottery—I have been a loser by the works of the greatest men of the age—I could mention particulars, and name names; but don't chuse it—The taste of the town is so changeable. Then there have been so many letters upon travels lately published—What between Smollett's, Sharp's, Derrick's, Thickness's, Baltimore's and Baretti's, together with Shandy's Sentimental Travels, the public seems to be cloyed with that kind of entertainment—Nevertheless, I will, if you please, run the risque of printing and publishing, and you shall have half the profits of the impression—You need not take the trouble to bring up your sermons on my account—No body reads sermons but Methodists and Dissenters—Besides, for my own part, I am quite a stranger to that sort of reading; and the two persons, whose judgment I depended upon in these matters, are out of the way; one is gone abroad, carpenter of a man of war; and the other has been silly enough to abscond, in order to avoid a prosecution for blasphemy—I'm a great loser by his going off—He has left a manual of devotion half finished on my hands, after having received money for the whole copy—He was the soundest divine, and had the most orthodox pen of all my people; and I never knew his judgment fail, but in flying from his bread and butter on this occasion.
By owning you was not put in bodily fear by Lismahago, you preclude yourself from the benefit of a good plea, over and above the advantage of binding him over. In the late war, I inserted in my evening paper, a paragraph that came by the post, reflecting upon the behaviour of a certain regiment in battle. An officer of said regiment came to my shop, and, in the presence of my wife and journeyman, threatened to cut off my ears—As I exhibite marks of bodily fear, more ways than one, to the conviction of the byestanders, I bound him over; my action lay, and I recovered."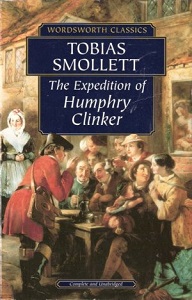 Tobias Smollett (19 maart 1721 - 17 september 1771)
Cover
De Amerikaanse schrijver Irving Wallace werd geboren op 19 maart 1916 in Chicago, Illinois. Zie ook alle tags voor Irving Wallace op dit blog.
Uit: The Seven Minutes
"By eleven o'clock in the morning the sun had come out, and now thewomen of Oakwood, most of them housewives in summer attire andmost of them at the wheels of their own cars, were converging onthe business district to do their shopping.In the suddenly thickening traffic, the green two-door Ford coupewith a nasty dent in its front fender was at last forced to slowdown.Slumped in the seat beside the driver, Otto Kellog grunted hisdispleasure, then sat up impatiently to get his bearings. Heresented delays at a time like this, when he was anxious aboutwhat he must soon do. He wanted to get it over with as quickly aspossible.There was a jarring screech as Iverson, who was driving the car,slammed on the brake, muttering, 'Goddam women drivers.''Yeah,' said Keliog. 'Wish they'd get moving.'In the rear the third occupant of the coupe, Eubank, older, moretolerant, less often exposed to the outside world than hiscompanions, seemed to be enjoying the interval. He had broughthimself forward from the back seat to peer over Iverson's shoulderthrough the windshield. 'So this is Oakwood,' he said.'Attractive. I don't know how many times I've been out this way,but I guess I never paid much attention before.''Nothing so different,' said Iverson, easing his foot off thebrake. 'It's still Los Angeles County.''Well, it just looks more prosperous and settled down,' said Eubank.
'Maybe not for long,' said Iverson. 'We're going to shake them upa little today.' He glanced at Kellog, and grinned. 'What do yousay, Otto ? Ready for action ?''Yeah,' said Kellog, 'providing we ever get there.' He squintedthrough his sunglasses. 'Third Street's the next corner. You turnright the next corner.''I know,' said Iverson.The traffic was moving again, loosening, and the green coupe movedwith it along Center Boulevard, and then swung sharply onto Third Street."
The vehicle and foot traffic was thinner here on the side street.The man at the wheel showed relief. 'There it is, middle of theblock,' he said. 'You can see the sign just after the AcmeJewelers. See it? Fremont's Book Emporium. How do you like thatfor a name? Emporium.''Looks like there's plenty of parking,' said Eubank. 'I wasworried there might not be any parking close by.''There's always enough room once you get off Center Boulevard,'said Iverson. He spun the wheels of the car toward the curb, andexpertly brought it to a halt before the jewelry shop. As hereached to turn off the ignition, he spotted a young blonde, intight sweater and shorts, stepping out in front of the car,preparing to cross the street."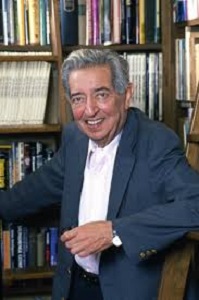 Irving Wallace (19 maart 1916 – 29 juni 1990)
De Zuid-Afrikaanse schrijver Peter Abrahams werd op 19 maart 1919 geboren in Vrededorp bij Johannesburg. Zie ook alle tags voor Peter Abrahams op dit blog.
Uit: Mine Boy
"When the whistle blew for them to stop for food, one of the men who had been filling the trucks called Xuma. 'I am Nana,' the man told him, 'you will eat with me.' They found a shaded spot and sat on the ground. Everywhere men found places for themselves and ate their food. All the men had the same kind of little tins. In each tin was a hunk of mealie meal porridge cooked into a hardened chunk, a piece of meat, and a piece of very coarse compound bread. Nana divided his food and gave Xuma half. Xuma wiped his brow and leaned against the corrugated wall of the smoky shack. To the left was a mine-dump, big and over-powering. To the right of it they had been dumping sand all morn-ing without seeing anything for it. Nana followed his eyes. 'It takes a long time,' Nana said. 'h it like this every day?' 'Every day.' 'It is a strange place.' 'It is hard when you are new, but it is not so bad. With a new one it is thus: First there is a great fear, for you work and you work and there is nothing to see for it. And you look and you look and the more you look the more there is nothing to see. This brings fear. But tomorrow you think, well, there will be nothing to look for and you do not look so much. The fear is less then. And the day after you look even less, and after that even less, and in the end you do not look at all. Then all the fear goes. It is so.' 'But the eyes of the men ...' Xuma protested. 'The eyes of the men?' 'Yes. I watched them, they are like the eyes of sheep.' Nana looked at Xuma and smiled. A smile that softened his face and made gentle creases round his mouth. 'Are we not all sheep that talk,' Nana said For a spell they ate in silence. When they had finished Nana stretched himself full-length on the ground and closed his eyes. One by one the other men did it too, till all were stretched full-length on the ground. 'Do it too,' Nana said, 'it gives your body rest.' Xuma obeyed. 'Better, hell?' 'Yes.'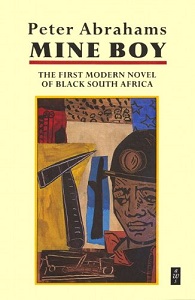 Peter Abrahams (Vrededorp, 19 maart 1919)
Cover
19-03-2017 om 11:55 geschreven door Romenu

Tags:William Allingham, Ion Barbu, Rosalie Loveling, Tobias Smollett, Irving Wallace, Peter Abrahams, Romenu



Noud Bles
De Nederlandse dichter en schrijver Noud Bles werd op 19 maart 1945 in Vinkeveen geboren. Bles begon in de jaren zestig te schrijven en ontving in 1964 de poëzieprijs van de Jong Nederlands-Belgische Literaire Dagen. Hij publiceerde vijf romans, twee verhalenbundels, drie gedichtenbundels en losse bijdragen in kranten en tijdschriften. Bles verzorgt cursussen verhalen schrijven, begeleidt leeskringen en maakt literaire programma's, ook werkt hij aan literaire projecten zoals het culturele huisprogramma Radboud Reppen en Roeren van de Radboud Universiteit. In Nijmegen is hij medeoprichter van de Stichting Literaire Activiteiten Nijmegen en de werkgroep Literaire bakens Nijmegen.
Waalweemoed
Wat weet de rivier van de weg,
die ooit begon, onzichtbaar, hoog, en
na de langste afstand en de wijdste bochten
steeds naar de breedste breedte zoekt,
die vindt en oplost in zichzelf?
Ook ik weet niet waar ik begon,
wanneer en vooral niet: waarom.
Wij lijken op elkaar, de rivier en ik,
de rivier en jij en wij.
Eens kroop het leven naar het land.
Zie mij: ik sta rechtop.
Eens telden wij één cel,
Nu denk ik na, droom op mijn oever,
vaar mee met de stroom,
en eindig ooit in zee.
Bij elke bocht kijk ik vooruit zover ik kan en
weer terug, waar ik niets meer zie.
Waar is de Waal? Wanneer? Waarom?
Wie
Wie kindergeheimen lekt,
likt kleine wonden
aan kleine handen en
aan kleine vingers
een kleine snee.
Wie kind blijft,
bakt de kleine koekjes
in het lange leven
op het grote strand
de niet te meten zee.
Wie groot wordt,
door klein te blijven,
wie klein blijft
en toch groter wordt,
verklapt het geheim
van het lange, te korte leven.
Leef mee, leef mee.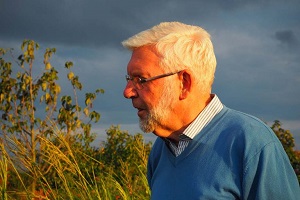 Noud Bles (Vinkeveen, 19 maart 1945)
19-03-2017 om 00:00 geschreven door Romenu

Tags:Noud Bles, Romenu



Am dritten Sonntage in der Fasten (Annette von Droste-Hülshoff)
Bij de derde zondag van de vasten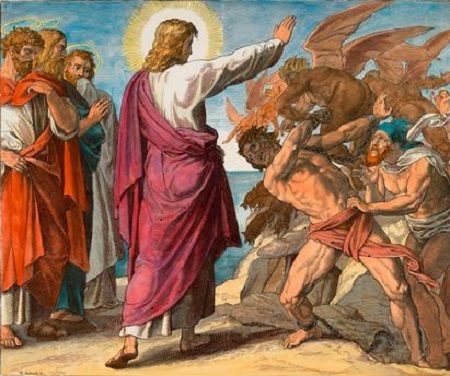 "Jesus treibet Teufel aus" door Julius Schnorr von Carolsfeld, 1860


Am dritten Sonntage in der Fasten
Evang. : Jesus treibt den Teufel aus

»Mein Nam' ist Legion, denn unserer sind Viele!«
So spricht der finstre Geist.
Sein Nam' ist Legion, weh mir, daß ich es fühle!
Daß es mich zittern heißt!

Wo kindlich dem Gemüt in Einfalt und Vertrauen
Nichts als sein Jesu kund,
Da kann der Finstre nicht die wirren Höhlen bauen
Im einfach lichten Grund.

Doch du, mein schuldvoll Herz, in deinem eitlen Wissen,
In deinem irren Tun:
Wie sind dir tausend brand'ge Stellen aufgerissen,
Worin die Nacht kann ruhn!

Und raff' ich mich empor, und will ich mich erkühnen
Zu heil'gen Namens Schall,
O, könnte nicht vielleicht mein guter Wille dienen
Zu neuem schwerem Fall!

Denn daß die Welt mich nicht, die Menschen mich nicht kennen,
Die gleißend wie das Meer,
Daß sie mich oft sogar noch hell und freudig nennen,
Das senkt unendlich schwer!

Mich kennen muß die Welt, ich muß Verachtung tragen,
Wie ich sie stets verdient;
Ich Wurm, der den, den Engel kaum zu nennen wagen
Zu preisen mich erkühnt!

Laß in Zerknirschung mich, laß mich in Furcht dich singen,
Mein Heiland und mein Gott!
Daß nicht mein Lied entrauscht, ein kunstvoll sündlich Klingen,
Ein Frevel und ein Spott.

Ach, wer so leer wie ich in Worten und in Werken,
An Sinnen so verwirrt,
Dess Lied kann nur des Herrn barmherzig Wunder stärken,
Daß es zum Segen wird.

Ist nicht mein ganzer Tag nur eine Reihe Sünden?
Muß oft in Traumeswahn,
Oft wachend die Begier nicht zahllos Wege finden,
Nur nie die Himmelsbahn?

Tönt nicht der Kampfgesang der Lust von allen Seiten?
Und bringt er nicht den Sieg?
Ist nicht mein Leben nur ein flüchtig kraftlos Streiten,
Ein schmachbedeckter Krieg?

Und mein' ich eine Zeit, daß ich den Sieg errungen,
Weil die Begierde schwand:
Da bin ich ausgeschlürft wie von Empusenzungen,
Wie eine tote Hand!

Und ist mir's eine Zeit, als will das Leben ziehen
Ins Herze gar erstarrt:
Da muß mit ihm zugleich der Übermut entglühen,
Der eines Hauchs geharrt.

Und wird mir's endlich klar, umsprüht von Leidensfunken,
Wie klein, wie Nichts ich bin;
Da bin ich ausgebrannt, zu Asche eingesunken,
Verglüht an Geist und Sinn.

Das hast du selber dir, du schuldvoll Herz, zu danken;
Mein Jesu lieb und traut,
Wärst du nur irgend treu, er würde nimmer wanken
Von der geliebten Braut.

Doch daß du schlummernd läßt durch alle Tore ziehen
Den grausen Höllenbund,
Daß überall für ihn die Siegeskränze blühen
Aus deinem eignen Grund;

Daß du dich töricht wähnst in vollem hellem Laube,
Du armer dürrer Zweig!
Daß du, indes der Feind frohlockt in deinem Raube.
Dich herrlich wähnst und reich:

Das ist warum du stirbst, daß du in Wahnes Gluten
Nicht kennst den eignen Schmerz,
O, fühltest du dich selbst aus allen Adern bluten,
Du töricht frevelnd Herz!

So schaue deine Not! Noch fielen nicht die Schranken
Der dunklen Ewigkeit.
»Sein Nam' ist Legion«, o fasse den Gedanken!
Es ist die letzte Zeit!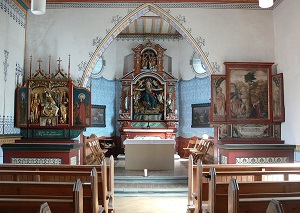 Annette von Droste-Hülshoff (10 januari 1797 – 24 mei 1848)
Friedhofskapelle Mariä Himmelfahrt in Meersburg. Annette von Droste-Hülshoff werd in Meersburg begraven
19-03-2017 om 00:00 geschreven door Romenu

Tags:Annette von Droste-Hülshoff, vasten, Romenu



| | |
| --- | --- |
| | |



Inhoud blog


| | |
| --- | --- |
| | David Leavitt, Jo Govaerts, Rafik Shami, Aart van der Leeuw, Pascal Mercier, Franca Treur, Jean Anouilh, Anna Achmatova |
| | Richard Bach, Cornelia Schmerle, Wolfgang Koeppen, Urs Jaeggi, Robert C. Hunter, Hanneke van Eijken, Will Shutt |
| | Nescio, Juliën Holtrigter, Jaap Robben, Willie Verhegghe, Erich Maria Remarque, Dan Brown, Aaro Hellaakoski, Henry Rider Haggard, Xavier Grall |
| | Ed Leeflang, Thomas Blondeau, Anne Carson, Adam Zagajewski, Ian McEwan, Alon Hilu, Jean-Paul Sartre, Stanley Moss, Machado de Assis |
| | Vikram Seth, Paul Muldoon, Kurt Schwitters, Jean-Claude Izzo, Silke Andrea Schuemmer, Carel van Nievelt, Robert Rozhdestvensky, Laure Wyss, Lillian Hellman |
| | Salman Rushdie, Sybren Polet, Josef Nesvadba, Osamu Dazai, José Rizal, Friedrich Huch, Gustav Schwab, Elke Geurts, Claudia Gabler |
| | Richard Powers, Marije Langelaar, Raymond Radiguet, Geoffrey Hill, Bert Schierbeek, Aster Berkhof, Karin Fellner, Mirjam Pressler, Ivan Gontsjarov |
| | Voor vader (Hans Lodeizen) |
| | Das Senfkorn (Meister Eckhart) |
| | Peter Rosei, Kamel Daoud, Gail Jones, Ron Padgett, Ward Ruyslinck, Adriaan van der Hoop jr, Hanna Johansen, Max Dendermonde, Tom Hofland |
| | Hanna Johansen, James Weldon Johnson, Henry Lawson, Ferdinand Freiligrath, Henrik Wergeland, John Hersey, Felix Hartlaub, Ossip Schubin |
| | Birthdays (Robert W. Service) |
| | Joël Dicker, August Willemsen, Theo Thijssen, Ronelda Kamfer, Frans Roumen |
| | Maria Dermoût, Christian Bauman, Silke Scheuermann, Hugo Borst, Ramon Lopez Velarde, Roland Dorgelès, François-Xavier Garneau, Emma Cline, Hannah van Wieringen |
| | Alex Boogers, Lieve Joris, Allard Schröder, John van Ierland, Peter O. Chotjewitz, Harriet Beecher Stowe, Hermann Kant, Jerzy Kosiński, Thomas Graftdijk |
| | Fernando Pessoa, Thomas Heerma van Voss, Willem Brakman, Virginie Despentes, William Butler Yeats, Tristane Banon, Marcel Theroux, Lode Zielens, Dorothy L. Sayers |
| | Christoph Meckel, Wolfgang Herrndorf, Anne Frank, Renan Demirkan, Djuna Barnes, Sandro Penna, Johanna Spyri H. C. Artmann, Günter Nehm |
| | William Styron, Sophie van der Stap, N. P. van Wyk Louw, Renée Vivien, Jean-Pierre Chabrol, Ben Jonson, Yasunari Kawabata, Athol Fugard, Nnimmo Bassey |
| | Magdalene—The Seven Devils (Marie Howe) |
| | Louis Couperus, D. Hooijer, Jacques Perk, James Salter, Mensje van Keulen, Jan Brokken |
| | Saul Bellow, Ion Creanga, Oktay Rifat, Peter Kurzeck, Antun Mihanović, Tijl Nuyts |
| | Maarten Doorman, Paul Beatty, Xander Michiel Beute, Anton Roothaert, Mirko Bonné, Curzio Malaparte, Jian Ghomeshi, Charles Webb, Rudolf Borchardt |
| | Willy Roggeman, Jurij Brězan, José Antonio Ramos Sucre, Akaki Zereteli, John Gillespie Magee jr., Bertha von Suttner |
| | Marguerite Yourcenar, Nino Haratischwili, Lutz Seiler, Ulf Stolterfoht, Péter Gárdos, Gwen Harwood, H. J. Friedericy, Udo Kawasser, Frank Keizer |
| | Marie Howe |
| | Het leven in juni (Marjoleine de Vos) |
| | Orhan Pamuk, Monika Mann, Nikki Giovanni, Harry Crews, Louise Erdrich, Mascha Kaléko, Jan Engelman, Gwendolyn Brooks, Elizabeth Bowen |
| | Thomas Mann, Aleksandr Poesjkin, Sarah Dessen, Jean Cayrol, Pierre Corneille, Hendrik van Teylingen, V. C. Andrews, Frank Gericke |
| | Dolce far niente, Groen-grijs gebied (Jesse Laport) |
| | Federico García Lorca, Adriaan Morriën, Ken Follett, Paul Farley, Geoff Dyer |
| | Ralf Thenior, Marie Ndiaye, Erasmus Schöfer, Buddy Wakefield, Yaak Karsunke, Charles Dickinson, Dana Bönisch, Elizabeth Jolley, Apollon Maykov |
| | Het laatste avondmaal (Nicolaas Beets) |
| | Allen Ginsberg, Philippe Djian, Maarten van Buuren, Solomonica de Winter, Monika Maron, Larry McMurtry, Norbert Gstrein, Wolfgang Cordan, Gerhard Zwerenz |
| | Carlo Michelstaedter, Kathleen E. Woodiwiss, Eugène Van Oye, Pedro Mir, Detlev von Liliencron, Friederike Brun, Otto Erich Hartleben, Philippe Quinault |
| | Jim Knipfel, Marcel Reich-Ranicki, Sibylle Berg, Carol Shields, Jean Nelissen, Thomas Hardy |
| | Markies De Sade, Dorothy West, Max Aub, Karl Gjellerup, Barbara Pym |
| | Patrick Besson, John Masefield, Ferdinand Raimund, Peter de Mendelssohn, Petra Morsbach, Colleen McCullough, Macedonio Fernández, Wilfred Campbell, Vicky Francken |
| | C. Buddingh'-prijs voor Radna Fabias |
| | Love's Choice (Malcolm Guite) |
| | Mariae Heimsuchung (Rainer Maria Rilke) |
| | Walt Whitman, Frank Goosen, Gabriel Barylli, Konstantin Paustovski, Svetlana Alexievich, Ludwig Tieck, Gerd Hergen Lübben, Saint-John Perse, T. T. Cloete |
| | Summer Storm (Bliss Carman) |
| | Elizabeth Alexander, Oscar van den Boogaard, Countee Cullen, Emmanuel Hiel, Martin Jankowski, Alfred Austin, Eddy Bruma, Henri François Rikken, Jan Geerts |
| | Summer in the City, 1949 (Ernest Farrés) |
| | André Brink, Eduard Escoffet, G. K. Chesterton, Bernard Clavel, T. H. White, Hans Weigel, Alfonsina Storni, Max Brand, Joel Benton |
| | Ein Sommergedicht (Thomas Gsella) |
| | Ad Zuiderent, Leo Pleysier, Adriaan Bontebal, Guntram Vesper, Frank Schätzing, Maeve Binchy, Ian Fleming, Sjoerd Leiker, Vladislav Chodasevitsj |
| | Dolores Dorantes |
| | St. Matthew (D. H. Lawrence) |
| | Niels 't Hooft, Jan Blokker, Linda Pastan, Louis-Ferdinand Céline, Georges Eekhoud, Said, John Cheever, John Barth |


Gastenboek


Druk op onderstaande knop om een berichtje achter te laten in mijn gastenboek