De Russische schrijver Michail Michailovitsj Zosjtsjenko werd geboren in Sint-Petersburg op 10 augustus 1895. Zosjtsjenko begon al op jonge leeftijd met het schrijven van kortedroog-humoristische en satirische verhalen, aanvankelijk onder invloed van Maupassant. In 1921 werd hij lid van de bekende literaire broederschap Serapionbroeders. Zosjtsjenko verkreeg in de jaren twintig en dertig grote populariteit met zijn Švejk-achtige verhalen, ook in het buitenland. Later begon Zosjtsjenko ook grotere, meer experimentele werken te schrijven. Pogingen uit de jaren dertig om zich aan te passen aan het sociaal realisme kunnen echter als mislukt worden beschouwd. Zijn zwartgallige, in 1943 gedeeltelijk in het tijdschrift Oktjabr verschenen zelfanalyse Voor zonsopgang viel niet in de de gratie viel bij de CPSU en kreeg felle kritiek van Andrej Zjdanov. Zosjtsjenko werd een "verderfelijke Freudiaan" genoemd. Zijn werken mochten niet meer gedrukt worden en vanaf 1946 publiceerde hij enkel nog feuilletons en kinderboeken. Zosjtsjenko leefde na de oorlog lange tijd in kommervolle omstandigheden. Pas na de dood van Stalin in 1953 werd hij gerehabiliteerd. Hierdoor kon in 1956, twee jaar voor zijn dood, nog een band met verzameld werk worden uitgegeven.
An Old Man Dies
I am standing in a peasant hut. On the table lies an old man dying.
He's been there for three days and hasn't died.
Today there is a small wax candle in his hand. It falls over and goes out, but they light it again.
His relatives stand at the head of the table. Their gaze never wanders from the old man. All around there is the most unbelievable poverty, filth, rags, misery.
The old man is lying with his feet toward the window. His face is dark, tense. His breathing is irregular. At times it seems that he is already dead.
Leaning toward the old woman, his wife, I say softly: "I'll go get the doctor. He shouldn't be left lying there on the table for three days."
The old woman shakes her head.
"Don't upset him," she says.
The old man opens his eyes and looks with his bleary gaze at those standing around him. His lips whisper something.
One of the women, young and dark complexioned, bends over the old man and listens silently to his mumblings.
"What's he want?" asks the old woman.
"He wants titty," answers the woman. And, quickly unbuttoning her blouse, she takes the old man's hand and places it on her naked breast.
I see the old man's face brighten up. Something like a smile spreads across his lips. His breathing becomes more regular and peaceful.
Everyone stands silently, stock-still.
Suddenly the old man's body is shaken by a violent spasm. His hands fall helplessly. His face becomes stern and absolutely still. He stops breathing. He's dead.
Immediately the old woman begins to wail. And after she starts they all wail.
I leave the hut.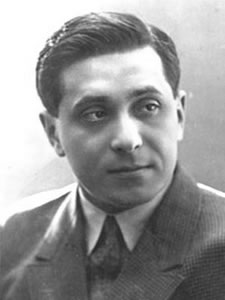 Michail Zosjtsjenko (10 augustus 1895 - 22 juli 1958)
De Duitse dichter en pastor Philipp Nicolai werd geboren in Mengeringhausen op 10 augustus 1556. Hij was leerling Ludwig Helmbold in Mühlhausen (Thüringen) en studeerde tussen 1575 en 1579 theologie in Erfurt en Wittenberg. Hierna werd hij pastor in Herdecke, waar hij moest vertrekken toen Spaanse soldaten tijdens de contrareformatie in de stad kwamen. Hij werd vervolgens luthers predikant van een ondergrondse kerk in het katholieke Keulen. In 1588 werd hij hofprediker in Wildungen en leraar van de graaf Wilhelm Ernst von Waldeck. Vanaf 1596 was hij predikant in de stad Unna in Westfalen. Unna werd in 1599 getroffen door de pest, waardoor honderden kerkleden omkwamen. Toen de dood er rondwaarde schreef Nicolai de liederenbundel Freudenspiegel des ewigen Lebens, een visioen van de hemel in het aangezicht der dood. In deze bundel komen twee van zijn beroemde koralen Wie schön leuchtet der Morgenstern en Wachet auf, ruft uns die Stimme voor. Johann Sebastian Bach inspireerde zich op deze koralen in gelijknamige cantates. Nicolai was een groot verdediger van het Lutheranisme tegen het Katholicisme en het Calvinisme.
Wie schön leuchtet der Morgenstern...(Fragment)
Wie schön leuchtet der Morgenstern,
voll Gnad und Wahrheit von dem Herrn
uns herrlich aufgegangen.
Du Sohn Davids aus Jakobs Stamm,
mein König und mein Bräutigam,
du hälst mein Herz gefangen.
Lieblich, freundlich, schön und prächtig,
groß und mächtig, reich an Gaben,
hoch und wunderbar erhaben.
Du meine Perl, du werte Kron,
wahr Gottes und Marien Sohn,
ein König hochgeboren!
Mein Kleinod du, mein Preis und Ruhm,
dein ewig Evangelium,
das hab ich mir erkoren.
Herr, dich such, hosianna,
himmlisch Manna, das wir essen,
deiner wird ich nie vergessen.
Gieß sehr tief in mein Herz hinein,
du leuchtend Kleinod, edler Stein,
die Flamme deiner Liebe
und gib, daß ich an deinem Leib,
dem auserwählten Weinstock, bleib
ein Zweig in frischem Triebe.
Nach dir steht mir mein Gemüte
ew'ge Güte, bis es findet
dich des Liebe mich entzündet.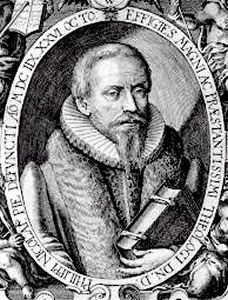 Philipp Nicolai (10 augustus 1556 - 26 oktober 1608)
De Franse schrijver Joseph Bialot werd op 10 Augustus 1923 geboren in Warschau. Hij vluchtte met zijn familie in 1930 voor de anti-semitische represailles naar Frankrijk. In 1944 werd hij met valse papieren gearresteerd in Grenoble. Een dag na zijn 21e Verjaardag volgde de deportatie naar Auschwitz-Birkenau. Hij overleefde de hel van het concentratiekamp – door zijn joodse geloof te ontkennen. Na zijn terugkeer naar Frankrijk schreef hij tal van detectives, die hem bekend maakten bij een breed publiek. Pas tientallen jaren na zijn bevrijding vond hij de kracht om te schrijven over Auschwitz. In 2002 verscheen C'est en hiver que les jours rallongent.
Uit: C'est en hiver que les jours rallongent
Un soir, il y a quelques années de cela, je feuilletais un bouquin en attendant l'heure des infos à la télévision.
Son coupé, je jetais pas intermittence un coup d'oeil sur le téléviseur.
Sans préavis, une image capte mon attention. Une photo de barbelés encadrant un ensemble de bâtisses en briques, d'arbres, de miradors. Pas de doute, le décor incrusté sur l'écran est celui d'un Lager, d'un camp. Plus précisément: Auschwitz. Le camp central, Auschwitz I. Mon lieu de séjour en 1944.
J' ignorais que, ce soir-là, FR3 passait 'La mort est mon métier', le film tiré de l'ouvrage de Robert Merle.
Mais un détail m'impressionne, m'intrigue, les arbres!
- Où ont-ils donc tourné? Ces arbres n'existaient pas à Auschwitz I.
Eclair. Mémoire idiote. Il y avait des arbres au camp. Ils venaient d'être plantés, de jeunes arbustes encore soutenus par leurs tuteurs. Et, plus de quarante ans après, ils étaient montés à l'assaut du ciel.
Le lendemain, encore étonné de ma découverte,j'en fais part au téléphone à une amie, une ancienne de Bergen-Belsen, Isa C. Sa réponse arrive d'un jet.
-Que veux-tu, les arbres ont poussé après notre mort.
(…)
Tout cela nous apparaissait naturel à l'époque. Chacun pour soi et Dieu pour tous ! L'ennui est que, lorsqu'Il s'est aperçu de ce que faisaient les êtres qu'Il avait bâtis à son image, Il a été pris d'une telle trouille qu'Il s'est enfui et qu'Il court encore.
Au camp, tout était simple. Croyant ? Il ne restait qu'à se suicider... Athée ? Il fallait absolument découvrir la foi, ou du moins croire en soi, non pour vivre mais pour durer. Ceux qui n'ont pas résolu le dilemne sont morts les premiers."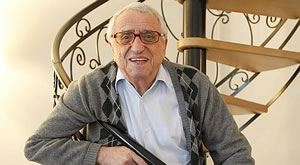 Joseph Bialot (Warschau, 10 Augustus 1923)
Zie voor nog meer schrijvers van de 10e augustus ook mijn twee vorige blogs van vandaag.

10-08-2010 om 00:00 geschreven door Romenu

Tags:Michail Zosjtsjenko, Philipp Nicolai, Joseph Bialot, Romenu