E-mail mij


Druk op onderstaande knop om mij te e-mailen.


Romenu


Romenu is een blog over gedichten, literatuur en kunst Maar Romenu is ook een professionele freelance vertaler
Du-Ne en Ne-Du http://www.romenu.nl.


Huur eens een (vakantie)huis in een natuurgebied, dichtbij het centrum van Nijmegen


Google


Georg Trakl

Georg Trakl werd op 3 februari 1887 in het conducteurshuis aan de Waagplatz 2 in Salzburg geboren. Zijn vader, Tobias Trakl, was een handelaar in ijzerwaren en zijn moeder, die ook psychische problemen had, was Maria Catharina Trakl, (meisjesnaam Halik). Voorts had hij nog drie broers en drie zussen. Margarethe (doorgaans Grethe genoemd) stond hem het naast, zelfs zodanig dat sommigen een incestueuze verhouding vermoeden. Zijn jeugd bracht hij door in Salzburg. Vervolgens bezocht hij van 1897 tot 1905 het humanistische gymnasium. Om toch een academische opleiding te kunnen volgen, werkte hij tot 1908 in de praktijk bij een apotheker. Sommigen vermoedden dat hij dit vooral deed om zichzelf opiaten te kunnen verschaffen. Bij het uitbreken van WO I werd Trakl als medicus naar het front in Galicië (heden ten dage in Oekraïne en Polen) gestuurd. Zijn gemoedsschommelingen leidden tot geregelde uitbraken van depressie, die verergerd werden door de afschuw die hij voelde voor de verzorging van de ernstig verwonde soldaten. De spanning en druk dreven hem ertoe een suïcidepoging te ondernemen, welke zijn kameraden nochtans verhinderden. Hij werd in een militair ziekenhuis opgenomen in Kraków, alwaar hij onder strikt toezicht geplaatst werd.Trakl verzonk daar in nog zwaardere depressies en schreef Ficker om advies. Ficker overtuigde hem ervan dat hij contact moest opnemen met Wittgenstein, die inderdaad op weg ging na Trakls bericht te hebben ontvangen. Op 4 november 1914, drie dagen voordat Wittgenstein aan zou komen, overleed hij echter aan een overdosis cocaïne


Paul Celan

Paul Celan werd onder de naam Paul Antschel op 23 november 1920 geboren in Czernowitz, toentertijd de hoofdstad van de Roemeense Boekovina, nu behorend bij de Oekraïne. Paul Celans ouders waren Duitssprekende joden die hun zoon joods opvoedden en hem naar Duitse christelijke scholen stuurden. In 1942 werden Celans ouders door de Duitse bezetter naar een werkkamp gedeporteerd en daar vermoord. Hijzelf wist aanvankelijk onder te duiken, maar moest vanaf juli 1942 in een werkkamp dwangarbeid verrichten. Celan overleefde de oorlog. Via Boekarest en Wenen vestigde Celan zich in 1948 in Parijs. Daar was hij werkzaam als dichter, vertaler en doceerde hij aan de prestigieuze Ecole Normale Supérieure. Vermoedelijk op 20 april 1970 beëindigde hij zijn leven zelf door in de Seine te springen.


Gerard Reve

Gerard Reve over: Medearbeiders "God is in de mensen, de dieren, de planten en alle dingen - in de schepping, die verlost moet worden of waaruit God verlost moet worden, door onze arbeid, aangezien wij medearbeiders van God zijn." Openbaring "Tja, waar berust elk godsbegrip op, elke vorm van religie? Op een openbaring, dat wil zeggen op een psychische ervaring van zulk een dwingende en onverbiddelijke kracht, dat de betrokkene het gevoel heeft, niet dat hij een gedachte of een visioen heeft, maar dat een gedachte gedachte of visioen hem bezit en overweldigt."


Simon Vestdijk
Simon Vestdijk (Harlingen, 17 oktober 1898 – Utrecht, 23 maart 1971) was een Nederlands romancier, dichter, essayist en vertaler. Zijn jeugd te Harlingen en Leeuwarden beschreef hij later in de Anton Wachter-cyclus. Van jongs af aan logeerde hij regelmatig bij zijn grootouders in Amsterdam, waar hij zich in 1917 aan de Universiteit van Amsterdam inschrijft als student in de medicijnen. Tijdens zijn studie die van 1917 tot 1927 duurde, leerde hij Jan Slauerhoff kennen.Tot 1932 is hij als arts in praktijken door heel Nederland werkzaam. In 1932 volgt zijn officiële schrijversdebuut met de uitgave van de bundel Verzen in De Vrije Bladen. Doorslaggevend voor Vestdijks uiteindelijke keuze voor de literatuur is zijn ontmoeting in 1932 met Eddy Du Perron en Menno ter Braak. Deze ontmoeting had tot resultaat dat hij redactielid werd van het tijdschrift Forum Kort daarop, in 1933, wordt zijn eerste novelle, De oubliette, uitgegeven. In hetzelfde jaar schrijft hij Kind tussen vier vrouwen, dat, eerst geweigerd door de uitgever, later de basis zal vormen voor de eerste drie delen van de Anton Wachter-romans. In 1951 ontvangt Vestdijk de P.C. Hooftprijs voor zijn in 1947 verschenen roman De vuuraanbidders. In 1957 wordt hij voor het eerst door het PEN-centrum voor Nederland voorgedragen voor de Nobelprijs voor de Literatuur, die hij echter nooit zal krijgen. Op 20 maart 1971 wordt hem de Prijs der Nederlandse Letteren toegekend, maar voor hij deze kan ontvangen overlijdt hij op 23 maart te Utrecht op 72-jarige leeftijd. Vestdijk was auteur van ca. 200 boeken. Vanwege deze enorme productie noemde de dichter Adriaan Roland Holst hem 'de man die sneller schrijft dan God kan lezen'. Andere belangrijke boeken van Simon Vestdijk zijn: "Kind van stad en land" (1936), "Meneer Visser's hellevaart" (1936), "Ierse nachten" (1946), "De toekomst de religie" (1947), "Pastorale 1943" (1948), "De koperen tuin" (1950), "Ivoren wachters" (1951), "Essays in duodecimo" (1952) en "Het genadeschot" (1964).


K.P. Kavafis

K.P. Kavafis werd als kind van Griekse ouders, afkomstig uit Konstantinopel, geboren in 1863 in Alexandrië (tot vandaag een Griekse enclave) waar hij ook het grootste deel van zijn leven woonde en werkte. Twee jaar na de dood van zijn vader verhuist het gezin in 1872 naar Engeland om na een verblijf van vijf jaar naar Alexandrië terug te keren. Vanwege ongeregeldheden in Egypte vlucht het gezin in 1882 naar Konstantinopel, om na drie jaar opnieuw naar Alexandrië terug te gaan. In de jaren die volgen maakt Kavafis reizen naar Parijs, Londen en in 1901 zijn eerste reis naar Griekenland, in latere jaren gevolgd door nog enkele bezoeken. Op de dag van zijn zeventigste verjaardag, in 1933 sterft Kavafis in Alexandrië. De roem kwam voor Kavafis pas na zijn dood, dus postuum. Deels is dat toe te schrijven aan zijn eigen handelswijze. Hij was uiterst terughoudend met de publicatie van zijn gedichten, liet af en toe een enkel gedicht afdrukken in een literair tijdschrift, gaf in eigen beheer enkele bundels met een stuk of twintig gedichten uit en het merendeel van zijn poëzie schonk hij op losse bladen aan zijn beste vrienden.


Thomas Mann


Thomas Mann, de jongere broer van Heinrich Mann, werd geboren op 6 juni 1875 in Lübeck. Hij was de tweede zoon van de graankoopman Thomas Johann Heinrich Mann welke later één van de senatoren van Lübreck werd. Zijn moeder Julia (geboren da Silva-Bruhns) was Duits-Braziliaans van Portugees Kreoolse afkomst. In 1894 debuteerde Thomas Mann met de novelle "Gefallen". Toen Thomas Mann met 21 jaar eindelijk volwassen was en hem dus geld van zijn vaders erfenis toestond - hij kreeg ongeveer 160 tot 180 goldmark per jaar - besloot hij dat hij genoeg had van al die scholen en instituties en werd onafhankelijk schrijver. Kenmerkend voor zijn stijl zijn de ironie, de fenomenale taalbeheersing en de minutieuze detailschildering. Manns reputatie in Duitsland was sterk wisselend. Met zijn eerste roman, Buddenbrooks (1901), had hij een enorm succes, maar door zijn sceptische houding tegenover Duitsland na de Eerste Wereldoorlog veranderde dit volledig. Stelde hij zich tot aan de jaren twintig apolitiek op (Betrachtungen eines Unpolitischen, 1918), meer en meer raakte hij bij het Politiek gebeuren betrokken. Zijn afkeer van het nationaal socialisme groeide, zijn waarschuwingen werden veelvuldiger en heftiger. In 1944 accepteerde hij het Amerikaanse staatsburgerschap. Tussen 1943 en 1947 schreef Mann Doktor Faustus (zie Faust), de roman van de 'Duitse ziel' in de gecamoufleerd geschilderde omstandigheden van de 20ste eeuw. In 1947 bezocht hij voor het eerst sinds de Oorlog Europa, twee jaar later pas Duitsland. In 1952 vertrok hij naar Zwitserland. Op 12 augustus 1955 stierf hij in Zürich. Twintig jaar na zijn dood, in aug. 1975, is zijn literaire nalatenschap geopend: dagboekaantekeningen van 15 maart 1933 tot 29 juli 1955, alsmede notities uit de jaren 1918 tot en met 1921.Belangrijke werken zijn: Der Zauberberg, Der Tod in Venedig, Dokter Faustus , Joseph und seine Brüder en Die Bekenntnisse des Hochstaplers Felix Krull.


Rainer Maria Rilke

Rilke werd op 4 december 1875 geboren in Praag. Hij had al naam gemaakt als dichter met zijn bundels Das Stundenbuch en Das Buch der Bilder, toen hij de literaire wereld versteld deed staan en wereldfaam verwierf met de publicatie van zijn twee delen Neue Gedichte in 1907 en 1908. Hij verzamelde daarin het beste werk uit een van zijn vruchtbaarste periodes, die hij grotendeels doorbracht in Parijs. Rilke was daar diep onder de indruk gekomen van Rodin, bij wie hij een tijdlang in dienst was als particulier secretaris. Rodin, zei hij later, had hem leren kijken. Dit kijken kwam neer op intense concentratie, om het mysterie te kunnen zien 'achter de schijnbare werkelijkheid'. Latere en rijpere werken als Duineser Elegien (1912-1923) en het ronduit schitterende Die Sonette an Orfeus (1924) illustreren Rilkes metafysische visie op het onzegbare, dat haar verwoording vindt in een hermetische muzikale taal. Op 29 december 1926 overlijdt Rilke in het sanatorium in Val-Mont aan de gevolgen van leukemie. Enkele dagen later wordt hij, overeenkomstig zijn wens, begraven op het kerkhof van Raron.


* * * * * * * * * * * * * * * *

| | |
| --- | --- |
| | Over literatuur, gedichten, kunst en cultuur |
21-04-2014

Magdalena, lass dein Klagen (Julius Sturm)
Aan alle bezoekers en mede-bloggers een Vrolijk Pasen!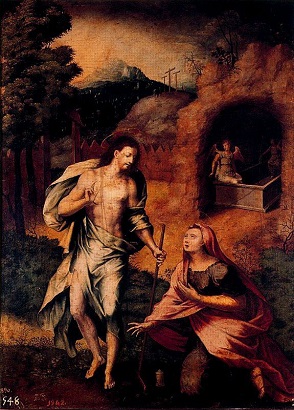 Noli me tangere door Perino del Vaga, 16e eeuw, Prado, Madrid
Magdalena, lass dein Klagen
Magdalena, lass dein Klagen,
Denn gehoben ist der Stein;
In dem Grab begann's zu tagen,
Christus ging zum Leben ein.
Der am Kreuz für uns gerungen
Schmerzensbleich und blutigrot,
Hat als Held für uns bezwungen
Siegreich Sünde, Höll' und Tod.
Und seit er als Fürst des Lebens
Leben an das Licht gebracht,
Schreckt auch uns das Grab vergebens
Mit dem Graun der ew'gen Nacht.

Denn ein Ostern wird noch kommen,
Das des Glaubens Kraft bewährt,
Wo die Heiligen und Frommen
Christus in sein Bild verklärt.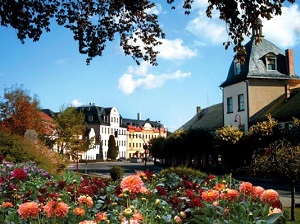 Julius Sturm (21 juli 1816 - 2 mei 1896)
Koestritz (Sturm werd geboren in Koestritz)
Zie voor de schrijvers van de 21e april ook mijn vorige twee blogs van vandaag.


21-04-2014 om 09:48 geschreven door Romenu

Tags:Pasen, Julius Sturm, Romenu



Charlotte Brontë, Michael Mann, Patrick Rambaud, John Mortimer, Gerrit Wustmann
De Britse schrijfster Charlotte Brontë werd geboren in Thornton op 21 april 1816. Zie ook alle tags voor Charlotte Brontë op dit blog.
Uit: Shirley
"I allude to a rushing backwards and forwards, amongst themselves, to and from their respective lodgings: not a round--but a triangle of visits, which they keep up all the year through, in winter, spring, summer, and autumn. Season and weather make no difference; with unintelligible zeal they dare snow and hail, wind and rain, mire and dust, to go and dine, or drink tea, or sup with each other. What attracts them, it would be difficult to say. It is not friendship; for whenever they meet they quarrel. It is not religion; the thing is never named amongst them: theology they may discuss occasionally, but piety--never. It is not the love of eating and drinking: each might have as good a joint and pudding, tea as potent, and toast as succulent, at his own lodgings, as is served to him at his brother's. Mrs. Gale, Mrs. Hogg, and Mrs. Whipp--their respective landladies--affirm that "it is just for nought else but to give folk trouble." By "folk," the good ladies of course mean themselves; for indeed they are kept in a continual "fry" by this system of mutual invasion.
Mr. Donne and his guests, as I have said, are at dinner; Mrs. Gale waits on them, but a spark of the hot kitchen fire is in her eye. She considers that the privilege of inviting a friend to a meal occasionally, without additional charge (a privilege included in the terms on which she lets her lodgings), has been quite sufficiently exercised of late. The present week is yet but at Thursday, and on Monday, Mr. Malone, the curate of Briarfield, came to breakfast and stayed dinner; on Tuesday, Mr. Malone and Mr. Sweeting of Nunnely, came to tea, remained to supper, occupied the spare bed, and favoured her with their company to breakfast on Wednesday morning; now, on Thursday, they are both here at dinner, and she is almost certain they will stay all night. "C'en est trop," she would say, if she could speak French. »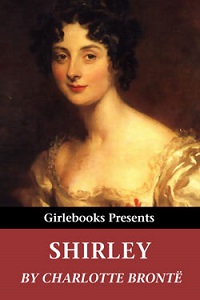 Charlotte Brontë (21 april 1816 – 31 maart 1855)
Cover
De Duitse literatuurwetenschapper en musicus Michael Mann werd als jongste kind van Thomas en Katia Mann geboren op 21 april 1919 in München. Zie ook alle tags voor Michael Mann op dit blog.
Uit: Achterbahn (door Frido Mann)
"Cher ami - Es war gut und freundlich, dass Du einmal persönlich von Dir hören ließest, während wir uns hier Deines Sprösslings erfreuen. Er ist ja unheimlich intelligent, begabt und lieb. - Der Golo hielt immer meine Söhne für eine beneidenswerte Lebensleistung - ich wusste es besser. Nun bin ich aber so weit, dasselbe von Deinem Sohn zu halten. Von Deinen anderen Leistungen weiß ich allzu wenig, worüber Du Dich mit Recht beklagst und diesen Zustand beenden willst. Du überschätzt ihn aber in seiner Negativität. Die Distanz, zu der wir uns entschieden haben, sollte kein störender Punkt in Deinem Leben sein. Vater und Söhne sollten sich viel öfters aus dem Wege gehen, als dies gemeinhin der Fall ist. Und mir scheint, wir haben unsere Sache relativ gut gemacht. Lass doch mal wieder von Dir hören, von Deiner Arbeit und Deinen Problemen. Eben höre ich Stephans Stimmchen aus dem Swimmingpool, sehr wohlig. Aber vorgestern Abend hatte er Heimweh; und zwar kam der Anfall, weil, da, während er schon fest geschlafen, ich einen Moment sein Zimmer betrat, er geglaubt hatte, es sei sein Vater ... Mythische Verwirrung. Lies Kleists Amphytrion! Gruß Papa.(Brief van Michael aan Frido)"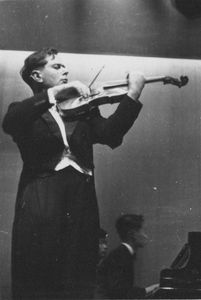 Michael Mann (21 april 1919 - 1 januari 1977)
De Franse schrijver Patrick Rambaud werd geboren op 21 april 1946 in Parijs. Zie ook alle tags voor Patrick Rambaud op dit blog.
Uit: L'Absent
« –Vite, Monsieur le duc, dit Octave. Il vous réclame.
– Qu'est-ce qu'il a ?
– Des nausées, des frissons, quand je l'ai aidé jusqu'au fauteuil (Dieu qu'il était pesant !), j'ai senti ses mains glacées, sa peau sèche, il flageole, il est verdâtre…
Caulaincourt considère Napoléon tourmenté par les hoquets, une mousse de bave aux lèvres. Constant essaie de lui faire avaler quelques gorgées de thé qu'il recrache salement.
– Un vase !
Octave avise une porcelaine de Saxe en décor de cheminée, il la tend à Caulaincourt, on la plaque sous la bouche de Sa Majesté qui se met à vomir un liquide gris qui empeste; Napoléon se calme, il lève le regard vers le duc, lâche dans un soupir :
– Monsieur le duc…
– Sire, je suis là.
– Je me suis empoisonné.
– Vous avez appelé le docteur Yvan ? demande Caulaincourt à Octave, lequel tient le vase dégoûtant et ne sait où le vider.
– Immédiatement, Monsieur le duc.
Voici le médecin, avec Bassano qui achève de nouer sa cravate.
– Il a tenté de s'empoisonner, leur explique Caulaincourt.
– Je vois ! s'exclame le docteur avec une lassitude teintée de colère.
Yvan contrôle aussitôt le verre utilisé ; sur le plateau de vermeil il découvre le cachet creux, ouvert et vide, dans lequel le pharmacien Rouyer avait préparé sur son ordre ce même poison que l'Empereur, en Russie, portait autour du cou dans un cœur de satin noir.»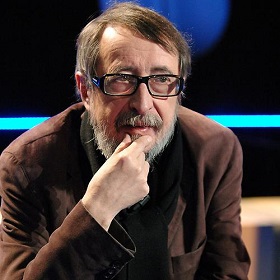 Patrick Rambaud (Parijs, 21 april 1946)
De Engelse schrijver John Mortimer werd geboren op 21 april 1923 in Londen. Zie ook alle tags voor John Mortimer op dit blog.
Uit: Rumpole and the Brave New World
"We left through a crowded doorway. My attention was diverted by Hilda calling out "Cynthia's here, Rumpole. I've told her how proud you are of her." As she spoke I remember being bumped into and I felt some movement under my jacket pocket, the home of the Rumpole wallet. I felt for it, and any hand that might have been on it was quickly withdrawn. I looked round at the faces of laughing children and solemn music lovers and wondered why it was that almost everything in the Rumpole existence seemed to lead, in one way or another, to an experience of crime.
"Oxford is thought of as a city of dreaming spires, quiet quadrangles and lofty ceilinged dining halls." Cynthia's friend Harriet, a good-looking, dark-haired woman in her 40s, had joined us for supper at Browns restaurant, which Cynthia had recommended. Harriet then reminded us of the other Oxford.
"These kids have got stepfathers who beat them up or worse and mothers who are too drunk to notice it. They get moved around by the social services and don't know where they're going to be spending the next night. We do our best to help."
"Harriet founded 'All in the Family'. It's an organisation to help these children. Take them out into the country," Cynthia told me. "I go with them whenever I can."
"Some of them have never seen a horse and others seem surprised to learn that their school dinners were not born in a fridge but started life grazing in the fields," Harriet explained. "Taking them to The Messiah was all part of widening their horizons."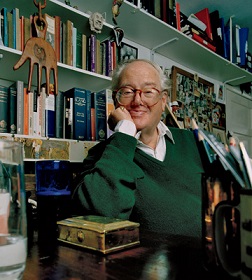 John Mortimer (21 april 1923 – 16 januari 2009)
Onafhankelijk van geboortedagen:
De Duitse dichter Gerrit Wustmann werd in 1982 in Keulen geboren. Zie ook alle tags voor Gerrit Wustmann op dit blog.
zaman
vom möwenturm ans goldene
ufer wachsen lichtflecken aus flüsternden steinen
sie flüstern vom dichter
milli hain milli hain
vom flug nach asien und dem blattgold
auf postkarten: was die verblichenen gesichter
erzählen was die zigeuner verkaufen am
stacheldraht an der kirche am zeitgewächs an zeilen
pera
mach mir ein tape
mit songs und gerüchen
und den geräuschen
der französischen straße
deine haare nachts
und dein katzenblick
wo bleibt die musik
jener tage wo bleibt
die melodie deiner sprache
die ich verstehe ohne ein wort
die melodie
deines gesangs von
salzigen nüssen
und tee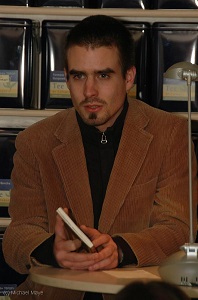 Gerrit Wustmann (Keulen, 1982)
Zie voor nog meer schrijvers van de 21e april ook mijn vorige blog van vandaag.
21-04-2014 om 09:38 geschreven door Romenu

Tags:Charlotte Brontë, Michael Mann, Patrick Rambaud, John Mortimer, Gerrit Wustmann, Romenu



Peter Schneider, Meira Delmar, Alistair MacLean, Népomucène Lemercier, María Elena Cruz Varela
De Duitse schrijver Peter Schneider werd geboren in Lübeck op 21 april 1940. Zie ook alle tags voor Peter Schneider op dit blog.
Uit: Die Lieben meiner Mutter
"Auf den Fotos, den schwarz-weißen mit dem gezackten Rand, ist meine Mutter fast nicht zu erkennen. Jeden - falls nicht die Mutter, die ich in Erinnerung habe – eine sanfte und beschützende, manchmal tieftraurige, dann wieder unbeherrschte Urgewalt. Auf den Fotos ist ei-ne junge schmale Person zu sehen in einfachen, meist selbst geschneiderten Kleidern, die die Taille und die Brust betonen; das nackenlange Haar dunkelblond, aus der Stirn gekämmt; die schmalen Lippen geschlossen, manchmal leicht, wie zum Atmen, halb offen; selten zeigt sie sich lachend, schon gar nicht mit jenem vom Fotografen verlangten Lachen, das die Kriegsgeneration sich auch unter den schlimmsten Umständen abringen zu müssen meinte, sodass in den Fotoalben aus jener Zeit Millionen von grundlos lachenden Familienangehörigen aufbewahrt sind. Auf den Fotos sehe ich eine junge ernste Frau, die nichts vorzugeben und nichts zu verheimlichen scheint. Das Leuchten, das nach dem Zeugnis ihrer Verehrer von ihr ausging, hat keinen Fotografen gefunden. Falls sie im Kreis der Freunde wirklich so etwas wie ein Star war, ein Licht, eine strahlende Erscheinung, so war die Darstellung dieser Rolle auf ein anderes Mittel angewiesen als auf die Fotografie.
Jahrzehntelang gehörte ein Schuhkarton zu meinen Sachen, den ich bei allen Umzügen mitnahm. Er enthielt Briefe meiner Mutter – Briefe, die sie in Sütterlinschrift mit Bleistift oder Tinte auf weißes oder gelbes Papier geschrieben hatte, öfter auf Seiten im DIN - A5- Format, die sie vielleicht aus einem Schul- oder Notizheft herausgerissen hatte."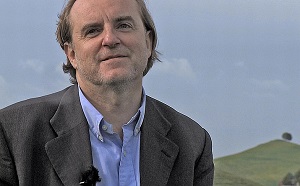 Peter Schneider (Lübeck, 21 april 1940)
De Columbiaanse dichteres Meira Delmar (eig. Olga Isabel Chams Eljach) werd geboren in Barranquilla op 21 april 1922. Zie ook alle tags voor Meira Delmar op dit blog.
5 Winged Haikus
White handkerchiefs –
four seagulls say
goodbye to the sky.


To see the dawn
by the scale of the song
the lark ascends.


On the ground
the doves applaud
and fly away.


The swallow
lets fall on the water
its fine shadow.


Keels in the wind,
the pelicans set sail
in the old port.
Vertaald door Nicolás Suescún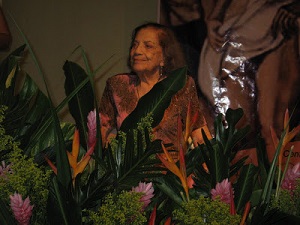 Meira Delmar (21 april 1922 - 18 maart 2009)
De Schotse schrijver Alistair Stuart MacLean werd geboren op 21 april 1922 in Glasgow. Zie ook alle tags voor Alistair MacLean op dit blog.
Uit: The Guns of Navarone
"The match scratched noisily across the rusted metal of the corrugated iron shed, fizzled, then burst into a sputtering pool of light, the harsh sound and sudden brilliance alike strangely alien in the stillness of the desert night.
Mechanically, Mallory's eyes followed the cupped sweep of the flaring match to the cigarette jutting out beneath the commodore's clipped moustache, saw the light stop inches away from the face, saw too the sudden stillness of that face, the unfocused vacancy of the eyes of a man lost in listening. Then the match was gone, ground into the sand of the airfield perimeter.
"I can hear them," the commodore said softly. "I can hear them coming in. Five minutes, no more. No wind to-night--they'll be coming in on No. 2. Come on, let's meet them in the interrogation room." He paused, looked quizzically at Mallory and seemed to smile. But the darkness deceived, for there was no humour in his voice. "Just curb your impatience, young man--just for a little longer. Things haven't gone too well to-night. You're going to have all your answers, I'm afraid, and have them all too soon." He turned abruptly, strode off towards the squat buildings that loomed vaguely against the pale darkness that topped the level horizon.
Mallory shrugged, then followed on more slowly, step for step with the third member of the group, a broad, stocky figure with a very pronounced roll in his gait. Mallory wondered sourly just how much practice Jensen had required to achieve that sailorly effect. Thirty years at sea, of course--and Jensen had done exactly that-- were sufficient warrant for a man to dance a hornpipe as he walked: but that wasn't the point."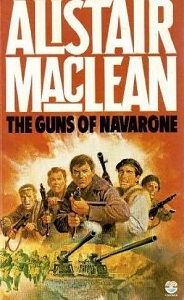 Alistair MacLean (21 april 1922 - 2 februari 1987)
Cover
De Franse dichter en schrijver Népomucène Lemercier werd geboren op 21 april 1771 in Parijs. Zie ook alle tags voor Népomucène Lemercier op dit blog.
La Panhypocrisiade, ou la comédie infernale du XVIe siècle (Fragment)
C'est Carême-Prenant, que l'orgueil mortifie :
Son peuple, ichtyophage, efflanqué, vaporeux,
A l'oreille qui tinte et l'esprit rêve-creux.
Envisage non loin ces zélés Papimanes,
Qui, sur l'amour divin, sont plus forts que des ânes,
Et qui, béats fervents, engraissés de tous biens,
Rôtissent mainte andouille et maints luthériens.
Ris de la nation des moines gastrolâtres :
Aperçois-tu le dieu dont ils sont idolâtres ?
Ce colosse arrondi, grondant, sourd, et sans yeux,
Premier auteur des arts cultivés sous les cieux,
Seul roi des volontés, tyran des consciences,
Et maître ingénieux de toutes les sciences,
C'est le ventre ! le ventre ! Oui, messire Gaster
Des hommes de tout temps fut le grand magister,
Et toujours se vautra la canaille insensée
Pour ce dieu, dont le trône est la selle percée.
J'en pleure et ris ensemble ; et tour à tour je crois
Retrouver Héraclite et Démocrite en moi.
Hu ! hu ! dis-je en pleurant, quoi ! ce dieu qui digère,
Quoi ! tant d'effets si beaux, le ventre les opère !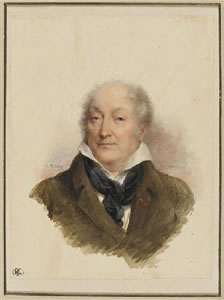 Népomucène Lemercier (21 april 1771 – 7 juni 1840)
Portret door Isabey Jean Baptiste
Onafhankelijk van geboortedagen:
De Cubaanse dichteres María Elena Cruz Varela werd in 1953 geboren in Colón. Zie ook alle tags voor María Elena Cruz Varela op dit blog.
Kaleidoscope

All of us were there:
the one who fell marked by the water spurt
the one who ruined his countenance through ineptitude
the one who did not strike a flame
and violated the city in martial law.

The one who suffered the sin of clairvoyance
the one who fertilized with bizarre feces
the one who could not give more nails to the torture
the one who was not on time for the demolitions
the one who came early
the one who didn't come
and resolved by saying he wasn't informed.

All of us were there:
the innocent ones because they didn't know
and the guilty ones for legal ignorance
the more cultivated accomplices
the ones who fed themselves with prejudices
the more elaborated ones
the more cyclic ones
the singers with the lagger tone
the blind blind from not wanting to see
the ones subject to criticism
the critics subject to their dogmas
the denominators with their tabula rasa
the unbeaten facade
the marked backs

All of us were there
waiting for medals and judgments
Vertaald door Mairym Cruz-Bernal en Deborah Digges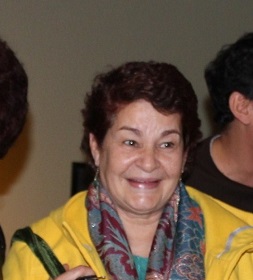 María Elena Cruz Varela (Colón, 1953)
21-04-2014 om 09:25 geschreven door Romenu

Tags:Peter Schneider, Meira Delmar, Alistair MacLean, Népomucène Lemercier, María Elena Cruz Varela, Romenu



| | |
| --- | --- |
| | |



Inhoud blog


| | |
| --- | --- |
| | Robert Graves, Johan Andreas der Mouw, Banana Yoshimoto, Rosemarie Schuder, Katia Mann, Junichirō Tanizaki, Frank Wedekind, Alexandre Dumas père, Betje Wolff |
| | Wilfried de Jong, Mohsin Hamid, Lauren Groff, Frans Erens, Kai Meyer, Thea Dorn, Irina Liebmann |
| | Lisa Alther, Hubert Selby jr., Raymond Chandler, Matthias Spiegel, Tim Reus |
| | Arno Geiger, Susan Hinton, Manu Joseph, Stephen Vincent Benét, Tom Robbins |
| | Maria Janitschek, Oskar Maria Graf, Emma Lazarus, Per Hojholt, Jakob Lorber |
| | Frouke Arns, Ernest Hemingway, Belcampo, Boris Dittrich , Hans Fallada, David Boerljoek |
| | Hans Lodeizen, Henk Hofland, Arie Storm, Uwe Johnson, Simin Behbahāni, Francesco Petrarca, Maurice Gilliams, Erik Axel Karlfeldt, Cormac McCarthy |
| | Otto Julius Bierbaum, Anna Enquist, Gottfried Keller, Lucas Malan, Miltos Sachtouris, Jean-Pierre Faye |
| | Simon Vinkenoog, Steffen Popp, Per Petterson, Elizabeth Gilbert, Alicia Steimberg, Jevgeni Jevtoesjenko, Aad Nuis, William M. Thackeray, Nathalie Sarraute |
| | Martin R. Dean, Rainer Kirsch, Eelke de Jong, Alie Smeding, Paul Lomami Tshibamba, James Purdy, Roger Garaudy, Clara Viebig, Lilian Loke |
| | In Memoriam Anne Golon |
| | Reinaldo Arenas, Georges Rodenbach, Tony Kushner, Anita Brookner, Jörg Fauser |
| | Dag Solstad, Bernard Dimey, Andrea Wolfmayr, Pierre Benoit, Franz Nabl |
| | Ann De Craemer, Jean Christophe Grangé, Driss Chraïbi, Iris Murdoch, Richard Russo, Jacques Rivière, Rira Abbasi |
| | Robert Wohlleben, Heinrich Peuckmann, Walter Benjamin, Clive Cussler, Jacques Derrida, Hammond Innes, Kunikida Doppo |
| | Irving Stone, Volker Kaminski, Natalia Ginzburg, Jacques de Lacretelle, Gavrila Derzjavin, Béatrix Beck, Arthur Laurents, Owen Wister, Willard Motley |
| | Boris Pasternak, Wole Soyinka, Isaak Babel |
| | Hugo von Hofmannsthal, Kees 't Hart, Carla Bogaards, Elias Khoury, Stefan George |
| | Nikolaus Lenau, Jhumpa Lahir, Jane Gardam |
| | Ann De Craemer |
| | Marcel Proust, Erik Jan Harmens, Alice Munro, J.C. Noordstar, Hermann Burger, Salvador Espriu, Gerhard L. Durlacher, Jürgen Becker, Nicolás Guillén |
| | Gerard Walschap, Hans Arnfrid Astel, June Jordan, John Heath-Stubbs, Ann Radcliffe, Mervyn Peake, Jan Neruda, Peter Märthesheimer |
| | Jean Cassou, Johanna Schopenhauer, Johann Götz, Alexis Piron, Matthew Lewis, Barbara Cartland, Robert Gratzer |
| | Thijs Zonneveld, Micha Hamel, Maria van Daalen, Peter Orlovsky, Walter Hasenclever |
| | Richard Aldington, Jean Ray, Jean de La Fontaine, Julius Mosen, Eva Roman, Hanns Johst |
| | Jan H. de Groot, Ivo Victoria, Lion Feuchtwanger, Vladimir Majakovski, Clemens Haipl |
| | Christopher Marlowe, Bodo Kirchhoff, Lucas Hirsch, William Wall, Hilary Mantel, Bernhard Schlink |
| | Felix Timmermans, Josef Haslinger, Barbara Frischmuth, Jean Cocteau, Michael Blake, Jacqueline Harpman, Jean Raspail, Tin Ujević, Marcel Achard |
| | Neil Simon, Paul de Wispelaere, Christine Lavant, Sébastien Japrisot, Walter Wippersberg, Rob van Erkelens, Robert Desnos, Nathaniel Hawthorne, Lionel Trilling |
| | Franz Kafka, Christopher Kloeble, Dorota Masłowska, Joanne Harris, Gerard den Brabander, Tom Stoppard, Andreas Burnier, David Barry, William Henry Davies |
| | Frans Budé, Hermann Hesse, Wisława Szymborska, Erik Vlaminck, Pierre H. Dubois, Axel Brauns, Friedrich Klopstock |
| | Johannes Immerzeel, Alekos Panagoulis, Ota Pavel, C. C. Bergius, Arend Fokke Simonsz |
| | Remco Ekkers, F. Starik, Wim T. Schippers, J. J. Voskuil, Carry Slee, Denis Johnson |
| | Hans Bender, George Sand, Juan Carlos Onetti, Georg Christoph Lichtenberg, Phil Bosmans, Heinrich Wiesner |
| | Czeslaw Milosz, Juli Zeh, Yaseen Anwer, José Emilio Pacheco, Assia Djebar, Jacqueline Zirkzee, Hendrik Jan Schimmel, Georges Duhamel, Thomas Lovell Beddoes |
| | Maarten Asscher, Ror Wolf, Thomas Frahm, Vasko Popa, Oriana Fallaci, Giacomo Leopardi, Antoine de Saint-Exupéry, Anton Bergmann, Willibald Alexis |
| | Florian Zeller, Ryszard Krynicki, Mark Helprin, Marlene Streeruwitz, Fritzi Harmsen van Beek, Luigi Pirandello, Jean Jacques Rousseau, Anton van Wilderode, Juan José Saer |
| | Lucille Clifton, Rafael Chirbes, Teju Cole, Frank O'Hara, Paul Laurence Dunbar, E. J. Potgieter, Kees Ouwens, Dawud Wharnsby, João Guimarães Rosa |
| | Aimé Césaire, Jacqueline van der Waals, Yves Beauchemin, Elisabeth Büchle, Laurie Lee, Pearl S. Buck, Stefan Andres, Martin Andersen-Nexø, Branwell Brontë |
| | George Orwell, Yann Martel, Rob van Essen, Michel Tremblay, Nicholas Mosley, Ingeborg Bachmann, Arseny Tarkovsky |
| | Larry Kramer, Claude Seignolle, Ariel Gore, Heinrich Seidel, Hans Marchwitza, Georges Courteline, Friederike Kempner |
| | Wilfred Smit, Ernesto Sabato, Yves Bonnefoy, Scott Oden, John Ciardi, Matthijs Kleyn |
| | Madelon Székely-Lulofs, Johannes van het Kruis, Kurt Kusenberg, Ambrose Bierce, Jean-Baptiste Boyer d'Argens, Josse Kok |
| | David Leavitt, Jo Govaerts, Rafik Shami, Aart van der Leeuw, Pascal Mercier, Franca Treur, Jean Anouilh, Anna Achmatova, Hanneke van Eijken |
| | Sommer (Ilse Kleberger), Nescio, Juliën Holtrigter, Jaap Robben |
| | Summer Solstice (Stacie Cassarino), Ed Leeflang, Thomas Blondeau, Adam Zagajewski |
| | Detlev von Liliencron, Vikram Seth, Paul Muldoon |
| | Georg-Büchner-Preis 2017 voor Jan Wagner |
| | Billy Collins, Salman Rushdie, Sybren Polet |
| | To Summer (William Blake) |


Gastenboek


Druk op onderstaande knop om een berichtje achter te laten in mijn gastenboek