De Vlaamse dichter Frédéric Leroy werd geboren op 2 december 1974 in Blankenberge. Zie ook alle tags voor Frédéric Leroy op dit blog.
De nood aan vaste middelpunten
Het staat ook in de reisgids: de kennismaking met de stad
begint niet aan de poorten maar in het hart, het plein
waar guillotines blinken tussen bloemen en fruit.
Rechtdoor en links zegt u? De man met glazen benen
bedankt het bloemenmeisje, zet de eerste stappen
in het stenen labyrint. Hij is nieuw hier maar declameert
luid en met overtuiging het unieke van elke stoeptegel,
van elk nastarend gezicht – uniek zoals ook woorden
strijdbaar van elkaar willen verschillen (vreemdeling
en vreemdeling twee anderen zijn). Zijn glazen benen
vertonen barsten maar dat deert hem niet: de stad is mooi
en geurt naar honderd verschillende kruiden tegelijk.
De avonden
Ik ben ze gaan liefhebben:
de avonden - hoe ze zwart
op de klaver druipen en ik
ze met open deur opwacht
stoet van stinkende nonnen
hoe ik dan niets heb dan wijn en brood
en hoe ze daar genoegen mee nemen
maar nooit blijven willen, rusteloos zijn
als uit hun rokken schatten vallen
eieren die over de houten vloer
stuiteren, onder meubelen rollen
nachtelijk worden uitgebroed
god weet tot welke monsters.
De avonden. Telkens
wat vozer, wat roestiger
wat meer vooringenomen.
Ondraaglijke lichtheid
In het raam een meisje, jong nog en vrijwillig
machteloos, overtollige zwaarte heeft ze
vrolijk naast zich neergelegd: want zij is licht
en vluchtig, in essentie een uitgehold raadsel
dat moeiteloos de kunst verstaat van het verdwijnen
in de alledaagsheid: zij is de fluisterstem,
de vogelvlucht, het trillen van het spinnenweb,
het licht dat uitdooft op de bodem van de put.
Zij is,
in het raam een meisje, een schatje en ze werkt
je danig op de zenuwen – je hebt een borrel nodig,
denk je, maar bij elke slok wordt je lichaam
weer wat zwaarder, een gapend gravitatieveld.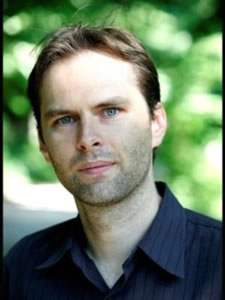 Frédéric Leroy (Blankenberge, 2 december 1974)
De Duitse schrijver Botho Strauß werd geboren op 2 december 1944 in Naumburg an der Saale. Zie ook mijn blog van 2 december 2007 en ook mijn blog van 2 december 2008 en ook mijn blog van 2 december 2009 en ook mijn blog van 2 december 2010.
Uit: Kongreß / Die Kette der Demütigungen
»Was wollen Sie sagen? Sagen Sie es mir! Sie brauchen nicht laut zu sprechen. Ich sehe Sie unter Ihrer Schreibtischlampe sitzen, Sie beugen den Kopf über das Buch, doch Sie lesen nicht. Ihr Blick streift nur eben diesen Flitterkram der Schrift, man möchte meinen, er stöbere darin wie die Fußspitze des verkaterten Frühaufstehers, der am Morgen nach dem Fest im bunten Abfall von Luftschlangen,
Seidenpapier, zerfetzten Knallbonbons raschelt, lustlos, ohne den geringsten Versuch, mit dem Aufräumen zu beginnen. Sie sehen hinein, als hätten Sie gestern eine Bekanntschaft gemacht, von der Ihnen heute nur noch ein rötlicher stechender Umriß geblieben ist. Von der Ihnen heute etwas ebenso Ungefähres wie Unliebsames schwant. Sie haben vielleicht irgend etwas getan, oder besser gesagt: Sie haben etwas in die Vergessenheit befördert, um die Art und Weise Ihres Vorgehens einmal höflich zu umschreiben. Sie können sich nicht von diesen Zeilen trennen, denn Sie spüren eine gewisse Geborgenheit in ihrem bequemen, geraden Verlauf, eine gewisse Leichtigkeit, auf ihrem Fluß
dahingetragen zu werden. Sie können sich nicht von ihnen trennen, aber Sie hängen auch nicht an ihnen. Sie könnten genauso gut das Buch schließen, Ihren Papierkorb ausleeren, die Servietten im Schrank umsortieren oder etwas beliebig anderes tun, um Ihre Gedankenverlorenheit zu genießen. Um sich schließlich doch dafür zu entscheiden, leise und vorsichtig mit dem Sprechen zu beginnen, es auszusagen, was nun einmal heraus muß, mir das Vertrauen zu schenken, das ich verdiene.«
Der Leser senkte den Kopf und blies in die feine, staubfeine Stimme hinab, die aus der Ritze zwischen den Seiten, aus der Vertiefung des Buchs geflüstert hatte. Er war tatsächlich sehr müde und kämpfte mit dichtem Auge gegen die Gewalt des Verlesens an."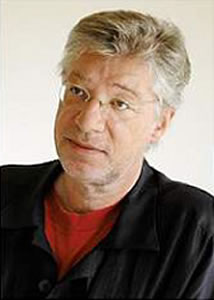 Botho Strauß (Naumburg, 2 december 1944)
De Amerikaanse schrijfster Ann Patchett werd geboren in Los Angeles op 2 december 1963. Zie ook mijn blog van 2 december 2007 en ook mijn blog van 2 december 2008 en ook mijn blog van 2 december 2009 en ook mijn blog van 2 december 2010.
Uit: State Of Wonder
"The news of Anders Eckman's death came by way of Aerogram, a piece of bright blue airmail paper that served as both the stationery and, when folded over and sealed along the edges, the envelope. Who even knew they still made such things? This single sheet had traveled from Brazil to Minnesota to mark the passing of a man, a breath of tissue so insubstantial that only the stamp seemed to anchor it to this world. Mr. Fox had the letter in his hand when he came to the lab to tell Marina the news. When she saw him there at the door she smiled at him and in the light of that smile he faltered.
"What?" she said finally.
He opened his mouth and then closed it. When he tried again all he could say was, "It's snowing."
"I heard on the radio it was going to." the window in the lab where she worked faced out into the hall and so she never saw the weather until lunchtime. She waited for a minute for Mr. Fox to say what he had come to say. She didn't think he had come all the way from his office in the snow, a good ten buildings away, to give her a weather report, but he only stood there in the frame of the open door, unable either to enter the room or step out of it. "Are you all right?"
"Eckman's dead," he managed to say before his voice broke, and then with no more explanation he gave her the letter to show just how little about this awful fact he knew.
There were more than thirty buildings on the Vogel campus, labs and office buildings of various sizes and functions. There were labs with stations for twenty technicians and scientists to work at the same time. Others had walls and walls of mice or monkeys or dogs. This particular lab Marina had shared for seven years with Dr. Eckman. It was small enough that all Mr. Fox had to do was reach a hand towards her, and when he did she took the letter from him and sat down slowly in the gray plastic chair beside the separator. At that moment she understood why people say You might want to sit down. There was inside of her a very modest physical collapse, not a faint but a sort of folding, as if she were an extension ruler and her ankles and knees and hips were all being brought together at closer angles."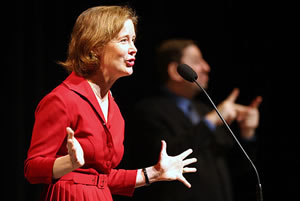 Ann Patchett (Los Angeles, 2 december 1963)





De Nederlandse dichter en schrijver Hein (Hendrik Jan) Boeken werd geboren in Amsterdam op 2 december 1861. Zie ook mijn blog van 2 december 2010.
Augustus
Hij nu genoot de volheid: als de bijen
Vloog 't af en aan, 't gonst zwaar daar in de tuinen,
In 't gonzen stemmen, en de buige-kruinen
Zij vallen beurtlings schijnbaar naar al zijen;
De maajers werken; in het al-vermeijen
Kijkende de oogen; als de fell' bazuinen
Schalt 't in de fladder-berken, van de kruinen
Der bergen valt 't op vlakten. Dit verblijen
Vond één man, slank wang-bleekig; - en een mann'tje
Kaal-kruinig, breed, krom-armig, die 't rumoerig
Leven wel kend', stad, beemd, luidende volheid, -
En nog een ander mann'tje, liefdspraak, - en dan 't manne'tje
Die 't al liet leven, en liet staan 't uitvoerig
Levens-lijk-denkmaal van zijn volte en holheid.
Dante
Die in zijn jeugd zag schoonsten jeugde-droom,
Liefst ziele-lijfjen in scharlaken-rood,
Toen wit-glimp-wolkjen, - want Haar nam de dood,
Op in het luchtruim, - zingende in zijn droom
Verre englen-stemmen stijgend, - ùit den droom
't Ontwaken: Haar dood, al wat 't leven bood
Hèm sombre dood en klacht en angst en nood,
En toorn op Roomsche Rijk, Itaalje en Room-
-sche Kerk, - en dan die schoonste ziel, die zingt,
En zingt door al zijn leven, dichtst bij God,
Jezus, Maria, en dáár-om het lot
Van duizenden, door hem om God gekringd,
Die boven de' afgrond, waarin jammer woont,
En louterende zielen lichtend troont.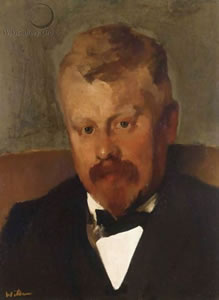 Hein Boeken (2 december 1861 – 19 oktober 1933)
Portret door Willem Witsen, voor 1923
De Amerikaanse schrijver Thomas Coraghessan Boyle werd geboren op 2 december 1948 in Peekskill, New York. Zie ook mijn blog van 2 december 2009 en ook mijn blog van 2 december 2010.
Uit: Greasy Lake
"There was a time when courtesy and winning ways went out of style, when it was good to bead, when you cultivated decadence like a taste. We were all dangerous characters then. We wore torn-up leather jackets, slouched around with toothpicks in our mouths, sniffed glue and ether and what somebody claimed was cocaine. When we wheeled our parents' whining station wagons out into the street we left a patch of rubber half a block long. We drank gin and grape juice, Tango, Thunderbird, and Bali Hai. We were nineteen. We were bad. We read Andre Gide and struck elaborate poses to show that we didn't give a shit about anything. At night, we went up to Greasy Lake.
Through the center of town, up the strip, past the housing developments and shopping malls, street lights giving way to the thin streaming illumination of the headlights, trees crowding the asphalt in a black unbroken wall: that was the way out to Greasy Lake. The Indians had called it Wakan, a reference to the clarity of its waters. Now it was fetid and murky, the mud banks glittering with broken glass and strewn with beer cans and the charred remains of bonfires. There was a single ravaged island a hundred yards from shore, so stripped of vegetation it looked as if the air force had strafed it. We went up to the lake because everyone went there, because we wanted to snuff the rich scent of possibility on the breeze, watch a girl take off her clothes and plunge into the festering murk, drink beer, smoke pot, howl at the stars, savor the incongruous full-throated roar of rock and roll against the primeval susurrus of frogs and crickets. This was nature.
I was there one night, late, in the company of two dangerous characters. Digby wore a gold star in his right ear and allowed his father to pay his tuition at Cornell; Jeff was thinking of quitting school to become a painter/musician/head-shop proprietor. They were both expert in the social graces, quick with a sneer, able to manage a Ford with lousy shocks over a rutted and gutted blacktop road at eighty-five while rolling a joint as compact as a Tootsie Pop stick."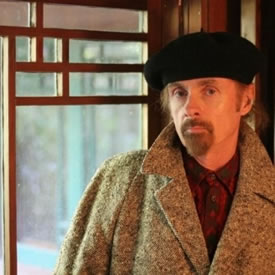 T. C. Boyle (Peekskill, 2 december 1948)