E-mail mij


Druk op onderstaande knop om mij te e-mailen.


Romenu


Google


Georg Trakl

Georg Trakl werd op 3 februari 1887 in het conducteurshuis aan de Waagplatz 2 in Salzburg geboren. Zijn vader, Tobias Trakl, was een handelaar in ijzerwaren en zijn moeder, die ook psychische problemen had, was Maria Catharina Trakl, (meisjesnaam Halik). Voorts had hij nog drie broers en drie zussen. Margarethe (doorgaans Grethe genoemd) stond hem het naast, zelfs zodanig dat sommigen een incestueuze verhouding vermoeden. Zijn jeugd bracht hij door in Salzburg. Vervolgens bezocht hij van 1897 tot 1905 het humanistische gymnasium. Om toch een academische opleiding te kunnen volgen, werkte hij tot 1908 in de praktijk bij een apotheker. Sommigen vermoedden dat hij dit vooral deed om zichzelf opiaten te kunnen verschaffen. Bij het uitbreken van WO I werd Trakl als medicus naar het front in Galicië (heden ten dage in Oekraïne en Polen) gestuurd. Zijn gemoedsschommelingen leidden tot geregelde uitbraken van depressie, die verergerd werden door de afschuw die hij voelde voor de verzorging van de ernstig verwonde soldaten. De spanning en druk dreven hem ertoe een suïcidepoging te ondernemen, welke zijn kameraden nochtans verhinderden. Hij werd in een militair ziekenhuis opgenomen in Kraków, alwaar hij onder strikt toezicht geplaatst werd.Trakl verzonk daar in nog zwaardere depressies en schreef Ficker om advies. Ficker overtuigde hem ervan dat hij contact moest opnemen met Wittgenstein, die inderdaad op weg ging na Trakls bericht te hebben ontvangen. Op 4 november 1914, drie dagen voordat Wittgenstein aan zou komen, overleed hij echter aan een overdosis cocaïne


Paul Celan

Paul Celan werd onder de naam Paul Antschel op 23 november 1920 geboren in Czernowitz, toentertijd de hoofdstad van de Roemeense Boekovina, nu behorend bij de Oekraïne. Paul Celans ouders waren Duitssprekende joden die hun zoon joods opvoedden en hem naar Duitse christelijke scholen stuurden. In 1942 werden Celans ouders door de Duitse bezetter naar een werkkamp gedeporteerd en daar vermoord. Hijzelf wist aanvankelijk onder te duiken, maar moest vanaf juli 1942 in een werkkamp dwangarbeid verrichten. Celan overleefde de oorlog. Via Boekarest en Wenen vestigde Celan zich in 1948 in Parijs. Daar was hij werkzaam als dichter, vertaler en doceerde hij aan de prestigieuze Ecole Normale Supérieure. Vermoedelijk op 20 april 1970 beëindigde hij zijn leven zelf door in de Seine te springen.


Gerard Reve

Gerard Reve over: Medearbeiders "God is in de mensen, de dieren, de planten en alle dingen - in de schepping, die verlost moet worden of waaruit God verlost moet worden, door onze arbeid, aangezien wij medearbeiders van God zijn." Openbaring "Tja, waar berust elk godsbegrip op, elke vorm van religie? Op een openbaring, dat wil zeggen op een psychische ervaring van zulk een dwingende en onverbiddelijke kracht, dat de betrokkene het gevoel heeft, niet dat hij een gedachte of een visioen heeft, maar dat een gedachte gedachte of visioen hem bezit en overweldigt."


Simon Vestdijk
Simon Vestdijk (Harlingen, 17 oktober 1898 – Utrecht, 23 maart 1971) was een Nederlands romancier, dichter, essayist en vertaler. Zijn jeugd te Harlingen en Leeuwarden beschreef hij later in de Anton Wachter-cyclus. Van jongs af aan logeerde hij regelmatig bij zijn grootouders in Amsterdam, waar hij zich in 1917 aan de Universiteit van Amsterdam inschrijft als student in de medicijnen. Tijdens zijn studie die van 1917 tot 1927 duurde, leerde hij Jan Slauerhoff kennen.Tot 1932 is hij als arts in praktijken door heel Nederland werkzaam. In 1932 volgt zijn officiële schrijversdebuut met de uitgave van de bundel Verzen in De Vrije Bladen. Doorslaggevend voor Vestdijks uiteindelijke keuze voor de literatuur is zijn ontmoeting in 1932 met Eddy Du Perron en Menno ter Braak. Deze ontmoeting had tot resultaat dat hij redactielid werd van het tijdschrift Forum Kort daarop, in 1933, wordt zijn eerste novelle, De oubliette, uitgegeven. In hetzelfde jaar schrijft hij Kind tussen vier vrouwen, dat, eerst geweigerd door de uitgever, later de basis zal vormen voor de eerste drie delen van de Anton Wachter-romans. In 1951 ontvangt Vestdijk de P.C. Hooftprijs voor zijn in 1947 verschenen roman De vuuraanbidders. In 1957 wordt hij voor het eerst door het PEN-centrum voor Nederland voorgedragen voor de Nobelprijs voor de Literatuur, die hij echter nooit zal krijgen. Op 20 maart 1971 wordt hem de Prijs der Nederlandse Letteren toegekend, maar voor hij deze kan ontvangen overlijdt hij op 23 maart te Utrecht op 72-jarige leeftijd. Vestdijk was auteur van ca. 200 boeken. Vanwege deze enorme productie noemde de dichter Adriaan Roland Holst hem 'de man die sneller schrijft dan God kan lezen'. Andere belangrijke boeken van Simon Vestdijk zijn: "Kind van stad en land" (1936), "Meneer Visser's hellevaart" (1936), "Ierse nachten" (1946), "De toekomst de religie" (1947), "Pastorale 1943" (1948), "De koperen tuin" (1950), "Ivoren wachters" (1951), "Essays in duodecimo" (1952) en "Het genadeschot" (1964).


K.P. Kavafis

K.P. Kavafis werd als kind van Griekse ouders, afkomstig uit Konstantinopel, geboren in 1863 in Alexandrië (tot vandaag een Griekse enclave) waar hij ook het grootste deel van zijn leven woonde en werkte. Twee jaar na de dood van zijn vader verhuist het gezin in 1872 naar Engeland om na een verblijf van vijf jaar naar Alexandrië terug te keren. Vanwege ongeregeldheden in Egypte vlucht het gezin in 1882 naar Konstantinopel, om na drie jaar opnieuw naar Alexandrië terug te gaan. In de jaren die volgen maakt Kavafis reizen naar Parijs, Londen en in 1901 zijn eerste reis naar Griekenland, in latere jaren gevolgd door nog enkele bezoeken. Op de dag van zijn zeventigste verjaardag, in 1933 sterft Kavafis in Alexandrië. De roem kwam voor Kavafis pas na zijn dood, dus postuum. Deels is dat toe te schrijven aan zijn eigen handelswijze. Hij was uiterst terughoudend met de publicatie van zijn gedichten, liet af en toe een enkel gedicht afdrukken in een literair tijdschrift, gaf in eigen beheer enkele bundels met een stuk of twintig gedichten uit en het merendeel van zijn poëzie schonk hij op losse bladen aan zijn beste vrienden.


Thomas Mann


Thomas Mann, de jongere broer van Heinrich Mann, werd geboren op 6 juni 1875 in Lübeck. Hij was de tweede zoon van de graankoopman Thomas Johann Heinrich Mann welke later één van de senatoren van Lübreck werd. Zijn moeder Julia (geboren da Silva-Bruhns) was Duits-Braziliaans van Portugees Kreoolse afkomst. In 1894 debuteerde Thomas Mann met de novelle "Gefallen". Toen Thomas Mann met 21 jaar eindelijk volwassen was en hem dus geld van zijn vaders erfenis toestond - hij kreeg ongeveer 160 tot 180 goldmark per jaar - besloot hij dat hij genoeg had van al die scholen en instituties en werd onafhankelijk schrijver. Kenmerkend voor zijn stijl zijn de ironie, de fenomenale taalbeheersing en de minutieuze detailschildering. Manns reputatie in Duitsland was sterk wisselend. Met zijn eerste roman, Buddenbrooks (1901), had hij een enorm succes, maar door zijn sceptische houding tegenover Duitsland na de Eerste Wereldoorlog veranderde dit volledig. Stelde hij zich tot aan de jaren twintig apolitiek op (Betrachtungen eines Unpolitischen, 1918), meer en meer raakte hij bij het Politiek gebeuren betrokken. Zijn afkeer van het nationaal socialisme groeide, zijn waarschuwingen werden veelvuldiger en heftiger. In 1944 accepteerde hij het Amerikaanse staatsburgerschap. Tussen 1943 en 1947 schreef Mann Doktor Faustus (zie Faust), de roman van de 'Duitse ziel' in de gecamoufleerd geschilderde omstandigheden van de 20ste eeuw. In 1947 bezocht hij voor het eerst sinds de Oorlog Europa, twee jaar later pas Duitsland. In 1952 vertrok hij naar Zwitserland. Op 12 augustus 1955 stierf hij in Zürich. Twintig jaar na zijn dood, in aug. 1975, is zijn literaire nalatenschap geopend: dagboekaantekeningen van 15 maart 1933 tot 29 juli 1955, alsmede notities uit de jaren 1918 tot en met 1921.Belangrijke werken zijn: Der Zauberberg, Der Tod in Venedig, Dokter Faustus , Joseph und seine Brüder en Die Bekenntnisse des Hochstaplers Felix Krull.


Rainer Maria Rilke

Rilke werd op 4 december 1875 geboren in Praag. Hij had al naam gemaakt als dichter met zijn bundels Das Stundenbuch en Das Buch der Bilder, toen hij de literaire wereld versteld deed staan en wereldfaam verwierf met de publicatie van zijn twee delen Neue Gedichte in 1907 en 1908. Hij verzamelde daarin het beste werk uit een van zijn vruchtbaarste periodes, die hij grotendeels doorbracht in Parijs. Rilke was daar diep onder de indruk gekomen van Rodin, bij wie hij een tijdlang in dienst was als particulier secretaris. Rodin, zei hij later, had hem leren kijken. Dit kijken kwam neer op intense concentratie, om het mysterie te kunnen zien 'achter de schijnbare werkelijkheid'. Latere en rijpere werken als Duineser Elegien (1912-1923) en het ronduit schitterende Die Sonette an Orfeus (1924) illustreren Rilkes metafysische visie op het onzegbare, dat haar verwoording vindt in een hermetische muzikale taal. Op 29 december 1926 overlijdt Rilke in het sanatorium in Val-Mont aan de gevolgen van leukemie. Enkele dagen later wordt hij, overeenkomstig zijn wens, begraven op het kerkhof van Raron.


* * * * * * * * * * * * * * * *

| | |
| --- | --- |
| | Over literatuur, gedichten, kunst en cultuur |

10-12-2016

Emily Dickinson, Karl Heinrich Waggerl, Reinhard Kaiser Mühlecker, Jorge Semprún, Gertrud Kolmar
De Amerikaanse dichteres Emily Dickinson werd geboren op 10 december 1830 in Amherst, Massachusetts. Zie ook alle tags voor Emily Dickinson op dit blog.
Hope Is The Thing With Feathers
'Hope' is the thing with feathers—
That perches in the soul—
And sings the tune without the words—
And never stops—at all—
And sweetest—in the Gale—is heard—
And sore must be the storm—
That could abash the little Bird
That kept so many warm—
I've heard it in the chillest land—
And on the strangest Sea—
Yet, never, in Extremity,
It asked a crumb—of Me.
"Faith" Is A Fine Invention
"Faith" is a fine invention
When Gentlemen can see—
But Microscopes are prudent
In an Emergency.
Love is anterior to life

Love is anterior to life,
Posterior to death,
Initial of creation, and
The exponent of breath.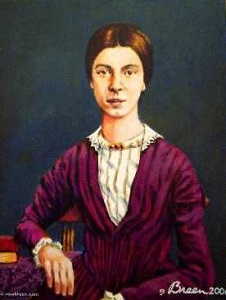 Emily Dickinson (10 december 1830 – 15 mei 1886)
Portret door Jerry Breen, ca.2006
De Oostenrijkse schrijver Karl Heinrich Waggerl werd geboren op 10 december 1897 in Bad Gastein. Zie ook alle tags voor Karl Heinrich Waggerl op dit blog.
Uit: Die stillste Zeit im Jahr
"Das Gloria sangen wir selber dazu. Es klang vielleicht ein bißchen grob in unserer breiten Mundart, aber Gott schaut seinen Kindern ja ins Herz und nicht in den Kopf oder aufs Maul. Und es ist auch gar nicht so, daß er etwa nur Latein verstünde.
Mitunter stimmten wir auch noch das Lieblingslied der Mutter an, das vom Tannenbaum. Sie beklagte es ja oft, daß wir so gar keine musikalische Familie waren. Nur sie selber konnte gut singen, hinreißend schön für meine Begriffe, sie war ja auch in ihrer Jugend Kellnerin gewesen. Wir freilich kamen nie über eine Strophe hinaus. Schon bei den ersten Tönen fing die Schwester aus übergroßer Ergriffenheit zu schluchzen an. Der Vater hielt ein paar Takte länger aus, bis er endlich merkte, daß seine Weise in ein ganz anderes Lied gehörte, etwa in das von dem Kanonier auf der Wacht. Ich selber aber konnte in meinem verbohrten Grübeln, wieso denn ein Tannenbaum zur Winterzeit grüne Blätter hatte, die zweite Stimme nicht halten. Daraufhin brachte die Mutter auch mich mit einem Kopfstück zum Schweigen und sang das Lied als Solo zu Ende, wie sie es gleich hätte tun sollen. Advent, sagt man, sei die stillste Zeit im Jahr. Aber in meinem Bubenalter war es keineswegs die stillste Zeit. In diesen Wochen lief die Mutter mit hochroten Wangen herum, wie mit Sprengpulver geladen, und die Luft in der Küche war sozusagen geschwängert mit Ohrfeigen. Dabei roch die Mutter so unbeschreiblich gut, überhaupt ist ja der Advent die Zeit der köstlichen Gerüche. Es duftet nach Wachslichtern, nach angesengtem Reisig, nach Weihrauch und Bratäpfeln. Ich sage ja nichts gegen Lavendel und Rosenwasser, aber Vanille riecht doch eigentlich viel besser, oder Zimt und Mandeln.
Mich ereilten dann die qualvollen Stunden des Teigrührens. Vier Vaterunser das Fett, drei die Eier, ein ganzer Rosenkranz für Zucker und Mehl. Die Mutter hatte die Gewohnheit, alles Zeitliche in ihrer Kochkunst nach Vaterunsern zu bemessen, aber die mußten laut und sorgfältig gebetet werden, damit ich keine Gelegenheit fände, den Finger in den köstlichen Teig zu tauchen. Wenn ich nur erst den Bubenstrümpfen entwachsen wäre, schwor ich mir damals, dann wollte ich eine ganze Schüssel voll Kuchenteig aufessen, und die Köchin sollte beim geheizten Ofen stehen und mir dabei zuschauen müssen! Aber leider, das ist einer von den Knabenträumen geblieben, die sich nie erfüllt haben."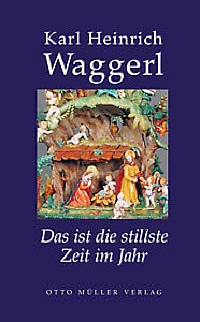 Karl Heinrich Waggerl (10 december 1897 – 4 november 1973)
Cover
De Oostenrijkse schrijver Reinhard Kaiser Mühlecker werd geboren op 10 december 1982 in Kirchdorf an der Krems. Zie ook alle tags voor Reinhard Kaiser Mühlecker op dit blog.
Uit: Fremde Seele, dunkler Wald
»Diese verdammten Russen«,sagte Alexander Fischer nach langem Schweigen und schob sein leeres Glas über die Theke, an der er seit dem späten Vormittag stand. »Welche Schwierigkeiten haben wir mit denen schon gehabt! Und welche werden wir erst noch haben ...«
Es war zwei Uhr; außer ihnen war niemand im Gasthaus, nur hinten am Stammtisch, in dem Halbdunkel kaum zu erkennen, saß die hochaufgeschossene Gestalt des Postboten, der Zeitung lesend zu Mittag aß; obwohl er bereits vor einer ganzen Weile gekommen war, waren seine Schuhabdrücke auf den Bodendielen noch nicht aufgetrocknet. Unter der Tür wurde ein Blatt her-
eingeweht – Birke.
»Meinst du? Hört man doch schon lange nichts mehr von dort«, sagte der Wirt, ohne Alexander anzusehen.
Er stand hinter der Theke und las ebenfalls in einer Zeitung. Seine gebräunte, pigmentfleckige Glatze glänzte, leuchtete wie aus sich selbst heraus. Er schlug die Zeitung zu und nahm Alexanders Glas. Sorgfältig spülte er es aus, hielt es unter den Zapfhahn und füllte es und schob es wieder hinüber.
»Ich lese gerade ein Buch«, sagte Alexander und umfasste das Glas. »In den vergangenen Jahrzehnten sind immer wieder russische U-Boote in schwedischen Gewässern aufgetaucht. Sogar in den letzten Jahren noch. Aber das ist nur ein Beispiel dafür, wie sie sind. Provokateure. Sie provozieren in einem fort.«
»Die Russen meinst du?«
»Ja doch. Wen denn sonst?«
»Von dieser U-Boot-Geschichte habe ich noch nie gehört.«
»Das hat schon in den Sechzigern begonnen«, sagte Alexander, ließ das Glas los und richtete sich den spiegelbesetzten Kragen seiner Uniform. »Ich muss meine Schwester einmal dazu fragen, vielleicht weiß sie mehr.
Sie lebt ja seit ein paar Jahren dort oben, mit einem Amerikaner.«
»In Schweden?«, fragte der Wirt. »Hast du nicht gesagt, sie ist in Wien?«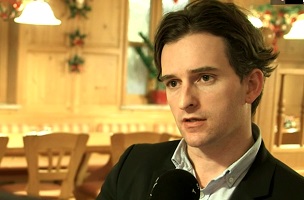 Reinhard Kaiser Mühlecker (Kirchdorf an der Krems, 10 december 1982)
De Spaanse schrijver en politicus Jorge Semprún Maura werd geboren in Madrid op 10 december 1923. Zie ook alle tags voor Jorge Semprún op dit blogen ook mijn blog van 10 december 2010.
Uit: Was für ein schöner Sonntag! (Vertaald door Johannes Piron)
"Man kam ganz verschreckt aus Compiègne in dieser sagenhaften, unvorstellbaren Welt von Buchenwald an. Man war, schien es, ganz allein und wurde von links und rechts getriezt. Die Quarantäne, das Ungeziefer, die Schläge der SS und der grünen Kapos, sogar von einigen roten Kapos. Die Scheibe Brot, die man oft mit Fäusten gegen den Nachbarn verteidigen musste. Merde! Dein Nachbar, ein braver Büroangestellter, ein Oberst der französischen Armee, ein Professor für Zivilrecht, einfach ein Mann, der zum gierigen Raubtier geworden war, unbarmherzig, nur auf sein eigenes Überleben bedacht, offenbar zu allem bereit für einen zusätzlichen Happen Brot, einen Rest Suppe! Und dann – zwei, drei, vierzehn Tage danach: der Kontakt.
Die Partei nahm sich deiner wieder an.
Die große Überraschung in Buchenwald war das Vorhandensein einer illegalen Organisation der Partei."
(…)
In diesem Dezember 1944 ist die Strategie der mit der Leitung des Lagers Buchenwald betrauten SS-Offiziere leicht zu erraten. Sie wollen um jeden Preis vermeiden, an die Front geschickt zu werden. Sie wollen weiter als Etappenschweine leben, in der Bequemlichkeit ihrer Sinekure. Deshalb müssen sie um jeden Preis alles vermeiden, was die Aufmerksamkeit von Berlin auf ihre Amtsführung in Buchenwald lenken und Disziplinarmaßnahmen auslösen könnte.
Aber wie lässt sich all das vermeiden? Die beste Lösung besteht darin, die internen Dinge des Lagers den deutschen Kommunisten zu überlassen, die seit Jahren die Schlüsselstellungen der Verwaltung innehaben, seit sie die normalen Strafgefangenen in einem hinterhältigen und blutigen Kampf eliminiert haben."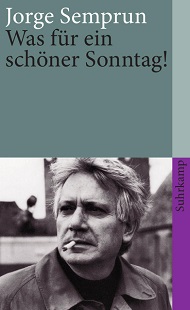 Jorge Semprún (10 december 1923 - 7 juni 2011)
Cover
De Duitse dichteres en schrijfster Gertrud Kolmar (pseudoniem van Gertrud Käthe Chodziesner) werd op 10 december 1894 in Berlijn geboren. Zie ook alle tags voor Gertrud Kolmar op dit blog.
Schrebergärten
Du schaust hinein. Am Zaun die Laube
In Sonntagsstimmung, frisch und blank:
Ein grünes Haus mit weißer Haube
Und ringsum wilden Weins Gerank.
Dazu zwei Mädchen mit Soldaten;
Drum lacht die Sonnenblume auch -
Ein Apfelbaum, ein Beet Tomaten,
Ein Rosenstock, ein Himbeerstrauch:
Und mitten in der Pracht ein Kleinchen,
Das kaum noch halb sein Hemdchen deckt
Und das zwei ros'ge, runde Beinchen
Aus seinem Kinderwagen streckt.
Wiegenlied
Schlafe wohl unter dem silbernen Schild,
Unter der rotroten Rose!
Sanft scheint der Mond, und das Sternlein glänzt mild -
Weich ist dein Bettchen im Moose.
:, : Abendwind,
Wieg' ein mein Kind,
Meine süße, dunkle Rose! :, :
Schmetterling gaukelt durchs Schattenblau,
Zitternd duftet der Flieder,
Rings säet glitzernde Perlen der Tau,
Nachtigall singt ihre Lieder.
:, : Vögelein,
Sing' ein, sing' ein
Die lieblichen, jungen Glieder! :, :
Träume entfliehn, und Gedanken gehn,
Zahllos und klar wie die Sterne.
Mag, was mir nah', auch im Düster verwehn,
Licht bleibt doch ewig die Ferne!
:, : Guckäuglein,
Nun schließt euch fein,
Meine lieben, schwarzen Sterne!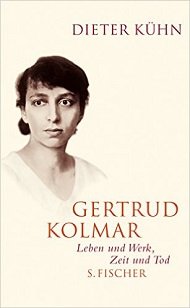 Gertrud Kolmar (10 december 1894 – (?) maart 1943)
Cover biografie
Zie voor nog meer schrijvers van de 10e december ook mijn vorige twee blogs van vandaag.
10-12-2016 om 11:38 geschreven door Romenu

Tags:Emily Dickinson, Karl Heinrich Waggerl, Reinhard Kaiser Mühlecker, Jorge Semprún, Gertrud Kolmar, Romenu



Jacquelyn Mitchard, Nelly Sachs, Cornelia Funke, Carolyn Kizer, Pierre Louÿs
De Amerikaanse schrijfster Jacquelyn Mitchard werd geboren in Chicago, Illinois, op 10 december 1951. Zie ook alle tags voor Jacquelyn Mitchard op dit blog.
Uit: Christmas, Present
"But he could not frame a question that would elicit the date from Laura's cool and sharp-eyed mother. She was a busy realtor, a woman of few words except where they concerned post-and-beam construction or Carrera marble in the master bath. She would not burble forth, "And that was the last time Helen and David went anywhere together as husband and wife ... " or "I'd just bought that silver Volvo ... " or "Do you remember how adorable Laurie's sister Angela looked; she was only a junior ... " -- remarks that could be checked against a family timeline.
Their wedding album had been no help.
It was inscribed with their names, the month and day -- but, at Laura's behest, not the year. For the same reason, the photos all were in black-and-white. "Color makes pictures look dated. I want this to be always new," she'd said.
They were married December 23, and all the women, including Laura, wore red velvet, the men gray morning clothes, with top hats -- even without the help of color film, he could remember the splash they all made, like bright cardinals and sparrows against the snow. The photographer spread huge sheets of clear plastic beneath an evergreen bower for outdoor shots. Laura peeked from under the hood of a wool merino cape trimmed with rabbit fur, like a character from Little Women.
The photos were timeless; not even a single car with an identifiable grille or body shape was visible.
He might have asked his own mother outright, and she would have felt no impulse to chide him. She would have been moved by his diligence.
He had missed his mother, more or less constantly, for two years, with the persistence of a low-grade fever that spiked in spring or at moments of acute need or tenderness. Laura resembled his mother in no way; she had different habits, preferences, and talents. But his wife still somehow recalled Amy, in common sense, in pure spirit. Laura still teased him about their first date: He had confessed he might never marry at all, never find a woman the equal of his mother. Amy had died of ovarian cancer, hadn't even lived to hear Amelia, the daughter they had named for her, say her grandmother's name."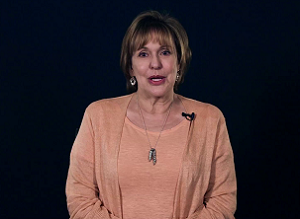 Jacquelyn Mitchard (Chicago, 10 december 1951)
De Duitse dichteres en schrijfster Nelly Sachs werd op 10 december 1891 in Berlijn geboren. Zie ook alle tags voor Nelly Sachs op dit blog.
Diese Kette von Rätseln
Diese Kette von Rätseln
um den Hals der Nacht gelegt
Königswort weit fort geschrieben
unlesbar
vielleicht in Kometenfahrt
wenn die aufgerissene Wunde des Himmels
schmerzt
da
in dem Bettler der Raum hat
und auf Knieen gehend
ausgemessen hat alle Landstraßen
mit seinem Leib
denn es muß ausgelitten werden
das Lesbare
und Sterben gelernt
im Geduldigsein −
Auf und ab gehe ich

Auf und ab gehe ich
in der Stubenwärme
Die Irren im Korridor kreischen
mit den schwarzen Vögeln draußen
um die Zukunft
Unsere Wunden sprengen die böse Zeit
aber die Uhren gehen langsam -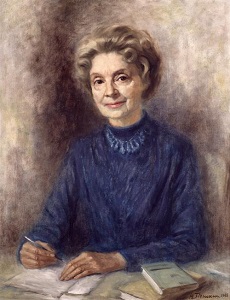 Nelly Sachs (10 december 1891 – 12 mei 1970)
Portret Helga Tiemann, 1968
De Duitse schrijfster en illustratrice Cornelia Funke werd geboren in Dorsten op 10 december 1958. Zie ook alle tags voor Cornelia Funke op dit blog.
Uit: Tintenherz
"Es fiel Regen in jener Nacht, ein feiner, wispernder Regen. Noch viele Jahre später musste Meggie bloß die Augen schließen und schon hörte sie ihn, wie winzige Finger, die gegen die Scheibe klopften. Irgendwo in der Dunkelheit bellte ein Hund, und Meggie konnte nicht schlafen, so oft sie sich auch von einer Seite auf die andere drehte.
Unter ihrem Kissen lag das Buch, in dem sie gelesen hatte. Es drückte den Einband gegen ihr Ohr, als wollte es sie wieder zwischen seine bedruckten Seiten locken. "Oh, das ist bestimmt sehr bequem, so ein eckiges, hartes Ding unterm Kopf", hatte ihr Vater gesagt, als er zum ersten Mal ein Buch unter ihrem Kissen entdeckte. "Gib zu, es flüstert dir nachts seine Geschichte ins Ohr." - "Manchmal!", hatte Meggie geantwortet. "Aber es funktioniert nur bei Kindern." Dafür hatte Mo sie in die Nase gezwickt. Mo. Meggie hatte ihren Vater noch nie anders genannt.
In jener Nacht - mit der so vieles begann und so vieles sich für alle Zeit änderte - lag eins von Meggies Lieblingsbüchern unter ihrem Kissen, und als der Regen sie nicht schlafen ließ, setzte sie sich auf, rieb sich die Müdigkeit aus den Augen und zog das Buch unter dem Kissen hervor. Die Seiten raschelten verheißungsvoll, als sie es aufschlug. Meggie fand, dass dieses erste Flüstern bei jedem Buch etwas anders klang, je nachdem, ob sie schon wusste, was es ihr erzählen würde, oder nicht. Aber jetzt musste erst einmal Licht her. In der Schublade ihres Nachttisches hatte sie eine Schachtel Streichhölzer versteckt. Mo hatte ihr verboten, nachts Kerzen anzuzünden. Er mochte kein Feuer. "Feuer frisst Bücher", sagte er immer, aber schließlich war sie zwölf Jahre alt und konnte auf ein paar Kerzenflammen aufpassen. Meggie liebte es, bei Kerzenlicht zu lesen. Drei Windlichter und drei Leuchter hatte sie auf dem Fensterbrett stehen. Sie hielt das brennende Streichholz gerade an einen der schwarzen Dochte, als sie draußen die Schritte hörte. Erschrocken pustete sie das Streichholz aus - wie genau sie sich viele Jahre später noch daran erinnerte! -, kniete sich vor das regennasse Fenster und blickte hinaus. Und da sah sie ihn."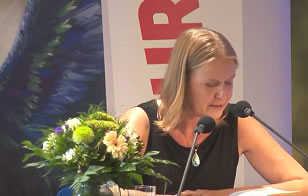 Cornelia Funke (Dorsten, 10 december 1958)
De Amerikaanse dichteres Carolyn Ashley Kizer werd geboren op 10 december 1925 in Spokane, Washington. Zie ook alle tags voor Carolyn Kizer op dit blog.
Where I've Been All My Life
I.
Sirs, in our youth you love the sight of us.
Older, you fall in love with what we've seen,
Would lose yourselves by living in our lives.
I'll spin you tales, play the Arabian girl;
Working close, alone in the blond arena,
Flourish my cape, the cloth on the camera.
For women learn to be a holy show.
I'll tell you where I've been, not what I am:
In Rotterdam, womb where my people sprang,
I find my face, my father, everywhere.
New cousins I must stoop to greet, the get
Of tall, whey-colored burghers, sturdy dams,
As children fed on tulip bulbs and dirt,
Tugged at dry dugs and sucked at winter's rind.
My cousins, dwarfed by war! Your forms rebuke
The butcher and the bystander alike.
To ease you I can't shrink this big Dutch frame
Got of more comfortable ancestors.
But from my Southern side I pluck a phrase,
"I'll carry you." And it means "rest in me,"
To hold you as I may, in my mind's womb.
But snap the album, get the guidebook out!
Rotterdam: her raw, gray waterfront,
Zadkine's memorial burning on the quay;
This bronze is mortal, gaping in defeat,
The form that wombed it split to let it be.
It mends; he lurches up, in blood reborn,
The empty heavens his eternal frame.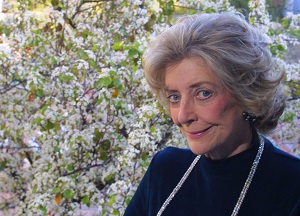 Carolyn Kizer (10 december 1925 – 9 oktober 2014)
De Franse dichter en schrijver Pierre Louÿs werd geboren op 10 december 1870 in Gent. Zie ook alle tags voor Pierre Louÿs op dit blog.
Chanson
Le premier me donna un collier, un collier de perles qui
vaut une ville, avec les palais et les temples, et les trésors
et les esclaves.

Le second fit pour moi des vers. Il disait que mes cheveux
sont noirs comme ceux de la nuit sur la mer et mes yeux
bleus comme ceux du matin.

Le troisième était si beau que sa mère ne l'embrassait pas
sans rougir. Il mit ses mains sur mes genoux, et ses lèvres
sur mon pied nu.

Toi, tu ne m'as rien dit. Tu ne m'as rien donné, car tu es
pauvre. Et tu n'es pas beau, mais c'est toi que j'aime
Pégase
À José Maria de Heredia.

De ses quatre pieds purs faisant feu sur le sol,
La Bête chimérique et blanche s'écartèle,
Et son vierge poitrail qu'homme ni dieu n'attelle
S'éploie en un vivace et mystérieux vol.

Il monte, et la crinière éparse en auréole
Du cheval décroissant fait un astre immortel
Qui resplendit dans l'or du ciel nocturne, tel
Orion scintillant à l'air glacé d'Éole.

Et comme au temps où les esprits libres et beaux
Buvaient au flot sacré jailli sous les sabots
L'illusion des sidérales chevauchées,

Les Poètes en deuil de leurs cultes perdus
Imaginent encor sous leurs mains approchées
L'étalon blanc bondir dans les cieux défendus.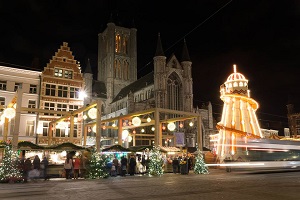 Pierre Louÿs (10 december 1870 – 6 juni 1925)
Kerstmarkt in Gent
Zie voor nog meer schrijvers van de 10e december ook mijn vorige blog van vandaag.
10-12-2016 om 11:35 geschreven door Romenu

Tags:Jacquelyn Mitchard, Nelly Sachs, Cornelia Funke, Carolyn Kizer, Pierre Louÿs, Romenu



Clarice Lispector, Thomas Lux, Ara Baliozian, Christine Brückner, Rumer Godden
De Braziliaanse schrijfster Clarice Lispector werd geboren op 10 december 1925 in Podolia (Oekraïne). Zie ook alle tags voor Clarice Lispector op dit blog.
Uit: Why This World (Biografie door Benjamin Moser)
"In 1946, the young Brazilian writer Clarice Lispector was returning from Rio de Janeiro to Italy, where her husband was vice consul in Naples. She had traveled home as a diplomatic courier, carrying dispatches to the Brazilian Ministry of Foreign Relations, but with the usual routes between Europe and South America disrupted by the war, her journey to rejoin her husband followed an unconven-
tional itinerary. From Rio she flew to Natal, on the northeastern tip of Brazil, then onward to the British base at Ascension Island in the South Atlantic, to the American air station in Liberia, to the French bases in Rabat and Casablanca, and then via Cairo and Athens to Rome.
Before each leg of the trip, she had a few hours, or days, to look around. In Cairo, the Brazilian consul and his wife invited her to a cabaret, where they were amazed to see the exotic belly dance performed to the familiar strains of a hit of Rio's 1937 Carnival, Carmen Miranda's "I Want Mommy."
Egypt itself failed to impress her, she wrote a friend back in Rio de Janeiro.
"I saw the pyramids, the Sphinx--a Mohammedan read my palm in the `desert sands' and said I had a pure heart. . . . Speaking of sphinxes, pyramids, piasters, it's all in horribly bad taste. It's almost immodest to live in Cairo. The problem is trying to feel anything that hasn't been accounted for by a guide."1
Clarice Lispector never returned to Egypt. But many years later she recalled her brief sightseeing tour, when, in the "desert sands," she stared down no one less than the Sphinx herself.
"I did not decipher her," wrote the proud, beautiful Clarice. "But neither did she decipher me."
By the time she died in 1977, Clarice Lispector was one of the mythical figures of Brazil, the Sphinx of Rio de Janeiro, a woman who fascinated her countrymen virtually from adolescence. "The sight of her was a shock," the poet Ferreira Gullar remembered of their first meeting. "Her green almond eyes, her high cheekbones, she looked like a she-wolf, a fascinating wolf. . . . I thought that if I saw her again I would fall hopelessly in love with her." "There were men who couldn't forget me for ten years," she admitted."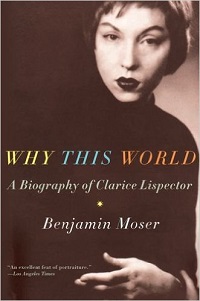 Clarice Lispector (10 december 1925 – 9 december 1977)
De Amerikaanse dichter Thomas Lux werd geboren op 10 december 1946 in Northampton, Massachusetts. Zie ook alle tags voor Thomas Lux op dit blog.
Refrigerator, 1957
More like a vault -- you pull the handle out
and on the shelves: not a lot,
and what there is (a boiled potato
in a bag, a chicken carcass
under foil) looking dispirited,
drained, mugged. This is not
a place to go in hope or hunger.
But, just to the right of the middle
of the middle door shelf, on fire, a lit-from-within red,
heart red, sexual red, wet neon red,
shining red in their liquid, exotic,
aloof, slumming
in such company: a jar
of maraschino cherries. Three-quarters
full, fiery globes, like strippers
at a church social. Maraschino cherries, maraschino,
the only foreign word I knew. Not once
did I see these cherries employed: not
in a drink, nor on top
of a glob of ice cream,
or just pop one in your mouth. Not once.
The same jar there through an entire
childhood of dull dinners -- bald meat,
pocked peas and, see above,
boiled potatoes. Maybe
they came over from the old country,
family heirlooms, or were status symbols
bought with a piece of the first paycheck
from a sweatshop,
which beat the pig farm in Bohemia,
handed down from my grandparents
to my parents
to be someday mine,
then my child's?
They were beautiful
and, if I never ate one,
it was because I knew it might be missed
or because I knew it would not be replaced
and because you do not eat
that which rips your heart with joy.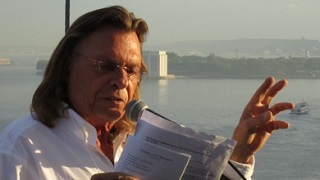 Thomas Lux (Northampton, 10 december 1946)
De Armeense schrijver Ara Baliozian werd geboren op 10 december 1936 in Athene. Zie ook alle tags voor Ara Baliozian op dit blog.
Uit: Pages From My Diary, 1986-1995
« Sometimes in the middle of the night I receive telephone calls from distant places by individuals in search of immortality. These individuals seem to think that I have influence in those places where immortality is dispensed. I try to explain to them that I have problems of my own, that I can't even make ends meet, that my so-called influence is a figment of their imagination, that the status of an Armenian writer in our communities is that between a janitor and an unemployable misfit, and that even if I were to write to a flunky, the chances are I would be completely ignored.
The Arabs castrate rapists and cut off the hands of thieves. Both procedures may be viewed as forms of censorship. Literary censorship is even more barbaric because it attempts to castrate or maim the expression of man's mind and soul. Literary censorship is the first step on the road that leads to massacre.
Some of our academics appear to have made the brilliant discovery that, the more useless and irrelevant their field of expertise, the more they can count on institutional support. I am personally acquainted with academics who know everything that happened to us 70 or even 700 years ago but pretend to know nothing about what's happening today in their own community.
"Why have you given up writing?" I ask a friend who until very recently contributed regularly to our press.
"How can you go on writing?" he replies.
A good question. I wish I knew the answer."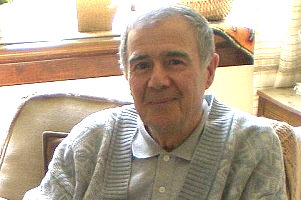 Ara Baliozian (Athene, 10 december 1936)
De Duitse schrijfster Christine Brückner werd geboren op 10 december 1921 in Schmillinghausen bij Bad Arolsen in Hessen. Zie ook alle tags voor Christine Brückner op dit blog.
Uit: Jauche und Levkojen
"Vor wenigen Minuten wurde auf Poenichen ein Kind geboren. Es kniff die Augen fest zu, als wäre ihm das Licht der Morgensonne zu grell, und war nicht einmal durch leichte Schläge auf das Hinterteil zum Schreien zu bringen. Aber: Es bewegte sich, atmete, lebte. Die Hebamme hatte die Länge: 42 Zentimeter, mit Hilfe der Küchenwaage auch das Gewicht: 2450 Gramm, festgestellt und zusammen mit dem Datum, dem 8. August 1918, und der Uhrzeit: 7 Uhr 30, auf dem Formular eingetragen, und nun lag das Kind gewindelt und mit blauem Jäckchen und Mützchen bekleidet in den blaugestickten Kissen der Quindtschen Familienwiege und schlief.
Die Mutter des Kindes, Vera von Quindt geborene von Jadow, für zwei Wochen eine Wöchnerin und dann nie wieder, hatte darauf bestanden, daß ihr Kind - zum Zeitpunkt dieser Abmachung allerdings nicht einmal gezeugt - in der Charite zur Welt kommen sollte, wo ein junger unterschenkelamputierter Arzt in der Entbindungsstation arbeitete, einer ihrer Bewunderer, aber als Ehemann nicht geeignet:
bürgerlich und ohne Aussicht auf eine baldige Niederlassung in einer guten Wohngegend des Berliner Westens. Aus begreiflichen Gründen war von ihm nicht die Rede gewesen, als diese Abmachung
getroffen wurde. Die Erinnerung an den Steckrübenwinter und eine erneute Herabsetzung der Lebensmittelrationen hatten die junge Berlinerin ein pommersches Rittergut mit anderen Augen sehen
lassen. Sie war 24 Jahre alt, dunkelhaarig, hübsch, aber unvermögend, und ihre Tänzer waren an der Somme undMarne gefallen, "reihenweise" wie ihre Mutter zu sagen pflegte. ..."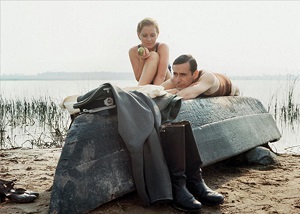 Christine Brückner (10 december 1921 – 21 december 1996)
Scene uit de gelijknamige film uit 1978
De Engelse schrijfster Margaret Rumer Godden werd geboren op 10 december 1907 in Eastbourne, East Sussex. Zie ook alle tags voor Rumer Godden op dit blog.
Uit: In This House of Brede
"From the air. it would seem that it was the Abbey that had space, the old town below that was enclosed; steep and narrow streets ran between the ancient battlements and its houses were huddled, roof below roof, windows and eaves jutting so that they almost touched; garden yards were overlooked by other garden yards while the Abbey stood in a demesne of park, orchard, farm and garden. Its walls had been heightened since the nuns came, trees planted that had grown tall; now it was only from the tower that one could look into the town, though atnight a glow came up from the lights seeming, from inside the enclosure, to give the Abbey walls a nimbus.
The traffic made a continual hum too, heard in the house but not in the park that stretched away inland towards the open fields; it was a quiet hum because the town was quiet and old- fashioned; besides, no car or lorry could be driven quickly through Its narrow cobbled streets.
The sparrow voices of children, when they were let out of school, were heard too, but the only sound that came from the Abbey was dropped into the town by bells measuring, not the hours of time as did the parish church clock, but the liturgical hours from Lauds to Compline; the bells rang the Angelus, the call to Chapter and the Abbey news of entrances and exits; sometimes of death. There was a small bell. St John, almost tinkling by contrast; it hung in the long cloister and summoned the nuns to the refectory. The bells of the Abbey, the chimes of the parish church clock, coming across each other, each underlining the other, gave a curious sense of time outside time, of peace, and the only quarrel the town had with the Abbey now was that the nuns insisted on feeding tramps.
A winding stone stair led up to the tower, going through the belfry above the bell tribune where the hanging bell ropes had different coloured tags. Though the bells were numbered, they had names. 'Dame Ursula says they are baptized,' sald Sister Cecily. Dame Clare, the zelatrix, Dame Ursula's assistant, was more exact. 'There is a ceremony in the pontifical which is called baptizing the bells; It is, rather, a consecration,' but to Cecily they seemed personalities. "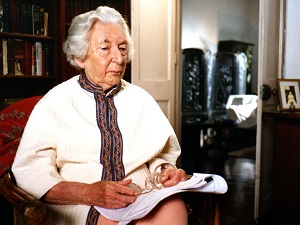 Rumer Godden (10 december 1907 – 8 november 1998)
10-12-2016 om 11:34 geschreven door Romenu

Tags:Clarice Lispector, Thomas Lux, Ara Baliozian, Christine Brückner, Rumer Godden, Romenu



| | |
| --- | --- |
| | |



Inhoud blog


| | |
| --- | --- |
| | Alan Hollinghurst, Radwa Ashour, Hugo Raes, Vítězslav Nezval, Ivan O. Godfroid, Maxwell Bodenheim, Isabella Nadolny, Edmond De Goncourt |
| | Egyd Gstättner, Madeleine Thien, Claire Castillon, Friedrich Dieckmann, Eve Ensler, Raymond Carver, Jamaica Kincaid, Robert Ludlum, Theodore Roethke |
| | Joseph Brodsky, Michael Chabon, Bob Dylan, Henri Michaux, William Trevor, Tobias Falberg, Arnold Wesker, Rainald Goetz, Louis Fürnberg |
| | Adriaan Roland Holst, Maarten Biesheuvel, Lydia Rood, Jane Kenyon, Susan Cooper, Michaël Vandebril, Jack McCarthy, Mitchell Albom, Pär Fabian Lagerkvist |
| | In Memoriam Philip Roth |
| | Erik Spinoy, Arthur Conan Doyle, Ahmed Fouad Negm, Anne de Vries, Johannes R. Becher, Kees Winkler, Gérard de Nerval, Catulle Mendès, Takis Würger |
| | Pinksteren II (Willem de Mérode) |
| | Gabriele Wohmann, Amy Waldman, Maria Semple, Urs Widmer, Emile Verhaeren, Robert Creeley, Alexander Pope, Tudor Arghezi, Suzanne Lilar |
| | Pinksteren I (Willem de Mérode) |
| | Tommy Wieringa, Auke Hulst, Ellen Deckwitz, Jeroen Thijssen, Maurits de Bruijn, Gerrit Achterberg, Annie M.G. Schmidt, Sky du Mont |
| | Honoré de Balzac, William Michaelian, Wolfgang Borchert, Hector Malot, Ingvar Ambjørnsen, A.C. Cirino, Hanna Krall, Sigrid Undset |
| | Constantin Göttfert, Simone van Saarloos, Karel van het Reve, Gijs IJlander, Thera Coppens, H.W.J.M. Keuls, Jodi Picoult |
| | Ruskin Bond, Yahya Hassan, Fritz Rudolf Fries, Lorraine Hansberry, Rahel Varnhagen, Anna Jameson |
| | Yi Mun-yol, W.G. Sebald, Markus Breidenich, François Nourissier, Gunnar Gunnarsson, Omar Khayyam, Ernst Wiechert, Franziska zu Reventlow, John Wilson |
| | Lars Gustafsson, Peter Høeg, Eva Schmidt, Gary Paulsen, Henri Barbusse, Virginie Loveling, Dennis Potter, Cor Bruijn, Dorothy Richardson |
| | Paul Gellings, Adrienne Rich, Friedrich Rückert, Jakob van Hoddis, Juan Rulfo, Olaf J. de Landell, Olga Berggolts, Lothar Baier, Rens van der Knoop |
| | Mai (Johann Wolfgang von Goethe) |
| | Albert Verwey, Arthur Schnitzler, Pem Sluijter, W.J.M. Bronzwaer, Frits van Oostrom, Michael Lentz, Max Frisch, Judith Hermann, Mary Wortley Montagu |
| | In Memoriam Tom Wolfe |
| | Jo Gisekin, Karl-Markus Gauß, Eoin Colfer, Gaby Hauptmann, Wilma Vermaat, Frans Bastiaanse, Dante Alighieri, Krister Axel, Jens Sparschuh |
| | Moeder (M. Vasalis) |
| | Johannes (Willem de Mérode) |
| | Jan Lauwereyns, Reinout Verbeke, Bruce Chatwin, Daphne du Maurier, Kathleen Jamie, Armistead Maupin, Alphonse Daudet, Kōji Suzuki |
| | Theo van Baaren, Gregor von Rezzori, Reinhold Schneider, Jacob Haafner, Adolf Muschg, Roch Carrier, Franz Michael Felder |
| | Hagar Peeters, Bertus Aafjes, August Vermeylen, Andrej Voznesensky, Sabine Imhof, Dante Gabriel Rossetti |
| | Nicolaas Anslijn, Eva Demski, Farley Mowat, Werner Bräunig, Cäsar Flaischlen |
| | Edward Lear, Diana Raznovich, Andrej Amalrik, Maurice Carême, Massimo Bontempelli |
| | J. H. Leopold, Ida Gerhardt, Eva Menasse, Eugen O. Chirovici, Andre Rudolph, Rubem Fonseca, Henning Boëtius, Camilo José Cela, Rachel Billington |
| | De hemelvaart (Nicolaas Beets) |
| | J.C. Bloem, Herman Leenders, Didi de Paris, Ralf Rothmann, Jeremy Gable, Petra Hammesfahr, Roberto Cotroneo, Antonine Maillet, Johann Peter Hebel |
| | Jayne Cortez, Barbara Taylor Bradford, Benito Pérez Galdós, Ivan Cankar, Martin Boelitz, Ariel Durant, Fritz von Unruh, Leonard Buyst |
| | My Computer Ate My Homework 3, Dolce far niente, Gene Ziegler, Pieter Boskma, Jorie Graham, Luuk Wojcik |
| | Roddy Doyle, Thomas Pynchon, Pat Barker, Gary Snyder, Gertrud Fussenegger, Edmund Wilson, Alain-René Lesage, Sophus Schandorph, Romain Gary |
| | Libris Literatuurprijs 2018 voor Murat Isik |
| | Willem Elsschot, Almudena Grandes, Christoph Marzi, Edgar Cairo, Volker Braun, Robert Browning, Peter Carey, Archibald MacLeish, Rabindranath Tagore |
| | In Memoriam Renate Dorrestein |
| | Beloved, let us love one another,' says St. John (Christina Rossetti) |
| | Willem Kloos, Hélène Gelèns, Sasja Janssen, Ariel Dorfman, Erich Fried, Yasushi Inoue, Harry Martinson, Christian Morgenstern, Carl Ludwig Börne |
| | Ferdinand Sauter, Eugène Labiche, Gaston Leroux, Júlio César de Mello e Souza, Marie-Aude Murail, Paul Alverdes, Erik Bindervoet, Simon Mulder |
| | Als je de vrijheid tegenkomt (Ankie Peypers) |
| | Roni Margulies, Miklós Radnóti, Petra Else Jekel, Morton Rhue, Christopher Morley, George Albert Aurier |
| | Henryk Sienkiewicz, Richard Watson Dixon, Hans Werner Kolben, Christian Friedrich Scherenberg, Catullus |
| | Oorlog (Rutger Kopland) |
| | Christiaan Weijts, Amos Oz, J.W.F. Werumeus Buning, Cola Debrot, Graham Swift, Monika van Paemel, David Guterson, Jan Mulder, Werner Fritsch |
| | Erik Lindner, Jehuda Amichai, Johan de Boose, Paul Bogaert, Marc Dugain, Ben Elton, Klaus Modick, Agnès Desarthe, Juan Gelman |
| | Esther Freud, Wytske Versteeg, Rob Waumans, Tilman Rammstedt, James Holmes, Theo Sontrop, Jef Last, Gottfried Benn, Novalis |
| | What Work Is (Philip Levine) |
| | Guido Gezelle, Johano Strasser, Yasmina Reza, Joseph Heller, Yánnis Rítsos, Antal Szerb, Ignazio Silone, Aleksander Wat, Reinier van Genderen Stort |
| | Jeroen Brouwers, Alexander Osang, Ulla Hahn, Luise Rinser, John Boyne, Annie Dillard, Jaroslav Hasek, Jacob Hiegentlich, Kno'Ledge Cesare |
| | Der Weinstock und die Reben (Julie Hausmann) |


Gastenboek


Druk op onderstaande knop om een berichtje achter te laten in mijn gastenboek