De Franse schrijver en diplomaat Roger Peyrefitte werd geboren op 17 augustus 1907 in Castres. Zie ook mijn blog van 17 augustus 2007 en ook mijn blog van 17 augustus 2008 en ook mijn blog van 17 augustus 2009.
Uit: Der junge Alexander (Vertaald door Sybille A. Rott-Illfeld)
"Sie hatten sich nackt ausgezogen. Der Geruch des Meeres vermischte sich mit dem Duft ihrer Haut. Gedämpft klangen Kitharaklänge (...) an ihre Ohren. Hephaistions Lippen glitten zart über Alexanders Lider. Seit Aristoteles ihnen gesagt hatte, dass die Haut der Lider ebenso empfindlich sei wie die Vorhaut, mochten sie diese Liebkosung ganz besonders. "Erinnerst du dich", fragte Alexander, "wie wir ihn nach dem Wesen der Lust befragten?" "Er glaubte weder, wie Pythagoras, dass das Sperma aus dem Hirn kommt, noch wie andere Philosophen, aus allen Körperteilen. Er definierte die Lust einfach als `unbändiges Verlangen', und das schien uns unzureichend. Aber wie soll man solche Dinge auch erklären? Man muss sich damit begnügen, sie zu empfinden." (...) Ihre Lippen fanden sich und Gott verströmte seine Kraft. (...)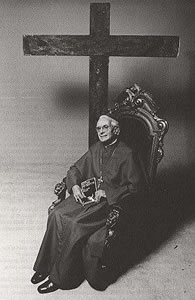 Roger Peyrefitte (17 augustus 1907 – 5 november 2000)
De Amerikaanse schrijfster Nicola Kraus werd geboren op 17 augustus 1974 in New York. Zie ook mijn blog van 7 februari 2009.
Uit: Citizen Girl (Samen met Emma McLaughlin)
"The ladies' room door squeaks open and I stop breathing, jerking my feet up on the toilet seat lid in an effort to work through my lunch hour in solitude. Rubber soles scuff along the honeycomb tiles as I bend to inch the remains of my lunch out of view, but my pen betrays me, rolling brazenly out of my lap and onto the warped floor.
"Who's in here?" my boss, Doris, shouts over the din of sweatshop sewing machines whirring up the air shaft. I consider not responding -- maybe she'll think the pipes are now leaking not only asbestos but pens. "Hello-o?" She knocks once on the last stall door before rattling it forcefully. Her tightly permed gray curls appear below me. "Oh, Girl, it's you."
I will a cheery smile.
"You have your period again, don't you?" She stares up disdainfully as she turns a deep red from her inverted stance. "You know, Girl" -- she takes in my research materials on the floor -- "I've provided you with a perfectly good desk."
"Yes, thank you..." I try to dislodge my crossed legs without stepping on her face. "I was just taking advantage of the quiet to finish my presentation for the conference." I unlatch the door, and she abruptly shoves it in toward me, spraying the cup of coffee I'd balanced on the toilet-paper dispenser onto my coat. My new coat.
She arches her eyebrows over her multicolored Fimo clay bifocals. "You're a mess," she pronounces. "You really should make your lunch at home and bring it with you. You're not managing your finances very well if you buy those expensive sandwiches every day. But I guess that'd mean you'd actually have to get out of bed on time." She remains squarely in the stall doorway, indicating that I owe her an explanation."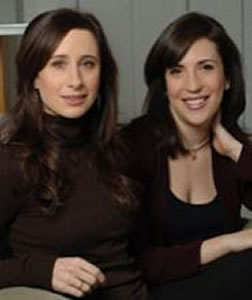 Nicola Kraus (New York, 17 augustus 1974)
Emma McLaughlin en Nicola Kraus (rechts)
De Amerikaanse dichter en schrijver Ted Hughes werd geboren op 17 augustus 1930 in Mytholmroyd, Yorkshire. Zie ook mijn blog van 17 augustus 2006 en ook mijn blog van 17 augustus 2008 en ook mijn blog van 17 augustus 2009.
Wind
This house has been far out at sea all night,
The woods crashing through darkness, the booming hills,
Winds stampeding the fields under the window
Floundering black astride and blinding wet
Till day rose; then under an orange sky
The hills had new places, and wind wielded
Blade-light, luminous black and emerald,
Flexing like the lens of a mad eye.
At noon I scaled along the house-side as far as
The coal-house door. Once I looked up -
Through the brunt wind that dented the balls of my eyes
The tent of the hills drummed and strained its guyrope,
The fields quivering, the skyline a grimace,
At any second to bang and vanish with a flap;
The wind flung a magpie away and a black-
Back gull bent like an iron bar slowly. The house
Rang like some fine green goblet in the note
That any second would shatter it. Now deep
In chairs, in front of the great fire, we grip
Our hearts and cannot entertain book, thought,
Or each other. We watch the fire blazing,
And feel the roots of the house move, but sit on,
Seeing the window tremble to come in,
Hearing the stones cry out under the horizons.
Pied Beauty
Glory be to God for dappled things—
For skies of couple-colour as a brinded cow;
For rose-moles all in stipple upon trout that swim;
Fresh-firecoal chestnut-falls; finches' wings;
Landscape plotted and pieced—fold, fallow, and plough;
And áll trádes, their gear and tackle and trim.
All things counter, original, spare, strange;
Whatever is fickle, freckled (who knows how?)
With swift, slow; sweet, sour; adazzle, dim;
He fathers-forth whose beauty is past change:
Praise him.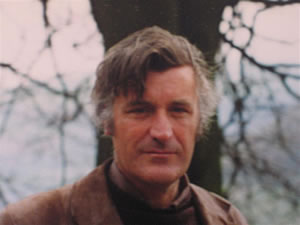 Ted Hughes (17 augustus 1930 – 28 oktober 1998)
De Franse dichter en schrijver Robert Sabatier werd geboren op 17 augustus 1923 in Parijs. Zie ook mijn blog van 17 augustus 2008 en ook mijn blog van 17 augustus 2009.
Uit: Le lit de la merveille
" Va où il y a des livres..."
Sur ce conseil insolite d'un clochard, le jeune Julien, qui traîne dans le Paris de l'après-guerre le souvenir d'une blessure d'amour, trouve un petit emploi chez un libraire. Il rencontre Roland, un étudiant dandy, qui le présente bientôt à sa mère Eleanor, une Américaine de Boston, éprise de littérature et d'art français. Ainsi va commencer pour Julien un roman d'apprentissage que Stendhal n'eût pas désavoué.
Apprentissage du monde, d'abord, dans un Paris où l'on croise Aragon, Bachelard, Asturias ou Darius Milhaud. Initiation amoureuse, aussi, qui, bien qu'elle finisse mal, aidera le jeune homme à trouver son destin. Mais la grande affaire, ce sont les livres. " Viens creuser le lit de la merveille ", a dit à Julien un vieil émigré de l'Est en l'entraînant dans sa bibliothèque. Il ne l'oubliera plus. A travers cette peinture attendrie et souriante du Boul'Mich' et du Saint-Germain d'autrefois, le romancier des Allumettes suédoises et du Cygne noir salue sa propre jeunesse et la passion de sa vie : la lecture."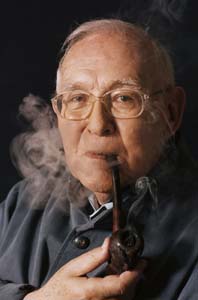 Robert Sabatier (Parijs, 17 augustus 1923)

17-08-2010 om 20:04 geschreven door Romenu

Tags:Roger Peyrefitte, Nicola Kraus, Ted Hughes, Robert Sabatier, Romenu